This recipe for Sauteed Fava Beans  is one of my favorites.  Fresh fava beans can be treated so simply- here we saute them with shallot, toss with fresh mint leaves, lemon zest and shaved cheese- a lovely spring side dish or feel free to incorporate them into pasta, risotto,or healthy bowls.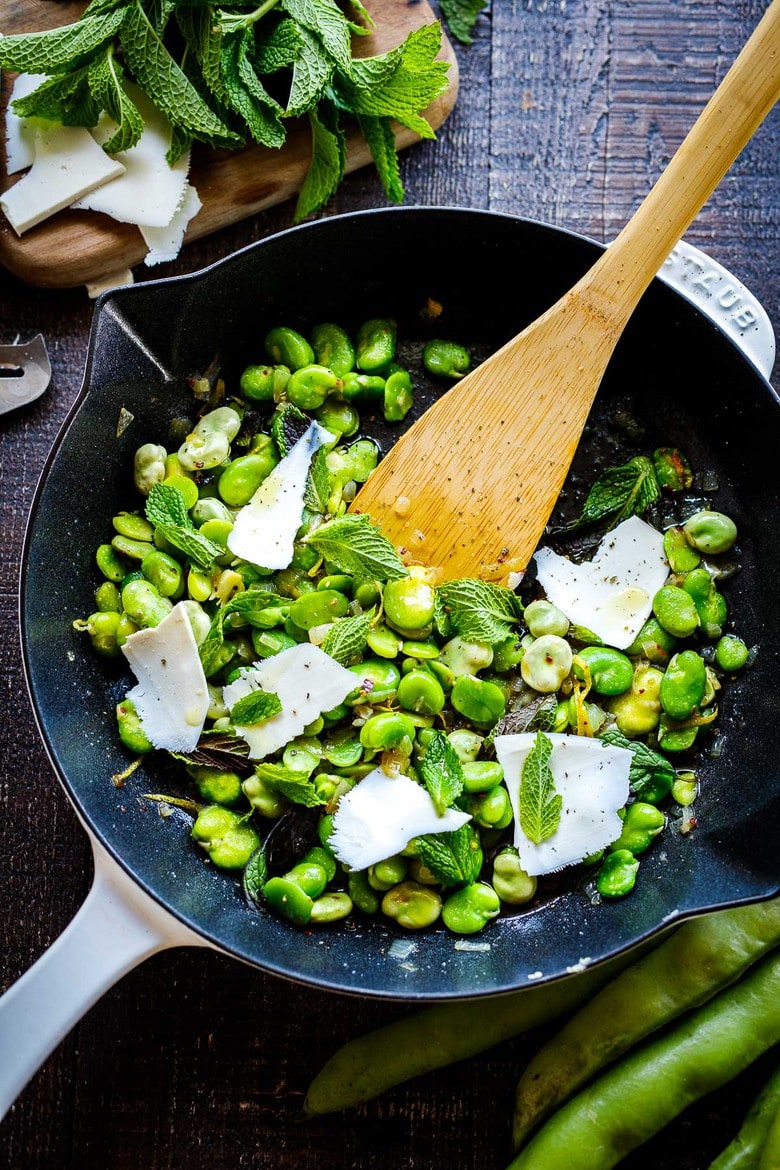 Find your hope, then, on the ground under your feet.- Wendall Berry 
Hello beautiful spring side dish! Sauteed Fava Beans with Mint & Lemon  pairs well with many things. Mint and lemon really brighten up and accentuate their flavor, while Ricotta Salata- a salty, hardstyle ricotta cheese adds delicious depth (pecorino would also work well).
When fava beans are young and tender- you can simply grill them and eat the whole pods. But as they mature,  they do take a little time to prepare, but I promise, it's not hard and the rewards outweigh the effort.  Allow yourself a solid hour for these, or make it in stages, getting your family to help out with the shucking and peeling.
It has become such a beautiful ritual, nudging me to slow down and celebrate spring.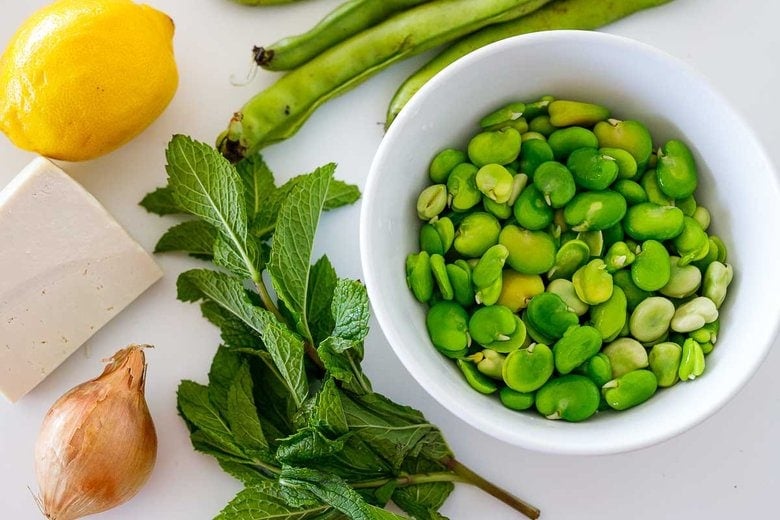 Ingredients
Fava beans (in the pod)– Depending on where you live, fresh fava beans are in season from late March – June.
veggie broth or chicken stock or water
lemon (juice and zest)
salt and pepper to taste
fresh mint leaves
Ricotta Salata– or sub pecorino,  parmesan, manchego (basically any hard salty cheese)
How to Saute Fava Beans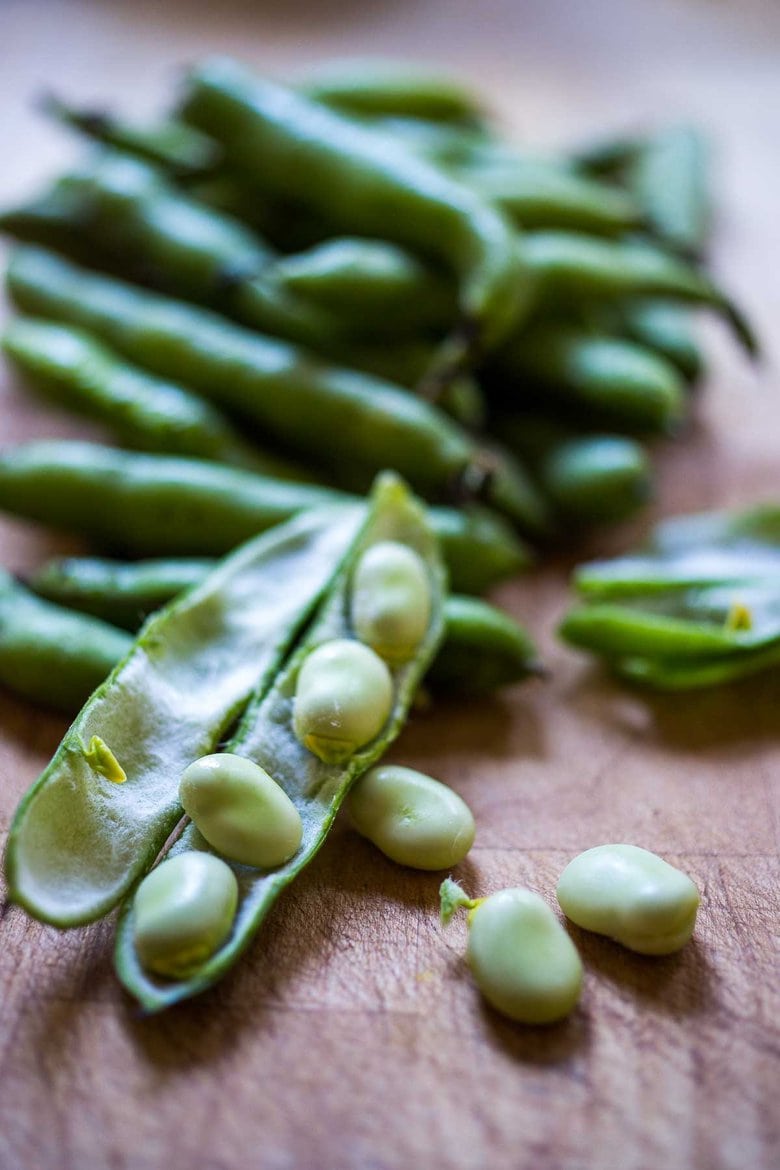 Step one:
Shuck the fava beans, removing the outer pod. Pinch the stem end, and pull the string down the side, which will open up the pod, almost like a zipper. Pop out the beans with your thumb. I  love this sensation- very gratifying! A good rule of thumb is one pound of fava beans in the pod, will yield 1- 1 1/8 cup of fava beans once shucked and peeled.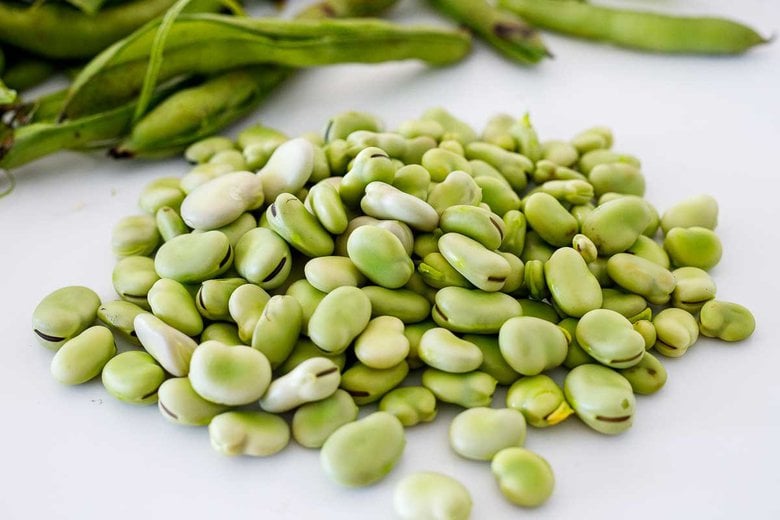 Take notice of the various sizes. The larger fava beans will need their outer skin removed after a quick salt water blanch.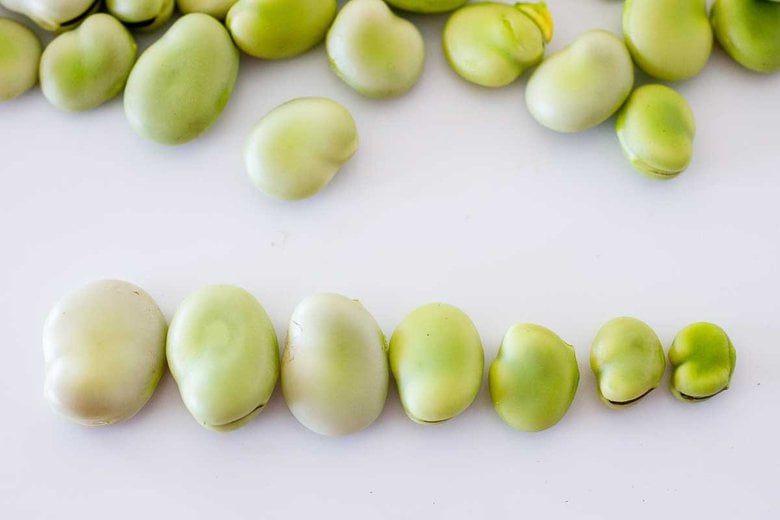 Step two
Bring a medium pot of salted water to a roiling boil. Blanch the fava beans 15-20 seconds. Drain and place in cold water or ice water bath.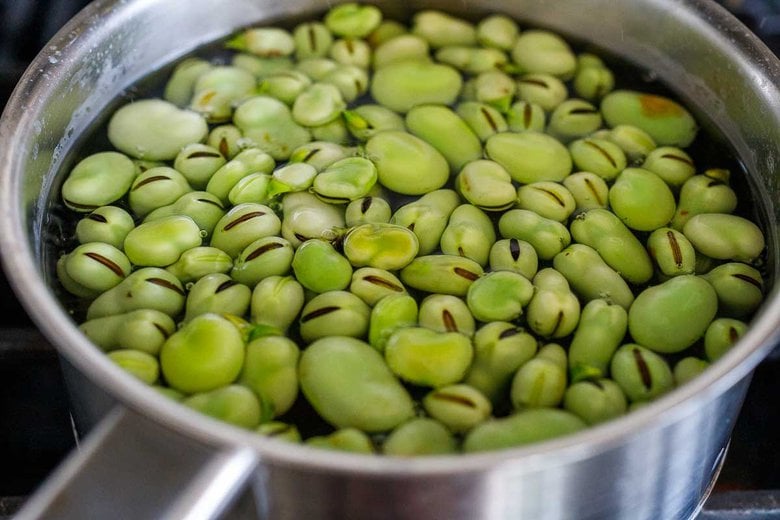 Step three
Remove the outer skin of the medium and large fava beans. Allow 15-20 minutes for this. Inside you'll see a bright and happy bean!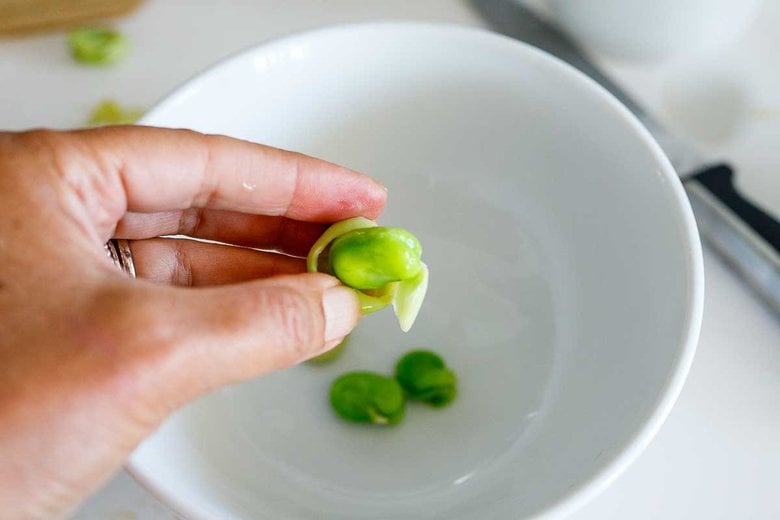 Tip: If preparing ahead for guests, you could do all this ahead and store the shucked and peeled beans in the fridge for up to 3 days.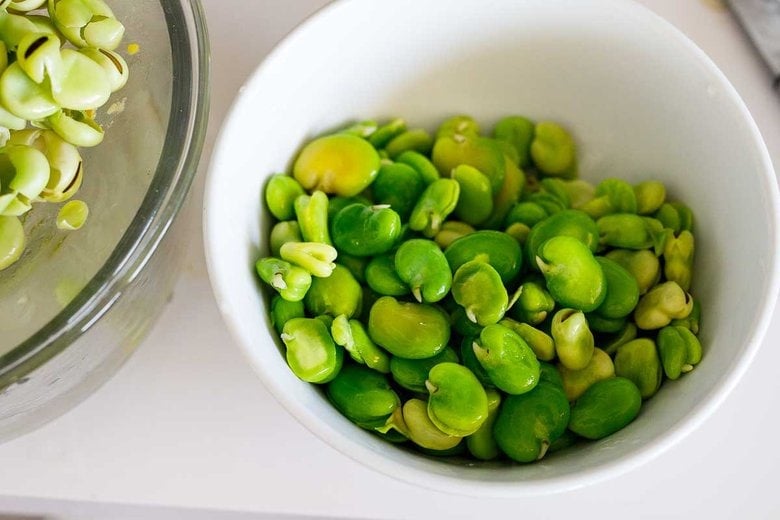 Step four
Saute the beans. Heat olive oil in a skillet, and saute the shallot. Season with pepper.
Step five
Add the fava beans and a little splash of broth, and simmer gently for 3-4 minutes or until fava beans are just tender.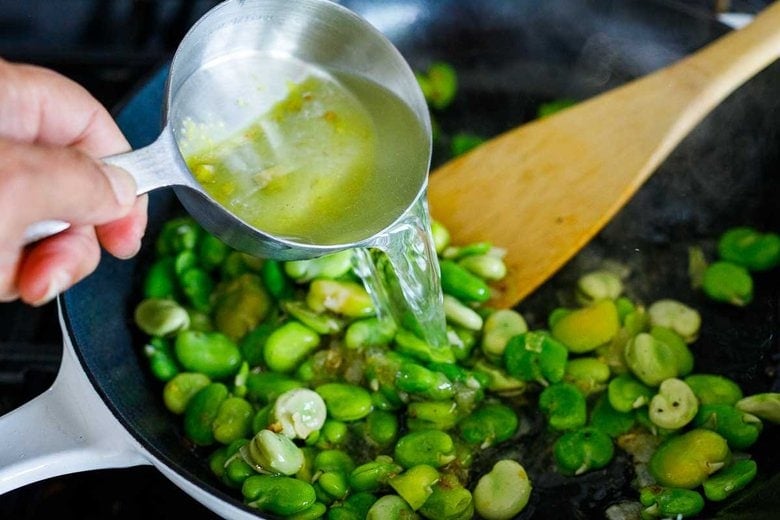 Season with salt, lemon zest, lemon juice and chili flakes if you like.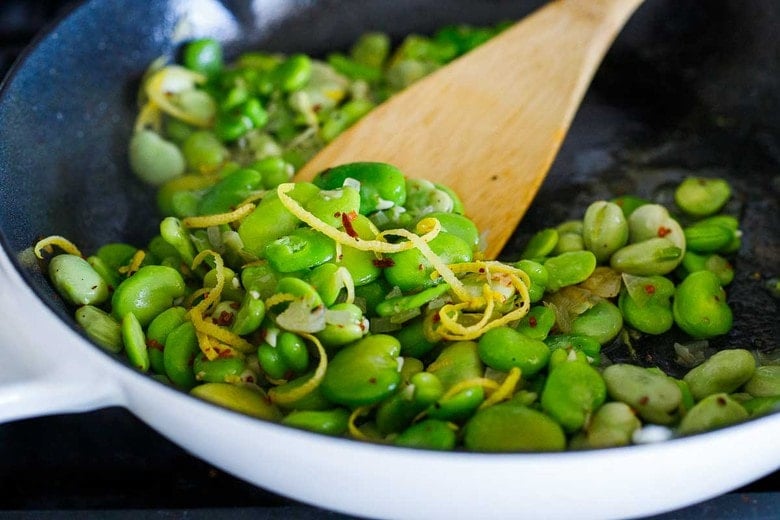 Step six
Garnish with fresh torn mint leaves and shaved cheese and a drizzle of olive oil.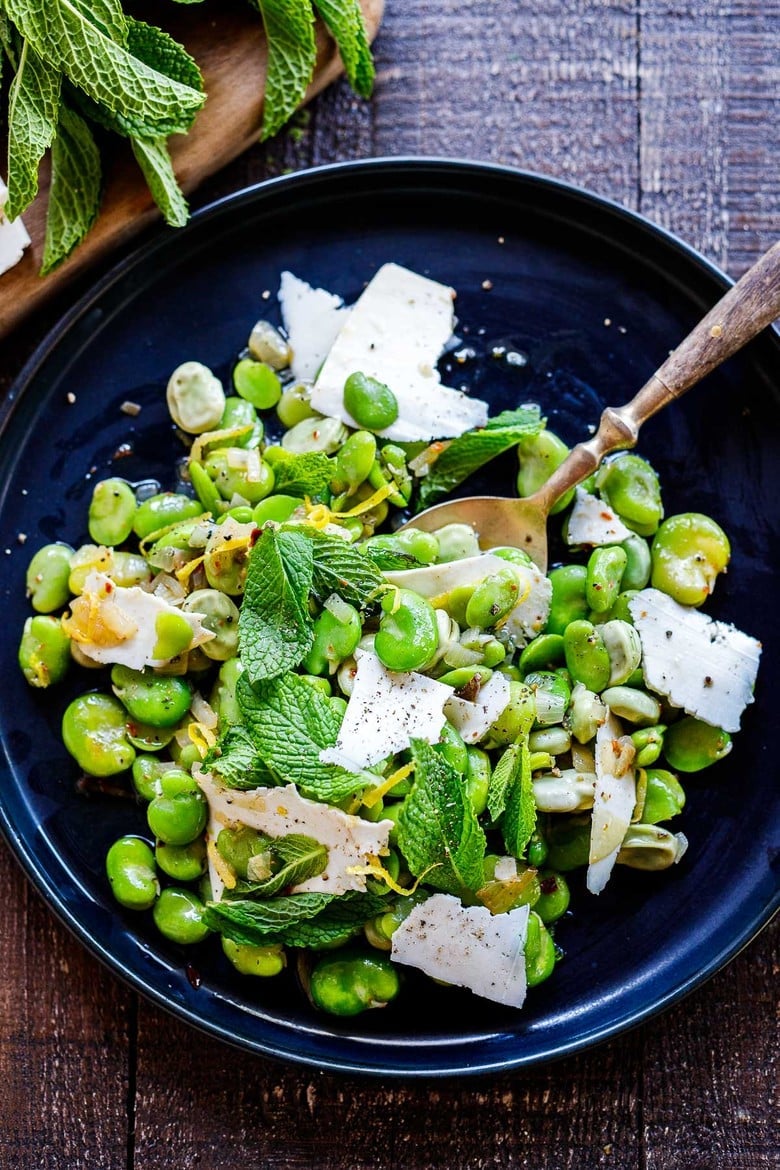 How to serve Fava Beans
More Fava Bean recipes you may enjoy
These fava beans are such a special treat. Although they do require about an hour of time, I find I truly enjoy the ritual at least once a year- a delicious way to celebrate the season!
Have a wonderful week,
Print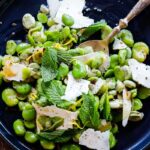 Sautéed Fava Beans
Prep Time:

45

Cook Time:

15

Total Time:

1 hour

Yield:

2 cups

1

x

Category:

side dish

Method:

stovetop

Cuisine:

Mediteranean

Diet:

Vegetarian
---
Description
How to prepare and saute fresh fava beans! This delicious spring-inspired side dish features fresh fava beans, shallots, mint and lemon.
---
2

lbs

fava beans (in the pod)

2 tablespoons

olive oil
shallot, finely diced
pepper

1/4

cup

veggie broth or chicken stock or water
lemon zest
lemon juice
salt to taste
fresh mint
Ricotta Salata- or sub pecorino
Drizzle of olive oil
---
Instructions
Shuck the fava beans.
Bring a small pot of salted water to a boil. Blanch the fava beans for 15- 20 seconds, then drain and place in ice water.
Remove the tough outer peel of the large and medium-sized fava beans, leaving the tiny beans as they are. You will end up with roughly 2 cups. (Allow 20 minutes for this)  Tip: you could do this ahead and refrigerate until close to serving time.
In a skillet, heat 2 tablespoons olive oil, over medium heat. Add the shallot and pepper and saute 3-4 mins, lowering heat to medium-low- cooking until shallots are tender and golden.
Add the fava beans and saute 1 minute. Add the broth and bring to gentle simmer for 3-4 minutes, until fava beans are just tender.  Season with lemon zest, a squeeze of lemon juice and salt to taste.  Balance the lemon and salt to your liking.
Finish the dish with freshly torn mint leaves and shaved cheese.
Serve warm or at room temp.
---
Notes
Feel free to add these to Cacio e Pepe,  Lemony Risotto, Salads, and Buddha Bowls.
Yeild: 1 pound fava beans in the pods, yields roughly 1 -1 1/4 cups shucked and peeled.
Nutrition
Serving Size:

½ cup

Calories:

201

Sugar:

1.8 g

Sodium:

924.9 mg

Fat:

10.9 g

Saturated Fat:

2.2 g

Carbohydrates:

21.7 g

Fiber:

5.9 g

Protein:

7.5 g

Cholesterol:

5.4 mg
Keywords: fava bean recipe, fava beans, how to cook fava beans, how to prepare fava beans