This post may contain affiliate links. For more information, please see our privacy policy.
A simple recipe my Egyptian father used to make- Egyptian Okra over Rice – a delicious vegan meal made with fresh okra, tomatoes and flavorful Middle Eastern Spices.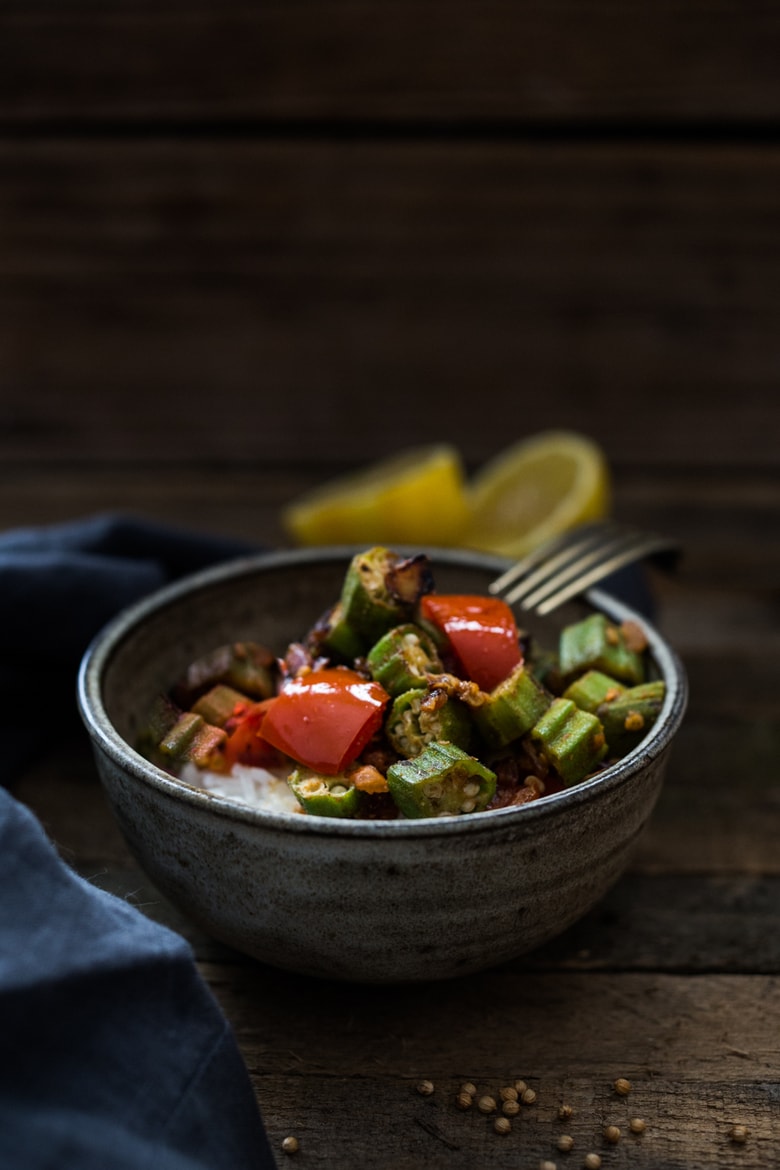 Wandering through the farmers market, I stumbled upon fresh vibrant okra and couldn't wait to bring it home and cook it the way my dad used to when I was growing up. His delicious Egyptian Okra was served over fluffy rice and became a simple vegetarian meal, surprisingly full of flavor, and to me, deeply satisfying. It reminds me of home.  It's a dish my grandmother made for him in the little Egyptian village he grew up in, and I believe when he made this, it brought him comfort and reminded him of home too.
This is a meal to make in summer when okra and tomatoes are fresh, ripe and in season – so head to your local farmers market or Asian Market and seek some out. They are well worth the hunt!
Here, the okra is quickly sautéed with onion, garlic, spices and tomatoes – and it's this quick way of quick cooking that lessens the "slimy-ness" people often dislike.  Of course, you could cook this into more of a stew,  but my dad's way was to just cook it until the okra was more "al- dente", not mushy,  tender, yet still firm and bright vivid green.  Served over rice it made for a flavorful vegetarian meal.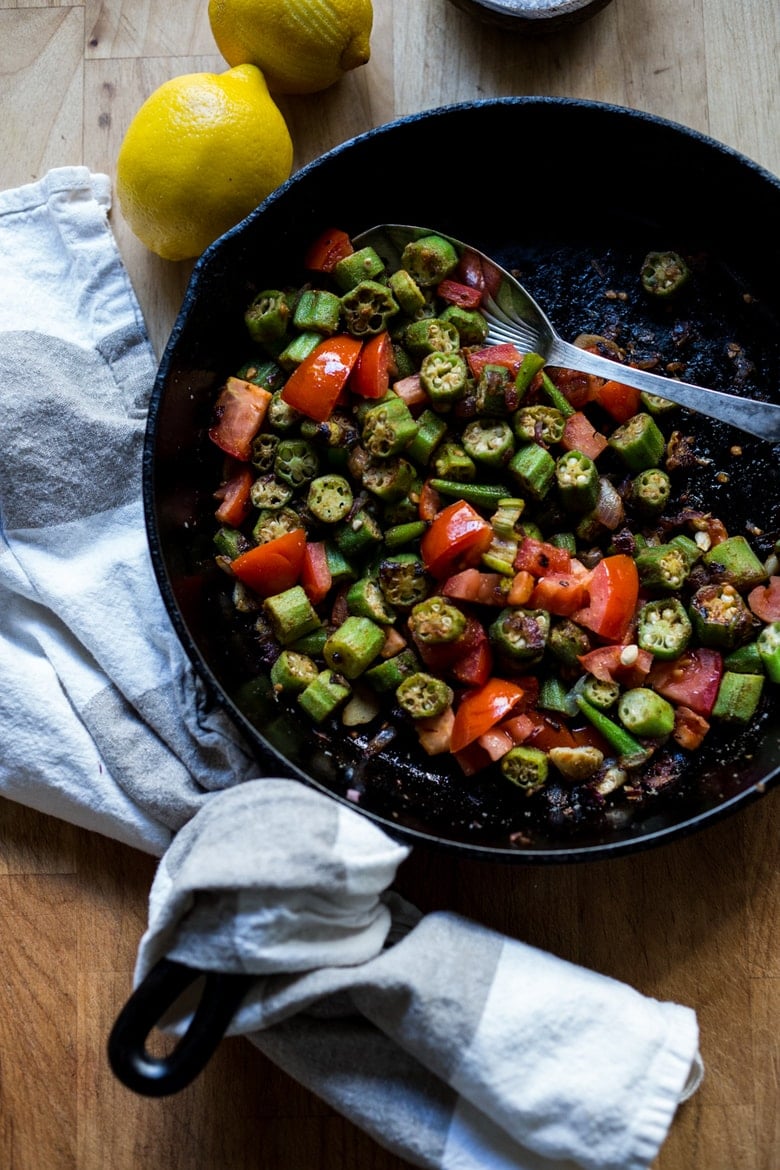 Originating from North Africa, Okra was cultivated by the ancient Egyptians in the 12th century B.C. It spread throughout Africa and the Middle East where the green pods were typically cooked in stews and has many names.
My dad called okra  "bamya".
I can still see my dad preparing this meal in our old kitchen, wearing his "galabia"- a long soft thin white cotton tunic with a deep, delicately embroidered neck, his usual lounging attire at home. My mom would be right next to him, making the rice, perfectly fluffy and light. The house would smell heavenly.
The truth is I've been missing my dad lately.  I miss the sound of his voice and how he would say my name.
Have I ever told you his name? It's Fereh. It means "rejoicing".   His mother's name was Shadah, which means "honey".  They were from a small village in Fayum, Egypt, the same very same oasis town in the book, The Alchemist, if you are familiar with it.
From a long line of Copts (a very old Christian religion), he was tattooed with a primitive cross on his right inner wrist when he was very little, indicating his religion.
There is a story here about my father's life – that just wants to pour out of me.  I've been intentionally damning it up, because if I were to start, I know I couldn't stop, and it would turn into a 500-page novel and I'm not a writer, I'm a cook! And this is a recipe blog!  But it wants to come out and live and breathe so very badly. Perhaps someday.
One thing I'll say is how much I loved the way he cooked. Turning simple humble ingredients into flavorful feasts. We didn't have a lot of money, but we always ate well.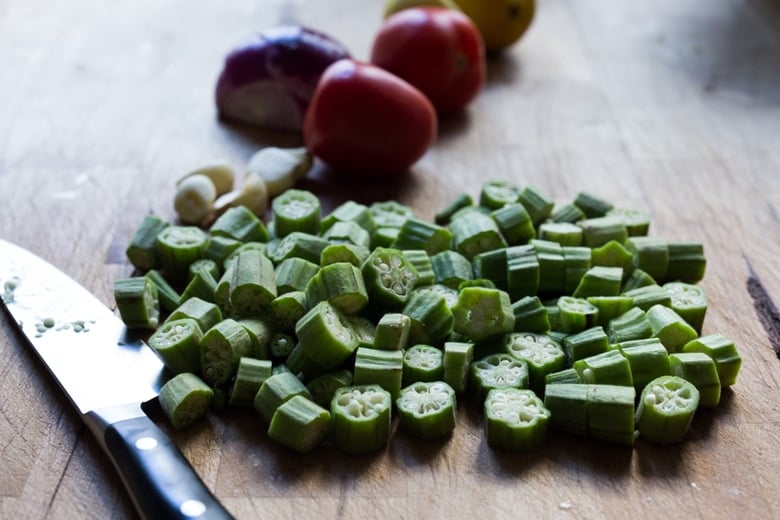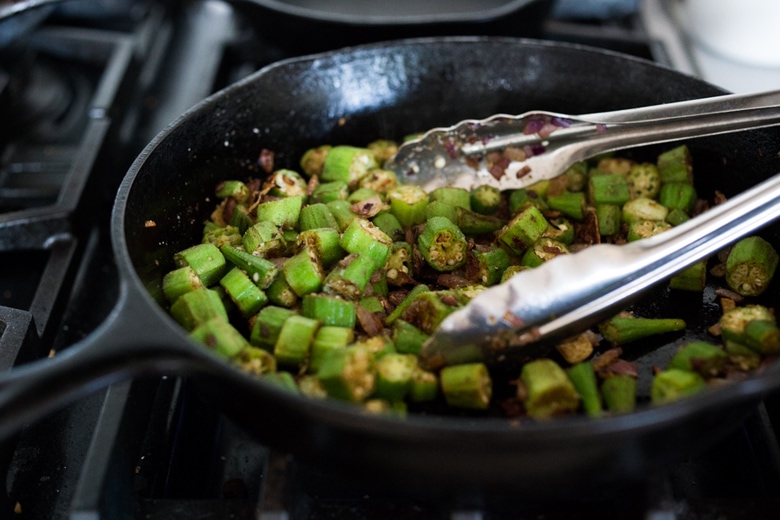 Okra, surprisingly, is a close cousin of hibiscus and hollyhock.  A beautiful six foot tall annual with heart-shaped leaves and large yellow hibiscus-like flowers, it produces edible bright green seed pods, at their tender best about 3-4 inches in length.
Its pods are ridged and fuzzy containing rows of edible seeds that release a viscous liquid when chopped. Okra fans love this because the juice it gives off provides a natural thickening to soups, stews and gumbo. But this is also the same quality that turns many people off. Yes, it's an acquired taste, just as many good things are in life. Its flavor itself is quite subtle though, so it compliments strong, spicy ingredients very well.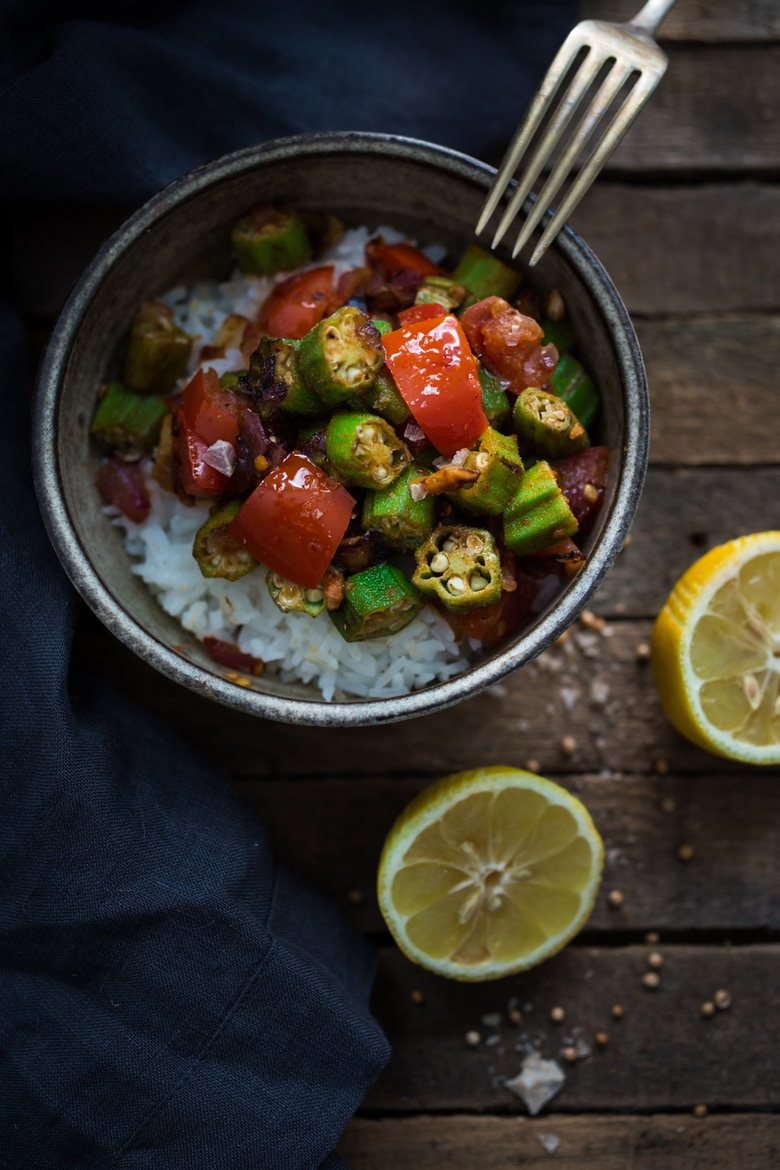 Anyways…. I hope this recipe brings you as much comfort and nurturing as it brings me. Another of my dad's recipes, Rustic Zucchini Tian can be found here!
Happy weekend to you!
Print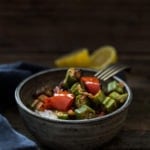 Egyptian Okra
Prep Time:

10 mins

Cook Time:

20 mins

Total Time:

30 mins

Yield:

2

-3

1

x

Category:

Vegan Main

Cuisine:

Egyptian
---
Description
A Simple flavorful Middle Eastern dish highlighting Okra.
---
1/2

pound

fresh okra ( you can use frozen but fresh is WAY better)

1 tablespoon

plus 1 teaspoon olive oil

1

cup

finely diced onion- red, yellow or sweet

5

cloves, sliced garlic

1/2 teaspoon

salt

1 teaspoon

coriander

1 teaspoon

cumin

2

roma tomatoes- diced ( or any ripe tomato)

1/2

lemon
garnish- fresh flat leaf parsley ( optional)
Serve over cooked rice ( or other cooked grain)
---
Instructions
Wash and dry okra. Dry Well.
Cut both ends off, and slice into ½-¾ inch rings
Dice the onion, slice the garlic and dice the tomatoes.
In a large skillet, heat the oil over medium high heat.
When hot add the onion and sauté, stirring often for 2-3 minutes, until just tender.
Add garlic, turn heat to medium, and stir 1-2 minutes, until fragrant.
Add the okra. Stir often over medium heat for about 10- 12 minutes. At this point they should look vibrant green and be cooked al dente. Test one, You want them tender, yet still just slightly firm. Add spices and salt. Keep stirring and saute for 2 more minutes until the spices toast a little. Add the diced tomatoes and their juices and cook 2-3 more minutes, until the tomato juices begin to release. Don't over cook or let the tomatoes get overly soft.
Squeeze with lemon. Sprinkle with fresh parsley if you like.
Serve over fluffy rice in a bowl.
Egyptian Comfort Food!
---