Fattoush is a fresh, bright and flavorful Middle Eastern salad made with peak-seasoned veggies, fresh herbs, and crispy pita in a tangy sumac dressing. This Fattoush recipe is served over a creamy yogurt-tahini sauce, bringing it up a notch!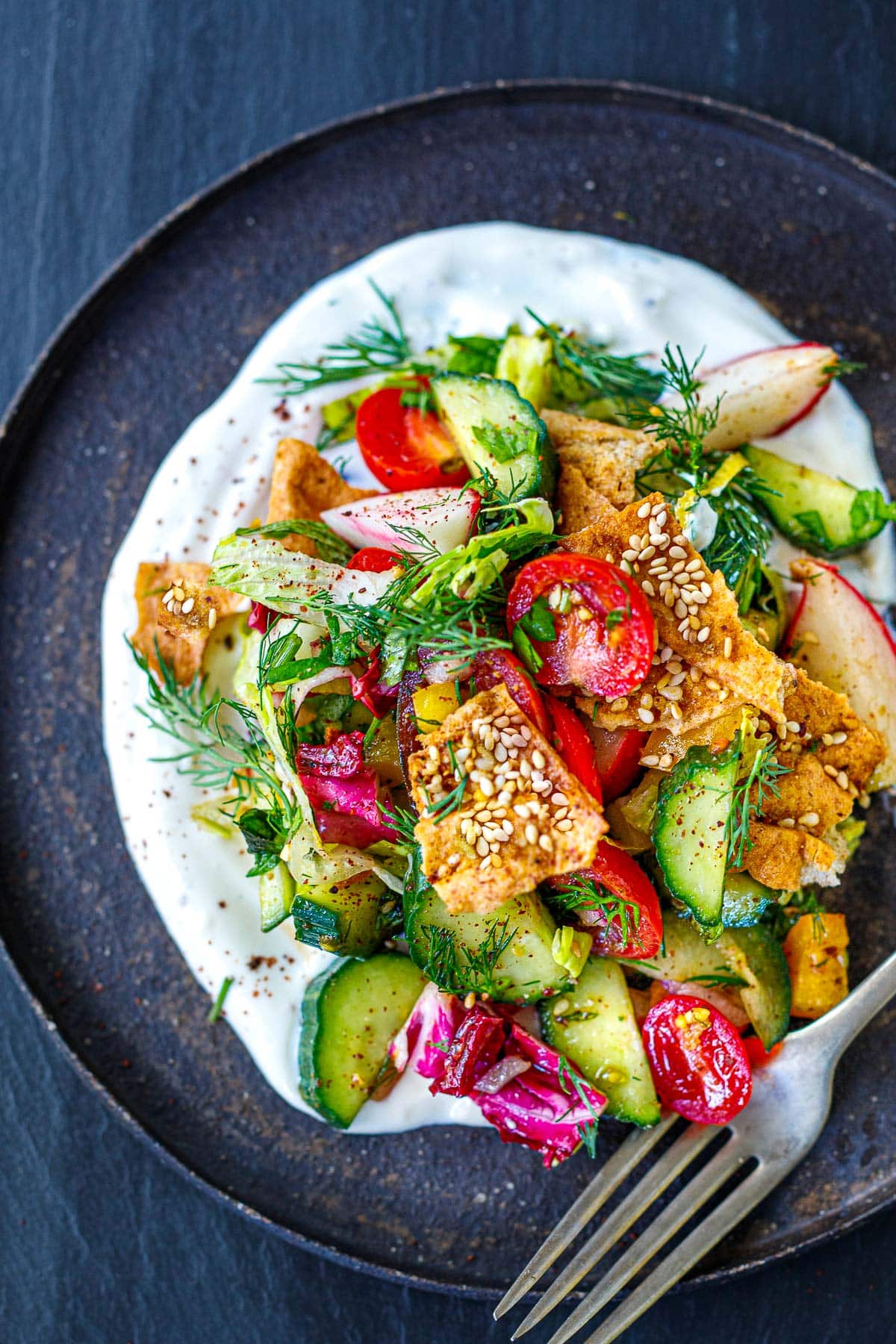 Fattoush comes from the Arabic word "fatta" which means "crushed" or "crumbs," referring to crispy pieces of pita bread that are tossed into the salad at the end. Think of this like a Middle Eastern bread salad with the crispy pita being the star of the show. The chopped veggies, fresh herbs, and crunchy lettuce can all be varied based on seasonality and local ingredients. The fattoush dressing is made with olive oil, lemon, sumac and optional pomegranate molasses- light, refreshing, and delicious!
Why you'll love this!
I lovingly call this recipe "fattoushy salad" because it's lean and healthy and, in a nutshell, good for the touchy. 😉 It is refreshing and flavorful with a great mix of textures. Fresh, crunchy vegetables, crisp lettuce, and crispy pita bring a satisfying crunch to the salad, and the tangy fattoush dressing, made with sumac, is a delightful balance of flavors. But to me, the creamy yogurt-tahini sauce, spooned on the plate, transforms and elevates it. So yummy!
Fattoush Ingredients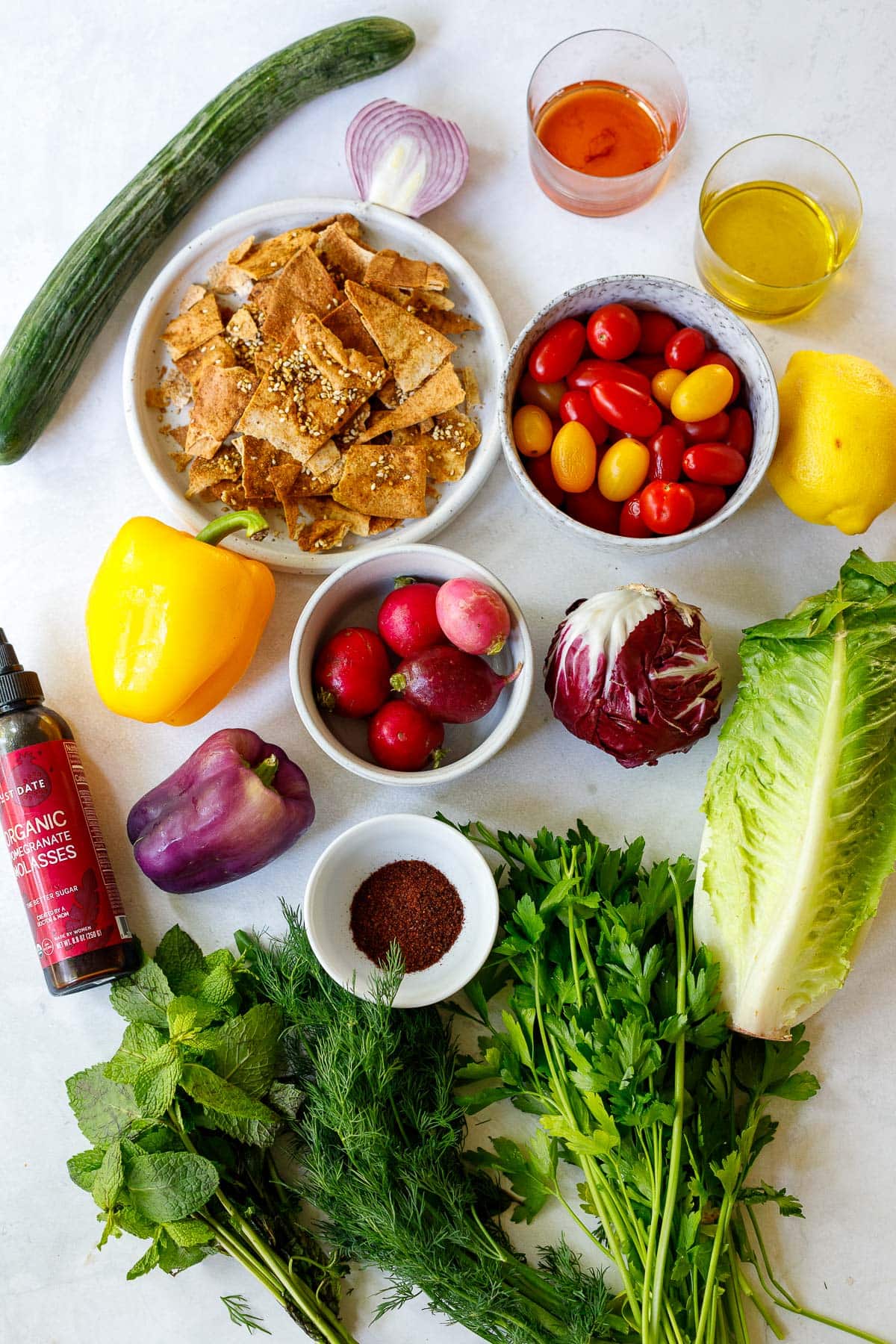 Ingredient Notes
Here are the ingredients you'll need to make a delicious Fattoush salad:
Toasted Pita Bread: the star ingredient, pita bread, is brushed with olive oil and zaatar spice, baked until crispy, then broken into bite-sized pieces. For the best results, use thin pocket pita bread or split the pita pocket in half so it's thinner.
Cucumber: Fresh and crisp, cucumber adds a refreshing taste and crunch- we use thinned-skinned cucumber here- English, Turkish or Persian.
Tomato: Vine-riped tomatoes have the best flavor- we love using cherry or grape tomatoes, but any variety will work.
Radishes: These vibrant and peppery vegetables add a pleasant crunch and peppery bite to the salad.
Bell Pepper: Use red, green, purple, or yellow; bell peppers add sweet flavor and crunchy texture.
Onion: The crunch and bite of red onion are nice here, but green onions work, too.
Lettuce: Sturdier lettuces work best: romaine lettuce or romaine hearts, little gem lettuce, radicchio, purslane, endive, or a mix.
Fresh Herbs: A combination of parsley, dill & mint, the Middle Eastern "trifecta"!
Sumac Dressing: Made with extra-virgin olive oil, and sherry vinegar (or red wine vinegar), the tangy and slightly sour flavor of sumac gives the salad its characteristic taste. Use pomegranate molasses if you have it- but we make it optional here.
Yogurt-Tahini Sauce: A creamy, tangy sauce made with Greek yogurt and tahini paste complements the salad perfectly and creates a tasty foundation. And yes, vegan yogurt works great here.
How to Make Fattoush Salad
Brush pita bread with olive oil, sprinkle with zaatar spice, and bake until crispy. If your pita bread is thick, split it apart (at the pocket) for thinner pieces. You can cut the pita into triangles if you like or bake it whole and break it apart for a more organic look.
Tip: Thin-style pita bread, like you see below, can be found in the freezer section of Middle Eastern grocery stores. I always load up and store it in my freezer. Or make pita bread from scratch- a fun project!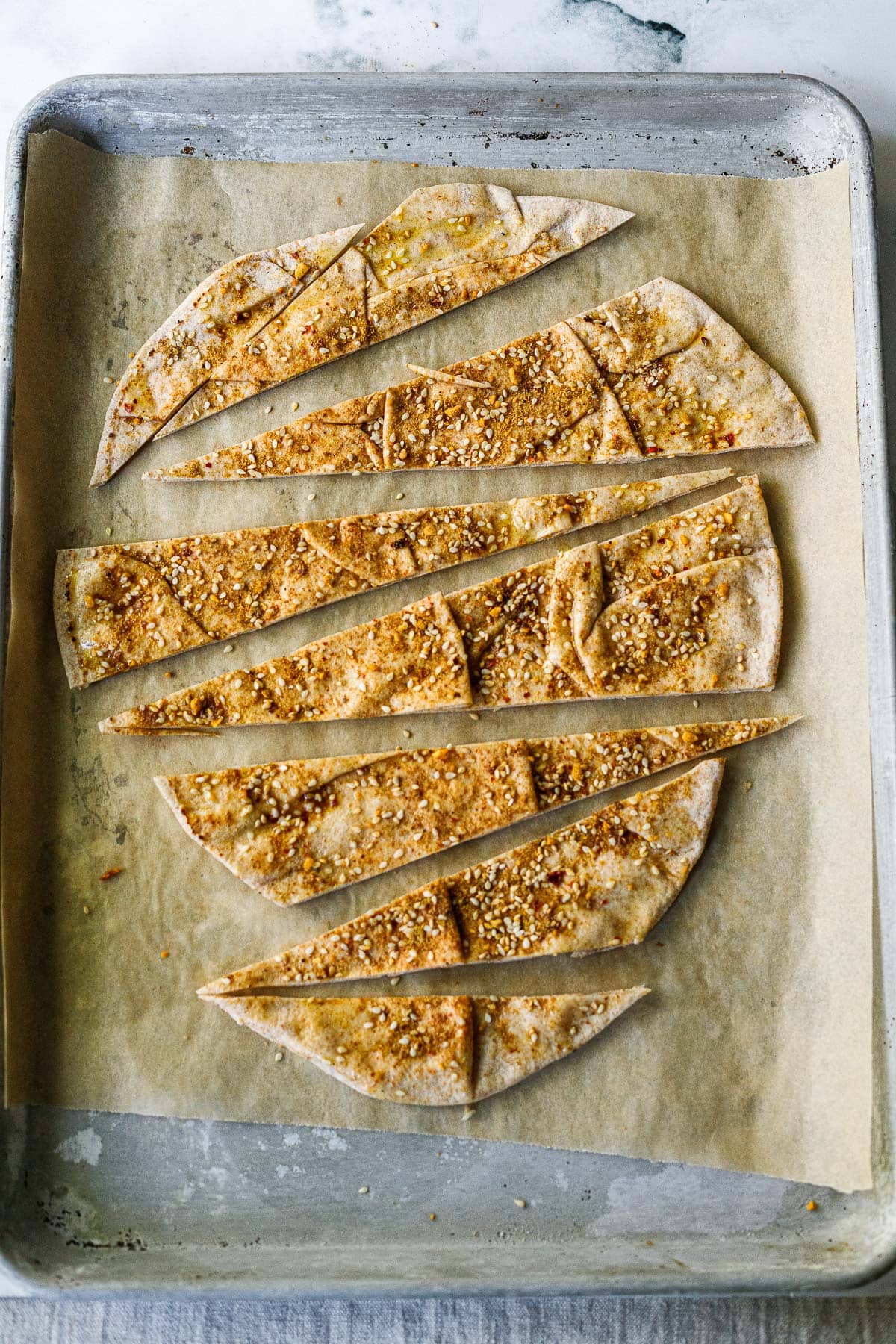 2. While the pita bread is crisping in the oven, prep the veggies and herbs and chop everything into bite-sized pieces.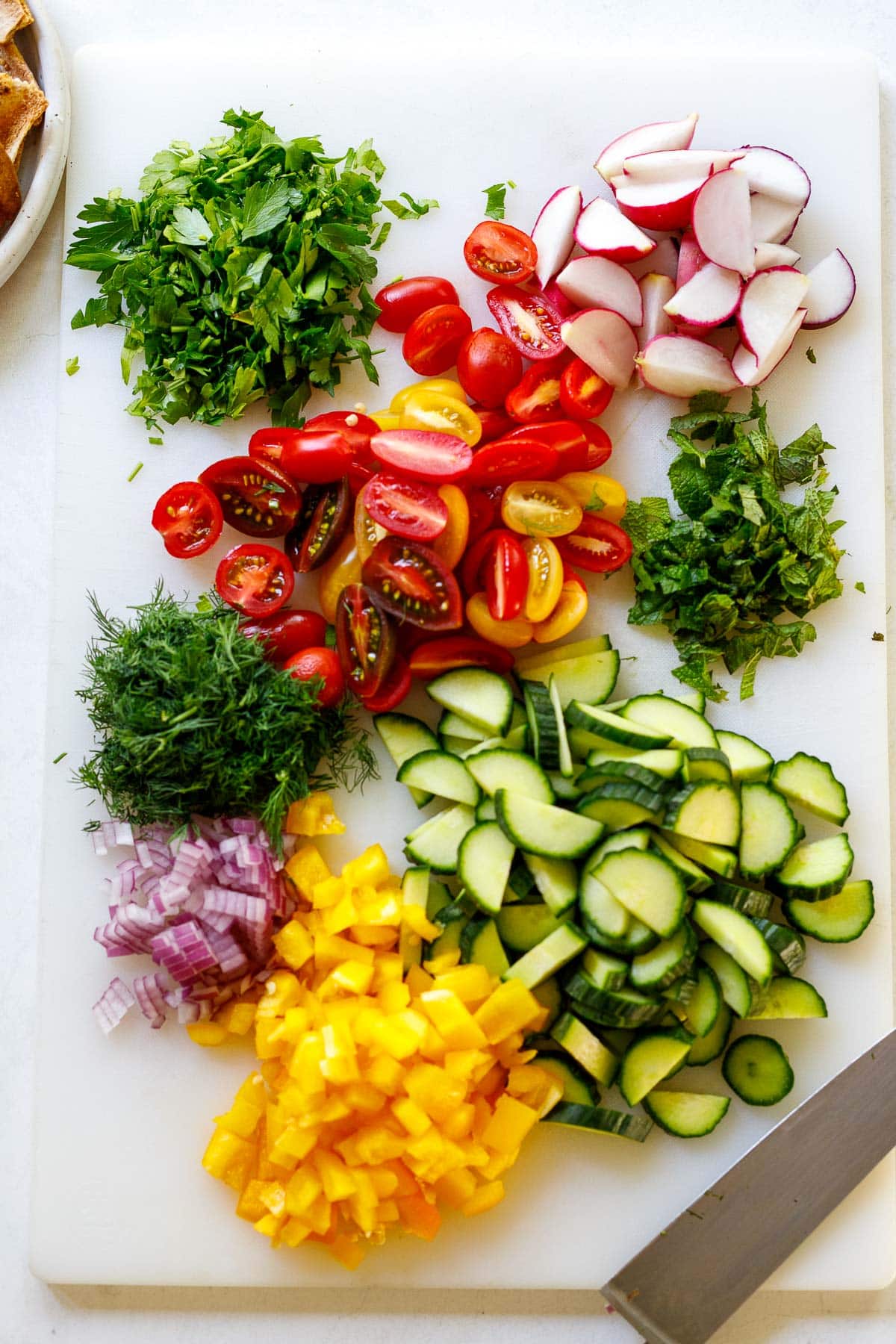 Place the chopped veggies and herbs in a large bowl and toss with the olive oil, vinegar, lemon zest, salt and pepper, optional pomegranate molasses, and half of the sumac.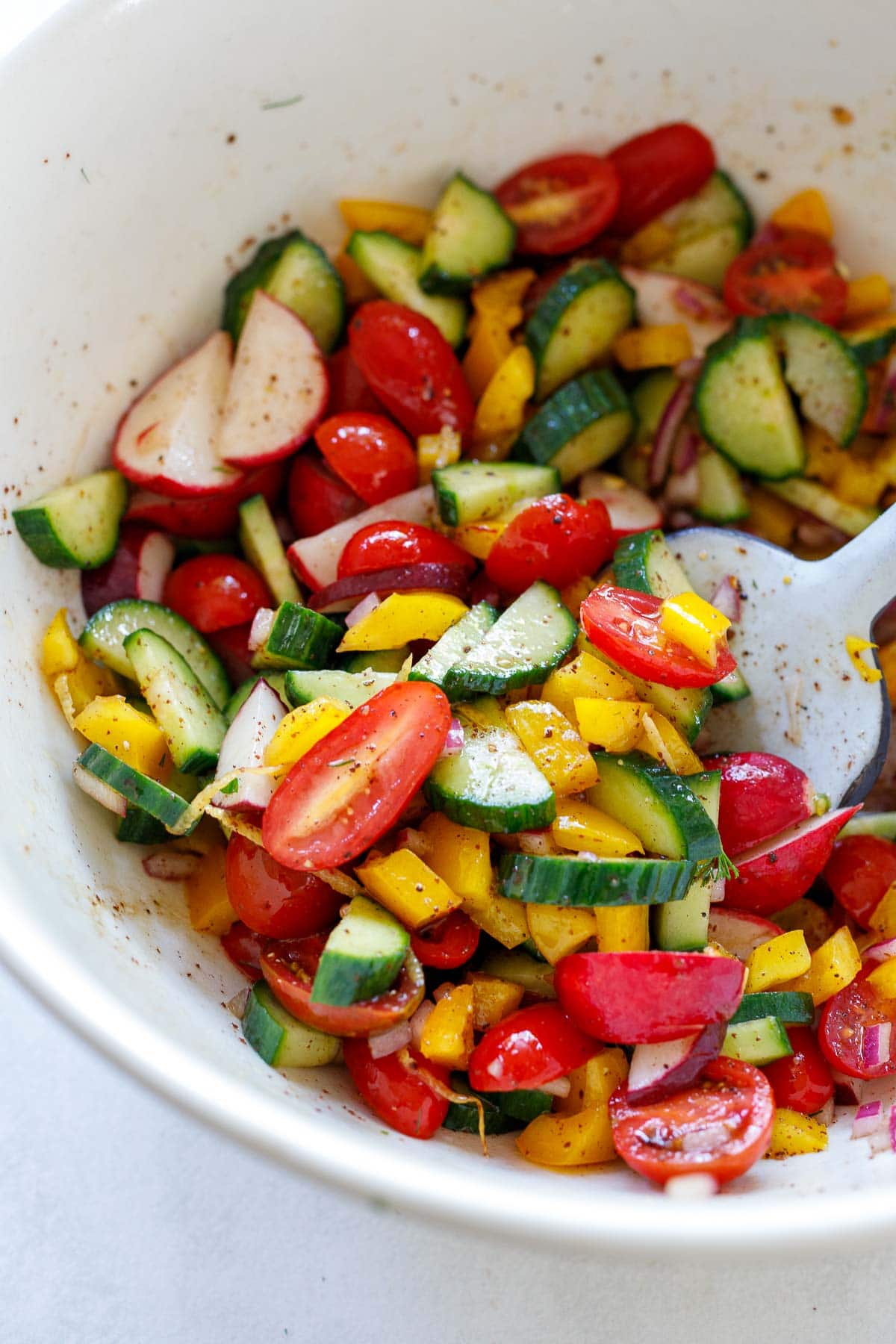 Chop the lettuce and whisk the yogurt-tahini sauce in a small bowl, setting both aside until ready to serve.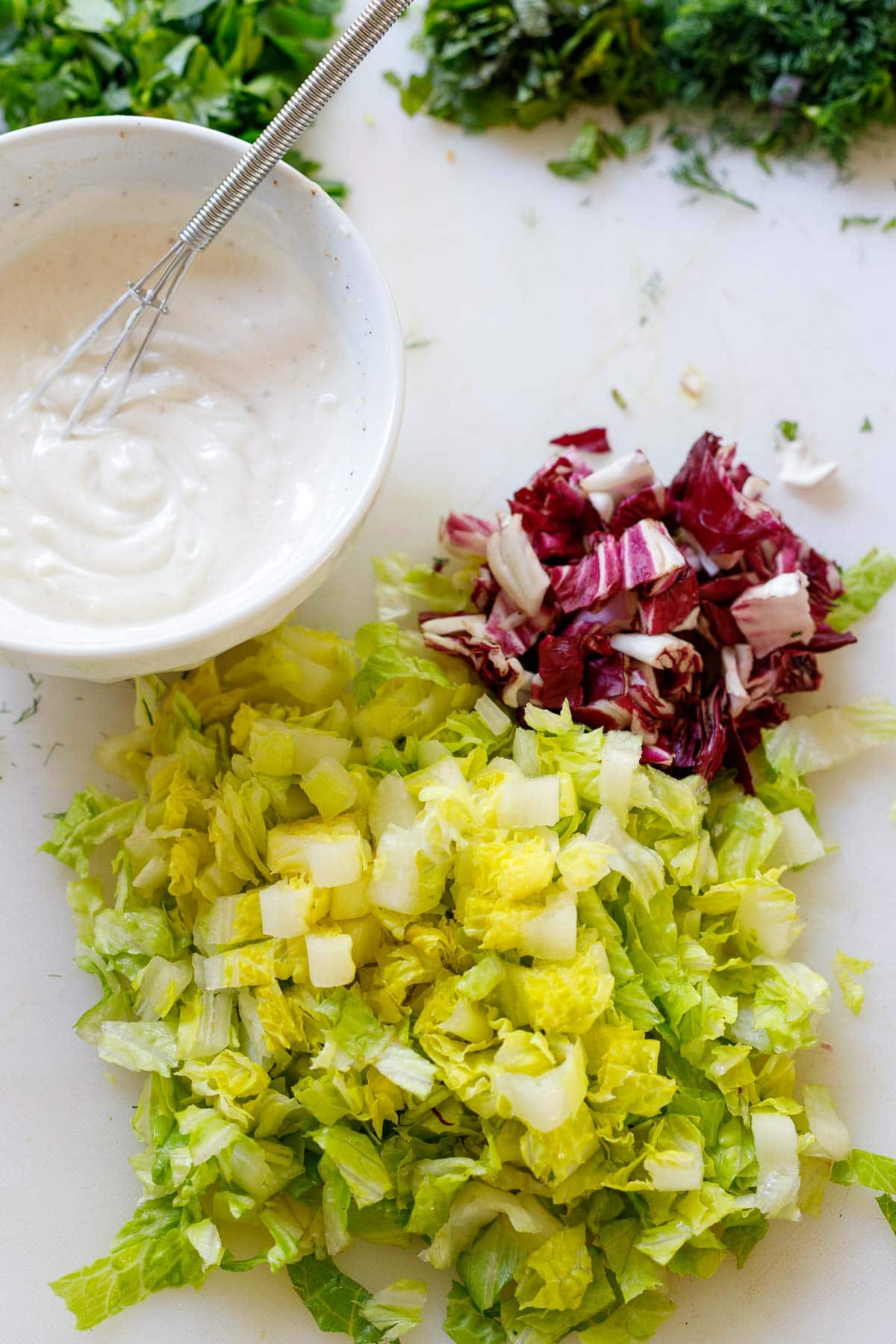 When ready to serve, toss the lettuce into the bowl, and lastly, add the crispy pita chips. Adding it right before serving ensures it stays nice and crisp. Soggy pita is NOT good!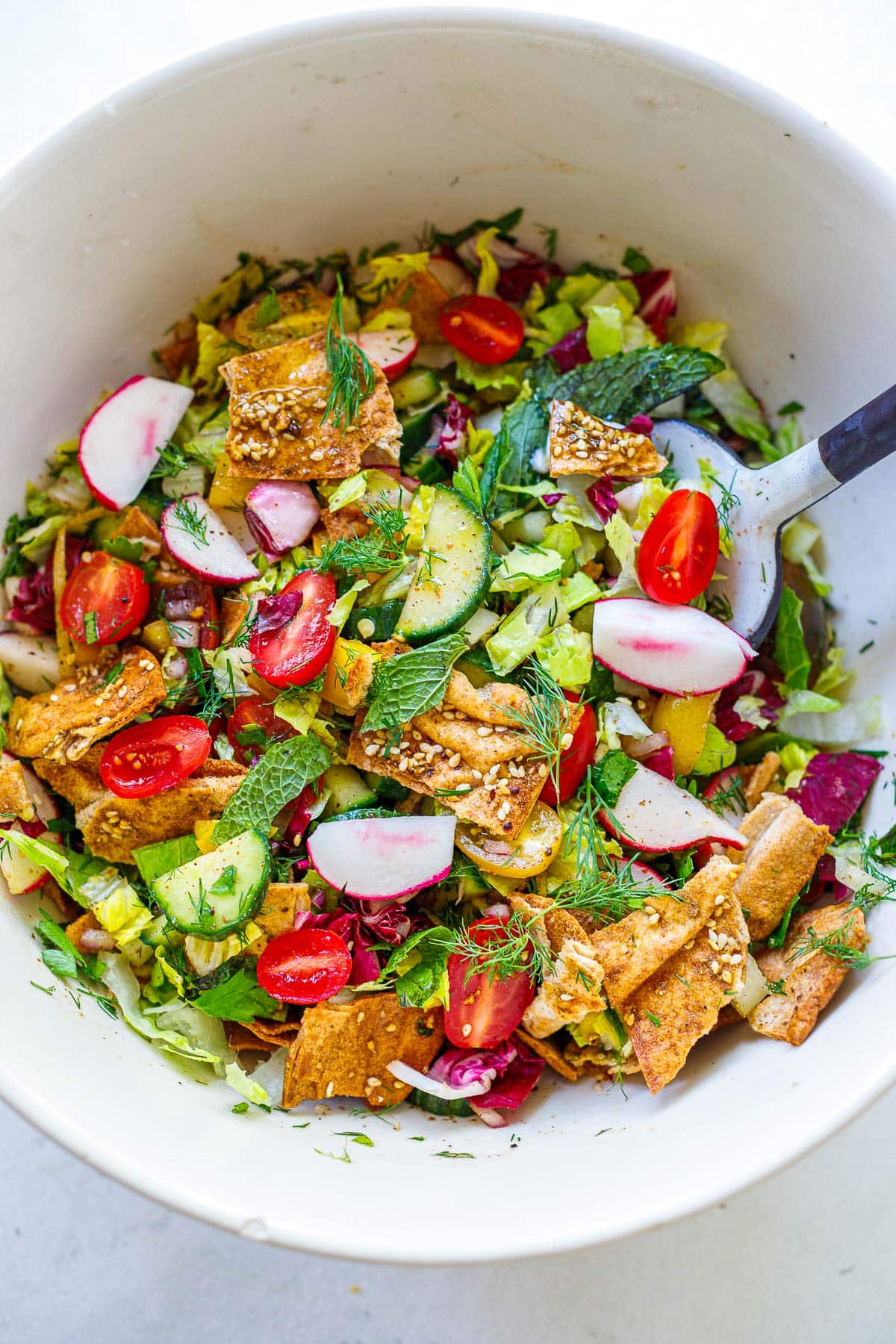 To serve the fattoush salad, spoon a few tablespoons of the creamy yogurt-tahini sauce onto a plate, swirling with the back of a spoon, then pile the fattoush salad over the top.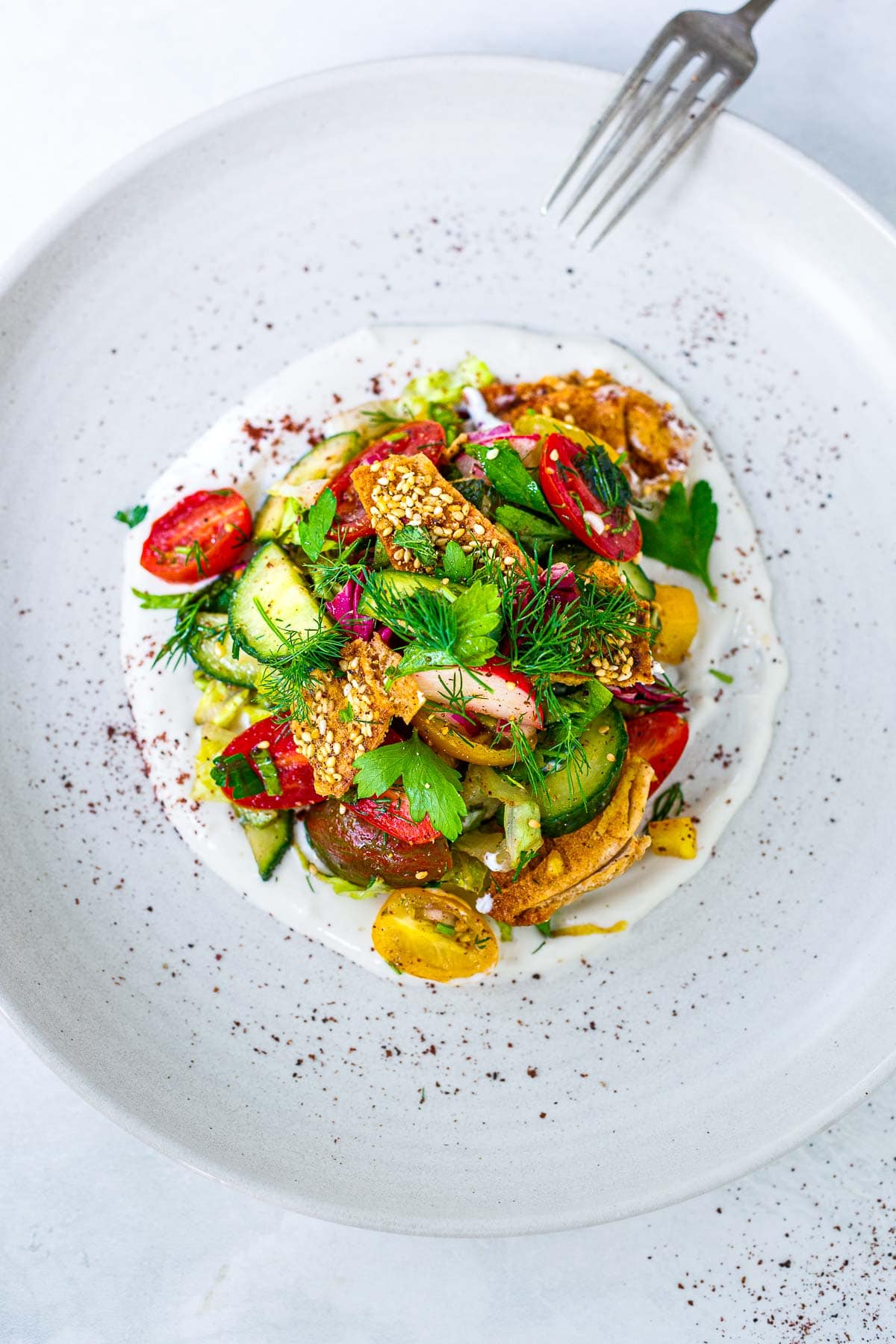 Sprinkle with more sumac. Drizzle with more olive oil if you like. Serve on its own as a light meal or with your favorite protein.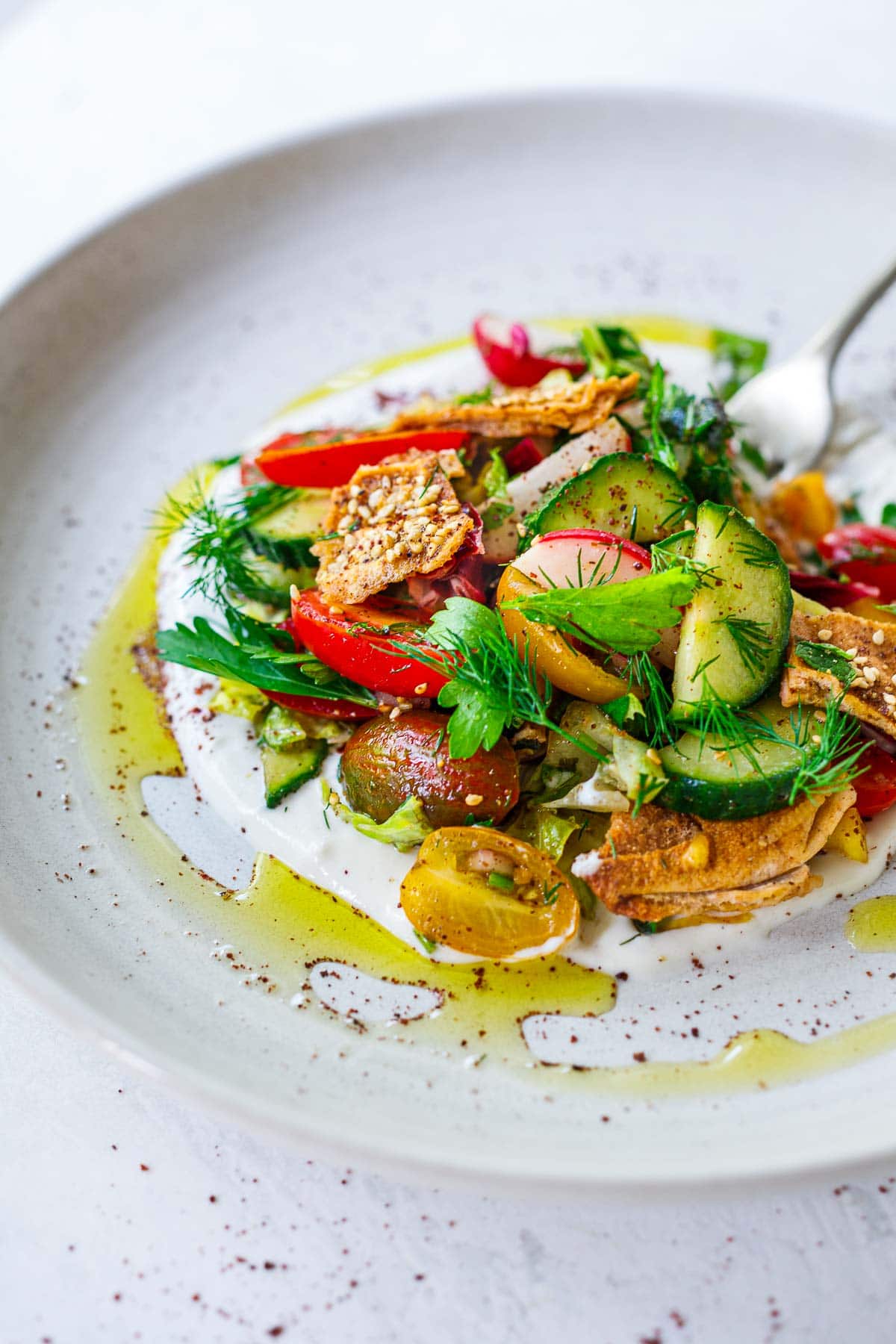 Fattoush Serving Suggestions
Serve Fattoush with your favorite protein like grilled chicken, fish or grilled tofu. You can also add cheese- for example grilled halloumi would be nice here. Create a Middle Eastern feast with hummus, falafels and baba ganoush.
FatToush Faqs
What is the origin of Fattoush salad?
Fattoush salad originated in the Middle East, particularly in Lebanon and Syria. It is a popular salad in the whole Mediterranean region.
What does Fattoush salad taste like?
Fattoush salad has a refreshing and tangy taste. The combination of fresh vegetables, herbs, and toasted pita bread gives it a delightful crunch. The sumac dressing adds a slightly sour and tangy flavor to the salad.
Can I make Fattoush salad in advance?
While it is best to enjoy Fattoush salad fresh, you can prep the salad ingredients ahead, and store them separately. Keep the toasted pita bread and lettuce separate- and add right before serving to maintain the salad's crunchiness. Keep in mind soggy pita chips are unpleasant!
Can Fattoush salad be made gluten-free?
Yes, Fattoush salad can be made gluten-free by using gluten-free pita bread or substituting it with gluten-free crackers or even toasted gluten-free bread.
Can I customize the vegetables and herbs in Fattoush salad?
Yes, you can customize the vegetables and herbs in Fattoush salad based on your preferences, the season and local ingredients.
Is Fattoush salad vegan-friendly?
Fattoush salad is vegan- simply omit the yogurt-tahini sauce or replace it with a vegan yogurt alternative.
How long can Fattoush salad be stored?
Fattoush salad is best enjoyed fresh because the pita bread will get soggy after a few hours. TIP: If you do have leftovers, pick out the pita bread pieces and let them air dry. Salad without the pita will keep up to 2 days.
Can I add protein to the Fattoush salad?
You can add protein to Fattoush salad to make it more filling. Grilled chicken, shrimp, or falafel are good options, you can also add chickpeas or halloumi or grilled or crispy tofu for a vegetarian protein option.
What are some optional additions to Fattoush salad?
Some optional additions to Fattoush salad include pomegranate seeds, olives, crumbled feta cheese, or sliced avocado, adding both flavor and texture to the salad.
Print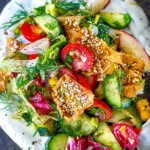 Fattoush Recipe
Prep Time:

40

Cook Time:

15

Total Time:

55 minutes

Yield:

6

1

x

Category:

salad, lunch

Method:

tossed

Cuisine:

Middle Eastern

Diet:

Vegan
---
Description
This Fattoush recipe is fresh, light, and flavorful, made with chopped vegetables, fresh herbs, and toasty pita chips in a tangy sumac dressing, all piled over a creamy yogurt-tahini sauce. (Adapted from Spice, by Ana Sortun)
---
1 1/2

cups

cherry tomatoes, halved

2

cups

English cucumber, diced ( or sub other thin-skinned cucumbers like Turkish or Persian cucumbers)

1/4

cup

red onion, finely diced

1

bell pepper, diced- yellow, red or green

5

radishes, quartered

1/2

cup

flat-leaf parsley, chopped

1/8

–

1/4

cup

fresh dill, chopped

1/8

–

cup

fresh mint leave, chopped

1 teaspoon

dried mint- optional but good!

1/3

cup

olive oil

2 tablespoons

sherry vinegar or red wine vinegar
zest from

one

small lemon

2 teaspoons

sumac (divided)
Optional: 2 teaspoons pomegranate molasses ( or sub 1/4 teaspoon sugar or alternative)
Salt and pepper to taste

2

cups

lettuce, chopped into small bite-sized pieces (sturdy lettuces work best: romaine, little gem, endive, radicchio or a mix)

2

cups

toasted pita chips (see notes)
lemon juice to taste, if needed
Yogurt Tahini Sauce
1

cup

plain yogurt ( if using non-fat or low-fat, add a splash of olive oil) or vegan yogurt

1/4

cup

tahini paste (mix it first)

1

garlic clove, finely minced

1 teaspoon

lemon juice
generous pinch salt and pepper
---
Instructions
Preheat the oven to 300F and make the pita chips. ( See notes)
Chop the veggies and herbs and place them all in a large bowl. Add the dried mint, olive oil, vinegar, lemon zest, half of the sumac, and the pomegranate molasses if using. Season with salt and pepper and mix well.
Chop the lettuce into bite-size pieces. Set aside.
Make the yogurt –tahini sauce. Whisk the yogurt, tahini, garlic, lemon, and pinch of salt and pepper in a small bowl.
When ready to serve, add the lettuce and toasted pita chips to the salad and toss to combine. Taste and adjust salt and lemon to taste.
To serve, spoon a few tablespoons of yogurt tahini sauce onto a plate and swirl with the back of a spoon. Top with a mound of Fattoush Salad. Sprinkle with more sumac and drizzle olive oil around the plate if you like. Serve immediately.
---
Notes
Toasted Pita chips: To make the toasted pita chips, you'll need two 6-7-inch pita pockets.  If using ultra-thin pita bread (like the photo above) no need to split them. Otherwise, cut the pita pocket in half, then pull apart the pocket so it is just one layer. You can cut them into triangles or leave them whole and break them apart after they are toasted. Place on a parchment-lined sheet pan. Brush or spray with olive oil (just the top side is fine) and sprinkle with zaatar spice (or sesame seeds, cumin and salt). Bake in the middle of the oven until crisp and golden, 10-15 minutes. The time will depend on the thickness of the pita so watch carefully. You'll need two cups pita chips for this recipe. Alternatively, you can purchase pita chips in a pinch, but these homemade ones are SO much better.
Leftovers: Salad is best eaten fresh, but if there are leftovers, I highly recommend removing the pita chips as they will get soggy.
Nutrition
Serving Size:

1 cup salad with 2 1/2 tablespoons Yogurt Sauce

Calories:

264

Sugar:

7.9 g

Sodium:

551.9 mg

Fat:

20.7 g

Saturated Fat:

3.8 g

Carbohydrates:

16 g

Fiber:

3.1 g

Protein:

7.9 g

Cholesterol:

6.2 mg
Keywords: fattoush, fattoush recipe, fattoush salad, fattoush salad recipe, fatoush, fatoush salad, what is fattoush?