Enchilada Stuffed Spaghetti Squash with black beans, corn, bell pepper and cilantro – a simple vegetarian dinner recipe that is easily adaptable. Vegan-adaptable or add meat. Up to you!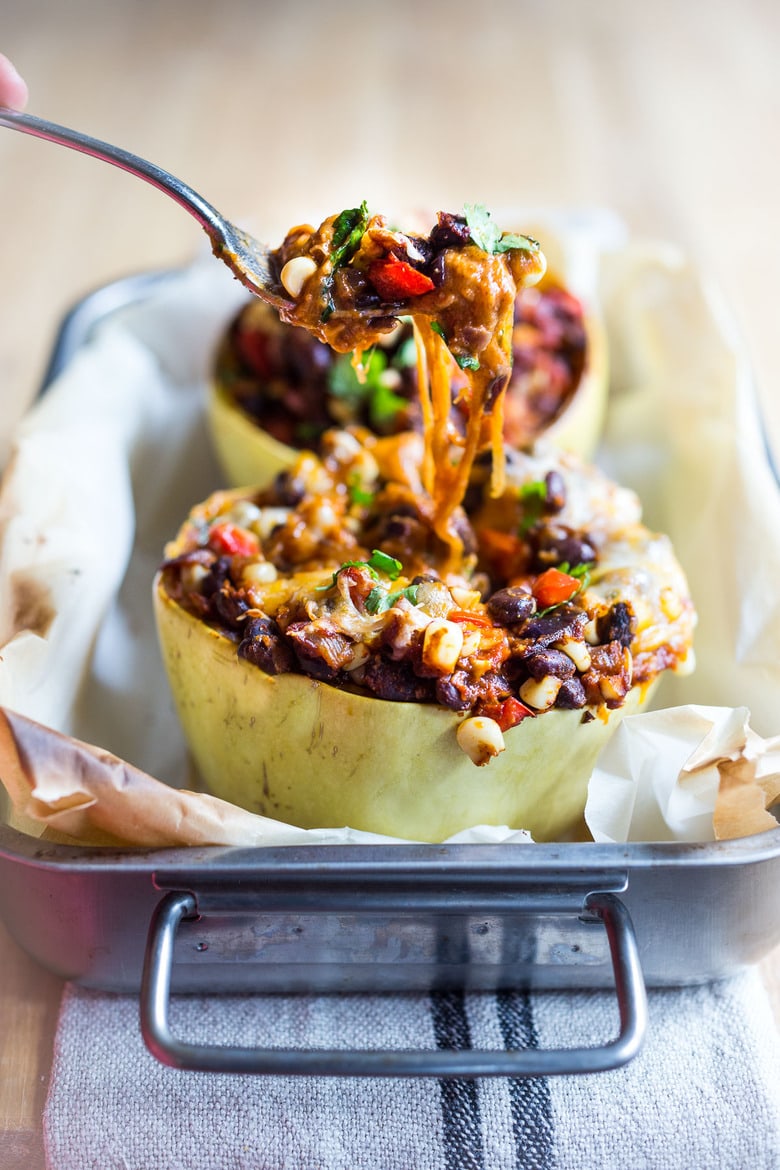 This recipe for Enchilada Stuffed Spaghetti Squash is packed full of healthy veggies without compromising on flavor! It's grain-free and vegan adaptable, perfect for mixed households where some eat meat and some are vegan or vegetarian.
Spaghetti squash is cut crosswise, to create a round "bowl"  then roasted in the oven. It is filled with a mixture of fresh corn, black beans, peppers, optional cheese and enchilada sauce. Feel free to add ground meat or chicken to some – or leave them vegetarian.
So hearty, flavorful and satisfying without being overly heavy.
 Enchilada Stuffed Spaghetti Squash | 50-sec video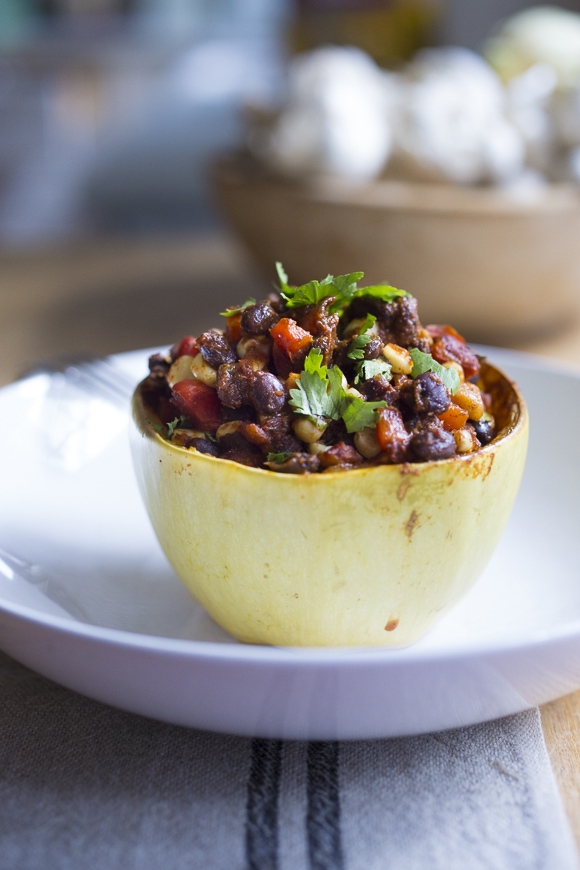 If beans are not your thing, feel free to substitute lean ground meat, baked chicken or even quinoa.
These can be prepared vegan, without cheese, like my version in the background below– or, if you prefer,  "cheese-it-up" as my husband likes to say, by adding shredded cheese into the mix.
Or try adding vegan cheese! My favorite!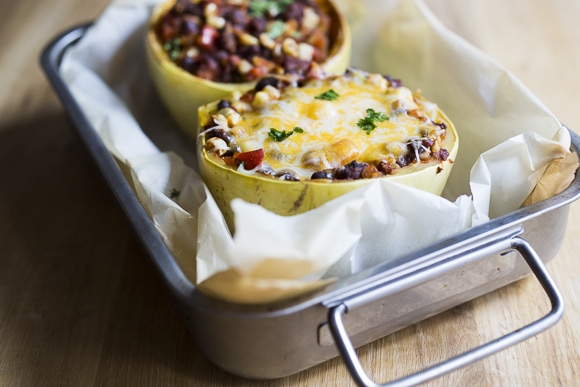 There once was a time when, like Brian, I too could consume 10,000 calories a day and magically it would evaporate! Not anymore. Not for a long long time. If you are a woman over forty, you will understand this strange phenomenon. Almost overnight, the metabolism just decides to slow way waaayyyyy down, and begins taking it easy. Like it's on vacation. 😉
But my hunger hasn't slowed down one bit. So lately, I find myself reading labels, gravitating towards things that are more naturally filling and full of fiber. I lighten up my meals a bit by pairing down on cheese for example, while keeping Brian's richer and heartier (he who burns calories, while blinking).
This is one of those recipes that is highly adaptable…making us both very very happy. Feel free to add baked chicken breast or browned ground meat or healthier turkey chorizo for meat-eaters in your household.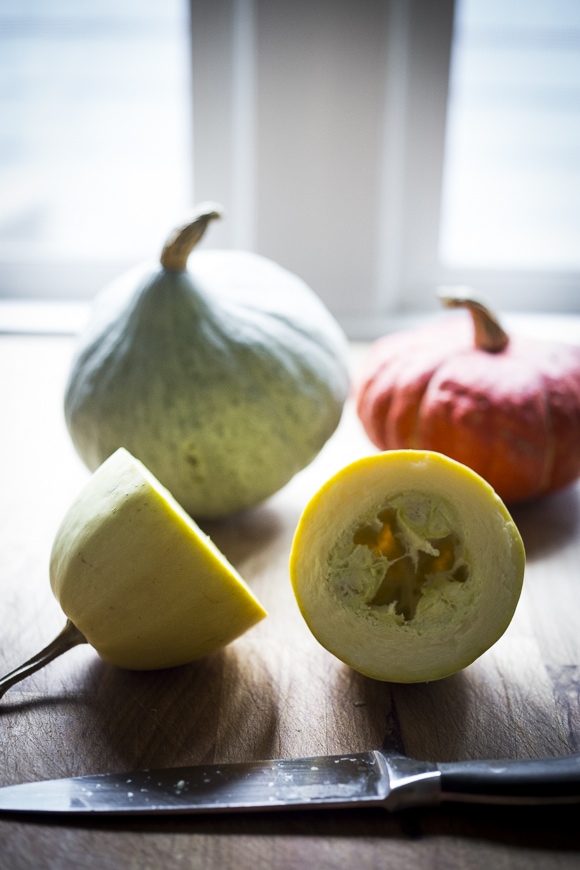 For a pretty presentation, try slicing spaghetti squash crosswise, creating two upright bowls.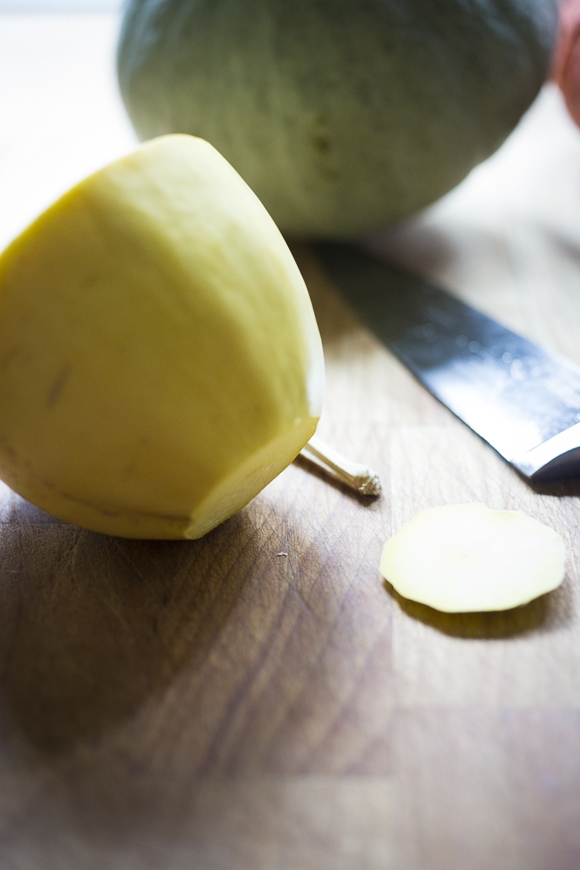 To create a stable base, slice a little off the ends to create an upright bowl.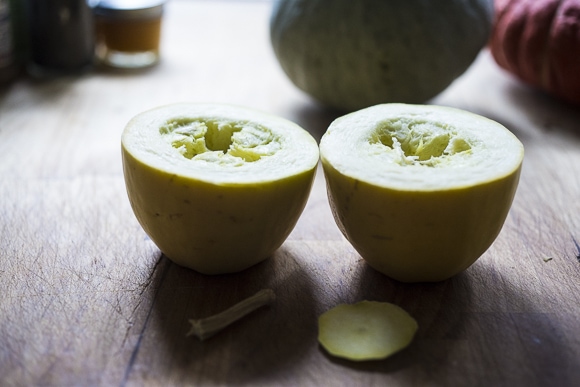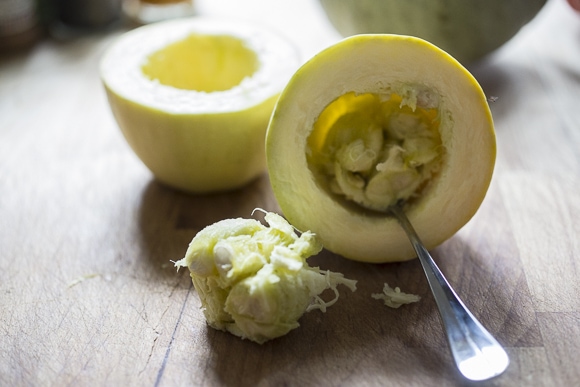 Scrape out the seeds.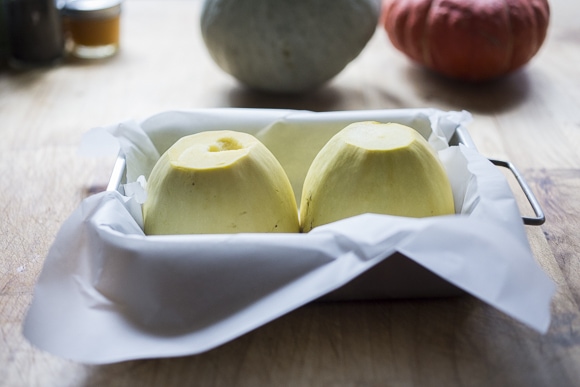 Turn over and bake in the oven on parchment paper or a greased sheet pan for 40 minutes.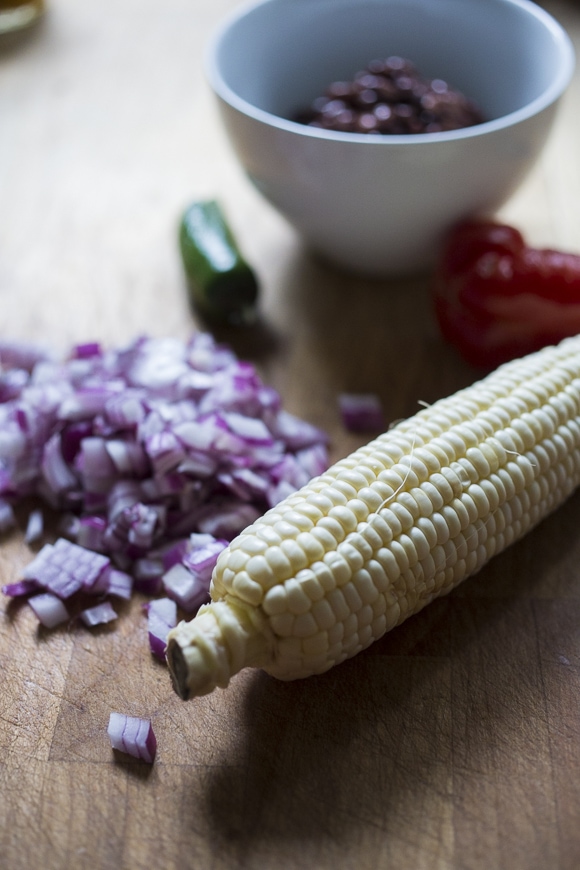 While roasting the spaghetti squash, make the enchilada filling. Black beans, fresh corn,  and red bell pepper are the ingredients I used to make this vegan version.
You can always substitute
ground beef
or baked
chicken breast
for the beans if you prefer. The key is to make the filling very flavorful, understanding that you will be mixing this in and flavoring the mild-tasting squash itself, not just stuffing it on top.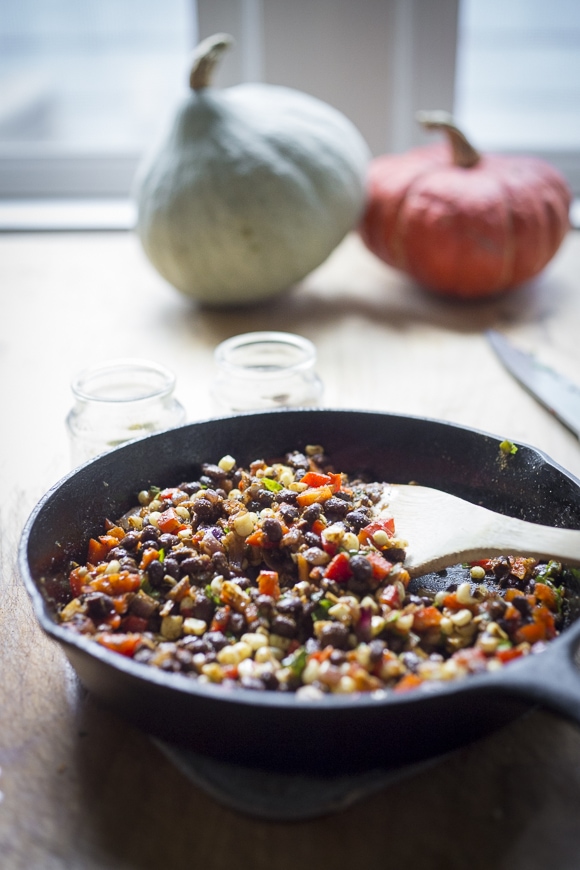 When the squash is done, fluff it up with a fork, scraping down the sides.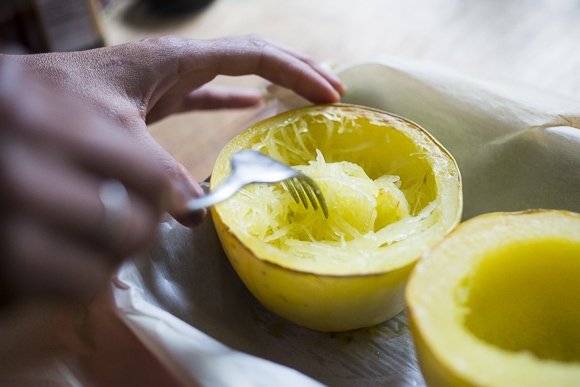 Then slowly mix in the filling, incorporating the squash. The filling is enough for four halves, or if you are especially hungry, you could just mound it up high on two halves, like shown here. If adding cheese, make sure to mix it in the filling and on top.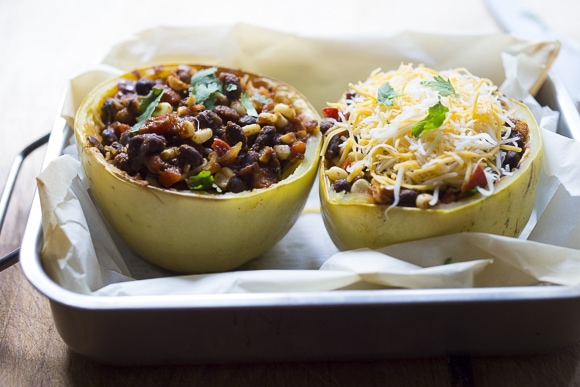 Then place it back in the oven until nice and toasty and melty, about 10-20 more minutes.
Other toppings include diced avocado, cilantro, hot sauce and sour cream.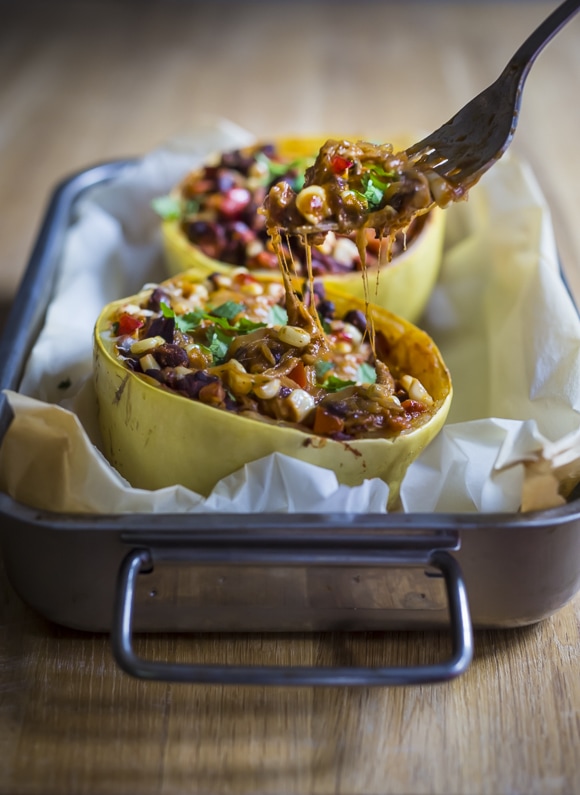 Enchilada Stuffed Spaghetti Squash with black beans, corn, bell pepper and cilantro –keep it vegan or add cheese or meat!
Print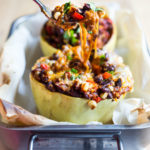 Enchilada Stuffed Spaghetti Squash
Prep Time:

15 mins

Cook Time:

50 mins

Total Time:

1 hour 5 mins

Yield:

4

1

x

Category:

Main

Method:

baked

Cuisine:

Mexican
---
Description
Enchilada Stuffed Spaghetti Squash with black beans, corn, bell pepper and cilantro –keep it vegan or add cheese!
---
2

small spaghetti squash, cut in half

1/2

onion diced ( about

1 Cup

diced)

1

–

2

Tablespoons olive oil

3

cloves garlic- chopped

1

cup

fresh corn (one ear, or frozen )

1

red bell pepper – diced

1 1/2

cups

cooked black beans ( 1 can rinsed and drained) or sub browned ground meat, turkey chorizo, or leftover or baked chicken breast )

1

Tble chili powder

1

Tble cumin

1

Tble coriander

1

Tble fresh chopped jalapeño, more or less to taste

1 tsp

kosher salt

1/2

cup

enchilada sauce or sub tomato sauce

1/4

cup

chopped cilantro, plus more for garnish

1/4

cup

shredded cheddar or Mexican cheese -per serving
Other optional toppings: chopped avocado, hot sauce, sour cream
---
Instructions
Pre-heat oven to 425 F
Cut spaghetti squash in half, and scrape out seeds. If cutting in half horizontally, create a stable base by slicing of a little of the ends, so they stand upright, creating a "bowl"( or fee free to cut vertically).
Place on a parchment lined or greased baking sheet, cut-side, faced down, and place in the hot oven for 40 minutes until fork tender.
While they are roasting, make the filling. Saute onion in a skillet with 1 -2 T olive oil, on medium high heat, stirring, for two minutes. Add garlic, turn heat to medium and sauté for 3-4 minutes until garlic becomes fragrant and golden.
Turn heat to medium low add jalapeno, corn and peppers, and stir occasionally for 5 minutes. Add beans, spices, salt and enchilada sauce and bring to a simmer. Turn heat off and stir in cilantro. Mixture will seem salty, but remember you will be mixing this with under-seasoned spaghetti squash, so the salt will disappear.
When spaghetti squash is tender, ( pierce with a knife through the skin) carefully, using a fork, fluff and stir the inside of the squash, scraping it away from the sides. You will have enough filling for four halves.
Incorporate a little filling at a time, mixing it together with the spaghetti squash. If adding cheese ( or cooked meat) mix a little into the squash and veggie mixture and use the remaining for the top. (At this point you could refrigerate, and bake at a later time) Or, return the stuffed squash into the hot oven and bake for 10-20  more minutes, until heated through and/ or cheese is melted.
Garnish with cilantro, avocado or sour cream, and  hot sauce.
---
Notes
You can also sub a vegan cheese or vegan soy crumbles ( browned).
---
Keywords: stuffed spaghetti squash, mexican spaghetti squash, twice baked spaghetti squash, baked spaghetti squash,