Roasted Spaghetti Squash with Eggplant Puttanesca Sauce- a rich, robust vegan meal that is low in carbs, keto and gluten-free!  A simple easy dinner that is healthy and delicious! With a Video!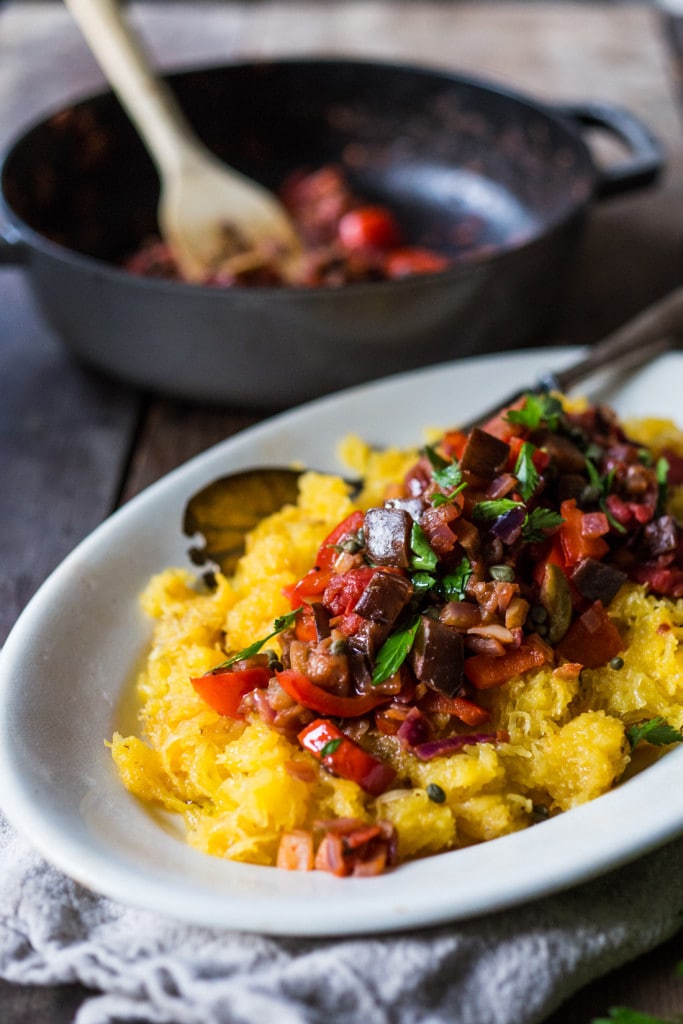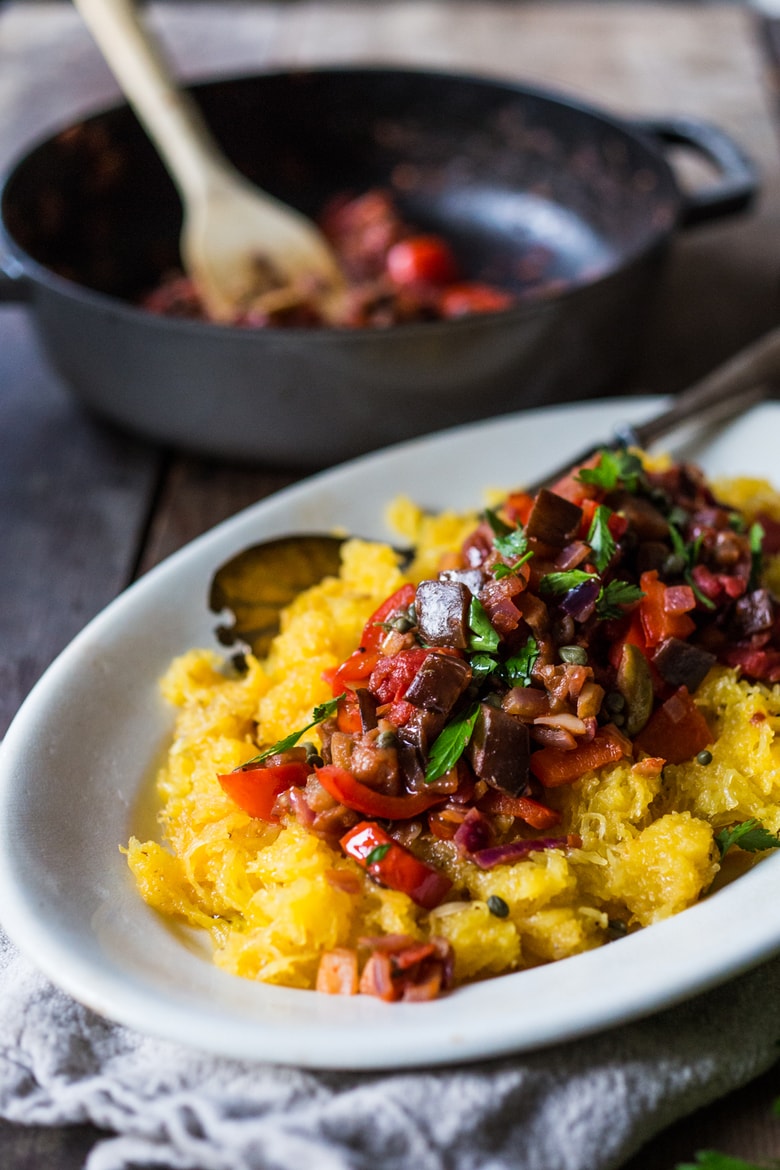 This flavorful recipe for Roasted Spaghetti Squash with Eggplant Puttanesca, is not only gluten-free, it's vegan too. I love this for its rich, robust flavors, holding its own next to big, bold red wines,  and it's meals like this I crave when the weather turns cold and blustery out.
Even though the spaghetti squash takes 30-40 minutes to roast in the oven, I still consider this a quick "weeknight" meal, because the Eggplant Puttanesca can be made at the same time – and relatively quickly and easily.
Spaghetti Squash w/ Eggplant Puttanesca Video
Eggplant is sautéed with onion and garlic, then simmered with tomatoes and red wine and cooked down a bit. Capers and olives give it depth and flavor while chili flakes add just the right amount of heat. Keep this totally vegan and dairy-free, or dust it with finely grated Romano cheese, for a tasty and healthy fall dinner.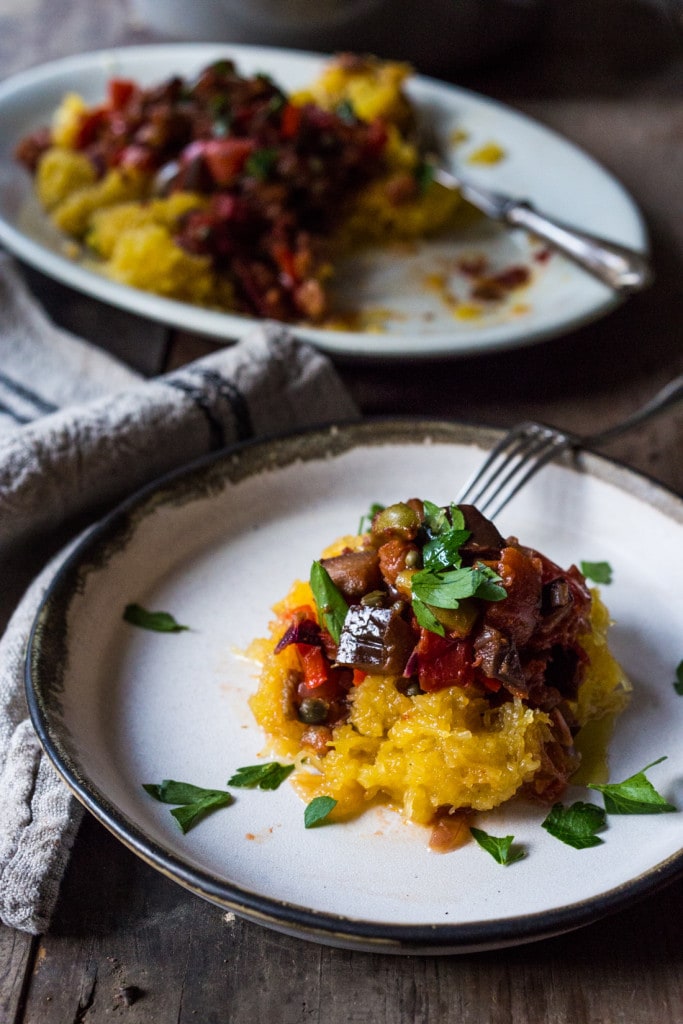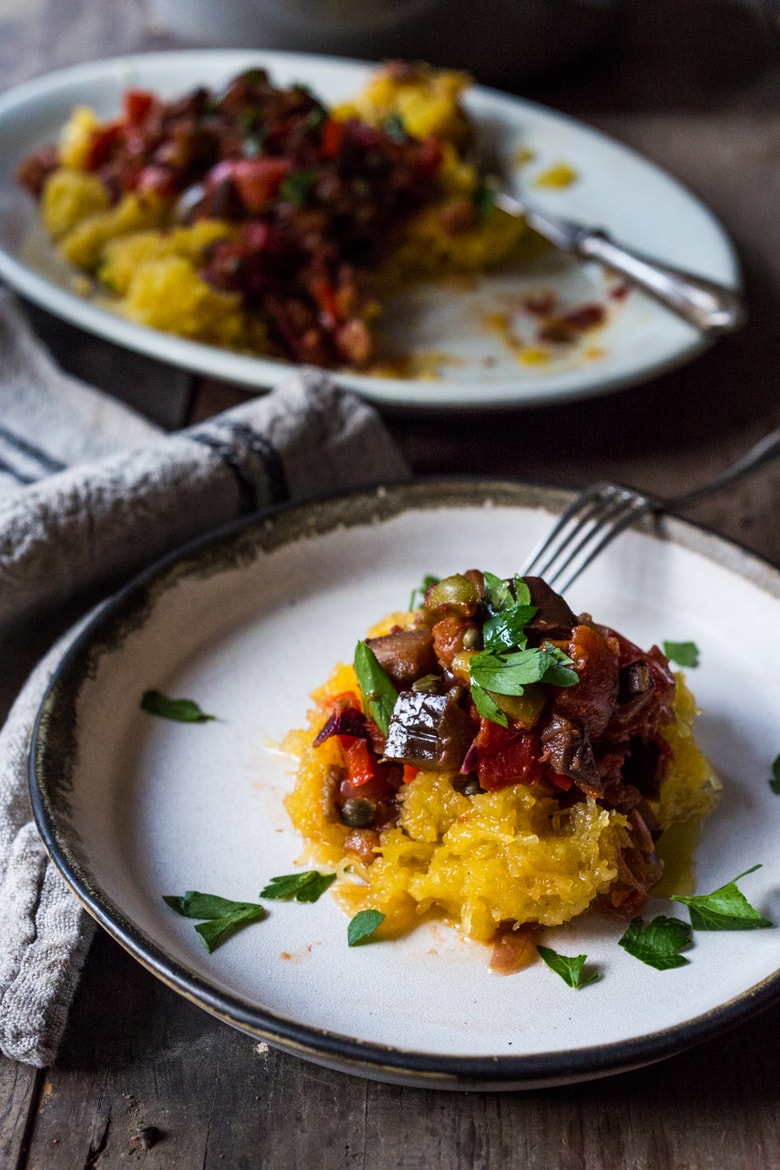 How to make Roasted Spaghetti Squash with Eggplant Puttanesca
Step 1
Roast the Spaghetti Squash, open side down on a parchment-lined sheet pan. Cutting the Spaghetti Squash width-wise preserves its long spaghetti-like strands.
Or for a faster method go here: How to Cook Spaghetti Squash.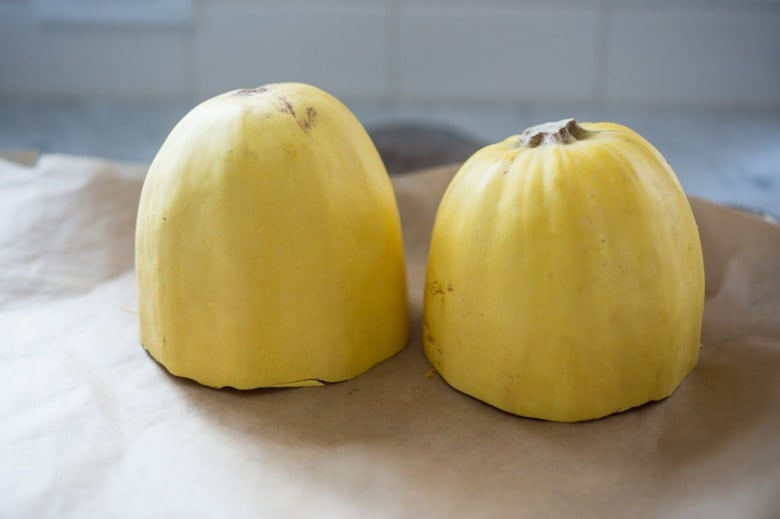 Step 2
While the Spaghetti squash is roasting, make the flavorful Eggplant Puttanesca Sauce!
Sauce the onion, eggplant, garlic, red pepper, and spices, and then add the capers and olives. Make sure to taste and adjust the seasonings so this is flavorful and robust. Adding a little bit of caper brine ups the flavor and depth. I like mine on the spicy side so I usually up the chili flakes.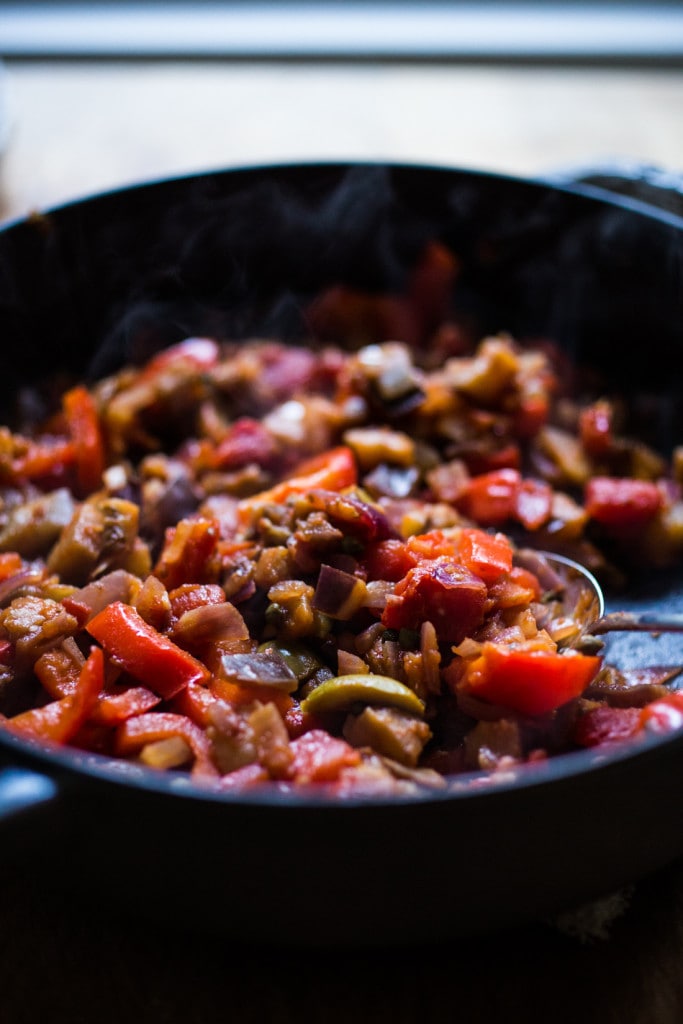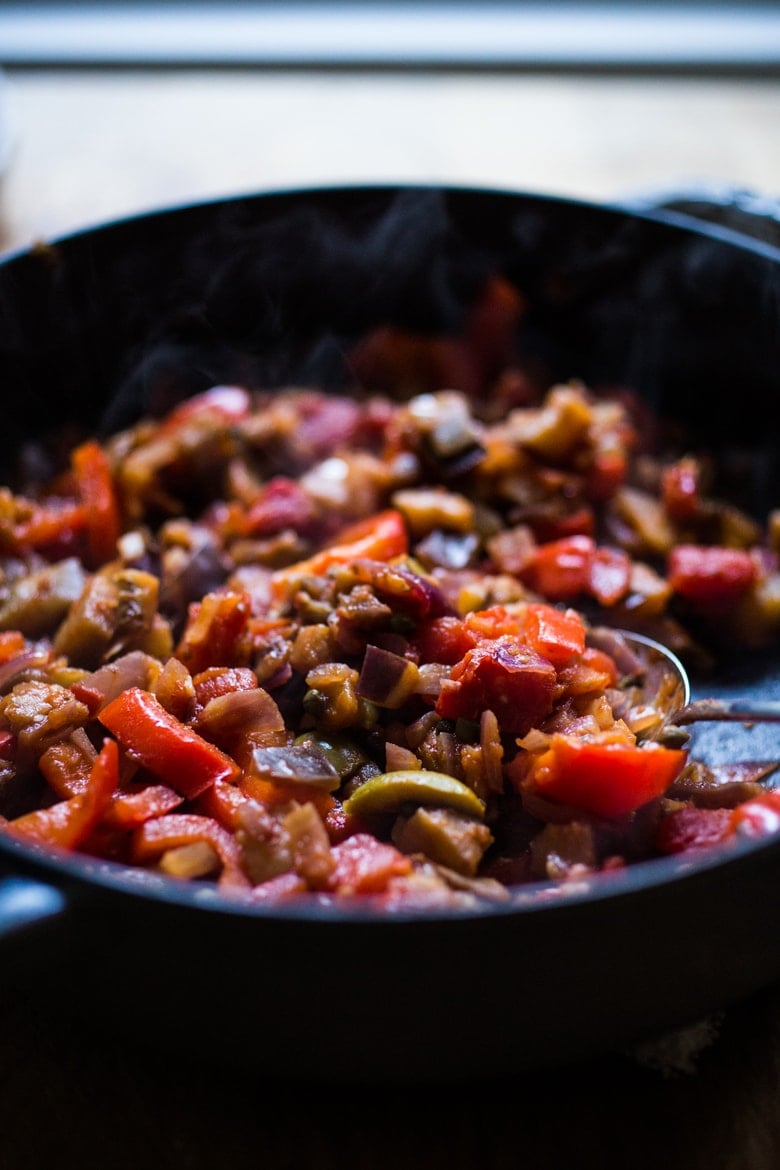 You want this extra flavorful because the mild-tasting spaghetti squash will mute the flavor a lot!!!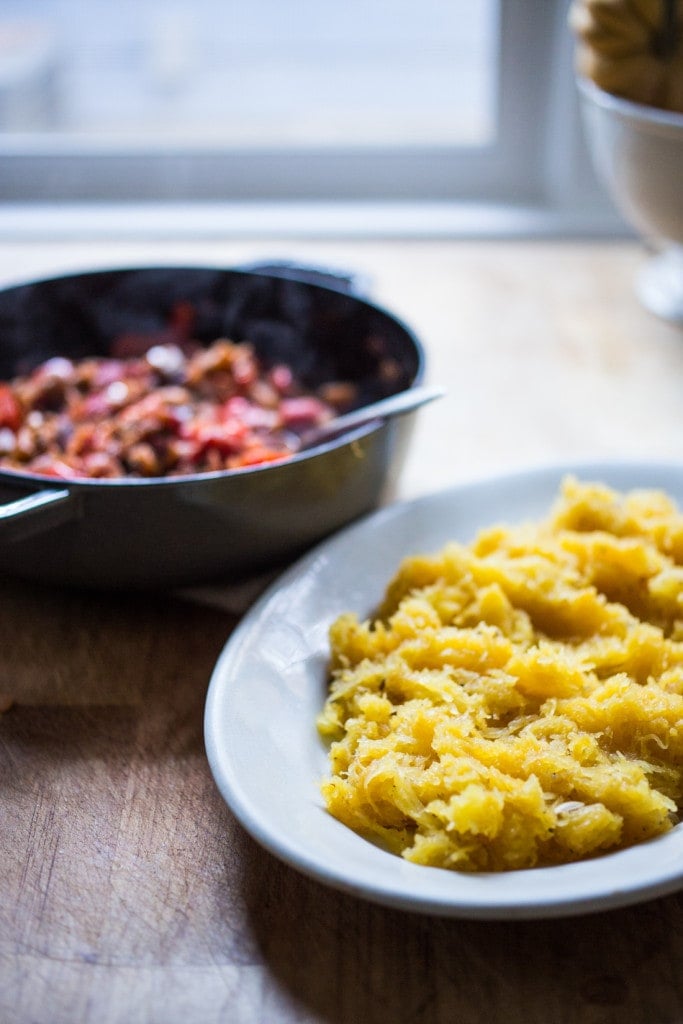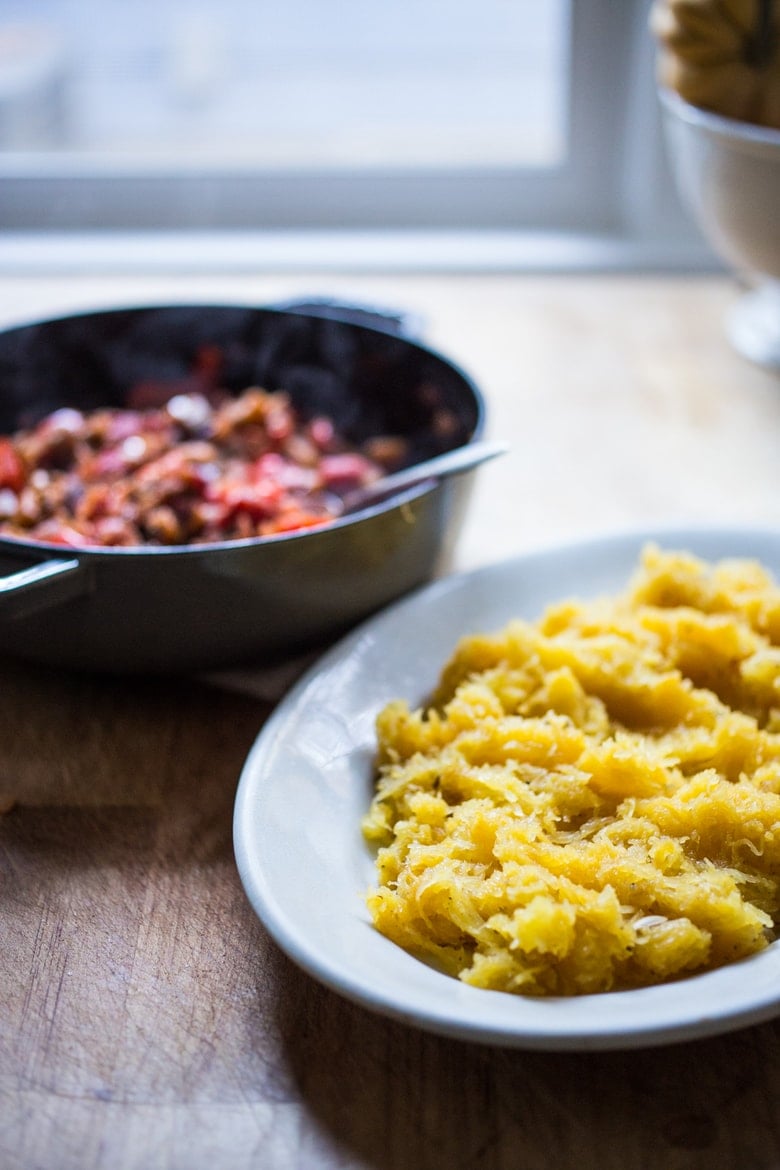 Step 3:
Turn the spaghetti squash: When the spaghetti squash is knife-tender, tip them on their sides, and roast 5-10 more minutes, to DRY them out, letting steam evaporate.
Let cool a bit, scoop out seeds, then toss with olive oil and salt and pepper.
Step 4:
Top the seasoned Spaghetti Squash with the flavorful Eggplant Puttanesca Sauce!
Try it with this Vegan Cheesy Sprinkle!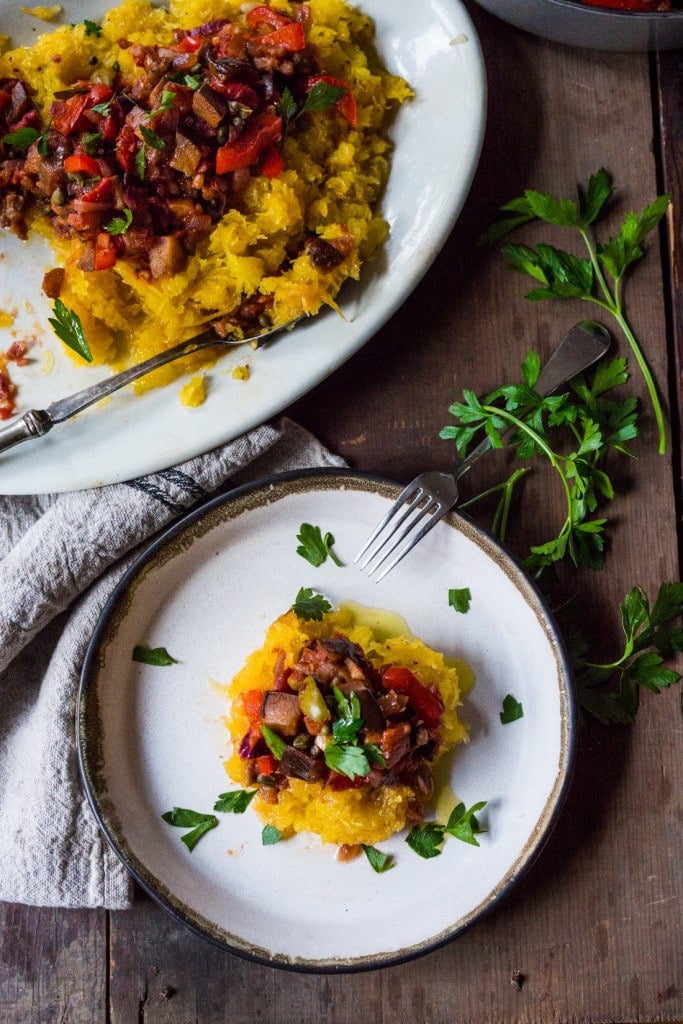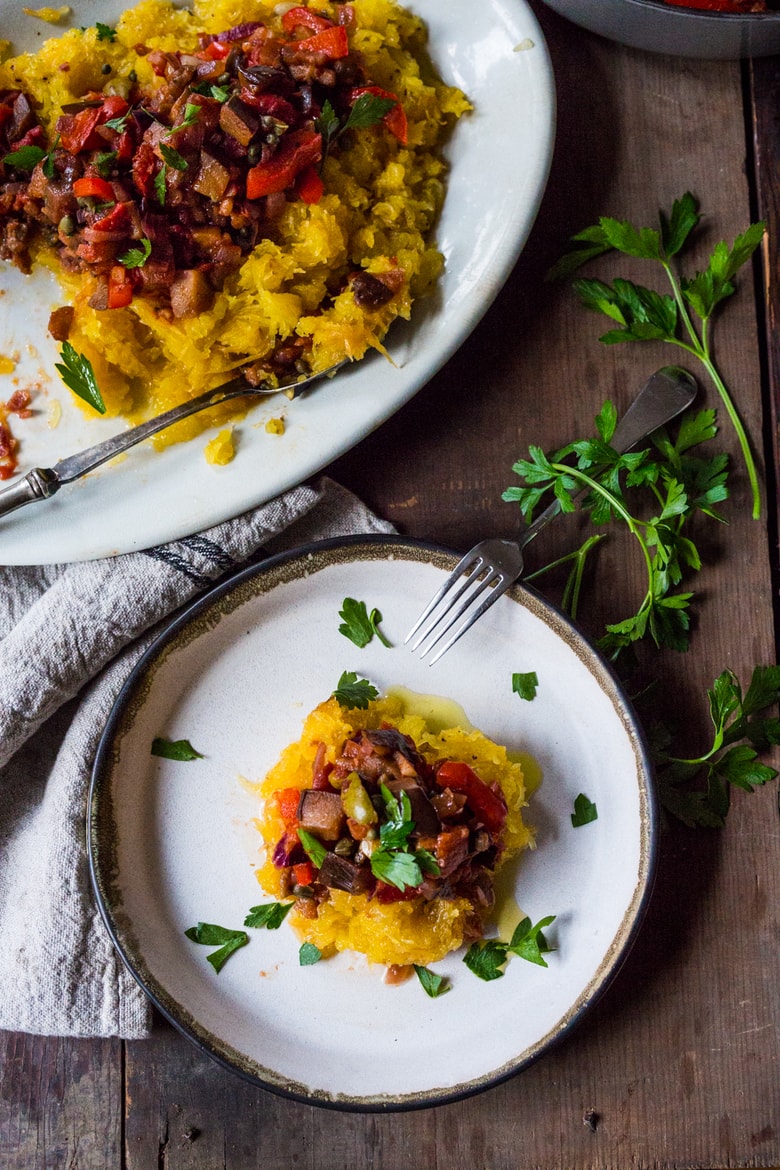 Save the leftovers for lunch the next day, the flavors deepen even more.
A simple delicious vegan dinner recipe that is also keto-friendly and gluten-free!
Ways to Adapt
Feel free to top this with your favorite protein! Or keep it just as it is.
Sometimes I'll add white beans to the puttanesca, or top this with grilled chicken for my husband.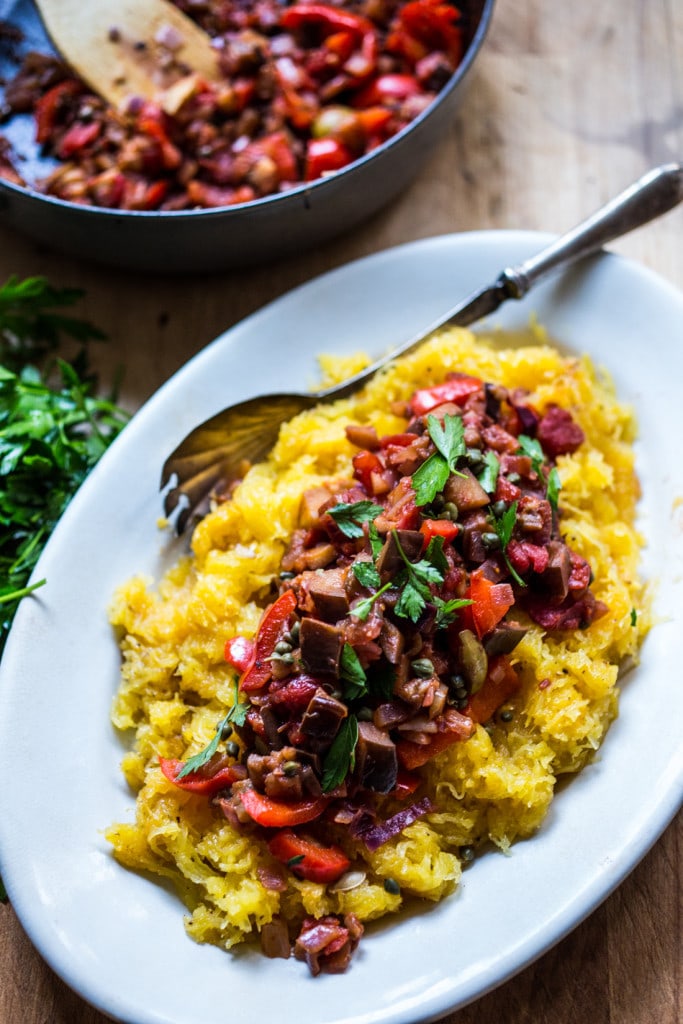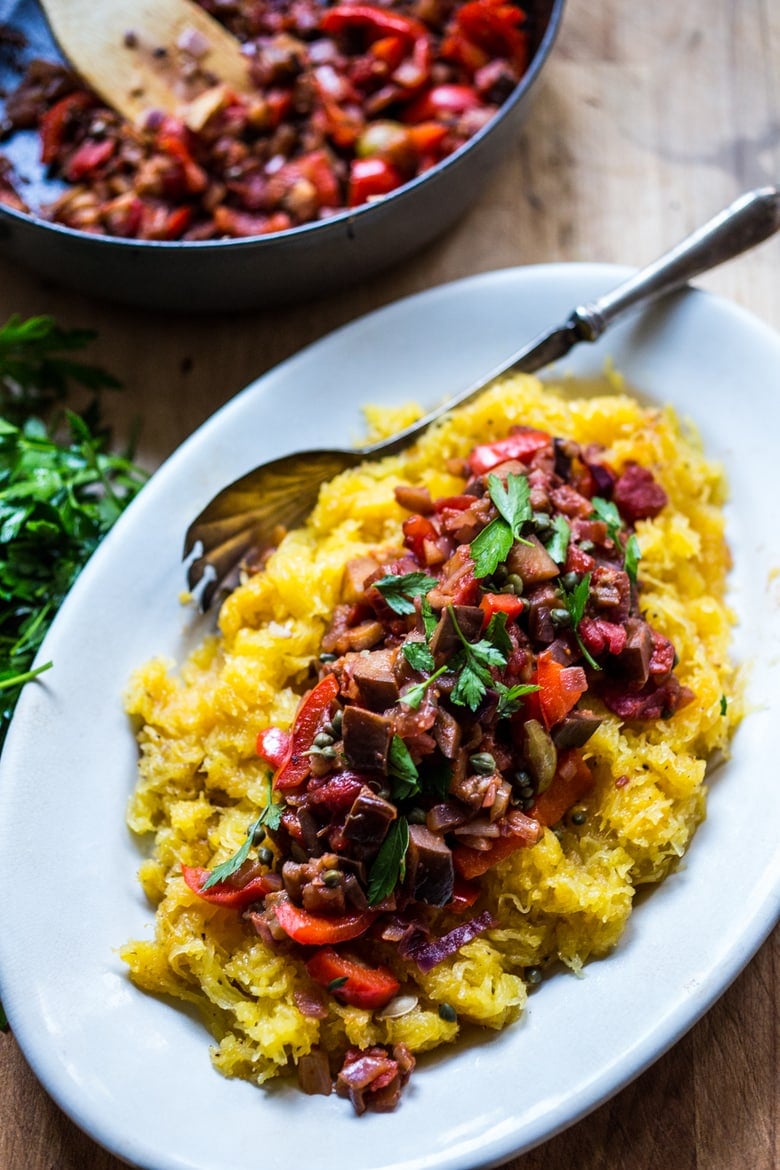 More Spaghetti Squash recipes you may like:
Hope you love this vegan Roasted Spaghetti Squash with Eggplant Puttanesca Sauce as much as we have!
xoxo
Print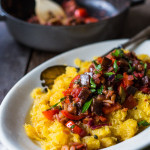 Roasted Spaghetti Squash with Eggplant Puttanesca
Prep Time:

15 mins

Cook Time:

45 mins

Total Time:

1 hour

Yield:

3

1

x

Category:

Main, vegan,

Method:

Roasted

Cuisine:

italian

Diet:

Vegan
---
Description
Roasted Spaghetti Squash with Eggplant Puttanesca Sauce- a rich, robust vegan dinner recipe that is low in carbs, keto and gluten free! Easy and simple.
---
3

lb

Spaghetti Squash- ( or sub pasta noodles)

4 tablespoons

olive oil– divided

1

medium eggplant – cut into a small dice (

4 cups

)

1

red onion- diced

4

–

6

cloves garlic- rough chopped

1

red bell pepper- diced

14 ounce

can crushed or diced tomatoes

1 tablespoon

dry Italian herbs ( or sub oregano and thyme)

1 teaspoon

kosher salt

1/4 teaspoon

red chili flakes, more to taste
Splash red wine

2 tablespoons

capers, more to taste, plus a splash of the brine

3 tablespoons

slice olives ( like green or kalamata)
Garnish: fresh Italian parsley, grated Romano or Parmesan cheese, or a drizzle olive oil
---
Instructions
Preheat oven to 425F
Cut squash in half widthwise, place open side down, on a parchment-lined baking sheet in the oven and roast for 30- 40 minutes (depending on size) or until knife tender. Turn on their sides, allowing steam to escape, continue roasting 5-10 minutes, so they dry out a bit.
While the squash is roasting make the Eggplant Puttanesca sauce.
In a large heavy bottom skillet or dutch oven, heat 3 tablespoons oil over med-high heat. Add diced onion and eggplant, and saute, stirring often for 4-5 minutes. Add garlic and red bell pepper, turn heat down to medium and continue cooking until eggplant is tender, about 10-12 more minutes, stirring occasionally.
Add crushed tomatoes, a generous splash of wine, chili flakes, salt, pepper, Italian herbs, and simmer on low heat 5-10 more minutes. Add capers and olives.
Taste, adjust salt, spice level and add more capers or olives to taste. Sometimes I'll add a little splash of the caper or olive brine, to bump up the flavor.
When spaghetti squash is tender, scoop the seeds out- then scoop out spaghetti squash strands into a bowl, and fluff and toss well with salt, pepper and 1 tablespoon olive oil.
 Divide among bowls and top with the eggplant puttanesca. Sprinkle with fresh Italian parsley and grated cheese (optional)  or drizzle olive oil.
Alternatively, you can serve this right out of the spaghetti squash shell ( making sure to season the squash, mixing with a fork before topping with the putttanesca.
---
Nutrition
Serving Size:
Calories:

428

Sugar:

26.1 g

Sodium:

1246.2 mg

Fat:

22.8 g

Saturated Fat:

3.5 g

Carbohydrates:

58.5 g

Fiber:

14.3 g

Protein:

6.9 g

Cholesterol:

0 mg
Keywords: roasted spaghetti squash recipe, vegan spaghetti squash recipe, roasted spaghetti squash with eggplant, puttanesca recipe, eggplant puttanesca, keto recipe, vegan keto recipe,