Butternut Squash Lasagna with Mushrooms and Sage- a cozy vegetarian (or vegan) main dish, perfect for your holiday feast! This can be made with no-boil noodles and can be made ahead!
Looking for more? Check out 50 Best Vegetarian Recipes and Our 40 Best Mushroom Recipes!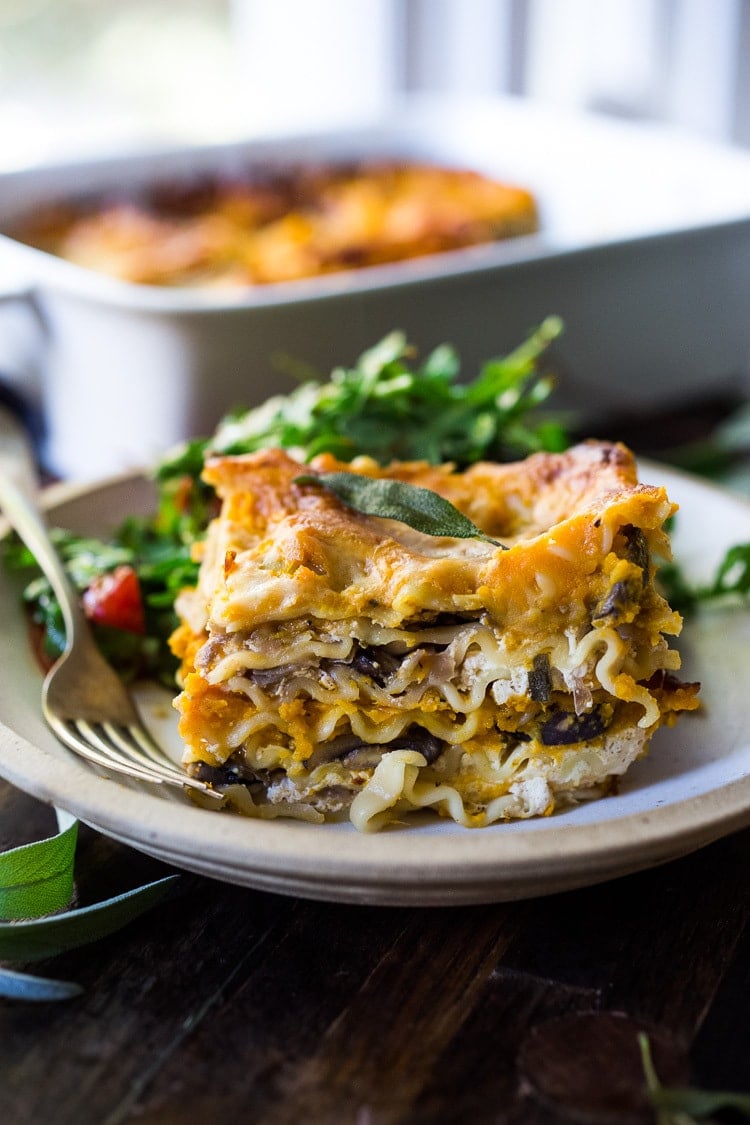 We can only be said to be alive in those moments when our hearts are conscious of our treasures.

Thorton Wilder
Here's a delicious vegetarian or vegan main dish, worthy of your holiday table – Butternut Squash Lasagna with Mushrooms and Sage. So comforting and homey.
What I love about this recipe is the butternut lasagna can be made ahead (or in stages) and stored in the fridge until ready to bake. When it comes out of the oven, beautifully golden and bubbly, your house is sure to smell amazing!
Butternut squash Lasagna | 60-sec Video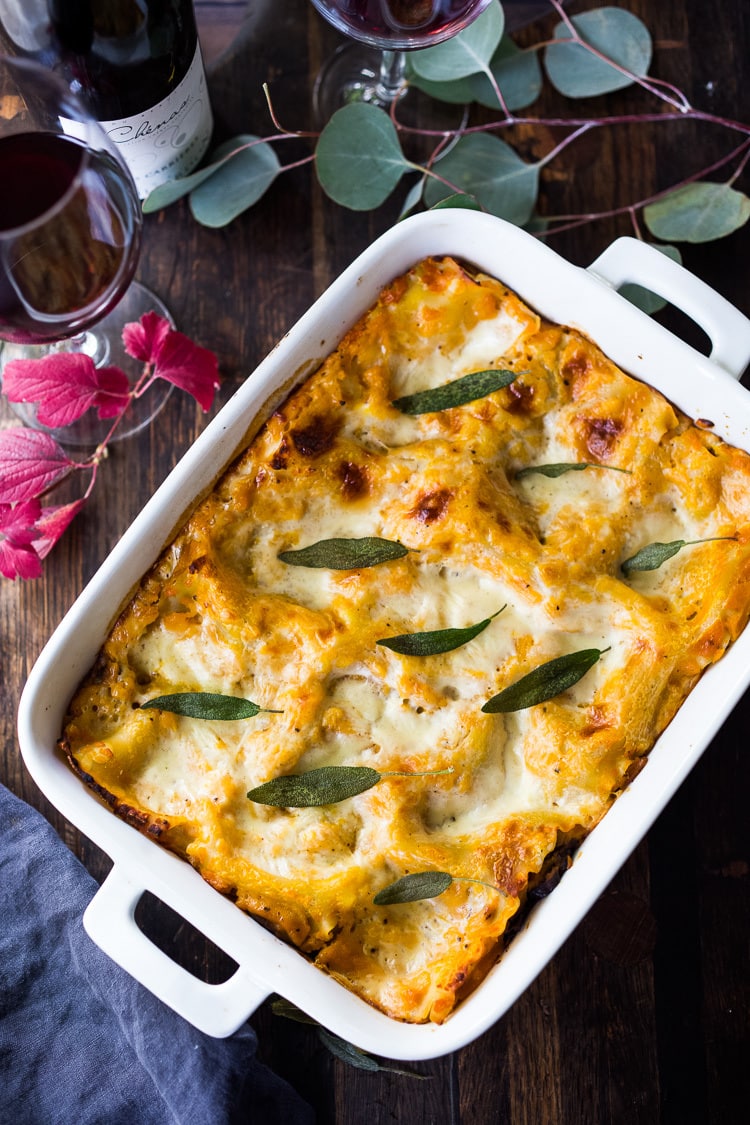 A delicious cozy recipe, for Butternut Lasagna – full of fall flavors. And it's easily made vegan! Butternut squash is roasted in the oven and becomes the silky sauce that infuses the lasagna with such goodness. I know you will love it! Perfect for vegan thanksgiving.
Butternut squash Lasagna Ingredients
Small butternut squash
onion and garlic
mushrooms (cremini, button, shiitake, portobello, or wild mushrooms, etc.)
spinach – fresh or frozen
sage- fresh is best
ricotta cheese (or sub vegan tofu ricotta)
egg (optional)
mozzarella cheese or sub vegan "meltable" cheese
Romano or parmesan
no-boil lasagna noodles (uncooked)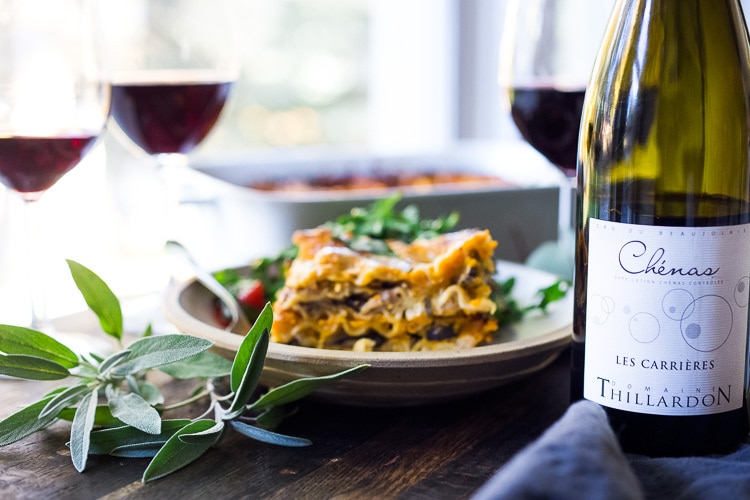 How to make Butternut squash Lasagna
Butternut Lasagna starts with a roasted butternut puree, which becomes the "sauce".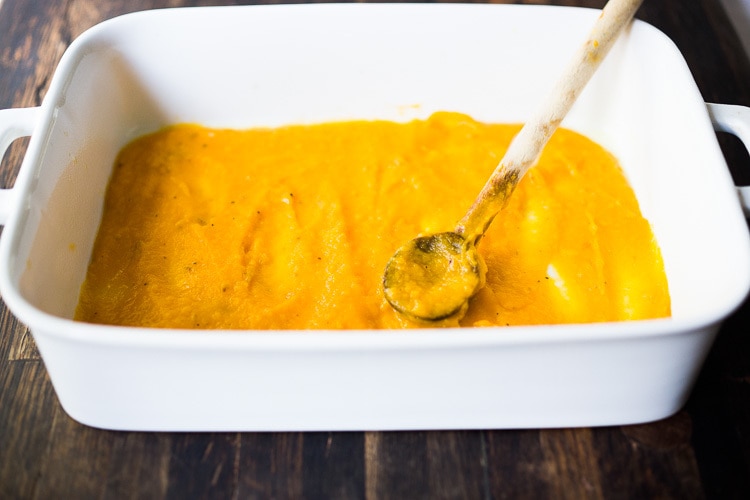 You could roast this off the night before and cool in the fridge until ready to assemble. Or cook the butternut whole in an instant pot for 22 minutes.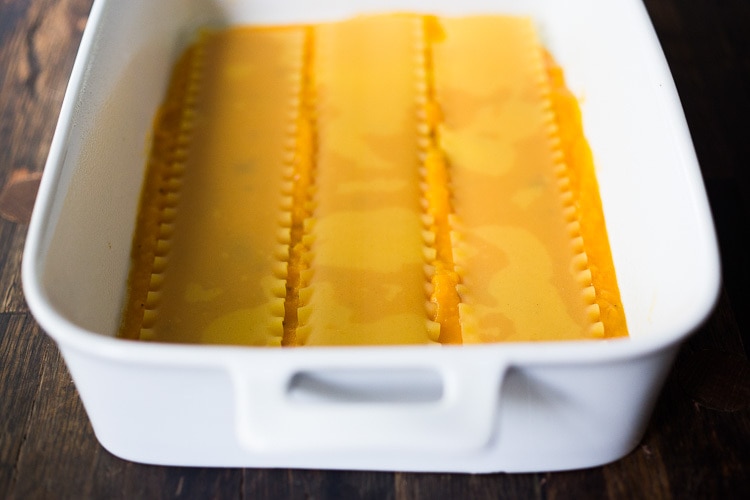 I use no-boil lasagna noodles to save time- such a godsend!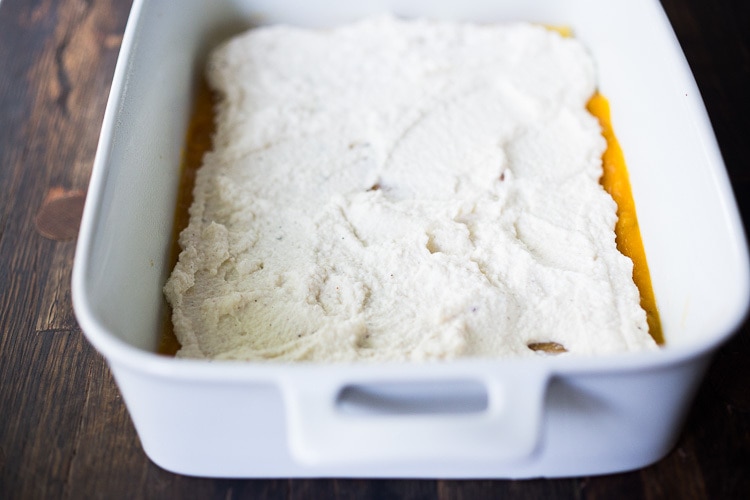 Layer with ricotta and mushrooms, shallots and sage…..or substitute this vegan tofu ricotta!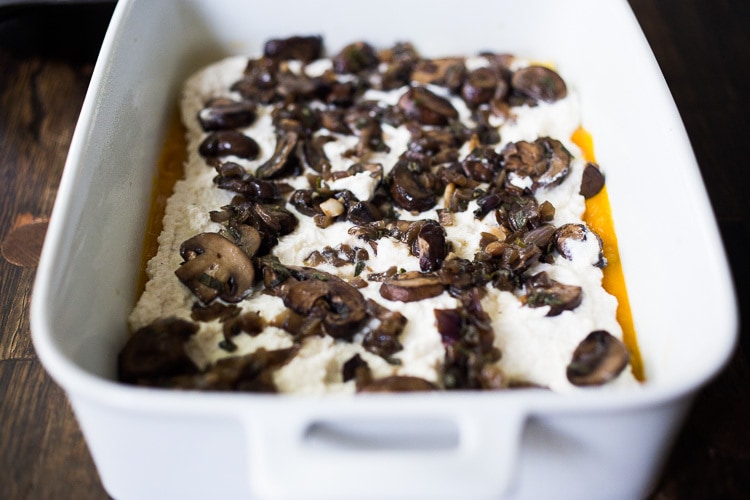 For extra luxuriousness, drizzle with a little optional, but tasty, truffle oil.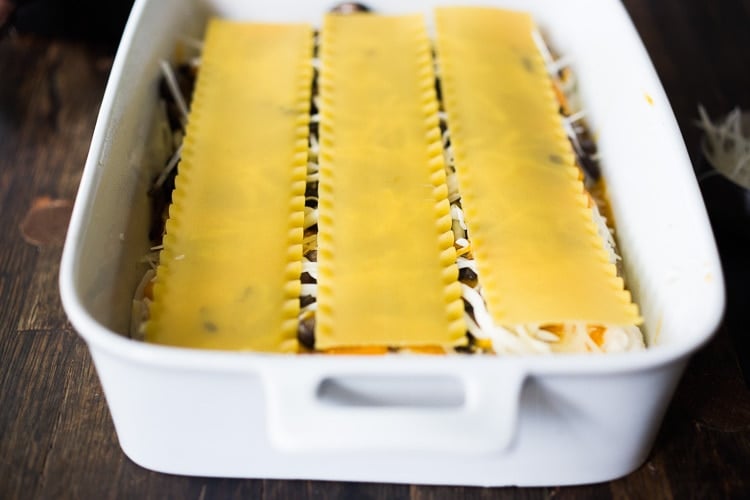 You'll repeat the layers a couple of times and then bake!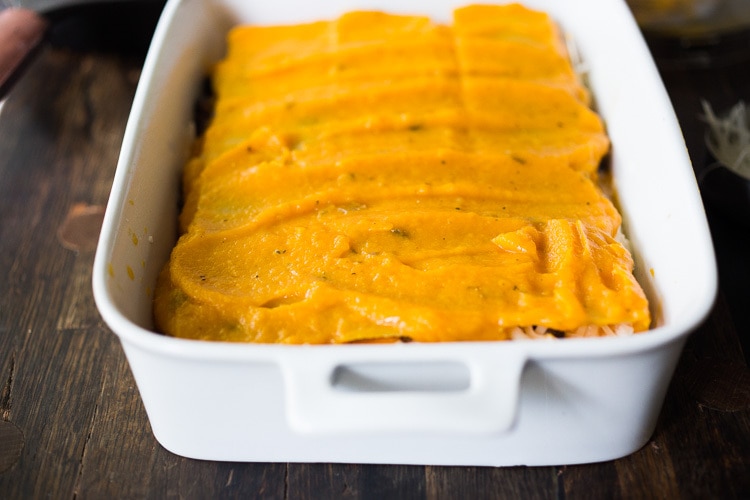 Top the butternut squash lasagna with cheese for added richness if you like, keeping in mind all the amazing "meltable" vegan cheese out there these days.
Expert tip#1
Sometimes, instead of adding a final layer of grated cheese, I'll make a light, quick béchamel sauce…. purely because I prefer the look of it (from my catering days) compared to the grated cheese "look". See recipe notes for more info. 🙂
When the Butternut lasagna comes out of the oven it will smell heavenly. Beautifully golden and fragrant!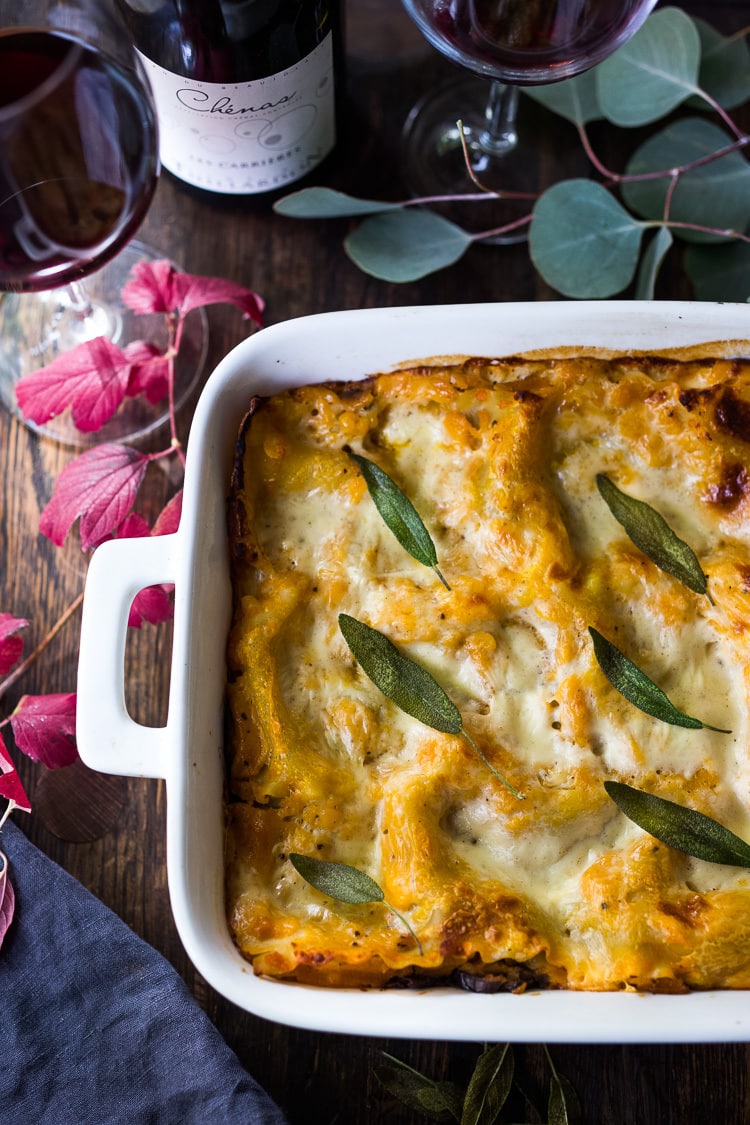 Expert Tip #2
For a special dinner, an added touch is to make crispy sage leaves as a garnish over the butternut lasagna. You could also drizzle with your favorite pesto, for a little color. Both optional. I love this with Arugula Pesto!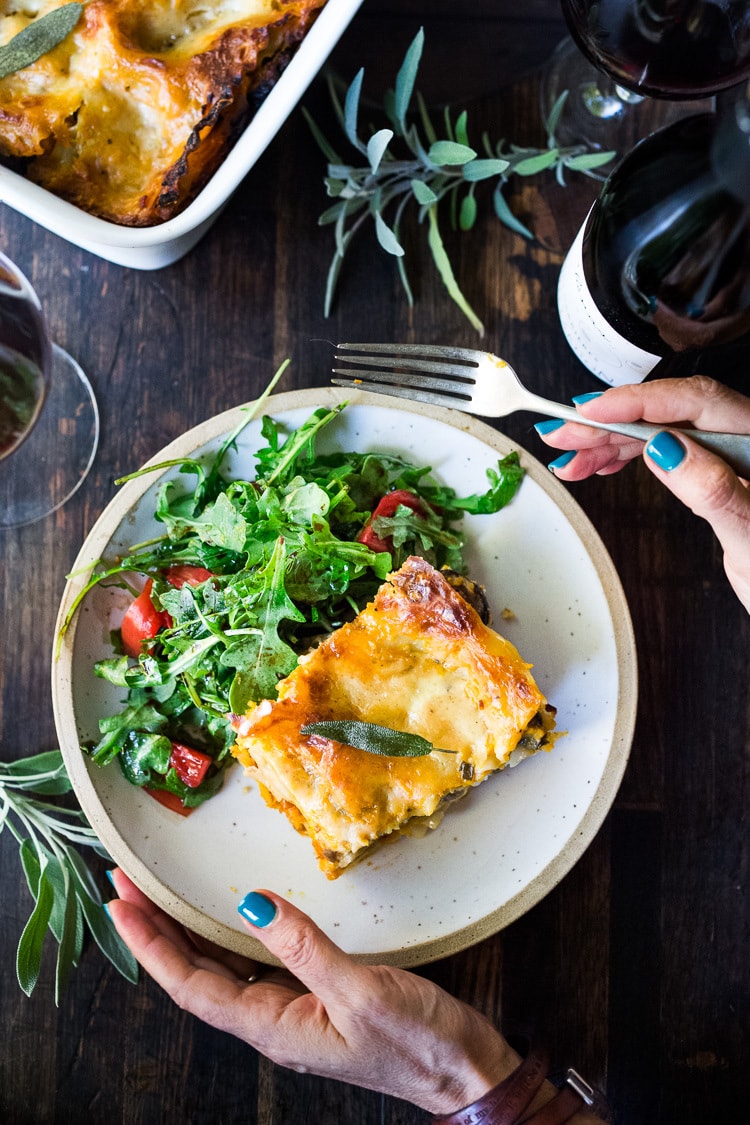 So hearty and delicious! Serve the butternut squash lasagna with a tasty fall salad and you have a yummy meal!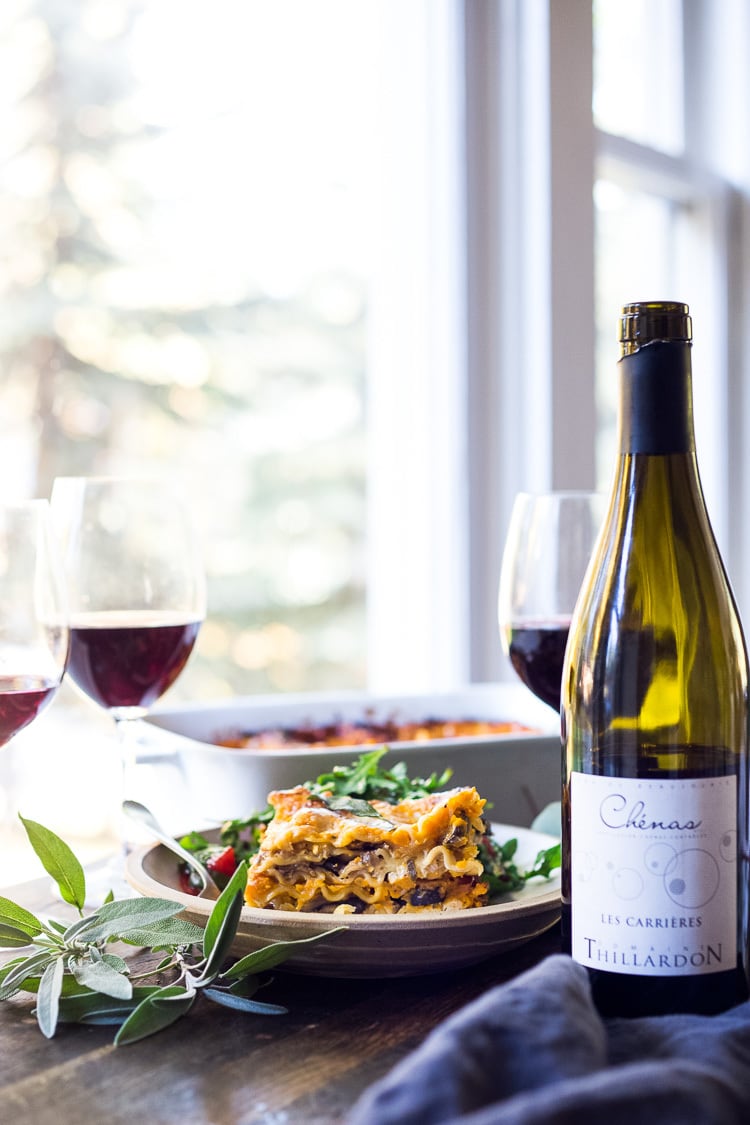 Hope your Thanksgiving is beautiful….. and you enjoy this Butternut Squash Lasagna! I know for sure, you will love the leftovers.
Cheers friends!
xoxo
More recipes you may like!
Print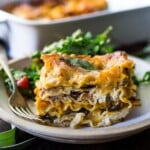 Butternut Squash Lasagna with Mushrooms and Sage
Prep Time:

60 mins

Cook Time:

60 minutes

Total Time:

2 hours

Yield:

9

1

x

Category:

vegetarian, main,

Method:

Baked

Cuisine:

northwest
---
Description
Butternut Lasagna with Wild Mushrooms and Sage, – a delicious vegetarian or vegan main dish, perfect for your holiday table! This can be made ahead, and baked right before serving! Try using Smoked Mushroms!
---
Small butternut squash ( 2.5lbs – 3lbs) (you'll need about 4 cups, roasted)

1/2

a sweet onion, sliced into big wedges
olive oil for drizzling
Mushroom Filling:
2 tablespoons

olive oil or butter

1 1/2

lb

mushrooms, sliced (cremini, button, shiitake, portobello, wild mushrooms, etc.)

1

fat shallot or

1/2

onion, diced

4

garlic cloves, chopped

2 tablespoons

fresh chopped sage

1/2

teaspoon salt
optional – feel free to add a couple of handfuls baby spinach or greens and wilt them.
Ricotta Mixture:
Butternut Puree:
3 tablespoons

olive oil

3

–

6

tablespoons water

1 teaspoon

salt

1/2 teaspoon

pepper

1/2 teaspoon

garlic powder
---
1

1 /2 cups grated mozzarella cheese ( about

3

–

4

ounces) or sub vegan "meltable" cheese

1/2

cup

romano or parmesan ( about 1 ounce) or sub vegan
no-boil lasagna noodles (uncooked)
Garnish with

9

crispy sage leaves (optional, see notes) or Arugula Pesto
Optional Quick Béchamel Sauce:
---
Instructions
Roast the Butternut Squash. Preheat oven to 425 F. Cut butternut squash in half, scoop out the seeds and place open side down on a

parchment-lined

 baking sheet. Place sliced onion next to it and drizzle it with a little olive oil. Roast until fork-tender, about 30-40 minutes. Let cool. You could do this a day before or cook whole in an instant pot for 22 minutes.
Lower oven to 375F
Make the mushroom filling. In a large skillet, heat the oil or butter. Add mushrooms and shallots and salt, and saute over medium heat, until the mushrooms release their liquid and begin to brown. Add the garlic, sage and pepper.  Cook until garlic is fragrant, about 2-3 more minutes, turn the heat off. You could toss in some spinach at the end and wilt for extra nutrients. Taste and make sure the filling has enough salt and pepper. You could also add a little truffle oil. You could make this 1-3 days ahead and refrigerate.
Ricotta: Using a fork, mix the ricotta cheese with the egg, nutmeg and salt. ( You really don't have to add the egg, but it adds a nice richness.)
Make the BUTTERNUT SAUCE: When the butternut is cool enough to handle, scoop all the flesh out into a food processor. You should have about 4 cups. Add the roasted onion, olive oil, water, salt, pepper and garlic powder. Puree until very smooth. You will need at least 3 1/2  cups pureed and you want it to be almost saucy, like a marinara sauce (so add water if need be!). This will act as the "sauce".
Assemble the lasagna. In a greased 9 x13 inch baking dish, add 1 cup of the butternut puree and spread out into a thin layer. Top with  lasagna noodles. Add half of the ricotta mixture and spread out evenly. Top with half of the cook mushrooms. Sprinkle with ½ cup grated mozzarella and a couple tablespoons romano cheese. Add more lasagna noodles. Spread out the rest of the ricotta mixture as evenly as possible. Spoon half of the remaining butternut puree, erring on the side of less than half, so you have enough to cover the top (save at least 1 ¼ cups for the top.) Add the remaining mushrooms and all the good bits (onions and sage) and sprinkle with another ½ cup shredded mozzarella and couple tablespoons romano cheese. Place the final noodles over the top. Lather with the remaining butternut puree and sprinkle with the rest of the cheese (or make the creamy béchamel sauce.- See notes. ) You could assemble this 1-2 days before baking.
Cover tightly with foil and bake in 375 F oven for 40 minutes. (If the foil touches the lasagna, place a layer of parchment between the foil and lasagna). Uncover and continue baking 15-20 minutes until golden and bubbly. Cut into 9 servings.
Garnish with optional crispy sage leaves.
---
Notes
Optional Béchamel: So instead of sprinkling the remaining cheese on top (which is totally fine, especially if pressed for time) I'll make a quick light béchamel sauce to pour over the final layer of butternut puree using the remaining cheese. This just gives it a creamier look and feel (compared to the look of melted, grated cheese). This is just a personal preference, that makes it look more appealing (from my catering days).  Totally up to you. 😉
To make the bechemel: heat the oil or butter in a small pot over medium heat. Add the flour, and toast it for 1-2 minutes. Gradually whisk in the milk, whisking out any clumps and browned bits. Stir in salt, pepper and cheese, stirring until melted and incoporated.
A great way to conquer this is to make the compenents in stages. Make the butternut puree one day, the filling the next (storing in the fridge) assembling the next day, baking the next etc. OR Feel free to make this all ahead (refrigerate) and bake before serving, remembering to pull it out of the fridge for at least one hour before baking to let it come to room temp, for even baking.
This can also be baked and frozen.
To make the crispy sage leaves, generously coat the bottom of a small skillet with  olive oil over medium heat. Place each leave ( leaving a little stem is cute) into the hot oil and fry each side, around 30 seconds, or until crisp. Place on a paper towel to blot. Do one tester first, to get the timing right. You want them crisp, but still green, not too brown.)
Nutrition
Serving Size:
Calories:

304

Sugar:

4.4 g

Sodium:

669.8 mg

Fat:

11.6 g

Saturated Fat:

5.3 g

Carbohydrates:

34 g

Fiber:

4.6 g

Protein:

16.5 g

Cholesterol:

47.6 mg
Keywords: Butternut lasagna, Butternut lasagna recipe, vegetarian lasagna, vegan main dish, vegan thanksgiving recipes, vegan christmas recipes, vegan thanksgiving, vegetarian lasagna recipes, butternut recipes, mushroom lasagna, mushroom lasagna recipes