A healthy, vegan adaptable, Roasted Chiles Rellenos Recipe – that is lightened up with the addition of black beans. Simplified by roasting (instead of frying) the peppers with the Salsa Ranchero Sauce ingredients – all baked together on one sheet-pan – saving a step!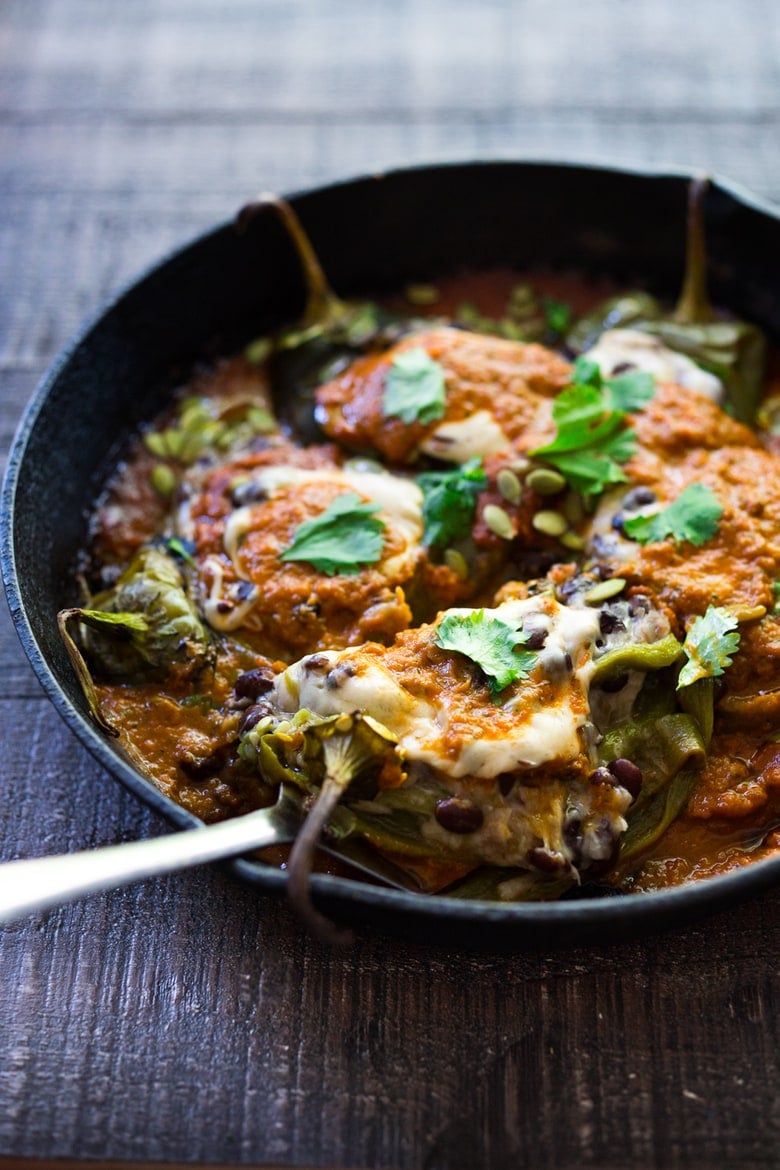 My husband Brian loves Chiles Rellenos. The problem is I love them too, but they don't look quite as good on me. Typically they are battered and fried and often greasy and heavy, dripping with fat and calories. This Roasted Chiles Rellenos recipe calls for roasting, not frying, and the addition of cholesterol-lowering black beans.
I've even included a vegan version if you want to eliminate the cheese all together which surprisingly got a huge thumbs up from my husband as well. The nice thing is you can make some vegan, some with cheese and even "beef" some up for heartier eaters.
But what I love MOST about this recipe, is the sheet-pan roasting method, where the peppers are roasted, along with the Salsa Ranchero Sauce ingredients.  It saves a huge step. So easy, and much quicker than traditional Chiles Rellenos while being much lighter and super delicious!
Healthier Chiles Rellenos! | 30-second video!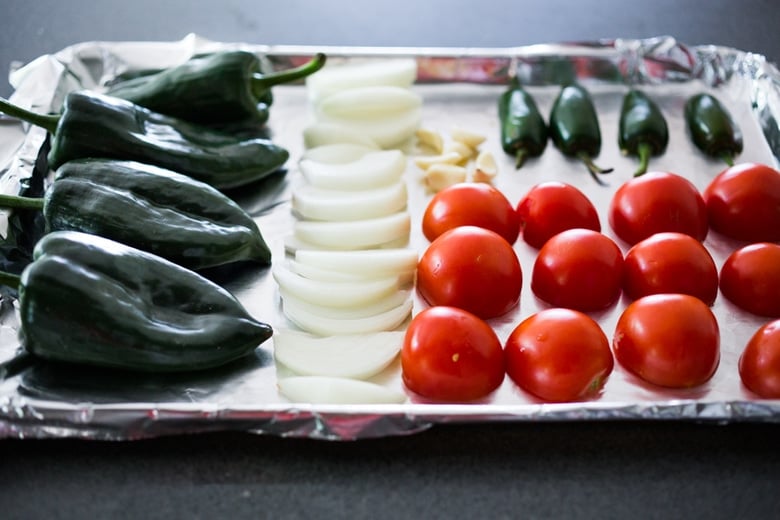 Once the chilies are roasted, slit them vertically and run under cool running water, removing the seeds with your fingers. Some of the peels will slip off, some will not and with poblanos, the peeling is so thin, I rarely fuss over it, leaving whatever wants to stay on, on.
Pasilla peppers have a much thicker peel that you will want to remove. They also roast much faster than poblanos. The chilies, once peeled are more delicate, making them a little more difficult to work with, so if you are new to this, pick poblanos, they are sturdier and less fussy.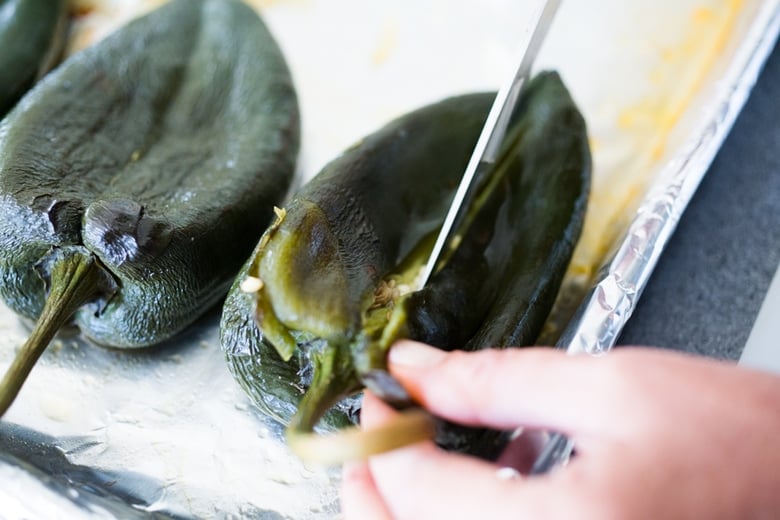 I wanted to show you two products that come in handy at home- I try to keep in my pantry.  Tomato Paste in a tube– because so rarely do we use the whole can, and the rest often goes to waste. And seasoned black beans- a faster way to add more flavor to meals- these have onion, garlic and green chilies in with them.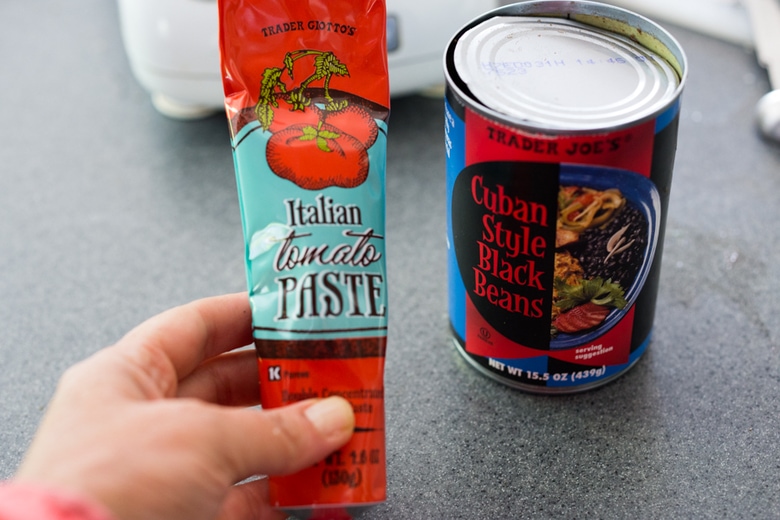 Here Poblanos are stuffed with a black bean and cheese mixture and placed over the ranchero sauce in an extra-large baking dish. These poblanos are HUGE by the way.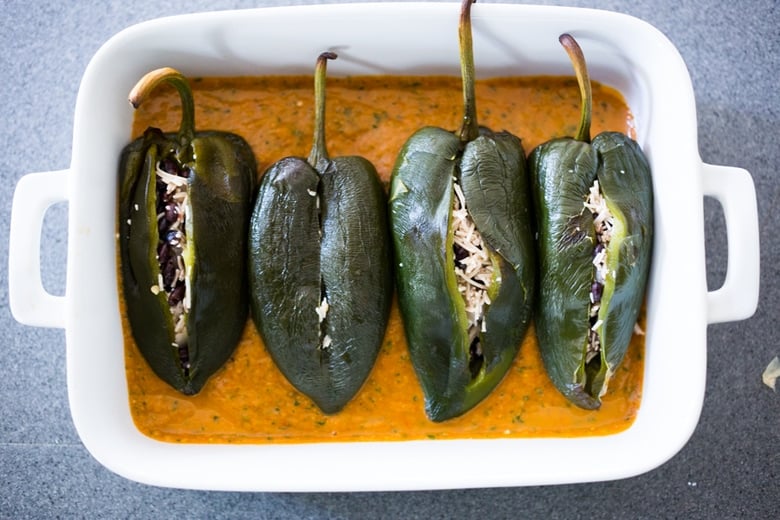 Here below is the vegan version in a mini cast iron skillet. My point being, you can bake them all together, or separately if you choose. This way it's easy to adapt them for vegans and non-vegans.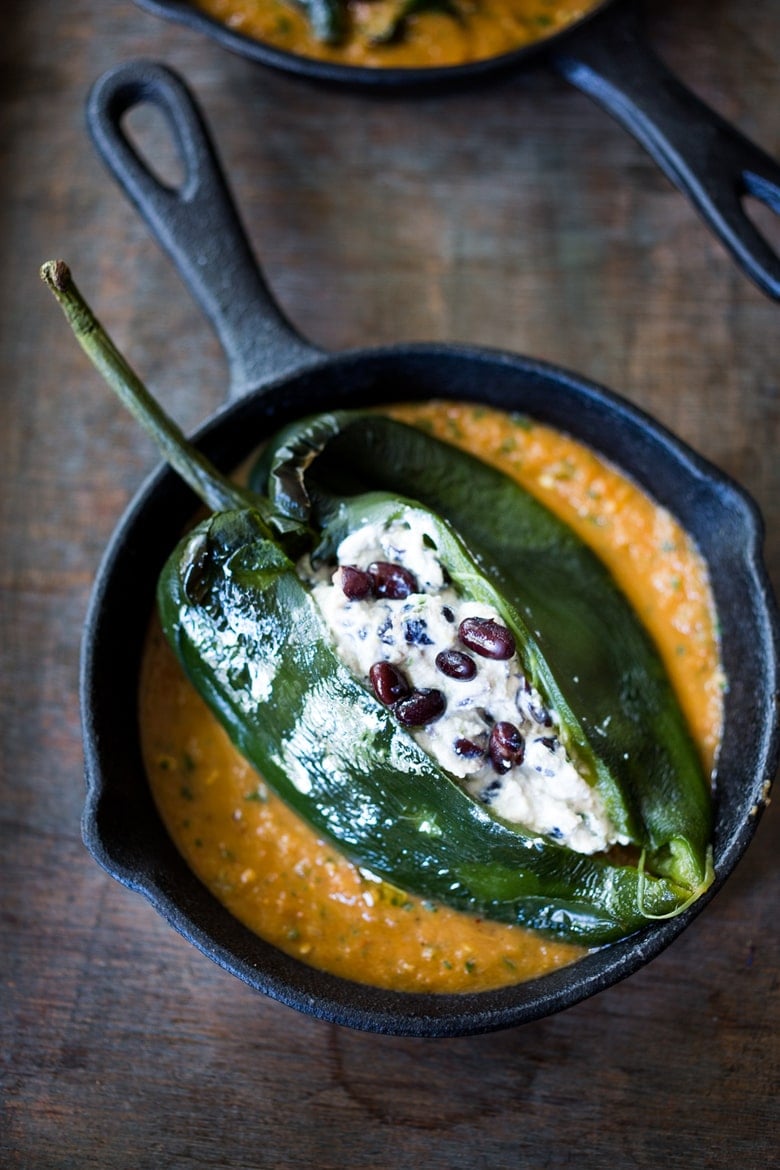 This vegan version is made with a combination of black beans and herbed tofu ricotta – it's really flavorful!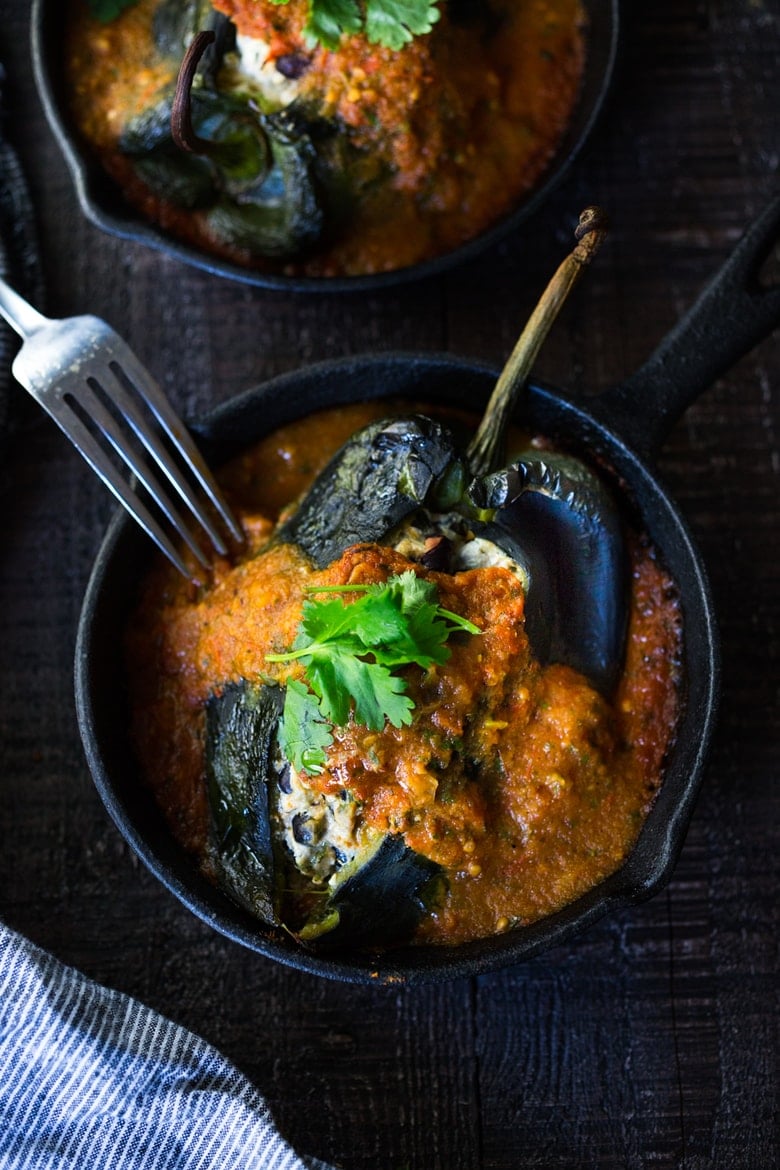 Or bake them all together in a large skillet. Keep them lean like you see below or add melty cheese to the top, up to you!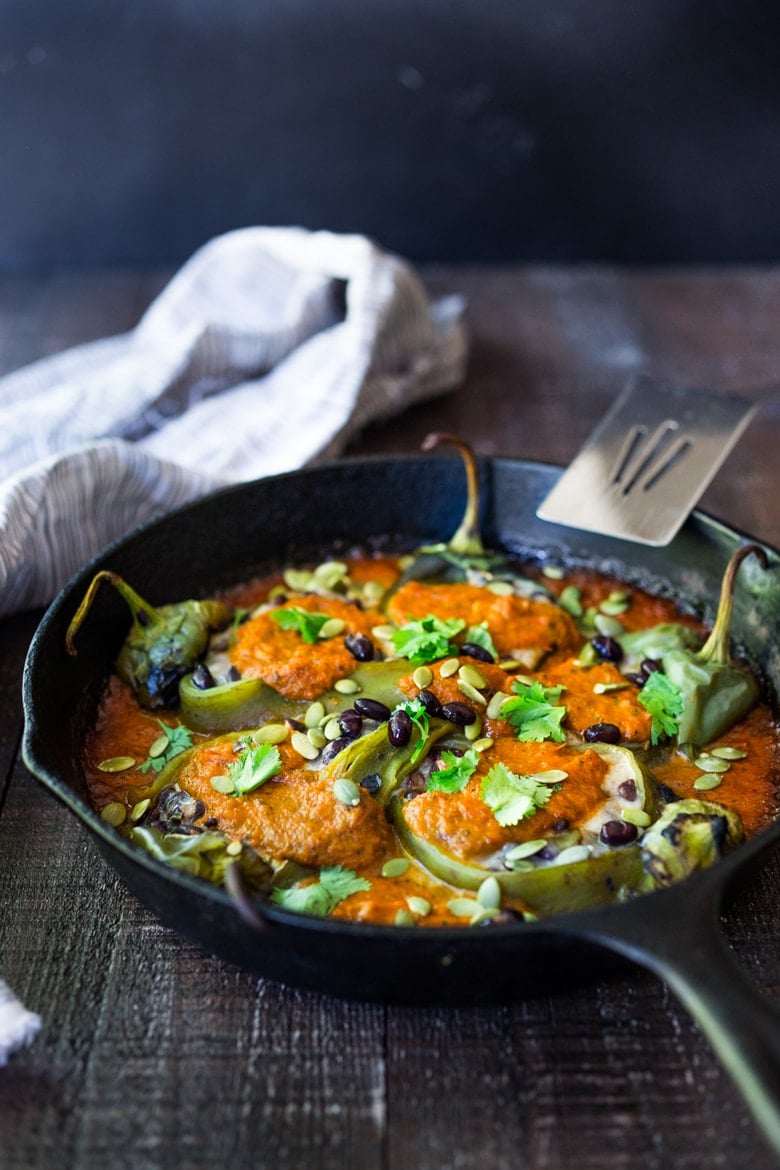 Even the bean and cheese stuffed chilies are relatively low in calories when made this way.
The Roasted Salsa Ranchero Sauce is really yummy and flavorful too- use it with enchiladas or Mexican Pizza or in this Enchilada Casserole!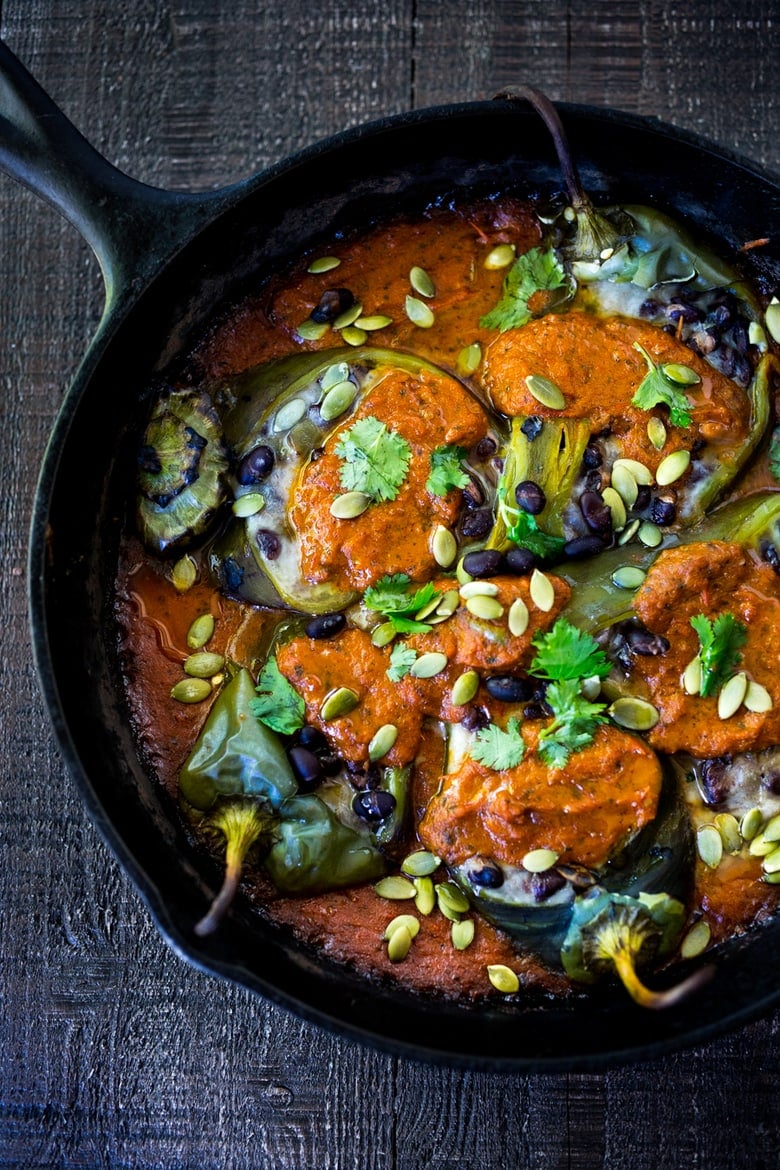 A delicious and healthy Sunday Supper, full of great flavor without the added fat and calories! Give it a whirl and rate it below!
Have a beautiful fall weekend!
Print
Roasted Chiles Rellenos with Black beans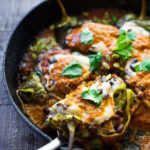 A healthy, vegan adaptable, Roasted Chiles Rellenos Recipe – that is lightened up with the addition of black beans. Simplified by roasting (instead of frying) the peppers with the Salsa Ranchero Sauce ingredients – all baked together on one sheet-pan – saving a step!
Author: Sylvia Fountaine
Prep Time:

20

Cook Time:

60

Total Time:

1 hour 20 minutes

Yield:

4

1

x
Category:

Main - GF & Vegan Adaptable

Method:

Roasted

Cuisine:

Mexican
Scale
Ingredients
4

–

6

poblano peppers, leave whole with stems on. ( see notes)

6

ripe, medium tomatoes, ( roma, or vine ripened)

6

fat garlic cloves

one

medium-large  onion, sliced into

½

inch wedges or slices

2

small jalapeños

1

–

2

tablespoon olive oil

1

can black beans, drained and rinsed ( seasoned or Cuban Style are nice)

4

–

6

ounces grated jack cheese or Mexican queso fresco ( or

1 cup

vegan Herbed Tofu Ricotta )

½ cup

stock (veggie) or sub water

1 teaspoon

cumin

1 teaspoon

coriander

1 teaspoon

chili powder

1 teaspoon

dried oregano

1 teaspoon

salt

2 tablespoon

s tomato paste (optional, but good)

¼ cup

fresh cilantro plus more for garnish
Serve with rice, sour cream, toasted pumpkin seeds, cilantro
Instructions
Preheat oven to 45oF
Cut the tomatoes in half and arrange them on the sheet pan. Add the onions to sheet pan, along with the whole garlic cloves, halved jalapeños and whole poblano peppers, making sure they are not overcrowded. You may need to use two sheet pans. ( You can also char the peppers on a gas burner, see notes) Drizzle with olive oil, sprinkle with salt and pepper and place in the oven and check after 15 minutes. If the peppers are tender remove them (pasilla peppers will cook much faster than poblanos- please see notes) and check the garlic. Otherwise continue roasting with the tomatoes and onions another 15-20 minutes, until peppers and onions are tender and tomatoes are juicy.
In the meantime make the filling. Mix the beans ( drained, rinsed) with the cheese. If going vegan, mix the beans with 1 cup of vegan herbed tofu ricotta.  Season the mixture with salt and pepper.
When the poblanos are just tender, take the sheet pan out of the oven ( leave the oven on) and let it cool. Add ⅓ of the onions, chopping them up, into the filling mixture and stir.
Blend up the Roasted Ranchos Sauce. Place the other half of the onions into a blender along with the tomatoes, pan juices, jalapeño,  garlic, ½ cup stock, cumin, coriander, chili powder, oregano, salt, tomato paste and fresh cilantro  – and blend until  smooth. Set aside.
Cut a slit in the poblano peppers from stem to pointy end and using your fingers, gently remove seeds while rinsing them under cold running water. If the thin skins slip off, let them, but don't worry about actively peeling them, especially poblanos – their skins are quite thin -Leaving some of the skin on is perfectly fine.  Pasillo peppers have thick skin and should be peeled.
In a large baking dish ( or oven proof skillet) pour a little of the roasted tomato ranchero sauce to coat the bottom ( use about half the sauce). Place the peppers overtop of the sauce, slit side up, then spoon the filling into each one. Pour the rest of the flavorful ranchero sauce over top. At this point you could add more shredded cheese to the top, or leave it off.
Cover with foil and bake 20-25 minutes in a 425F oven- or until the filling is warm and melty, uncover and bake 5 more minutes.
Garnish with cilantro leaves, toasted pumpkin seeds and sour cream if you like.
Notes
Poblano Chilies ( vs Pasilla peppers) are easiest to work with- they are sturdier. They will most likely take 30 minutes to roast while pasillas roast much quicker, so check after 10-15 minutes or they may get too soft to handle.  You can also blacken either of peppers on a gas grill or on a stovetop gas burner ( easiest)  rotating with tongs until charred on all sides, then wrap up in foil for 8-10 minutes to allow them to soften before  seeding and peeling under cool running water.
If cooking for mixed households you can bake these individual baking dishes or even in mini cast iron skillets like you see here – which is especially nice if cooking for both vegans and meat-eaters. You can easily add meat to some while keeping others vegan or vegetarian. If adding meat, browned Mexican chorizo is nice as well as cooked shredded chicken or browned ground turkey.
The peppers you see in the photos were abnormally large poblanos. One pepper was one serving.  If you only have smaller ones available, get more, you may need to serve 2 as a serving.
Keywords: chilies rellenos, healthy chilies rellenos, chilies rellenos recipe, vegan chilies rellenos, baked chilies rellenos, chilies rellenos healthy
SaveSave
SaveSave
SaveSave
SaveSave
SaveSave
SaveSave
SaveSave
SaveSave
SaveSave
SaveSave
SaveSave
SaveSave