Tired of the same old lunch? Here are 50 of our favorite Healthy Lunch Ideas that are not only delicious but are also easy to make, packable,  plant-rich, and nutrient-dense with many vegan options!
There is nothing more nourishing than giving our body real living nutrients – fresh, nutrient-dense fruits and veggies to energize and nourish us, especially during the busy workweek.  Making our lunch from scratch and incorporating fresh produce is such a loving choice, no matter what diet or food philosophy one adheres to.
I try to make a point of getting in my veggies at lunch. Whether this is a hearty vegan salad, pasta salad,  vegan soup, or grain bowl, this is the time I plan ahead and I am pretty intentional about this. Sometimes this means meal-prepping a vegan soup for the week, or preparing a make-ahead vegan salad. Having something healthy on hand is imperative I find, when tempted to order out. It makes the decision to eat more wholesomely a little easier to make.
Best Healthy Lunch Ideas
Many of these delicious healthy lunches are plant-based, vegetarian,  vegan or vegan-adaptable and gluten-free! Pick out a few to try this week and feel nourished and energized all week long! Have a favorite? Please leave me a note in the comments below!
Sandwiches, Wraps and Rolls!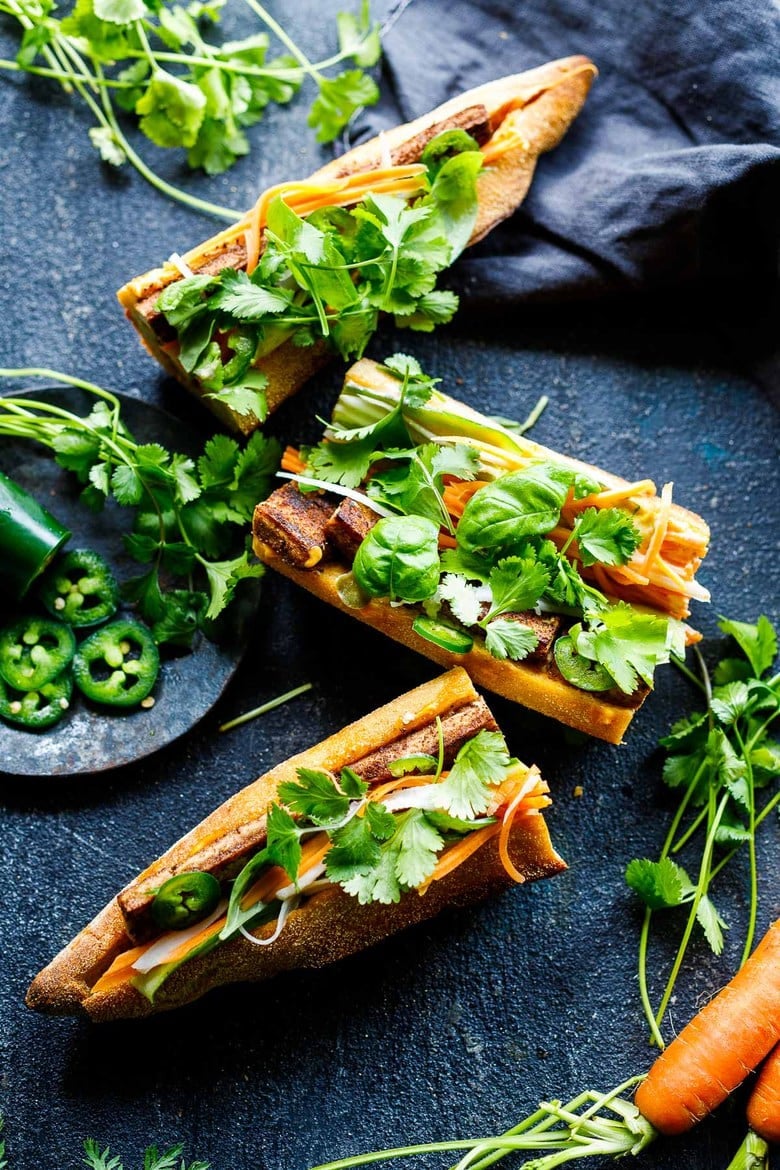 The most delicious, authentic Vietnamese Banh Mi Sandwich – fresh, light, complex and flavorful with lots of umami goodness, made with your choice of tofu, mushrooms, chicken or pork and simple pantry ingredients. The perfect lunch idea, that can be made ahead! Vegan-adaptable.
 Banh Mi Sandwich | 60-sec Video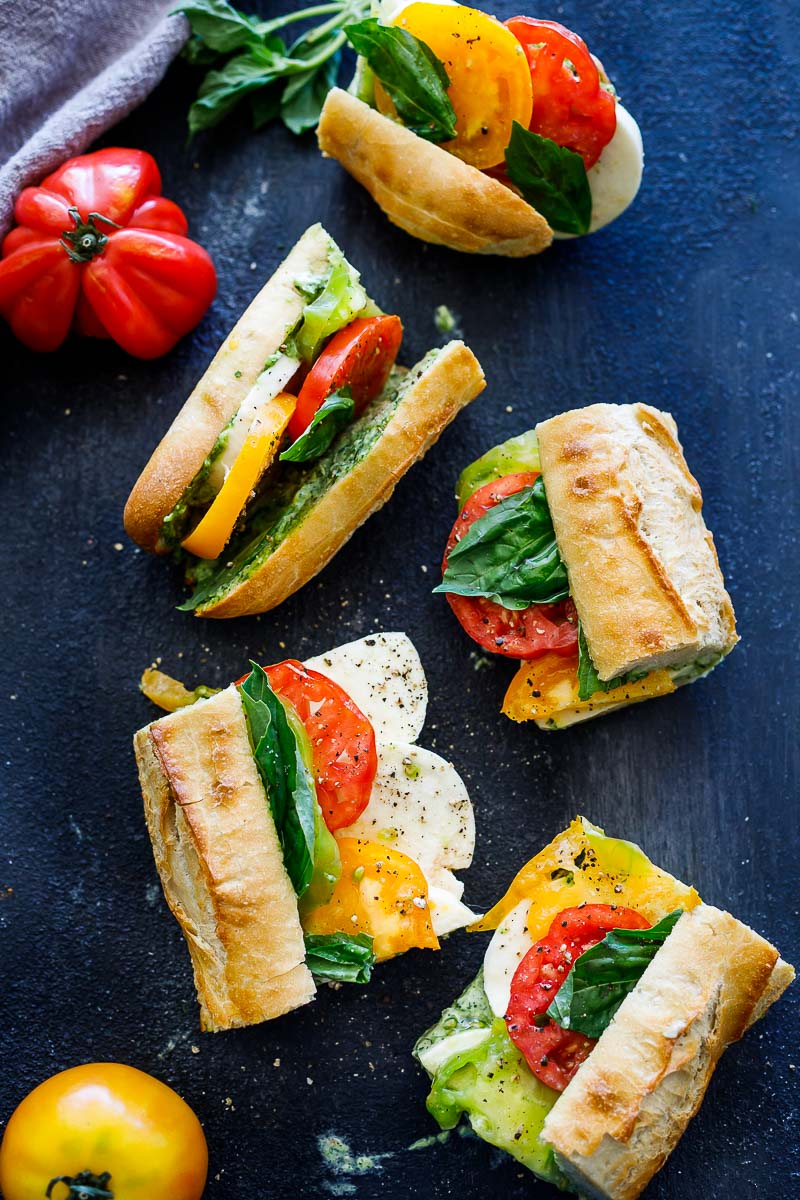 These Caprese Sandwiches are the perfect summer lunch- made with juicy ripe tomatoes, fresh mozzarella cheese, fresh basil, and  pest0-mayo on a baguette, they are great made ahead or packed for picnic lunches on the go.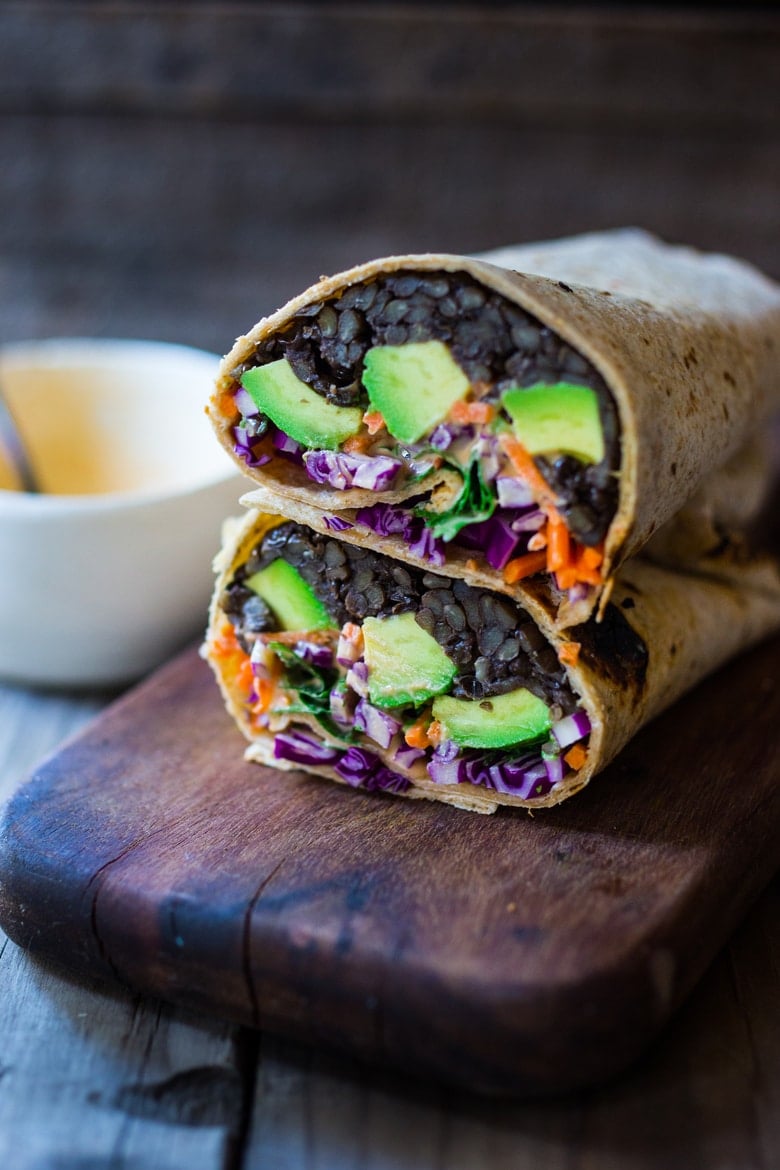 This vegan  Lentil Wrap with Spicy Tahini Sauce is full of crunchy raw veggies like carrots, beets, and cabbage with a spicy Sriracha Tahini sauce spooned over top. Simple, energizing and easy. This vegan lunch idea is one of my favorites!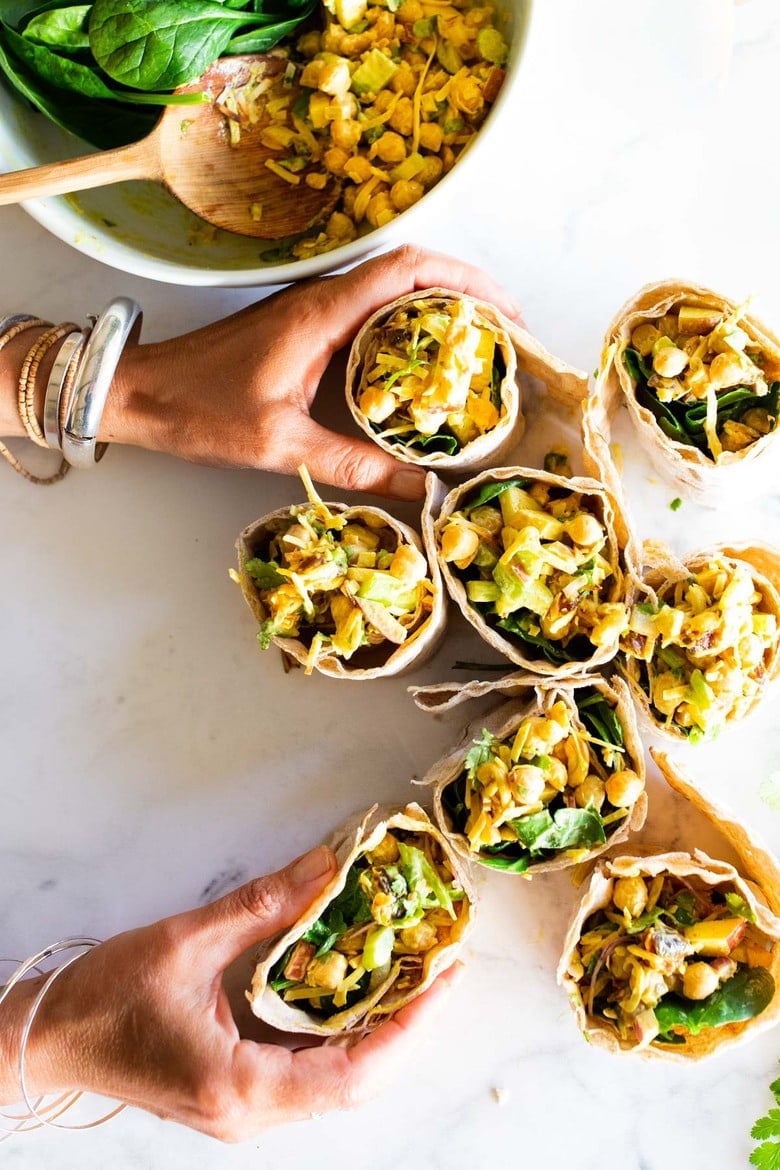 Vegan Curry Chickpea Salad with Toasted Coconut, which can be turned into wraps with spinach and sprouts. Make the vegan salad ahead, then use it during the busy week in wraps, tacos or over greens, a delicious lunch idea!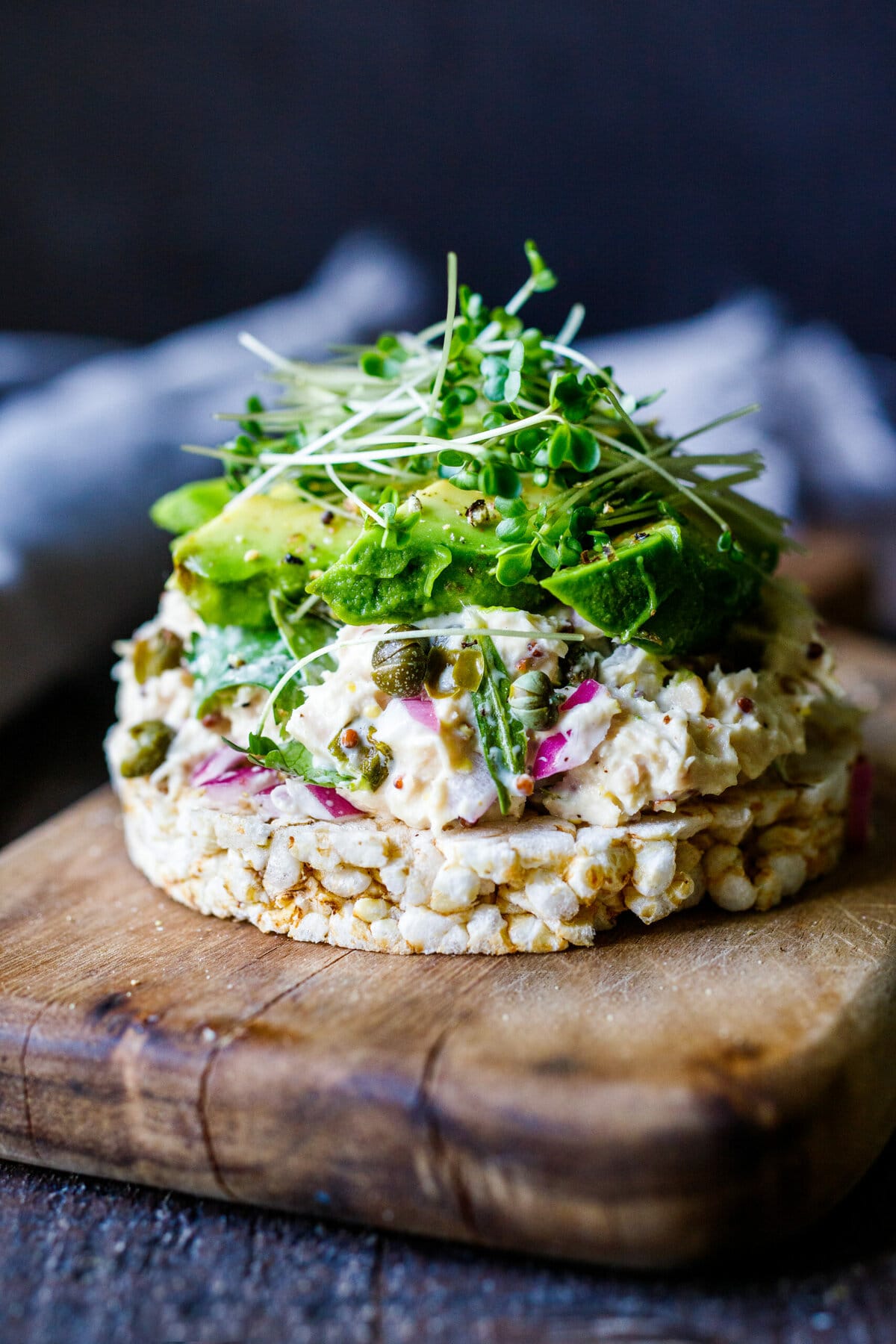 Here's the tastiest recipe for easy, 10-Minute Tuna Salad – with a few variations, that can be served over rice crisps, salad greens, in tortillas or pita bread or in sprouted bread.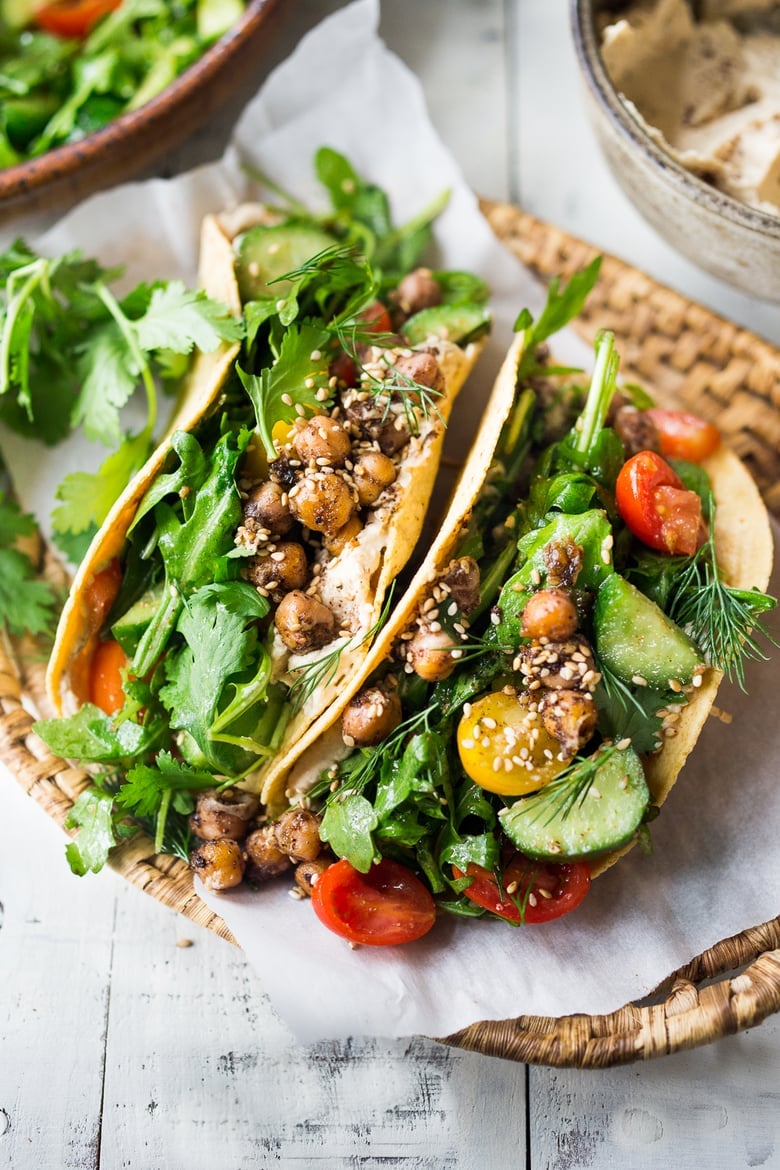 Middle Eastern Salad Tacos with spiced chickpeas, hummus and a mound of lemony salad, topped with fresh herbs and scallions. FAST, vegan & oh sooooo delicious! This is my personal "go-to" lunch, I absolutely love it!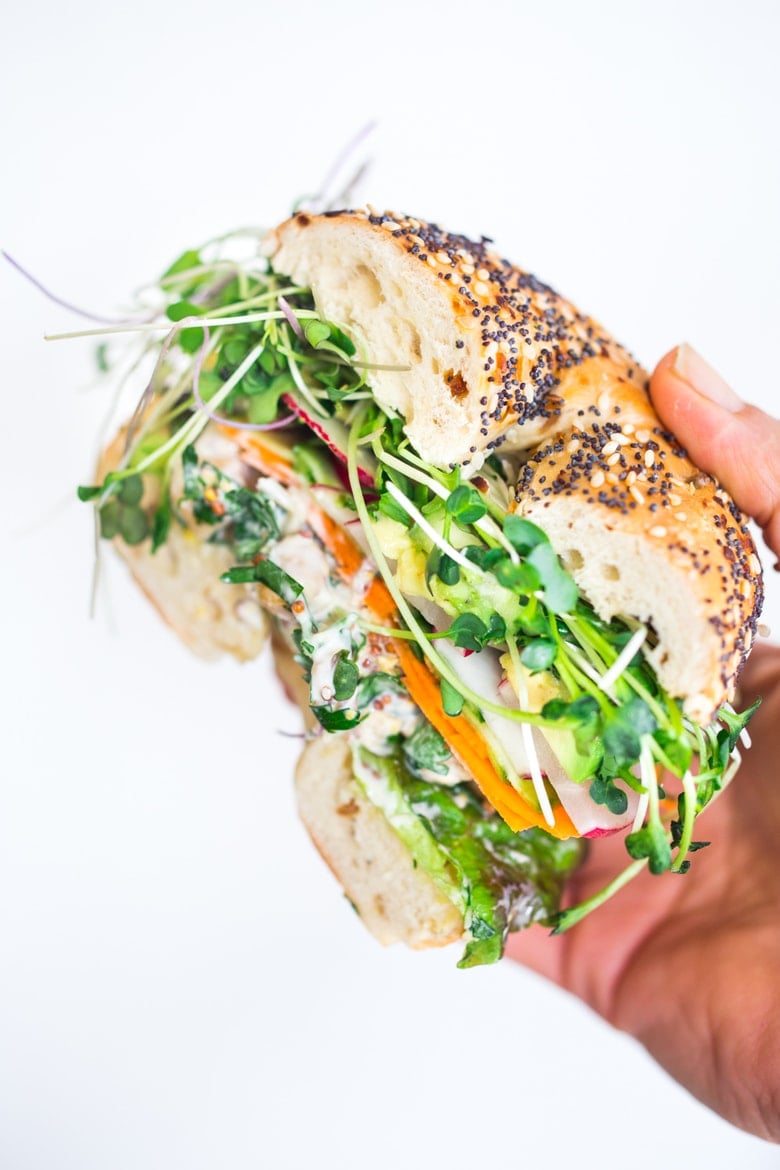 Herby Chickpea Salad Sandwich (or wrap) with make-ahead, smashed chickpea salad, crunchy carrots & radishes, cucumber, avocado and sprouts. Vegan and Gluten-free adaptable! A fast and healthy lunch!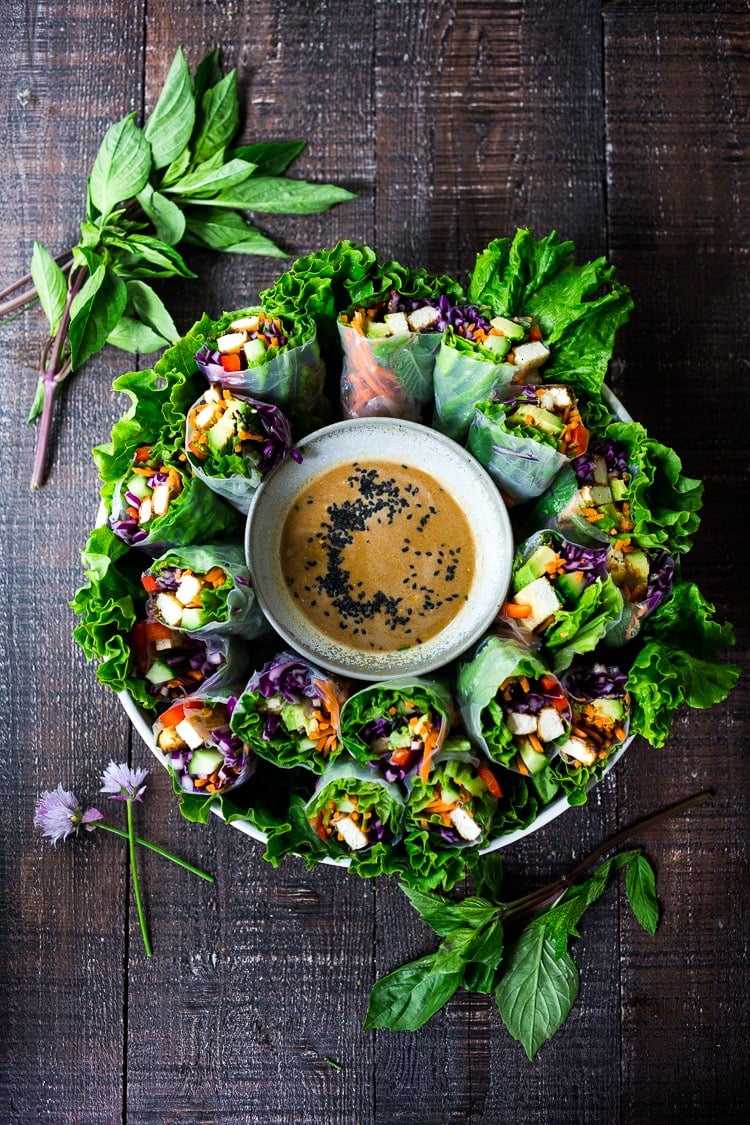 Fresh Spring Rolls with BEST EVER Peanut Sauce! These fresh vegan spring rolls can be made ahead and stored in the fridge for healthy meals and packable lunches on the go! The peanut sauce is divine.
How to make fresh spring rolls | 40-sec video!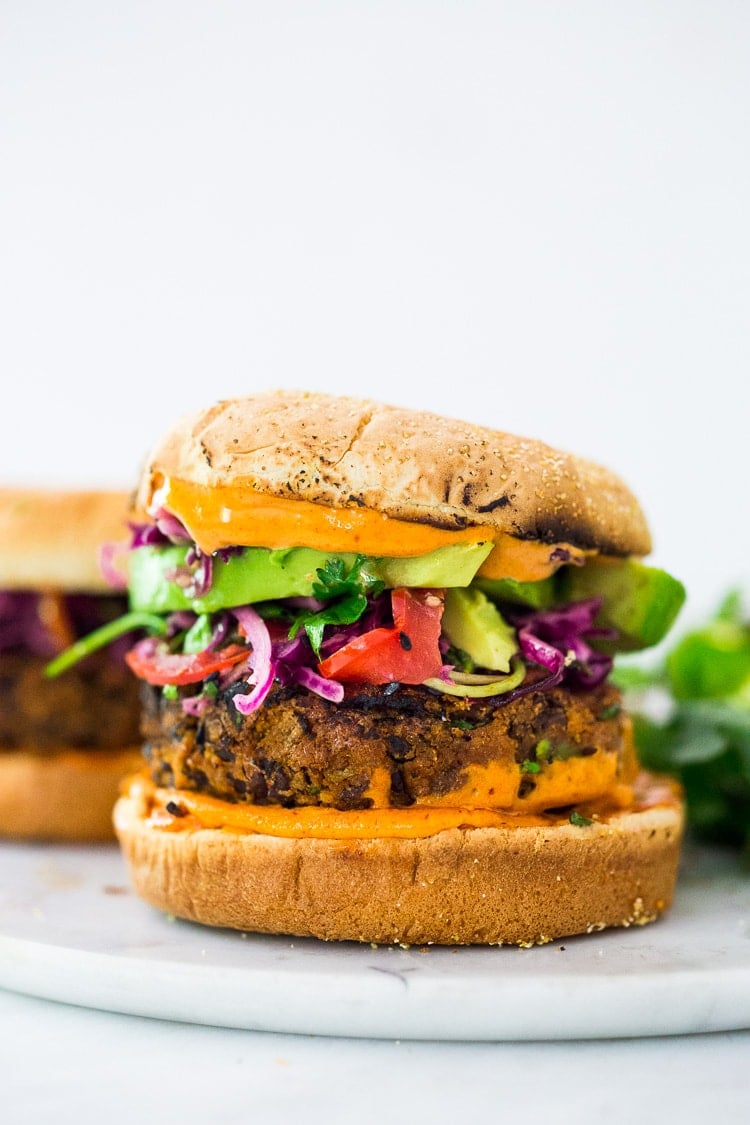 A quick and easy recipe for Smoky Chipotle Black Bean Burgers that can be made in under 30 minutes! Vegan-adaptable and perfect for weekly meal prep!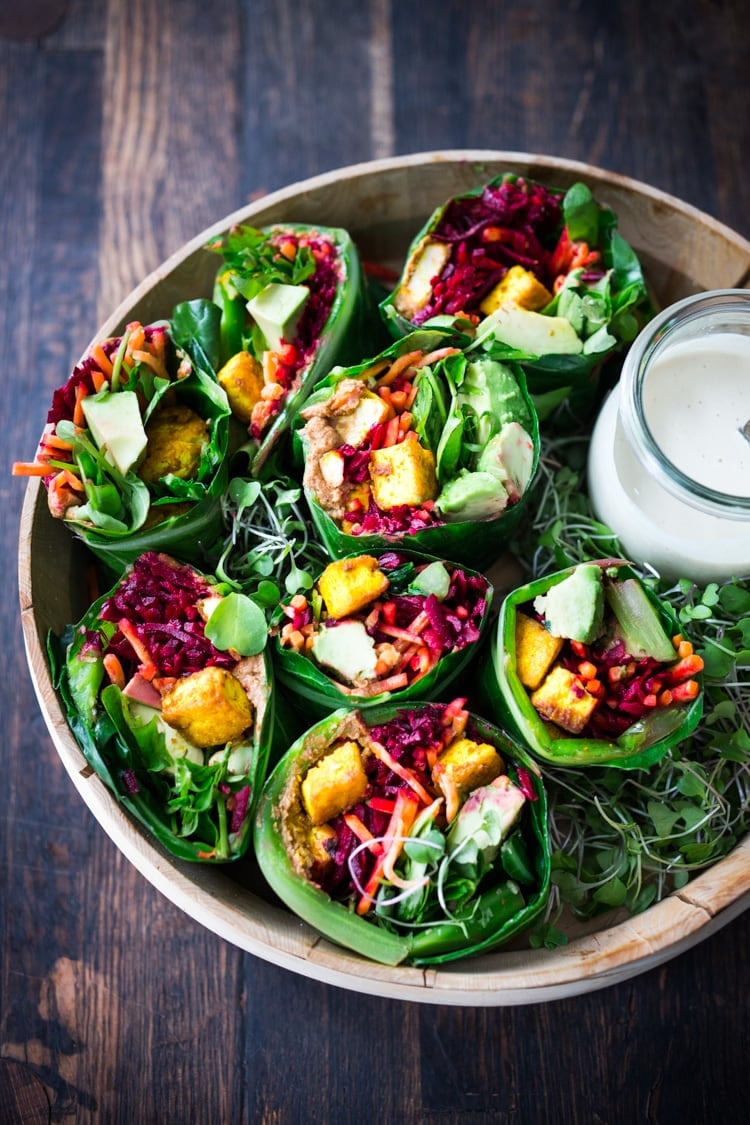 Rainbow Wraps! These vegan collard greens wraps are filled with hummus, crispy tofu, shredded beets, carrots and avocado!  Make them ahead and drizzle with Tahini sauce! A delicious healthy lunch idea that is gluten-free.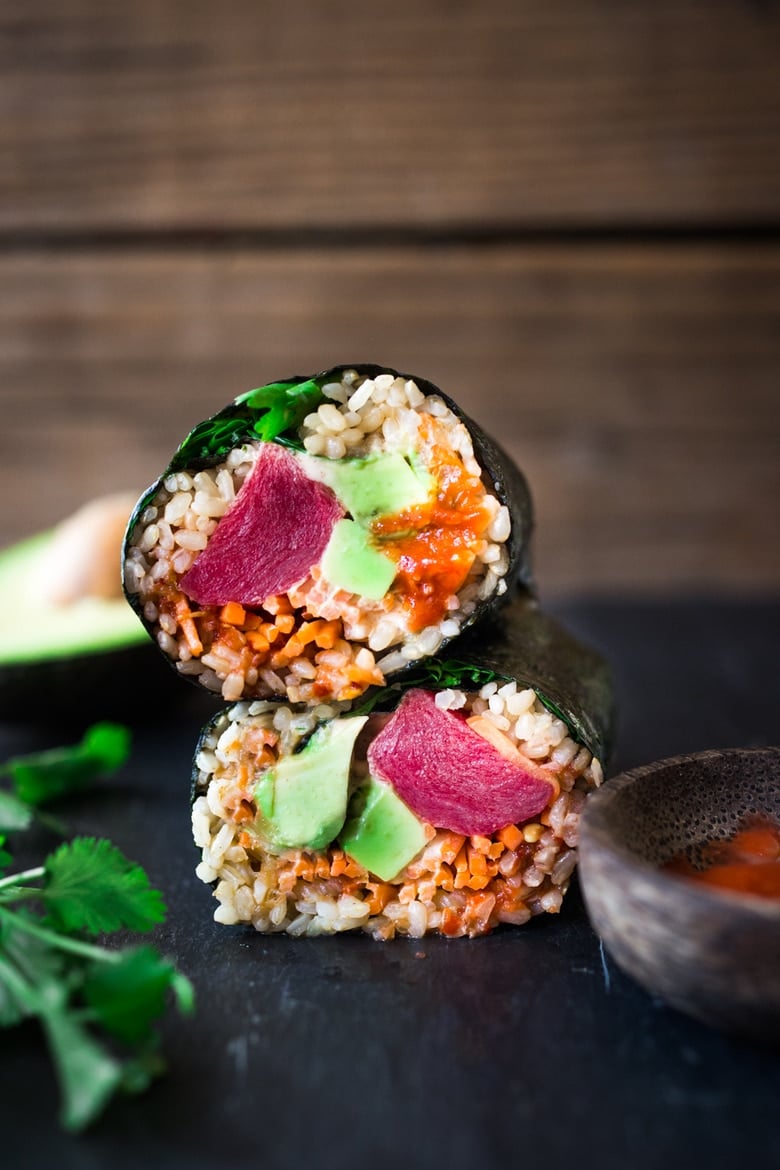 Sushi Burrito with Brown Rice, Avocado, Ahi Tuna (or sub Baked Tofu) carrots and kimchi- a healthy delicious lunch idea! Vegan and GF adaptable!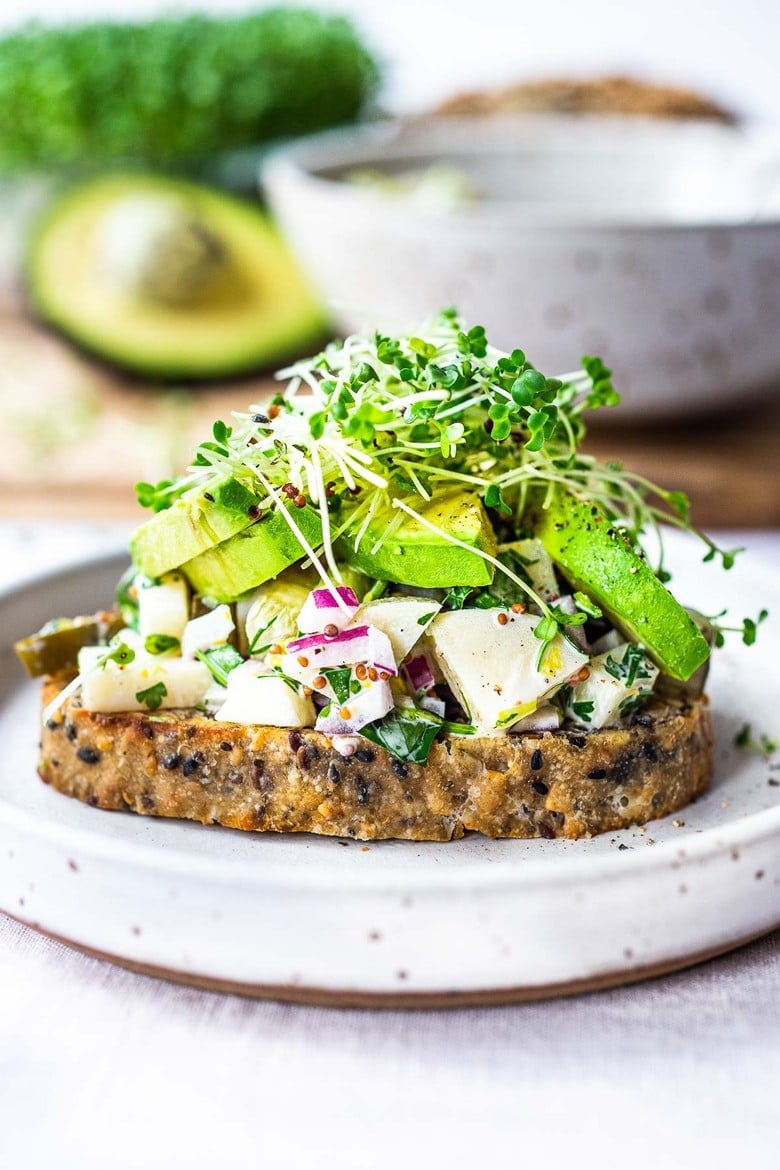 This vegan, Hearts of Palm "Tuna" Salad is made with hearts of palm, red onion, pickle & fresh herbs. A delicious vegan alternative to one of our favorite sandwiches.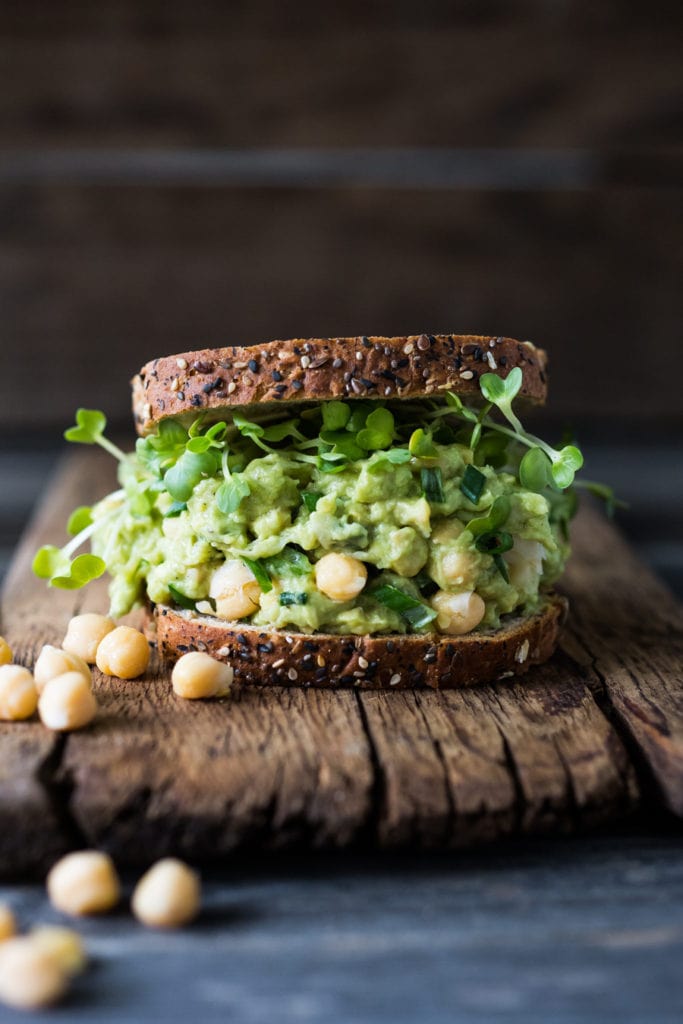 The EASIEST Smashed Chickpea and Avocado Sandwich which of course, if you are gluten-free, forgo the bread and eat it out right of the bowl (it's that good!), or over greens or try it in a wrap! Vegan and gluten-free adaptable!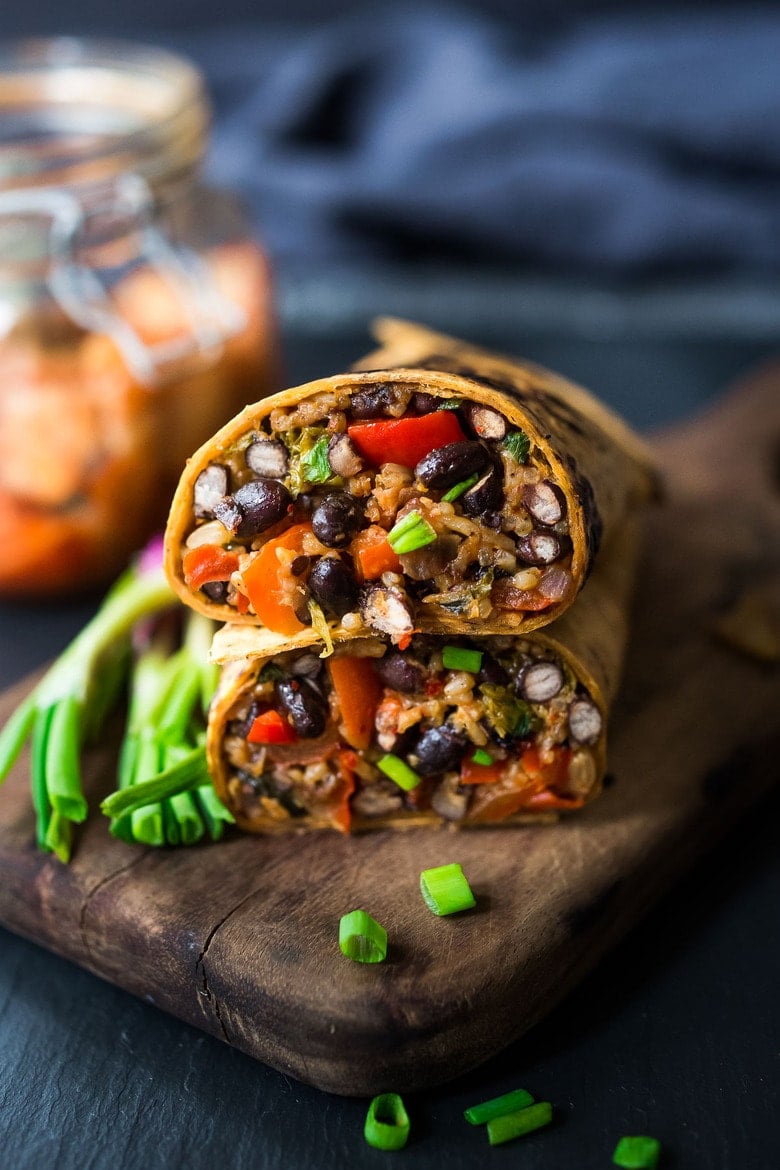 Kimchi Burritos! A 20-minute meal, loaded up with healthy veggies, black beans, leftover rice and flavorful kimchi! Easy and delicious! Make these and reheat for lunch!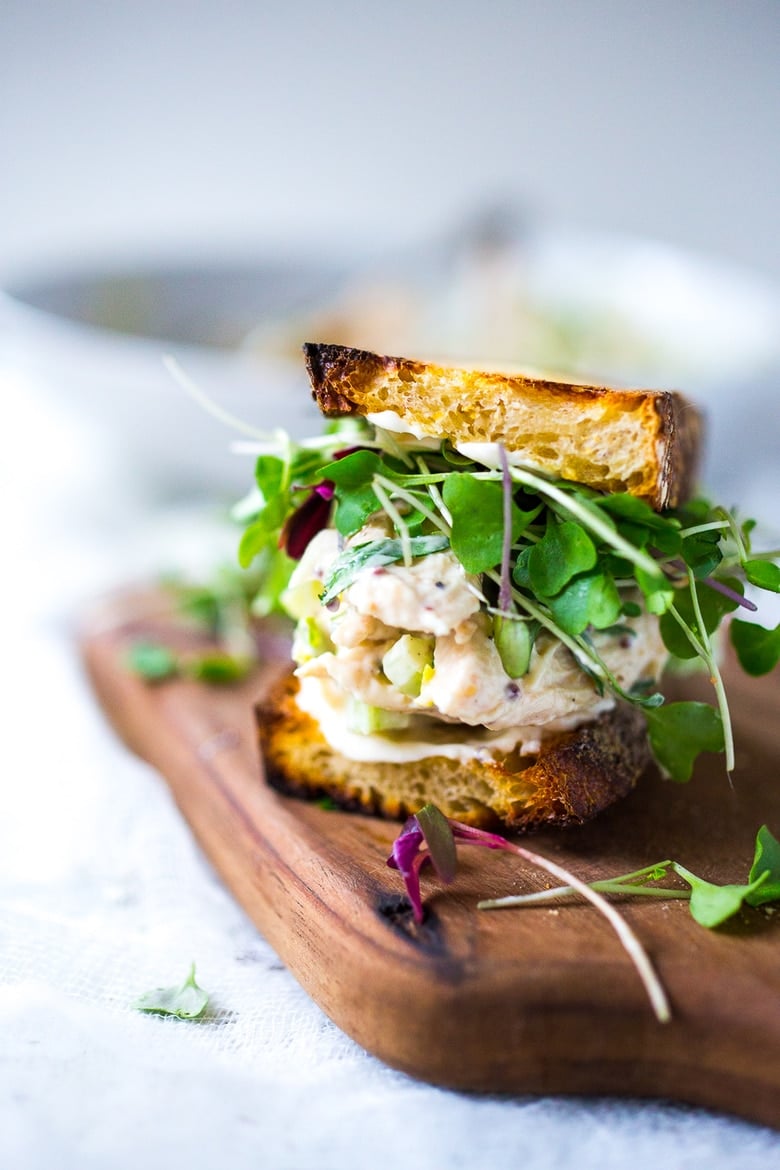 Tarragon Chicken Salad can be turned into a sandwich, wrap or served over a bed of tender greens. Fast easy and full of flavor! A healthy delicious low-carb lunch!  Keto-friendly when served over avocado or greens!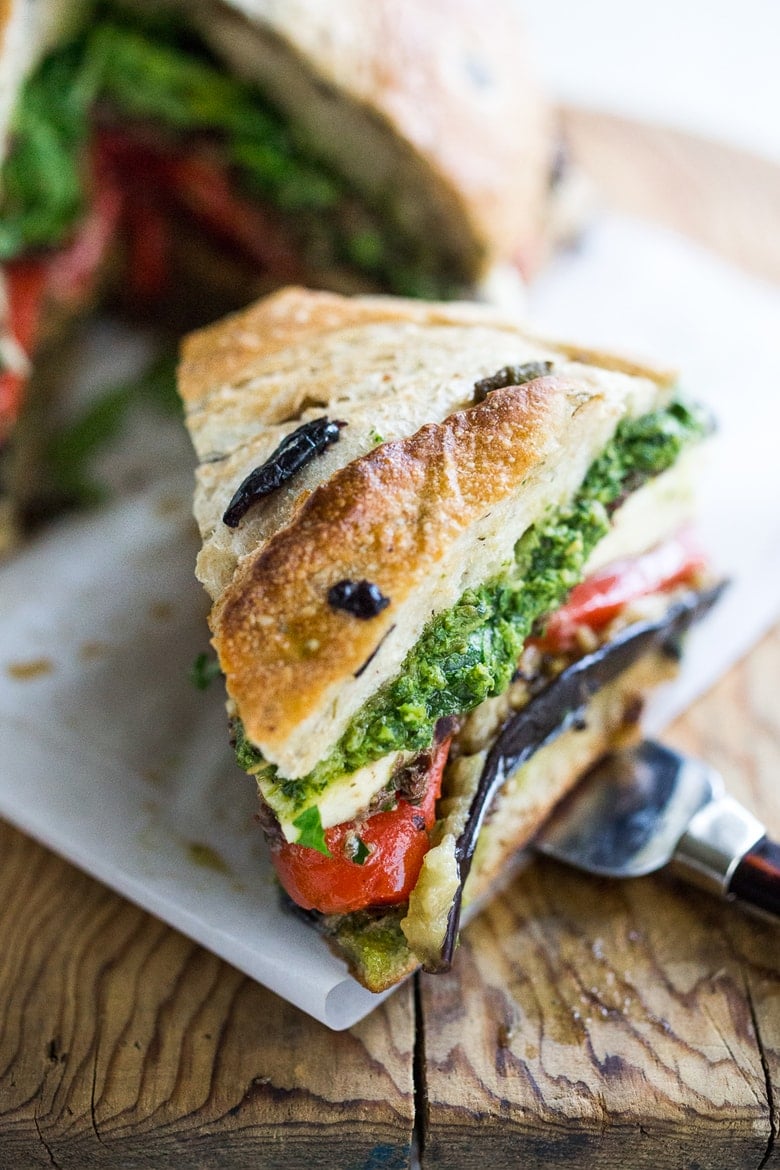 Muffuletta Sandwich – a vegetarian version of the Italian classic featuring eggplant instead of meat.  This can be made ahead, refrigerated and served through out the week!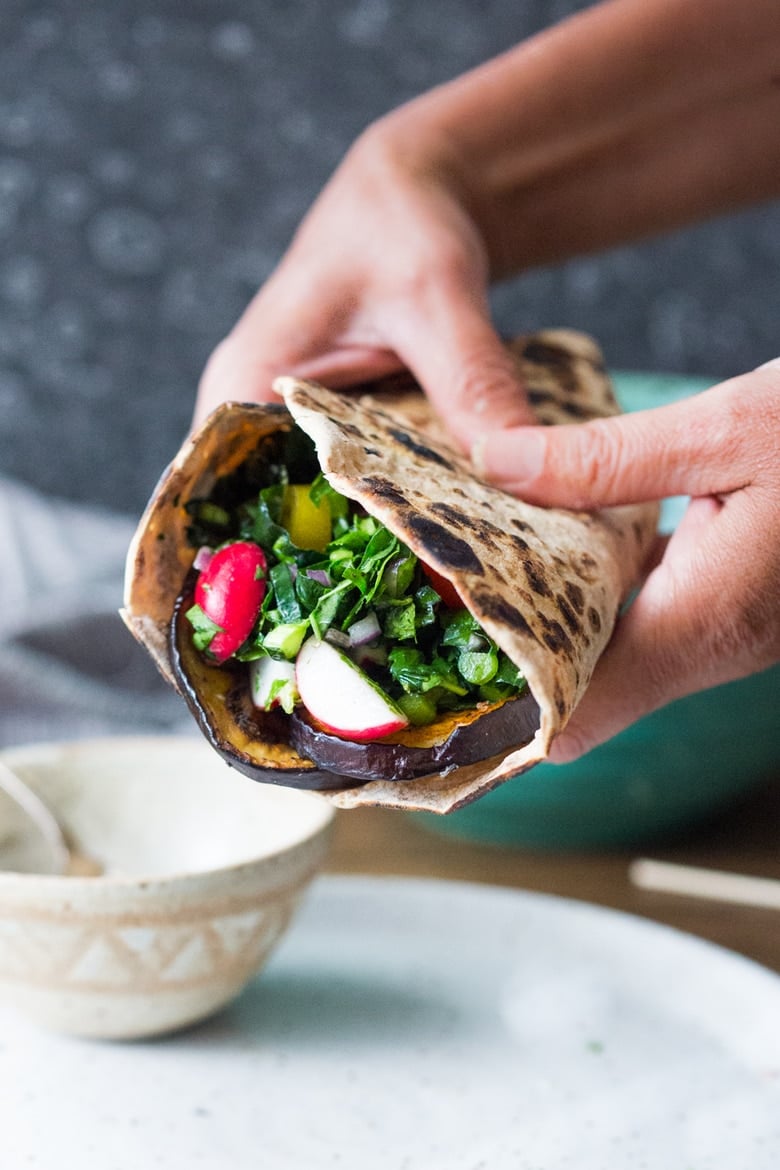 Middle Eastern Eggplant Wrap with a Lemony Kale Slaw with Creamy Tahini Sauce. Keep it vegan or add feta! A delicious healthy lunch idea that can be made ahead!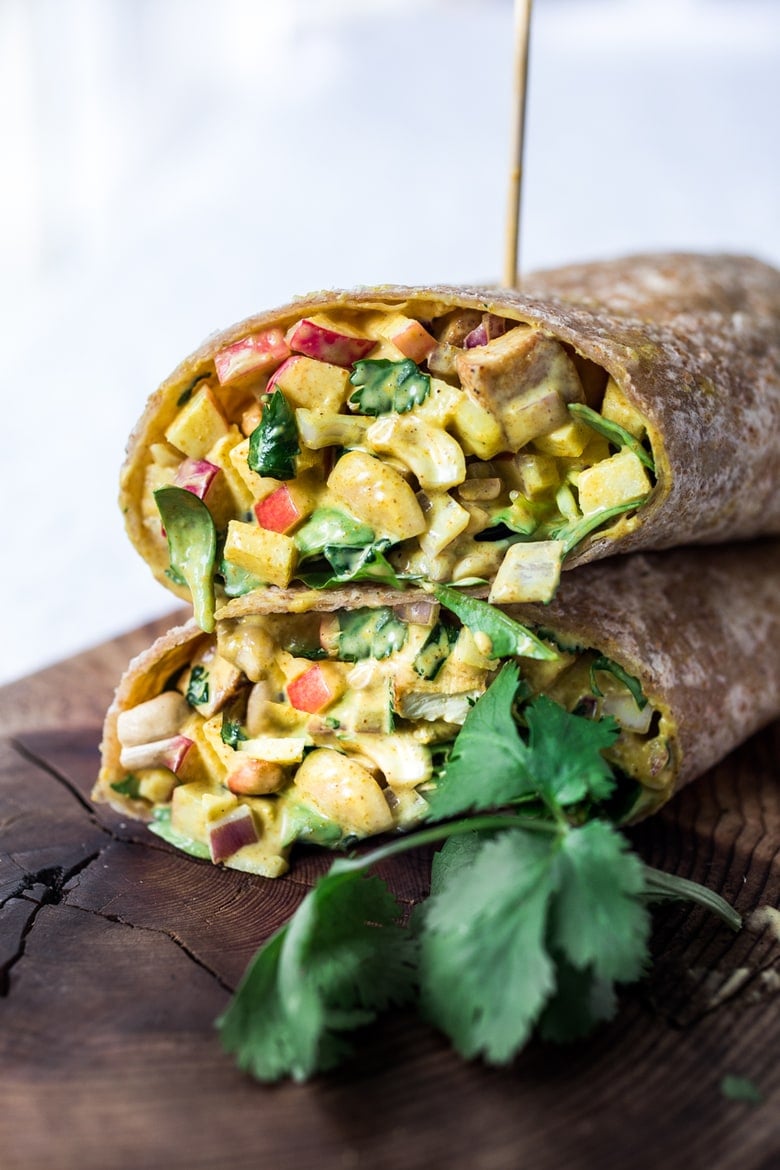 Curry Tofu Cashew Salad – Turn it into a hearty wrap, stuff it into an avocado or served over a bowl of tender greens this VEGAN lunch is flavorful and healthy!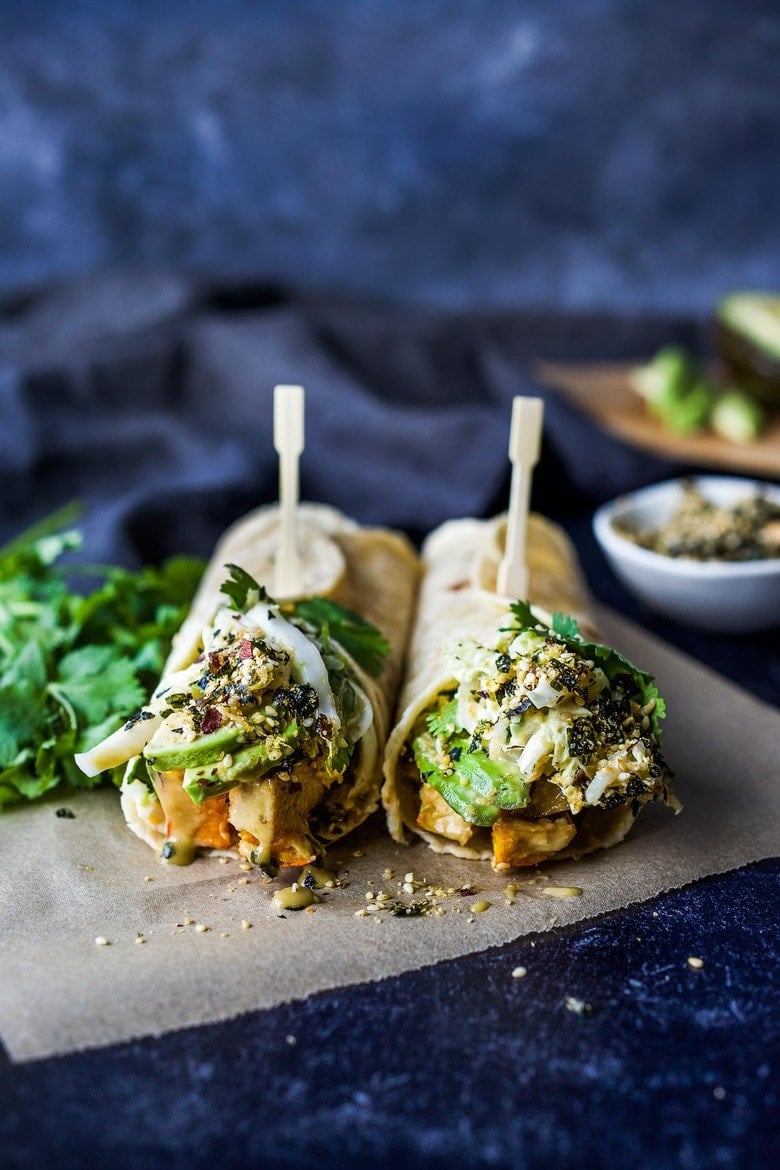 A delicious vegan recipe for Miso Tofu Wrap with Roasted Winter Squash, Baked Miso Tofu, Asian Slaw, Avocado, Furikake and flavorful Miso Dressing. A delicious lunch idea we are in love with!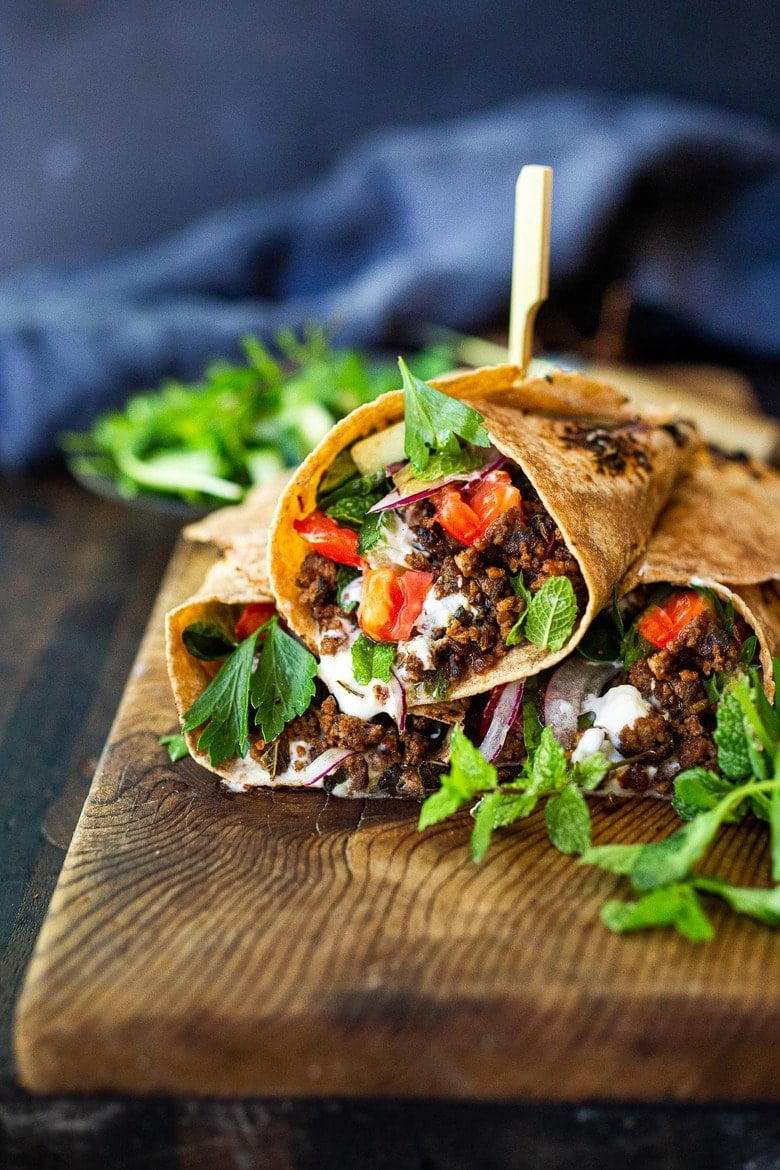 Fast and flavorful, Turkish Lamb Wraps are made with savory ground lamb seasoned with flavorful Turkish spices, wrapped up in a tortilla with labneh (or yogurt), cucumbers, tomatoes, mint, parsley and peppery watercress. A simple meal that can be served for lunch or dinner!
Hearty Veggie-Loaded Salads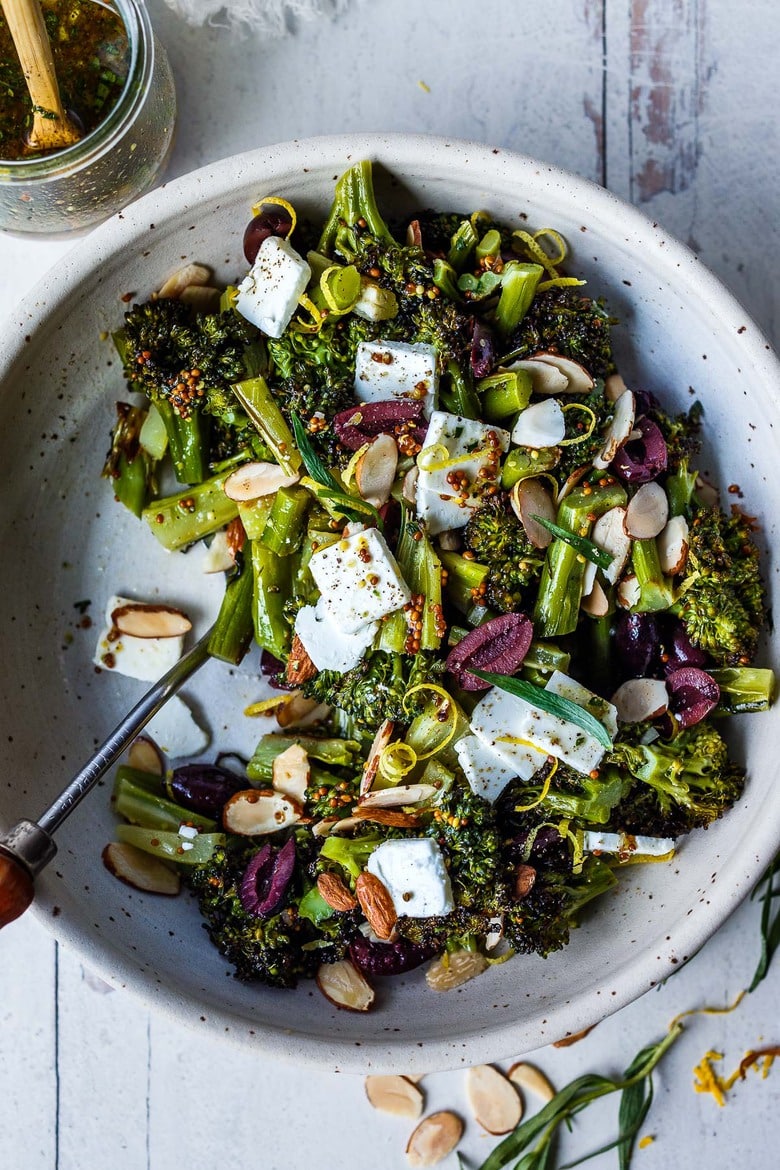 Easy Roasted Broccoli Salad with toasted almonds, kalamata olives, and lemon zest, drizzled with delicious Mustard Seed Maple Dressing.  Amazingly simple, yet filled with so much vibrant flavor. Make this ahead for healthy lunches on the go!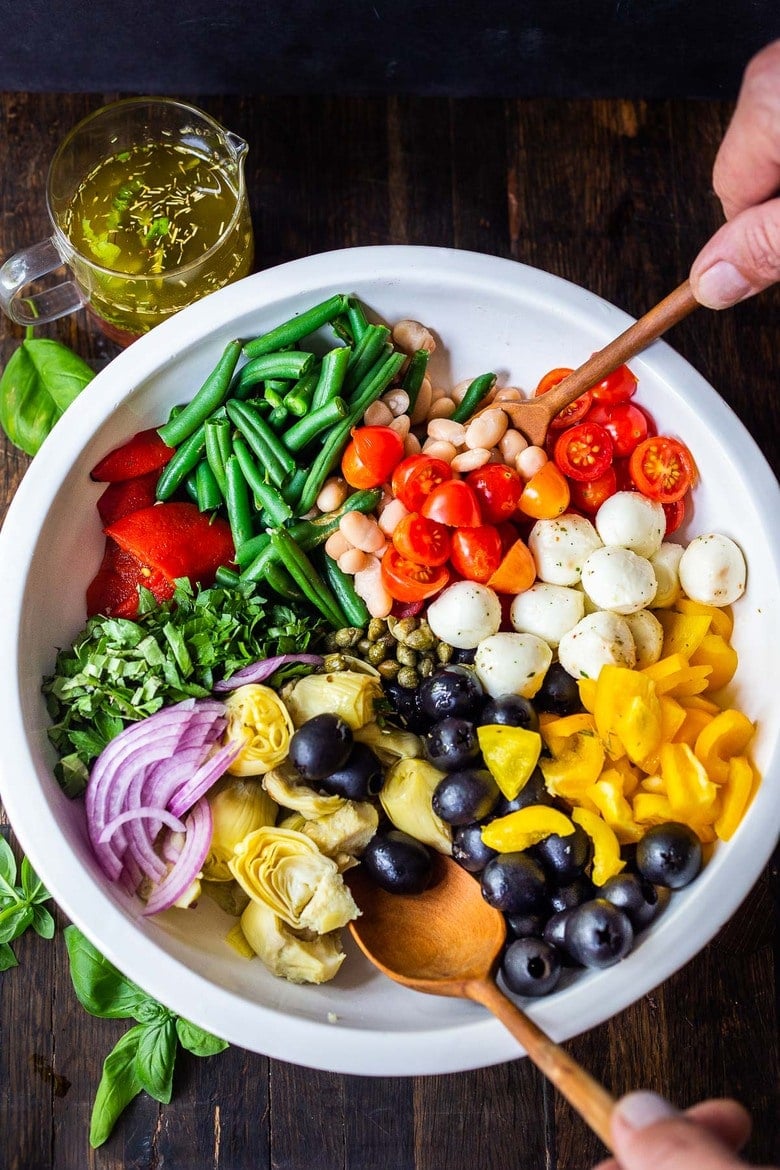 This vegetarian Antipasto Salad with made with Pantry ingredients, fresh veggies, and lots of herbs, tossed in a simple Italian dressing. Vegan and Low Carb adaptable!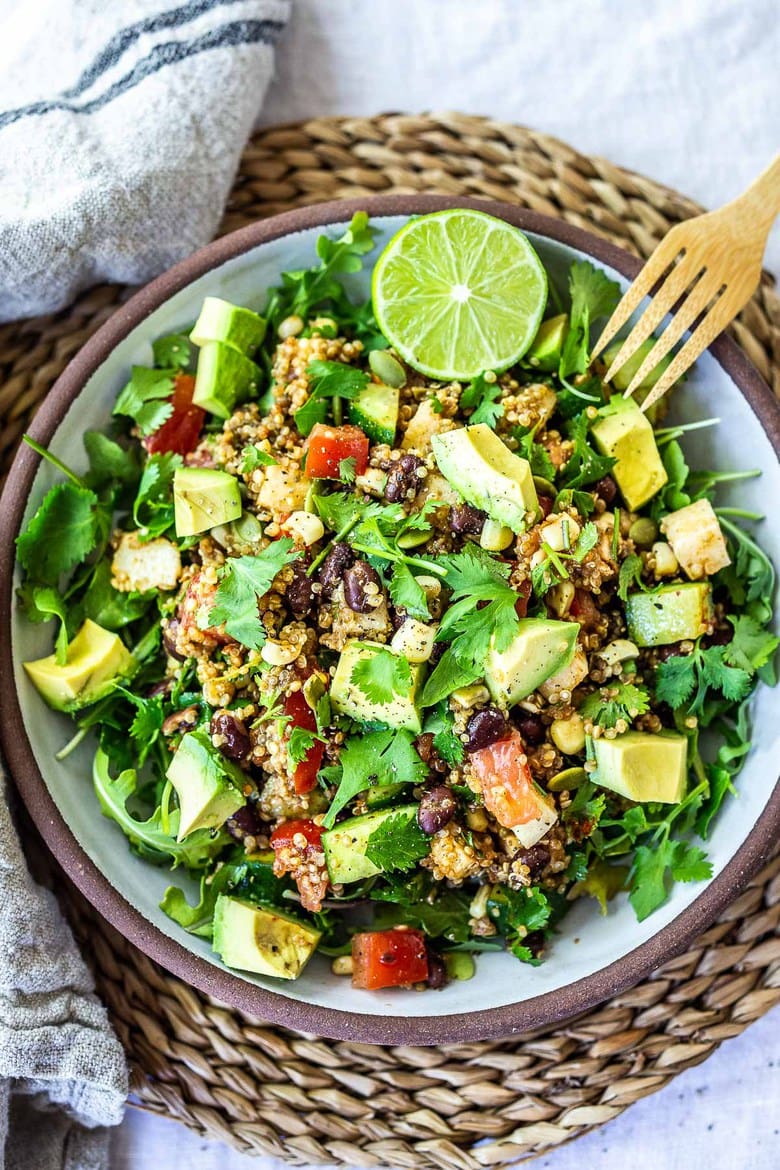 This Southwest Black Bean Quinoa Salad is quick and easy to put together and full of fresh Southwest flavors- perfect for meal prep and healthy lunches. Vegan and Gluten-Free!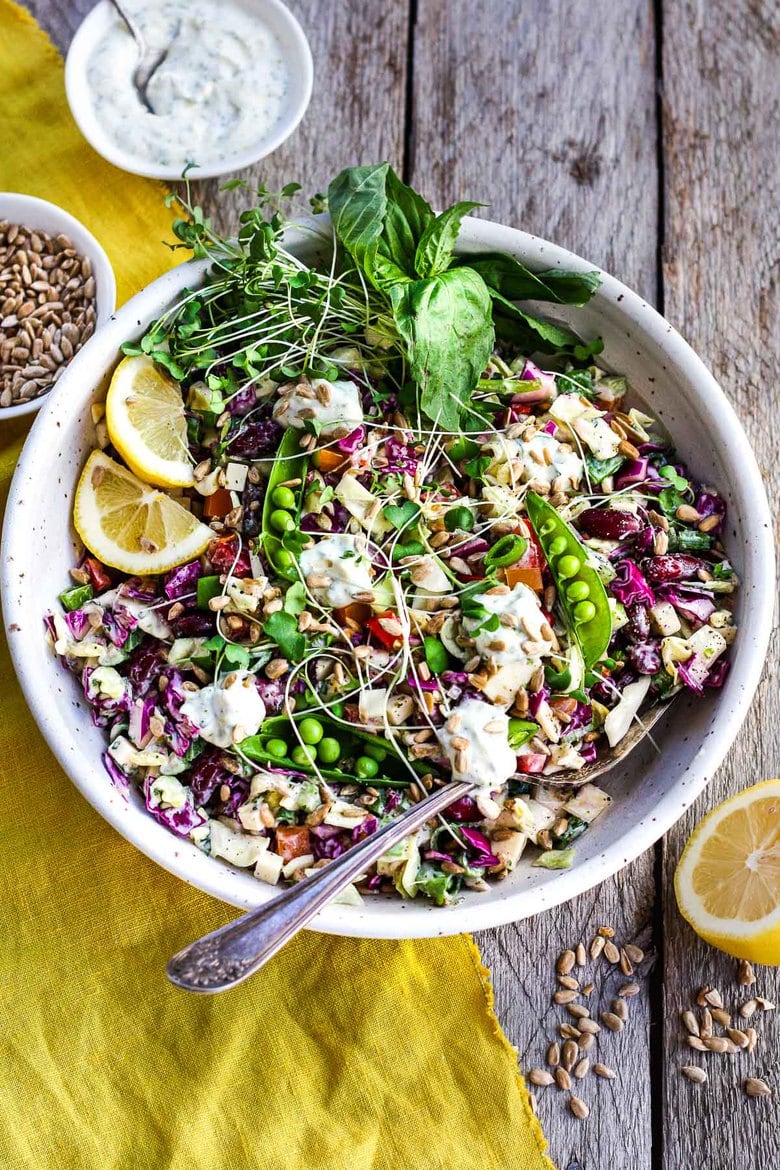 This Rainbow Chopped Salad is crunchy, colorful and nutritious! Tossed with a lemony herbed greek yogurt dressing, it is easy to make and easy to adapt. Perfect for meal prep, this salad keeps for 4 days in the fridge.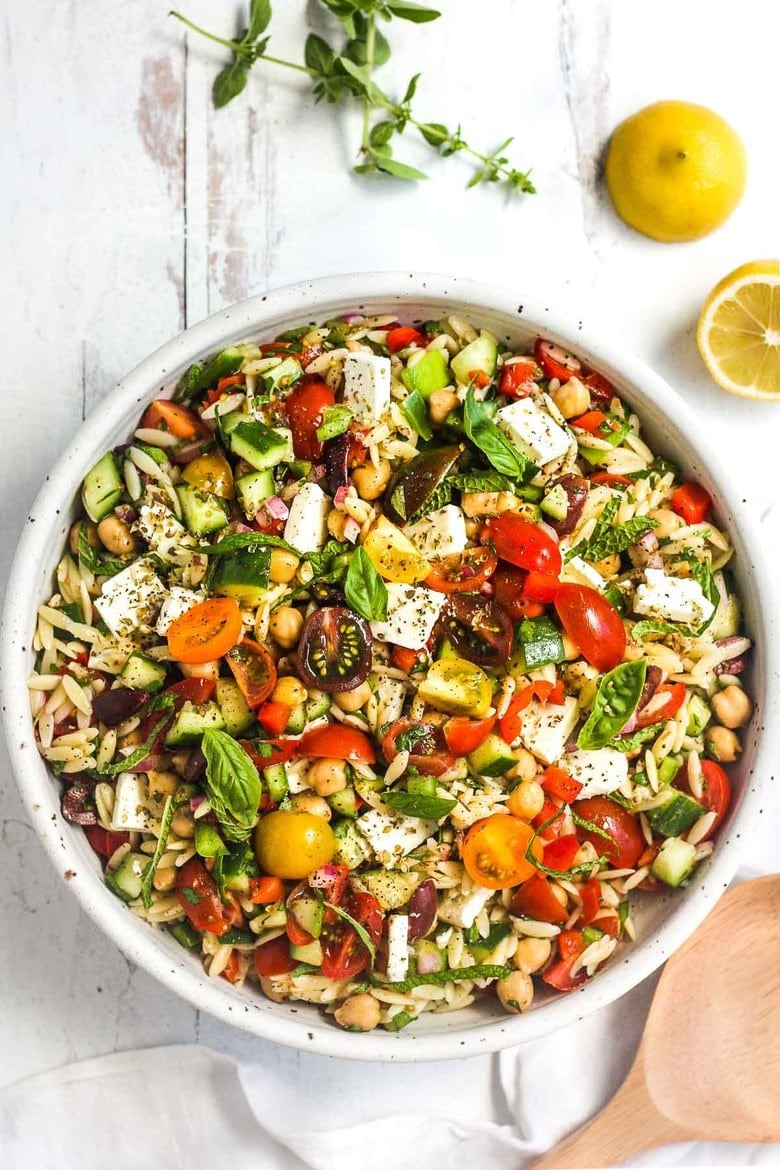 This healthy Greek Pasta Salad is the perfect make-ahead pasta salad for lunches, summertime picnics, bbqs, potlucks and easy dinners.  A hearty ratio of fresh veggies combined with tender orzo pasta, and chickpeas tossed in the tastiest Greek salad dressing.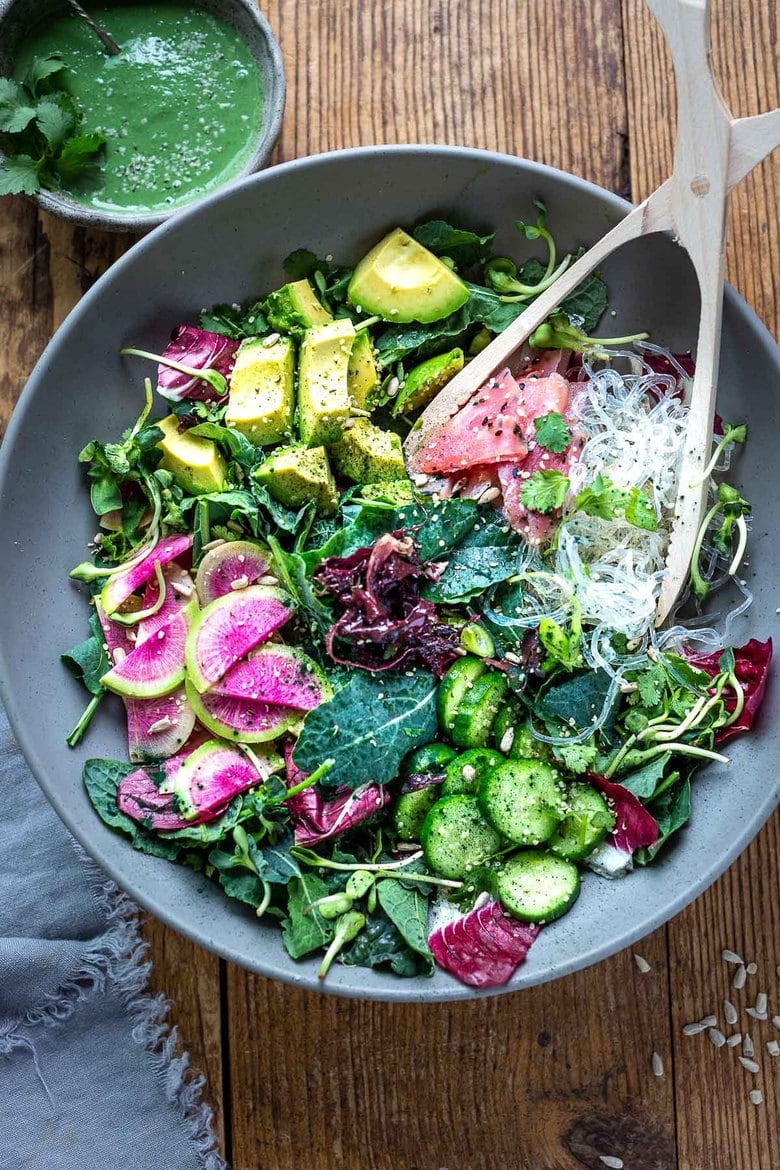 Nutrient-dense Spirulina Sea Salad is pure superfood for the body. This healthy salad is made with dulse, kelp noodles, fresh veggies and flavorful Spirulina Dressing, keep it vegan or add ahi or smoked Salmon!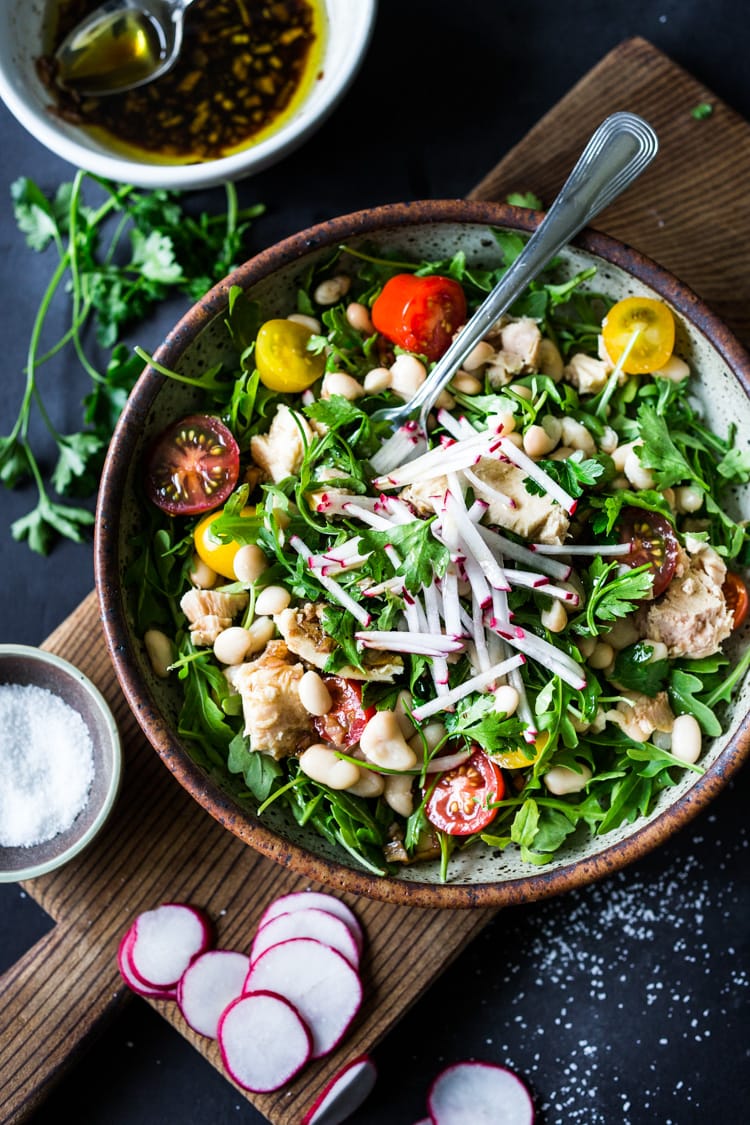 This Tuscan White Bean & Tuna Salad with arugula, radishes, tomatoes and a simple balsamic vinaigrette is high in protein and low in carbs. Loaded up with healthy veggies, it is a fast and healthy lunch recipe made with ingredients you probably already have in your pantry! Sub more white beans for the tuna for an easy vegan option.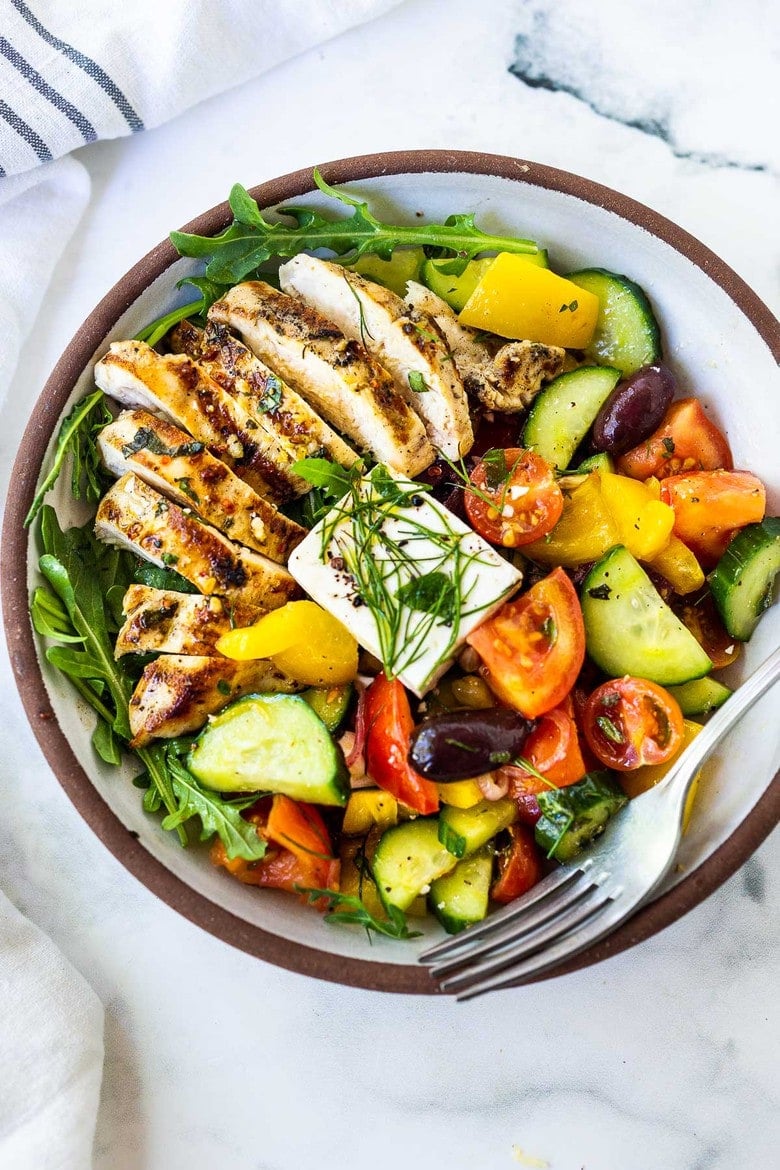 This Grilled Chicken Greek Salad is light and healthy and full of so much flavor- a low-carb lunch idea that can be made ahead!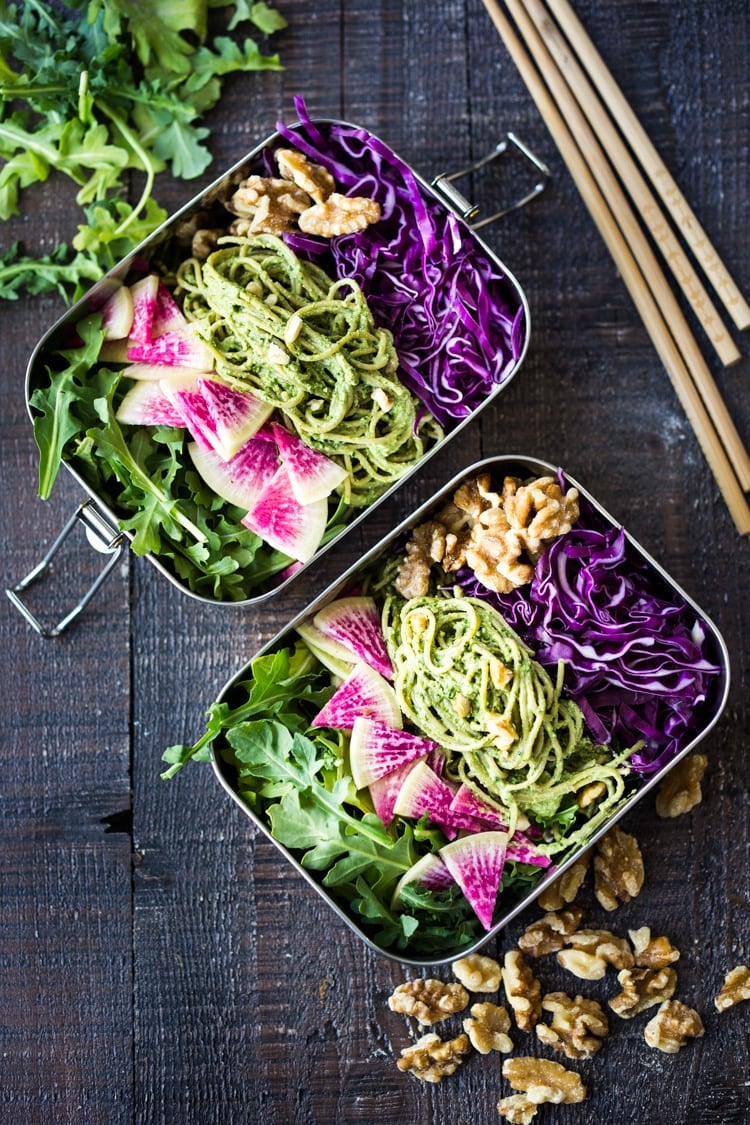 Superfood Walnut Pesto Noodles,  loaded up with healthy veggies- a flavorful healthy pasta salad that is packable and can be made ahead!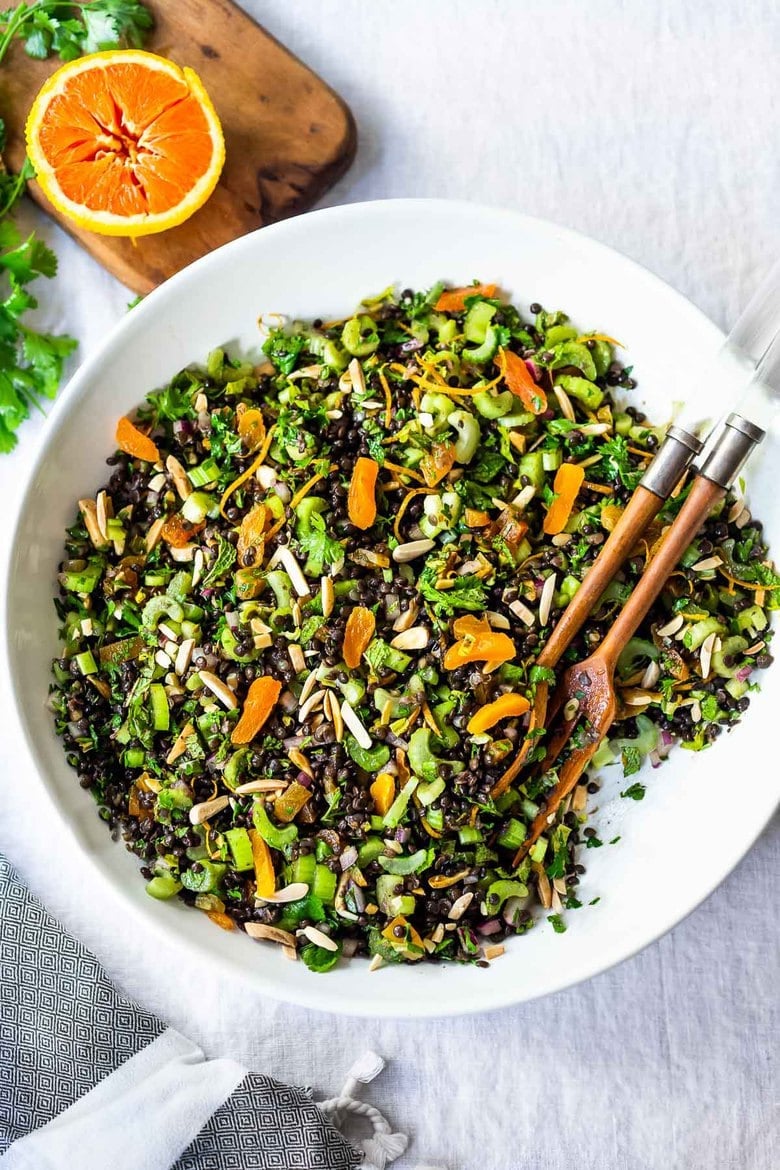 This Moroccan Lentil Salad– has the best flavor and can be made ahead and keeps for 4 days in the fridge, perfect for healthy midweek lunches!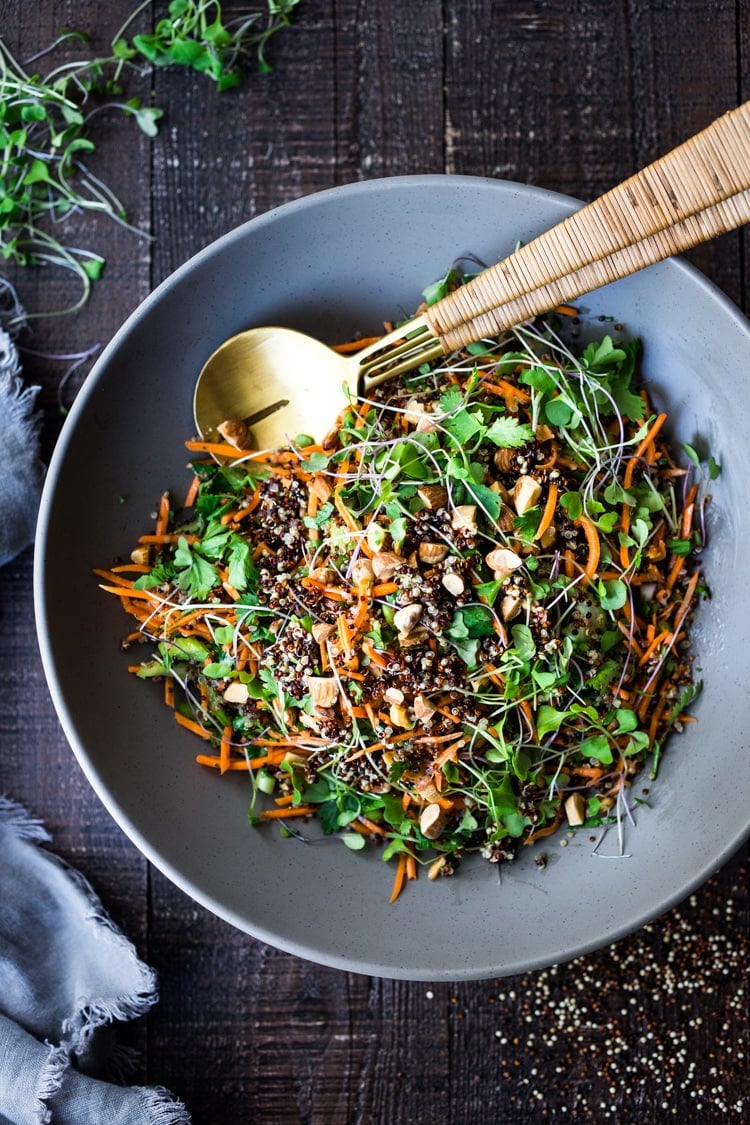 Carrot Quinoa Salad with Almonds with Apple Cider Vinaigrette- a delicious make-ahead vegan lunch that is healthy, vegan and full of flavor! One of my favorites.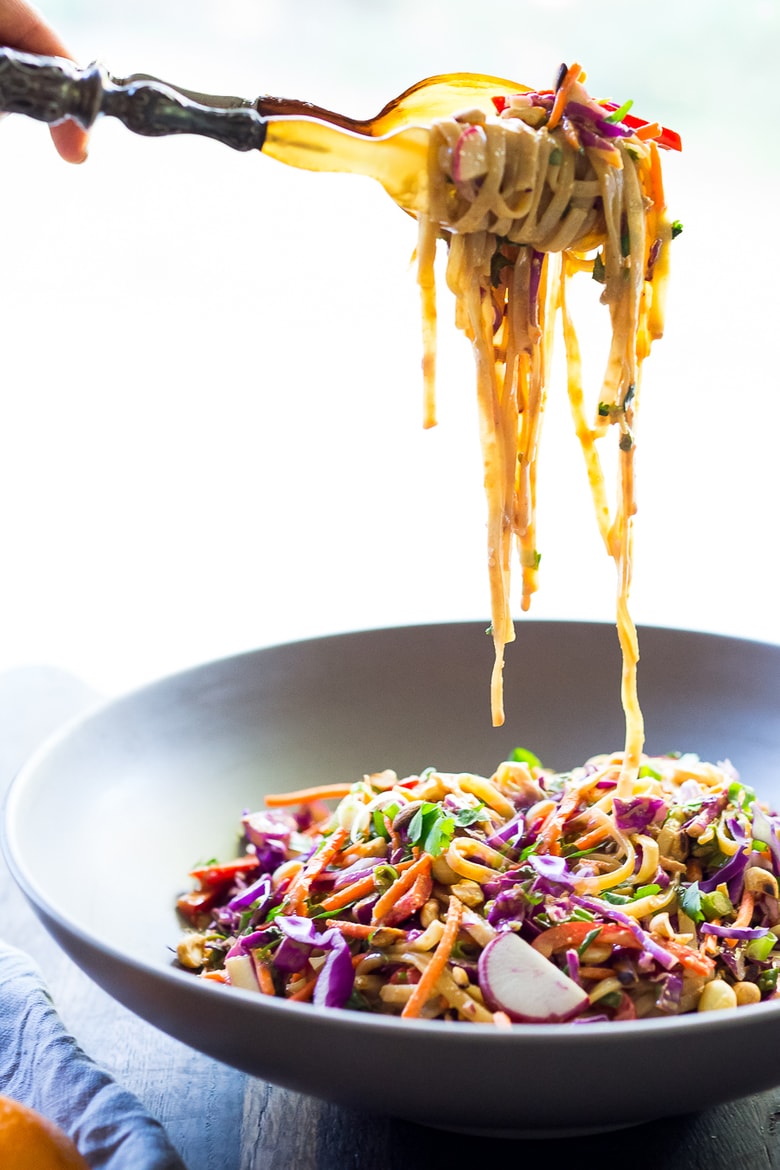 Thai Noodle Salad with Peanut Sauce –  A delicious, vegan make-ahead pasta salad with the best peanut sauce ever! Loaded up with lots of healthy veggies, keep this gluten-free by using rice noodles. Make a big batch for the busy week!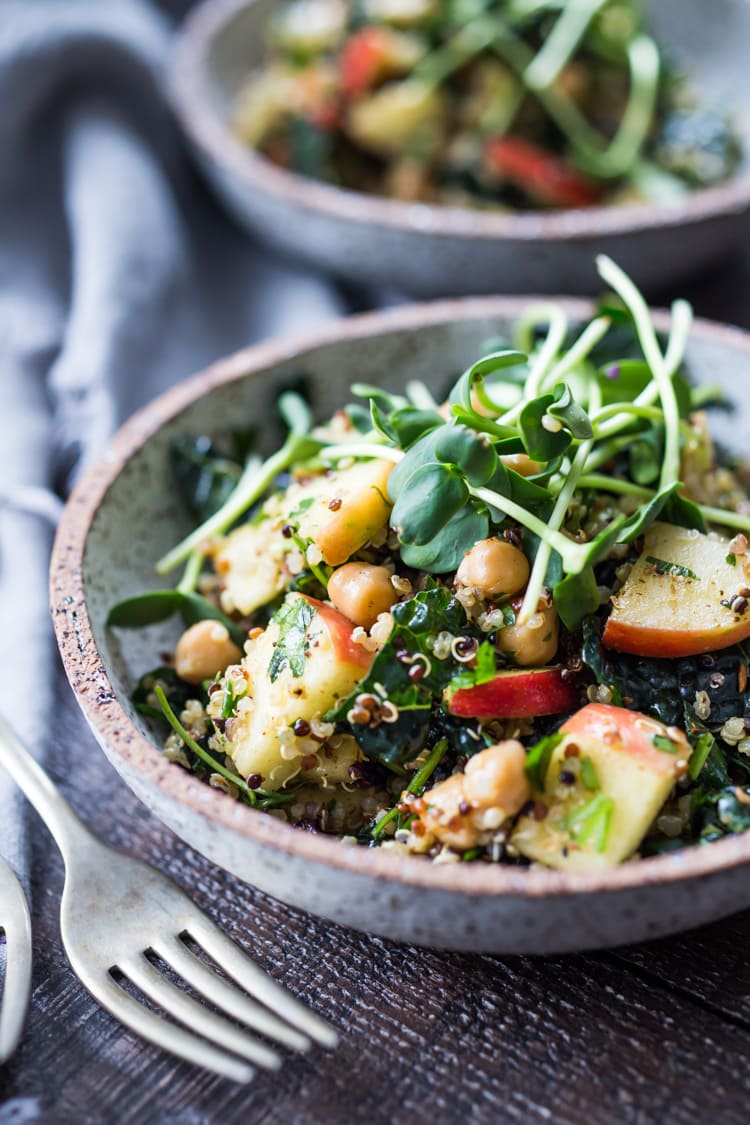 Winter Happiness Salad!  This  Kale & Quinoa Salad with Apples, Chickpeas and Currants! A hearty vegan salad that can be made ahead- perfect for potlucks, gatherings or midweek lunches!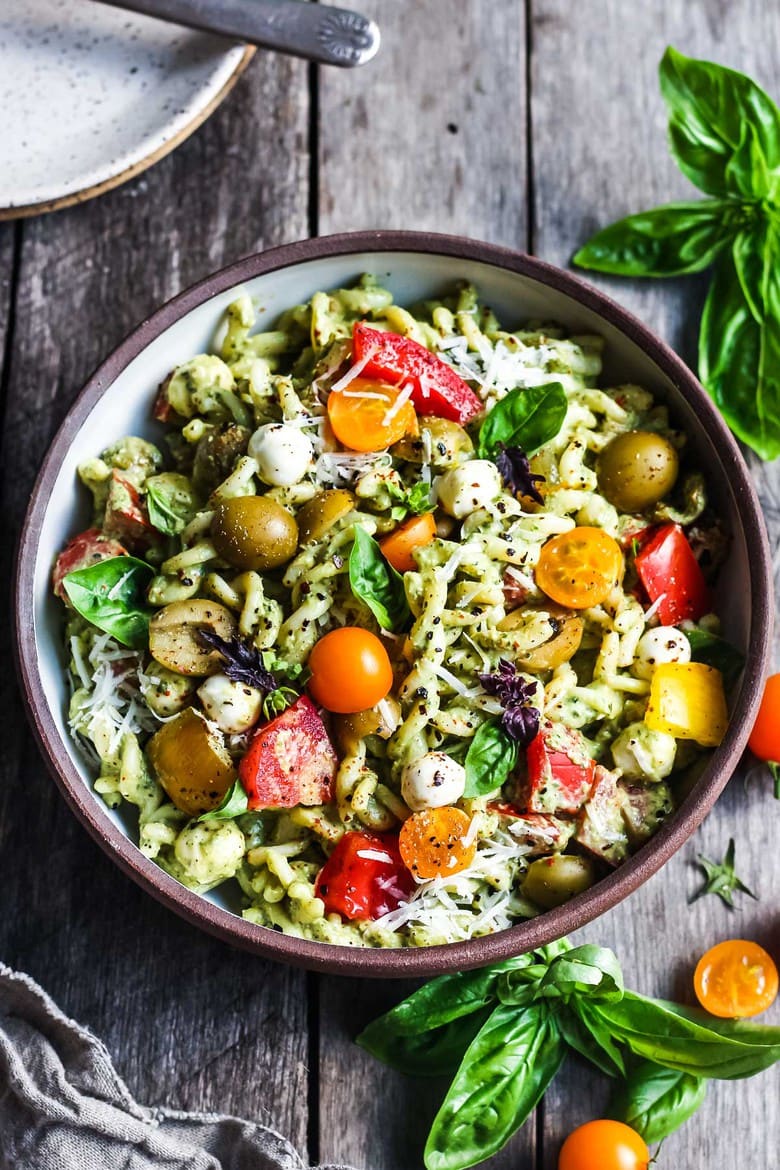 This Pesto Pasta Salad w/ cherry tomatoes, baby mozzarella, olives & fresh basil is tossed in the most flavorful Creamy Pesto Dressing. Vegan, gluten-free adaptable.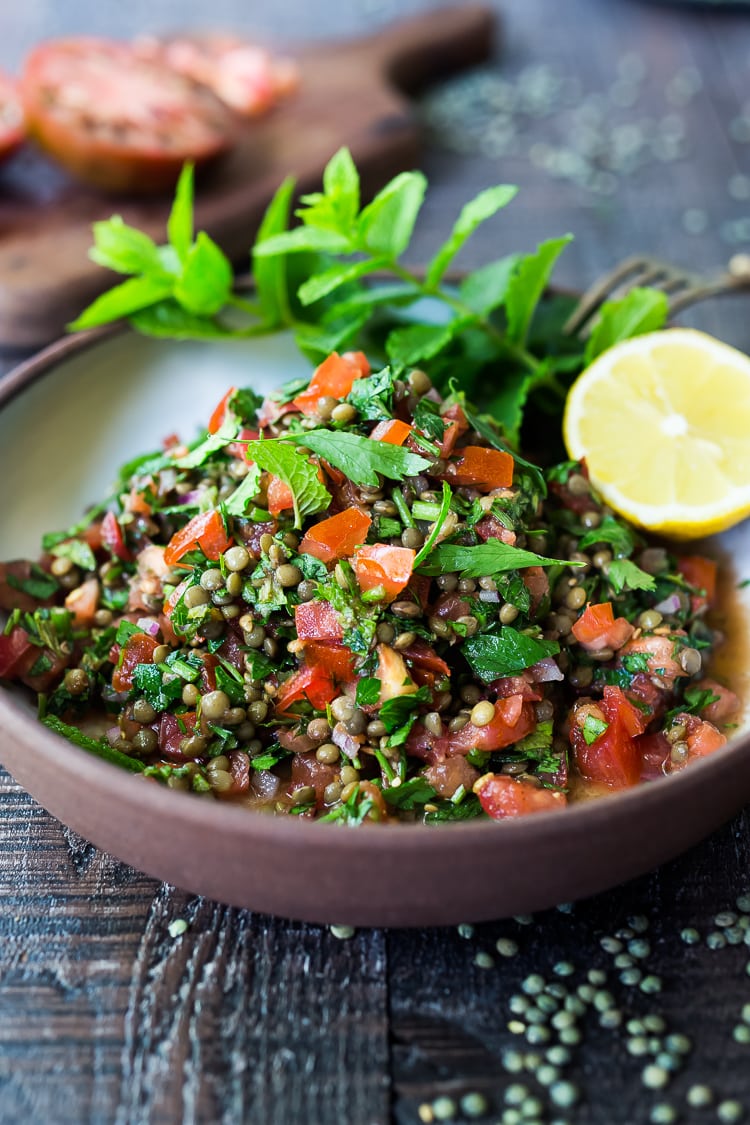 This simple Lentil Tabouli Salad is bursting with Middle Eastern flavor! Filling lentils are paired with summer tomatoes, lemon, mint and parsley and a unique combination of spices, and keeps for several days, perfect for midweek lunches or potlucks! Vegan and Gluten-Free.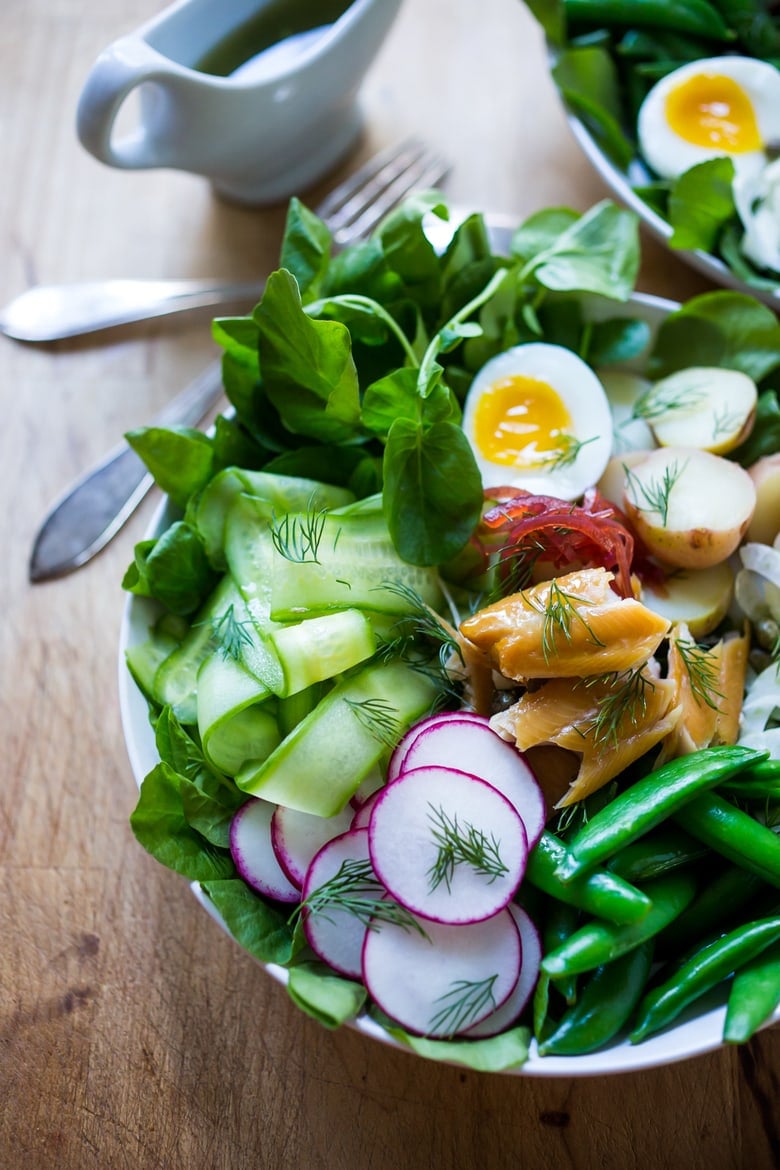 Nordic Nicoise Salad with smoked salmon over a bed of greens with radish, cucumber, baby potatoes, capers, dill, and horseradish-spiked Nicoise dressing. A delicious healthy lunch!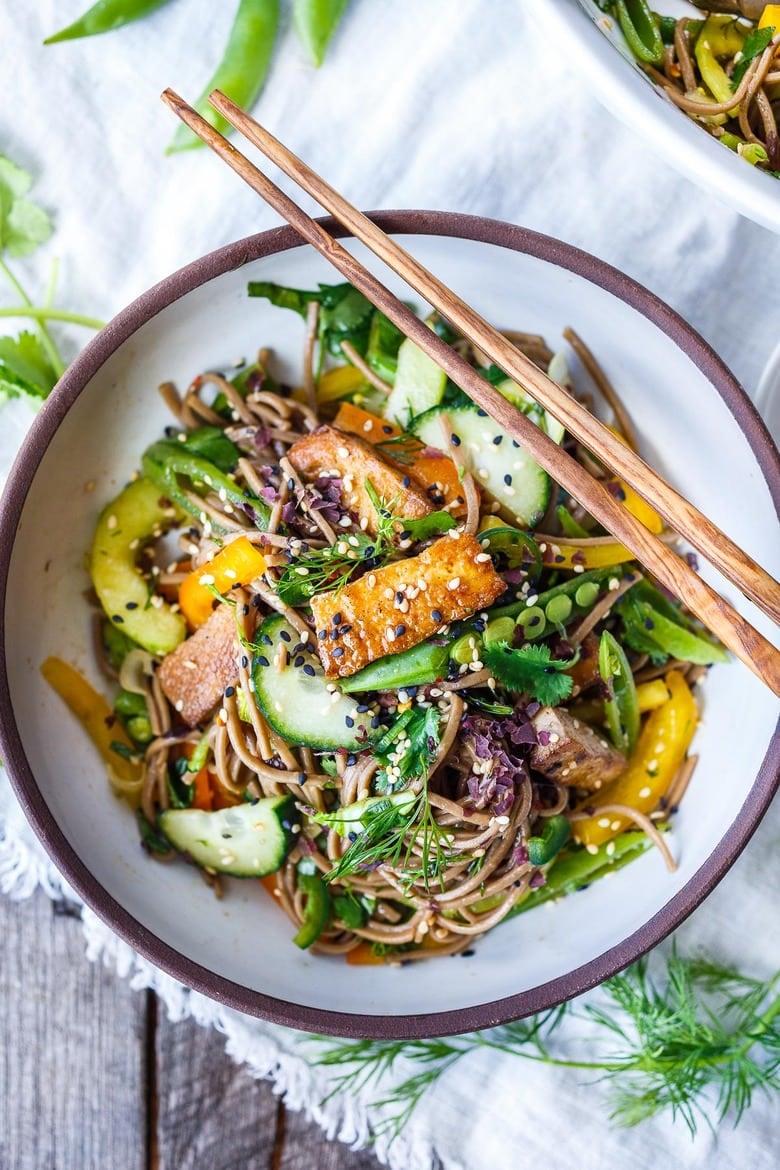 Soba Noodle Salad – a tasty make-ahead salad with gluten-free buckwheat noodles, fresh healthy veggies, fresh herbs and a delicious Sesame Dressing.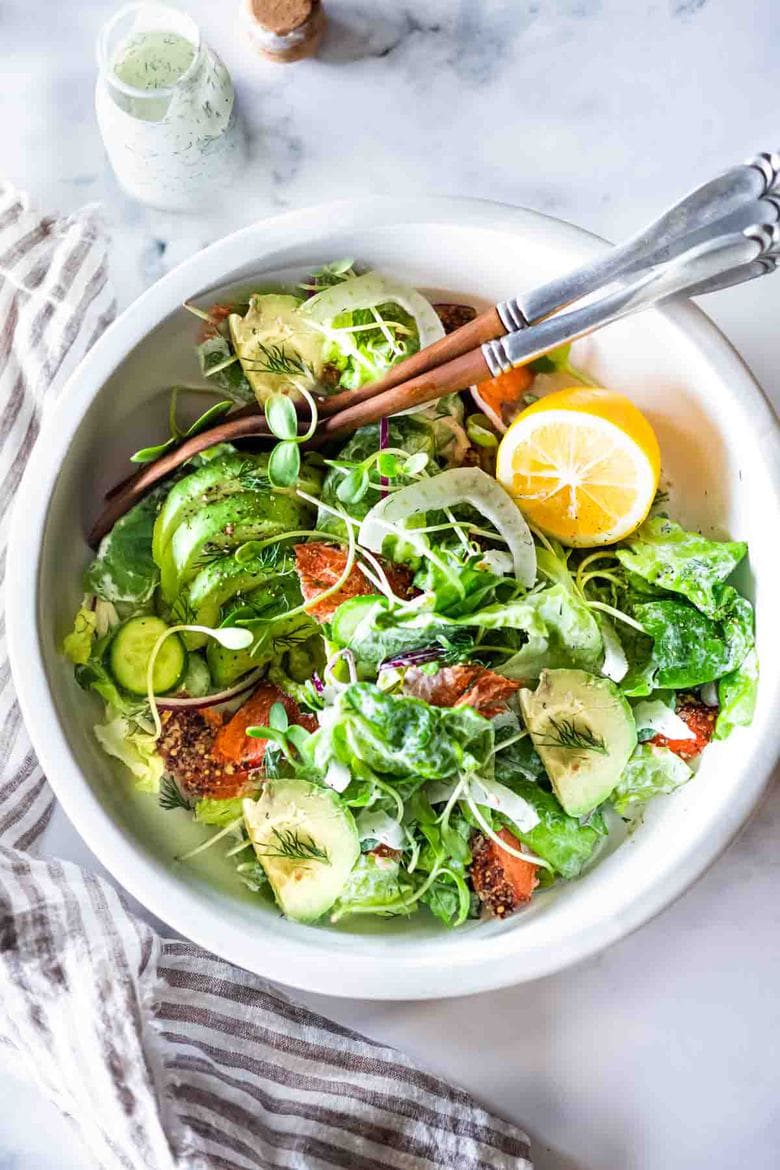 Smoked Salmon, Avocado and Fennel Salad with butter lettuce and creamy Dill Dressing. Fast and easy, this hearty entree salad makes for a delicious lunch or dinner main.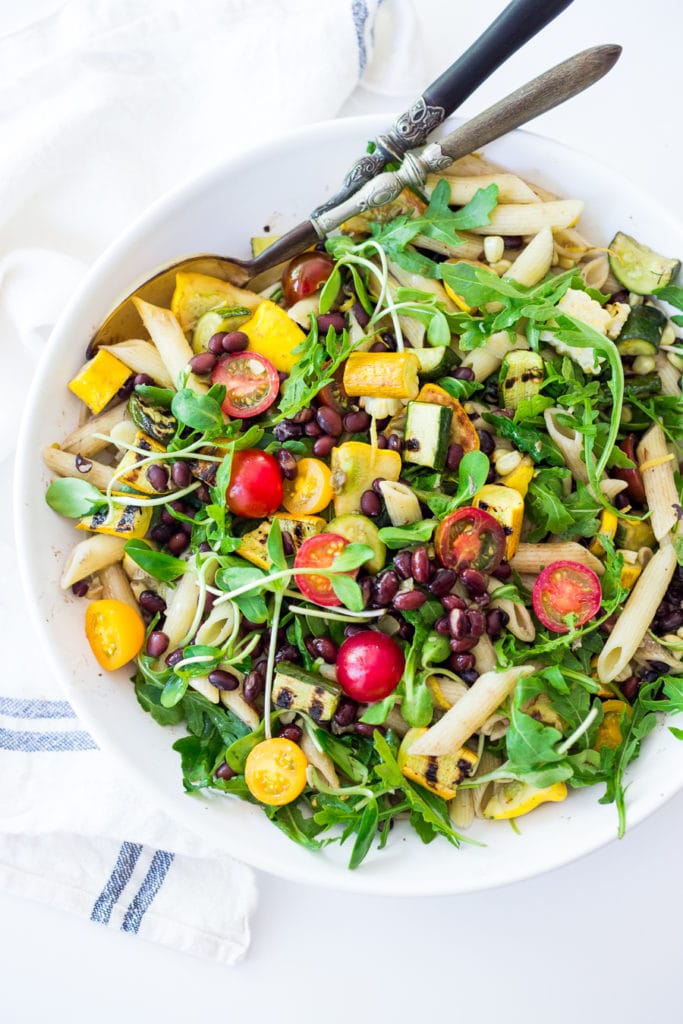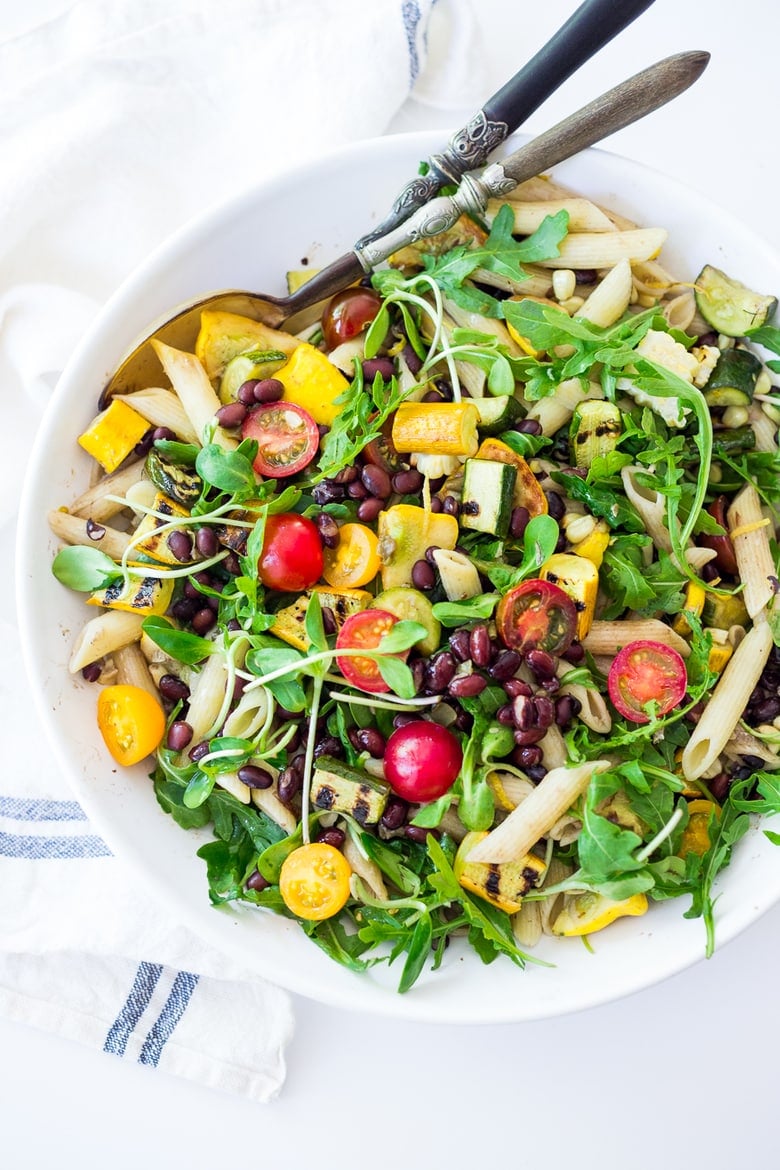 Farmers Market Pasta with Grilled zucchini and summer squash, corn, black beans and cherry tomatoes! Serve this warm for dinner and save the rest for packed lunches!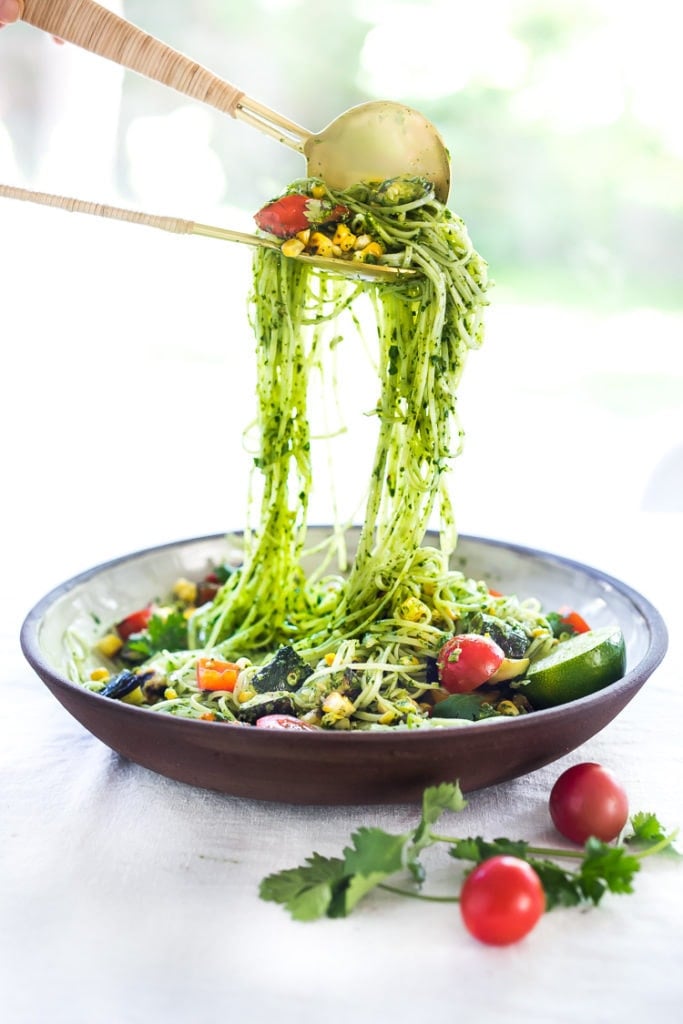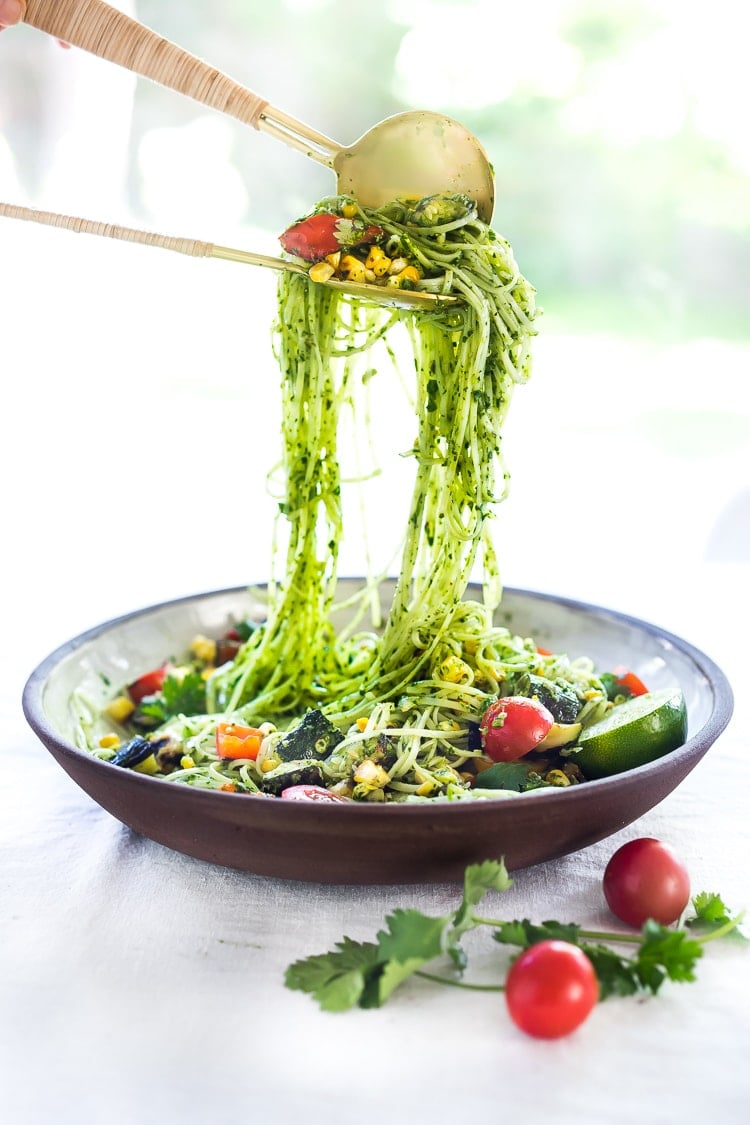 This vegan Summer Pasta Salad w/  zucchini, Corn and Cilantro Pesto is made with gluten-free rice noodles and loaded up with healthy summer veggies, then tossed in the most flavorful Cilantro Pesto…. deliciously addicting and perfect for lunches on the go.
Make-ahead Soups, the Perfect Lunch Idea!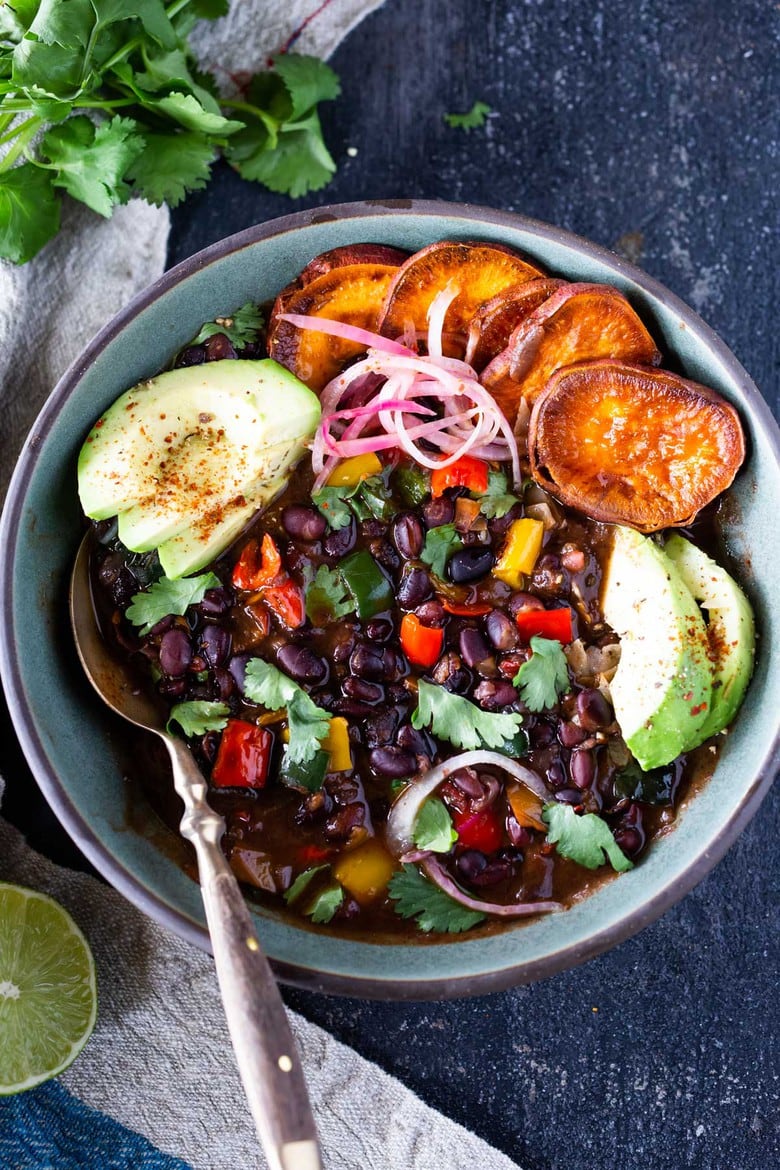 Cuban Black Bean Soup! A simple vegan recipe for Cuban Black Bean Soup with veggies and roasted sweet potatoes that can be made ahead in an Instant Pot with Dry Beans! Vegan and delicious, this soup is perfect for packed lunches.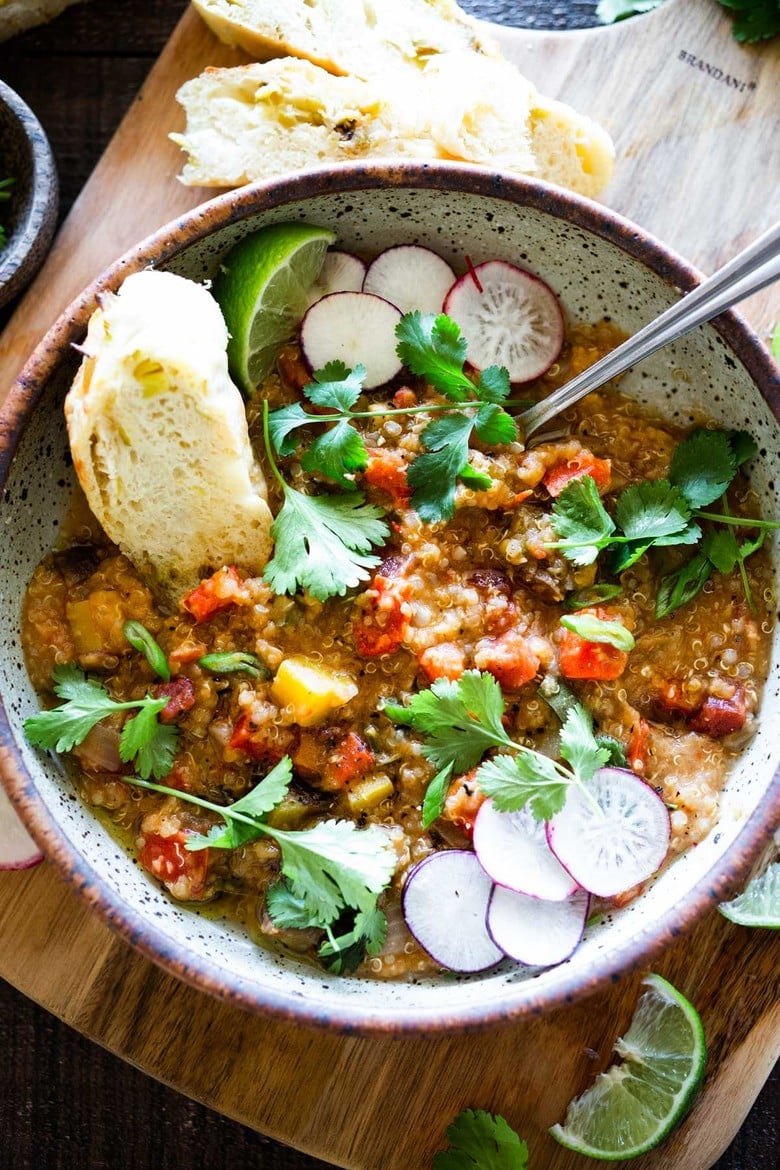 This vegan soup recipe- Moroccan Red Lentil Quinoa Soup is hearty, flavorful, and made with healthy ingredients. It is fast and easy to make and can be made in an Instant Pot or on the stovetop. One of my favorite make-ahead vegan soups!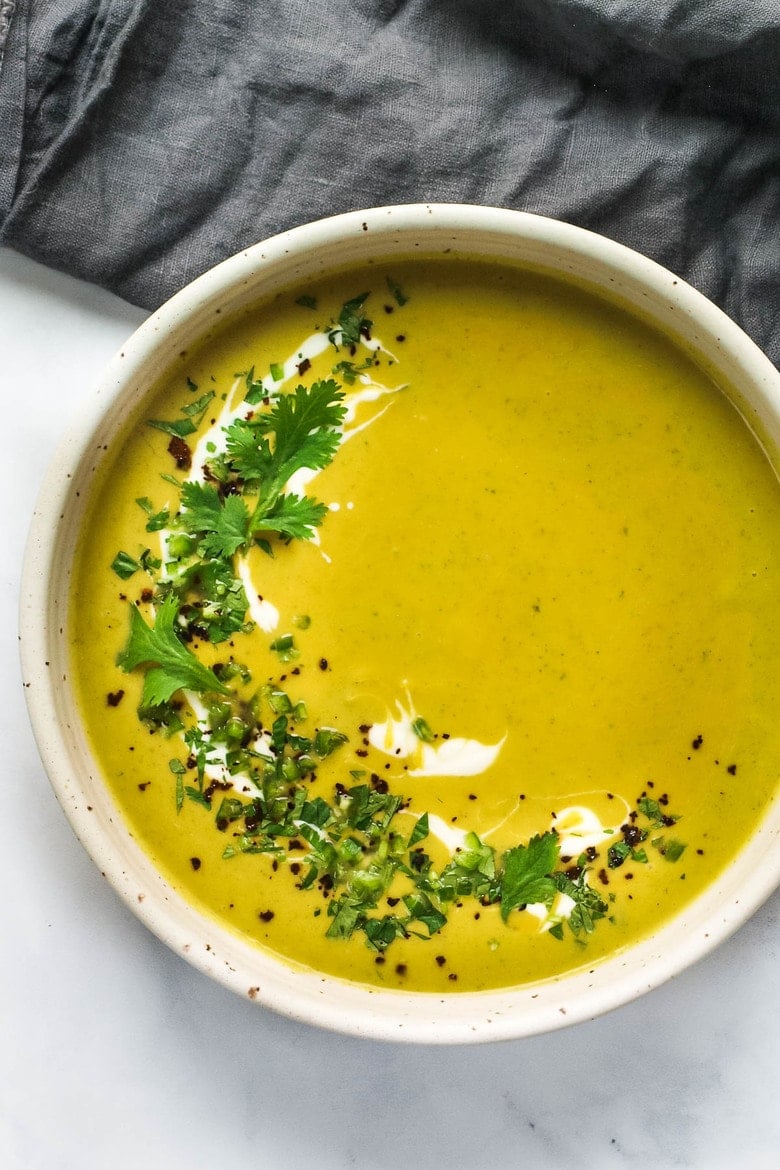 This Curried Zucchini Soup with ginger and mint is easily vegan-adaptable.  A fast and easy veggie-based soup that can be made ahead, reheated and full of amazing flavor. Perfect for packed lunches!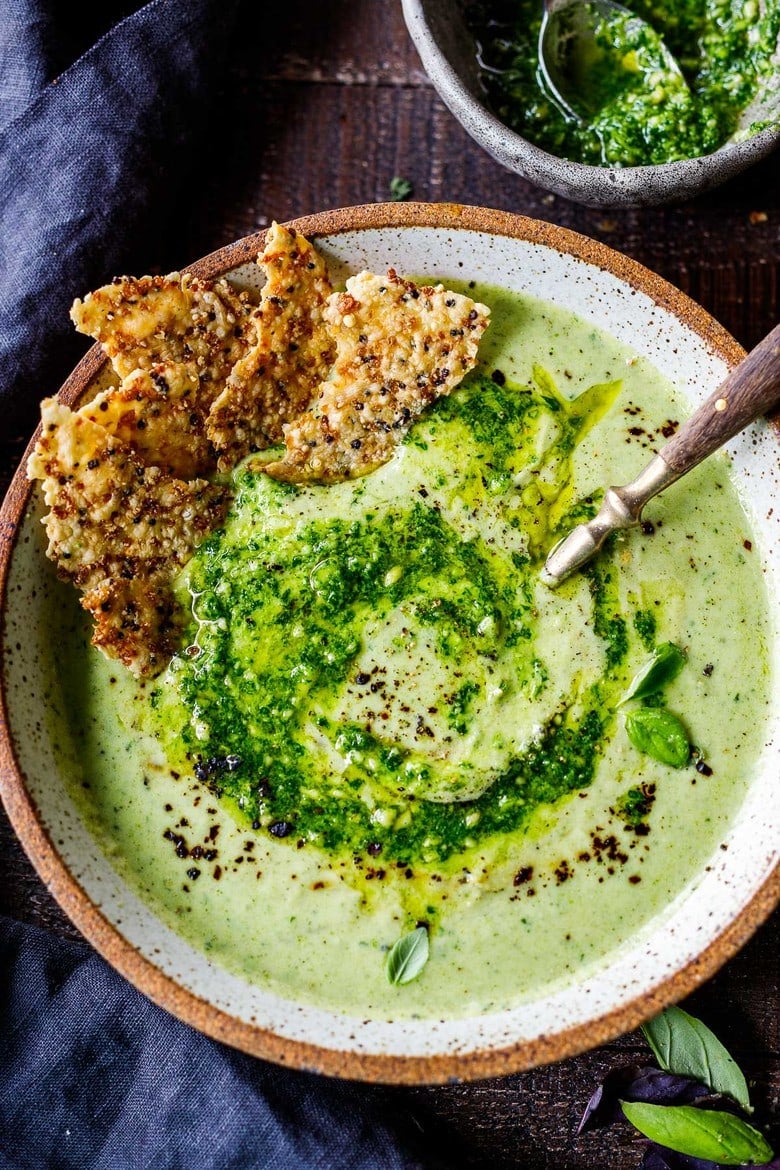 This Creamy Broccoli Soup with Pesto is deeply nourishing, full of flavor, and made with simple ingredients in under 35 minutes. Make it ahead for mid-week meals! Gluten-free & Vegan-adaptable!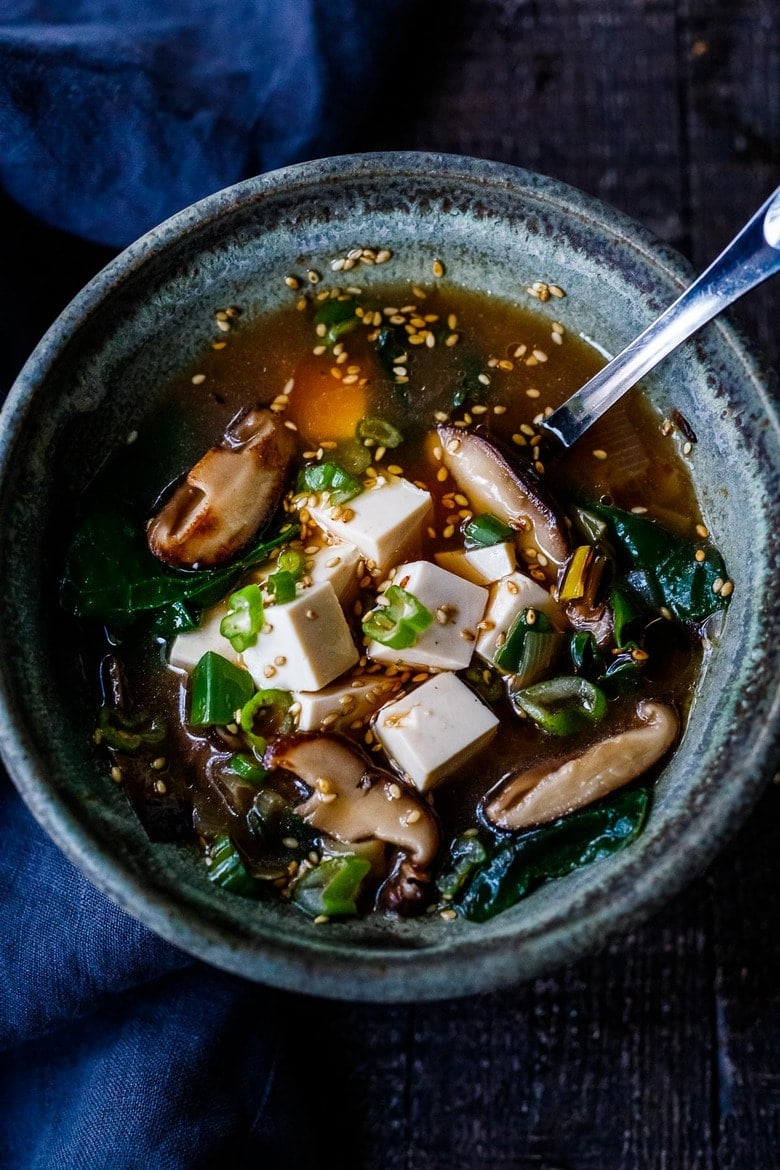 20-minute Miso Soup Recipe with leeks, shiitake mushrooms, wilted greens, and tofu makes for a fast and easy weeknight meal. Full of flavor and nutrients it is highly nourishing while remaining light and lean. Vegan and GF adaptable.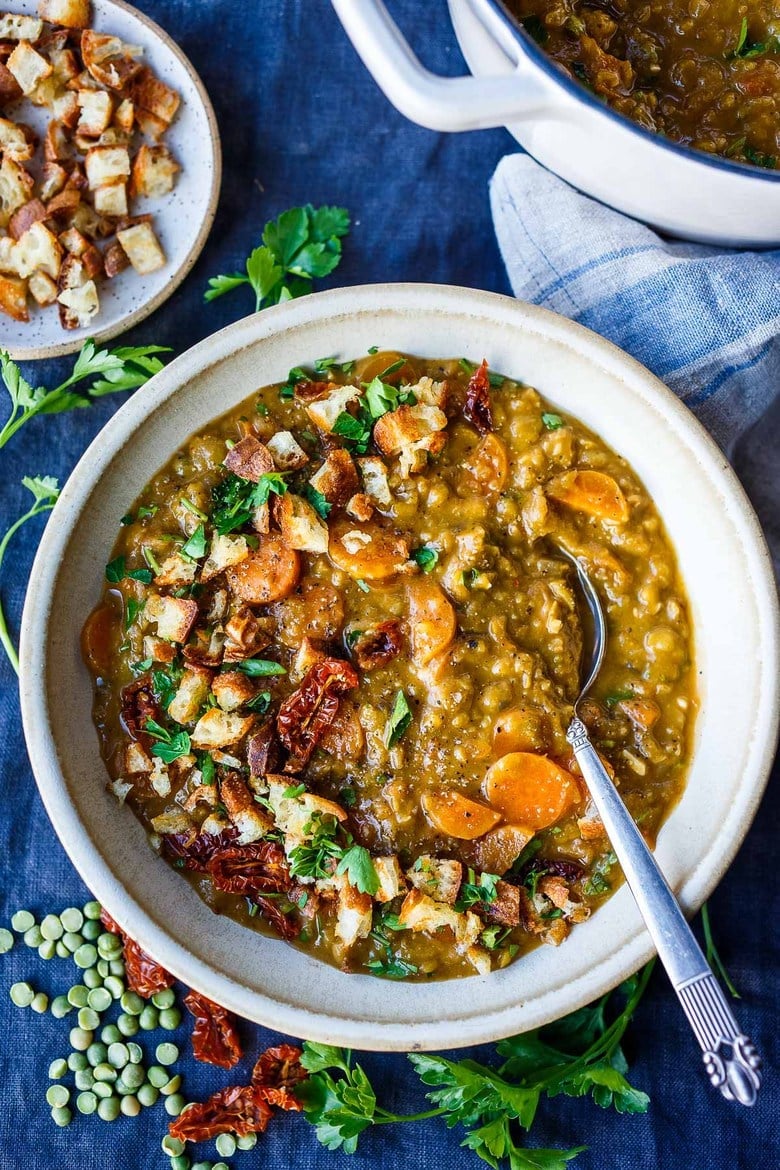 This recipe for Mediterranean Split Pea Soup is healthy and satisfying.  Simple clean ingredients create a hearty soup that tastes even better the next day!  Vegan and gluten-free.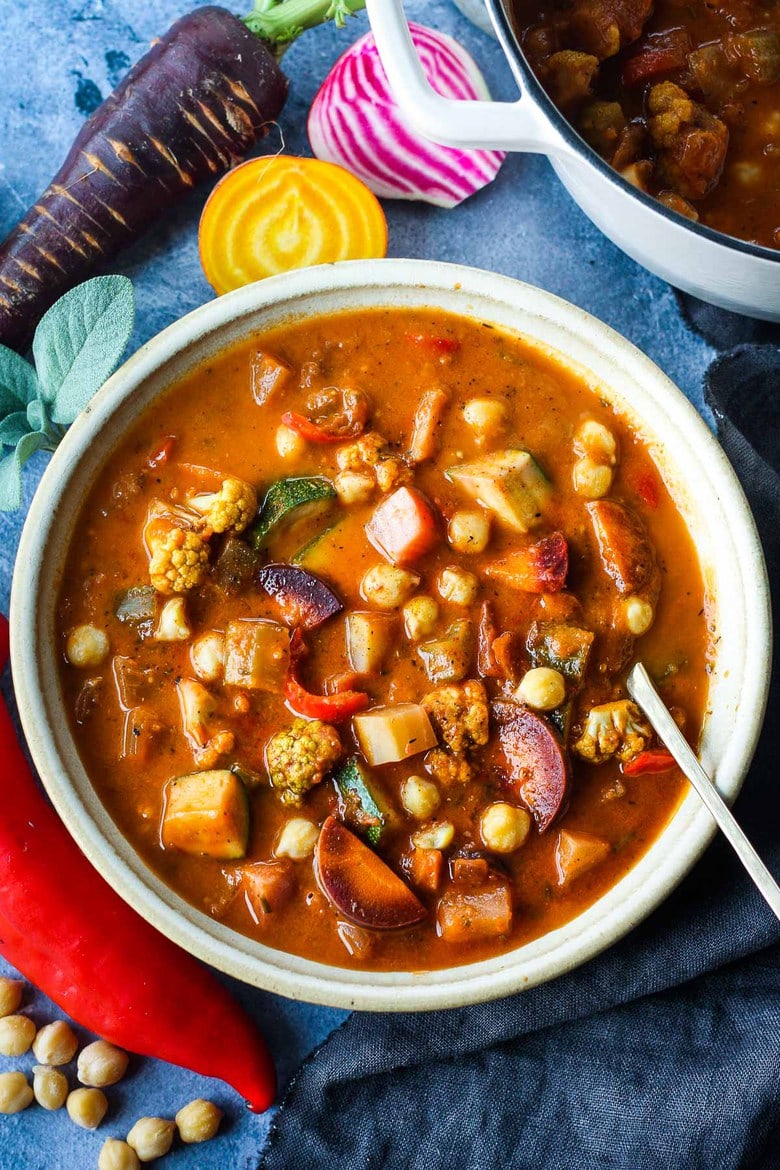 Harvest Vegetable Soup with Roasted Tomato Broth and Chickpeas is brimming with color and nutrients. Adaptable, Vegan and Gluten-Free!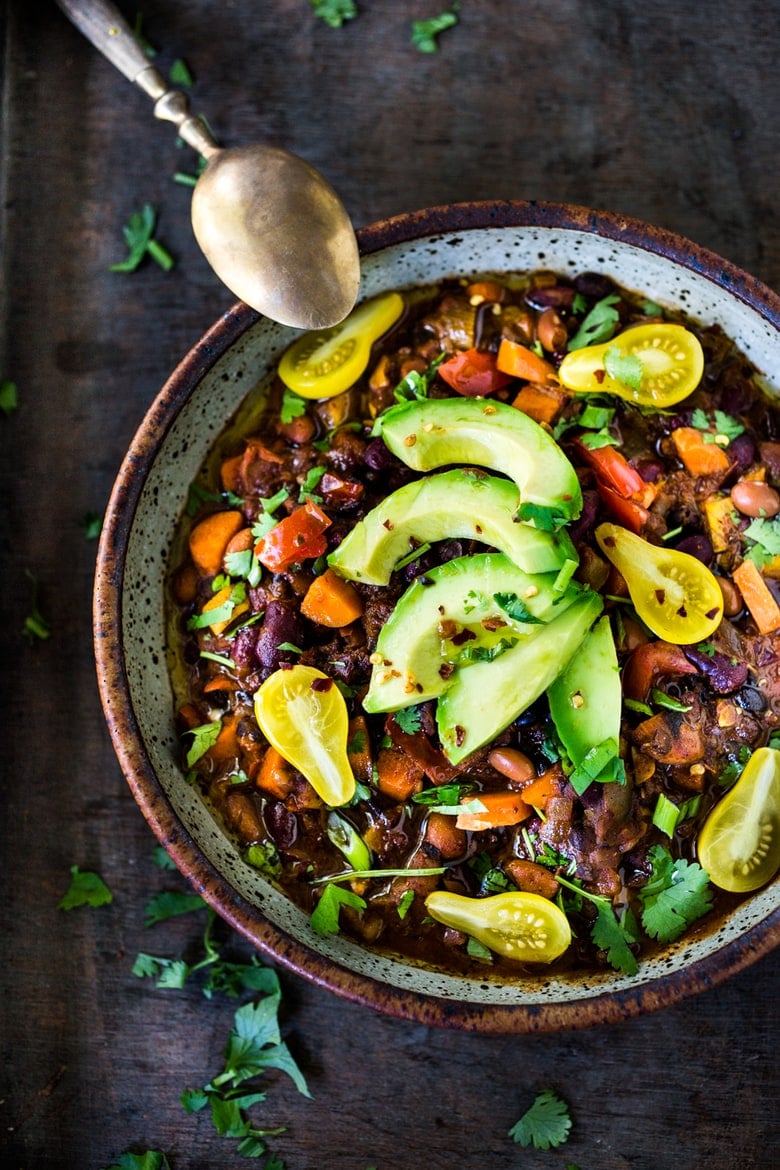 This Quick Vegan Chili – is loaded up with healthy veggies and beans, with deep and complex flavors that meat-eaters will even enjoy! Make a big batch on Sunday, then serve it during the busy work week!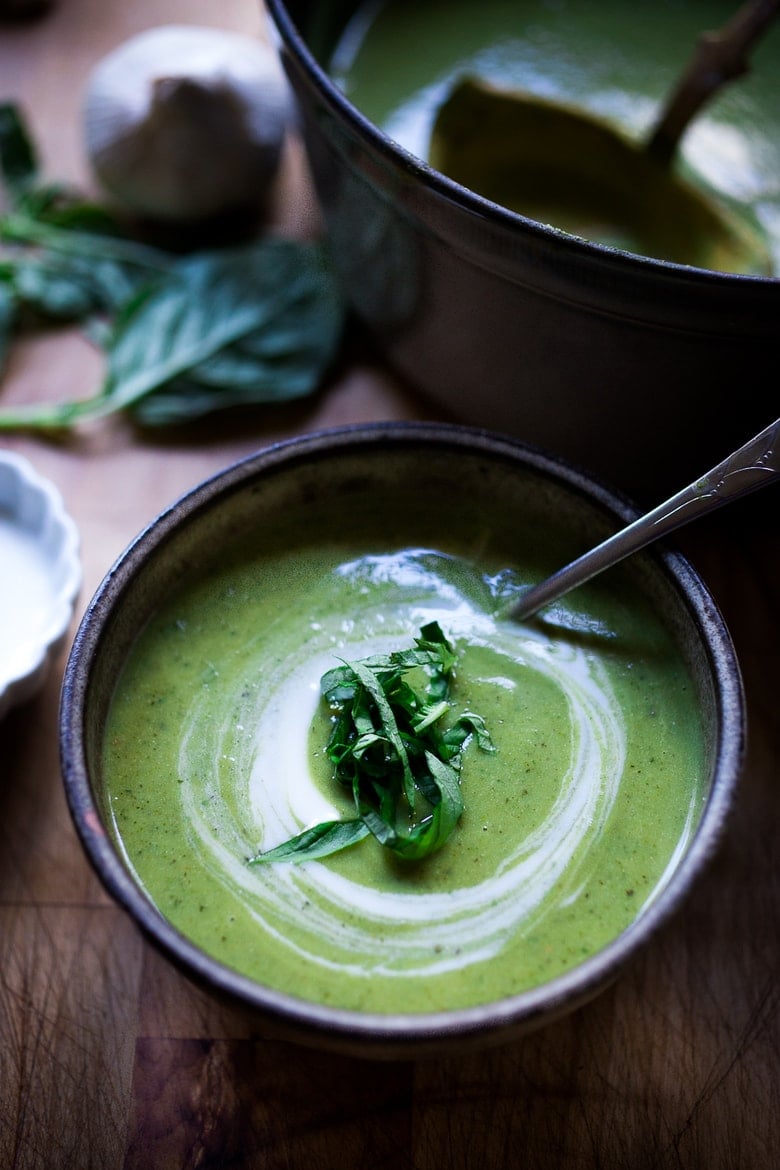 Luscious Zucchini Basil Soup! Make this ahead for the busy work week and keep it vegan or swirl in a little yogurt. A healthy delicious lunch recipe perfect when zucchinis are aplenty!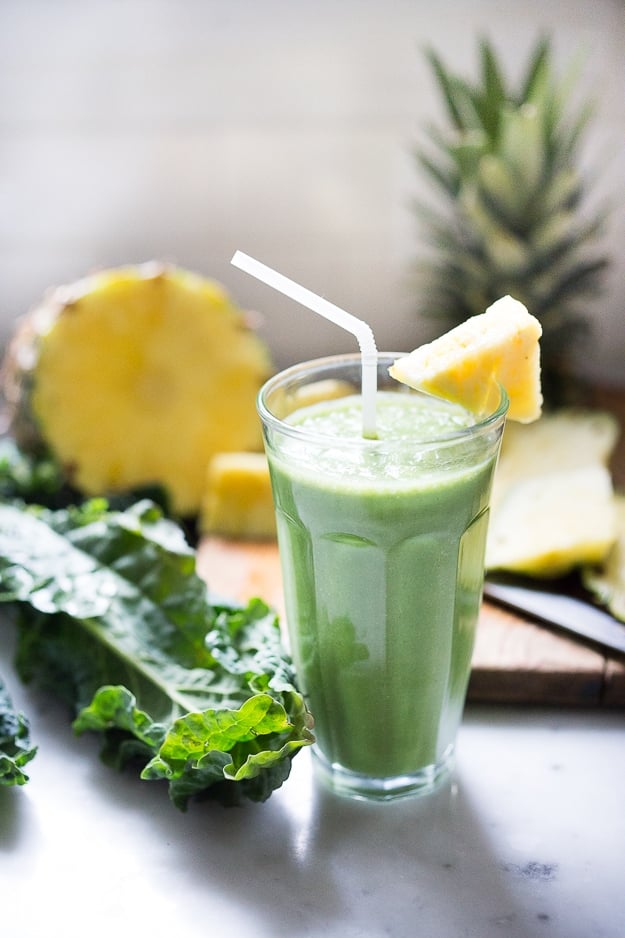 Too busy for lunch? This Matcha, Kale and Pineapple Smoothie will give you a burst of energy! It is not only delicious, but it is also filling and very energizing! Take it to work in a mason jar!
---
I hope these simple healthy lunches inspire you to try something new in the next few weeks!
Create a Lunch Plan!
Comb through your pantry, see what you already have on hand that needs using up and go through our list, picking out 2-3 items.
Print them out, make a shopping list and prep these ahead for the busy workweek.
Remember to keep things simple!
Imagine how nourished your body will feel!
xoxo
You may also enjoy:
Print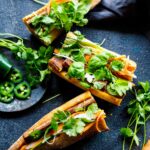 50 Healthy Lunch Ideas!
Prep Time:

20

Cook Time:

10

Total Time:

30 minutes

Yield:

4

Category:

lunch

Method:

baked

Cuisine:

global

Diet:

Vegetarian
---
Description
Here are 50 of our BEST Healthy Lunch Ideas! Full of fresh veggies, these lunches can be made ahead for the busy work week! Vegan adaptable, packable, great for lunches on the go.
---
wraps
sandwiches
salads
grain salads
pasta salads
make-ahead soups
---
Instructions
Pick out a couple to try this week.
Keep things simple: comb through your fridge and pantry and see what you have and what needs to be used up. Then make a plan. 🙂
Make one soup and one salad ahead, to have for lunch throughout the week. KEEP it simple!
---
Keywords: lunch ideas, best lunch ideas, healthy lunch ideas, healthy lunches, easy lunches, packed lunches, vegan lunches, vegan lunch ideas, packable lunches, healthy lunch ideas,
unches
SaveSave
SaveSave
SaveSave
SaveSave
SaveSave
SaveSaveSaveSave
SaveSave