It's that time again, back to school and back to work! Here are our TOP 25  PACKABLE Healthy Lunch ideas to try out this week that are mostly plant-based and veggie-driven. Many of these healthy lunch recipes can be made ahead and are easily packable. 
There is nothing more nourishing than giving our body real living nutrients – fresh and living fruits and veggies to energize and nourish us, especially during the busy workweek.  Making our lunch from scratch is such a loving choice, no matter what diet or food philosophy one adheres to.  Here are a few ideas to inspire you this week! Please let me know your favorites in the comments below.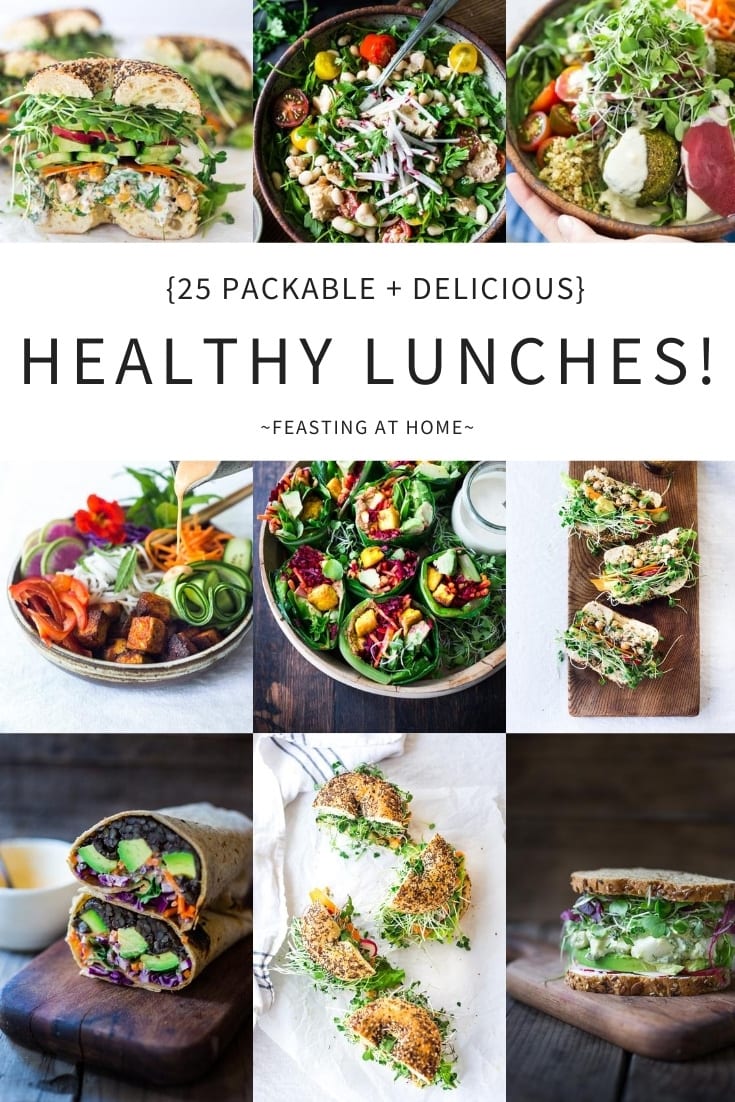 Many are vegan or vegan-adaptable and gluten-free! Pick out a few to try this week and feel nourished and energized all week long!
Have a favorite? Please leave me a note in the comments below!
---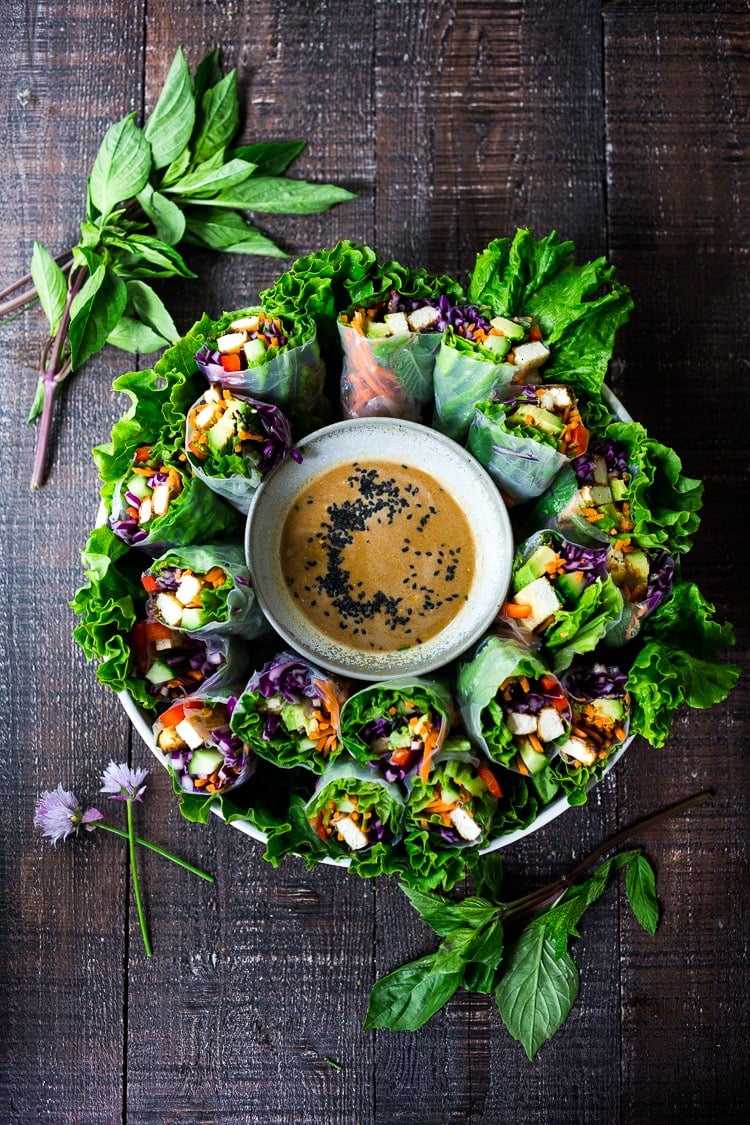 Fresh Spring Rolls with BEST EVER Peanut Sauce! These vegan spring rolls can be made ahead and stored in the fridge for healthy meals and packable lunches on the go!  A delicious healthy lunch recipe.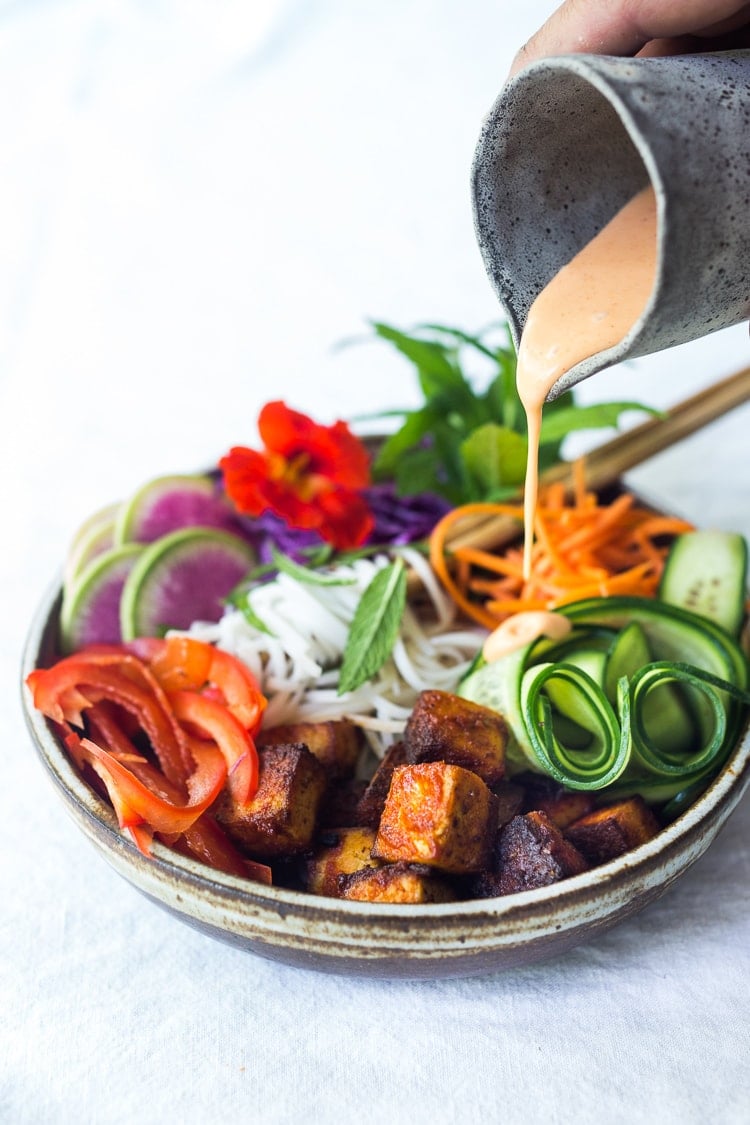 2. Vegan Banh Mi Noodle Bowls with Sriracha Tofu, rice noodles, pickled carrots and radishes, crunchy cucumber and cabbage and a creamy vegan spicy Bahn Mi dressing. Make these ahead for the busy work week- a healthy delicious lunch idea!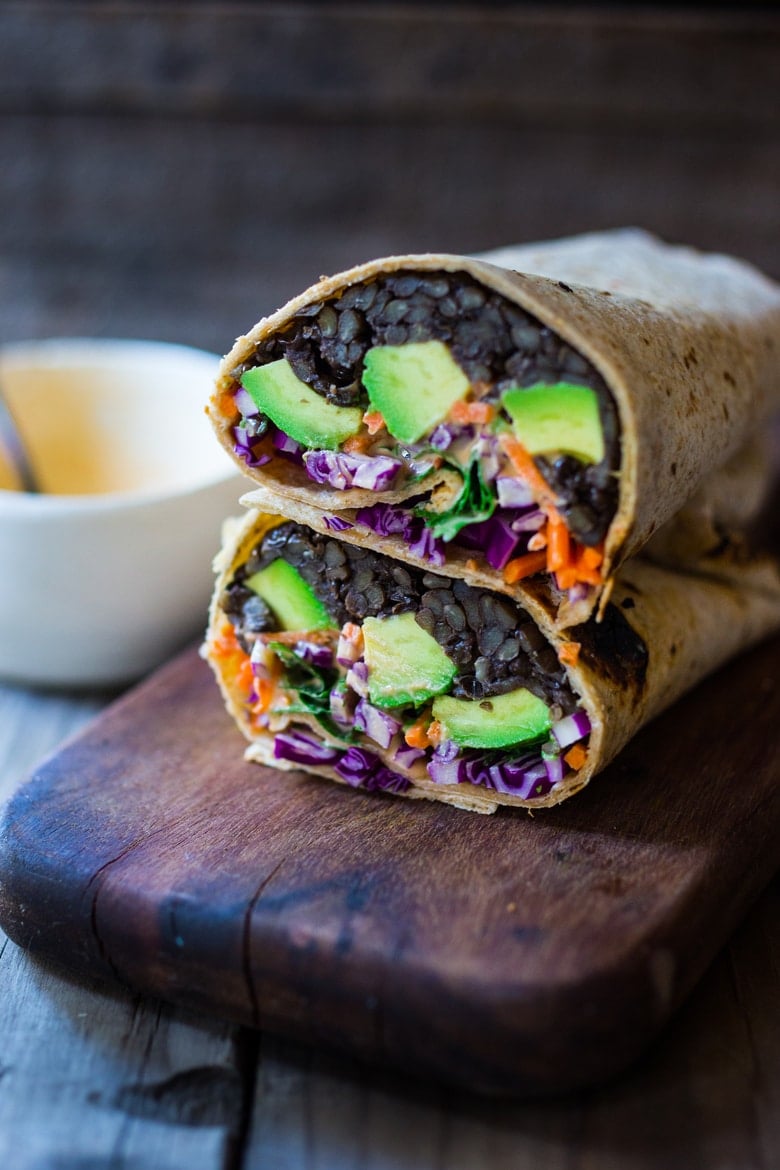 3. Lentil Wrap with Spicy Tahini Sauce – This easy vegan lentil wrap is full of crunchy raw veggies like carrots, beets, and cabbage with a spicy Sriracha Tahini sauce spooned over top. Simple, energizing and easy. Vegan!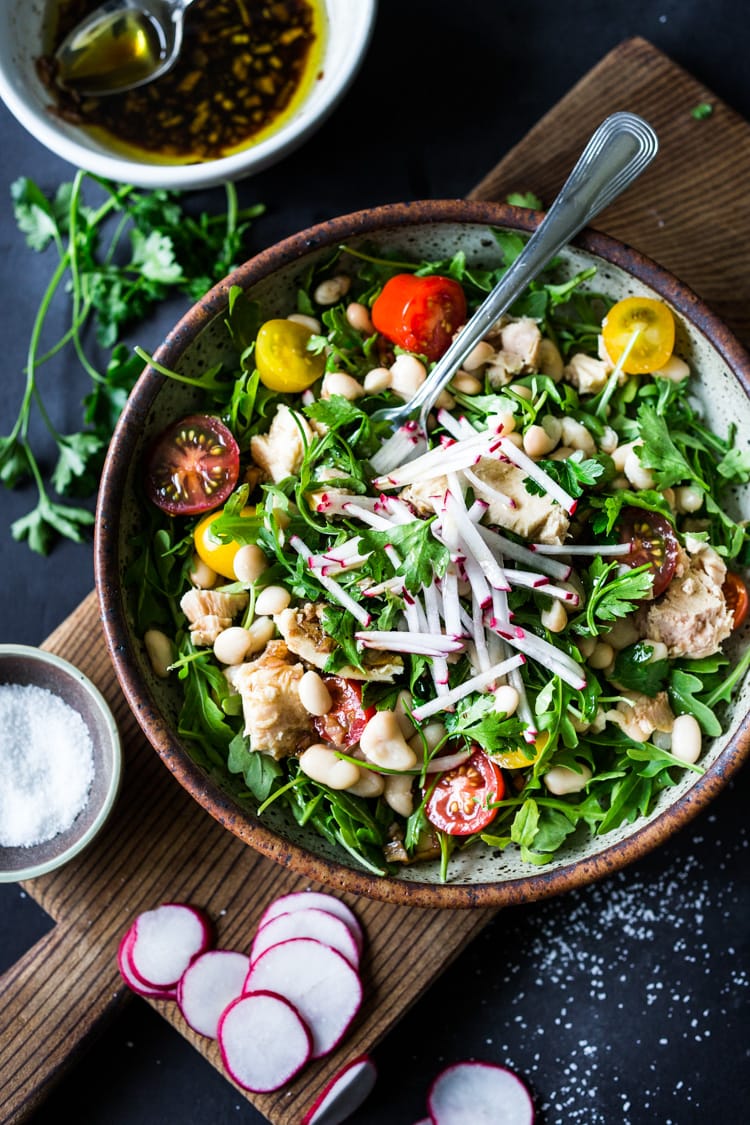 4. Tuscan White Bean & Tuna Salad with arugula, radishes, tomatoes and a simple balsamic vinaigrette. A fast and healthy lunch recipe made with ingredients you probably already have in your pantry!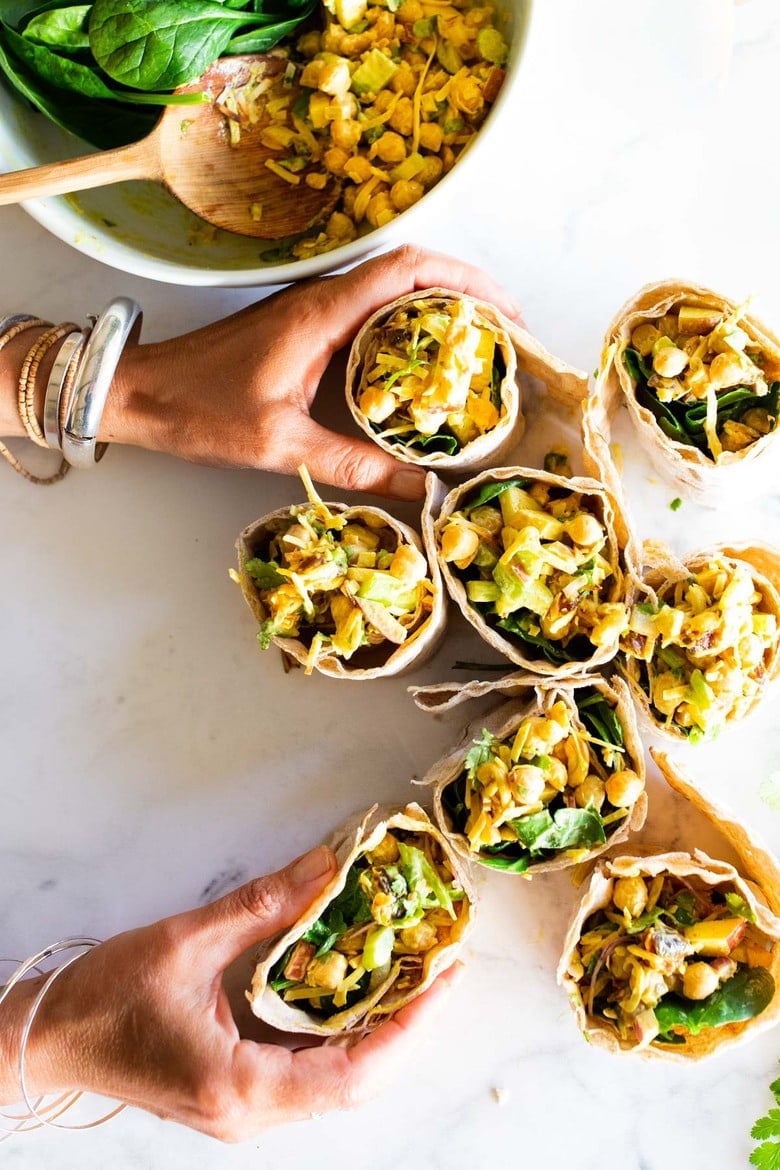 Vegan Curry Chickpea Salad with Toasted Coconut, that can be turned into wraps with spinach and sprouts. A healthy vegan lunch idea!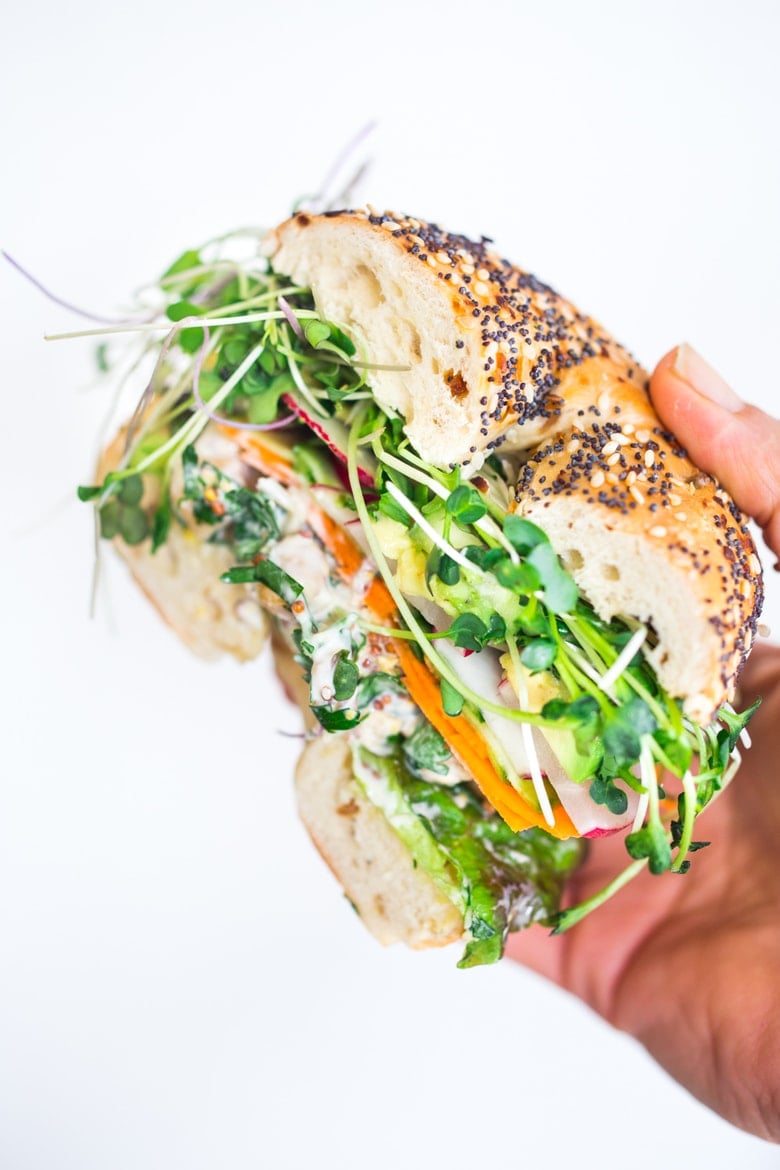 5. Spring Goddess Sandwich ( or wrap) with make-ahead, smashed chickpea salad, crunchy carrots & radishes, cucumber, avocado and sprouts. Vegan and Gluten-free adaptable! A fast and healthy lunch!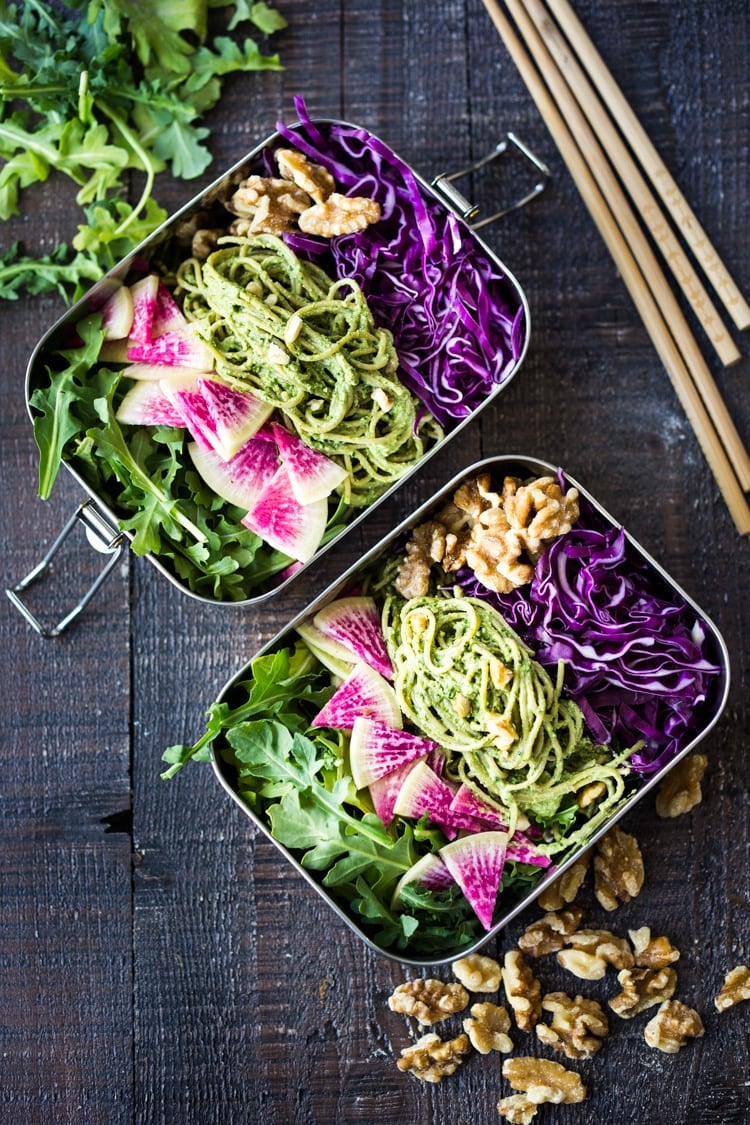 6.)  Superfood Walnut Pesto Noodles,  loaded up with healthy veggies- a flavorful healthy lunch that is packable and can be made ahead!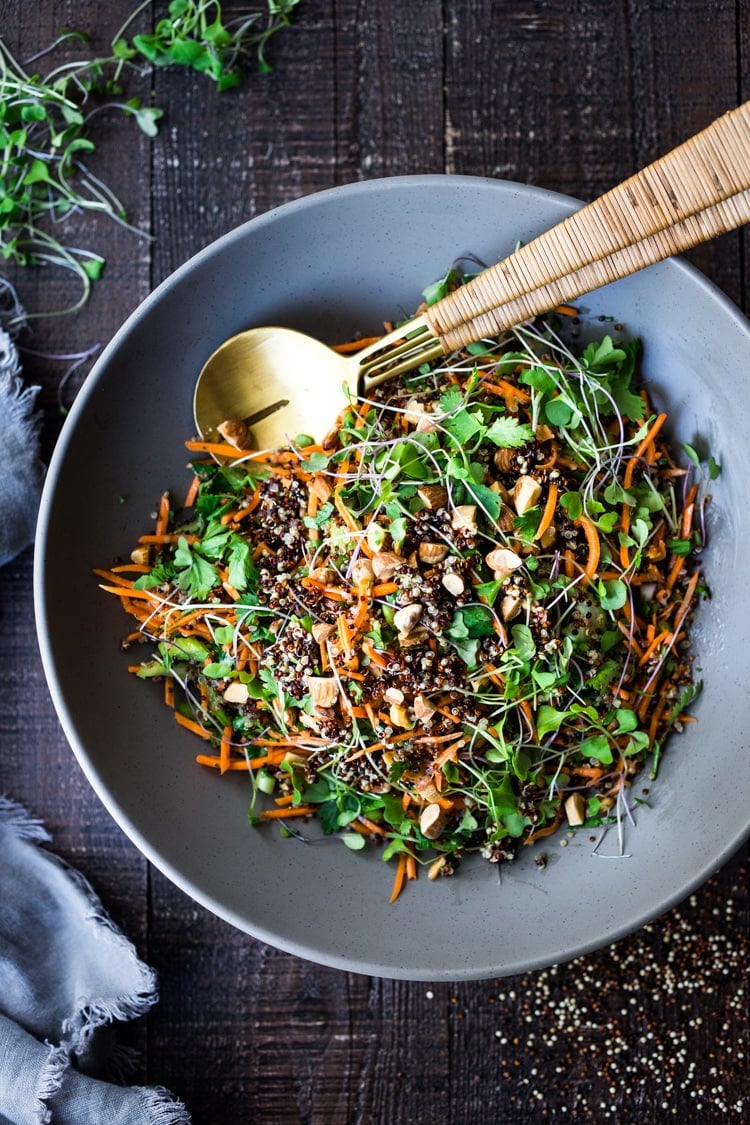 7. Carrot Quinoa Salad with Almonds with Apple Cider Vinaigrette- a delicious make-ahead lunch that is healthy, vegan and full of flavor!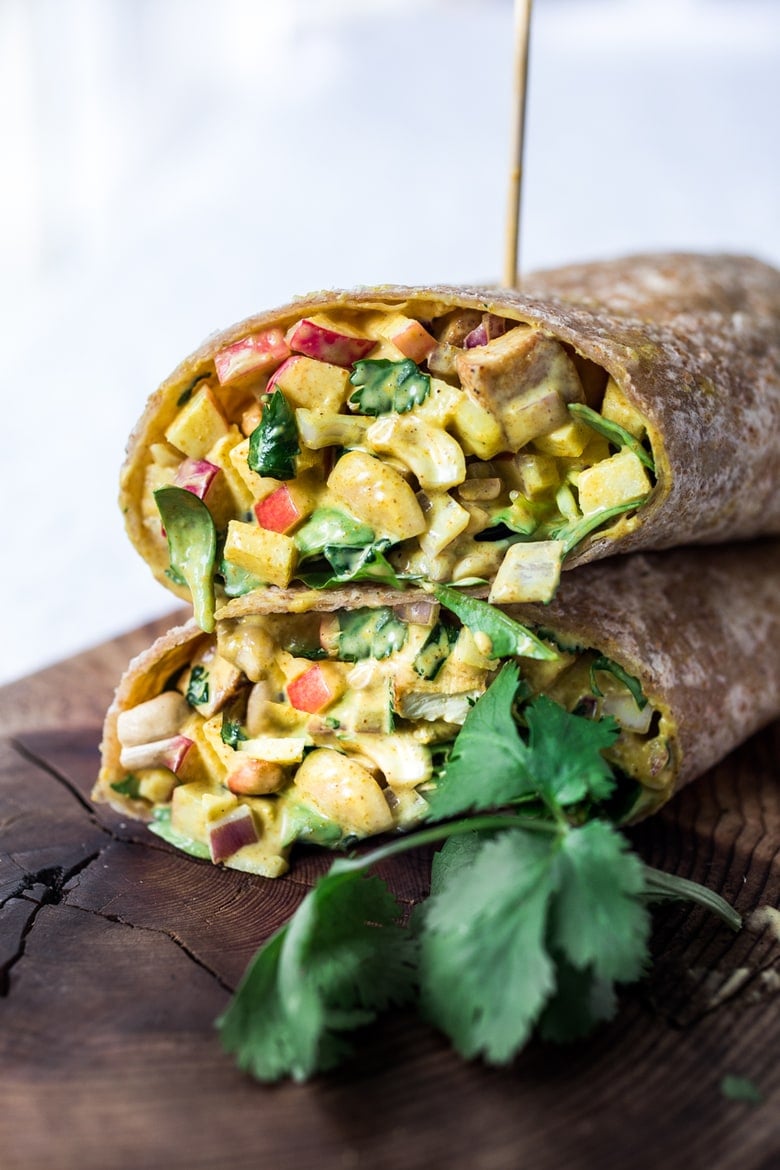 8. Vegan Curry Tofu Cashew Salad – Turn it into a hearty wrap, stuff it into an avocado or served over a bowl of tender greens! Flavorful and healthy!
[optin-cat id="35146″]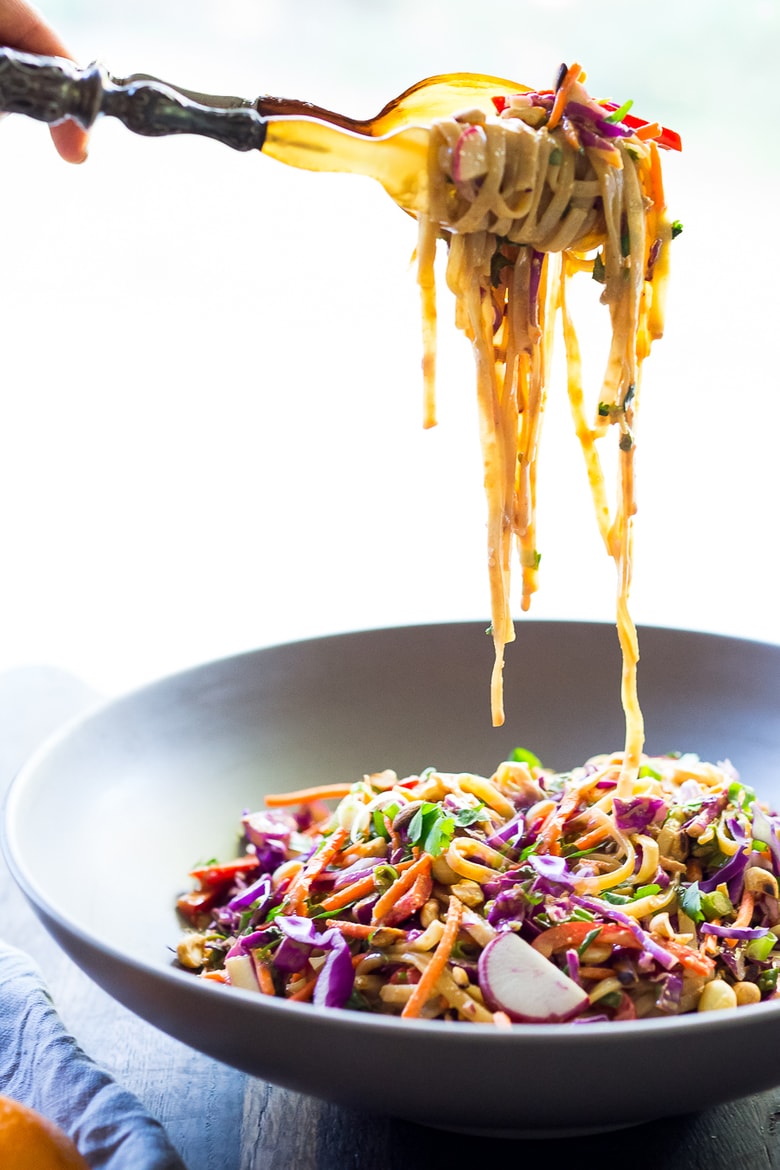 9.) Thai Noodle Salad with Peanut Sauce –  A delicious, vegan make-ahead salad with the best peanut sauce ever! Loaded up with lots of healthy veggies, keep this gluten-free by using rice noodles. Make a big batch for the busy week!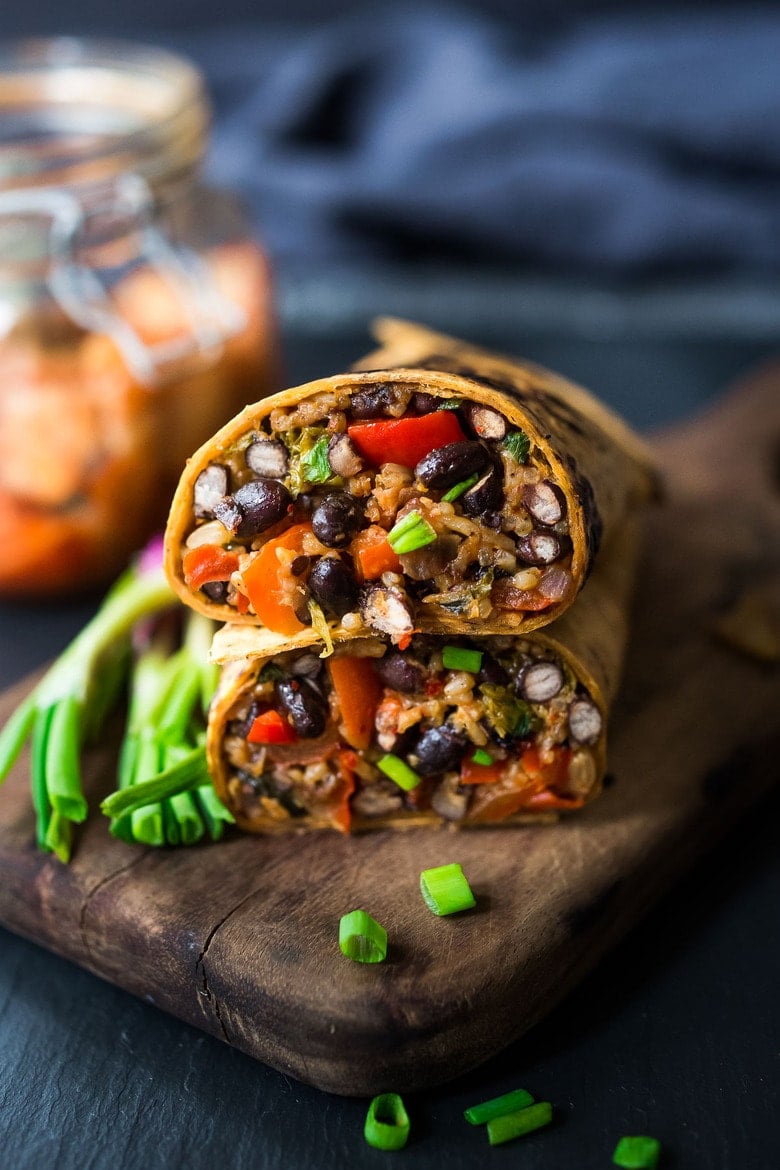 10.) Kimchi Burritos! A 20-minute dinner recipe, loaded up with healthy veggies, black beans, leftover rice and flavorful kimchi! Easy and delicious!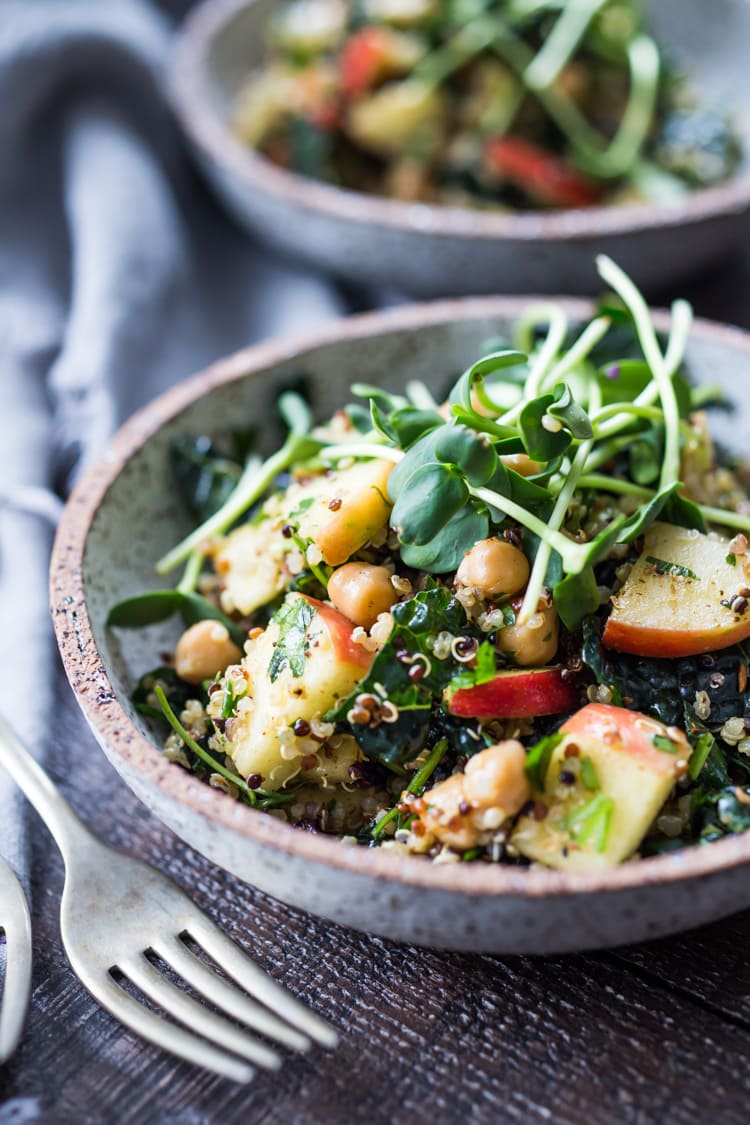 11.) Winter Happiness Salad!  This  Kale & Quinoa Salad with Apples, Chickpeas and Currants! A hearty vegan salad that can be made ahead- perfect for potlucks, gatherings or midweek lunches!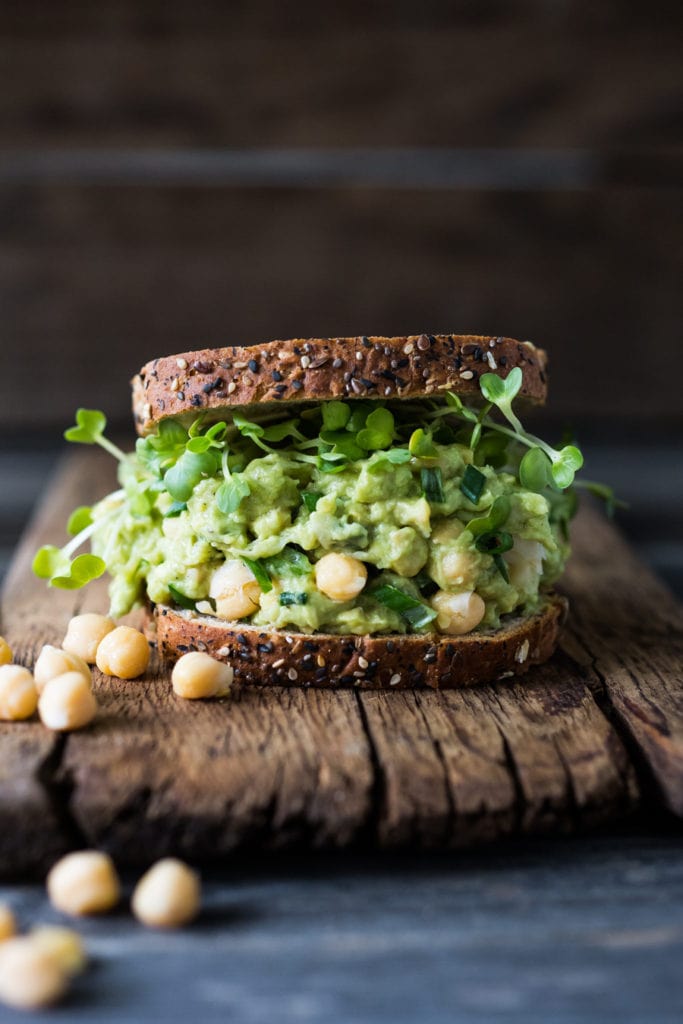 12.) My favorite, a Smashed Chickpea and Avocado Sandwich which if you are gluten-free, forgo the bread and eat it out of the bowl, or over greens or try it in a wrap! Vegan and gluten-free adaptable!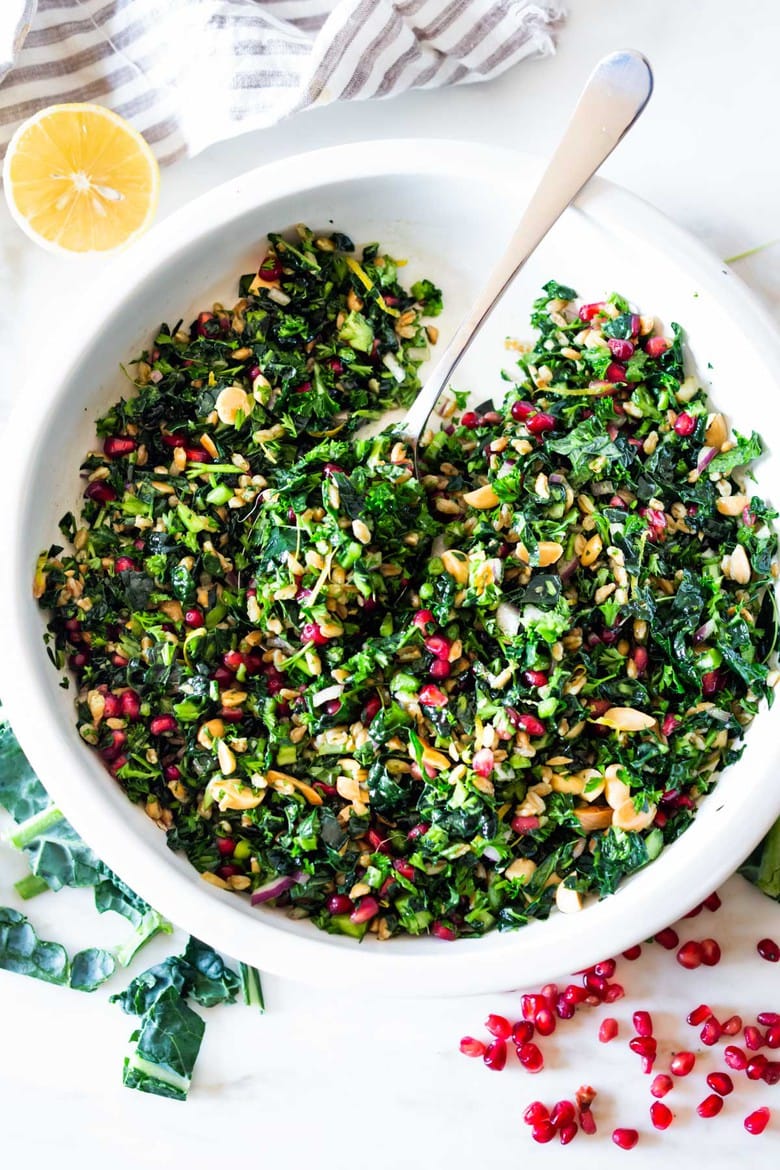 13.) Kale Tabbouleh! Kale Farro Salad with Almonds and Pomegranate Seeds. Think of this like a Wintery Kale Tabbouleh- lemony light and flavorful, this easy Middle Eastern-inspired salad can be made ahead, perfect for mid-week lunches.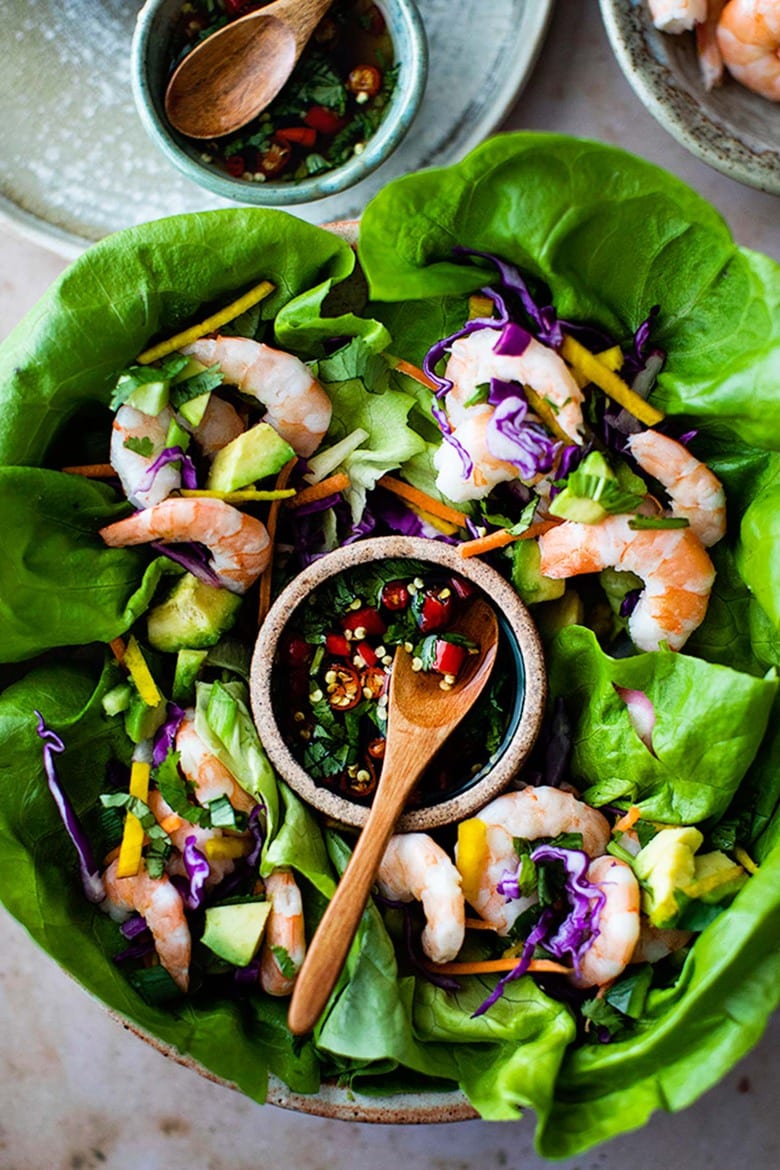 14.)Vietnamese Shrimp Lettuce Wraps with Nuoc Cham, a light and refreshing lunch, perfect for hot summer days. Flavorful, healthy and low in carbs and calories.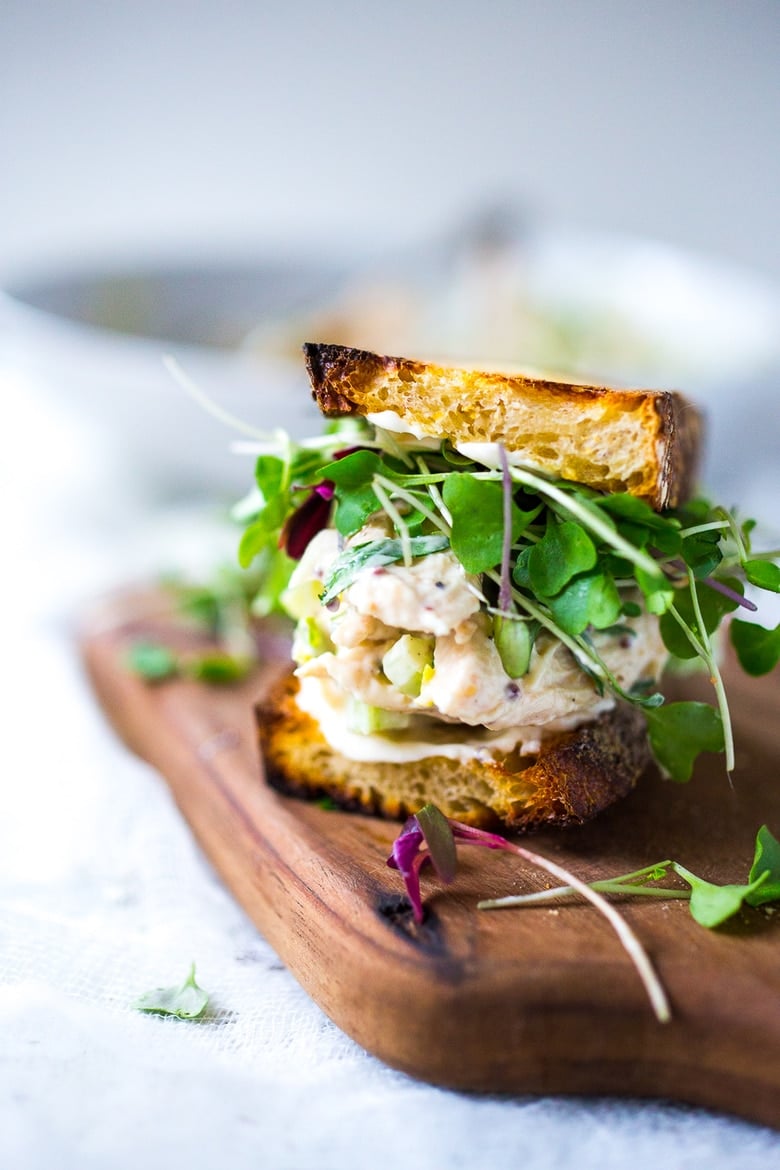 15. Tarragon Chicken Salad can be turned into a sandwich, wrap or served over a bed of tender greens. Fast easy and full of flavor! A healthy delicious low-carb lunch!  Keto friendly.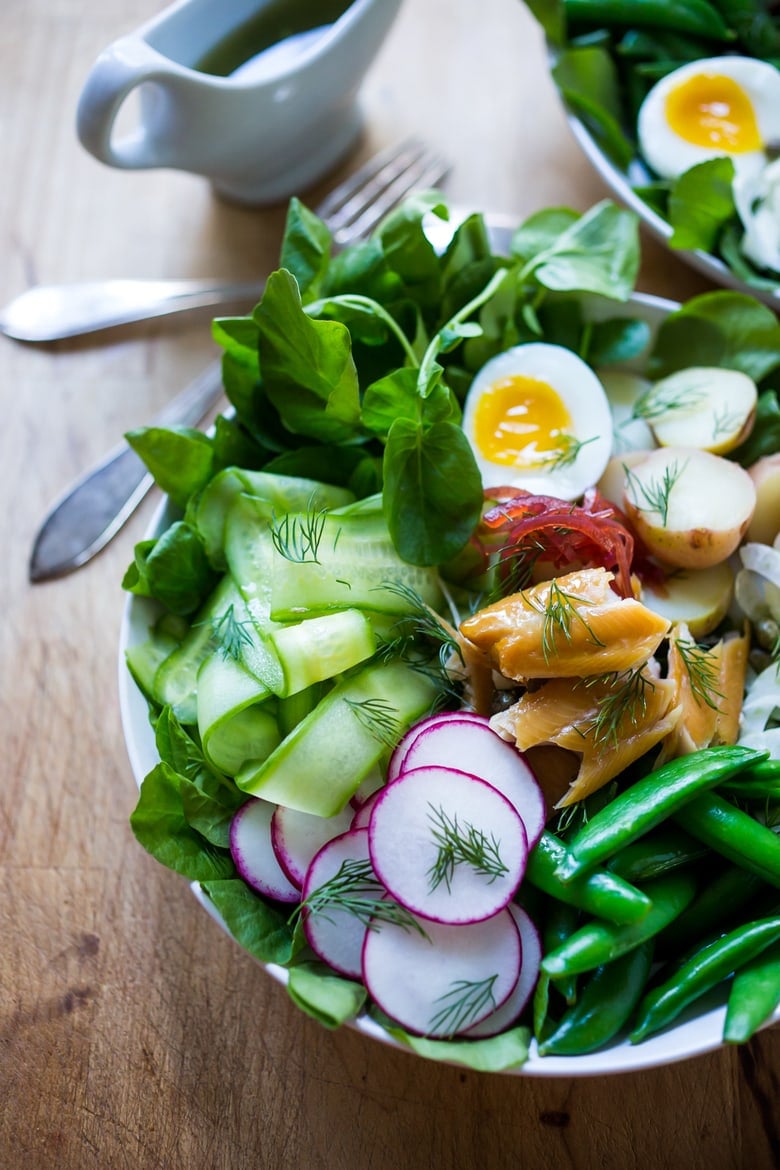 16. Nordic Nicoise Salad with smoked salmon over a bed of greens with radish, cucumber, baby potatoes, capers, dill, and horseradish-spiked Nicoise dressing. A delicious healthy lunch!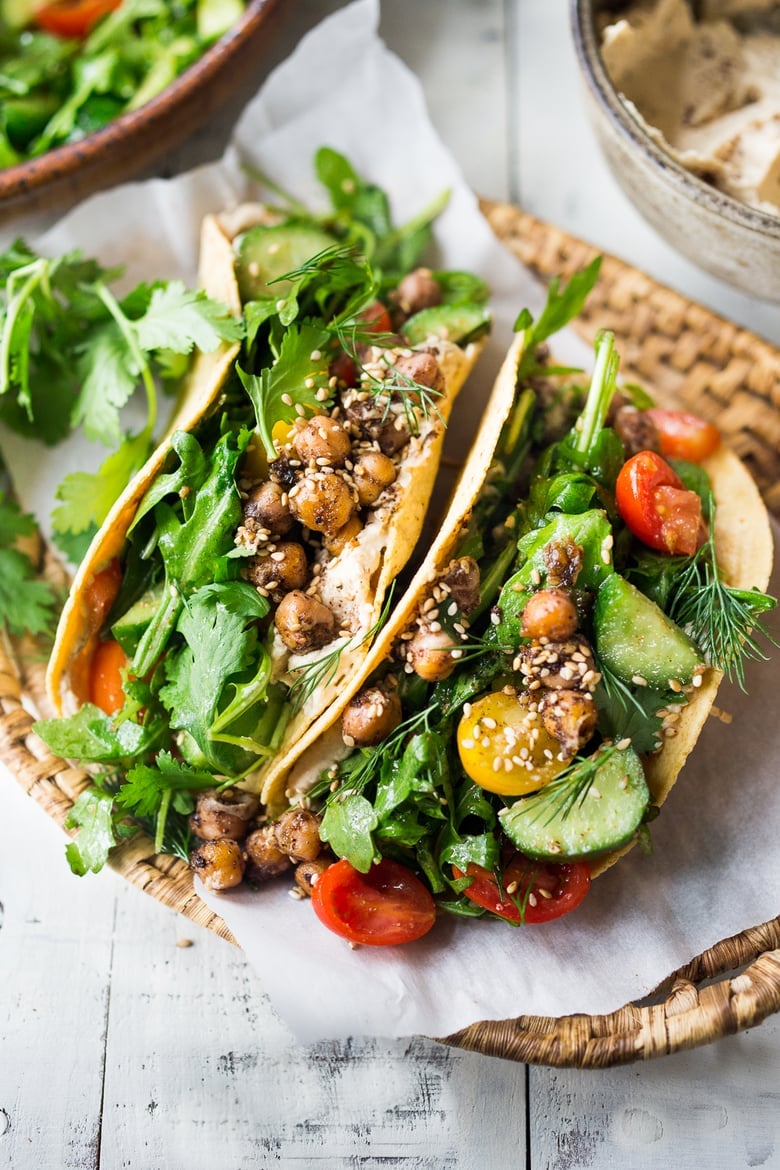 17. Middle Eastern Salad Tacos with spiced chickpeas, hummus and a mound of lemony salad, topped with fresh herbs and scallions. FAST, Vegan & sooooo Delicious!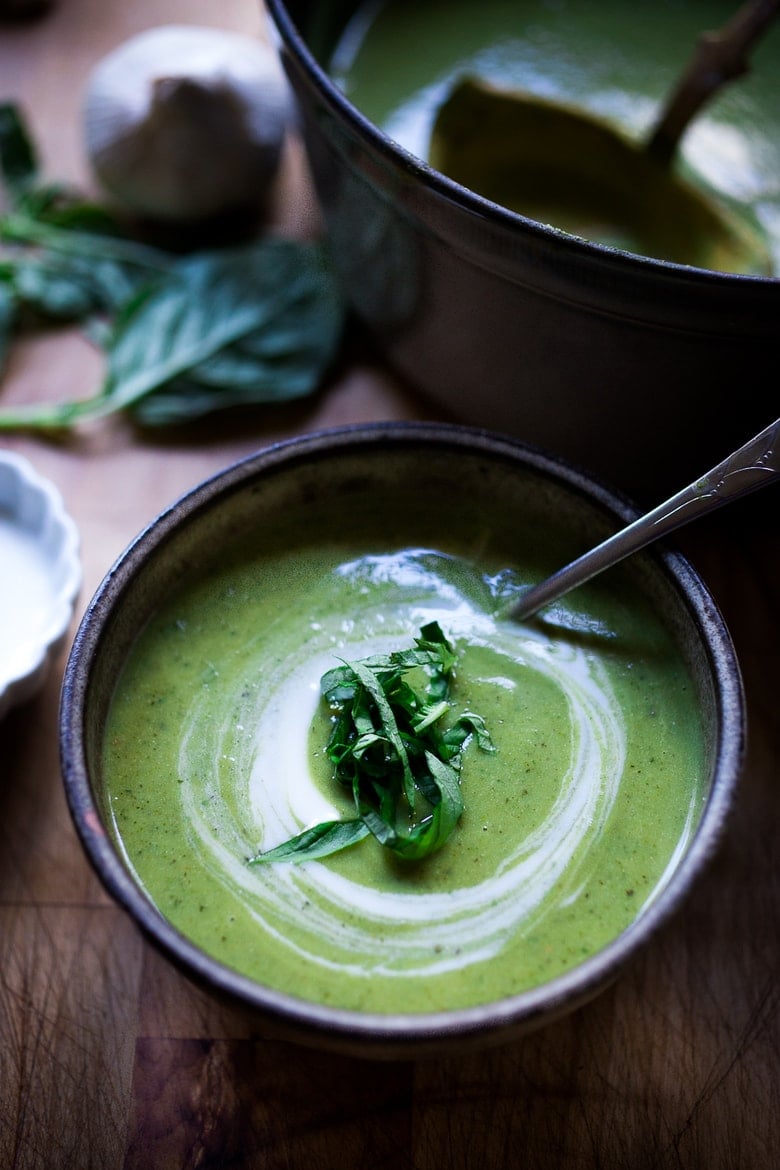 18.  Luscious Zucchini Basil Soup! Make this ahead for the busy work week and keep it vegan or swirl in a little yogurt. A healthy delicious lunch recipe perfect when zucchinis are aplenty!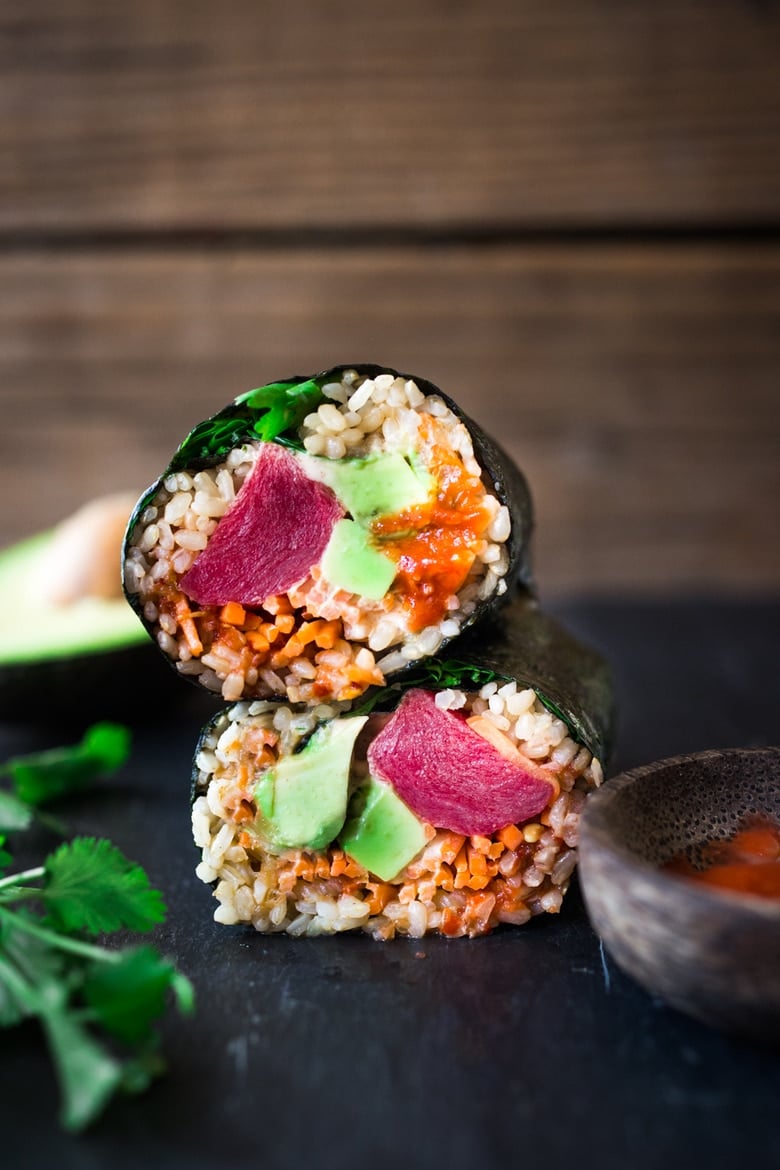 19. Sushi Burrito with Brown Rice, Avocado, Ahi Tuna ( or sub Tofu) carrots and kimchi– a healthy delicious lunch! Vegan and GF adaptable!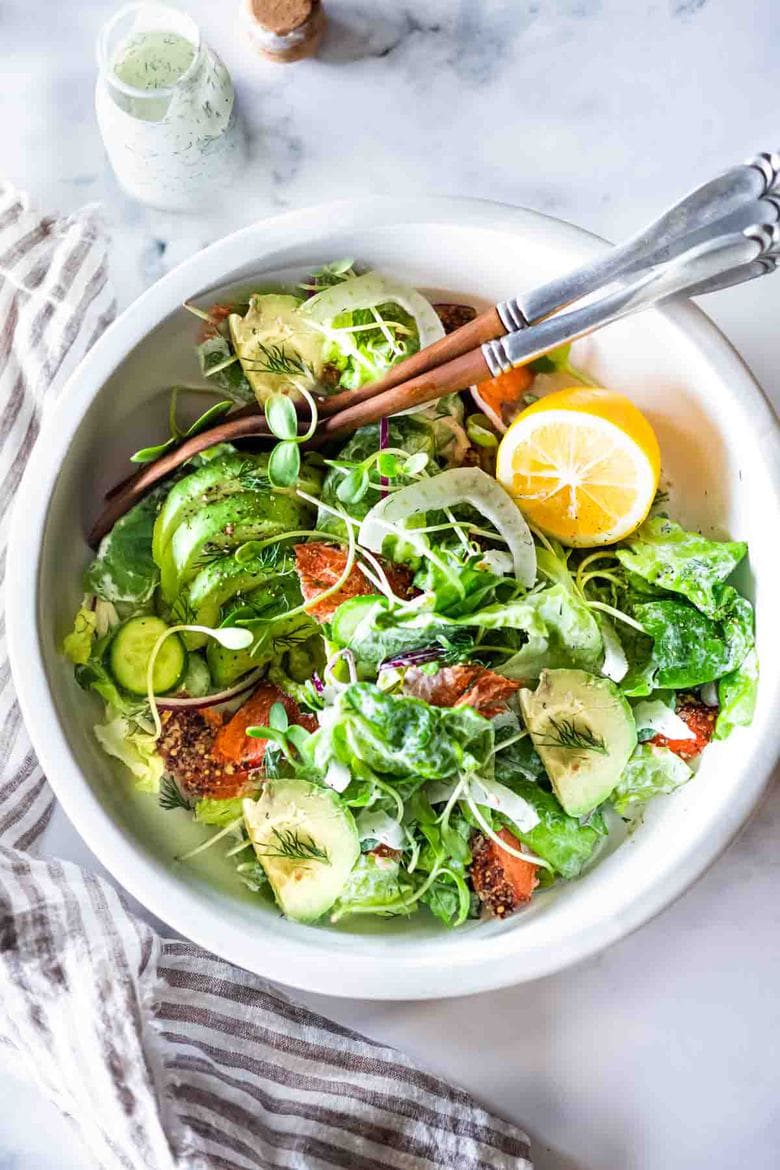 20.) Smoked Salmon, Avocado and Fennel Salad with butter lettuce and creamy Dill Dressing. Fast and easy, this hearty entree salad makes for a delicious lunch or dinner main.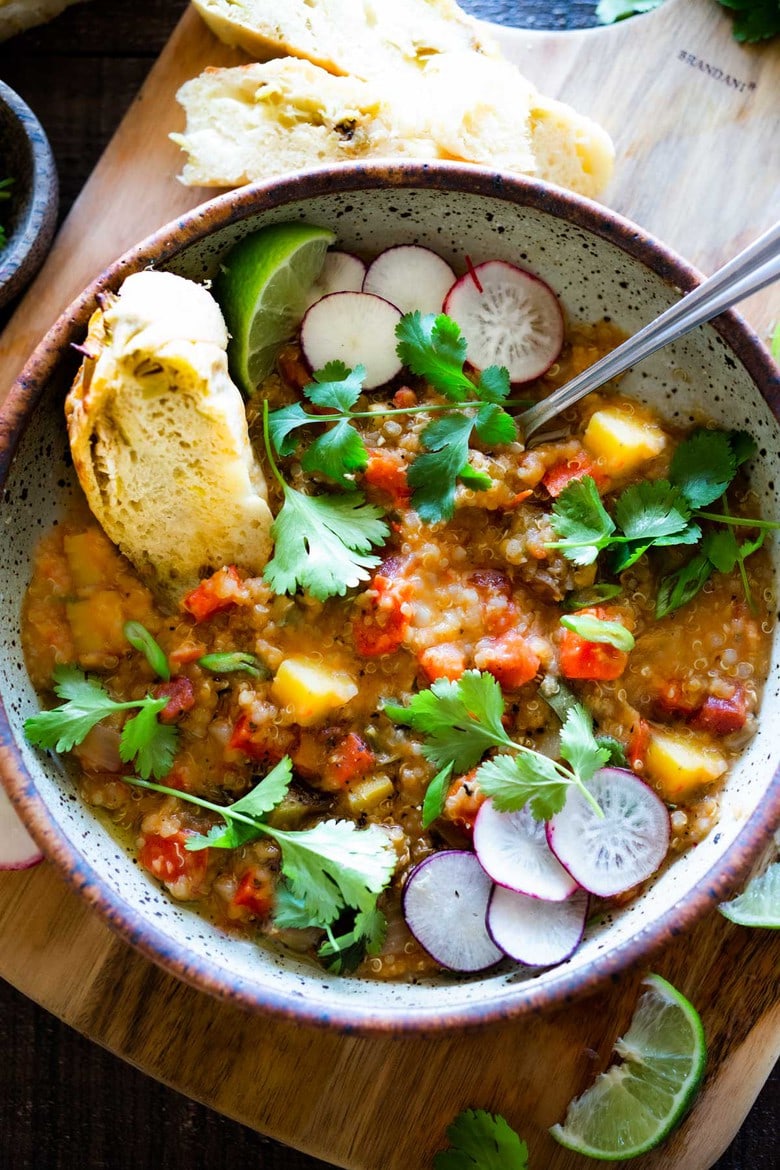 21.) This Moroccan Red Lentil Quinoa Soup is made with simple ingredients, easy to make and full of delicious flavor! Make this in an Instant Pot or stovetop. A simple healthy lunch recipe!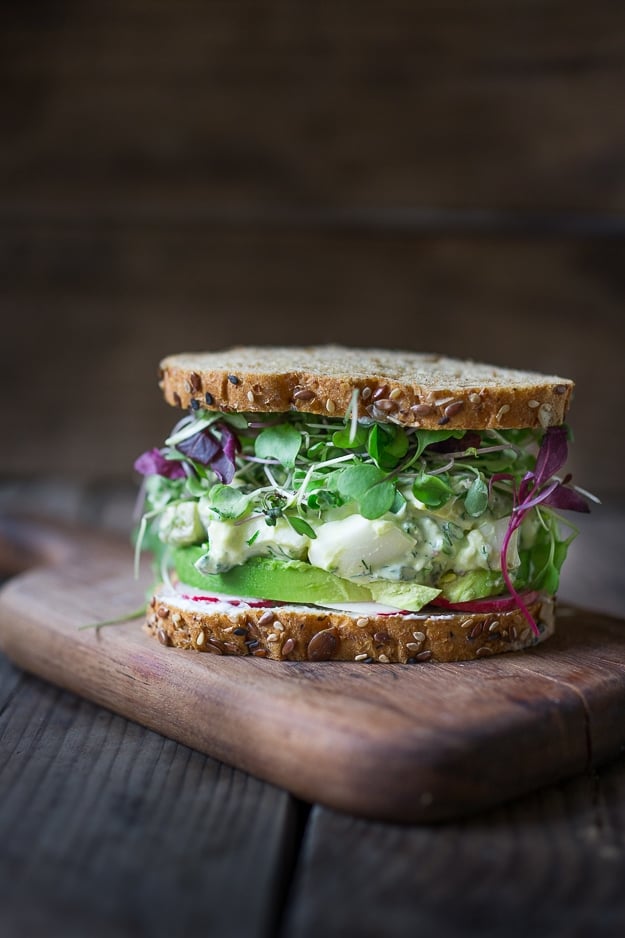 22). Green Goddess Egg Salad with Avocado – this can be served on delicious whole grain bread like you see here, over a bed of lightly dressed greens or spooned into toasted pita or tortillas. Instead of using traditional mayo, try using plain yogurt or vegan mayo.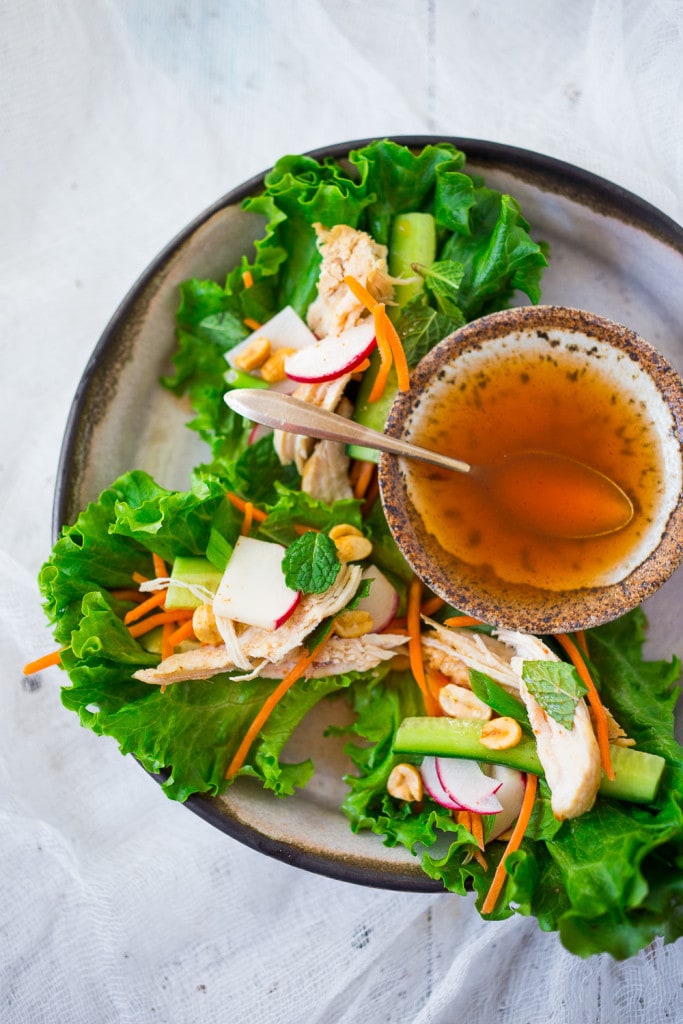 23) Vietnamese Lettuce Wraps with Chicken (or Tofu) – easy, fast, no cooking required, just assemble! Substitute baked tofu or seared shiitake mushrooms for the chicken. The flavorful sauce is called Nuoc Cham –  a Vietnamese staple and the great thing is, it is totally oil-free. Gluten-free and lean.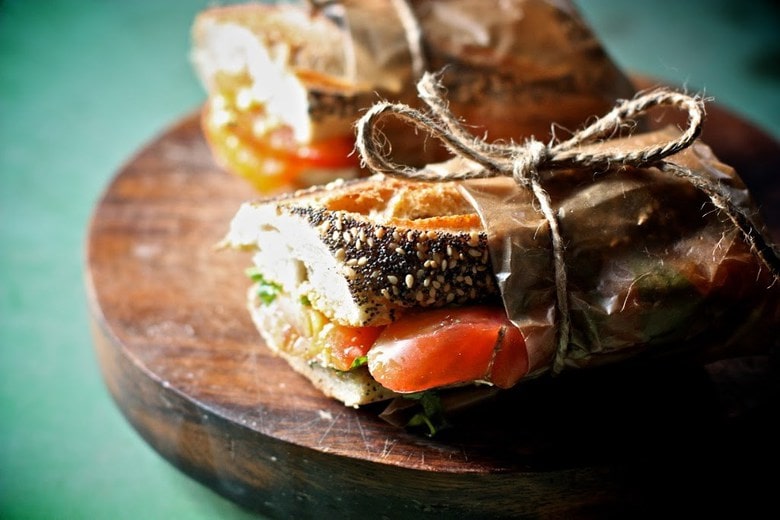 24). This Heirloom Tomato Sandwich with arugula is delicious when juicy summer tomatoes are in season. Keep it vegan or add fresh mozzarella or goat cheese.  My very first recipe on the blog. 🙂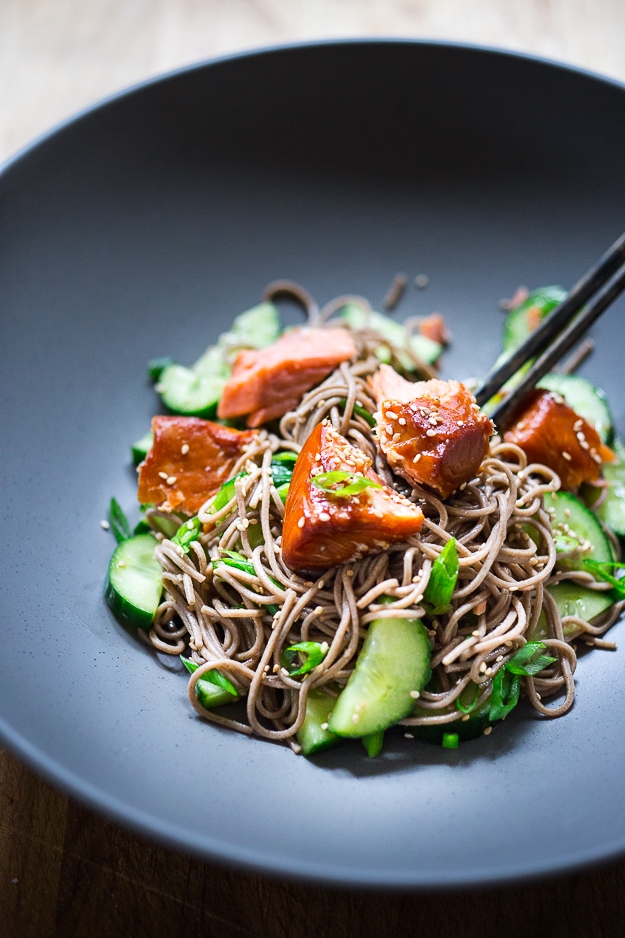 25). Soba Noodle Salad with Cucumber and Smoked Salmon (or tofu) – a tasty salad with gluten-free buckwheat noodles, smoked salmon ( or tofu) cucumbers, scallions, and a delicious Sesame Dressing.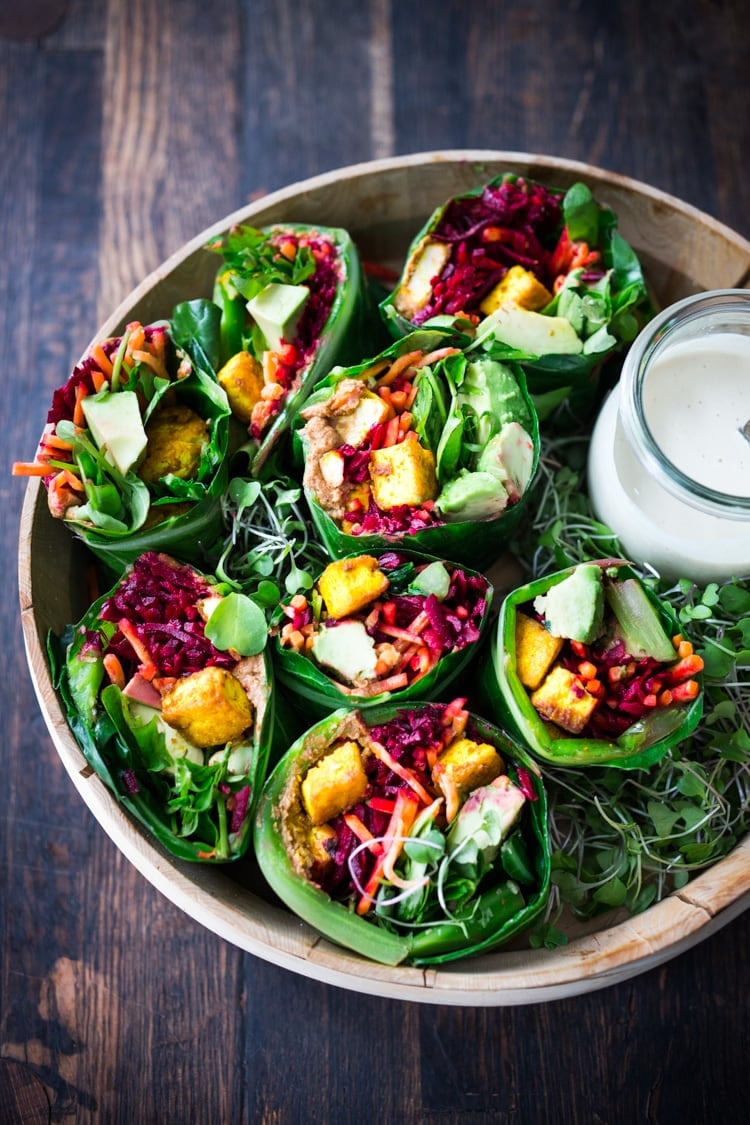 26.) Rainbow Wraps! These vegan collard greens wraps are filled with hummus, crispy tofu, shredded beets, carrots and avocado!  Make them ahead and drizzle with Tahini sauce! A delicious healthy lunch!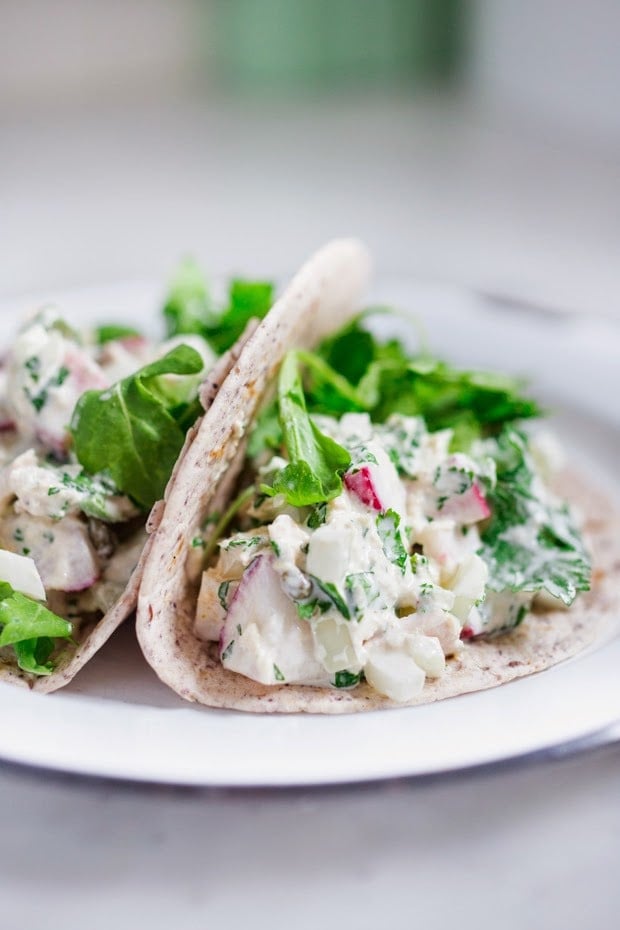 27.) "Kicked-up" Picante Tuna Salad – This spicy tuna salad is made with radishes, cilantro, jalapeño, capers and zesty lime juice. Serve it over a bed of greens, piled onto an avocado,  or spooned into tortillas or a wrap. Sometimes I'll just eat it out of a bowl. A fast and easy lunch idea.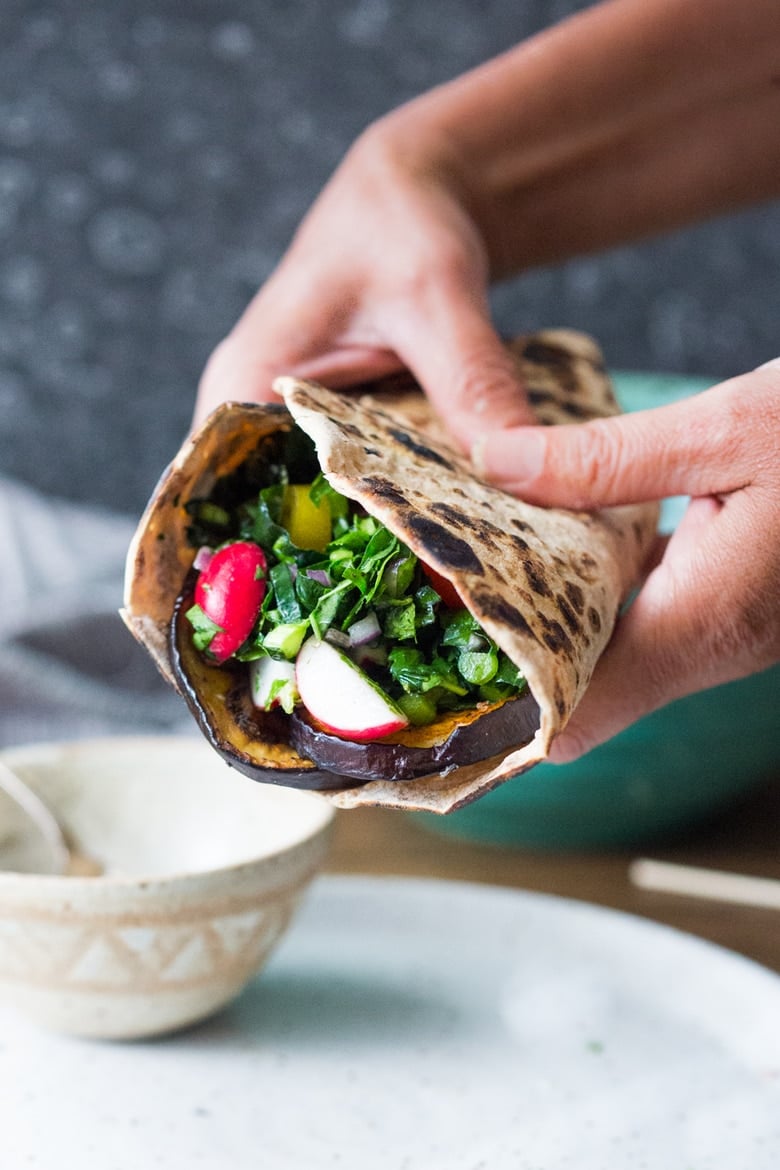 28.) Middle Eastern Eggplant Wrap with a Lemony Kale Slaw with Creamy Tahini Sauce. Keep it vegan or add feta! A delicious healthy lunch that can be made ahead!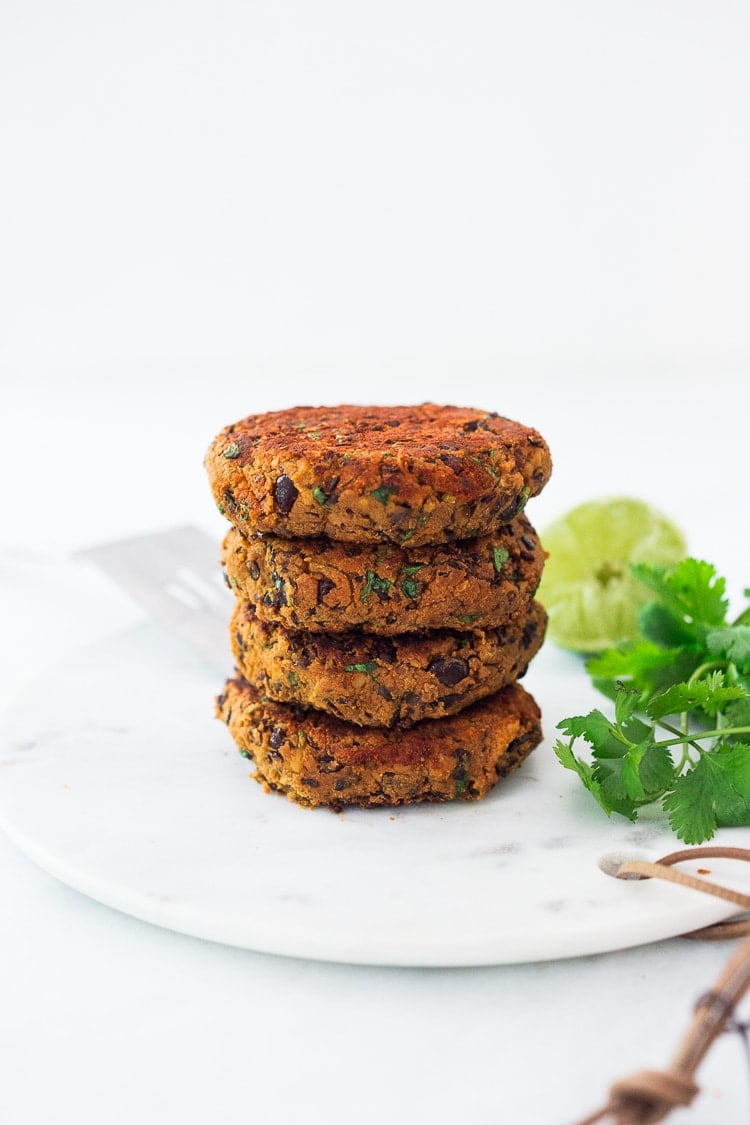 29.)  Smoky Chipotle Black Bean Burgers that can be made in under 30 minutes! Serve them in a bun or over tender greens! Vegan adaptable and perfect for Sunday meal prep! An energizing healthy lunch recipe!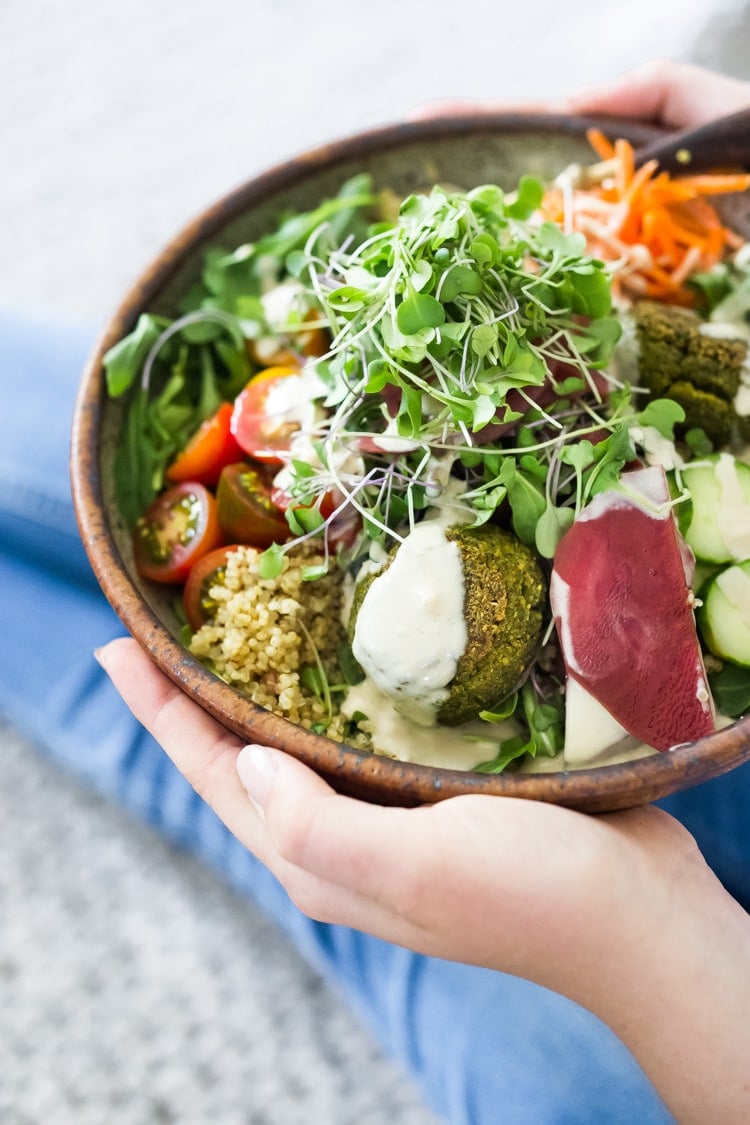 30.) Baked Falafel Bowls! Meal-prep these authentic falafels and freeze for the busy workweek. Easy, delicious, authentic falafel recipe! Vegan and Gluten-free!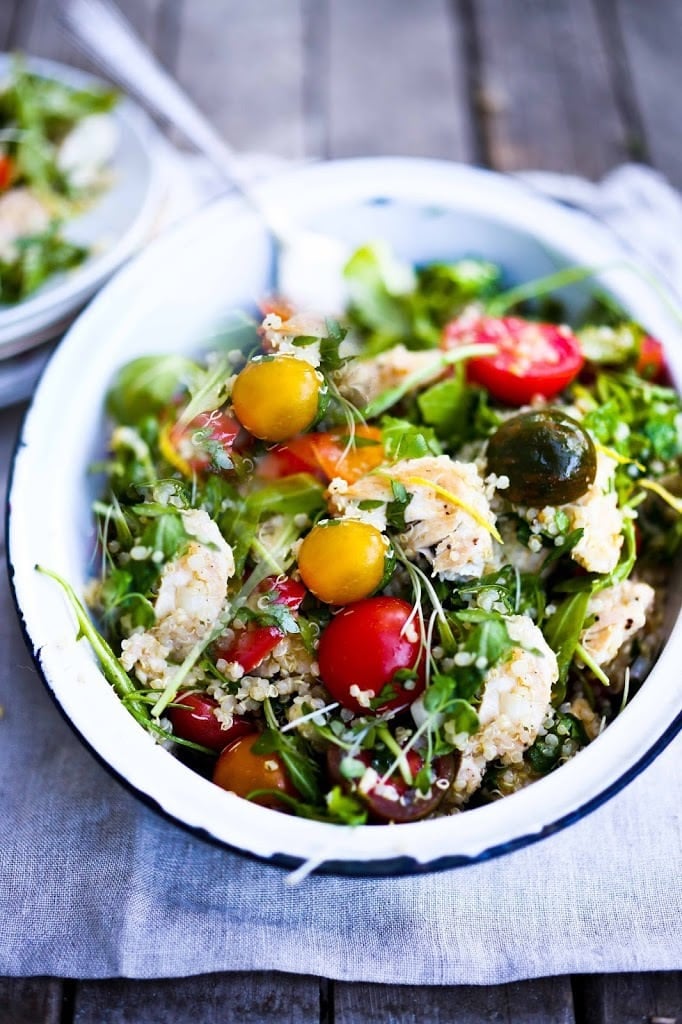 31.) Quinoa Chicken Salad with tomatoes, arugula, chickpeas, parsley, mint and a simple lemony dressing. A packable and easy lunch idea!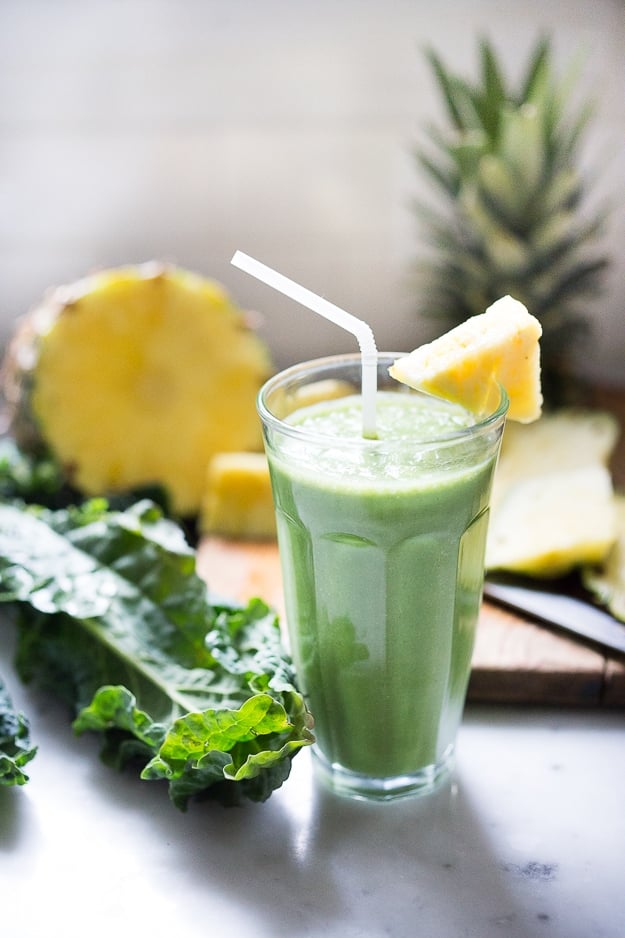 32.)  Too busy for lunch? This Matcha, Kale and Pineapple Smoothie will give you a burst of energy! It is not only delicious, but it is also filling and very energizing!
---
I hope these simple healthy lunches inspire you to try something new the next few weeks!
Pick out a few,  print them out, make a shopping list and prep them ahead for the busy the work week.
Think how nourished your body will feel!
xoxo
Sylvia
Print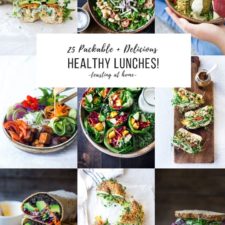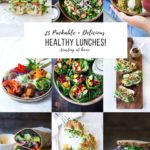 25 Healthy Lunches!
Author:

Sylvia Fountaine

Prep Time:

20

Cook Time:

10

Total Time:

30 minutes

Yield:

4

Category:

lunch

Method:

baked

Cuisine:

global
---
Description
25 Healthy Lunch ideas to keep you feeling energized all week long! Vegan and Gluten-free adaptable! Make-ahead for the busy work week. Packable!
---
---
Instructions
make according to directions!
---
Keywords: healthy lunch ideas, healthy lunches, fast lunches, easy lunches, vegan lunches, vegan lunch ideas, packable lunches, healthy lunch ideas,
SaveSave
SaveSave
SaveSave
SaveSave
SaveSave
SaveSaveSaveSave
SaveSave