Inspired by the sea, this Spirulina Sea Salad features kelp noodles, dulse ribbons, and a craveable Spirulina Dressing tossed with seasonal greens, avocado, cucumber, radish, and cilantro. Keep it vegan with edamame or tofu, or add smoked ahi or salmon. Vegan-adaptable and Low-carb.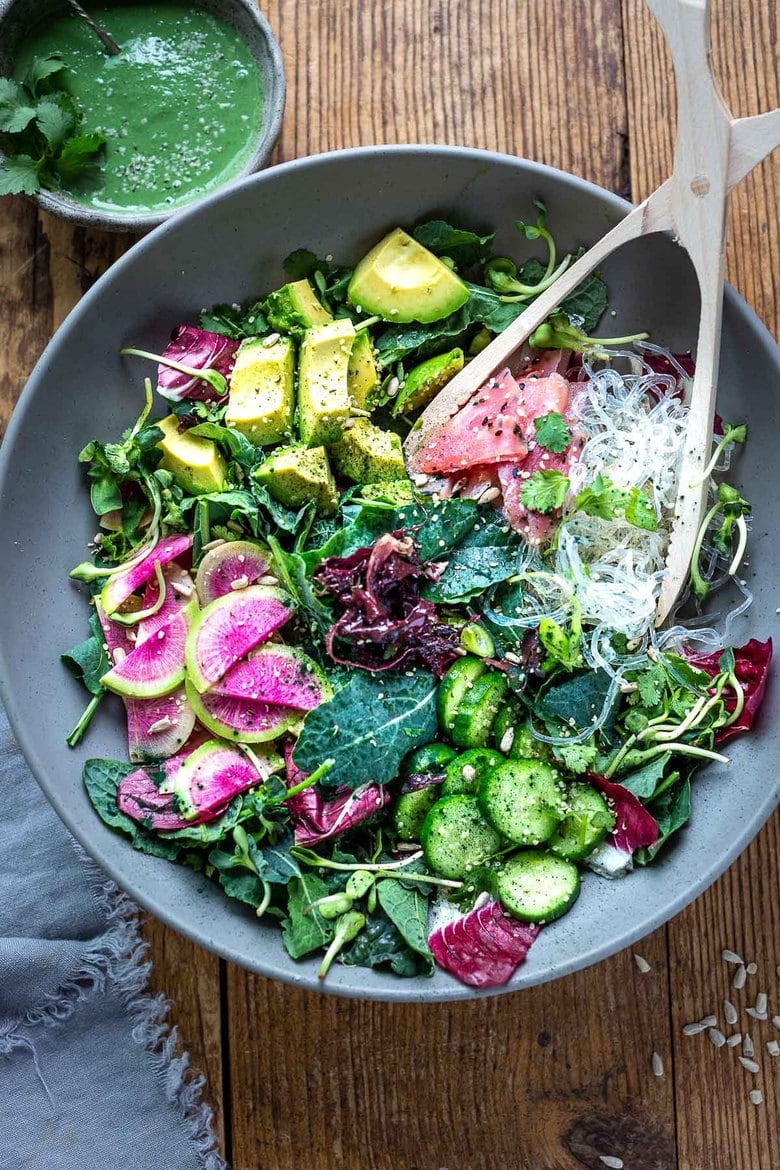 Keeping your body healthy is an expression of gratitude to the whole cosmos- the trees, the clouds, everything. – Thich Nhat Hanh
This Spirulina Sea Salad has been a regular occurrence around here for the past 6 weeks or so. It's packed full of healthy veggies- which can be adapted seasonally, and features nutrient-rich sea plants like dulse ribbons, kelp noodles, and spirulina.  Vitamin and mineral-dense, it's like therapy for the body while still being delicious and satisfying. Add smoked ahi or smoked salmon to make it a meal- or keep it vegan with baked or smoked tofu, edamame, or other legumes.
Isn't it interesting what our bodies know? Several months ago, while in Sedona, I found myself continually craving a salad I tried at an organic restaurant there that I ended up repeatedly having. I seriously couldn't get enough of it!
This was rather strange because, well, I make a pretty good salad at home and rarely feel the need to go out and buy one. But this particular salad had me returning, again and again.
What I came to find out surprised me! It turned out I was low in vitamin B-12 and didn't even know it. This salad contained ample amounts of it! Somehow my body knew before my mind actually did and was telling me all along.
Both dulse and spirulina are plant-based sources of Vitamin B-12 as well as many other vitamins and minerals. It can be challenging to get Vitamin B-12 on a vegan or vegetarian diet, so just something to pay attention to.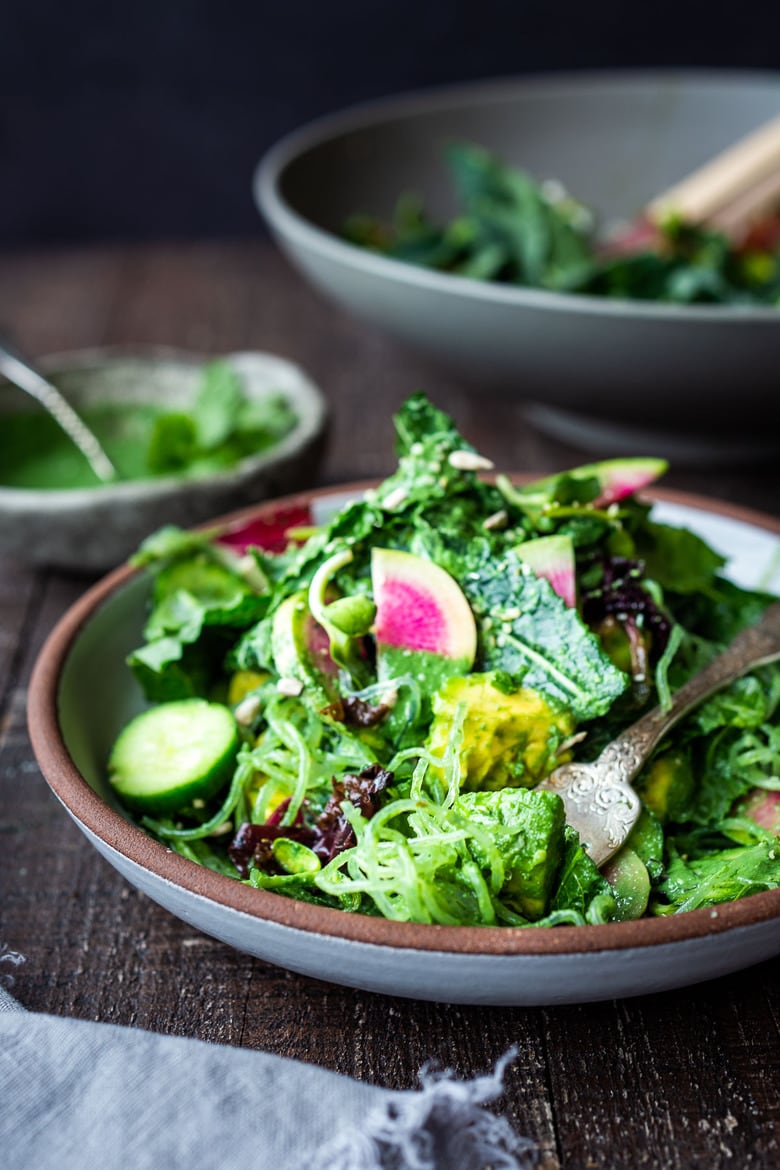 So after I made the connection between my craving and vitamin B-12 deficiency, I created a salad that would help remedy that, and I've really been enjoying it, so thought I'd share.  My favorite part of the salad is the Spirulina Dressing.
What is Spirulina?
Spirulina is a type of dark green algae that is considered by many to be a superfood. Research shows it has many health benefits- lowers cholesterol, supports immune function, lowers blood sugar, and is a powerful antioxidant.
Here we are using spirulina in the powder form in the dressing. Not only does it add great flavor- it's packed full of nutrients.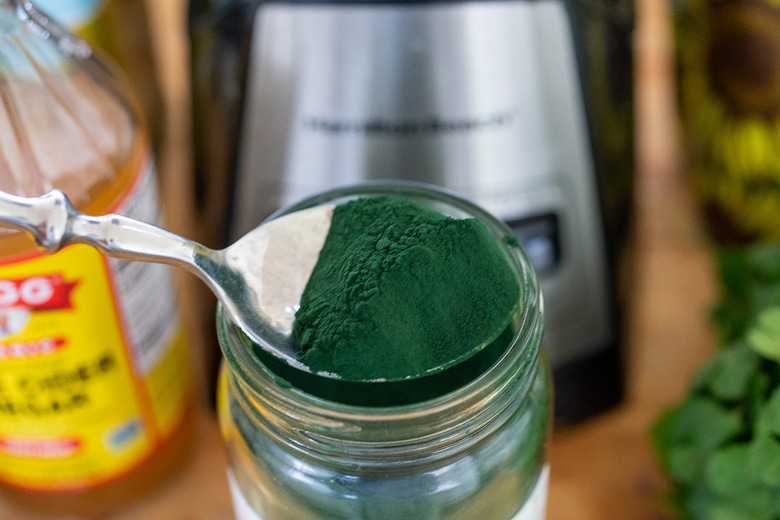 Health benefits of Spirulina:
How to use Spirulina: 
Add to smoothies
Add to green juice
sprinkle over salads or add to soups
add to hummus or dips
make a spirulina dressing!
To make the Spirulina dressing, blend the simple ingredients in a blender until creamy and smooth. I love the glorious emerald color.
Note: I intentionally used cilantro as the herb here, not only for flavor but for its ability to help rid the body of heavy metals.
FYI: I've found that even people who typically taste cilantro leaves as "soapy",  don't notice this when cilantro is blended into sauces and dressings.
Start conservatively with the spirulina, adding more to the taste.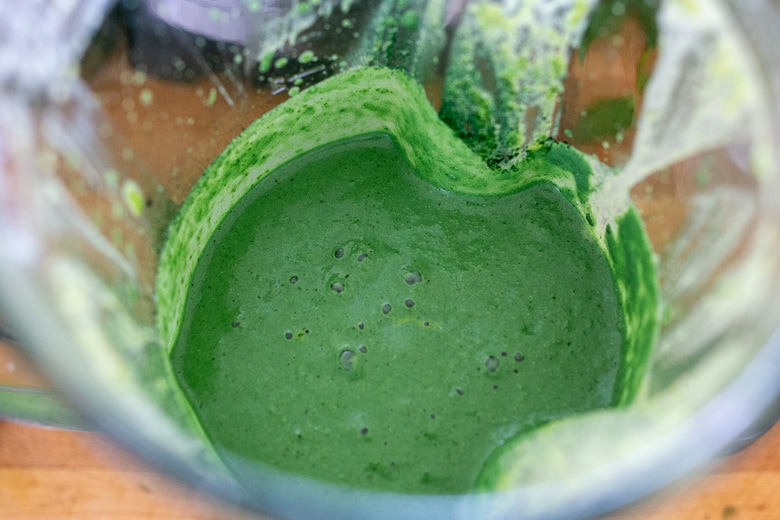 To give it a creamy consistency, add a few tablespoons of hemp seeds or raw sunflower seeds.
The leftover Spirulina dressing will keep up to 5 days in the fridge.
How to store Spirulina:
Store Spirulina in a cool, dark, dry place… like the fridge! You can also freeze spirulina. If freezing in a bag, remove as much air as possible.
How to source Spirulina:  
Check labels to see where it is grown. Countries like China and India are less regulated and can be more polluted with heavy metals, and often contain less nutritional values-. In contrast, Californian, Hawaiin, and Taiwan-grown are much better regulated.
Check for contaminants. Look out for 3rd party verifications, confirming there are no heavy metals, additives, or pesticides.
Here are 3 highly-rated and recommended brands: Earthrise Spirulina (grown in California), Pure Hawaiian Spirulina, and Microingredeints Pure Organic Spirulina.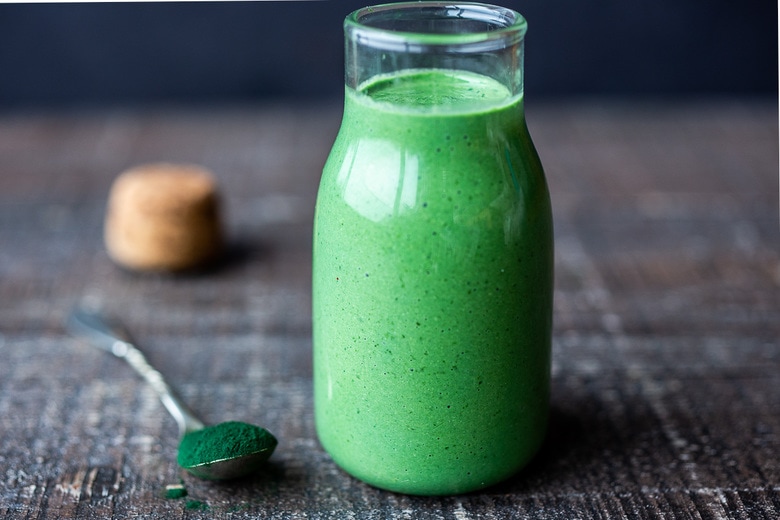 Another key component of the salad is Dulse.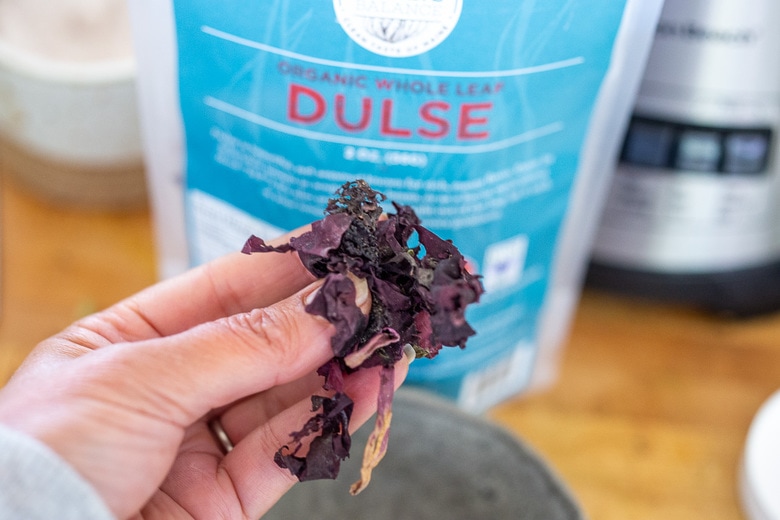 What is Dulse (and health benefits): 
Dulse if unfamiliar, is a type of seaweed that looks much like underwater red lettuce. It is jam-packed with vitamins and minerals – Vitamin b-12, calcium, iodine, potassium, beta carotene, as well as fiber, protein, and anti-oxidants.
Dulse not only has a multitude of health benefits (builds strong bones, lowers blood pressure, contains anti-inflammatory properties, supports the immune system, and helps digestion), it also has a delicious umami flavor!
Dulse is harvested in the Northwest and Northeast and dried and can come in several forms- powder, granules, flakes, ribbons, or whole leaf.
How to use Dulse: 
Dulse tastes of the ocean- salty, briny, and full of delicious umami flavor without tasting "fishy."
Here we are simply soaking the dried dulse ribbons in water to soften and rehydrate.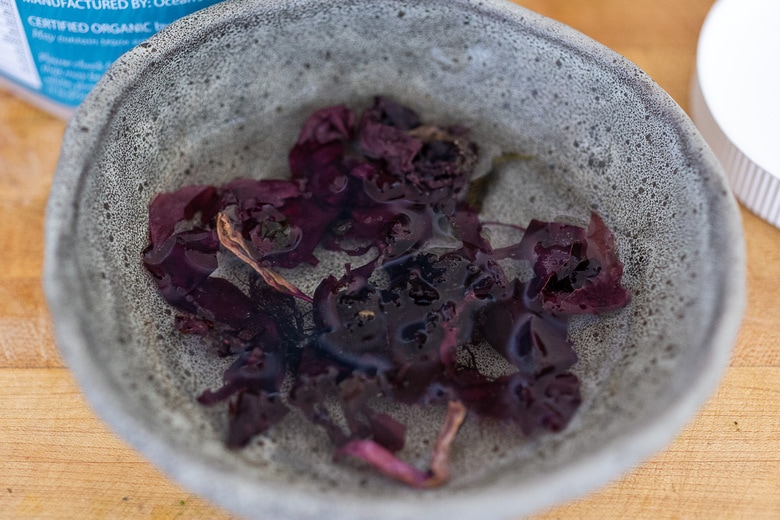 Another component of the Spirulina Sea Salad salad is kelp noodles.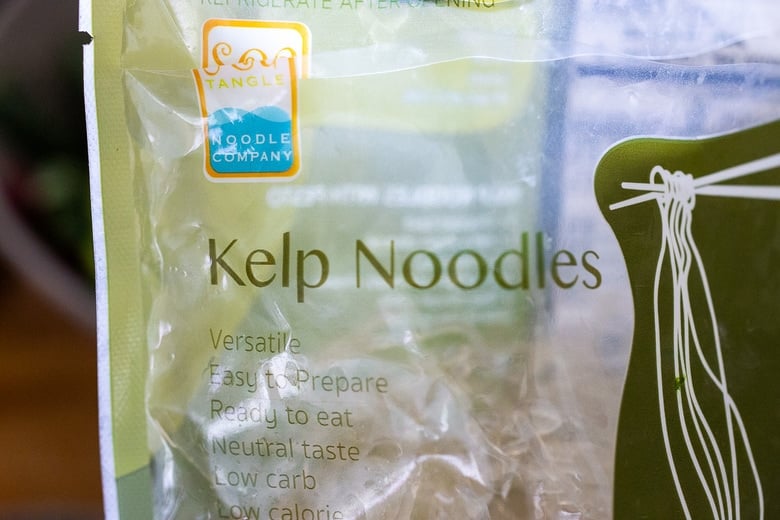 What are Kelp Noodles?
Kelp noodles are noodles made from seaweed. It is very low in calories, zero carbs, and zero fat, and they are a great substitute for people doing a low-carb or low-fat diet. High in minerals like iodine, manganese, and zinc, kelp noodles offer some very beneficial nutrients. 
Kelp noodles are clear, relatively tasteless, and have a snappy crunchy texture. They are typically found in the refrigerated section of the grocery store near the tofu.
How to use kelp Noodles: 
add to brothy soups
replace wheat or rice noodles in salads
add to green salads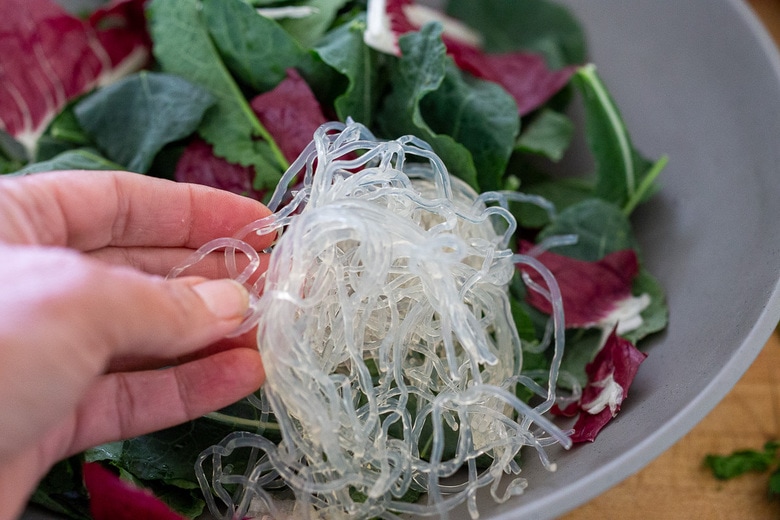 To make the Spirulina Sea Salad, create a base with your favorite greens. Here we've used baby kale and radicchio. Baby Kale works well in the recipe.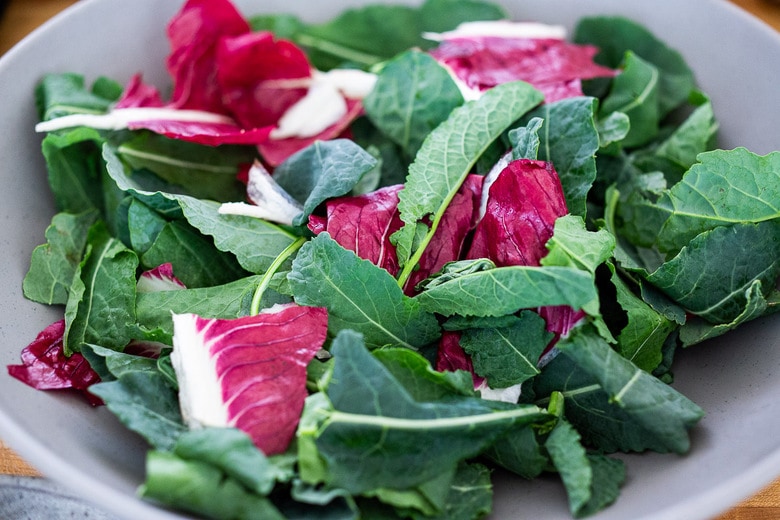 Then start layering- avocado, cucumber, watermelon radish (or regular radish), dulse ribbons and pretty much any other raw crunchy veggie you like – grated carrots, mushrooms, raw broccoli, snap peas, etc.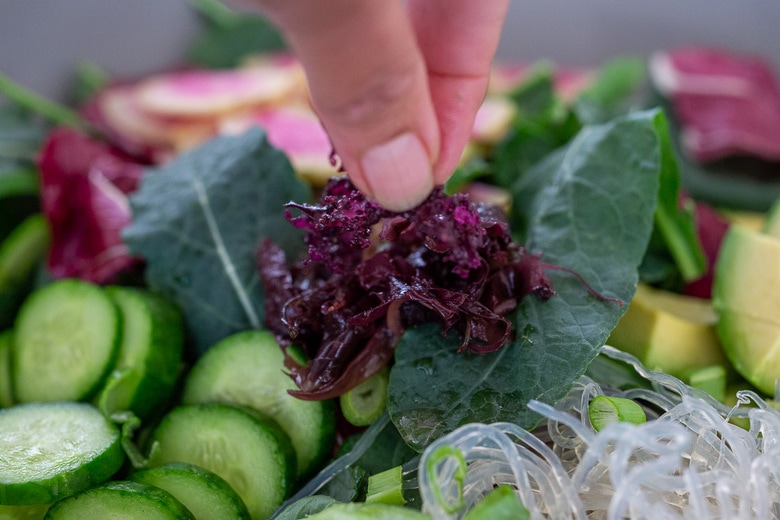 Add the soaked dulse ribbons and nice big chunks of avocado.
TIP: I've found that kelp noodles, to keep them palatable (at least to my taste), need a little fat; otherwise, they can taste chalky.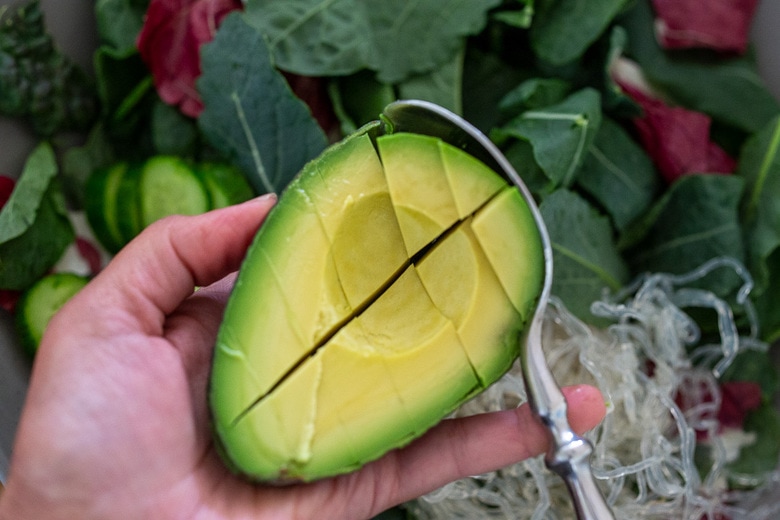 Protein Options in the Spirulina Sea Salad
Smoked ahi tuna (like Trader Joe's Brand) or Raw Ahi (or seared ahi)
Edamame,  smoked tofu, crispy tofu or baked tofu.
Or try smoked salmon or smoked trout or even oily fish – like canned sardines or mackerel if that is something you tend to like.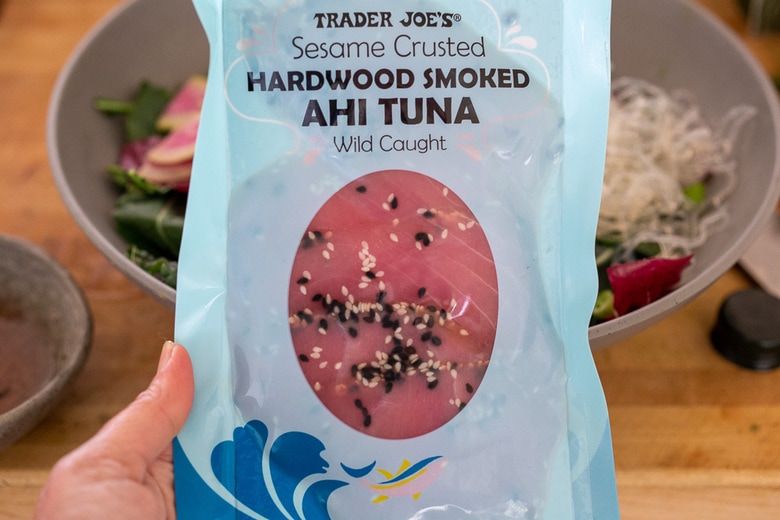 Add fresh sprouts- sunflower sprouts are nice here, and sprinkle with seeds- hemp or sunflower.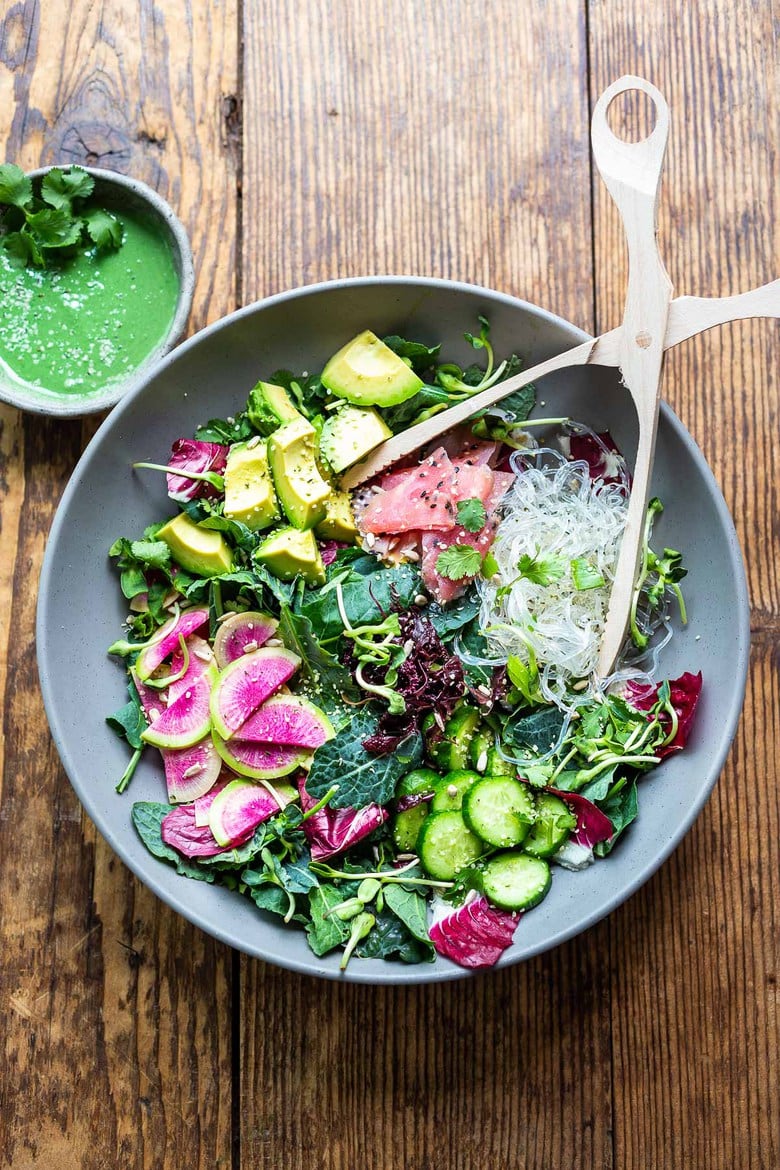 Then toss with the Spirulina Dressing.
Use the spirulina dressing on Buddha Bowls or other salads during the week.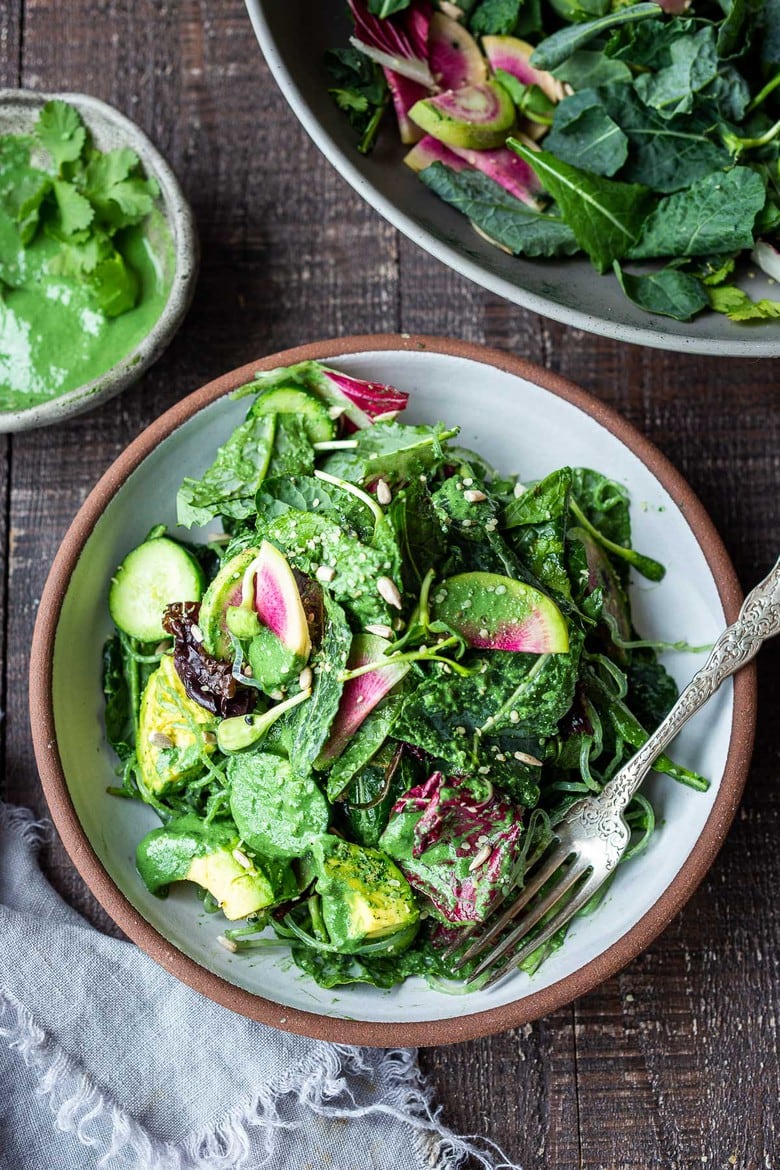 I hope you enjoy the Spirulina Sea Salad and all the health benefits it provides. Explore incorporating some or all of these nutrient-rich ingredients into your lifestyle, remembering that the more diversity we add to our diets, the healthier our microbiome will be, and in turn, the healthier we will be!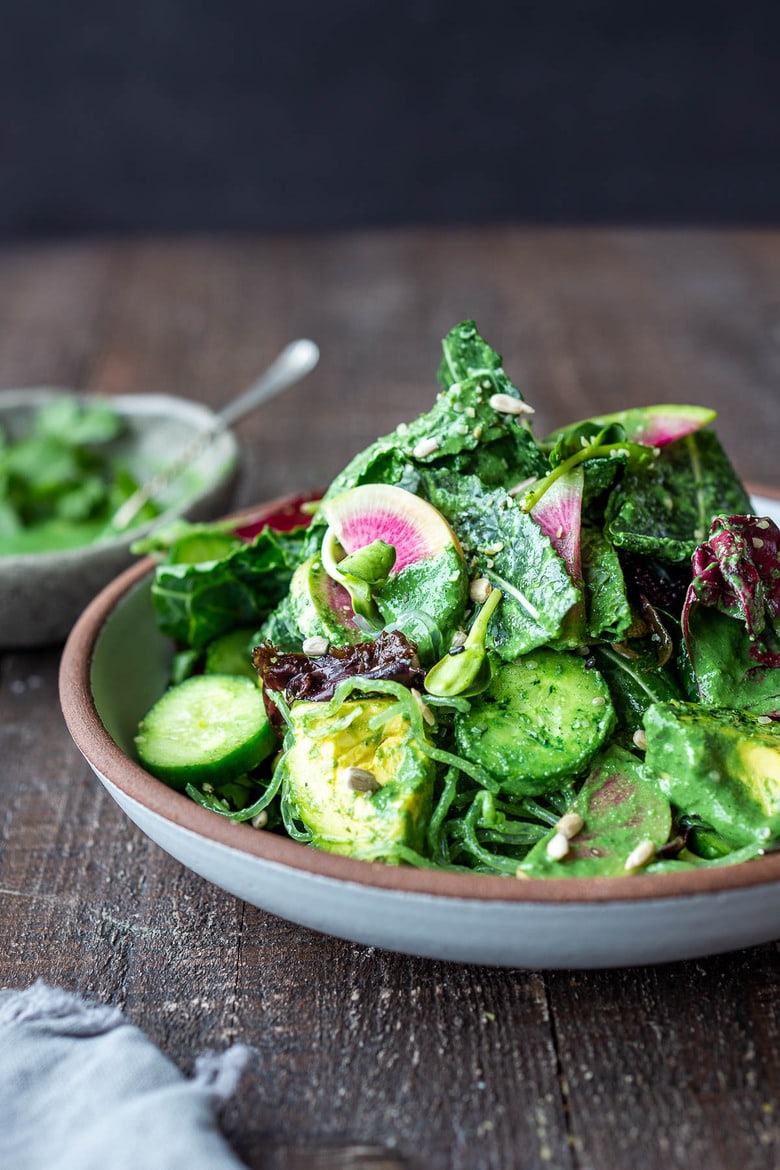 Have a great weekend and I hope you love this salad as much as I do. If it's not speaking to you, your body may simply not need these nutrients. It's one of those recipes that is not for everyone, but for some, like me, a life-savor!
xoxo
Print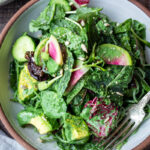 Spirulina Sea Salad
Prep Time:

20

Total Time:

20 minutes

Yield:

3

-4

1

x

Category:

salad

Method:

tossed

Cuisine:

American

Diet:

Vegan
---
Description
This Spirulina Sea Salad features kelp noodles, dulse ribbons and an addicting Spirulina Dressing tossed with seasonal greens, avocado, cucumber, radish and optional smoked ahi or smoked salmon. Vegan-adaptable and Low-carb.
---
1/4

cup

dulse ribbons, soaked in water

4

ounces

baby kale (or sub other salad greens)

1

Turkish cucumber, sliced

1

avocado, diced or sliced

1

–

2

green onions
Kelp noodles (optional), a handful (1 cup)

1

–

2

watermelon radishes ( or regular radish), thinly sliced
Protein options: Smoked ahi, smoked salmon, baked or smoked tofu, edamame
Garnish: Sprouts (sunflower are nice), hemp seeds or sunflower seeds, cilantro or edible flower petals
Spirulina Dressing: (makes 1 cup)
---
Instructions
Soak the dulse ribbons in a small bowl of water, 15 minutes or until softened
Make the Spirulina dressing– add all but the cilantro and spirulina to a blender, and blend until creamy and smooth- a full minute. Add cilantro and spirulina, pulse until well combined and smooth.
Add the salad ingredients to a bowl- greens first then cucumber, avocado, scallions, kelp noodles, radishes, drained dulse, and your choice of protein.
Toss with some of the dressing, just enough to coat–  you will not need it all.
Garnish with seeds and sprouts.
---
Notes
The spirulina dressing will keep up to 5 days in the fridge.
You can make the salad ahead- leaving off the dressing, fish and avocado- then add and toss right before serving. Salad will keep 3 days in the fridge.
Nutrition
Serving Size:

with 8 ounces Ahi Tuna

Calories:

313

Sugar:

2.3 g

Sodium:

253.9 mg

Fat:

22.6 g

Saturated Fat:

3.2 g

Carbohydrates:

12.7 g

Fiber:

6.2 g

Protein:

19 g

Cholesterol:

22.2 mg
Keywords: Spirulina salad, Spirulina dressing, how to cook with spirulina, how to eat spirulina, spirulina benefits, kelp noodle salad, pulse recipes, spirulina recipes, mermaid salad, vegan sea salad,