These wholesome Lentil Recipes are not only delicious, they are also nutritious! High in fiber & protein and ultra-affordable, they provide a little respite for the body in between all the holiday feasting.
Whether you are looking for unique recipes with lentils, hearty lentil dinners, lentil soups or lentil salads, or vegan lentil recipes, we have you covered! 
And now…Our Best Lentil Recipes!
Rich and robust, this is one of my favorite lentil recipes on the blog! This Lentil Bolognese is hearty, "meaty" and full of depth and flavor without any meat. Toss it with your favorite pasta, or spoon it over creamy polenta- either way, this simple nourishing lentil recipe is one the whole family will enjoy.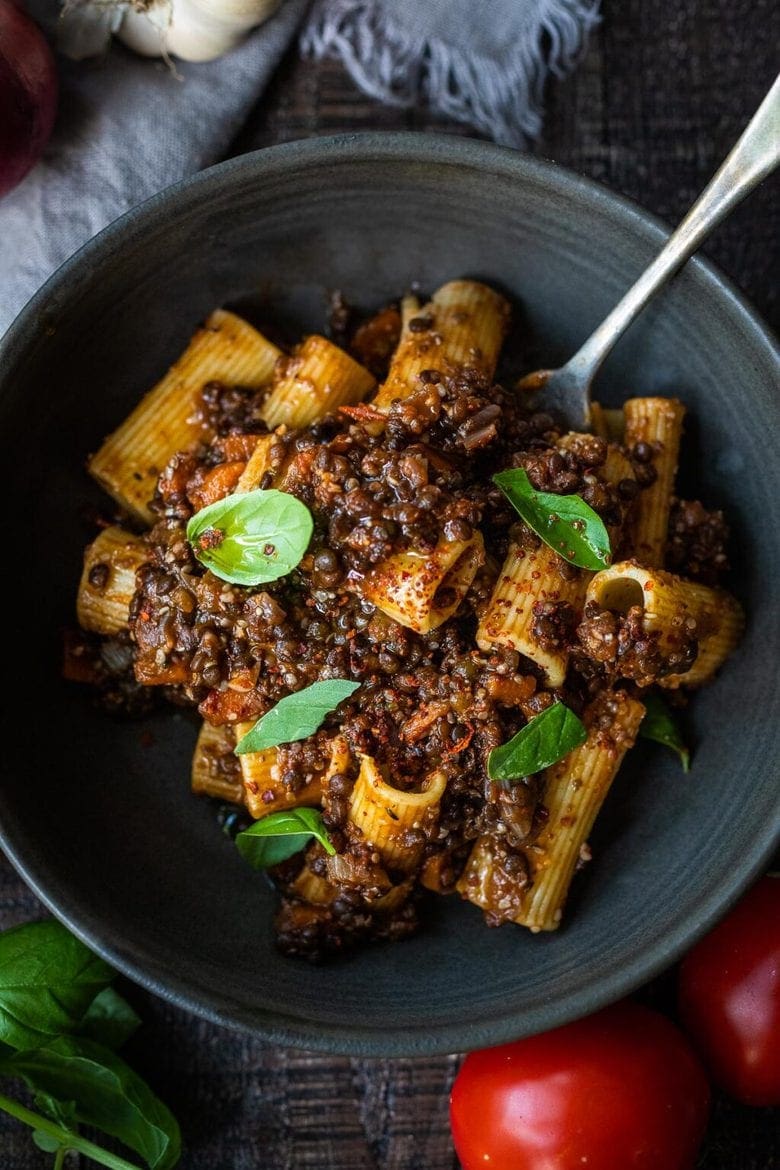 One of our most loved lentil dishes, full of delicious fall flavors. This Vegan Pot Pie is made with roasted butternut squash, black lentils and kale, topped with a  golden puff pastry crust. A hearty one-pan lentil dinner!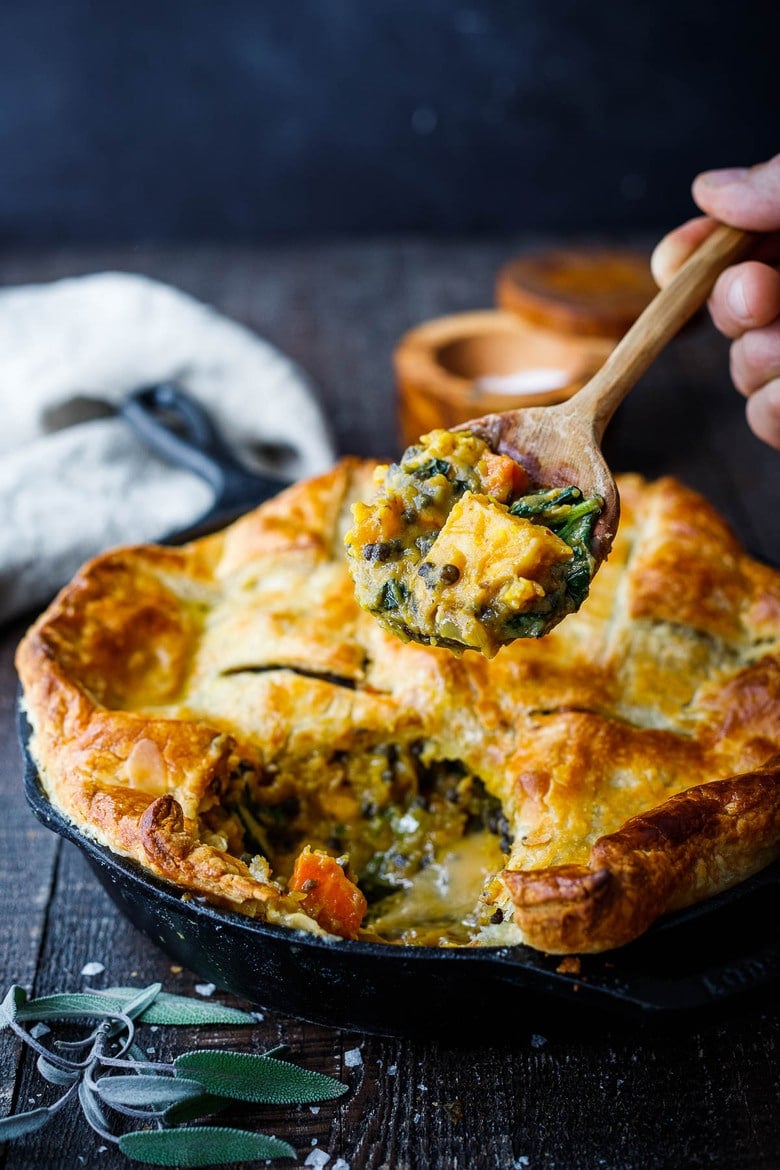 This lentil recipe won "best vegan recipe" on Food 52 and honestly, we couldn't be any prouder! It's one of those lentil dinner recipes, you'll want to make on repeat. Vegan Lentil Meatballs with Coconut Curry Sauce are totally plant-based and 100% delicious!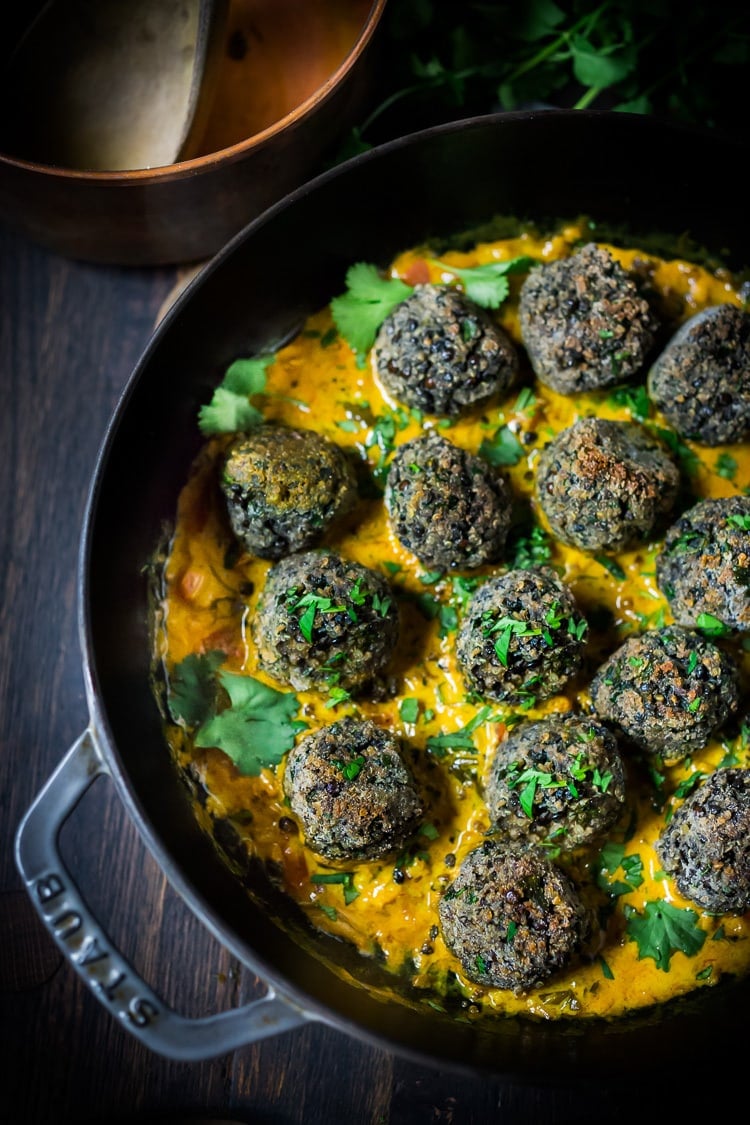 This lentil recipe is the perfect healthy side dish to any meal! Braised French Lentils are nourishing and comforting, can be made ahead, perfect for busy weeknight. Leftovers can be frozen, or turned into a salad!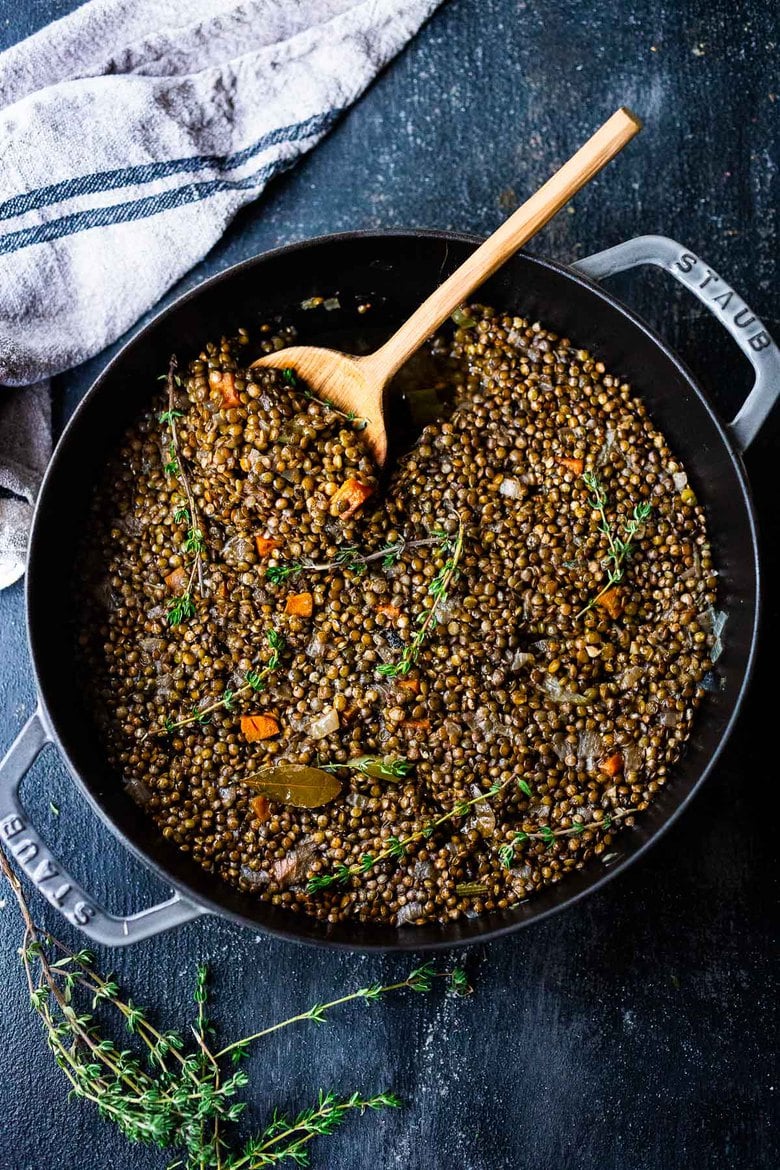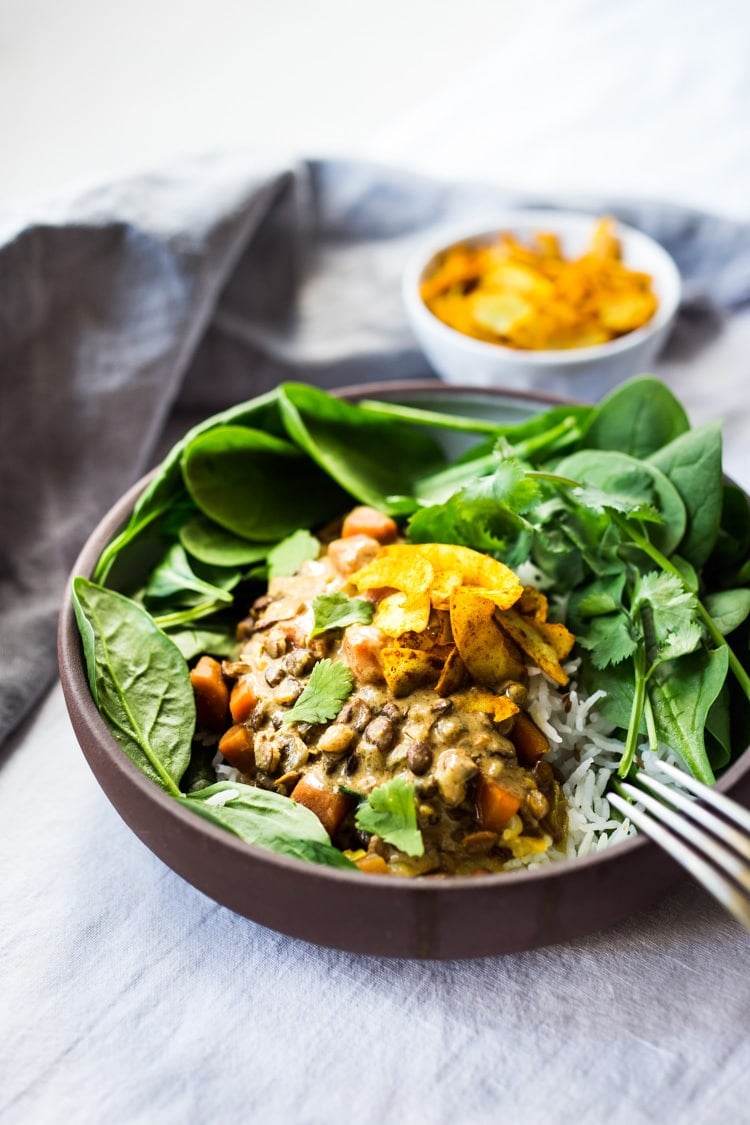 This lentil recipe is quick, easy and comforting! Creamy Coconut Lentil Curry can be made in an Instant Pot or on the stovetop. Infused with fragrant Indian spices, this recipe is not only delicious, it is is vegan and gluten-free!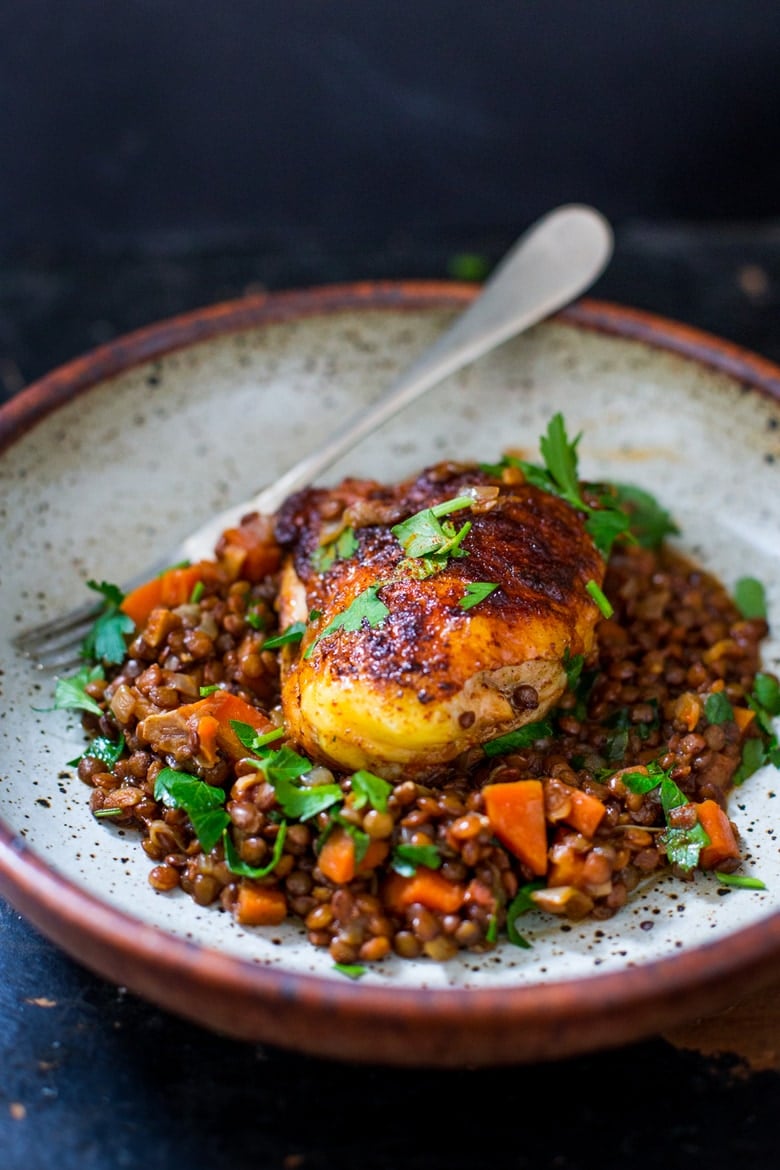 One of the most popular lentil dinner recipes on the blog, Berbere Chicken and Ethiopian Lentils is a flavorful, comforting Ethiopian meal that features Berbere Spice, this delicious lentil recipe is easily one of our favorites!
Spinanch Lentil Dal (Emerald Dal)
Emerald Dal is one of the most delicious, luscious lentil dishes! This version is made with black lentils and packed with spinach, making it especially high in nutrients and flavor! Rich, fragrant, and packed with protein, think of this Lentil Dal – like Saag Paneer, but substituting lentils instead of cheese! A super tasty, healthy lentil recipe that is vegan-adaptable!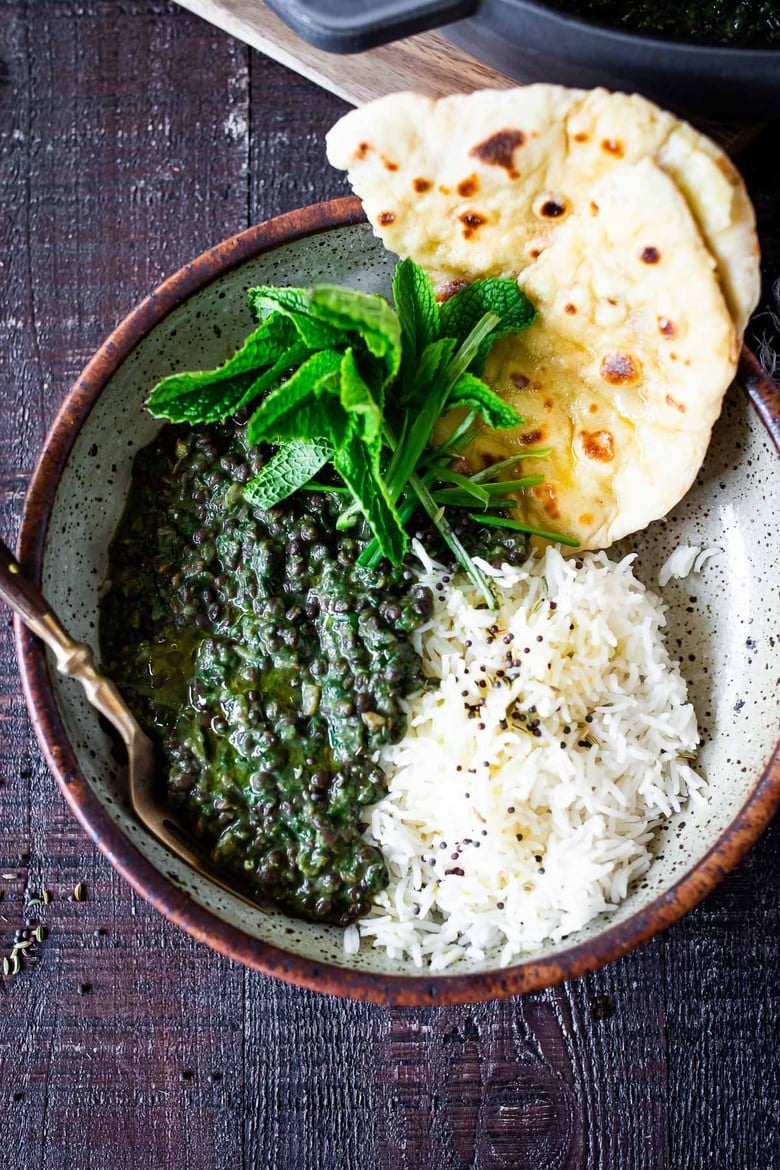 ---
This lentil dinner is full of so much flavor! Cauliflower Steaks are treated with Romesco Sauce ingredients and then served over a bed of simply seasoned black caviar lentils.

This lentil recipe is cozy and warming! Indian-Shepherd's Pie with black or brown lentils, veggies and fragrant Garam Masala, topped with curry mashed potatoes. Truly one of the BEST lentil recipes on the blog!

Roasted Salmon with Lemon and Thyme served over Braised French Green Lentils– a simple healthy weeknight dinner recipe!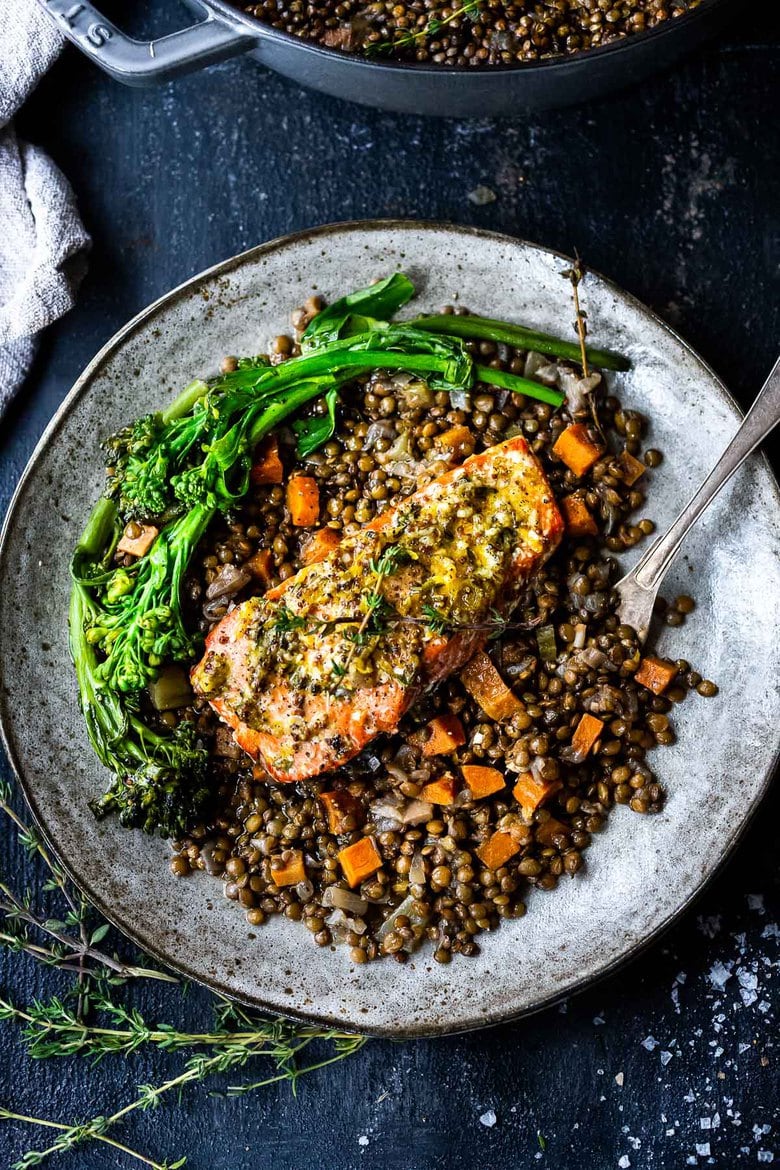 Soulful, Comforting Red Lentil Dal with Sweet Potatoes and a flavorful "tempering oil". A quick 30-minute meal that is simple to make and full of fragrant Indian spices.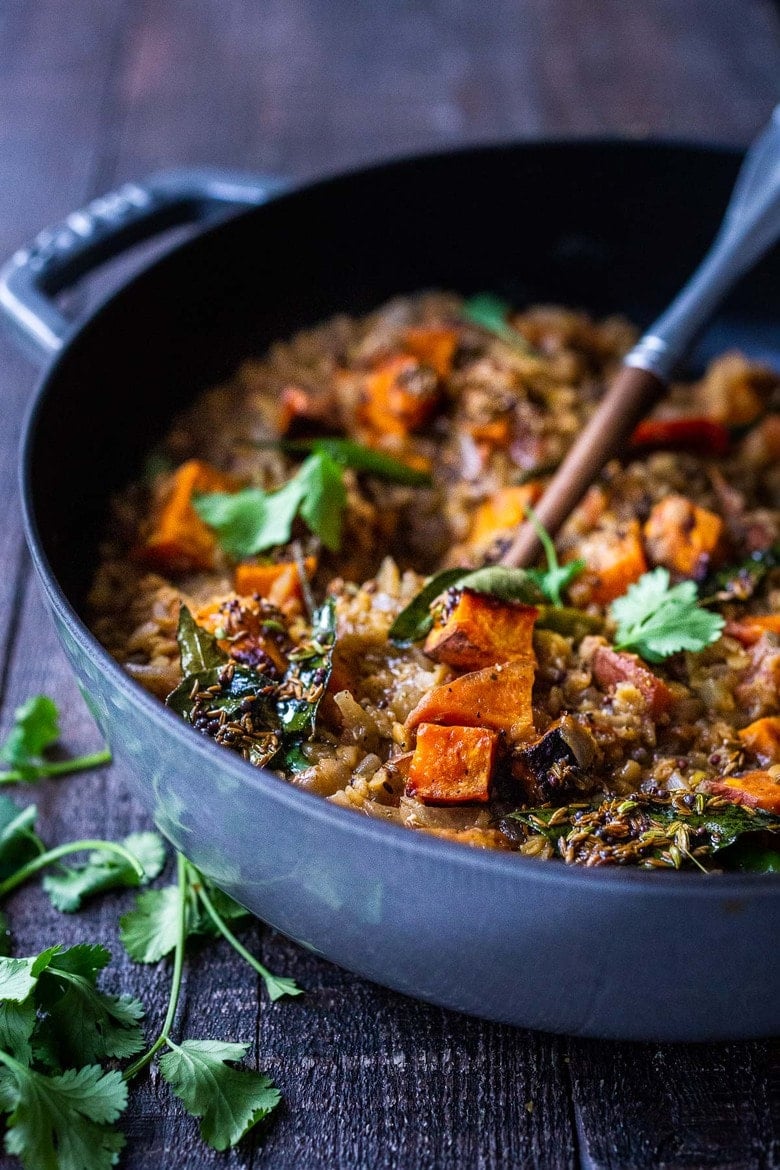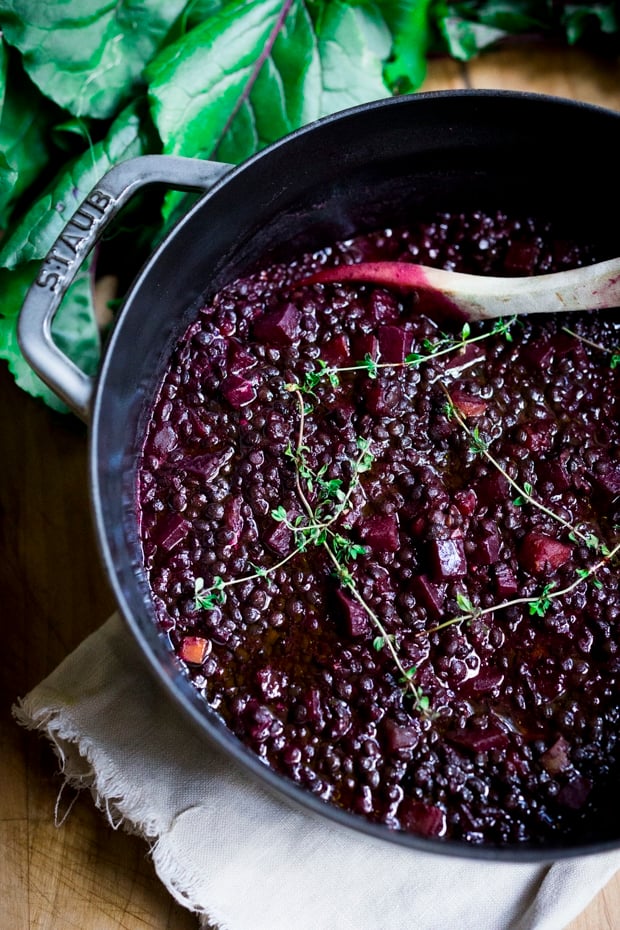 Simple delicious, Braised Lentils with Beets – a healthy vegan stew or soup, topped with optional goat cheese, that can be served on its own, or as a side dish to fish, chicken or meat. Vegan adaptable and Gluten-free!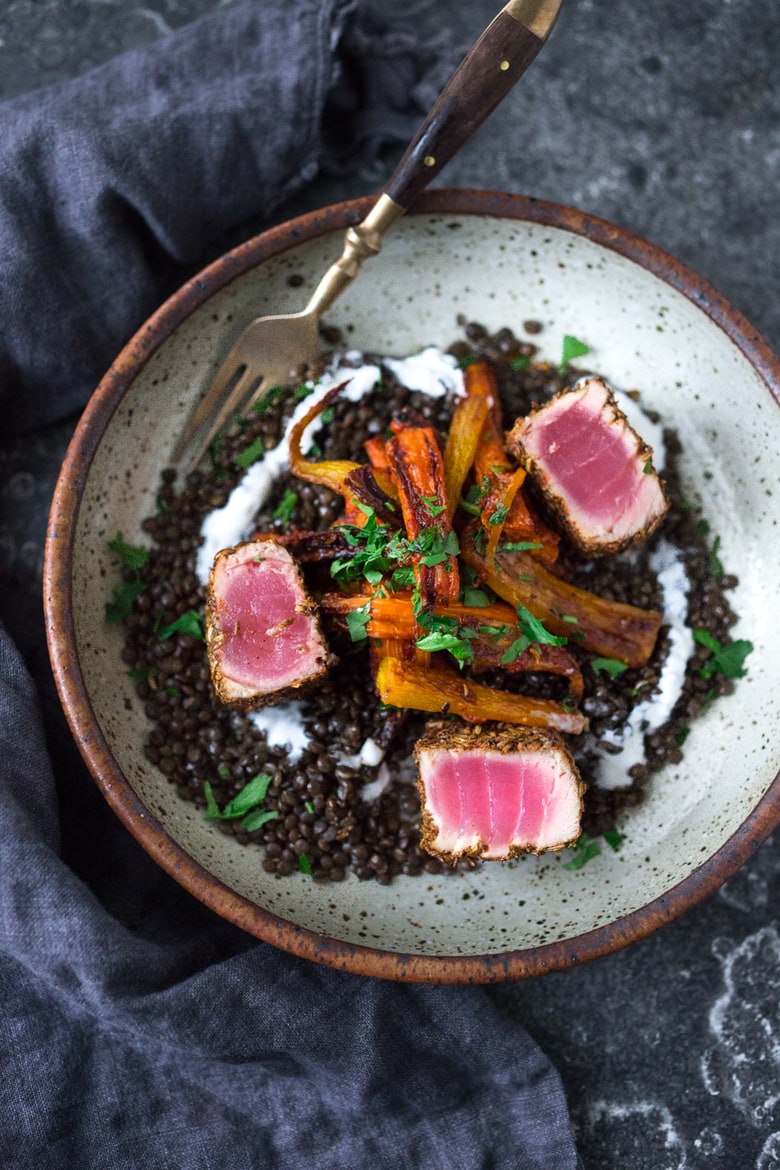 Seared Ahi with Moroccan Lentils – Cumin & Fennel crusted Ahi is served over Moroccan Lentils with roasted baby carrots, fresh herbs and yogurt drizzle. Spectacular flavors!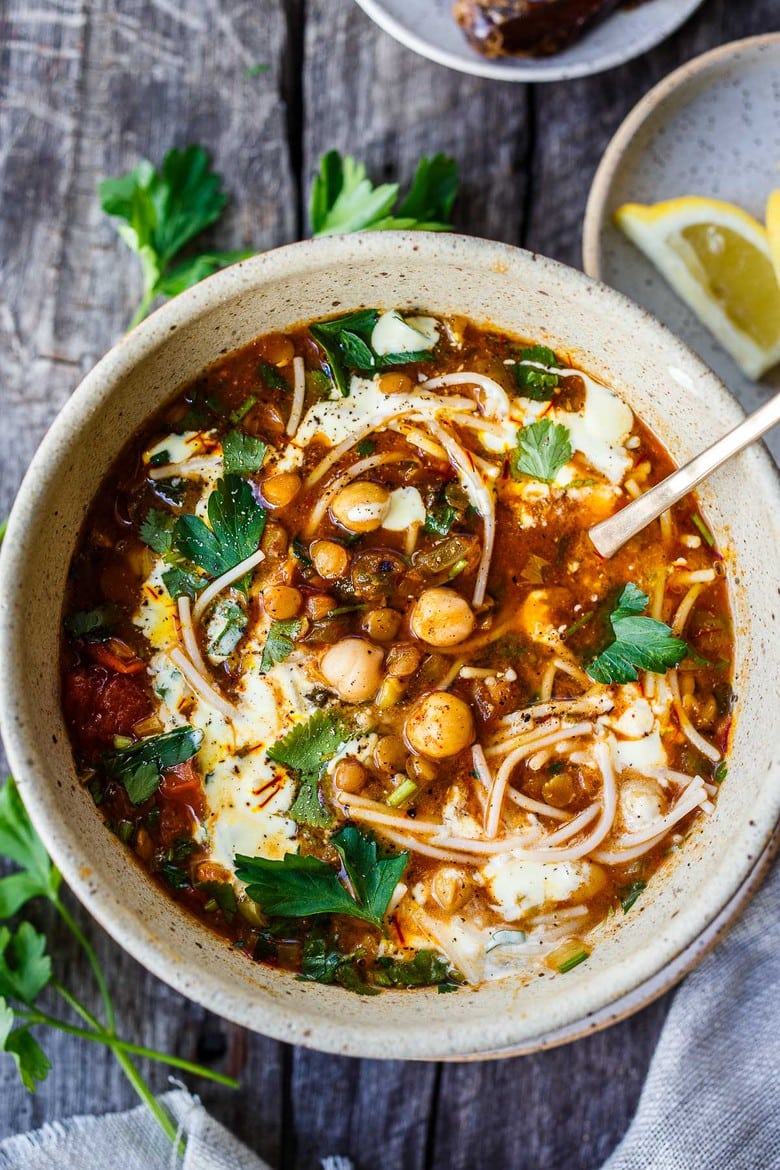 Moroccan Lentil and Chickpea Soup (aka Harira) is hearty, full of protein and loaded with nutrients. Warming fragrant spices make this healthy one-pot meal deeply flavorful! Vegan and Gluten-Free adaptable.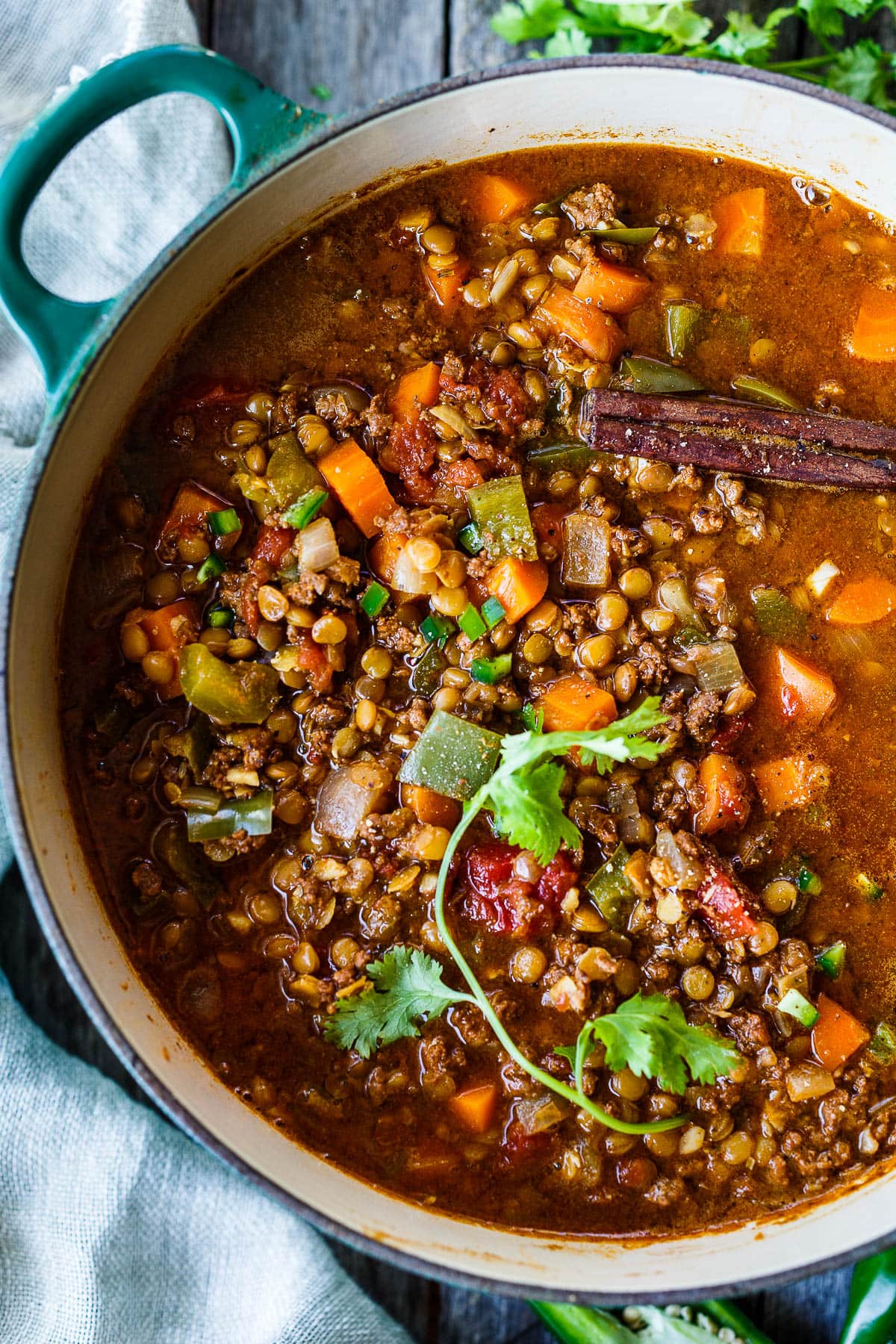 This lentil chili is packed with nutrients and comforting flavor and is perfect for fall, from weeknight dinners to weekend gatherings. It saves well, and leftovers taste even better! Vegan adaptable.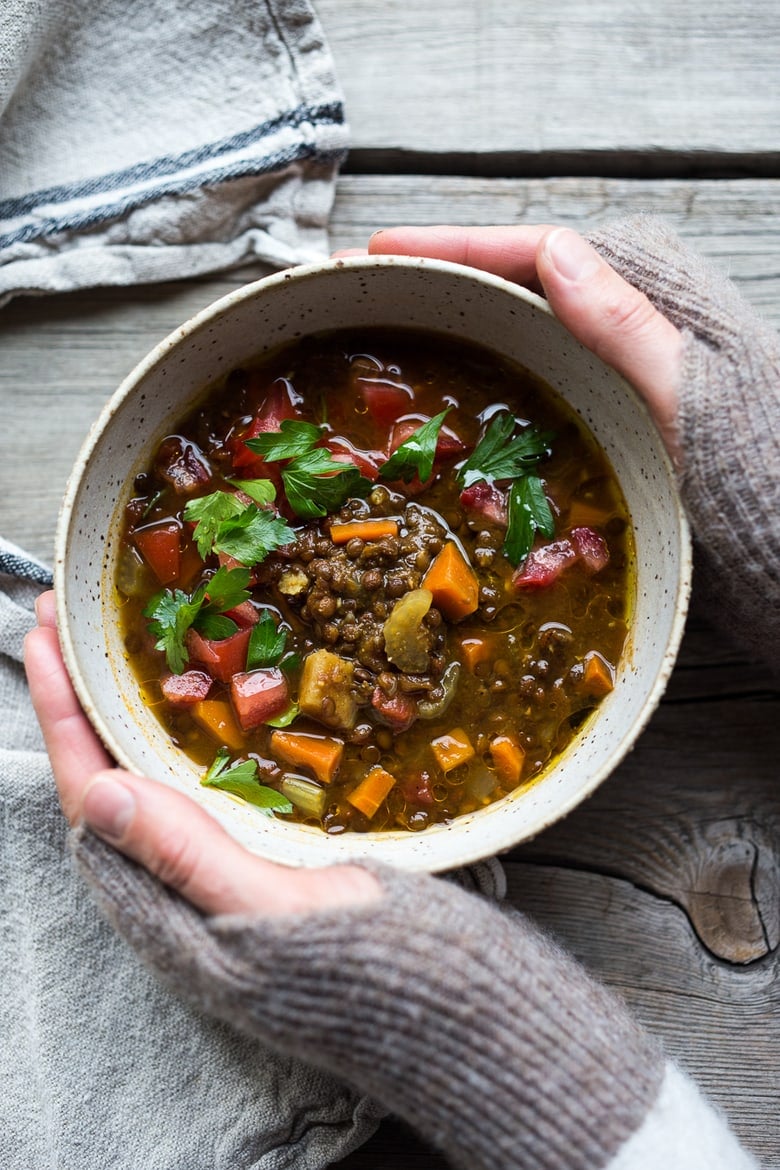 This Middle Eastern-style lentil Soup can be made in an Instant Pot or on the stovetop. It's vegan, gluten-free and infused with Middle Eastern Spices!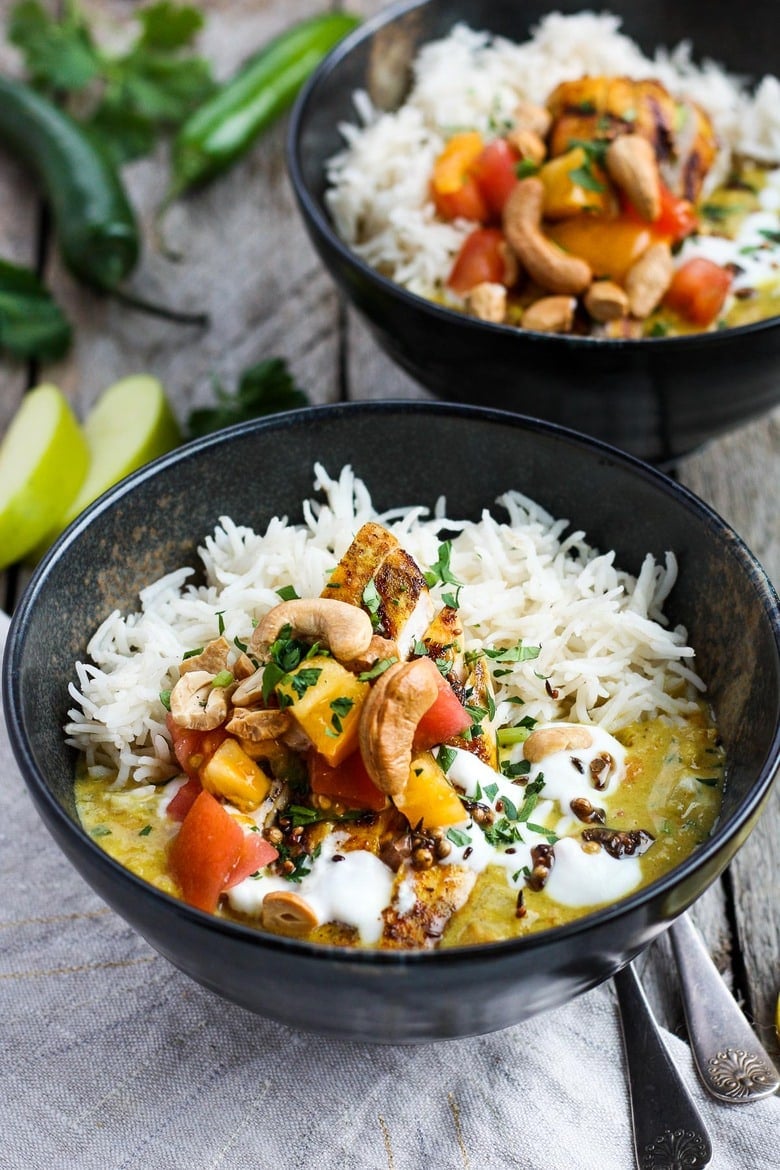 Instant Pot Mulligatawny Soup is so creamy and richly satisfying with bright and spicy flavors. This vegan adaptable version is delicious as is or can easily be built upon by adding chicken, or more veggies and basmati rice. An easy and fast weeknight meal!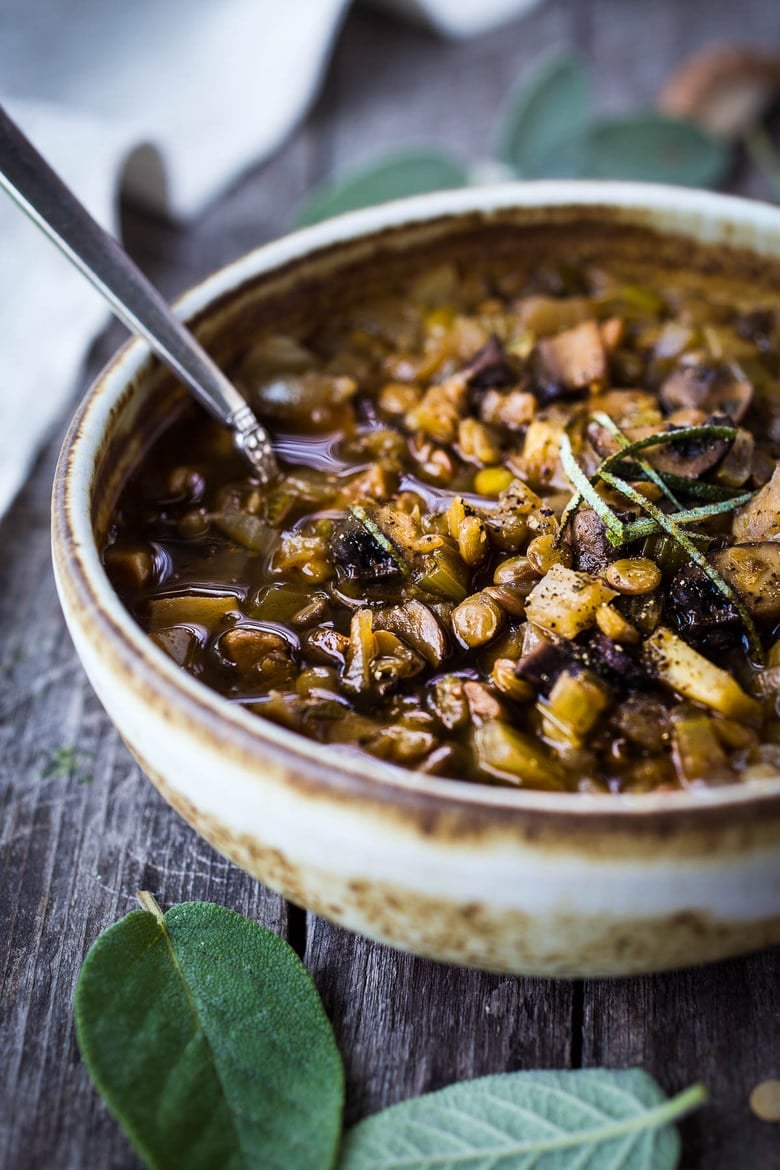 This recipe for Mushroom Lentil Stew with Fennel and Sage is earthy, hearty and richly spiced. Delicious and vegan!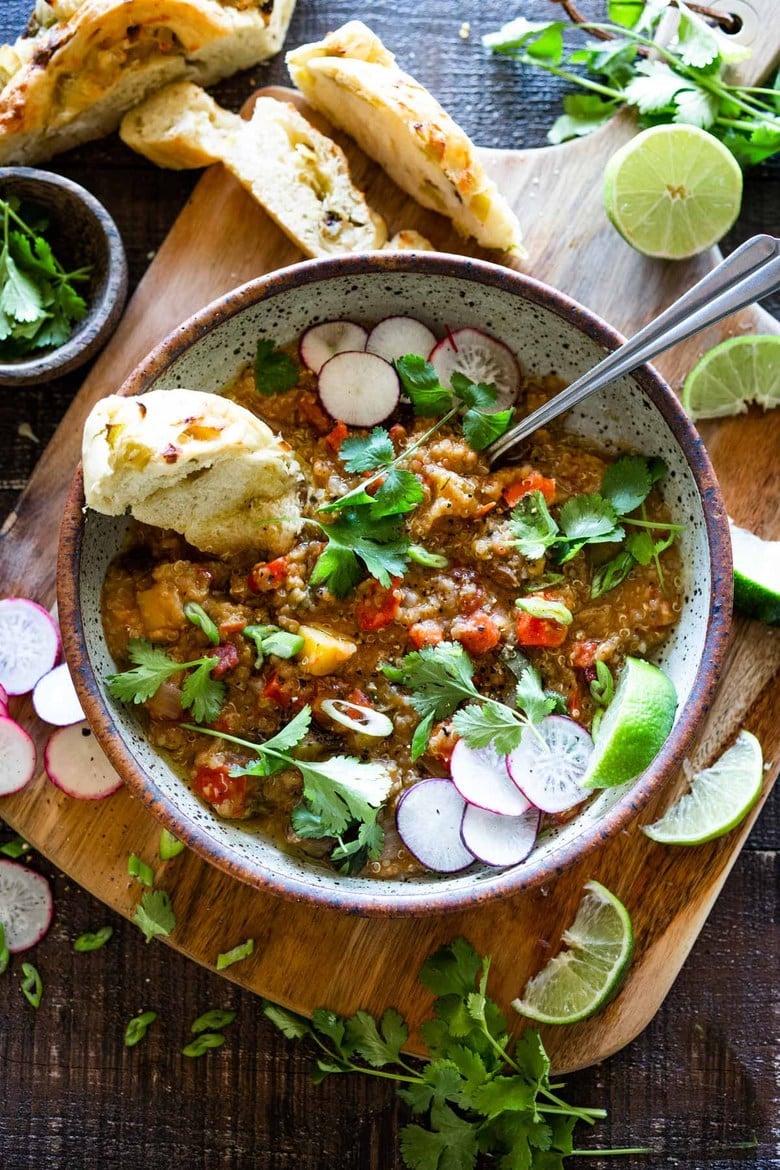 This Moroccan Red Lentil Quinoa Soup is made with simple, humble ingredients, yet is packed full of delicious flavor! Make this in an Instant Pot or stovetop.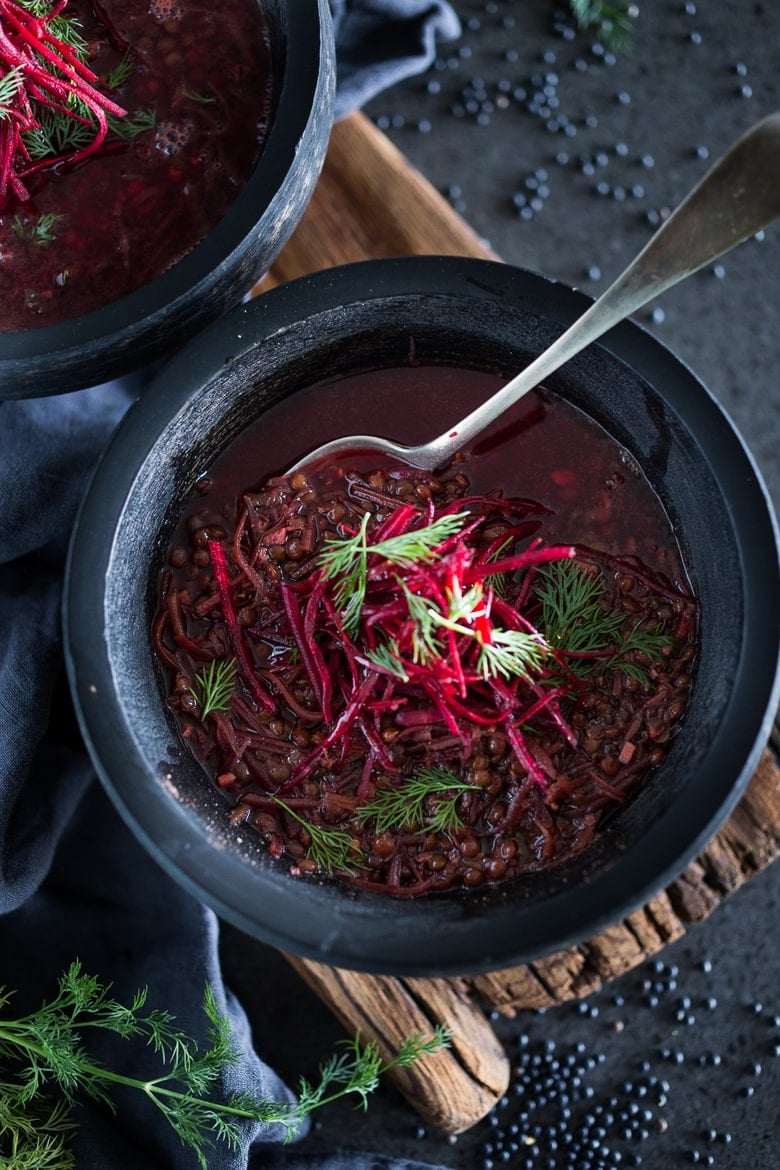 Healing Lentil Beet Soup -a simple healing vegan soup, packed full of antioxidants that aid the liver in healing our bodies. Vegan and GF.
Beet, Lentil and Spinach Salad with Pomegranate Dressing, topped with maple walnuts and crumbled goat cheese.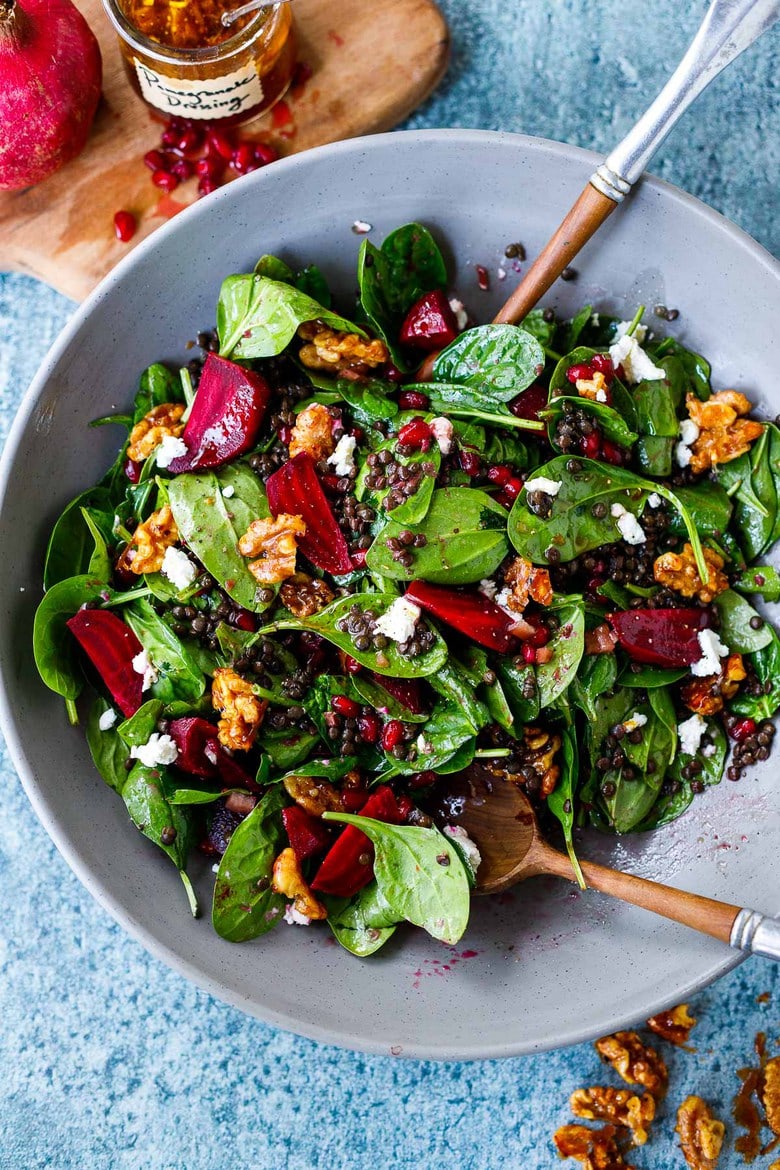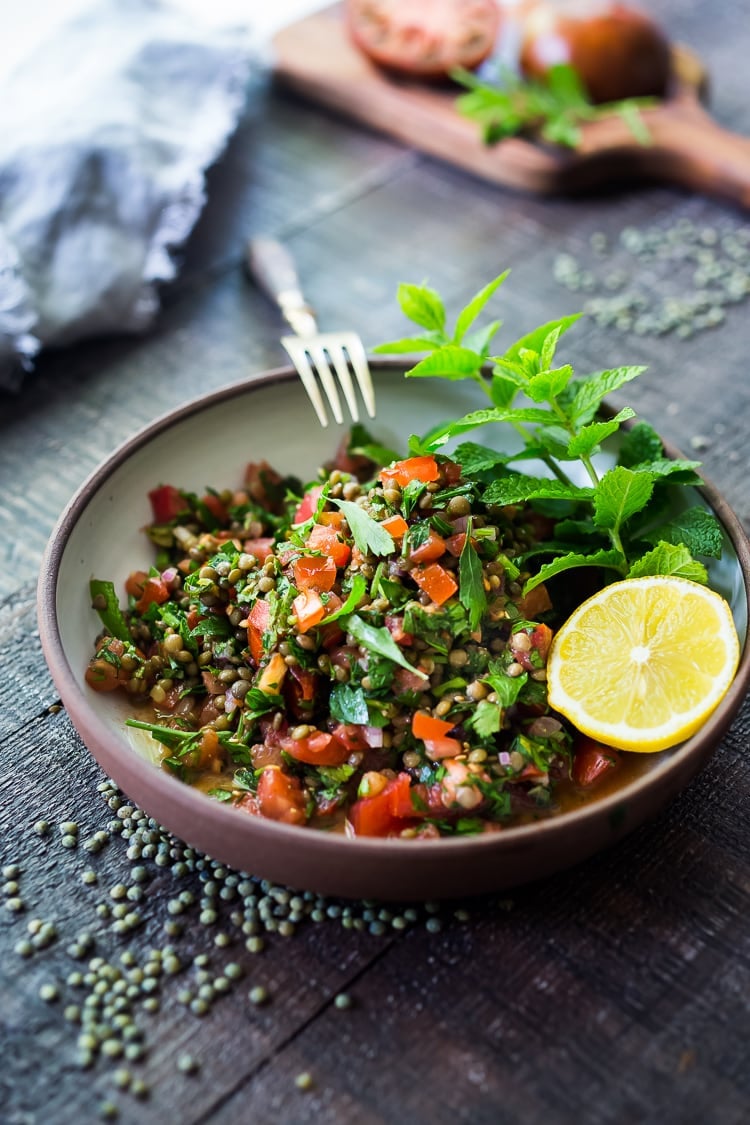 This Lentil Tabouli Salad is infused with Middle Eastern flavors and can be made ahead. Filling lentils are paired with summer tomatoes, lemon, mint and parsley, lemon juice, extra virgin olive oil and a unique combination of Lebanese spices!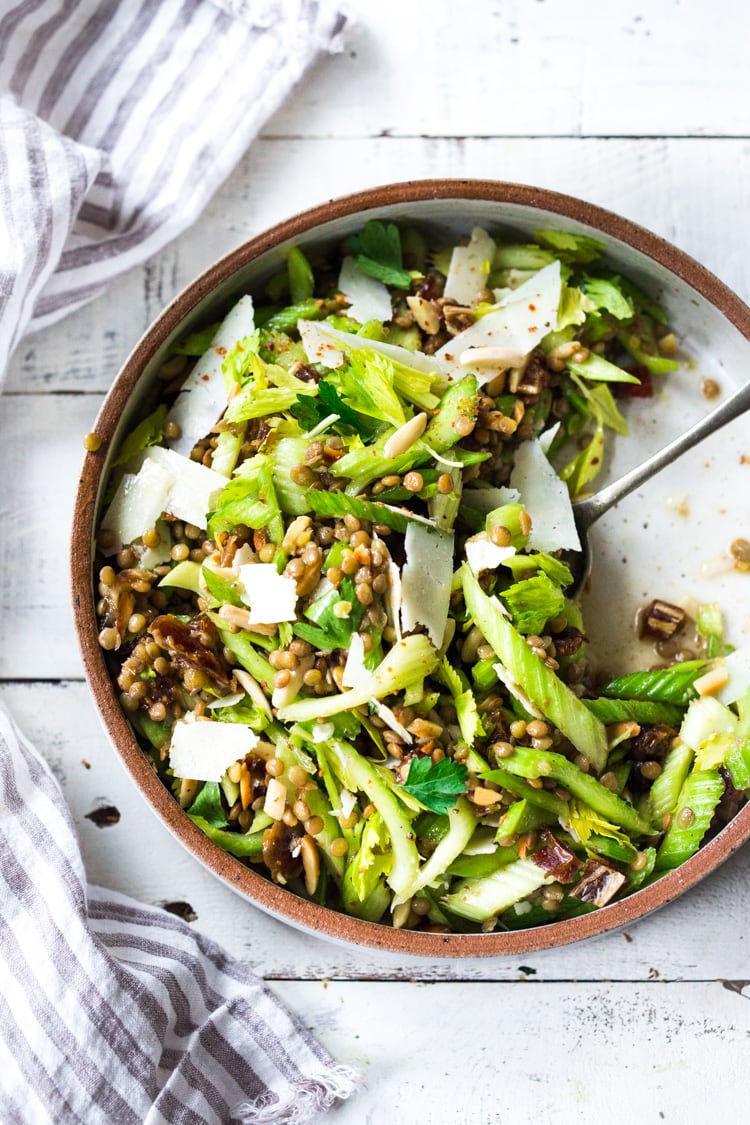 Celery Salad with lentils, dates and almonds – a delicious, make-ahead lentil salad recipe that keeps for several days in the fridge. Keep it vegan or add shaved pecorino!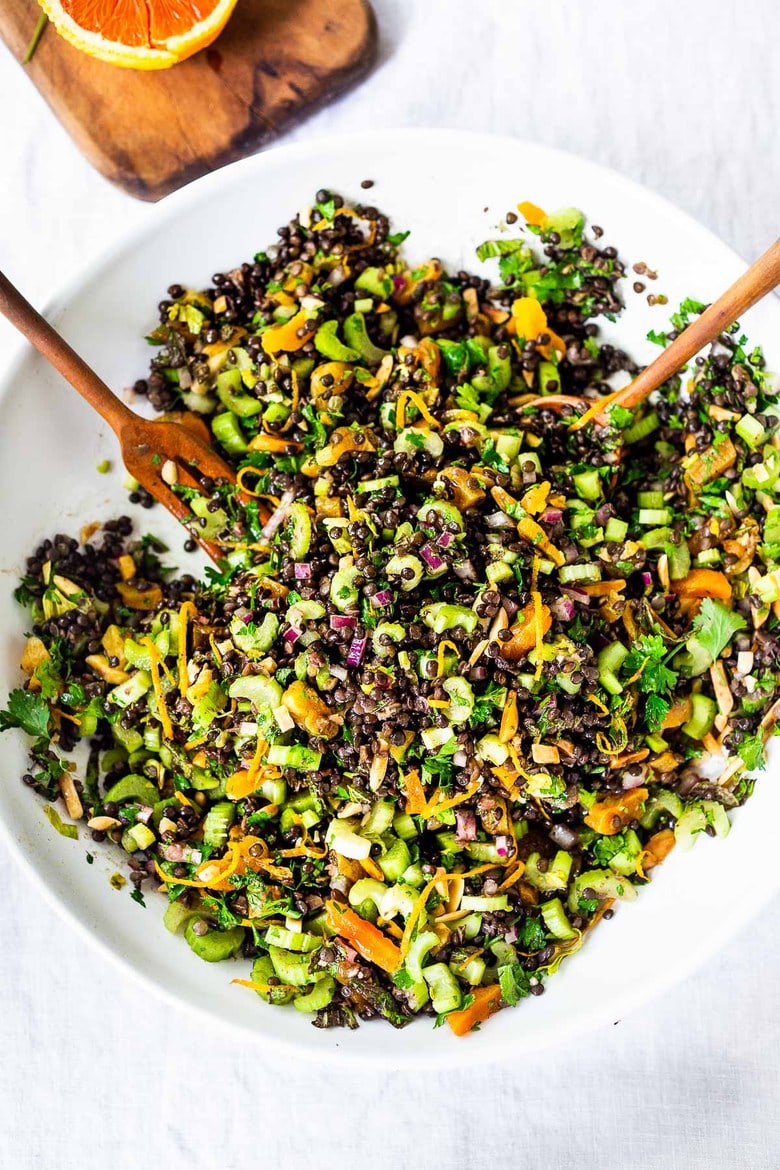 A delicious Lentil Salad infused with Moroccan Spices, this healthy vegan lentil salad can be made ahead and keeps for 4 days, perfect for healthy midweek lunches!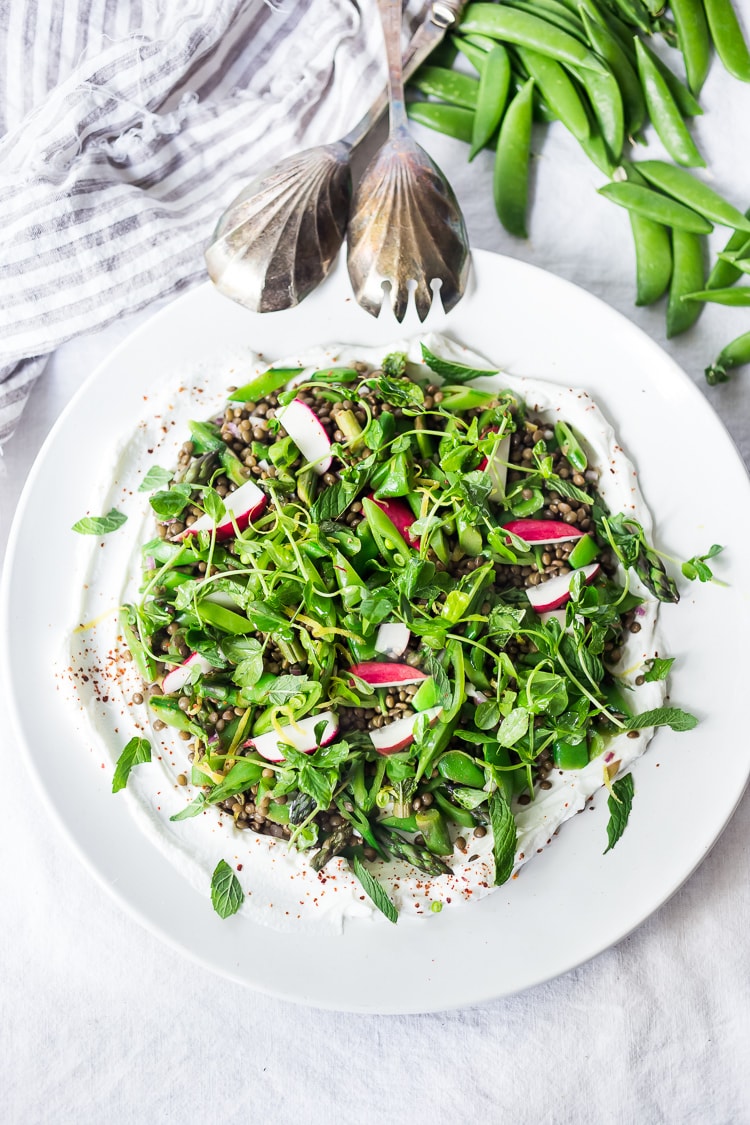 Springy Lentil Salad with Spring Veggies, Mint and Yogurt Sauce -a delicious, healthy, Greek-inspired lentil salad recipe! Vegan adaptable and Gluten-Free!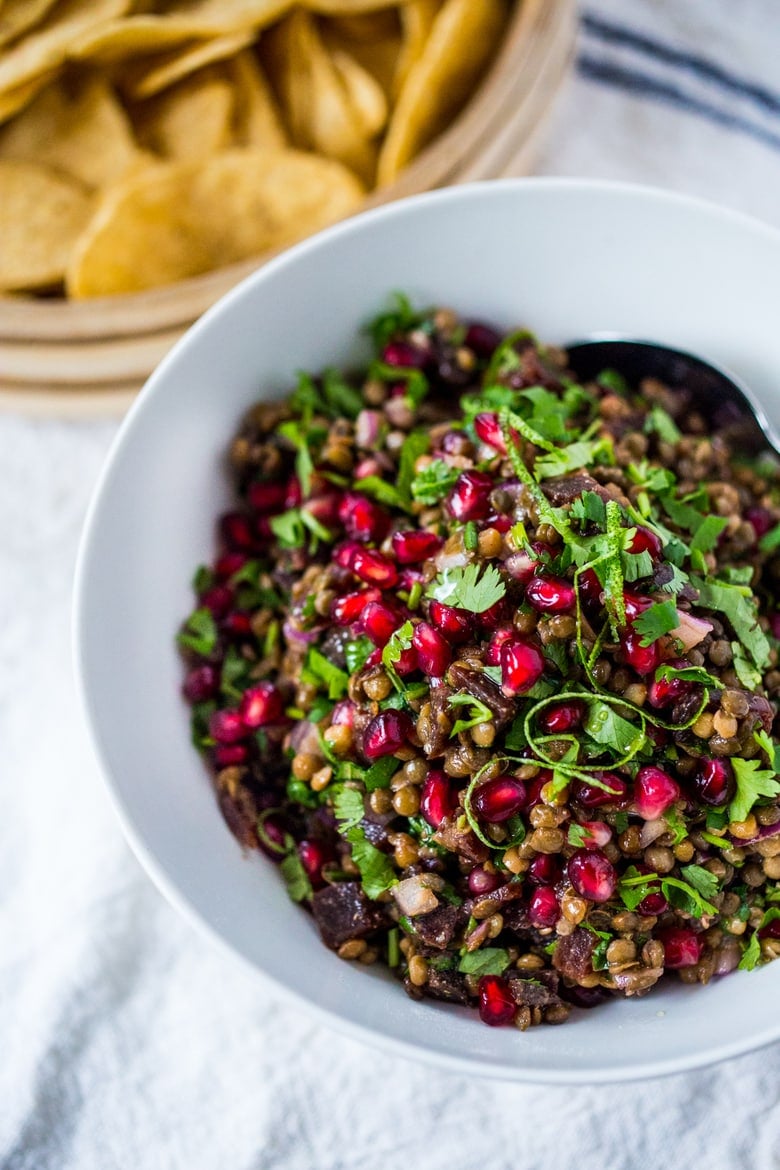 Lentil Pomegranate Salad (aka Palouse Caviar) A take on Texas Caviar, this Vegan Lentil Dip (or Salad) aka Palouse Caviar is made black caviar lentils, pomegranate, avocado, lime. Served it with corn chips for a festive, healthy, vegan GF appetizer or over greens for a hearty vegan salad!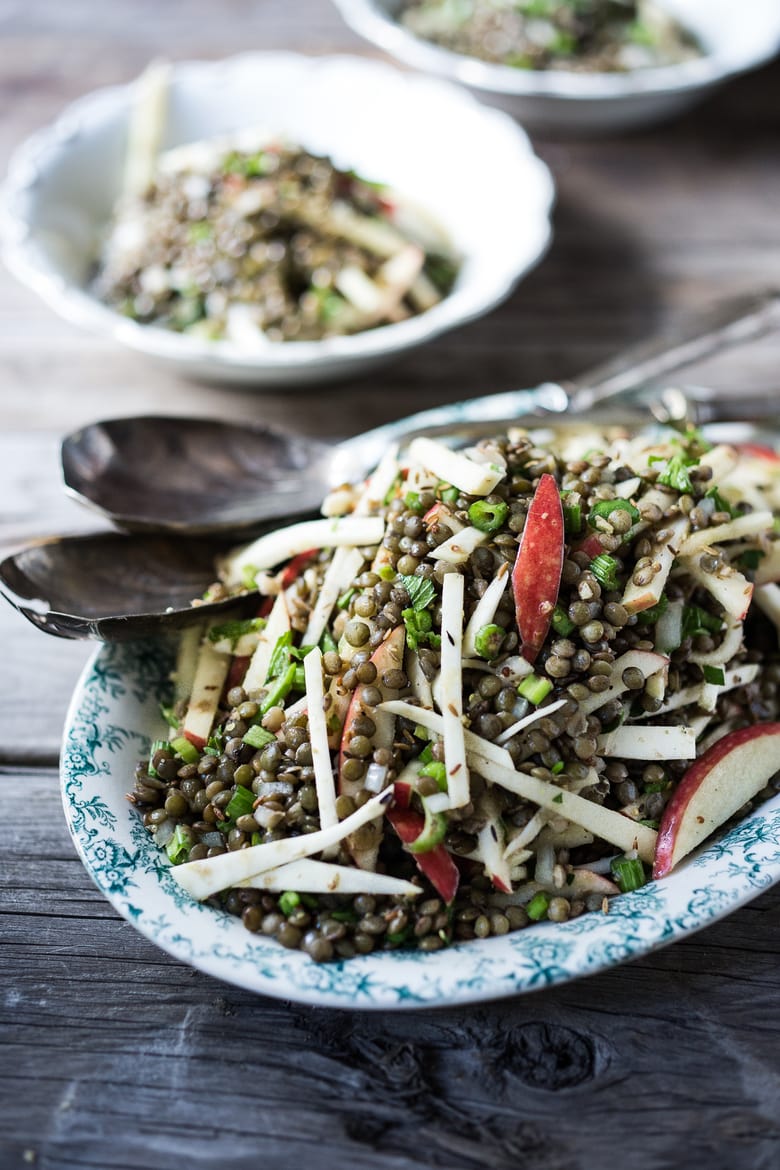 Lentil Salad with apples, walnuts, celery root and a delicious, toasted Cumin Seed Dressing. This healthy vegan salad can be made ahead for midweek lunches or potlucks and gatherings.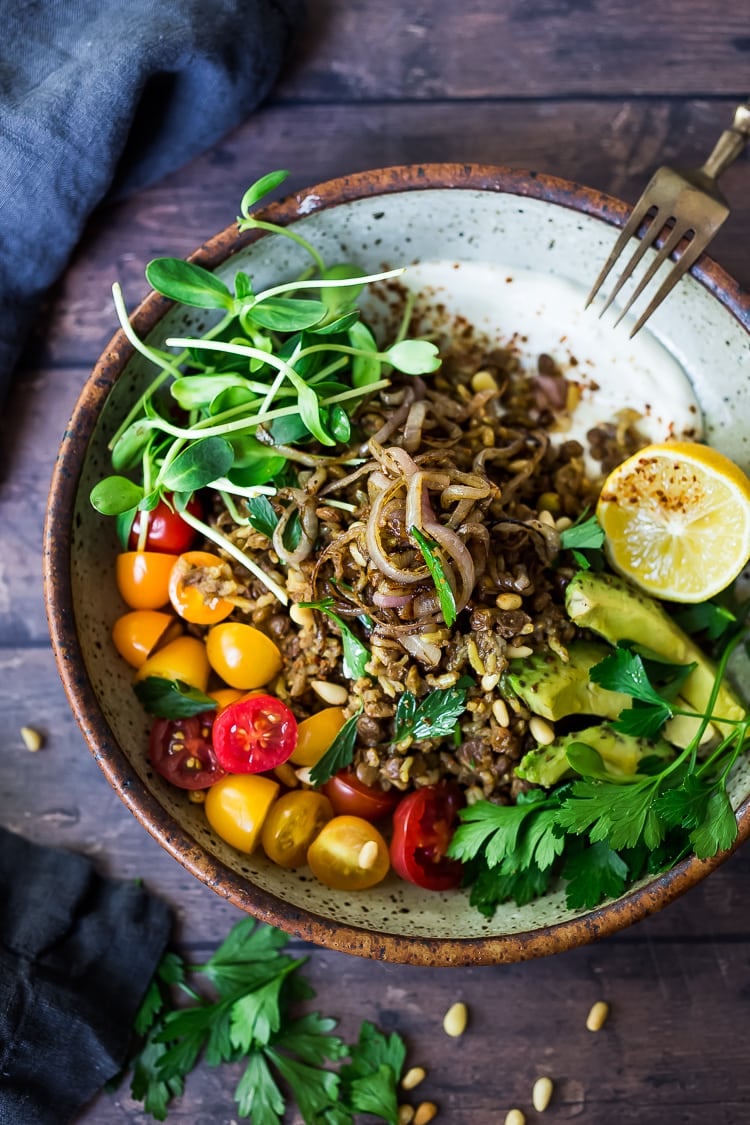 Instant Pot Mujadara – a comforting, healthy vegetarian meal of lentils and rice, with fragrant Moroccan spices, served with caramelized shallots, fresh veggies, pine nuts and optional yogurt. Gluten-free and Vegan adaptable.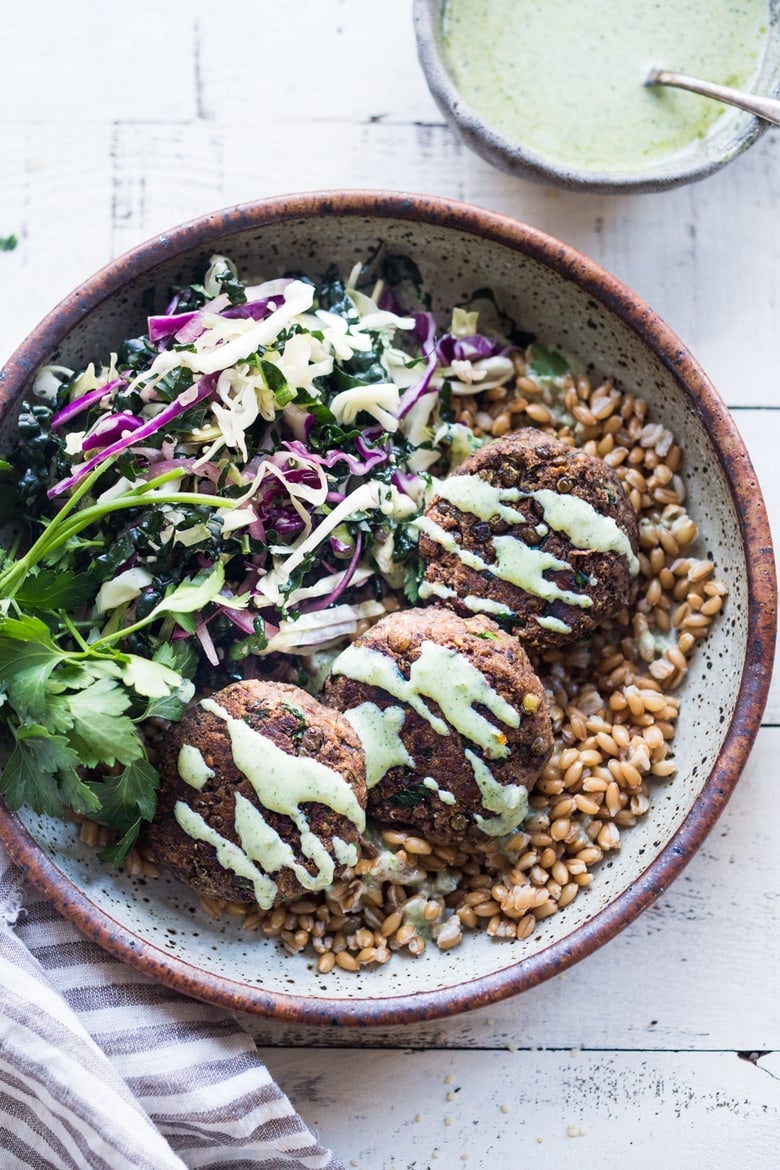 These vegan Lentil Cakes are made with walnuts and mushrooms and topped with flavorful Zhoug yogurt. Healthy and flavorful this lentil recipe is hearty and full of flavor.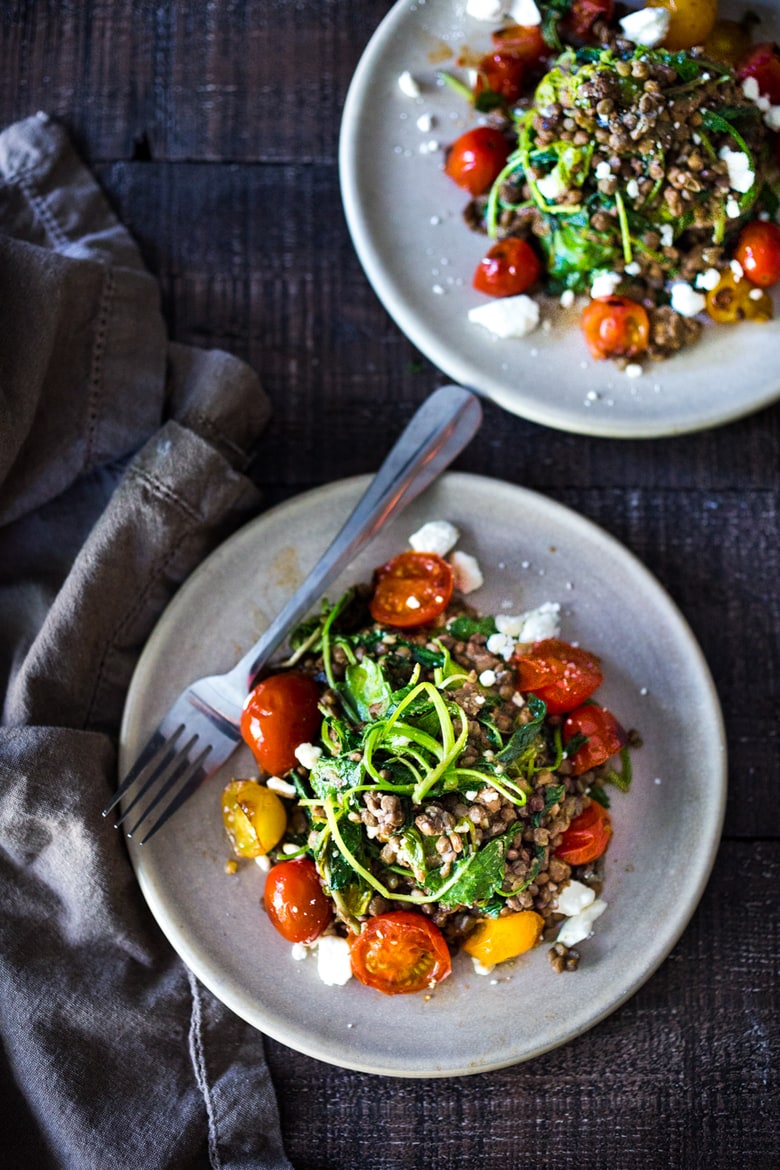 Lentils with Blistered Tomatoes and Kale– a simple vegetarian lentil recipe seasoned with Middle Eastern spices & topped with feta. Healthy, tasty!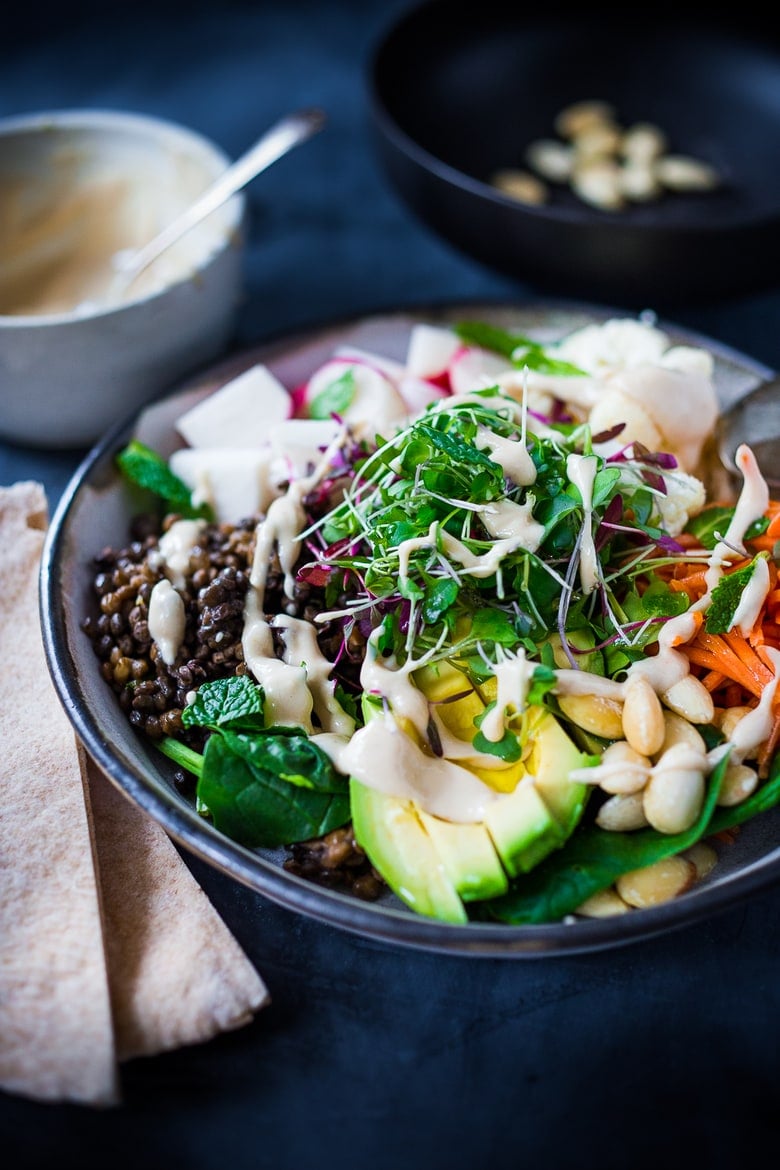 Vegan Lentil Bowls with Tahini Dressing loaded up with seasonal veggies, greens, sprouts, almonds, avocado, fresh mint, and the best tahini sauce! Vegan and GF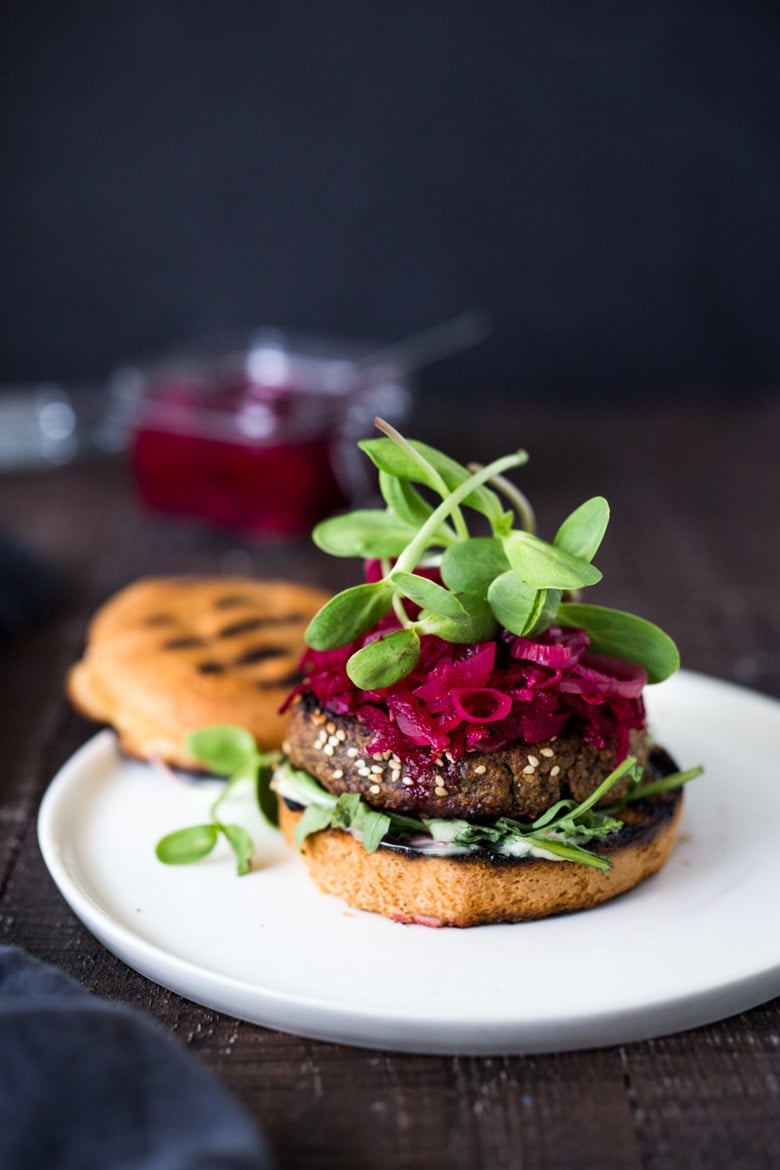 Sprouted Lentil Burgers– these healthy guys are GRILLABLE, vegan and gluten-free adaptable. Here they are topped with pickled beets. A healthy delicious recipe, great for meal prep!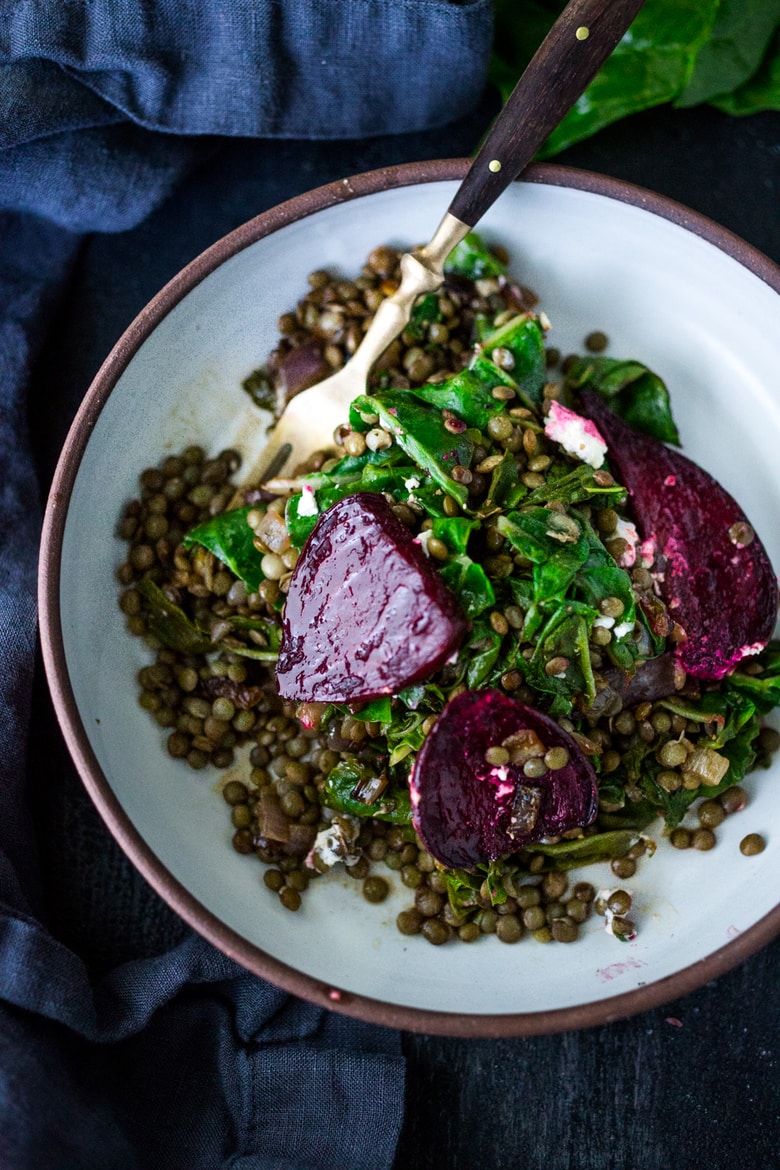 Warm Lentils with wilted chard, roasted beets, goat cheese, and spring herbs. A simple tasty vegetarian meal!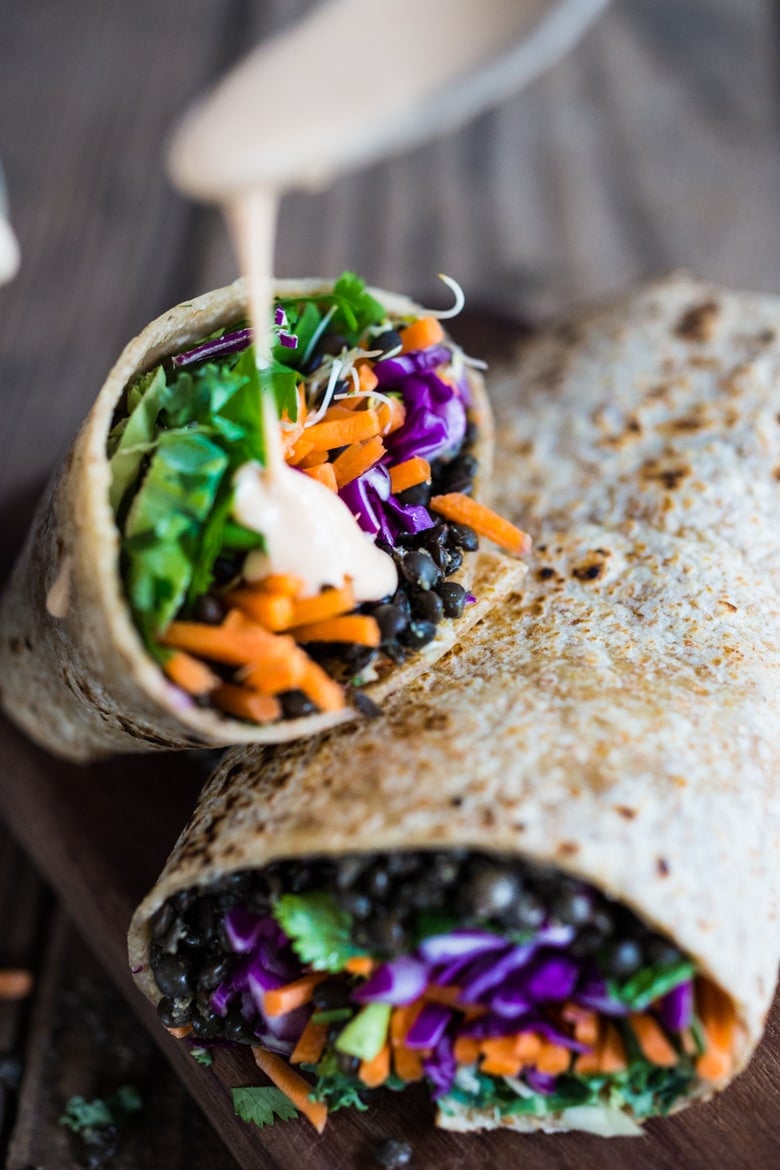 Spicy Tahini Lentil Wrap with avocado, carrots, cabbage, and the tastiest Sriracha Tahini Sauce. Vegan and Delicious!
Types of Lentils
There are so many different types of lentils, in all sizes and colors!
Brown Lentils: These are the most common type of lentils with a mild flavor and firm texture. They hold their shape well when cooked and are versatile for soups, stews, salads, and side dishes.
Green Lentils: Similar to brown lentils, green lentils have a slightly peppery flavor and retain their shape after cooking. They are great for salads and hearty dishes like lentil soups or casseroles.
Red Lentils: These lentils cook quickly and have a soft texture when cooked, making them perfect for soups, stews, curries, and dals. Red lentils have a mild flavor and are often used in Indian and Middle Eastern cuisines.
French Lentils (Lentils du Puy): These lentils have a dark green or blue-gray color and a nutty flavor. They hold their shape when cooked and are often used in salads, side dishes, and as a base for vegetarian main courses.
Black Lentils (Beluga Lentils): These small, shiny lentils resemble caviar and have a rich, earthy flavor. They hold their shape well when cooked and are popular in salads, lentil soups, and lentil-based veggie burgers.
Yellow Lentils (Split Peas): Although technically not lentils, yellow lentils, also known as split peas, are commonly used in cooking. They have a mild, sweet flavor and are often used in soups, stews, and dal recipes.
Health Benefits of Lentils
Lentils offer numerous health benefits, but here are the top three:
High in Fiber: Lentils are an excellent source of dietary fiber, both soluble and insoluble. This fiber content aids in digestion, and promotes a feeling of fullness, which can aid in weight management.
Rich in Plant-Based Protein: Lentils are a great source of plant-based protein, making them an excellent protein option for vegetarians and vegans. They contain all essential amino acids, making them a complete protein source.
Packed with Nutrients: Lentils are packed with essential vitamins and minerals, including iron, folate, zinc, potassium, and magnesium. Iron is crucial for transporting oxygen in the body and preventing iron-deficiency anemia. Folate is necessary for DNA synthesis and cell division, making it crucial during pregnancy. Potassium is essential for maintaining healthy blood pressure levels, and magnesium is important for bone health and energy production.
In addition to these benefits, lentils also have a low glycemic index, which means they have a minimal impact on blood sugar levels. They are also a good source of antioxidants and can promote heart health by reducing the risk of coronary artery disease.
How to cook Lentils
Cooking lentils is simple and can be done on the stovetop or in a pressure cooker or Instant Pot. Here's a basic stovetop method:
Rinse the lentils: Place the lentils in a fine-mesh strainer and rinse them under cold water to remove any debris or impurities.
Cook the lentils: In a medium-sized pot, combine 1 cup of lentils with 3 cups of water or broth. Bring to a boil, then reduce the heat to low and simmer for about 20-30 minutes, or until the lentils are tender. You can check for doneness by tasting a few lentils. Be careful not to overcook them, as they can become mushy.
Note: Cooking times may vary depending on the type and size of lentils you are using, so it's always a good idea to check the packaging instructions for specific cooking times and ratios of lentils to water.
If you are using a pressure cooker or Instant Pot, you can follow the manufacturer's instructions for cooking lentils. Typically, you would use a 1:2 ratio of lentils to water or broth and cook them at high pressure for about 8-10 minutes (depending on their size), with a natural pressure release.
More recipes you may like:
Lentil Bolognese | 60-sec Video!
Print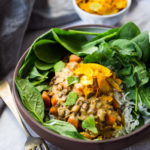 30 Amazing Lentil Recipes (Coconut Lentil Curry)
Prep Time:

15

Cook Time:

25

Total Time:

40 minutes

Yield:

6

1

x

Category:

lentils, lentil recipes

Method:

stovetop, instant pot

Cuisine:

American
---
Description
A collection of our 30Best Lentil Recipes- whether you are looking for wholesome lentil dinner recipes,  cozy lentil soups and stews, or fresh and healthy lentil salads and sides, we have you covered: Coconut Lentil Curry.
---
1

–

2

tablespoons coconut oil, or ghee (ghee tastes best!)

1

onion, diced

6

garlic cloves, rough chopped (

3

–

4

tablespoons)

2 tablespoons

ginger root, finely chopped

2

cups

carrots, diced (or sub 1 cup celery)

1 tablespoon

cumin (seeds or ground)

2 teaspoons

coriander ( seeds or ground)

2 teaspoons

salt

1 1/2 teaspoons

ground turmeric ( or

1 tablespoon

fresh grated)

1 teaspoon

paprika (not smoked, or sub chili powder)

2 teaspoon

dried fenugreek leaves (optional, but elevates)

1 teaspoon

garam masala

1/2 teaspoon

nutmeg

1/4

–

3/4

teaspoon cayenne (or chili flakes) more to taste

1 tablespoon

tomato paste ( or add

1

small-medium diced tomato)

2

cups

water

1

cup

brown lentils (or large green- do not use split)

13.5 ounce

can coconut milk
To further elevate: add 1 teaspoon black mustard seeds and 1 teaspoon fennel seeds.
Optional Additions: baby spinach, cilantro, turmeric toasted coconut, fresh tomatoes, avocado slices, fresh chilies, naan bread, fluffy basmati rice.
---
Instructions
Heat oil in a large dutch oven or heavy bottom pot.
Saute onion over medium-high heat until fragrant and golden, 4-5 minutes. Add garlic, ginger and carrots and cook another 3 minutes until you smell the garlic. Add salt, spices, tomato paste and stir for 1-2 minutes.
Add the water, scraping up the browned bits. Add an additional ¼ cup water (so a total 2 ¼ cups water)  and the lentils. Bring to a boil, cover, then simmer on low heat until lentils are cooked through, about 15-25 minutes (depending on the size of the lentils).
Stir in the coconut milk. Adjust heat to taste ( adding more cayenne or chili flakes. )
Serve over basmati rice or baby spinach.
---
Notes
Lentil curry will keep up to 4 days in the fridge.
Nutrition
Serving Size:

1 cup lentils

Calories:

220

Sugar:

3.2 g

Sodium:

628.1 mg

Fat:

18.8 g

Saturated Fat:

15.6 g

Carbohydrates:

29.8 g

Fiber:

16

Protein:

18

Cholesterol:

5.1 mg
Keywords: best lentil recipes, easy lentil recipes, healthy lentil recipes, lentil recipes, how to cook lentils, easy lentil recipe, vegan lentil recipe, best lentil recipes, lentil recipes, vegan lentil recipes, vegetarian lentil recipes, best lentil recipes, healthy lentil recipes, red lentil recipes,