Here are our most popular, TOP 20 PLANT-BASED Recipes, that are all veggie-loaded, and vegan adaptable – perfect for households who have vegans, vegetarians and meat-eaters all living under the same roof.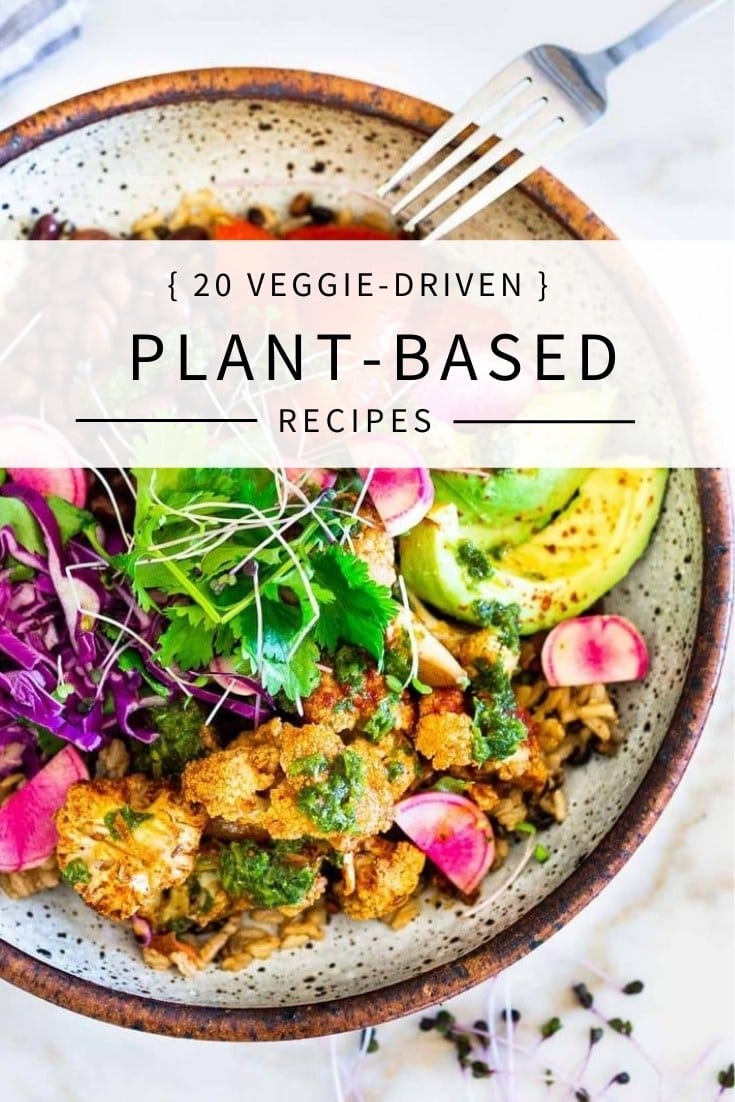 Fall down seven times, get up eight. Life starts from here.
~Japanese proverb~
Today is the perfect time to realign ourselves with our health goals and give our bodies some much-needed love. Whether that means eating more fresh vibrant fruits and veggies, cutting back on sweets or processed foods, or just cooking more from scratch… you know what you need to feel alive and energized.
Whether you are new to the Plant-Based Diet, or a seasoned veteran, here are some healthy, Plant-Based Recipes to help get you started and inspired!
Pick out a couple of these healthy, energizing, plant-based recipes to try this week. Print them out, make a list, go shopping (or order online) and make a plan! (Enter this code: SFOUNTAINE144144 for $10 off!)
Then imagine how energized and alive your body will feel. This truly is a gift of love, for ourselves and for our families.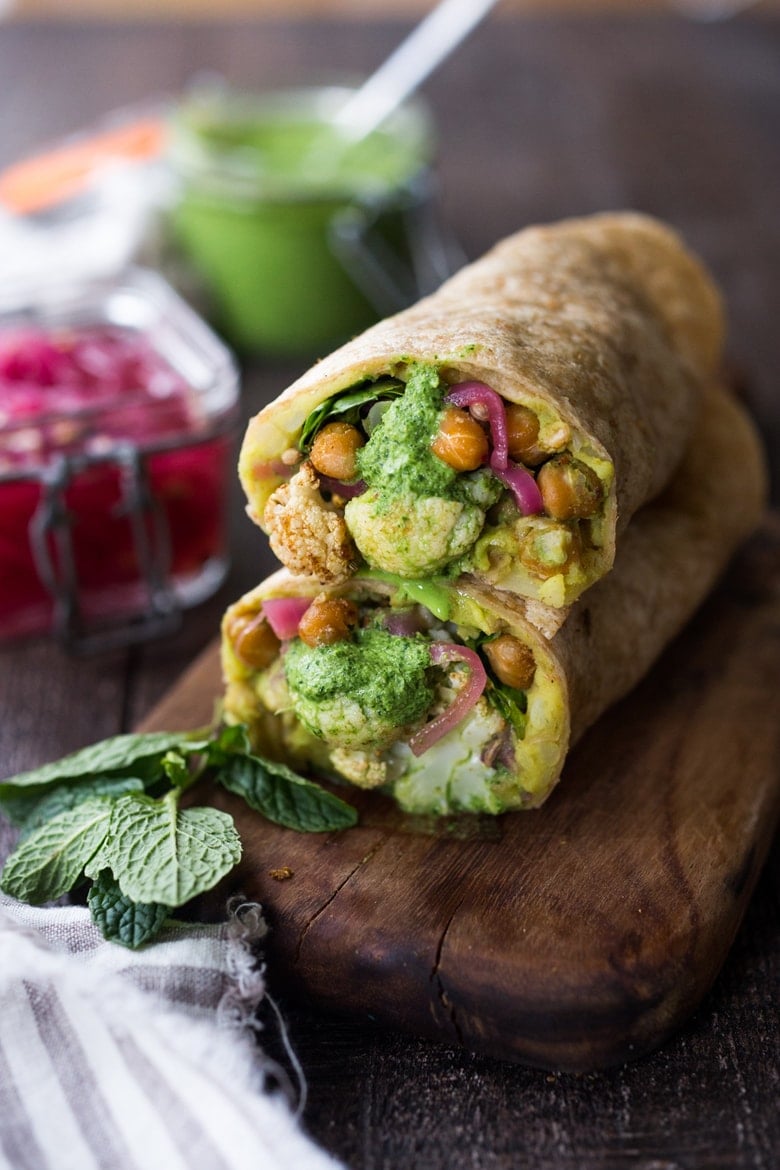 FRANKIES! India's flavorful street food -also called a Bombay Burrito, made healthy! This vegan plant-based recipe is bursting with so much flavor- filled with curry mashed potatoes, roasted Indian cauliflower, chickpeas, fresh spinach, cilantro mint chutney and pickled onions. Absolutely delicious! Vegan adaptable!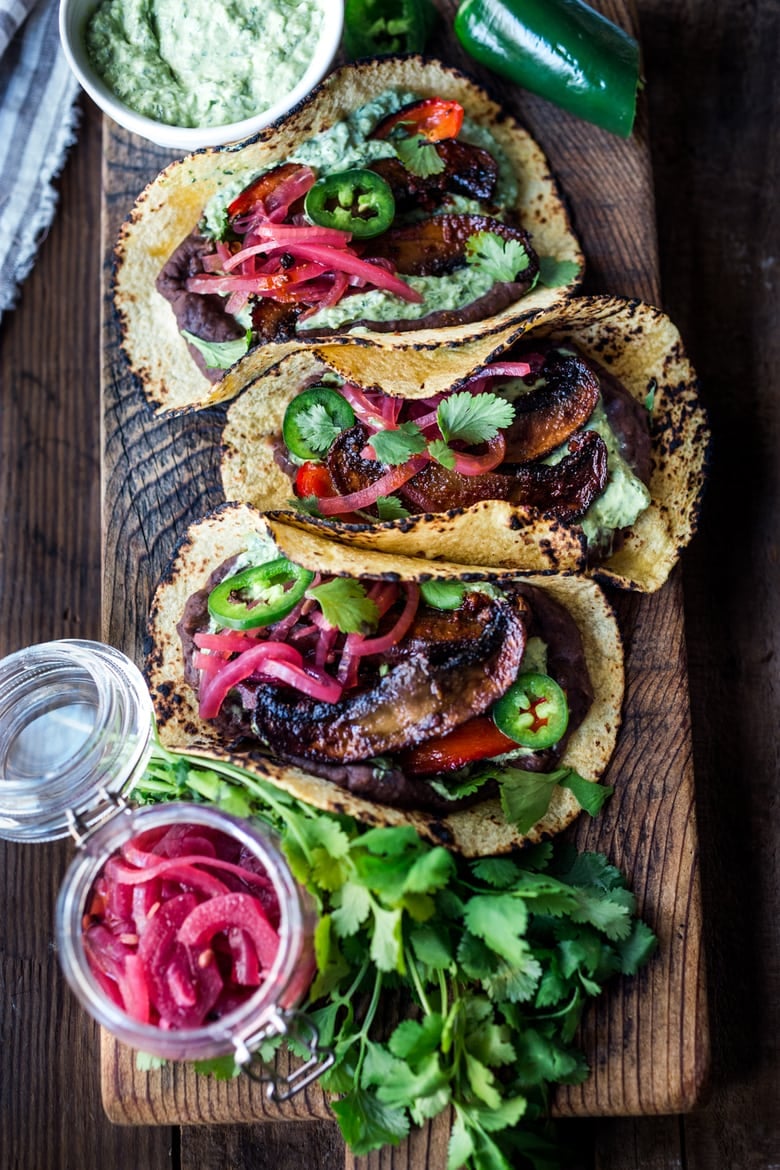 Sheet-Pan, Chipotle Portobello Tacos – smoky, spicy and "meaty", these PLANT-BASED tacos are sure to satisfy even the most diehard meat-lovers! Make them in 30 minutes! Sooooooo Tasty! All plants!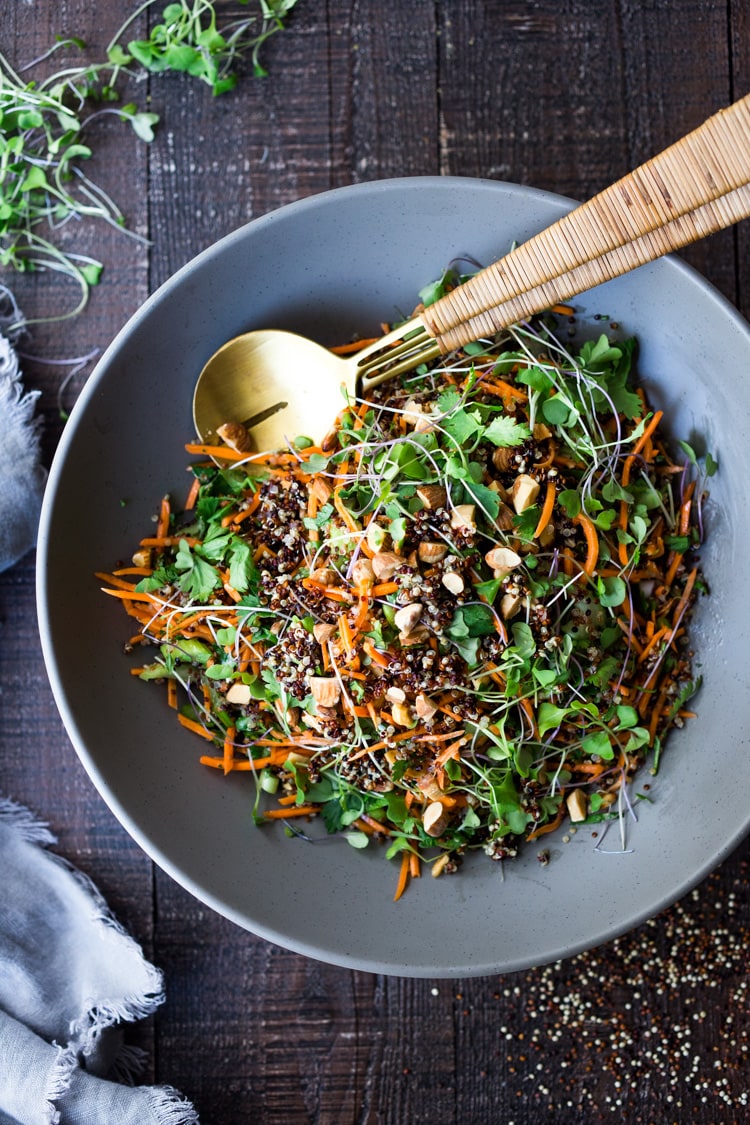 Carrot Quinoa Salad with almonds, cilantro and a raw Apple Cider Vinaigrette- a delicious plant-based vegan salad that can be made ahead, perfect for midweek lunches.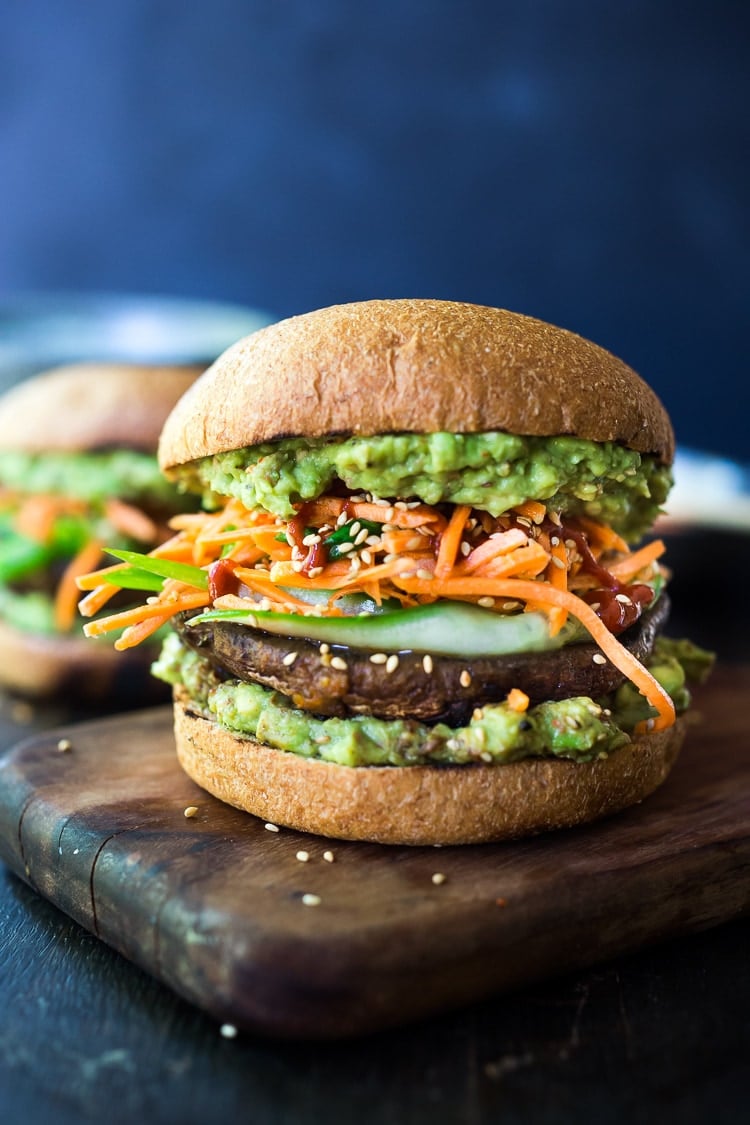 This Asian-style, grilled, vegan Portobello Mushroom Burger is full of delicious umami flavor! It's lathered with an Asian-style Guacamole, topped with a cool cucumber ribbon salad and crunchy carrot slaw. So much flavor and texture here! Healthy, delicious and really satisfying. AND totally vegan!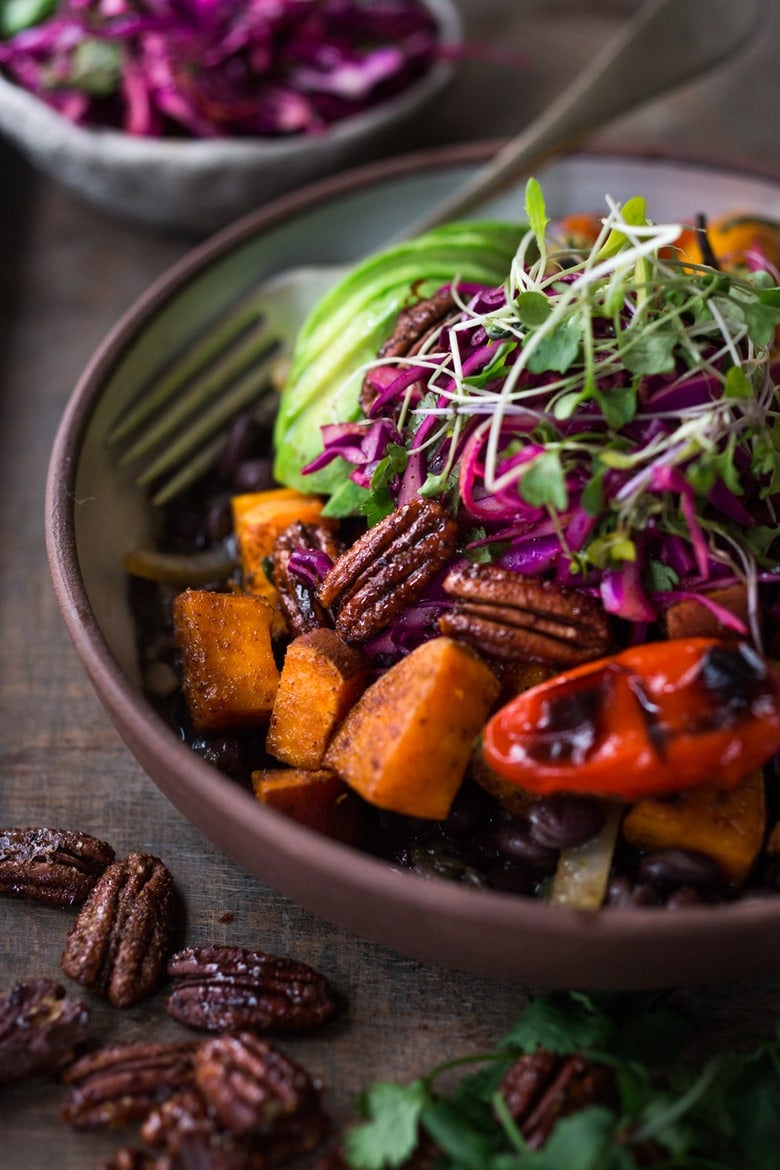 Spicy Vegan Oaxacan Bowl Here's a healthy, flavorful Mexican -style Oaxacan Bowl with roasted chipotle sweet potatoes and sweet peppers over a bed of warm seasoned black beans. It's topped with crunchy cabbage slaw, avocado and my favorite thing ever, toasted Chipotle Maple Pecans. Vegan and grain-free, hands down, this bowl is my new favorite!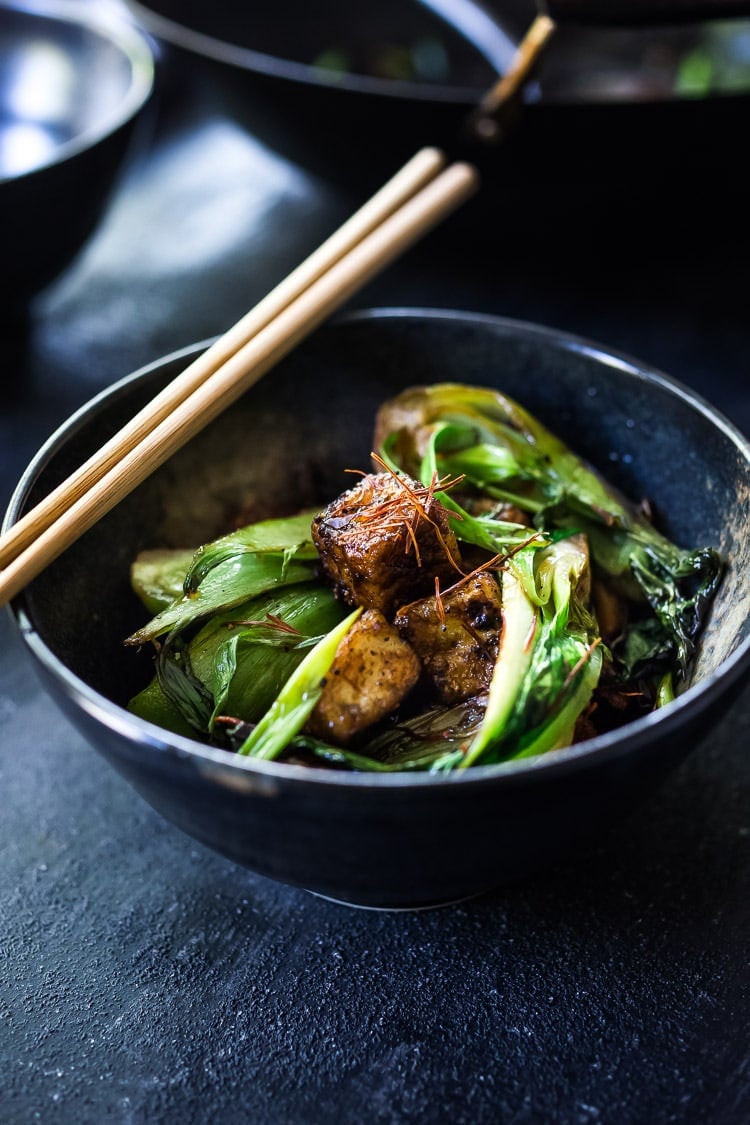 A flavorful recipe for Black Pepper Tofu with Bok Choy – a super tasty vegan meal that can be made in under 30 minutes! Make this for someone who is a tofu "skeptic", you'll win them over, guaranteed!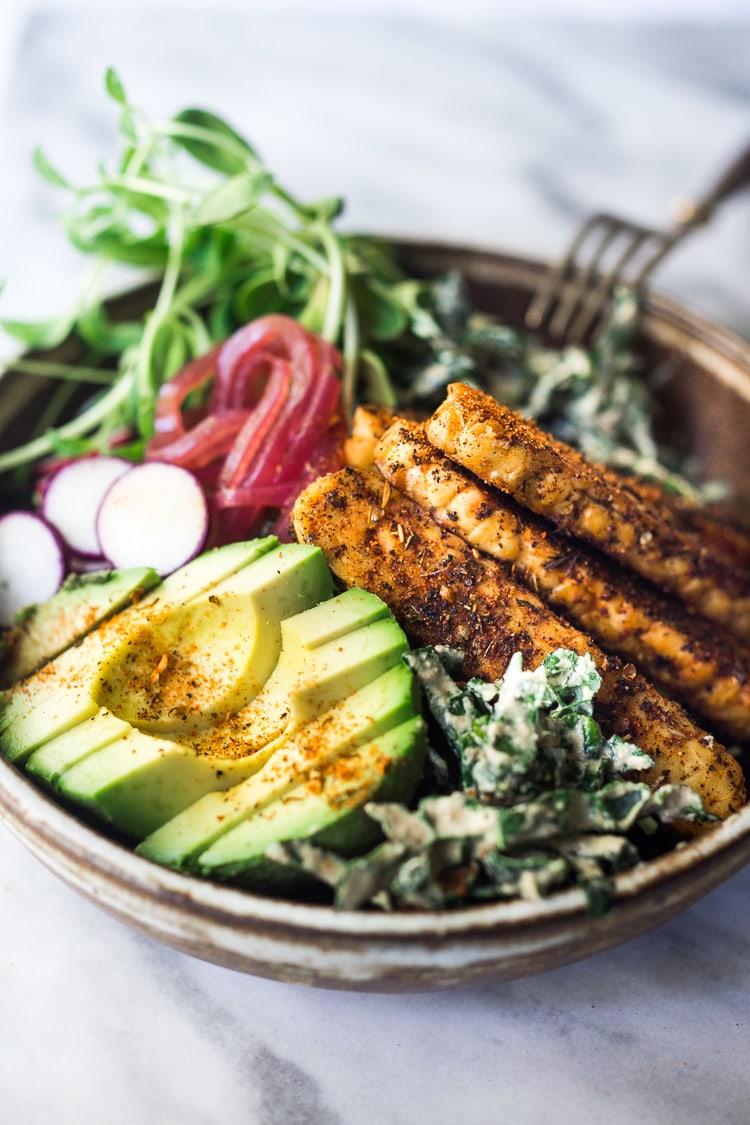 Blackened Tempeh Bowl with Avocado, Kale, Radishes, Pickled Onions and a Creamy VEGAN Cajun Ranch Dressing that can be made into a hearty entree salad, grain bowl, or packable wrap.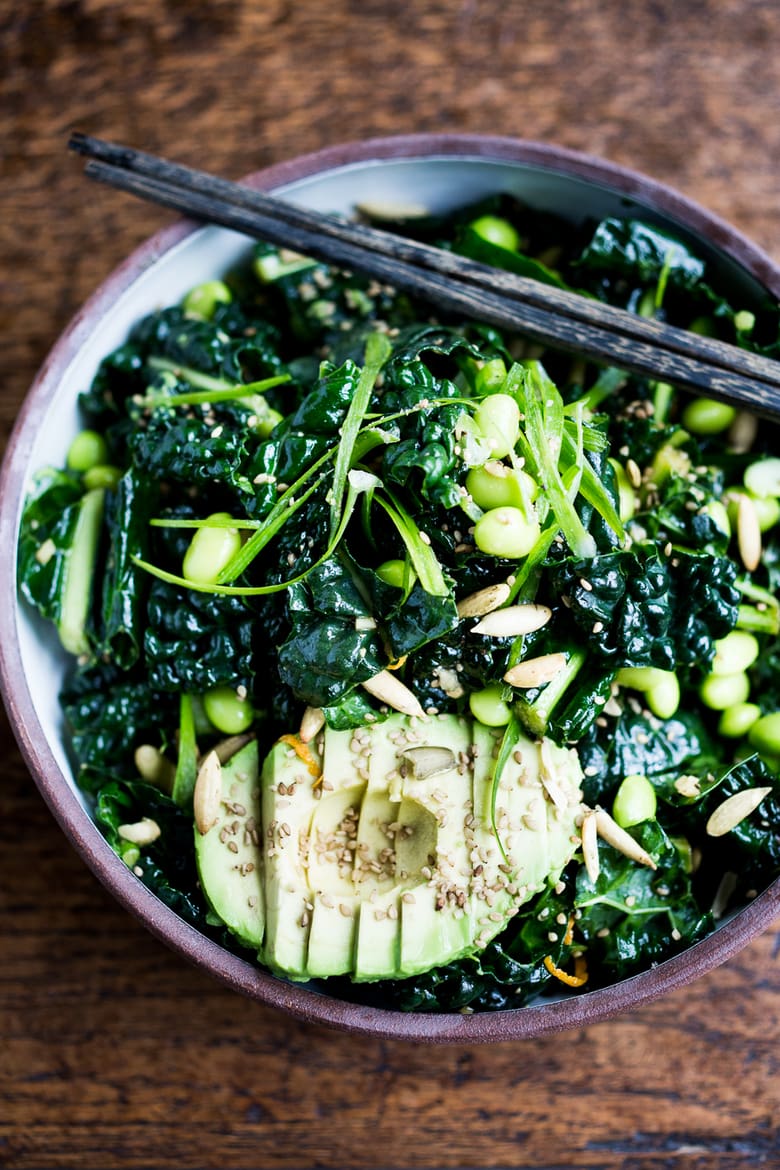 Emerald Kale Salad– Tuscan kale is massaged with an earthy Sesame-Ginger dressing, then tossed with scallions, nuts or seeds, edamame and avocado. It's sprinkled with a generous helping of toasted sesame seeds and a little orange zest. Turn this into dinner by adding sesame baked tofu or shredded chicken. Healthy, light and super tasty this plant-based meal is vegan and gluten-free.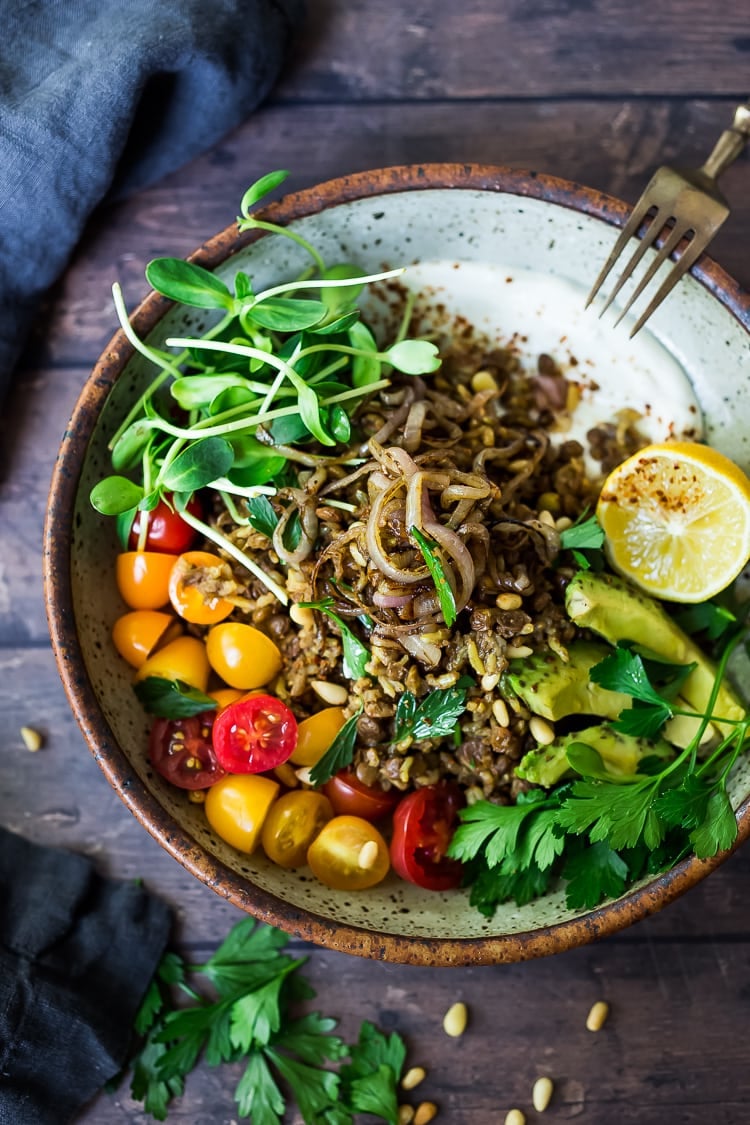 Instant Pot Mujadara – a comforting, healthy vegetarian meal of lentils and rice, with fragrant Middle Eastern spices, served with caramelized shallots, fresh veggies, pine nuts and optional yogurt. Gluten-free and Vegan adaptable.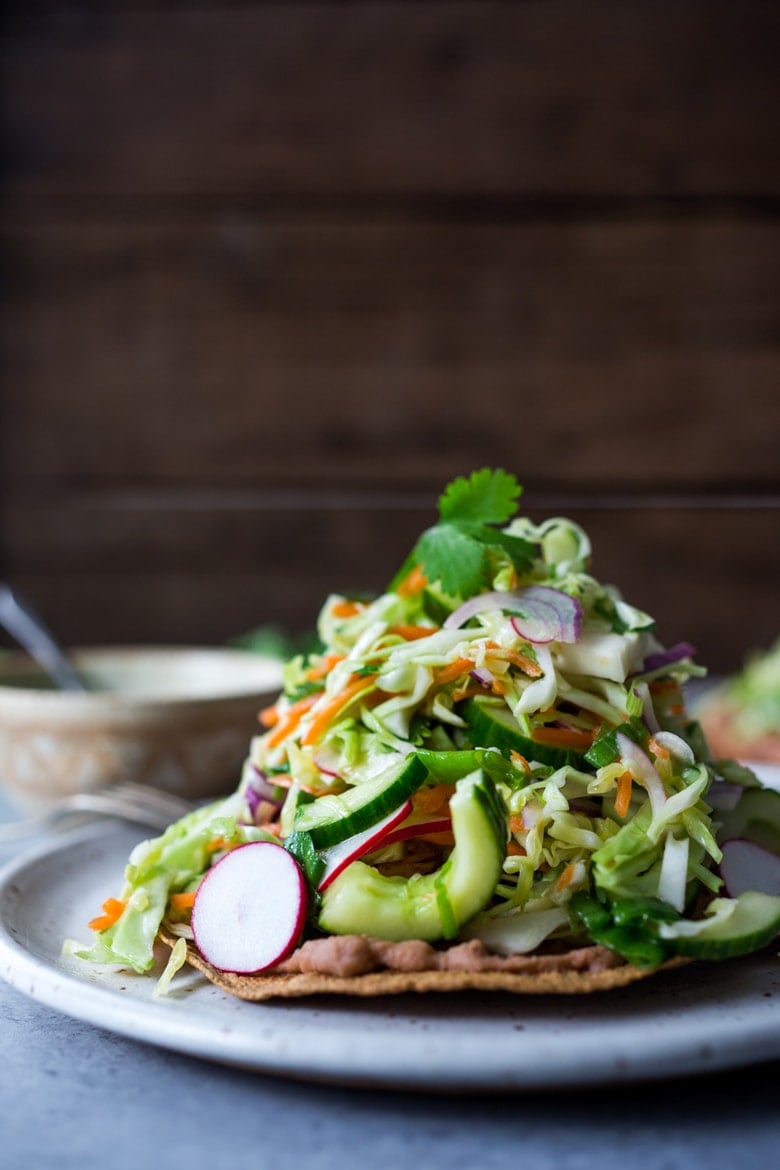 Introducing Tlayudas! Traditional Oaxacan street food, tlayudas are a cross between a tostada and a pizza, made with a crispy tortilla, topped with refried beans, cheese (optional) a mound of Mexican cabbage slaw, avocado and cilantro. This healthy version is vegan and GF adaptable!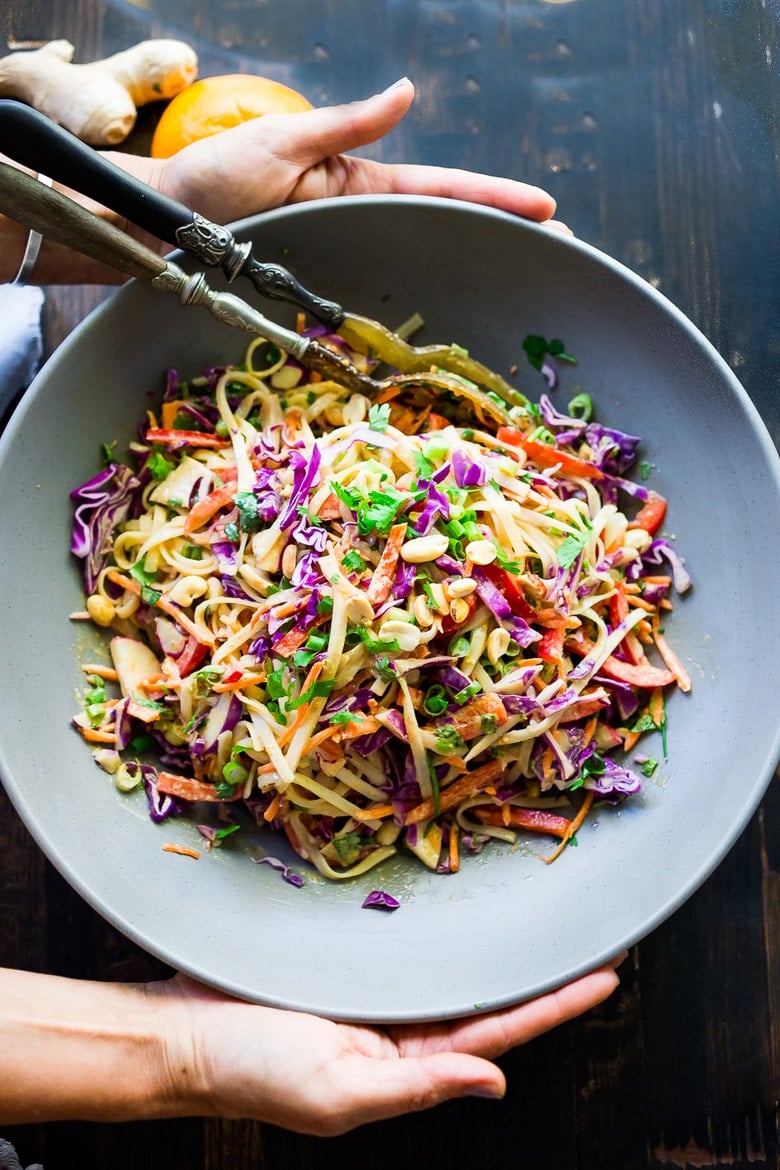 Thai Noodle Salad with Peanut Sauce– loaded up with healthy veggies and the BEST peanut sauce eeeeeeeeeever! ( Feel free to sub almond butter!) Vegan & Gluten-Free, this healthy, plant-based recipe is one of my all-time favorites! YOU WILL LOVE IT, I promise.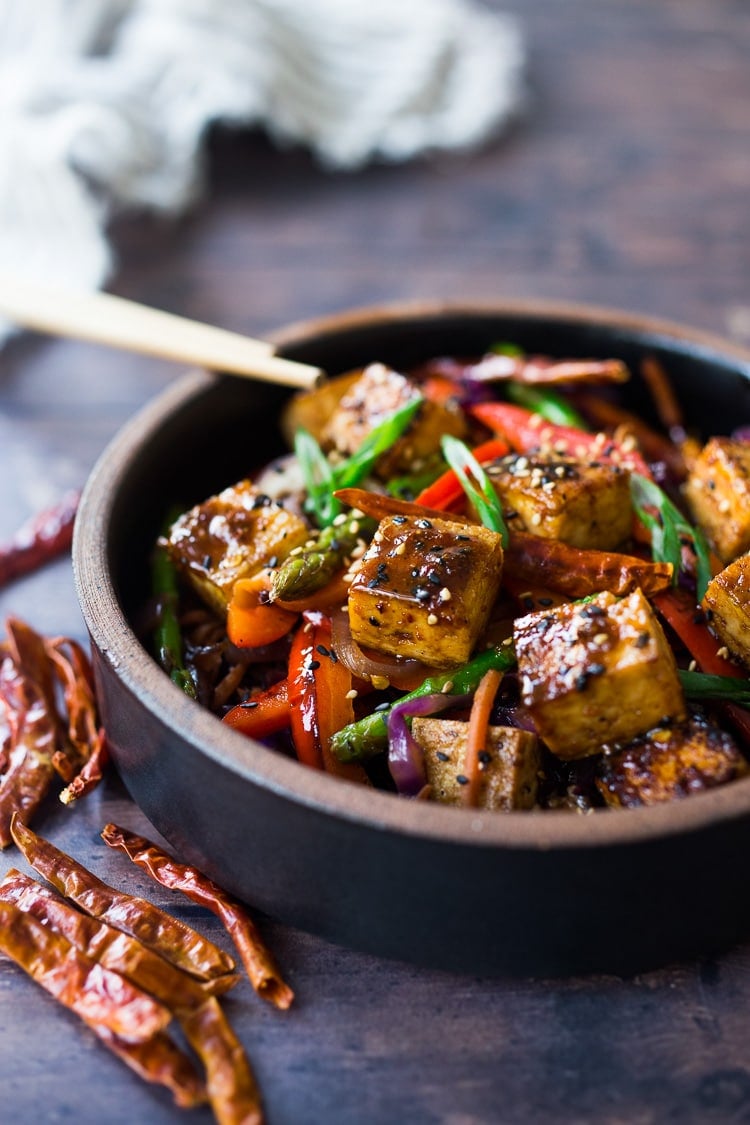 Szechuan Tofu and Veggies! A flavorful vegan stir-fry with crispy tofu, szechuan sauce and loaded up with healthy vegetables! Quick, easy and flavorful!!!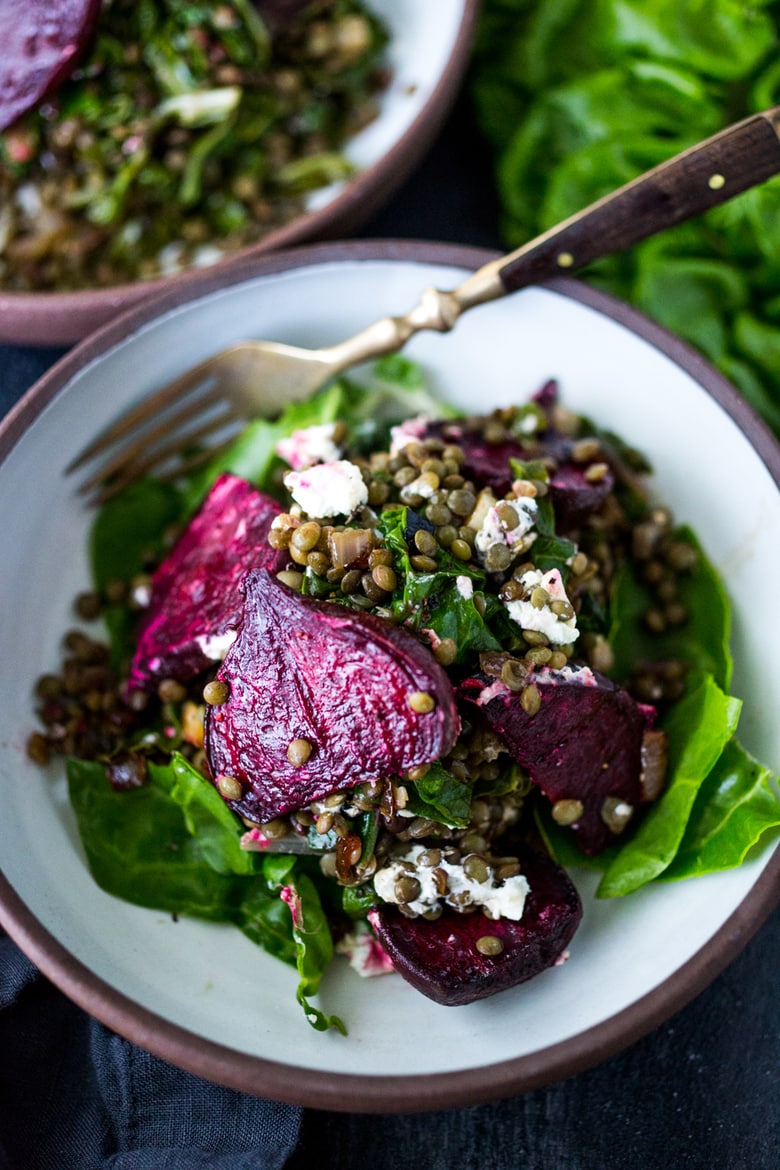 Warm Lentils with Wilted Chard and Beets – a delicious and healthy pairing. Add goat cheese for extra richness, or leave it off for a clean eating vegan version. GF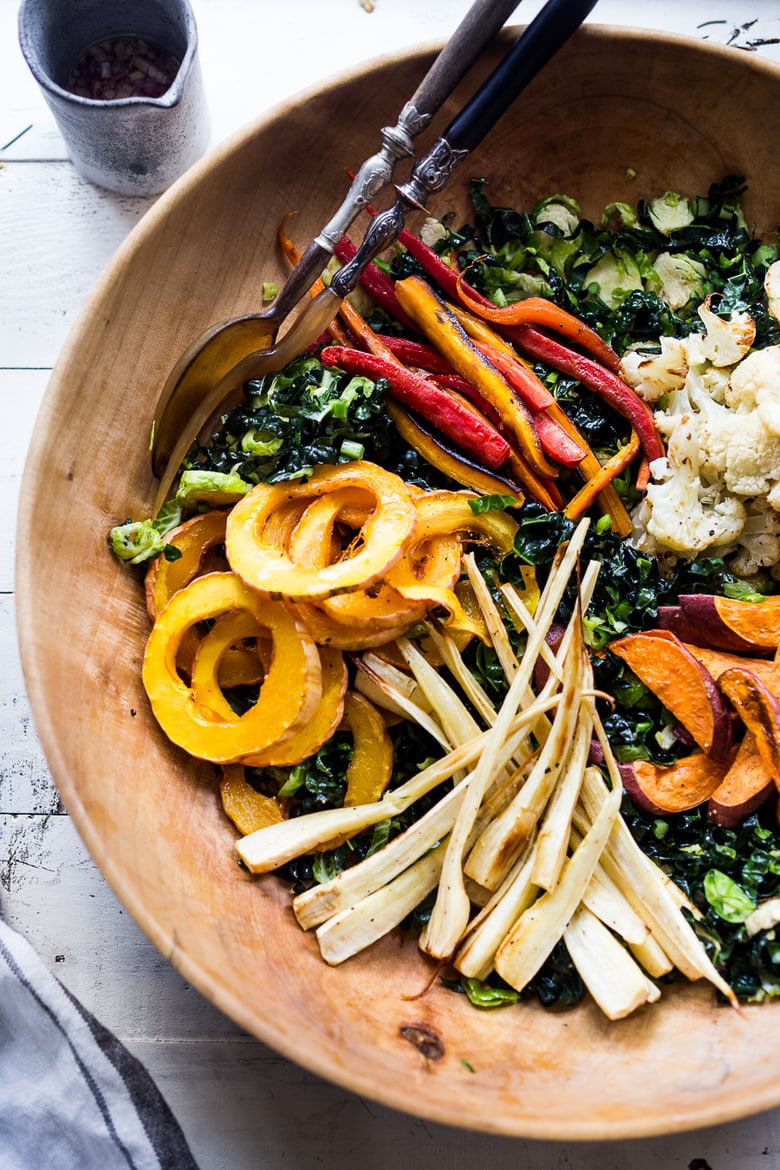 Roasted Vegetable Salad – Roasted veggies are served over a bed of Kale and Brussel Slaw then dressed with Maple Curry Vinaigrette. Super yummy, light and flavorful. Vegan and GF, a delicious clean-eating salad or meal, perfect for fall!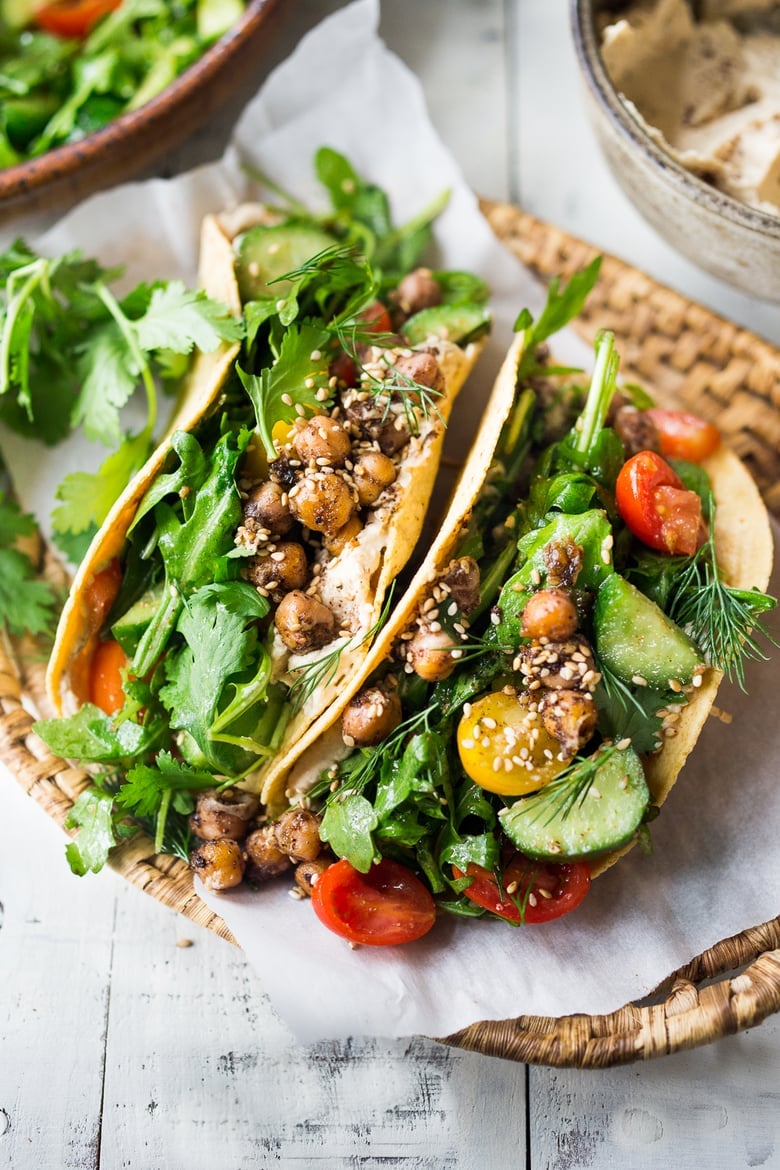 Middle Eastern Salad Tacos– my personal "go-to", in a "great big hurry" clean-eating meal that is loaded with veggies and leaves me feeling energized and satisfied. Vegan and Gf, these easy tasty tacos are packed full of healthy greens. Often I'll leave out the chickpeas, and FYI, they are still good!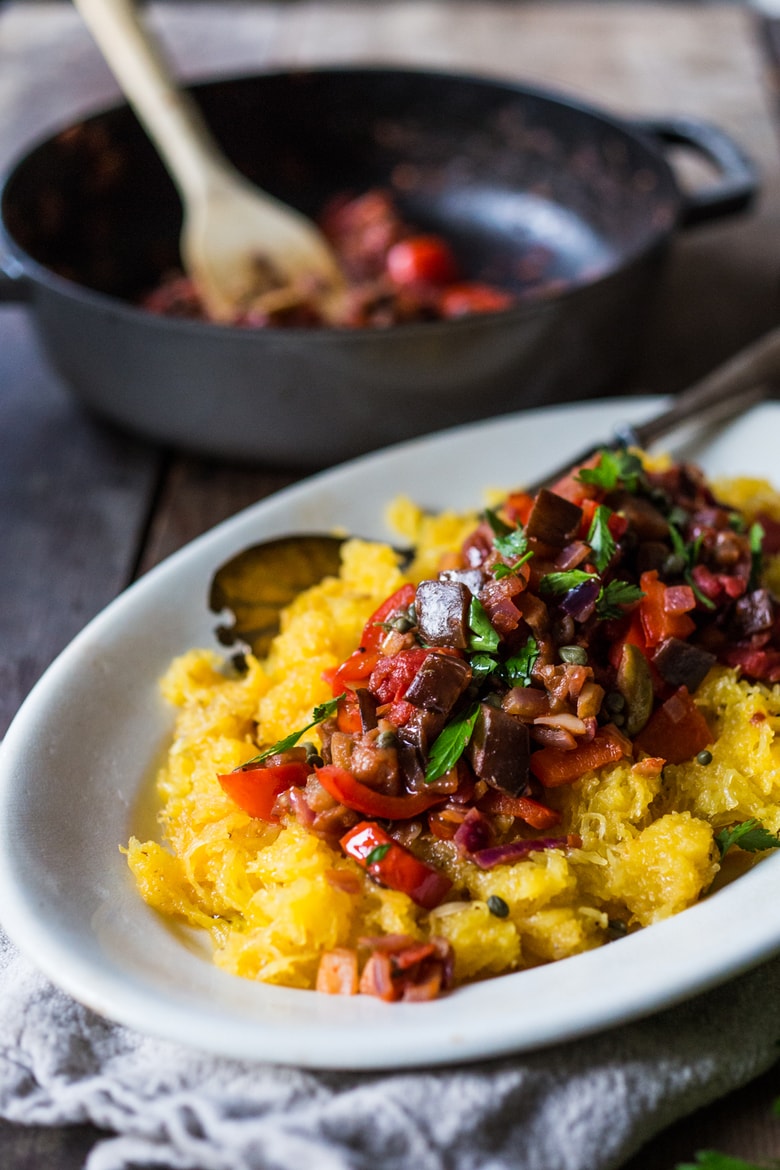 Eggplant Puttanesca with Roasted Spaghetti Squash a rich, robust vegan meal that is low in carbs, keto and gluten-free! Perfect when you are wanting something big and bold and hearty!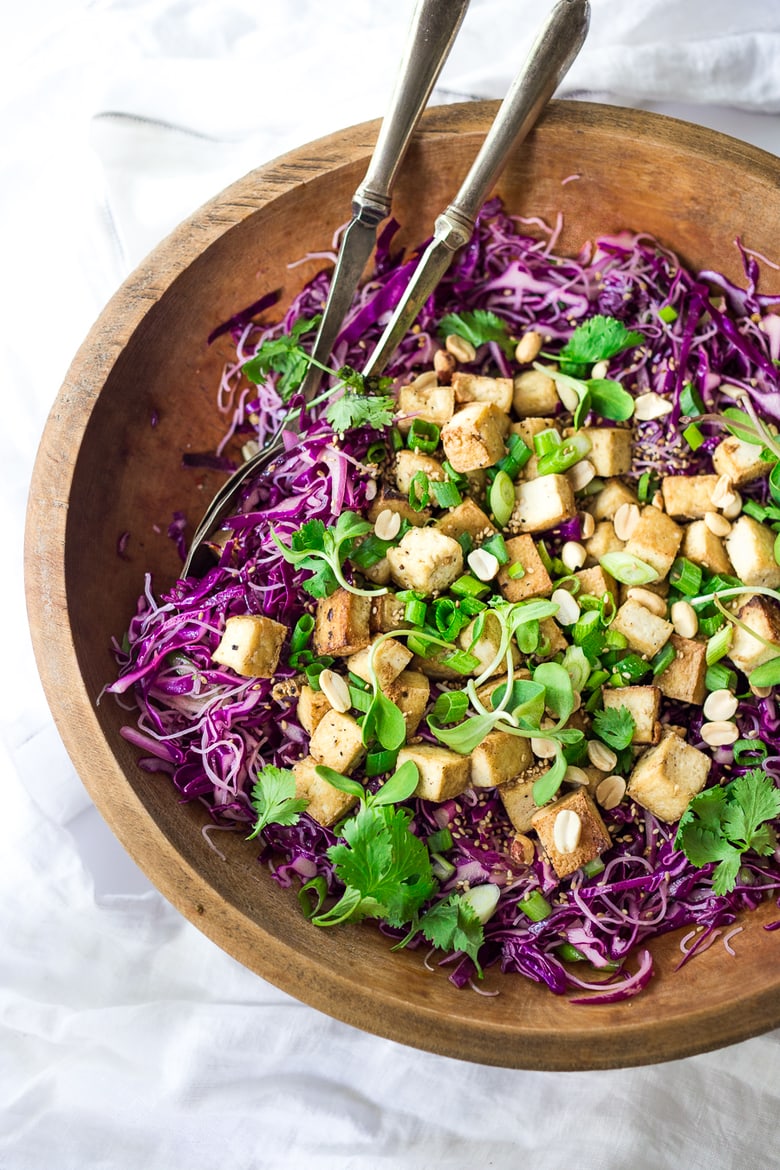 This Sesame Cabbage Noodle Salad is 80% cabbage and 20% rice noodles and can made with chicken or tofu. Simple and delicious. Great for make ahead lunches. Vegan and GF, this simple clean-eating recipe is perfect for midweek lunches and holds well for several days.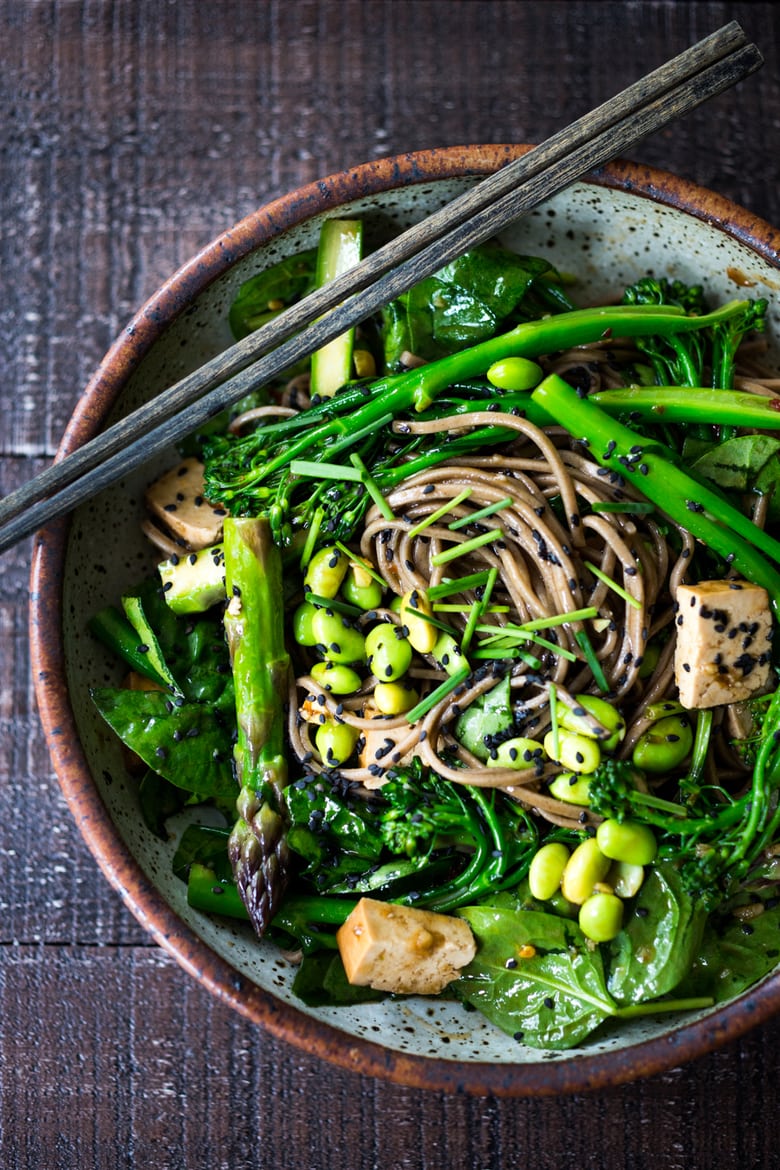 Jade Noodles are loaded up with your choice of seasonal veggies like broccolini, spinach, edemame or asparagus when in season. The key is to use seasonal veggies! Add tofu or chicken if you like with a simple sesame dressing. This plant-based recipe is so versatile and useful, you will love it!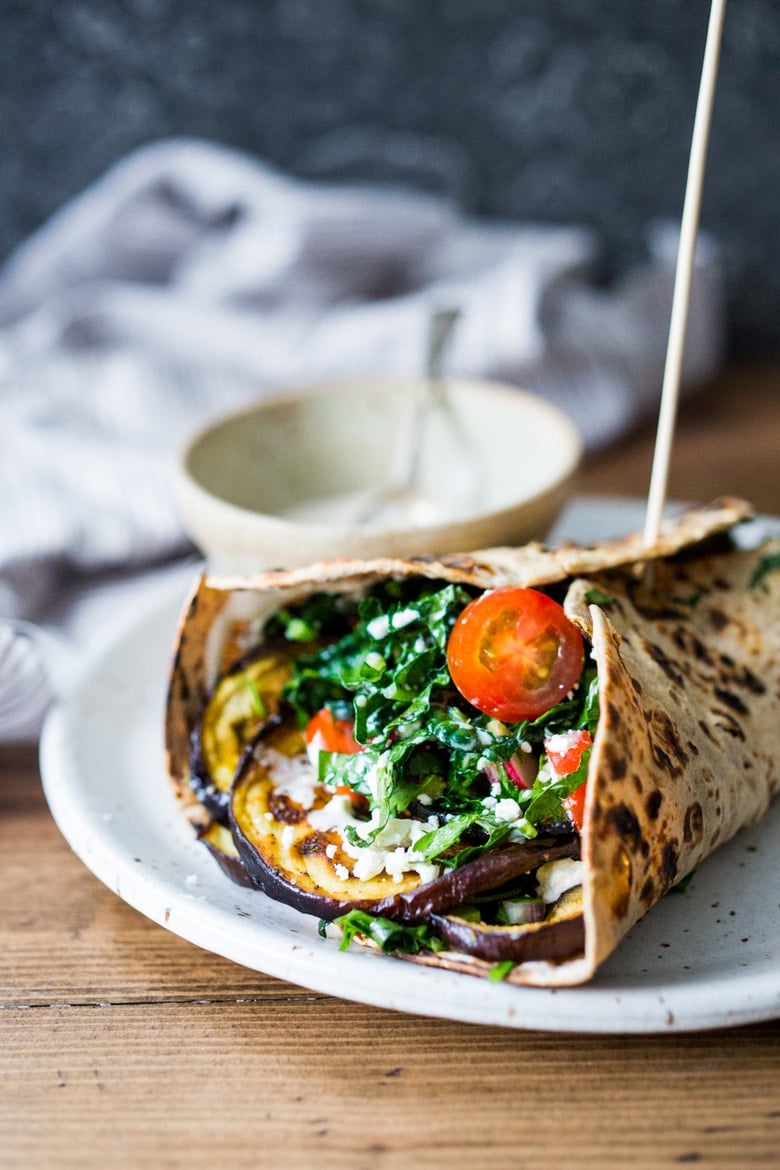 Mediterranean Eggplant Wrap with Kale Slaw and Tahini Dressing . Keep it gluten-free with gluten-free wraps, or turn the whole thing into a hearty salad, by simply serving it in a bowl. Soooooooo full of flavor and nutrients. Keep it vegan or add feta.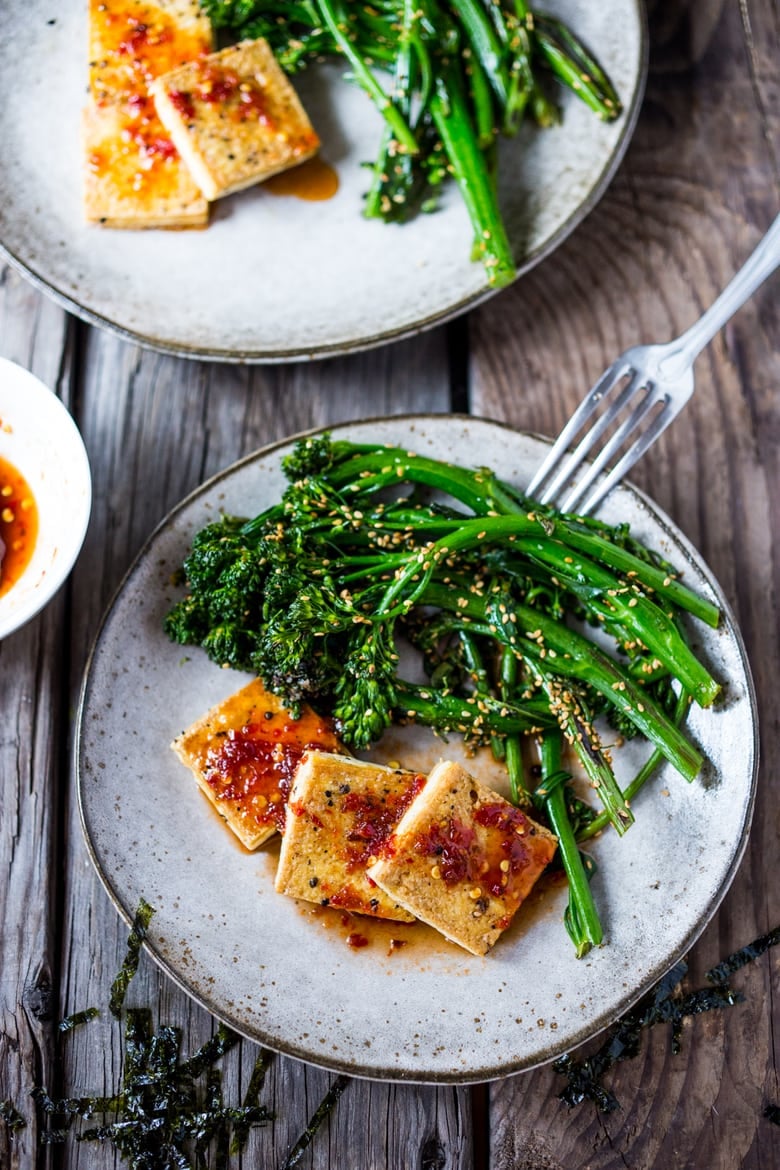 Garlic Chili Tofu with Sesame Broccolini – it's really fast, like 15 minutes fast, healthy and super flavorful – plant based and gluten-free. If you've never been a fan of tofu, I want you to do me a favor, make this. Just as an experiment. 😉 Or if you have someone in your house that just will not eat tofu, prep a piece of chicken or fish for them in the same way as the tofu. They will love the flavor. I promise.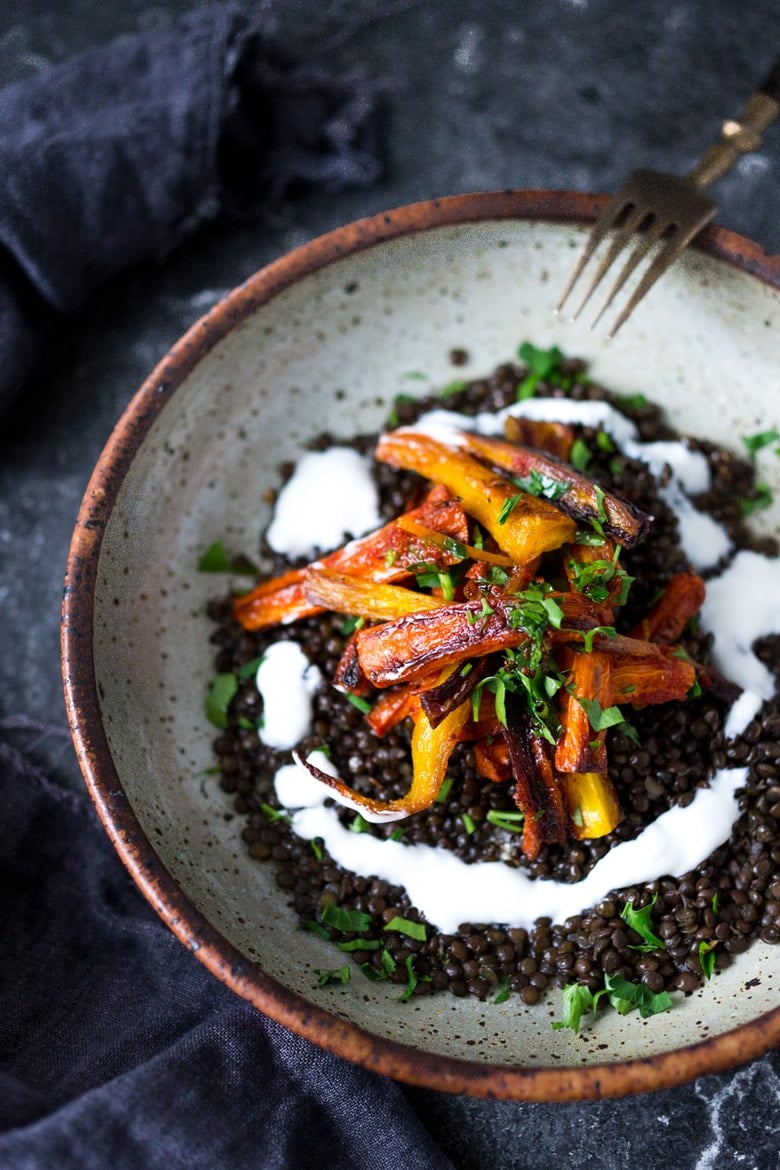 Roasted Moroccan Carrots over Seasoned Lentils – keep it vegan or add a drizzle of plain yogurt. A hearty delicious plant-based reicpe!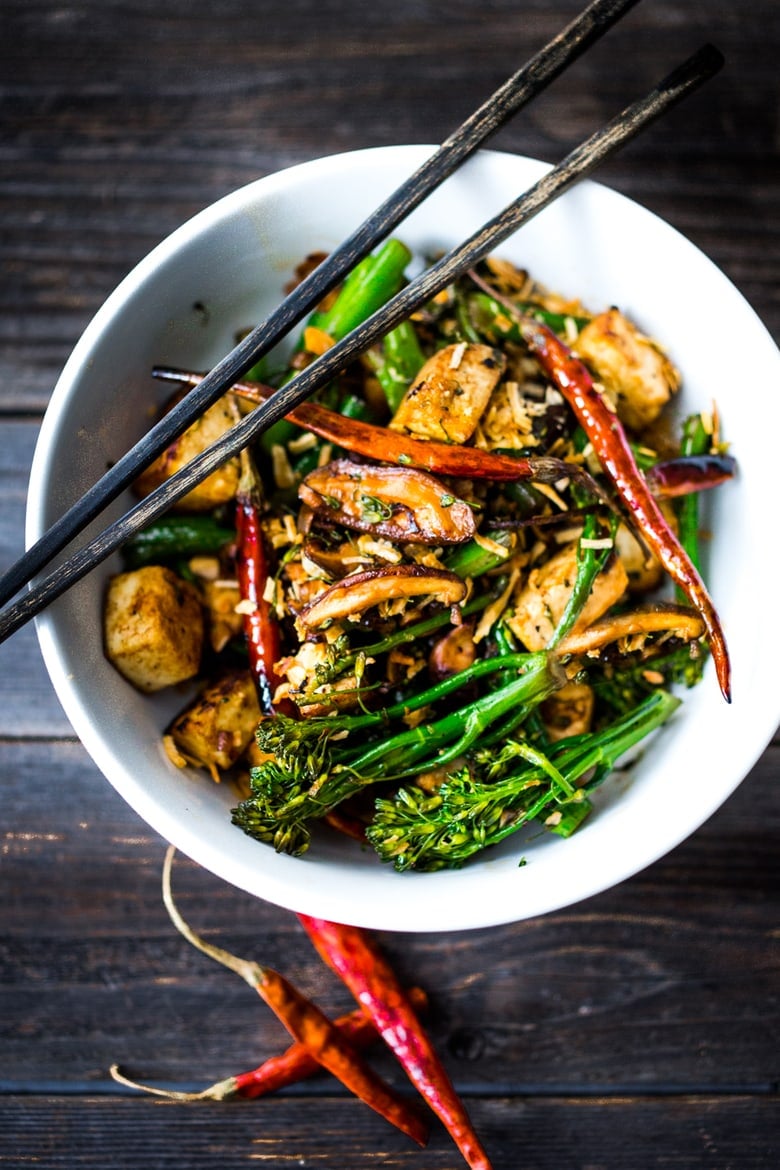 Broccolini Mushroom Stir Fry – This simple, fast Broccolini Mushroom Stir Fry can be made with tofu or chicken. Full of flavor, this recipe can be made in 20 minutes flat – perfect for weeknight meals. Feel free to substitute broccoli, steaming it just a little bit longer. Perfect over rice or just on its own, it's hearty, satisfying and good for you!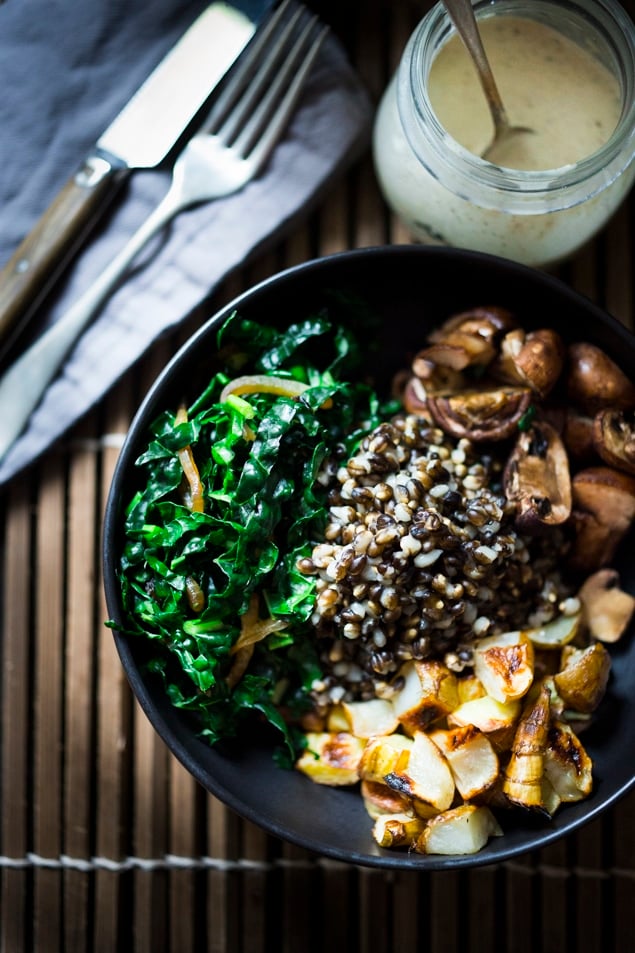 This Mushroom and Black Barley Bowl with Sun chokes and Zaatar Tahini is earthy and deeply satisfying. Vegan and gluten-free, the flavorful Zaatar tahini sauce is actually lightened up and relatively low in fat and calories. If sun chokes are not available, simply leave them out or substitute baby potatoes, roasted cauliflower, beans, winter squash or sweet potatoes. It's yummy.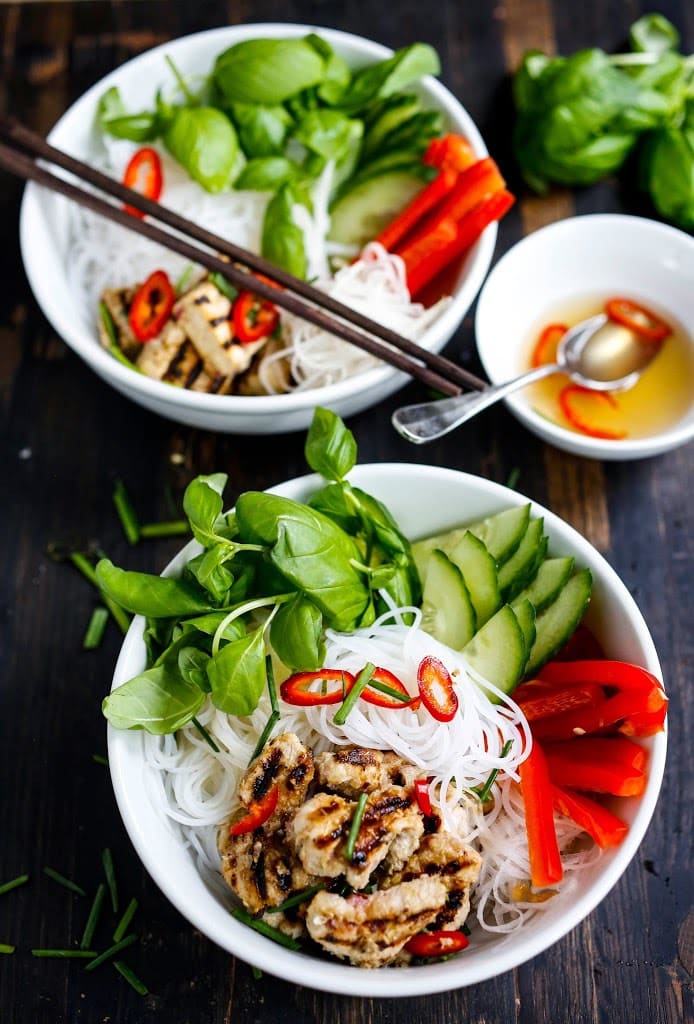 An oldie but goody ….Vietnamese vermicelli Bowl with either lemongrass tofu or chicken is a delicious, healthy & light meal bursting with flavor! One of my personal plant-based recipe. It's easy to keep this part vegetarian and add meat for mixed households.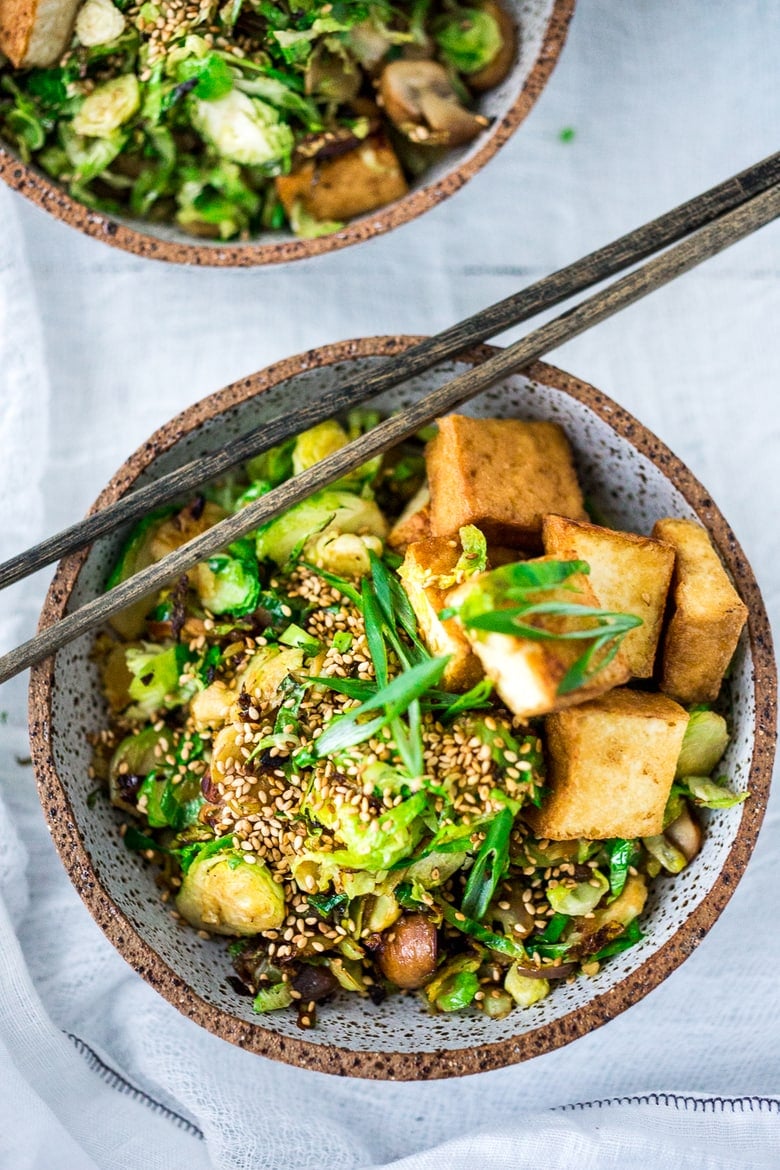 Sesame Brussel Sprouts and Tofu Bowl– plant-based, gluten-free, grain-free, it's tasty, filling and best of all, you can use pre-shredded Brussels sprouts (cabbage slaw or broccoli slaw works just as well.)! I've added mushrooms for depth, but feel free to leave these out or sub other veggies.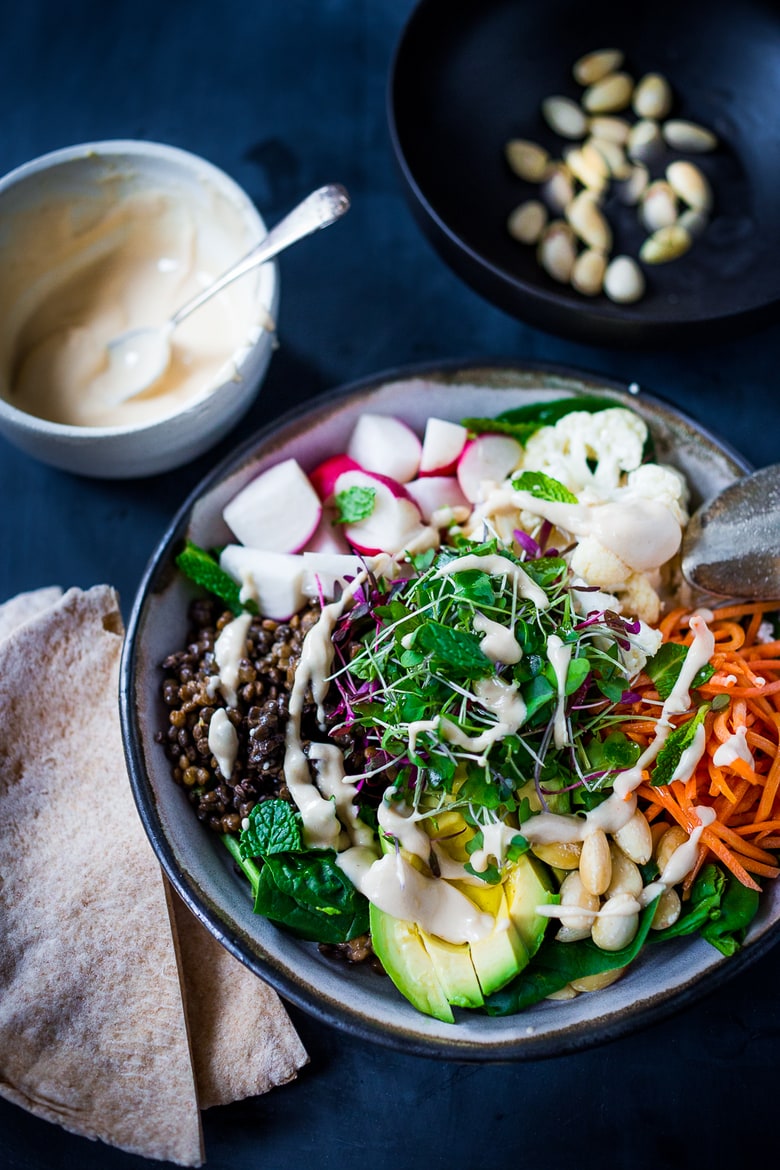 This simple Lentil & Veggie Bowl is packed full veggies. Cooked lentils are paired with radish, carrot, cauliflower, green, avocado, and drizzled with an easy tahini dressing. Activated (soaked) almonds and fresh mint give make this bowl come alive. Served it as a salad or stuffed it in a warm toasty pita.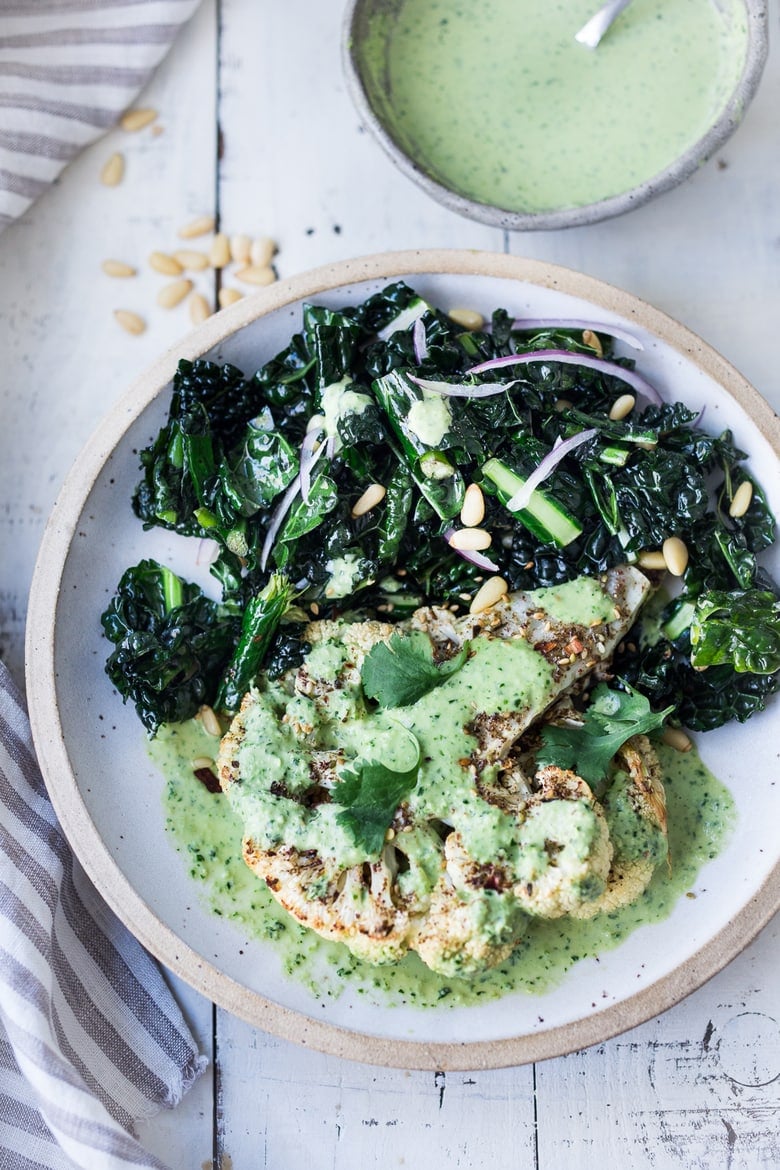 Zaatar Roasted Cauliflower Steaks with Green Tahini Sauce – a simple delicious plant-based recipes full of Middle Eastern flavor that can be made in 35 minutes.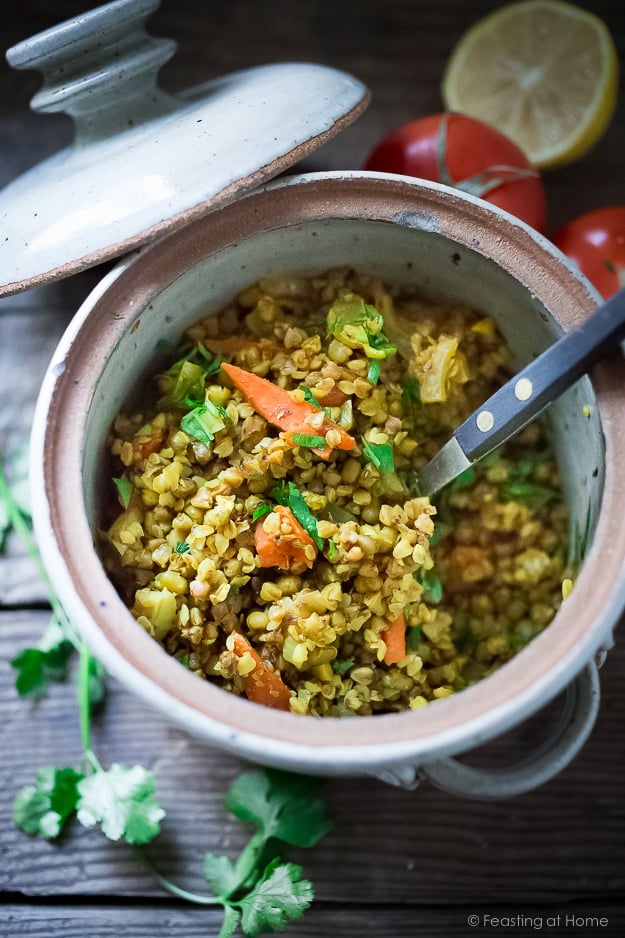 This Ayurvedic Detox Bowl called Khichari, pronounced kich-ah-ree is an Indian staple that has long been cherished in Ayurveda, for its ability to restore balance and healing in the body. For centuries throughout India, it has been thought of as comfort food, for its gentle cleansing and detoxing properties, which overtime bring wellness to the body. It's made with simple humble ingredients. The mung beans liked to be soaked ahead.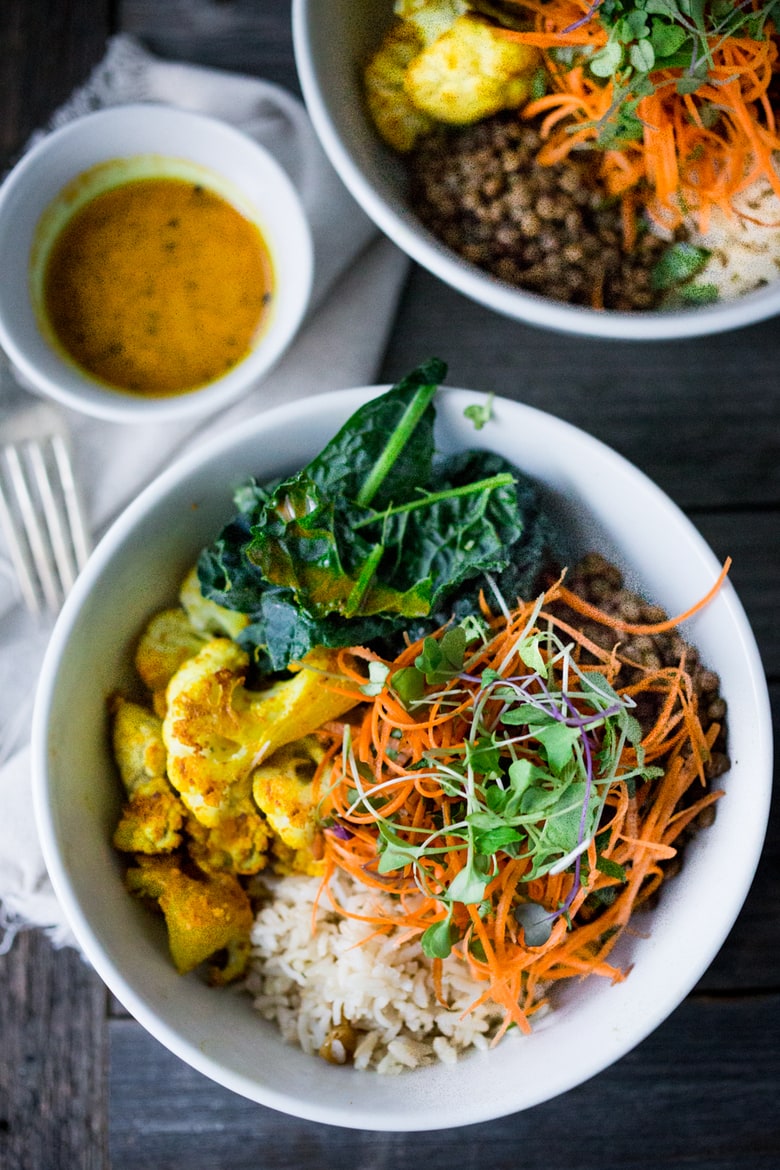 This Nourish Bowl with Curried Cauliflower, lentils, brown rice and Kale is topped with a tangled Carrot Slaw and drizzled with a light and healing Turmeric Vinaigrette. Nurturing and soothing, this bowl is a gift to the tired, overindulged body.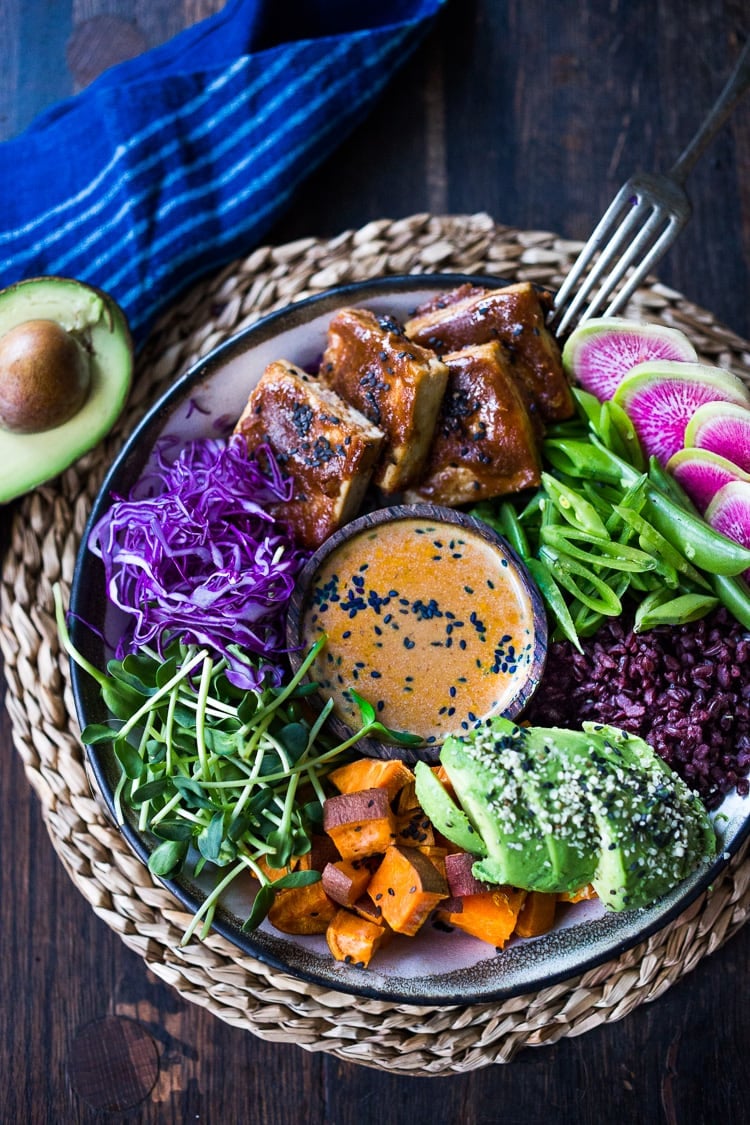 Bali Bowls with Peanut Tofu, black rice, roasted sweet potatoes, shredded cabbage, radish and snow peas and the most delicious Balinese-style Peanut Sauce!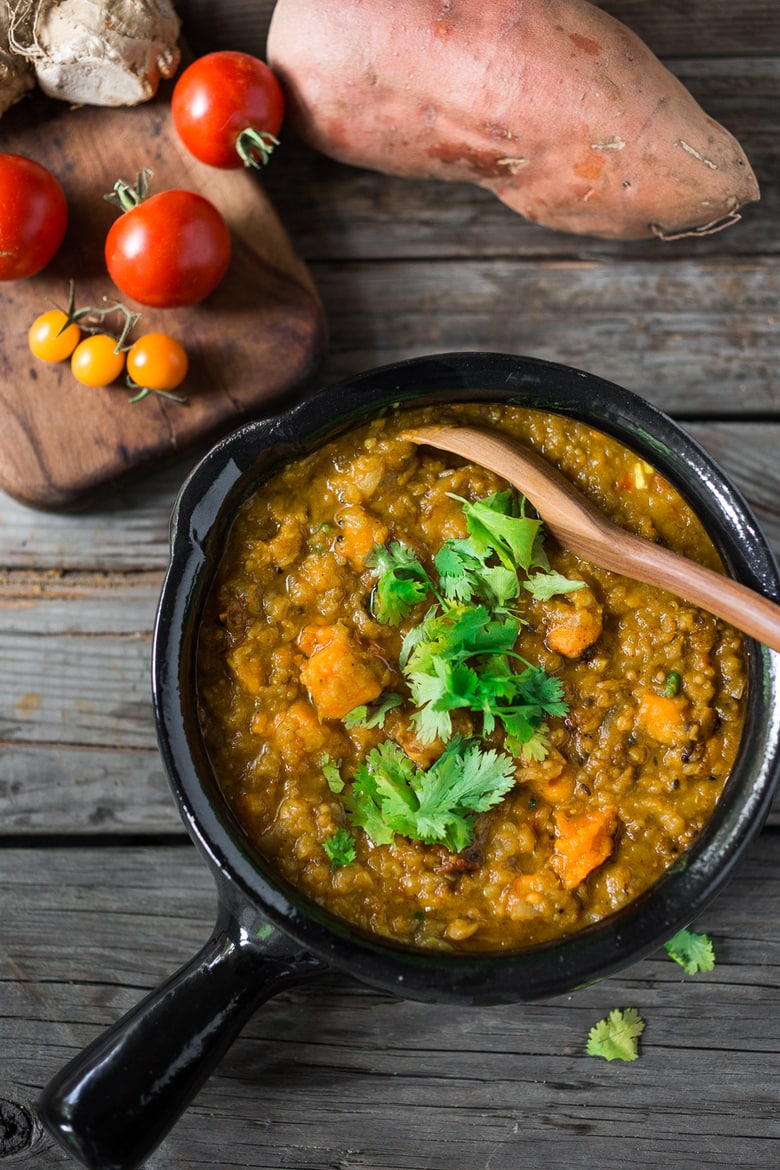 Sweet Potato & Lentil Dal – vegan and gluten free, this filling fiber-rich meal will leave you feeling satisfied.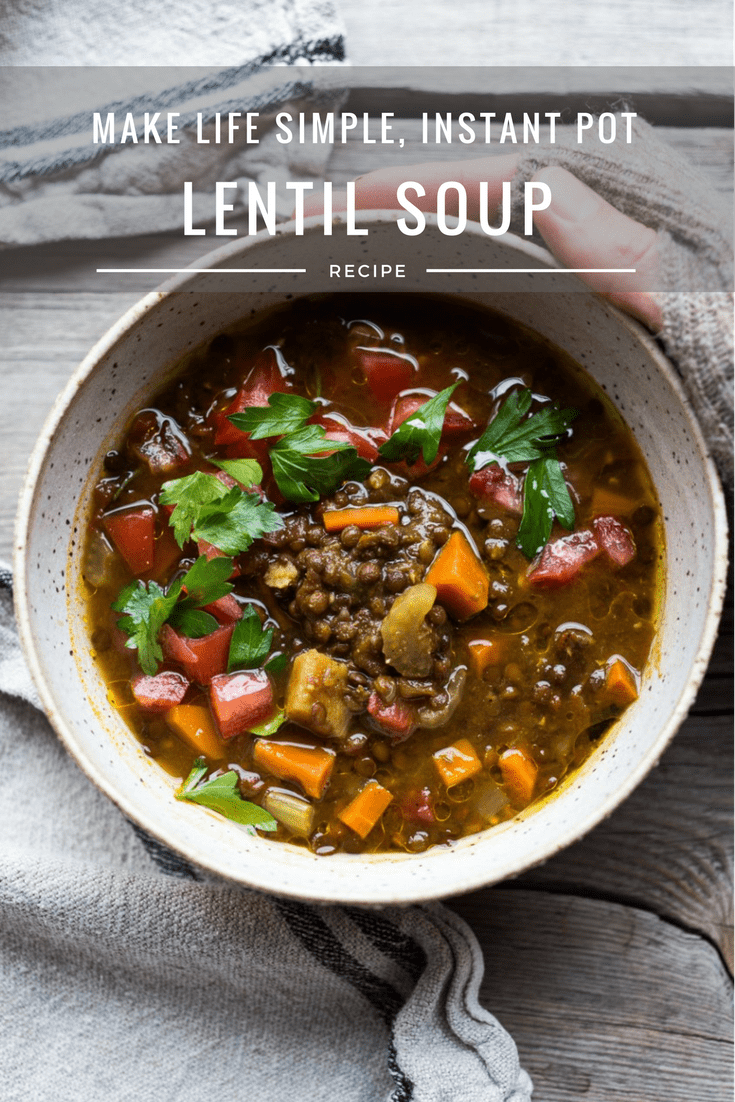 Make Life Simple Instant Pot Lentil Soup – Vegan and GF, this filling hearty plant-based soup recipe is packed full of veggies and fiber.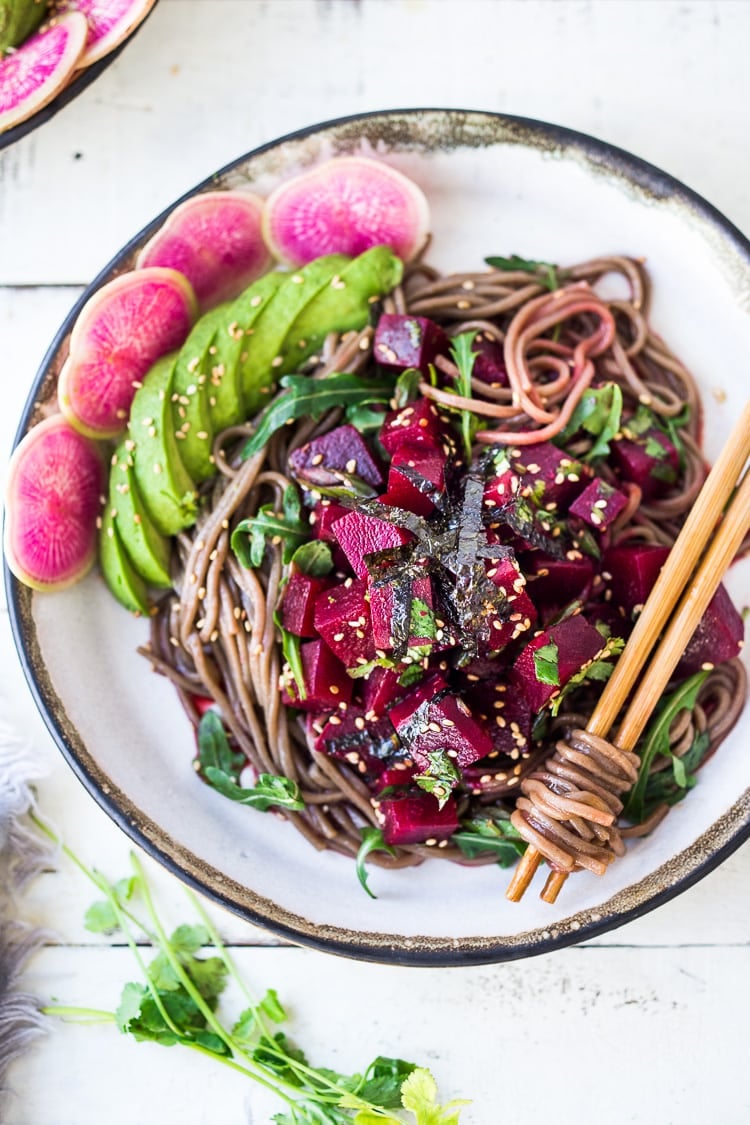 Beet Poke Salad – a delicious make-head, plant-based salad that can be served over greens, rice or soba noodles. Fast and easy!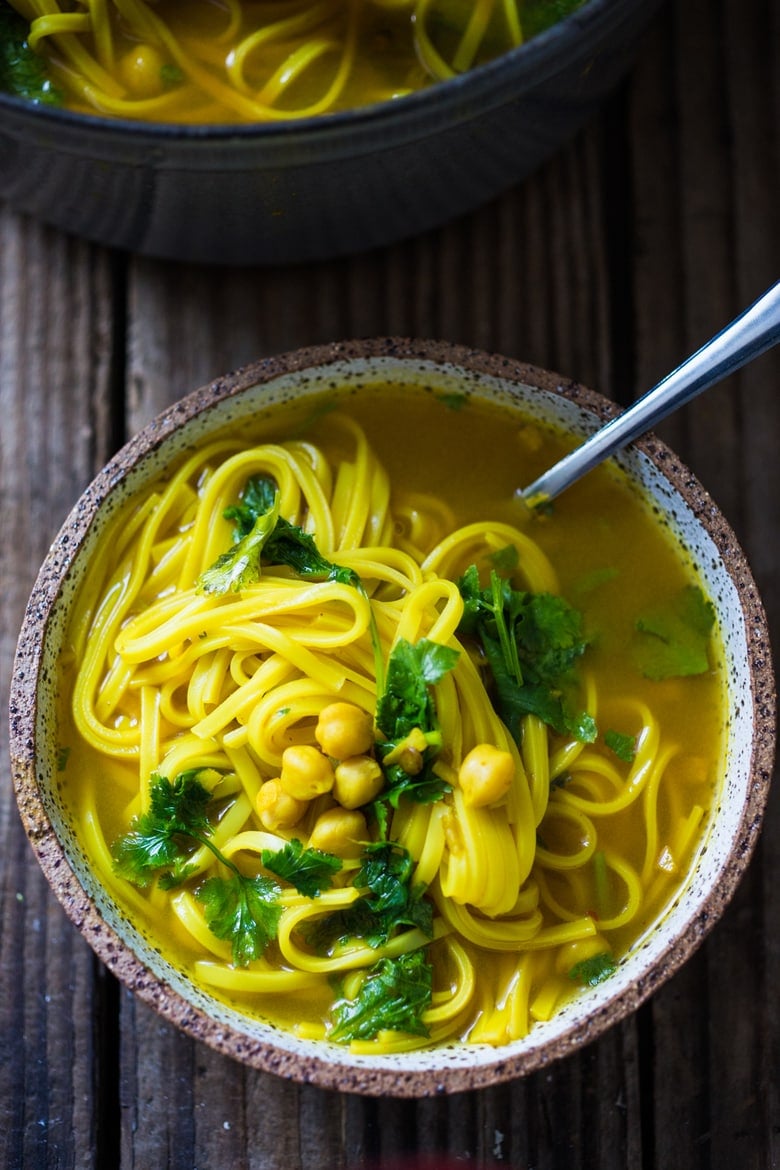 Turmeric Detox Broth– pretty much a glowing bowl of goodness! Lots of ways to adapt this healing soothing plant-based broth, customize it to fit your needs. Vegan and GF Adaptable.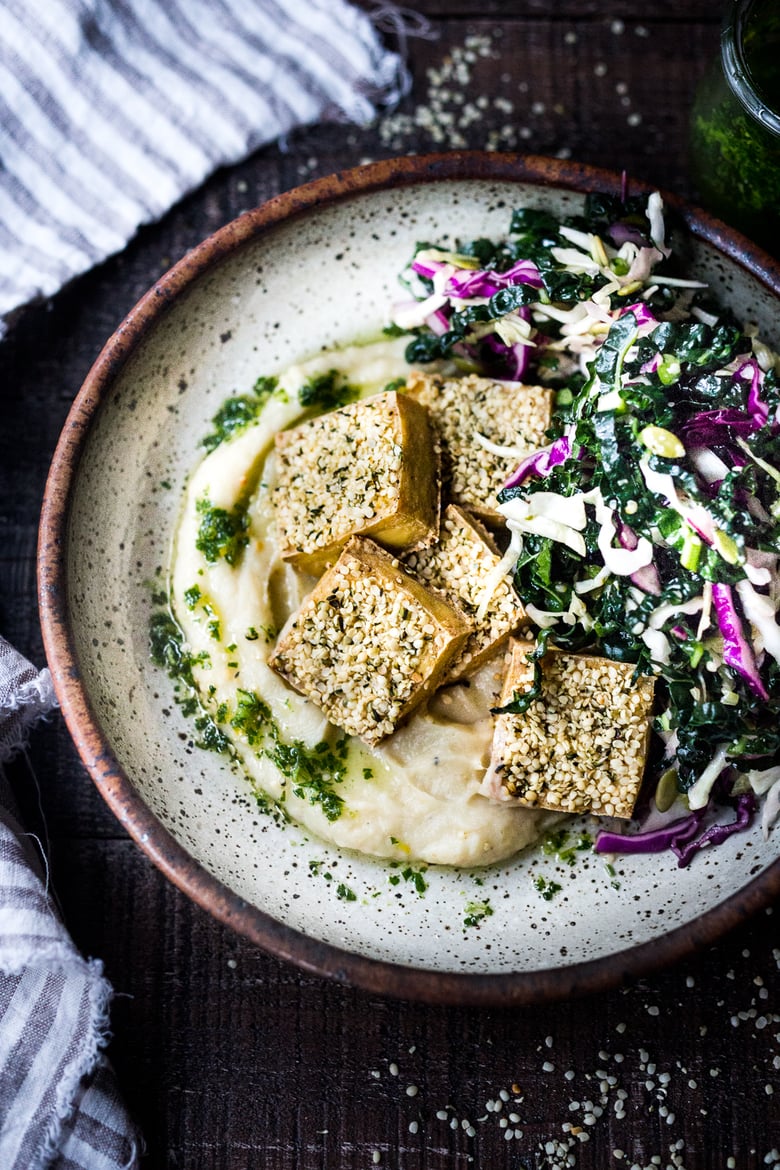 Hemp Crusted Tofu with Celeriac Puree – a simple, elegant plant-based dinner that can be made in 45 minutes. Serve it with Gremolata and Everyday Kale Salad.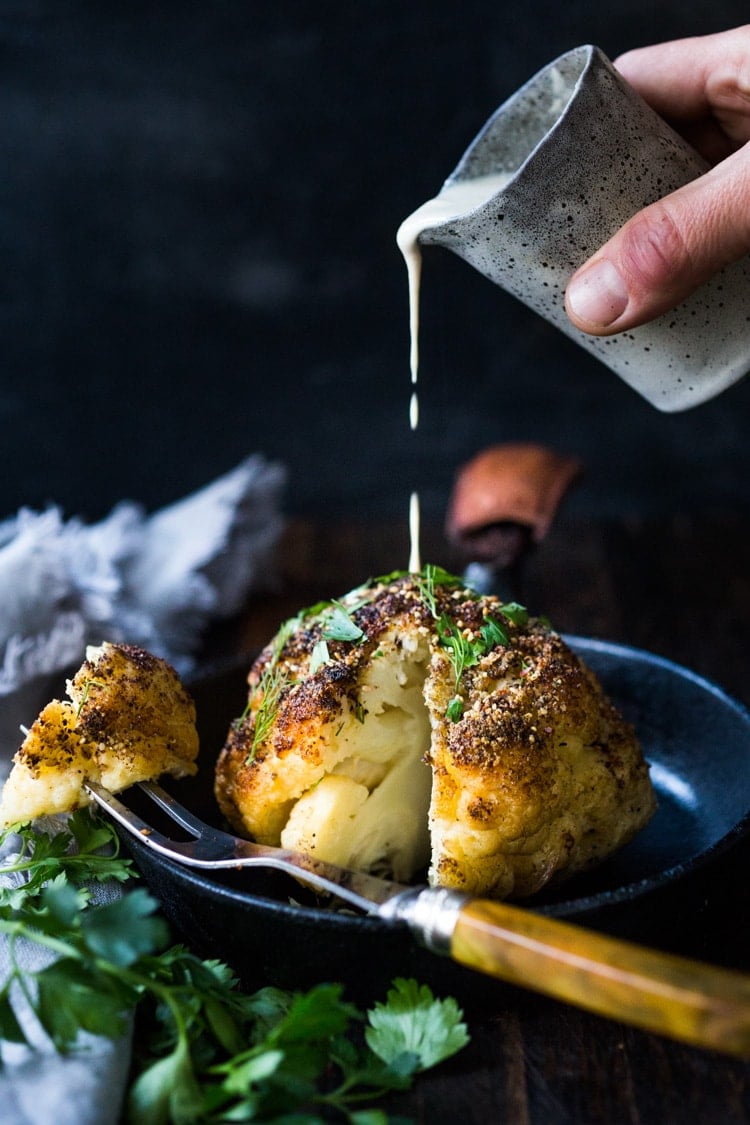 Whole Roasted Cauliflower with Zaatar Spice and Tahini Sauce- a healthy vegan side dish bursting with Middle Eastern flavor. Easy and delicious! Totally Plant-based!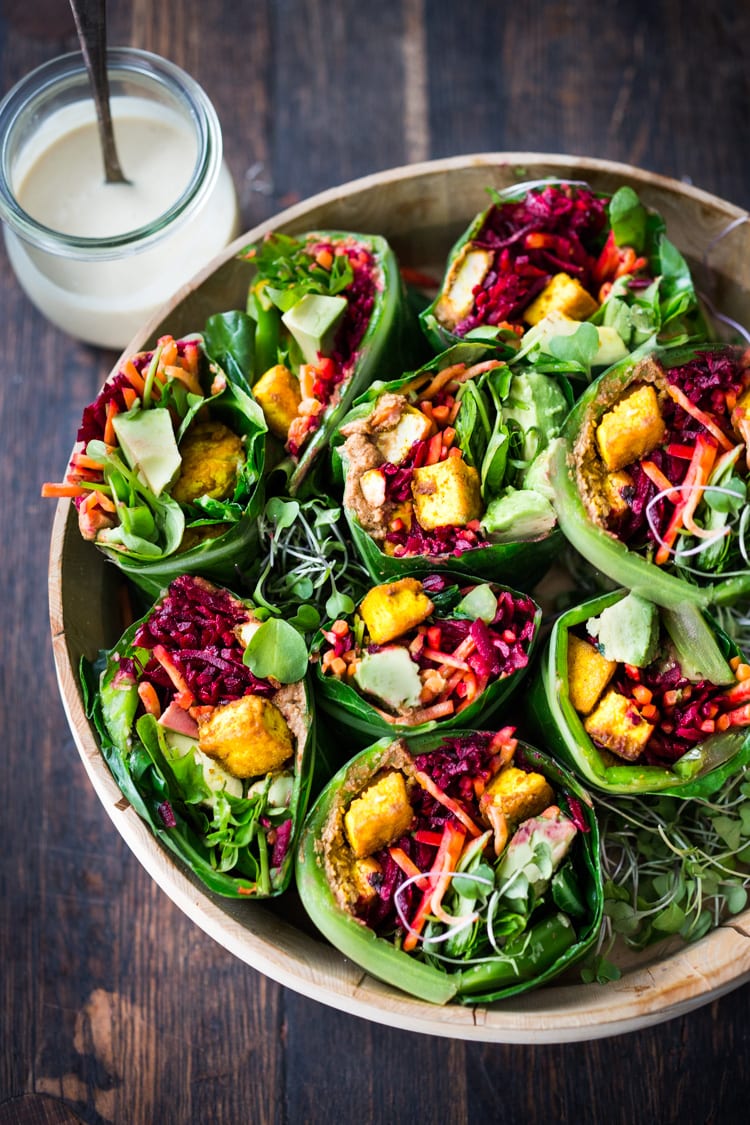 Rainbow Wraps! This vegan collard greens wraps are filled with hummus, crispy tofu, shredded beets, carrots and avocado! Drizzle with Tahini sauce! A delicious healthy plant-based lunch!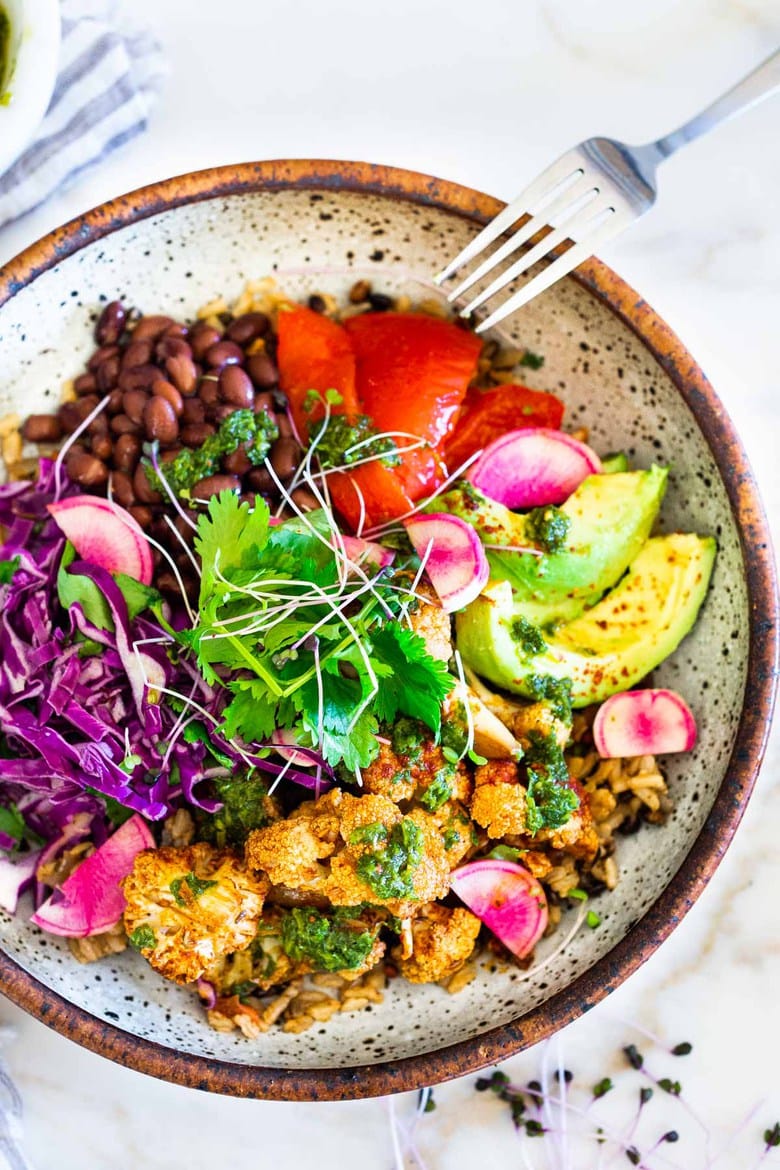 Smokey Cauliflower Chimichurri Bowls! These filling vegan bowls are full of flavor and loaded up with healthy veggies. Served over seasoned black beans (and optional rice) with Mexican Slaw, radishes, avocado, cilantro and pickled onions.
More Plant-Based Recipes:
---
Hope these veggie-based, clean-eating recipes inspire you to try something new this week! Please note any of your favorites in the comments below!
Print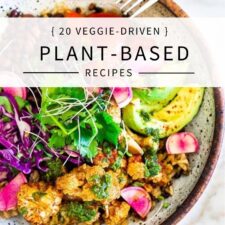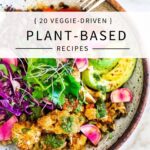 20 Plant-Based Recipes!
Author:

Sylvia Fountaine

Prep Time:

20

Cook Time:

20

Total Time:

40 minutes

Yield:

4-6

Category:

plant based recipes

Method:

oven, stovetop

Diet:

Vegetarian
---
Description
Here are 20 of our BEST Plant-based Recipes! All are full of healthy veggies and fruits, whole grains and plant-based proteins and fats.
---
fresh veggies
fresh fruit
whole grains
plant-based protein – tofu, seitan, beans, legumes
plant-based fats- avocado, olive oil, nuts, seeds
fermented things
---
Instructions
Pick out a couple of plant-based recipes to make this week.
Make a shopping list.
Make a plan for the week ahead, prep ahead!
Always have a plant-based recipe prepared ahead for hunger "emergencies"!
Imagine how energized and nourished you will feel.
---
Notes
Leave your favorites in the comments below
Keywords: plant based recipes, healthy plant based recipes, plant based meals, vegan recipes, plant-based dinners
SaveSave
SaveSave
SaveSave
SaveSave
SaveSave