The BEST Turkey Burger recipe — full of flavorful ingredients like jalapeno, scallions, garlic, cilantro (or parsley), lime zest and coriander, topped with roasted poblano peppers and my new favorite condiment, Chimichurri Mayo! Serve the turkey burger on a sourdough bun, wrapped in lettuce, over greens, as a bowl or as an entree with a plate of healthy veggies. Great for meal prep and delicious reheated.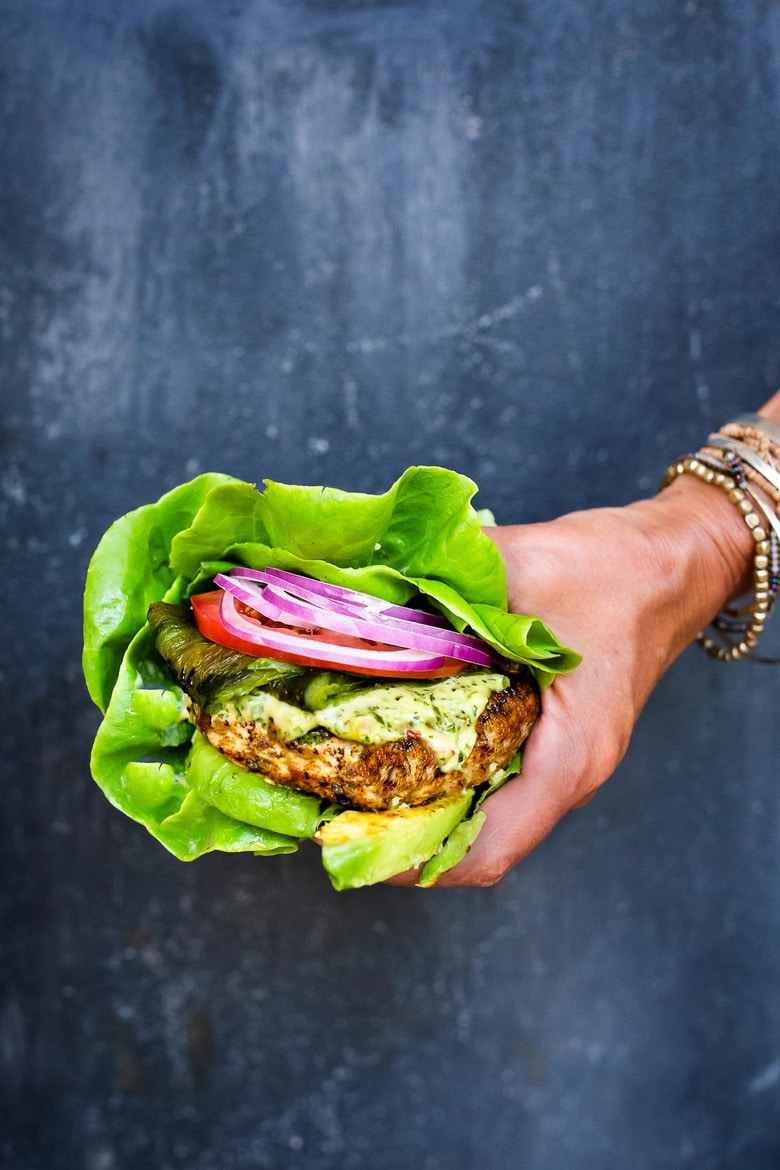 So, I've been noticing, many of you have been making the Thai Tukey Burger lately and it got me thinking… how I want to share another Turkey burger recipe we've been cooking up lately at home! I have to say, these guys are pretty tasty. Brian doesn't miss the red meat one bit because they just have so much flavor! I know you'll think the same. The nice part is they can be grilled or pan-seared if you are in a hurry and even made ahead, perfect for meal prepping.
There are very adaptable and I know you'll find many other ways to serve them up. A healthier lighter burger, made from scratch and seriously bursting with amazing flavor! My favorite!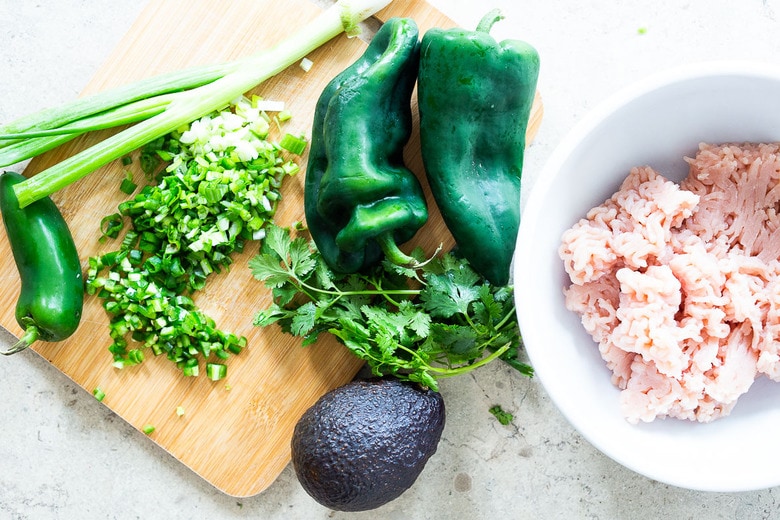 Turkey Burger Ingredients:
Here are the basic ingredients for the BEST turkey burger. Note, if you don't like cilantro, sub parsley, or if you are "heat-intolerant", cut back on the jalapeno or leave it out. I do really like the little kick it gives. 🙂 See the recipe box for measurements.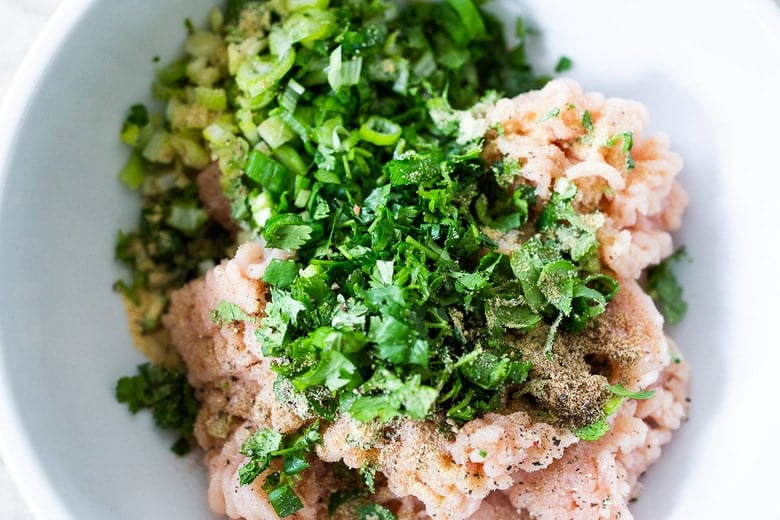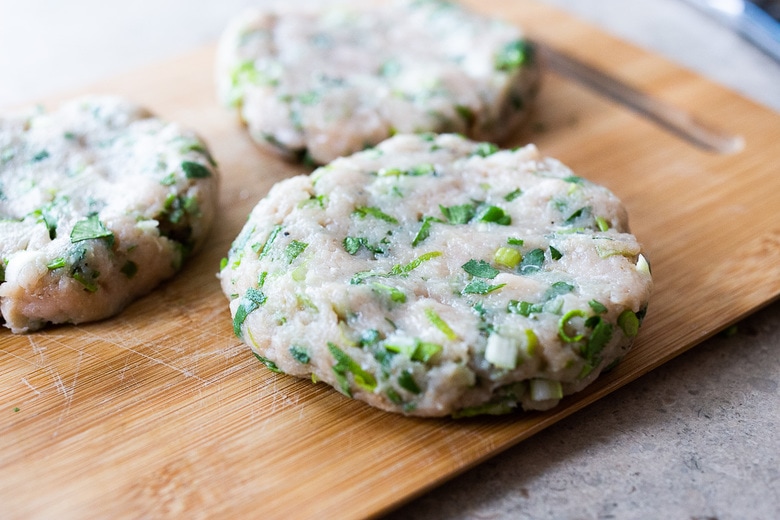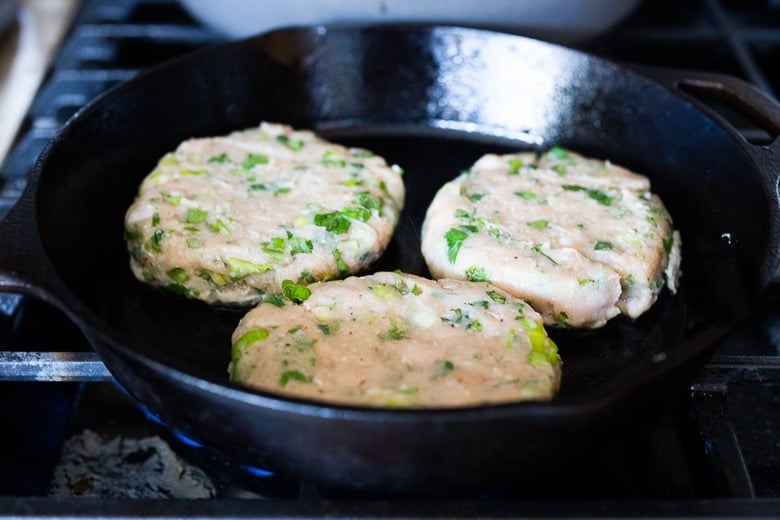 How to Make Turkey Burgers:
Here is a basic overview of how to make the Best Turkey Burgers! (Detailed instructions are provided in the recipe box below!)
Another thing I love adding to these turkey burgers are poblano peppers, which can be charred on your stovetop, or grilled. They add a subtle mild heat to the burger!

Once charred, cover them and let them steam for 10 minutes, then peel under cool running water.

Ok, and the condiment that brings this turkey burger over the top is the Chimichurri Mayo. Heav-en-ly!!!
Please make it if you can. Trust me!!!
And if not, the Chipotle Mayo is a good stand-in.

Simply stir in a few tablespoons of Chimichurri Sauce into mayo and voila- the best tasting condiment ever!!!

Possible Turkey Burger Additions:
Fixings (all optional)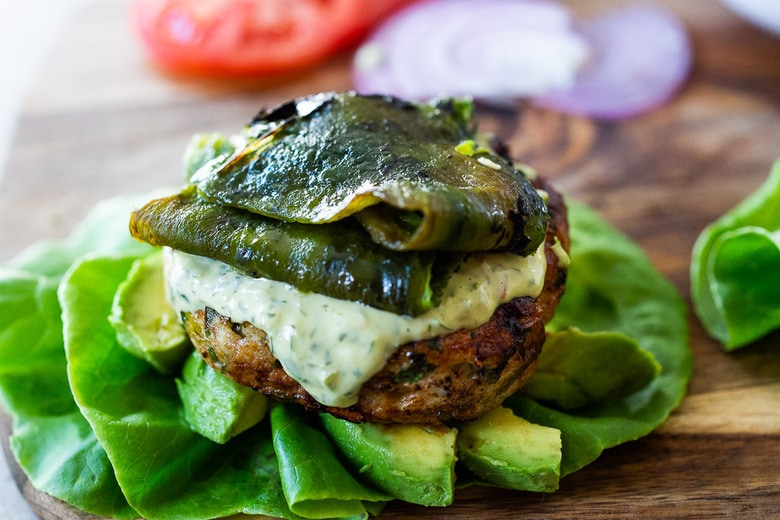 You can make lettuce-wrapped burgers- which honestly are a bit messy, I won't lie, but they are super light and delicious.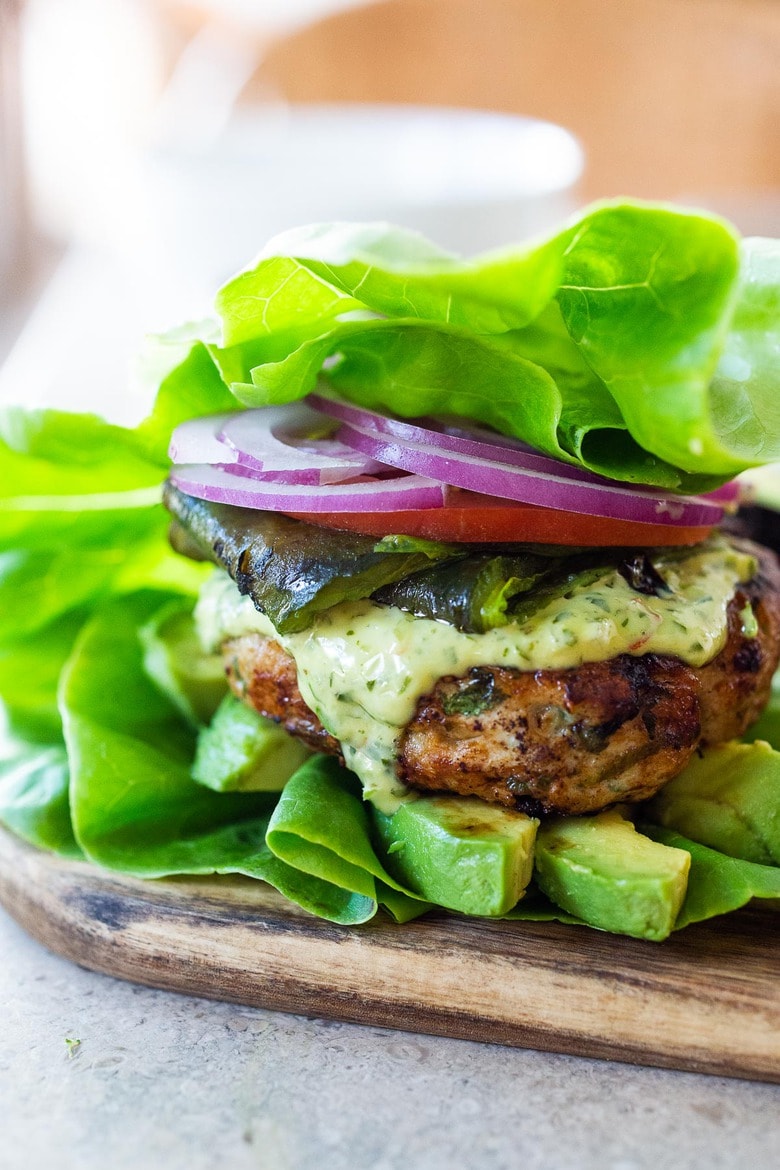 Or serve them up on your favorite bun. I like these sourdough buns if you're on the sourdough bandwagon. 🙂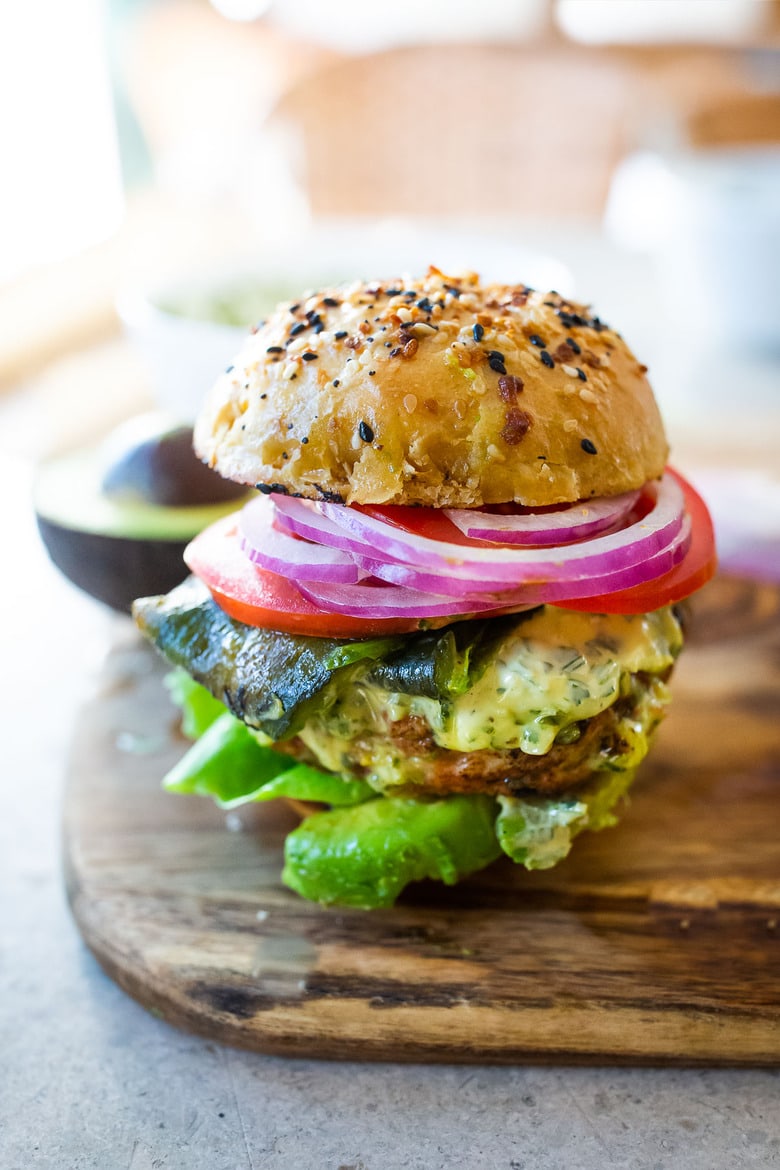 So there you have it – Chimichurri Turkey Burgers – what we are currently feasting on at home. 🙂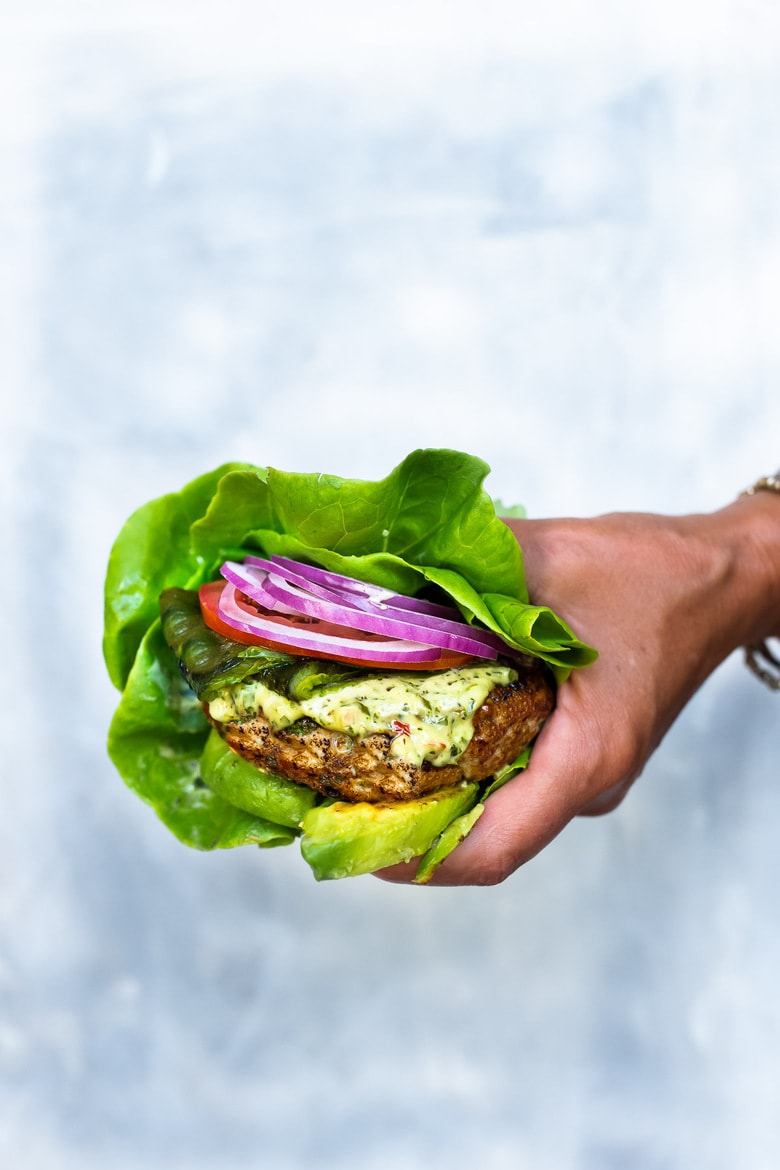 Hope you like them. xoxo
More Favorite Burger Recipes:
Print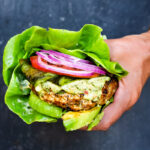 The Best Turkey Burger
Author:

Sylvia Fountaine

Prep Time:

15

Cook Time:

15

Total Time:

30 minutes

Yield:

3-4

Category:

main, poultry, burger, turkey recipes

Method:

grilled, pan-seared

Cuisine:

American

Diet:

Low Fat
---
Description
---
Turkey Burger:
16 ounces

ground turkey

1 tablespoon

jalapeno, finely minced (optional)

2

scallions, thinly sliced

1/2 cup

chopped cilantro ( or flat-leaf parsley)

1 tablespoon

lime zest

2

garlic cloves, finely minced (or

1 teaspoon

granulated garlic)

2 teaspoons

olive oil ( optional, but good)

1 teaspoon

salt

1/2 teaspoon

coriander

1/2 teaspoon

pepper
Fixings (all optional)
Chimichurri Mayo (see notes)
roasted poblano peppers
melty cheese or vegan cheese
Avocado
Tomato
Grilled onions, Red onions or pickled red onions
Sourdough buns or lettuce wraps or serve the burger over a salad!
---
Instructions
Heat grill to med-high heat if grilling.  (Or pan-sear for speed)
Make burgers: Place all of the turkey burger ingredients in a bowl and lightly toss with your fingers into a fine crumble until mixed thoroughly. With slightly wet hands pat into 3-4 tidy patties, 1-inch thick.
If pan searing, heat 1-2 tablespoon oil in a skillet over medium heat. Add the turkey burgers and let them get golden, resisting the urge to fiddle (they may stick). Once they get a golden crust, they will naturally release themselves from the pan. Then flip. Cook each side about 5-6 minutes, or cooked through.
If Grilling: Make sure grill is hot and grates are greased. Grill each side until golden, 4-5 minutes, lower the heat or move to cooler part to cook through.
To make the roasted poblanos either char over a gas burner (on stovetop) until all sides are charred or on the grill, turning to char evenly. Place in a covered bowl or paper bag to steam 5-10 minutes. Peel under running water, destemming and deseeding.  Alternatively, you could also simply just grill these until tender and skip peeling.
To make Chimichurri Mayo, mix 2 tablespoons (or more) chimichurri sauce with 4 tablespoons mayo.
---
Notes
Form into 4 smaller burgers or 3 bigger burgers. Can be made ahead and reheated.
Keywords: best turkey burger, chicken burger recipe, turkey burger recipe, chimichurri burger, poblano burger, jalapeno burger, chimichurri mayo