Grilled Lamb Burgers with Harissa Aioli, melty cheese, arugula and pickled onions served on a taosted Brioche Bun. Bacon optional.;)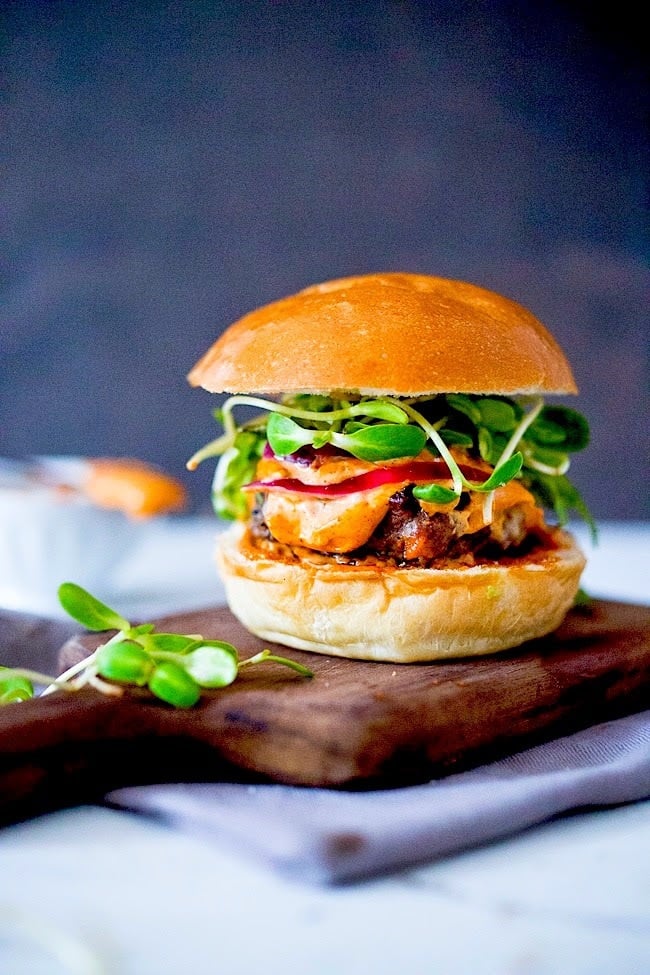 It's not often that I'll reach for a burger, but when I do, I want it to be goooooooood. Most often it will be made of grille lamb, with earthy savory spices. To me, this incredibly flavorful lamb burger, is the perfect combination of flavors and totally satisfies all my cravings.
The lamb burger is seasoned and grilled and topped with melty cheese, then placed on a toasty brioche
bun
, slathered with a North-African-inspired, smoky, spicy Harissa Aioli then topped with
pickled red onions
and a mound of arugula.
To me, burgers just don't get better than this.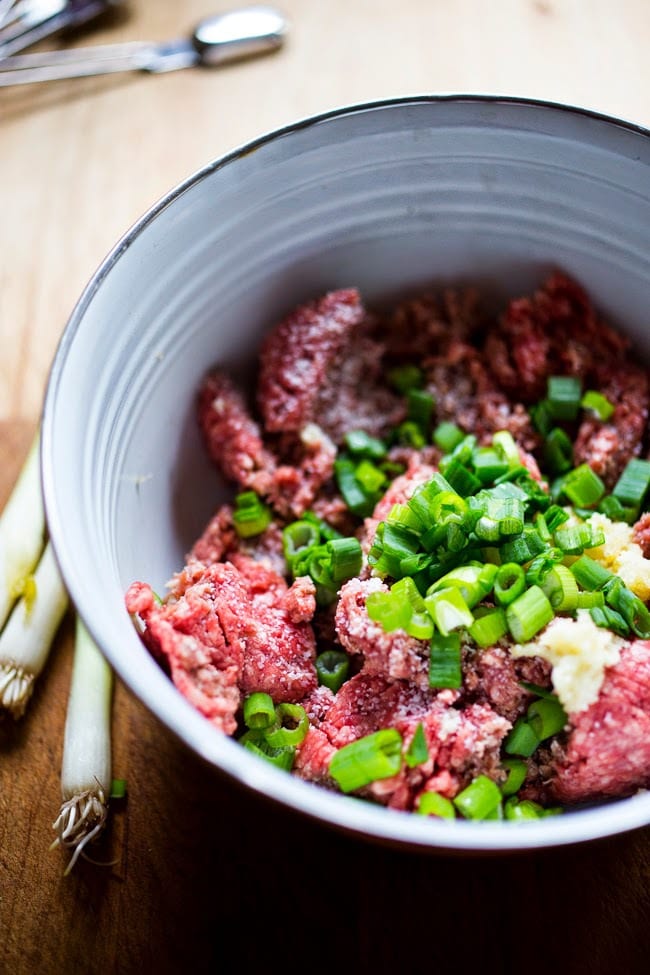 Even though there appears to be a lot of steps in this recipe, I can make these in about 30 minutes flat, if I work quickly and purchase the brioche
buns
, or make them ahead.
Use high quality, organic lamb (or beef, or a blend) and gently mix with onions, or scallions, fresh garlic,
salt
and pepper. You want to use good quality meat, in order to enjoy eating this burger cooked to medium, or even medium-rare. This will ensure the proper amount of juiciness.
One pound of meat will yield 3 burger patties. And remember, the KEY to a good burger, is
salt
so be sure to measure. An under-salted burger, to me, is totally unappetizing.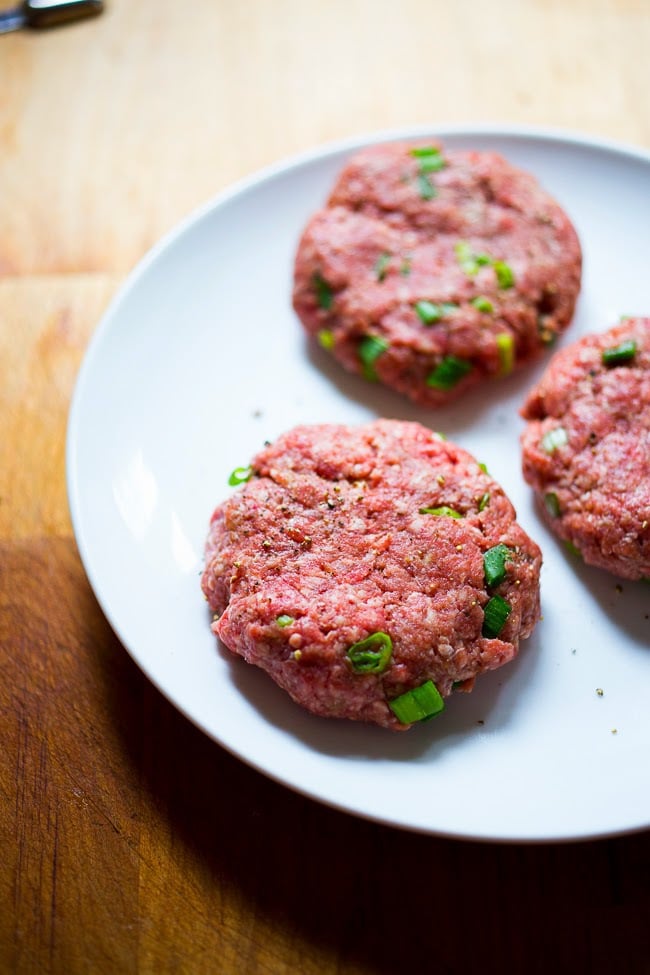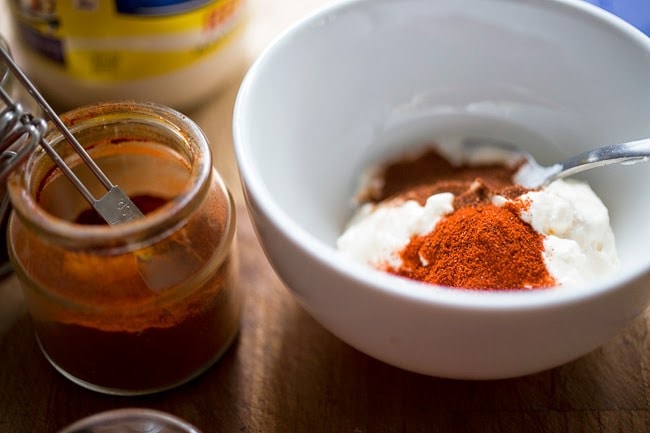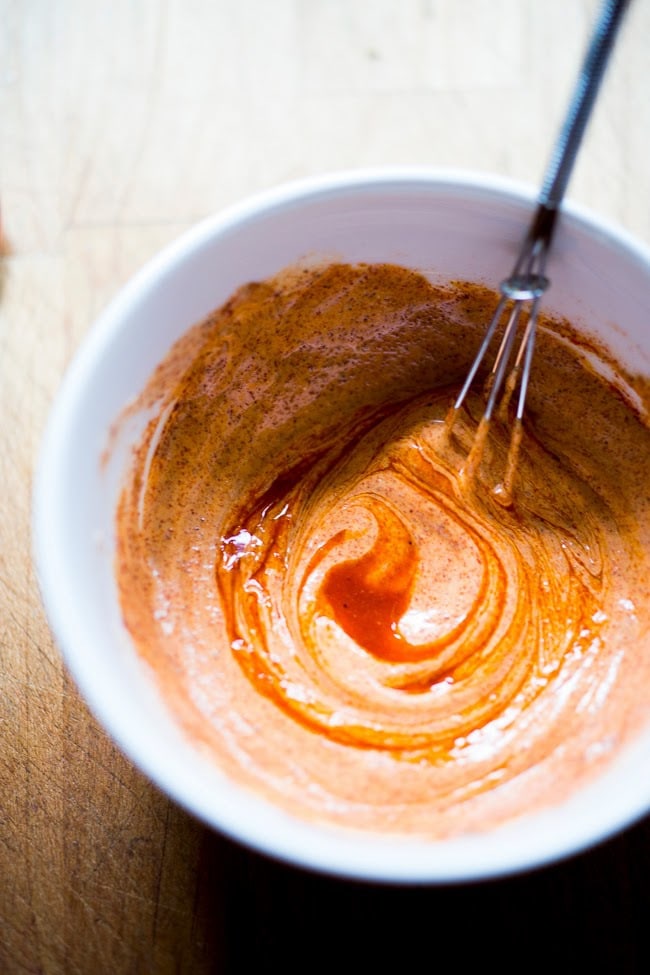 But if you have the time, I highly encourage you to make a batch of homemade harissa paste, a wonderful and incredibly versatile North African condiment, that can be used in a myriad of ways, in the kitchen. The base of the paste is made with dried chilies. Below is my favorite recipe.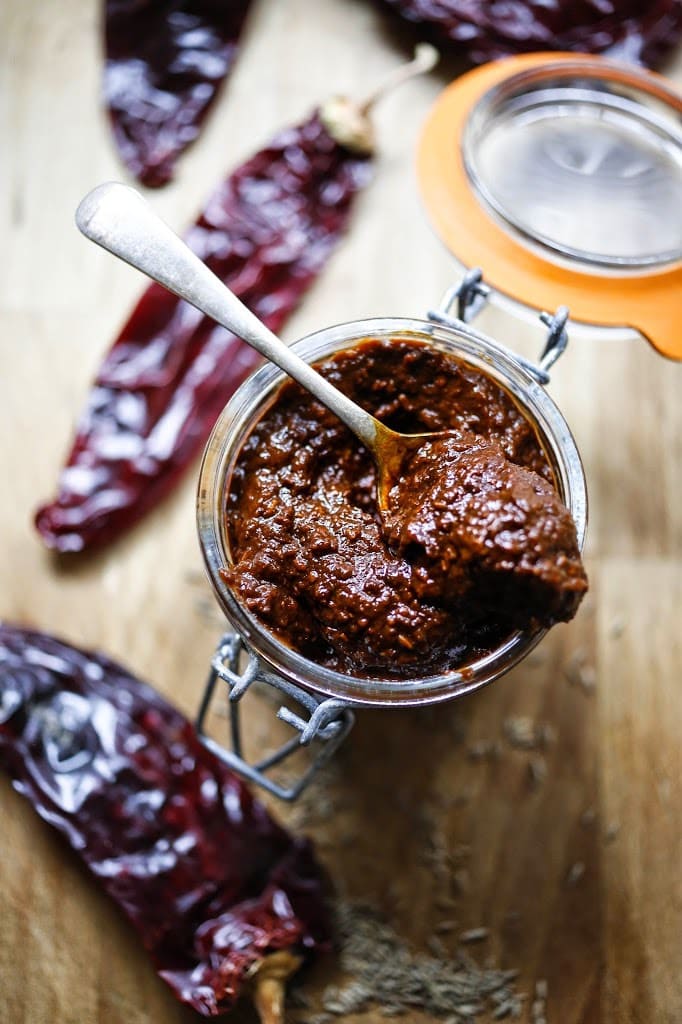 You can use harissa paste to rub on meats and poultry before grilling, make a vinaigrette out of it, serve it with eggs, stir it into soups or sauces for added depth, or even in yogurt, sour cream, or hummus for a flavorful dip.
Harissa aioli is great with crab cakes, seared scallops or with fries. Use it any way you would hot sauce, imparting a deep flavorful smokey heat to anything you are cooking. The best thing about it is –it keeps for weeks, months, in the fridge, if you store it in a lidded jar, and top it with a thin layer of olive oil after each use.
The oil acts as a barrier keeping it fresh, and as the harissa paste ages, it tastes better and better, flavors melding, harmonizing and becoming more complex. So give it a whirl sometime! It's something I always try to have on hand, because with it, I can do so many things, easily and quickly.
Make the Quick Pickled Onions, and put in the fridge to cool, while preparing the rest.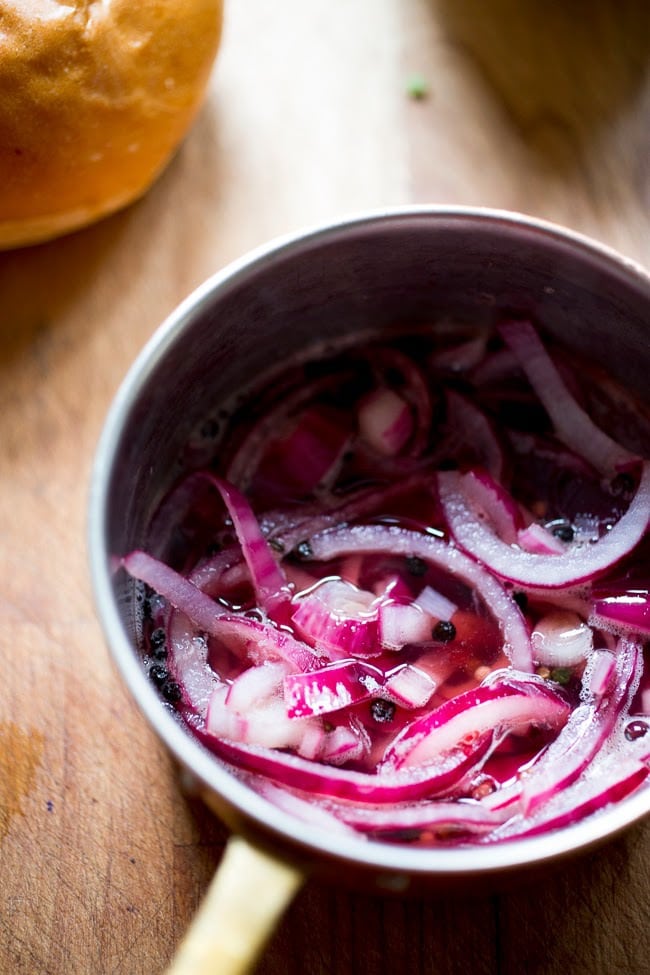 Slice the melty cheese. In this recipe, I used Mahon, a semi-soft melty cheese, which can easily be substituted with cheddar, provolone, or jack.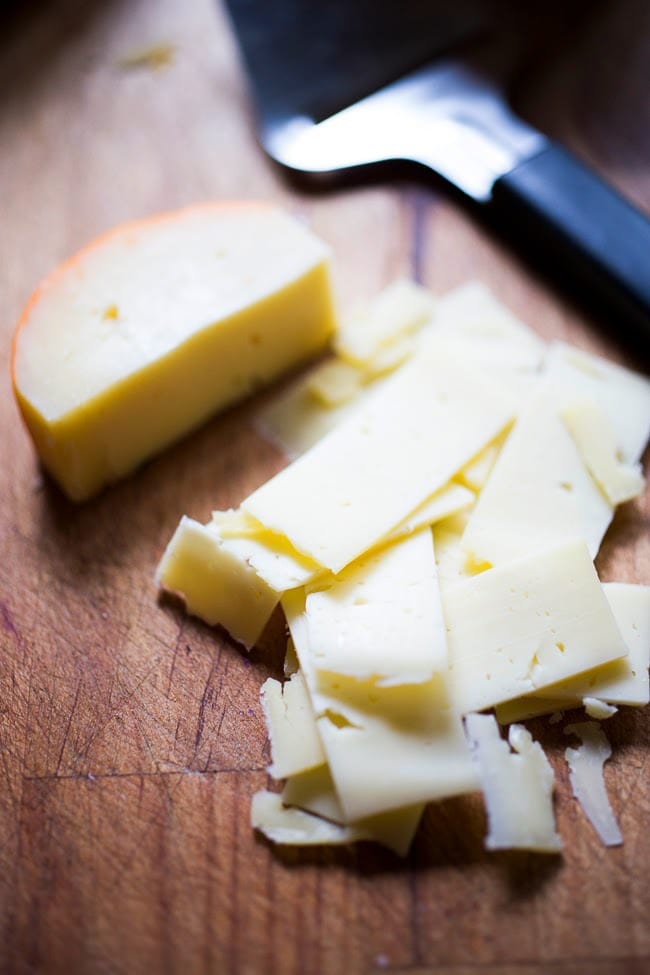 Grill your lamb burgers on Medium-High heat, sear well, cook to rare or medium-rare, turn off heat, place cheese on top and close lid ( or place in a warm oven- and cook to the desired done-ness). Toast the soft buns at the same time, right on the grill.
And assemble your lamb burgers….bun, a layer of aioli, the burger with melted cheese, more aioli if you like, pickled onions, arugula, and bun top. That's it!!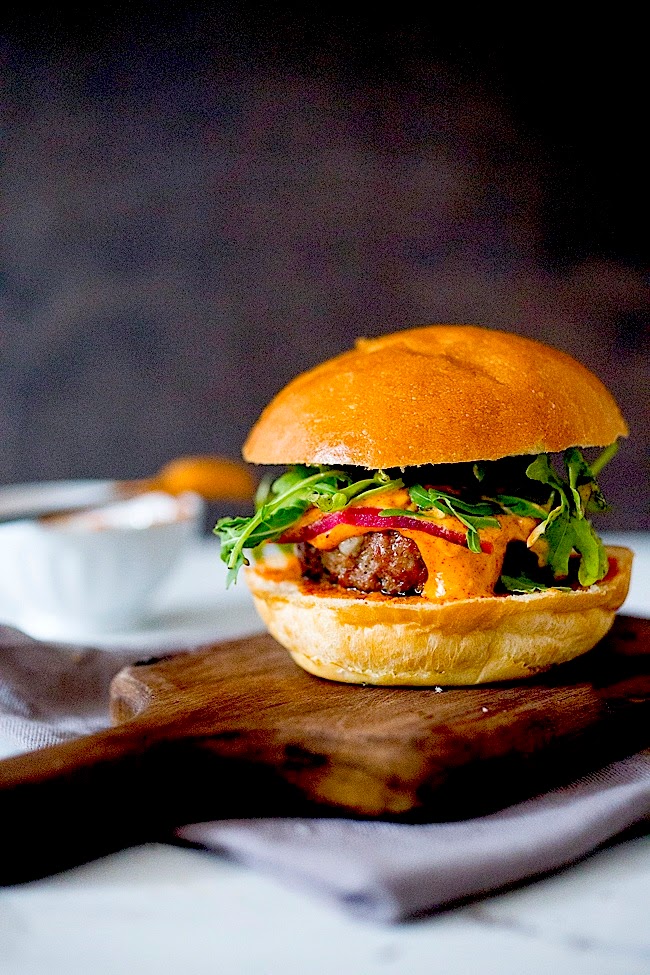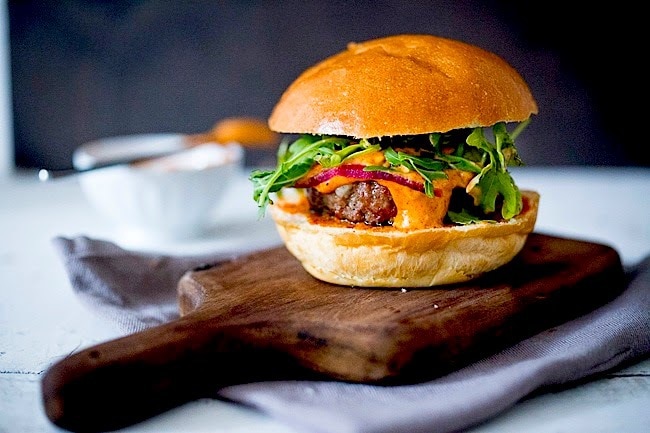 I hope you love these Grilled Lamb Burgers as much as we have. The flavor is out of this world!
xoxo
Print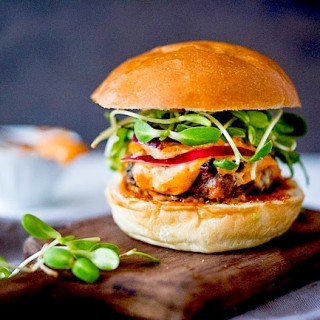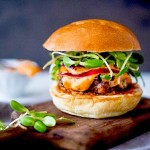 Grilled Lamb Burger with Harissa Aioli
Author:

Sylvia Fountaine

Prep Time:

30

Cook Time:

15 mins

Total Time:

45 minutes

Yield:

3

Category:

main, lamb recipes, grilled

Method:

grilled

Cuisine:

moroccan
---
Description
Grilled Lamb Burgers with Harissa Aioli, melty cheese, arugula and
pickled onions
served on a Toasted Brioche
Bun
. Bacon optional.
---
Lamb burgers
1

lb organic ground lamb ( or beef, or combo) – makes 3 burgers

2

garlic cloves, finely minced

¼

C very finely diced onion, shallot or scallion

¾ teaspoon

 kosher salt

½ teaspoon

cracked pepper

1/2 teaspoon

smoked paprika

1/2 teaspoon

cumin
Sides:
3

brioche buns

1 cup

baby arugula

3 oz

. Mahon cheese sliced (or any melty cheese- jack, provolone, cheddar, edam, gouda)
Quick pickled onions
crispy bacon ( totally optional)
Harissa Aioli  Recipe:
---
Instructions
If making the harissa pasta from scratch do this first or make ahead.
Preheat grill to medium-high.
Make quick pickled onions, refrigerate.
In a med bowl, using your hands, combine ground lamb with onion, garlic, spices, salt and pepper, just to combine, being careful to not over mix. Form patties and  set aside.
Crisp bacon slices ( if using) and set on paper towel.
Make the Harissa Aioli- whisking mayo with harissa paste, or spices in a small bowl, set aside.
 Slice the cheese.
Top with cheese and close lid, turning the heat off, letting the cheese melt- (or place in a warm oven, topping with cheese, to allow it to melt).
 Assemble. Once cheese has melted, assemble. Spread harissa aioli on both sides of the buns, place burgers, optional bacon, arugula and pickled onions and then the bun top. Serve immediately.
---
---
Keywords: grilled lamb burgers, lamb burgers, lamb burger recipes, grilled lamb, grilled lamb recipes, grilled lamb burgers with harissa, harissa burgers