A little secret to making the BEST Gazpacho, a chilled, no-cook, Spanish soup highlighting ripe and juicy summer tomatoes. Serve it chunky or smooth -vegan and gluten-free with several variations! Video!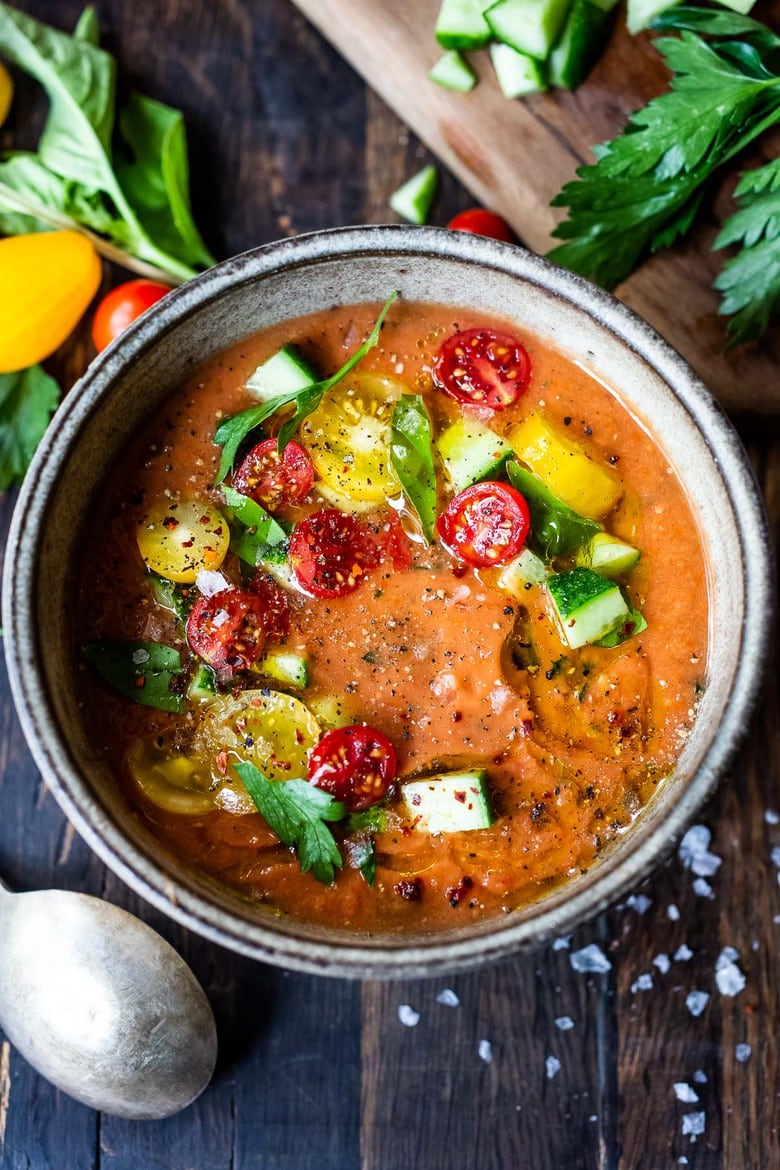 Summer in a bowl- that's how I think of this Gazpacho Recipe. During the hot months, a chilled bowl of gazpacho feels incredibly refreshing and restorative. The moment tomato season hits our area, it is pretty rare that a jar of gazpacho is not in the fridge on hand for quick midday meals or a pre-dinner appetizer.
This version has a "secret ingredient" that truly elevates. Celery juice! You can easily make this in your blender with two stalks of celery and a cup of water, or use store-bought celery juice. The celery juice adds a lovely, surprising backbone to the soup that really brings this to the next level. A little secret we used in our catering business. For another little trick see the recipe notes. 🙂
Chunky Gazpacho VS. Smooth Gazpacho
There are two very distinct camps when it comes to gazpacho; chunky gazpacho vs. smooth gazpacho. To be completely transparent, I am in the first camp. It does take a little more time (more chopping) but to me, it is heavenly and worth the extra effort. Just allow 15 more minutes.
Chunky Gazpacho: Keep your gazpacho "chunky" by pulsing half of the ingredients in the blender (rather than pureeing), then stir in finely diced cucumber, tomato and herbs afterward.  Drizzle olive oil over the gazpacho when serving.
The Best Gazpacho (2 ways!) | Video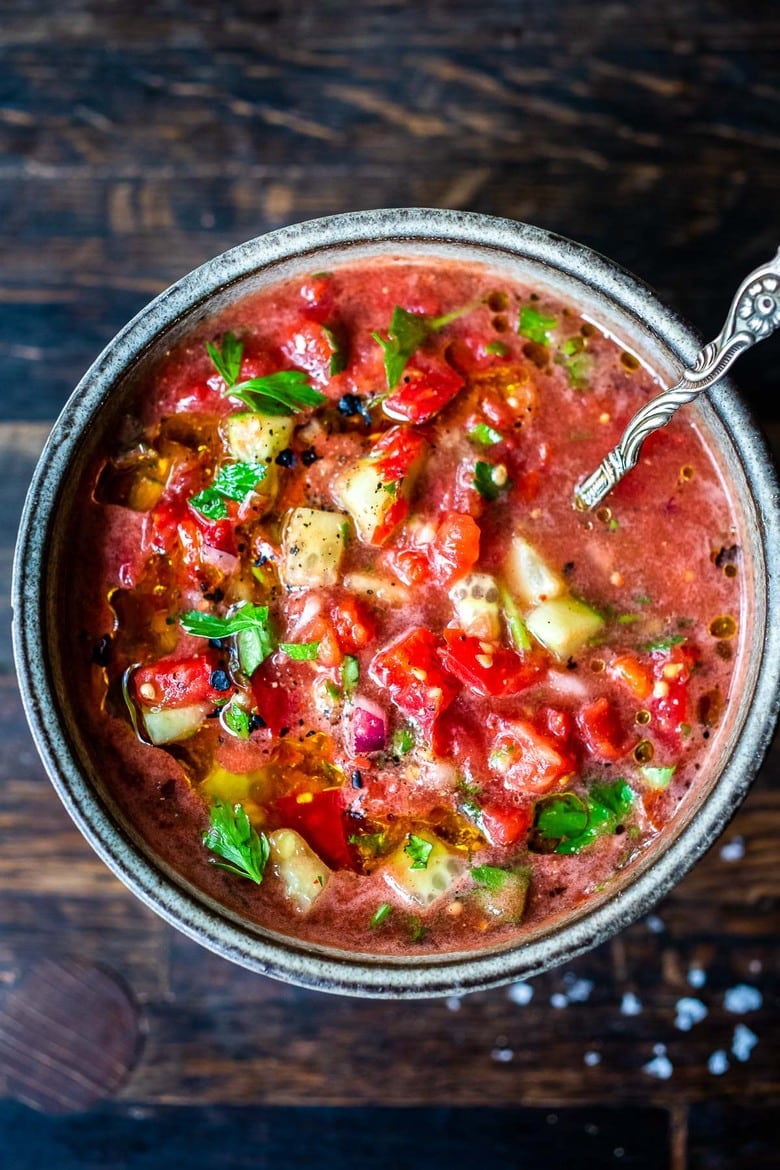 Smooth Gazpacho: Blend all of the gazpacho ingredients (all except herbs and olive oil) until very smooth. Slowly drizzle in olive oil while the blender is going, emulsifing it to create a creamy luscious texture, then pulse in the herbs. Chill and garnish with diced veggies.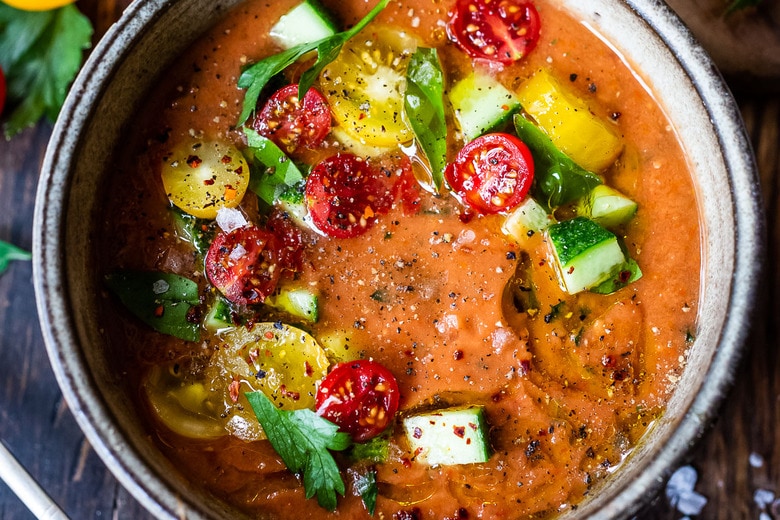 What you will need: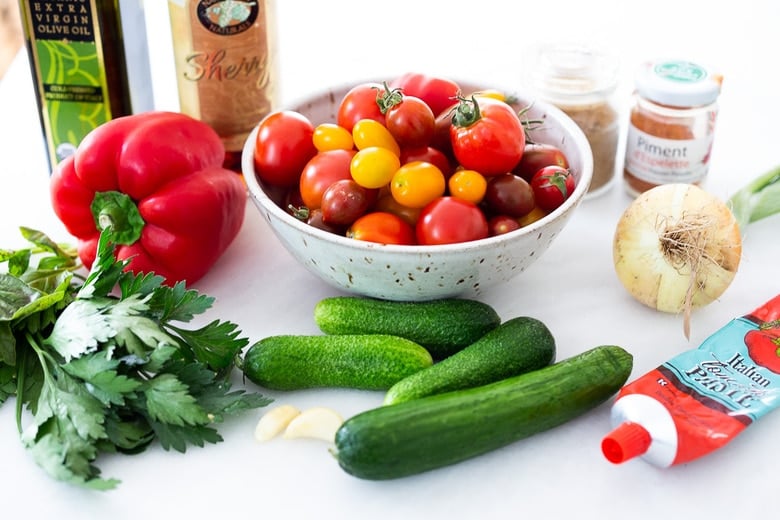 What tomatoes to use in Gazpacho?
Use the sweetest, juiciest tomatoes you can find. These are often found at local farmers' markets or in your own garden. Tomatoes left on the vine to ripen a little longer are sweeter and have the best flavor here, and will absolutely make a difference in the final dish. I prefer the sweetness that smaller vine-riped cherry tomatoes or yellow pear tomatoes offer, so I tend to go for the smaller ones. Remember, you want the soft and juicy ones! Overly ripe and juicy heirlooms , romas or tomatoes that need to be used up are especially nice here!
What cucumbers to use in gazpacho?
Thin-skinned cucumbers allow you to incorporate more of the skin into the gazpacho- said to aid with digestion, so I opt for these when I can- English, Persian, Turkish. Peel into stripes. Thick-skinned cucumbers can also be used, but peel them to remove their waxy skin.
How to make the BEST Gazpacho:
Step One:
Make the celery juice (the secret ingredient to elevating your gazpacho).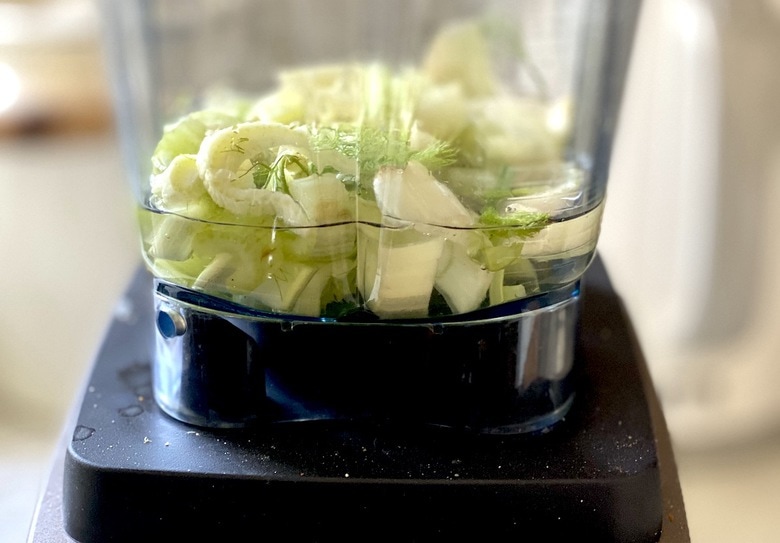 Blend 1 cup celery and 1 cup water, then strain the celery.

Save the celery juice.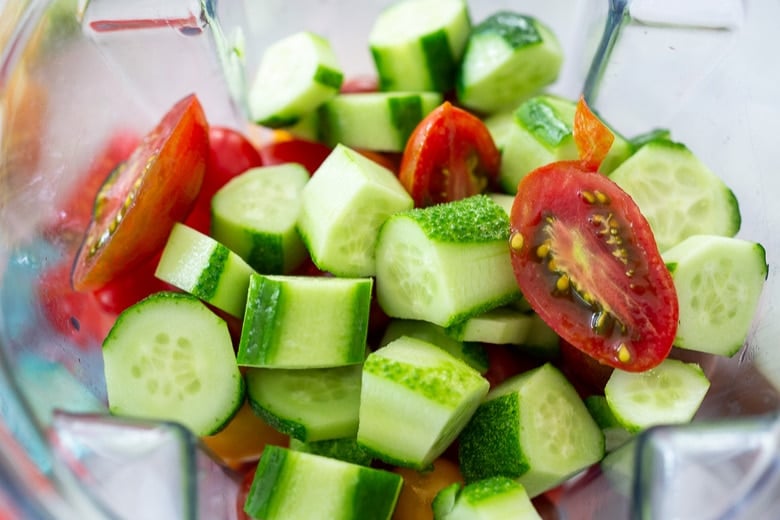 Step Two:
Place the gazpacho ingredients in a blender- all except the olive oil and herbs. Cut larger tomatoes into quarters or halves. Slice the cucumbers, roughly chop the bell pepper and onion. Here you see how I've peeled the cucumbers in strips- leaving some of the peel on.
Add the celery juice.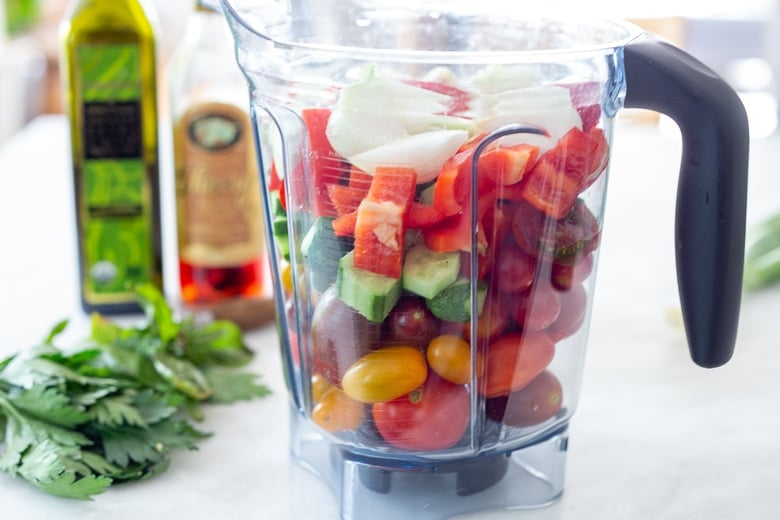 Blend the gazpacho, pulsing repeatedly until you get the texture you like. Here below it is still quite chunky.
To make chunky gazpacho, only pulse half the veggies in the blender, with the celery juice, then hand-chop the remaining veggies and add to the batch for a chunky texture. Drizzle the olive oil over the top when serving it this way.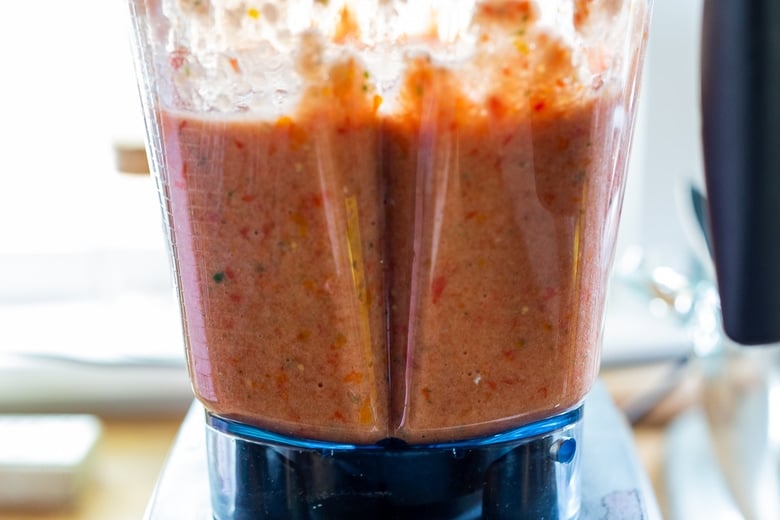 To make Smooth Gazpacho: Blend all the veggies and celery juice until smooth, then slowly add the olive oil to the blender while it's whizzing, until it emulsifiers to create a creamy luscious texture.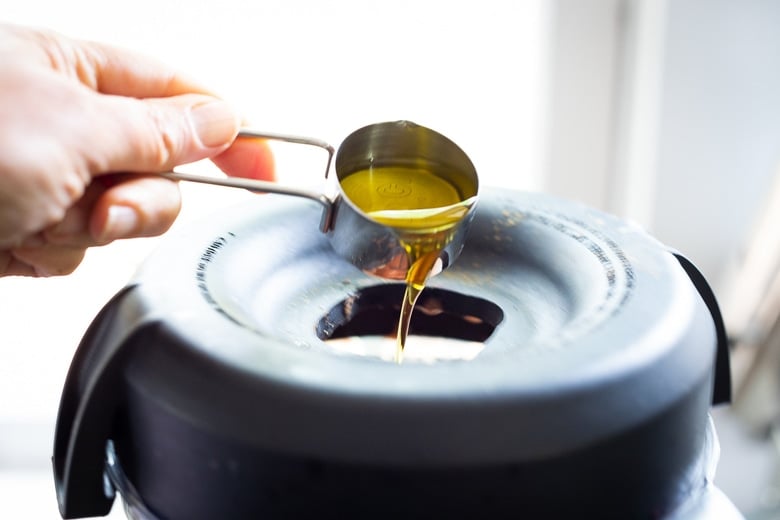 Many recipes call for a lot of olive oil to achieve this- but here I've kept it light with just 2 tablespoons. Feel free to add more.
TIP: Slowly pouring in the oil while blender is going- is key here and will give it that lovely rich mouthfeel some people crave.
Adding the olive oil will also smooth out the color and bring it up to a luminous golden orange. To further encourage this gorgeous color, stick with a red or yellow bell pepper. Green pepper will just mute and compete with the color of the tomatoes.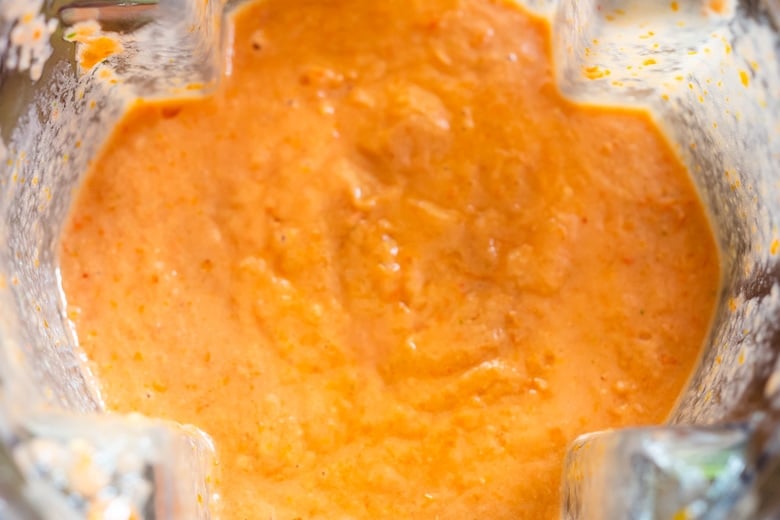 Step Three:
Add the spices, salt, vinegar. Once your gazpacho is to your liking, pulse in the fresh herbs- taking care not to over blend (which will mute the color) or feel free to chop and stir them in.
Step Four: 
Always adjust flavors! Be sure to taste your gazpacho and adjust the salt and vinegar to taste. Start conservatively and add more to taste. All tomatoes have different levels of sweetness and acidity and this will affect how much salt and vinegar you will use. Start conservatively, adding more to taste.
TIP: If your gazpacho lacks sweetness, a tablespoon of tomato paste will help!
Feel free to add spices and heat. A pinch of Spanish Chili pepper and cumin are nice additions. I like adding a hint of coriander. If you like smoky flavors, the tiniest pinch of smoked paprika can elevate especially if serving with seafood.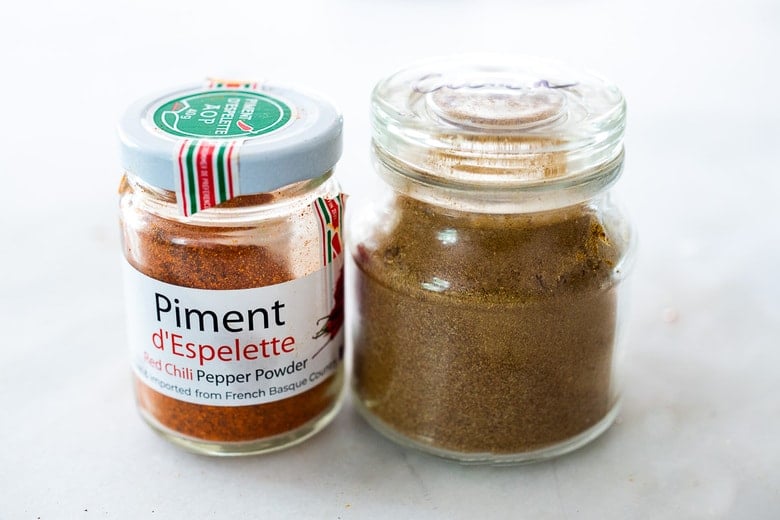 Gazpacho Variations:
In our catering business in years past, we played with many versions of gazpacho and that is what I most enjoy about it. Simply changing up the herb or the spices can take it in many different directions, depending on what you are serving with it. A fun creative thing to experiment with!
Bread: Traditional gazpacho from Spain is often blended with a hearty slice of day-old bread that has been soaked in water (and rung out). It does give gazpacho a lovely texture so feel free to experiment with this.  If you are gluten-free or low-carb, a couple of tablespoons of almond flour or hemp seeds, mimics this nicely.
Strain or not to strain: There are many folks that strain gazpacho to get a more refined, "purer" flavor without the skins. This, of course, is an option.  I prefer to not strain– leaving the skins in my gazpacho because I believe the skins are where the healthy nutrients of the plant are, and I like to believe I am feeding my microbiome by not straining. Plus I like the more rustic version personally. Up to you!
How to serve Gazpacho
Serve gazpacho in a mug or glass.
Serve gazpacho in a bowl topped with tomato, avocado, cucumber, herbs, croutons, a drizzle of olive oil or even a swirl of yogurt. Add seafood if you like- prawns, crab, lobster, scallops, etc.
Serve as an appetizer in a shot glass or little cup. (see below)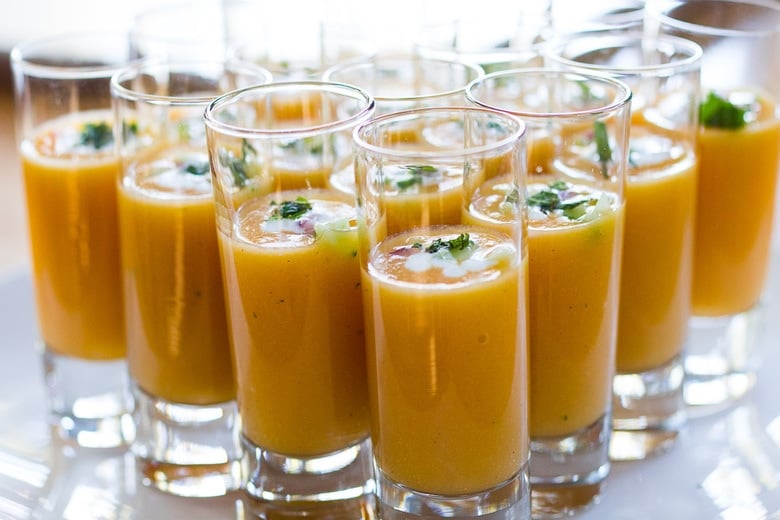 Serving in a shot glass makes a fun appetizer. Above is a smooth, strained version. Very refined. Below is a chunky spicy version. Often, when catering events, we topped gazpacho with a prawn and salted the rim of the glass for a refreshing shot.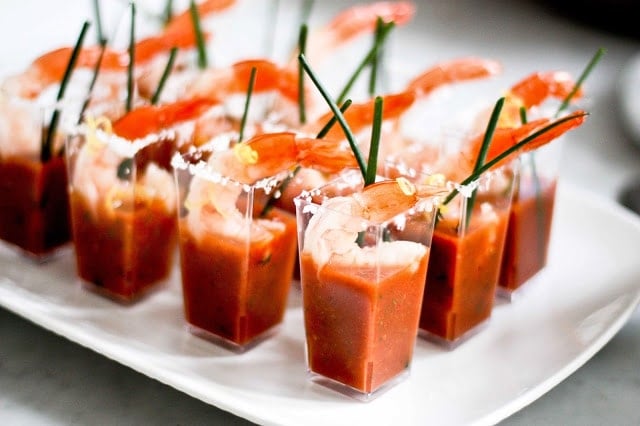 How to store Gazpacho?
Keep Gazpacho in a pourable quart jar or pitcher in the fridge for the easiest accessibility.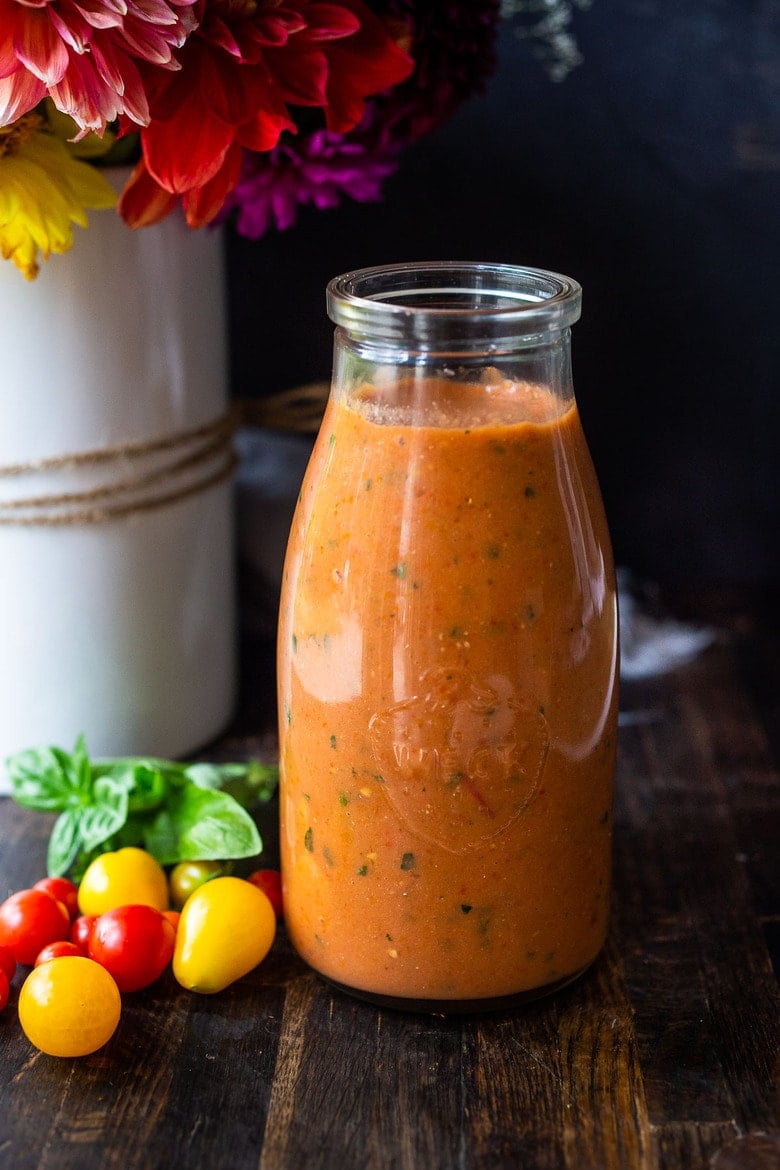 How long does Gazpacho last?
Gazpacho will keep in the fridge for up to 4 days. Just give it a good stir if it separates. The vinegar will help preserve it here.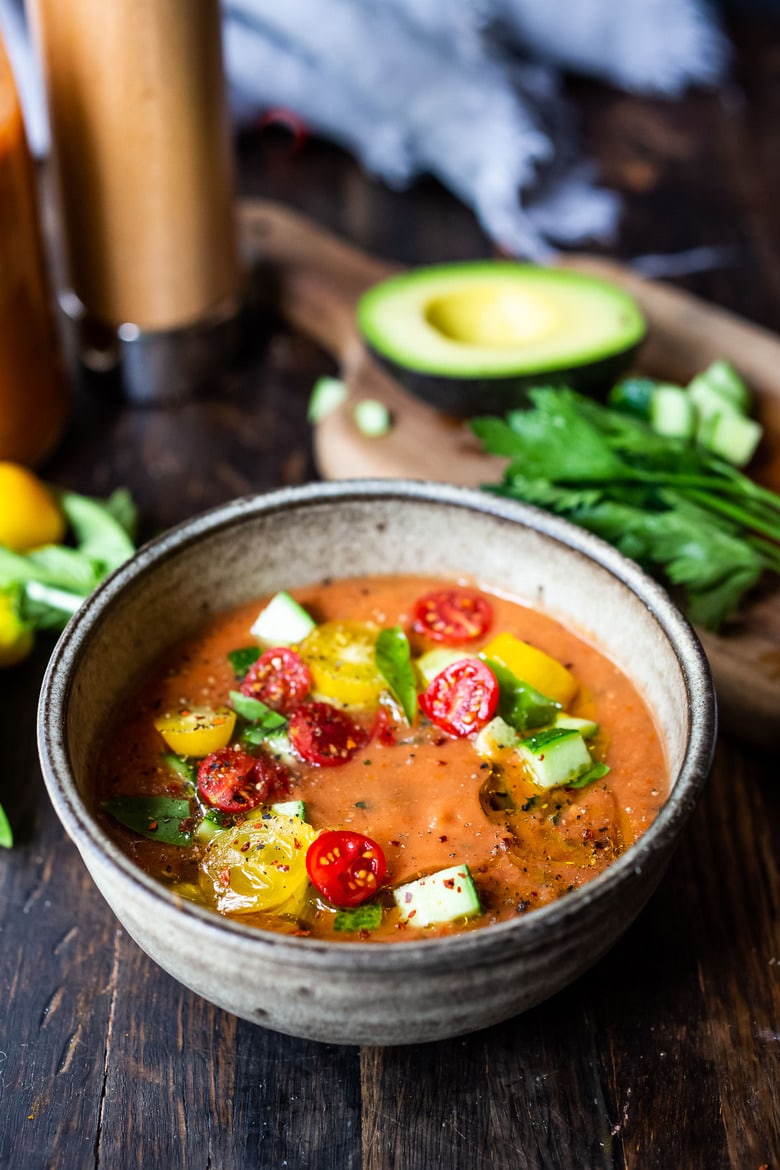 Whether you prefer your Gazpacho chunky, or creamy and smooth, I think you'll love this recipe.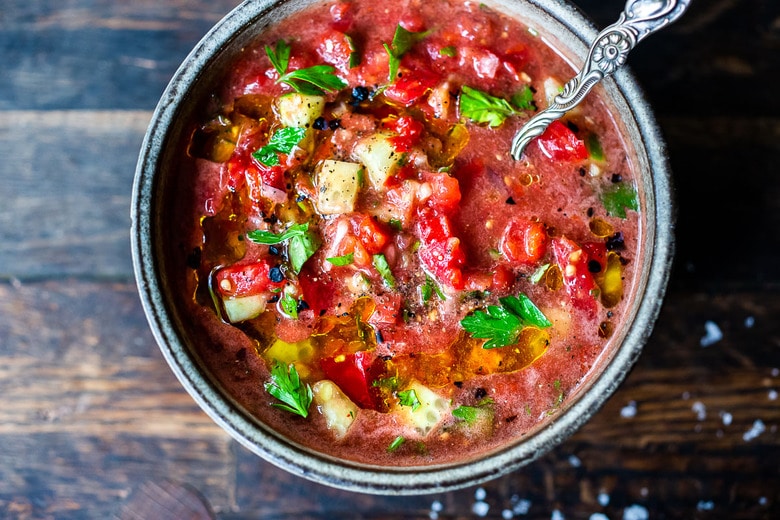 Enjoy all those beautiful summer tomatoes before they disappear! Make a batch of gazpacho and let us know your favorite way in the comments below!
xoxo
More Gazpacho recipes you may like:
Print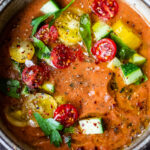 The BEST Gazpacho! (Chunky or Smooth)
Prep Time:

25

Total Time:

25 minutes

Yield:

5 ½ cup

1

x

Category:

soup, vegan,

Method:

Blended

Cuisine:

Spanish

Diet:

Vegan
---
Description
A quick and easy recipe for Gazpacho, a chilled, no-cook, Spanish soup highlighting ripe and juicy summer tomatoes. Vegan and gluten-free with two variations: Chunky Gazpacho (my favorite) or Smooth Gazpacho. Allow more time for the chunky gazpacho as there is more chopping involved.
---
1

cup

celery, sliced (2 celery stalks, sliced)

1

cup

water
——

2

lb

tomatoes (juicy ripe tomatoes: cherry tomatoes, grape tomatoes, yellow tomatoes, heirlooms or romas)

1

red bell pepper (or sub yellow),

8

ounces

cucumbers, peeled into strips (4 Turkish, or about 3 1/2 cups) use thin-skinned like English, Persian, Turkish, etc.) see notes

1/3

cup

red onion

2

garlic cloves

2

–

3

teaspoons red wine vinegar or sherry vinegar

2 tablespoons

olive oil

1 teaspoon

salt, more to taste

1/2 teaspoon

pepper

1/2 teaspoon

cumin

1/8

–

1/4

teaspoon piment d'espelette (or cayenne or sweet paprika),

1/4 teaspoon

coriander

1/2

cup

fresh herbs, finely chopped ( 1/4 cup Italian parsley, 1/4 cup basil, mint, cilantro or dill)
optional: 1 tablespoon tomato paste (for sweetness)
optional: 1-2 slices soaked bread (see notes)
---
Instructions
Chunky Gazpacho:
Blend celery and water in a blender. Strain, reserving the celery juice. ( FYI: I've tried adding the pulp to the gazpacho and do NOT recommend it.)
Rough chop HALF of the tomatoes, half of the cucumbers,  half of the bell pepper, half of the onion, and both garlic cloves and add these to the blender with the celery juice and pulse repeatedly until uniformly chopped but not too smooth. If adding tomato paste ( for more sweetness) or soaked bread, add this now, and pulse a couple times. 
Finely dice the remaining tomato, cucumber, bell pepper, and onion and add to the gazpacho. Stir in the vinegar and salt (start light), pepper, spices and chopped herbs. Taste and adjust salt and vinegar.
Serve chilled with a drizzle of olive oil, optional avocado, etc. Feel free to garnish with finely chopped cucumber, red onion, cherry tomatoes, avocado, a finely diced fennel bulb, microgreens, croutons.
Smooth Gazpacho:
Blend celery and water in a blender. Strain, reserving the celery juice. ( FYI: I've tried adding the pulp to the gazpacho and do NOT recommend it.)
Place

all

the tomatoes (halved), cucumbers (peeled into strips, cut into chunks), bell pepper (cut into chunks), onion (chunks) , garlic, and celery juice in the blender. Blend until smooth.
With the blender motor running, slowly pour in the oil and blend until smooth, creamy, glossy and emulsified. Add the vinegar,  salt , black pepper, spices. If your gazpacho lacks sweetness, add tomato paste. Adjust salt and vinegar and spice level to taste.
Once you like the taste, pulse in the fresh herbs (or finely chop and add them) and be careful not to over blend the herbs- or you will lose that lovely color!
Chill until serving.
Garnish with toppings: finely diced cucumber, red onion, cherry tomatoes, avocado, finely diced fennel bulb, microgreens, croutons.
---
Notes
The celery juice provides a beautiful backbone to the gazpacho. To elevate even further: try adding a few slices of fennel bulb along with the celery when making the celery juice. (Celery Fennel Juice) Garnish with a little tarragon. 😉 Delish!
Soaked Bread: Day-old bread, soaked in water for 15 minutes, then gently rung out, is often added to gazpacho (while blending) which gives the soup a nice texture. Feel free to add if you like. For a GF option add a couple of tablespoons almond flour or hemp seeds which mimic the mouth feel of the bread nicely.
Nutrition
Serving Size:
Calories:

110

Sugar:

7.6 g

Sodium:

498.9 mg

Fat:

6.3 g

Saturated Fat:

0.9 g

Carbohydrates:

13.1 g

Fiber:

3.9 g

Protein:

2.8 g

Cholesterol:

0 mg
Keywords: Gazpacho, Best Gazpacho, chunky gazpacho recipe, creamy gazpacho, vegan gazpacho, smooth gazpacho recipe, authentic gazpacho recipe