This Roasted Vegetable Salad with Maple Curry Dressing is full of fantastic flavor and perfect for fall gatherings or the holiday table. Served over a bed of shredded kale it is hearty and nutritious. Vegan and GF.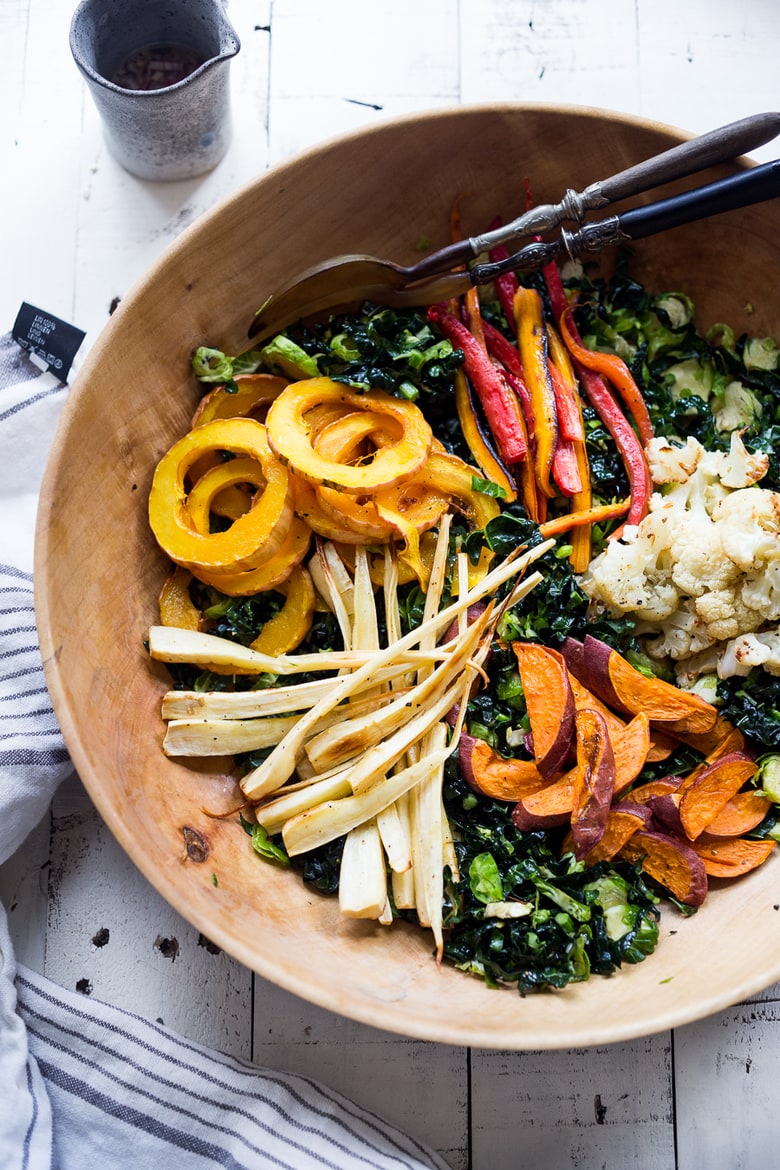 In one of those stars I shall be living. In one of them I shall be laughing. And so it will be as if all the stars were laughing, when you look at the sky at night. ~Antoine de Saint-Exupéry~
Shredded kale and brussel sprouts form the foundation of this delicious, hearty Roasted Vegetable Salad with Maple Curry Dressing.  Vegan and gluten-free, it's loaded up with nutritious seasonal veggies and can easily be turned into a main course with the addition of lentils, nuts or seeds.
It's sturdy enough to be made ahead, and the leftovers keep well in the fridge, perfect for weekday lunches.
The flavorful Maple Curry Vinaigrette offers a delightful twist to the traditional fall salad.
Roasted Vegetable Salad Ingredient Notes:
Roasting Veggies: Winter squash, parsnips, sweet potatoes, carrots, or cauliflower, any combination will do!
Greens:  shredded lacinato kale, shredded Brussels sprouts, or any other sturdy salad greens.
Lentils: black caviar, or green lentils, or leave them out and add an extra cup of veggies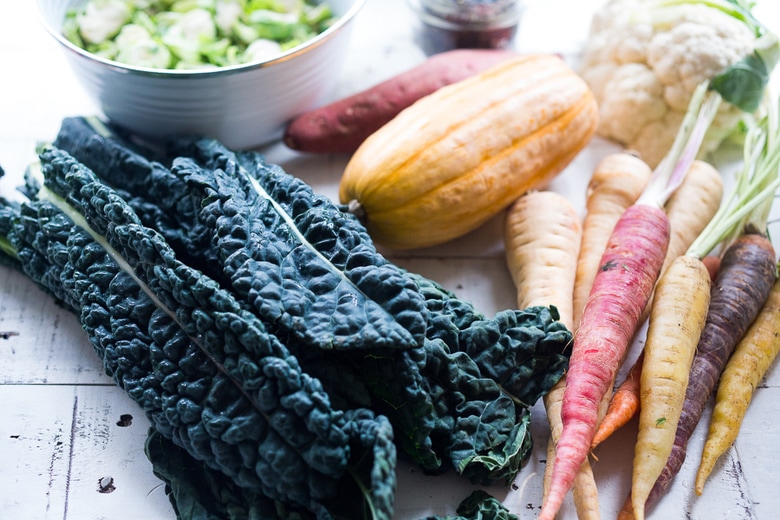 How to make Roasted Vegetable Salad
Step one: Roast the veggies! Parsnips, carrots, yams, winter squash, and cauliflower are roasted on sheet pans in the oven until tender.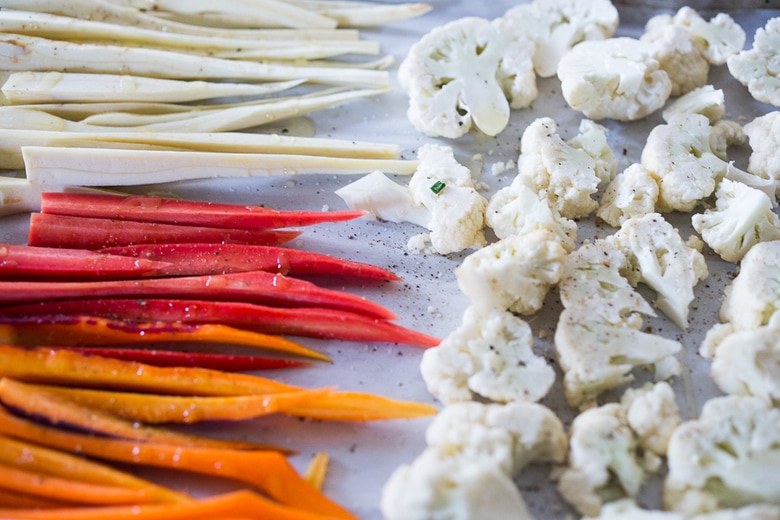 You may need to use 2 sheet pans for this. I keep veggies separated because some cook quicker than others.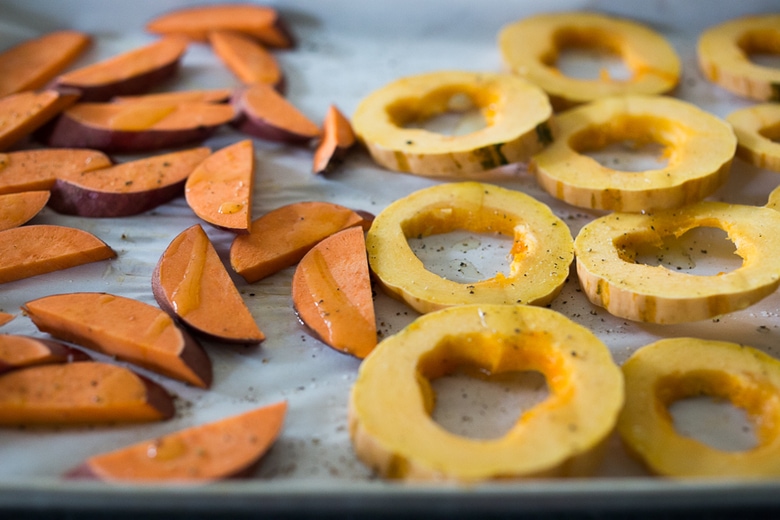 Step 2:  Prep the greens. The lacinato kale is very thinly sliced into ribbons.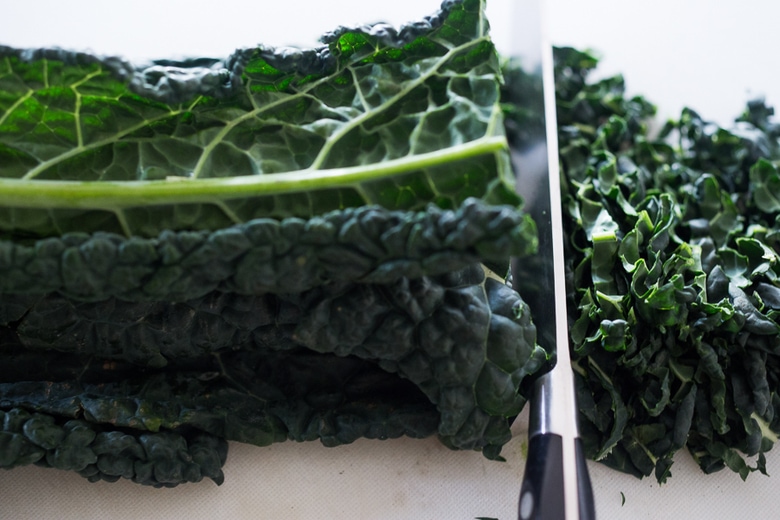 Thinly slicing makes it easier to chew!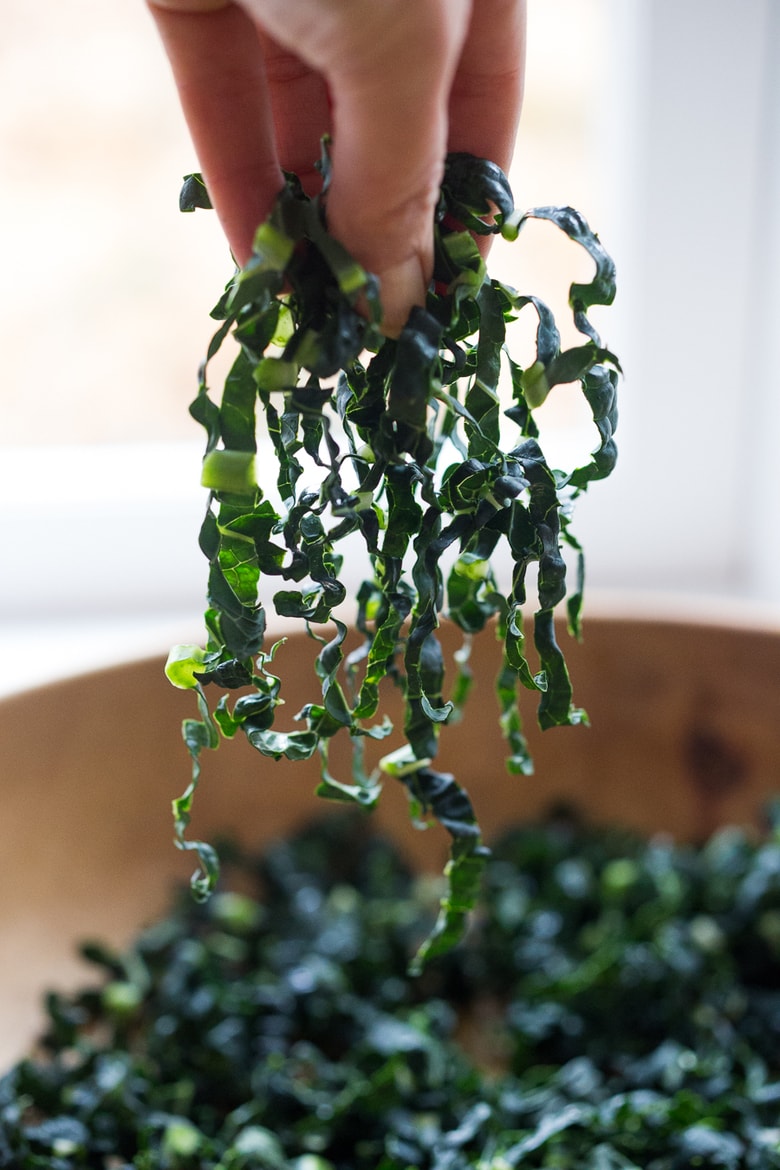 Brussel sprouts are thinly sliced ( or feel free to purchase pre-shredded brussel sprouts ). Or just double the kale.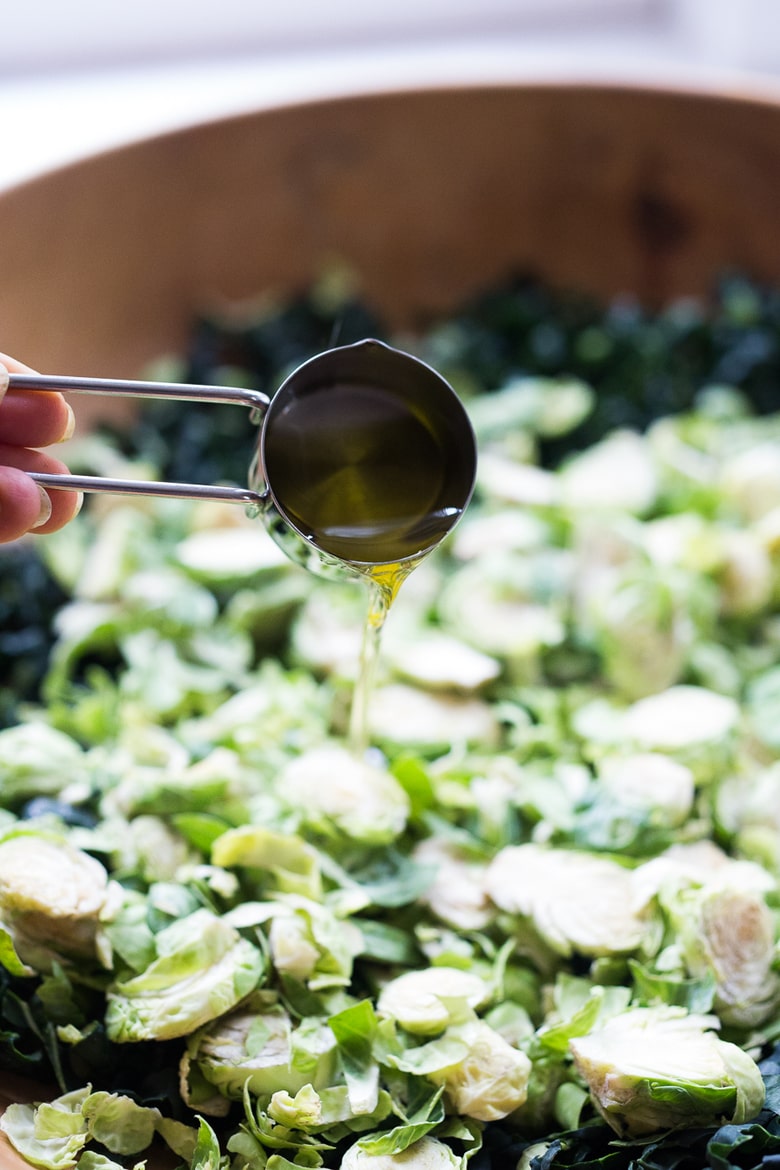 Massage the greens. Add oil and salt and begin massaging the kale and brussel sprouts with your fingers, until they become tender and pliable,  about 4-5 minutes.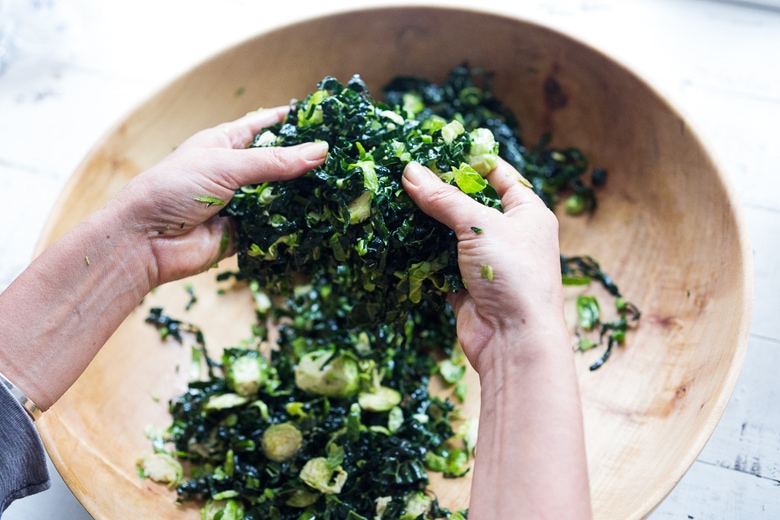 Step 3; Combine! Add the roasted veggies.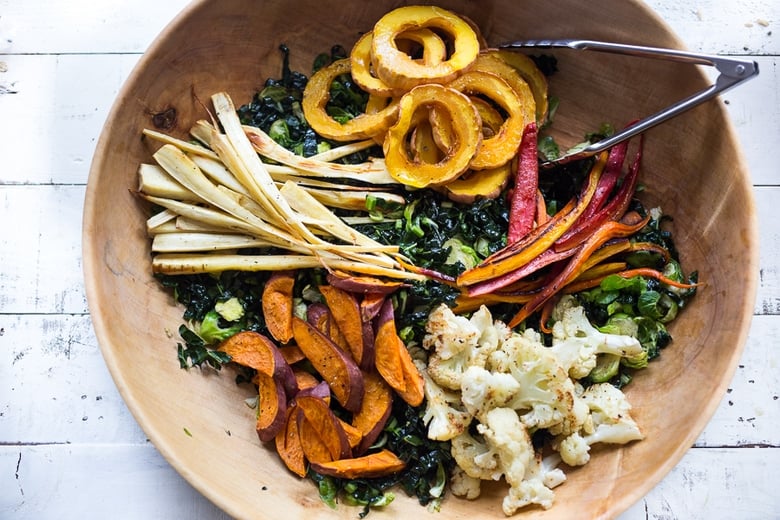 Step four:  Dress the roasted veggies. Spoon the flavorful Maple Curry Vinaigrette overtop of the roasted veggies.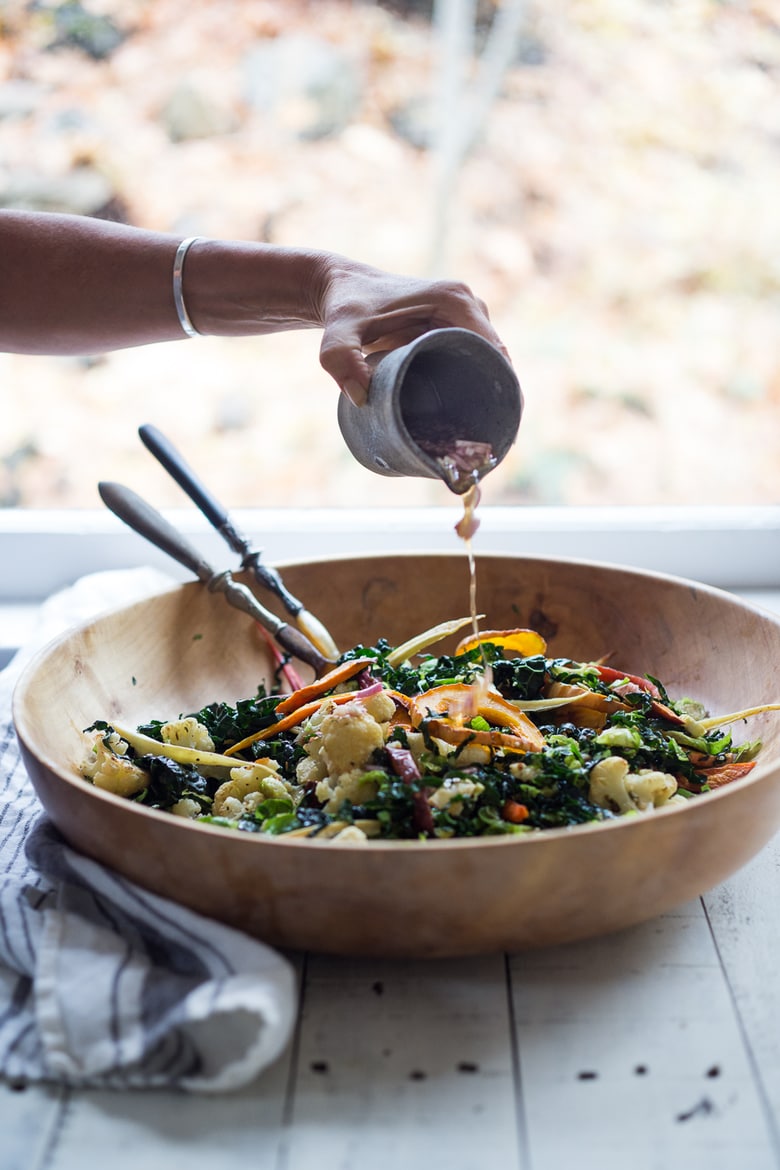 Then gently toss the salad.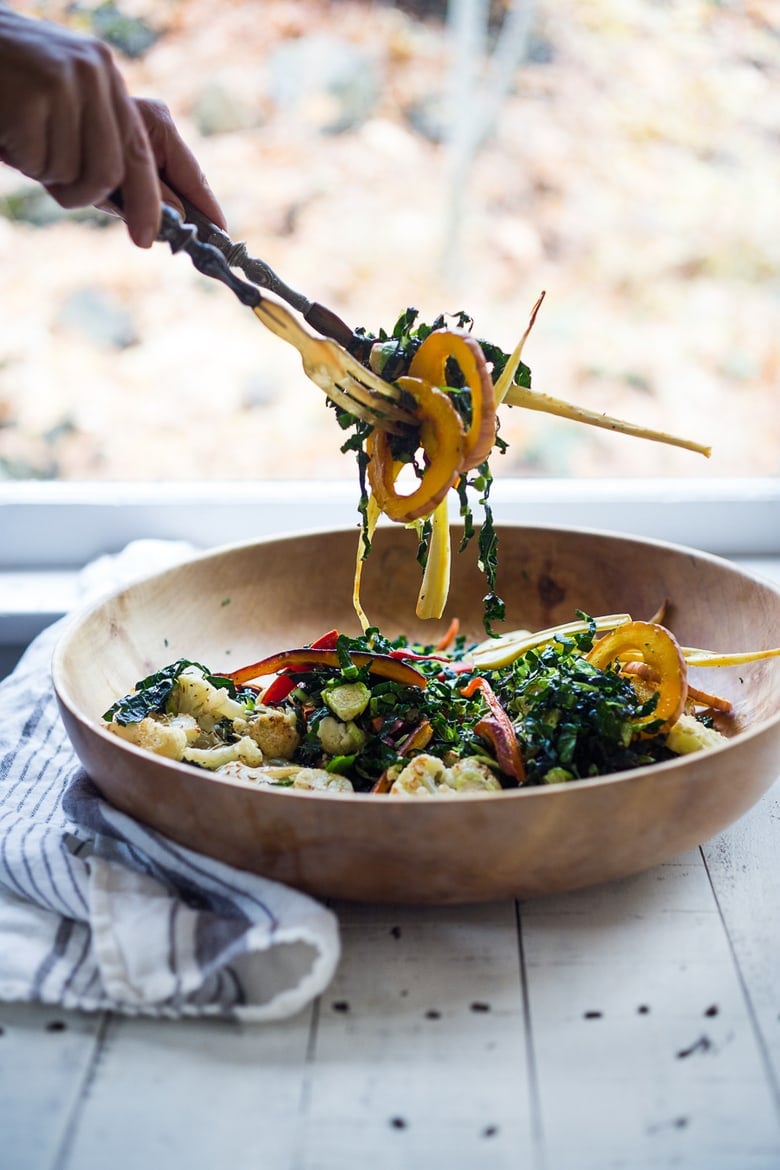 Step 5: Add any finishing touches – cooked lentils, pumpkin seeds, pomegranate seeds and golden raisins.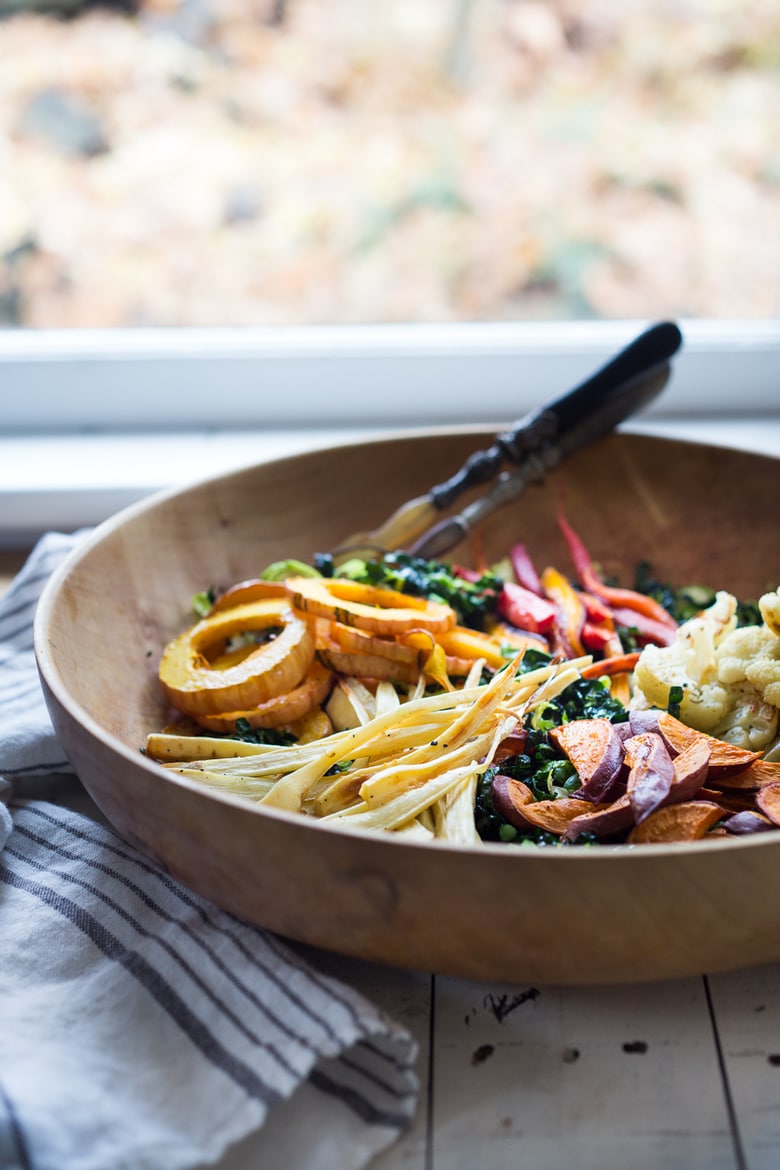 The salad can be made ahead- then dress a few minutes before serving. Leftovers hold up well! I hope you enjoy this beautiful fall salad!
On the homefront: Today would be my mother's 90th birthday. I've wanted to tell you this story for a while now, but it took a long time for the words to come…
After my mother passed away, now seven years ago, I would often dream of her. In my dreams, we would hang out together like we once did in real life. She would be visiting or making something the kitchen. But in the dream, the time would come when it was time for her to go. She would get up to leave, and I would cling to her and tell her how much I missed her, and ask her to please just stay a little longer, and then slowly I'd start to remember while dreaming, that she had died and that this was just a dream.
I would wake up with my heart broken and aching. This happened many times in the beginning.  But then, one morning, something changed. I was somewhere in between dreaming and waking, and was pleading with her in my dream to stay with me.  As she was fading away, she whispered into my ear, "but Sylvia… I am eeeeverywheeeeeere! ".  Her words felt audible, like she whispered out loud, right in my ear, with my head still on my pillow. I  sat up in bed and had chills all over my body. It felt very real.
That spring morning, I walked out my front door to the prettiest blooming Lilies of the Valley, ironically, her favorite flower (the Finnish National flower) and astonishingly, there were hundreds of them with their little bowed heads, in my front flower bed. We had just purchased the house weeks before, so I was not familiar with what would come up in the garden, and in my sadness, I guess I just hadn't noticed before that day. But there they were that morning, so lovely and fragrant in the sunlight, and I remembered her words, I am everywhere… and their scent became her essence.
Later that day, I walked to the wooded trails near our house, walking through the trees, minding my own business, when suddenly I was surrounded by hundreds of little white butterflies. They seemed to be flying along with me as I walked, and again, I remembered my mom's words …I am everywhere.  I got goosebumps and felt her in the fluttering of their tiny wings as they brushed up against my skin, hundreds of little heartbeats.
I walked the mile back home, still in awe, and sat on the porch and called a friend to tell her of my most amazing dream and the Lilies of the Valley and all the white butterflies (yes a very patient friend) and just as I was telling her, no joke,  a white butterfly landed on right on my hand.
Are YOU my mother??!! I asked. My friend and I had a good laugh, but somehow I knew it couldn't merely be a coincidence. It felt as if she was trying to tell me she was still here, in her sweet way, or perhaps, as I would later come to find out, my own soul was leading me down a path toward my own healing.
That year, spring turned into summer, and summer to fall, and one day winter came. I woke up one silent cold morning to a hushed, snow-covered world.  Huge snowflakes floated down through the sky, so free and unencumbered. And as I sat there, mesmerized, it dawned on me, that it was her birthday.  I remembered her words again as the snow fell , "but Sylvia...I am everywhere".  Somehow I felt her then, in all the millions of snowflakes. They were alive with her, glittering and sparkling, and she was free and floating… I can't put into words the comfort this brought me at that moment.
Now every time I see falling snow, I feel this beautiful connection with her and a gentle reminder to pay attention… beauty and magic surround us when we are present.
Her birthday swings around again. I feel her again, yet somehow, I don't feel sadness. Granted, time has passed. The ache is gone, and in its place, this happy bubbly love resides in my heart.  Looking back, I feel AWE at how I was guided down this path toward healing in such a loving, creative and magical way – in a way that would resonate with me personally.
We will all experience loss in this life. Nothing is harder. At the same time, it can be one of most profoundly beautiful, life-changing experiences if we allow it. So often in our grief and sadness, we close ourselves up and miss the most exciting and beautiful things, by not being present. My mother's parting gift to me, her words, I am everywhere, was so poignant and timely because they made me want to open my eyes and pay attention!
I hope you enjoy this Roasted Vegetable Salad. Please leave us a comment and rating below, let us know what you think.
xoxo
More Fall Salads you may like:
Print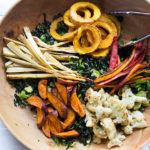 Roasted Vegetable Salad
Author:

Sylvia Fountaine

Prep Time:

15

Cook Time:

30

Total Time:

45 minutes

Yield:

8

1

x

Category:

salad, vegan, fall recipes

Method:

roasted

Cuisine:

American

Diet:

Vegan
---
Description
This Roasted Vegetable Salad with Maple Curry Dressing is full of fantastic flavor and perfect for fall gatherings or the holiday table. Served over a bed of shredded kale it is hearty and nutritious. Vegan and GF.
---
Roasted Fall Vegetables
3

small parsnips, peeled

3

small carrots, peeled

1/2

a cauliflower

1

small yam

1

small delicata squash
salt and pepper to taste
generous pinch cumin seed and fennel seeds ( optional)
Salad
Maple Curry Dressing
---
Instructions
Preheat oven to 425F
Cut parsnips and carrots into quarters, vertically, then half again if necessary, to get them to ½ inch thick at widest part. Cut cauliflower into bit sized florets, and yam ( no need to peel)  into ½ inch thick half moons. Split squash in half, remove seeds ( no need to peel) and cut into ½ inch thick slices. ( Alternatively, you can cut them into rings, but will need to remove seeds from each ring.)  Place all the veggies on two, parchment lined sheet pans  and drizzle with olive oil, sprinkle with salt and pepper. Add a pinch of the fennel and cumin seeds to the cauliflower. Roast 30-35 minutes, tossing them halfway through.
Place the shredded kale and brussel sprouts in a large bowl and massage with olive oil and salt for about 3-4 minutes.  Add the lentils.
Whisk the dressing ingredients together in a small bowl.
When veggies are done let them cool to room temp. Add them to the kale-brussels sprout bowl and toss all with the curry dressing.  Taste, adjust salt and pepper. If you want a stronger curry flavor, add more and toss it in.
Top with seeds or nuts, golden raisins, and or pomegranate seeds.
Serve at room temp, or store in the fridge until ready to serve. This salad keeps for several days.
---
Notes
Feel free to skip the lentils if you prefer and add 1-2 cups more roasted veggies.
Nutrition
Serving Size:

1 cup

Calories:

206

Sugar:

9.2 g

Sodium:

270 mg

Fat:

7.3 g

Saturated Fat:

1 g

Carbohydrates:

32.5 g

Fiber:

8.3 g

Protein:

5 g

Cholesterol:

0 mg
Keywords: roasted vegetable salad, fall vegetable salad, roasted veggie salad, roasted vegetable salad recipe,
SaveSaveSaveSave
SaveSave
SaveSave
SaveSave
SaveSave
SaveSave
SaveSave
SaveSave
SaveSave
SaveSave
SaveSave
SaveSave