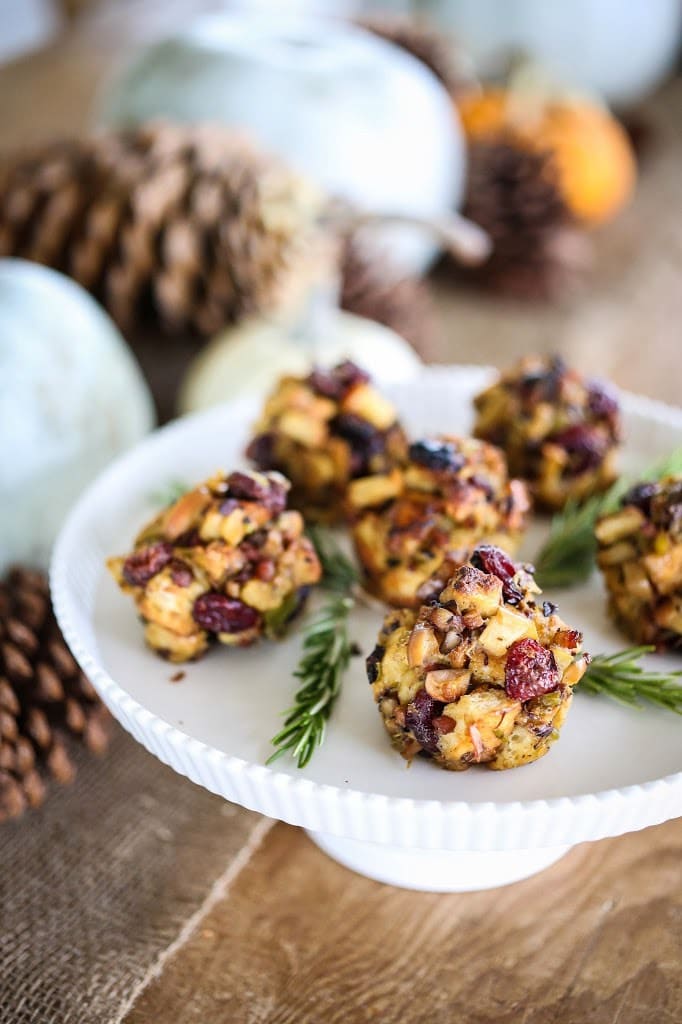 As Thanksgiving quickly approaches, many of us are well into the planning stages of the meal that will be shared with family and friends. We all have our favorites, the must-have dishes that have become a part of the tradition we have created through the years. A favorite dish of mine, is stuffing. It's the one dish I return to most often for second helpings and sometimes even thirds. This version is made in muffin tins -a different and fun way to serve stuffing on the Thanksgiving table. Or for a festive appetizer "bite", use mini muffin tins.
This beautiful Thanksgiving Tablescape, was created by Serena Thompson from the
The Farm Chicks

.
We collaborated today to help inspire you to have fun with designing your own Thanksgiving table. Serena lives in the country and is surrounded by pumpkin patches -so most of what is on the her table was foraged right outside her door. A simple burlap runner grounds the different colored pumpkins and multi-sized pine cones. For the how-to's on how to create this- please visit her lovely post here at
The Farm Chicks

.
She also shows how to make a gorgeous
Autumn Arrangement
– an urn filled with branches, berries and fresh produce easily purchased at the grocery store, perfect for the Thanksgiving table.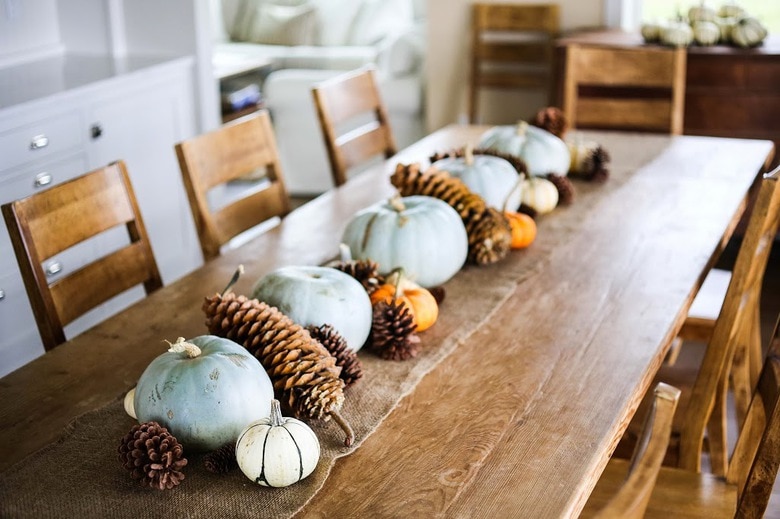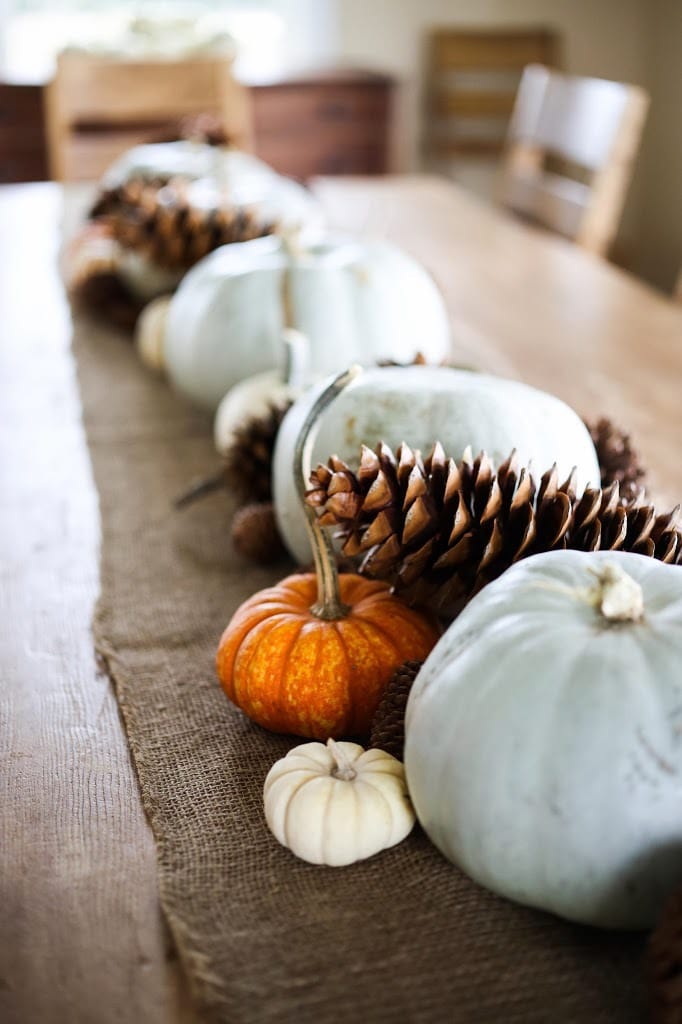 I had the luxury of making these Thanksgiving stuffing muffins with Serena in her beautiful light-filled kitchen.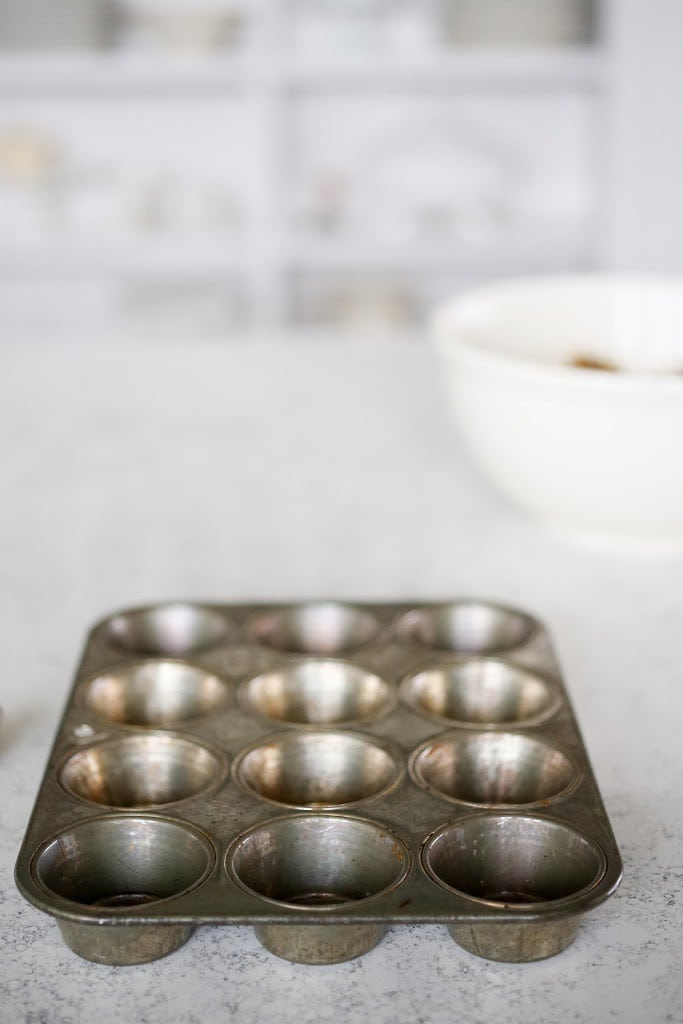 This particular stuffing recipe is bold and flavorful – made with chorizo, a spicy Mexican ground sausage- and brightened with dried cherries. But if you prefer to make your own favorite stuffing recipe in muffin tins, there is just an easy simple adjustment. Replace some of the stock with eggs, which will act as a binder. And don't worry, you won't be able to detect the eggs once the muffins are baked. For this recipe, I basically replaced ¾ C stock with 3 eggs.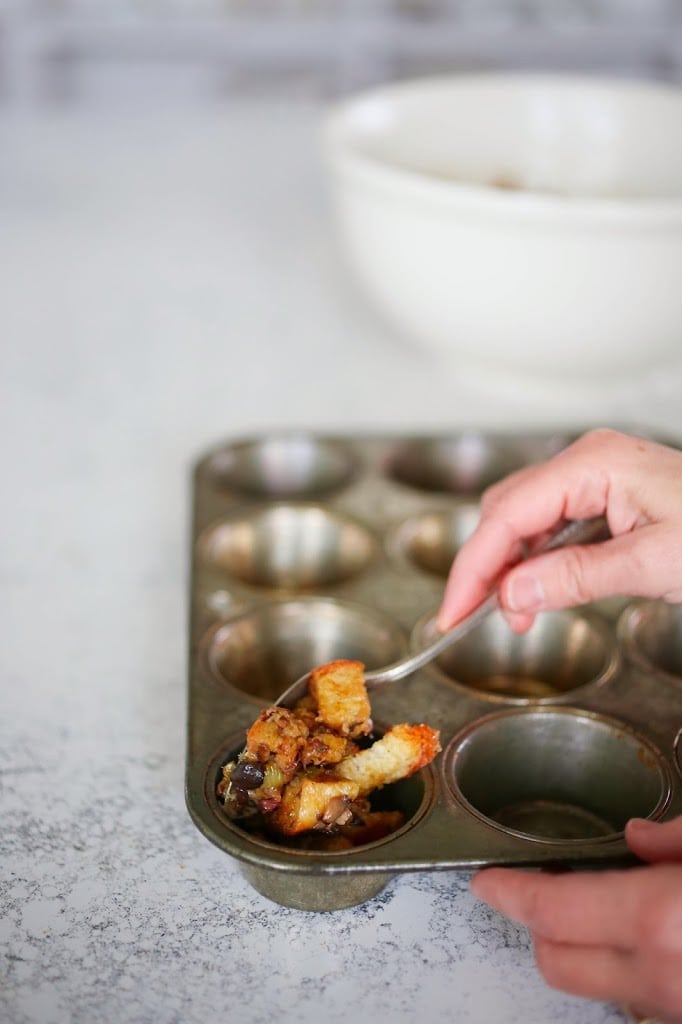 Make sure to pack the stuffing down in the well- greased muffin tins very well, and mound them up high.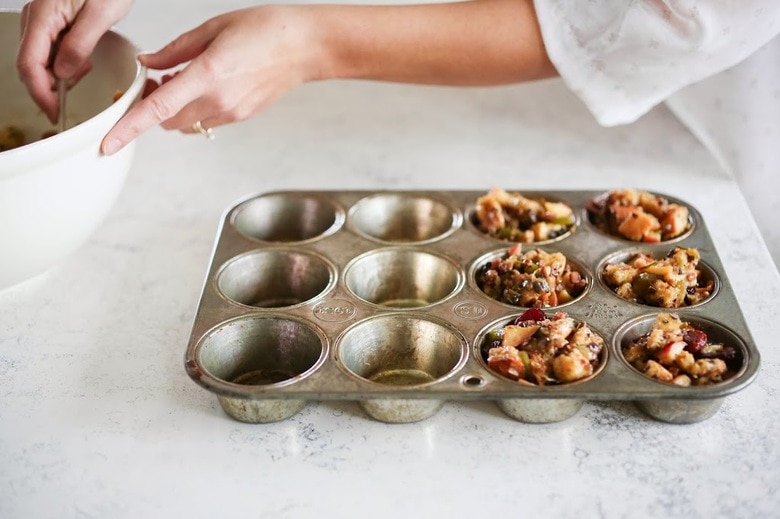 Bake them in A 350 F degree oven for 20-25 minutes. When they come out of the oven, run a knife around the edges to loosen, and they will pop right out. Serve right away.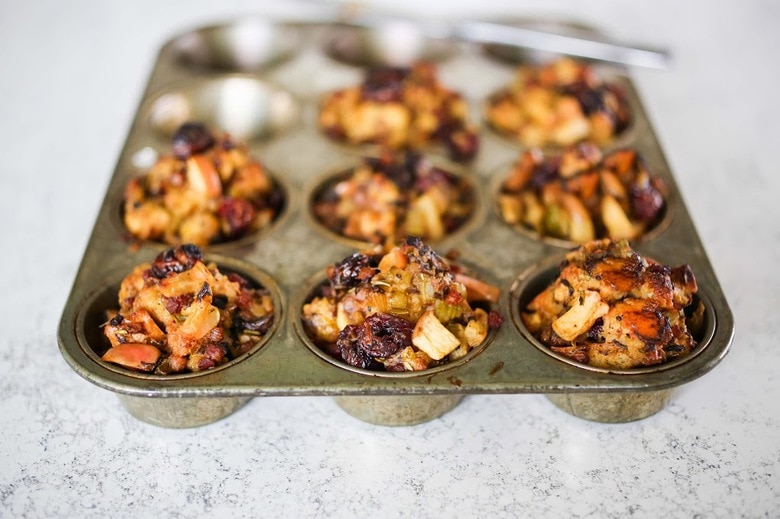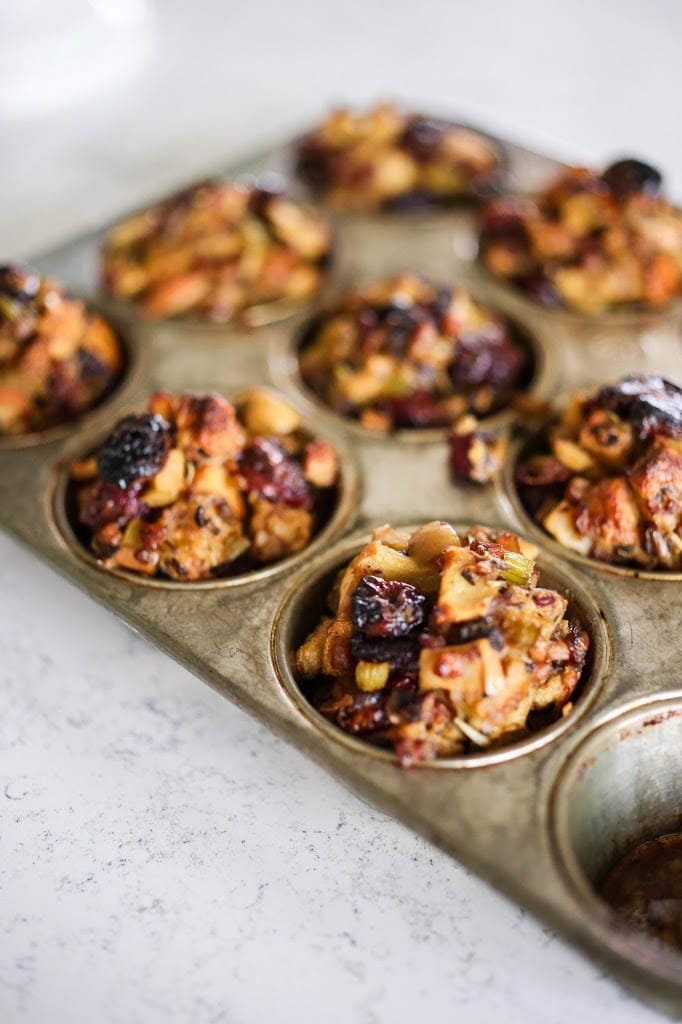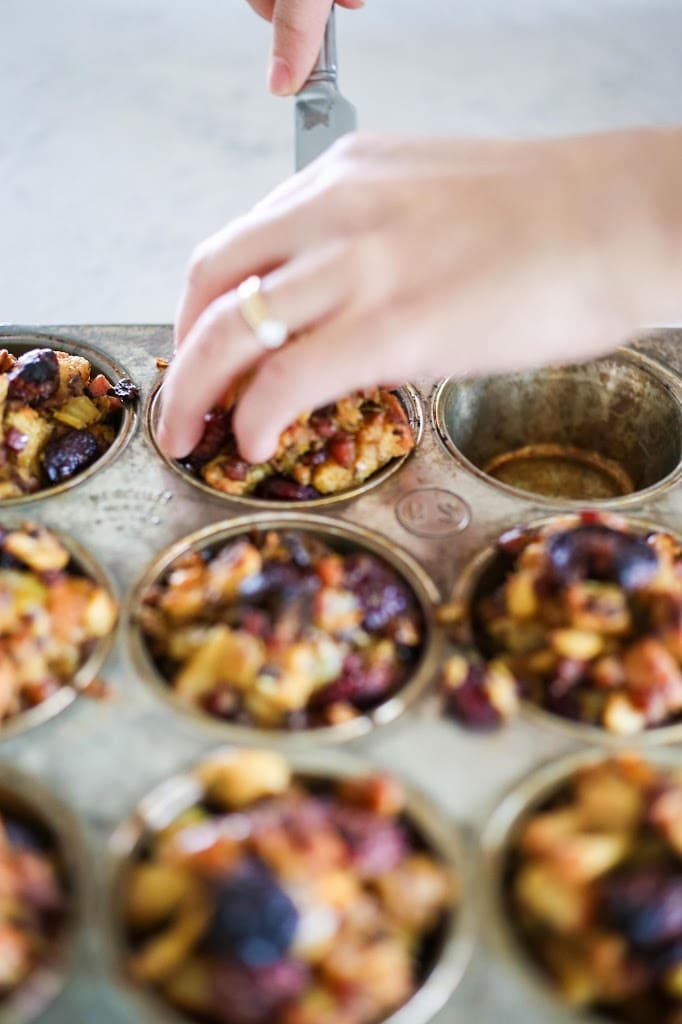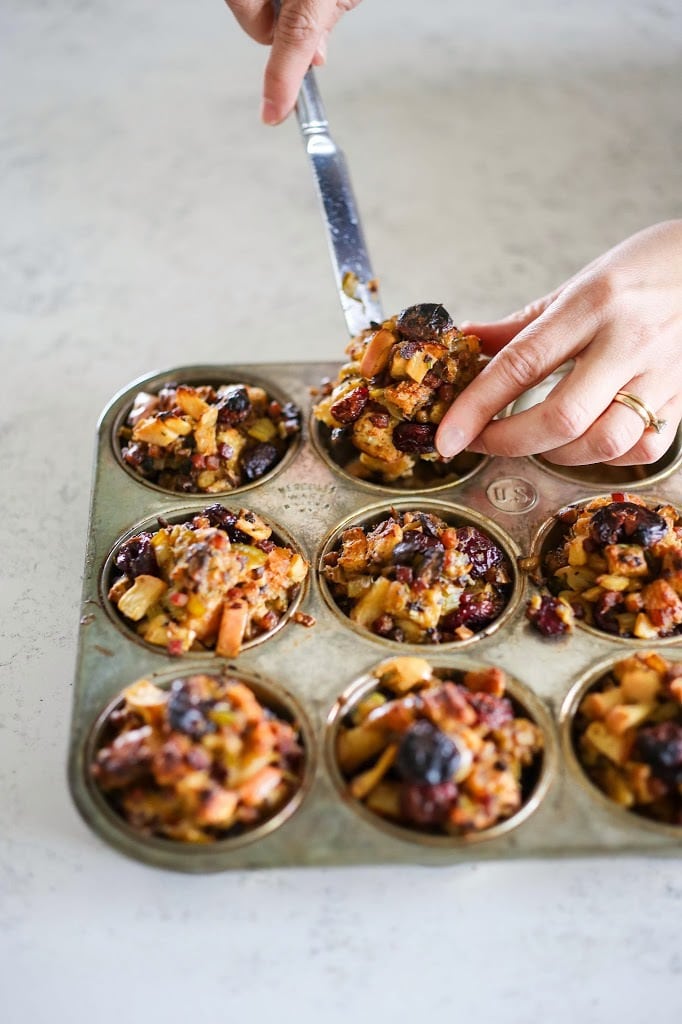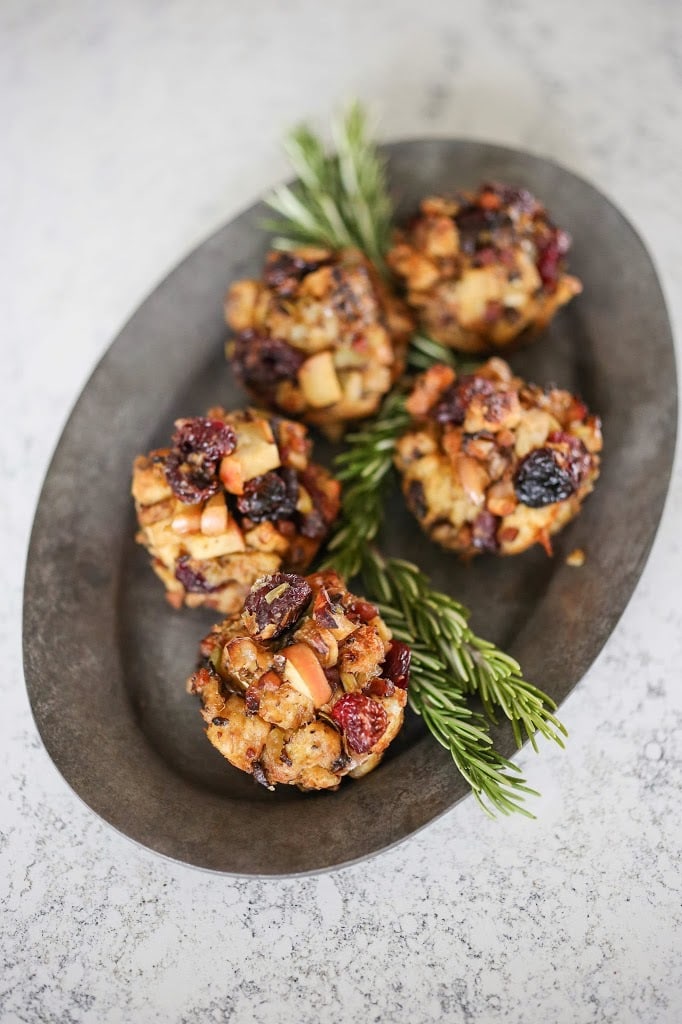 Serve them on a platter…. or on a cake stand.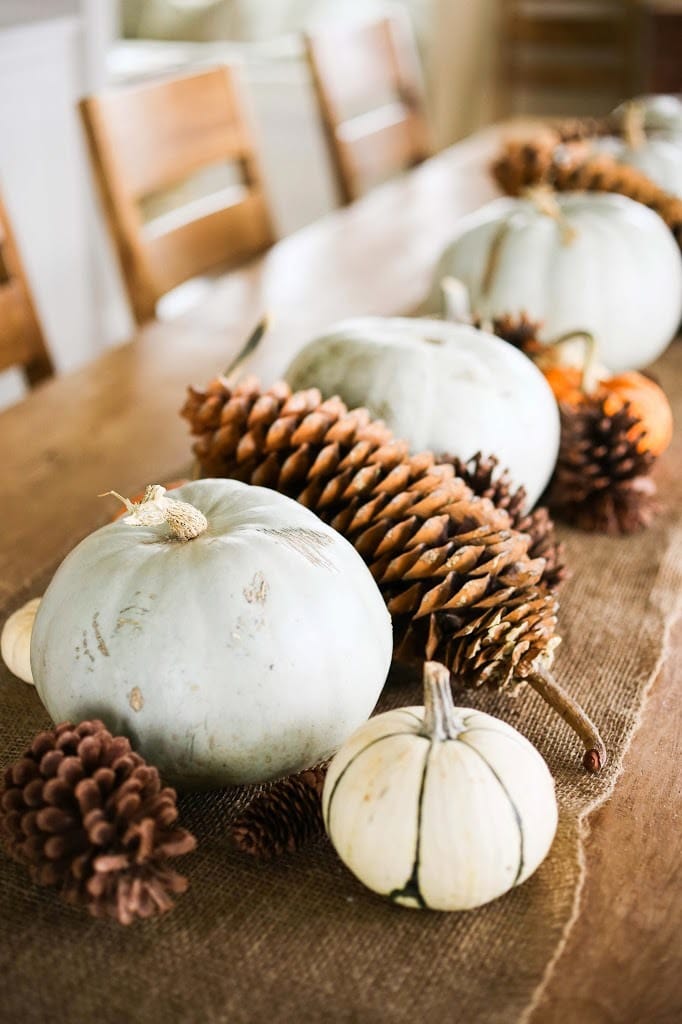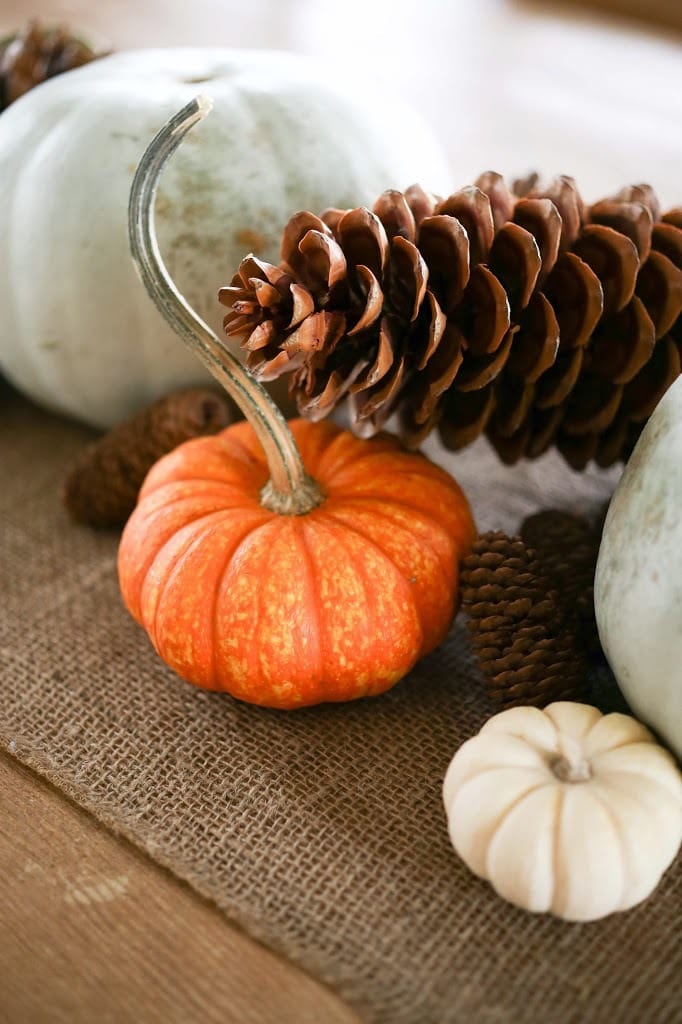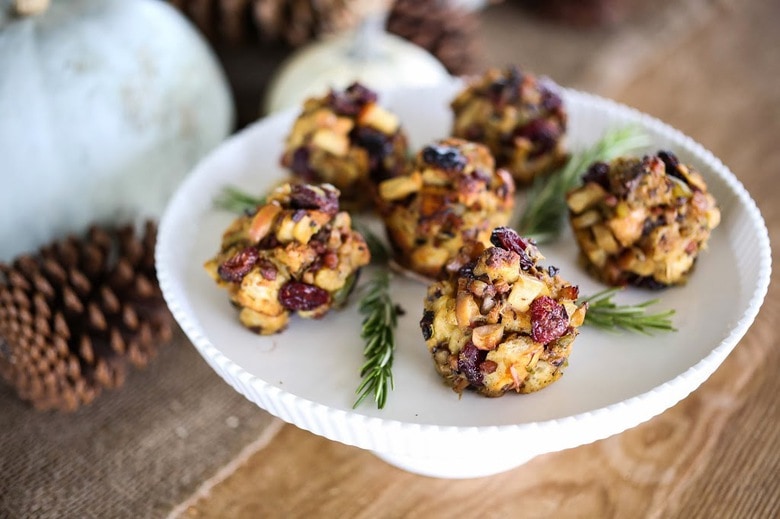 Thanks for reading! For more Feasting at Home …
and subscribe to receive new posts via email.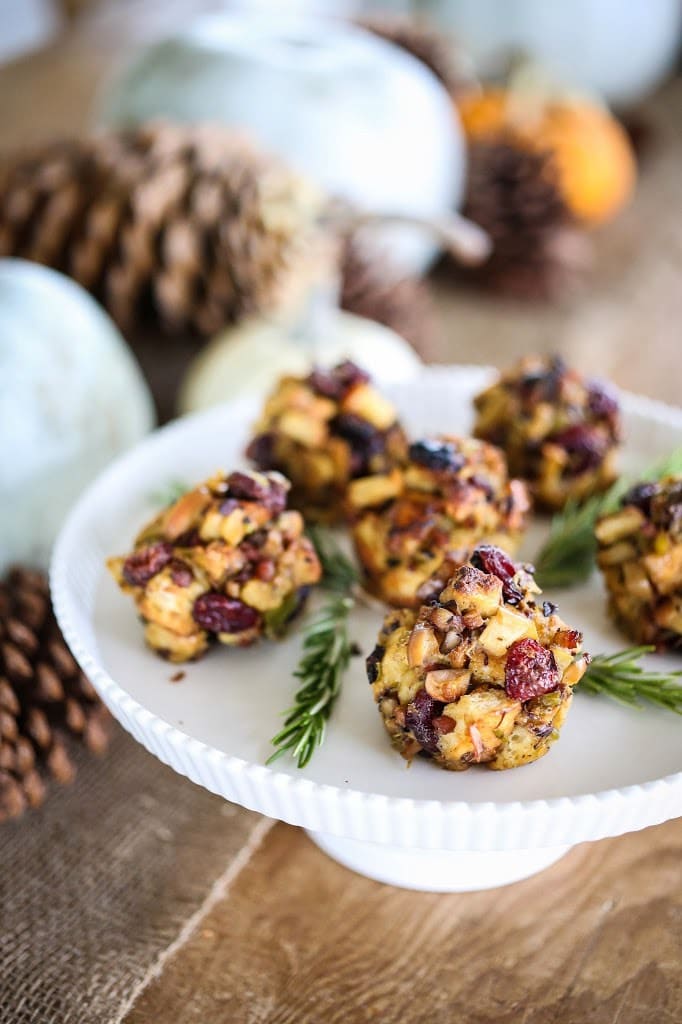 Thanksgiving Stuffing Muffins
Thanksgiving stuffing muffins- made with chorizo, dried cherries and sage.

Ingredients:
4 oz Bread, cut into ½ inch cubes ( about 3 cups) Rosemary bread works well here.
1 lb fresh Mexican chorizo
1 medium white onion, finely chopped
1 medium carrot, finely chopped
1 celery stalk, finely chopped
3/4 C dried cherries
5 garlic cloves, finely chopped
2 T fresh Sage, finely chopped
*3 eggs (For muffins only)
¼ cup chicken stock ( or Use up to 1 cup if making stuffing in a
baking dish
)
2 T olive oil
Salt
and pepper to taste
Instructions:
Preheat the oven to 350 F. Toss bread cubes with olive oil, and a pinch of salt and pepper, place on a sheet pan and toast until lightly browned, about 10 minutes.
Heat a large skillet over medium heat and cook the chorizo, breaking it up with a spoon and stirring occasionally as it cooks, until it begins to brown, about 5 minutes. Add the onion, carrot, celery, cherries and garlic to the chorizo and cook, stirring occasionally, until the vegetables have browned, about 10 minutes.
Place toasted bread in a bowl, add chorizo mixture, gently toss. Add salt and pepper to taste.
*If you are making stuffing "muffins" – whisk eggs together with ¼ C stock in a small bowl. Stir egg mixture into stuffing mixture, gently coating it. If mix seems too dry, add a little more stock a tablespoon at a time until it is moist. Let stand 5 minutes.
*If you are making stuffing in a baking dish (not muffins) replace eggs with roughly ½ to ¾ C chicken stock. Place in a buttered baking dish and bake for 20-25 minutes or until golden.
If making muffins -pack the stuffing into well greased muffin cups and bake for 20-25 minutes, until golden. Loosen the muffins with a sharp paring knife and lift them out. Serve warm.
Details Prep time: Cook time: Total time: Yield: 8 muffins