Baked Hasselback Potatoes with Rosemary and Garlic are totally vegan and so easy to make! A healthy and delicious side dish!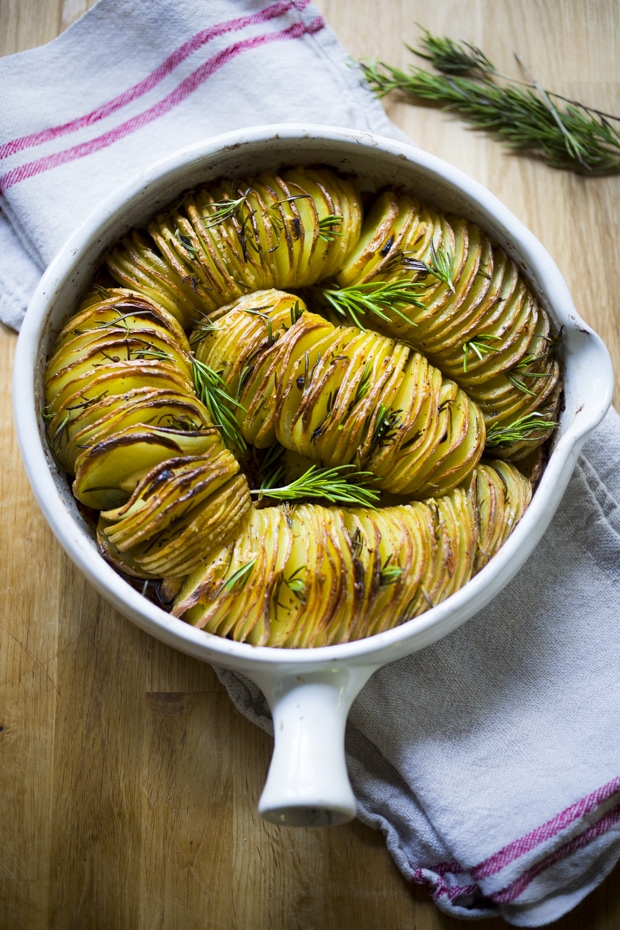 This recipe for Hasselback Potatoes is made with just a few simple ingredients. Potatoes are thinly sliced and stuffed with a generous amount of garlic and rosemary. Drizzled with
olive oil
, sprinkled with
salt
and pepper, then baked in a hot oven for about an hour, they come out tender and perfectly crispy.
The scent of garlic and rosemary baking in the oven is one of the best smells ever, and your family will love you for it. This delicious, vegan, gluten-free side dish, satisfies all my cravings for french fries, while staying relatively low in fat and calories. Serve it along side a big hearty salad and call it a meal!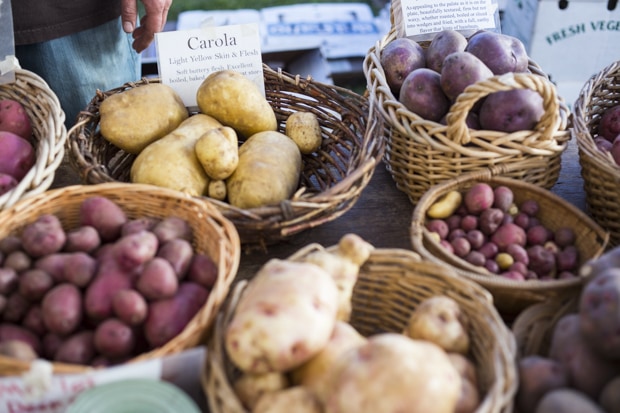 This time of year, with all the pumpkins, winter squash and apples taking center stage at the farmers' markets — it's easy to overlook the humble potato. These days there are so many varieties out there, in so many shapes, sizes  and colors, they needn't be humble anymore.  They seem to have gotten a bad rap in the health communities lately….but keep in mind, potatoes themselves are actually surprisingly nutritious, especially the reds, purples and baby potatoes. Even a basic russet is filled with high amounts of potassium and vitamin B6.
When choosing potatoes for a recipe, remember, that potatoes are divided into 3 types. Starchy, waxy and all- purpose.
In a recipe like this, you will want to choose starchy potatoes like russets, or  all-purpose potatoes like yukon golds. They have lower moister content and tend to do better in recipes where the goal is to have them crisp up. A waxy red potato, full of moisture, will not do as well here.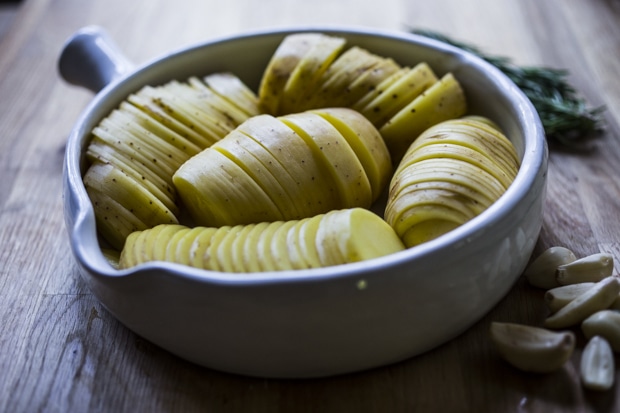 Slice the potatoes very very thinly, while keeping their bottoms in tact. (Try not to cut them all the way through, but if you do, it's not a big deal).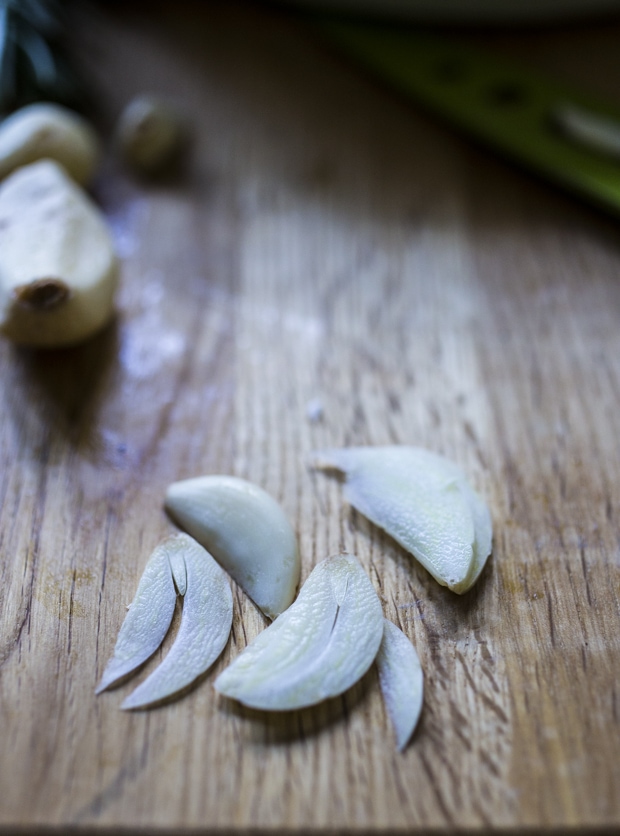 Slice garlic lengthwise very, very thinly.
Tuck a slice of garlic into every other slice. This will help separate the layers and infuse amazing flavor into the potato. Place the potatoes in an olive oil greased and salted baking dish.
Tuck rosemary leaves into the other slices of potatoes.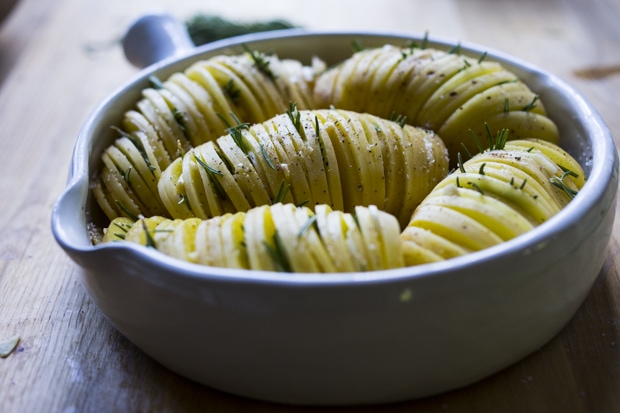 Sprinkle with salt and pepper.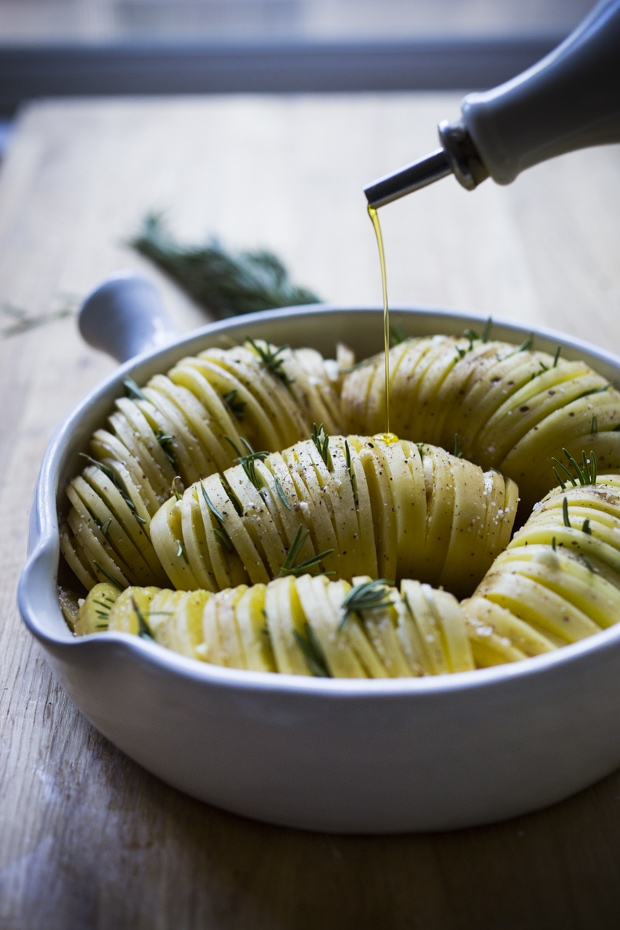 Drizzle and brush
olive oil
over all the slices, and place in a hot oven. Forty minutes into the baking,  brush a little more
olive oil
onto the potatoes (the slices will have separated). Bake until tender.
If using larger potatoes and they begin to brown before they are tender, loosely cover with foil and turn heat down to 400.
When crispy and fork tender, pull the potatoes out from the oven and tuck more fresh rosemary into the slices for garnish. The cooked rosemary will brown, but leave it in, it has great flavor — just camouflage with sprigs of the fresh rosemary.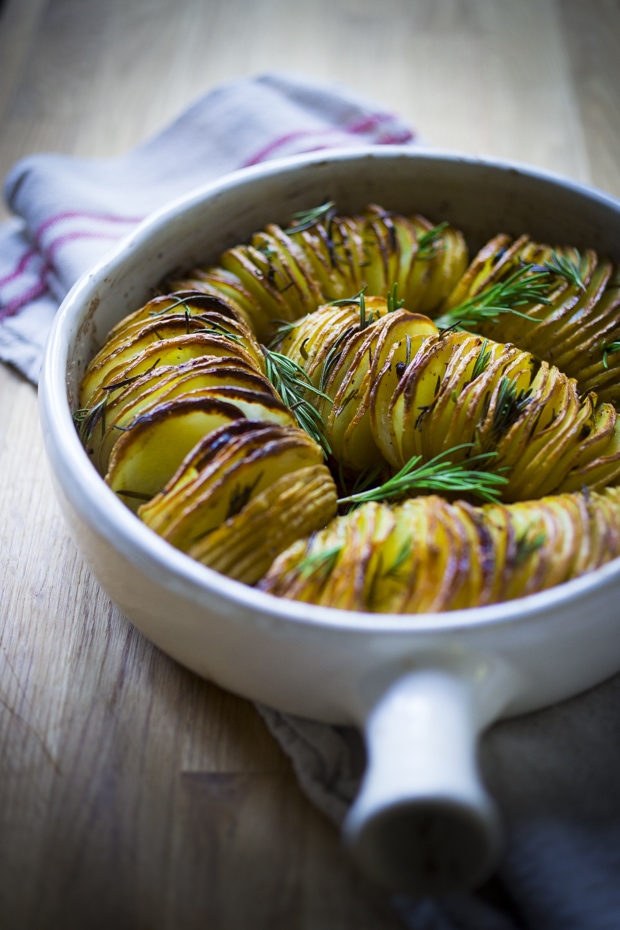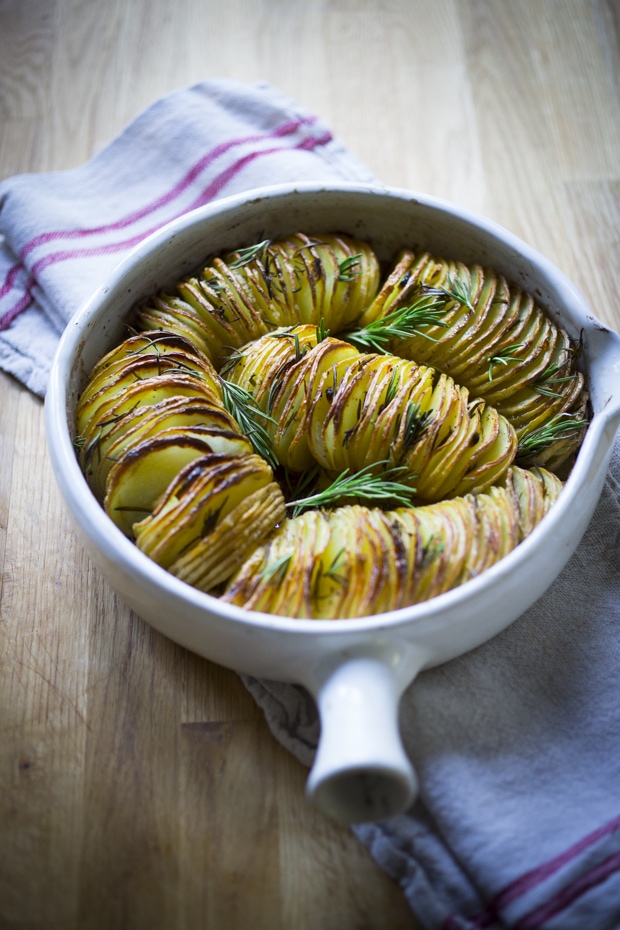 I hope you enjoy these Baked Hasselback Potatoes with Rosemary and Garlic as much as we do!
Print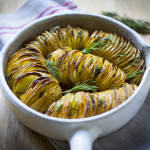 Rosemary Garlic Hasselback Potatoes
Prep Time:

20 mins

Cook Time:

70 mins

Total Time:

1 hour 30 mins

Yield:

4

-5

1

x

Category:

Side dish

Method:

Baked

Cuisine:

Northwest
---
Description
Rosemary Garlic Hasselback Potatoes by Sylvia Fountaine– feasting at home blog October-11-2014 Crispy Rosemary Garlic Potatoes cut Hasselback Style
---
---
Instructions
Preheat oven 425°F with a rack in the lower-middle position
Wash and dry the potatoes…leave thin skins on.Cut thin ⅛ inch slits into the potato, stopping just before you cut through so that the slices stay connected at the bottom of the potato –but don't worry if you cut through.
Slice the garlic, very thinly, lengthwise. Slip a piece of garlic in every other slit in the potatoes. Tuck a rosemary leaf or two into the other slits. It doesn't have to be perfect. Placing the rosemary and garlic in between the slices separates them and reduces cooking time.
Brush the bottom of the baking dish or cast iron skillet with olive oil and sprinkle dish with salt and pepper.
Brush top and sides of potatoes with 1-2 tablespoons olive oil, (reserving 1 tablespoon for brushing again halfway through baking). You can use less oil if you prefer.
Arrange the potatoes in a baking dish and sprinkle generously with salt and pepper.
Bake the potatoes for 35-40 minutes. At this point, the layers will start separating. Brush the potatoes again with a little oil, making sure some of it drips down into the space between the slices.
Bake for another 25 to 35 minutes, until the potatoes are crispy on the edges and fork tender. Bigger potatoes may take longer….and If they begin to get too brown, lightly cover with foil and turn heat down to 400F until tender. Total baking time is 60 to 70 minutes for medium sized potatoes (if your potatoes are on the small side or are larger, adjust cooking time accordingly).
Garnish with fresh rosemary leaves.
---
---
Keywords: Hasselback Potatoes, Hasselback potato recipes, how to make hasselback potatoes, what are hasselback potatoes?