These crispy Herby Smashed Potatoes with Garlic can be served with your breakfast eggs, or as a tasty dinner side dish, pairing well with many things. Vegan and Gluten-free. With a video!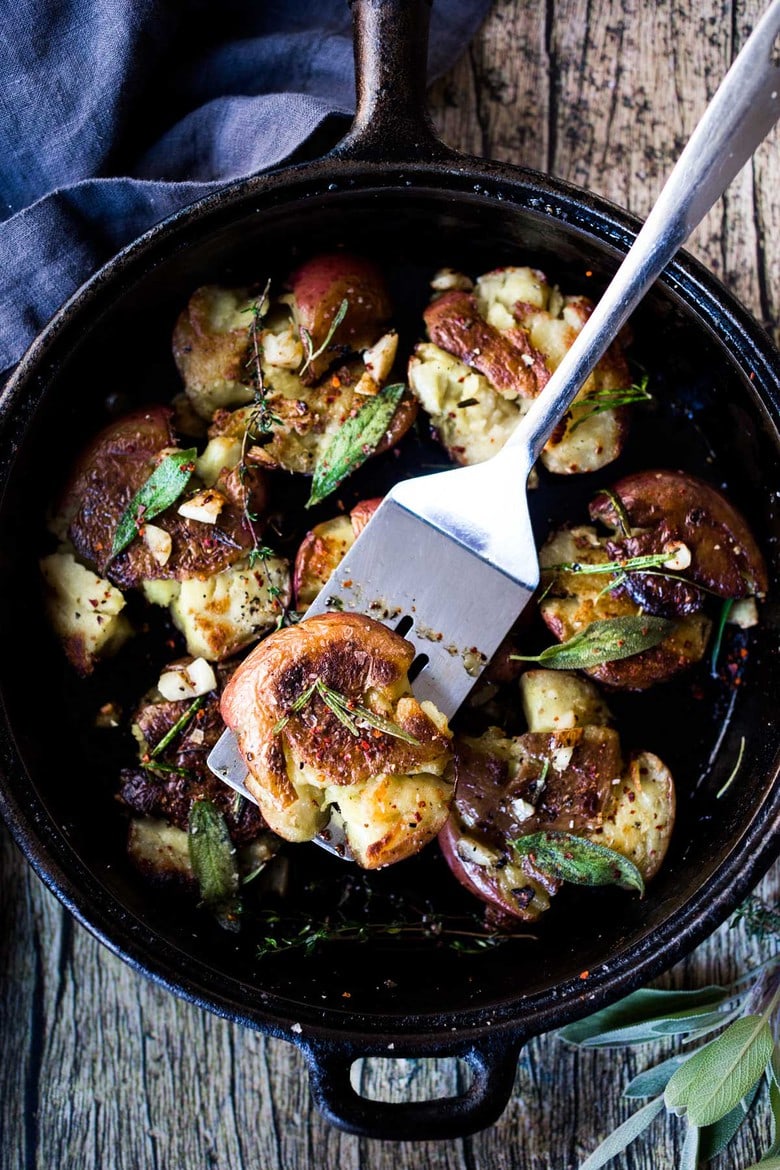 I have yet to meet a person who doesn't like these potatoes. They've got it all- flavor, texture, and the comfort food factor, plus they are vegan and gluten-free. They are great for breakfast or brunch, served up with eggs, or for dinner alongside fish, chicken, meat, or your favorite vegan main. The leftovers are even good, but in truth rarely last that long.
Potatoes have gotten a bad rap through the years and many low-carb diets shy away from them.  But  I don't care, I love them. They are tasty, full of nutrients and actually low in calories if you pay attention to what you put on them. Farmer's markets will be rolling out with their new spring potatoes soon, colorful little thin-skinned potatoes, freshly dug up from the ground. To me, they smell heavenly and earthy and somehow my body knows they are full of minerals and vitamins.
Crispy Smashed Potatoes | 60-second video
What potatoes to use:
Most thinned skinned potatpes will work here! Use small to medium-sized for the best results- baby reds, purple potatoes, tri-colored, small yukons, even fingerlings.
How to prep the potatoes:
Steam or boil the ptoatoes whole, until tender then cool or chill. This can be done ahead! I find that chilled potatoes are easiest to work with.
How to make smashed potatoes:
Once your potatoes are steamed and cooled, heat oil in a skillet and season the oil with salt and pepper.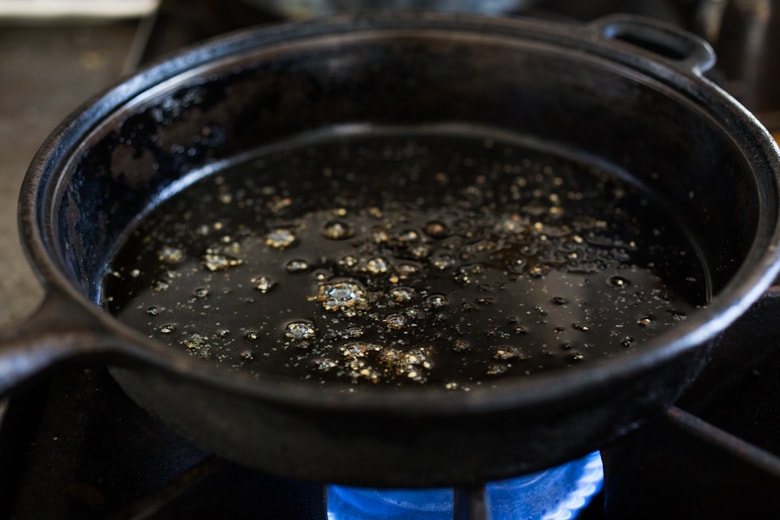 Add a handful of fresh herbs- rosemary, thyme, sage or all three, and whole garlic cloves.  Swirl to infuse the oil.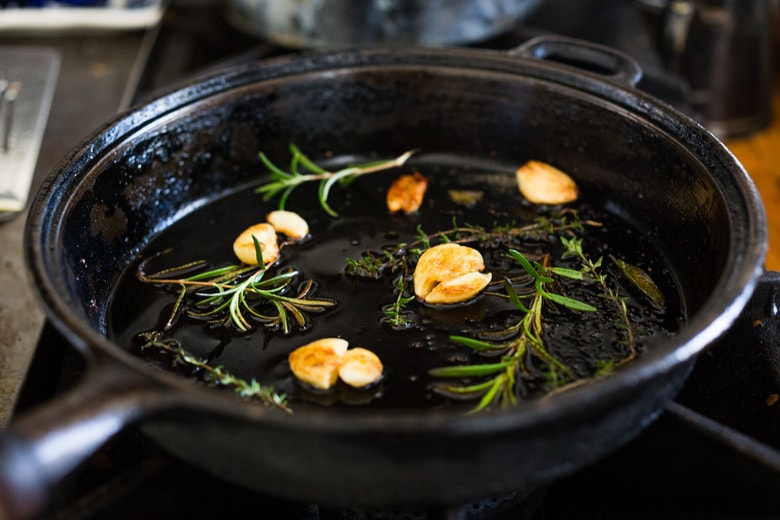 Set the herbs and garlic aside and mince the garlic.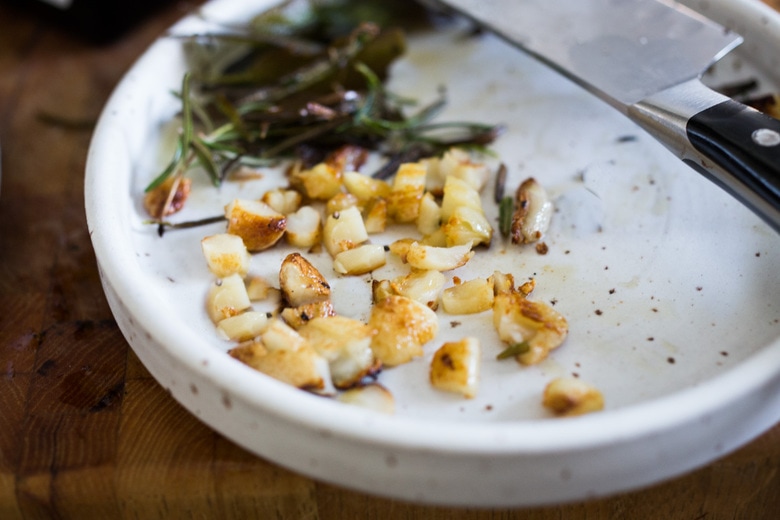 Using a potato masher or bottom of a pot, or your hand, smash the steamed, cooled potatoes and fry each side until crispy and heated through.
Work in batches, keeping them in a warm oven until ready to serve.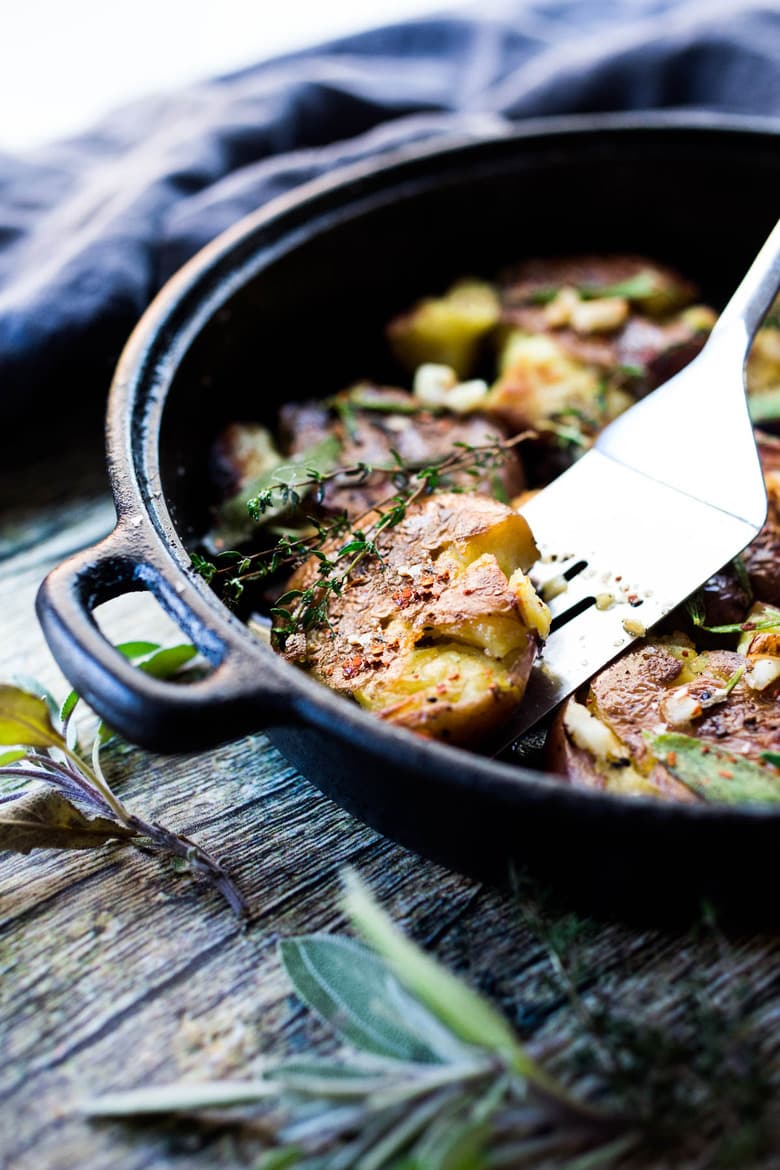 The health benefits of potatoes are plentiful!
Believe it or not, potatoes are full of nutrients, especially their skin! High in Potassium, Vitamin C and B6,  potatoes also contain both soluble and insoluble fiber keeping us feeling regular, and fuller longer
***Steaming the potatoes ahead and cooling (before smashing) increases the level of "resistant" starch in the potatoes- boosting the health factor even more.  Resistant starch acts as a prebiotic- feeding the good bacteria in our guts, building immunity and overall health- so very important!
So I often plan this way: Steam the night before, cool overnight in the fridge, then smash and pan-sear either the next day or next evening when I'm ready to serve.
Sprinkle the Smashed Potatoes with the caramelized garlic and herbs and serve immediately.
Leftovers reheat easily in an oven, uncovered.  But there usually are none. 😉
What to serve with Smashed Potatoes: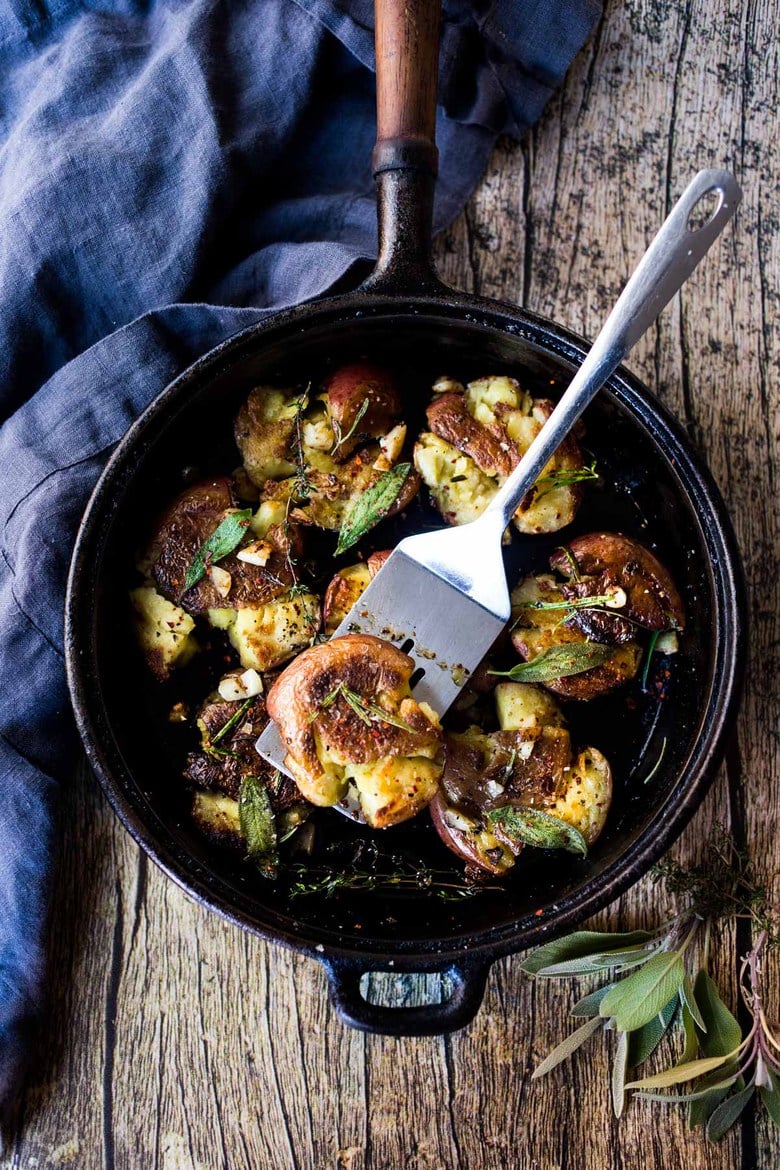 Smashed Potato Variations to further elevate:
Depending on what you pairing the potatoes with you can kind of customize them to fit the theme of any meal. Here are some ideas. If you have picky eaters, leave the sauce on the side.
Hope you enjoy these highly adaptable Herby Smashed Potatoes – they are always a hit around here and go with so many things! Find some new spring potatoes at your local farmer's market this spring and play around with different varieties! So much fun.
Happy weekend friends.
xoxo
Print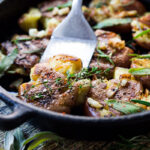 Herby Smashed Potatoes
Prep Time:

15

Cook Time:

45

Total Time:

1 hour

Yield:

4

-5

1

x

Category:

sidedish, potato recipes

Method:

smashed

Cuisine:

American

Diet:

Vegan
---
Description
Crispy Herbed Smashed Potatoes with Garlic – a healthy vegan side perfect for breakfast or dinner! Best to steam potatoes ahead, and let cool in the fridge.
---
---
Instructions
Place whole potatoes in a large pot and cover with an inch of salted water. Bring to a boil, cover, lower heat and simmer until fork-tender, 20-30 minutes, depending on size. You want these fairly tender, so they are easy to smash. Drain, let cool. You can do this the night before or few days before and store in the fridge. FYI Chilling potatoes after cooking actually increases health benefits (see post).
When ready to fry, heat oven to 400F (to keep the potatoes warm)
Smash the potatoes until relatively flattened, about 3/4 inch thick, using a potato masher or bottom of a skillet, set aside.
Heat 2-3 tablespoons olive oil in a cast-iron skillet over medium heat. Add the smashed garlic cloves and swirl the oil around, until fragrant and garlic is golden. Add the herbs, and cook for 45-60 seconds, infusing the oil. Set both aside, saving for the garnish at the end.
Season the fragrant rosemary garlic oil in the pan, with salt and pepper, and swirl.
Add the smashed potatoes, working in batches, leaving room to maneuver. Season the top of them with salt and pepper. Fry each side of the potatoes until crispy and deeply golden, about 5-7 minutes, resisting the urge to fiddle too much so they get nice and crispy. Add more oil if you need it when you flip.
Keep the first batch warm in the oven, while doing the second batch. When done, pile them up in the skillet.
Chop up the caramelized garlic cloves sprinkling along with the herbs over the potatoes.
Add chili flakes if you like and serve.
---
Notes
Optional Additions to further elevate:
Nutrition
Serving Size:

5 ounces

Calories:

257

Sugar:

2 g

Sodium:

619.9 mg

Fat:

14.8 g

Saturated Fat:

2.3 g

Carbohydrates:

30.8 g

Fiber:

5.8 g

Protein:

3.4 g

Cholesterol:

0 mg
Keywords: smashed potatoes, crispy potatoes, herby smashed potatoes, smashed potatoes with garlic, easy smashed potatoes