Simple Romesco Sauce! You'll find a multitude of uses for this flavorful Catalonian sauce. Earthy, smoky and deep, it's made with simple ingredients you probably already have on hand. Easy, vegan and gluten-free, make this in 20 minutes. (Or see the 5-minute version in the notes!)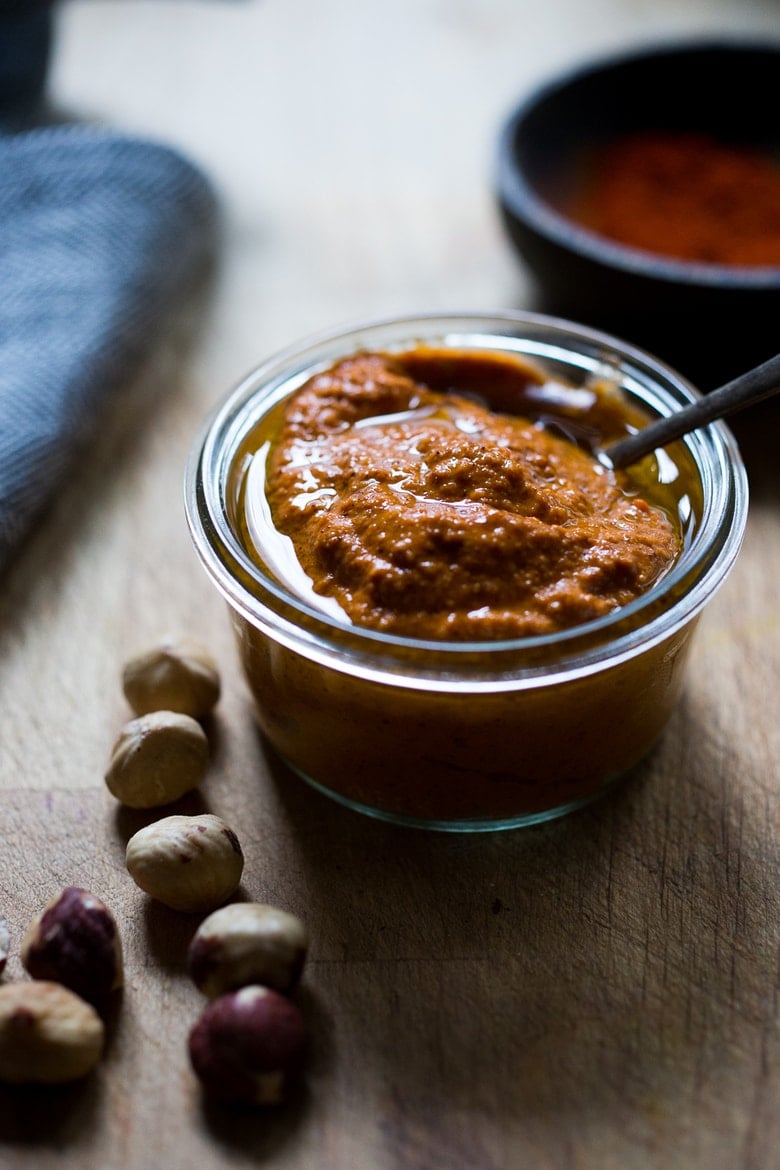 What is romesco sauce?
Romesco is a flavorful sauce that originates from the Catalonian region of Spain that tastes earthy, smoky, and slightly sweet with just a hint of heat. It is made typically made with
roasted peppers
, onions, garlic,
toasted almonds
or
hazelnuts
. Romesco Sauce is the perfect condiment for vegetables, meats and fish -complimenting a wide range of meals.
The best part? It requires no hard-to-find ingredients (you already probably have everything on hand), is very simple and quick to make, and can be made ahead! Great for meal prepping for the busy week!
I've also included a quick 5-minute "cheater version" in the recipe notes made with jarred roasted peppers.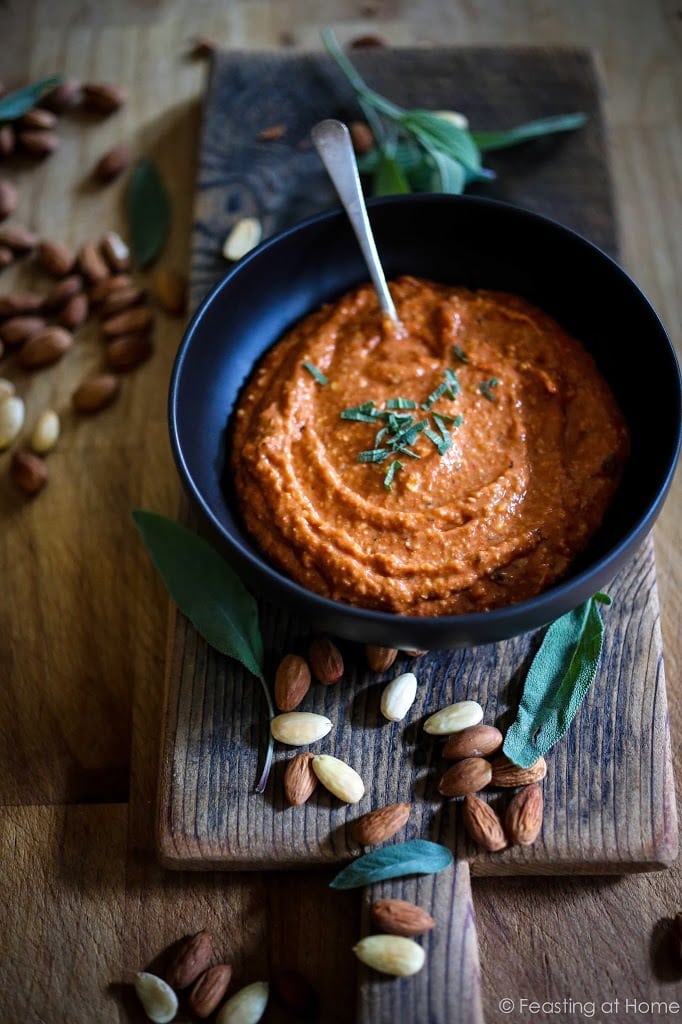 The addition of nuts ( typically almonds or hazelnuts) gives the Romesco Sauce a robust richness and heartiness. It's a nice addition to what you are already cooking at home and can transform the ordinary into something really exciting.
What goes with Romesco Sauce?
Use Romesco Sauce like you would pesto- stir it into soups or stews, slather it into a panini, sandwich, or wrap, or toss it with pasta and sprinkle with shaved manchego, or simply serve it in a bowl like a dip, alongside crusty bread. I love its smokey flavor with potatoes, parsnips, roasted veggies, grilled eggplant, roasted cauliflower steaks, spooned over buddha bowls, roasted fish, or baked chicken. Or even tossed with pasta. I even enjoy this over eggs for breakfast! So delicious.
It's a good recipe to learn and keep in your repertoire – and the ingredients are ones I usually have on hand, making it easy to whip up. This romesco sauce recipe is also vegan and gluten-free.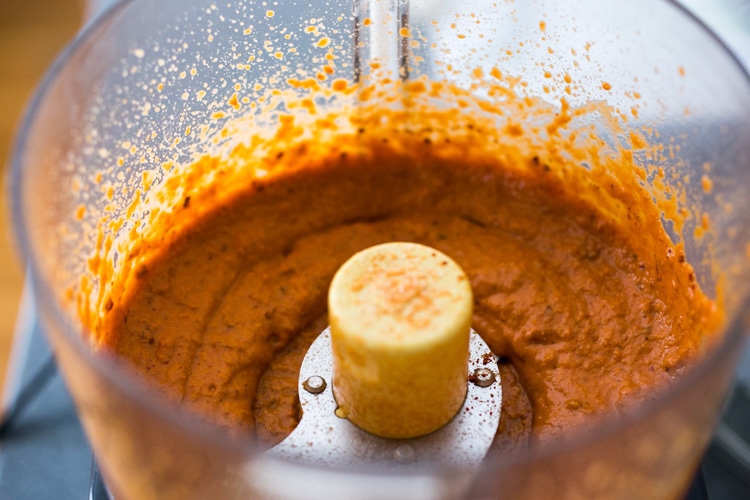 Simple Ingredients in Romesco Sauce:
red bell pepper
onion
garlic
salt and spices
splash vinegar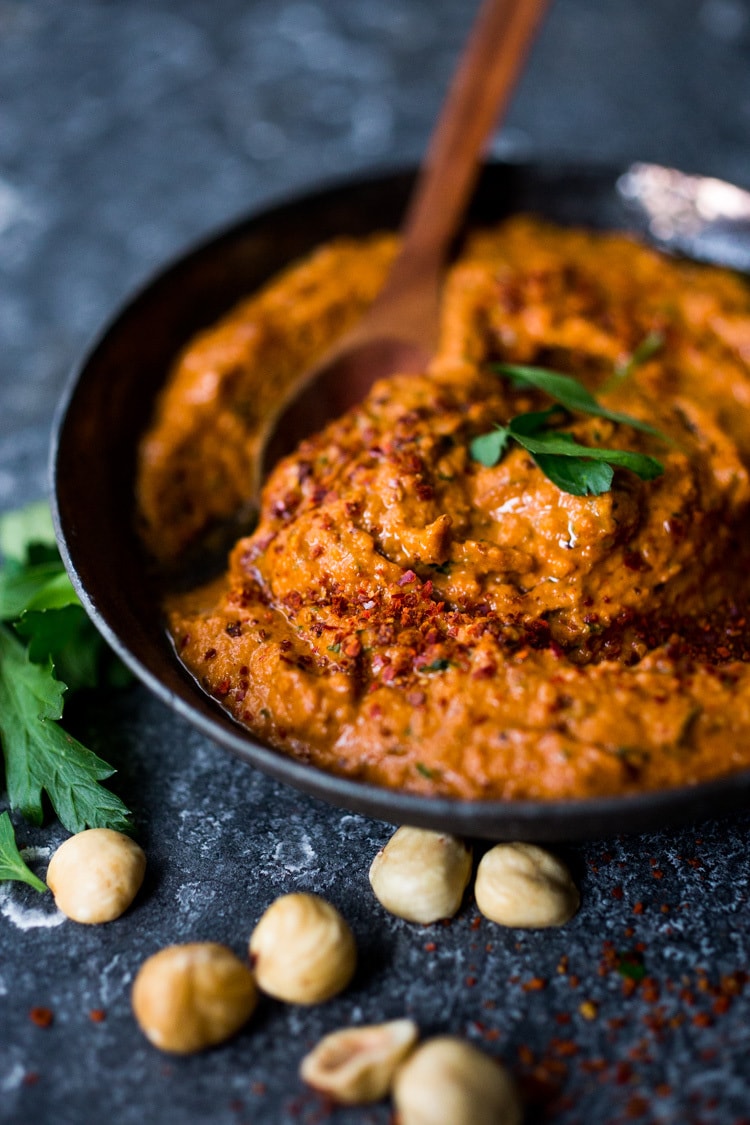 In Spain, the traditional recipe also contains bread or bread crumbs for added texture (which I've left out this time) and Nora peppers which are difficult to find here in our area. I've kept this version intentional simple, easy and gluten-free- with more accessible ingredients. Feel free to embellish!
Romesco Sauce Variations:
To elevate the flavors, try grilling (or roasting) the peppers and onions which will give it a little charred smoky goodness.
Play with adding different peppers… or reconsituted dried chilies.
Add roasted tomatoes or sundried tomatoes.
Add different nuts, or seeds!
More flavorful sauces you may like:
Enjoy this very simplified version of Romesco Sauce and use it as a jumping off base for your own creations.
xoxo
Print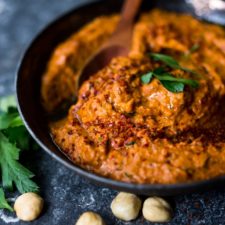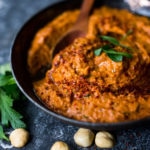 Simple Romesco Sauce Recipe
Prep Time:

5

Cook Time:

15

Total Time:

20 minutes

Yield:

1 ½ cups

Category:

condiment, sauce

Method:

roasted

Cuisine:

spanish

Diet:

Vegan
---
Description
Flavorful Romesco Sauce! You'll find a million uses for this robust & flavorful Spanish condiment. Earthy, smoky and deep, it's made with simple ingredients you probably already have on hand. EASY, Vegan & Gluten-free ( See 5-minute version in Notes)
---
---
Instructions
Heat a skillet over medium heat and add 1 tablespoon olive oil, and saute onion and pepper until tender and fragrant, about 8 minutes. Add garlic cloves and continue sauteing until onions and peppers start to carmelize. (Alternately, see notes for roasting- or using jarred roasted peppers.)
Place the pepper-onion mixture a food processor with all the remaining ingredients (except the parsley). Pulse until combined. You can keep this quite coarse, with more texture, or blend until very smooth and creamy.
Add the chopped parsley and pulse a few times. Taste, adjust salt and heat.
To serve, place in bowl and drizzle with olive oil. Sprinkle with parsley and crushed nuts if you like.
---
Notes
ROASTED: Alternatively the bell pepper, onion and garlic can be roasted in a 400F oven. (Cut pepper in half, remove seeds and place open side down on a greased sheet pan. Add onion in wedges, drizzle with a little oil and roast 15-20 minutes, then add the garlic cloves. Continue roasting another 10-15 minutes until all are tender and slightly charred.
Extra Heat: Feel free to add fresh chilies to the cooking onion-pepper mixture.
5-minute version: Jarred Roasted Peppers: This can also be made with jarred or canned roasted peppers. (In this case, simply brown the onions and garlic on the stovetop- or use 1-2 teaspoons of each, granulated. )
The vinegar extends its shelf life- and will keep for 10 days in the fridge.
Cover the sauce with a layer of olive oil to prevent discoloring.
Nutrition
Serving Size:

2 tablespoons
Keywords: romesco sauce, how to make romesco sauce, romesco sauce recipe, the best romesco sauce, easy romesco, what is romesco sauce