Fresh green beans elevate our vegan Green Bean Casserole, along with a creamy VEGAN mushroom sauce and oven-baked crispy onions.  Healthy and delicious, worthy of the holiday table. Video!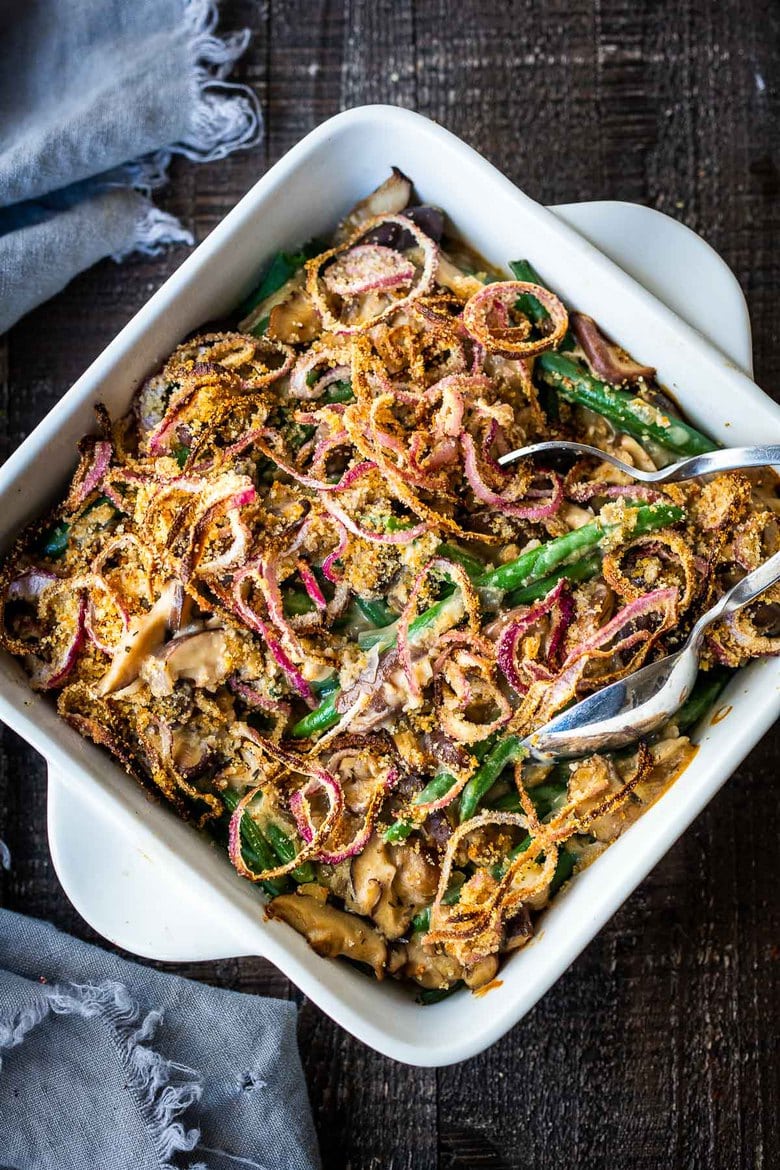 Within you, there is a stillness and sanctuary to which you can retreat at any time and be yourself. —Hermann Hesse
If you are looking for a cozy, comforting Green Bean Casserole, that is also healthy and vegan, we've got the recipe for you! We've made this numerous times, and I have to tell you, I love it. 
Love love love it!
It's an easy recipe that can be made ahead, or made in stages, that takes about 30 minutes of hands-on time with the oven doing the rest of the work.
For an easy weeknight meal, we've been topping it with walnuts, spooning it over vegan mashed potatoes and calling it dinner – so homey and delicious.
But is also such a well-loved and classic side dish, perfect for the holiday table. And I'm betting no one would even notice it's vegan. 😉
Green Bean Casserole | 60-sec video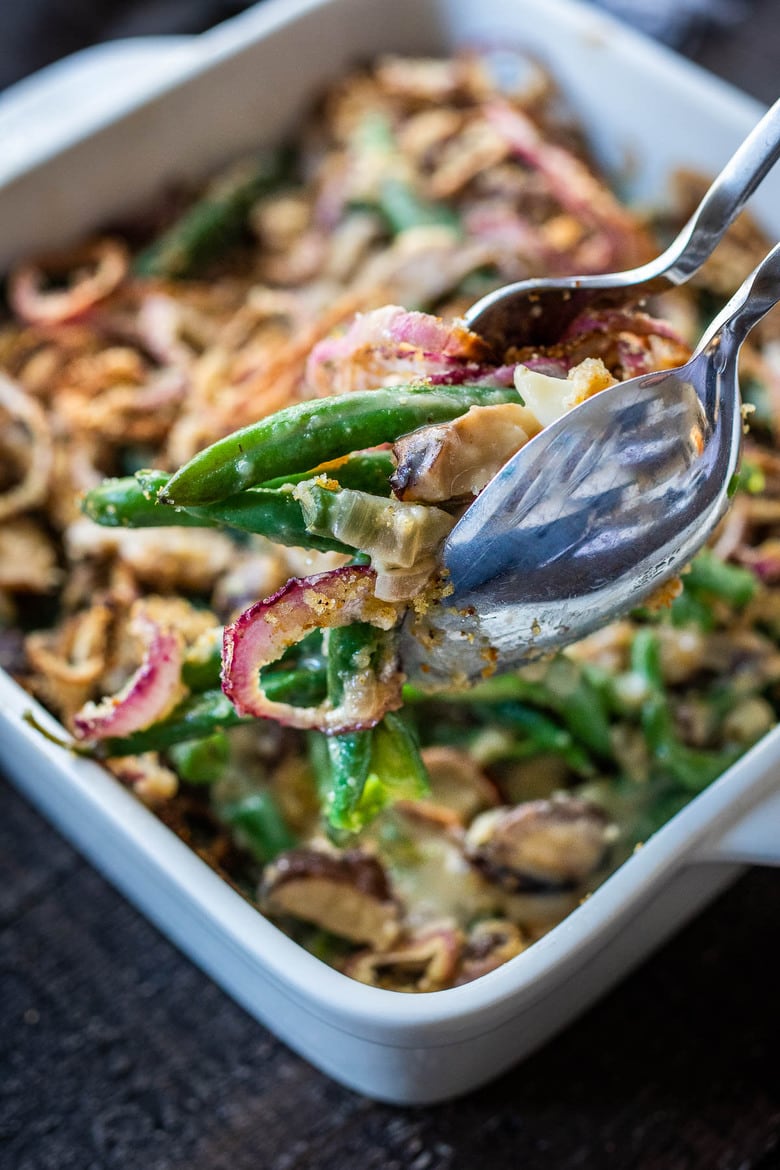 What is Green Bean Casserole?
Green Bean Casserole is a classic American side dish created by Dorcas Reilly in 1955. She was Cambell's Soup's Test Kitchen Manager, and her original recipe was made with Cambell's canned mushroom soup, canned green beans and fried onions.
We've taken inspiration here, but created a healthier version with a lightened-up homemade mushroom sauce (vegan), crispy baked shallots and fresh green beans.
How to make healthier GREEN BEAN Casserole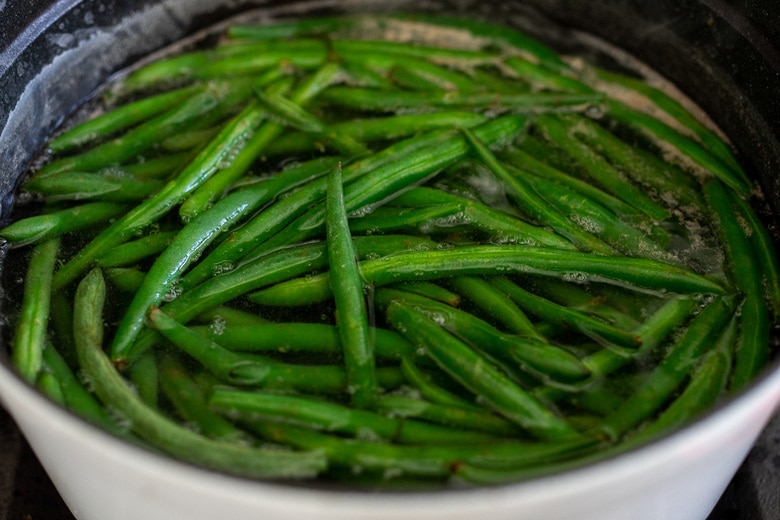 Step One: Blanch!
Bring a pot of salted water to boil and blanch fresh green beans until just tender. Set aside.

Step Two: Make the Crispy Shallots
Slice shallots (or red onions) thinly. Place on a parchment-lined sheet pan and toss with salt pepper and olive oil.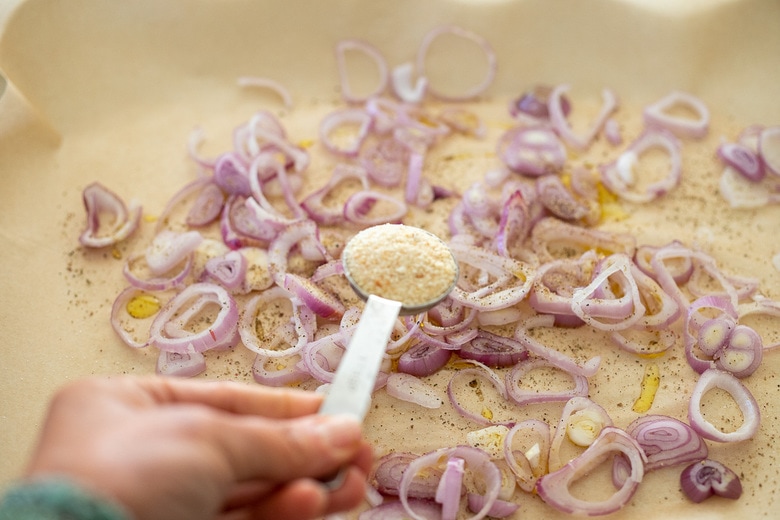 Then toss with bread crumbs.  It is OK, if not all the bread crumbs stick.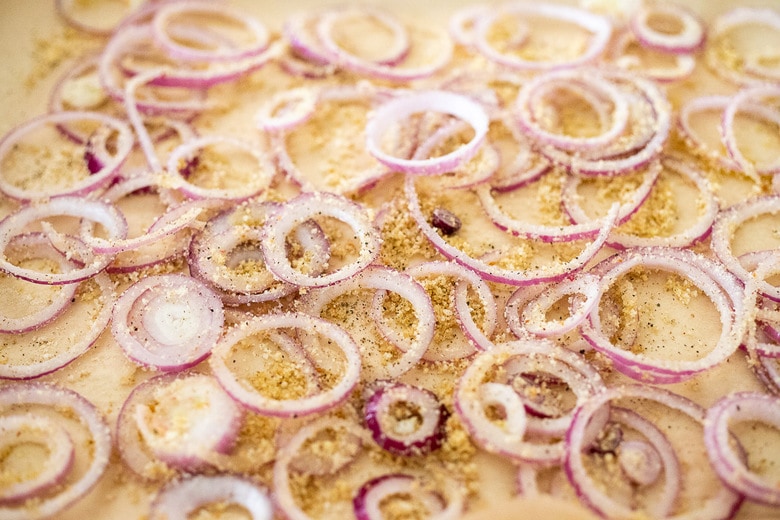 Bake until golden, about 18-20 minutes, stirring halfway through.  Set aside.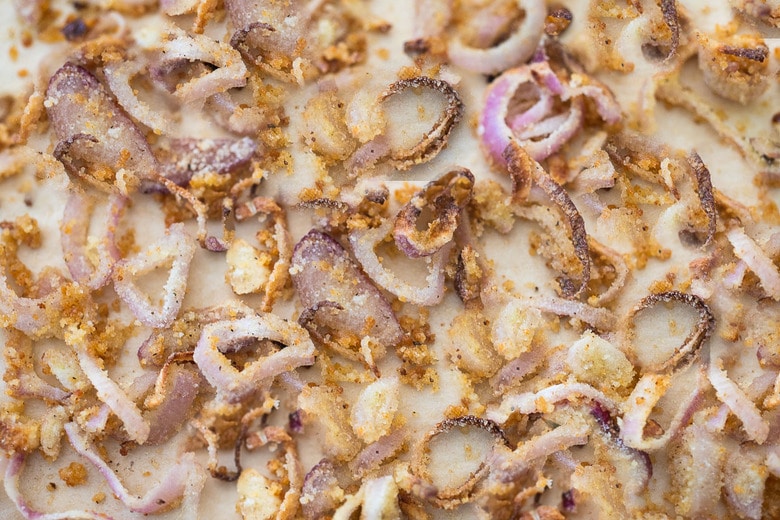 Step Three: Make the Mushroom Sauce
Saute onion and mushrooms over medium heat until mushrooms release their liquid.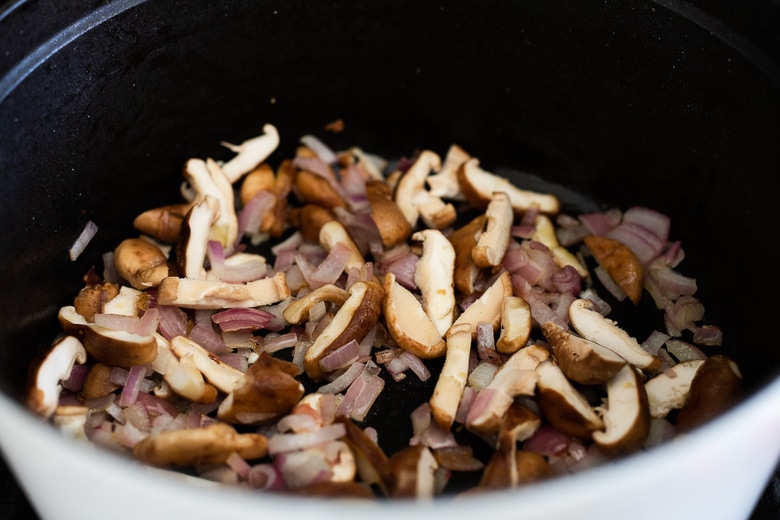 Add thyme and garlic.
Feel free to use a mixture of mushrooms if you like- cremini, shiitake, chanterelles, etc.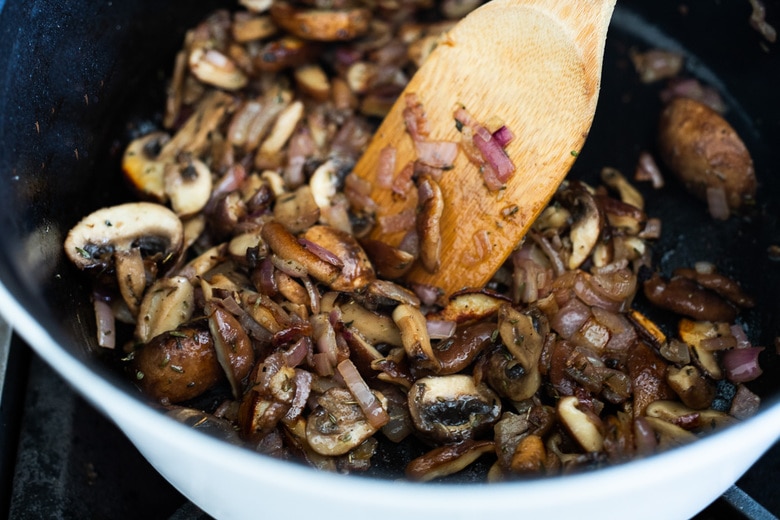 Sprinkle with flour, then add veggie broth and miso paste, stirring to let thicken. Stir in a plant-based milk- almond, soy, oat, etc to give it a little creaminess.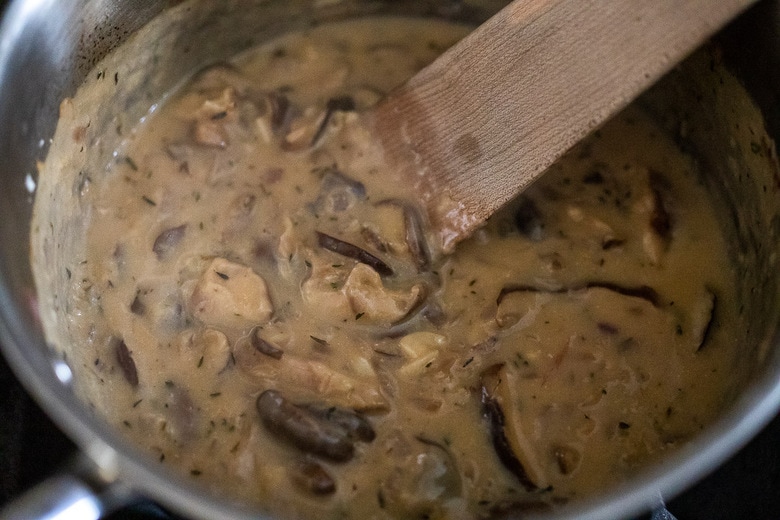 Step Four: Assemble!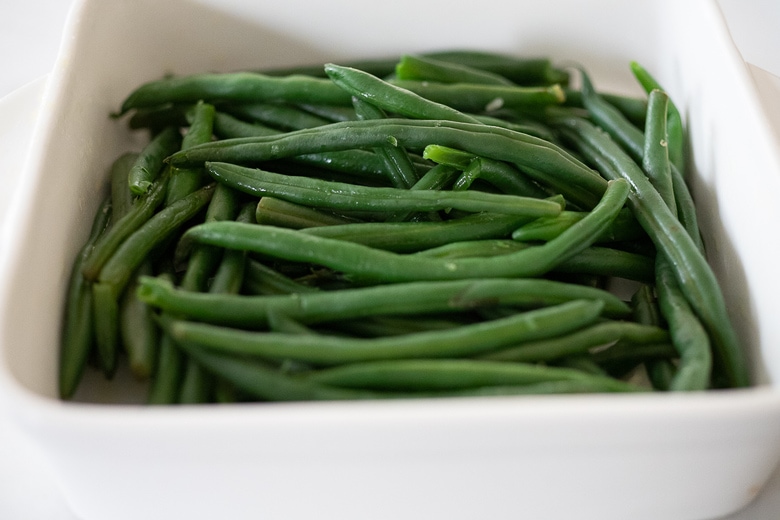 Place the blanched green beans in a greased baking dish.
Pour the mushroom sauce over top.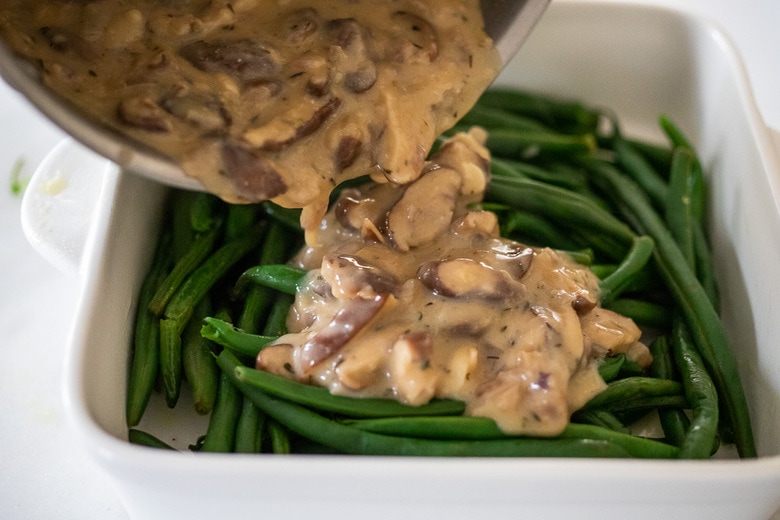 Spread the mushroom sauce over the green beans evenly.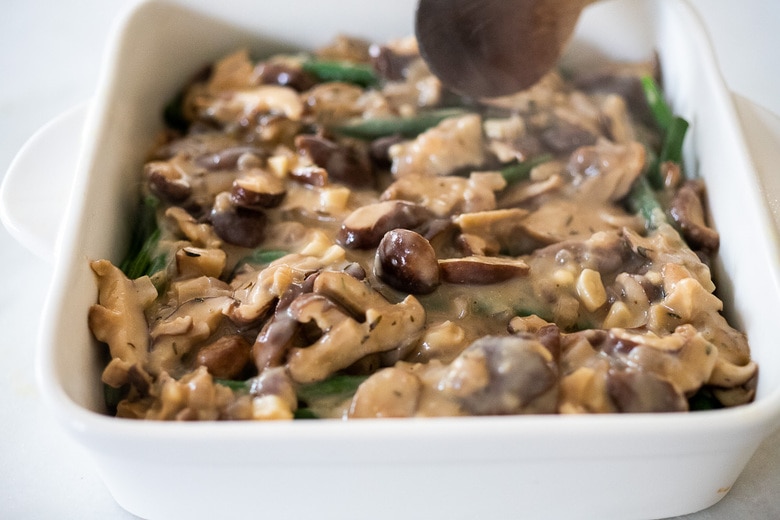 Then cover with the baked crispy shallots or onions.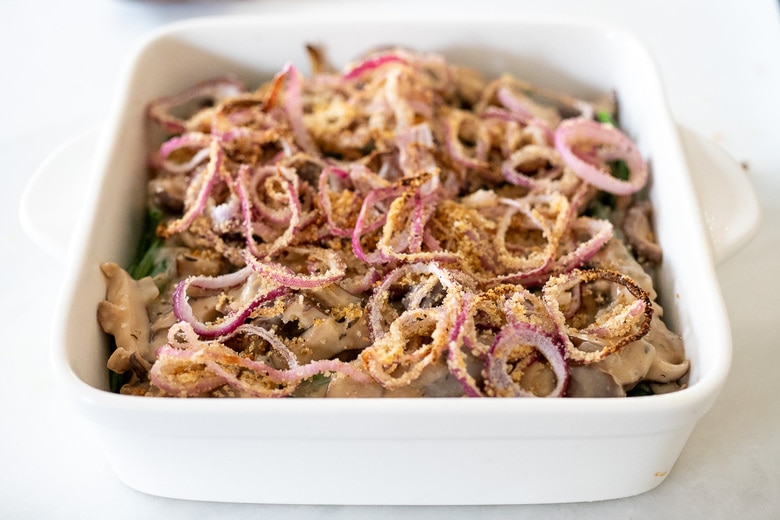 Step Five: Bake!
Bake uncovered in a 350F oven for 20-25 minutes until golden and bubbling.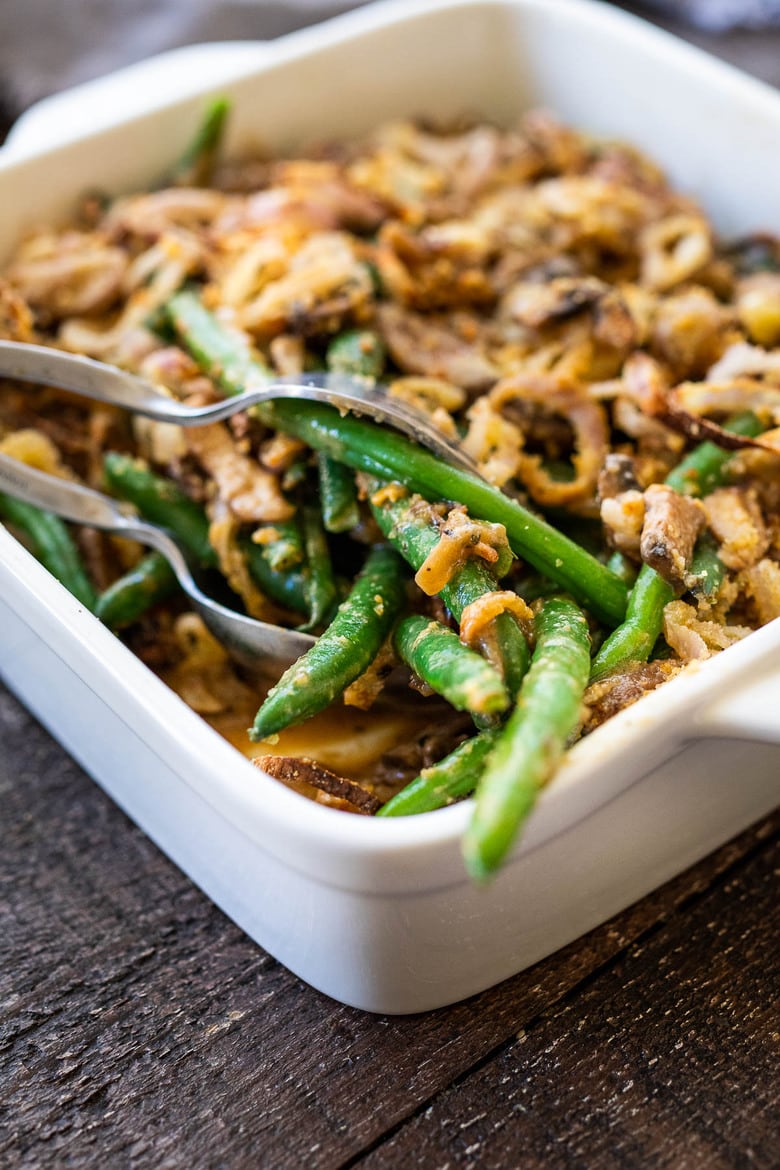 Expert Tips:
Feel free to make this ahead leaving the crispy shallots/onions off until ready to bake. Let it come to room temp before baking.
Leftovers will keep 3-4 days in the fridge.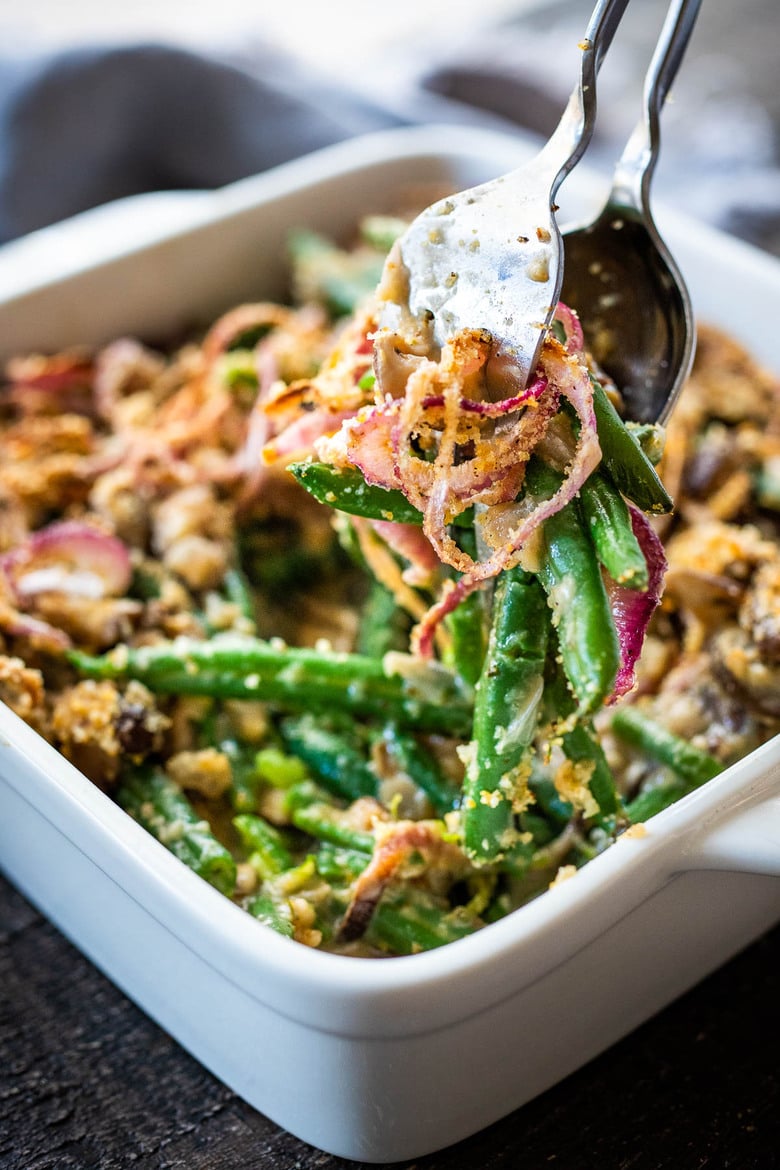 Other vegan side dishes you may enjoy: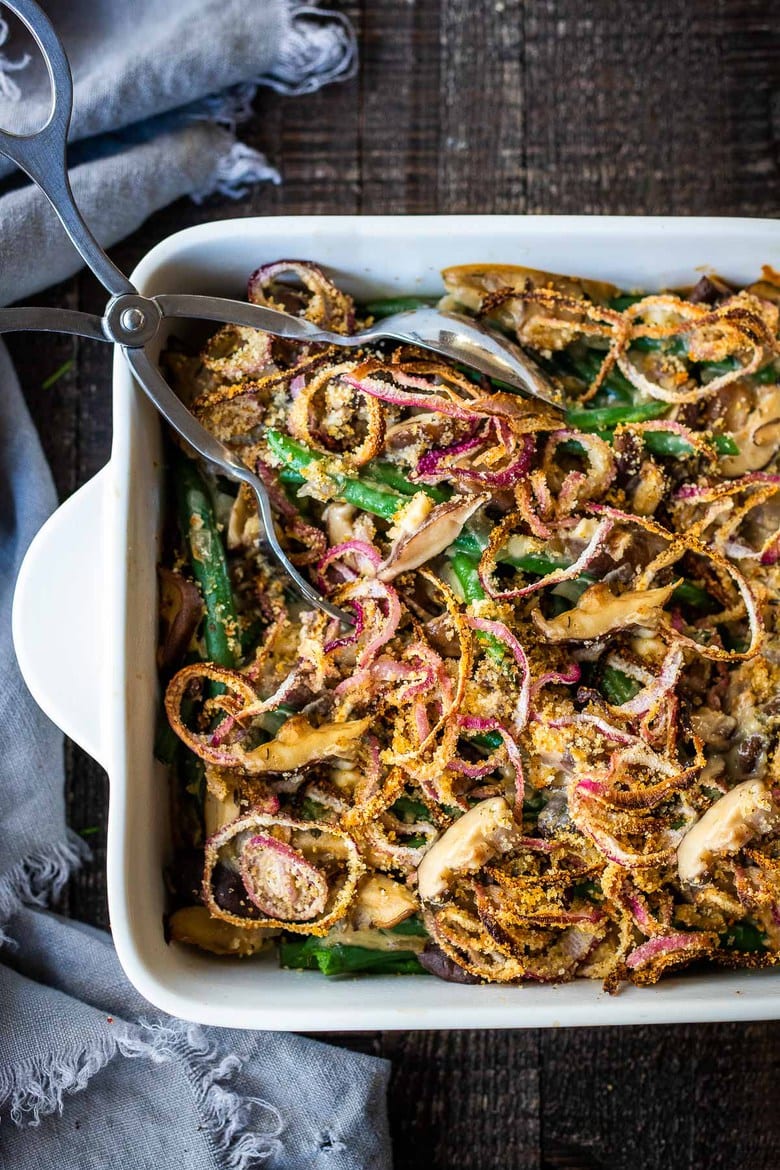 On the homefront: It's cold and rainy here, and since the time changed and darkness comes sooner now, I've been feeling a little restless at night. I usually enjoy an evening stroll as the sun sets to calm my mind and bring a peaceful end to my day, but it gets harder to do this as the daylight shortens.
I think of my Finnish family and how they coped with darkness through generations of winters.
I try to summon up what my mother had, and what her mother had, and the hundreds of mothers that came before. The light from within, that can't be extinguished by the changing of the seasons.
I hold this here in my heart, and feel them with me- the light-bringers and torchbearers.
Somehow it helps…
Enjoy the Greenbean Casserole and give us your feedback below.
Cheers 🥂,
Print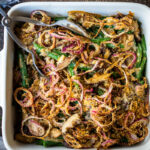 Green Bean Casserole (vegan)
Prep Time:

30

Cook Time:

40

Total Time:

1 hour 10 minutes

Yield:

4

-6

1

x

Category:

side dish

Method:

baked

Cuisine:

American

Diet:

Vegan
---
Description
This healthy Green Bean Casserole is made with fresh green beans, oven-baked crispy shallots, and a creamy mushroom sauce that is VEGAN! Easy, healthy and delicious, worthy of the holiday table.
---
1 – 1 1/2 lbs Green Beans, stems removed
Crispy Onions (or shallots) 
Creamy Mushroom Sauce
3 tablespoons

olive oil

1/2

onion, diced

8

ounces

mushrooms, sliced

2

garlic cloves, rough chopped

1 teaspoon

thyme

1 teaspoon

salt

1/2 teaspoon

pepper

3 tablespoons

flour or GF flour

1

cup

veggie broth

1

cup

nut or soy milk

1 teaspoon

miso paste
---
Instructions
Preheat oven to 350F
Prep the green beans: Bring a pot of salted water to a boil. Once boiling, add the green beans and blanch, until tender 5-6 minutes. Drain.
Make the crispy baked onions:  While water is boiling, thinly slice the shallot or onion into rings, place on a parchment-lined sheet pan, separate the rings, drizzle with olive oil, sprinkle with panko and salt and pepper, tossing to coat well. Yes, the crumbs may not stick- this is OK.  Bake 17-20  minutes, stirring halfway through, until lightly golden. Note: Shallots will brown faster than onions so watch these closely. ALSO-You'll bake these again with the casserole, so don't let them get too dark here.
Make the Mushroom Sauce: In a heavy bottom pot, heat the oil over medium heat. Add the onions and mushrooms and saute 5-6 minutes, stirring. Add the garlic, thyme, salt and pepper and continue cooking until the mushrooms release their liquid and begin to carmelize, another 5-6 minutes.
Sprinkle with the flour, and toast the flour, stirring for 60 seconds. Add the veggie broth and stir well to incorporate the floured mushrooms. Bring to a simmer, stir in the nut milk and miso paste, stirring well. Bring to a simmer, once simmering, it should thicken slightly, then turn off heat. If you prefer a little tanginess, add 1/2 -1 teaspoon dijon mustard.
Assemble: In a greased 8×8 baking dish, (for 1 lb green beans)  or 9×13 (for 1.5 lbs green beans) place the drained green beans. Pour the mushroom sauce over top, spreading it out. Top with crispy onions.
Bake in the oven, uncovered for 20-25 minutes, until golden and bubbling.
---
Notes
 If your onions happen to get too dark, during the first go around, add them to the casserole during the last 5-10 minutes of baking- as they will darken even more.
Feel free to make this ahead (leave onions off) and refrigerate. Bring to room temp before baking, top with crispy onions and bake at 350 uncovered, until bubbling, 25-30 minutes.
Leftovers keep 3-4 days in the fridge.
1 lb green beans serve 4-6 people. 1 1/2 lbs green beans serve 6-8. I kept the topping the same for both, so it will be considerably  "lighter" with the bigger portion of green beans.  I prefer the richness of of the topping with 1 lb of green beans. 😉
Nutrition
Serving Size:
Calories:

198

Sugar:

5.7 g

Sodium:

645 mg

Fat:

13 g

Saturated Fat:

1.9 g

Carbohydrates:

18.1 g

Fiber:

3.5 g

Protein:

5.2 g

Cholesterol:

0 mg
Keywords: healthy green bean casserole, vegan green bean casserole, fresh green bean casserole