How to make Oaxacan Hot Toddy that we think is better than most of the professional versions you're likely to encounter!  This Oaxacan slant uses mezcal, lime juice & honey.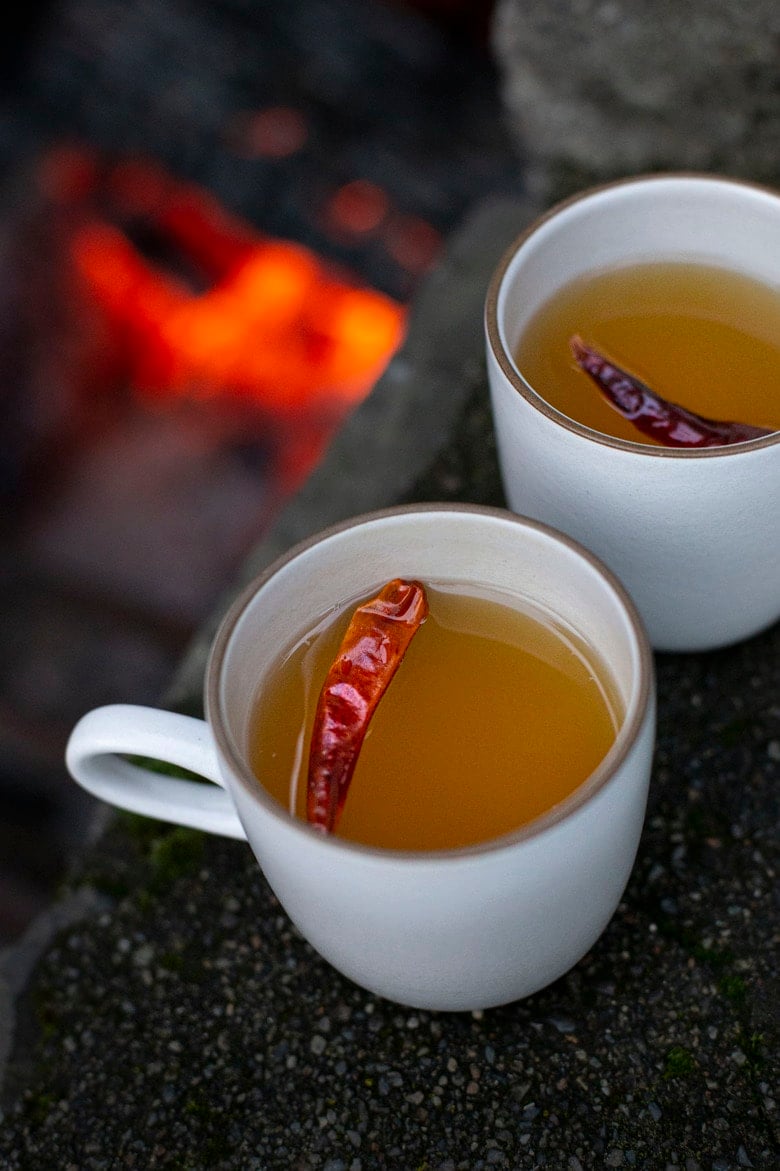 In the middle of winter I at last discovered that there was in me an invincible summer.  ― Albert Camus, L'été
Great bars, like great restaurants, will give you an experience beyond what you can achieve yourself.  Even if you manage to obtain the recipe for your favorite cocktail, there may be nuances to the preparation that simply put it beyond your domestic capabilities.  There are some drinks, however, that you can actually make better than most bars – and a truly hot Hot Toddy is one of them.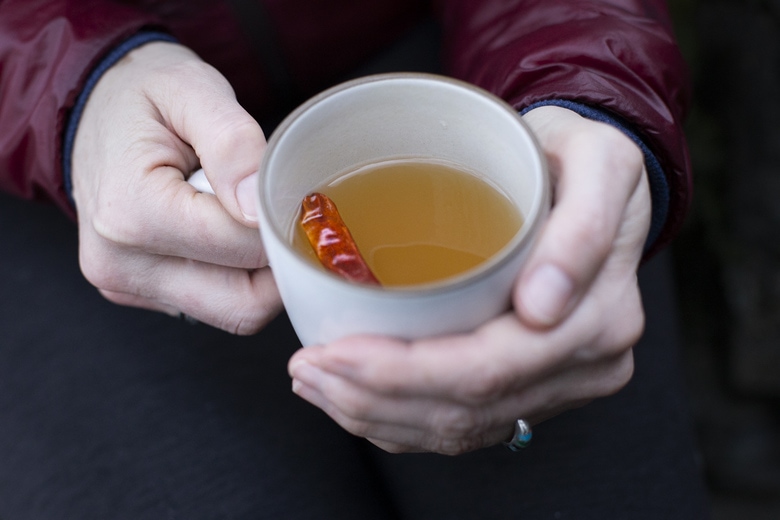 What is a Hot Toddy?
A Hot Toddy is a mixed drink comprised of a base spirit (usually whiskey), citrus juice, a sweetener (most often honey), spices, and – hot water.  The basic formula is so fool-proof and versatile that it has spawned countless variations over the years.  Most recipes, however, tend to yield results that are either too diluted in flavor (obliging you to add enough boiling water to adequately heat the other ingredients), or less than hot – and no one wants a tepid toddy.  Here, then, is a way to make a toddy at home that will be both concentrated in flavor and piping hot!  
This recipe uses mezcal, lime juice & honey – but you can easily swap those out for the traditional whiskey with lemon – or nearly any other base spirit, citrus & spice combination that suits your tastes.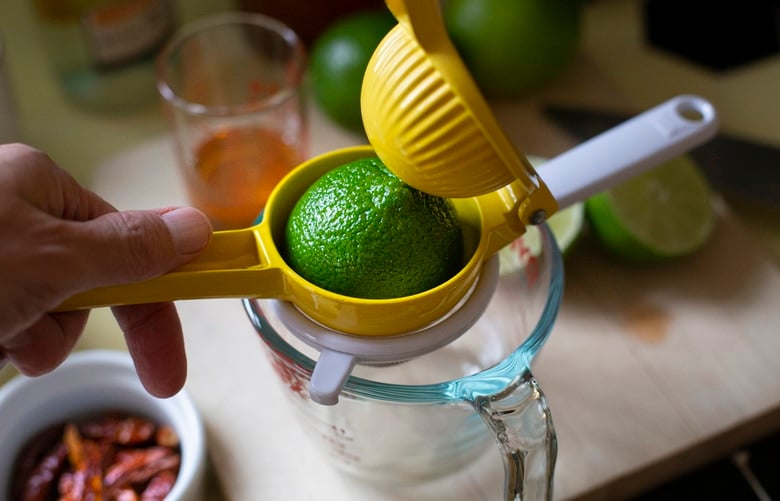 How to make an Oaxacan Hot Toddy: 
The first step with any hot toddy is to preheat your cups!  Essential during the winter months – especially here in the Pacific Northwest.  Toddies should be served in a cup or mug that is designed for hot drinks – anything from a thick Irish coffee glass, to a fine porcelain teacup.  Pour some boiling water into your chosen vessels and let them warm up while you make the drinks.
Now juice your limes (3/4 of an ounce per drink).
Combine lime juice, honey (also 3/4 of an ounce per drink), and heated water (1 1/2 ounces per drink) in a small saucepan.  Since the honey will stick to the measuring cup, I heat the water component first (I use an electric kettle) and add it to the honey, stirring until they're thoroughly combined – and can thus easily be poured into the saucepan. 
For a little extra heat, you can also add a tiny pinch (and I do mean TINY, as a little goes a long way!) of cayenne pepper, but this is by no means a necessity.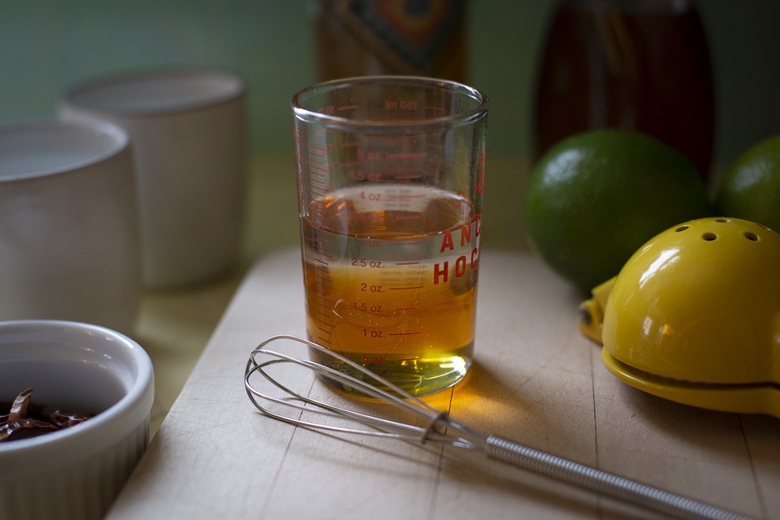 Bring the mixture to a boil, then turn OFF the heat and add the mezcal (1 1/2 ounces per drink).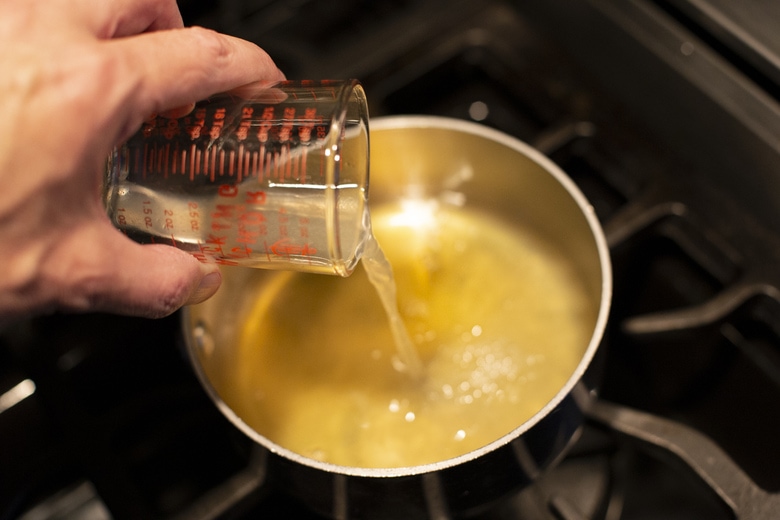 Pour into your pre-heated cups, and top with a small dried chili.  (The Thai chilies I used are normally quite hot when crumbled as a seasoning, but only imparted the faintest bit of heat when left whole and floating on the surface of the drink.)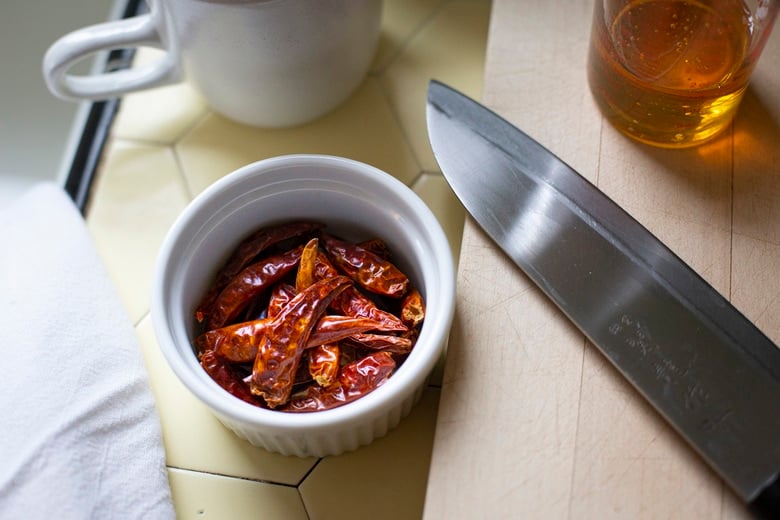 Other whole spice and/or citrus garnishes can be substituted for the chili, though – the most traditional options being a citrus wheel (studded with cloves, if that sounds good), and/or a stick of cinnamon.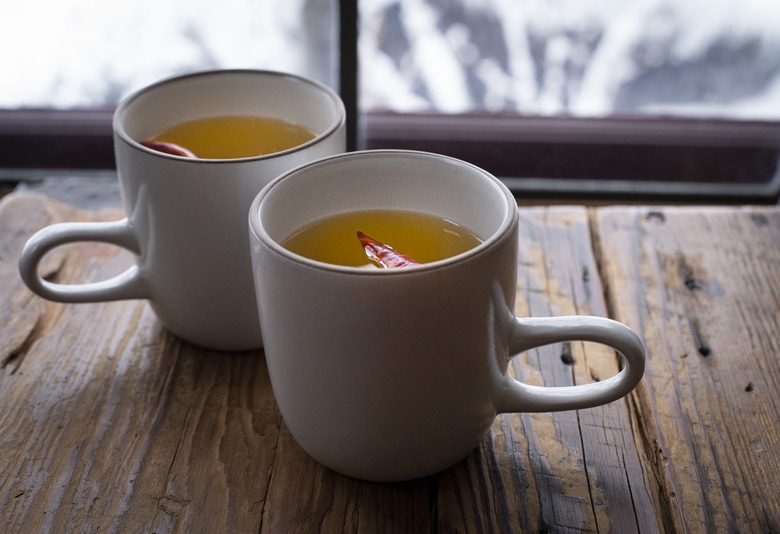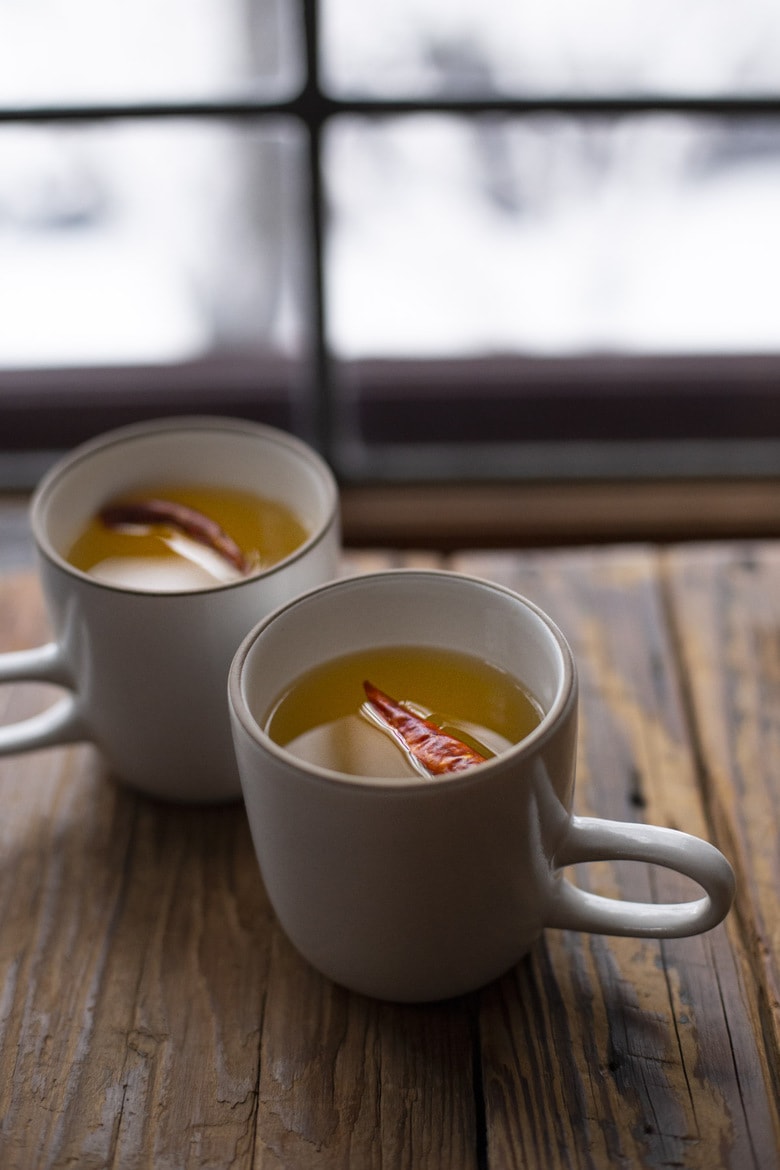 And there you have it!  A winter warmer that will (to quote from Dickens' A Christmas Carol) "race through your veins with little torches!"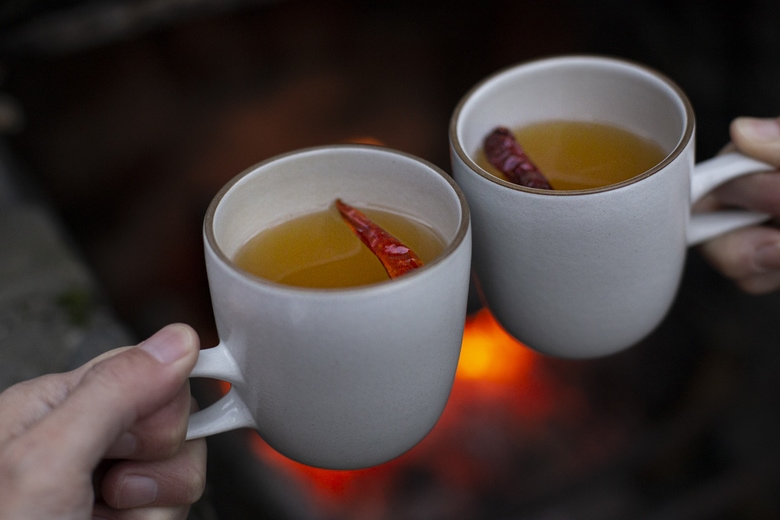 ¡Salud!
– R 
More Mezcal cocktails you may enjoy: 
Print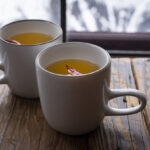 Oaxacan Hot Toddy
Prep Time:

10

Cook Time:

10

Total Time:

20 minutes

Yield:

1

cocktail

1

x

Category:

cocktail, drink,

Method:

stovetop

Cuisine:

American
---
Description
Make a Hot Toddy at home that's better than most of the professional versions you're likely to encounter!  This Oaxacan slant uses mezcal, lime juice & honey.
---
---
---
Notes
Be sure to go easy on the cayenne – in a hot drink it can easily become too much!
Nutrition
Serving Size:

1 drink

Calories:

178

Sugar:

18.7 g

Sodium:

99.4 mg

Fat:

0.4 g

Saturated Fat:

0.1 g

Carbohydrates:

21.3 g

Fiber:

0.8 g

Protein:

0.5 g

Cholesterol:

0 mg
Keywords: Hot Toddy, Oaxacan hot toddy, mezcal cocktails, hot toddy recipe, best hot toddy, hot toddy mezcal, oaxacan hot toddy, mezcal recipes, mezcal cocktails