Here's a cheerful little Moroccan-inspired Citrus Salad with dates, pistachios, arugula, mint, and toasted coconut, dressed in a flavorful Citrus Shallot Vinaigrette. Full of immunity-boosting vitamin C, it is like sunshine on a plate. Vegan and delicious.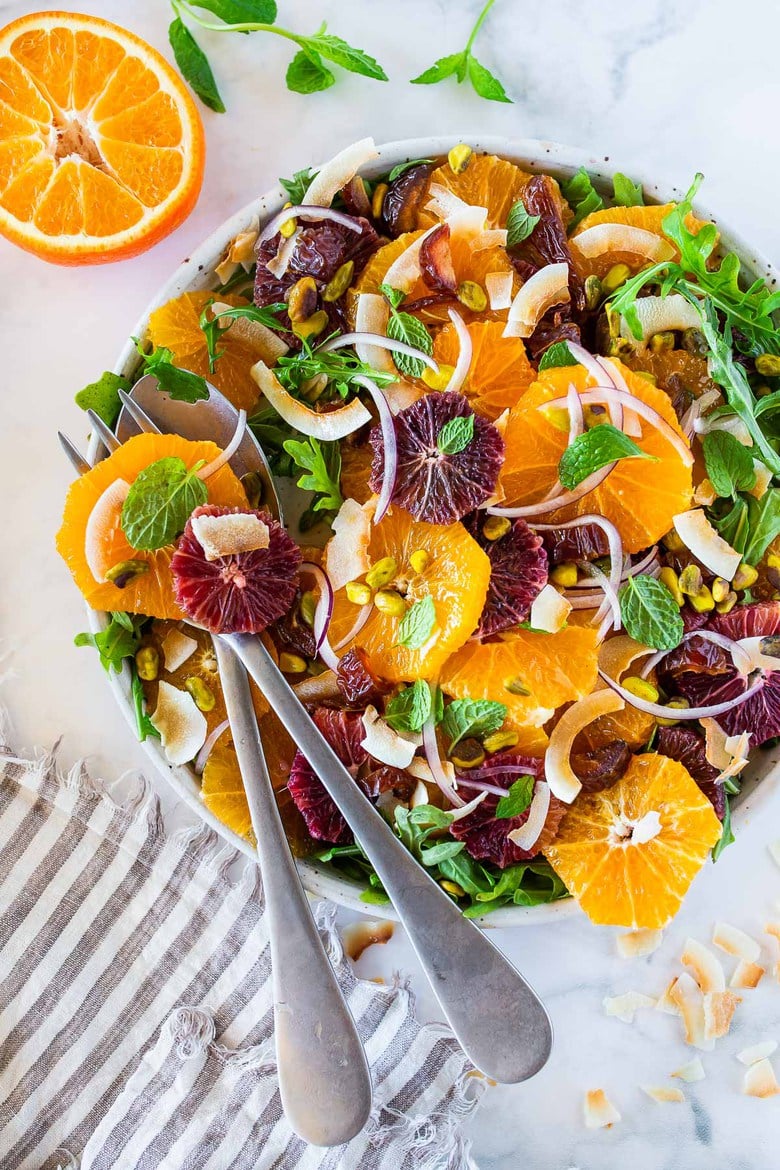 It is in moments when we open wholeheartedly to our actual experience, rather than trying to deny it, judge it or reject it, that grace seems most available. ~Dorothy Hunt
Every few days or so, our next-door neighbor Dexter, here in Santa Barbara leaves us the most beautiful citrus fruit by our front door. It grows from an older tree in his yard that was graphed with several different types of varieties of oranges and mandarins all coming out of the same stock. Anyways, the fruit is amazing and this is what inspired this Citrus Salad. 
Fresh citrus is paired with dates, toasted coconut, mint and pistachios giving it a very Moroccan-inspired vibe. The combination of flavors is a match made in heaven!
Here in Santa Barbara, we can get the oranges, onion, dates, mint, and pistachios all at the farmers market this time of year, making the salad especially easy to make. Yes, I feel very spoiled. 😉
Not only does this salad provide a huge burst of immune-boosting vitamin C, but it's also such a joyful happy salad to make.
Seriously, the smell alone will cheer ya up.
And lord knows we all can use some cheering up. 😉
Ingredients in Citrus Salad
 coconut flakes, unsweetened, toasted
 red onion
4-5 citrus fruits  (use a mix of oranges, blood oranges, mandarins, tangerines or other ripe citrus)
baby arugula
Medjool dates 
 pistachios, pecan pieces or sliced almonds
fresh mint leaves
vinegar
shallot
citrus juice
salt and pepper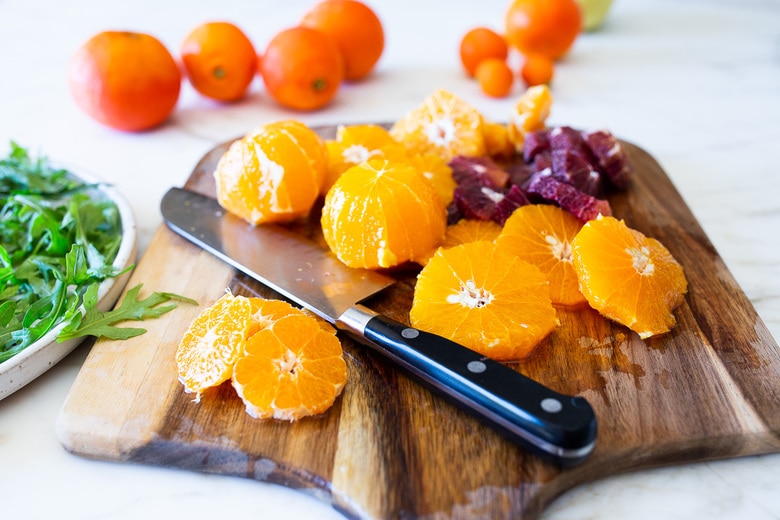 How to make Citrus Salad
Step One: Peel and slice your citrus. You'll need 4-5 oranges, mandarins, tangerines, etc. A mix is nice.  I prefer to slice the peel off, but do as you like. Using a mix of sizes, flavors and colors is nice too.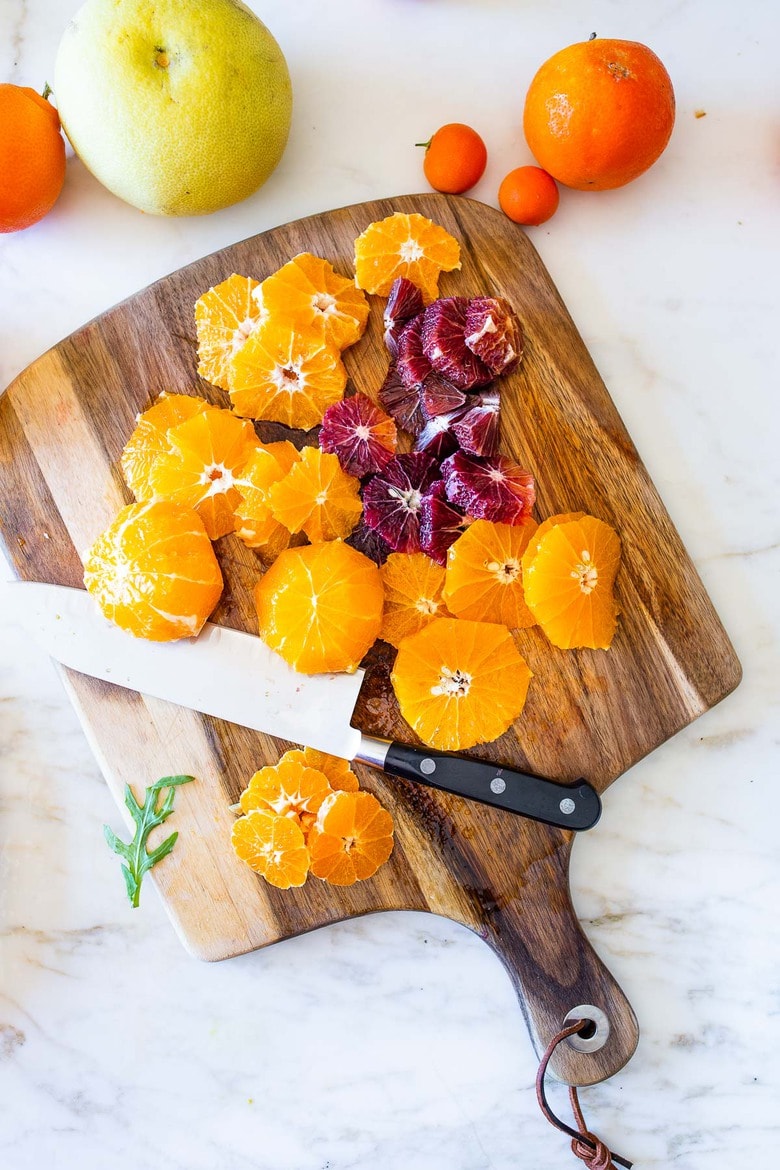 Step Two: Then grab a platter or plate and just start layering and have fun with it!
Place a couple of handfuls of baby arugula or spinach on a platter to create the base. Start layering the sliced citrus, scatter the soaked red onion, toasted coconut, dates, pistachios and scatter with mint.
Add crumbled goat cheese if you like or keep it totally vegan- up to you.
Soft, large Medjool dates are easy to prep, so always look for those.  If onions irritate your tummy, try soaking them first to remove the "bite".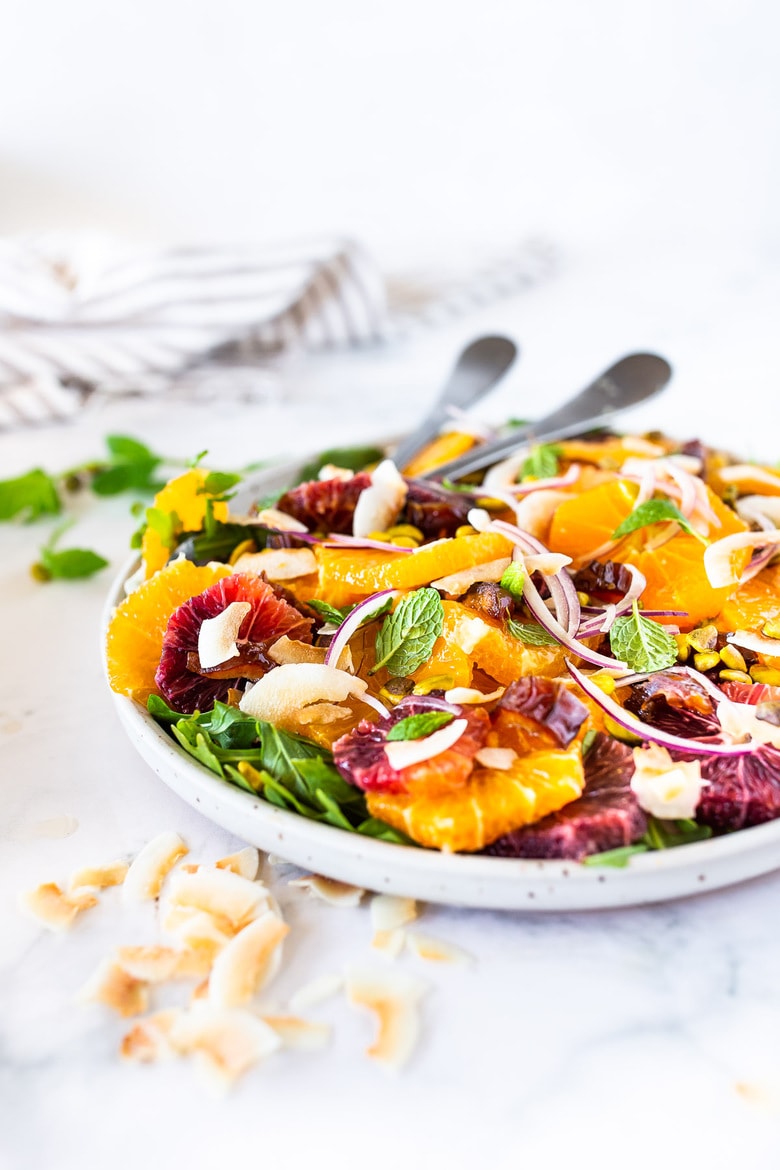 Step Three: Mix the Citrus Vinaigrette dressing ingredients together in a bowl or bottle and spoon some over the salad. You probably won't need all.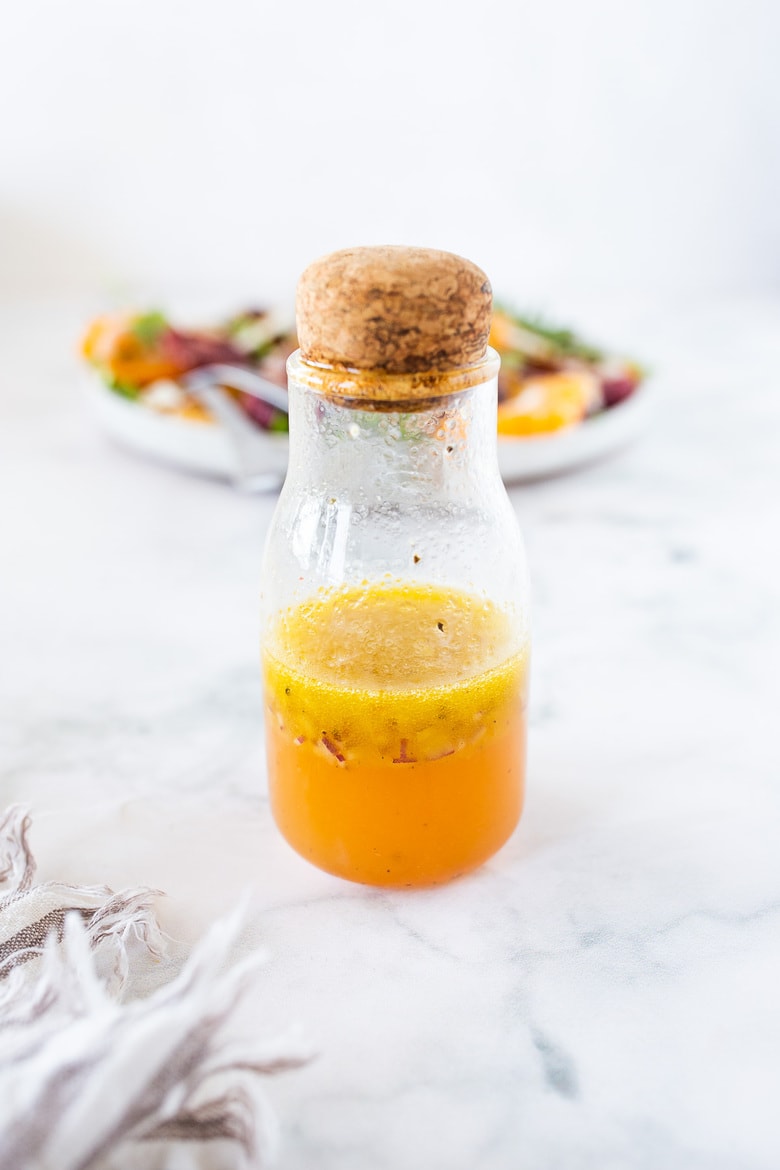 Can this Be made ahead?
Feel free to assemble the citrus salad ahead, storing it in the fridge (leaving the mint and coconut off until serving) and dress it right before serving. A delicious thing to bring to a brunch or lunch gathering.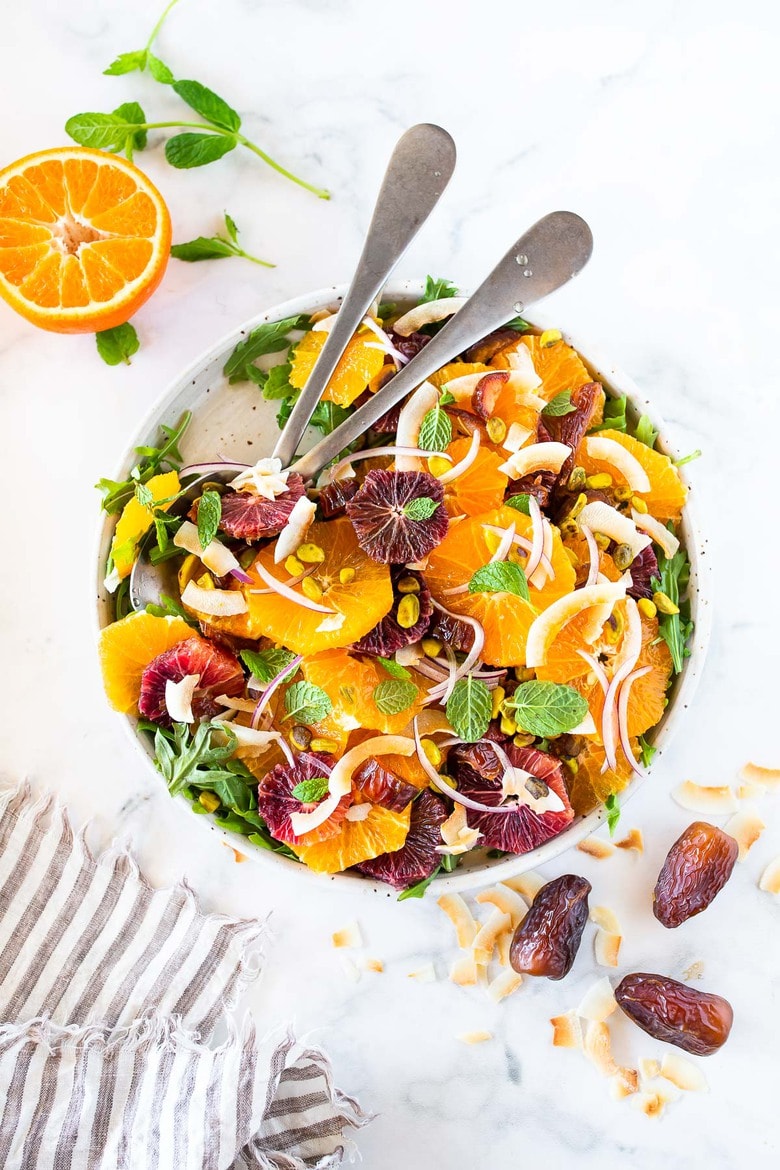 More recipes you might enjoy:
On the homefront:  In truth, it has not been an easy week for me. I lost a friend to cancer, too young, too full of life. Her name was Kate.
For the longest time, I didn't want to accept the fact that she was dying. I scoured books and the internet for unconventional cures that might help (note: don't do this, it is not helpful) and Kate would kindly and patiently listen, while preparing me in her gentle way, of what was coming.  She was the one dying and yet, felt compassion for me and my struggle around her death. She was generous that way.
What Kate was trying to teach me, during the last year of her life, was acceptance. I was a challenging "student" and I fought it up until the very last week. I just wanted her to live so badly and couldn't imagine her not being here.
During this past year, we watched her fill her life with all that she loved, weeding out all the nonessentials. It was inspiring.
Believe me, she lived lifetimes in that year. So rich and dense and full.
Perhaps it was her acceptance that allowed her to live so fully those last months. She went out like a shooting star. So bright and astonishing…
We who knew her, are left with this dark and silent sky.
Print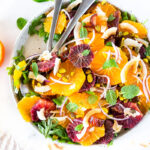 Citrus Salad Recipe
Prep Time:

25 mins

Total Time:

25 minutes

Yield:

6

1

x

Category:

salad, vegan

Method:

assembled

Cuisine:

moroccan

Diet:

Vegan
---
Description
This Moroccan-inspired Citrus Salad with dates, arugula, mint, pistachios, and toasted coconut is dressed in the most flavorful Citrus Shallot Vinaigrette. It's deliciously juicy and vegan!
---
Citrus Vinaigrette: 
Orange Salad:
1/4

cup

coconut flakes, unsweetened, toasted

1/4

cup

thinly sliced red onion

3

–

5

oranges, peeled with a knife and sliced (use a mix of oranges, blood oranges, mandarins or other ripe citrus)

5

ounces

baby arugula (or baby spinach)

1/4

cup

Medjool dates, pitted and chopped

1/4

cup

pistachios, pecan pieces or sliced almonds

1/8

cup

fresh mint leaves or Italian parsley, torn
optional- 1/3 cup crumbled goat cheese
---
Instructions
Make the dressing – stir everything together in a small bowl.
Toast the coconut (in a dry skillet over low heat).
Soak red onions in a bowl of salted water (this is optional, to remove the bite and bitterness- some people prefer the bite and bitterness.;)
Cut the rinds off the oranges using a very sharp chef's knife ( you can also peel by hand). Slice into 1/4 inch thick rounds.
Place the arugula (or baby spinach) on a platter to form the base of the salad. Layer the orange slices over top. Sprinkle with the chopped dates, nuts and toasted coconut.
Drain and scatter the red onions. If using goat cheese, crumble it over top. Add some mint leaves and spoon the dressing over top. You will probably not need all the dressing.
Add more cracked pepper if you like.
Serve immediately.
---
Notes
If making ahead, you could assemble this a few hours before, cover, refrigerate, then spoon the dressing over top right before serving.
Nutrition
Serving Size:
Calories:

216

Sugar:

16.4 g

Sodium:

102.3 mg

Fat:

14.2 g

Saturated Fat:

3.1 g

Carbohydrates:

23.6 g

Fiber:

4 g

Protein:

2.9 g

Cholesterol:

0 mg
Keywords: citrus salad, vegan citrus salad, orange salad, moroccan orange salad, citrus dressing, citrus vinaigrette