Lightning Speed Photon Soup- a cross between Vietnamese Pho and Wonton soup that can be made in 15 minutes flat! Nourishing, healthy and warming.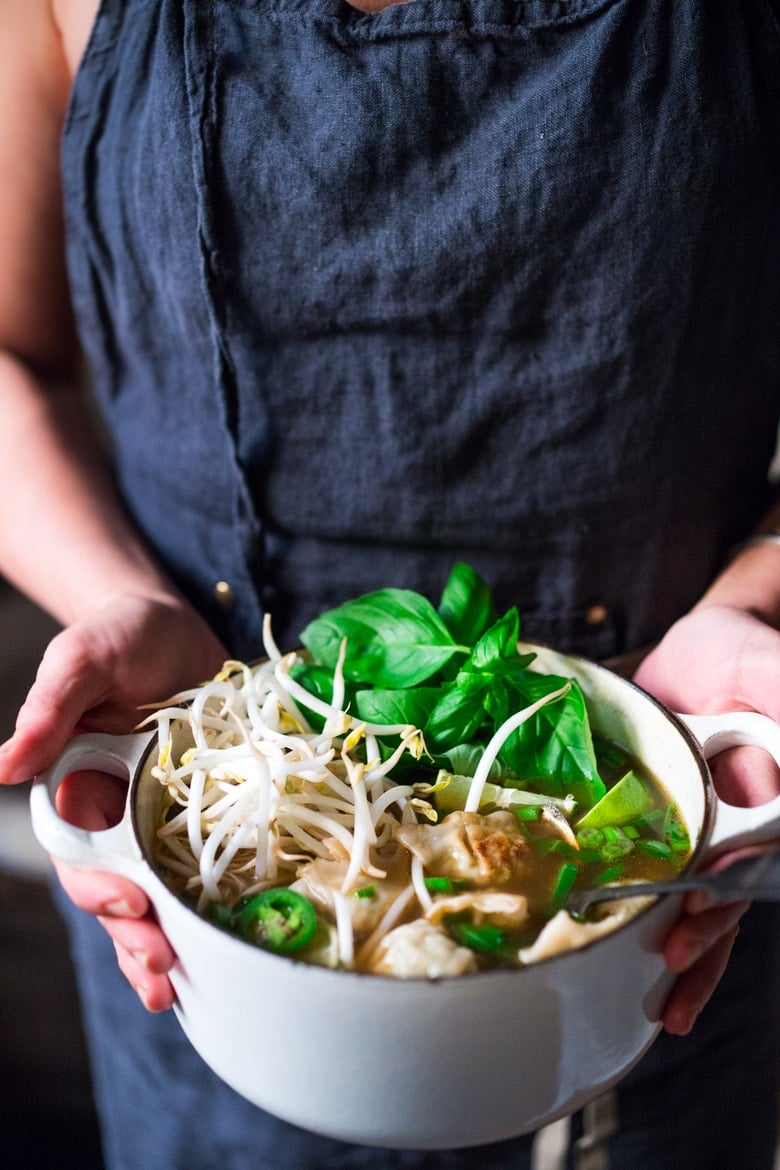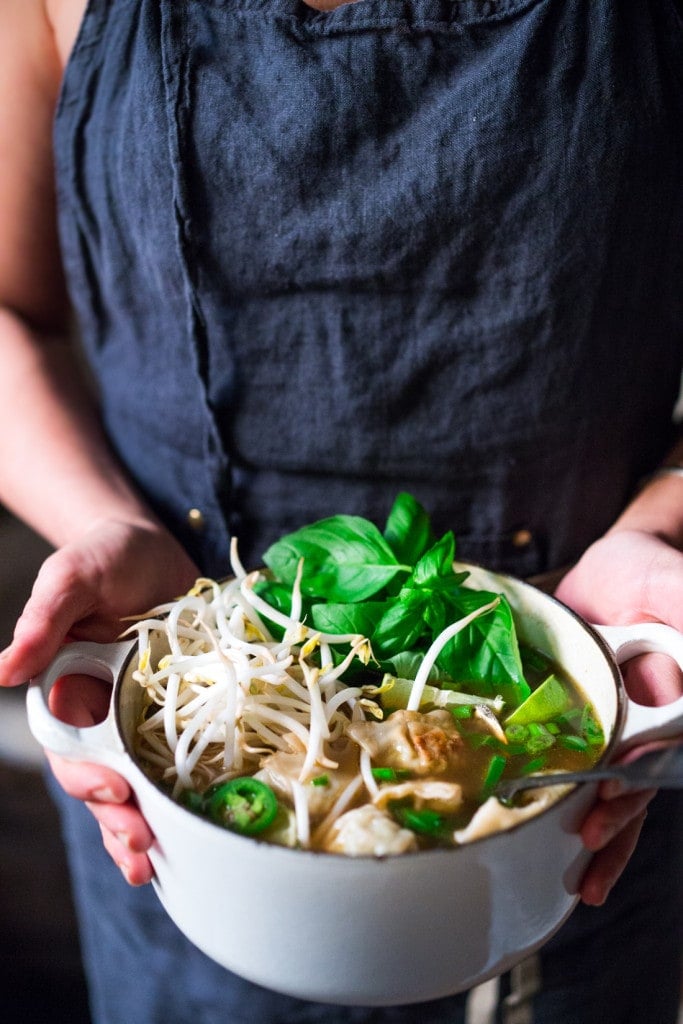 I've been holding out on you.
For the past few winters, I've been making this soup on nights when I'm feeling especially tired, worn out, hungry and in need of bone-warming sustenance in a hurry. It's a cross between Vietnamese Pho and Wonton Soup, hence the name, but what's most extraordinary about this is … it can be made in 15 minutes flat. Try it! It is possible.
The Vietnamese Pho style broth is radically and unapologetically simplified for the sole purpose of speed. Call me shallow if you like. 😉 But you'll find the simple broth has unexpected depth, all things considered. The wontons, admittedly, are store-bought, but true lifesavers during hunger emergencies, and I always try to have some in the freezer for back up.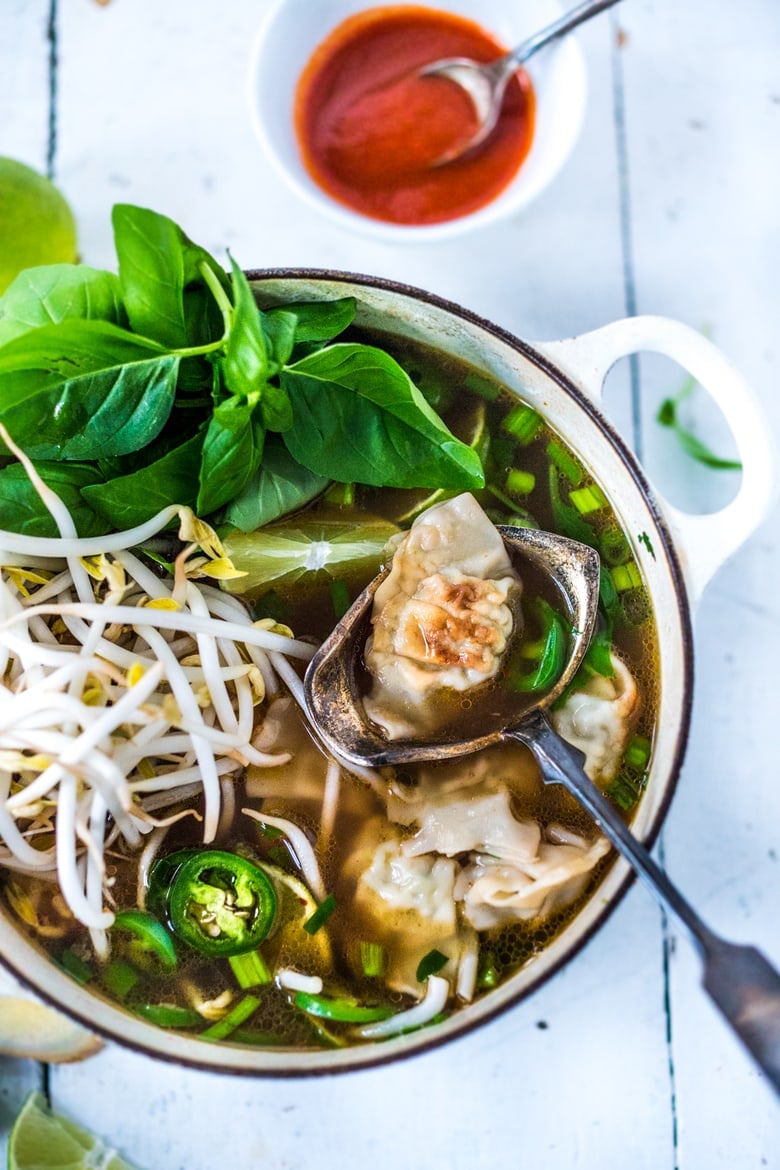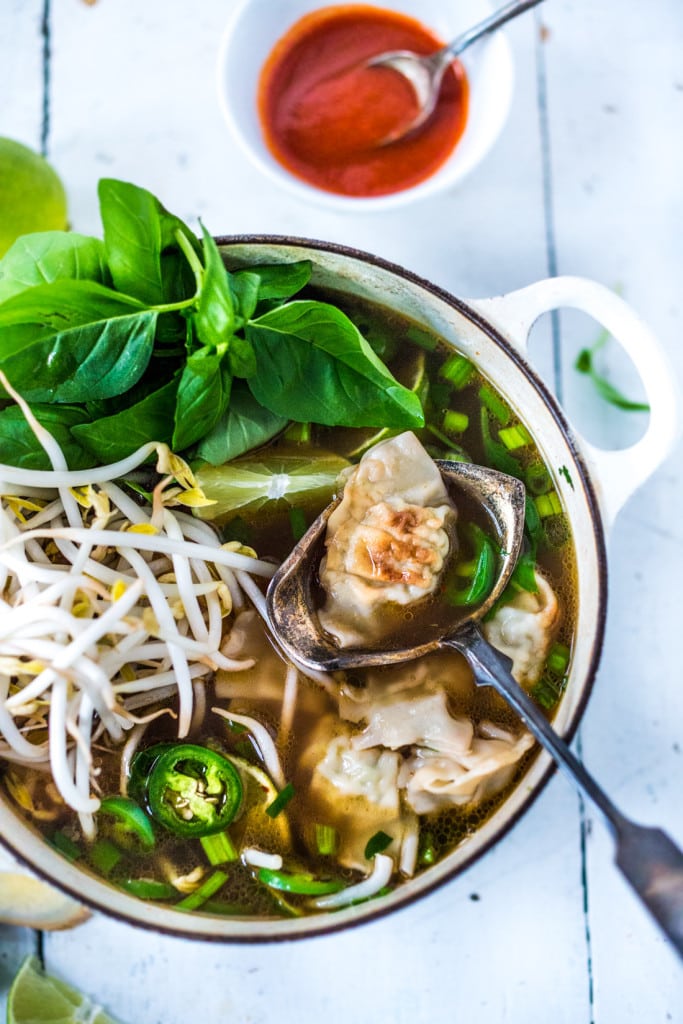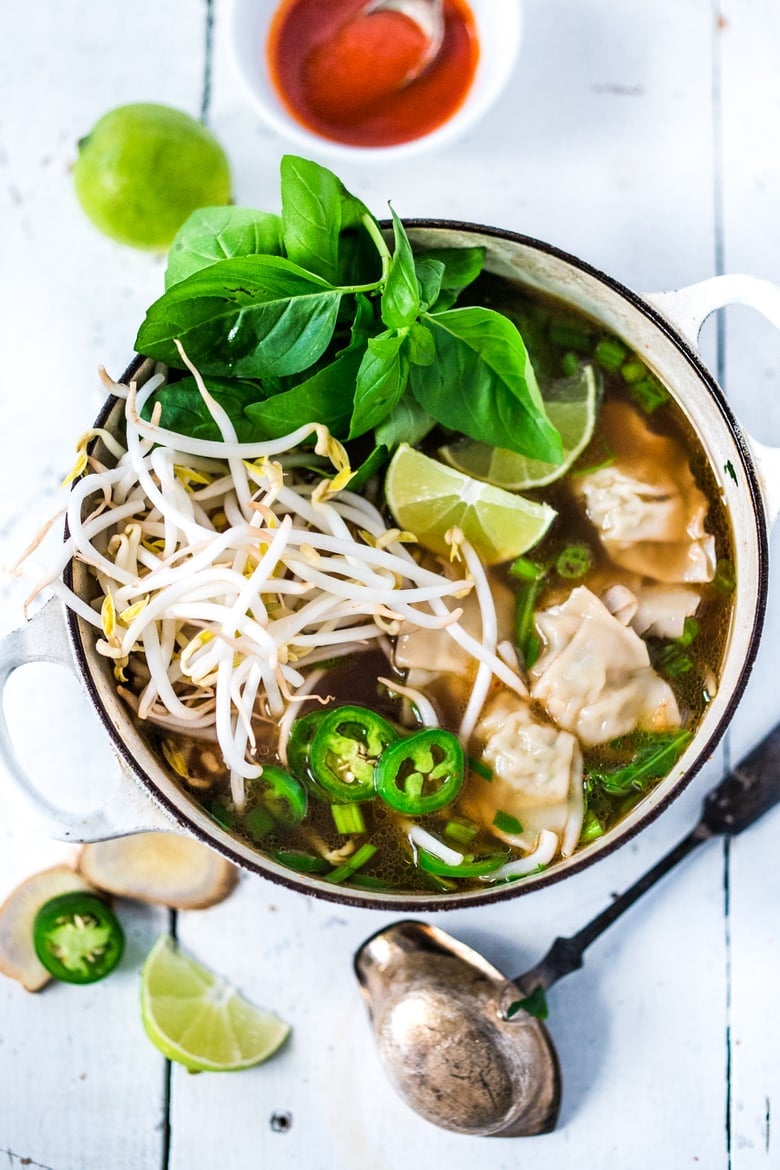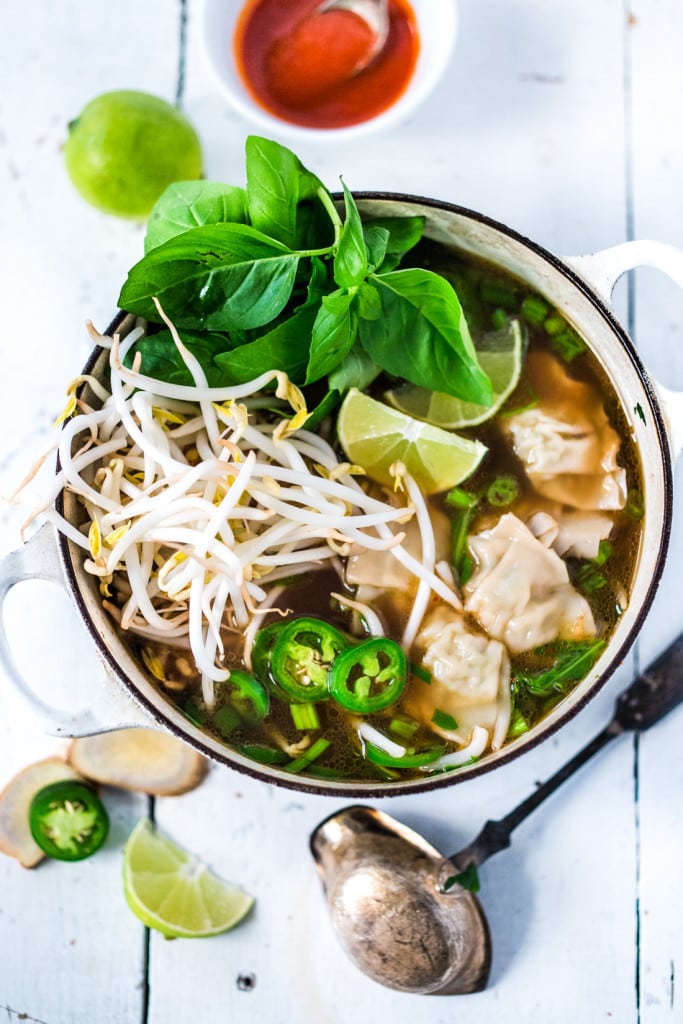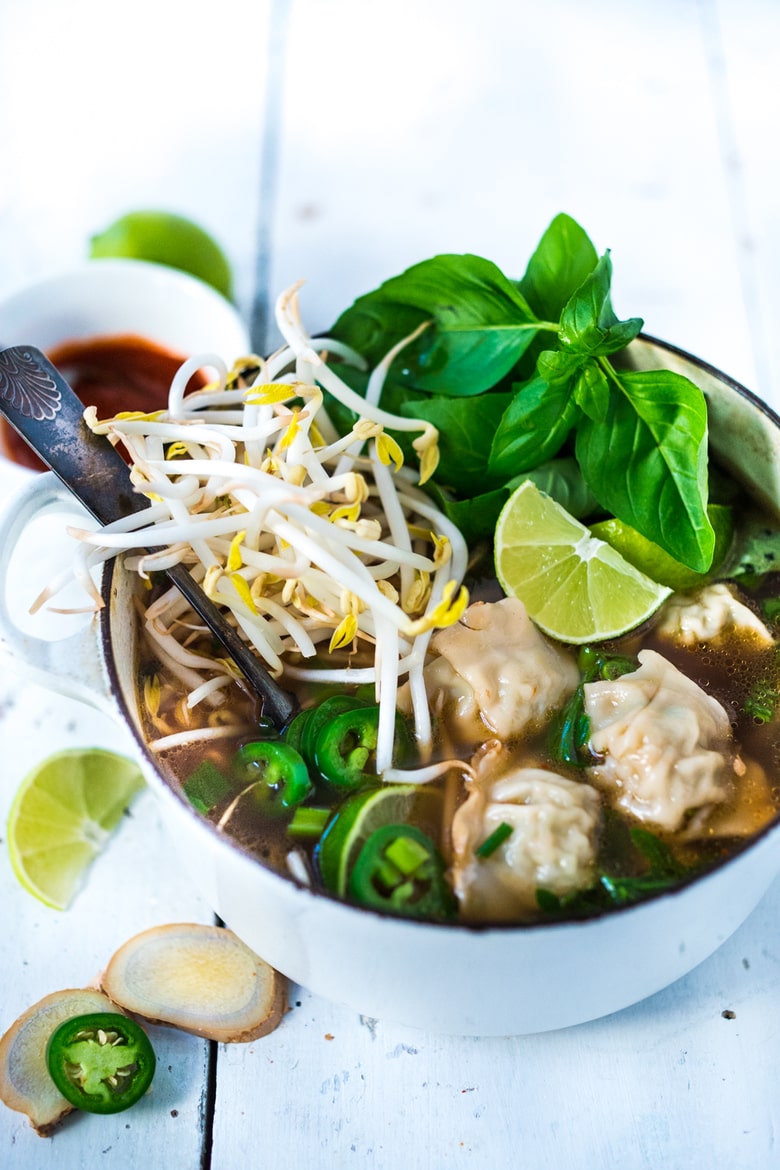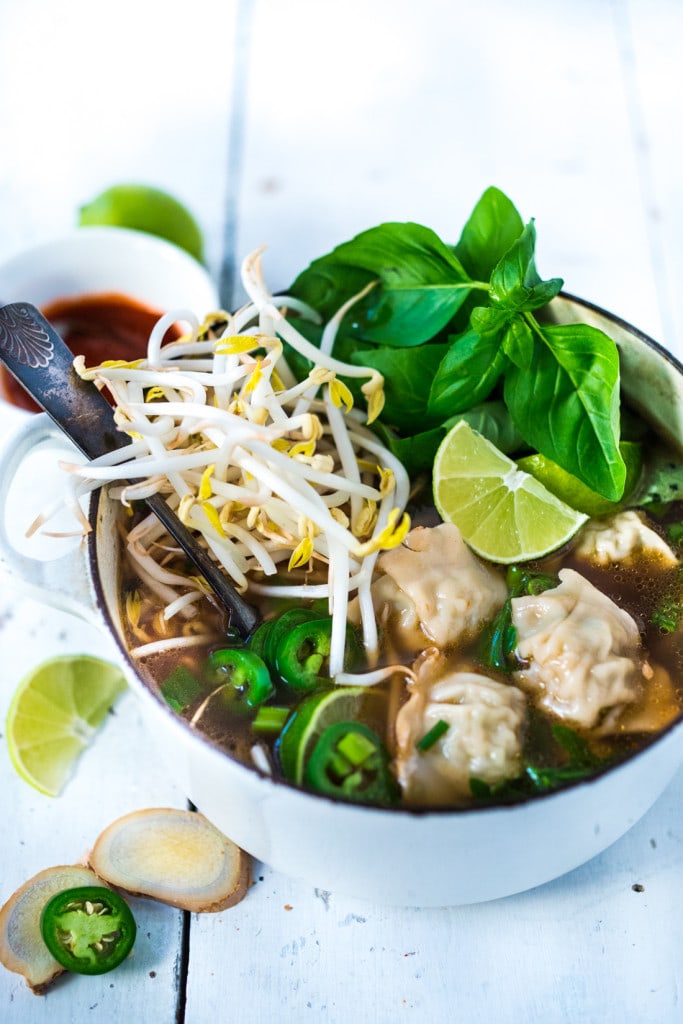 Now of course you could make homemade wontons, with whatever filling you like and keep them in ziplocks in the freezer, all ready to use. But that wouldn't be Lightning Speed Photon Soup, would it? Your call.
You can also make your stock and freeze in quart size mason jars, thawing as necessary.
Trader Joe's has mini wontons which are little bite-sized versions, perfect for soup. They also have shrimp wontons, which I'm in love with. Asian markets have many varieties, including good vegetarian versions, so find one you like and stock it, because if you are like me, once you have this soup, you will crave it.
Fresh jalapeño slices, basil, scallions, lime wedges and bean sprouts dress the soup when it's done. But know that the soup is also pretty good without this, and often during a hunger crisis, if these ingredients are not in the house, I make the soup anyway, with just the wontons, broth, chili sauce and lime, and it is enough. However, the toppings bring it to the next level.
You can improvise quite a bit here, adding mushrooms, greens, shredded cabbage, shredded Brussels sprouts, carrots, celery, or most any veggie to the soup as long as your soup base is flavorful and balanced. I often add a few heaping handfuls of chopped arugula, spinach or baby kale to "up" the nutrient level. (I call this having my salad in my soup.)
What I love most about the Photon Soup is the flavorful, yet effortless broth. Chinese Five Spice gives the soup its flavor. Vietnam and China are neighbors and while visiting, it was impossible not to notice how how their flavors would overlap, and how Five Spice was often used in Vietnamese cooking.
Give me a brothy soup any day of the week, and I'm content. Restoring, healing, and filling without being overly high in calories, my body feels nourished after eating this.
Have a happy weekend!
Print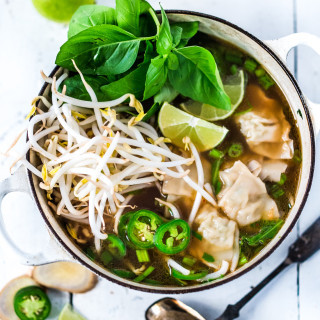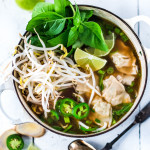 Photon Soup
Prep Time:

5 mins

Cook Time:

15 mins

Total Time:

20 mins

Yield:

2

Category:

Soup

Method:

Stove top

Cuisine:

Asian
---
Description
PHOTON SOUP! Vietnamese Pho meets Wonton Soup – a fast and flavorful soup can be made in 15 minutes flat! Healing, nourishing and flavorful.
---
4 cups

beef, chicken or veggie broth

4

–

5

thin slices ginger (OK to leave peel on)

1

–

2

rough chopped garlic cloves (optional)

4

–

5

Scallions, sliced, divided into white parts and green parts (or sub very thinly sliced onion)

½ teaspoon

Chinese Five Spice

¼ teaspoon

cracked pepper

12

–

14

mini wontons (or to your preference)

2 cups

greens – optional ( chopped kale, bok choy, arugula, mizuna)
Splash soy sauce
Splash fish sauce
generous pinch sugar
Garnishes: bean sprouts, lime wedges, jalapeno slices, fresh basil or cilantro, chopped greens, sriracha, hoisin sauce, sesame oil.
---
Instructions
Place stock, ginger, garlic, scallions (white parts only) 5 Spice, pepper into a medium pot and bring to a boil.
Add frozen wontons and return to a boil.
Simmer 5 minutes or according to directions on the package (perhaps longer for bigger ones).
Add greens (optional)
When wontons float, they should be done.
Add the green scallions, soy sauce, fish sauce and sugar.
Taste for salt. Adjust. The broth should taste flavorful and have depth, so adjust with soy sauce,fish sauce or salt, as necessary.
Ladle into two large bowls and top with fresh bean spouts, a handful of herbs, thinly sliced jalapeño peppers. Stir in sriracha sauce and hoisin to taste.
---
Keywords: wonton soup, easy wonton soup, pho recipe, pho with wontons, pho recipe,


SaveSave