A healthy recipe for Chicken "Wonton-Less" Soup with Bok Choy- a simple flavorful broth-based soup that is paleo, low carb and gluten free.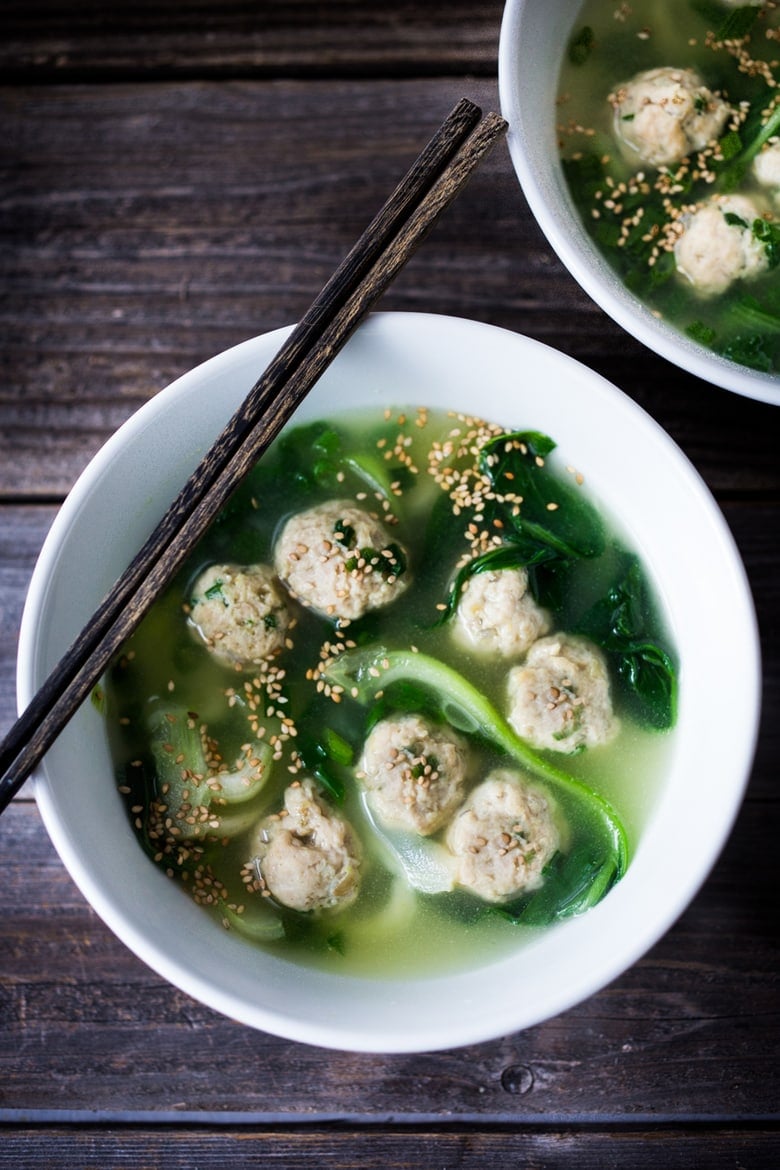 This Paleo Chicken Wonton Soup is made without the wonton wrappers, keeping it gluten-free (flour-free) and low-carb and also SUPER FAST to make, since you are not having to wrap all the wontons. It's a surprisingly healthy and easy soup to make, and the BEST THING – the tiny adorable and delicious chicken meatballs can be frozen and saved for nights when you have absolutely no time to cook- using them in a quick soup or sautéing them up with veggies, pasta or rice noodles.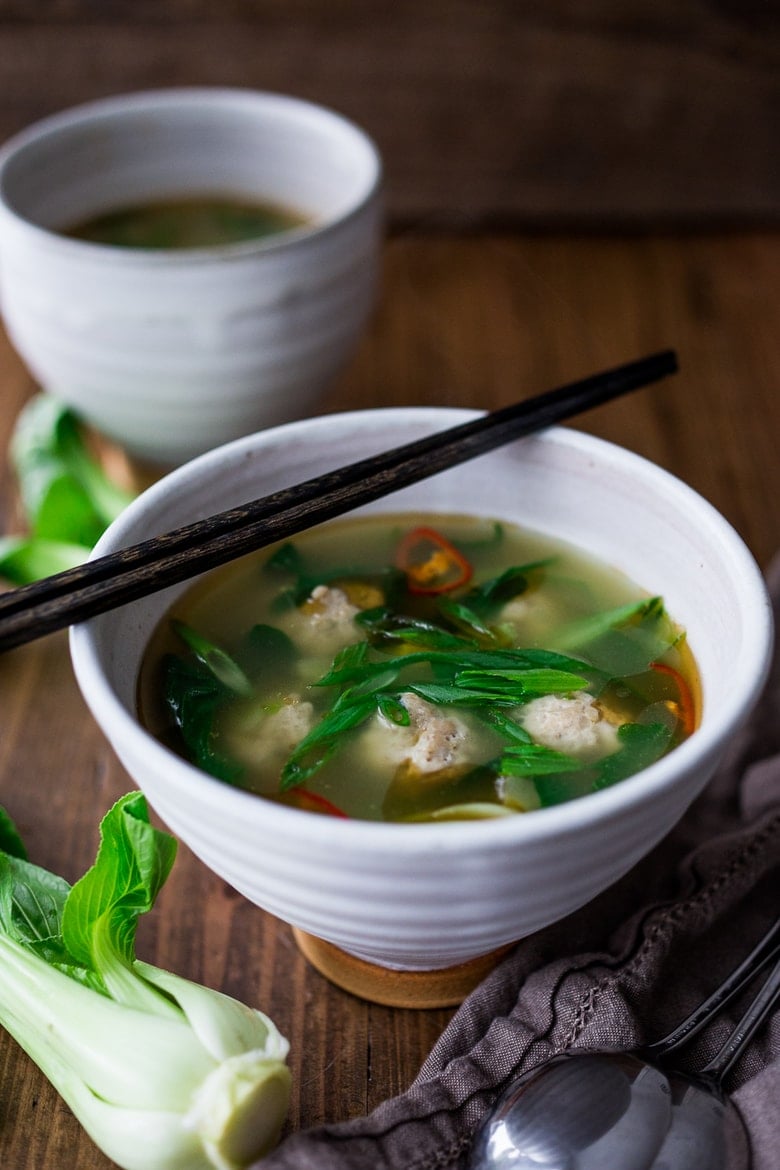 The little chicken meatballs take about 15-20 minutes to make. Seasoned with garlic, ginger, shallot, lemongrass and fresh chili peppers- they are a flavor bomb. Because they are so tiny, they only take a few minutes to cook. And once in the broth they are like little bites of heavenly goodness…..so addicting and delicious. Please try this one friends!!!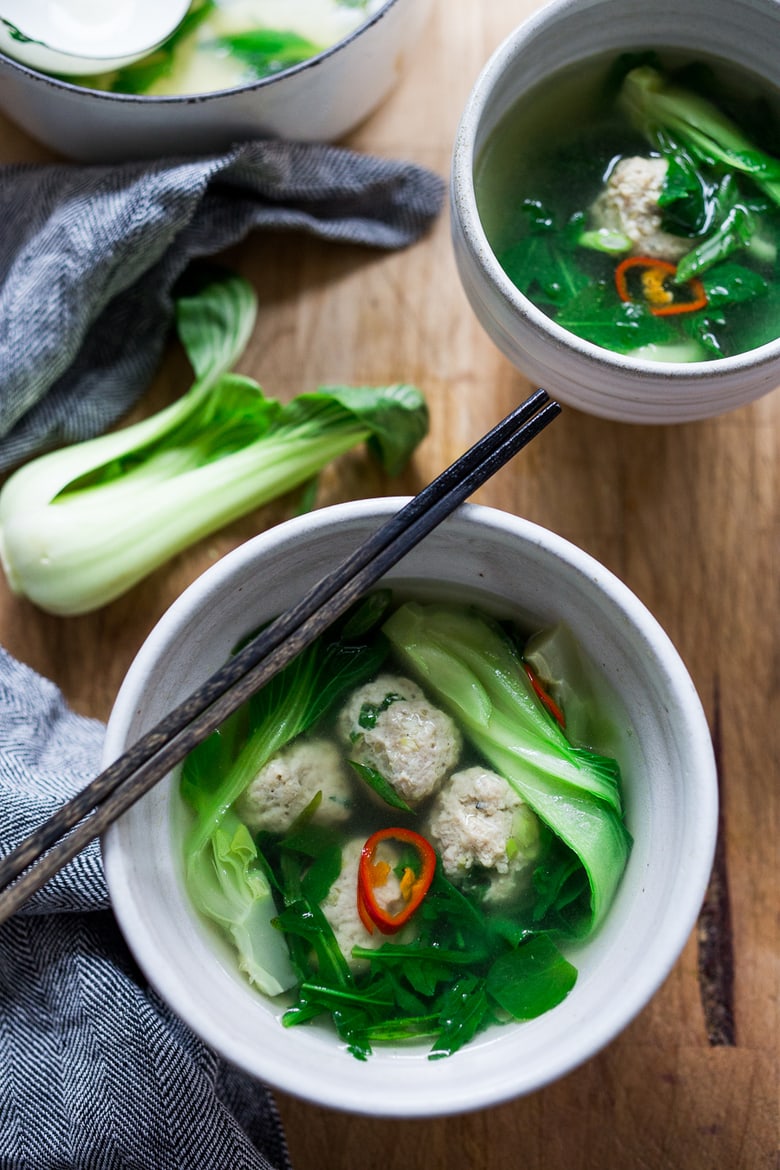 Ground chicken is seasoned with scallions and ginger and garlic, and rolled into the tiny little flavorful balls, about the size of a extra large cherry.  Then they are plopped into simmering seasoned chicken stock along with a generous amount of greens, herbs and a drizzle of toasted sesame oil. A delicious filling meal full of nutrients and best of all, good, clean flavor. I could eat this everyday. The pictures really don't do this justice, so please, trust me on this and give a whirl. I think you will like it.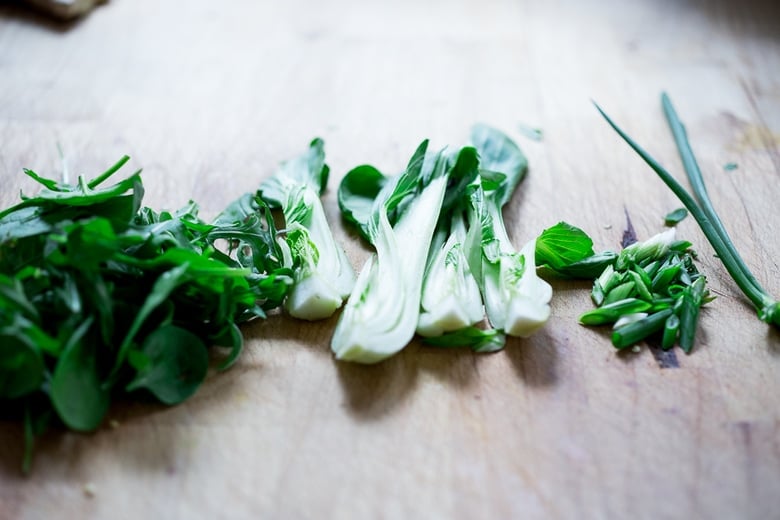 Here I've cleaned out my fridge and am adding baby spinach, bok choy, arugula and scallions to the soup. Lots of healthy nutritious greens.
To make the meatballs….simple mix up the ingredients. It takes 5-10 minutes.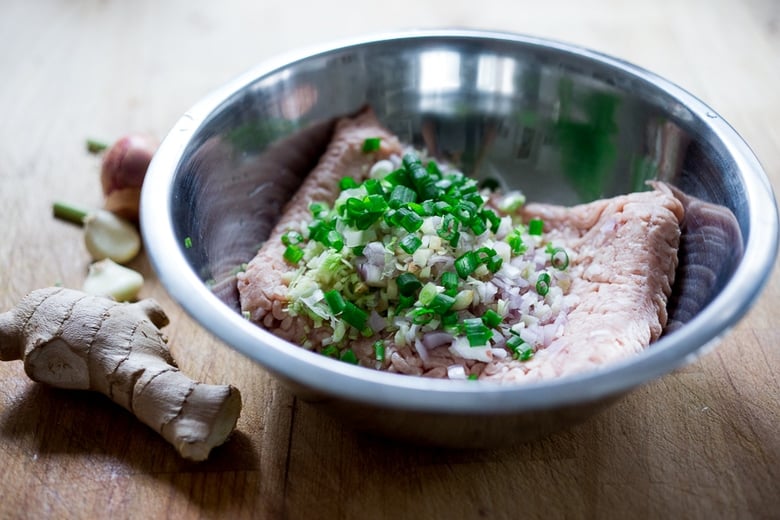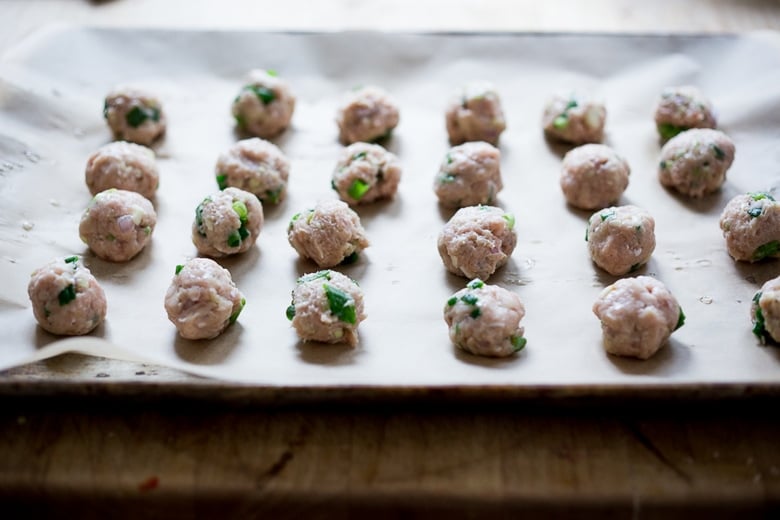 Freeze the remaining meatballs on a parchment lined sheet pan, then once frozen, place in a ziplock bag in your freezer for easy use during the week.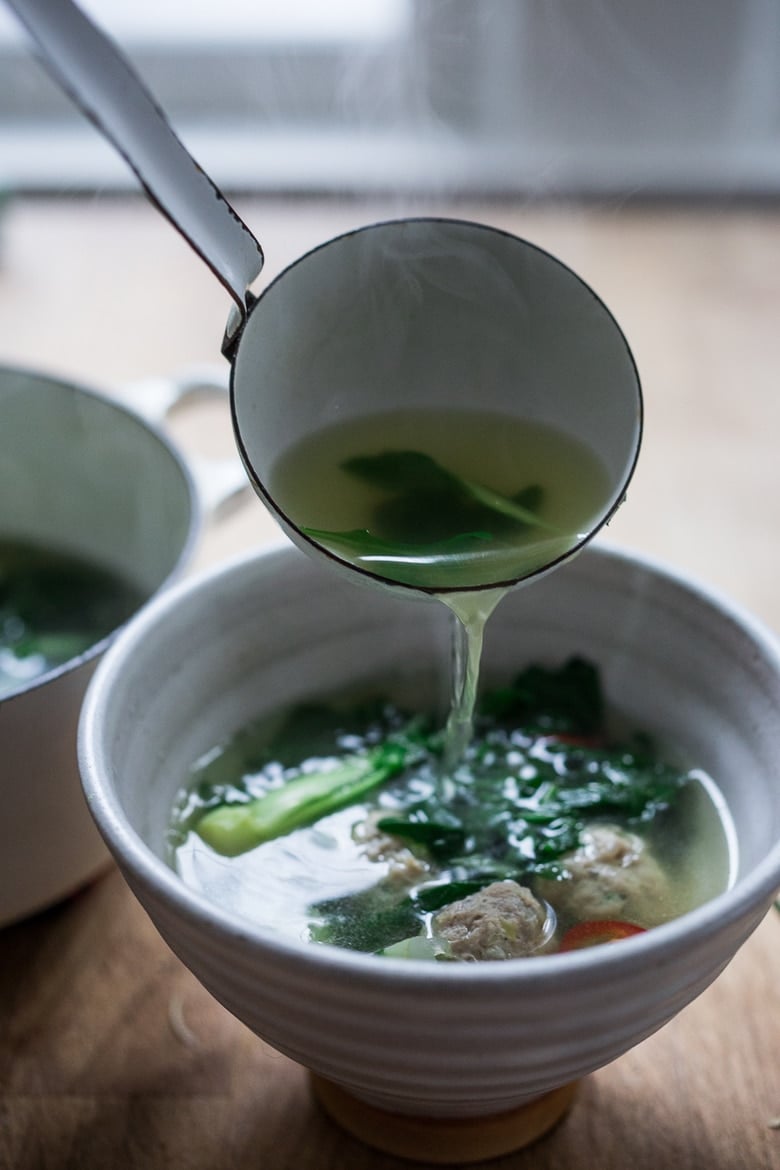 To me, one of the most healing, nurturing and comforting things to eat is chicken broth – especially when made from scratch, with leftover organic chicken.
My very first food memory is of my mom's chicken soup, when I was very little, and sick, and sitting in my high chair. I had both hands in the soup, fishing out the chicken and remember thinking, mmmmmmm, this tastes sooooooo good! It was my first memory of taste. Can you remember yours?  How has this shaped what you like to eat today?
To this day, chicken broth is my comfort food.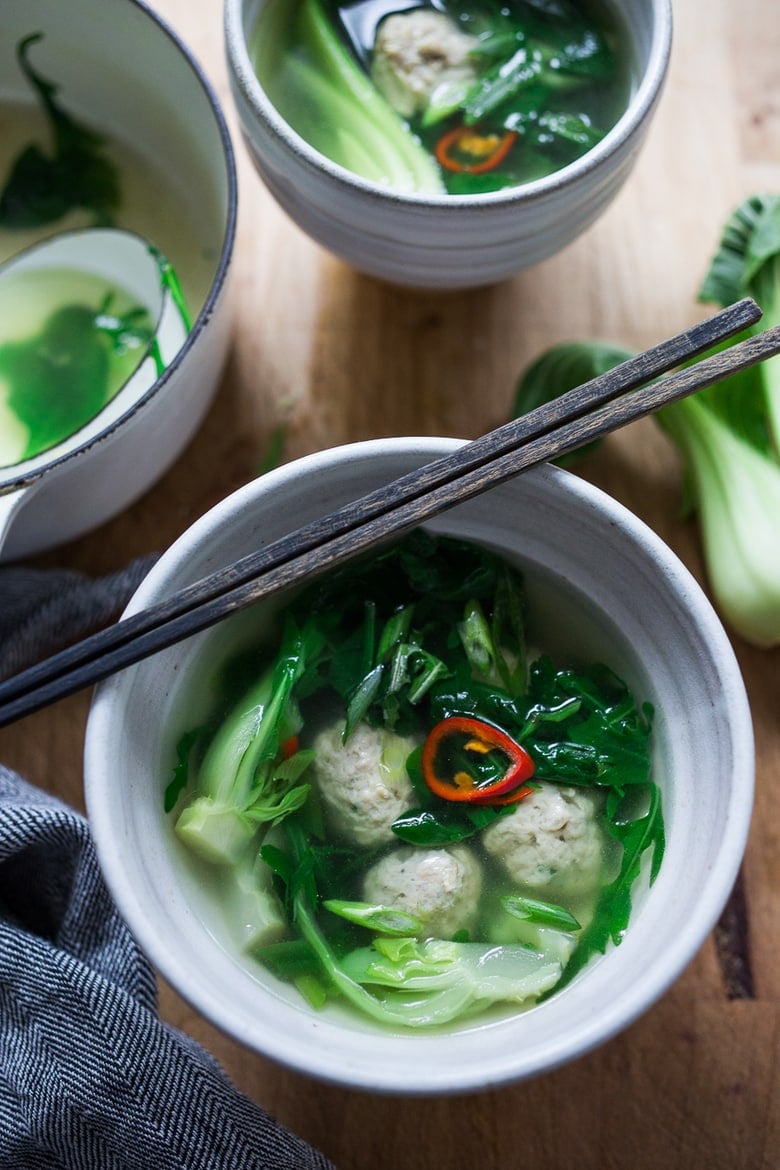 Add a few slices of chili pepper  at the end for extra heat if you like.
A healing bowl of goodness- perfect for cold winter nights.
The Peace of Wild Things
When despair for the world grows in me
and I wake in the night at the least sound
in fear of what my life and my children's lives may be,
I go and lie down where the wood drake
rests in his beauty on the water, and the great heron feeds.
I come into the peace of wild things
who do not tax their lives with forethought
of grief. I come into the presence of still water.
And I feel above me the day-blind stars
waiting with their light. For a time
I rest in the grace of the world, and am free.
Wendell Berry
Print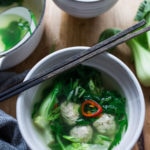 Paleo Wonton Soup
Prep Time:

20 mins

Cook Time:

15 mins

Total Time:

35 mins

Yield:

4

1

x

Category:

Main

Method:

stovetop

Cuisine:

Asian, GF, Low Carb, low fat
---
Description
A delicious brothy chicken wonton soup without the wonton wrappers, keeping this gluten free and low carb.
---
CHICKEN MEATBALLS
1

pound

ground chicken ( or use ground turkey, beef or pork or a mix)

1 1/4 teaspoons

kosher salt

1

–

2

tablespoons fresh lemongrass– finely chopped

1

shallot- finely chopped

1 tablespoon

grated ginger

2

–

3

garlic cloves – finely minced

3

scallions, very thinly sliced ( separate white from green parts)

1 teaspoon

jalapeno- very finely chopped ( optional)
BROTH
8

cups

chicken broth or stock- organic if possible.

6

scallions, sliced, separating white parts from green ( or sub leeks)
pinch white pepper
salt to taste

4

–

6

cups

fresh greens or bok choy ( baby spinach, arugula, asian greens)
Drizzle toasted sesame oil
Garnish- fresh herbs (cilantro, basil, scallions, chives, Italian parsley) toasted sesame oil, fresh chili slices
---
Instructions
MEATBALLS: Makes 24 very small balls
Place ground chicken and the rest of the meatball ingredients – salt, lemongrass, shallot, ginger, garlic, green tops of scallions and jalapeño- into a medium bowl, and using wet hands, mix until combined well. Again, using wet hands, form into small cherry- walnut-sized balls ( .75 ounces) understanding they will swell in the broth (almost twice the size)  and place on a parchment lined baking sheet. See notes.
Heat the broth or stock in a big pot and add the white parts of the scallions ( or leeks). Bring to a gentle boil. Add a pinch of white pepper and salt to taste.
Gently drop the raw meatballs (serves 2) into the simmering broth.
Gently simmer the meatballs until cooked through about 5 minutes (they will take longer if frozen). Remember the smaller the meatballs, the faster they will cook. They will float when done, but best to always

test one

first.
During the last minute of cooking add the greens to the pot, so they wilt and become tender– but not too long that they lose their vibrant color. Toss in the fresh herbs and remaining scallions and serve immediately.
Divide among bowls, top with a few slices of fresh chilies for heat, and a drizzle of toasted sesame oil for added depth and flavor.
---
Notes
Meatballs can be frozen on a sheet pan, then place in zip lock bags. You can also use this same filling to make regular wontons using wonton wrappers and these can be frozen too.
Nutrition
Serving Size:

one bowl ( 6 meatballs)

Calories:

313

Sugar:

6.1 g

Sodium:

102.6 mg

Fat:

16.4 g

Saturated Fat:

3.6 g

Carbohydrates:

21.2 g

Fiber:

4.6 g

Protein:

23.3 g

Cholesterol:

96.3 mg
Keywords: meatball soup, wontonless soup, broth soup recipe, chicken meatball soup
SaveSave
SaveSave
SaveSave