This post may contain affiliate links. For more information, please see our privacy policy.
Grilled Flank Steak with Sweet Corn & Radish Salad…a healthy summer weeknight meal that can be made in 35 minutes!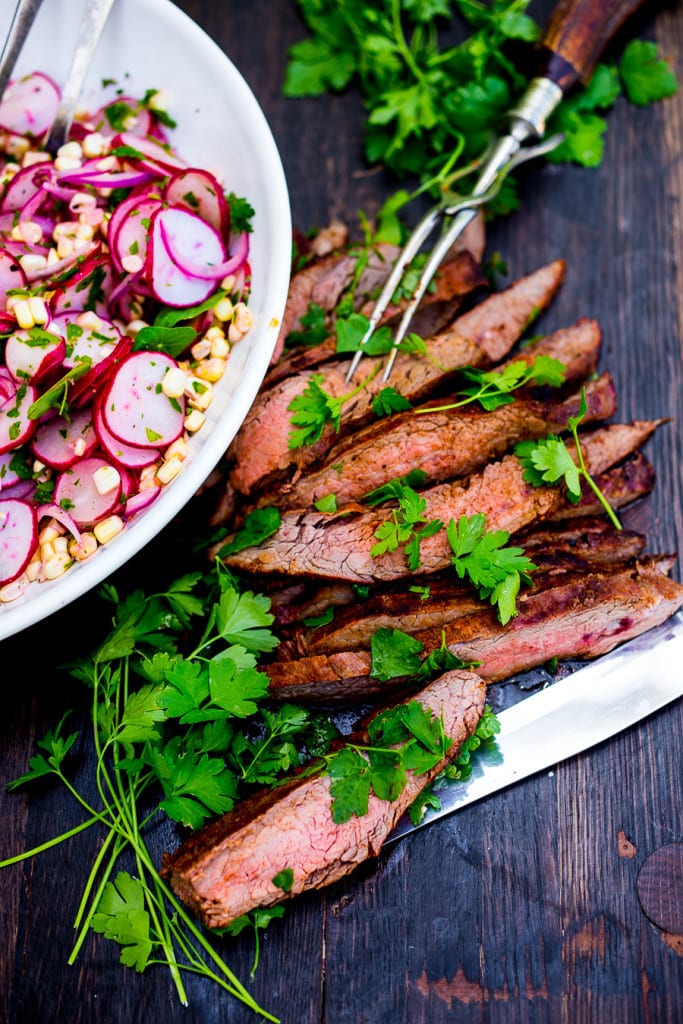 This flavorful recipe for Grilled Flank Steak with Sweet Corn & Radish Salad comes together quickly and easily. It satisfies all Brian's meat cravings, while giving me my crunchy healthy side salad, which I especially love during the summer months.
Fresh sweet corn, lightly grilled, then cut off the cob, drizzled with lime juice and tossed with radishes, red onion and parsley compliments the flavors of the grilled beef, which is rubbed with smoked paprika, cumin and salt. A simple delicious dinner, perfect for weeknights, that can be made in 30-40 minutes.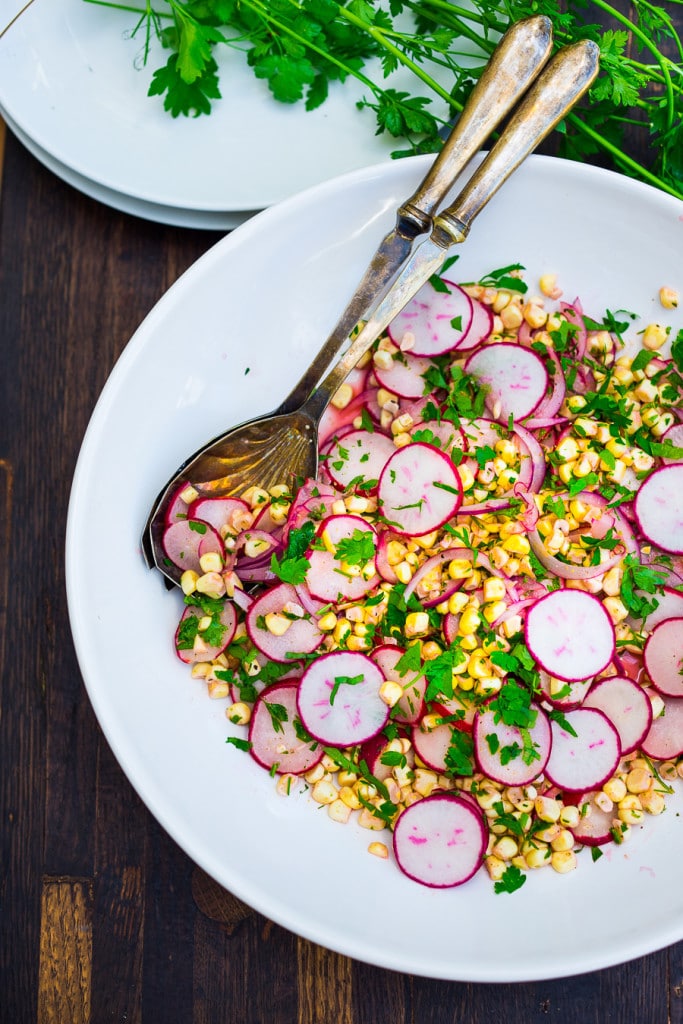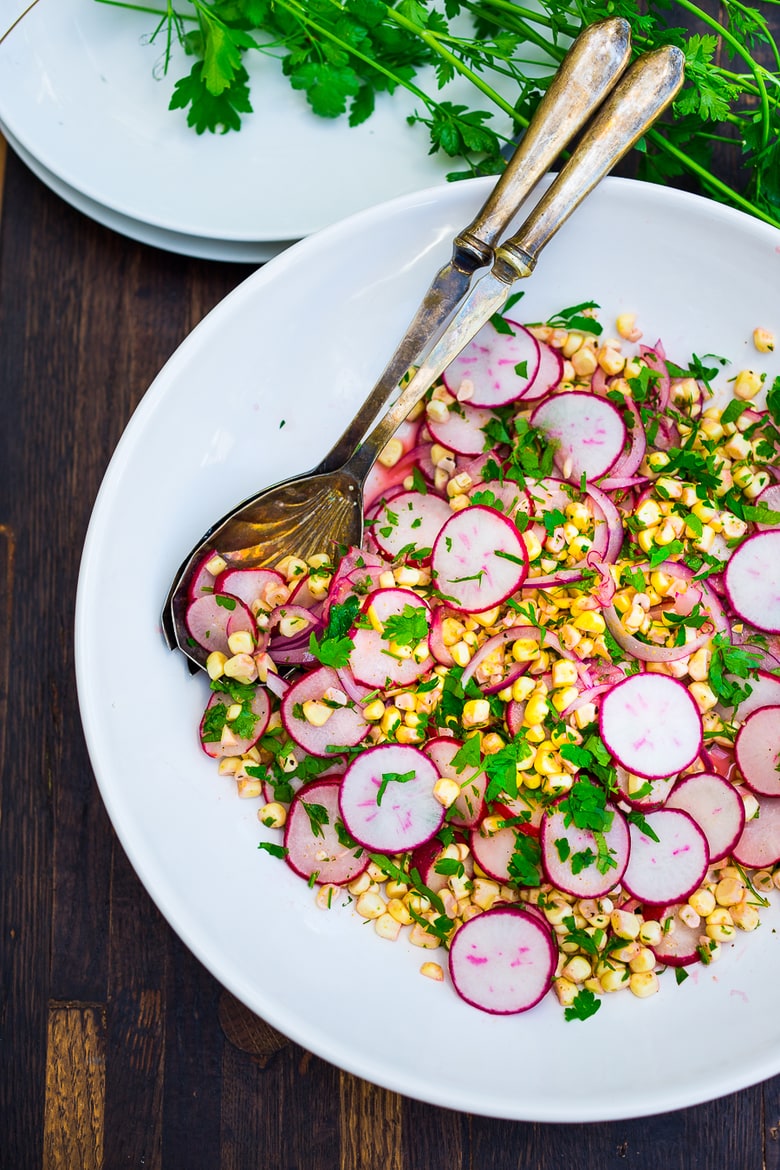 Walking through our neighborhood the last few nights, the air is filled with the scent of Linden flowers. Sweet and intoxicating, they have a fragrance like nothing else I've ever smelled. We live near a pond and just as the sun is setting, the frogs come out and begin their singing, cello-like, deep and soulful, calling to their mates.
The pond is teeming with life, and somehow being  here clears the mind and lets the worries of the day gently sluff off. On the walk home, delicious aromas of backyard bbq's wet our appetite, and by the time we make it up the hill, we are famished. It's a good feeling, working up an appetite.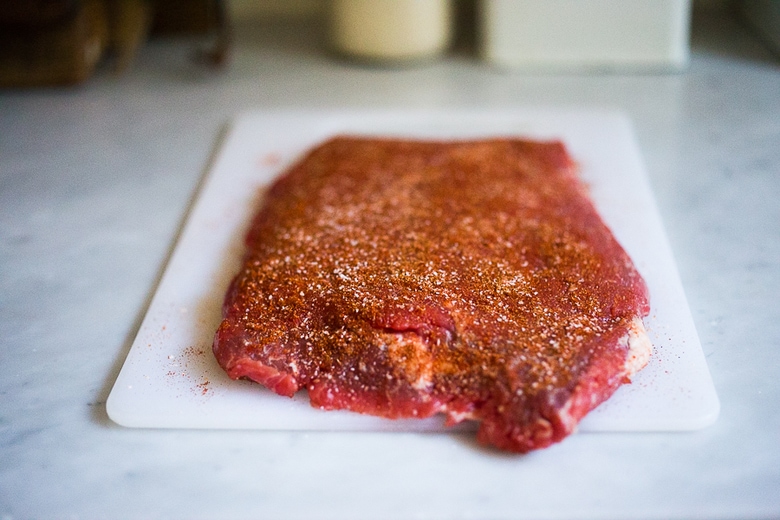 Rub the meat with smoked paprika, cumin and salt and let it sit at room temperature, while you make the salad. Pre-heat the grill so it's nice and hot. High heat works best here, to get a good char.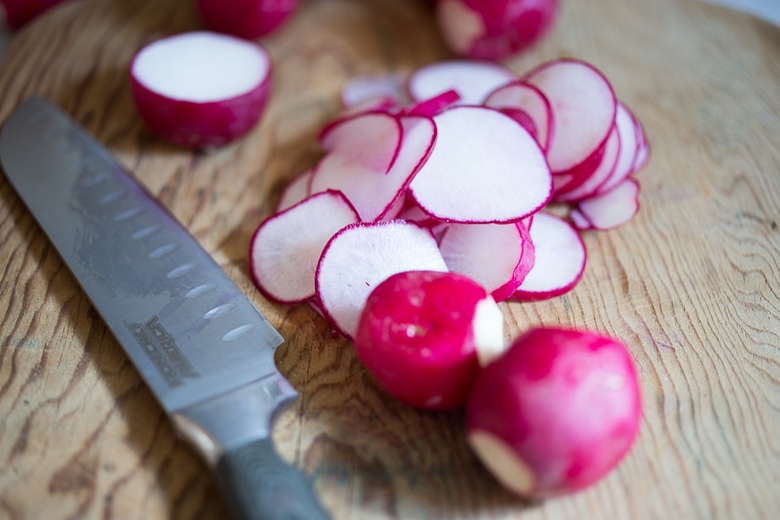 Slice radishes thinly, and lightly grill the corn. Just a few minutes on each side. Local corn, just picked, is often the sweetest, so opt for this if possible.
Slice the grilled corn off the cob and place with radishes in a bowl with lime juice, red onion and parsley and little coriander, and let marinate a bit while you grill the flank steak.
Once the grill is really hot, grease the grates and sear the steak on high heat, on both sides, allowing good grill marks to develop ( about 4-5 minutes each side).
Grill the Flank Steak to  to medium rare, then be sure to let it rest 10 minutes before slicing into it, allowing some of the flavorful juices to remain in the meat.
Give the corn salad another toss, and enjoy them together. The lime from the salad compliments the steak, and the smoked paprika from the steak compliments the salad.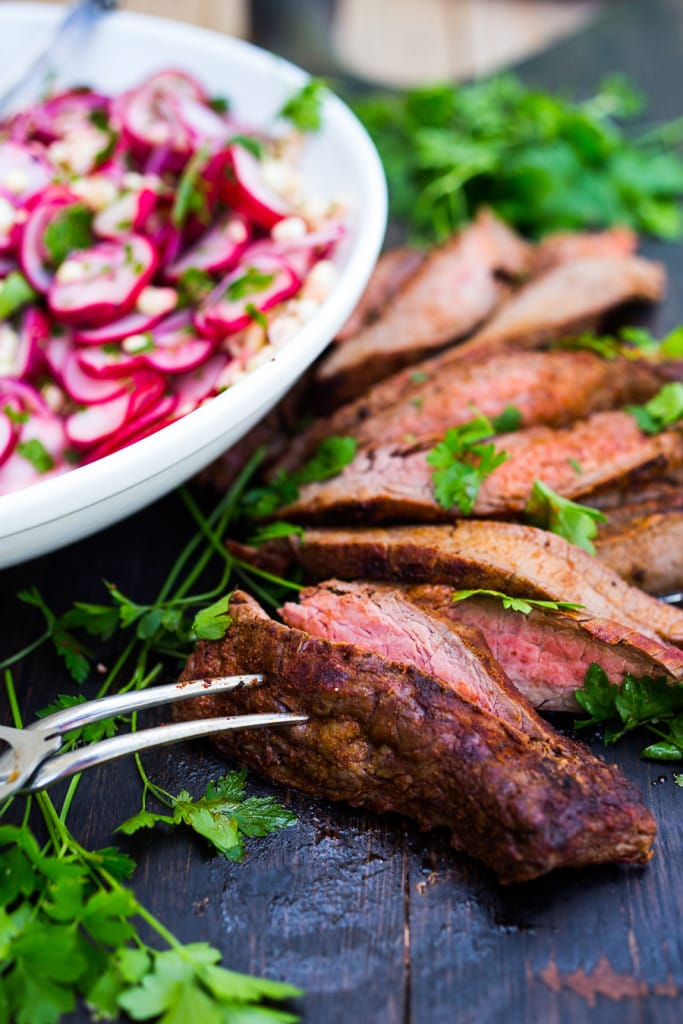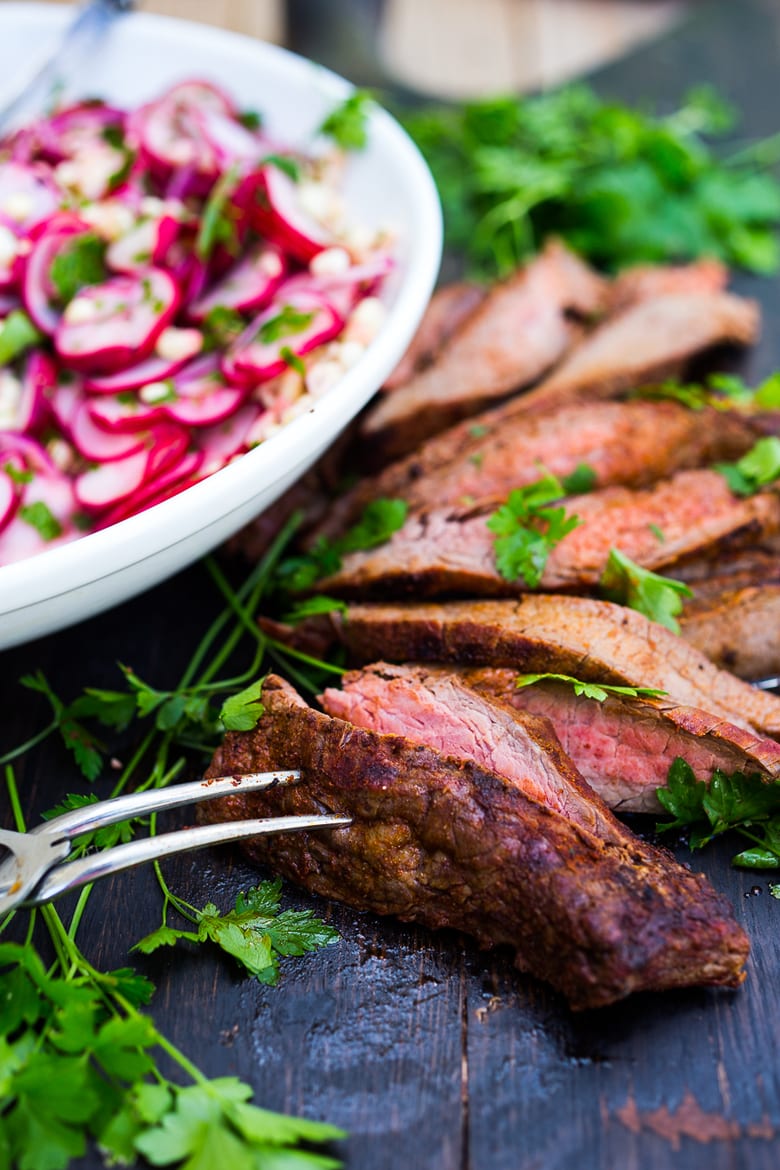 It's simple- but it's really all you need for a light satisfying dinner.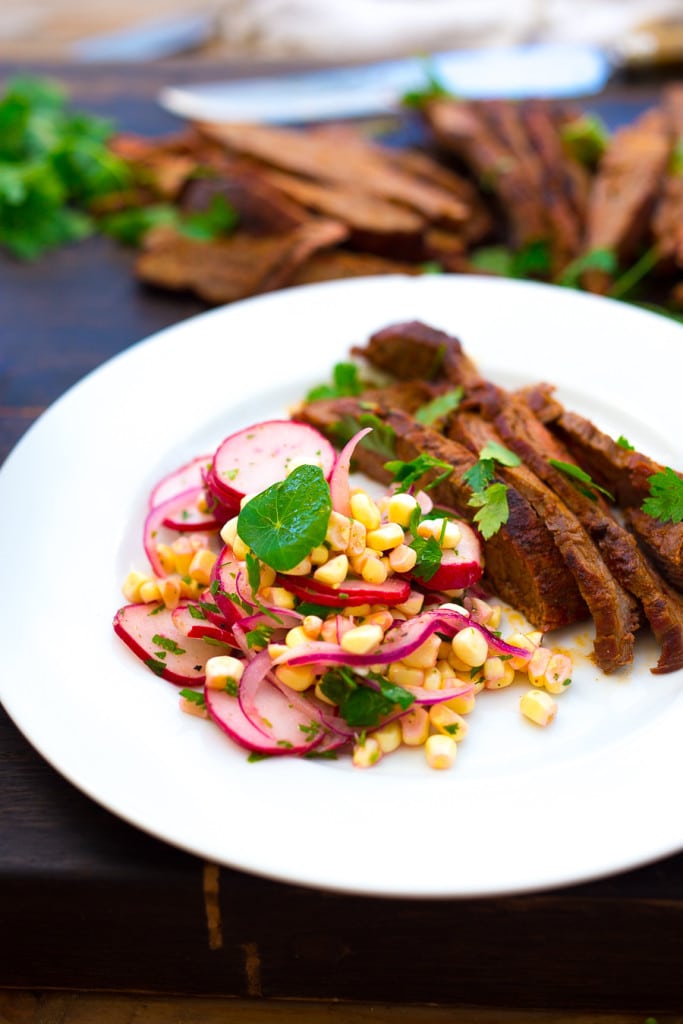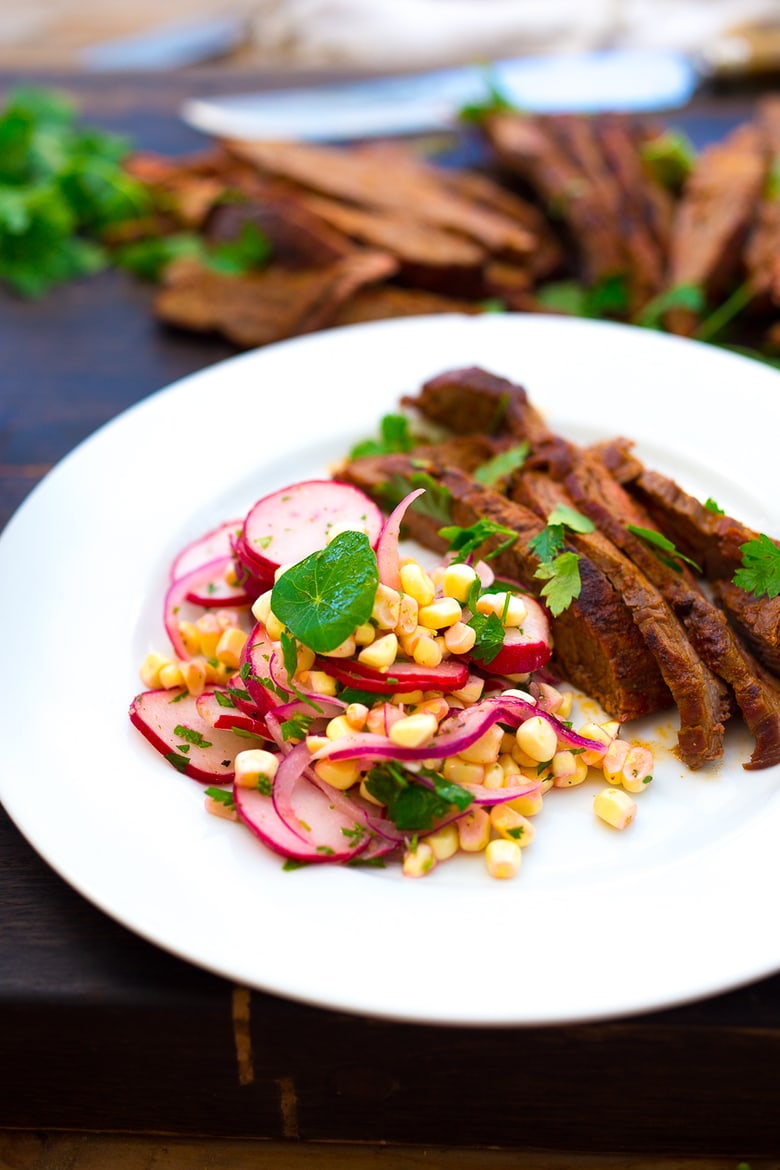 I find that personally when I eat red meat, I feel much better when I know where the meat is sourced.  Locally sourced meat, without hormones or antibiotics is important to me. I don't eat it often, but when I do I want it to be high quality.
Also, keeping the sides on the lighter side, matters to me.  Adding a heavy or rich starch, or even bread, combined with the meat, somehow zaps my energy. But after this meal, my body felt energetic and light –the true test. Always listen to your own body. It really does know.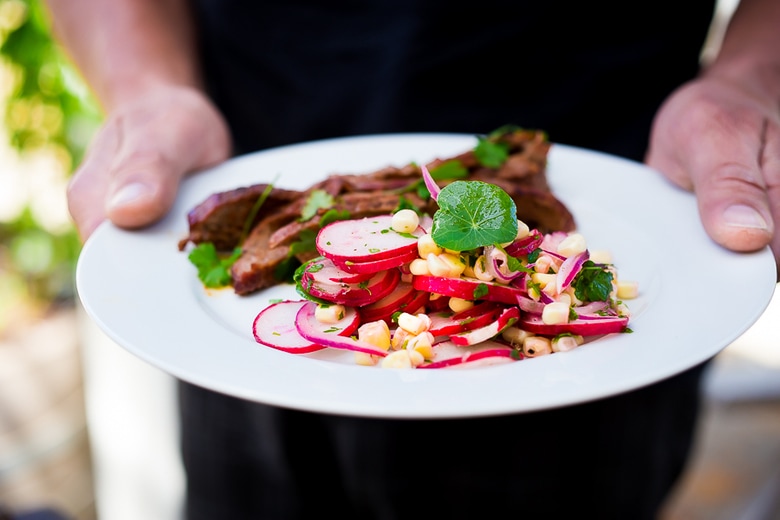 Hope you enjoy this Grilled Flank Steak and the Corn and Radish Salad!
Happy week,
s.
Print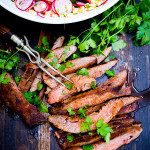 Grilled Flank Salad with Corn Radish Salad
Prep Time:

20 mins

Cook Time:

15 mins

Total Time:

35 mins

Yield:

4

1

x

Category:

Beef, Salad, main

Method:

Grilled

Cuisine:

Southwest
---
Description
A refreshing summer salad….Grilled Flank Steak with Corn Radish Salad with Lime and Parsley
---
1 1/2

–

2

lbs

Flank Steak

1 1/2 tsp

kosher salt

1 1/2 tsp

smoked paprika

1 1/2 teaspoon

cumin
Radish Corn Salad

3

ears corn on the cob, shucked

10

radishes- very thinly sliced

1/4

of a red onion- very thinly sliced ( about

1/4 cup

)

1/4

cup

chopped Italian Parsley

1/2 teaspoon

salt

1/4 teaspoon

cracked pepper

1 teaspoon

ground coriander

1/8

cup

olive oil

1/4

cup

fresh lime juice ( 2 limes)
---
Instructions
Pre heat grill to med- high.
In a small bowl mix salt, cumin and smoked paprika. Coat both sides of flank steak with the spice rub and let sit at room temp while you make the salad or up to 30 minutes.
Make Corn-Radish Salad. Shuck and clean corn, wiping off stray threads with a kitchen towel. Grill it lightly- just for a few minutes on each side. Cut kernels off with a large sharp knife and place into a large bowl. Thinly slice radishes and place into the bowl. Very thinly slice onions and place in the bowl. Add chopped parsley. Add the lime juice, olive oil, salt, pepper and coriander and toss well. Set aside or refrigerate for up to 3 hours.
Grill meat on high heat until steak is nicely charred on each side and cooked to medium rare, about 5 minutes each side. Let stand 10 minutes before slicing.
Serve with Corn Radish Salad.
---
Keywords: Grilled Flank Steak, Corn Salad, Corn radish salad, Grilled Beef, Grilled steak recipes