Light and refreshing, Vietnamese Beef and Green Papaya Salad– full of amazing flavor this salad is simple to make using fresh authentic Vietnamese ingredients!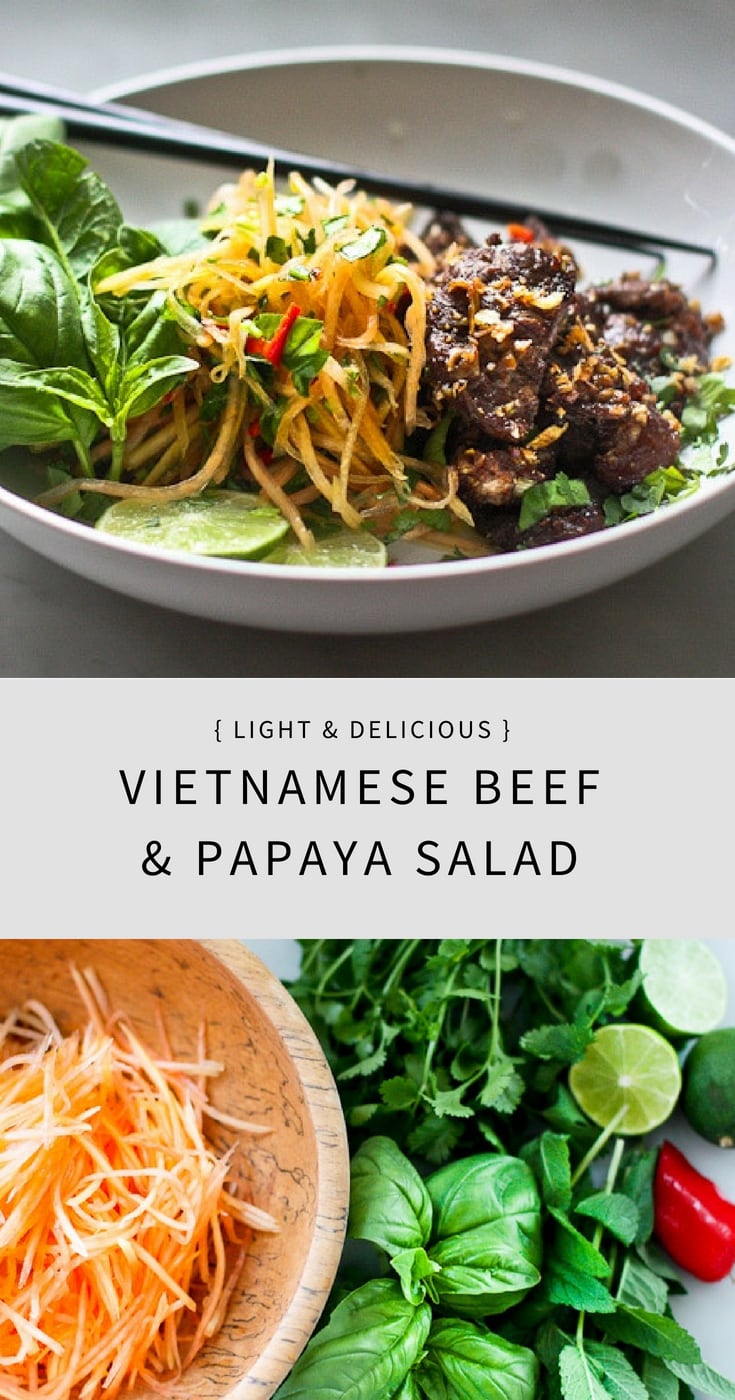 Have you ever wondered what to do with green papayas?
During our recent trip to Vietnam we found out.  They were everywhere… piled high on the back of motor scooters, along roadside stands and at all the street markets. They were on many menus as well, mostly in the form of a salad (Som Tam) served with beef or prawns or pork. After having a bad experience with a very fishy green papaya salad in Laos a few years ago, I was a little hesitant to give it another go.
But sitting at a cafe one sweltering day, I spied one on our neighbor's table, looking very cool and light. I gave it a try.  At first bite, I was hooked.
The papaya was crunchy and thirst quenching, and surprisingly not sweet, but more like shredded carrot or daikon. The beef was over the top amazing, flavored with lemongrass and five spice. It was one of the most refreshing and flavorful salads I have ever had. And I eat a lot of salad. From that day on, I made a point of hunting one of these salads down everyday until we left.
If you can't find green papaya, don't fret. The salad can be made with rice noodles or sliced cucumber, shredded carrot, cabbage or daikon….. or probably any other salad type of veggie. Just don't use ripe papaya because it will disintegrate. Make sure the papaya is firm to touch. In Vietnam, the papaya was actually a very pale green on the inside too.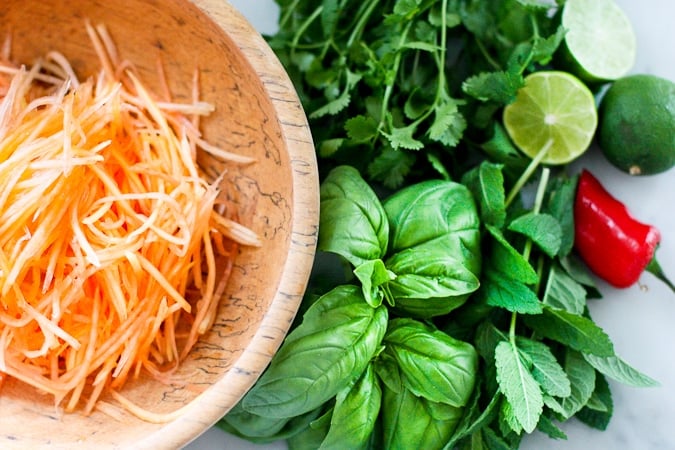 The marinade for the beef – is a recipe to hold on to. The combination of flavors (five spice and lemongrass) are surprising and delightful.  The marinade also works great on pork, chicken and tofu, and served with a simple bowl of steamed rice, it's makes for a perfect healthy dinner.
The only challenging part of making this salad is finding the right tool to shred the papaya. Everything else about the recipe is easy. I bought several different shredder's while on our trip. It turns out I already had a shredder on my mandolin, but the hand tool shown here is easier to use.  Something like this would work.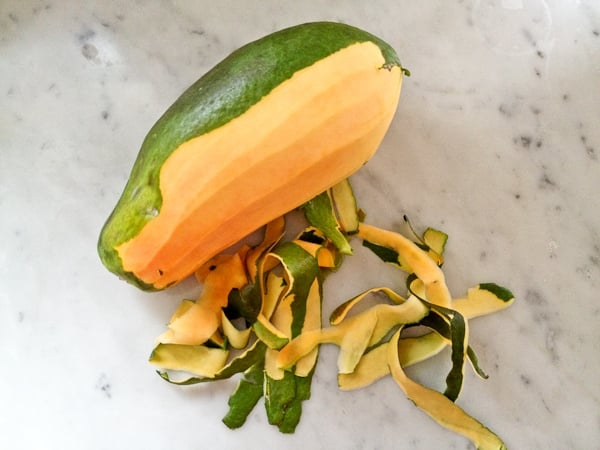 Peel the papaya. Cut a little off the bottom to make a flat edge so you can stand it up on end.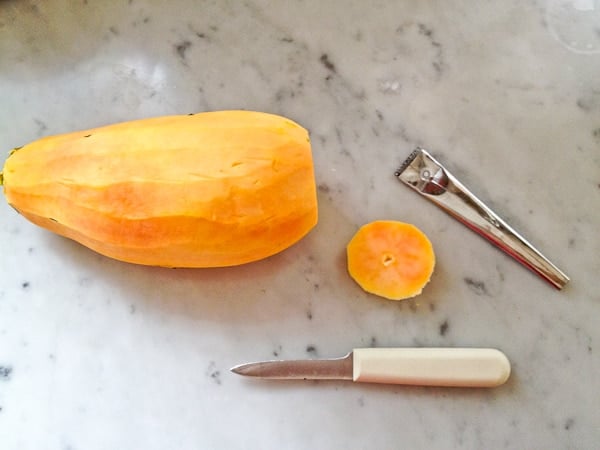 Using a shredding tool, shred downwards towards the counter. Immediately place in ice water and let it soak in the fridge for 15-20 minutes.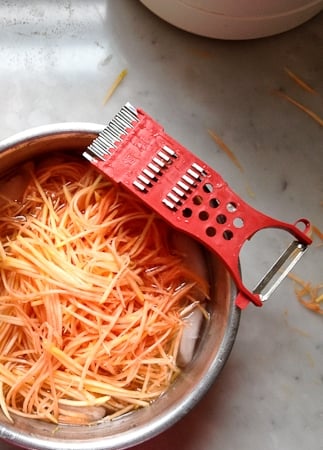 Cut the beef into bite-size pieces, 1/2 inch thick. Tenderloin is recommended, but tri-tip, flank steak, or flatiron steak all work fine.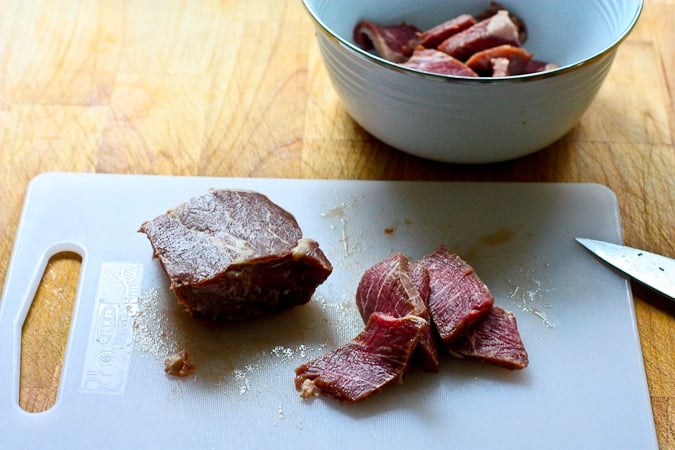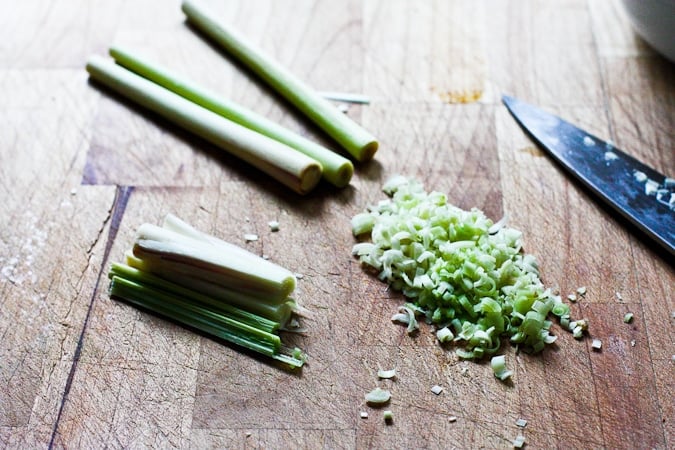 If you cook with a lot of
lemongrass
, it can be purchased at most
Asian markets
, in the freezer section, already chopped up. Store it in your freezer, so you always have some on hand.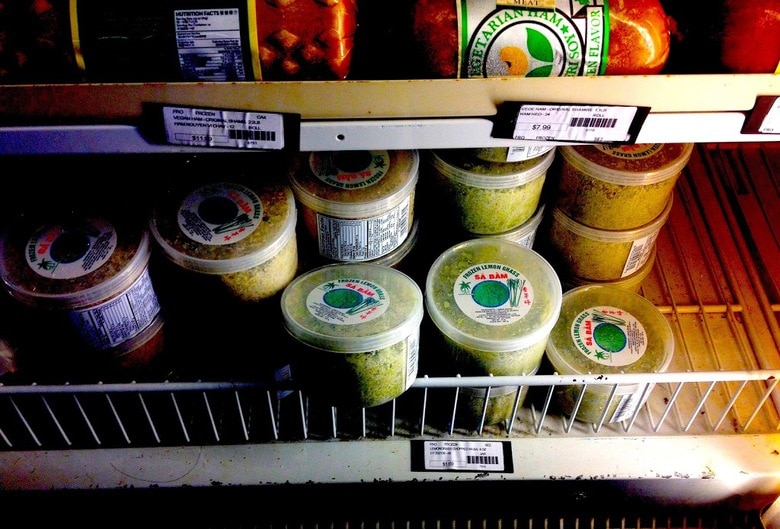 Make the marinade and combine with the meat.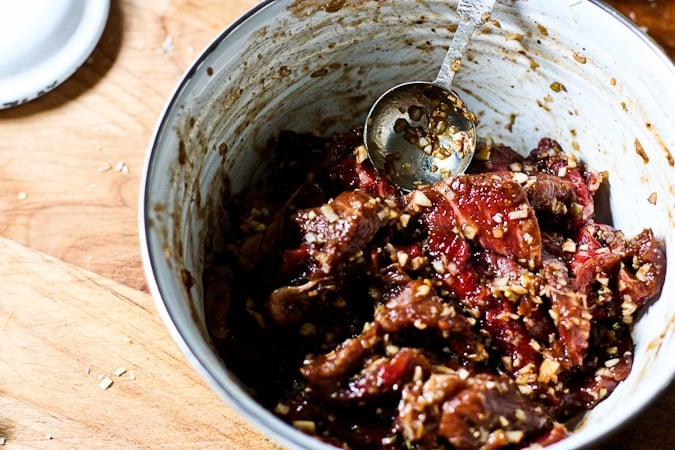 Let the meat sit in the marinade for at least 30 minutes, or overnight. Grill or sear until just cooked.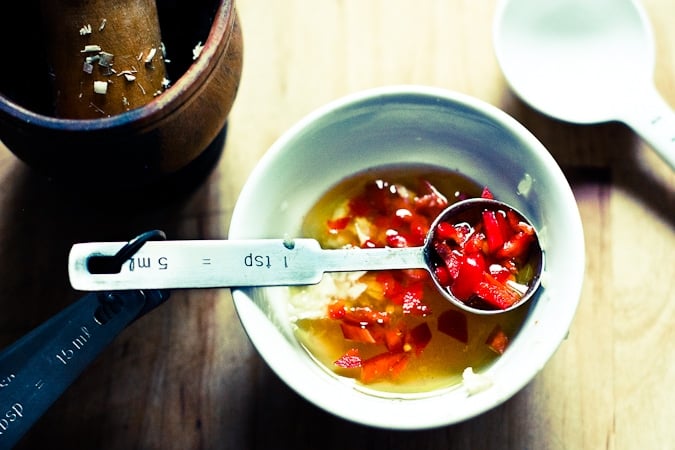 Make the dressing.
Drain the papaya and toss with the dressing and place on a plate with some beef and a combination of fresh herbs ( basil, cilantro and mint). Top with roasted peanuts and fried shallots.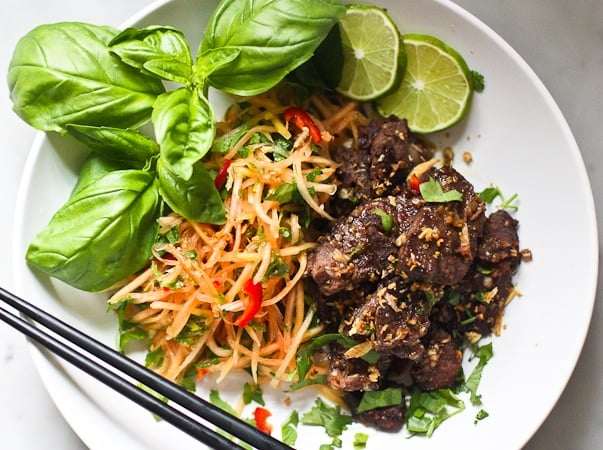 Vietnamese food is known for its fresh and healthy ingredients and minimal use of oil.  Because of this it is considered one of the healthiest cuisines in the world. It is also one of the most flavorful.
The use of fresh herbs combined with the right balance of spices is what makes Vietnamese food taste and smell so good.
Fresh fruit and vegetables are a huge part of the Vietnamese diet along with lots of fresh seafood and rice. Rice is the main staple from South to North, whether it's steamed or in the form of a cracker,  rice paper, or
rice noodles
.
Another staple is mam, or a fermented
fish sauce
which varies regionally and is used in marinades, salad dressings and to flavor many dishes.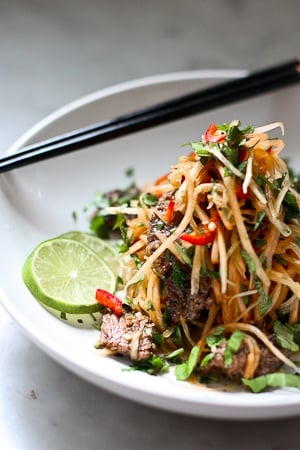 Enjoy this!
xoxo
Print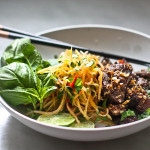 Vietnamese Beef and Green Papaya Salad
Author:

Sylvia Fountaine

Prep Time:

45

Cook Time:

20

Total Time:

1 hour 5 minutes

Yield:

3

1

x

Category:

Salad, main, beef

Method:

Grilled

Cuisine:

Vietnamese
---
Description
Light and refreshing, Vietnamese Beef and Green Papaya Salad- full of amazing flavor, this salad is simple to make using fresh authentic Vietnamese ingredients!
---
1

lb

beef ( tenderloin, tri tip or flank steak)

2

–

3

cups

shredded Green Papaya ( or rice noodles)

1

cup

combo of fresh mint, cilantro and basil

2

T roasted crushed peanuts ( optional)

1

T fried shallots ( optional- see below)
2

T fresh lime juice

1

T plus 1 tsp olive oil

1

T plus 1 tsp sugar

2 tsp

fish sauce

2 tsp

mild red chili- finely sliced

1

finely minced garlic clove
---
Instructions
Make marinade. Slice beef to 1/2 inch thick bite size pieces, toss with marinate and let sit at least 30 minutes. Or refrigerate up to 8 hours. Grill or pan fry until just cooked.
---
Nutrition
Serving Size:
Calories:

433

Sugar:

15.2 g

Sodium:

856.8 mg

Fat:

18.3 g

Saturated Fat:

5 g

Carbohydrates:

30.8 g

Fiber:

6.7 g

Protein:

38.2 g

Cholesterol:

90.7 mg
Keywords: green papaya salad, green papaya salad recipe, Vietnamese beef salad, lemongrass beef recipe