Here's a recipe for Grilled Veggie Kabobs with Harissa yogurt that can be made with your choice of protein – tempeh, tofu, or chicken! A delicious summer meal that packs a big punch of flavor! Perfect for weeknight dinners, summer bbqs or gatherings! Vegan-adaptable.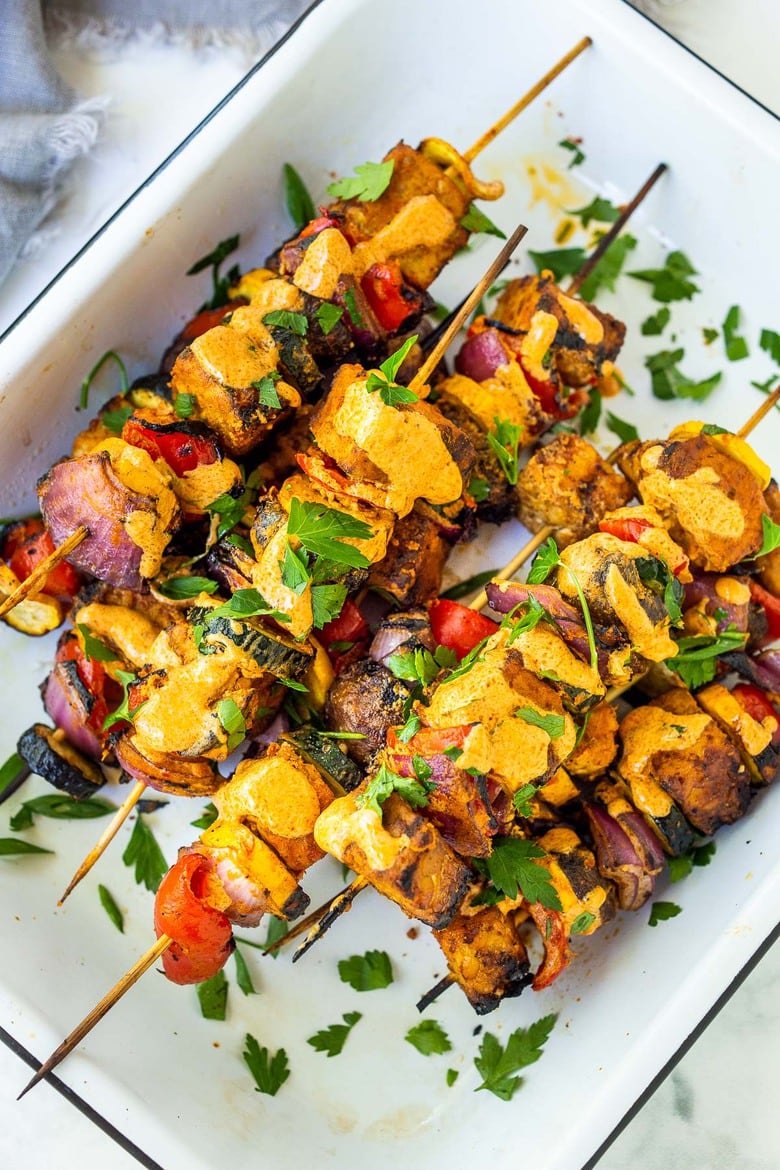 The medicine of the Divine appears to deliver exactly what is needed into our lives, but this cannot generally be seen, except in retrospect. ~ Dorothy Hunt
Wow, boy did it get hot this week. Sweltering! In the heat of the summer, one way we try to keep the house a little cooler is by taking your cooking outdoors.  This recipe for Grilled Harissa Veggie Kabobs takes full advantage of cooking outside on the grill, and grilling truly does impart the best flavor here.
What I love about these kabobs is how adaptable they are- perfect for mixed households with both vegetarians and meat-eaters under one roof, because you can easily customize the protein, keeping everything else the same.  Some can be made with tofu or tempeh and some with chicken. So easy!
The second reason I love this recipe is the leftover kabobs taste surprisingly great, even several days later, cold, and can be repurposed into different meals throughout the week. Toss into pasta salad, over a grain bowl, wrapped up in a grilled pita with a slather of the flavorful Harissa yogurt sauce, or make a hearty burrito out of it. You get the idea. 😉
If making for the week ahead, I highly suggest doubling the Harissa Yogurt.  Just trust me. 😉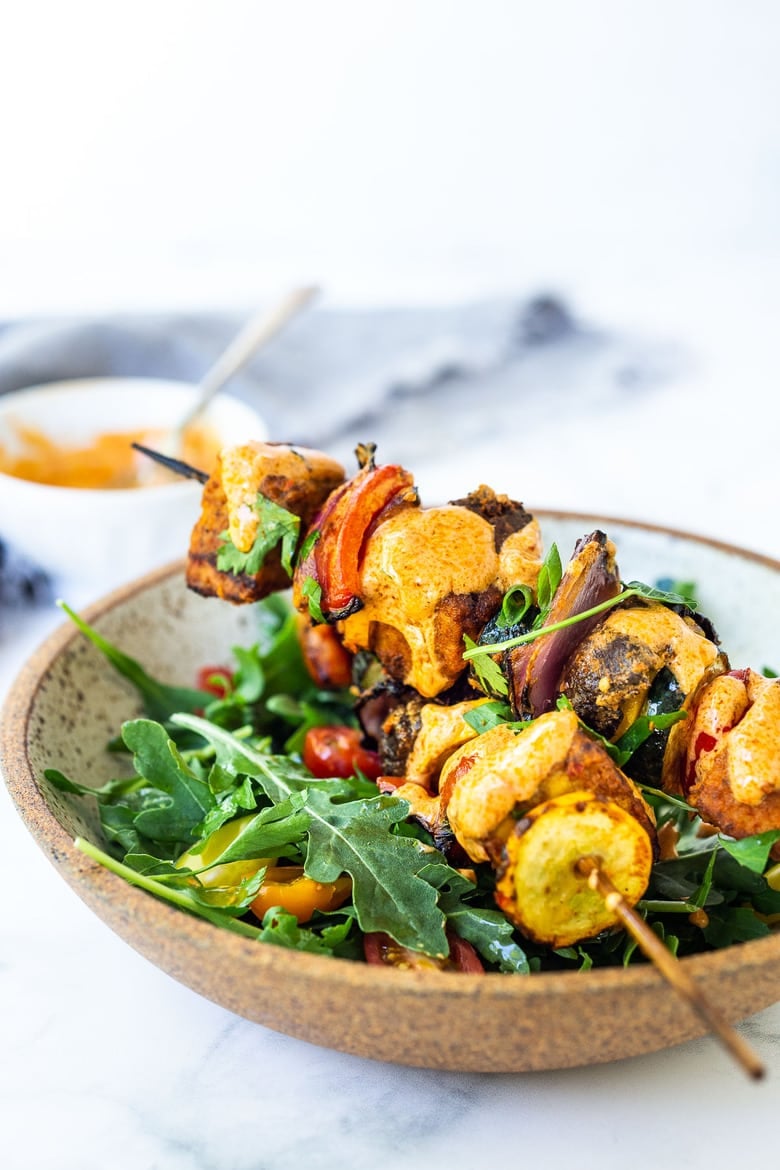 Protein Variations:
Today I'm using tempeh as the protein, which holds up well when grilled. But if Tempeh is not "your thing", then cubes of tofu,  or chicken would also work here, or even a firm fish.
And like I mentioned, you can make some kabobs with tempeh, some with chicken, some with tofu if you so choose, because truthfully the veggies are the star here in my opinion.
You could even leave off the protein completely and just make these with ALL veggies- soooooo delicious!
What are the best veggies for Kabobs?
zucchini (sliced thin)
yellow summer squash (sliced thin)
bell peppers (red, yellow or green)
red onions
mushrooms (stems removed)
Japanese eggplant (sliced thin)
How to make Grilled Veggie Kabobs:
Step One: Soak the Skewers for 30-60 mins (to prevent burning them).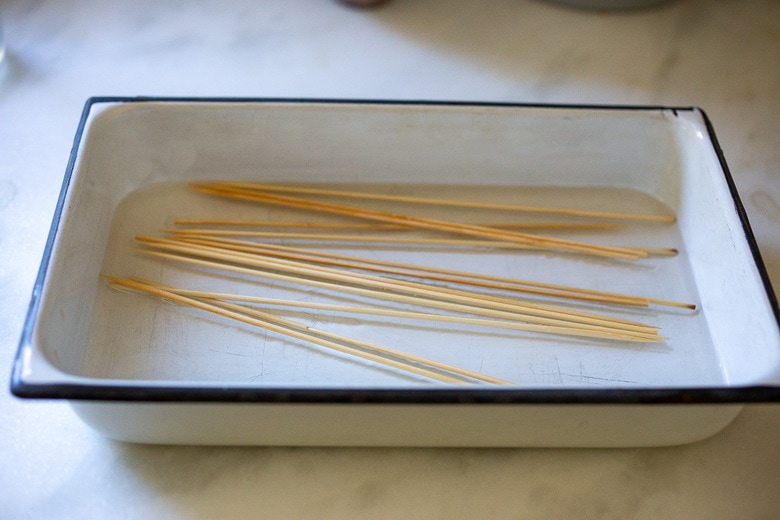 Step Two: Prep your protein. Today we're using tempeh, which requires one extra step. See recipe notes for other options.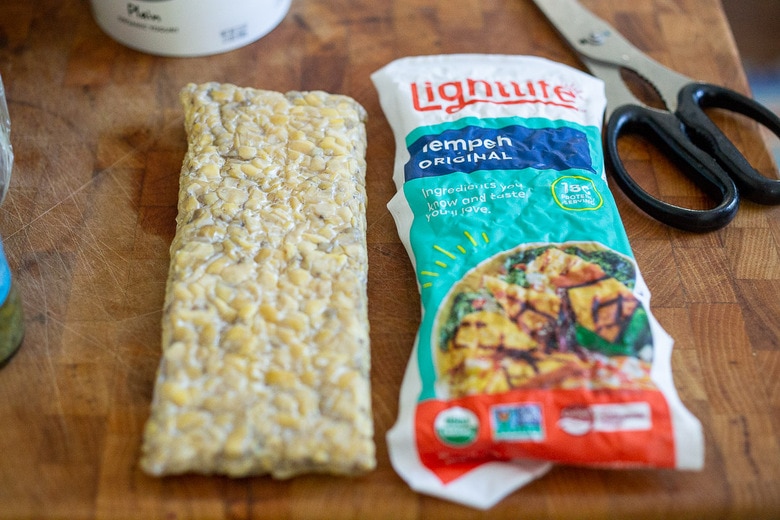 Expert Tip:
To remove tempeh's bitterness, simmer it in a pan with water, vinegar, and spices for 10 minutes.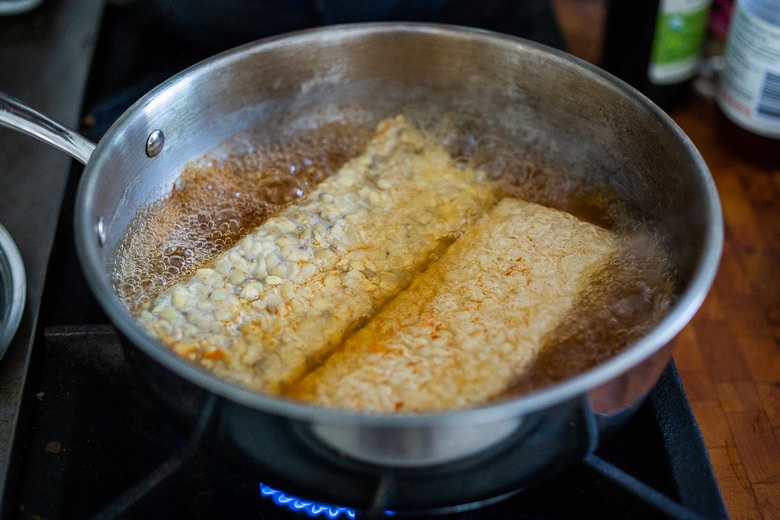 Then cut the tempeh into cubes.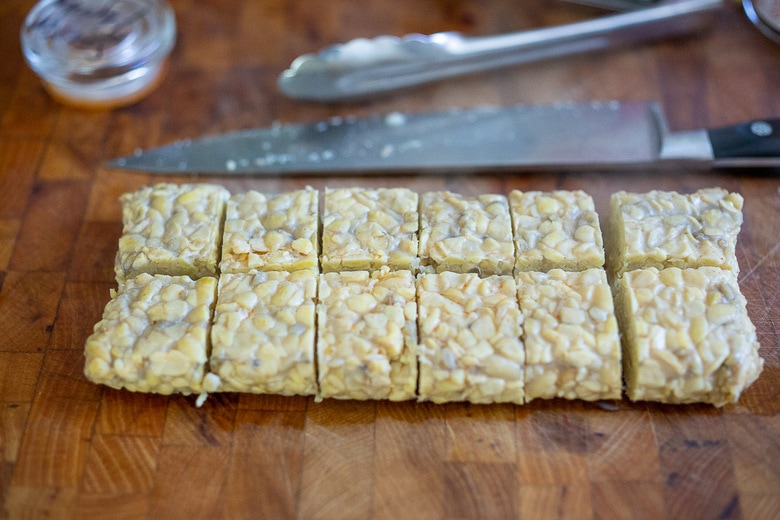 Step Three: Prep your veggies. Slice zucchini into 1/4 inch slices, cut onions and peppers into bite-sized pieces, de-stem mushrooms.
How to cut veggies for Kabobs?
For fast, even cooking, cut veggies into thin equal thickness. Zucchini is best sliced as thin as the pepper is thick. Smaller button mushrooms are ok to leave whole. Onions can be cut into chunks, but separated so there are just two layers.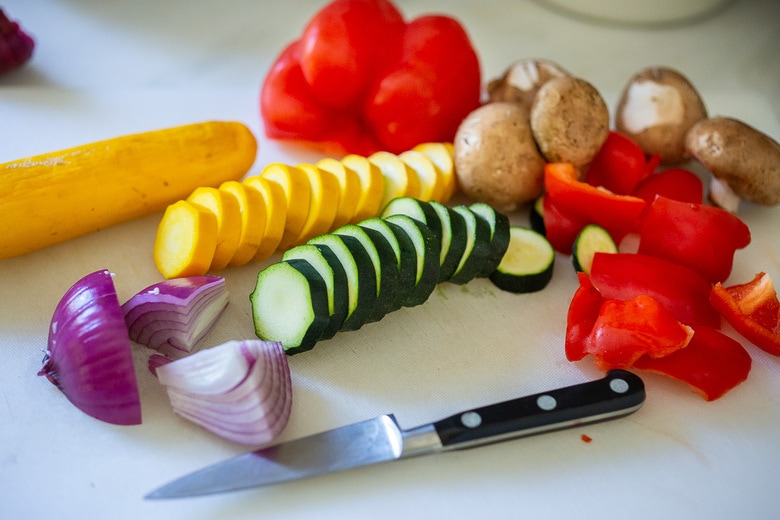 Step Four: Place all the veggies in a bowl and season.  You could also add your protein here (or keep it separate).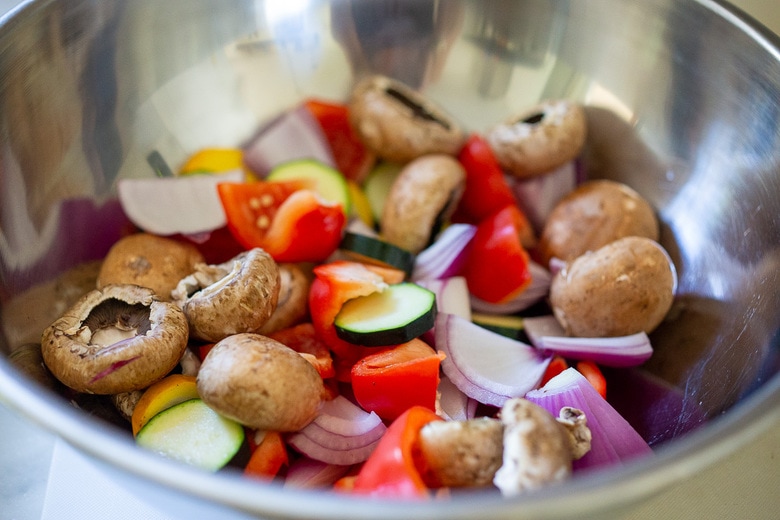 Coat generously with olive oil.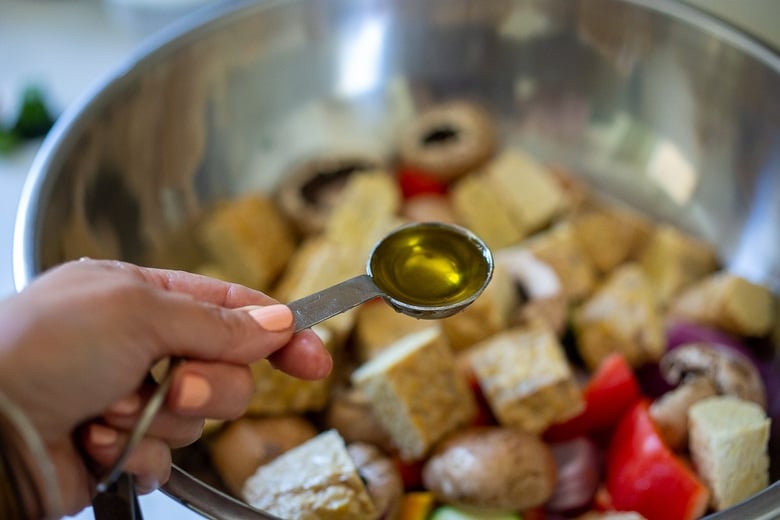 Season with salt, pepper and spices. Ras el Hanout adds lovely flavor here- but if you don't have it, no worries, you can sub other spices!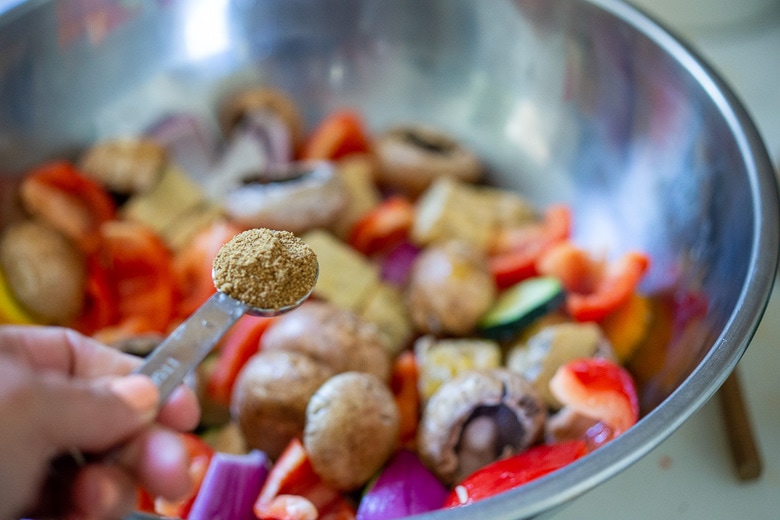 Step Five: Then divide all the veggies and protein among the skewers. This recipe makes about ten, 10-inch skewers.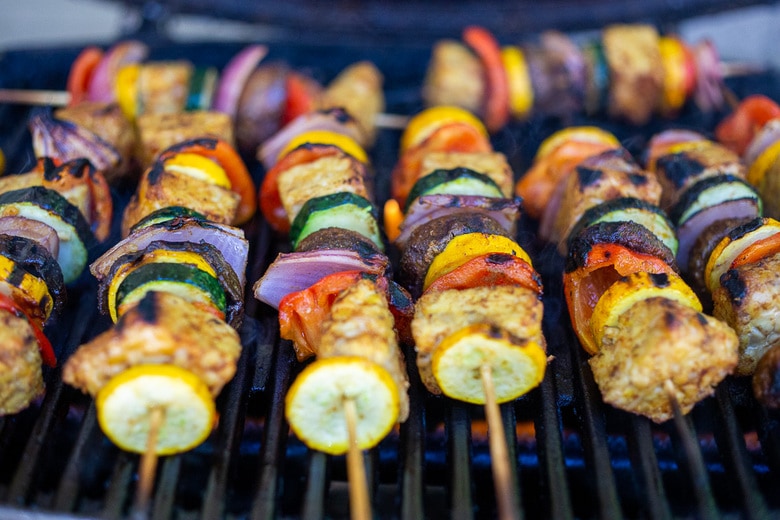 Step Six:  Grill each side, 3-4 minutes, turning 3-4 times, over medium-high heat, closing the grill between turns. A little char is tasty here.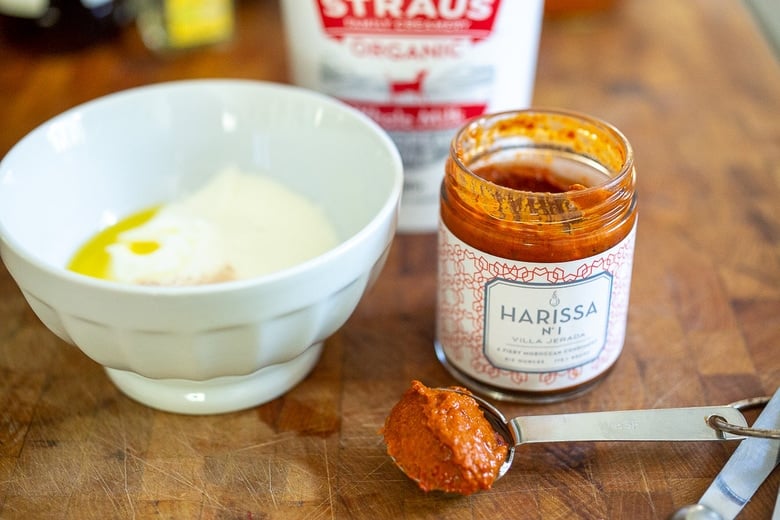 Step Seven: While the kabobs are grilling whisk up the Harissa Yogurt Sauce. Mix plain yogurt with harissa paste, salt and a little olive oil. Feel free to add smoked paprika for a little extra smoky flavor.
If you don't feel like making your own Harissa Paste, I highly recommend this Villa Jerada Harissa Sauce available from our Bowl and Pitcher Store. It is truly delicious!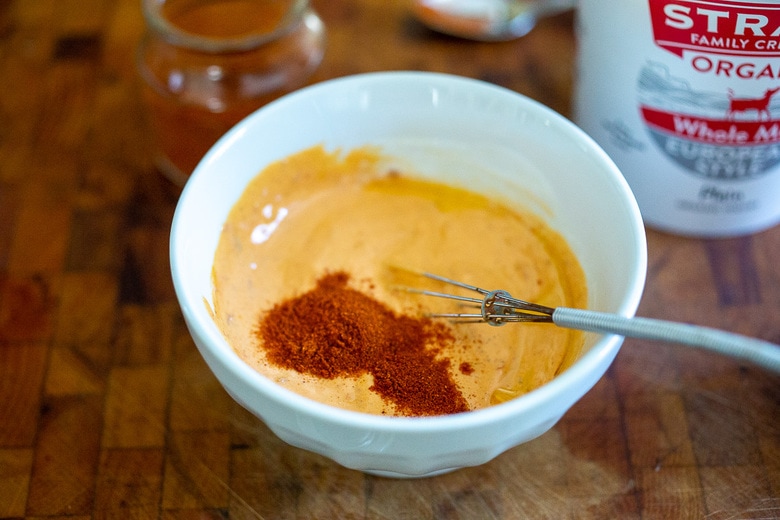 Step Eight: Then baste the kabobs on two sides, with some of the harissa yogurt sauce while on the grill, grilling for 1-2 extra minutes, which will not only impart great flavor but also moisture.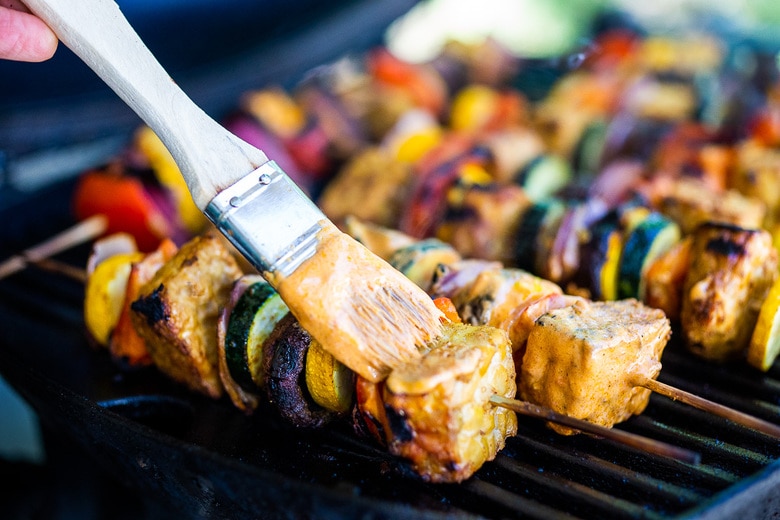 Step Nine: Serve. Place the Grilled Harissa Veggie Kabobs on a platter and scatter with fresh herbs.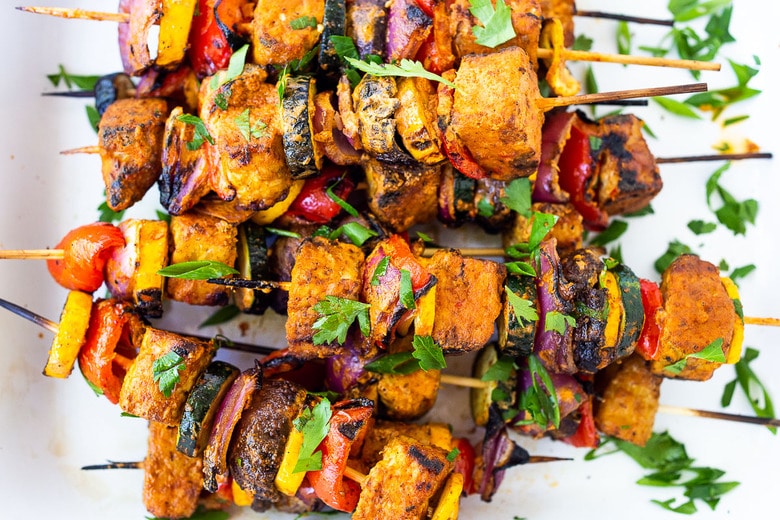 Serve the Veggie kabobs with the remaining harissa yogurt sauce on the side.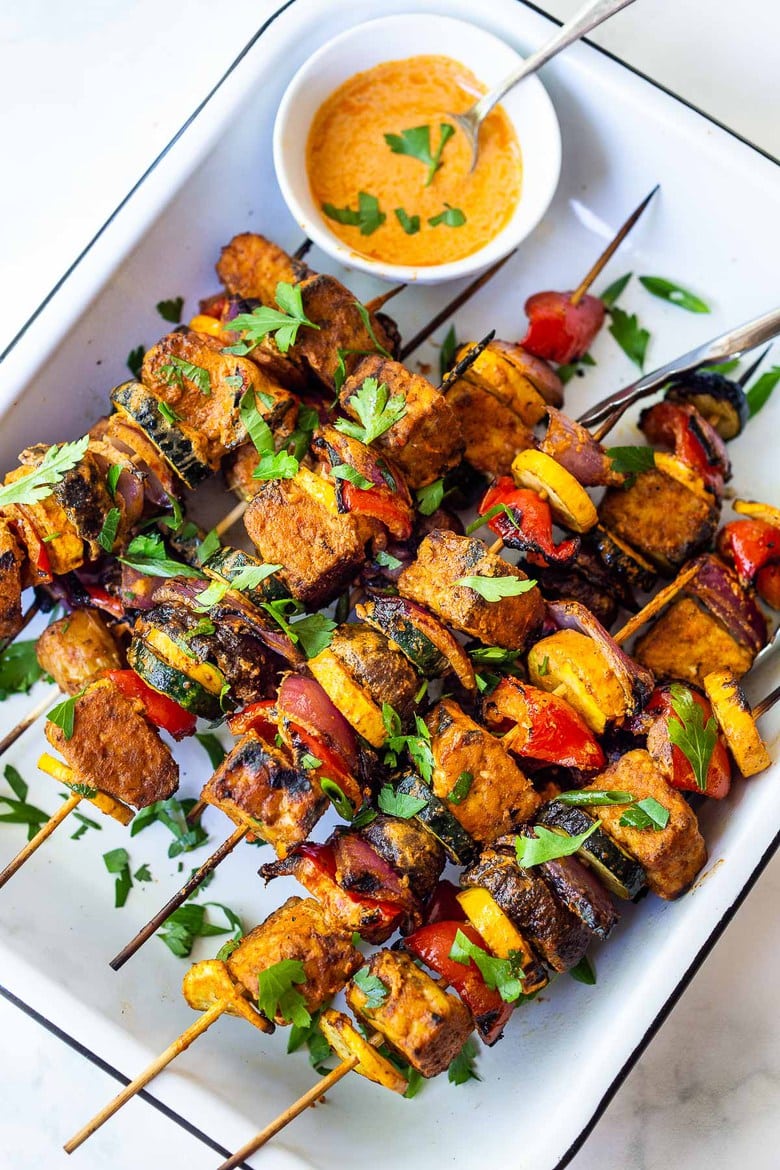 The Veggie Kabobs are really lovely over a leafy green salad, or with something light and cooling like a slaw.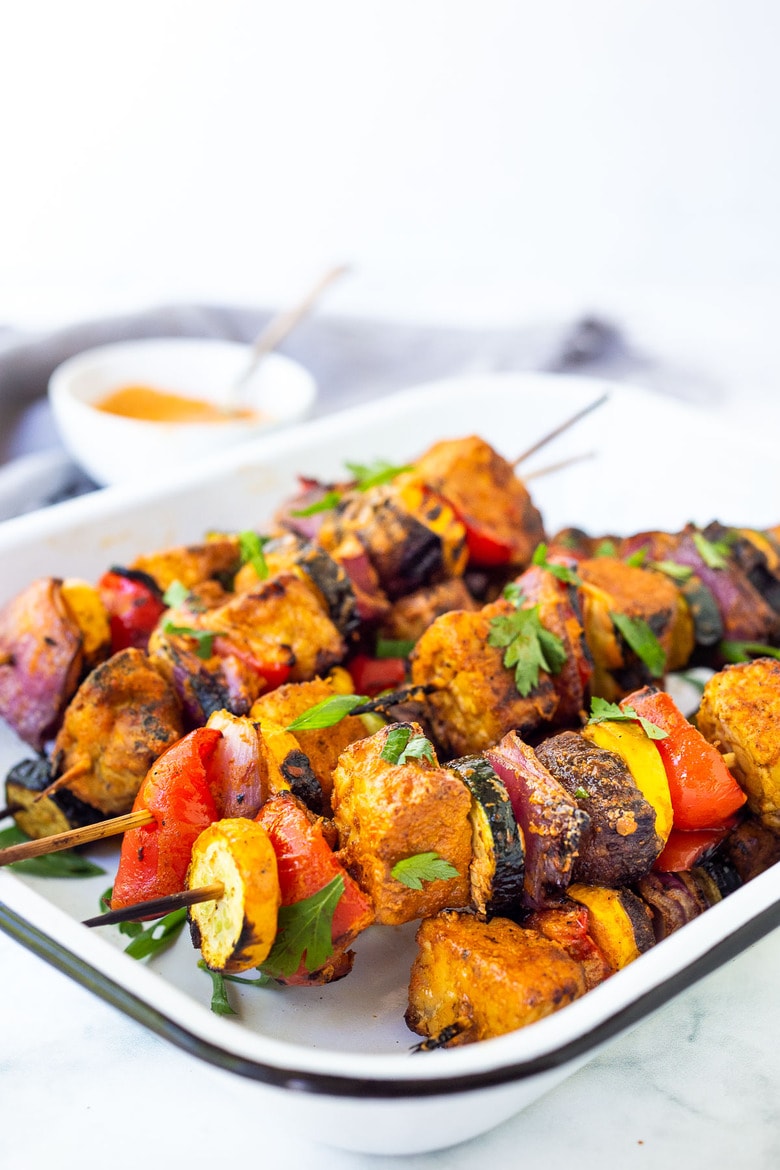 The leftover Veggie Kabobs will keep up to 4 days in the fridge.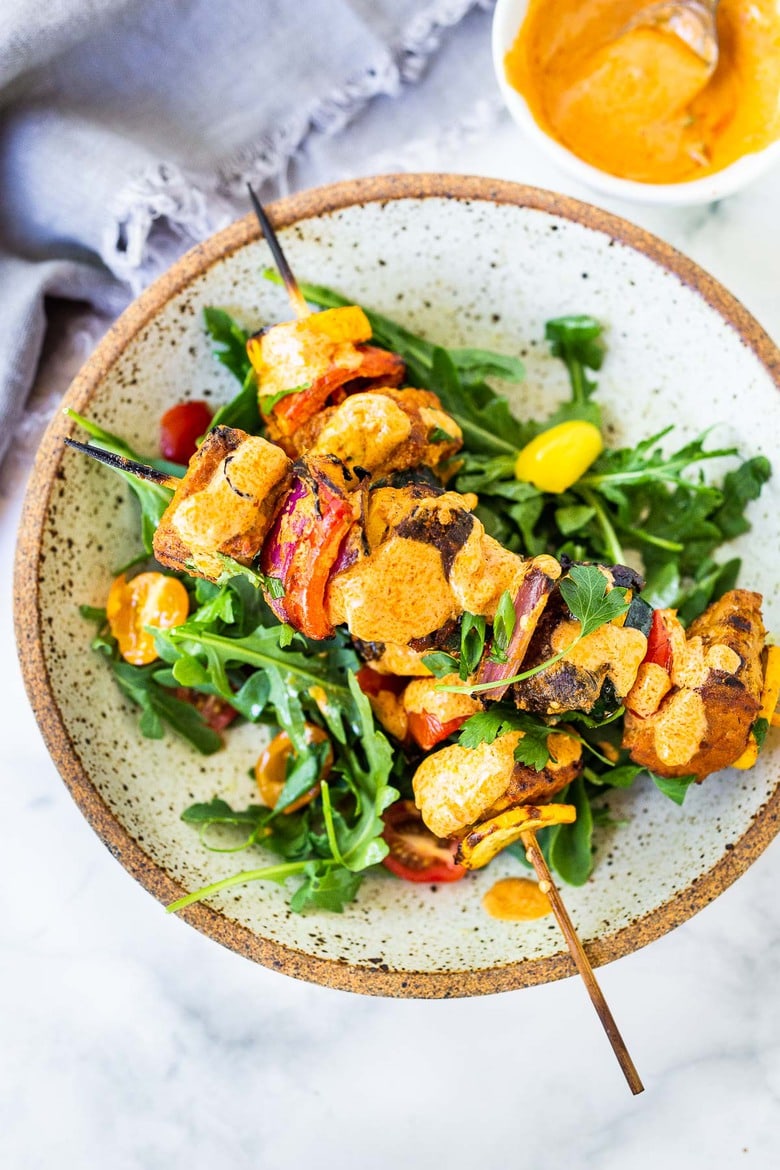 I hope you enjoy these Grilled Veggie Kabobs with Flavorful Harissa Yogurt as much as we have. I think you will. 😉
Stay cool and happy 4th,
xoxo
More recipes you may like:
Print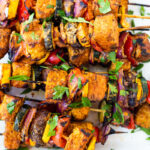 Grilled Veggie Kabobs with Harissa Yogurt
Prep Time:

35

Cook Time:

20

Total Time:

55 minutes

Yield:

10

skewers

1

x

Category:

vegetarian

Method:

grilled

Cuisine:

Moroccan

Diet:

Vegetarian
---
Description
Grilled Veggie Kabobs with your choice of protein (tempeh, tofu, chicken, or shrimp) loaded up with healthy summer veggies and a flavorful harissa yogurt sauce. Vegan adaptable!
---
16

ounces

tempeh, 2 packages (or sub 16 ounces tofu or chicken)

3

cups

water

2 tablespoons

vinegar- apple cider, red wine or white

1 teaspoon

smoked paprika (or chili powder)

1/4 teaspoon

salt
Veggie Kabobs:
Harissa Yogurt Sauce:
1/2

cup

plain yogurt, full fat, whole milk or greek (or sub vegan yogurt)

2

–

3

tablespoons harissa paste (start conservatively) see notes!

2 tablespoons

olive oil

1/4 teaspoon

salt

1

garlic clove- finely minced (optional)
lemon zest or lemon juice (optional- see notes)
---
Instructions
Soak 10 (10-inch) skewers in water for 30-60 minutes, if using wood skewers.
Prep the protein: If using tempeh, place in a large saucepan with 3 cups water (or just enough to cover the tempeh). Add the vinegar, salt and smoked paprika and bring to a simmer. Simmer the tempeh gently, 10 minutes, on medium-low, turning it over halfway through. This will remove the bitterness and impart a little flavor. Remove from heat, drain, and cut into 1-inch cubes.
If using tofu, press the blocks gently with paper towels to blot some of the water. Cut into 1-1 1/2 inch cubes. Set aside. ( if using tofu, make doubly sure your grill grates are greased well.)
If using chicken, cut into 1-inch cubes, set aside. If using breast, cut slightly bigger, if using thigh meat, cut slightly smaller.
Prep the veggies. Slice the zucchini and yellow summer squash into 1/4 inch thick disks (no bigger). Cut the bell pepper in half, remove seeds, cut into 1-inch wedges, then into bite-sized pieces. Remove mushroom stems. Cut onion in half, then in wedges, then into bite-sized pieces, separating into two layers, similar to bell pepper.  Place the veggies into a big bowl.
Season: If using one protein, feel free to add this to the bowl of veggies too. (Or you can season the proteins separately) Drizzle with 2-3 tablespoons olive oil (enough to lightly coat) sprinkle with the salt, pepper, ras el hanout (or sub the spices) and smoked paprika, gently mixing to coat all pieces well.  Make sure the protein is well oiled and seasoned as well.
Skewer the veggies and protein, dividing equally among 10 skewers. (See the photos) Do not pack the veggies too tightly, but leave no spaces. Comfortably snug. 🙂 At this point, you could cover and refrigerate for grilling later (just make sure to let them come to room temp beforehand).
Preheat grill to med-high heat and grease well.
Make the Harissa Yogurt, by mixing ingredients together in a small bowl. If your harissa paste does not contain preserved lemon in the ingredients, add a little lemon juice or lemon zest to the yogurt.
Grill: Place kabobs on the well-greased grill, grilling each side 3-4 minutes, rotating 3-4 times with tongs, closing lid in between turns until grill marks appear on most sides and veggies begin to cook through. Lower heat to medium. Brush the kabobs with some of the Harissa yogurt, saving half of it for serving. (The tempeh can dry out easily on the grill, and the yogurt sauce seems to helps to keep it moist.) Alternatively, if you rather keep your grill tidy, drizzle with the yogurt sauce soon after removing from the grill.
Serve the Harissa Veggie Kabobs with a light salad, and the remaining Harissa yogurt sauce.
Leftover skewers are great for midweek meals- add to pasta, bowls, grain salads, wraps, pita bread, tacos, etc.
---
Notes
Leftovers will keep 4 days in the fridge.
Leftover kabobs are great for midweek meals- and can be repurposed into pasta salad, bowls, grain salads, green salads, wraps, pita bread, tacos, etc.
Harissa Paste: you can make your own, either the full recipe or the "cheater" version, or purchase my favorite here Villa Jerada Harissa Sauce!  Because Harissa Paste can really vary in flavor and spice level- just add a little at a time to taste. Get the yogurt sauce, how you like it. You may need to adjust salt and lemon.
Nutrition
Serving Size:

2 skewers

Calories:

345

Sugar:

6.2 g

Sodium:

456.2 mg

Fat:

20.7 g

Saturated Fat:

3.8 g

Carbohydrates:

21.4 g

Fiber:

9.6 g

Protein:

22.1 g

Cholesterol:

3.7 mg
Keywords: veggie skewers, grilled tempeh skewers, grilled tempeh, harissa skewers, grilled veggies with harissa