Introducing Tlayudas! Traditional Oaxacan street food, tlayudas are like a Mexican style "pizza", made with a crispy tortilla, silky refried beans, optional meat and cheese, delicious cabbage slaw, avocado and cilantro. This lightened-up version is vegan-adaptable and loaded with healthy veggies!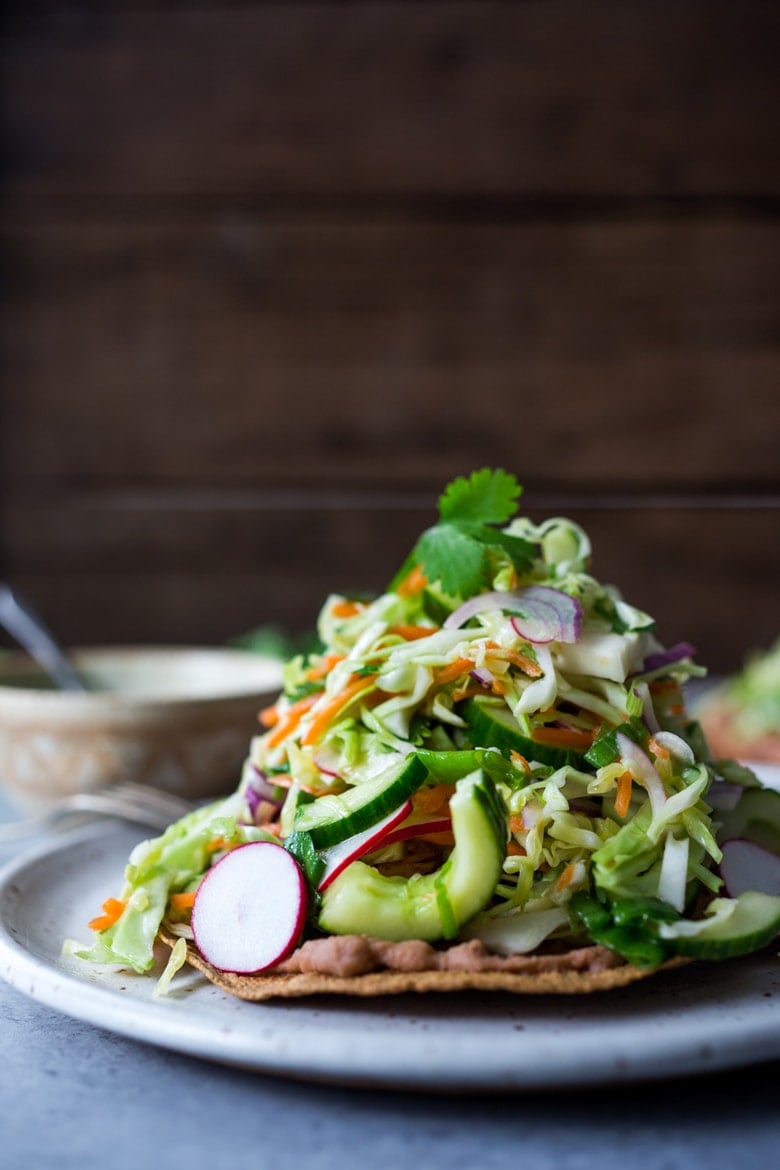 It's time to start living the life you've imagined.
~Henry James~
I'm so excited to share this recipe for Tlayudas with you because I know you are going to love them!
What are Tlayudas? 
Thayludas (pronounced tley-oo-dahs ) originate from the Oaxacan region of Mexico are like Mexican style pizza, with a crispy tortilla as the base, creamy black beans as the "sauce", then traditionally topped with Mexican string cheese and chorizo, avocado, tomatoes and cilantro.
Here above are what traditional Tlayudas look like, a specialty of Oaxaca, Mexico.  Sooooooo delicious! While we were in Oaxaca, we had many versions of Tlayuda, most often with black beans, chorizo, avocado, tomato and cilantro and melty Oaxacan string cheese.
To be clear- this recipe is I'm sharing is not traditional– it is an adaption.  Most of what you'll find in Oaxaca look like these above- but we happened upon a healthy cafe that served up some vegan tlayudas piled high with crunchy slaw more like a tostada and I, of course, was smitten and wanted to share.
So to reiterate, this is not a typical tlayuda, but a lightened up, vegan version.
This recipe is vegan-adaptable and full of veggies and flavor! What I love about it most is the great texture — they are deliciously addicting! Keep them vegan (my favorite) or add melty cheese, chicken carnitas, or turkey chorizo – so versatile! You could also add this walnut chorizo!
The secret to the texture is the super crispy tortilla (simply toasted in the oven) that gets lathered up with silky refried black beans.  To keep these lean, I've topped them with a mound of flavorful Mexican Cabbage Slaw along with cucumbers, carrots, radishes, onion and cilantro. The recipe is adaptable- meaning if you have vegans and meat-eaters under the same roof, you can add chicken, chorizo or cheese to some, while keeping others vegan for mixed households.
Another fun option is to let guests or family build their own, customizing to their own tastes and preferences! A Tlayluda party!!!
Finish the tlayudas with sliced avocado, lime, hot sauce,  Chipotle Mayo or  Avocado-Cilantro Sauce.  The cabbage slaw keeps well until the next day, making leftovers a tasty option.
How to make Tlayudas! | 30-second video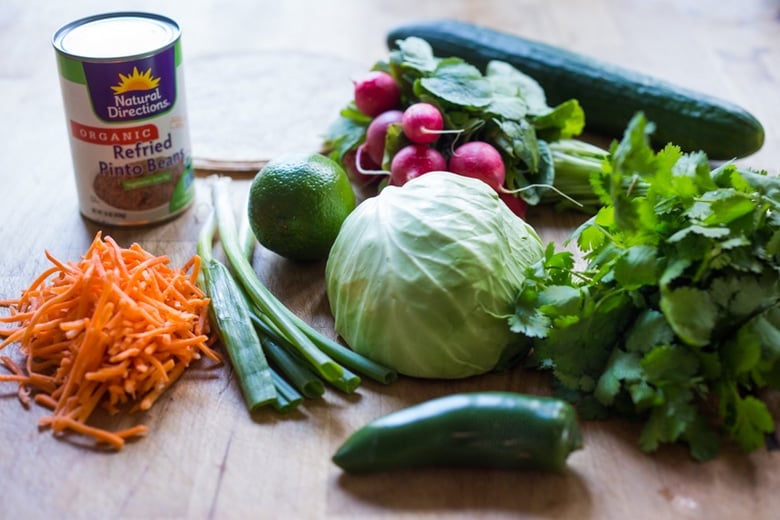 While the tortillas are toasting to a crisp in the oven, make the cabbage slaw.
For a fast option, use canned refried black beans, but sometimes, when you have little extra time try making refried beans at home with this recipe…they are so easy and delicious! They only take 10-15 minutes of actual hands-on time!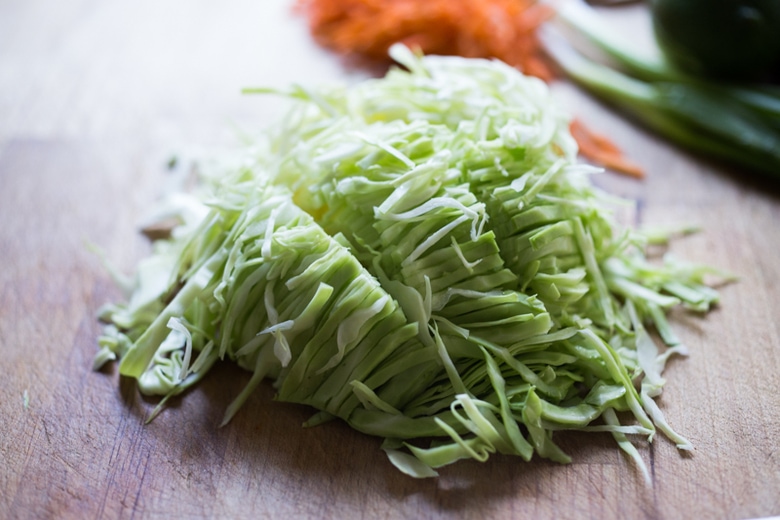 Chop the cabbage and make the slaw.
Remember you can always purchase pre-shredded cabbage to save time.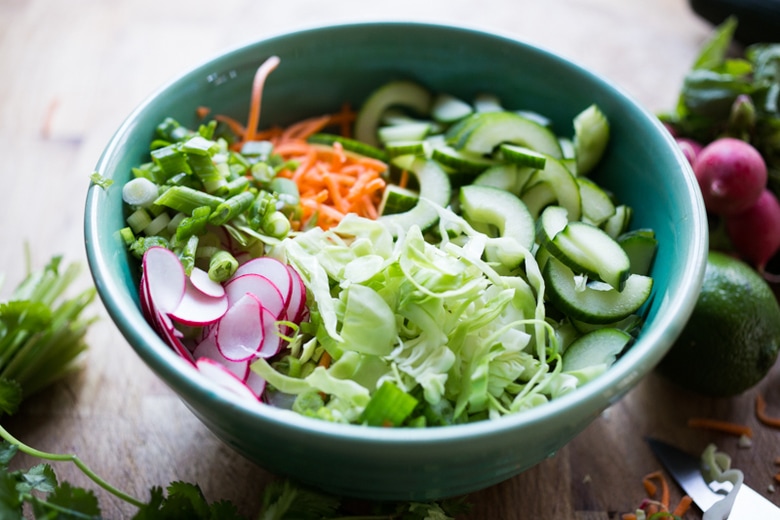 If adding chicken, you can quickly sear it, and season with salt, pepper, cumin and chili powder.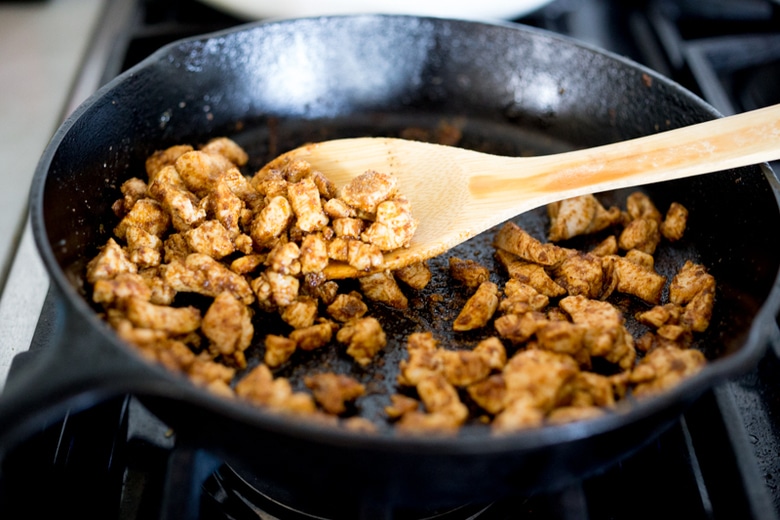 Or make a batch of this easy Turkey Chorizo! 
Or try it with Walnut Chorizo for a totally Vegan version!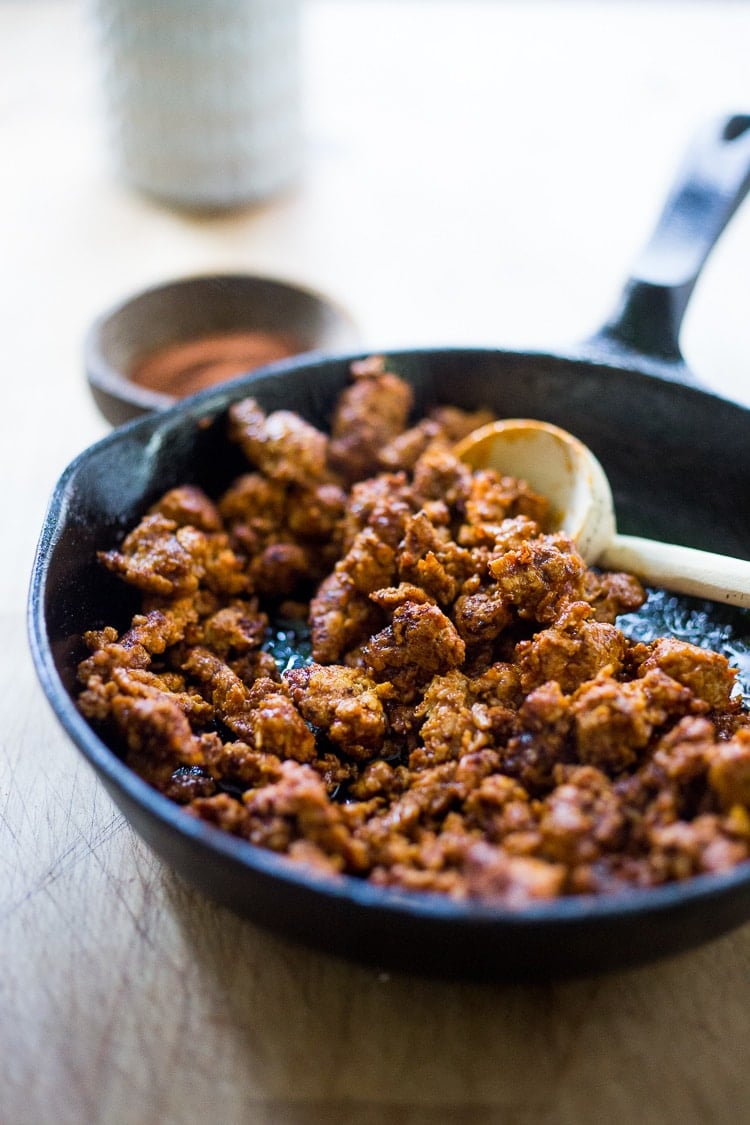 Or for a true Mexican Fiesta, make the Chicken Carnitas– so tasty!
Or keep it totally vegan- my favorite!
Once the tortillas are crispy, begin layering with silky, seasoned refried beans, optional chicken and optional cheese.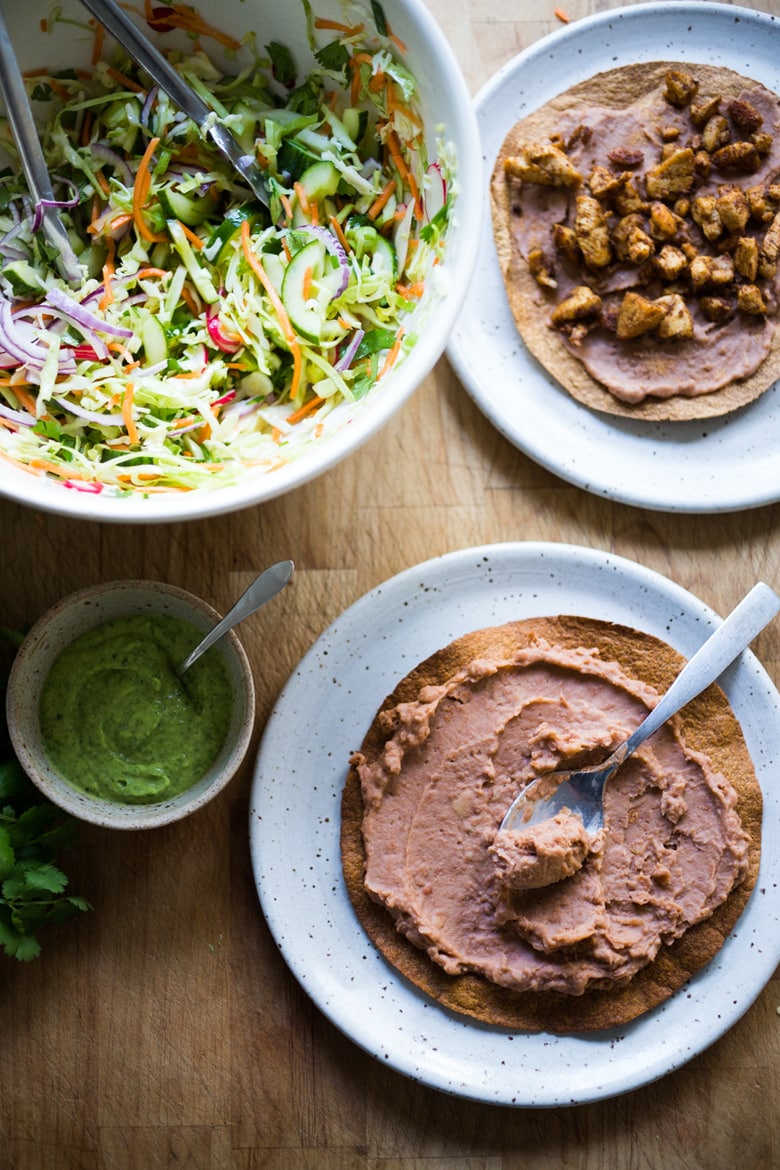 You can also melt cheese over the beans. Or keep this totally vegan without chicken or cheese! ( My favorite!)
Top with the flavorful slaw.
The crunchy tortilla paired with the warm creamy beans and the cool crunchy slaw is pure MAGIC!!!!
It seems too simple, yet it really works.
Tlayudas de Oaxaca – my new favorite dish!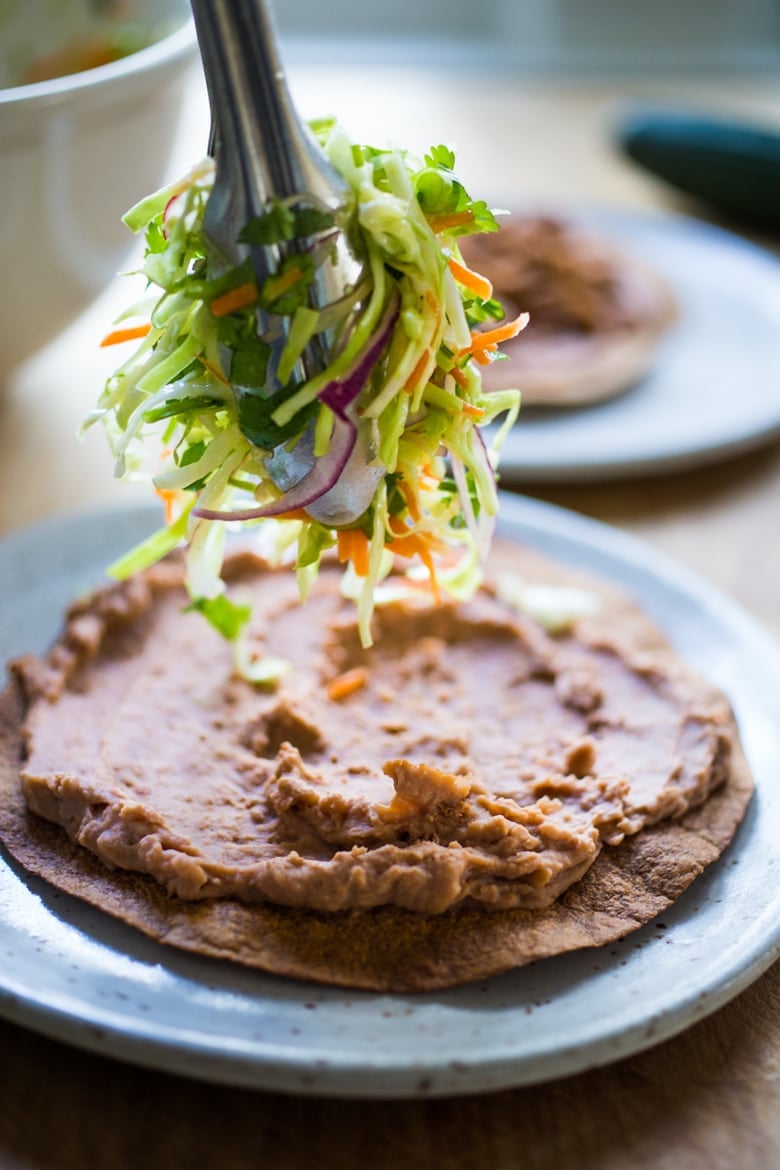 A delicious healthy recipe you can whip up on weeknights.
The crispy tortillas can be toasted ahead (they keep well) and so can the slaw.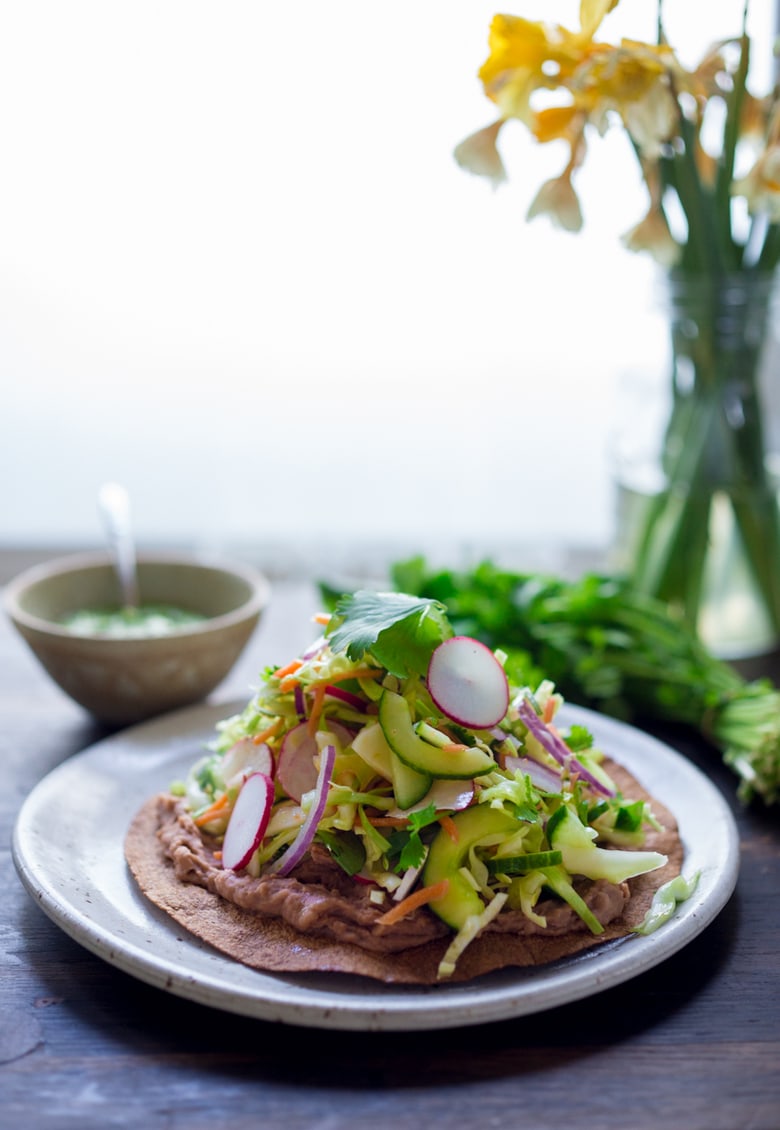 And if you have an extra 5 minutes…make the Avocado -Cilantro Sauce or the Chipotle Mayo.
Both are vegan adaptable- and add a creamy deliciousness!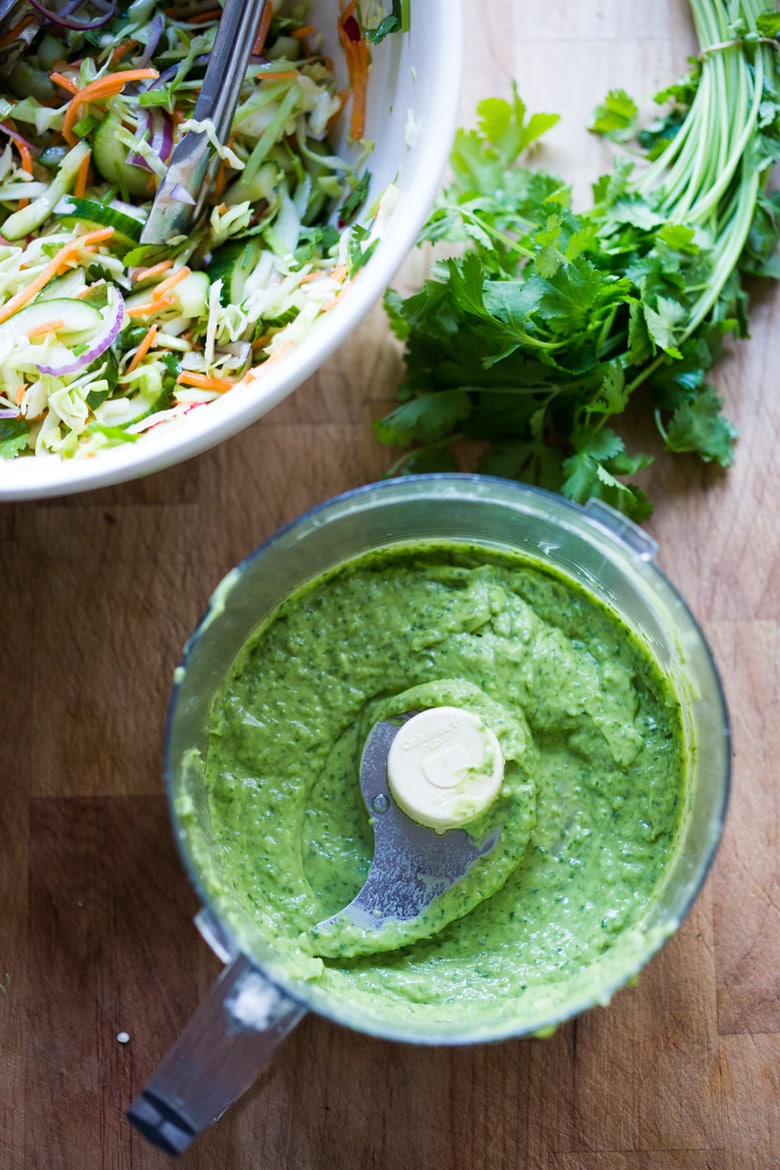 The Avocado Cilantro Sauce is easy to whip in the food processor and adds a burst of flavor.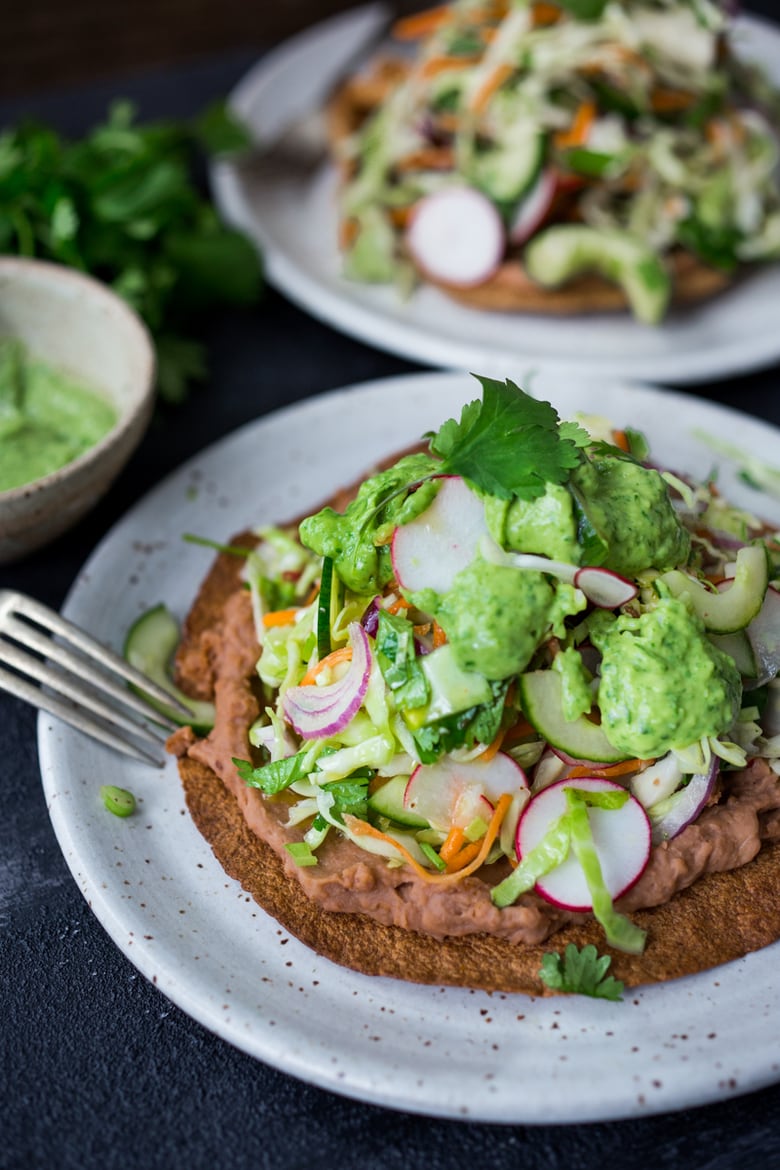 Spoon it over the Tlayudas,  then top with a little cilantro.
Or drizzle the Tlayludas with some  Chipotle Mayo ( aka mexican Secret sauce).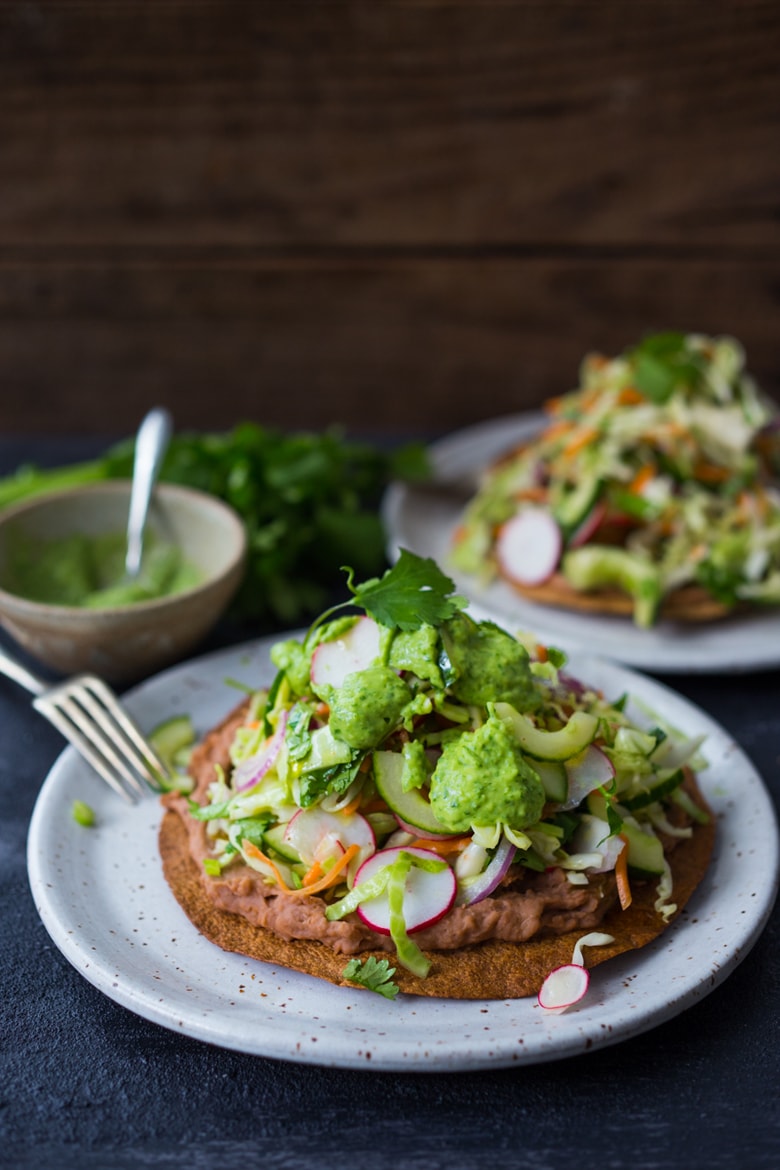 More Recipes you may like!
I hope you give these guys a try- they are so tasty!!! One of my favorite recipes on the blog.
xo
Print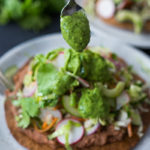 Tlayudas Recipe
Prep Time:

20 mins

Cook Time:

20 mins

Total Time:

40 minutes

Yield:

4

1

x

Category:

vegan main

Method:

baked

Cuisine:

Mexican
---
Description
How to makd Tlayudas! This healthy, lightened-up, version is vegan and GF adaptable! Feel free to add walnut chorizo,  chicken carnitas or turkey chorizo! Made with a crispy tortilla, topped with refried beans, cheese (optional) cabbage slaw, avocado and cilantro.
---
4

whole-grain tortillas (or sub GF tortillas) 8-10 inches wide, or larger.
Cabbage Slaw:
1/2

head of cabbage (

14

–

16

ounces), shredded

1

cup

shredded carrots

4

radishes -thinly sliced (optional)

1/4

cup

thinly sliced red onion – or sub pickled onions or pickled shallots

3/4 teaspoon

salt, plus more taste

1/2

an english cucumber- sliced

1 tablespoon

jalapeno- finely chopped- optional

1/4

–

1/2

cup

scallions sliced

1/4

–

1/2

cup

cilantro- chopped

2 tablespoons

olive oil

3 tablespoons

fresh lime juice, plus a little zest
Toppings:
1

can refried black beans (or make refried beans from scratch!) loosened with 1/4 cup water, seasoned with salt, cumin and coriander
Optional: Chicken carnitas , walnut Chorizo, or Turkey Chorizo
Optional: Oaxacan String cheese, Crumbled Queso Fresco Cheese, melty cheese
Optional sauces- Chipotle Mayo and/or Avocado-Cilantro Sauce (below) I like both!
Garnish with sliced avocado, cilantro, lime wedges, scallions, fresh summer tomatoes, hot sauce, or sour cream.
Avocado Cilantro Sauce:
---
Instructions
Pre-heat oven to 275 F
Toast tortillas dry, directly on the oven racks ( no sheet pan) until crisp, about 20 minutes. This is key- they need to be very crispy and dry, not bendy. You can make these ahead.
Combine the cabbage, carrots, radish, onion, and toss in a large bowl with the salt. ( This will seem like a LOT at first, but will it will release liquid and shrink down.)
Add the cucumber, jalapeño, scallions and cilantro, Toss well, then add olive oil and lime juice and a little zest. Let it rest on the counter – or make this ahead and refrigerate.
If making the avocado sauce– make this now- placing everything in a food processor and blending until smooth. Taste, adjust salt and spice level adding more jalapeño if needed. Place in a bowl.
When ready to assemble, heat the refried beans, adding ¼-½ cup water (to loosen them) and using a fork, whip in a pinch of salt, cumin and coriander to season to taste.
If using chicken or chorizo, heat them up now and if using cheese, turn on the broiler.
To assemble, carefully lather up some beans on the tortilla ( like you pizza sauce on a pizza). At this point you could add chicken and cheese (and melt)- or leave off and keep it vegan. Top the warmed base with a generous mound of cool slaw. Spoon over avocado sauce(or sliced avocado) or Chipotle Mayo.
Garnish with cilantro sprigs, hot sauce, lime wedge, pickled onions or shallots. Serve immediately (with knife and fork) while the beans are warm and the tortillas are still crisp.
Enjoy!!!
---
Notes
The great thing about Tlayludas is how addable these are…..you can make some with meat and cheese (melted in the oven) while having some totally vegan with just the slaw. Or…let your family or guests "build their own", with all the sides ready, and the oven set to broil, in case someone wants melty cheese.
Like a Tlayludas smorgasbord! Fun and tasty!
*For a more traditional Tlayuda, use refried black beans, browned chorizo, Mexican string cheese, bake until melty, top with fresh tomato, onion and cilantro!
Nutrition
Serving Size:

-Serves 4 with Avocado Sauce

Calories:

406

Sugar:

10.2 g

Sodium:

788.6 mg

Fat:

22.5 g

Saturated Fat:

3.6 g

Carbohydrates:

46.4 g

Fiber:

14.4 g

Protein:

10.3 g

Cholesterol:

0 mg
Keywords: Tlayudas Recipe, mexican pizza recipe, mexican flat bread, vegan tostadas, mexican pizza, oaxacan street food, tlayuda,
Oax