This luscious, flavorful Zucchini Dip is a delicious way to use up your garden zucchini! Serve it up with pita chips or crackers for a tasty, healthy appetizer; everyone will love. Vegan, Gluten-Free. Video.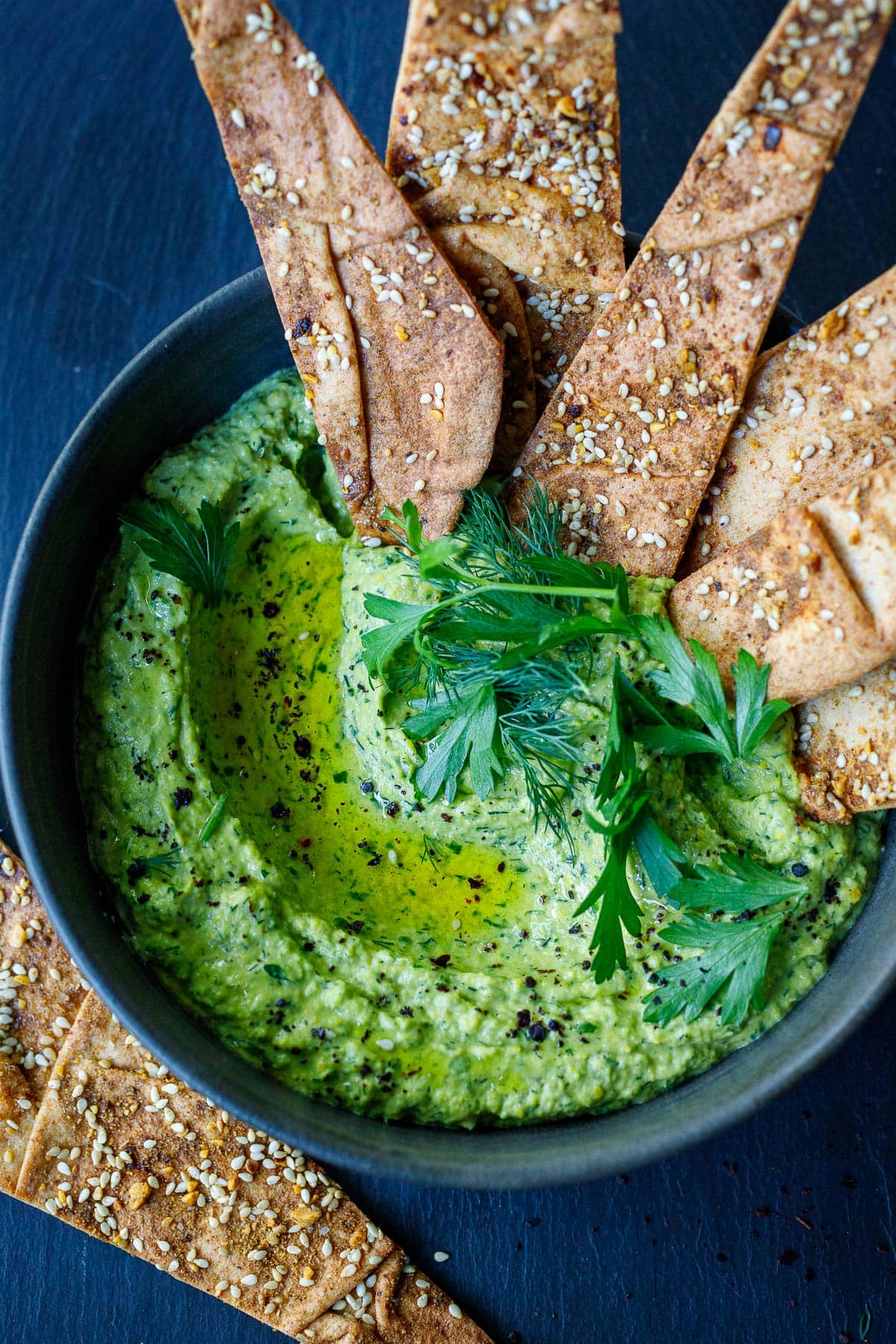 Even if you are on the right track, you will still get run over if you just sit there.

Will Rogers
This Zucchini Dip is similar to Baba Ganoush, the smoky, sultry Middle Eastern eggplant dip we all love but made with zucchini instead! Grilled, sauteed, or roasted, cooked zucchini is pureed with fresh garlic cloves, tahini, lemon juice, and fresh herbs and transformed into the silkiest dip. Serve it warm or cold as an appetizer with grilled pita bread, crackers, or pita chips, or use it as a luscious spread for wraps or sandwiches. Gluten-free, low-carb, and vegan, this checks all the boxes for us!
Zucchini Dip Video
Zucchini Dip Ingredients
Zucchini – use either fresh garden zucchini or summer squash. Medium-sized zucchini work best here.
Garlic cloves – fresh garlic adds a delicious bite!

Tahini paste-

creamy tahini paste adds a lovely richness while being vegan and keto. If allergic to tahini, substitute avocado!

Extra virgin olive oil –

use the best quality olive oil you can!

Lemon – fresh lemon juice adds a lovely brightness.
Fresh herbs- choose either Fresh basil, fresh dill, Italian parsley, mint or cilantro to add fresh flavor.
Optional: creamy yogurt can be added for extra creaminess.
Garnishes: fresh herbs, olive oil, dukkah or zaatar, urfa biber or Aleppo chili flakes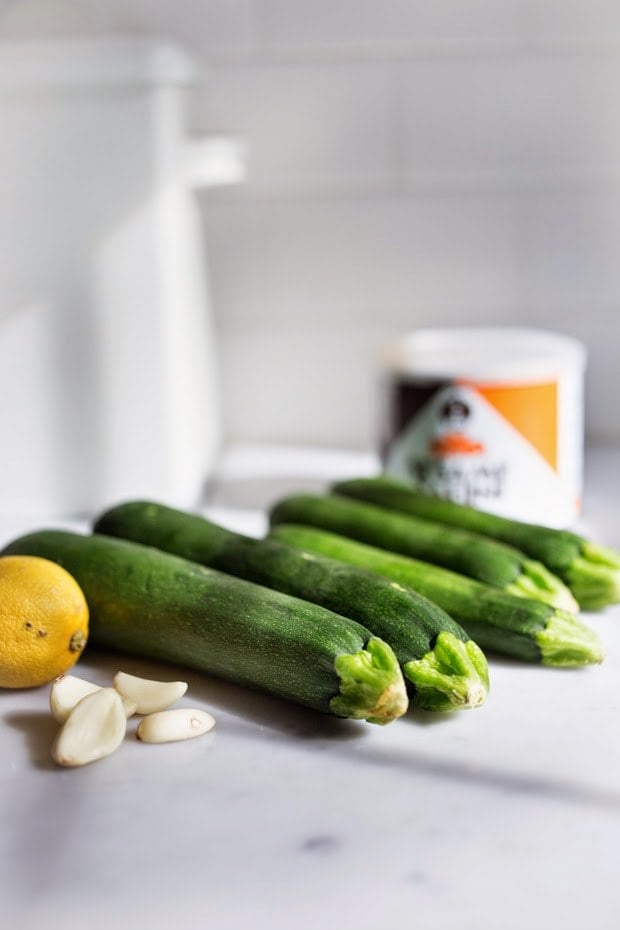 Zucchini Dip Instructions
Step one: Prep the zucchini. Cut the zucchini into thin 1/3-inch slices. (If sauteeing, dice or shred.)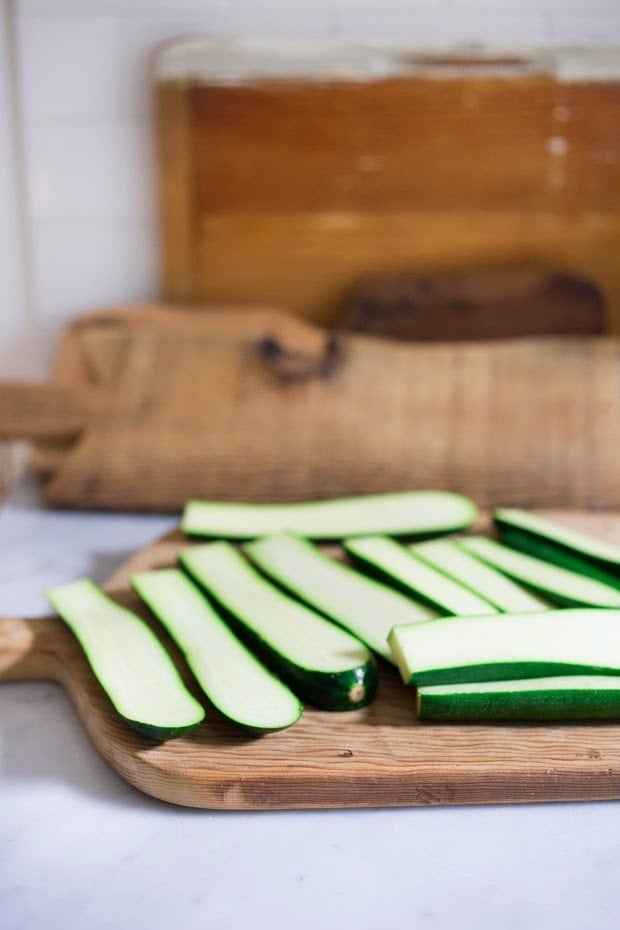 Step two: Cook the zucchini. (Grill, roast or saute!) Brush with olive oil and either roast the zucchini in the oven on a baking sheet, or grill the zucchini until charred, translucent and soft. (Alternatively, dice or shred zucchini and saute it on the stovetop.)Grilling the zucchini gives a beautiful smoky flavor which I especially love.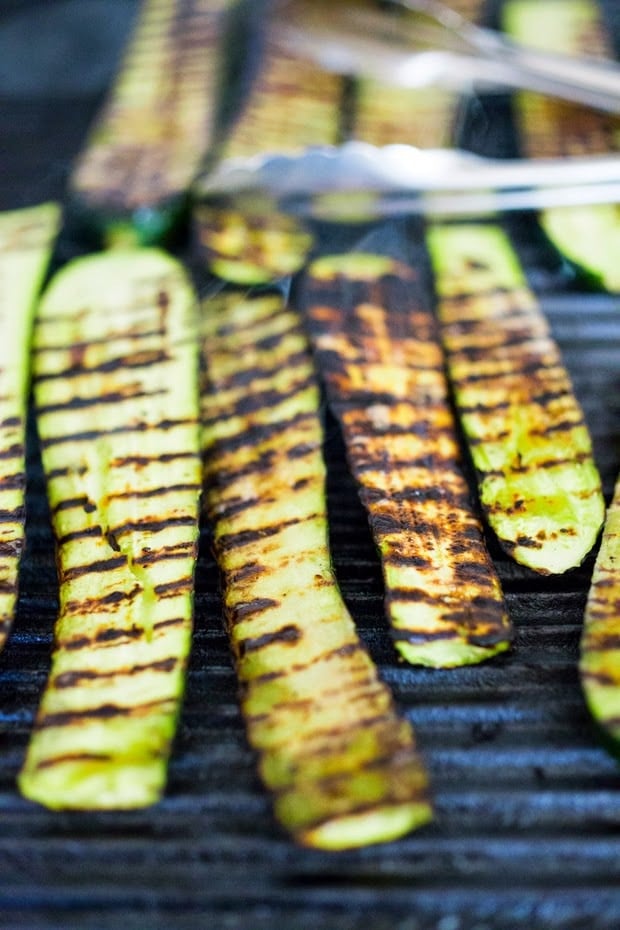 Step three: Blend. Place the cooked zucchini, garlic cloves, tahini, lemon juice, salt and pepper into the food processor and puree.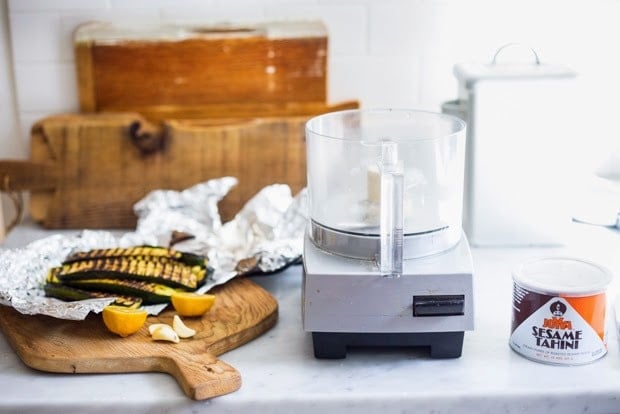 Add the fresh herbs and pulse. The herbs also add vibrant color, which is always a plus in my book.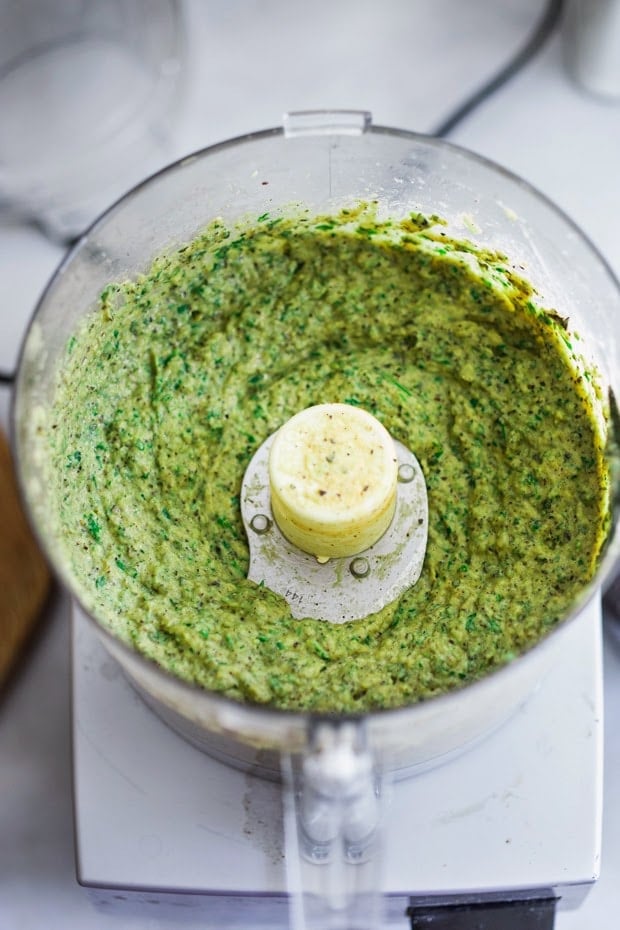 Taste the zucchini dip and adjust the salt, pepper and lemon to taste. If you would like it a little creamier or tangier, add a little yogurt and puree again.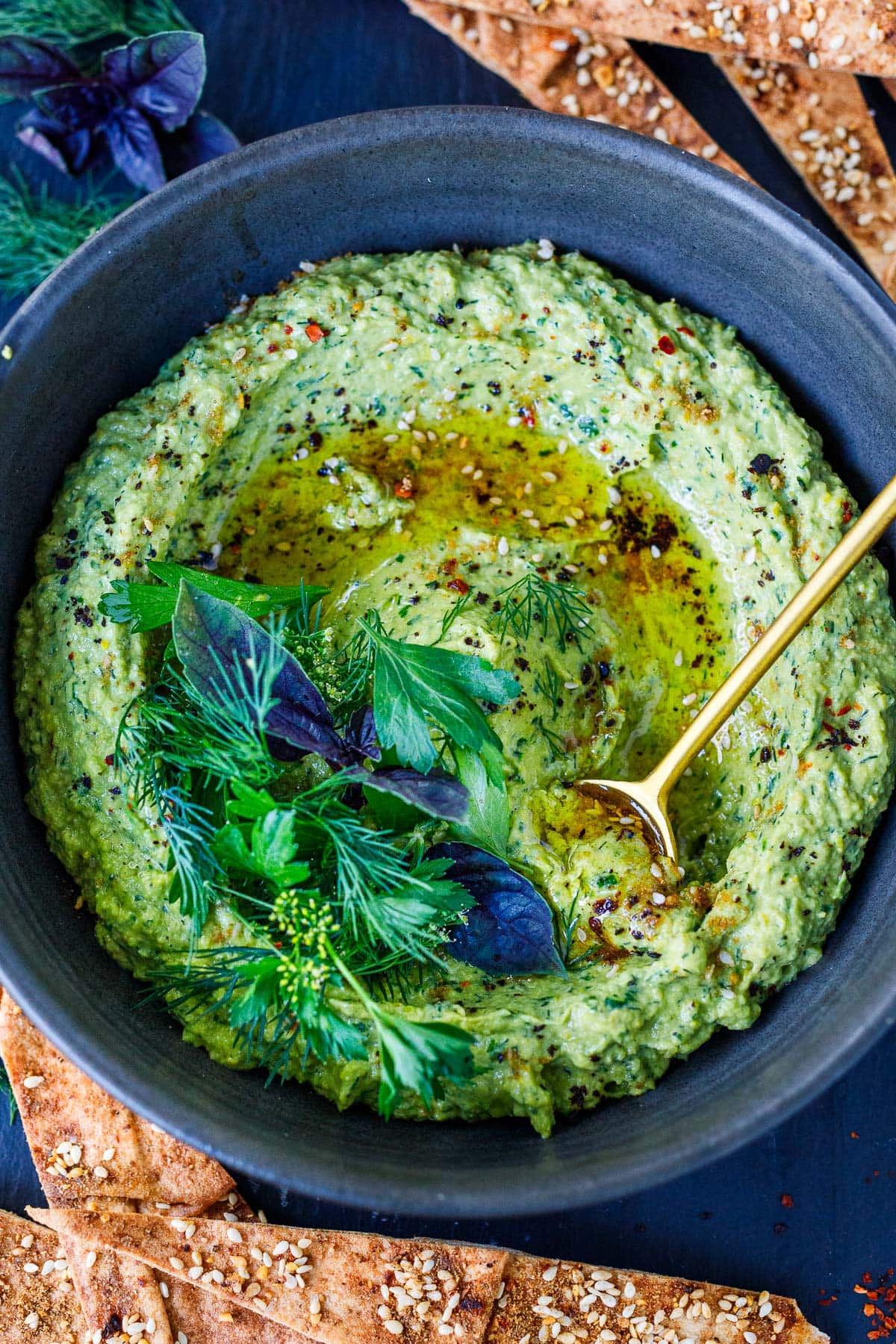 Step four: Serve. Spoon the Zucchini Dip it into a bowl, and make a little "well" with the back of a spoon and drizzle a little olive oil in the well. Garnish with zaatar or dukkha and fresh herbs. Now is a great time to use your Urfa Biber or Aleppo Chili Flakes! Edible flowers are very pretty here too.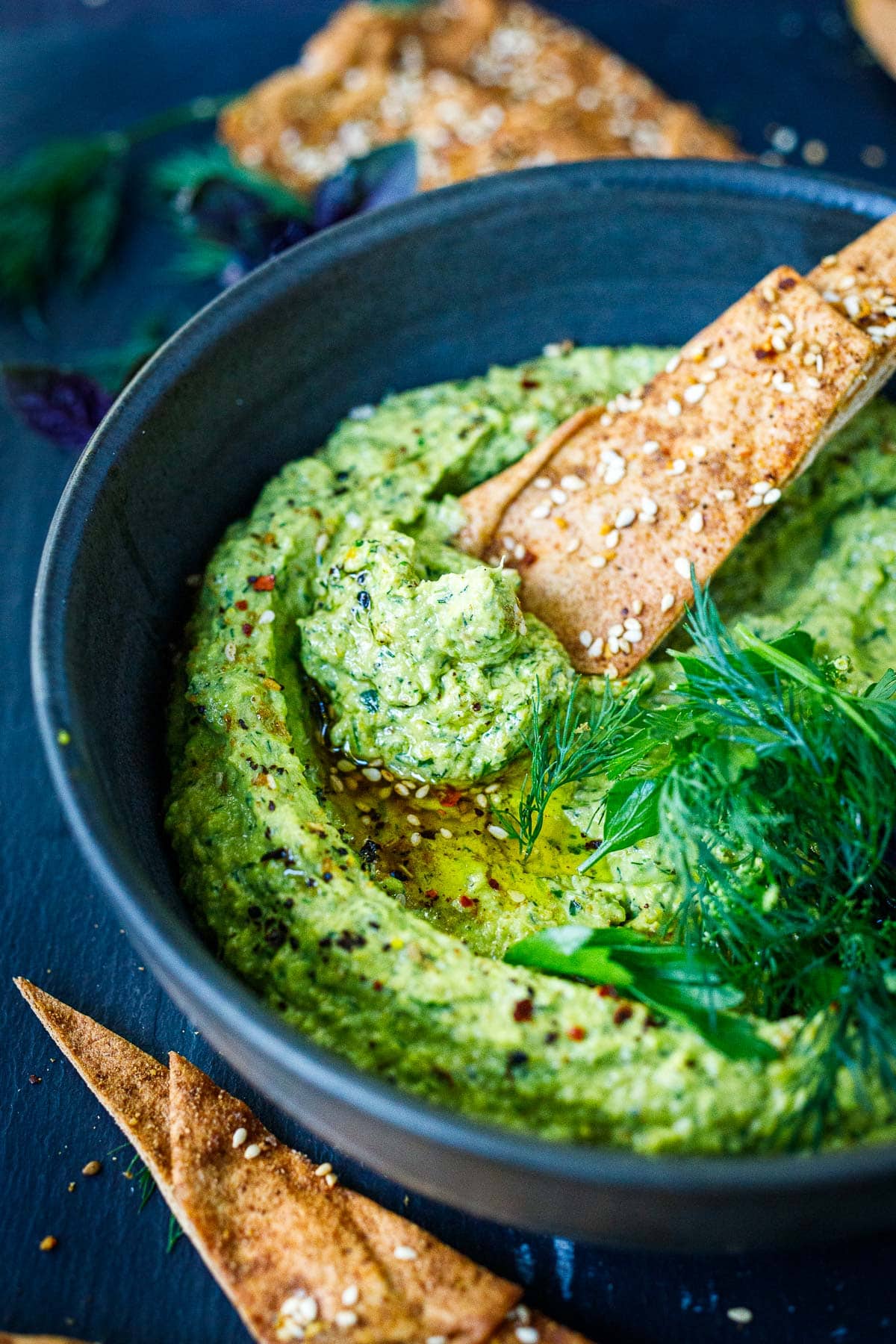 Health Benefits of Zucchini
Zucchini is not only delicious but also highly nutritious. Here are some health benefits of zucchini:
Rich in nutrients: Zucchini is low in calories and contains important nutrients like vitamin C, vitamin A, potassium, manganese, and fiber.
Promotes digestion: The high fiber content in zucchini can aid in digestion and prevent constipation. It also supports a healthy gut by promoting the growth of beneficial bacteria.
Supports weight loss: Due to its low calorie and high water content, zucchini can be a great addition to a weight loss diet. It helps you feel full while providing essential nutrients.
Hydrating properties: With about 95% water content, zucchini is hydrating and can help maintain proper hydration levels in the body.
Boosts immunity: Zucchini is rich in vitamin C, which is known to strengthen the immune system and protect against illnesses and infections.
Good for heart health: The fiber, potassium, and vitamin C in zucchini contribute to heart health. It helps maintain healthy blood pressure levels and reduces the risk of stroke and heart disease.
Anti-inflammatory properties: Zucchini contains antioxidants and anti-inflammatory compounds that can help reduce inflammation in the body and protect against chronic diseases.
Aids in eye health: Zucchini is a good source of carotenoids, including lutein and zeaxanthin, which are beneficial for eye health and may help prevent age-related macular degeneration.
Supports healthy skin: The vitamin C and antioxidants in zucchini promote healthy skin by protecting against oxidative stress and promoting collagen production.
May assist in blood sugar control: The fiber content in zucchini can help regulate blood sugar levels, making it a suitable choice for those with diabetes or those looking to maintain stable blood sugar levels.
More Zucchini Recipes
Print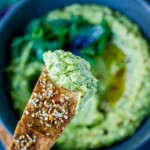 Zucchini Dip Recipe
Prep Time:

10

Cook Time:

20 mins

Total Time:

30 minutes

Yield:

2 Cups

1

x

Category:

Appetizer

Method:

Blended

Cuisine:

American

Diet:

Vegan
---
Description
This luscious, flavorful Zucchini Dip is a delicious way to use your garden zucchini! Serve it up with pita chips or crackers for a tasty, healthy appetizer; everyone will love. Vegan, Gluten-Free with a video.
---
3

medium-large zucchini (1 1/2 lbs, or

6 cups

diced) – or summer squash, or use a combo.

2

fat cloves garlic

1 tablespoon

lemon juice, add more to taste

1/4

cup

tahini paste (or sub 1/2 an avocado)

1/2

–

3/4

tsp salt, more to taste

1/2 teaspoon

cumin

1/2 tsp

cracked pepper

1/4

–

1/2

cup

or more fresh herbs (optional) – choose either flat-leaf parsley, basil dill, mint, basil, or a combo.
Optional: 2-3 tablespoons of yogurt.
Garnish with a drizzle of  olive oil and zaatar spice or Dukkah. Add Aleppo chili flakes for a little heat if you like.
---
Instructions
If grilling or roasting, cut zucchini into 1/3-inch thick strips, brush with olive oil, season with salt. If sauteeing the zucchini, either dice or shred.
Grill: Place on a greased grill over medium heat until charred and translucent. Roast: place on a parchment-lined baking sheet, roast in a 375 F oven until tender and translucent, about 15-20 minutes ( dont let it get dark. (If you have very large zucchini with thick skin, you can half it lengthwise, roast in the oven, and then scoop out the flesh, leaving the skin out.). Saute: Heat an extra-large skillet over medium heat with olive oil, season with salt and saute until translucent, tender and falling apart, about 15 minutes. 
Blend: Place the cooked zucchini and the rest of the ingredients in a food processor, and puree until vibrant green and smooth. To get it extra vibrant green add more herbs and blend blend blend! Taste and adjust salt and lemon to taste—stir in a little yogurt for extra creaminess.
---
Notes
The zucchini dip will keep up to 4 days in the fridge.
Nutrition
Serving Size:

¼ cup

Calories:

72

Sugar:

0.8 g

Sodium:

148 mg

Fat:

5.9 g

Saturated Fat:

0.8 g

Carbohydrates:

4.7 g

Fiber:

0.7 g

Protein:

1.8 g

Cholesterol:

0 mg
Keywords: Zucchini Dip, Zucchini Dip recipe, Zucchini Hummus, zucchini hummus recipe, zucchini recipes, vegan zucchini recipe, best zucchini recipes