Packed with nutritious ingredients, this Veggie Burger is full of delicious flavor and satisfying texture. Great with a variety of toppings. Vegetarian and Gluten-free, Vegan-adaptable! Video.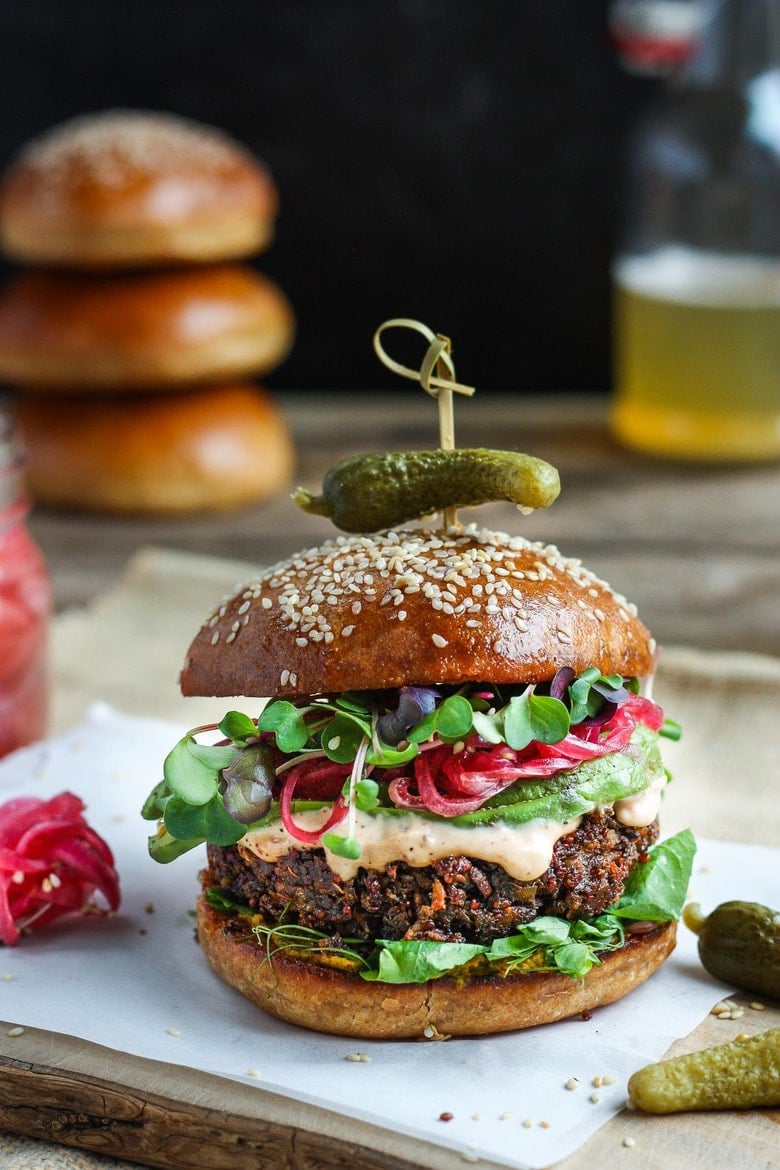 When I let go of what I am, I become what I might be.

Lao Tzu
These Veggie Burgers are packed with fresh, wholesome ingredients. Roasted mushrooms, carrots, and chickpeas give the veggie burger a savory flavor. Quinoa has a chewy hearty texture that works great to give the burgers substance without the need for bread crumbs, making them gluten-free. Pecans add richness and depth. The veggie burgers are lightly baked and then pan-seared for a delicious crusty crunch. The flavors totally lend to a variety of toppings and sides. Our hands-down favorite accompaniment are these pickled onions, such a perfect compliment!
Why You Will Love These Veggie Burgers
Delicious Flavor: These burgers are packed with savory deliciousness. The combination of roasted mushrooms, carrots, chickpeas, and pecans creates a rich and satisfying taste.
Wholesome Ingredients: Made with fresh, nutritious ingredients, these burgers are a healthy option. They are vegetarian, gluten-free, and can be easily adapted to be vegan-friendly.
Satisfying Texture: The quinoa in these burgers adds a chewy and hearty texture, while the pecans contribute richness and depth. The combination of ingredients creates a burger that is not too mushy or too firm.
Versatile Toppings: These veggie burgers are great with a variety of toppings. Whether you prefer classic options like avocado, tomato, lettuce, or enjoy adding some tanginess with dijon mustard or bbq sauce, you can customize your burger to suit your taste.
Veggie Burger Ingredients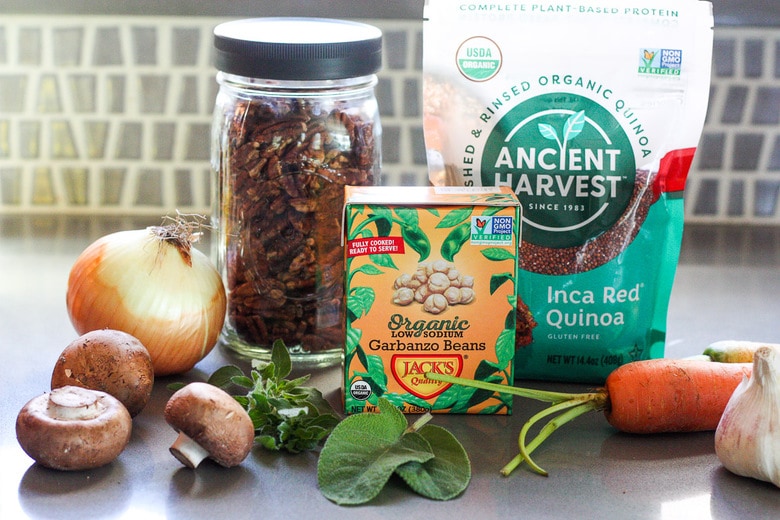 Ingredient Notes
Quinoa: Red quinoa is recommended for this recipe because of its heartier texture and slightly nutty flavor. While we have not tried these, short-grain brown rice, tri-colored quinoa, or farro should work as a substitute (cooking times will vary, follow package directions).
Mushrooms: Roasted mushrooms provide a savory and umami flavor to the veggie burgers.
Carrots: Roasted carrots add sweetness and a hint of earthy flavor.
Onion & Garlic: These aromatic ingredients enhance the overall taste of the burgers.
Chickpeas: They contribute protein and a creamy texture to the patties.
Pecans: Ground pecans add richness and depth of flavor to the veggie burgers.
Fresh Sage & Oregano: These fresh herbs bring a fresh and aromatic note to the recipe.
Tomato Paste, Stoneground Mustard, Worcestershire: These condiments provide tanginess and depth of flavor.
Egg: The egg acts as a binder for the patties, but if you prefer a vegan option, you can substitute it with a flax egg.
Salt & Pepper: Used to season the burgers and bring out the flavors of the other ingredients.
How to make Veggie Burgers!
These Chickpea Quinoa Burgers may be just a teensy bit fussy, but I promise you they are worth it! Just follow these 6 steps:
Cook the quinoa.
Roast vegetables.
Process ingredients in food processor.
Form patties.
Bake.
Pan-sear or grill to serve!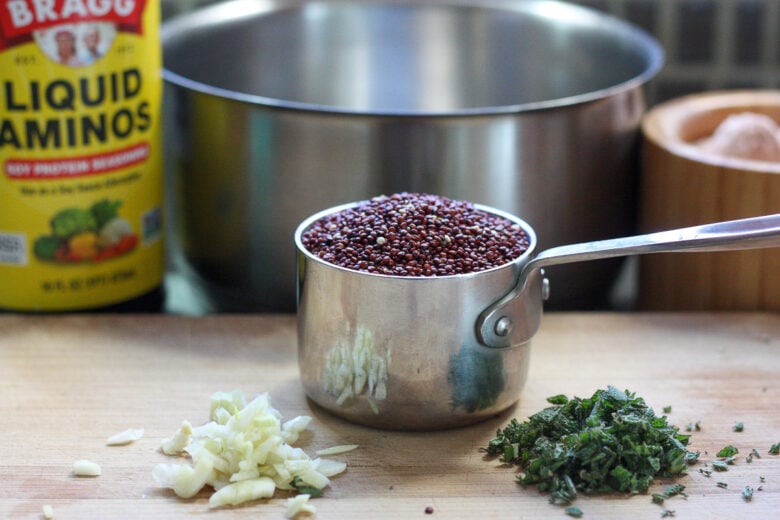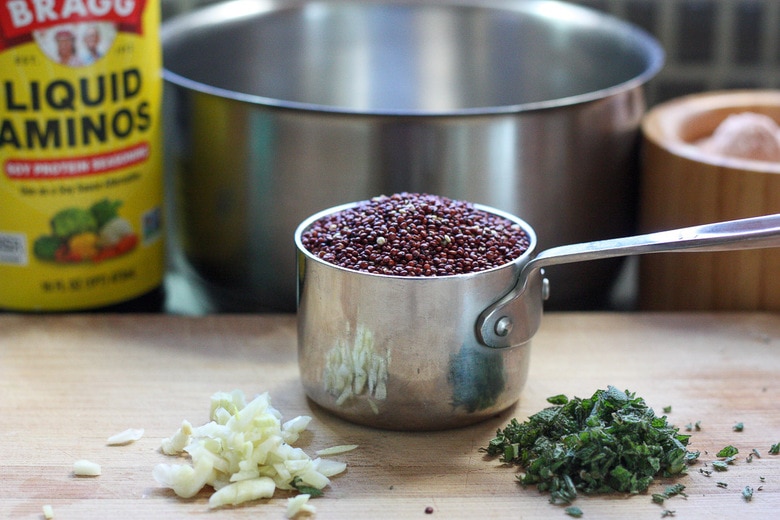 STEP 1: COOK THE QUINOA– In a saucepan, over medium high heat, add quinoa, garlic, sage, oregano, and Braggs Liquid Aminos (soy sauce works too) and bring to a boil. Cover, lower heat and simmer over low heat for 15 minutes.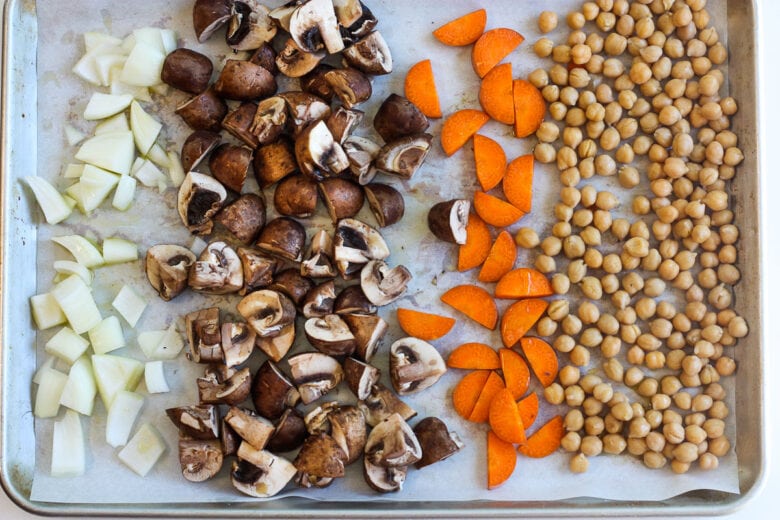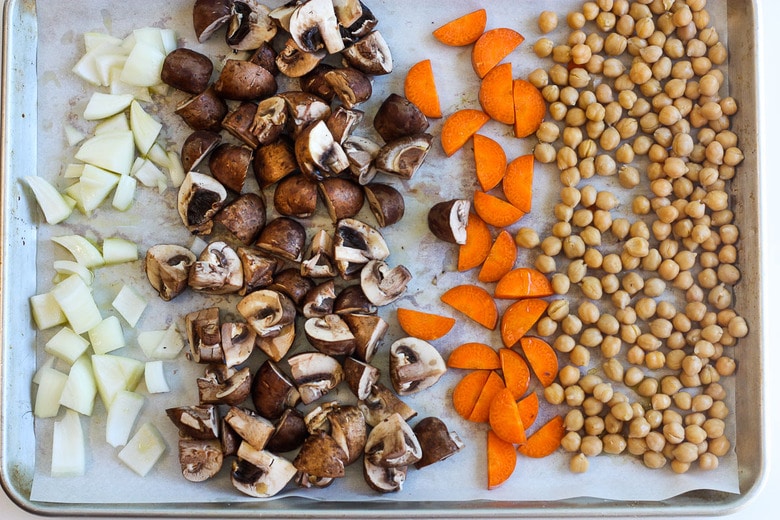 STEP 2: ROAST– Roast the onion, mushrooms, carrots and chickpeas for 20 minutes in the oven. Roasting gives flavor and dissipates the water content giving more texture to the patty.
STEP 3: PROCESS– Grind pecans in food processor to a coarse meal and dump into a separate large bowl. No need to clean the processor, add the cooled roasted vegetables, tomato paste, mustard, Worcestershire, egg, salt, and pepper.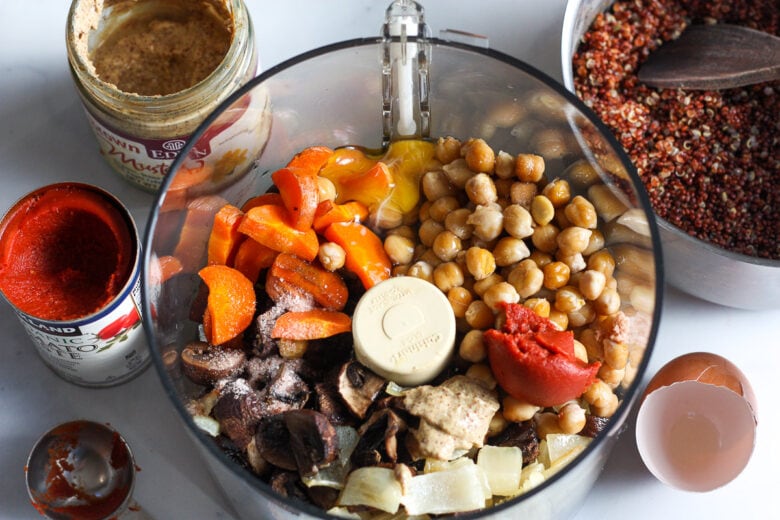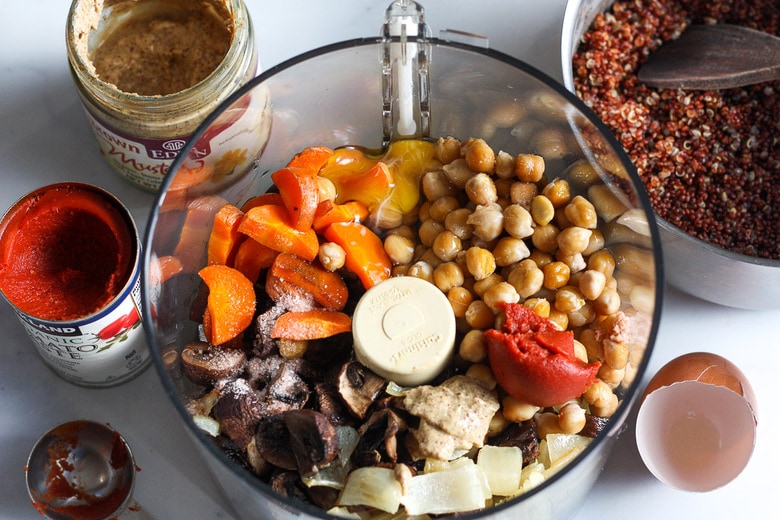 Pulse together enough to adhere mixture leaving small chunks of veggies is good! You want some texture. Mix ground pecans with veggie mixture and quinoa.
STEP 4: FORM BURGERS– Mash together, forming into 6 patties around 4.5 ounces each.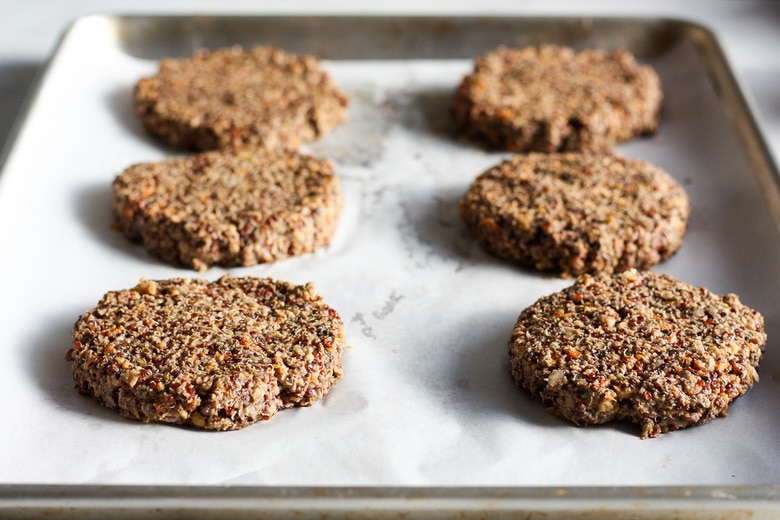 STEP 5: BAKE– Bake 20 minutes at 400F. Baking firms up the burgers. This can all be done ahead of time, up to two days before serving.
STEP 6: PAN-SEAR– Heat the veggie burger in a pan with a little oil until golden and crisp on the outside. About 3-4 minutes on each side, then build your perfect burger!
Veggie Burger FAQS
Are veggie burgers healthy?
Veggie burgers can be a nutritious option depending on the ingredients used. They are typically lower in saturated fat and cholesterol compared to traditional meat-based burgers. However, the nutritional content can vary depending on the specific brand or recipe. It's important to check the label or recipe to ensure that the veggie burger is made with wholesome ingredients and provides a good source of protein, fiber, and vitamins.
Can veggie burgers be vegan-friendly?
Absolutely! Veggie burgers can be easily adapted to be vegan-friendly. Traditional animal-based ingredients like eggs or dairy products can be substituted with plant-based alternatives. Ingredients like flaxseeds, chia seeds, or mashed beans can serve as binders in place of eggs, while plant-based milk or vegan cheese can be used in the recipe. When purchasing store-bought veggie burgers, look for the vegan label or check the ingredient list for any animal-derived products.
How do I cook veggie burgers?
Veggie burgers can be cooked in various ways depending on your preference. They can be pan-seared, grilled, baked, or even air-fried. When pan-searing or grilling, it's important to preheat your cooking surface and lightly oil it to prevent the burgers from sticking. Always follow the cooking instructions provided with the specific brand or recipe you are using to achieve the best results.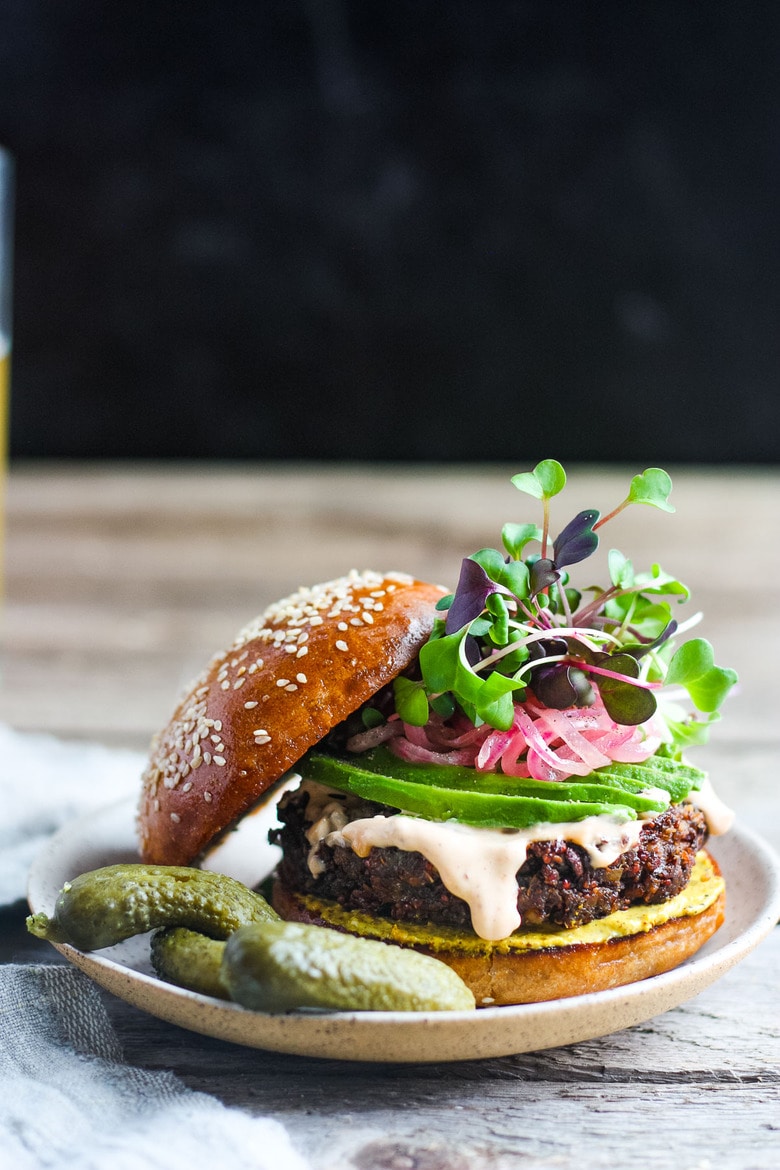 Serve with Veggie Burgers with: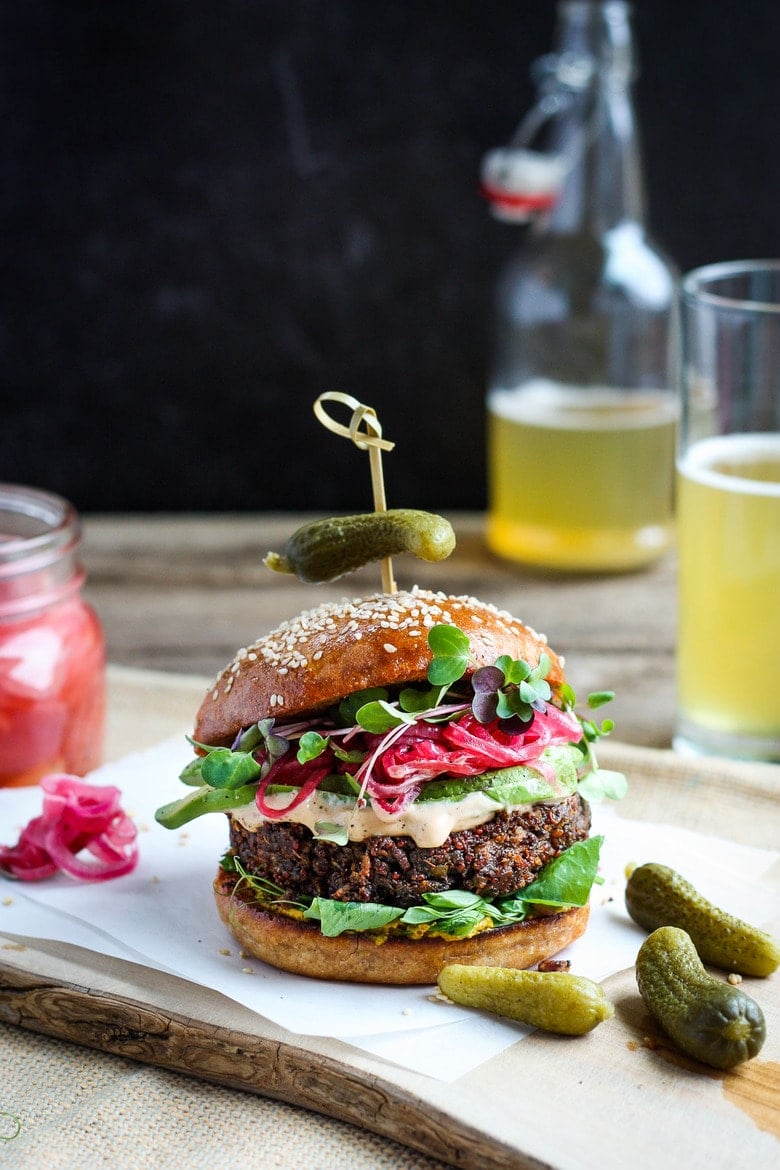 More recipes you may enjoy!
I crave a good veggie burger! This is one is close to my dream burger. Full of homey, savory goodness, the texture is not too mushy or too firm. Just right! I grew up eating a lot of veggie burgers, some that came frozen or in a can. They were tasty, but the ingredient list was so long and some words were unpronounceable.
This recipe is filled with good clean wholesome ingredients and so much savory flavor.
Hope you enjoy! Tonia
Watch how to make a Veggie Burger!
Print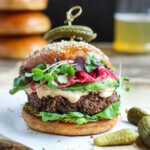 Veggie Burger Recipe
Prep Time:

40 minutes

Cook Time:

20 minutes

Total Time:

1 hour

Yield:

6

(4 1/2 oz patties)

1

x

Category:

Veggie Burger

Method:

Bake and Pan Sear

Cuisine:

American

Diet:

Vegetarian
---
Description
Packed with nutritious ingredients, this Veggie Burger is full of savory delicious flavor and satisfying texture. Great with a variety of toppings.
---
1/2

cup

red quinoa, rinsed (or regular quinoa)

3/4

cup

water

1 tablespoon

Braggs liquid aminos (or soy sauce)

1 tablespoon

fresh sage

1/2 teaspoon

dried oregano

2

garlic cloves, roughly chopped

10

ounces

mushrooms, halved or quartered

1/2

cup

chopped carrots

1

onion, chopped

15

oz

canned chickpeas (1 1/2 cups cooked)

1

cup

pecans (sub walnuts, hemp seeds, sunflower seeds)

1 1/2 tablespoons

tomato paste

2 teaspoons

stoneground mustard (or dijon)

1 teaspoon

Worcestershire (I like the vegan Wizard brand)

1

egg

1 teaspoon

sea salt

1/4 teaspoon

pepper
Optional garnishes: buns, pickled onions, chipotle mayo, avocado, microgreens, fermented pickles, tomatoes, lettuce, etc.
---
Instructions
Preheat oven to 400 degrees.
In a saucepan add quinoa, Braggs, sage, oregano, garlic cloves and water. Bring to a simmer, cover and simmer low heat for 15 minutes. Turn off heat, set aside without lifting the lid!
While quinoa is cooking, place drained chickpeas, mushrooms, carrots and onion on a baking tray. Drizzle with a little olive oil and a sprinkle of salt. Slide into the preheated oven, and roast for 20 minutes. Let cool for at least 5 minutes.
In a food processor pulse pecans to a coarse meal, scoop out, and set aside.
Without cleaning out the processor add roasted chickpeas, veggies, tomato paste, mustard, Worcestershire, egg, salt and pepper. Pulse just enough to adhere mixture leaving small chunks of veggies is good. This just takes a handful of pulses, you want some texture.
Mix together ground pecans with veggie chickpea mixture and quinoa.
Form into 6 patties around 4.5 ounces each.
Bake on a parchment-lined sheet pan, in the oven for 20 minutes at 350 degrees. Up to this step can all be done up to two days ahead by refrigerating the baked burgers in a sealed container.
To serve pan sear in a skillet with oil over medium heat, until deep golden crisp on the outside and warm through. Enjoy with your favorite condiments.
---
Notes
Meal Prep: Make these ahead (bake ahead) for meal prep and store in the fridge or freezer, in an airtight container, to use throughout the week.
Vegan Adaption: Substitute a flax egg for the egg. ( 1 Tablespoon ground flax meal mixed with 2 1/2 tablespoons water)
For optimal "holding together power", let the burgers rest about a half hour to set up after baking before pan frying. For optimal texture, make them a day ahead and refrigerate, frying cold directly out of the fridge seems to help them bind together more.
Nutrition
Serving Size:

1 burger

Calories:

253

Sugar:

4.1 g

Sodium:

824.8 mg

Fat:

15.8 g

Saturated Fat:

1.6 g

Carbohydrates:

22.1 g

Fiber:

6.9 g

Protein:

9.3 g

Cholesterol:

31 mg
Keywords: veggie burger, best veggie burger, veggie burger recipe, chickpea burger, chickpea quinoa burger, quinoa burger, the best veggie burger