Fiery Burmese Chicken and Veggies- a flavorful, Burmese style stir-fry that can be made in 20 minutes. Sub crispy tofu for the chicken and keep it vegan!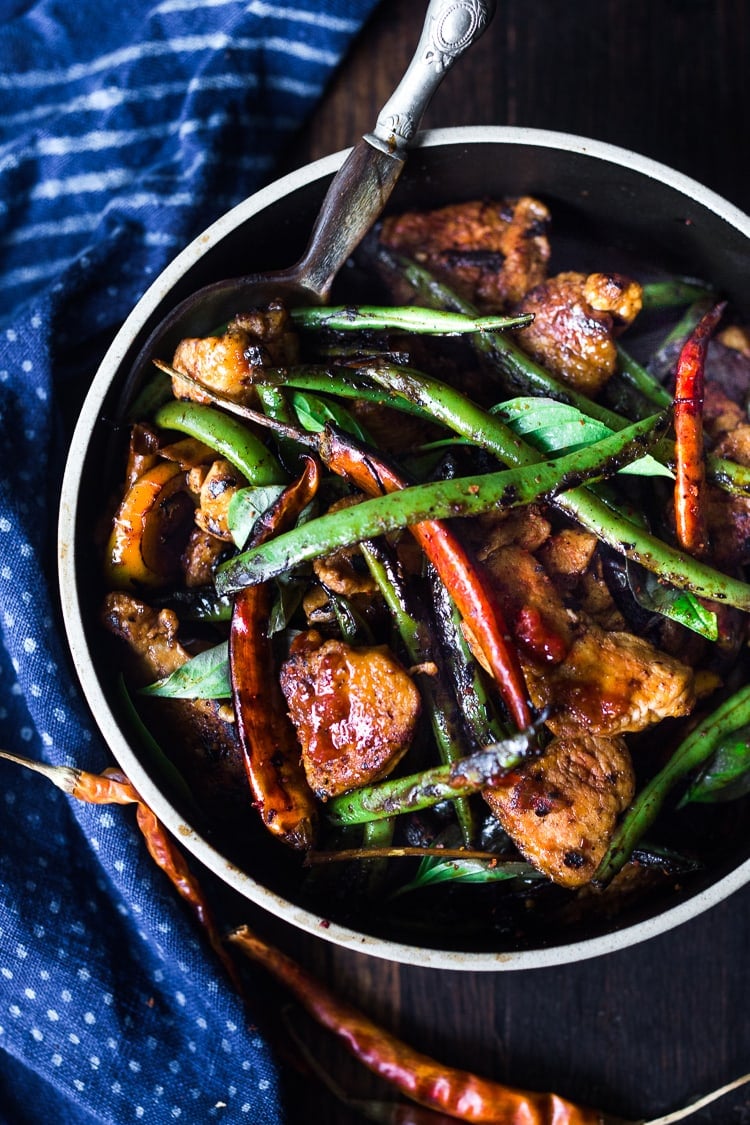 A few girlfriends and I went to San Fransisco on a little weekend getaway. Being the amazing food city it is….we pretty much ate the entire time. It was a very good thing that our hotel offered complementary bikes, which allowed us to offset some of our indulging by peddling up and down the city's hills. I can't tell you how enjoyable it was to meander through that city on bikes. It probably didn't hurt that the weather was perfectly glorious and everything was abloom. Jasmine filled the air with such a delicious sweetness….I couldn't get enough of it! One of our favorite dishes was this Fiery Burmese Chicken at a restaurant called Burma Superstar, along with a Fermented Tea Leaf salad (coming soon!). Since that discovery, I committed the flavors to memory and came home and recreated it for Brian. He loooooooooved it. There are two ingredients that really set this dish apart, but first I want to say, it doesn't have to be overly spicy. You have total control over the spice level. So don't let the word FIERY scare you. 😉 OK?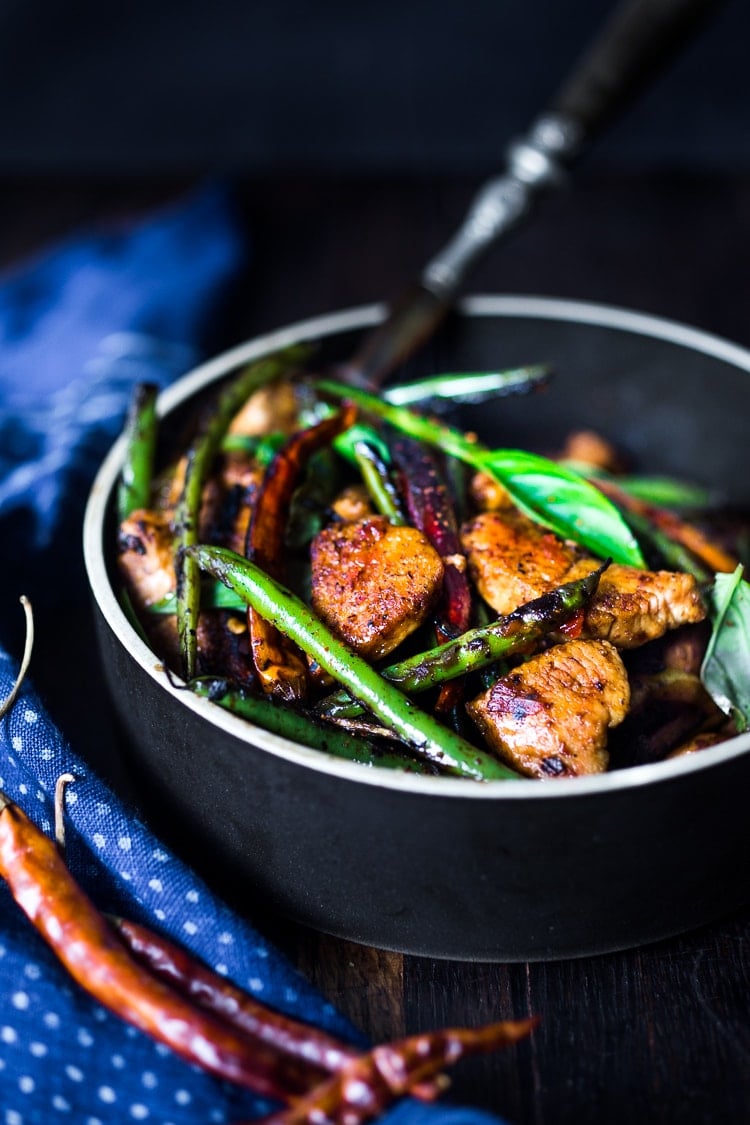 What makes Fiery Burmese Chicken different and unique is the addition of Chinese Five Spice and Thai Basil. These are a must in my opinion, but I'll show how to improvise a bit. One of the things I buy at our local farmers market each summer is Thai Basil- that way I always have it on hand growing in a pot, saving me the trouble of making a trip to the Asian market. Chinese Five spice, if you don't have it, can be made. Here is a simple recipe. Burma, if you look at a map, is bordered by Thailand, China and Bangladesh, so you can easily see how these flavors influence its cuisine. There are no borders when it comes to food.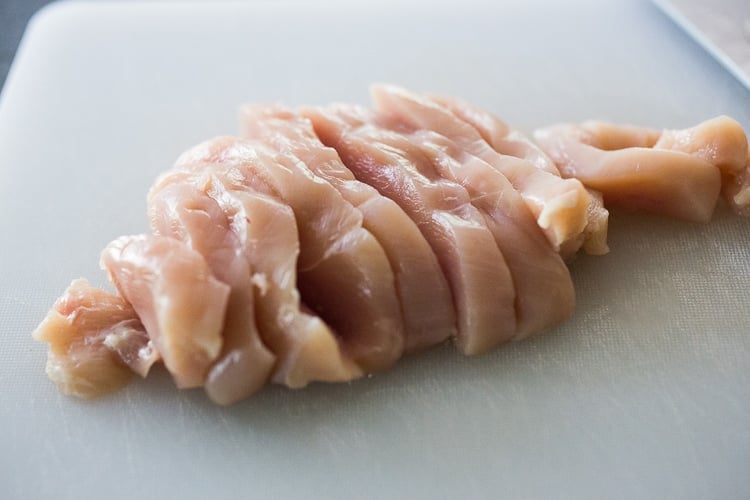 I really hate showing raw chicken photos, but I wanted to show you the best way to cut the chicken in this recipe. Slice thinly, across the grain into pieces about ⅓ inch thick. Then cut in half or into bite sized pieces. This will really keep the cooking time down to a minimum, which is key when using a wok. Yes, you can also use a large cast iron skillet.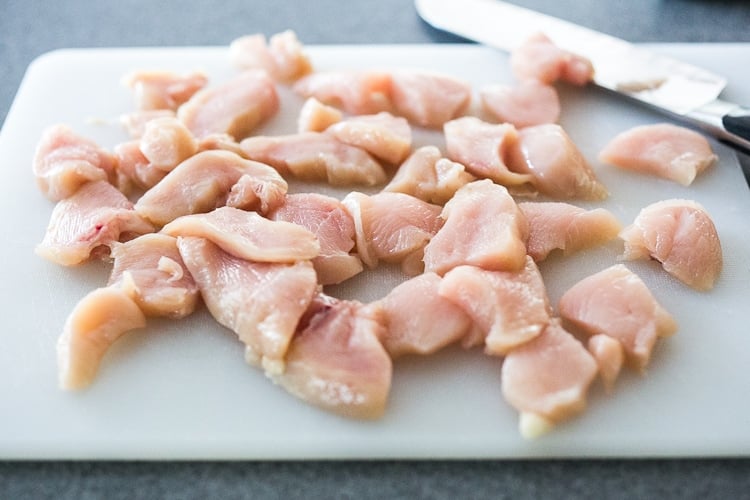 The secret here is to really get the pan really smoking hot. Turn your hood fan on high and open a window or door. I'm not kidding! 🙂 Prep all the ingredients first, and only start the wok when everything is totally ready to go. The cooking will go very fast and requires your complete attention. So….get the pan smoking hot, using a wok oil– a high heat oil like peanut oil, coconut oil or actual "wok oil" ( I like this brand) which stand up to higher cooking temperatures. By getting the pan hot like this, you will infuse some smoky flavor into the dish itself which will bring this to the next level. Since you will be constantly stirring, it won't burn. If in need of a good wok, this is a good set up, or consider a cast iron wok!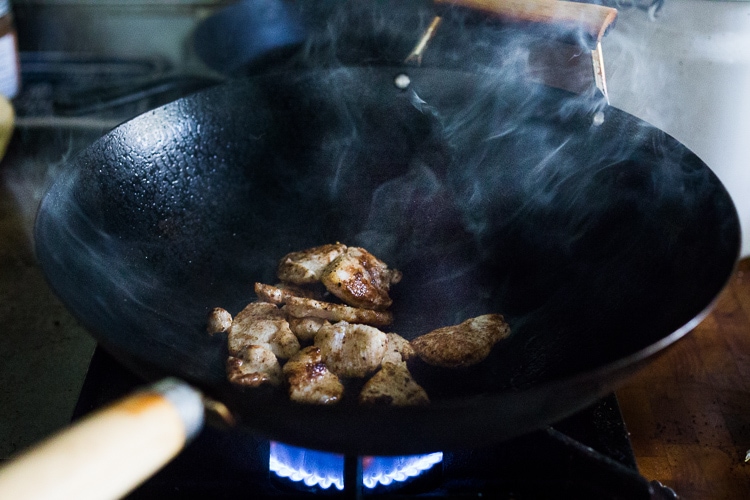 Working in batches, sir fry the chicken, then set a side on paper towels.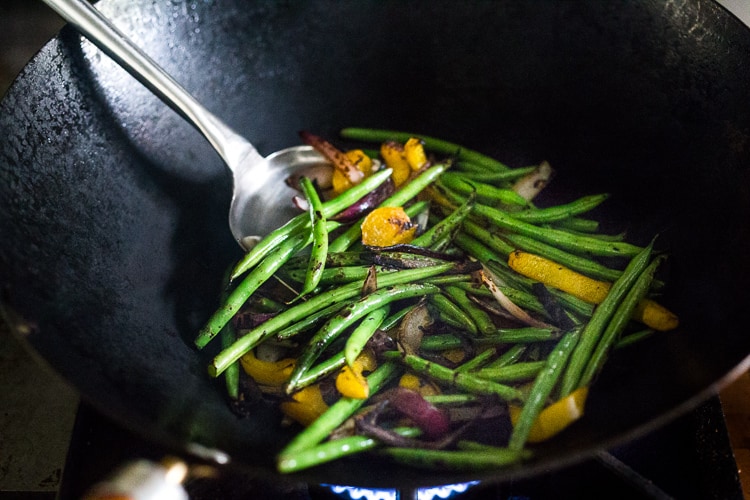 Then stir fry the veggies- letting the green beans char a little in places. This will take a bit longer. Once slightly tender, you will make a well in the center, add a tiny drop of oil and cook the garlic and sear the dried chilies. The dried chilies add a little heat and flavor to the overall dish, and are absolutely not meant to be eaten.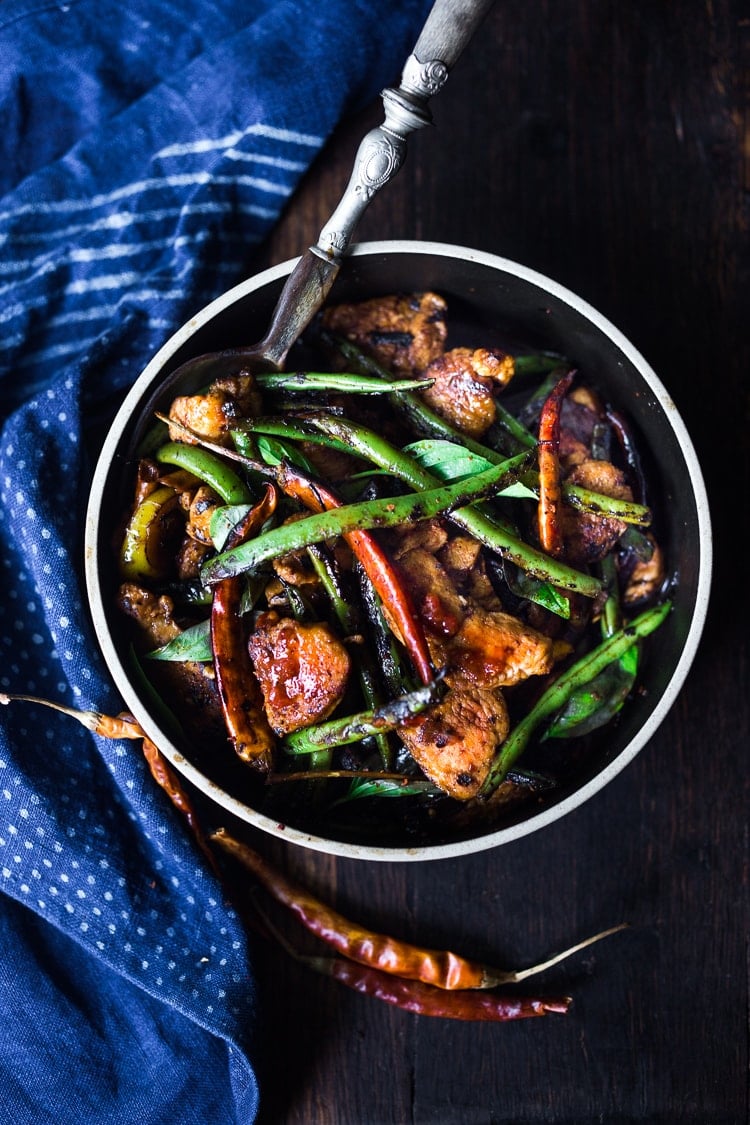 Add the stir fry sauce and lower the heat, and add the chicken or tofu back into the wok and cook until heated and cooked through, 2-3 more minutes. At the very end toss in the Thai basil leaves. Serve immediately. And of course any leftovers are delicious.
A flavorful recipe for Fiery Burmese Chicken (or tofu) and veggies based on our visit to Burma Superstar Restaurant in SF. Simple and incredibly delicious!
For more flavorful stir fries …..take a peek at these! Kung Pao Zucchini Mushroom Asparagus and Tofu Stir Fry 15 Minute Pad Thai Zucchini Corn and Basil Stir Fry Broccolini Mushroom Stir Fry
Print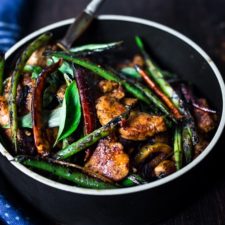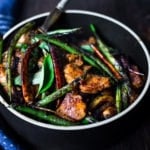 Fiery Burmese Chicken and Green Beans
Author:

Sylvia Fountaine

Prep Time:

10

Cook Time:

15

Total Time:

25 minutes

Yield:

2

Category:

Chicken, main,

Method:

Stir fry, Wok

Cuisine:

Burmese
---
Description
Fiery Burmese Chicken ( or Tofu)  and Veggies- a fast, full-flavored, Burmese style stir-fry that can be made in 20 minutes. Vegan and Gluten-free adaptable, this meal is low in carbs.
---
10

–

12

ounces chicken breast (boneless, skinless) or sub tofu, cubed and patted dry.

2 teaspoons

cornstarch

¼ teaspoon

kosher salt

¼ teaspoon

pepper

¾ teaspoon

Chinese Five Spice (do not leave this out -see notes)

1 tablespoon

oil for searing (peanut, coconut or  high temp"wok" oil)
Stir Fry Sauce:
Stir Fry Veggies:
6 ounces

fresh green beans, haricot verts, snap peas or asparagus

1

red or yellow bell pepper, sliced into

½

inch wide strips

½

an onion, sliced into

½

inch wide strips

3

fat garlic cloves, rough chopped

5

–

10

dried thai chilies– optional but good! (you won't eat these, just for flavor)

10

–

12

Thai Basil leaves ( torn) or use regular basil if in a pinch
Optional Garnish: Roasted peanuts, shrimp powder, scallions
Serve over rice, or just on its own.
---
Instructions
Pat dry chicken breast  and slice at a diagonal into thin  ¼-⅓ inch thick slices, then cut in half. See photo.
Place in a wide shallow bowl and sprinkle with cornstarch, salt, pepper and Chinese 5 Spice. Toss to coat well and set aside.
Make the Stir fry sauce by placing all ingredients in a small bowl and whisk together with a fork.
Slice onion, bell pepper and rough chop the garlic.
Gather everything near the stove. Turn your stove fan on high and open a window or door. Heat the oil in a wok or extra large cast iron skillet over medium high heat, until it's smoking. Sear the chicken in two batches, using tongs to brown each side, then set aside on a paper towel-lined plate ( you will cook it through later).
Add the green beans, peppers and onion to the wok and dry fry over med high heat ( wok will smoke). Keep stirring often until the green beans soften slightly and begin to char in places, about 4-5 minutes. These charred bits add a lot flavor, so make sure you are patient and allow them to char a little. Make a well in the center of the veggies, and add the garlic and hot chilies and a tiny splash of oil. Stir fry 1-2 minutes, until garlic is fragrant. Add the chicken back into the wok and pour in the sauce.  Turn heat down to med low and stir to incorporate- let this simmer for a few minutes, stirring until chicken is cooked through, 2-3 minutes.
At this point, if you feel like chicken needs to continue cooking but the wok seems dry, add a splash of water or more chinese cooking wine, until chicken is cooked through. (Cutting it thin will ensure it cooks quickly.) Taste. Add chili paste for more heat, or a pinch more salt if you like. Add the Thai basil right at the end.
Divide among bowls over rice if you like, or on its own.  Feel free to add roasted peanuts or crispy shallots for texture. Serve with chopsticks.
---
Notes
Keywords: Burmese chicken, Burmese food, burmese chicken curry, burmese stir fry,