Falafel are crispy, flavorful chickpea balls, seasoned with herbs and spices from the Middle East, often used in pitas, wraps, salads, sandwiches, and bowls. Falafel can be pan-seared, fried, baked, or cooked in an
air fryer
. Vegan, vegetarian, GF. Video.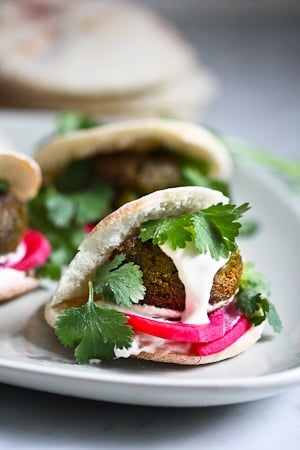 This authentic recipe for Falafel was handed down to me by my Egyptian father. He called them "Taymea," and loved making them because they reminded him of home and his own mother, still back in Egypt. They brought him so much comfort. Today, they do the same for me- transporting me right back into my parent's kitchen when I was young.
What is falafel?
You may be wondering… what is falafel? Falafel is a flavorful mixture of chickpeas (or fava beans) fresh herbs, chilies, spices, onion and garlic, that are shaped into little balls and fried. Falafel is typically served pita sandwich along with tahini sauce, tzatziki, tomatoes, cucumbers and pickled turnips. They are also often served as part of a mezze platter. *Traditional falafel is made with dried chickpeas  (or dry fava beans) that have been soaked in water overnight. This is what gives falafel its unique texture.
How to make Falafel! | 60-sec video
 Falafel Ingredients
Dry chickpeas  (not canned) – Authentic falafel is made with dry chickpeas that have been soaked but not cooked. Using cooked or canned chickpeas will result in mushy falafel- with no texture.
Cilantro (or parsley)- Falfels have a greenish hue to them because they are loaded with herbs!
Onion and garlic- both add great flavor and depth!
Green Chili Pepper (jalapeno peppers, serrano, or sub cayenne) add fresh "heat". Feel free to go light or make them more spicy.
Spices: Coriander, coriander and salt.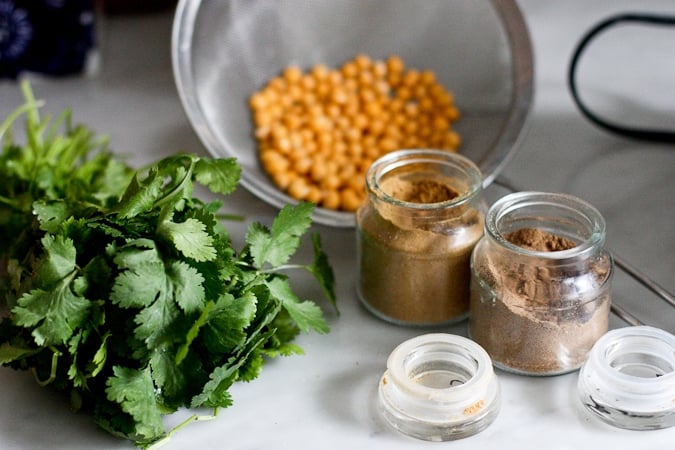 How to make Falafel (Step-by-step Instructions)
STEP ONE:  Soak dry chickpeas overnight in a bowl of ample cold water for 10-24 hours, until they more than double in size. Drain them well, and pat dry. I often just spread them out on a sheet pan and let dry completely.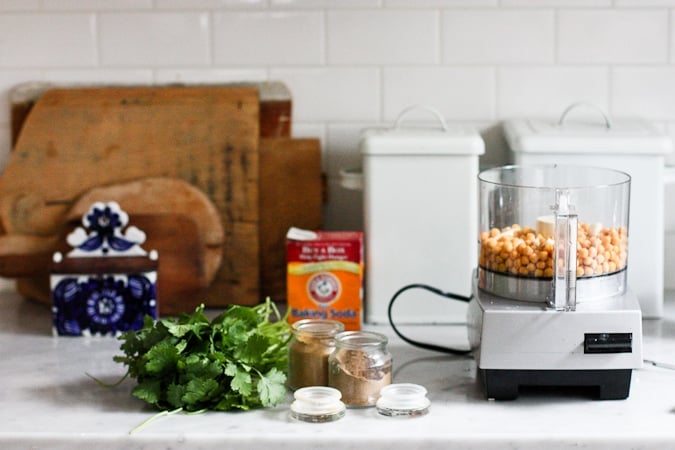 STEP TWO:  Place the chickpeas and the rest of the ingredients in a food processor and pulse repeatedly (do not blend), pulse -pulse- pulse, scrape down sides, and pulse again, until combined, but not overly smooth. Don't over blend- you want to be granular, not smooth like hummus… and should look something like this below. You must pulse, scrape sides, and repeat a few times to achieve this.
STEP THREE: 
Refrigerate for 20 minutes (right in the food processor is fine) and then form into golf ball-sized,
compressing them tightly
with your two palms.  The dough will seem wet; this is ok, just compress tightly.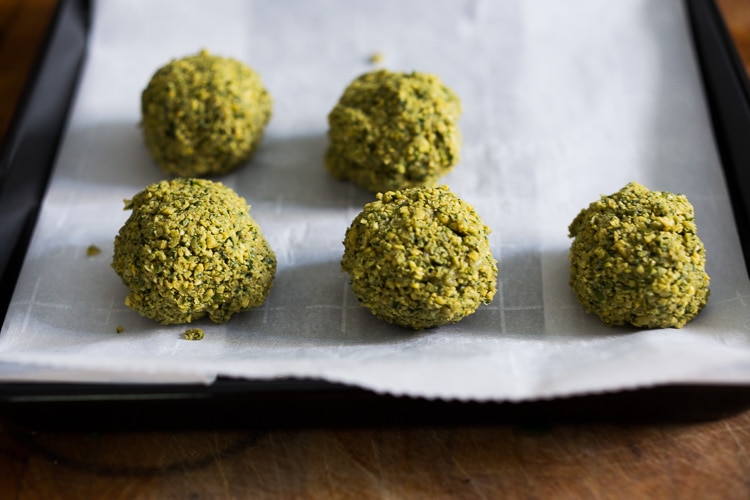 STEP FOUR: Cook the falafel.  Heat a skillet, with high-heat oil, over medium heat.  Without crowding, carefully place falafels in the warm skillet, pressing down to flatten slightly.  TIP: Do not move them or fuss with them; just let them develop a crust. Letting them develop a golden crust, will allow them to naturally release themselves from the pan. This goes for almost anything you are searing or frying.
See recipe notes for BAKING the Falafels or air frying them!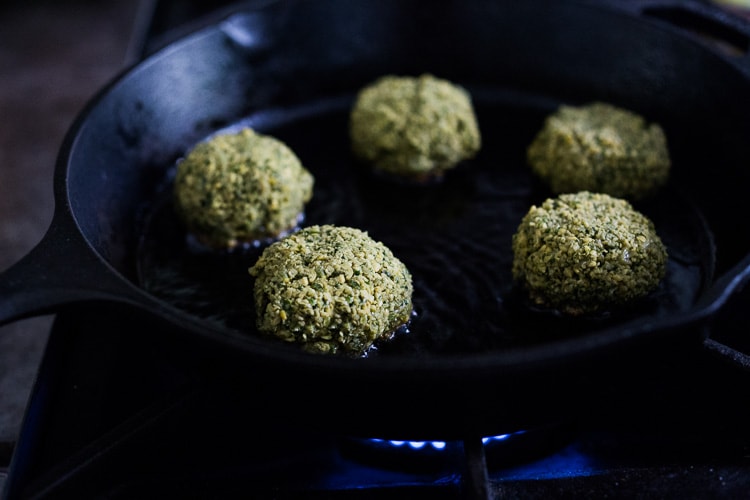 When deeply golden, use a thin
spatula
to turn them over.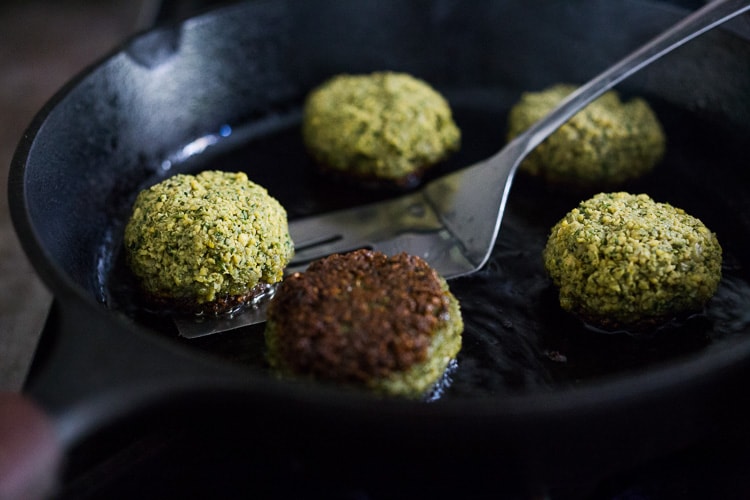 Remember, wait until they form a crust before moving, that way they will contract and release themselves from the pan.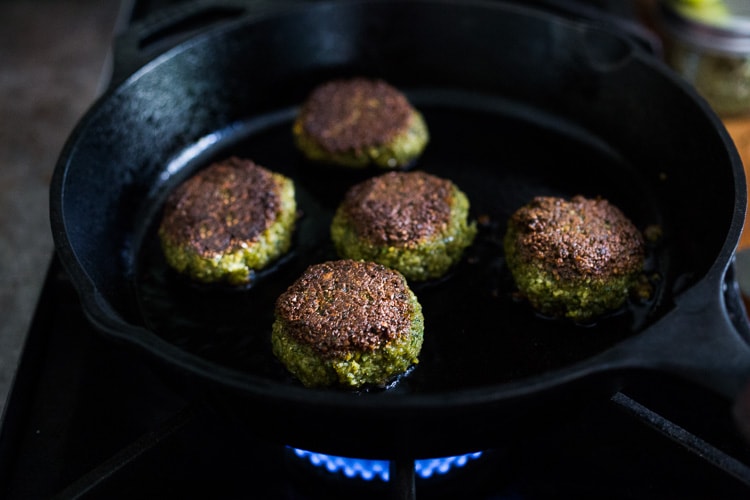 STEP FIVE:  
Place the falafels that are done, uncovered in a warm oven while you cook the rest. This will warm them all the way though, activating the
baking powder
, giving them a little lightness.
How to Make a Falafel Sandwich!
Warm-up
pita bread
, slice the very top off inch off and open it up, leaving the edges intact. Spread both sides with the Creamy
Tahini Sauce
,  add a few warm falafels, sliced tomato and cucumber, creamy
tzatziki
,
pickled onions
or pickled turnips. Add
hot sauce
if you like! I love adding this
Lebanese Slaw
to the pita sandwiches too!
How to Make a Falafel Salad
If you are on a gluten-free diet, or just want to try something different, falafel salads are a good alternative. Use any greens and toss in your favorite veggies  (tomatoes, cucumber, bell pepper, olives). Dress it with olive oil, lemon juice, salt and pepper- then top with warm falafels and a side of  Tahini Sauce.
On the homefront:  Food is deeply personal and becomes rooted in us at a very young age. For most of us, our comfort food is what we grew up eating – the special meals our parents made for us in celebration, but especially the simple daily meals we ate together as a family. After I moved away from home, this was one meal I missed the most and looked forward to every time I went back home. It was the same with my father, this meal reminded him of home.
One thing I encourage you to do is to learn how to cook the dishes that comfort you, from the people who made them for you (if possible).  It is one of the best gifts you can give yourself. Truly.
When I feel homesick or lonely for my parents, I make these falafels and feel comforted.  ✨
xoxo
Print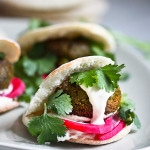 The Best Falafel Recipe
Prep Time:

12 hours

Cook Time:

30 mins

Total Time:

12 hours 30 minutes

Yield:

10

-

1

2

1

x

Category:

vegan, main, gluten-free

Method:

stovetop

Cuisine:

Middle Eastern

Diet:

Vegan
---
Description
How to make the best authentic Falafel from scratch using soaked chickpeas (not canned)  with Homemade Pita, Creamy Tahini Sauce, Pickled Turnips, and Cucumber Yogurt Sauce  *Chickpeas need 10-24 hours of soaking time. I recommend making a double batch. See notes for an air-fryer or baked falafels.
---
Falafel Recipe 
3/4

cup dry chickpeas (yields 2

cups

soaked), soaked 10-24 hours

1

cup

cilantro, packed (stems ok) or sub-Italian parsley

1/2

cup

white or yellow onion, rough chopped

3

large garlic cloves

1/2

of a jalapeno, seeds ok (add the entire thing if you want a little kick)

1 tablespoon

ground Coriander

1 tablespoon

ground Cumin

1/2 teaspoon

baking soda

1/2

–

3/4

teaspoons kosher salt (add more to taste)

2 teaspoons

olive oil
high heat oil for frying, or spray oil for baking
---
Instructions
Soak:  Cover the dry chickpeas in a bowl of ample cold water on the counter for 10-12 hours or up to 24 hours in the fridge.

They will swell into 2 cups.

Place in a strainer, drain well, pat dry with a towel for extra dryness. (Wet chickpeas will be more difficult to fry.)
Blend: Place onion, garlic, cilantro, and jalapeno in the food processor and pulse 10 times until chopped. Add the 2 cups of the soaked, raw chickpeas, salt, spices, and baking soda, pulse again 10 times, scrape down sides, then add the olive oil, and process 10 seconds, until it is well blended but still coarse like sand. Don't overwork it- this should not be smooth but coarse and granular for the best texure. Place the falafel dough in the fridge for 20 minutes.
Preheat oven (or toaster oven) to 400F.
Form: Using damp hands, form round, golf ball-sized balls in your hands, compressing them tightly, slightly flattening them. The dough will feel damp, and this is OK- the compression with your palms will help bind them. If they feel incredibly wet, feel free to lightly dredge in flour if you absolutely must- but I don't even when wet.
Pan sear: In a non-stick pan or well-seasoned cast iron skillet, heat a ¼ inch of "high-heat" oil on med-high heat until it sizzles when a pea-sized portion of falafel is dropped in.

Turn heat to medium.

 Place them carefully in the hot oil, (they are fragile but should hold together just fine) slightly press down, and do not move them until they develop a deeply golden crust (this crust will ensure they naturally release themselves from the pan). Using a thin metal spatula, carefully turn them over. Lower heat if necessary. Sear the other side. Each side will take about 3-4 minutes. Cook in batches, not overcrowding. Place falafels in the oven  while you cook the remaining falafels to cook them through.  Keep them in a warm oven until ready to serve.
Falafels can be cooked ahead, frigerated, and reheated in the oven. Alternatively, the falafel "dough" can be made ahead, refrigerated, and used throughout the week.
Serve with our pita bread, tahini sauce, or tzatziki, or make pickled onions.
---
Notes
Do not use canned or cooked chickpeas- not the same. 
Try Fava Beans: Feel free to use soaked fava beans- or a combo of both- also delicious!
Baked Falafels: heat oven to 375 F. Place falafel on a greased parchment-lined sheet pan. Brush or spray the tops with olive oil.  Bake 12-15 minutes, flip and bake 10-15 more minutes or until golden. These can be cooled and frozen.
Air Fryer: Preheat the air fryer to 380 F. Place falafels on a greased grate and spray with spray olive oil. Airfy 6 minutes, check, add another minute or so if needed.
Meal Prep: The falafel mixture can be kept in the refrigerator and pan-seared "to order". For example, I'll often make a double batch and just store the bowl of falafel mix (covered) in the fridge for the week, pan-searing as needed.
Pickled Turnips: Peel and thinly cut turnips and use the pickled veggies recipe. Add a tiny sliver of beetroot to get a lovely pink color!
Tahini Sauce: To make your tahini sauce even creamier- stir in a couple of tablespoons of yogurt.
Nutrition
Serving Size:

2 falafels

Calories:

246

Sugar:

4.7 g

Sodium:

510.1 mg

Fat:

2.5 g

Saturated Fat:

0.3 g

Carbohydrates:

47.9 g

Fiber:

5.9 g

Protein:

11.8 g

Cholesterol:

0 mg
Keywords: falafel recipe, falafel, falafel recipes, baked falafel recipe, authentic falafel recipe, easy falafel recipes, vegan falafel recipe, vegan falafels , falafel sauce, pita recipe, easy pita bread recipe, tahini sauce,
SaveSave
SaveSave
SaveSave