Baked Tandoori Chicken (or Tofu) with "clean-out-your-fridge veggies" and flavorful tandoori marinade, all cooked on a sheet-pan. Delicious, healthy recipe! Vegan Adaptable!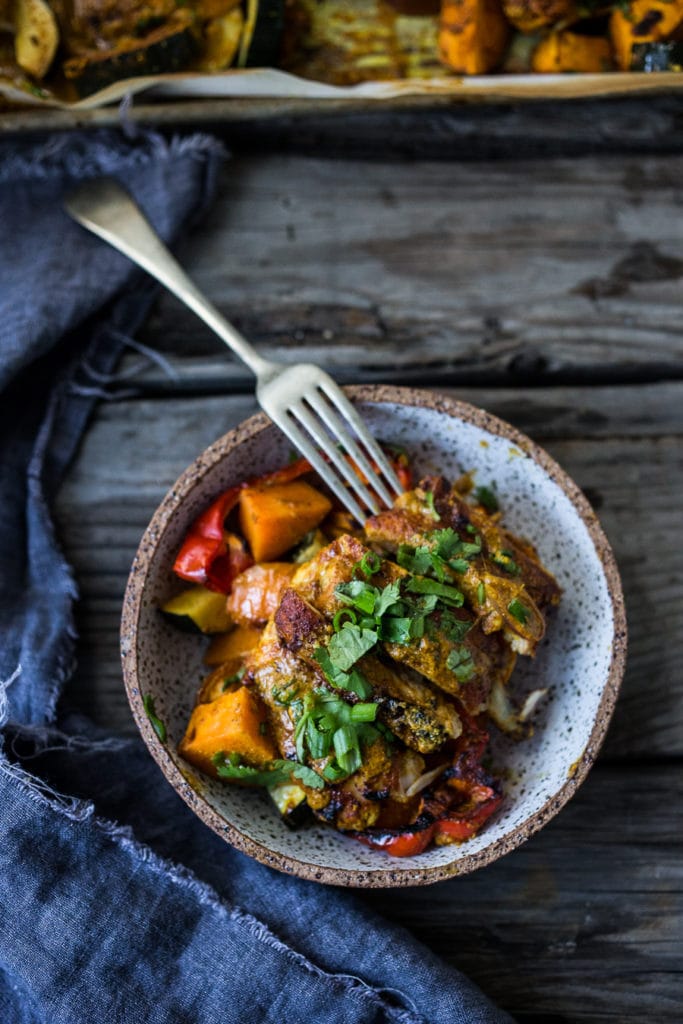 You have been telling me three things –first, you want some adaptable recipes that can accommodate both vegetarians and meat-eaters living under your same roof.  Second, you would like recipes that can accommodate a random array of vegetables, pulling them together into a cohesive meal. And three, you are still very short on time. 😉
I hear you… and this is for you-Baked Tandoori Chicken (or Tofu). Make this with chicken, fish or tofu….or some of each, and all the stray veggies you can find!  Just 15 minutes of prep and then into the oven it goes to bake. Voila! So easy and full of soul satisfying Indian flavors, perfect for fall.
Serve over fluffy basmati rice, black rice, quinoa or with naan bread with a side of raita!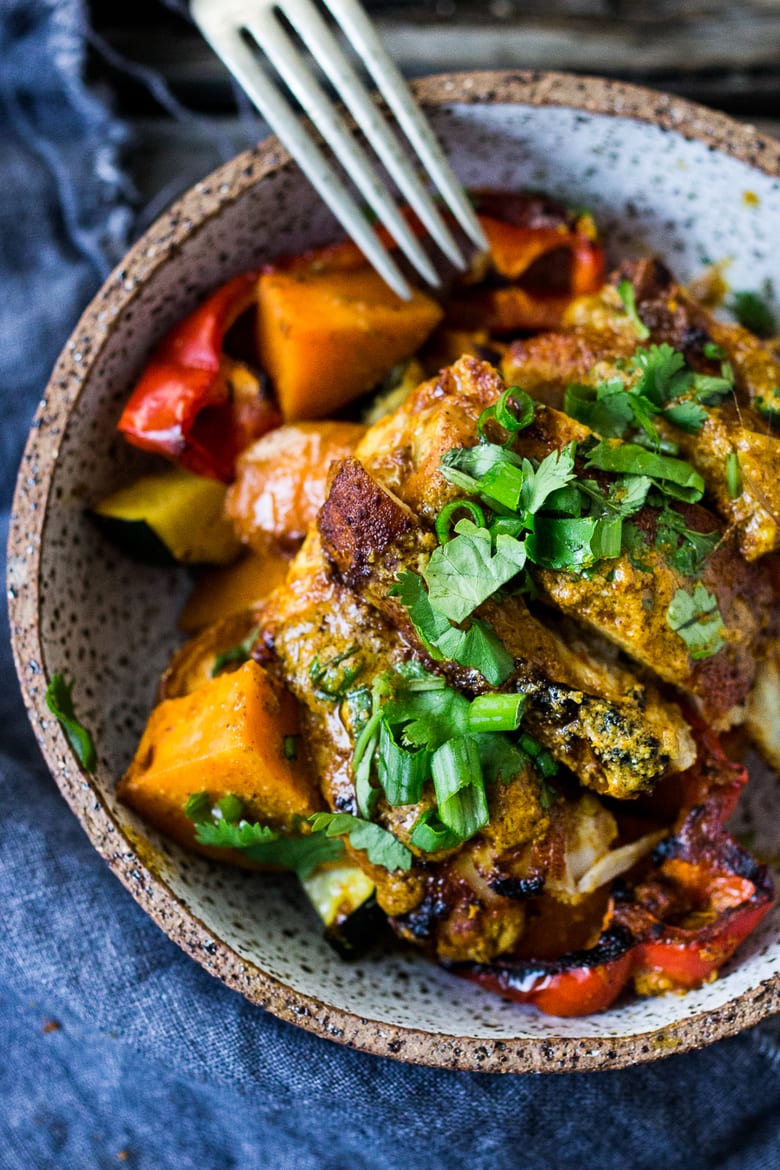 Here are two different versions….one with chicken and a wide array of veggies ( above) and then below it's made tofu and winter squash.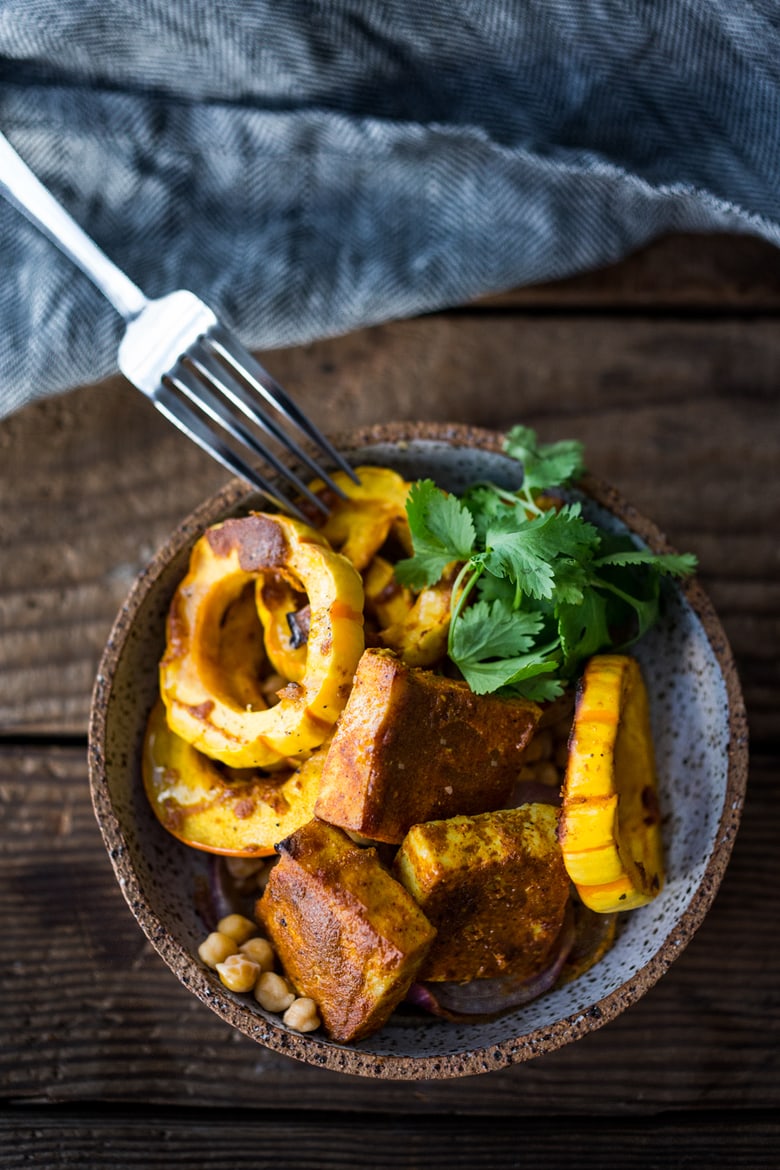 Really the possibilities are endless here friends.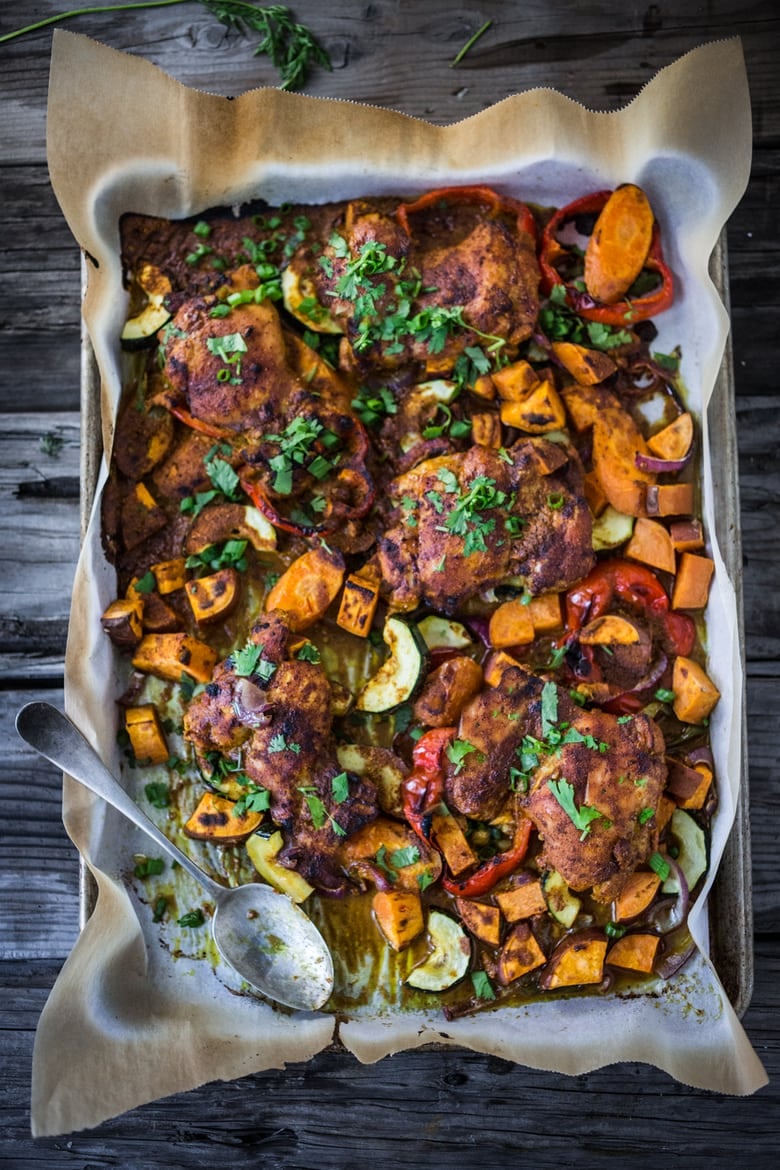 Above is the Baked Tandoori Chicken with a wide array of veggies. Below it's made with both chicken and tofu and more simplified veggies. …ready to bake. It could easily be made with fish- be sure to see notes.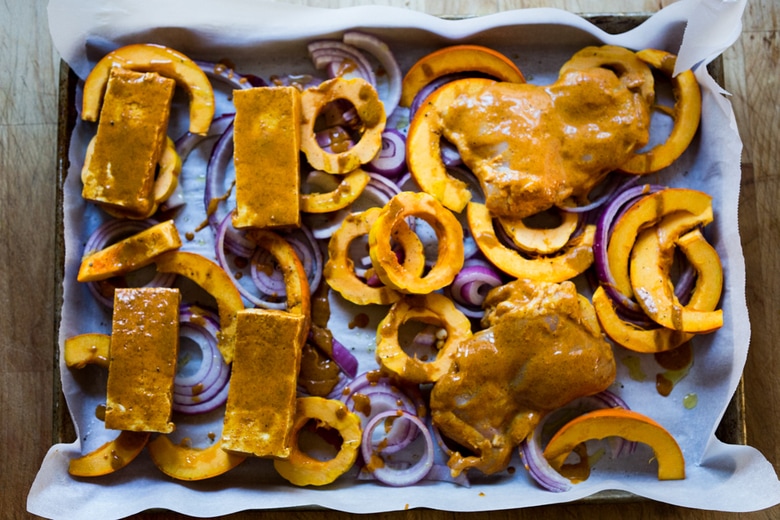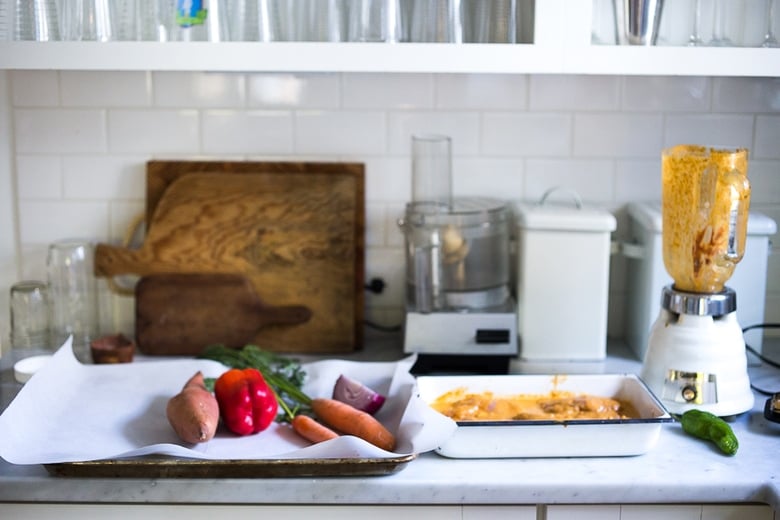 But first things first. Whip up the flavorful marinade in the blender and pour over your meat or tofu. Reserve a little for basting. While it marinates, prep the veggies.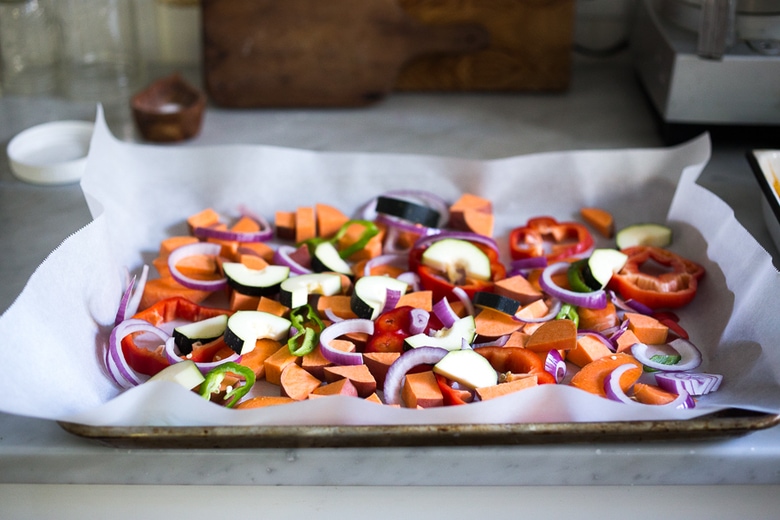 Prep one layer of veggies- sweet potatoes, pumpkins, carrots, cauliflower, peppers, zucchini, parsnips, butternut, onions or any roast-able veggie. Cut into ½ inch thick pieces so they all cook in the same amount of time. Toss the veggies with olive oil, salt and pepper. Place the chicken and/or tofu on top leaving a little room for the veggies to breathe.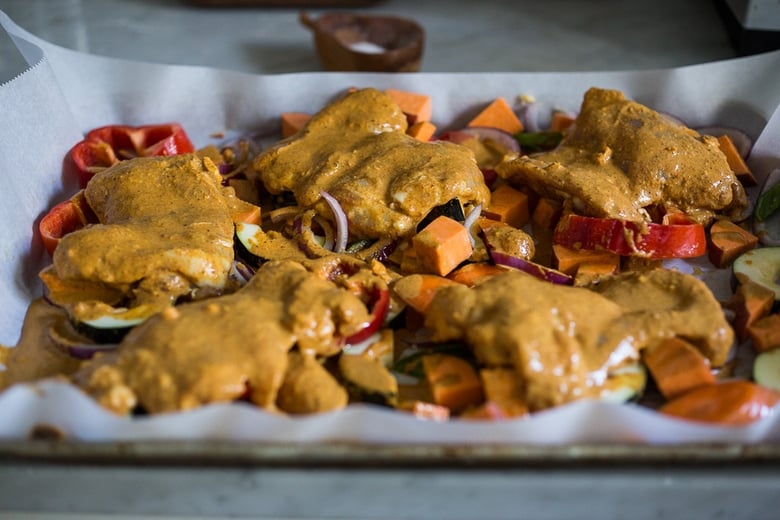 When it comes out it will be fragrant and perfectly cooked.  It takes about 40 minutes of baking time.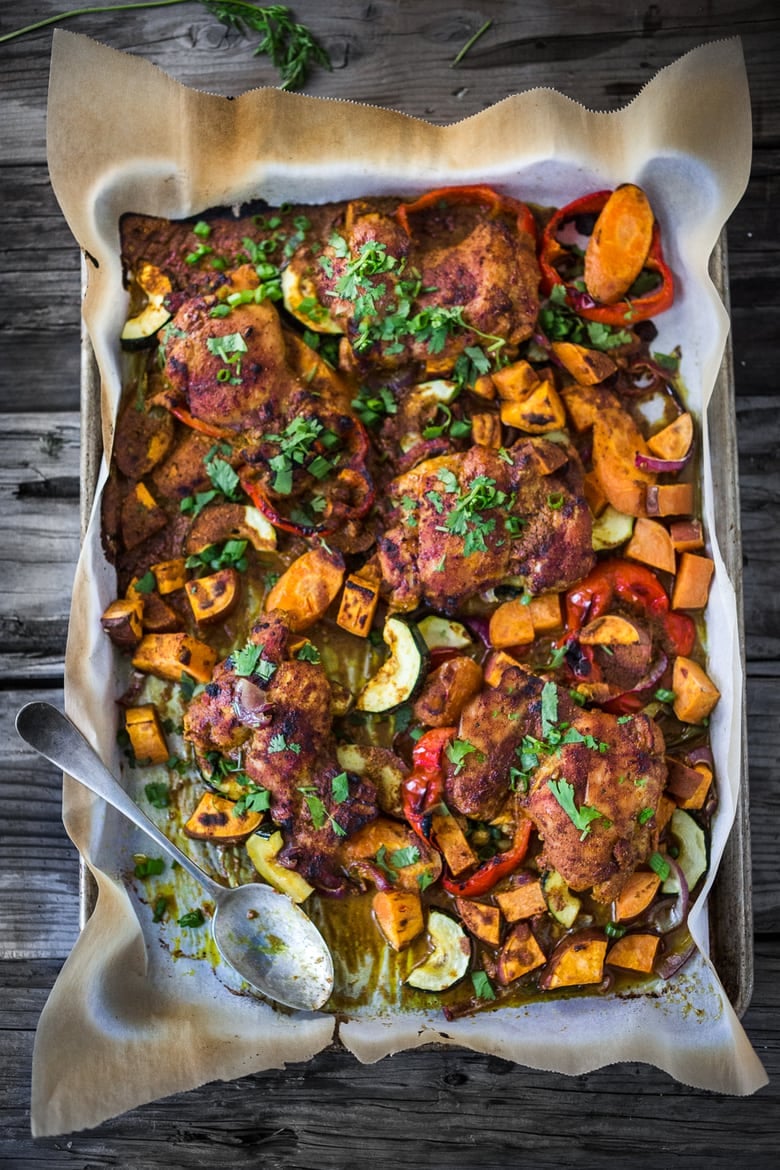 How good does this look? On one side is tofu, on the other, chicken. Perfect for mixed households!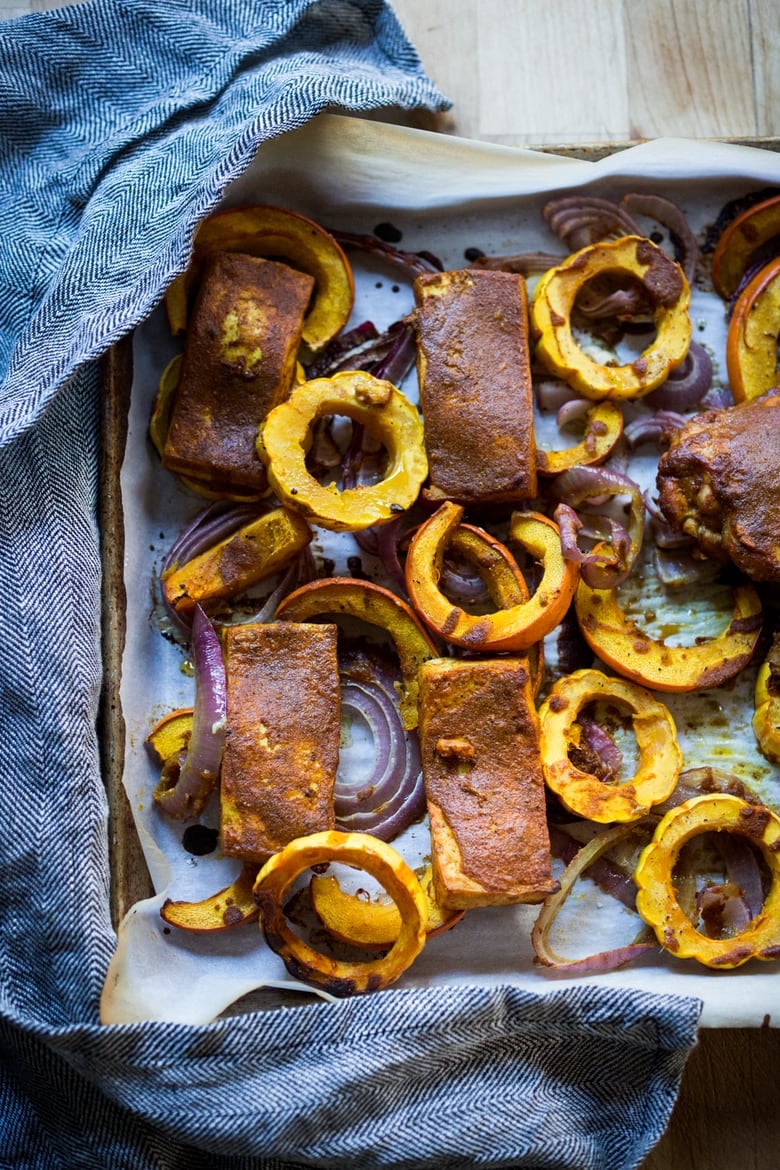 Even though the tofu was on my side of the sheet-pan, Brian crossed the invisible line and veered over here too. The tofu is really tasty, even meat-eaters will want to try it. You can of course bake this in 2 separate pans, but this is how we do it here.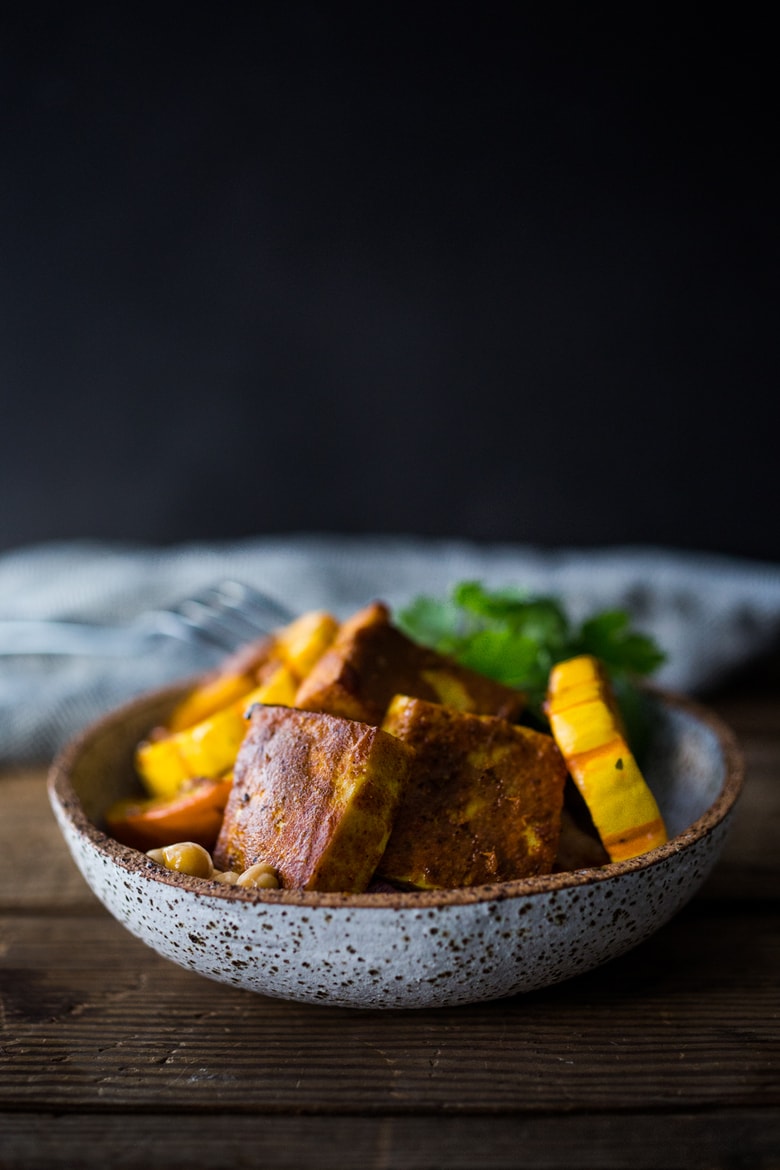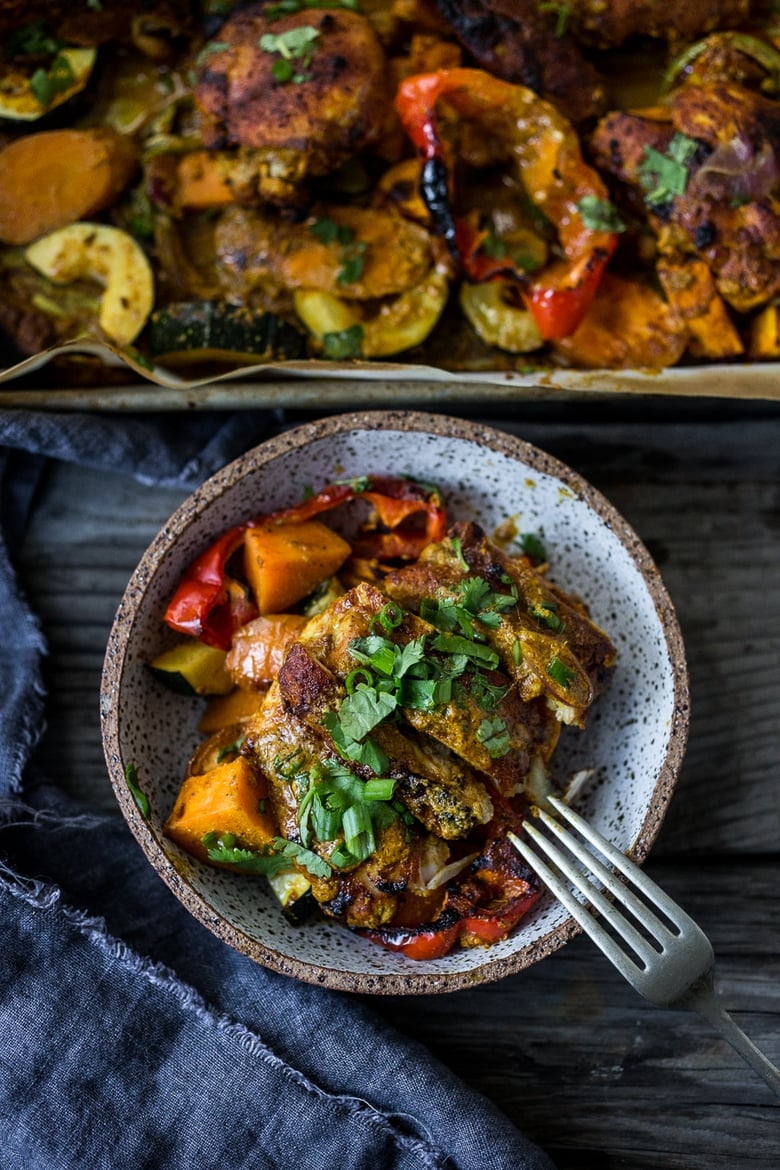 Give it a whirl, leave your feedback in the comments below!
Hope you having a beautiful weekend!
sylvia
Print
Baked Tandoori Chicken Bowls ( or Tandoori Tofu)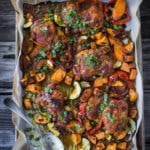 Baked Tandoori Chicken ( or Tofu) Bowls with roasted vegetables. Serve over rice, whole grains, or chick peas.
Prep Time:

15 mins

Cook Time:

40 mins

Total Time:

55 mins

Yield:

4

1

x
Category:

Main

Cuisine:

Indian
Scale
Ingredients
Marinade:
4

fat garlic cloves

1 teaspoon

fresh ginger, sliced

1 tsp

ground coriander

1 tsp

ground cumin

1 tsp

chilli powder

1 tsp

paprika (not smoked)

½ teaspoon

turmeric powder

¼

 teaspoon cinnamon

¼

 teaspoon nutmeg ( optional)

¼ teaspoon

ground cloves ( optional)

1/2 cup

plain yogurt (don't use non-fat) or sub coconut yogurt!

1 ¾ teaspoon

kosher salt

2 teaspoon

sugar or honey or maple

2 tablespoons

olive oil
——

4

–

5

chicken thighs ( 1 ½ pounds, boneless, skinless) OR

16 ounces

tofu "filets" about 1 inch thick or 1.5 pounds fish ( or half and half)

1

layer of vegetables, sliced or diced ½ inch thick ( carrots, winter squash, sweet potato,onion, cauliflower, zucchini, peppers, potatoes, eggplant, parsnips …etc.)
salt
pepper
Serve over – cooked grain, couscous, chickpeas ( all optional, you can simple eat the protein and veggies if you wish)
Garnish : cilantro, scallions.
Instructions
Preheat oven to 425F
Place all marinade ingredients together in a blender. Blend until smooth. Set ⅛ cup aside.
Place chicken or tofu in a bowl ( if using both, use separate bowls) and pour remaining marinade over top reserving the ⅛ cup for basting. Set chicken/ tofu aside.
Cut veggies to roughly ½ inch and place on a parchment lined sheet-pan. You want them fairly similar in thickness so they cook in about the same amount of time. Toss veggies with olive oil, salt and pepper and spread out.
Place chicken / tofu over the veggies, spooning a couple teaspoons of the marinade over the veggies if you like. Go light.
Bake 30 minutes in the middle of the oven.
Baste the chicken and tofu with a little more of the remaining marinade. Bake 10 minutes or until chicken is done and veggies are tender.
Notes: If going with fish, roast the veggies for 20 minutes first ( or longer) before adding the fish — it will not need to cook as long.
Boneless thighs or chicken breast will also cook faster, so check after 25 minutes.
Keywords: tandoori Bake, baked tandoori chicken, vegan tandoori, tandoori tofu, tandoori chicken in the oven
SaveSave
SaveSave
SaveSave
SaveSave
SaveSave
SaveSave
SaveSave
SaveSave
SaveSave
SaveSave
SaveSave
Reader Interactions