How to make Muesli! A healthier, lower-calorie, sugar-free, oil-free, cholesterol-lowering alternative to granola, that can be made ahead with ingredients you probably already have, and best of all- no cooking required! Vegan and Gluten-free, in just 10 minutes.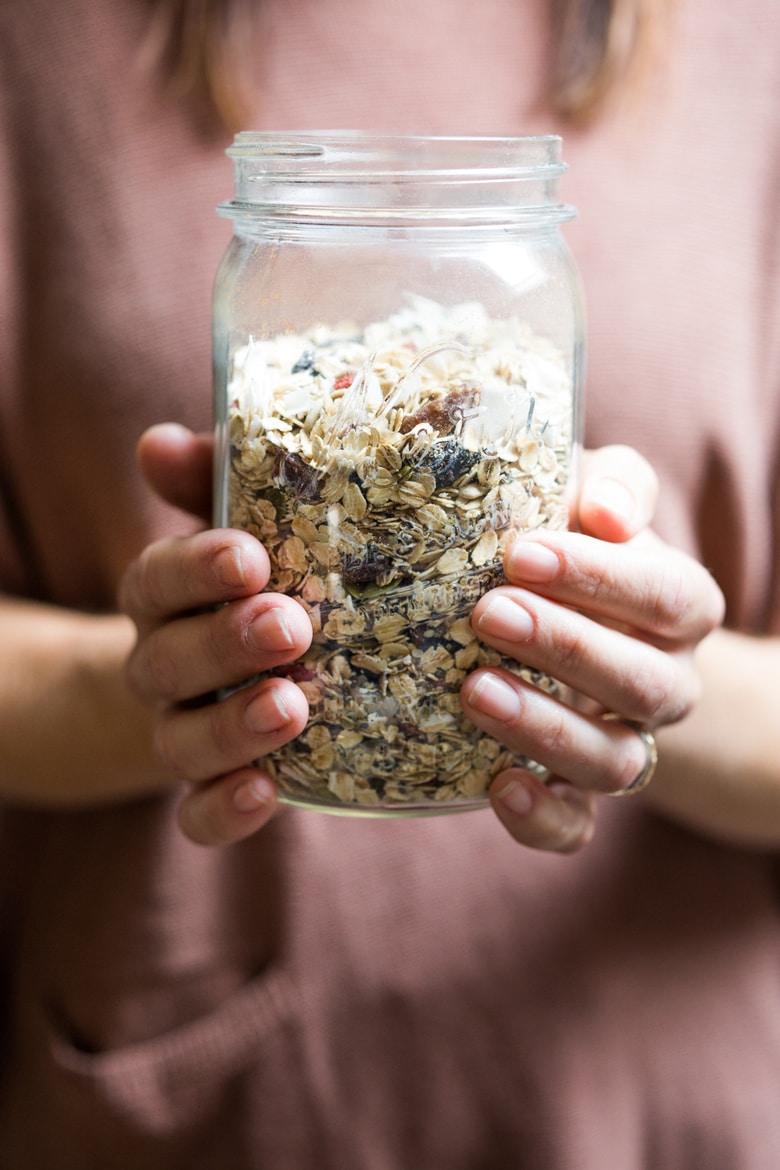 I'm not sure about you, but if someone would have told me a couple of years ago, that someday I would learn to like Muesli – I never would have believed them! For most of my life, I've thought…. why have Muesli when you can have granola? 😉 Ha!
But first… What is Muesli? Muesli is a classic European breakfast cereal typically made with rolled oats, nuts, dried fruits, and seeds.
Granola far outranked muesli as far as I was concerned, in both flavor and texture.  And of course, along came a friend, who challenged that notion by giving me a jar of her Muesli.
By the time the jar was empty, I was sad – truly and utterly sad. I had acquired a taste for it! And I loved how it made my body feel- energized and satiated for a good part of the day.
But what really sold me on this Muesli Recipe -are all the health benefits and the ease of making it.
Difference between Granola and Muesli:
Granola, bless its delicious little heart, gets its addicting crunch from some sort of fat ( oil or butter), which for most is no big deal, but for some, is a really big deal. Muesli isn't cooked in oil or fat. It is raw with no added oil or butter.
Granola also is made with the addition of some sort of sweetener, sugar, honey, or maple.
Muesli is only sweetened with the addition of dried fruit and berries. So in a nutshell, muesli is sugar-free with no added fat, which boils down to….basically a lot fewer calories, but still as filling! But the real kicker here is…. oats are like little scrubbers for our arteries, actually lowering cholesterol levels.

MuElsi Ingredients:
How to make Muesli:
This Muesli recipe can be made in 10 minutes flat and is a great way to sift and sort through your pantry and use up what you already have. There is no cooking required, simply assemble, mix and store.
This Muesli recipe makes enough for 8 cups which will get you through 2 weeks of breakfast. A nice make-ahead breakfast to have on hand when time is short and life is busy.
Changing up the fresh fruit you serve overtop gives it enough variety to make it interesting. Pour nut milk over top and add berries for a light, filling breakfast.
Is Muesli Healthy?
It's vegan, with no added oil or sugar but what I love most about this Muesli recipe is how energized I feel after eating this and how it sticks with me through the day.
I've noticed I actually eat less during the day when I have this as my first meal.  I also love how it keeps things flowing so to speak. High in fiber, it keeps us regular.  Try it and see what you think.
In this muesli recipe, I've used toasted organic rolled oats and various nuts, seeds and dried fruit I already had. It's such a good way to clean out the pantry.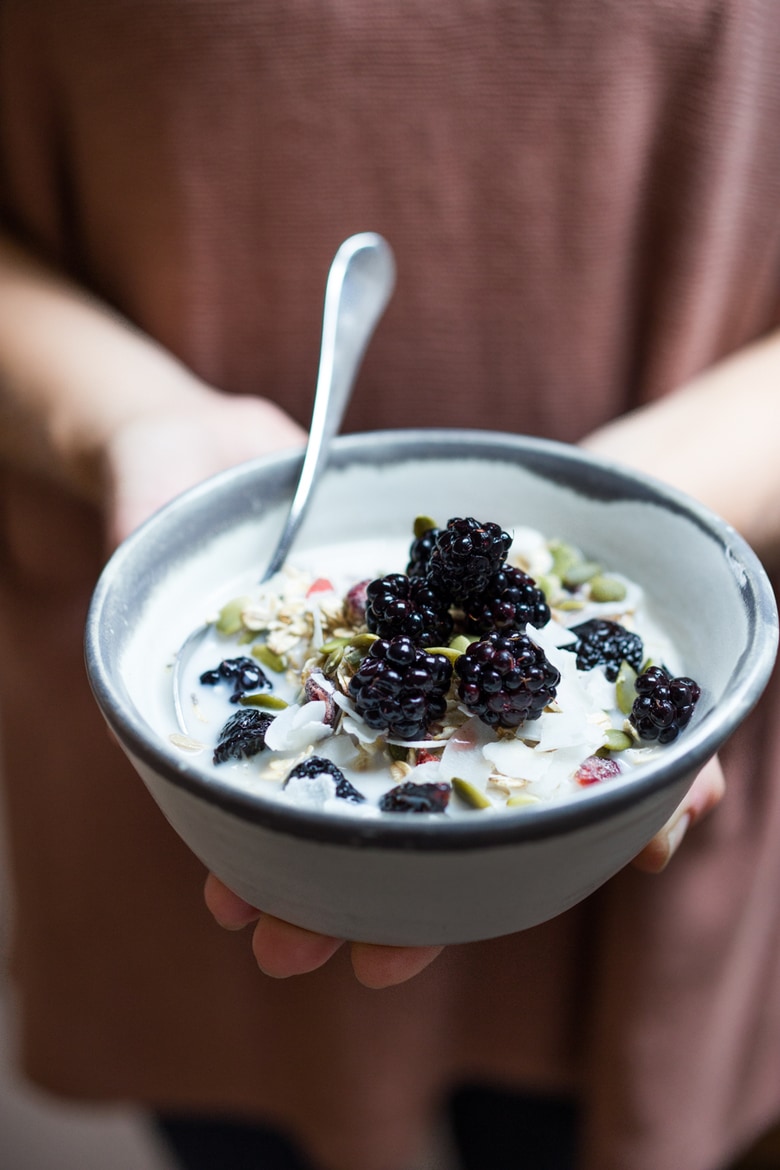 WAys to Serve Muesli
With milk– warm or cold, dairy milk or nut-based milks, or soy milk.
With Yogurt- again, dairy or plant-based yogurt.
With honey or maple- optional but tasty.
With Applesauce
With fresh berries or fruit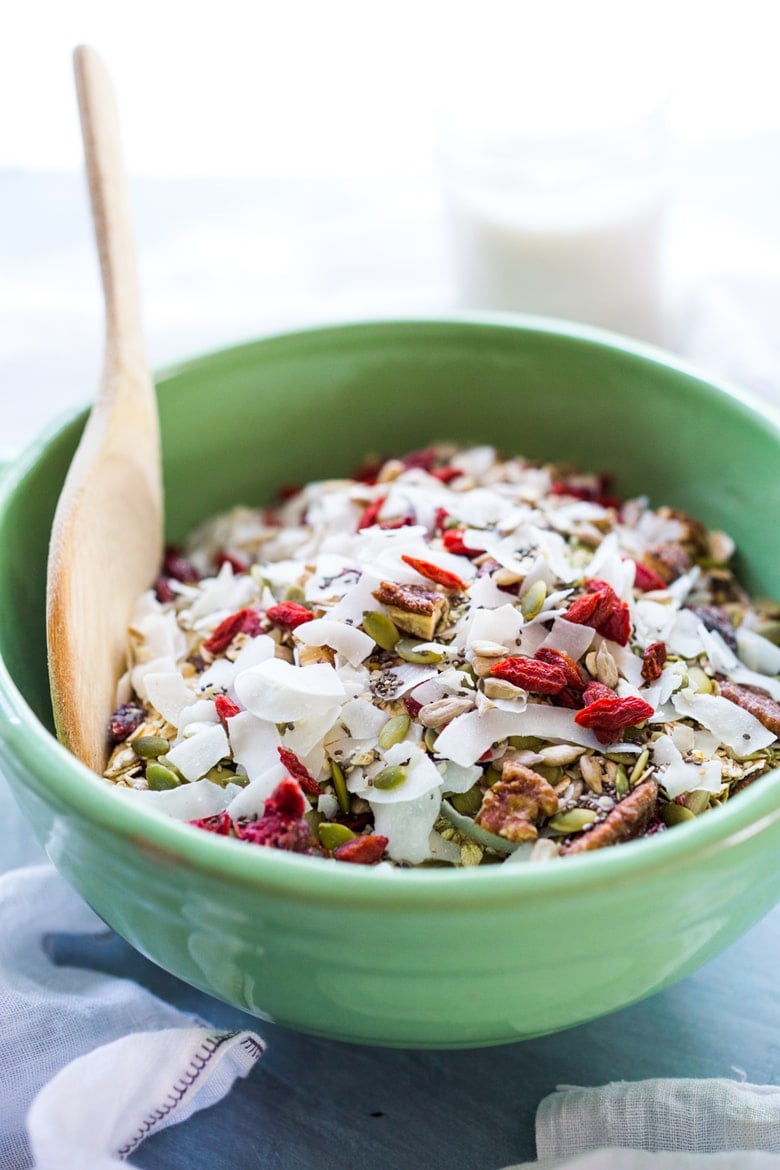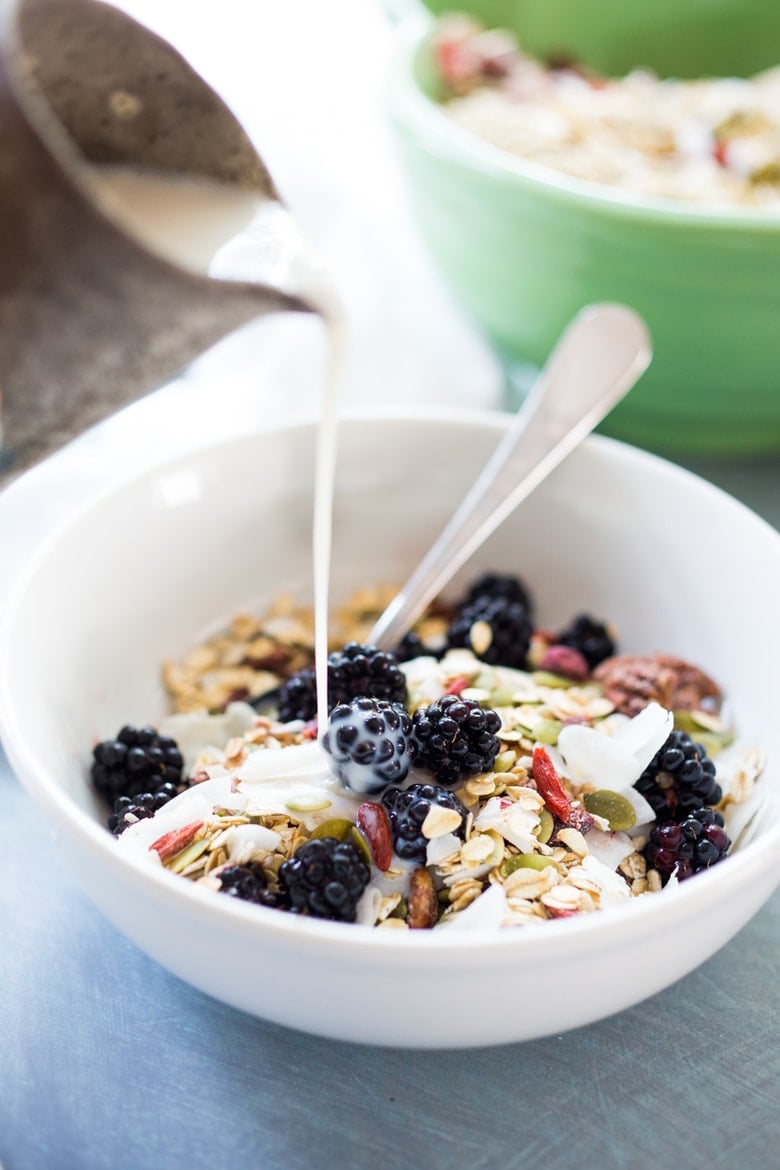 In summer use fresh berries, in winter, warm apples are nice. Or even apple sauce. If feeling especially hungry sometimes I spoon a couple spoonfuls of almond butter over top.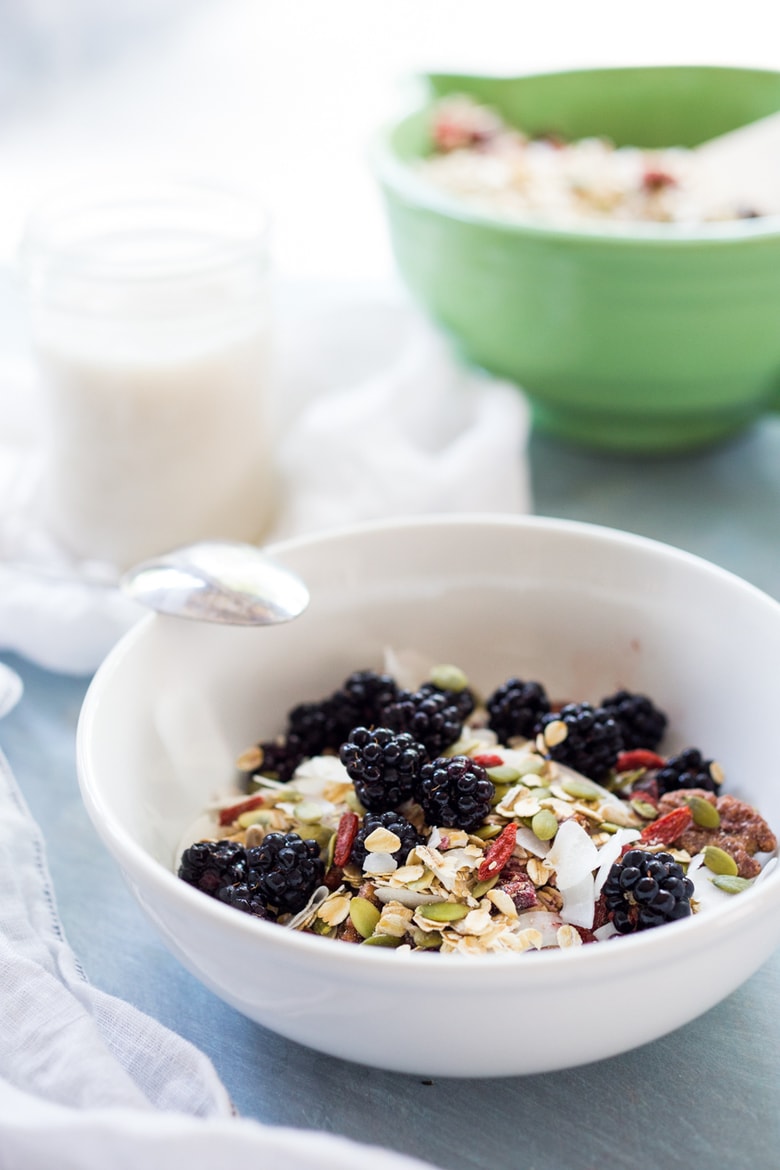 Allow yourself a few minutes of mindful eating to actually taste the flavors.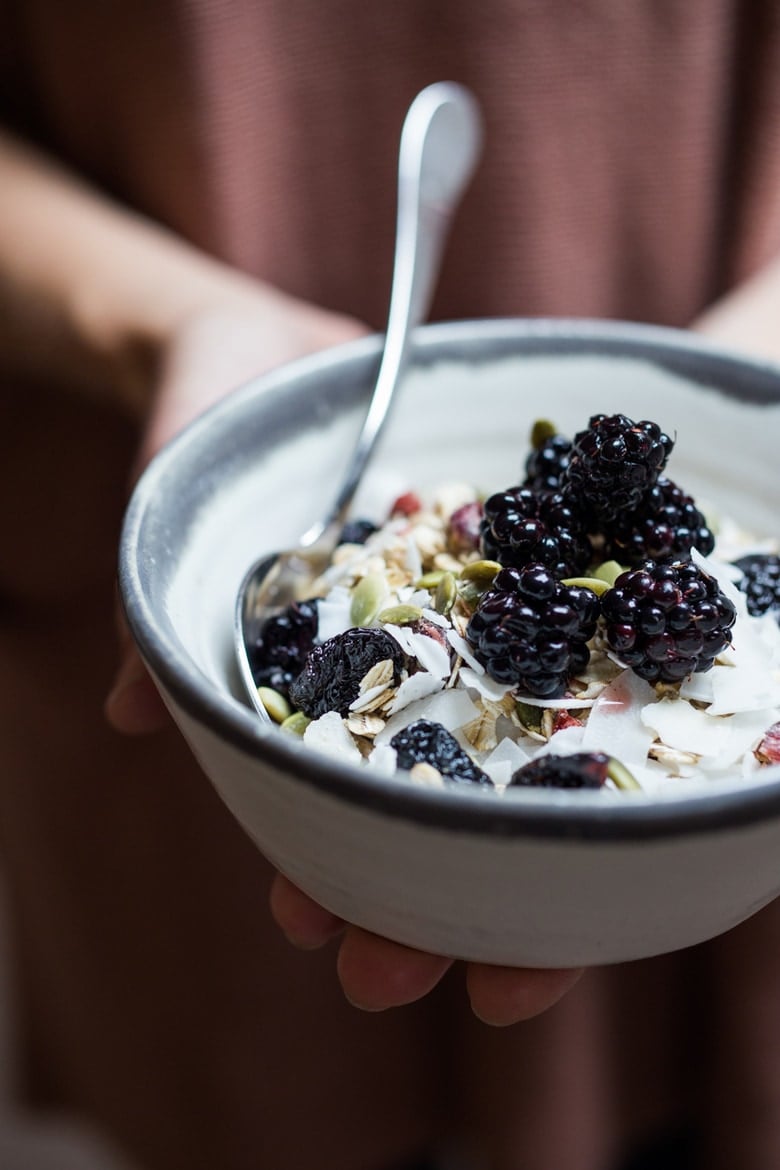 Give it a try and see what you think!
If you try this Muesli recipe, be sure to let us know how you liked it or adapted it by leaving a comment and rating!
Cheers, friends!
More recipes you may like:
Print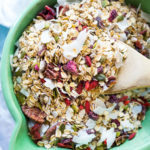 How to make Muesli!
Prep Time:

10

Total Time:

10 minutes

Yield:

1

6

1

x

Category:

Breakfast, vegan,

Method:

mixed

Cuisine:

Scandinavian

Diet:

Vegan
---
Description
How to make Muesli- a highly nutritious and filling,  low fat, sugar-free, make-ahead, alternative to granola!  Make this with ingredients you already have! Feel free to use GF Rolled oats or grains! Serve with nut milk- like vanilla flavored, unsweetened almond or hemp milk, and fresh berries and fruit.
---
4

cups

organic rolled oats or other grain, toasted if you like

1

cup

pumpkin seeds or sunflower seeds, or a mix

1

cup

toasted nuts – slivered almonds, pecans, walnuts, hazelnuts

2 tablespoons

chia seeds ( optional)

2 tablespoons

hemp seeds ( optional)

2 tablespoons

whole flax seeds ( optional)

1

cup

unsweetened flaked coconut ( optional)

1

cup

dried fruit- cranberries, raisins, cherries, goji berries, raspberries, blueberries
---
---
Notes
Keep this GF, by using gluten-free rolled oats or grains. To cut back further on calories, add less nuts and coconut. If you need to add a little honey to your morning muesli at first ( to make it more palatable)  just do it- you can gradually wean yourself off  of it.  Vanilla flavored nut milks that are unsweetened, work best for me.
Trader Joes has toasted rolled oats- a nice option.
Nutrition
Serving Size:

½ cup-includes all optional seeds, nuts, coconut and raisins.

Calories:

236

Sugar:

7.1 g

Sodium:

4.3 mg

Fat:

12.9 g

Saturated Fat:

3.6 g

Carbohydrates:

26.3 g

Fiber:

5 g

Protein:

8.1 g

Cholesterol:

0 mg
Keywords: muesli recipe, how to make muesli, what is muesli, easy muesli recipe, healthy muesli recipe, vegan muesli
SaveSave
SaveSave
SaveSave
SaveSave
SaveSave
SaveSave
SaveSave
SaveSave
SaveSave
SaveSave