Here's a springy recipe for Asparagus Risotto that is lemony & creamy yet light and flavorful – delicious on its own as a vegetarian main, or a beautiful base for fish, seafood or mushrooms. Vegan adaptable and Gluten-free. Video. +  20 Best Asparagus Recipes!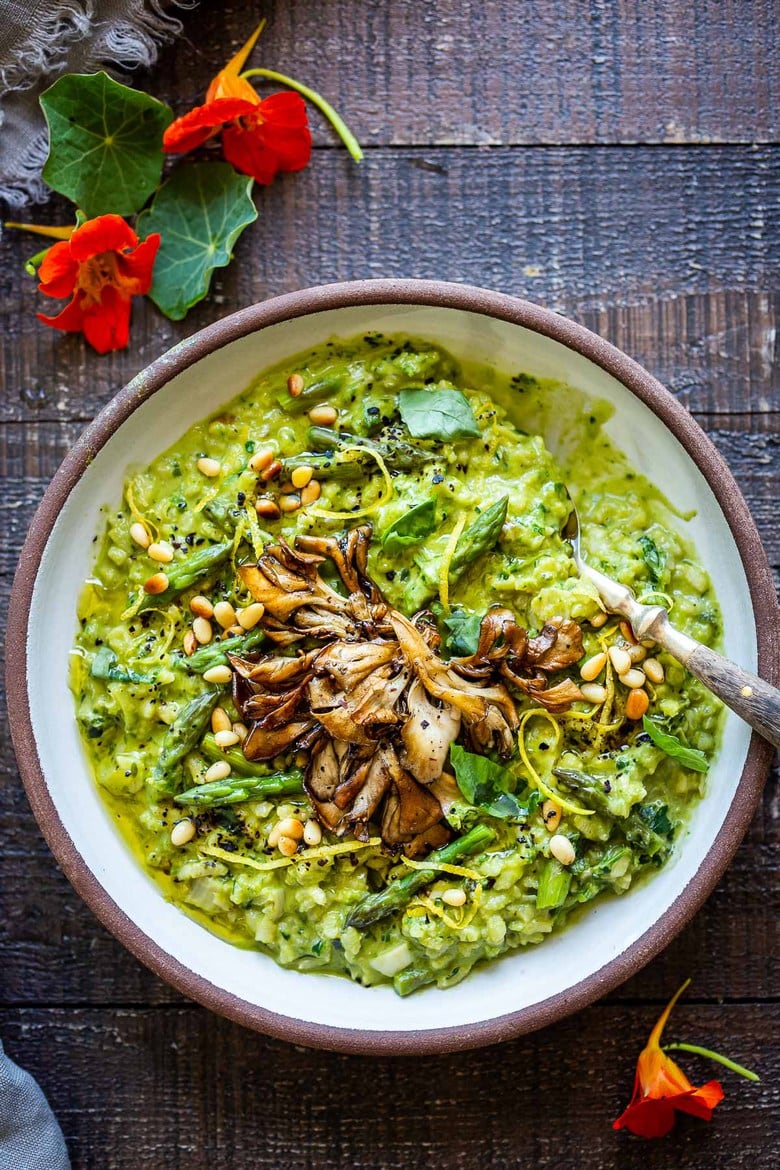 The world depends on each of us, showing up, as often as we can, as best as we can. ~James Hollis
Oh hello, new favorite dinner! Last weekend we made this Asparagus Risotto for Easter and topped with simple roasted salmon, and then last night we had it one more time, but this time topped it with Maitake mushrooms. Both were delicious.
Whether you serve it as a vegetarian main, or as a base or side dish for fish or seafood, we think you'll love it.
Leeks, basil and lemon give this Asparagus Risotto its flavor here and it is made "creamy" by blending up some of the asparagus and basil into a "sauce" that is folded in right in the risotto before serving- not only making it creamy, but giving it a vibrant spring green hue and burst of flavor.
Very simple ingredients treated slightly differently.
How to make Asparagus Risotto! | 60-second video
If feeling fancy, or entertaining,  you could also make the Leek Oil from the tops of the leeks, elevating the Asparagus Risotto even further.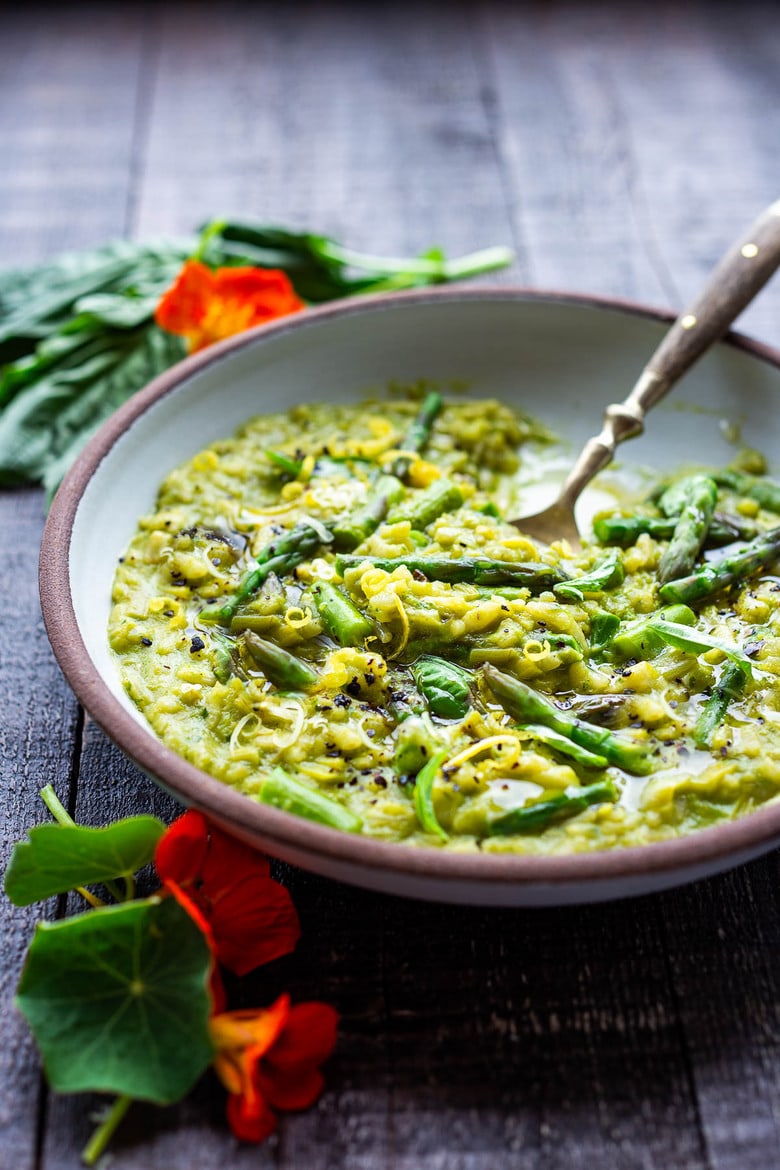 Start by trimming the tough ends off the asparagus.
How to make Asparagus Risotto:
Trim the tough ends off the asparagus.
Then trim the asparagus tops and set them aside ( these will be the garnish for the top).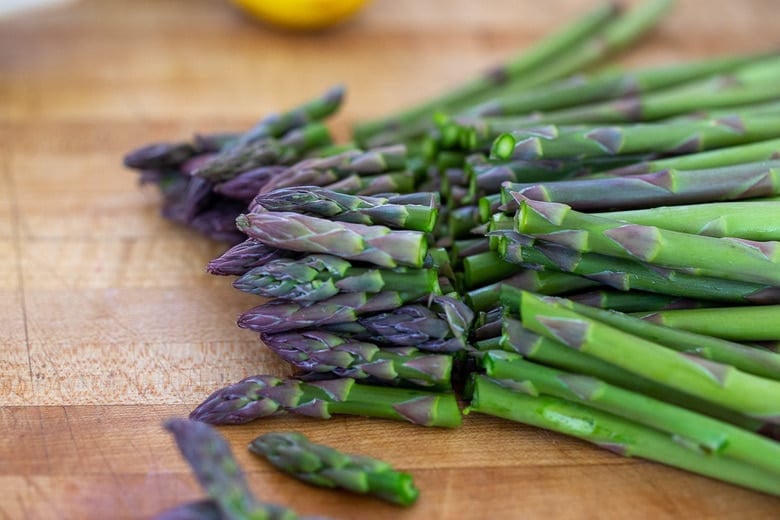 Next cut the middle of the asparagus into one-inch pieces.  Take out 1 1/2 cups of the "middles" and place them in small pot of boiling water (to blanch) adding the leftover "middles"  to the asparagus tips.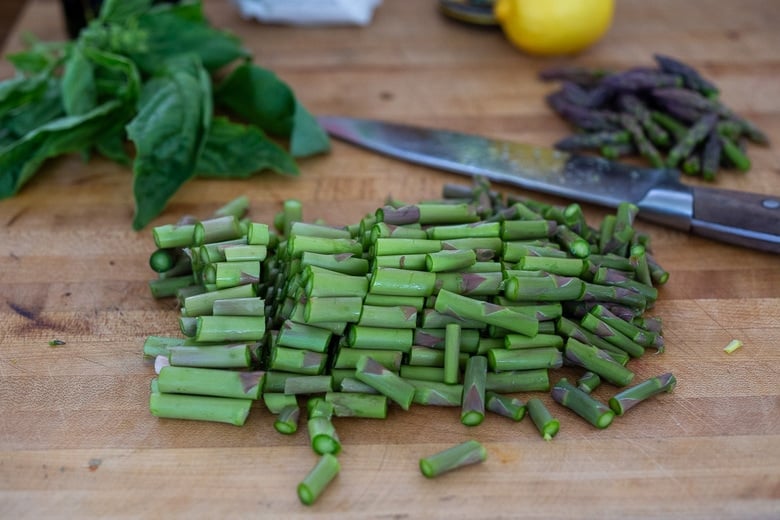 Blanch 1 1/2 cups of asparagus "middles"until tender, but still vibrant.
Drain, reserving 1 cup of hot water.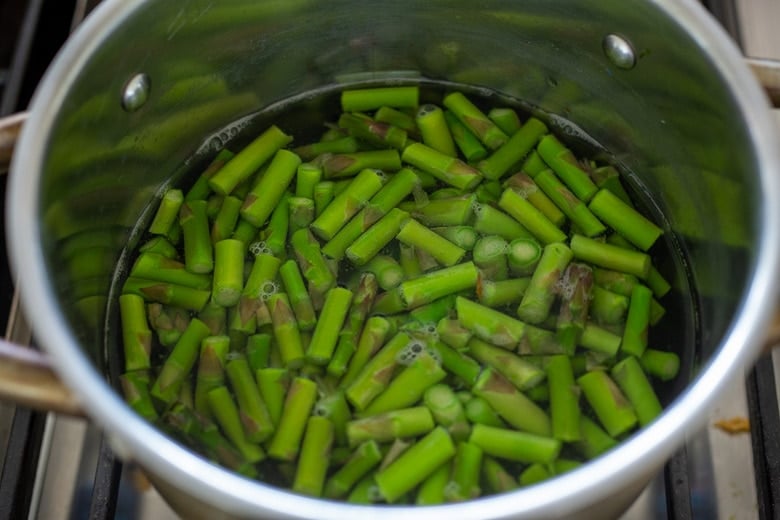 Blend the tender asparagus with the water to make a vibrant green sauce. Use a blender or immersion blender.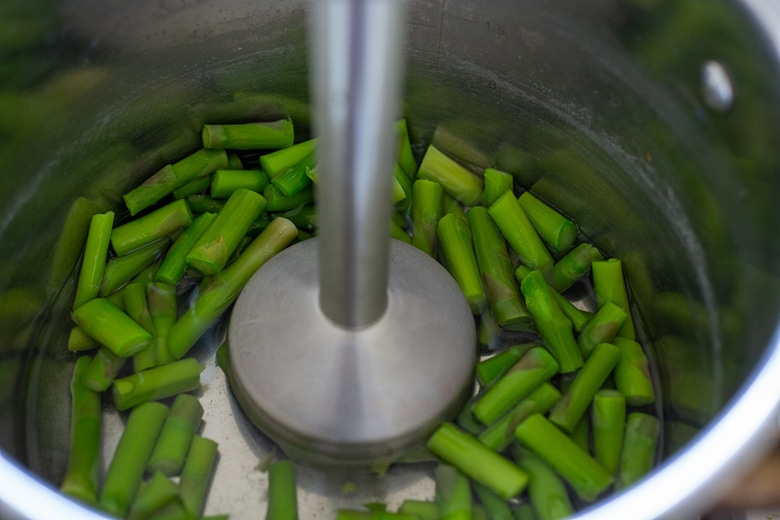 Add in in fresh basil and olive oil and blend.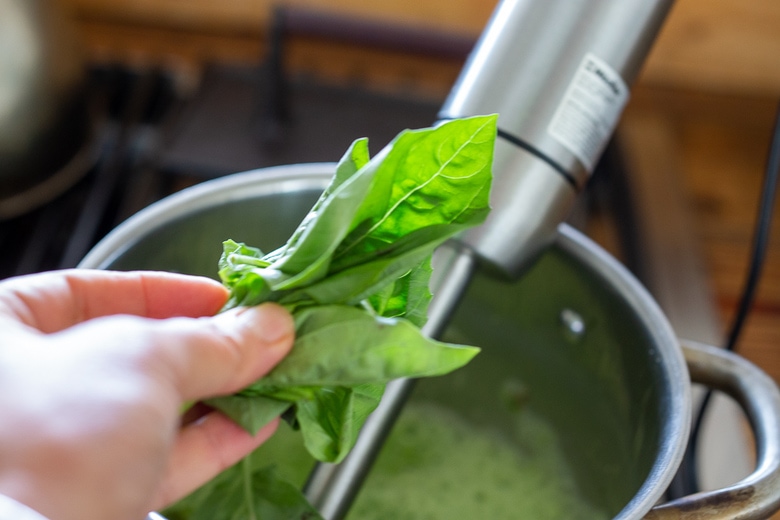 When the asparagus risotto is done, you'll fold this creamy sauce in at the very end for a burst of color and flavor – so set this aside for now.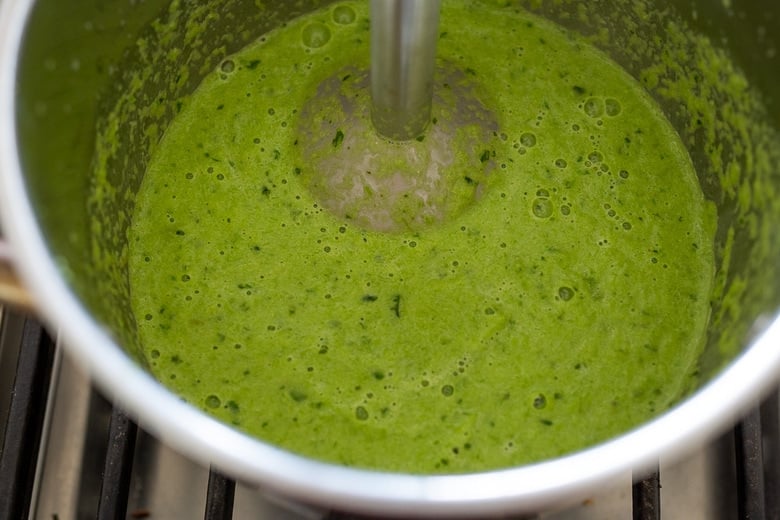 Then start the Asparagus Risotto (or if you are a good multi-tasker you could be doing this at the same time as above). Saute leeks and garlic in olive oil until tender. Add the arborio rice and stir to coat. Feel free to deglaze with white wine or skip this step if you prefer.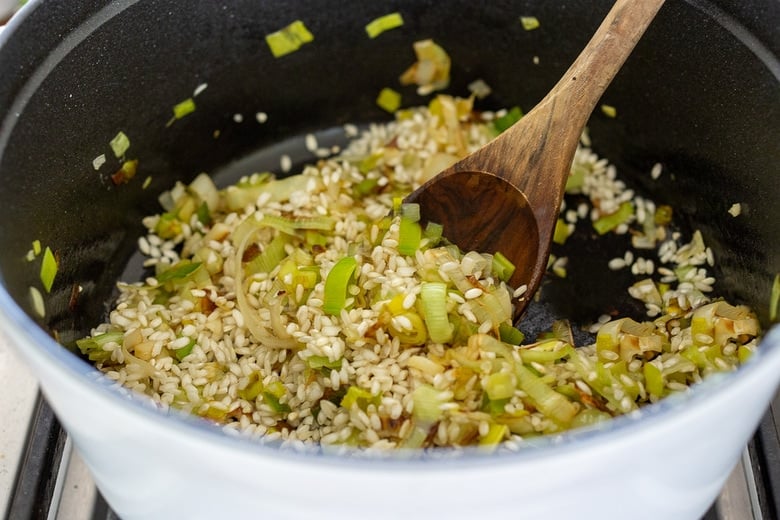 One cup at a time, add hot veggie broth or stock, stirring, letting the rice absorb the liquid slowly, before adding more.
I used 4 cups hot water and two teaspoons veggie bouillon.
You'll need about 3 1/2- 4 cups to get the rice al dente.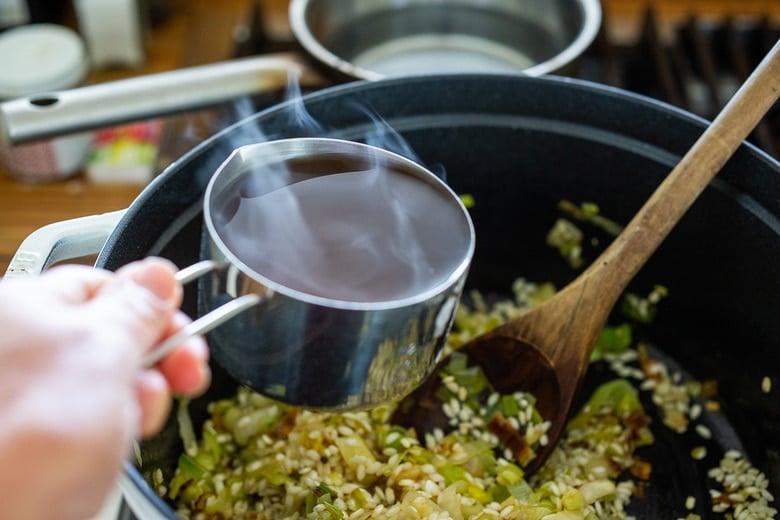 When you add the last cup of veggie stock, add the remaining asparagus and tips to the risotto. They will only need a few minutes to cook, and by the time the liquid is absorbed, they should be just about perfect.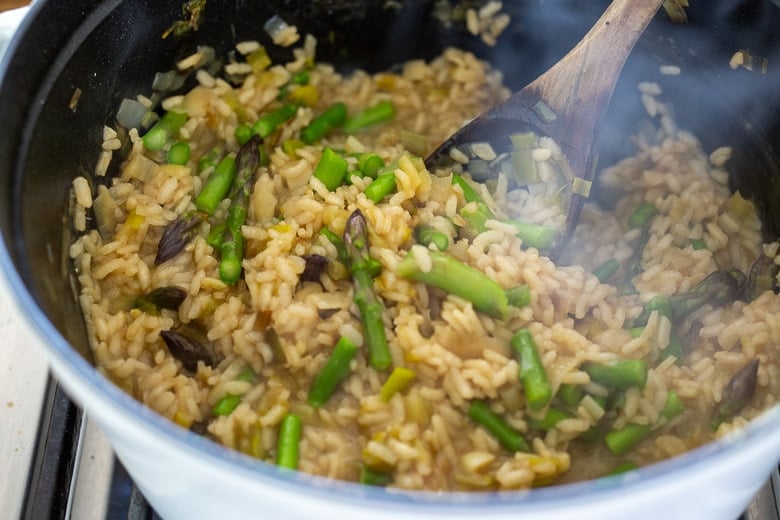 Now the fun part.  Once the liquid is absorbed and the rice is creamy and al dente, and you are about to serve, pour in the creamy asparagus -basil mixture.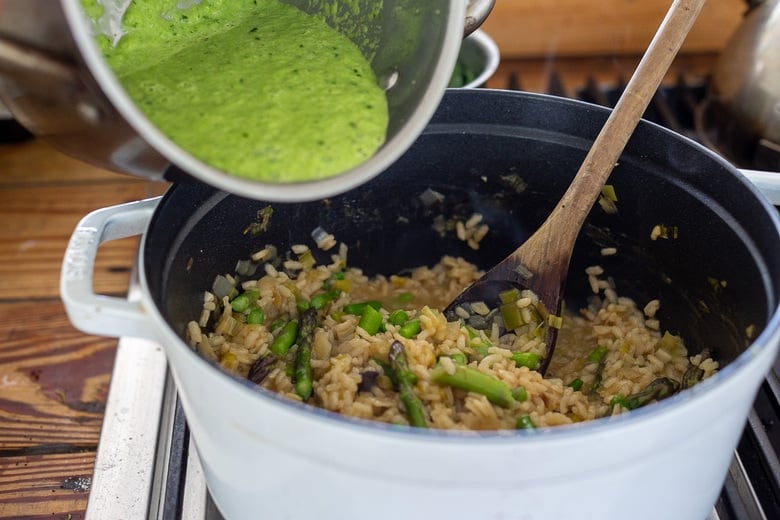 Give a good stir and season with salt, pepper and lemon juice.
Taste and adjust seasonings to your liking.
Divide among bowls and garnish with lemon zest, pecorino and chili flakes if you like. A drizzle of the leek oil ( if making)  is nice too.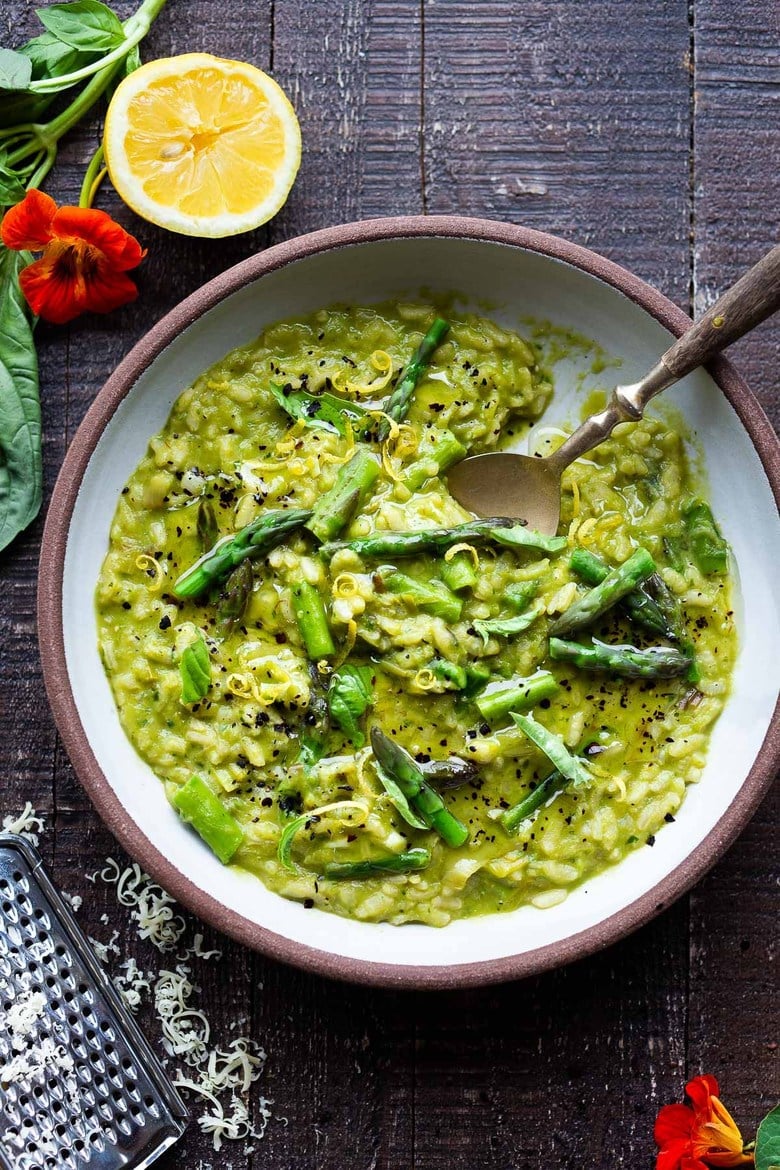 What goes with Asparagus Risotto? 
You can keep it simple, and serve Asparagus Risotto on its own for a healthy vegetarian or vegan meal, or serve Asparagus Risotto with fish or seafood like salmon, halibut, sauteed shrimp, scallops, or add sauteed mushrooms.
Can you make Asparagus risotto in an Instant Pot?
Yes, you can make Asparagus risotto in an Instant Pot, reducing the stock to two cups. Blanch the asparagus separately on the stove, make the creamy sauce, adding both to the instant pot AFTER pressure cooking.
Can Aspargus Risotto be made vegan? 
Yes, you could easily keep Asparagus Risotto vegan, leaving out the cheese, or subbing a vegan cheese. Drizzle with a little olive oil or make the leek oil!
How to make Asparagus Risotto with Maitake Mushrooms
To serve the risotto with Maitake Mushrooms, pan-sear them separately.
TIP: To clean Maitake mushrooms, brush off any dirt from the root end, and do not get wet.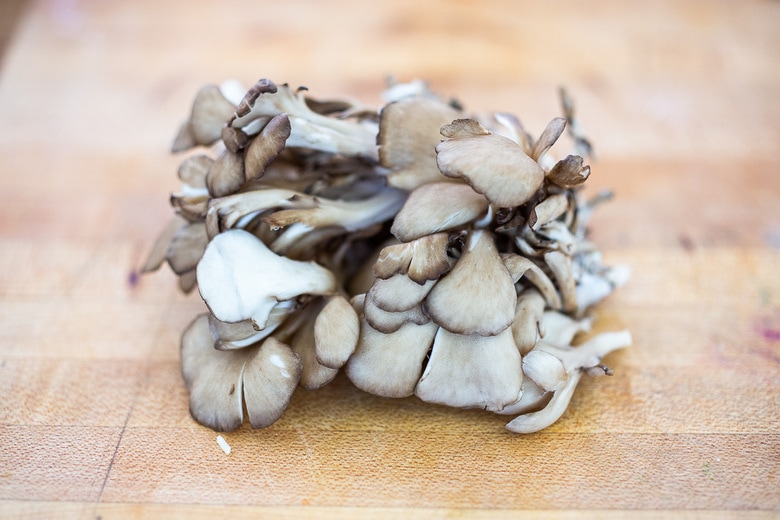 Maitake mushrooms usually come in big round clusters, so either slice them in half or thirds (from the top, down through the root end) or break them apart a little.
Pan sear in a skillet,  in olive oil seasoned with salt and pepper, over medium heat.
TIP: Flatten them a little with the back of a  spatula, browning the undersides, then flip. Flattening helps get all the leaves cooked more evenly.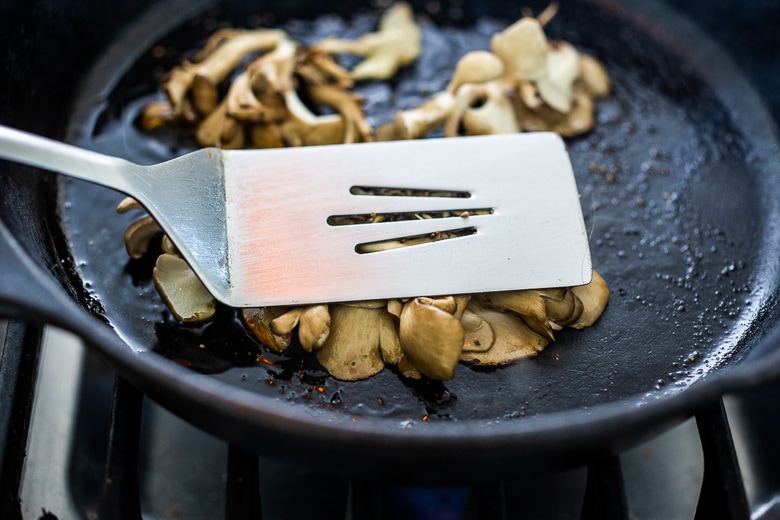 Cook until the inner leaves are tender and the edges are a little crispy.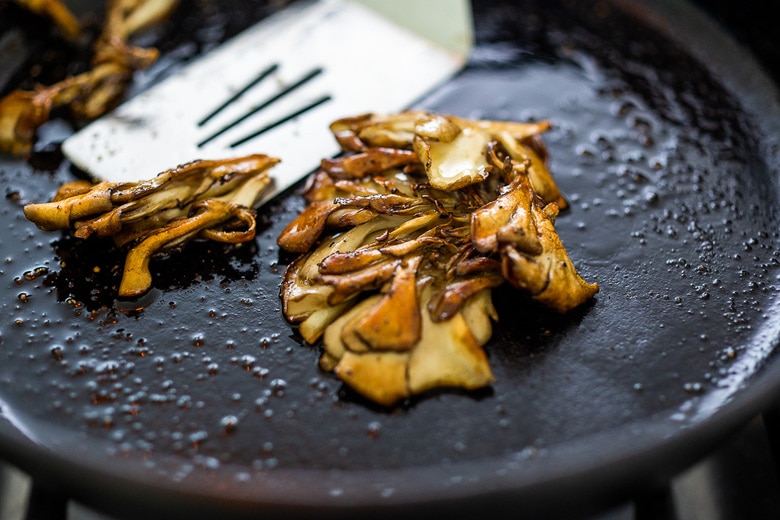 You could toss some pinenuts in the pan along with the mushrooms at the end if you want to add another layer of texture to the Risotto.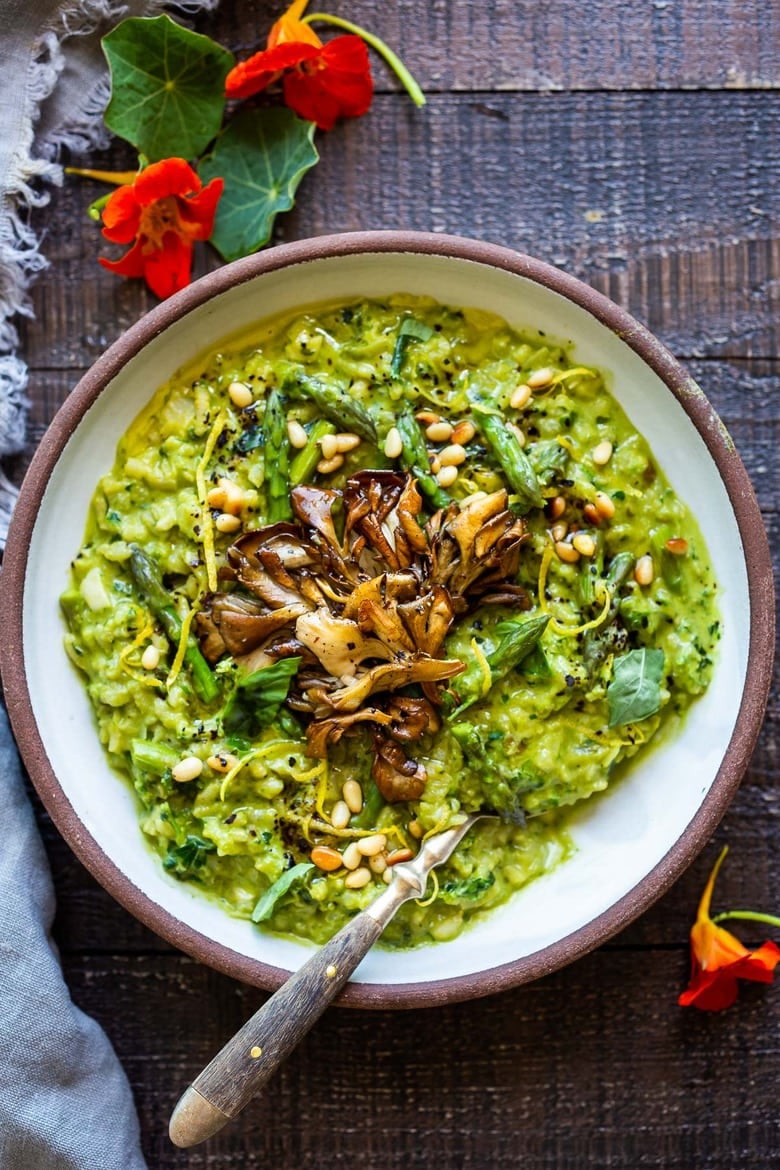 Other recipes you may like: 
Print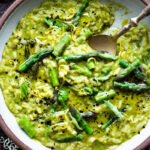 Lemony Asparagus Risotto
Prep Time:

15

Cook Time:

30

Total Time:

45 minutes

Yield:

2

-4

1

x

Category:

vegetarian, main,

Method:

stove top

Cuisine:

American

Diet:

Vegetarian
---
Description
Lemony Asparagus Risotto with leeks and basil-light and creamy with vibrant color and flavor, perfect for spring! A tasty vegetarian meal, or beautiful base for fish, seafood or mushrooms!  Makes 5 cups (Serves 2-3 as a main dish, or 4-5 as a side dish)
---
1

bunch asparagus

1

large leek (or white onion, diced)

4 tablespoons

olive oil, divided

4

garlic cloves, rough chopped

1

cup

arborio rice

1/4

cup

white wine, optional- or skip it

3 1/2

–

4

cups

hot veggie broth (or use hot water with 2 teaspoons veggie bouillion)

1/2

cup

basil leaves (or sub part Parsley)

1

lemon, zest and some juice to taste

1/2 teaspoon

salt, more to taste

1/4 teaspoon

pepper
garnish: lemon zest, basil ribbons, pecorino cheese, optional toasted pinenuts (or other nuts or seeds), chili flakes (Urfa biber is nice) Leek oil (optional)or a drizzle of olive oil.
---
Instructions
Read the directions all the way through so you get a general idea of things here. 🙂
Bring a small pot of water to boil on the stove to blanch asparagus.
Prep the asparagus: Cut the fibrous ends off the asparagus and discard. (You can tell where this is by breaking an end off with your fingers, usually about an inch from bottom- and using this as a guide, cut the rest to match. Toss all the fibrous ends.)  Cut the pretty tips off (about 1 1/2 inches) and set them aside.  Cut the "middles" into 1-inch pieces. Take 1 1/2 cups of the "middles" and set aside (to blanch and blend into a creamy asparagus sauce) which we will stir into the risotto at the end to give it it's beautiful vibrant color and creamy texture. Add any remaining "middles" to the tips and keep these set aside. So you'll have two piles of asparagus,  1 1/2 cups of the "middles"  and one with the tips and leftover middles.
BLANCH AND BLEND: In the small pot of boiling water, blanch the 1 1/2 cups of asparagus "middles" (without the tips), until tender and vibrant, about 5 minutes depending on size. Drain, but reserve 1 cup of the cooking liquid. Blend the blanched asparagus with the 1 cup cooking liquid, 2 tablespoons oil and the basil leaves until silky smooth, either in a blender or using an immersion blender. Set this aside to add to the risotto at the end.
Start Risotto: Thinly slice leeks into half-moons, and rinsing away any dirt, strain. (Rinsing will also help soften them.) Heat 2 tablespoons olive oil in a pot or dutch oven over medium heat. Add leeks and saute until softened, 5-6 minutes. Add garlic, cook 2 minutes, until fragrant.
Add arborio rice and stir to coat, one minute. Deglaze with white wine (if using) and cook the wine  off. Add 1 cup hot veggie broth, scraping up any browned bits, bring to a gentle simmer, over med-low heat stirring occasionally, letting the rice absorb the all the broth.
Continue adding the hot broth 1 cup at a time, letting the rice absorb it slowly, each time, stirring often. ***At the same time that you add the last cup of broth, add the pile of asparagus with the tips, letting them cook in the risotto 3 minutes or so. At this point, rice should be creamy yet slightly al dente.
Combine: Stir in blended asparagus-basil "sauce", add the salt, pepper, a squeeze of lemon juice and taste. Adjust salt, pepper and lemon to taste. (Pecorino will add more depth and flavor here.)  Heat gently over low heat letting it thicken a bit if you like, but taking care not to cook too long here, or you'll lose the vibrant color.
Divide among bowls, garnish with pecorino cheese, lemon zest and chili flakes or a drizzle of the optional leek oil.
Top with a piece of roasted fish, sauteed shrimp, grilled chicken or sauteed mushrooms if you like.
---
Notes
To make this go faster, start the risotto and asparagus blanching at the same time- great for multitaskers! 😉
If you'd like to add a protein, add 1 cup peas or edamame to the risotto, or top the risotto with fish or seafood- scallops, shrimp, salmon, chicken or halibut, etc.
Sauteed mushrooms would be nice here too, along with a drizzle of truffle oil. ;). See photos above for Maitake Mushrooms.
Feel free to add toasted nuts or seeds.
Nutrition
Serving Size:

1 2/3 cups with 1 tablespoon Romano cheese

Calories:

357

Sugar:

7.2 g

Sodium:

1268.9 mg

Fat:

21.7 g

Saturated Fat:

4.4 g

Carbohydrates:

35.5 g

Fiber:

3.8 g

Protein:

8.4 g

Cholesterol:

9.8 mg
Keywords: Asparagus Risotto, Lemony Asparagus Risotto, Spring Risotto, Vegan risotto, Asparagus Risotto with Mushrooms,