This Instant Pot Lentil Soup is cozy and comforting! Infused with fragrant Middle Eastern spices, it can be made in your Instant Pot or on your stovetop. Vegan, fast & easy. Includes a Video.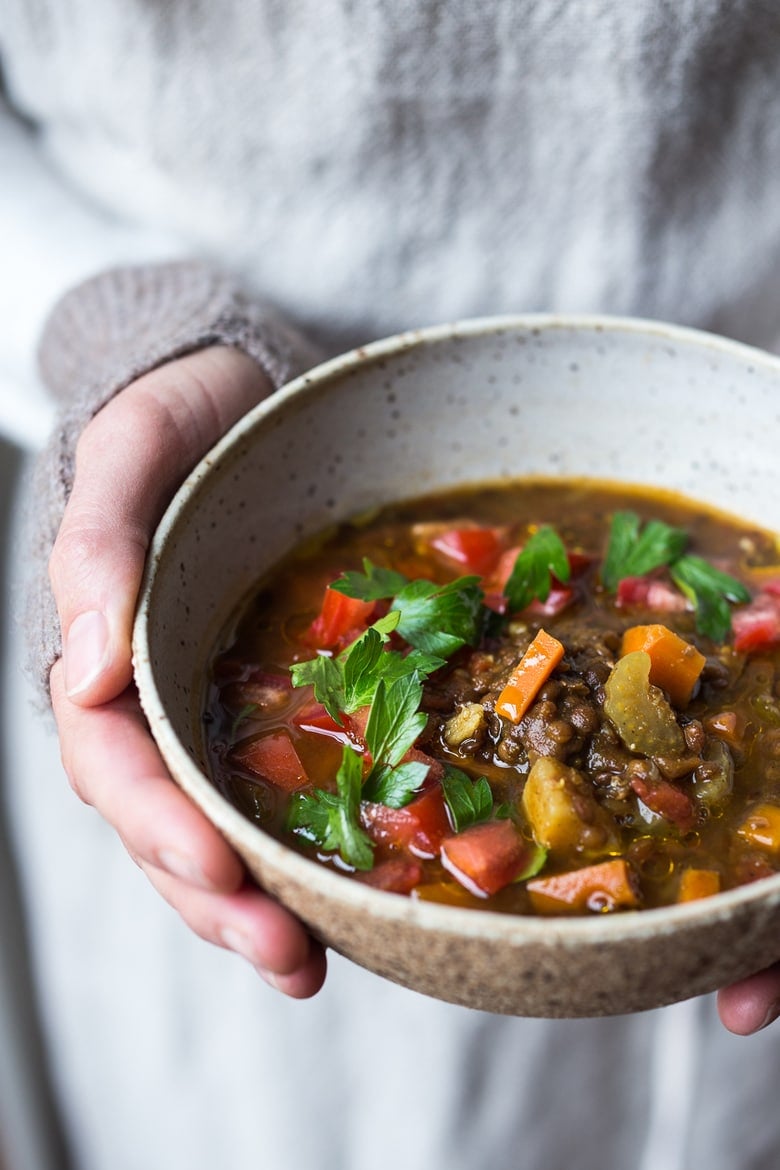 True abundance is the freedom that comes from wanting less.

Yung Pueblo Inward
This Instant Pot Lentil Soup is packed full of healthy, nourishing veggies. A delicious, vegan soup seasoned with fragrant Middle Eastern spices that is both satisfying and filling, yet low in calories. This is my Egyptian father's recipe, one that we ate on repeat growing up, not only for its nutrient density but for its affordability. Humble yet abundant! Make a big batch and have it on hand for lunches or dinners during the busy work week.
Love lentils as much as we do? Check out 30 Amazing Lentil Recipes! For more popular instant pot soup recipes, try: Instant Pot Mulligatawny (Curried Indian Soup) and Instant Pot Wild Rice Soup w/ Spinach & Mushrooms.
Why you'll love this!
Healthy and Nutritious: Lentil soup is packed with fiber, protein, and essential nutrients, making it a healthy choice. It is plant-based and low in calories, yet it keeps you feeling full and satisfied.
Affordable: Made with simple and humble ingredients, lentil soup is an affordable option, utilizing pantry staples that you may already have on hand. It provides a budget-friendly way to enjoy a delicious and nourishing meal.
Fast and Easy: Lentil soup is quick and easy to prepare, requiring minimal effort and time. With just a few basic cooking steps, you can have a flavorful and comforting bowl of soup ready in no time.
Versatile: Lentil soup offers versatility in terms of ingredients and customization. You can add various vegetables and spices to suit your taste preferences. Whether you prefer a classic lentil soup or want to experiment with different flavors, the possibilities are endless.
Great for Meal Prep: Lentil soup is perfect for meal prepping. You can make a large batch and store it in the fridge for several days. The flavors actually enhance over time, making it even more delicious as the soup sits.
Comforting and Satisfying: There's something inherently comforting about a warm bowl of lentil soup. It's a soul-soothing dish that can provide a sense of comfort and nourishment, especially on chilly days or when you're in need of a wholesome meal.
Lentil Soup Ingredients
Lentils: There are various types of lentils that can be used in lentil soup, such as black caviar lentils, brown lentils, French green lentils, or red lentils. The cooking time may vary depending on the type of lentils you choose, with smaller lentils cooking faster.
Vegetables: While the recipe recommends using carrots and celery, you can also get creative and add other veggies such as bell peppers, parsnips, fennel, or sweet potatoes, add a handful of spinach just before serving. You can customize the soup based on your taste preferences or what you have on hand.
Tomatoes: You can use fresh tomatoes in your lentil soup recipe for vibrant flavor if they are in season otherwise canned diced tomatoes are a convenient option.
Broth: The recipe suggests using vegetable broth or chicken broth for added flavor. You can choose the type of broth based on your dietary preferences.
Spices: The lentil soup is seasoned with Middle Eastern spices like ground cumin, turmeric, and coriander. Feel free to adjust the spices based on your personal taste.
Garnishes: To elevate the flavors of the lentil soup, you can garnish it with a drizzle of olive oil, a squeeze of lemon juice, fresh herbs like parsley or cilantro, diced tomatoes, chili flakes for some heat, or grated parmesan if you prefer (not vegan).
See the recipe card below for detailed ingredients and instructions.
How to Cook Instant Pot Lentil Soup
Set Instant Pot to the saute function. (See recipe card for stovetop)Add the olive oil, onion and garlic, and stir until fragrant, about 4 minutes.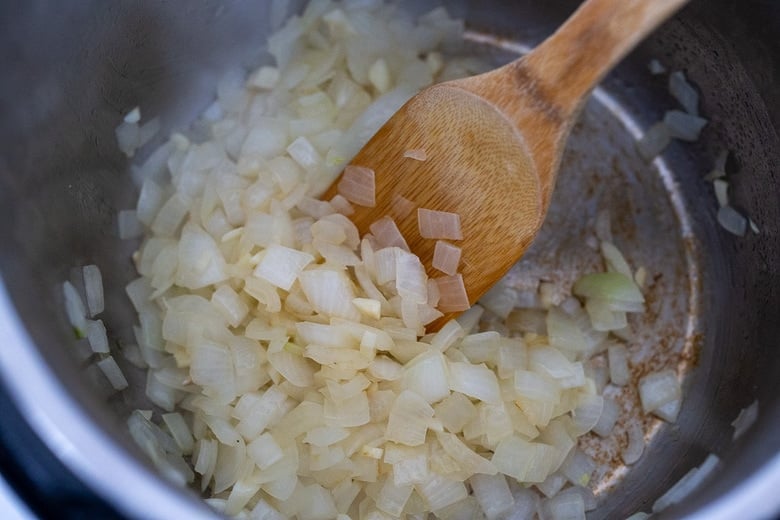 Add four cups of chopped vegetables to the Instant Pot.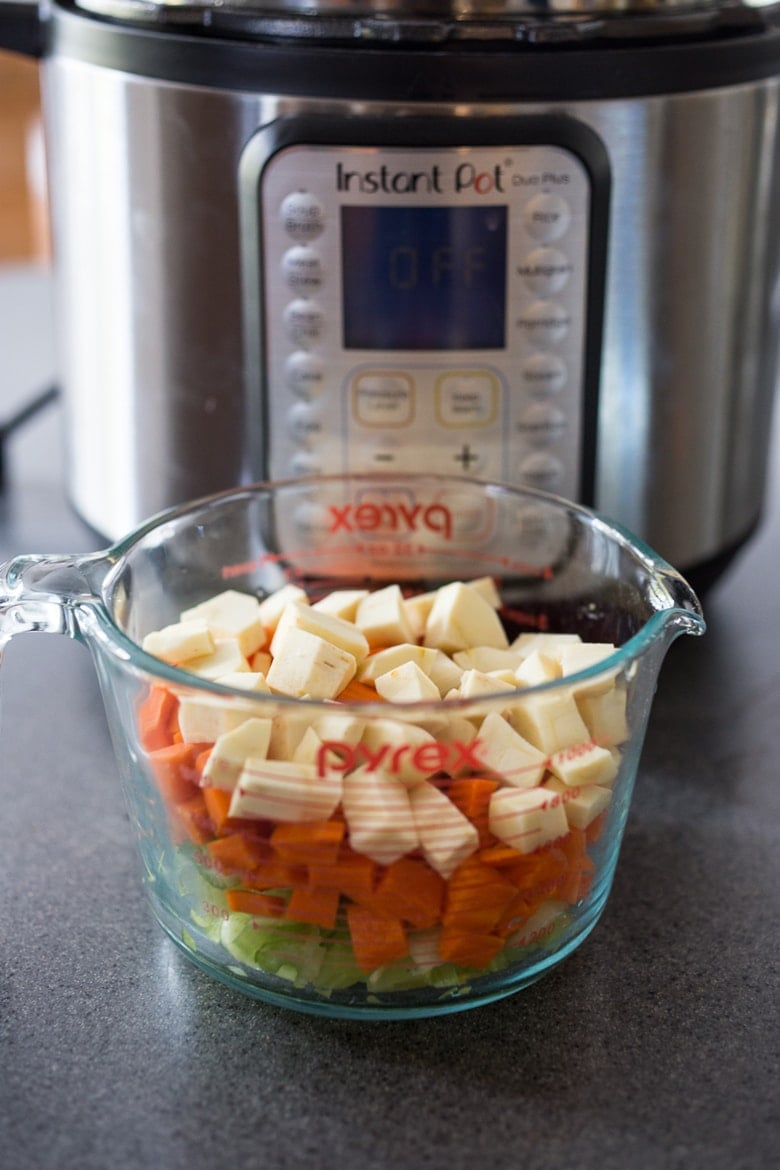 Any combination of carrots, celery, parsnips, bell pepper, potato, or even sweet potato will work here. Add the vegetable broth, water, lentils, tomatoes, tomato paste, spices, and salt and black pepper.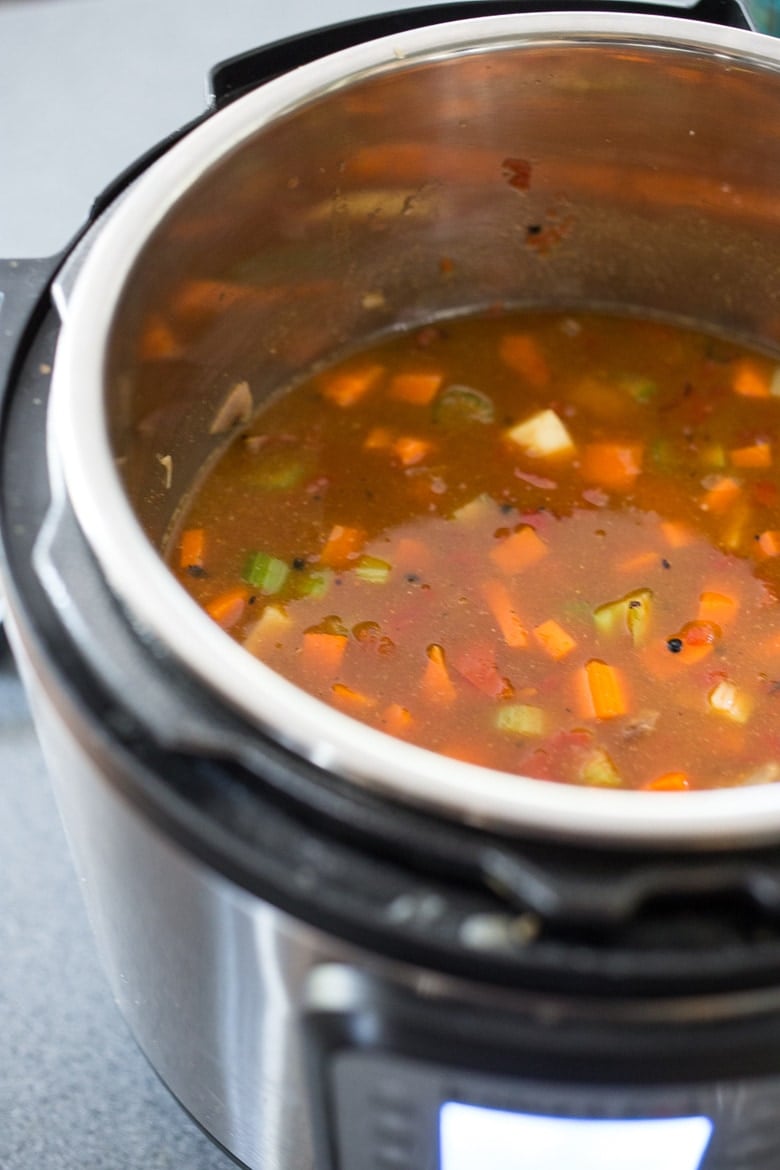 NOTE: Here, I've used tiny Black Caviar Lentils for the FASTEST COOKING TIME. If going with conventional large brown lentils, increase the time to 20 minutes- they should hold their shape.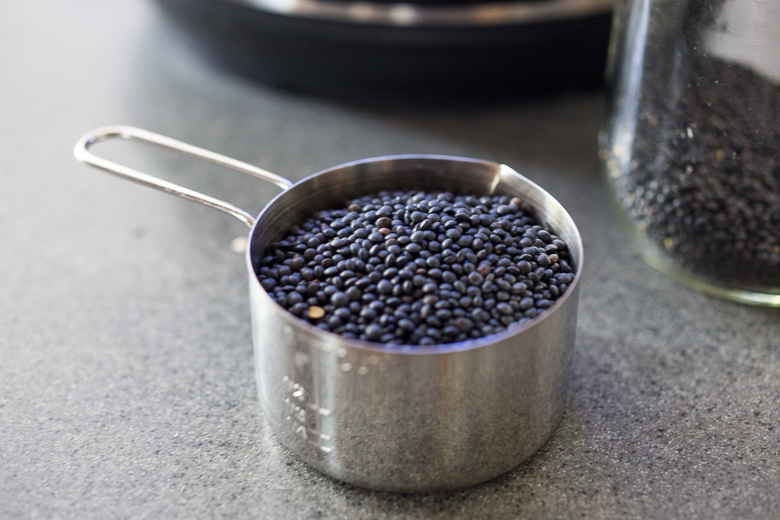 Close the lid, seal and pressure cook on high pressure for 12 minutes. Manual release, releasing the remaining pressure valve.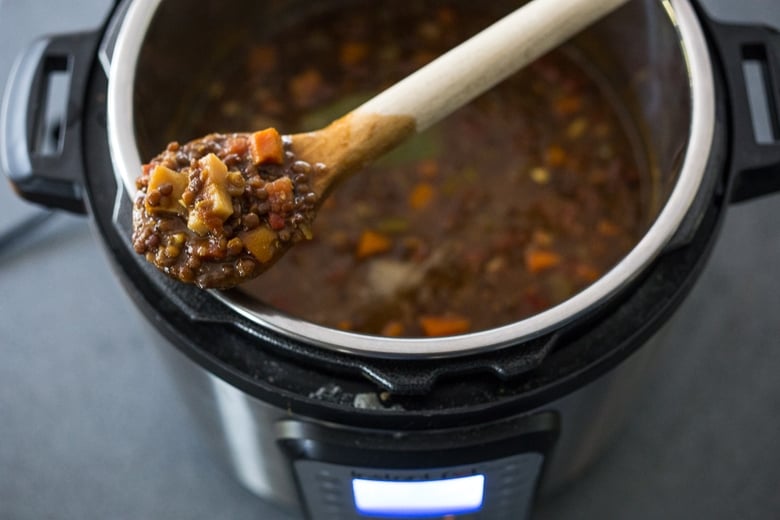 Garnish the lentil soup -it TRULY elevates the soup! Add a drizzle of olive oil, a squeeze of lemon, fresh tomatoes and herbs, and dunk some warm pita bread in it.
Lentil Soup FAQS
How to store Lentil Soup?
Leftovers will keep 4 days in the refrigerator in an airtight container and are even more delicious as the flavors have time to meld. Freeze Lentil Soup in Mason Jars in the freezer for up to 3 months, leaving an inch of headroom for expansion. Thaw overnight in the fridge before reheating.
What toppings go with Lentil Soup?
Drizzle of olive oil
Squeeze of lemon juice
Fresh flat-leaf parsley leaves
Fresh diced tomatoes
Chili flakes (optional)
Grated parmesan cheese (optional, not vegan)
Can I add more protein to this lentil soup?
Sure! If you wish you can add extra protein such as sausage, ground beef or turkey and even top with bacon or tofu bacon.
Should I soak lentils before cooking?
For easier digestibility, it is recommended that you soak lentils for 2-4 hours with ACV or lemon juice to neutralize phytic acid. However, pressure cooking (like in an instant pot) unsoaked lentils reduces the phytic acid. (Phytic acid may impair the body's absorption of minerals-but this is rarely a concern for those following a well-balanced diet.)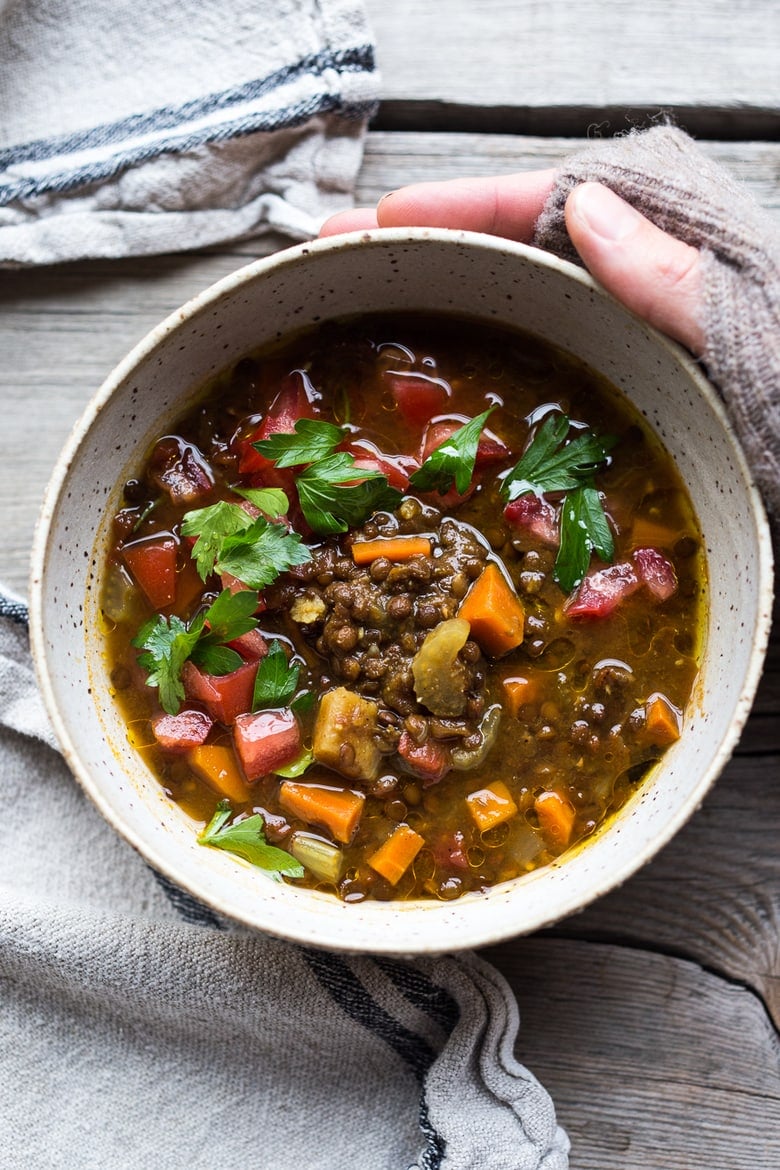 What to serve with Lentil Soup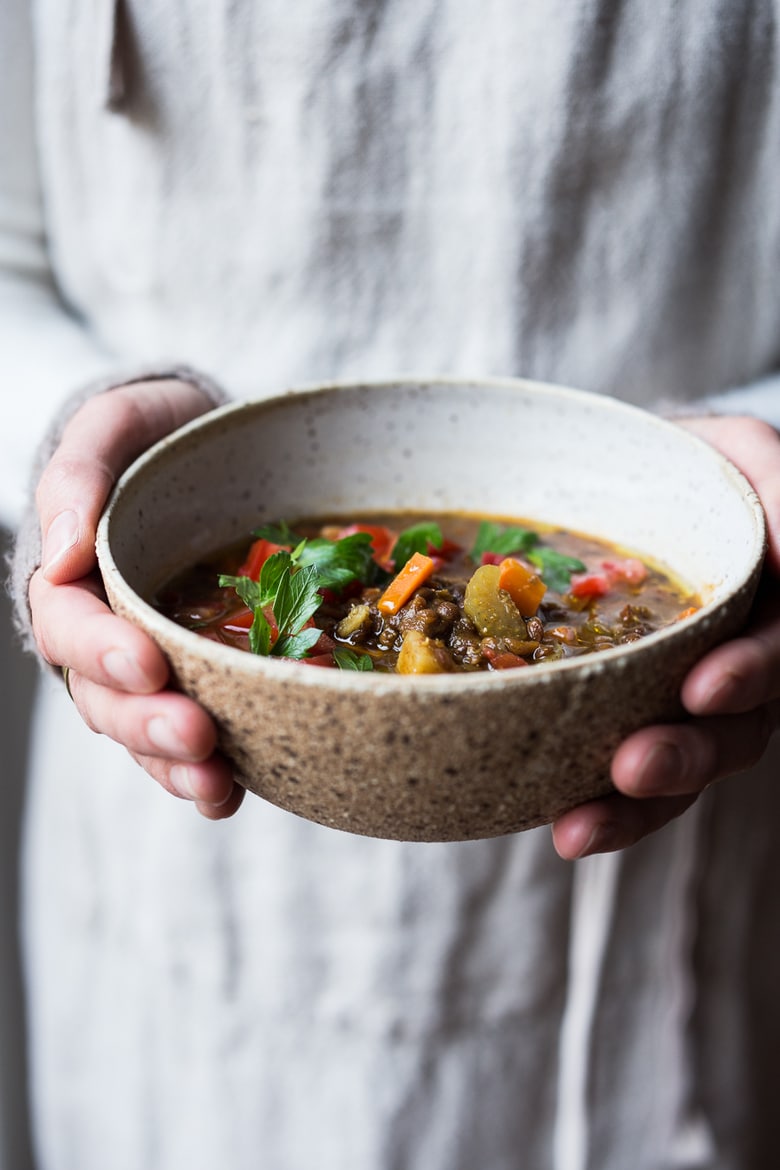 More lentil recipes you may enjoy
I hope you find as much comfort and nourishment from this lentil soup as I have through the years. Food does that… ✨
And before I close, I have to say, there was a time in when I was young, I swore I'd never eat lentil soup again because we had it so often! But 40 years later, it's strange how much I crave it! It has become my favorite soup recipe, my comfort food, reminding me of home, and a way of bringing my father back to me when I miss him.
Love and Hugs,
Love this recipe? Please let us know in the comments and leave a 5-star ⭐️⭐️⭐️⭐️⭐️ rating below the recipe card.
Instant Pot Lentil Soup | 60-sec Video
Print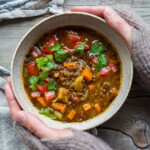 Instant Pot Lentil Soup Recipe
Prep Time:

20

Cook Time:

20

Total Time:

40 minutes

Yield:

10 cups

1

x

Category:

vegan, soup,

Method:

Instant Pot, stovetop, pressure cooker

Cuisine:

middle eastern

Diet:

Vegan
---
Description
This Instant Pot Lentil Soup is cozy and comforting! Infused with fragrant Middle Eastern spices, it can be made in your Instant Pot or on your stovetop. Vegan, fast & easy. Includes a Video.
---
1

onion, diced (or sub

2

fat shallots)

4

–

8

cloves garlic, rough chopped

3 tablespoons

olive oil

2

cups

carrots, diced

2

cups

celery, diced

1 1/2

–

2

teaspoons salt, more to taste.

1 tablespoon

cumin

2 teaspoons

coriander

2 teaspoons

curry powder

1 teaspoon

turmeric

1/2 teaspoon

allspice (optional)

1

bay leaf or

1

teaspoon herbs de Provence or Italian herbs

1 tablespoon

tomato paste

2

medium tomatoes, diced with their juices (or

14

-ounce can of diced tomatoes with juices)

4

flavorful cups veggie stock (or chicken stock- use

3

bouillon cubes w/ water)

2

cups

water

1 1/4

cup

small Black Caviar lentils or French Green Lentils (You can always use bigger, brown lentils, but increase pressure cooking time to 20 minutes.) You can also substitute split lentils for 1/4 cup of the lentils for a creamier texture. 🙂
Garnishes: with a drizzle of olive oil, lemon juice, chopped Italian parsley (or cilantro), diced tomatoes and optional chili flakes (Aleppo chili is nice here) and
Serve with warm toasty pita bread.
---
Instructions
See notes for stovetop.
Saute onion and garlic in the Instant Pot in 2 tablespoons oil until fragrant and tender, about 2-3 minutes.
Add the veggies. Sautéing 4-5 more minutes. Add the spices, salt and tomato paste and brown it a bit. Add the tomatoes and their juices, stock and water, scraping up any browned bits.
Add the lentils, stir and cover, setting the Instant pot to Pressure Cook on Normal for 12 minutes.
Let the pressure release either manually or natural release.
Taste, adjust salt, adding more to taste.
Divide among bowls and drizzle with olive oil, a squeeze of lemon, chili flakes, fresh parsley and fresh diced tomato (optional)
---
Notes
Stovetop Instructions: Saute onion and garlic in olive oil over medium-high heat until fragrant, about 3 minutes, add chopped veggies, lower heat and saute for 5 minutes. Add the spices, salt and tomato paste, toasting them a bit. Add the broth,and water and scrape up any brown bits. Add the lentils, tomatoes bay leaves, bring to a simmer, cover, and simmer on medium-low or low heat until the lentils are cooked through. 20-30 minutes, depending on their size.
Lentils: Small Black Caviar lentils (or French Green Lentils) cook much faster than regular large brown lentils. Red lentils have been split and will work here too, and will cook fast, but will give a different consistency. Sometimes I'll substitute a ¼ cup of split red lentils for the Black Caviar lentils for a creamier texture.The larger the lentil, the longer you will need to cook.
For a creamier consistency, feel free to blend the soup or blend partially.
Nutrition
Serving Size:

1 ½ cups without garnish

Calories:

264

Sugar:

6.4 g

Sodium:

646.5 mg

Fat:

8.1 g

Saturated Fat:

1.2 g

Carbohydrates:

39.1 g

Fiber:

7.9 g

Protein:

11.9 g

Cholesterol:

0 mg
Keywords: instant pot lentil soup, vegan instant pot lentil soup, pressure cooker lentil soup, best instant pot recipes, vegan lentil soup pressure cooker