How to make Curtido – A fermented Salvadoran Slaw  (similar to sauerkraut) made with cabbage, carrots, onion and oregano. Simple to make and FULL of healthy probiotics – use curtido in tacos, with pupusas, quesadillas, burrito bowls or with enchiladas as a delicious healthy side! 
There is a magical synergy that happens in Curtido (a fermented Salvadoran Slaw). The important base of Curtido is cabbage, onion, oregano and fine sea salt.  It is hard to describe the end flavor result of light fermentation- other than fresh, clean, crunchy and addicting!
It keeps in the fridge for months and the flavor gets better and better with time. Think of this as a Central American version of Sauerkraut.  Delicious on Pupusas, in tacos or as a topping for tostadas, enchiladas, or burrito bowls, Curtido is easy and fun to make.
WATCH HOW TO MAKE CURTIDO! | Video
How to make Curtido
Step one
It starts with a medium-sized whole cabbage. Traditionally green cabbage is used, but purple will work well too. You want to use a whole cabbage, not a pre-shredded packaged cabbage which will have less of the good bacteria needed to begin the fermentation process.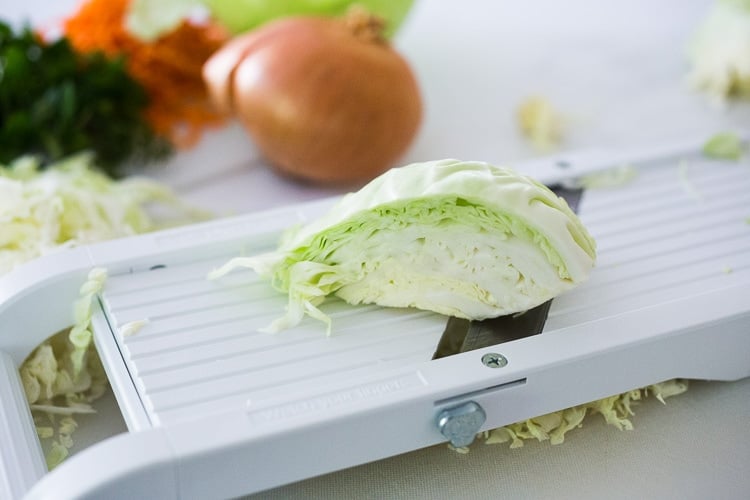 Save a couple of the outer leaves, then core and thinly slice, using a mandolin, food processor (with grater attachment) or sharp knife.
Step two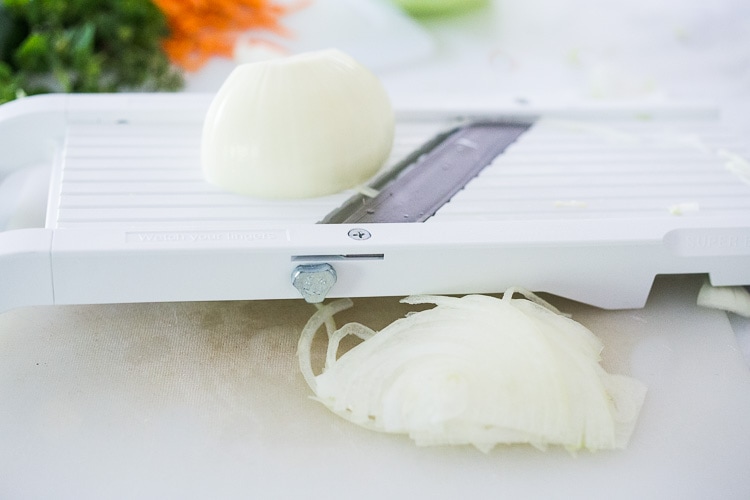 Thinly slice an onion.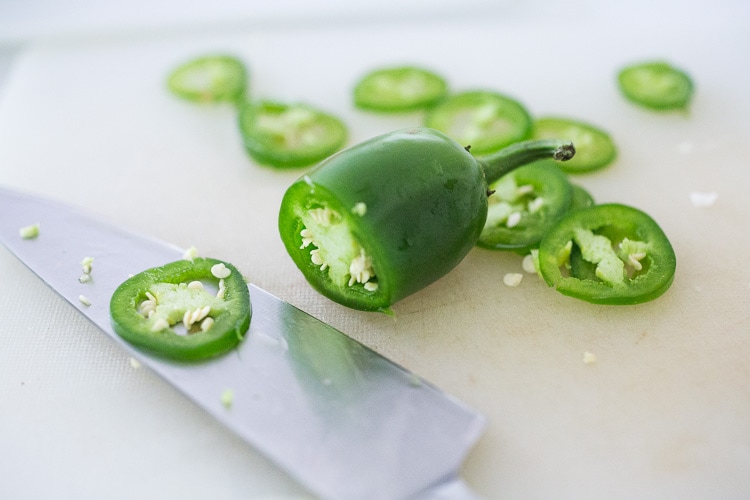 Step three
Thinly slice a jalapeno and grate a carrot. You can also create carrot "ribbons" using a veggie peeler.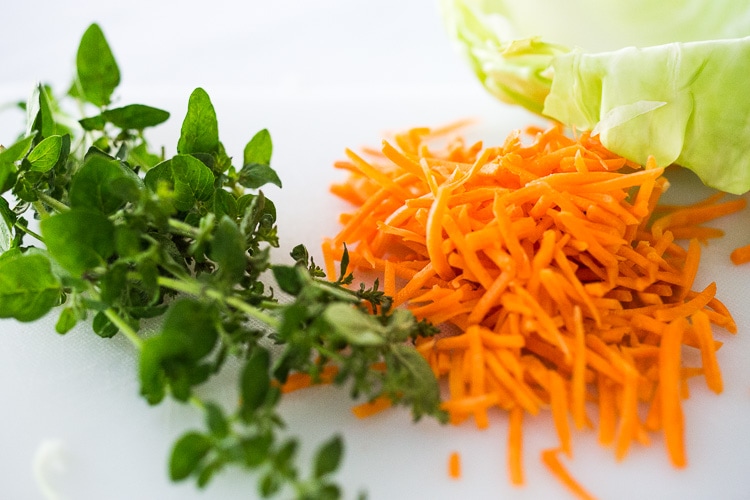 Use fresh oregano if you have it, or dried works fine as well.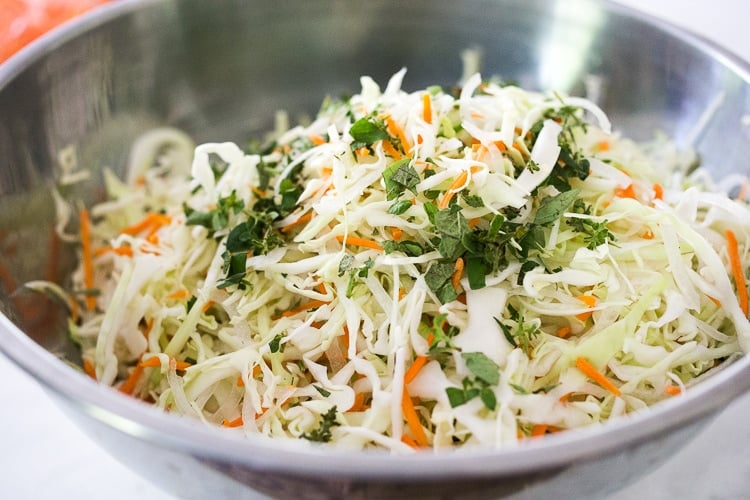 Step 4
Weight the cabbage mixture in grams.  Multiply this by .02. This is the number in grams of how much salt you want to aim for. (See recipe notes)  For example if your cabbage mixture is 1000 grams, multiply this by .02. This equals 20 grams of salt.
Layer the veggies with fine sea salt and let it sit for 20 minutes or until it starts to release its liquid.
It is important to weigh or measure the salt here. Too much salt will kill ALL the bacteria, which will prevent fermentation. Too little salt, may not kill enough of the "bad" bacteria.
Mix well and pound a little (I use a muddler) to help it release liquid.  Let sit another 30  minutes to allow it to get juicy.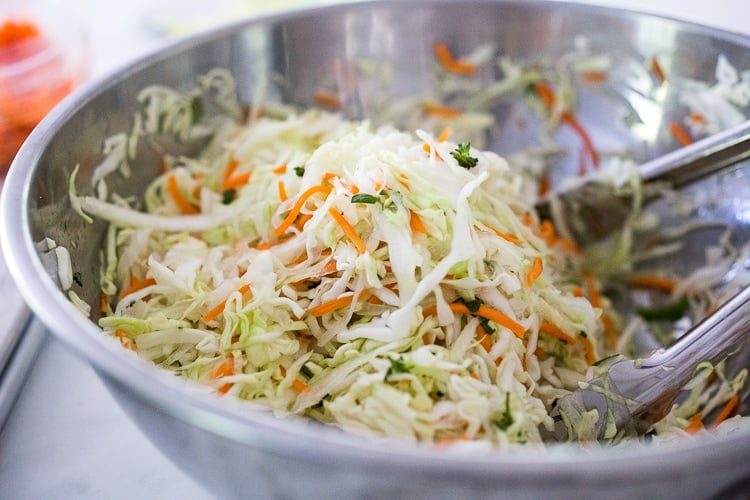 Step five
Pack! Use clean, sterile jars or crocks.
Here I've used an extra large, two quart jar. But you could use 2-3 smaller jars. Place jalapeño in the bottom of the jar.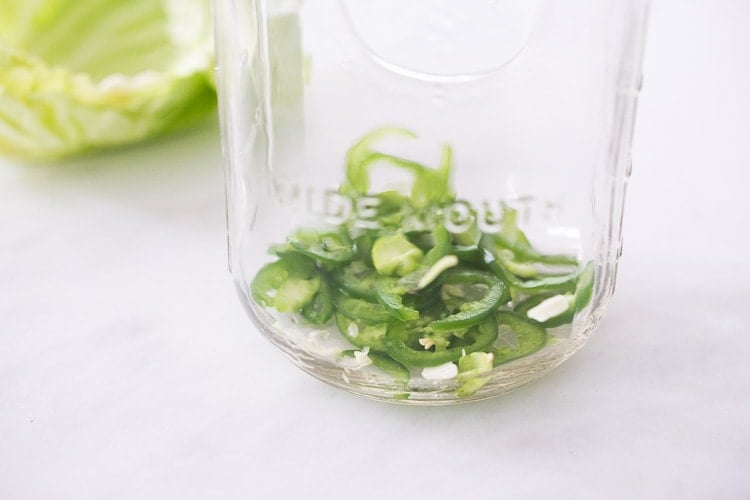 Then pack the Curtido into the jar.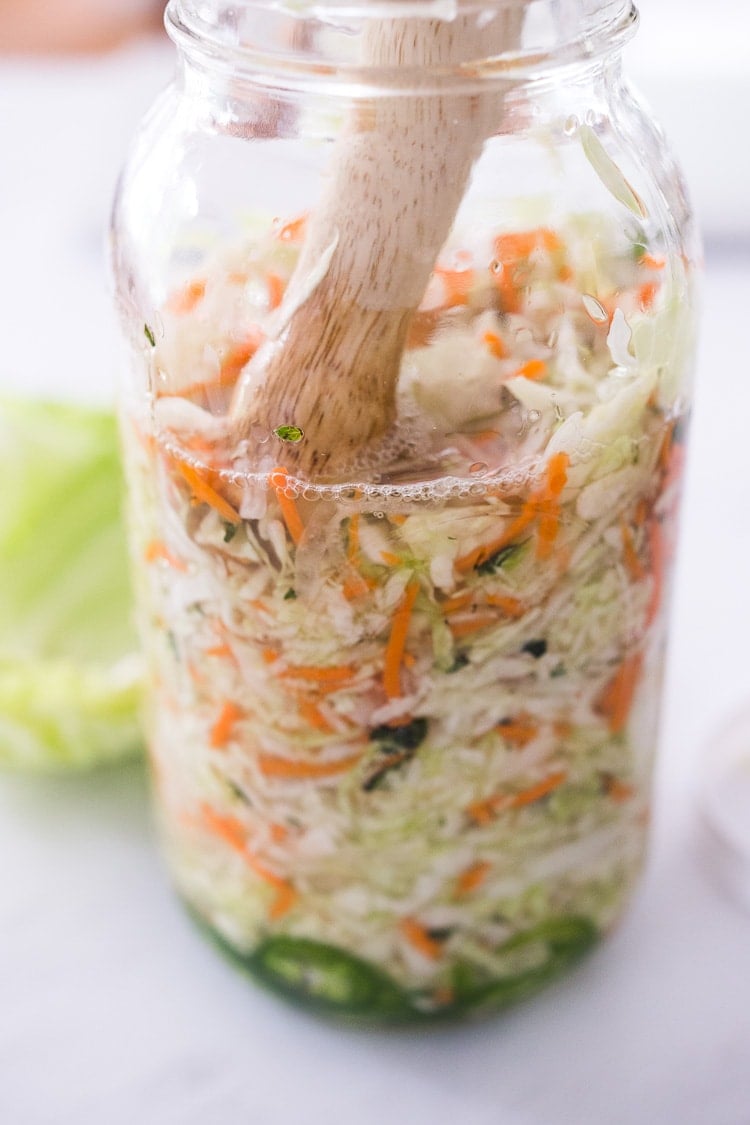 You want enough brine ( saltwater) to cover the slaw completely- so if the slaw seems dry, add a little filtered water. I added a 1/8 cup of water above.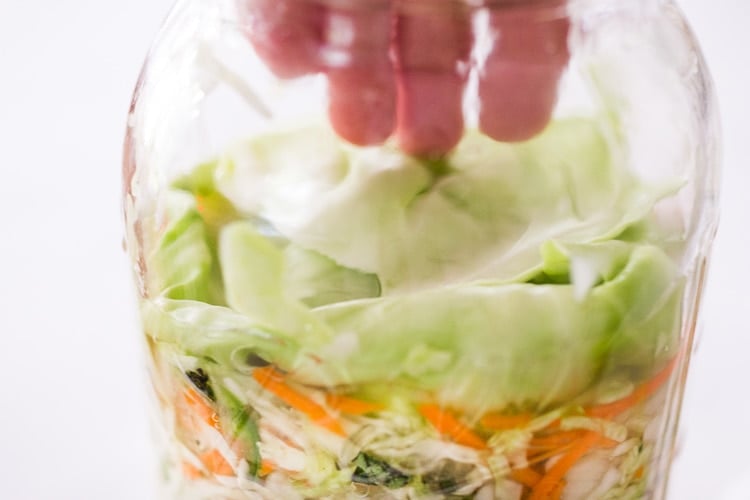 Step six
Cover the curtido with the cabbage leaves, which will help keep the slaw submerged. Press it down then weigh it down so the Curtido stays submerged. You can use a fermentation weight if you like.
Or an easy way to make a weight is to fill a small zip lock bag with water. Seal the bag and place it over the whole cabbage leaves.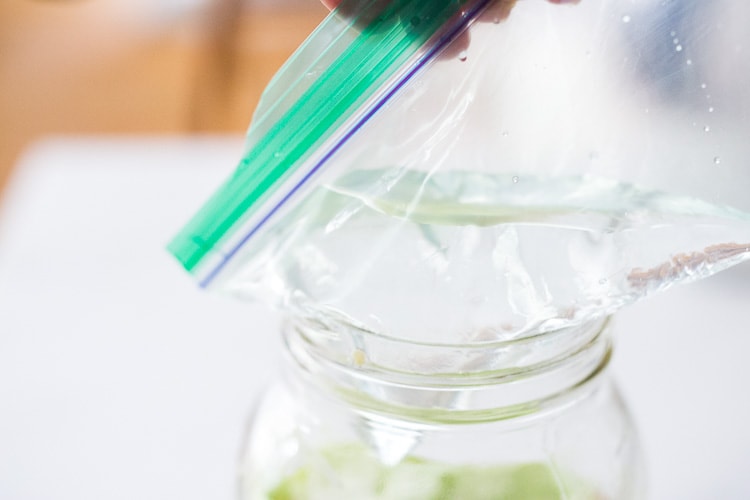 Step seven
Loosely cover the jar, place it in a bowl if you like to catch any juices and set it on the counter 3-5 days. The warmer the weather, the faster the fermentation process with happen.
Check the curtido each day to maintain that slaw is still submerged, pressing down if need be, using a muddler or end of a wood spoon. After about 3 days you will begin to see bubbles, a sign that the bacteria is alive and working its magic.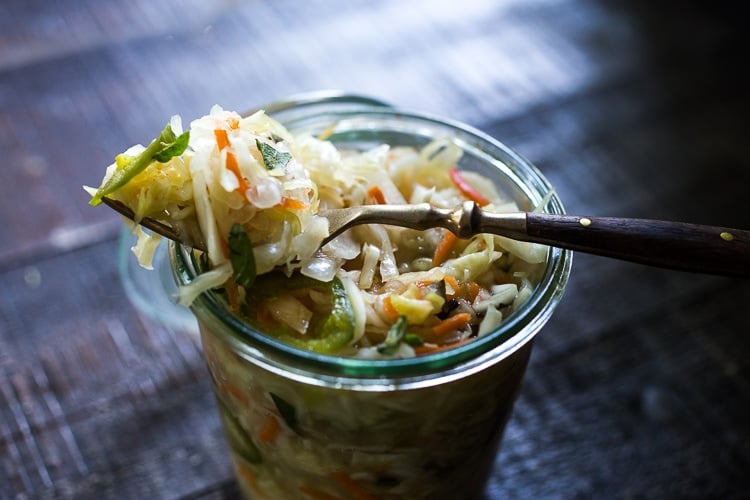 Step eight
Once you see the bubble activity, feel free to store it in the fridge.
It is alive and well and well continues to slowly develop more flavor and complexity for months on end. Just keep the slaw submerged in the brine.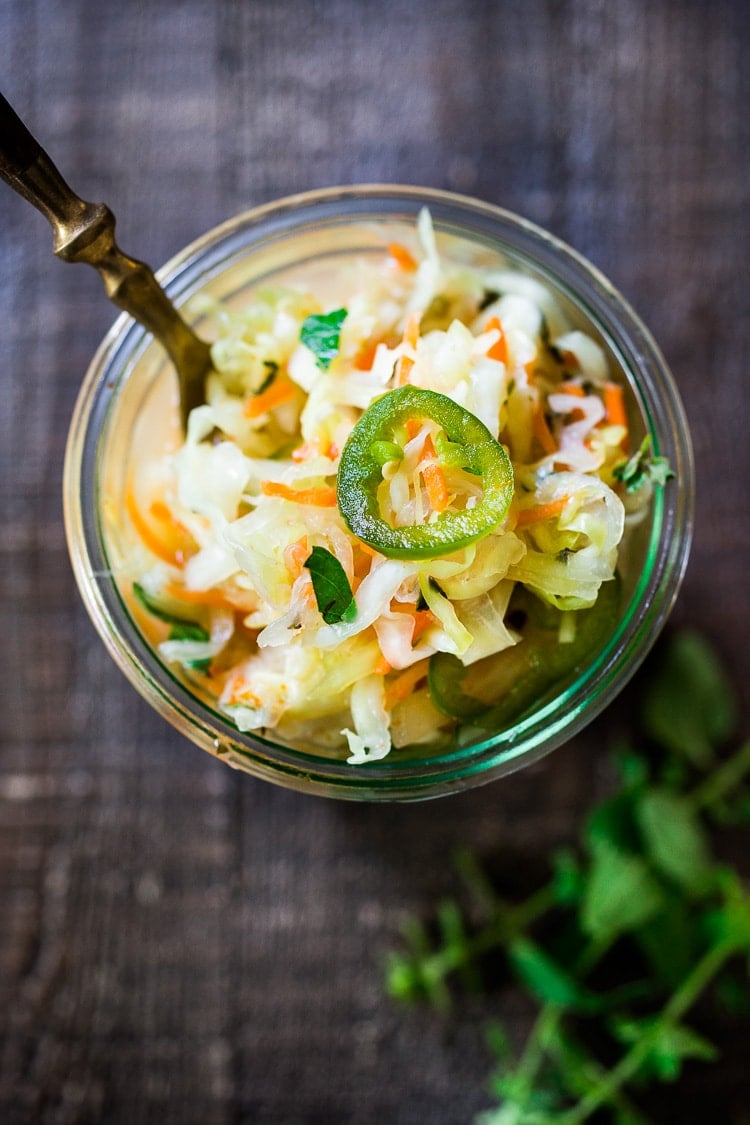 What to serve with Curtido?
Traditionally it is served with  Pupusas  (Salvadoran Masa Cakes).
We have been using this on everything from tacos, to enchiladas, to black bean burgers! So flavorful and refreshing and adds the best texture!
You could even add it to lunch bowls and buddha bowls as a refreshing side.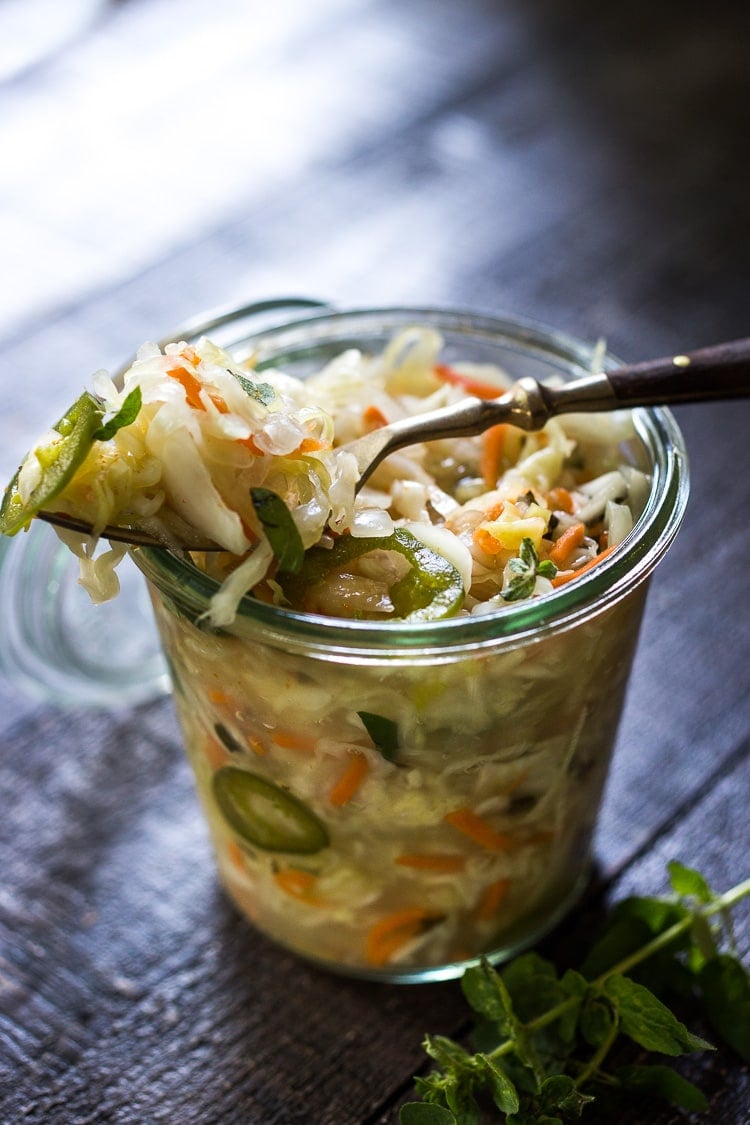 Last night we had some friends over for simple veggie burgers and I had this jar of curtido out along with the condiments.
It was interesting watching it disappear… so delicious on the burgers!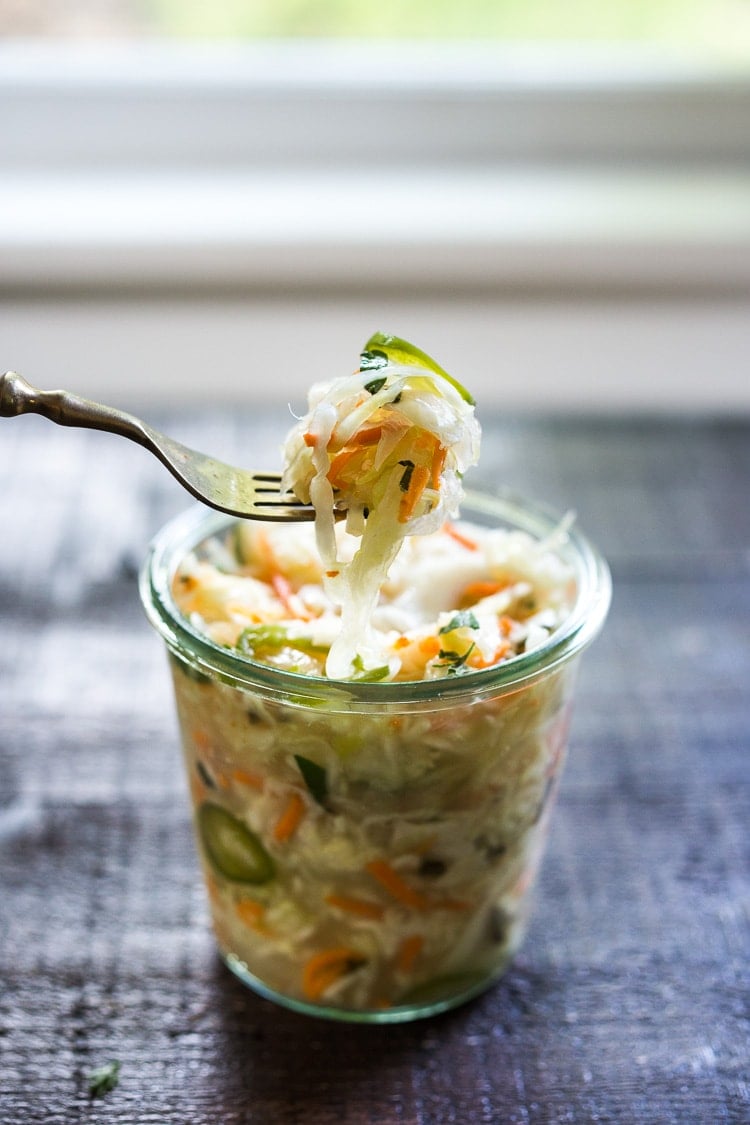 Anyways, this Curtido is for all you fermenters out there! You will love it. Please share how you use it in your everyday meals in the comments below!
More Fermented Recipes!
Fermented Hot Sauce
Print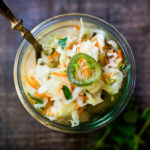 Curtido Recipe -Salvadoran Cultured Slaw
Prep Time:

60

Total Time:

60

Yield:

4 cups

1

x

Category:

Fermented, Cultured

Method:

Fermented

Cuisine:

South American

Diet:

Vegan
---
Description
---
1

medium head of green cabbage (about

2

lbs)

1

medium yellow onion

1

cup

carrot shreds, optional

1 tablespoon

oregano, dried (

1/4

c chopped fresh)

1 1/2 tablespoons

fine sea salt

1

jalapeno, sliced in rings (or

1/4

–

1/2

t chili flakes) optional
Sterilized Jars or crocks.  ( I used one 2 quart jar) Feel free to use two 1 quart jars or smaller pint jars.
---
Instructions
Take off a few outer leaves of the cabbage and set them aside.

 

Finely shred or chop cabbage with a mandolin, food processor (with slicing disc) or sharp knife.
Thinly slice the onion in half rings.

 

Shred carrots with a grater or using a veggie peeler to create long flat strips.
In a large bowl, place the ingredients ( veggies, herbs, onions, and salt)-all except the jalapeno and mix well. Let sit for about 10 -20 minutes allowing the veggies and salt to merge and extract the natural juices.

 

Use a pounder, large pestle, or your hands to macerate the mixture.
Distribute jalapeno rings in the bottom of the jars (or chili flakes, if using) and then fill up the jars with the cabbage mixture packing tightly, pressing down with the pounder, leaving a 1 or 2-inch space at the top.

 

It should be juicy.
It is important that the cabbage is completed covered with the liquid. You can add a little brine (salted filtered water) if the cabbage seems dry.

  (Brine= 1 teaspoon sea salt per cup of water) 

Packing in a cabbage leaf on top of the mixture can help keep the mixture submerged.

 

Alternatively, you can use a fermentation weight or tuck in a sandwich-sized zip lock bag on the top ( fill with water and zip close).

 

This creates a good weight and barrier.

 

Cover the top with a cheesecloth or a loose lid.
Leave on the counter at room temperature for 3-5 days, checking daily to make sure cabbage is still under liquid, packing down again if need be.

 

You will start to see tiny bubbles rising up from the bottom this means the culturing is happening.

 

Culturing happens faster in warmer weather.
Refrigerate, keeping the curtido submerged under the brine. It will continue to develop flavor and complexity over time. Curtido will keep for many many months, as long as it is submerged under the brine.
---
Notes
Salt Ratio: The recommended salinity for Sauerkraut is 1.5% – to 2.5% salt to the weight of the cabbage. Here we use 2% salt to the weight of the cabbage. Example:  1ooo grams cabbage multiplied x .02= 2o grams of salt. Feel free to use more or less as long as it stays between 1.5%  and 2.5%. I use Himalayan Sea Salt and Real Salt.  Both are natural and unrefined with high mineral content.Use a ratio of 1 teaspoon sea salt per cup of water, if you need to add more brine.
---
Keywords: Curtido Recipe, How to make Curtido, What is Curtido, Curtido, salvadorian slaw, pupusa slaw,