Flavorful vegetarian Zucchini Lasagna Roll-Ups with Spinach, Ricotta and Basil, baked in flavorful tomato sauce. Low-carb and gluten-free, these can easily be made vegan ( see recipe notes)! With a Video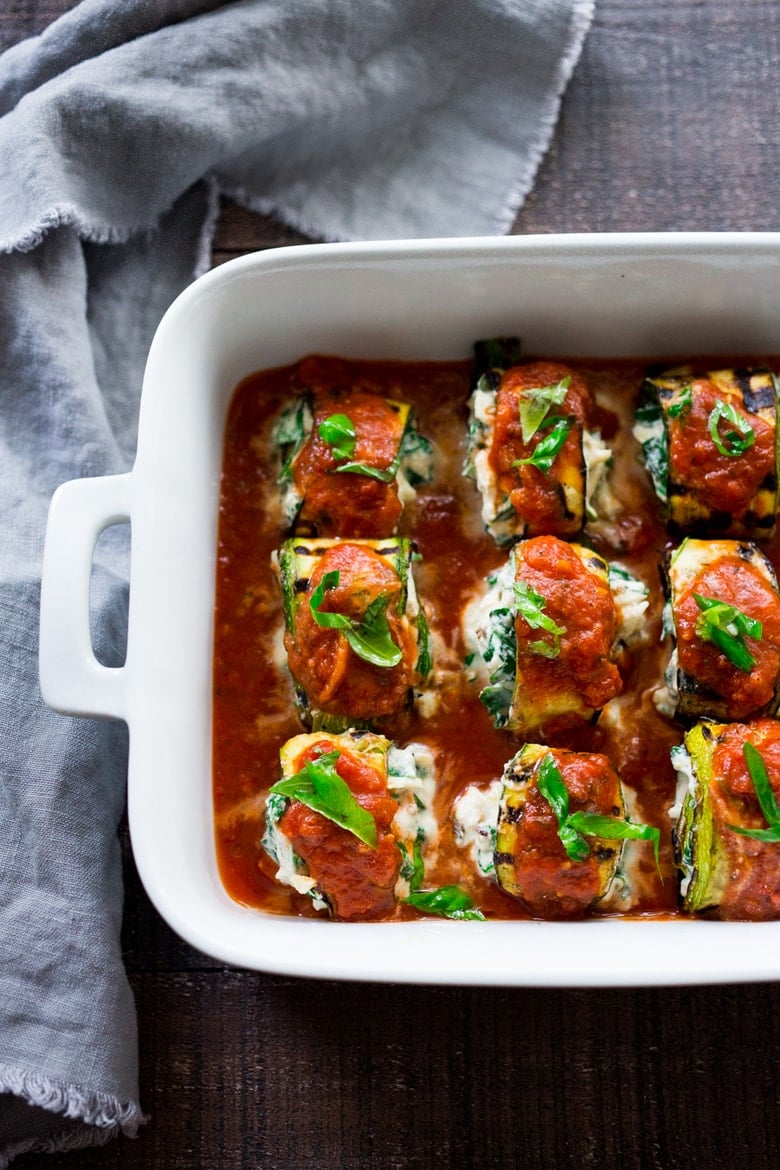 In the midst of the chaos when the wind is howling I hear the ancient song of the ones who went before and know that peace will come. ~ Anonymous~
Zucchini is prolific this time of year but by now, many of us are completely zucchini'd out. This recipe for Zucchini Lasagna Roll Ups with Spinach and Basil will hopefully change that!  Think of this like lasagna or cannelloni but without the pasta, a low-carb vegetarian alternative that highlights summer produce. Fragrant summer basil permeates the dish and gives it such delicious flavor. If you are looking for more of a Zucchini Lasagna go here:Zucchini Lasagna!
Zucchini Lasagna Roll-Ups | video
How to make Zucchini Roll-Ups
Long thin slices of zucchini are either grilled (or roasted) then spread with a flavorful ricotta-spinach-basil mixture. (Feel free to use vegan tofu ricotta.) They are rolled up and bathed in tomato sauce and baked until warm and delicious.  Keep them lean or add melty mozzarella.  Smoked mozzarella boosts the yumminess factor, so if you can find it, use it! (Hint: Trader Joes has some – and while you are at it, feel free to use their organic marinara sauce to save time.) You can also make homemade Marinara Sauce!
And keep in mind, you can always use vegan cheese.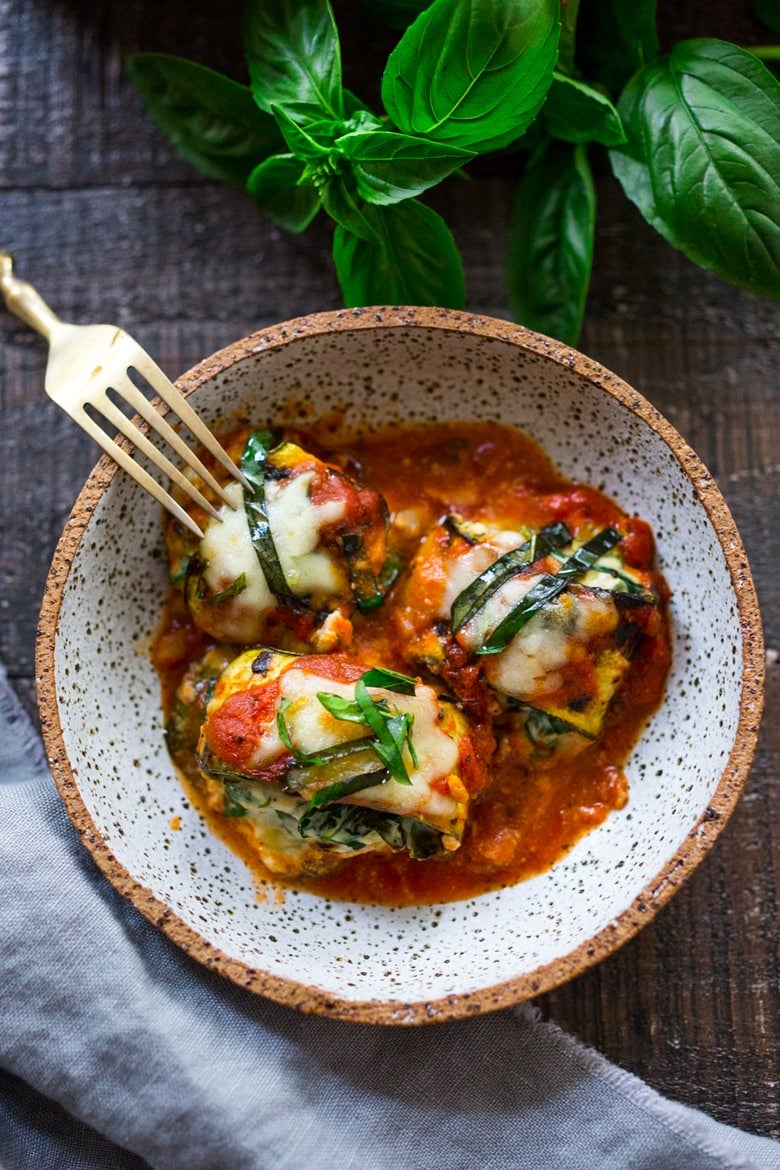 The key to making the Zucchini Lasagna Roll Ups as easy as possible is selecting zucchini that is uniform in size, relatively straight, as in not curved, 7-8 inches long and at least 2-3 inches wide. This will make the rolling easier and help the filling stay in. Any narrower will be challenging . . .  not impossible mind you, just not as easy.  Today I used narrower curved zucchini and it wasn't quite as easy as it normally is, but still doable.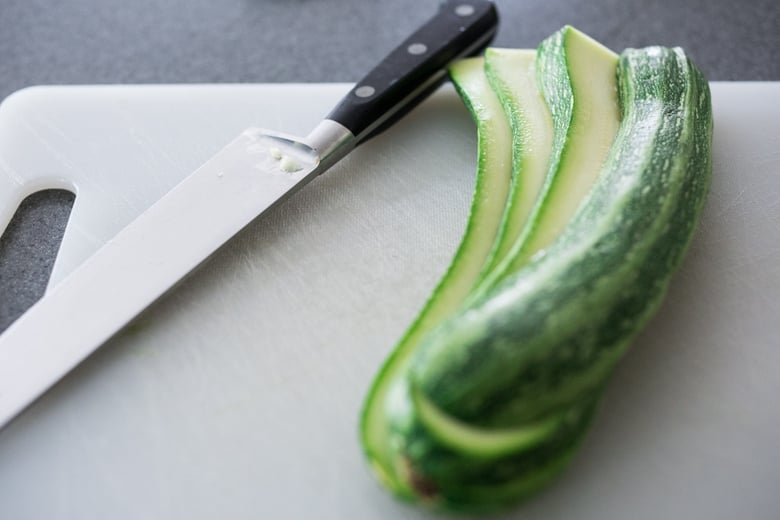 Use a  mandolin or  cu the zucchini into ¼ inch slices.  Lightly brush or spray with olive oil, and either grill or roast until tender enough to roll. Grilling seems to add more flavor.
After grilling, cover with foil for a bit so it steams through and becomes more tender.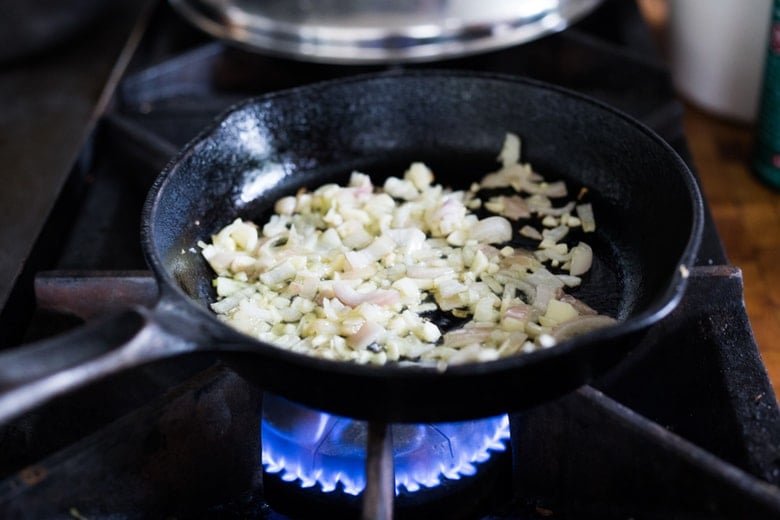 Saute shallot and garlic for the filling and wilt the spinach.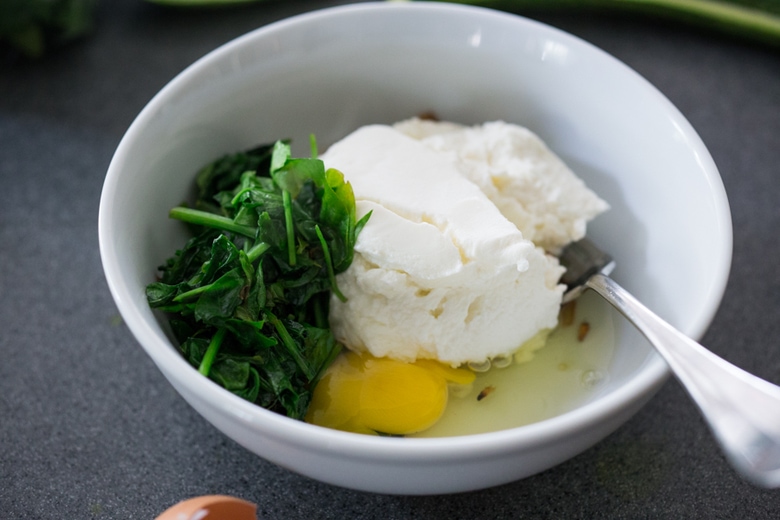 Stir the ricotta filling up with an egg and add fresh basil. To the filling, you could add pine nuts, sautéed mushrooms, fresh corn, etc.
You can also substitute this vegan Tofu Ricotta!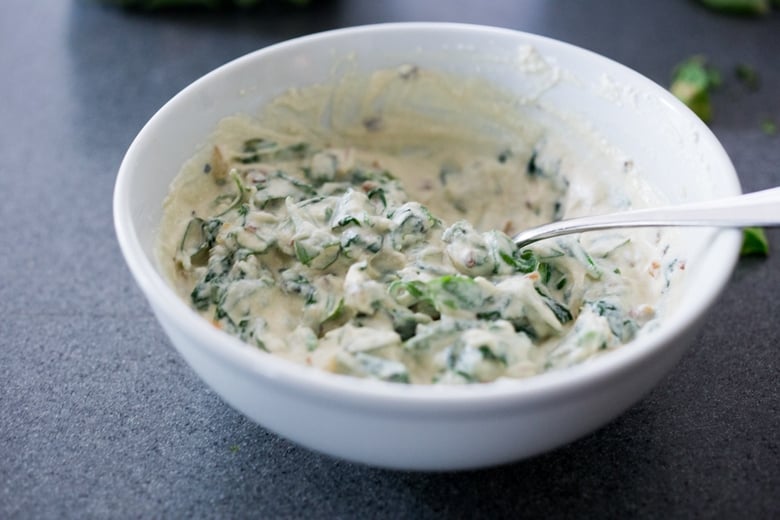 Spread the spinach spinach and ricotta filling over the grilled zucchini and start rolling with the narrower end or more unsightly end.
Place rolls over a generous layer of marinara, and spoon a little marinara over top.
This Oven Roasted Tomato Sauce would be tasty here!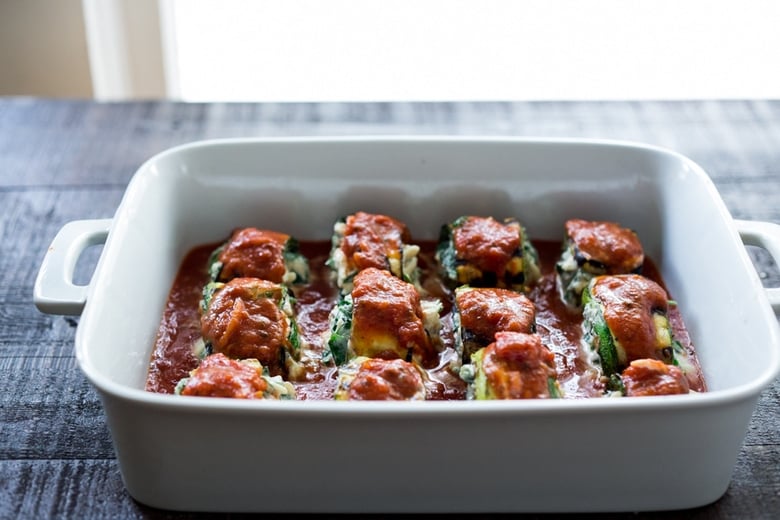 At this point you could add melty cheese, like mozzarella or in this case, smoked mozzarella,  or leave it off for a lighter, yet still flavorful version.
Or use a vegan cheese! This brand Daiya makes a mozzarella cheese that actually melts it is becoming more and more available!
Bake for 20 minutes.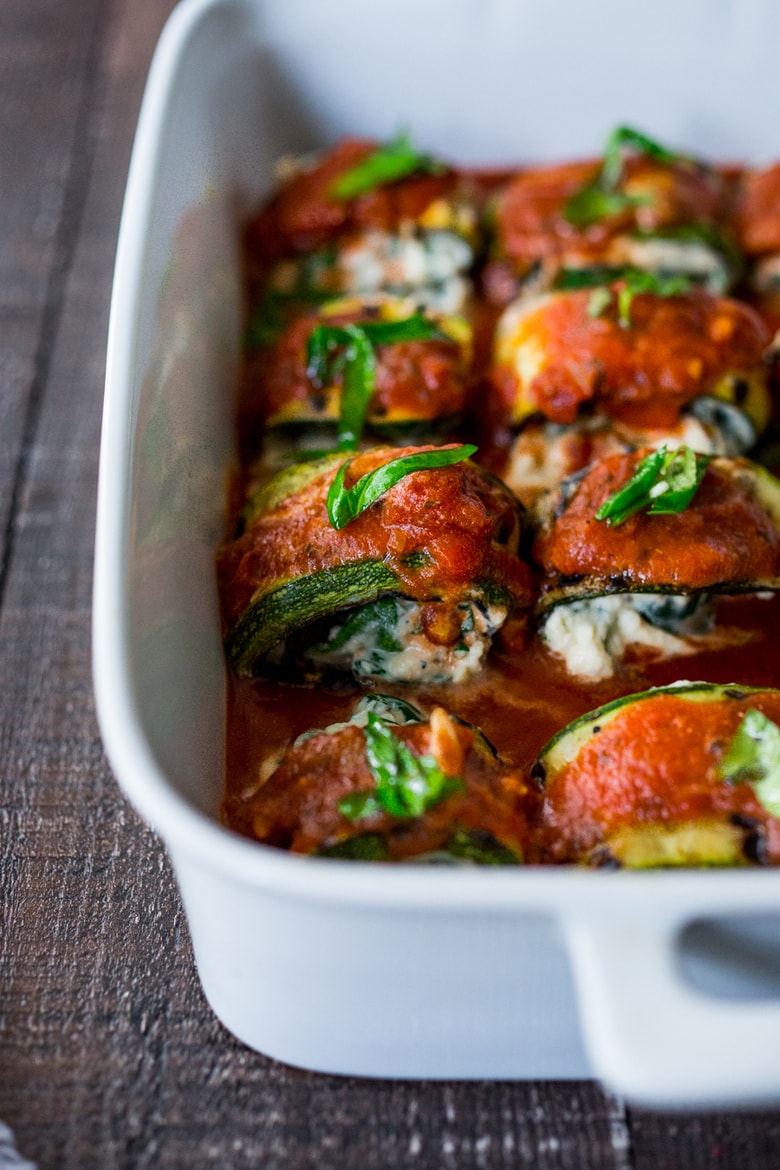 And voila, when it comes out, it will make you very happy.
Feel free to make it ahead, refrigerate and bake. Or bake and refrigerate.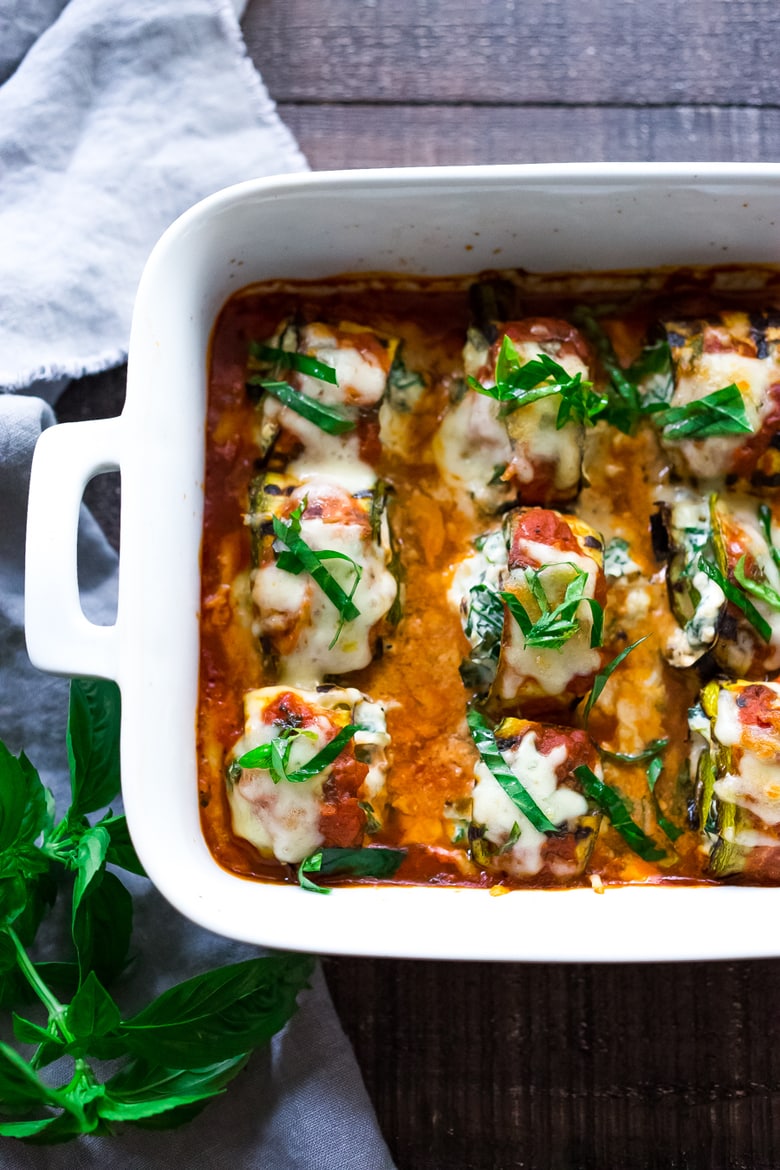 Garnish with more basil and serve with a salad.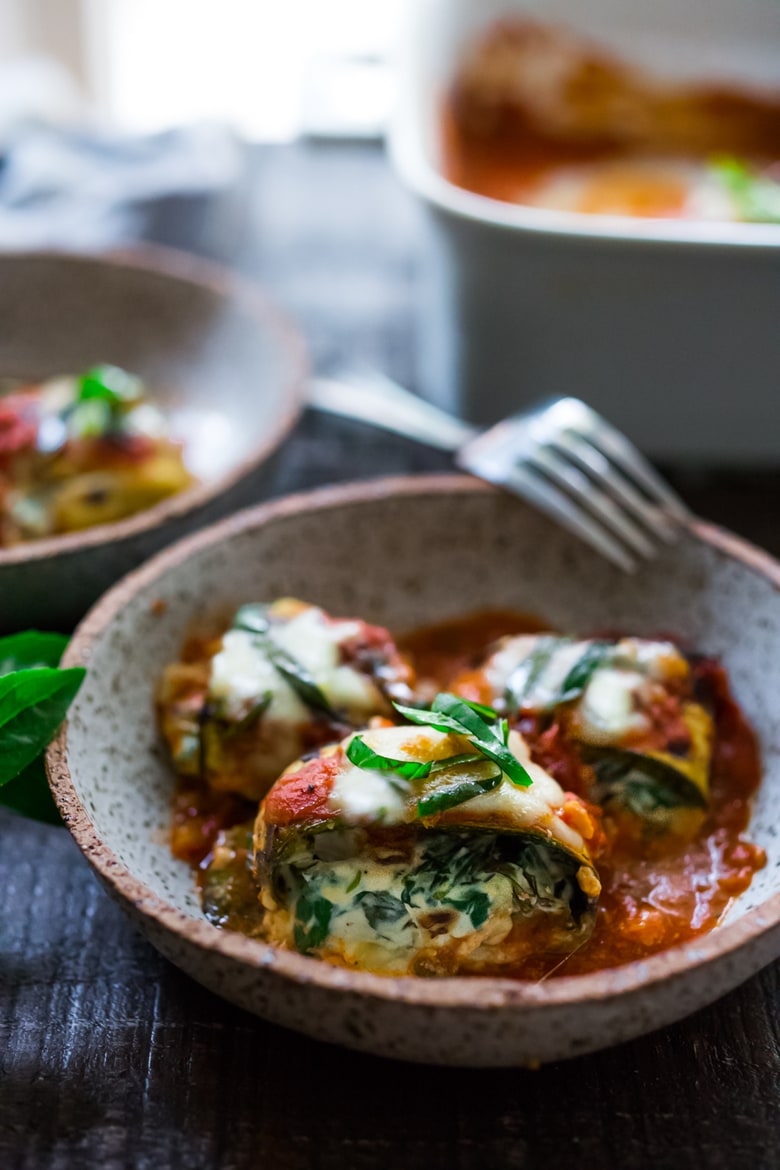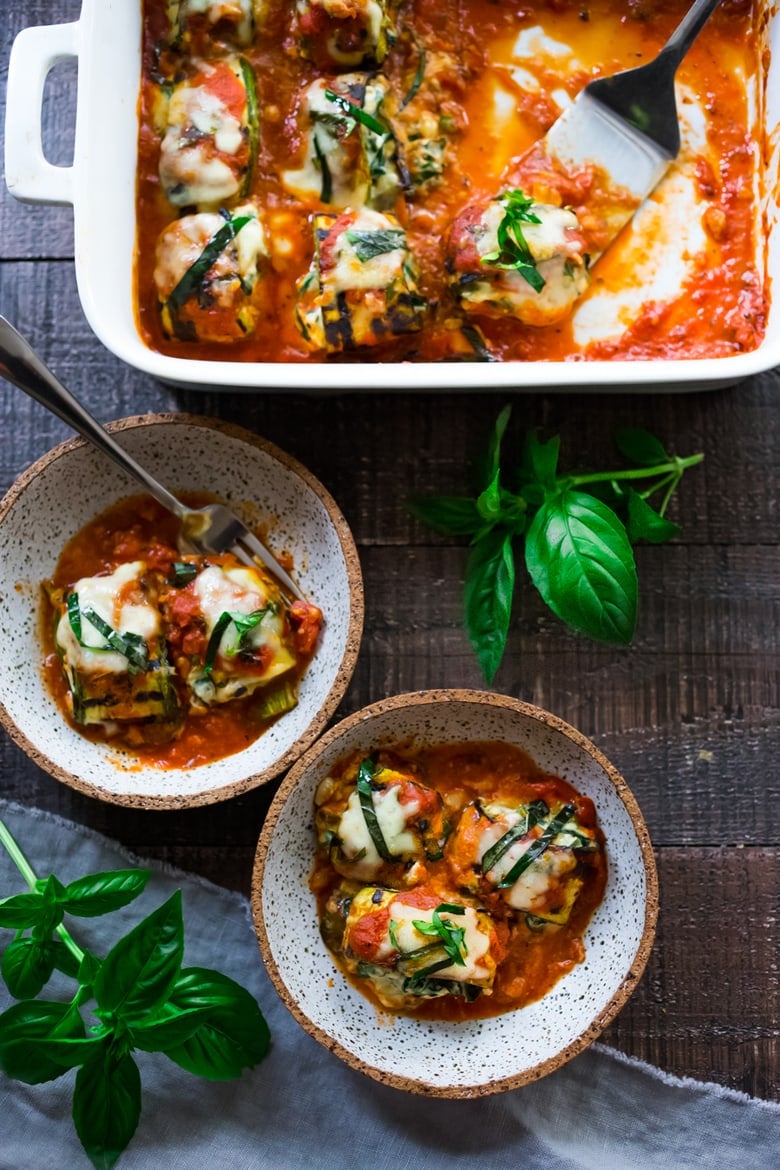 More Healthy Zucchini Recipes
SaveSave
SaveSave
SaveSave
SaveSave
SaveSave
SaveSave
SaveSave
SaveSave
SaveSave
Print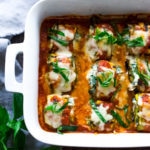 Zucchini Lasagna Roll Ups with Spinach and Basil
Author:

Sylvia Fountaine

Prep Time:

30

Cook Time:

30

Total Time:

1 hour

Yield:

6

1

x

Category:

Main, vegetarian, low-carb

Method:

baked

Cuisine:

Italian
---
Description
A simple recipe for Zucchini Lasagna Roll Ups  (aka, Zucchini Rollatini) with Spinach and Basil, a flavorful vegetarian entree that highlights the best of summer ingredients. Low-carb and Vegan Adaptable!  | www.feastingathome.com
---
3

large zucchini (

7

–

8

inches long,

2

–

3

inches wide, straight as possible.)

1 tablespoon

olive oil

4

garlic cloves, rough chopped

1

shallot, diced

3

ounces

spinach (a big, giant handful)

1

cup

ricotta cheese ( or sub vegan ricotta)

2

ounces

grated mozzarella cheese ( 1/2 cup), smoked mozzarella is really good here

1

egg

1/2 teaspoon

salt

1/4 teaspoon

pepper

1/4

cup

basil, chopped, or ribbons
pinch of chili flakes, optional
l-2 teaspoons lemon zest, optional

2

cups

marinara sauce ( store-bought-Trader Joe's Organic Marinara is good- or homemade)
---
Instructions
Preheat oven to 400 F,  and set grill to high heat (if grilling)
Trim both ends of zucchini and thinly slice into ¼ inch wide, vertical slices.  Aim for twelve.  Very lightly brush with olive oil, and either place on a parchment lined sheet pan and roast, or grill each side (turning the grill down to medium). Grill or roast until tender and pliable. Test one by trying to roll it up. If grilling, it helps to cover the zucchini after grilling with foil, so it steams slightly.
While the zucchini is roasting or grilling, make the filling. Saute the garlic and shallot in olive oil over medium heat, careful not to burn. Once golden, add the spinach, stir, lower heat, cover for a moment, and let it wilt. Add this to a bowl with the ricotta, mozzerella, egg, salt and pepper and the basil. Stir and some chili flakes and lemon zest if you like.
Place one cup marinara in the bottom of a greased 9 x 13 inch baking dish.
Spread each zucchini slice with the ricotta mixture, and gently roll up, placeing them seam side down in the baking dish over the marina. Top with a dollop of marinara and more mozzarella (optional) and cover with foil and bake at 400 F for 15- 20 minutes. Remove foil and continue baking for 5-10 more minutes, or until cheese is melty and golden.
Before serving, sprinkle with fresh basil ribbons.
---
Notes
The grill gives the zucchini  great flavor!
Feel free to add your creative embellishments to the filling- toasted pine nuts, goat cheese, sautéed mushrooms, etc.
Nutrition
Serving Size:

- with ricotta and mozzarella

Calories:

440

Sugar:

13.5 g

Sodium:

995 mg

Fat:

24.2 g

Saturated Fat:

6.4 g

Carbohydrates:

32.6 g

Fiber:

4.1 g

Protein:

24 g

Cholesterol:

88.8 mg
Keywords: Zucchini lasagna roll ups, zucchini lasagna rolls, zucchini roll ups, zucchini rolls, healthy zucchini roll ups, vegan zucchini roll ups
SaveSaveSaveSave
SaveSave
SaveSave
SaveSave
SaveSave
SaveSave
SaveSave