How to make Rosemary Olive Sourdough Bread with whole roasted garlic that requires no kneading and rises overnight.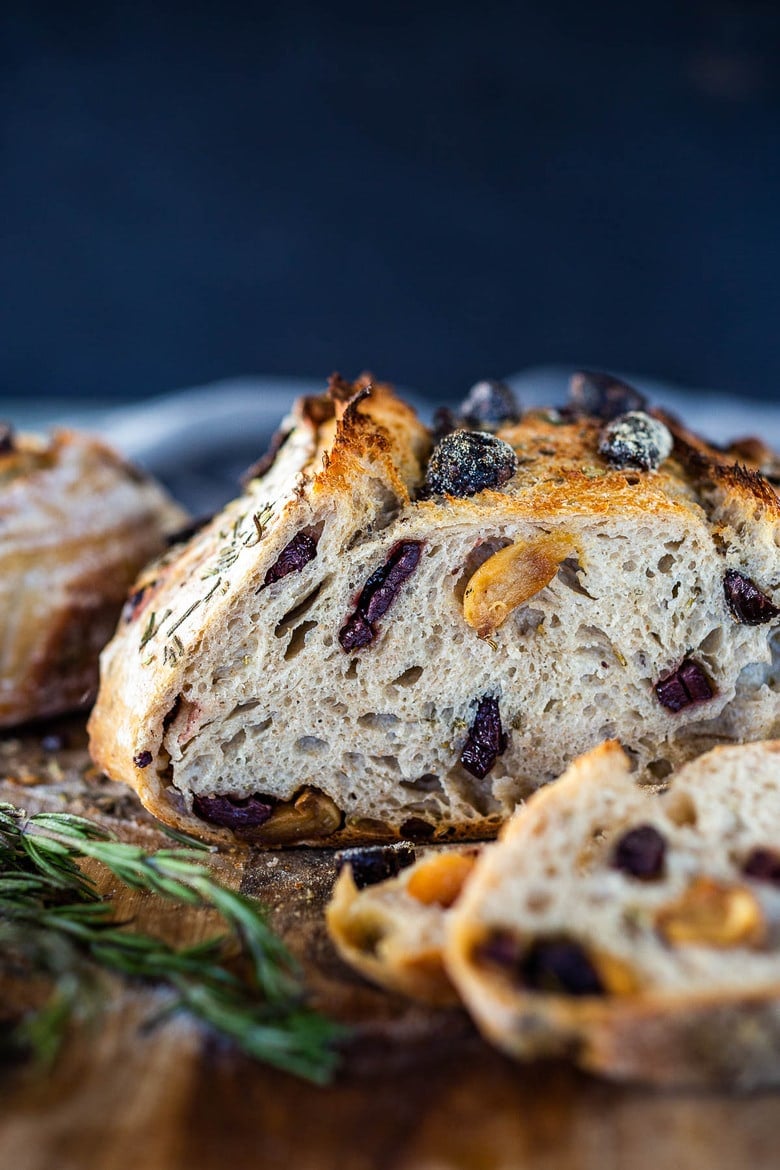 I have really enjoyed watching you perfect your Sourdough Bread over the past 6 months! Many of you have posted your beautiful loaves on Instagram, some have sent photos by email or sent texts, and I have to say, they always fill me with such delight! I just feel so excited for you, such an accomplishment. Well done! 
Many of you have been asking how to incorporate other ingredients into your sourdough loaves, so I just wanted to share one variation we've been making at home.
My husband is a huge fan of olives and garlic, so this Rosemary Olive Loaf with whole Roasted Garlic is basically his "dream loaf", one that is on repeat around here.
Before I start, I want to stress, this recipe is for those who have mastered our Easy Sourdough Bread Recipe.  If you are new to sourdough baking, start there.
So start there and then come back here. OK? 😉
What you'll need:
How to make Rosemary Olive Sourdough Bread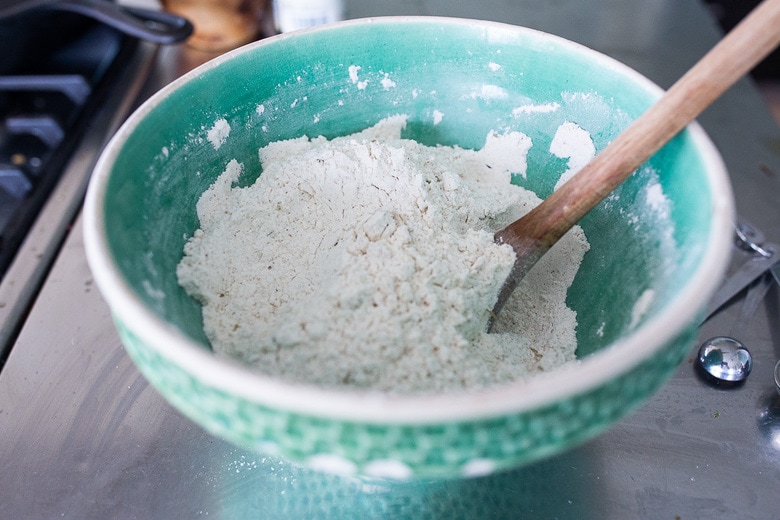 Mix the flour and salt in a bowl.  (See the recipe card for detailed measurements.)
Mix the water and starter in another container.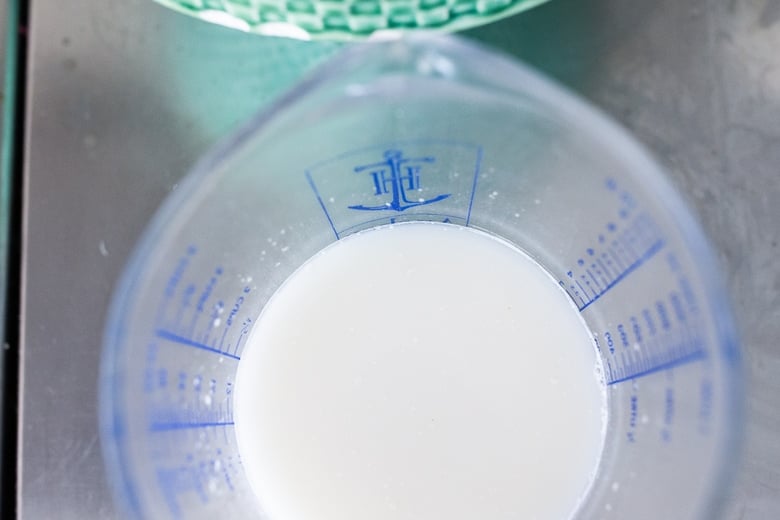 Wait 15 minutes and do two sets of "stretch and folds", 15 minutes apart.  You already know how to do this, but here is a refresher.
Sourdough bread "Stretch and Fold" Technique: | 45-sec Video
Cover with a towel and let rise overnight on the counter.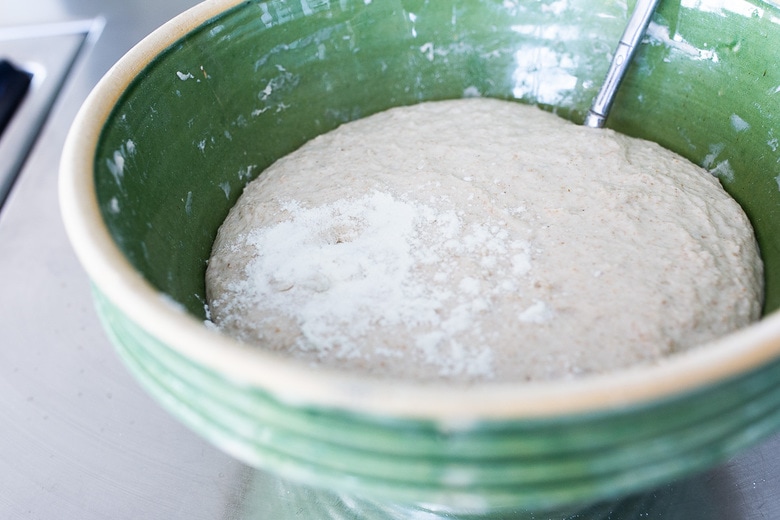 In the morning, the dough will have swollen, like a full belly.
When you think the dough has risen sufficiently, scrape the sides with a dough scraper (or wet fingers) and gently pour onto a well-floured surface.
Gently shape into a rectangle.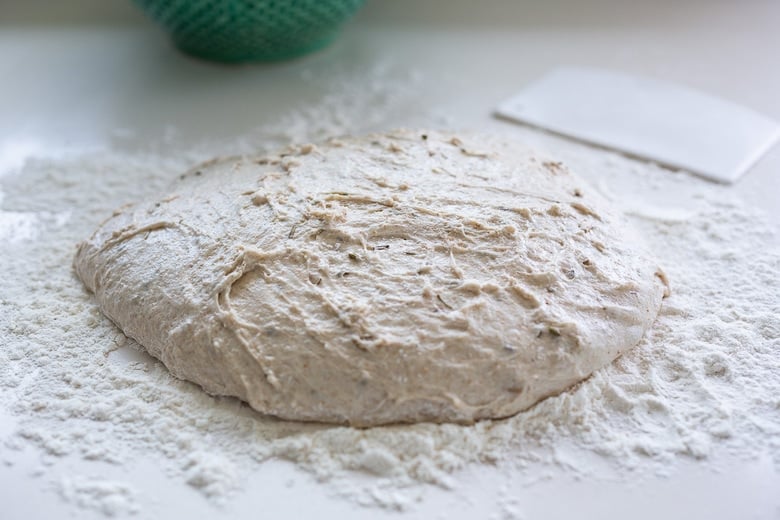 Here's the fun part.
Fold in the ingredients you want to add. Here I'm using kalamata olives, roasted garlic and rosemary.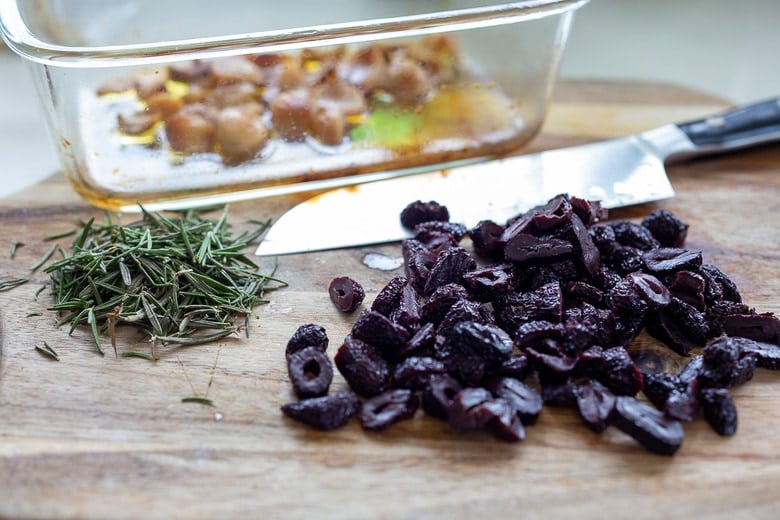 The roasted garlic adds so much flavor!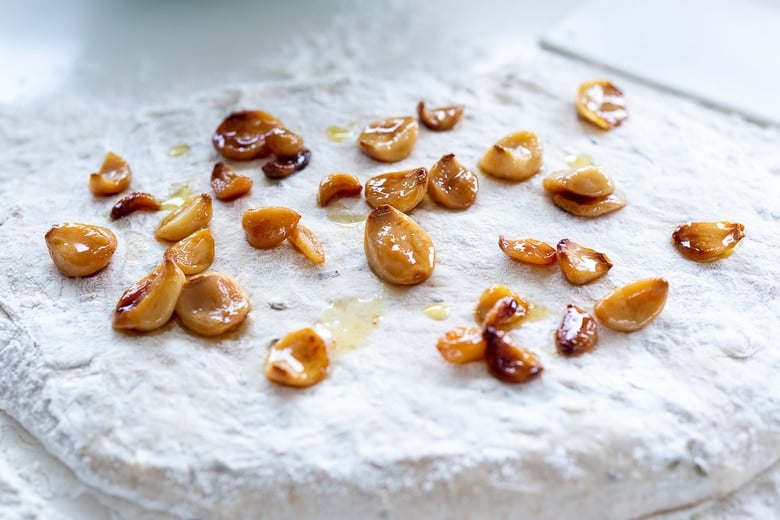 Load it up if you like. 🙂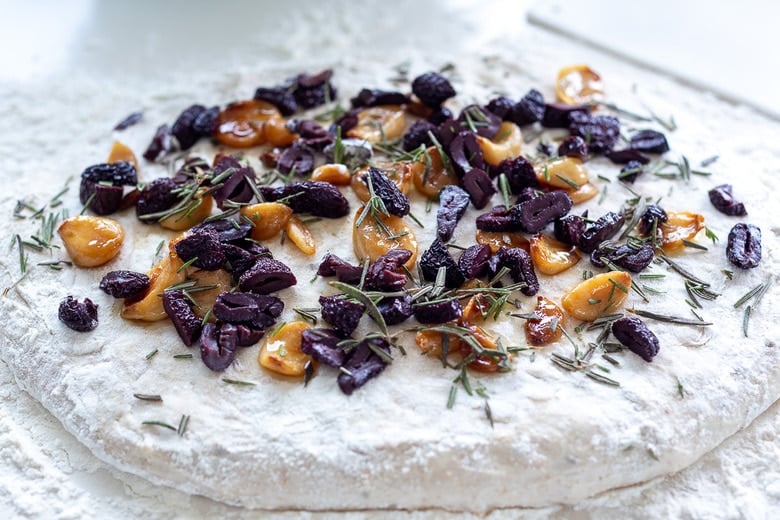 Then using a dough scraper lift one side up and over.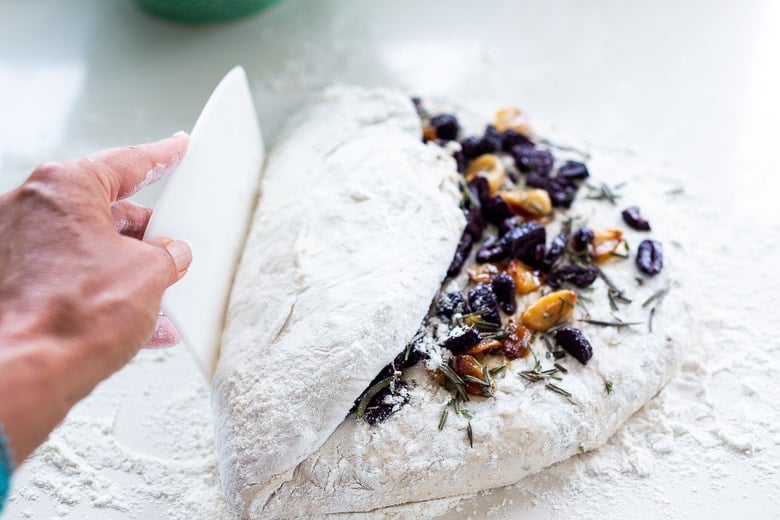 Then lift the other side, being mindful to make sure dough is in between the filling, so the filling gets spread out in the final baked bread.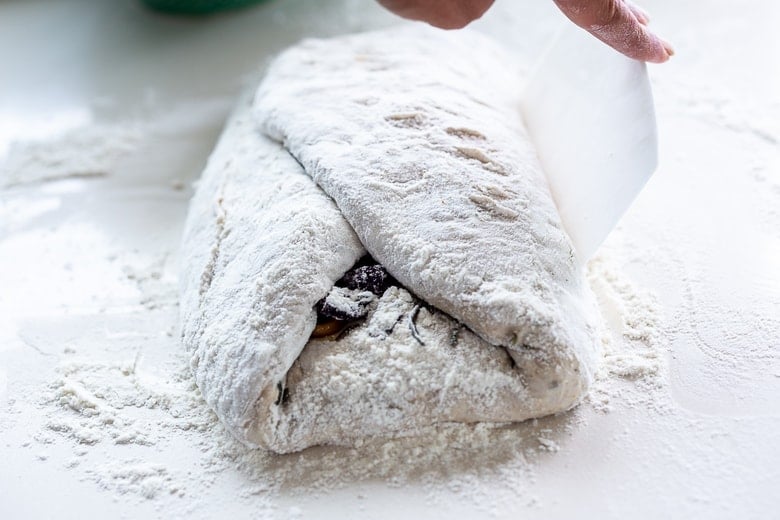 Then repeat, turning the dough horizontally, gently flattening it out again, just a little, and tri-folding, once more.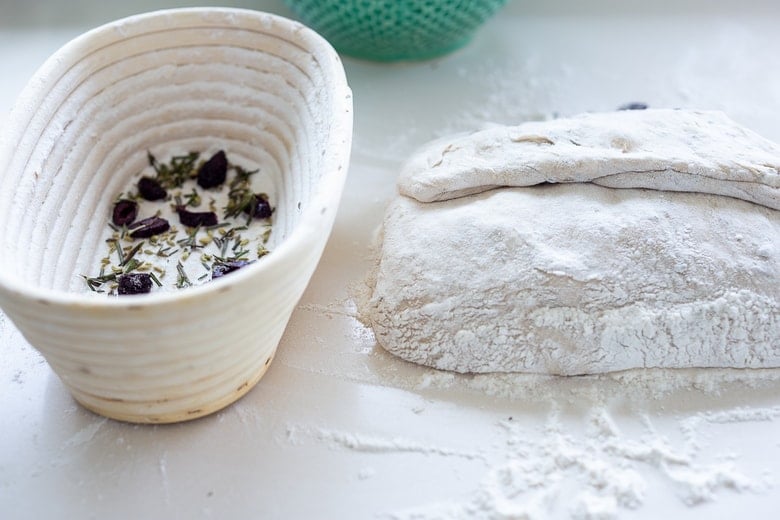 Lift it into a banneton, seam side up, pinching any seams closed.
If you don't have a banneton, use a parchment-lined bowl sprayed with a little olive oil.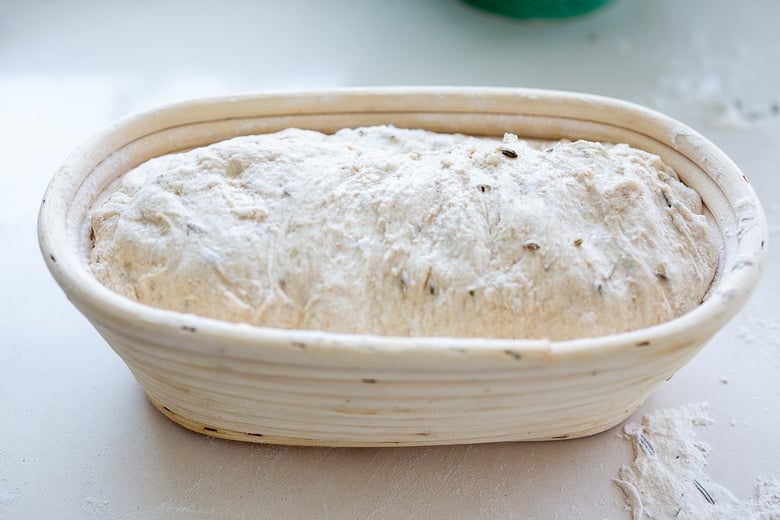 Refrigerate one hour while you preheat the oven with your lidded dutch oven inside.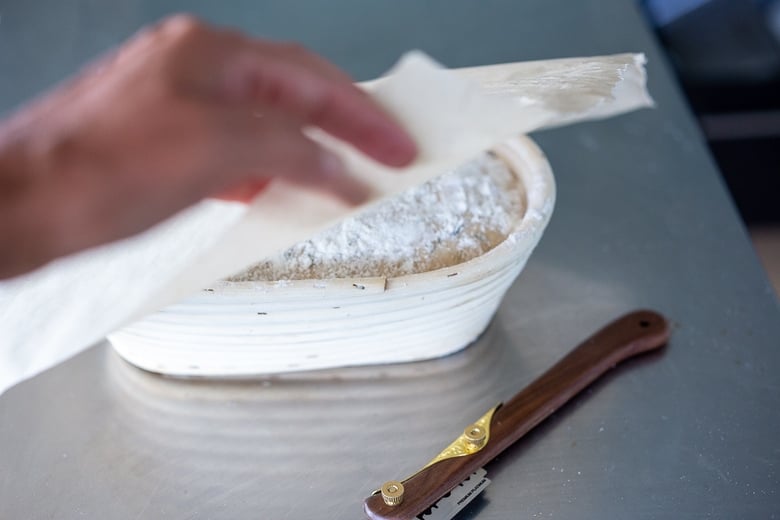 When ready to bake, here is an easy way to get the dough into the dutch oven. Cover the dough with parchment and flip it onto the counter.
If you are an experienced baker, feel free to flip the sourdough directly into the dutch oven, you actually don't "need" the parchment, we only use it here to make the dough easier to center.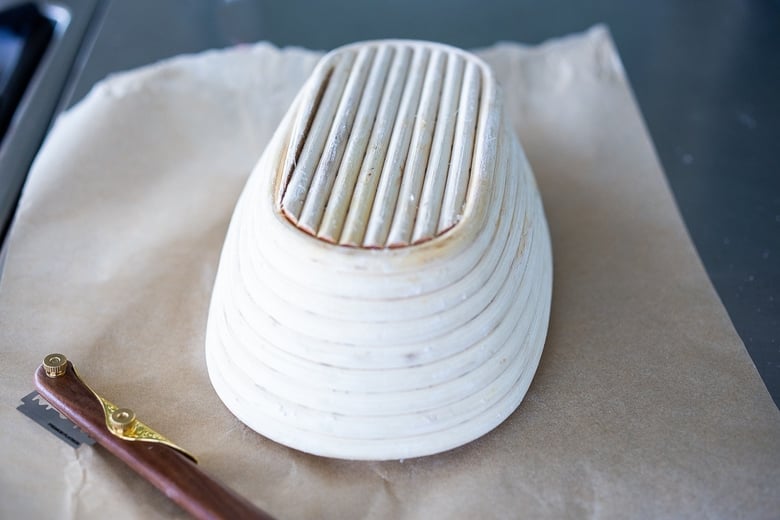 Score, then bake!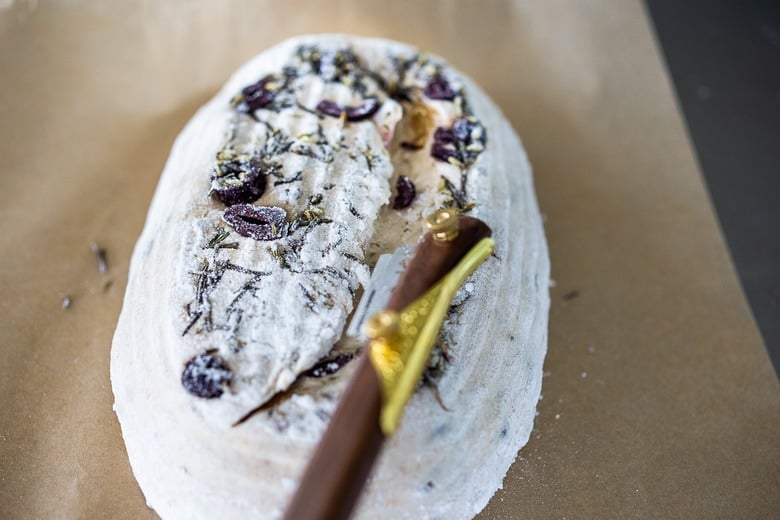 Here I'm using a lame to score the bread! It makes it very easy.
If you've been baking a while, and plan on doing it more. Now is the time to treat yourself to a lame. It makes scoring fun!
Also, consider getting a Banneton.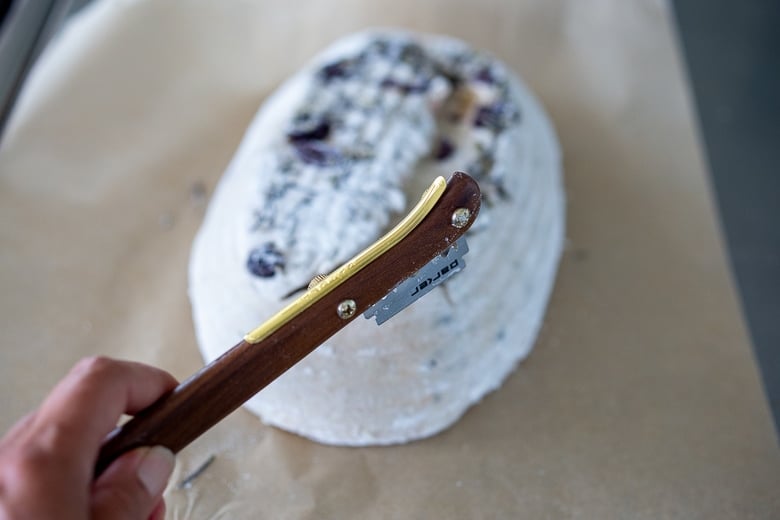 Bake the rosemary bread in the 500F oven covered, remove the lid and continue baking until deeply golden and internal temp reaches 202-208F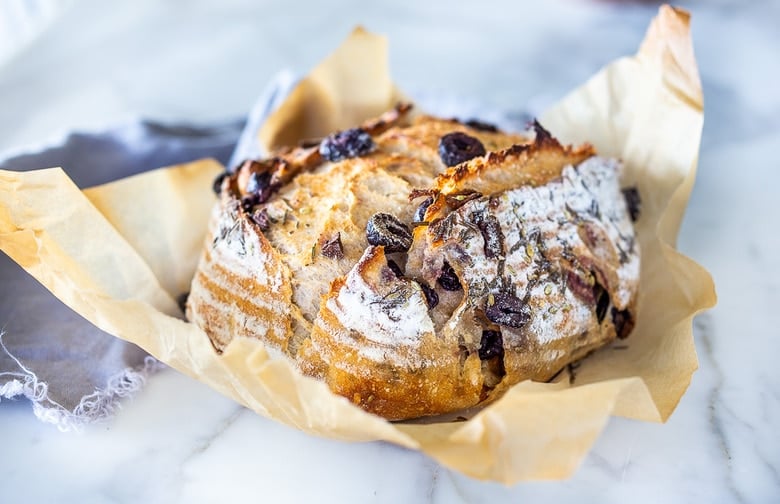 So there you have it! How to add different ingredients to your sourdough bread.  I'm sure you'll come up with lots of variations and I can t wait to see them! Show me on Instagram tagging #feastingathome.
On the homefront: The leaves begin their gradual turning and the sun sinks down a little lower in the horizon, creating the beautiful light I've come to love about the Northwest.
This week has been all about cozy slippers, making soup and baking bread. Truthfully, I've had some failures in the bread department. I won't go into the nitty-gritty, but I am reminded that even if you've made bread hundreds of times, you still must pay attention.
Like life, there are endless possibilities for learning and the moment we think we've mastered it, life comes along and shows us otherwise.
Perhaps being human means each day I have the opportunity to learn a little more about that thing that keeps poking at me. And forgiving myself when I fail. Moving forward usually entails taking a few steps backward at times.  And it's ok.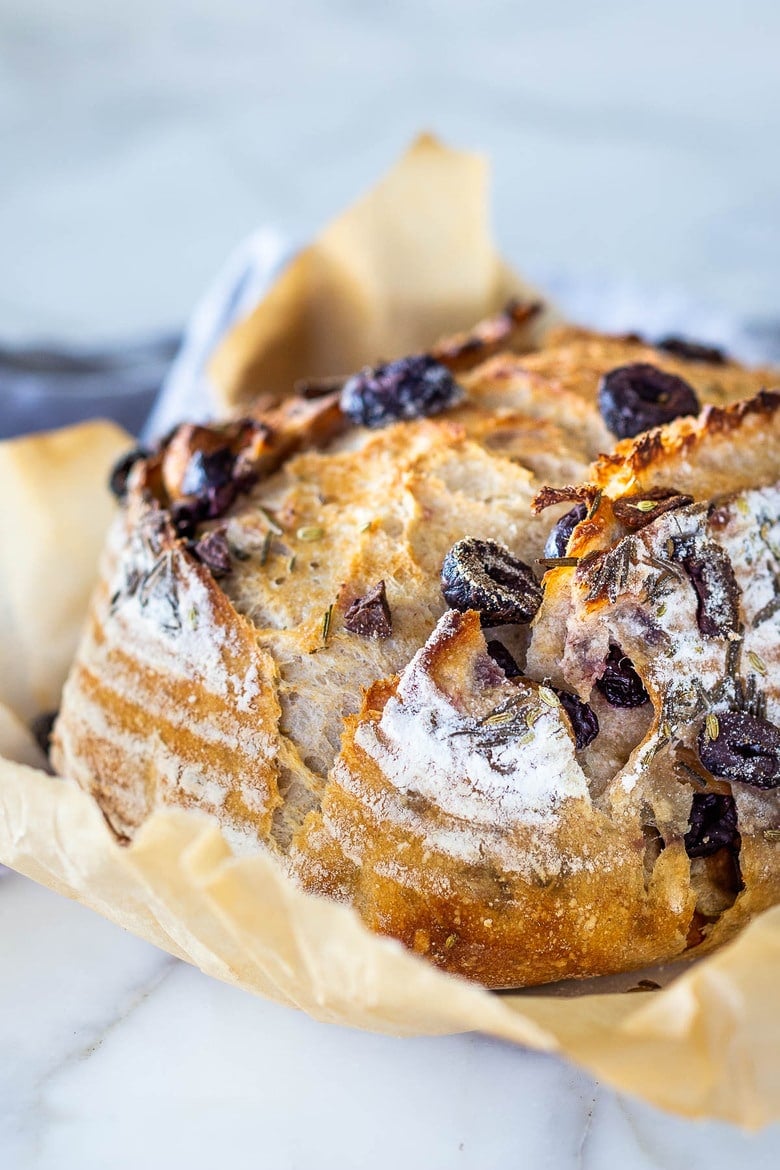 More sourdough Recipes you may like!
Have a beautiful fall weekend and happy baking.
xoxo
Print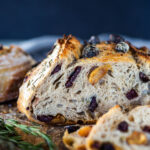 Rosemary Olive Sourdough Bread
Author:

Sylvia Fountaine

Prep Time:

25 mins

Cook Time:

40 mins

Total Time:

1 hour 5 minutes

Yield:

1

loaf

1

x

Category:

bread, sourdough recipes,

Method:

baked

Cuisine:

northwest

Diet:

Vegan
---
---
---
Instructions
Read through and perfect the No-Knead Sourdough Recipe (watch the video there) I recommend not attempting this until you have mastered that recipe. 🙂
Mix the dough: At night, in a large bowl, mix flour and salt together. In a small bowl, mix starter and water together using a fork. Pour the starter-water into the flour mixture and stir with a fork until relatively combined. Using a wooden spoon, or dough mixer, scrape sides and mix dough for one minute, incorporating all the flour. The dough will feel thick and heavy and shaggy. Just do your best to incorporate all the flour. If for some reason the dough will not incorporate all the flour, add a tablespoon of water at a time to get it incorporated. Cover with a damp kitchen cloth, wait 15 minutes and do 2 sets of stretch and folds, 15 minutes apart. See video.
RISE: Let rise overnight on the counter 10-14 hours.  65F-70F is ideal. In the morning, the dough should have swelled, but not quite doubled. Do the poke test.
Prepare your banneton dusting the banneton with rice flour and perhaps some olives and rosemary in the bottom ( which will end up being the top.) See notes for using a regular bowl.
SHAPE: Using a wet dough scraper, or wet fingers, loosen the dough around the edges and pour it onto a well-floured surface. Treat the dough gently, flattening lightly with your fingertips into a rough rectangle about 1 1/2 inches thick. It need not be perfect. Sprinkle the olives, rosemary and garlic over the surface. Using the dough scraper, lift up one side, stretching just a bit up and over to the middle, then fold up the other side, like a tri-fold envelope. Turn the dough horizontally.  Let the dough rest for 1 minute. Then repeat. Gently flatten with fingertips (it needn't be as flat as the first time), then tri-fold. Pinch the seams closed and lift into the prepared banneton, seam side up.
REST & PREHEAT Place dough in the fridge uncovered for 1 hour, while you preheat the oven to 500F (or 475F) with your lidded dutch oven inside.
SCORE: Pull the dough from the fridge and have your lame (or sharp knife or razor blade) ready to score. Place a piece of parchment over the banneton and flip the dough, setting down on the counter over the parchment. Score 3/4 -1 inch deep at a 45-degree angle- basically wherever you want the dough to puff up. One slash is fine, or create a design.
Pull the dutch oven from the oven, and close the oven door. Remove the lid,  place the scored dough into the dutch oven lifting it by the corners of the parchment. (See notes) Quickly cover and place back in the oven.
 BAKE: Place in the middle of the oven for 20 mins with convection on, (or 25 minutes w/no convection ) or 28 minutes at 450F. Remove lid and it should be puffed and just lightly golden. Lower heat to 450 F, and continue baking 10-15 minutes until deeply golden and internal temp reaches 202- 208F.  No pale loaves please, let them get golden!
COOL: Remove from the dutch oven, let it cool 1 hour on a rack or tilted up on its side, before slicing so you don't let the steam out and don't smash it- be patient. This is the hardest part. 😉. Take a picture! Feel proud. You did it!
---
Notes
NO Banneton: Use a parchment-lined bowl, sprayed with spray oil. Place dough seam side down. Sprinkle with flour and some sliced olives or rosemary if you like. Or even something like Everything Spice would be good here.
FLOUR: Feel free to sub 1/2 cup of the white flour with rye, whole wheat or other whole grain. Using more may create a heavy loaf.
Nutrition
Serving Size:

1 slice

Calories:

199

Sugar:

0.3 g

Sodium:

541.5 mg

Fat:

2.4 g

Saturated Fat:

0.4 g

Carbohydrates:

40.5 g

Fiber:

6.1 g

Protein:

7.4 g

Cholesterol:

0 mg
Keywords: rosemary bread, rosemary sourdough bread, olive bread, sourdough recipes, overnight sourdough bread, no knead sourdough bread