Baking bread in a Dutch oven is the easiest way to create crusty, delicious loaf of bread at home. Here are my top picks for the best Dutch ovens for bread baking. They make a great gift!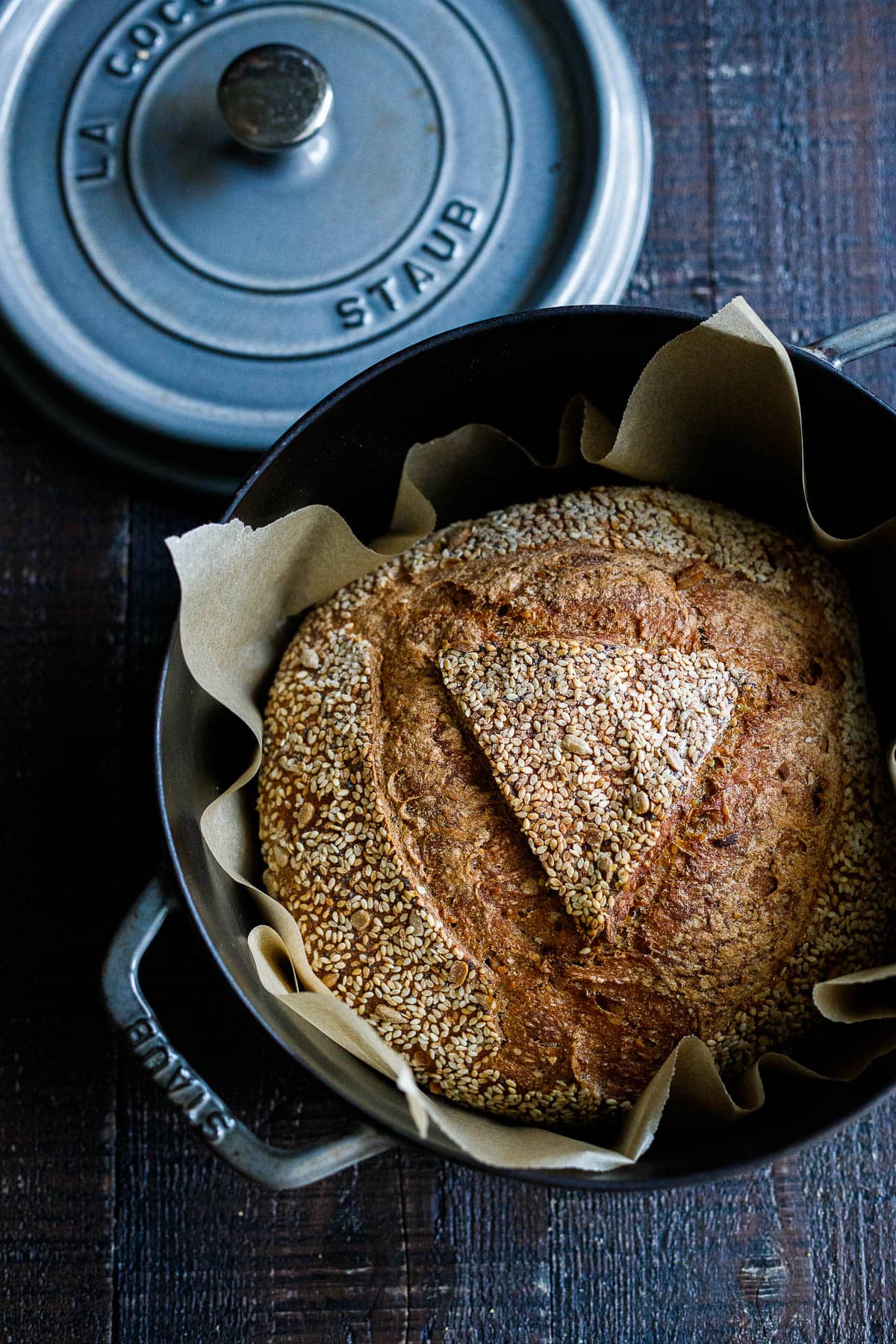 Nothing is more satisfying than pulling out a loaf of freshly baked bread from the oven. Whether you are new to sourdough bread baking, or a seasoned pro, using a Dutch oven makes the baking process easier and helps ensures the bread will come out perfect each time.
This is because a Dutch oven is designed to withstand really high temperatures and maintain that temperature consistently during the bake. In addition, Dutch ovens also have better distribution and retention of heat, which allows the heat to distribute evenly across the pot.
However, not all Dutch ovens are created the same. Over the years, I've had numerous people ask me what my favorite is, and truth be told, I've experimented with many of them. But I always return to my favorite- the 5.5 Quart Staub Dutch Oven, for many reasons- but there are a few other Dutch ovens that will work well for bread, too.
my Top Picks:
Reviews of The Best Dutch Ovens for Bread
1.
Best Overall: Staub Cast Iron 5.5 Quart Round Cocotte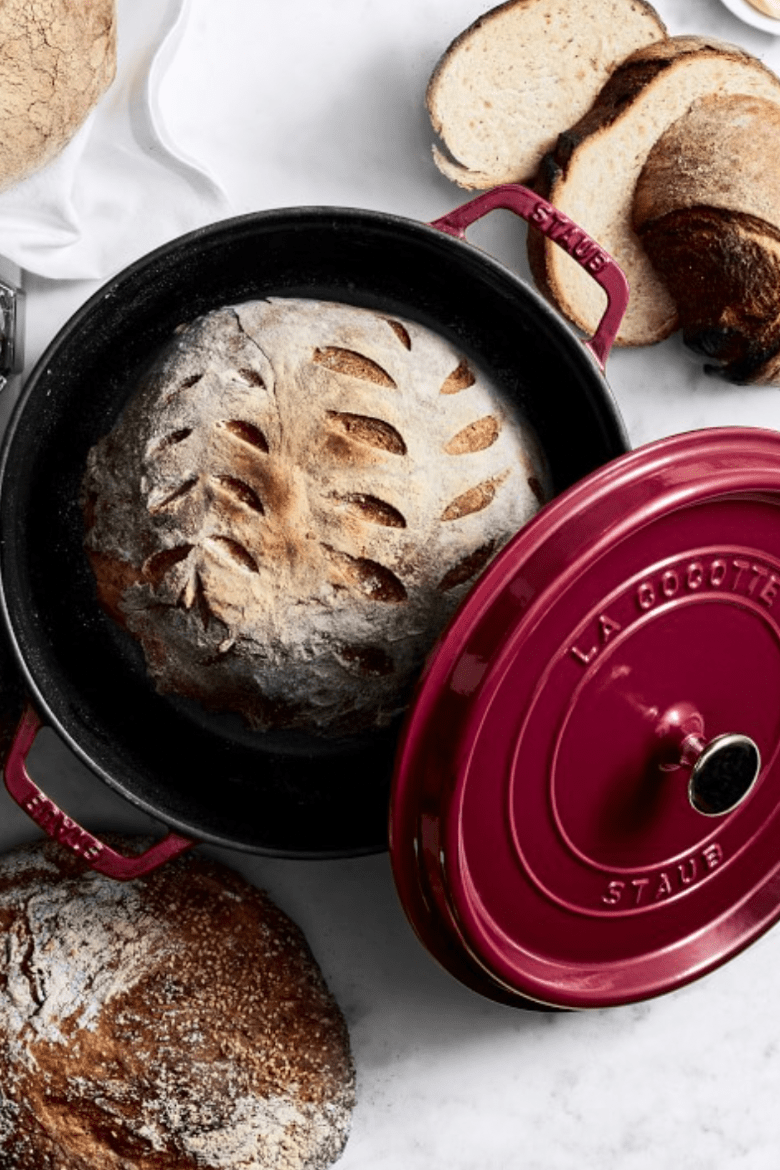 This is my absolute favorite Dutch oven—and the one I used to create my Sourdough Bread recipe. I love the modern style and also the fact that it has a dark interior, which makes it easy to keep clean! White interiors always blacken in high heat and are hard to keep white.
It has a tall metal knob that's easy to grab, and won't melt in the oven. The chip-resistant enamel comes in many colors, and makes it durable for years to come. Another really cool feature of this Dutch oven is the self-blasting spikes that prevent moisture from seeping out. This keeps your dough at the perfect level to rise appropriately, resulting in a fluffy, delicious loaf.
It is oven-safe up to 900 degrees Fahrenheit, and the lid can withstand up to 500 degrees, which is perfect for the high temperatures needed for baking bread.
The Specs:
Safe up to 500 degrees Fahrenheit

Dishwasher safe (hand wash encouraged)

Unique matte black interior

12.9 pounds in weight

10.24 inches width

6.57 inches height
The Pros:
Great modern design

Metal knob

Dark interior

Durable

Retains heat well

Available in many colors
The Cons:
Where to Buy the Staub 5.5 Quart Round Cocotte:
2.
Best Budget: Lodge 5 Quart Cast Iron Dutch Oven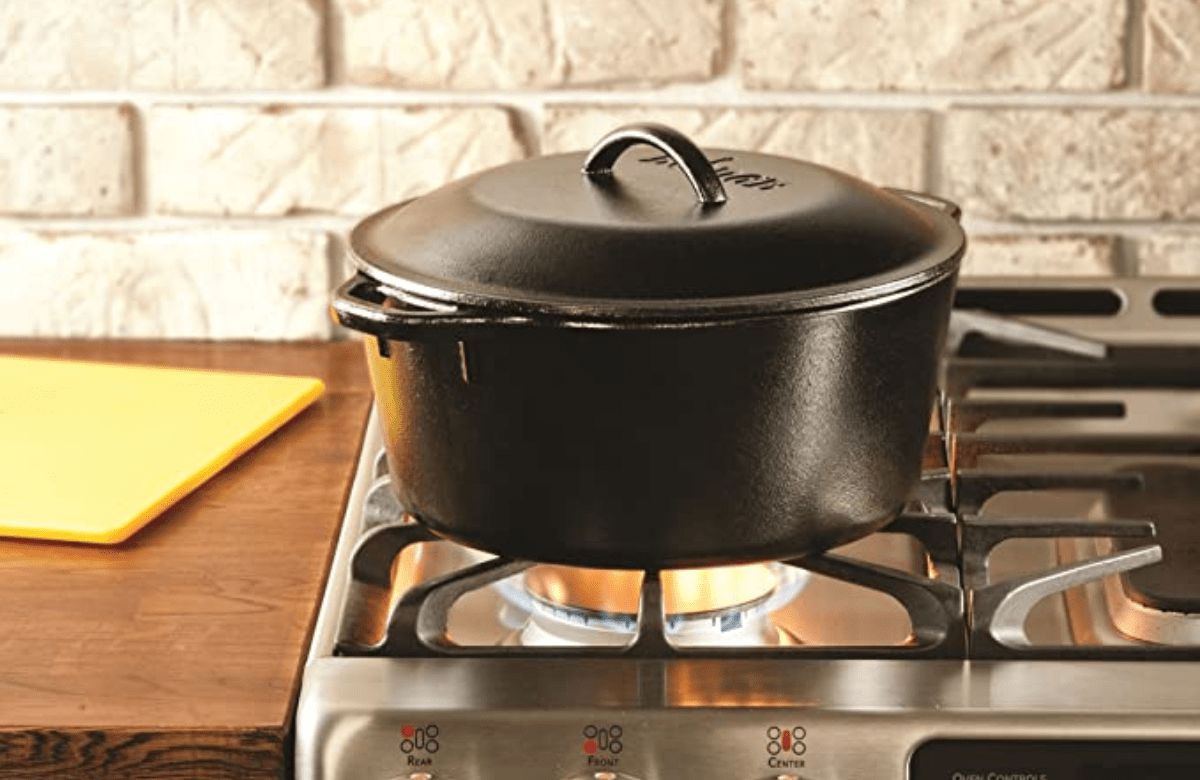 If you're looking for something less expensive, the Lodge 5 Quart Cast Iron Dutch Oven is a great option. This lightweight Dutch oven is pre-seasoned, and the cast iron material means it'll last for years to come. Thanks to its dark interior, it's incredibly easy to clean, and it's also very lightweight.
The Specs:
Seasoned with 100 percent pure vegetable oil

12.78 pounds in weight

10.43 inches width

7.14 inches height
The Pros:
Affordable

Sturdy handle

Easy to clean

Lightweight
The Cons:
No knob at the top, so not ideal for lifting the lid off easily

Not enameled
Where to Buy the Lodge 5 Quart Cast Iron Dutch Oven:
3.
Also Great: Lodge 6 Quart Enameled Cast Iron Dutch Oven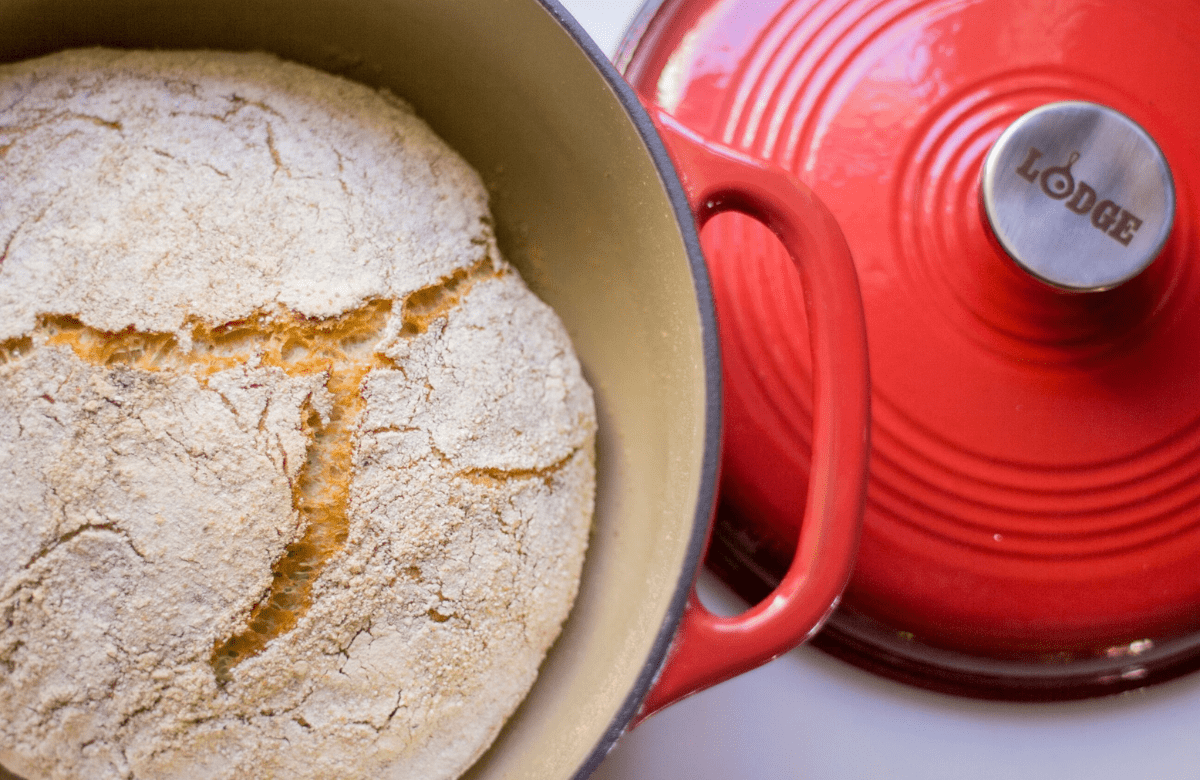 I also really like the Lodge 6 Quart Oyster Enameled Cast Iron Dutch Oven. It's a popular Dutch oven with a 4.8-star rating from over 38,000 Amazon reviews, and it's great for baking bread thanks to its high capacity and chip-resistant enamel.
The large handles and metal knob provide easy grip, and it retains heat extremely well. The cons are that it can be a bit heavy, and the light interior is harder to keep clean, but if you're looking for a mid-priced Dutch oven that you cook lots of dishes in, this a great option.
The Specs:
Hand-wash only

Safe up to 500 degrees Fahrenheit

13.72 pounds in weight

10.93 inches width

7.31 inches height
The Pros:
Incredible heat retention

Great size for most bread recipes

Chip-resistant

Metal knob provides easy grip
The Cons:
Heavy

Light interior is hard to clean
Where to Buy the Lodge 6 Quart Enameled Cast Iron Dutch Oven:
4. BEST DUTCH OVEN ALTERNATIVE FOR BREAD BAKING: LE CREUSET BREAD OVEN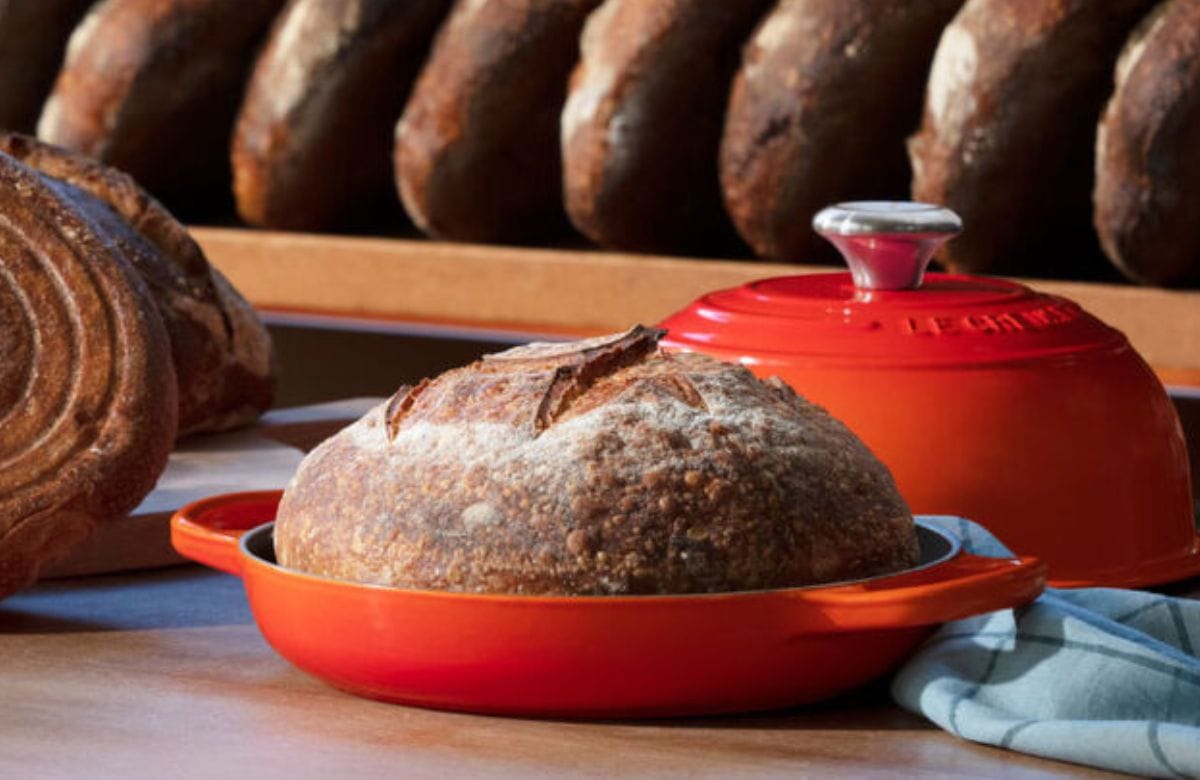 Although not technically a Dutch oven, the Le Creuset bread oven is one of the iconic cookware company's latest products, and is another excellent option for creating bakery-quality bread. It's specifically designed with a domed lid (like an upside-down Dutch oven) to trap and circulate steam, ensuring a crisp bread crust and a moist center.
The bread oven is made from enameled cast iron and has a low profile bottom that makes it easier to remove loaves, plus the unique base "indents" the bread with three signature rings for that extra visual touch.
Specs:
Dishwasher safe (but hand washing is encouraged)
Safe up to 500 degrees Fahrenheit
9.72 pounds in weight
9.5 inches width
7 inches height (with lid)
Pros:
Lifetime warranty
Excellent heat distribution
Sturdy carry handles
Cons:
Not versatile: it's designed for bakery items (no stews or casseroles)
Smaller capacity (1.75 quarts)
Where to Buy the Le Creuset Bread Oven:
Other Dutch Ovens for Bread Baking to Consider
Marquette Castings 6 Quart Enameled Cast Iron Dutch Oven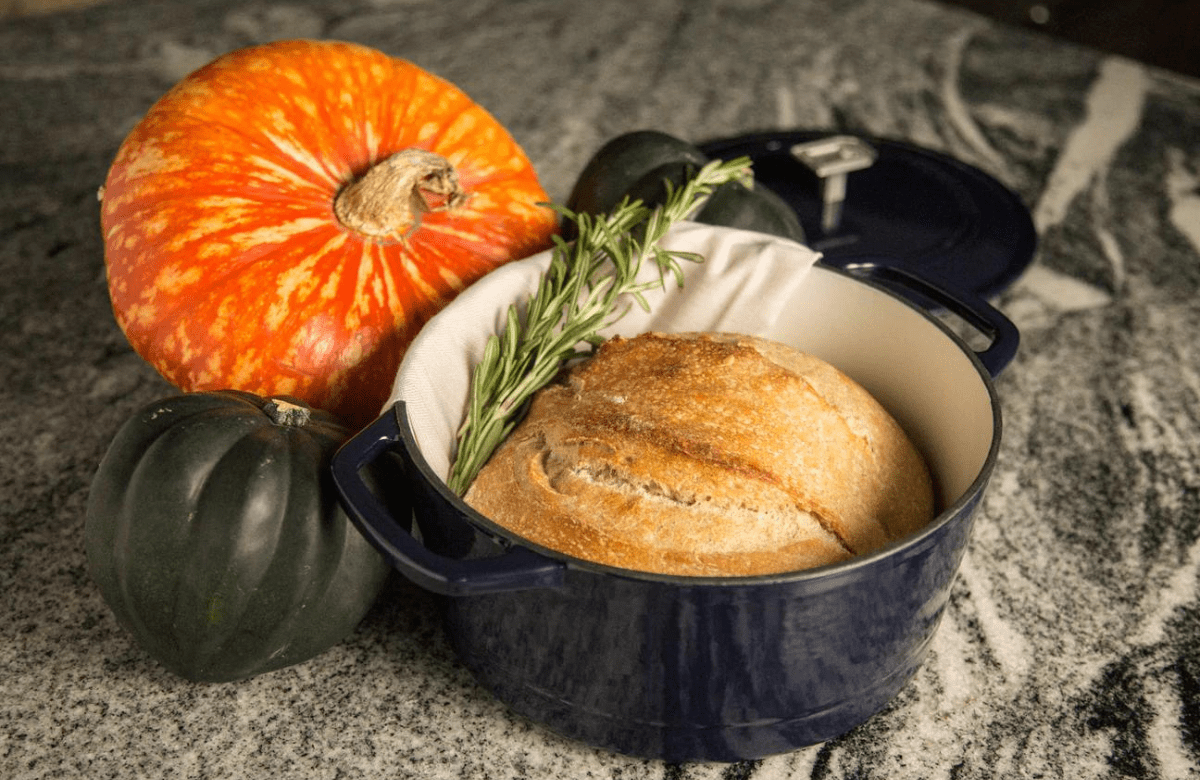 The Marquette Castings Dutch oven has a metal knob, and offers pretty colors, and I especially like that it comes with a lifetime warranty should anything go wrong. However, the white interior can turn black, making it difficult to keep clean, and it's a little on the shallow side for a larger bread recipe.
Cuisinart Chef's Classic Enameled Cast Iron 5 Quart Round Covered Casserole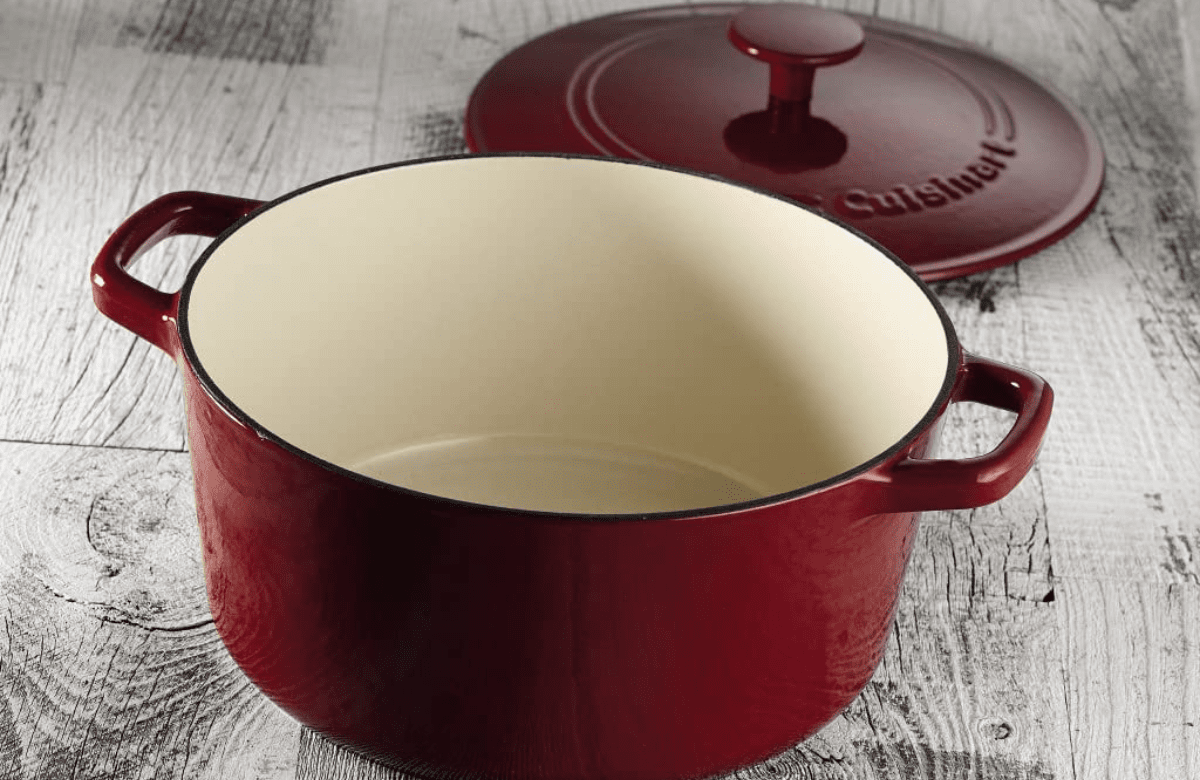 This Dutch oven from Cuisinart is another good option for home cooks since it retains heat wonderfully and has handles for easy gripping. However, it isn't as chip-resistant as the other options on my list, and again has a light interior.
Le Creuset Signature Enameled Cast Iron 5.5 Quart Round Dutch Oven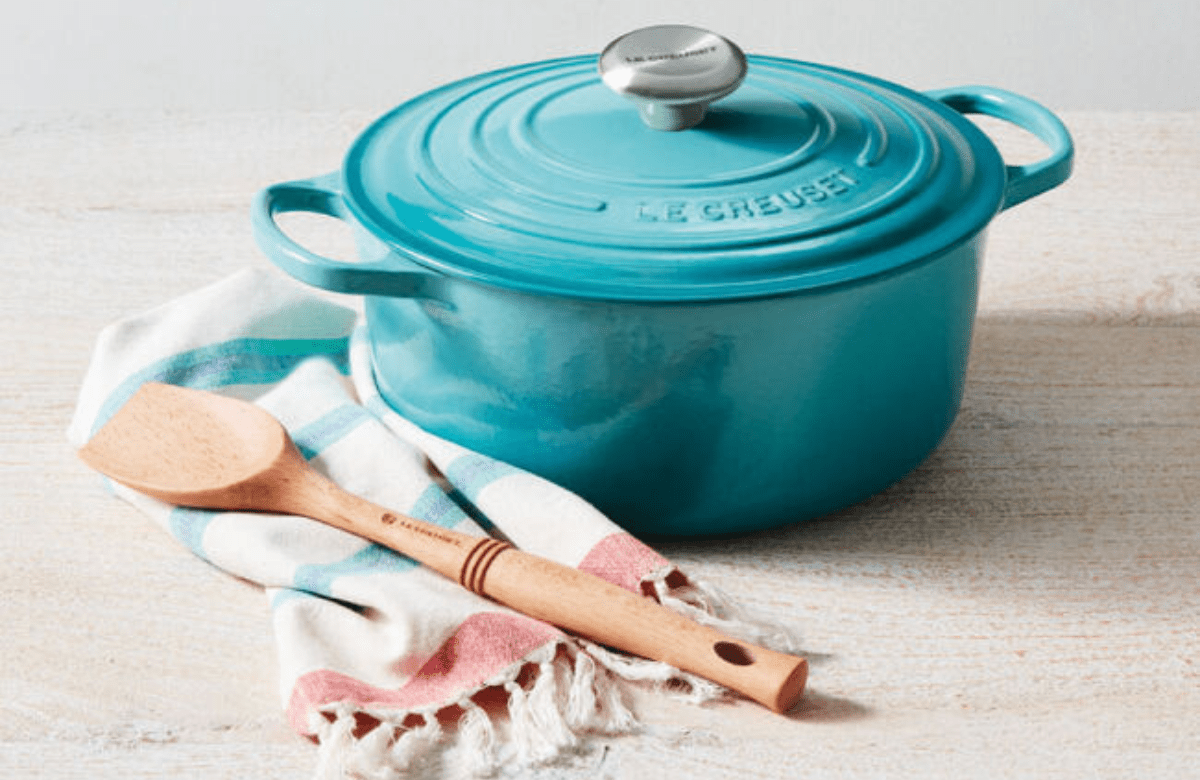 A Le Creuset Dutch oven is a true classic which will last for generations to come. It's incredibly heat-resistant and retains heat and moisture– all in all, a great Dutch oven, which I use a lot- but not for baking bread, again because of its white interior. It is a perfect soup and stew pot though and the color options are so much fun. The ultimate gift.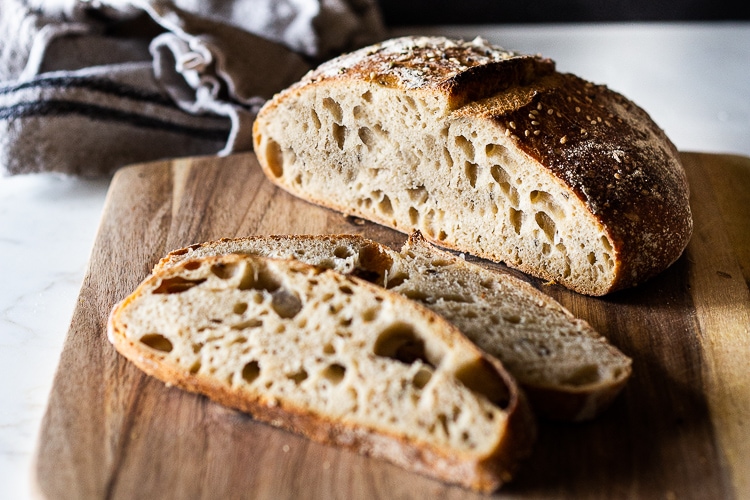 Everything to Know Before Buying a Dutch Oven for Bread Baking
First, Do You Really Need a Dutch Oven for Bread Baking?
While I definitely prefer and recommend a Dutch oven for bread baking, I will say that you don't necessarily need one. If you don't have a Dutch oven, you can try baking your bread on a sheet pan covered with a large metal bowl. It will yield a flatter loaf, but it does work. However, for a much easier, seamless experience, I'd recommend investing in a Dutch oven.
What to Consider While Shopping for a Dutch Oven for Bread
To find the best Dutch oven for bread that caters to your own specific needs, consider the following:
What is the size?

I recommend baking bread with a Dutch oven that is between four and six quarts (Ideally 5.5 – 6 quarts). This will ensure you can bake perfect size loaves that expand without sticking to the sides of the oven. If you want to create different-shaped rolls or double the recipe for more people, it's worth investing in a larger option.

Does it have a metal knob?

I prefer using a Dutch oven that comes with a metal top knobs (not rubber) that I can hold with ease.

Does it have a dark interior?

It's best to use a Dutch oven with a darker interior for bread baking. This will help prevent the pot from getting too dirty or messed up due to the sticky flour.

What is the material?

I personally recommend cast-iron Dutch ovens, which are pre-seasoned. Cast-iron Dutch ovens retain heat and withstand high temperatures a lot better than their counterparts. They're also incredibly durable—aka, they'll last forever!
What Size Dutch Oven is Best for Bread Baking?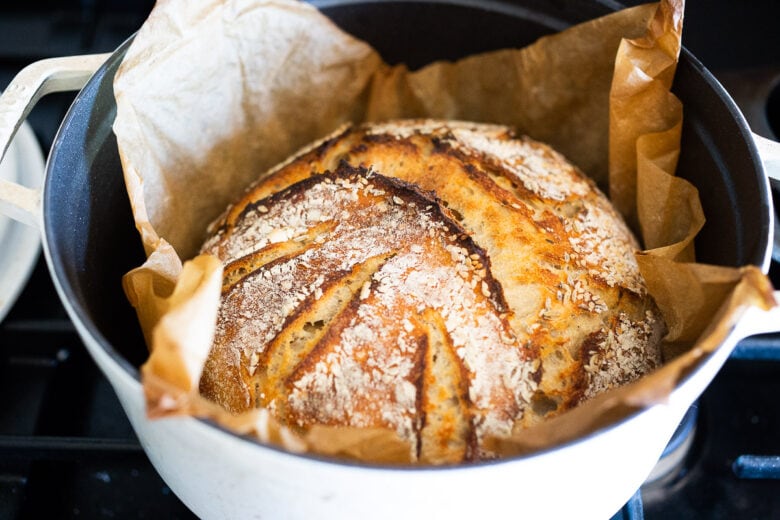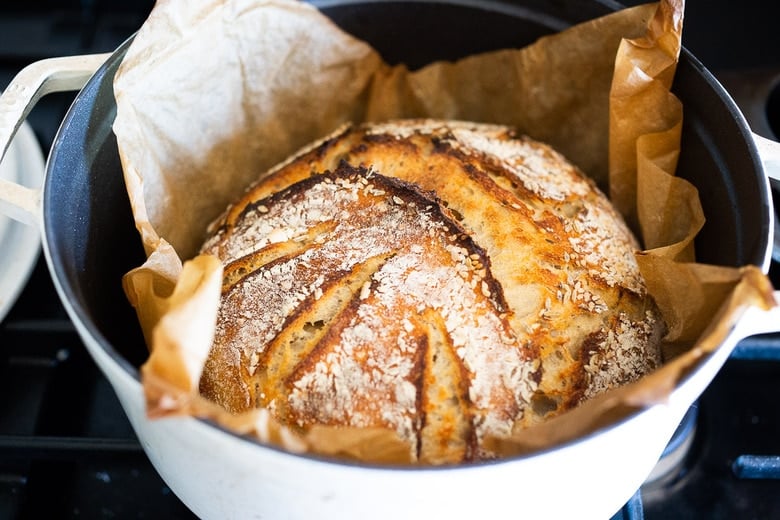 A Dutch oven that's between four and six quarts will work for bread baking, as these sizes allow enough room for the steam to circulate efficiently. The loaves will be able to expand outwards and rise up without sticking to the sides of the lid of the Dutch oven. I own and use a 5.5-quart Dutch oven, but if you plan to make larger loaves, a bigger size will do.
The Best Dutch Oven Substitutes for Bread Baking
As I mentioned above, if you don't own a Dutch oven, you can use a sheet pan covered with a large metal or pyrex bowl to bake bread. This will allow you to keep the steam in, and the sheet pan will retain heat for the bread to bake. I love Nordic Ware's sheet pans, which you can buy in a 2-pack for $24.99 at Target.
Other Great Bread-Baking Tools I Love
Aside from a Dutch oven, here are some of my favorite must-haves for bread baking:
Here are some optional extras that make bread baking more fun:
The Best Recipes for Dutch Oven Bread
My No-Knead Sourdough Bread recipe requires only 25 minutes of hands-on time, and is flexible and easy—but most importantly, it works with my schedule.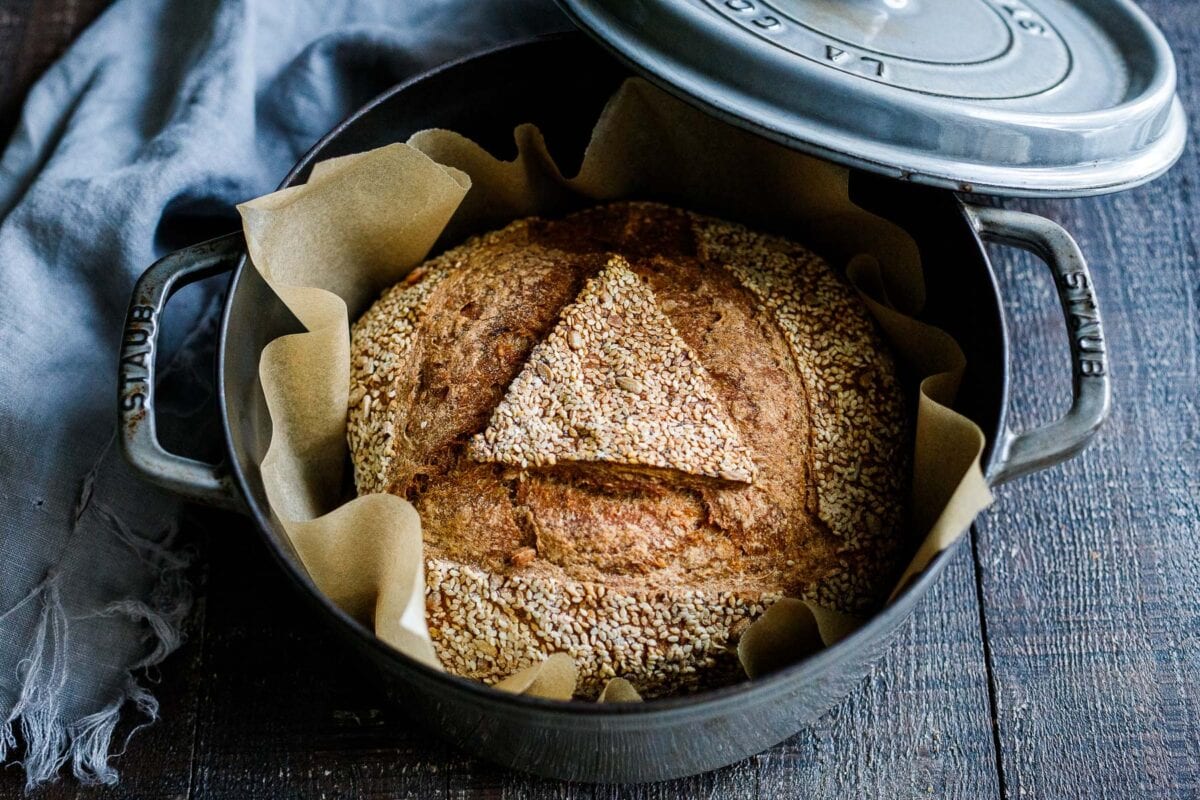 You'll need Sourdough Starter to make the bread, which you can either buy in-store or make at home. My Sourdough Starter recipe uses simple ingredients with no special equipment and is ready in just six days.
Prices were accurate at time of publication.