A magical recipe for Rose Petal Jam made with wild rose petals and the simplest of ingredients.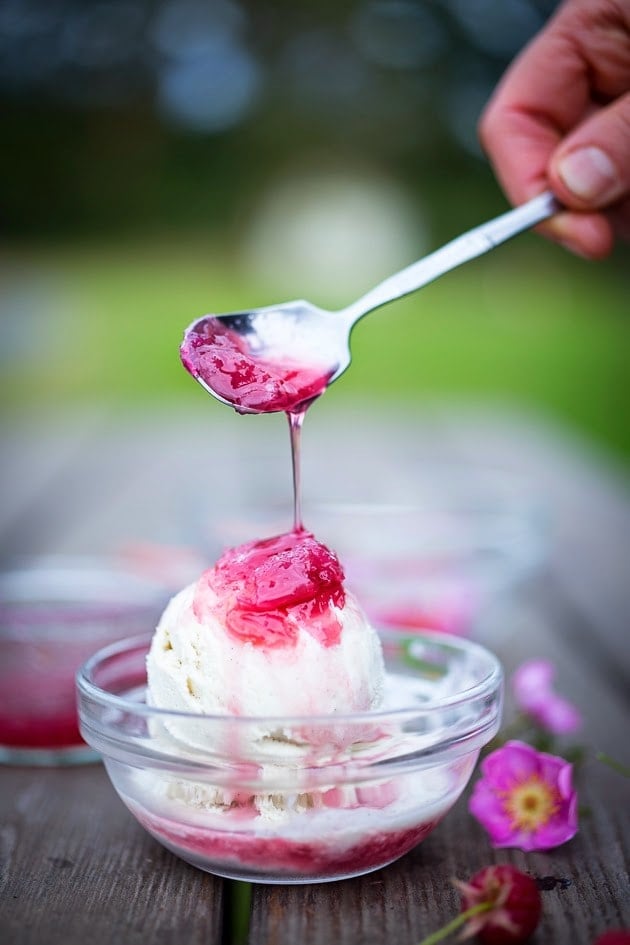 In the sweetness of friendship, let there be laughter and sharing of pleasures. For in the dew of little things the heart finds its morning and is refreshed. ~ Khalil Gibran
There is nothing that heals the soul quite like the sea air, time spent with friends and Rose Petal Jam. Last week we spent a few glorious days on beautiful San Juan Island with dear friends Tonia Schemmel, her husband Mike and their two kids Zalee and Fin.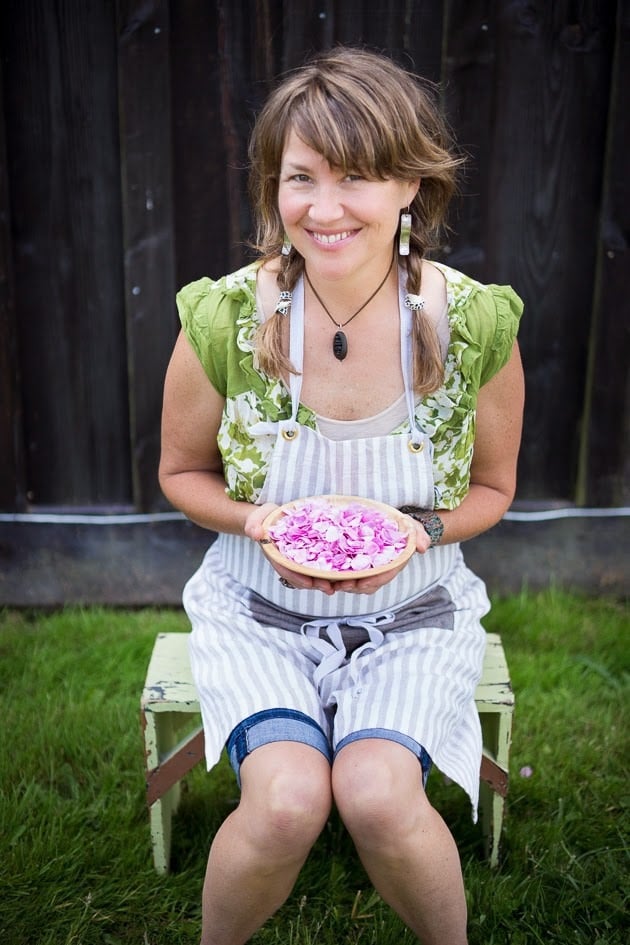 Some of you know
Tonia
from when we had our vegetarian restaurant together, in Spokane called
Mizuna.
While we were visiting the island,
Tonia
showed me how to make her Rose Petal Jam, made from wild rose petals she collects right here on the island.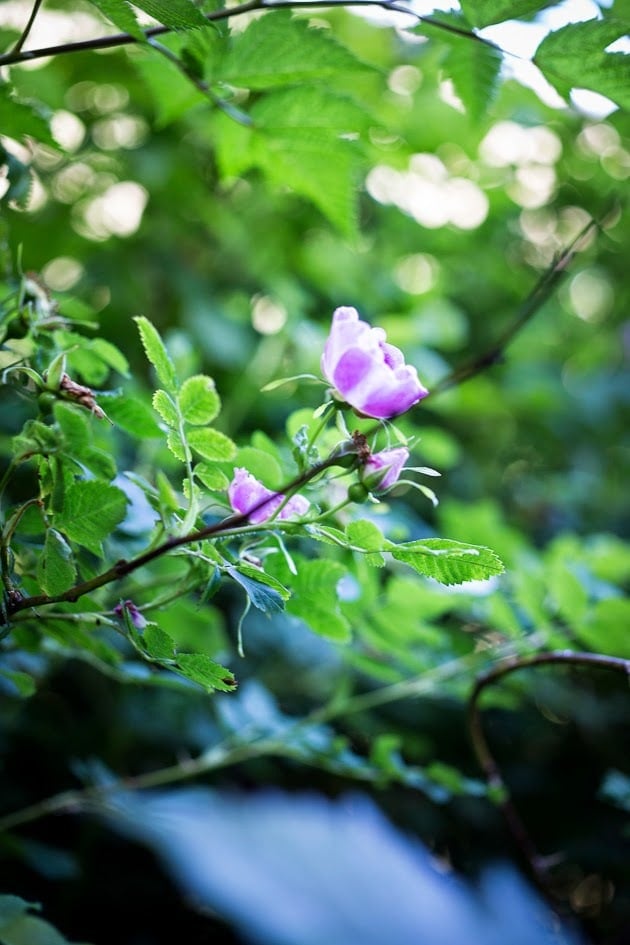 Why You'll Love Rose Jam
Let me start by saying- this is no ordinary jam. In the past, Tonia has given me little precious jars of this -which I savor bit by bit and stretch out as long as possible because, to me, each spoonful feels as if it is infused with love.
It casts a magical spell over me, filling me with love for the world around me. I kid you not, there are days that have been completely transformed because of the miraculous effects of this jam.
This rose petal jam would make the perfect gift if you know someone who could use a little extra love. Truly.
Rose Petal Jam Ingredients
Rose Petals- wild rose petals if possible. You can also sub-pesticide-free domesticated rose petals or dried, food-grade, rose petals Looking closely at the wild rose petals, you will notice something incredible. Is this coincidence? Each petal, surprisingly, is shaped like a heart! Their intoxicating scent melts away all tension.
Organic Cane Sugar– we always try to opt for organic, when possible.
Pectin

– not only to thicken the jam, but to increase the volume of the jam, creating more jam!

Lemon Juice- creates a vibrant color!
How to make Rose Jam
Collect petals from wild roses -or roses you know to be untreated with pesticides. You'll need about 2 cups.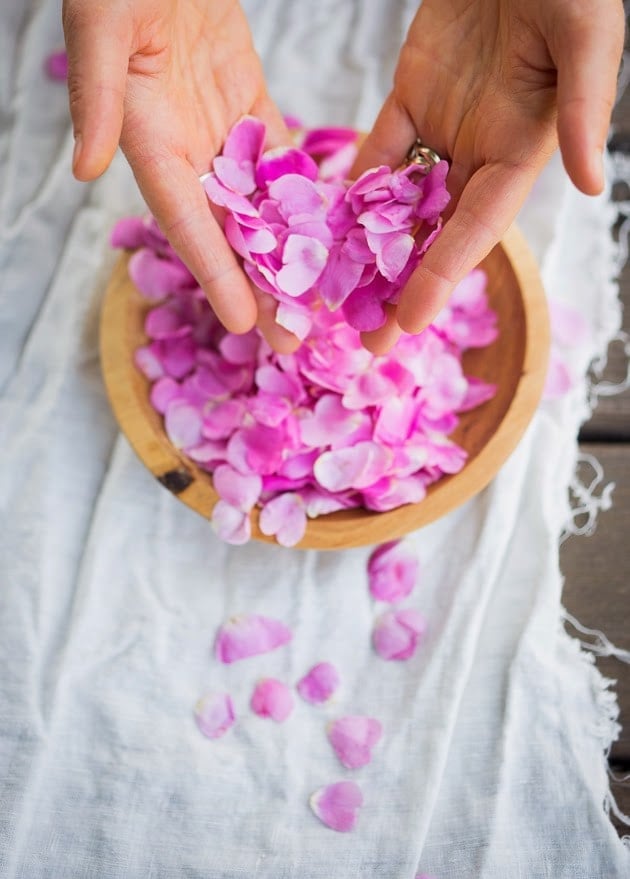 Sift and sort through the rose petals carefully, for too often creatures may make their homes there.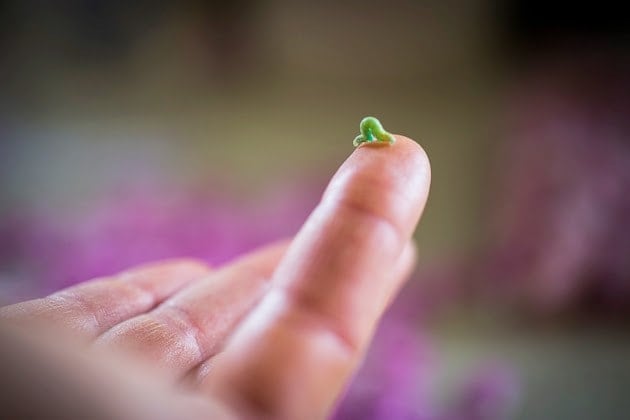 Once sorted, then they are ready to bring into the kitchen.
I always love being in
Tonia
's kitchen – filled with all kinds of herbs, healing tonics and tinctures. Wherever she is, she seems to find the beautiful essence of what surrounds her, and creates from this place.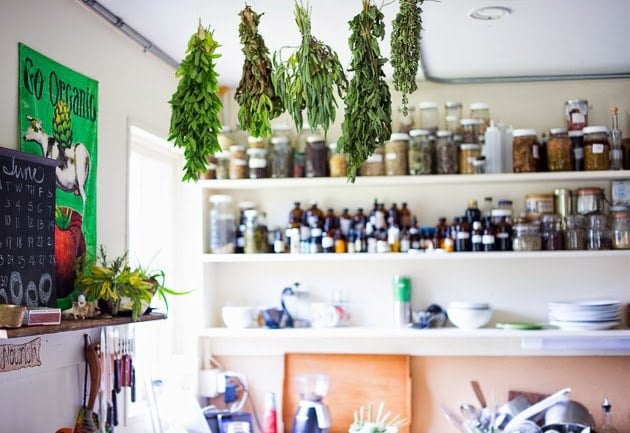 You can't help but feel she is deeply connected with the earth and its cycles, her creative healing energy flowing outward and freely. She began foraging, long before it was trendy, making all sorts of tonics and elixirs—a true herbalist's kitchen.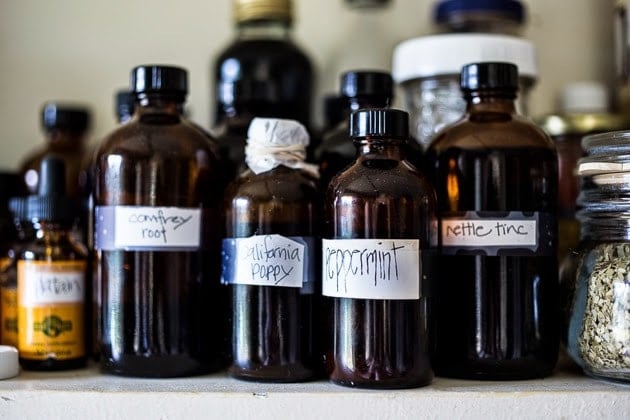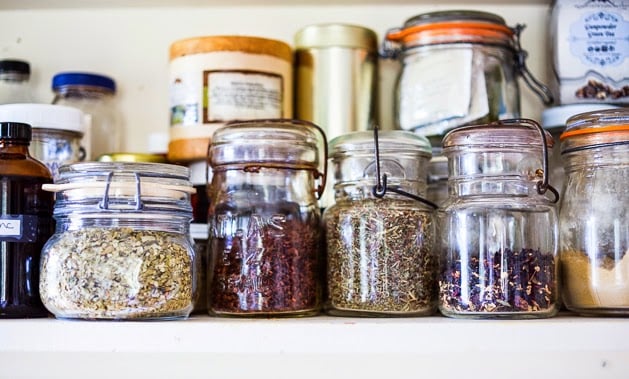 Living on San Juan Island gives her access to the fragrant wild roses that bloom all over the island in May and June, and the making of wild rose petal jam has become her yearly ritual. And I can't help but feel a little bit of her heart in every batch. The recipe is surprisingly simple, and highlights the lovely rose flavor.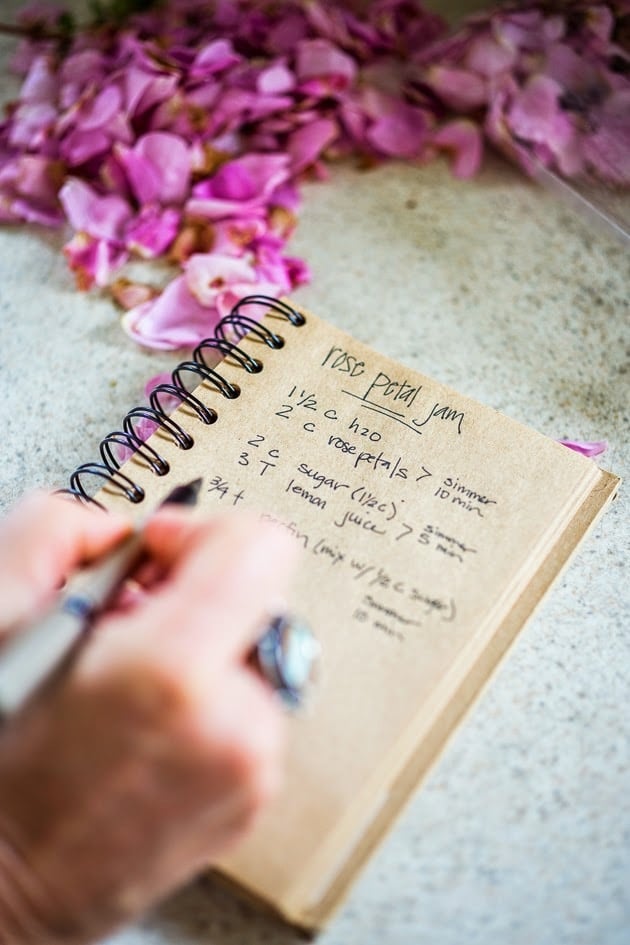 For this recipe, you'll need to collect about two cups of rose petals, just lightly packed. Tonia describes this as pressing down on the petals just enough to make a perfectly comfortable "fairy bed." If I were a fairy, I would be very happy sleeping here.
Step one: Weigh out two ounces of fresh petals.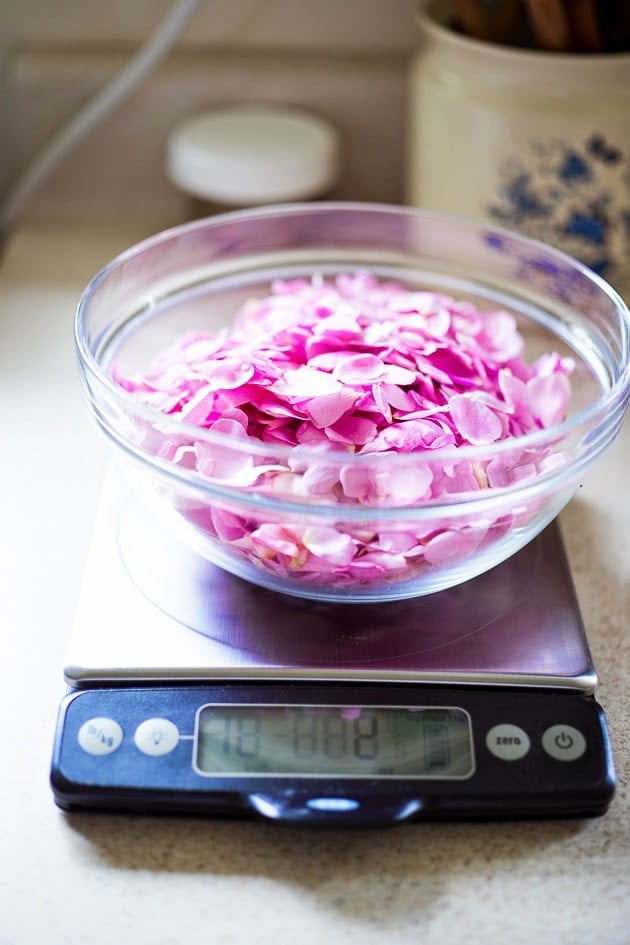 Step two: In a medium pot, bring the rose petals and water to a simmer for 10 minutes.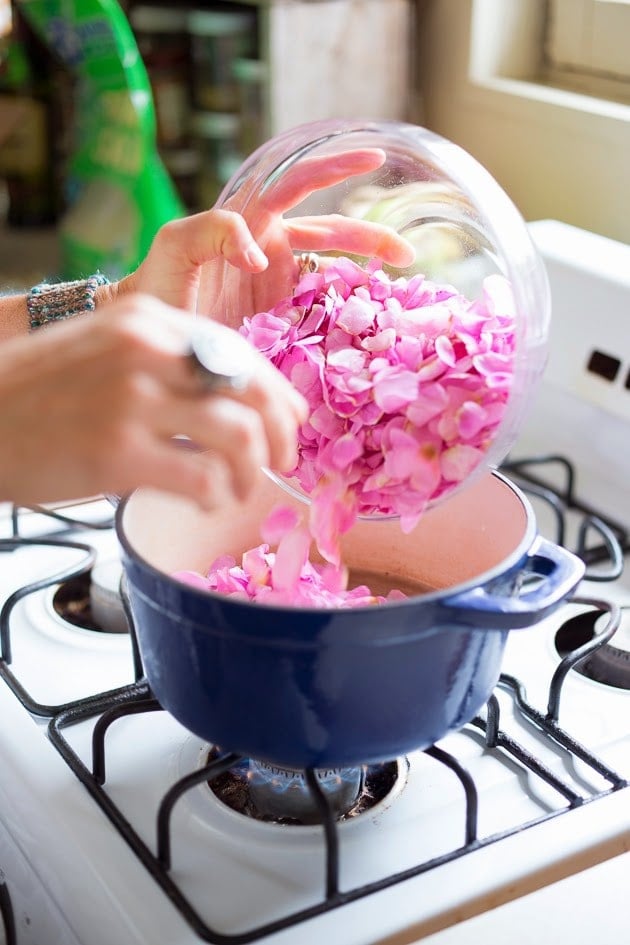 The rose petals will fade a bit, but this is just temporary. The magic will indeed come…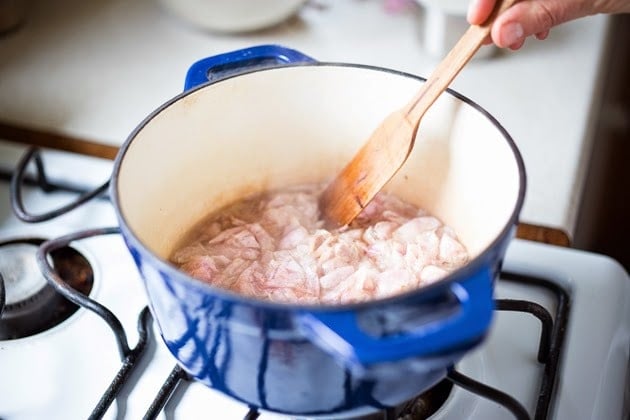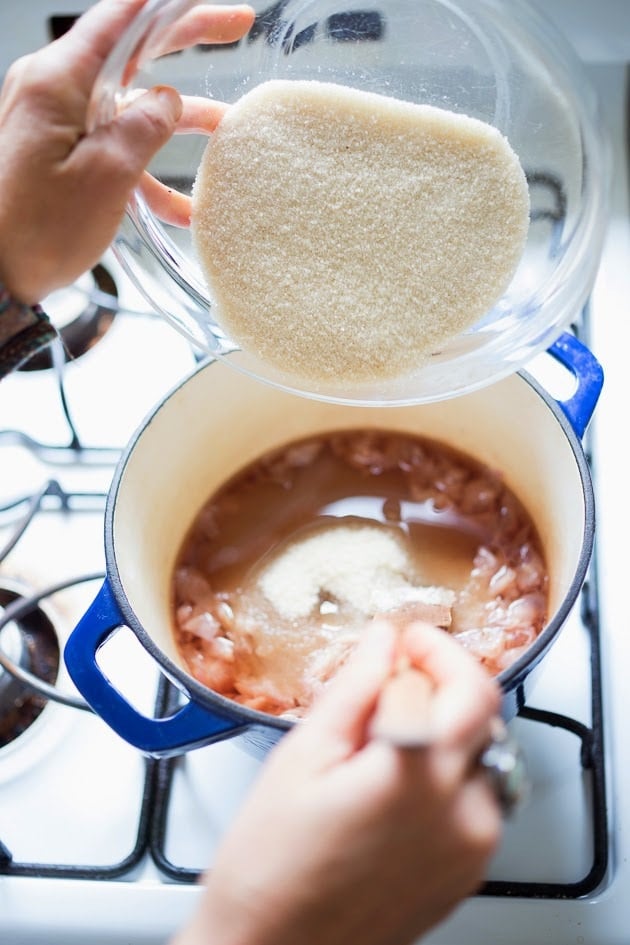 Step four: Add the lemon juice….and watch the lovely transformation happen!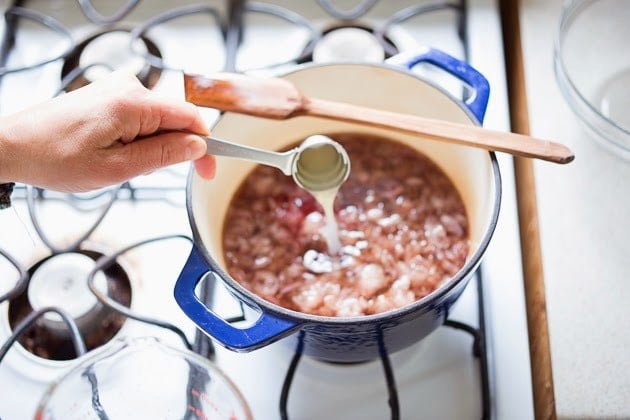 See how the pale rose petals burst with color once the lemon juice is stirred in? Magic!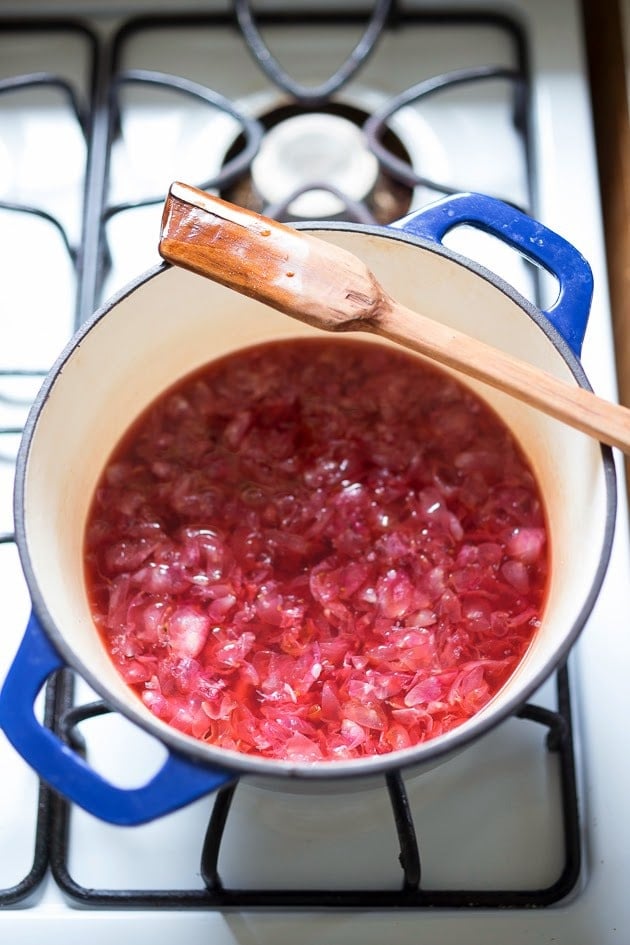 Step five: Mix the pectin with the remaining sugar.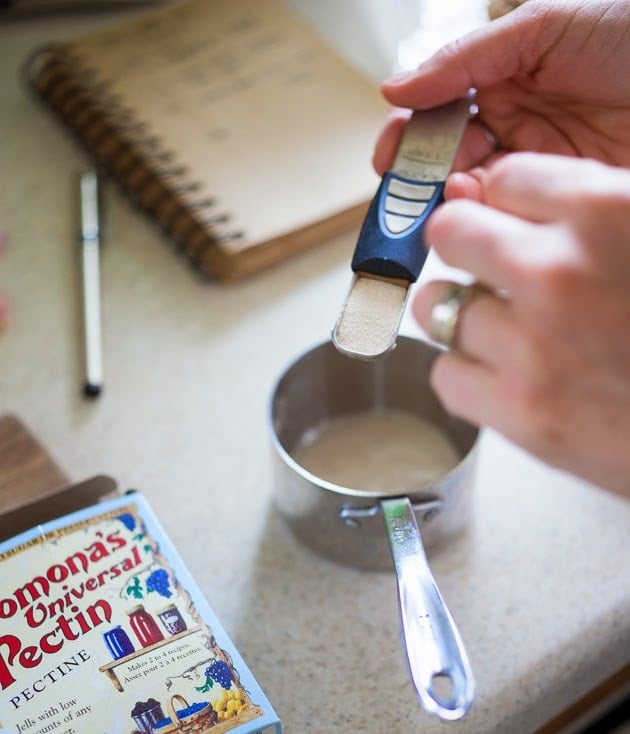 Step six: Stir the sugar pectin mixture into the simmering jam to thicken it. Simmer 20 more minutes.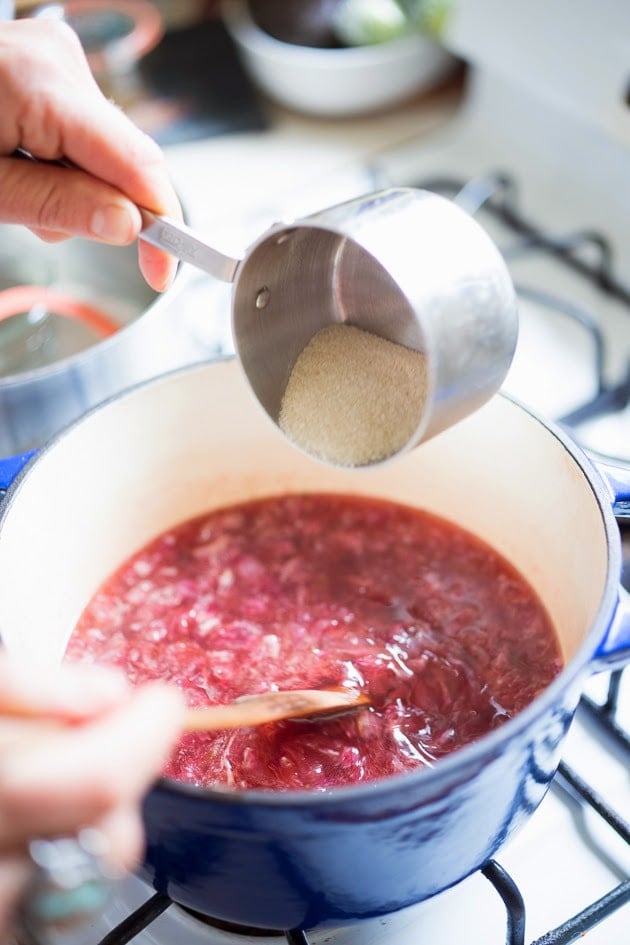 Once thickened- the rose jam will still be quite quite syrupy (see notes for thicker jam).
Step seven: fill the jam jars. This recipe will make about 2 cups.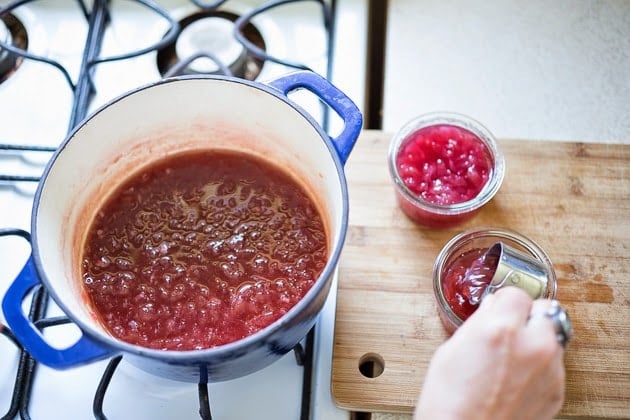 Step seven: Place the jam in jars and refrigerate –or use heated, sterilized jars, canning for longer shelf life. At this point the jam will seem loose, but it will thicken a bit, once cooled.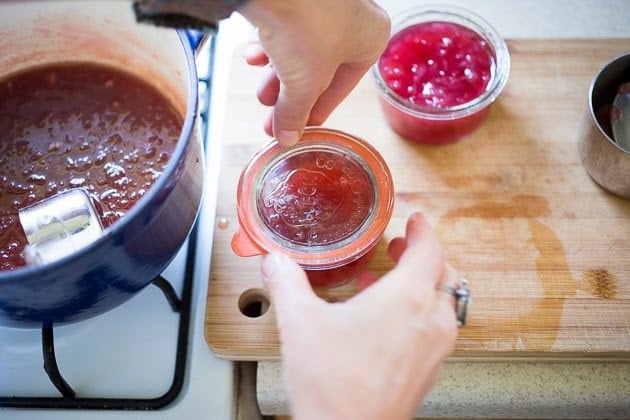 Ways to Use Rose Petal Jam
Spoon it over ice cream or yogurt.
Spread it over buttered sourdough toast.
Spoon it over pancakes, waffles, crepes, chia pudding or overnight oats.
Serve with scones or rhubarb muffins!
Add as a topping to desserts- like our Pavlova, Cheese Cake, or Olive oil Cake
Take a spoonful right out of the jar!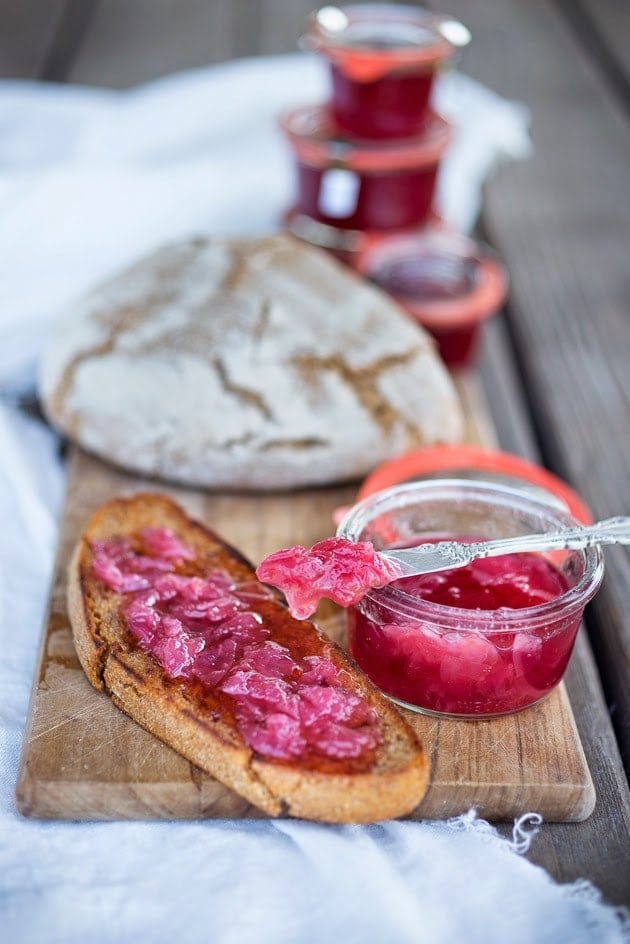 Or spoon it right out of the jar, like Fin!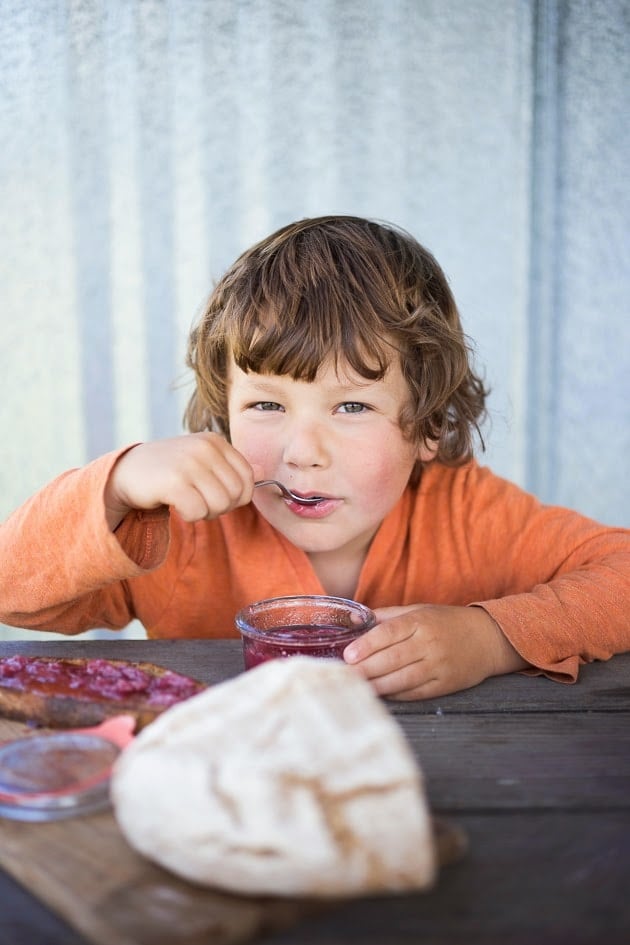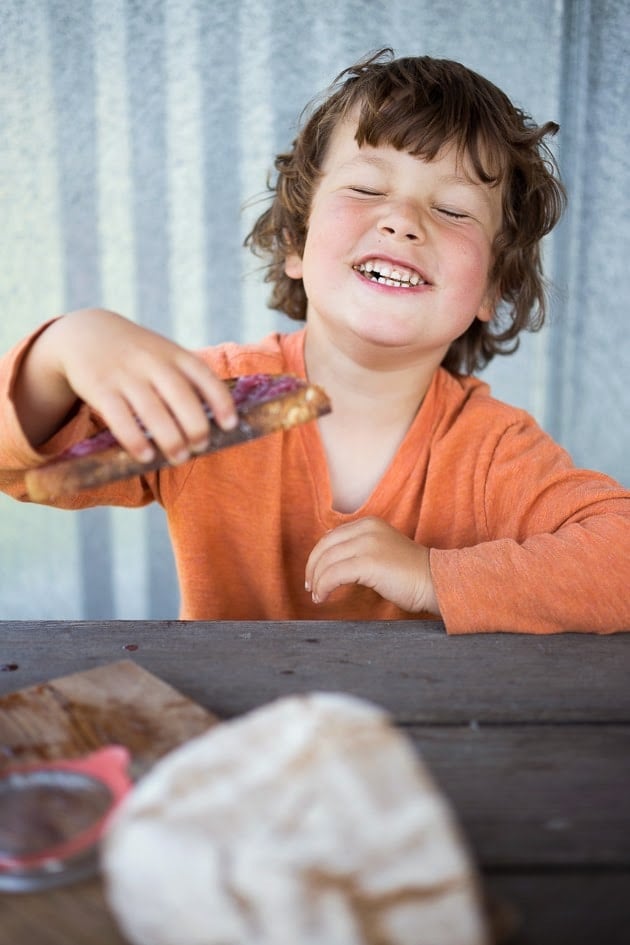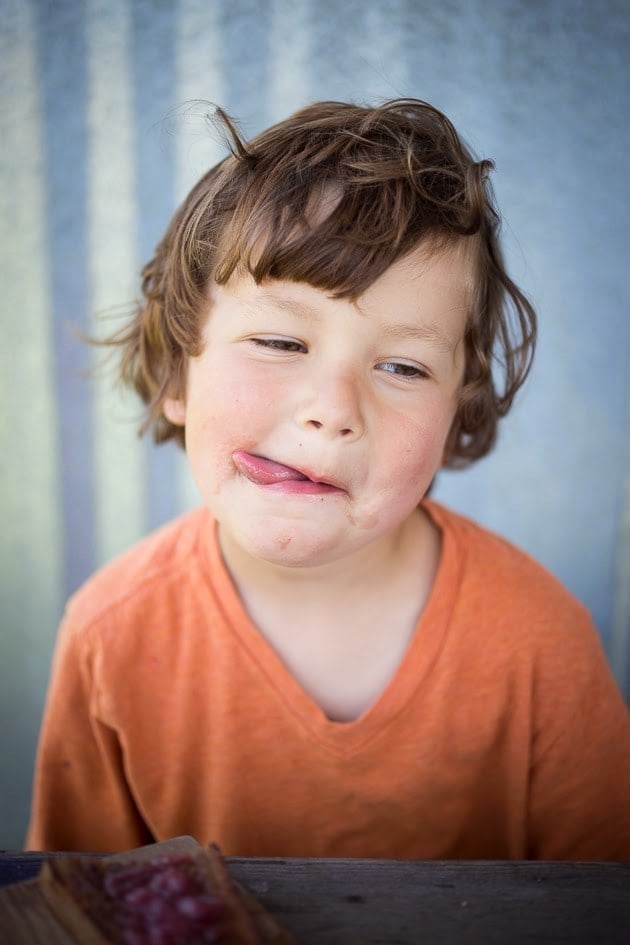 Perhaps my favorite way to enjoy Rose Petal Jam is served over vanilla ice cream.
So simple…allowing the flavors to shine.
Sprinkle with fresh rose petals and add fresh berries if you like.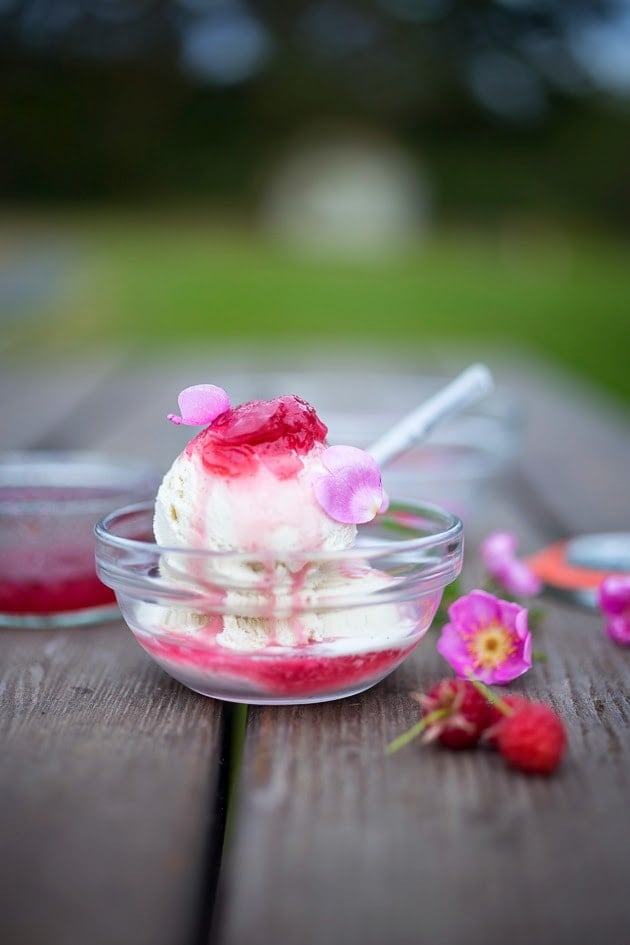 Hope you enjoy this lovely recipe and its magical effects.
xoxoxo
More recipes you may enjoy!
Print
Rose Petal Jam Recipe
Prep Time:

10 mins

Cook Time:

30 mins

Total Time:

40 mins

Yield:

1 ¾ cups

1

x

Category:

jam, sauces, condiments,

Method:

stovetop

Cuisine:

American

Diet:

Vegan
---
Description
Homemade Rose Petal Jam- a simple delicious recipe made with wild rose petals. A lovely gift, and delicious spooned over ice cream, pavlova or yogurt, or with toast, scones, crepes, or cake. Yields 1 3/4 cups. 
---
1 1/2

cups

of filtered water

2

ounces

wild rose petals (approx. 2 cups lightly packed or to what would be a perfectly comfy fairy bed) (preferably collected 50 feet from roads, in a pesticide-free area) or 2/3 cup dried rose petals

2

cups

organic cane sugar

3 tablespoons

fresh lemon juice

1 teaspoon

pectin
---
Instructions
Place water and roses in a medium saucepan. Bring to a gentle simmer for 10 minutes, uncovered.
Add 1 ¾ c of sugar to the simmering petals. Stir to dissolve the sugar crystals.
Add freshly squeezed lemon juice. Pay attention to the gorgeous vibrant color that emerges.
Simmer 10 minutes over low heat.
In a small bowl, combine the remaining ¼ cup sugar and pectin.
While stirring the jam add the pectin/sugar mixture, sprinkle by sprinkle to ensure pectin incorporates without clumping.
Simmer gently for 20 more minutes. It may seem quite loose for jam, but it will firm up as it sets. This does remain more of a silky syrup with luscious bits of petals.
Place into Jam Jars- we like these weck jam jars. 
This keeps for 2 months in the fridge, also freezes beautifully and canning is always a brilliant option.
---
Notes
You do not need to add calcium water to this recipe.
You can use food-grade, dried rose petals,  (readily available in natural food stores, in the bulk herb section) 1/3 cup dried rose petals = 1 cup fresh rose petals.
You can use organic domesticated rose petals without any pesticides.
For a thicker consistency, add less water, or increase the pectin.
Nutrition
Serving Size:

1 tablespoon

Calories:

135

Sugar:

14.3 g

Sodium:

2.5 mg

Fat:

0 g

Saturated Fat:

0 g

Carbohydrates:

15.2 g

Fiber:

0.1 g

Protein:

0 g

Cholesterol:

0 mg
Keywords: rose jam, rose jam recipe, rose petal jam, rose petal jam recipe, wild rose jam, wild rose jam recipe, wild rose recipes, wild rose petal jam, wild rose recipes, recipes with roses, rose jam, rose syrup,