This Asian-style, grilled, vegan Portobello Mushroom Burger is full of delicious umami flavor! It's slathered with Asian-style Guacamole, and topped with a cool cucumber ribbon salad and crunchy carrot slaw. Healthy, delicious, vegan. Video!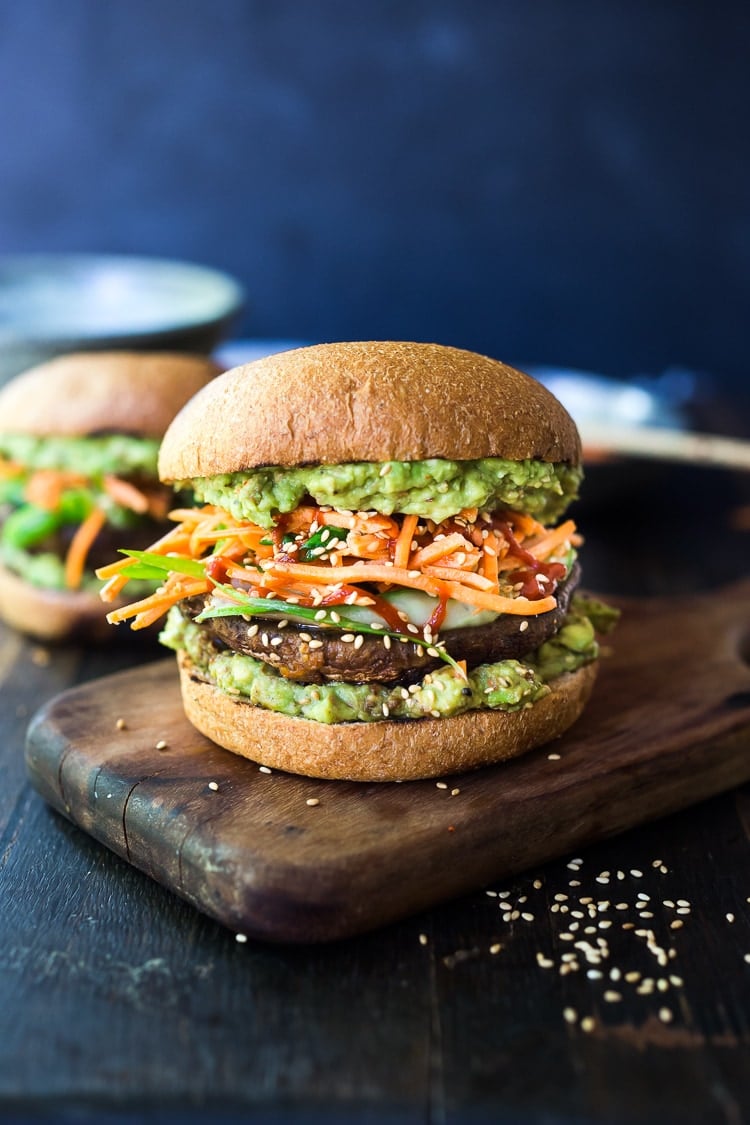 Oh my goodness, this Portobello Mushroom Burger is so delicious!   A flavorful umami bomb! Portobello mushrooms are brushed with a Miso-Sesame-Sriracha marinade, then grilled or roasted until perfectly juicy and tender.
They are layered up with a Japanese-style cucumber ribbon salad, a carrot slaw (or Asian Slaw) and the best part,  as Asian style, avocado spread for the buns- seasoned with ginger & sesame, (aka Asian Guacamole).  Full of flavor… and totally vegan!
Portobello Mushroom Burger | 60-Second Video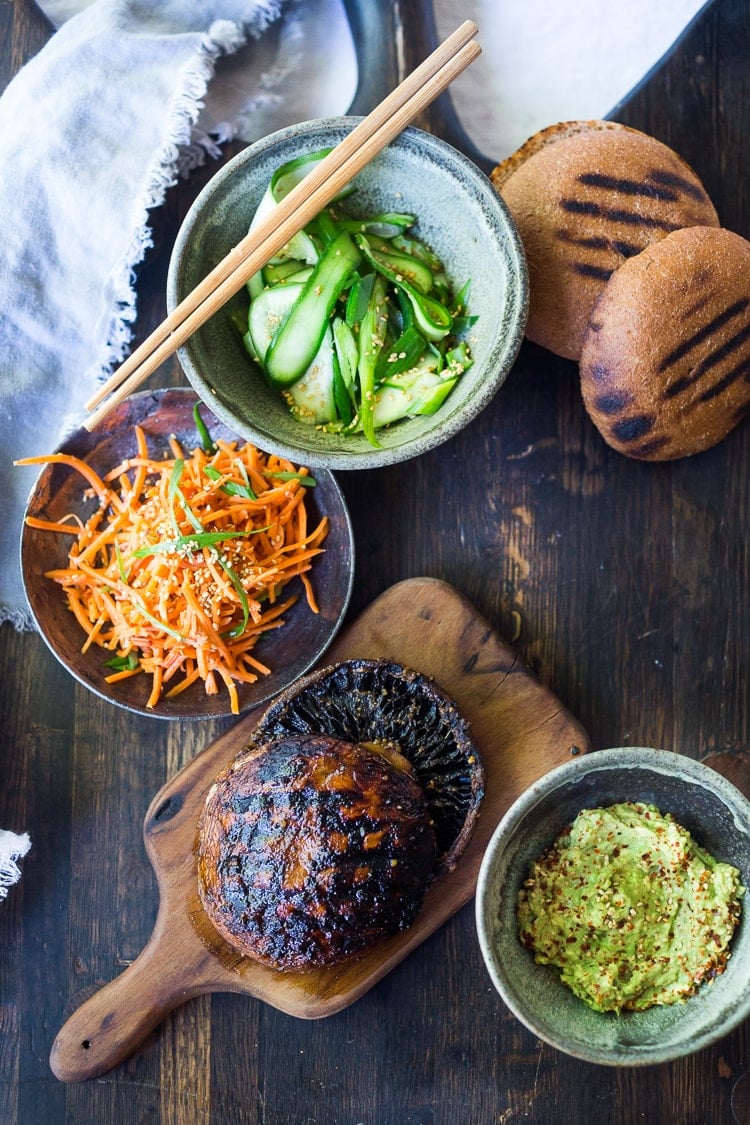 Portobello Mushroom Burger Ingredients
Marinated Portobello Mushrooms- can either be grilled or roasted
Mashed Avocado "the sauce" – hold the burger to geher
Cucumber Ribbons
Crunchy Asian Carrot Slaw (or sub-Asian Slaw)
Buns (or try Sourdough Buns!)
A few components, but honestly doesn't take too long to put this together.
How to make Portobello mushroom Burgers
Step 1: Prep the portobello mushrooms !  Make the flavorful marinade. The umami flavored miso paste, blended with sriracha and sesame oil is delicious on portobello mushrooms!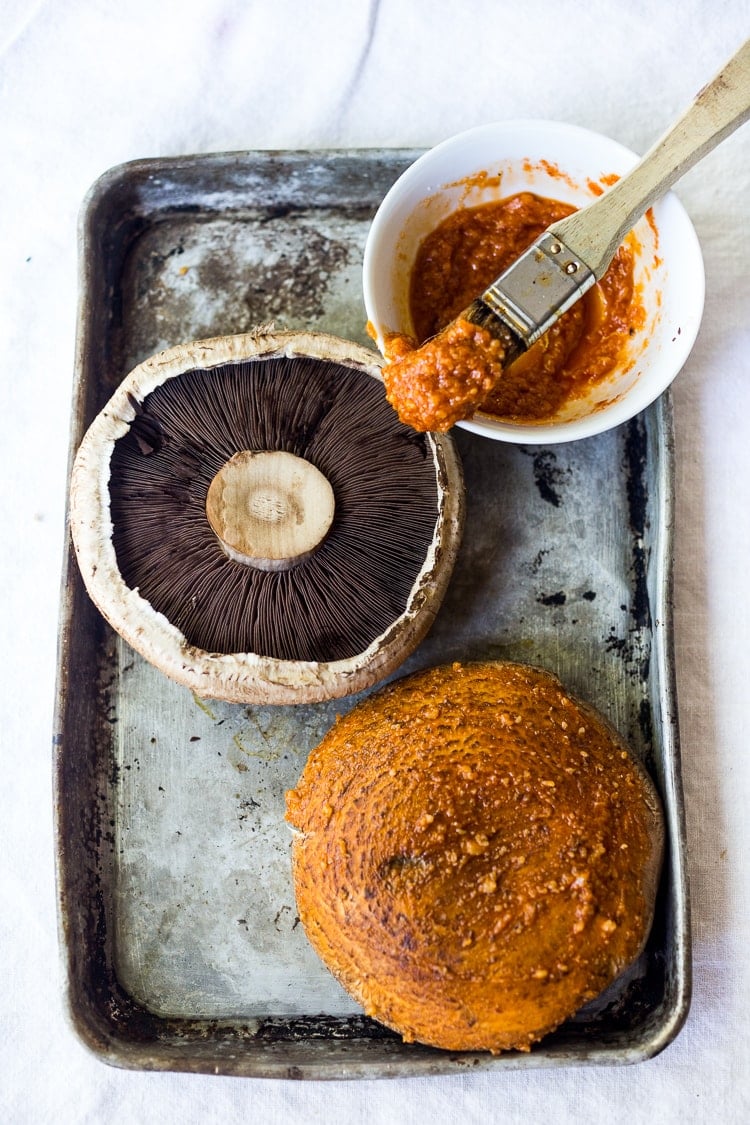 Step 2: Make the cucumber ribbon salad!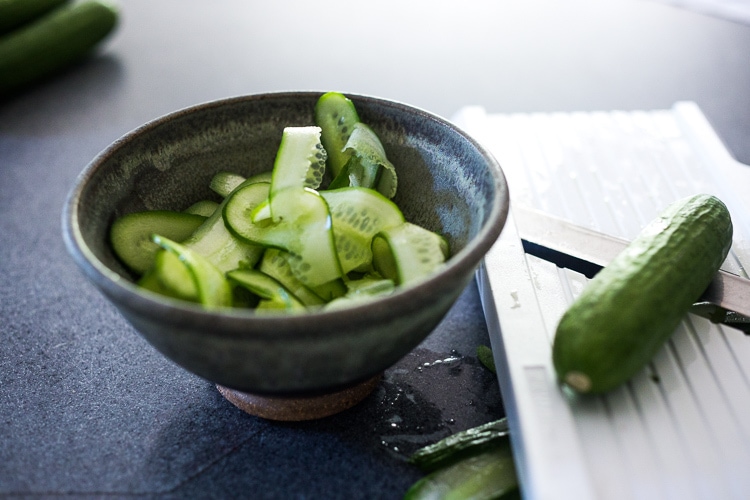 Cut baby cumbers into thin ribbons using a mandolin or veggie peeler. Or just cut them into thin disks, no problem! Season with the dressing!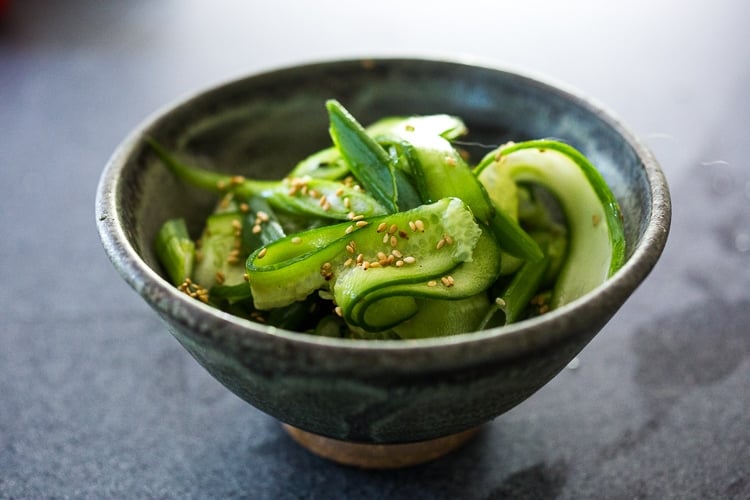 Step 3: Make the quick carrot slaw. I just used store-bought match stick carrots for this , but feel free to grate a carrot! You can also sub this Asian Slaw!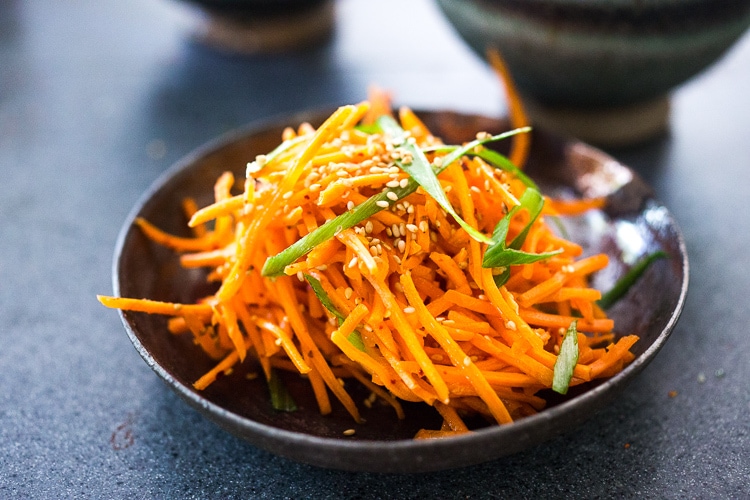 Step 4: Make the Mashed Avocado Spread…. or "Asian Guacamole".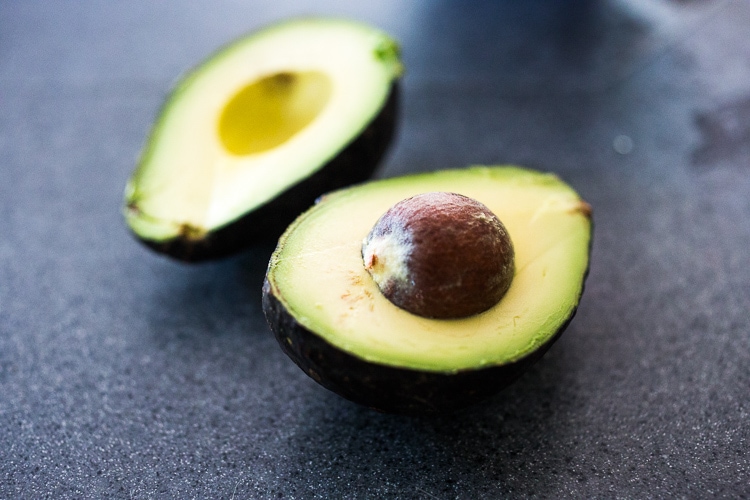 Mash up a large avocado with fresh ginger, sesame oil and a splash of rice vinegar.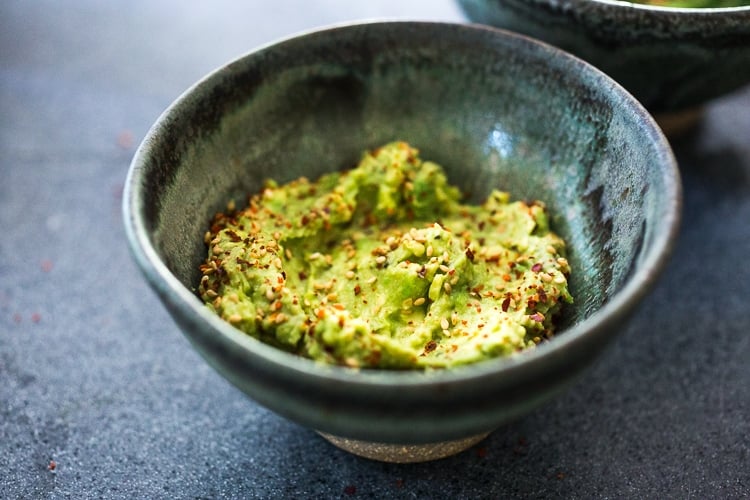 Step 5: Roast or Grill the portobello mushrooms for the burgers. I always start with tops down…they'll dry out less.  Grill for 4-5 minutes over medium heat, giving them a nice sear,  flip and cook for a couple more minutes. If you are particular like me, collect the juice from the mushroom caps before flipping and use that to baste the tops. Optional,  but keeps them moist. 😉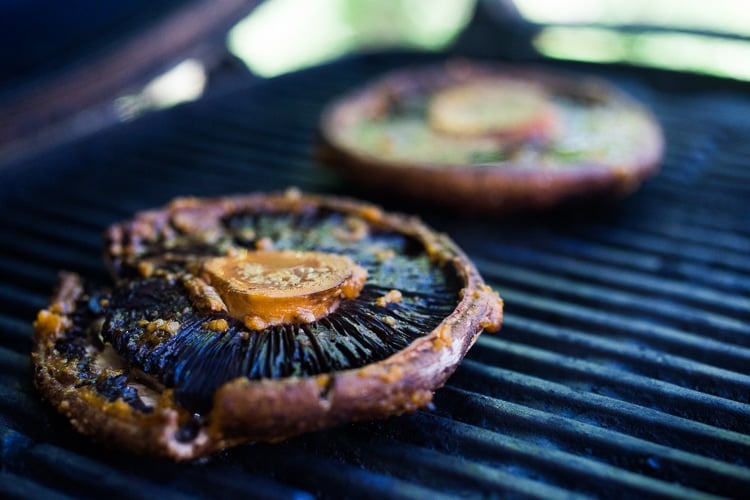 Step 6: Toast the buns! This is essential…..it keeps them from getting soggy!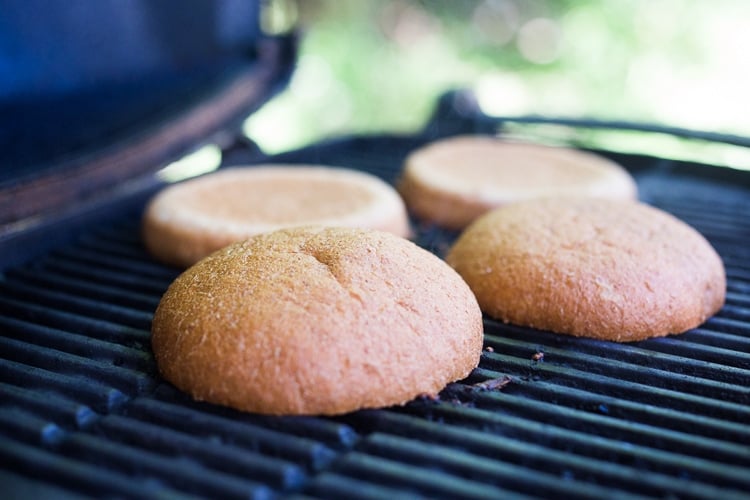 Step 7: Assemble the Portobello Burgers!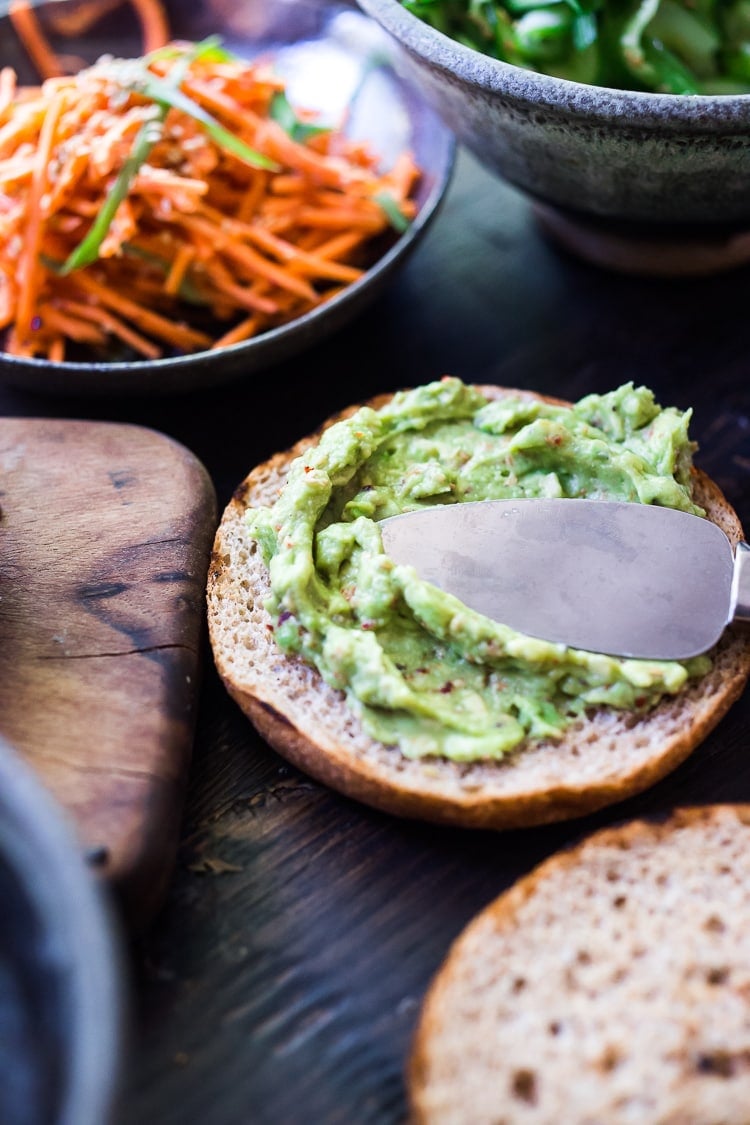 Spread the toasted buns lavishly with Avocado spread. This will keep the buns from getting soggy. Top with the grilled portobello mushroom, gill- side up -to collect all the flavorful juices in the burger.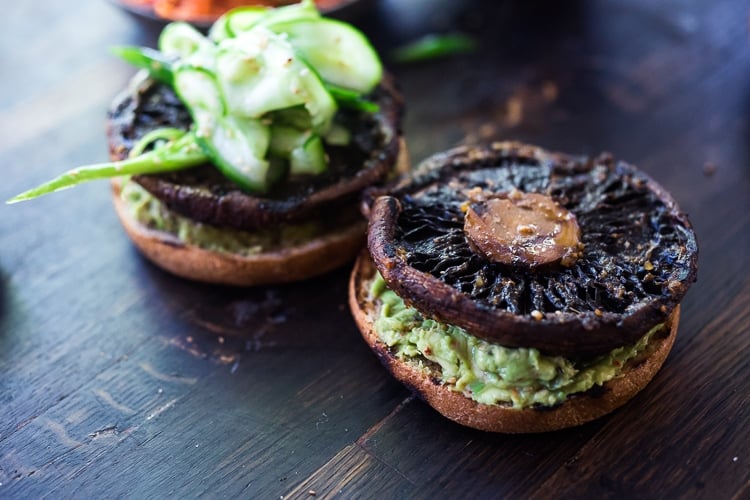 Pile everything on top of the grilled portobello.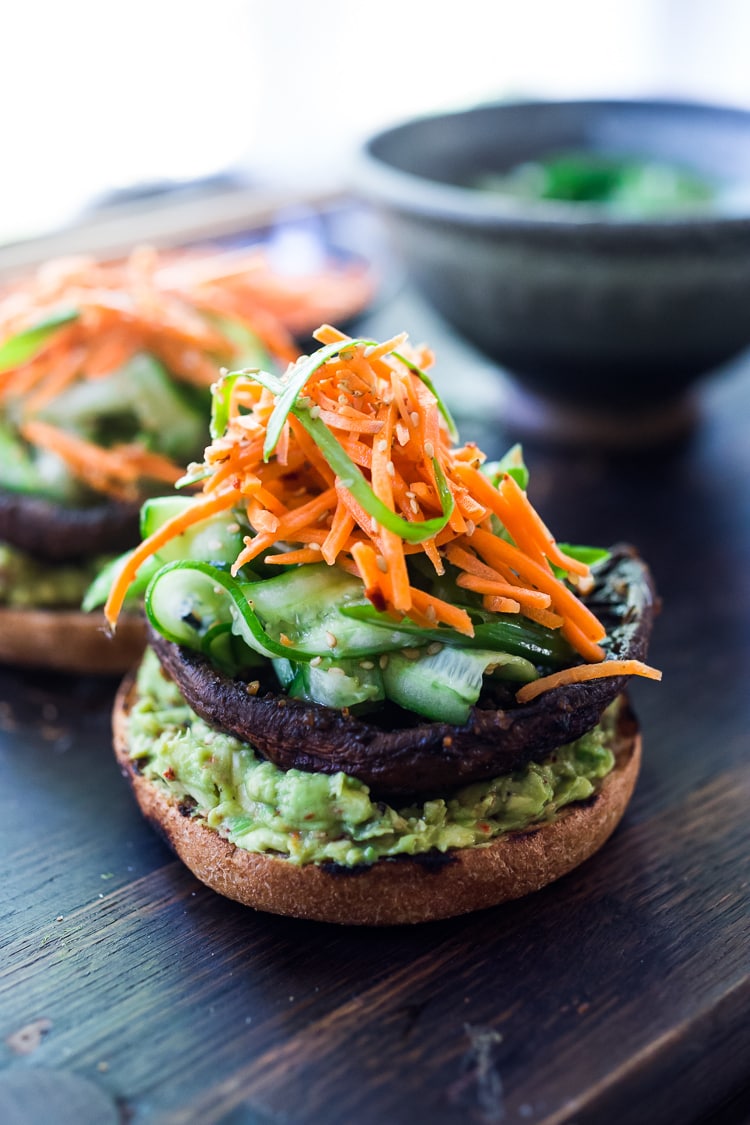 Spread the bun tops with more avocado spread, and top the burger. Or, for a lower-carb option,  feel free to serve the portobello burgers, open-faced, with knife and fork.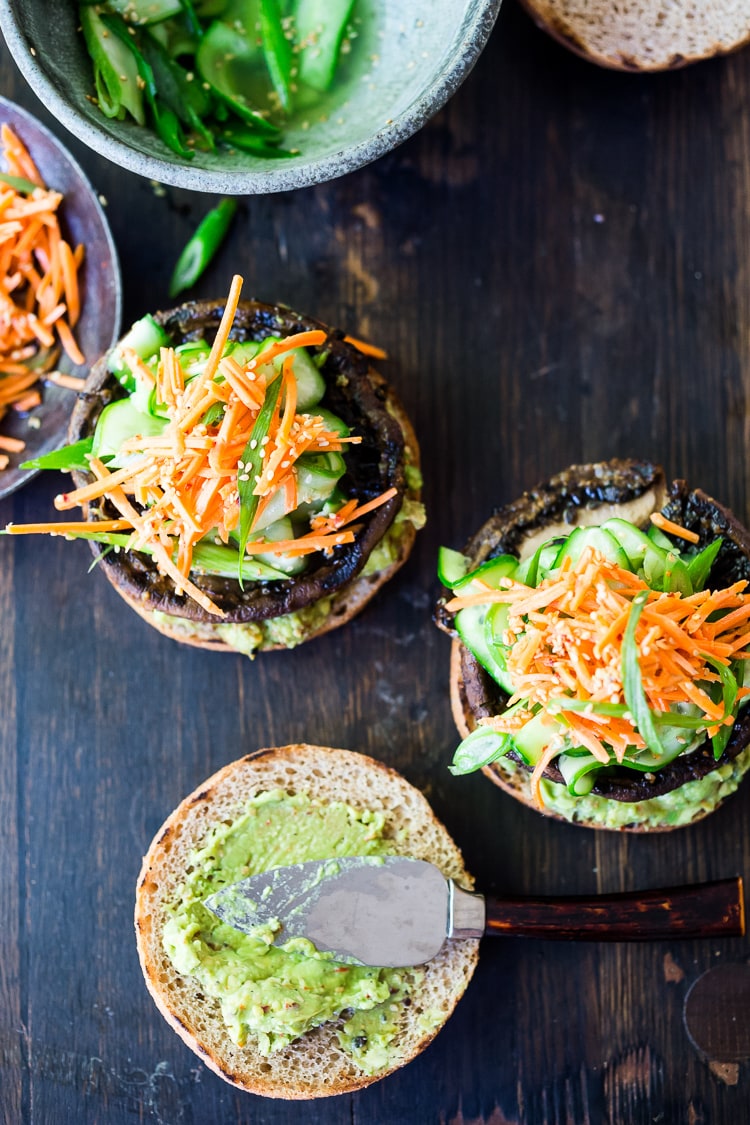 Other additions…..a squirt of sriracha and a little pickled ginger is nice.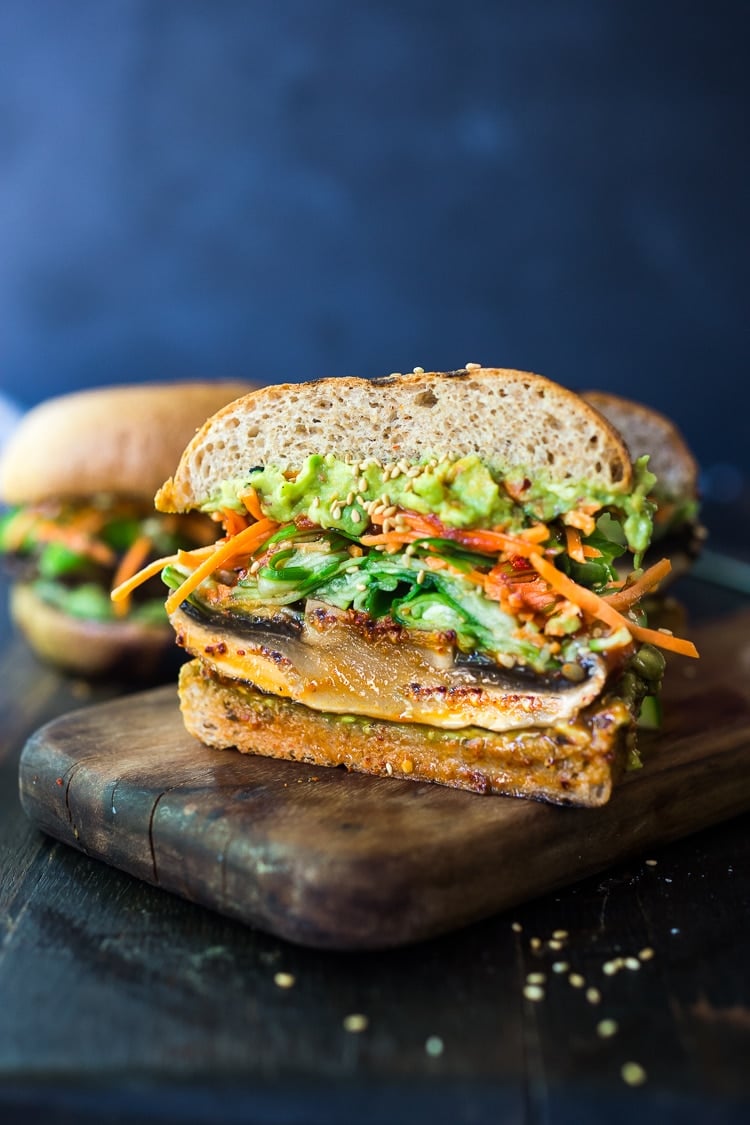 This is my favorite portobello mushroom burger and I can't wait for you to try this and tell me what you think!
xoxo
You may also like:
Print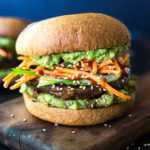 Portobello Mushroom Burger
Author:

Sylvia Fountaine

Prep Time:

25

Cook Time:

10

Total Time:

35 minutes

Yield:

2

1

x

Category:

Vegan, main, sandwich

Method:

grill

Cuisine:

Japanese, Asian, american
---
Description
This Asian-style, portobello mushroom burger is full of delicious umami flavor! It's lathered with Asian-style Guacamole, topped with a cool cucumber ribbon salad and crunchy carrot slaw. Healthy, delicious and really satisfying. AND totally vegan!
---
Cucumber Ribbon Salad
Carrot Slaw ( to simplify this,  see notes)
Asian Guacamole
2 whole wheat buns, grilled
Optional additions- pickled ginger
---
Instructions
Preheat the grill or oven. ( See notes for roasting in oven) Using a fork or mini whisk, mix the miso, sriracha, and sesame oil ….& pinch salt and pepper together in a small bowl to make a paste. Brush liberally onto both sides of the portobello mushrooms.
Using veggie peeler or mandolin, cut the cucumber into long thin ribbons. (You can always just slice them into very thin disks) Place them in a medium bowl along with scallions and add the dressing ingredients and gently toss.
Make the carrot slaw the same way. Place in a small bowl, toss with dressing ingredients. To save time you can combine both the carrots and cucumber (and double the dressing) and serve them together in one bowl – but I prefer them separate, just for "prettiness", but it's not essential. 🙂
Make the Asian Guacamole, by placing everything in a small bowl, mashing and stirring a bit until creamy and combined. It doesn't have to be smooth. Sprinkle with sesame and chili flakes.
Grill the portobellos, top sides down first, for 4-5 minutes over medium heat, until juicy and tender. Flip, grill a few more minutes. Grill the Buns.
Assemble the burgers….spread buns with generous amount of Asian Guac, place the portobello- gills side up ( to catch all the flavorful juices) then mound with cucumber ribbon and carrot salad, a little squeeze of sriracha, optional pickled ginger. Use the remaining Asian Guac on the bun tops, and top the burgers.
Eat immediately.
---
Notes
Portobellos can also be roasted in a 400 F oven- gills up, for 15 minutes, flip, and roast 5 minutes more.
For a lighter meal you could serve these open-faced, with knife and fork without the top bun.
To save time you can combine the both the carrots and cucumber (and double the dressing) and serve them together in one bowl – but I prefer them separate, just for "prettiness", but it's not essential. 🙂
Nutrition
Serving Size:
Calories:

415

Sugar:

12.7 g

Sodium:

701.6 mg

Fat:

21.2 g

Saturated Fat:

3.2 g

Carbohydrates:

48.1 g

Fiber:

12.9 g

Protein:

6 g

Cholesterol:

0.5 mg
Keywords: vegan burger, portobello burger, vegan portobello burger, grilled portobello burger