Use up your discarded starter in this quick and easy Sourdough Biscuit recipe. Buttery, flaky and full of flavor, these are made with sour cream and scallions. Vegan adaptable with a video!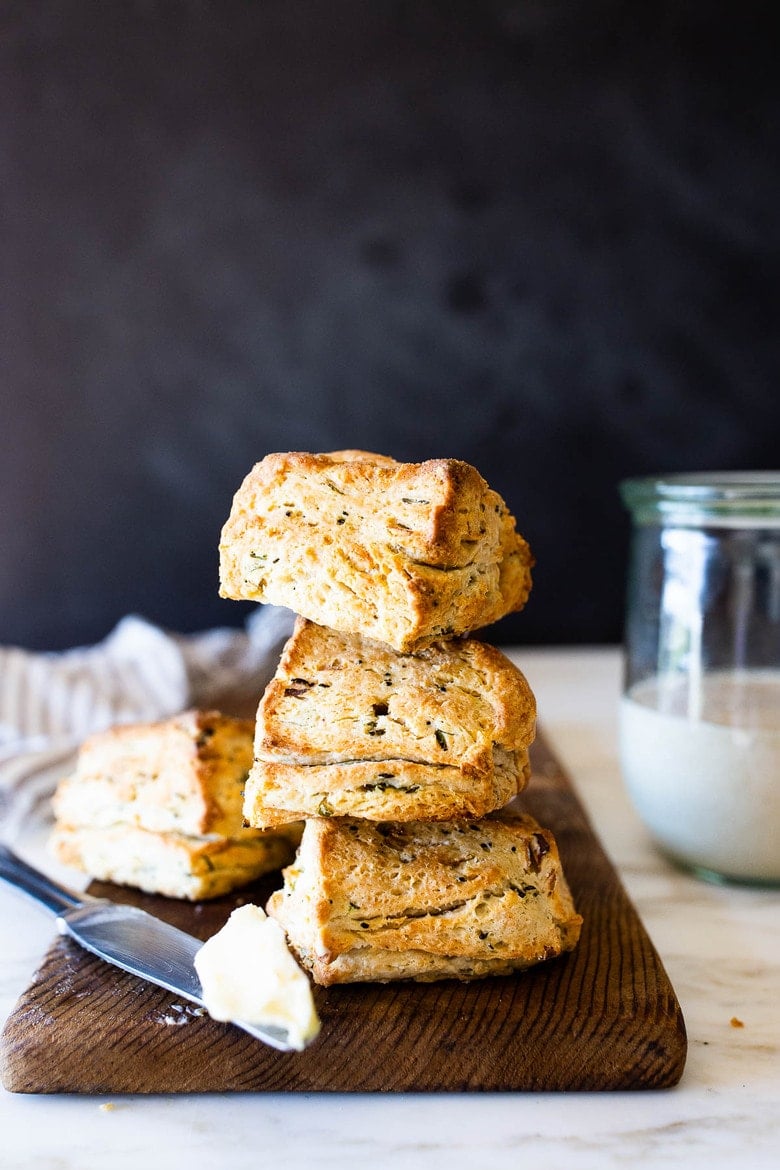 If there is something "past" that needs to be seen or healed back into wholeness, it will arise in the present experience. We do not have to dig up pebbles from a streambed.

Dorothy Hunt

These flaky buttery Sourdough Biscuits are studded with scallions and have the best texture and flavor. A great way to use up that sourdough discard! If I'm being truthful they are pretty dangerous to have around, because it's impossible not to devour them once they are made. So be warned!
Sourdough Biscuits |60-second Video
This is for those of you who are ready to do something with your sourdough discard, or sourdough starter in addition to making the Sourdough Bread-which I keep hearing is working out for you! So happy and excited for you! A true feat! Hooray!
Want more sourdough discard recipes? Check out Sourdough Waffles, Sourdough Pancakes, and Sourdough Scones!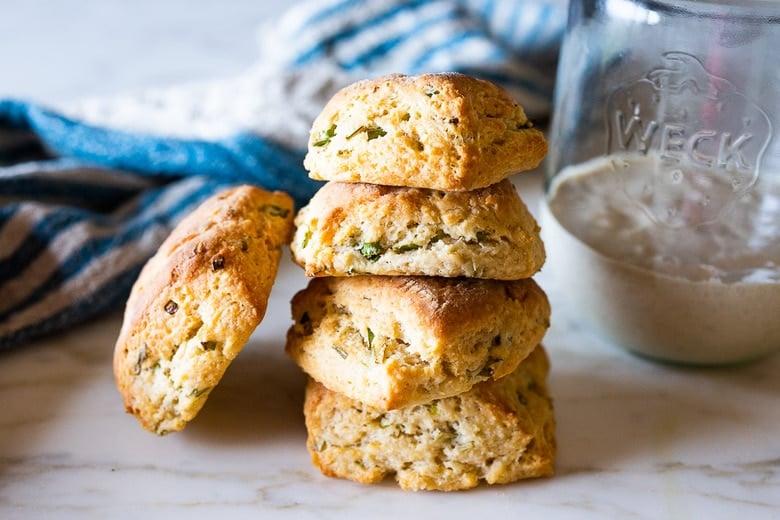 Why You Will Love SourDough Biscuits!
Flavorful: Sourdough biscuits have a distinct tangy flavor that adds depth and complexity to your ordinary biscuit recipe.
Flaky Texture: The combination of butter and sourdough gives these biscuits a light and flaky texture that is absolutely irresistible.
Easy to Make: With just a few simple ingredients and minimal steps, you can have freshly baked sourdough biscuits on your table in no time.
Use Up Sourdough Discard: If you've been maintaining a sourdough starter, this recipe is a great way to use up your discard instead of wasting it. It gives a beautiful sourdough tang to your baked goods and adds nutrition! It's a win-win situation!
Versatile: Sourdough biscuits can be enjoyed on their own, as a side dish with soups and stews, or even as a base for sandwiches. They're incredibly versatile and can complement a variety of meals.
Ingredients In Sourdough Biscuits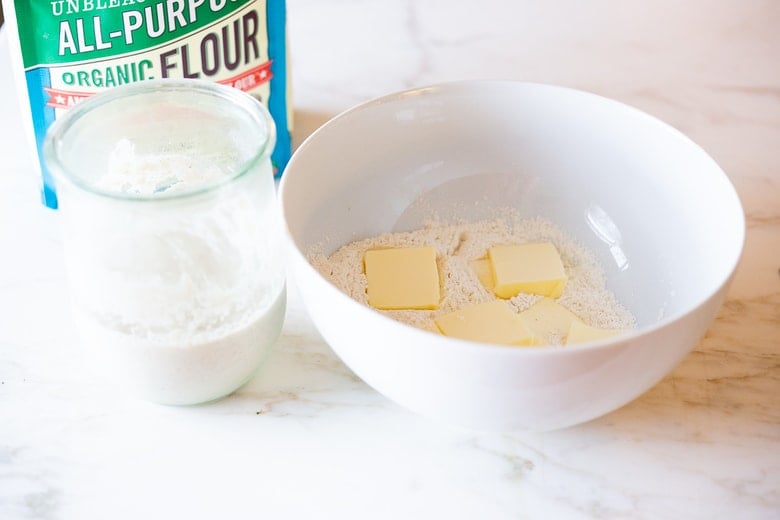 Ingredient Notes
All-Purpose Flour (or bread flour): Make sure to fluff the flour, spoon it into the measuring cup, and level it off to ensure accurate measurements.
Baking Powder: This helps the biscuits rise and become light and fluffy.
Unsalted Butter (or vegan butter): Cut the cold butter into small slices to create uneven crumbs in the dough.
Chopped Scallions or Chives (optional): These add a delicious flavor to the biscuits. Feel free to use either scallions or chives based on your preference.
Sourdough Starter discard: You'll need 3/4 cup of sourdough discard or unfed sourdough starter for this recipe. If using discard, make sure it has been kept in the fridge for 7-10 days without feeding.
Sour Cream (or vegan sour cream, buttermilk, or yogurt): Sour cream gives the biscuits a lovely flavor when combined with the scallions. However, you can use alternative options like vegan sour cream, buttermilk, or yogurt if desired.
See the recipe card below for a full list of ingredients and measurements.
How To Make Sourdough Biscuits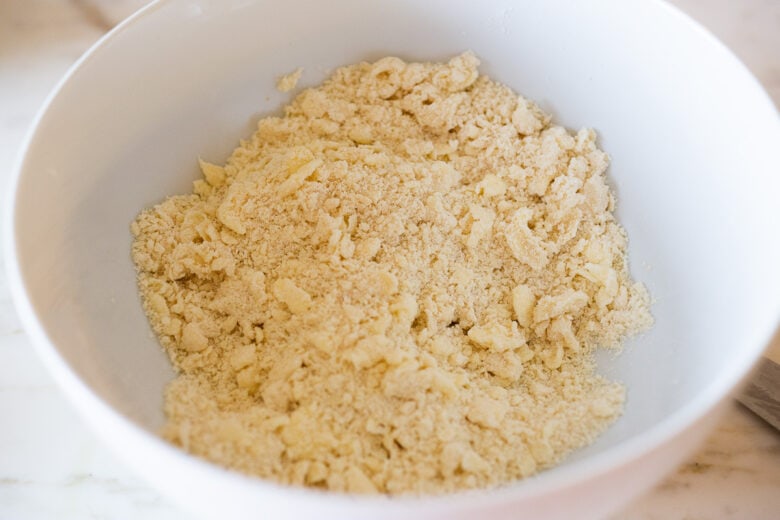 In a large bowl, start with butter, flour, salt and baking powder. Use your fingers and break apart into uneven crumbs, no bigger than a pea. Add scallions if you like, or chives are nice too.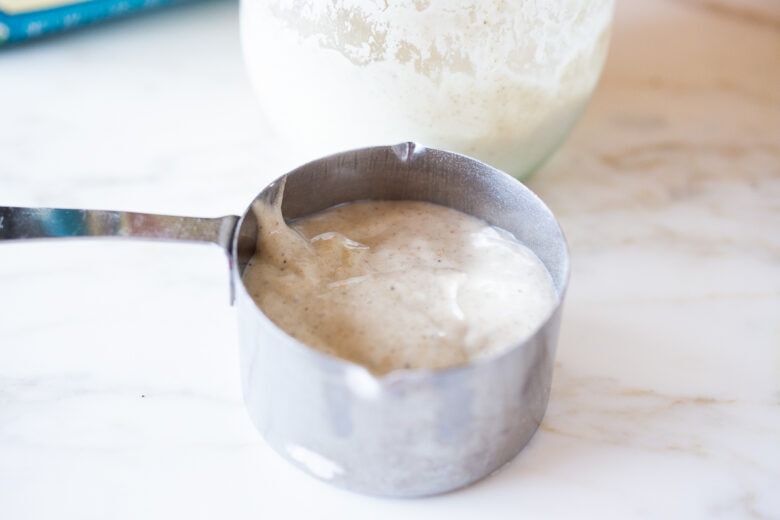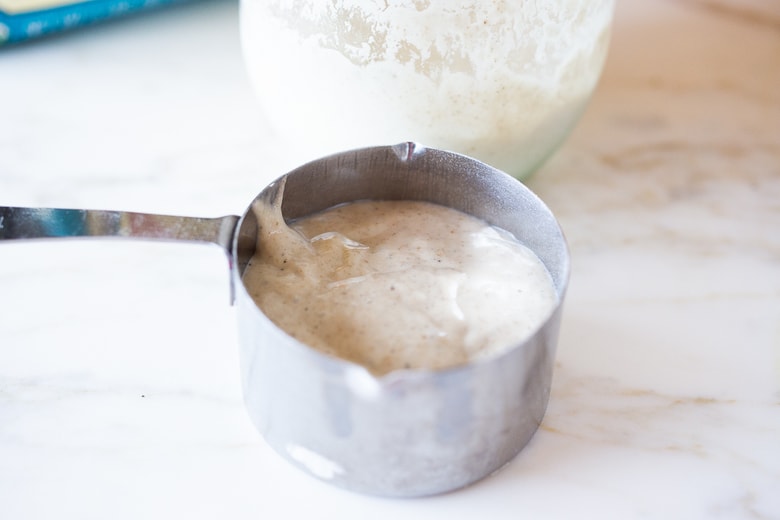 Mix 3/4 cup starter with 1/2 cup sour cream. You can also use yogurt, vegan yogurt, vegan sour cream, or buttermilk. The sour cream really gives a lovely flavor here with the scallions- just sayin'. 🙂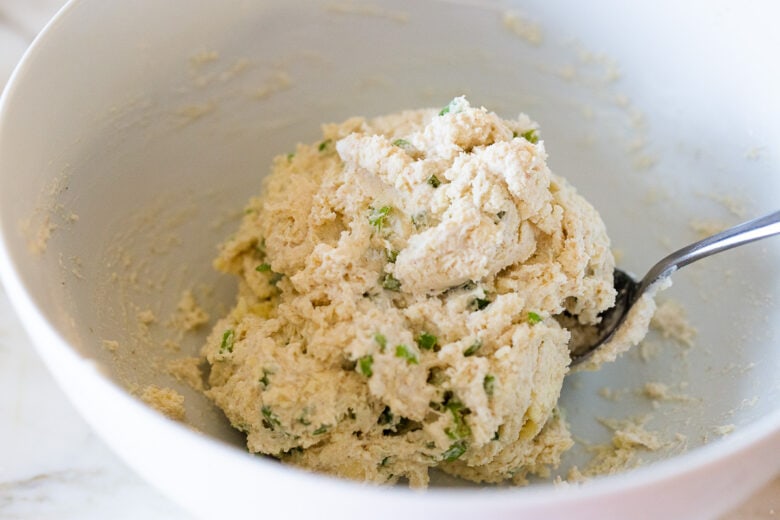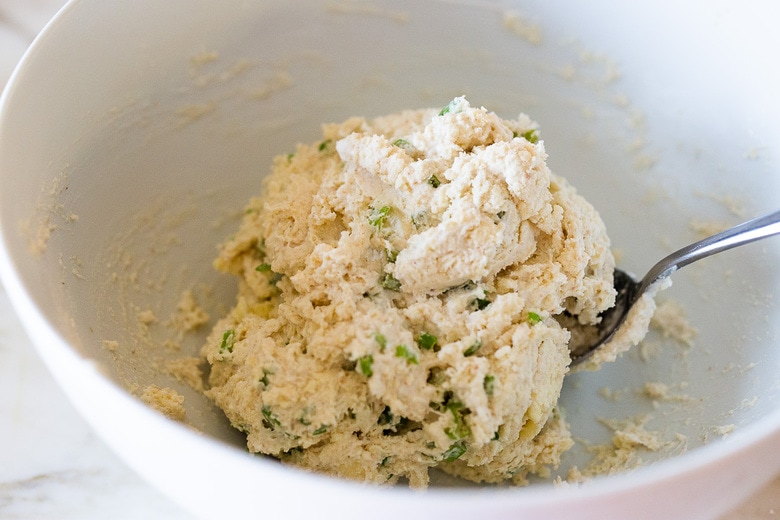 Combine and stir into a shaggy ball. Place onto a lightly floured surface. Sprinkle with flour.
Knead twice- for like 2 seconds. Pat flat into a 3/4 inch rectangle. Then fold up into thirds like an envelope. Pat it down and repeat 2 times. The third time, pat the folded "envelope" into a thick rectangle 5 by 9 inches and about 1 1/2 inches thick. This folding creates tender layers.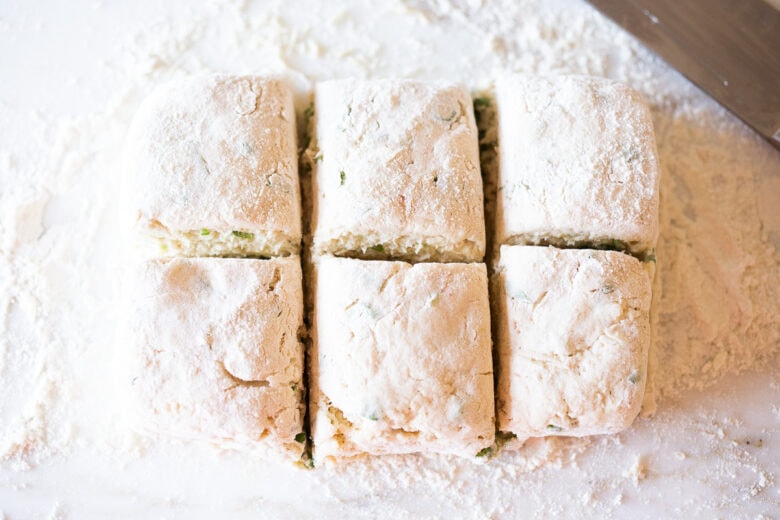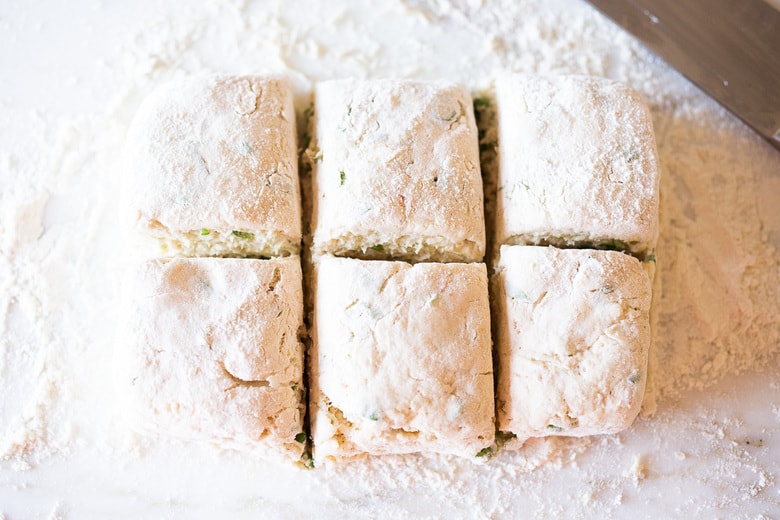 Using a biscuit cutter, or sharp knife, cut the biscuit dough into 6 pieces. Place onto a parchment paper lined baking sheet, and bake until golden brown, about 20 -25 minutes. Internal temp should reach 205F.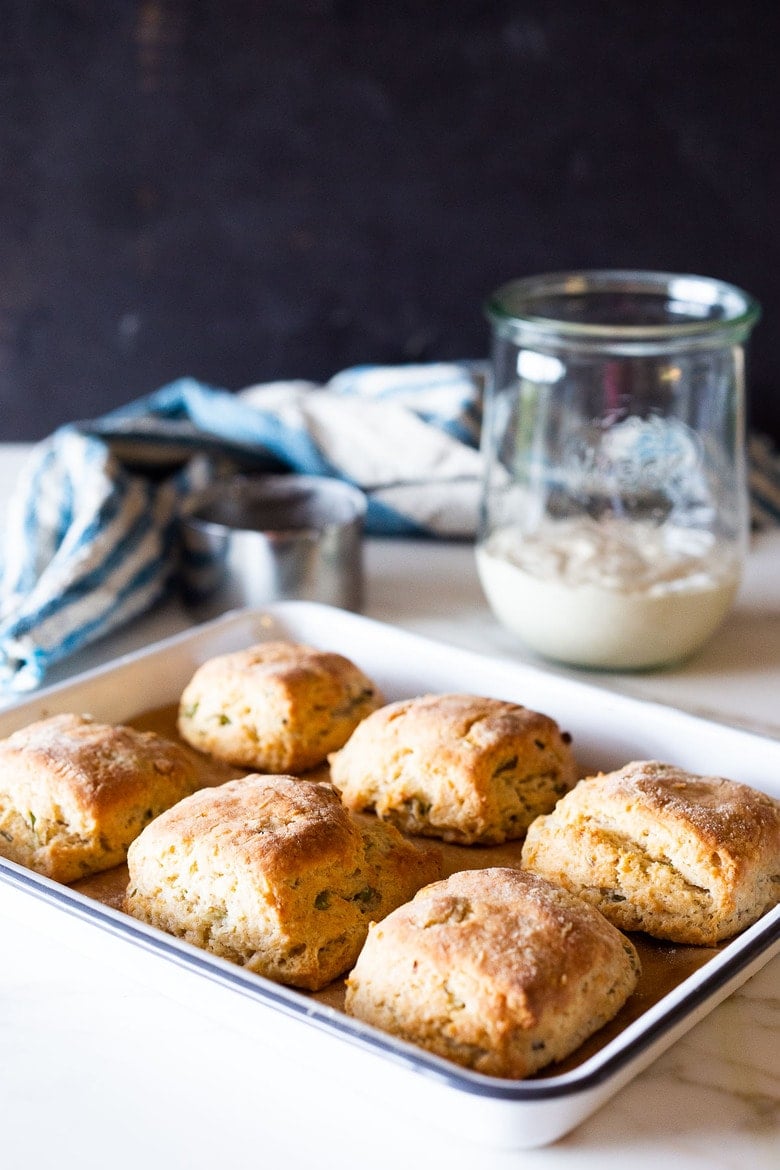 Sourdough Biscuit FAQS
What is sourdough starter?
Sourdough Starter is often referred to as "wild yeast", made from flour and water and the wild yeast in the air around us,and it is typically used as the "yeast" when baking Sourdough Bread. The sourdough "discard" – the part of the starter that often goes to waste- can be used to make flavorful biscuits, waffles and pancakes.
How long can you keep sourdough discard?
Keep sourdough discard in the fridge for 7-10 days without feeding. Don't feed the "discard" (only feed the starter that you plan to use for bread). Use the discard up in sourdough pancakes and sourdough waffles. Yes, you can add to the discard.
Can I use sourdough discard to make more starter?
Yes! Simply take some out of the jar and feed it fresh water and flour.
Why are my sourdough biscuits flat?
It is most likely from expired or old baking powder. Also make sure your oven is fully preheated.
More Sourdough Discard Recipes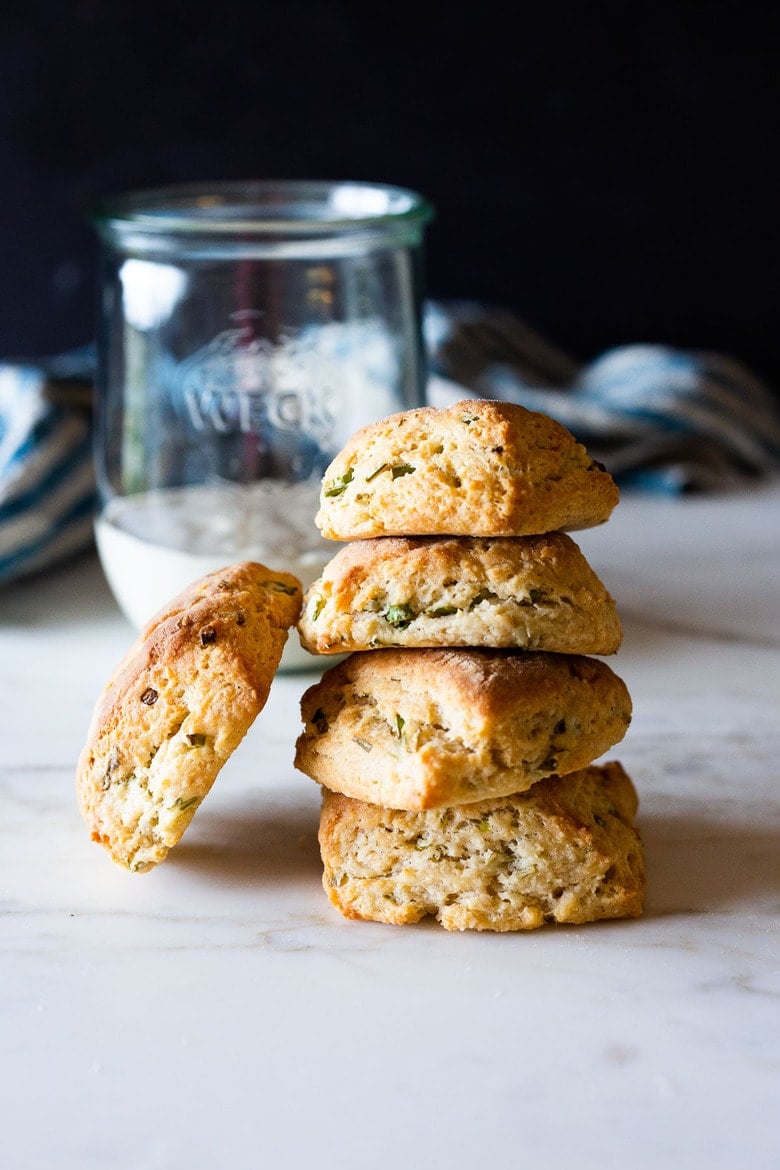 My favorite biscuit ever!!!! Flakey, flavorful and so easy.
Enjoy! Such a great way to use up your sourdough starter or discard!
Print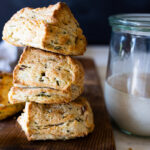 Sourdough Biscuits Recipe
Prep Time:

15

Cook Time:

25

Total Time:

40 minutes

Yield:

6

1

x

Category:

baked

Method:

baked

Cuisine:

northwest

Diet:

Vegetarian
---
Description
An easy recipe for Sourdough Biscuits with scallions using discard or sourdough starter. These buttery biscuits can be made in 45 minutes!
---
1 1/2

cup

(180g) All-Purpose Flour (or bread flour) , fluffed, spooned and leveled

1 teaspoon

salt (use a little less if using salted butter)

2 teaspoons

baking powder

8 tablespoons

unsalted, cold butter (or use vegan butter), cut into 1/4-inch slices. (

113.5 grams

) See notes!

1/4

–

1/2

cup

chopped scallions or chives (optional, of course)

3/4

cup

(170g) discard or sourdough starter, unfed

1/2

cup

sour cream (or sub vegan sour cream, buttermilk or yogurt)
---
Instructions
Preheat oven to 425F
In a medium bowl, mix flour, salt and baking powder.
Work in the cut cold butter into the flour using your fingers until it is unevenly crumbly, with the biggest crumbs the size of peas. Mix in the scallions if using.
Place 3/4 cup starter and 1/2 cup sour cream in a bowl and mix with a fork ( it doesn't have to be perfectly mixed together).
Pour this into the flour mixture and using a fork, mix until the dough comes together into a very shaggy ball.
Place the ball on a well-floured surface, sprinkle with flour and knead gently just to incorporate ( for 5 seconds- don't over knead). Pat into a 6 x 10-inch rectangle. Fold up the sides into thirds like a tri-fold envelope and pat again into a 6 x10 inch rectangle. Fold up the sides into thirds again. Re-flour your work surface, adding more if needed. Pat into an 8 x 5-inch rectangle about 1 1/2 inches tall. Cut into 6 equal pieces.
Place on a parchment-lined sheet pan and bake for 20-25 minutes. Check at 15-20 minutes, rotating pan if necessary. Keep baking until biscuits are beautifully golden and internal temp reaches 205F.
---
Notes
A friend of mine makes this with 3/4 and sometimes 1/2 the butter- and it still turns out. A little less flakey but still pretty good.
Nutrition
Serving Size:

1 biscuit

Calories:

291

Sugar:

0.6 g

Sodium:

408.5 mg

Fat:

18.4 g

Saturated Fat:

11.3 g

Carbohydrates:

27.4 g

Fiber:

1.1 g

Protein:

4.8 g

Cholesterol:

47.4 mg
Keywords: sourdough biscuits, sourdough recipes, sourdough discard recipes, discard recipes, best sourdough biscuits, best vegan biscuits