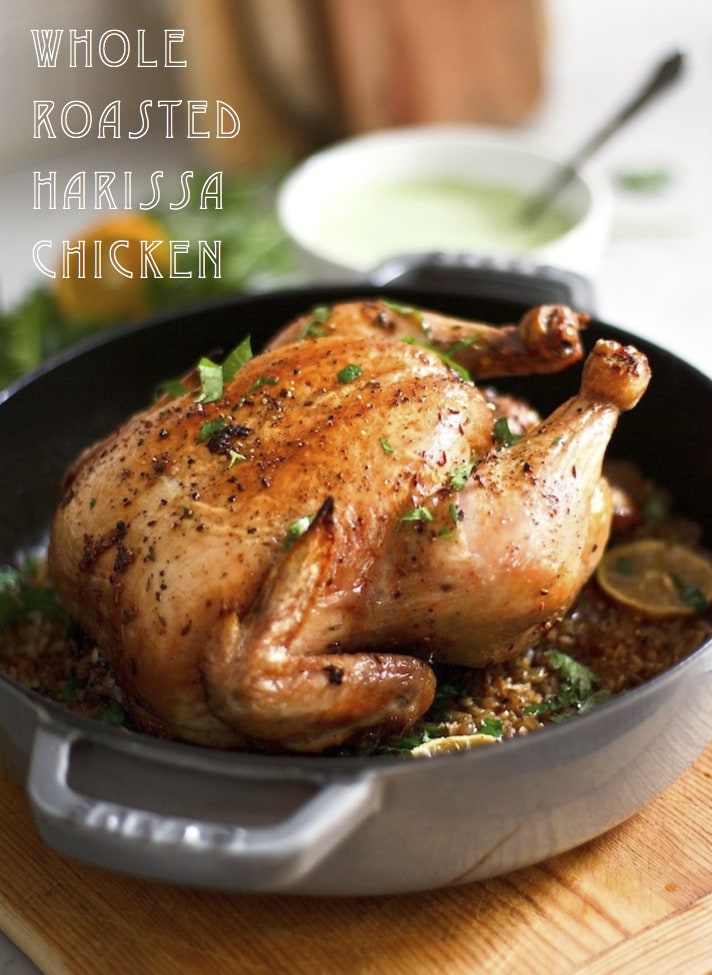 The warm spices of Morocco, Tunisia and Algeria are the essence of this Roasted Harissa Chicken recipe. Using a mortar and pestle, a paste is made from grinding whole garlic cloves with
salt
, adding fennel and
caraway seeds
and dried chiles de arbol. The dried chiles give a subtle heat and earthiness, reminiscent of a North African Harissa. The pungent, flavorful garlic paste is rubbed all over the chicken and it's placed in a hot oven. What results is a roasted chicken that is crispy, juicy and full flavored. Served over
saffron
basmati rice
with a tangy lemony parsley-yogurt sauce, it is just the thing for a cold winter's eve. This could easily be turned into a "one-pot" meal, by substituting veggies for the rice.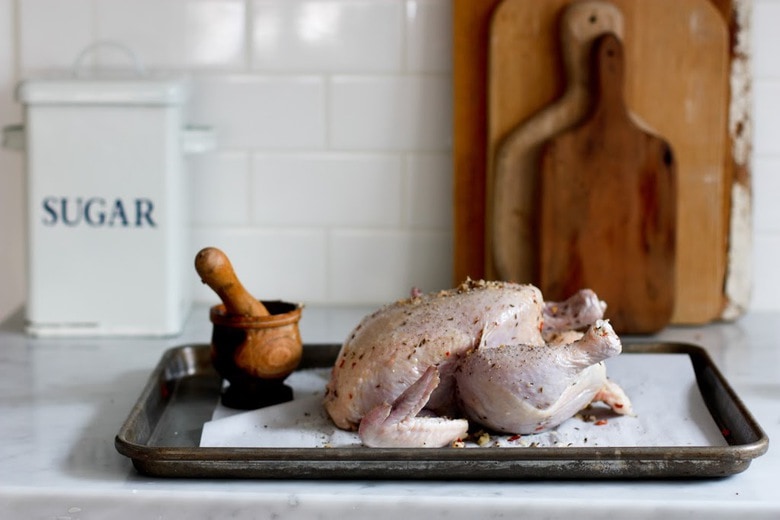 One of our go-to meals to cook at home, both for taste and ease of preparation is simple roasted chicken. You really don't need to do too much to a whole chicken besides add salt and pepper, tie the legs together and place in a hot oven. But sometimes I like to play around with ingredients and I am always drawn to the middle eastern spices I grew up with.
Here is a recipe that has become one of my fast favorites. The combination of spices are a play on traditional Harissa paste, without all of the heat of the chiles, and with a little extra garlic. Harissa, if you are not familiar, is a crushed Red Chile paste originating from Tunisia. It's a popular condiment in North African countries like Morocco, Libya and Algeria, each region having its slightly different version. This however is not a traditional harissa paste, which could overwhelm with all the chiles, but rather, hints of it.  The caraway seeds are magical.
We Americans tend to think of caraway seeds as a European spice because they are typically found in rye bread and krauts. My mother used to put them in her dense Finnish rye bread. But did you know that they are also widely used in middle eastern cooking? Another name for caraway is Syrian Cumin. There different kinds of caraway seeds including a black caraway. Middle Easterners refer to it as "the blessed seed" because of its healing properties. It is said  that King Tutankhamen's tomb contained black caraway oil, highly valued by ancient Egyptians.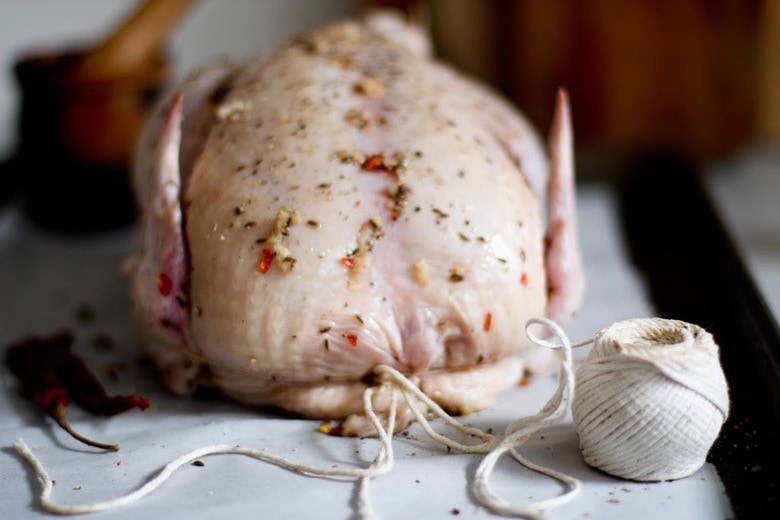 A couple tips when roasting chicken: Make sure to rinse the chicken, removing the giblets. Pat dry with paper towels extra well. Getting the chicken as dry as possible will ensure crispy skin (otherwise it can cause steam in the oven). Rub the chicken with the flavorful paste, getting in all the nooks and crannies and putting any extra inside the cavity. Tress the chicken and let the chicken rest at room temperature for 20-30 minutes. This resting period helps the chicken cook more evenly.
My favorite pan for roasting chicken is a
large cast iron skillet
or
a brasier
. As you can see, I did not use a
cast iron skillet
here for the chicken (it was already in use) and the underside was not as crispy as it normally is. I like to preheat the skillet when the oven is preheating… and let it get hot. Carefully ( I have burned myself many times not remembering the skillet handle is hot) place the chicken in the hot skillet and roast in the oven for 1- 1 1/2 hours depending on the weight of the chicken. Chicken is done when juices run just about clear, or thigh meat reaches 175-180 degrees F.  For a 5-6 lb chicken, plan on about 1 1/2 hours. Remember that all ovens are different, and you may need to adjust your temperature lower if the chicken browns too quickly. This may mean it will take longer to cook. I always check the brownness of the chicken at 25 minutes. If it looks a light golden brown, then it's probably fine. If it's already a deep golden brown, turn the heat down to 400 or even 375F.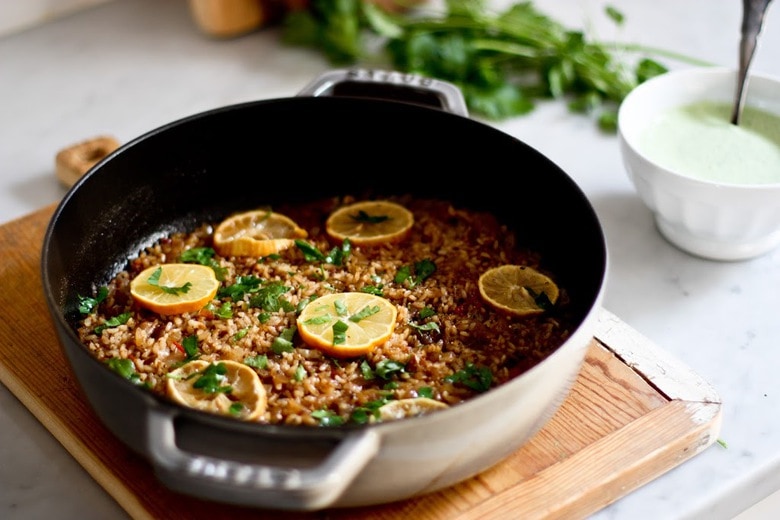 Saffron Basmati Rice is a nice accompaniment, but by no means required.  Instead, for an easy "one-pot" dinner,  line the bottom of the skillet with vegetables (like carrots, fennel, onion, celery,  potatoes, parsnips, turnips) that have been tossed with a little salt, pepper, and olive oil. Top with a few slices of lemon. Place the rubbed chicken on top of the layer of vegetables before putting  the whole thing in the oven. The juices and drippings of the chicken will season the vegetables really nicely. Or forgo the veggies and rice and serve with a big helping of salad.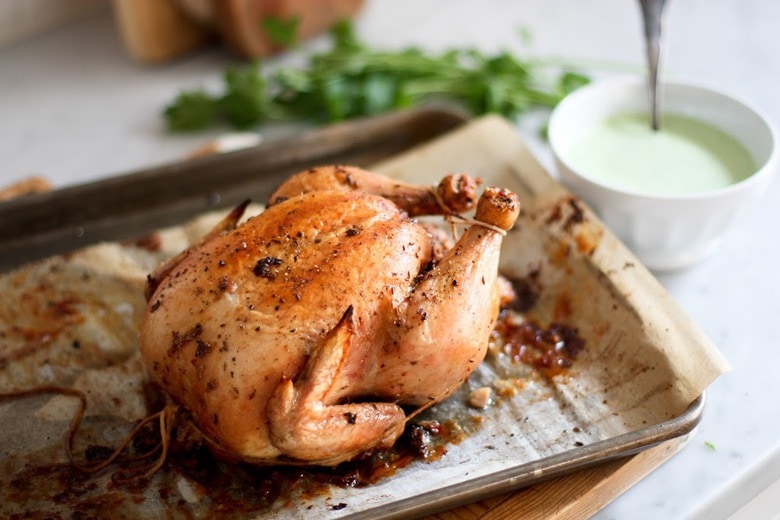 A cooling condiment for this roasted chicken is a yogurt sauce with lemon and parsley. It can be whipped up in your
food processor
in 30 seconds. Again, by no means necessary, but adds nice touch.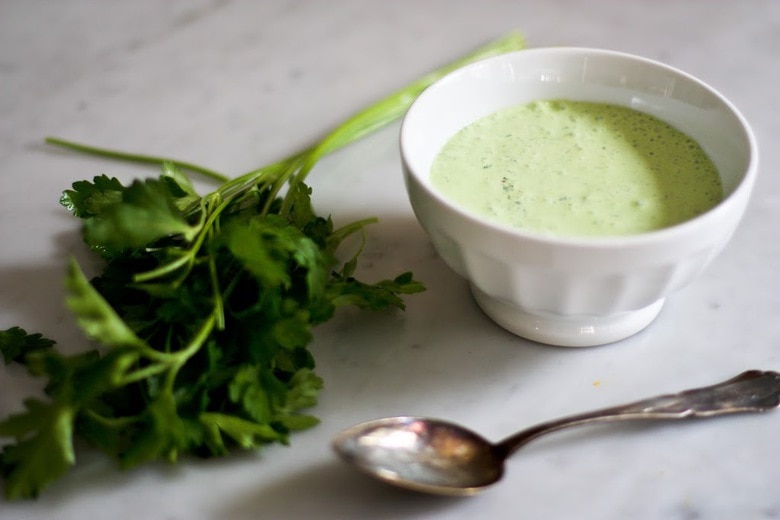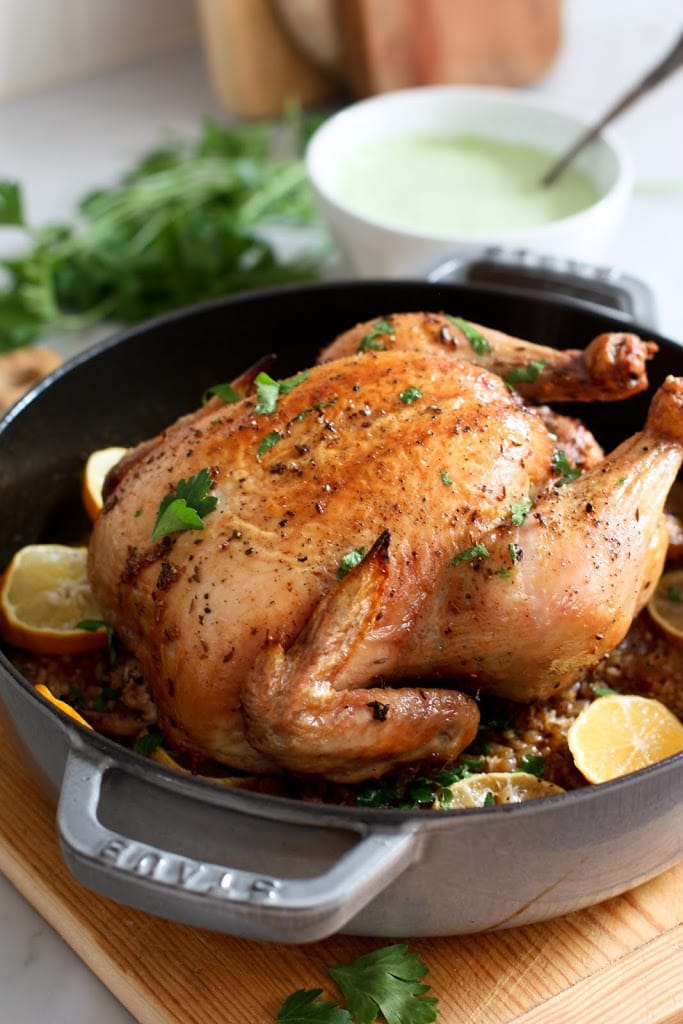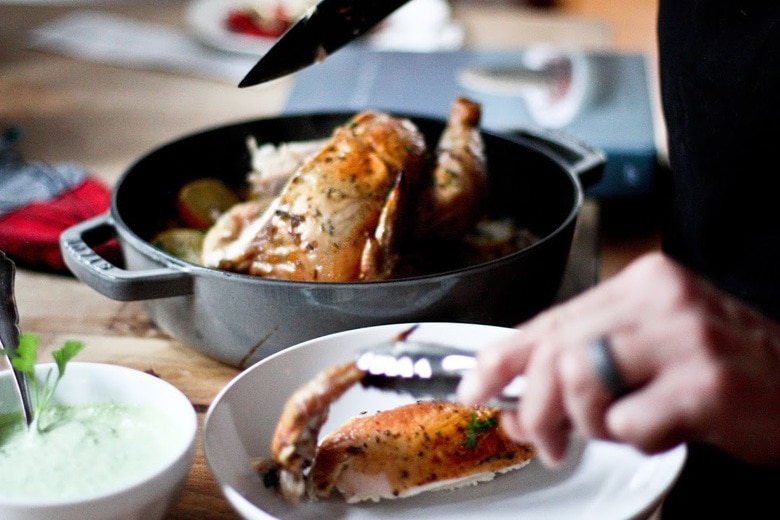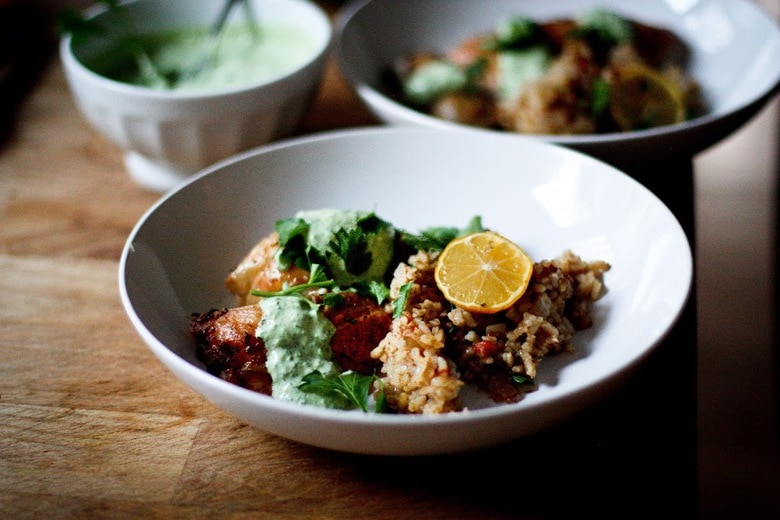 Thanks for reading! For more Feasting at Home … 
print recipe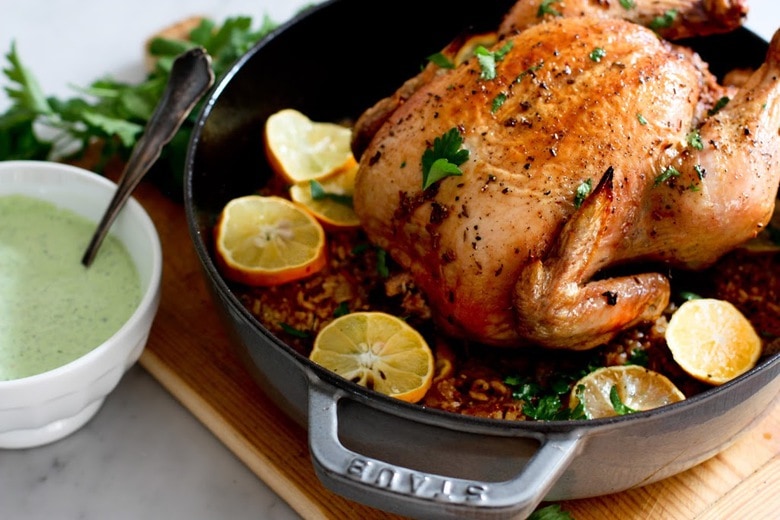 Ingredients
Instructions:
Pre-heat oven to 425 F
Rinse and pat dry chicken ( getting the skin really dry ensures that it will get crispy). Using a mortar and pestle ( or
food processor
) grind the garlic with the
salt
into a paste. Add seeds, pepper, crumbled chile, and olive and mash into a paste. It doesn't have to be perfectly smooth. Rub all over the chicken, getting in all the nooks and crannies and placing any extra inside the cavity of the bird. Tress, tying legs together and tucking the wings in. Place on a hot
cast iron skillet
or on a
sheet pan
, breast side up. Let stand 20-30 minutes at room temp. Place in the oven for 1 hour to 1 1/2 hours depending on weight. It is done when thigh is 170-180 F, or juice run just about clear.
Note: All ovens are different. Check chicken at 25 minutes. If the skin looks like it will over brown if kept at the same temp, turn the heat down a bit. It may need to roast longer, but this will keep the skin form getting too dark. In my oven at home, the 425F oven produces a perfectly browned chicken.
Saffron Rice:
1/2 C onion finely diced
1 tomato diced
Pinch saffron
2 cups chicken stock
1 cup basmati rice, well rinsed
1/2 tsp kosher salt
1 lemon.
Saute onion in 1T olive oil, on medium heat until tender, about 6 minutes. Add diced tomato and pinch saffron ( crumbled with your fingers). Saute 2 minutes. Add well-rinsed rice. Saute 1 minute. Add 2 C chicken stock and salt. Turn heat to high, cover and bring to a boil, and turn heat to lowest setting and simmer until water is gone and rice is cooked about 15-20 minutes.
Or substitute veggies for a "one-pot" meal version. Chop veggies ( carrots, potatoes, parsnips, fennel, onion, celery…or what ever you like) into bigger bite sized pieces and toss with salt pepper and olive oil. Line the bottom of a skillet with the vegetables and top with sliced lemon. Place the chicken directly on top. Roast.
Lemony parsley yogurt Sauce:
1 1/2 T lemon juice lemon
1 Cup plain greek style yogurt
1/2 C Italian parsley
1/4 tsp salt
cracked pepper
Place in a food processor and pulse until incorporated.
Details:
Prep time: Cook time: Total time: Yield:2-3 servings