A delicious pozole recipe, called Pozole Verde– a green Mexican stew made with tomatillos, green chilies, chicken and hominy, topped with cilantro, avocado and red onions. Video. Vegan adaptable.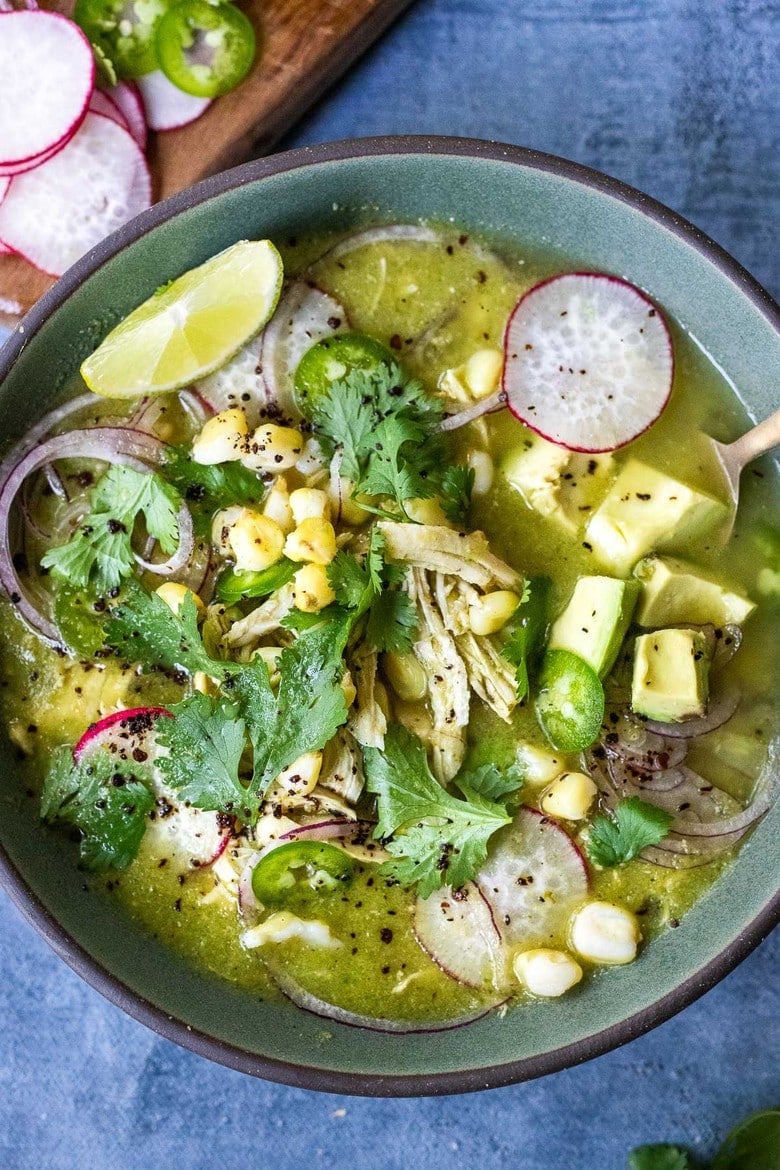 Pozole Verde is the perfect summer-to-fall transitional soup, because of its use of seasonal, late-summer produce like tomatillos and green chilies. The soup's base is made of poblano chilies, tomatillos, chicken and hominy. (For a red version of Pozole made in an instant pot see our Pozole Rojo!)
It's topped with a wide assortment of fresh ingredients- cilantro, red onion, radish, avocado, pepitas, diced tomatoes, or shredded cabbage. You can add or subtract any of these herbs and vegetables, among others, to make it as simple or as elaborate as you like.
Pozole Verde is a flavorful, healthy and satisfying meal that is surprisingly easy to make. It also can be made ahead and reheats beautifully. My good friend Jill first introduced this soup to me and I've been a fan ever since.
Pozole Verde | 60-Sec video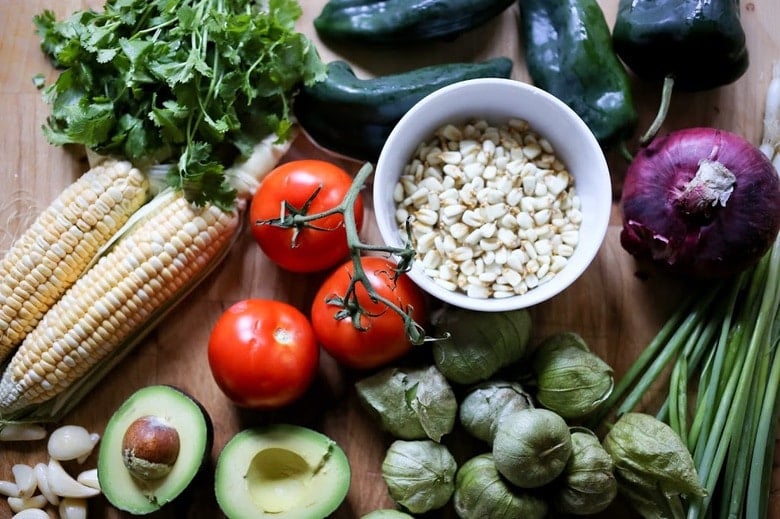 What is Pozole?
Pozole is a traditional Mexican Stew, made with hominy (corn) and protein, most often pork shoulder, in a flavorful, rich broth made with chilies.
Pozole is considered a celebratory dish in Mexico, often made for parties and large groups for Christmas or New Year's because it can be prepared easily and in large amounts. It makes for a great feast!
What is the difference between Red and Green Pozole?
There are many versions of pozole, depending on the region- but most commonly you'll see Pozole Rojo made with red guajillo chiles, ancho chilies, or other dried chilies- or Pozole Verde, made with green ingredients like tomatillos, green chilies, and cilantro. Regional spices and ingredients influence other variations as well.
One of Pozole's main components, no matter what the color, is hominy.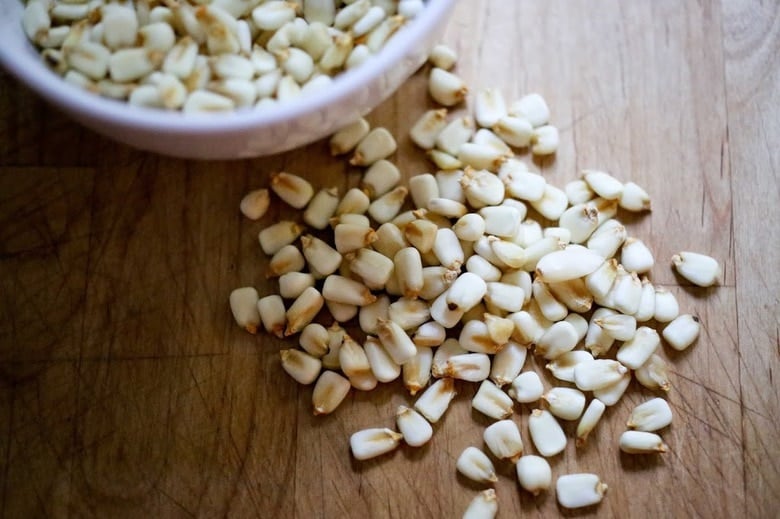 What is hominy?
Hominy is basically corn kernels that have been processed so they lose their outer layer, and the corn kernels puff up when they are boiled. Corn was a sacred plant to Aztecs and the other indigenous people of Mesoamerica and found its way through history into this stew.
If you can find dry hominy, I recommend using it. Canned will work here too- but cooking it from scratch will result in hominy that is more toothsome.
Key Ingredients In Pozole Verde
Tomatillos instead of tomatoes give it its vibrant green color.
Green Chilies – hatch, poblanos or most mild green chilies work great here )
Chicken – we are using chicken in the recipe, but pork is often used as well.
Cooked hominy- canned, or pre-cooked.
Cilantro!
How to make Pozole Verde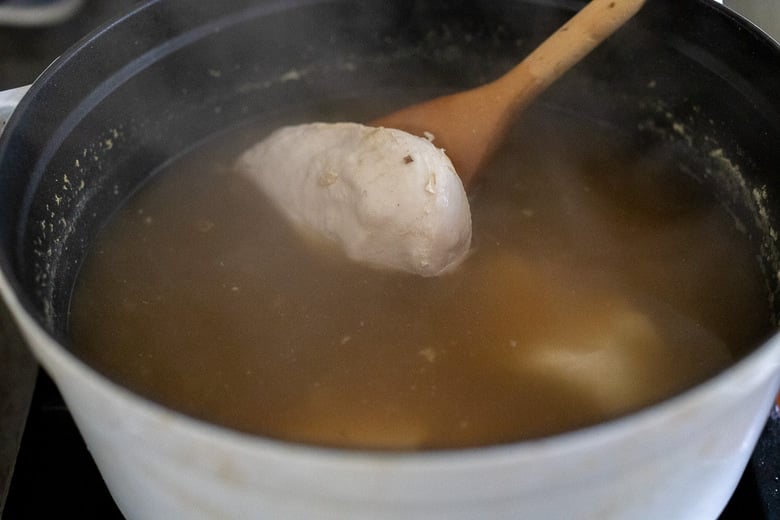 Step one
Poach chicken breast in chicken broth ( or chicken stock) over medium-high heat, seasoned with cumin, coriander, Mexican oregano and salt.
Step two
Blend tomatillos, poblano chilis, jalapeno, tomatillos, onion and garlic with a cup of water, into a smooth sauce to create a flavorful bright green base.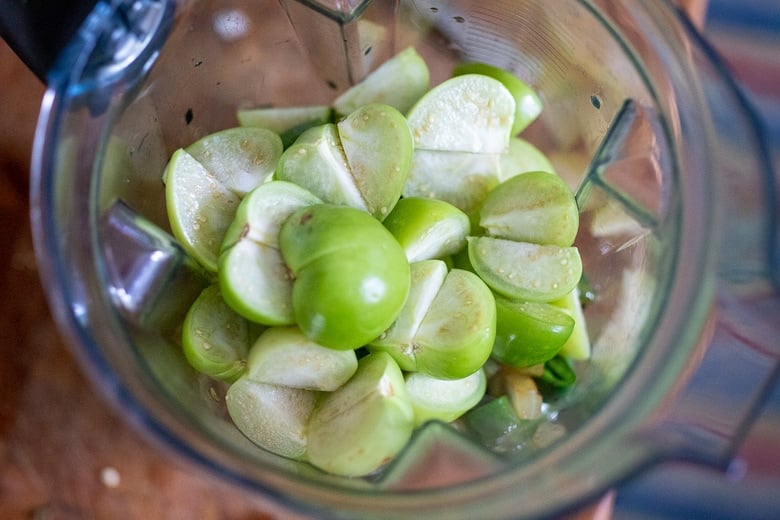 Step three:
Pour the blended Verde sauce, into an oiled pan, and cook over medium-low heat, stirring for about 10-15 minutes.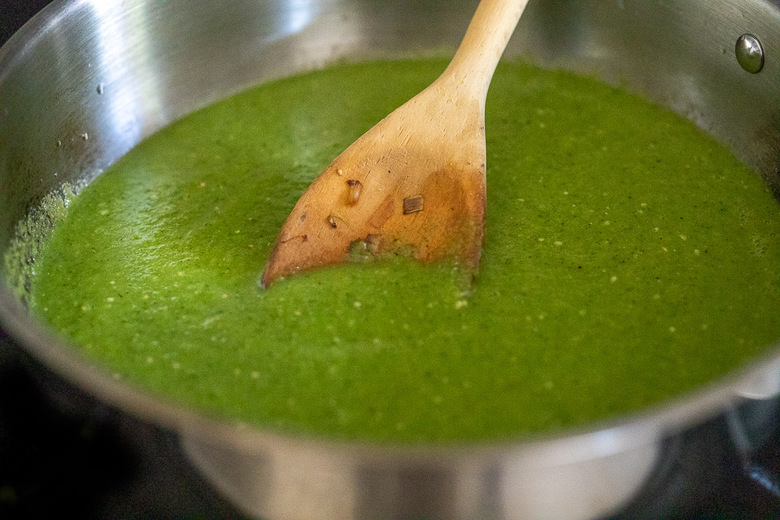 Step four:
By this time the chicken should be cook through- time to shred!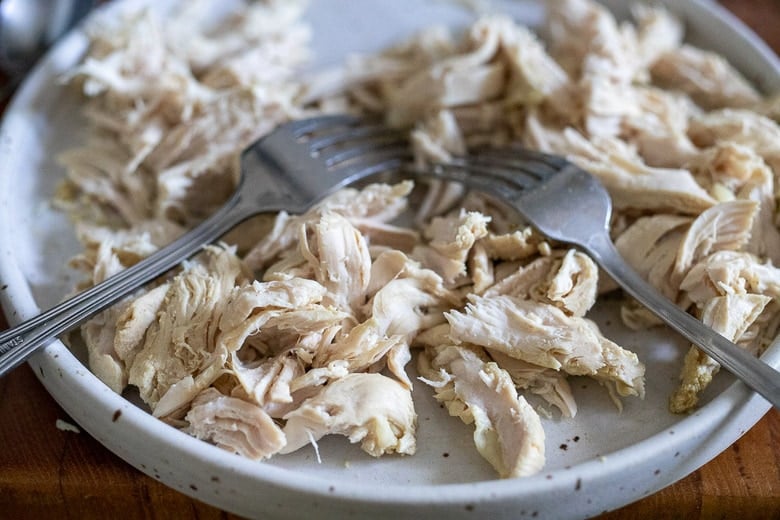 Step five
Place the shredded chicken back into the broth.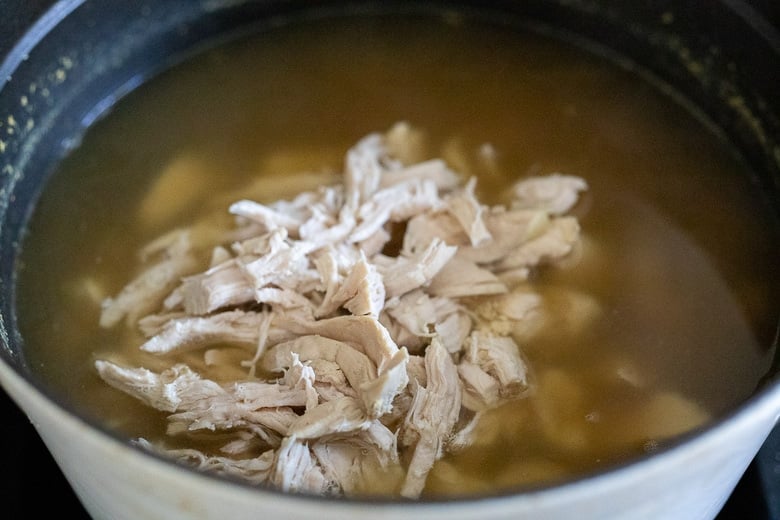 Step six
Pour the cooked Verde sauce into the pot with the chicken and broth and give a stir.
Step seven
Add the cooked hominy.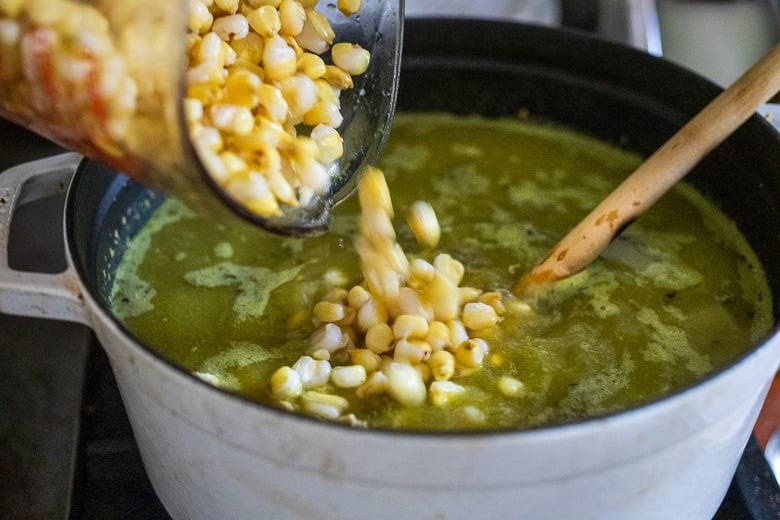 Expert Tips
Thicken the broth with a cup of the hominy, by blending it up with a little of the soup base.
Wait to blend in the cilantro until right before serving to boost the color here. Ladle a little broth into the blender with the cilantro.
If your broth or soup lacks flavor or depth, it may be due to the chicken stock you are using. Add 1-2 chicken bouillon cubes or even a small splash of soy sauce. You need enough depth to balance the heat here. 🙂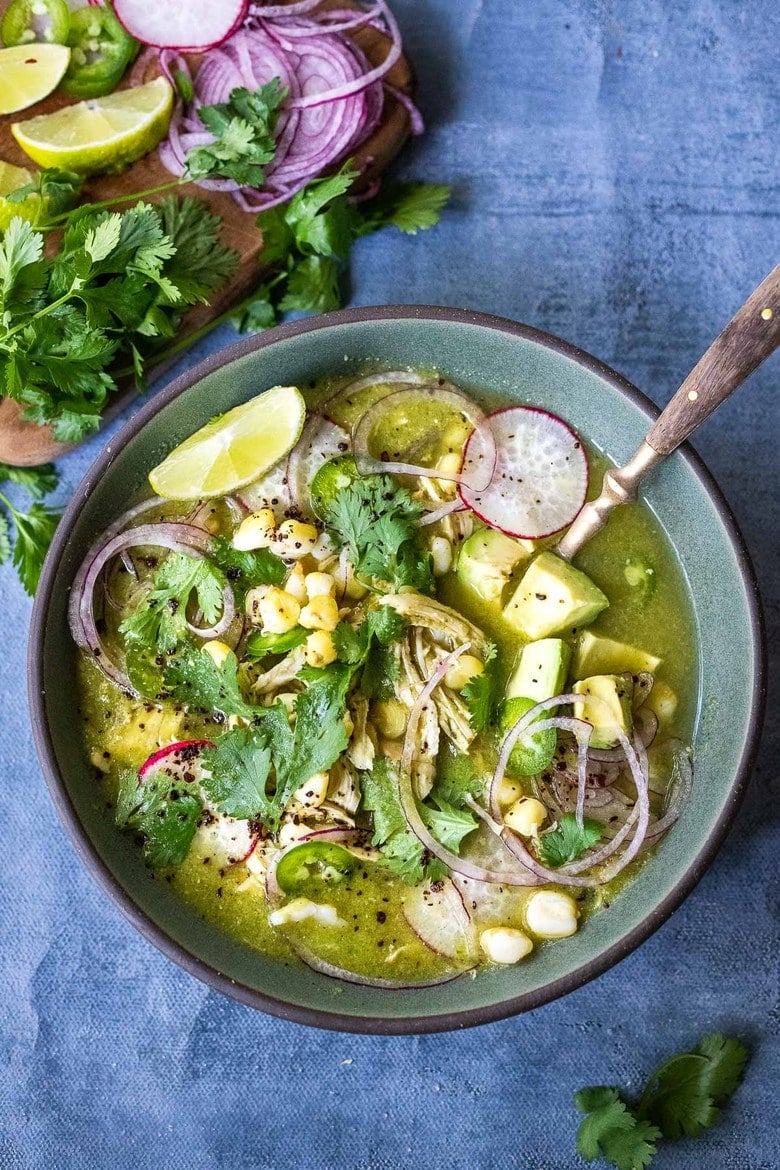 Toppings for Pozole
thinly sliced onions ( or scallions)
cilantro
thinly sliced jalapeno
sliced radishes
shredding cabbage or lettuce
avocado
crispy tortilla chips ( make them like this)
lime juice or wedges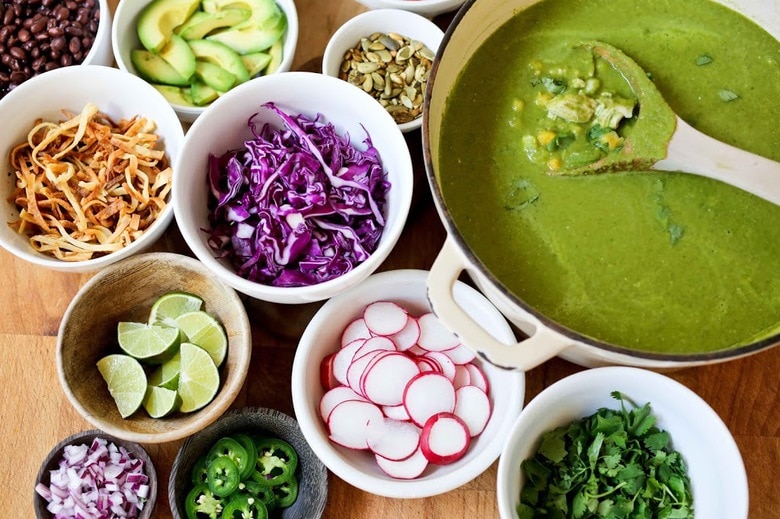 Make crispy tortilla strips as one of the toppings for added texture. Just cut corn tortillas into thin strips, spray with spray oil and bake in a 300 F oven till crisp.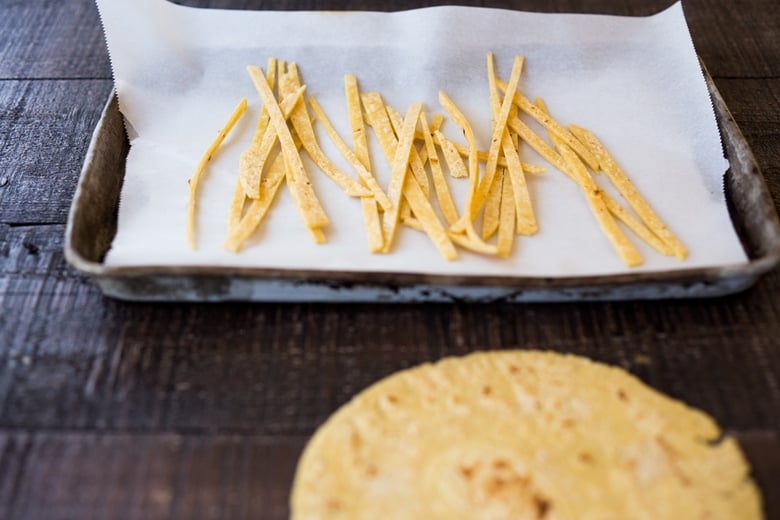 Host a Pozole Party!
A fun way to serve this is to create an interactive dining experience for your guests, where they help prepare all of the all toppings for the Pozole Verde, themselves.
As each guest arrives, hand them a beer or margarita, and give them a prepping station in the kitchen. Have cutting boards, bowls and knives ready to go.
Set up an area for them to mingle while they prep. A. kitchen island is great for this! Have one person slice onions, another slice cabbage, and have someone else chop cilantro. Getting everyone involved in the kitchen is a great way to break the ice, especially if guests are meeting for the very first time.
I have found that people actually prefer having something to do with their hands in social situations and giving them a project tends to stave off some of the social anxieties we all experience from time to time.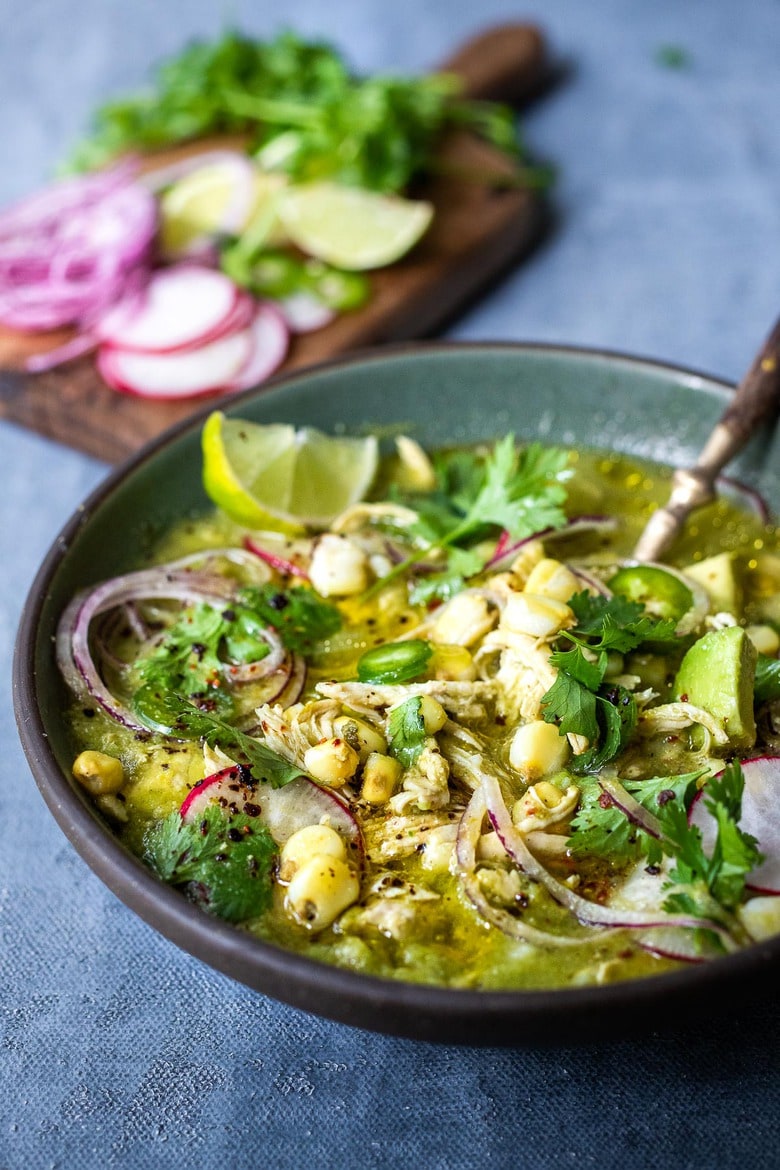 What is the difference between Pozole and Posole?
Lastly, you may be wondering why we often see it spelled differently. Pozole is the "proper" spelling; and "posole" is slang- both mean the same.
Hope you enjoy Pozole Verde, and be sure to read the instructions all the way through before starting so you understand the way to keep the soup vibrant green!
More Mexican Recipes to Enjoy!
Print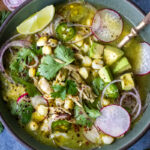 Mexican Pozole Verde (Green Pozole )
Prep Time:

30

Cook Time:

30

Total Time:

1 hour

Yield:

6

-8

1

x

Category:

Soup, Main, Gluten-free

Method:

Stove top

Cuisine:

Mexican
---
Description
A flavorful Mexican Stew called Pozole Verde! This version is lightened up with chicken (instead of pork) and is the loveliest vibrant green! Loaded up with veggies, this makes for a healthy, delicious dinner with lots of texture and flavor. Perfect for entertaining!
---
8

cups

flavorful chicken stock (see notes)
1 tsp kosher salt

1 tablespoon

coriander ( see notes)

1 tablespoon

dried Mexican oregano

1 tablespoon

dried Epazote (optional) or sub 2 bay leaves

2 teaspoons

ground cumin

1 teaspoon

freshly ground black pepper

2

lbs

boneless, skinless chicken breasts (or use thighs)
——–

1

lb

tomatillos, husked and halved (about 12 golf ball sized tomatillos)
1 large onion, rough chopped
3 medium poblano chilies, seeded and sliced
1 jalapeno, seeded and halved (add 1 more for extra spicy)
6-8 large garlic cloves
——-

1

T olive oil

4

cups

cooked hominy- or three 15 oz cans rinsed and drained.
1 whole bunch cilantro, tender stems OK
OPTIONAL Toppings: Sliced avocado, Mexican sour cream, lime wedges, crumbled queso fresco, chopped scallions, toasted pepitas, sliced radishes, thinly sliced red onion, chopped cilantro, chopped scallions, shredded cabbage, diced tomatoes, crispy tortilla chips, fresh corn kernels, black beans, hot sauce.
---
Instructions
Cook the chicken: In a large heavy-bottomed pot or dutch oven, bring the chicken stock, salt, coriander, cumin, oregano, epazote, cumin and pepper to a boil. Add the chicken breasts, cover and simmer gently over low heat until they're tender and cooked through, about 25 minutes. Transfer the chicken breasts to a plate and shred the meat, skim the stock, and return the chicken back to the stock.
Make the Verde Sauce: In a blender, add one cup of water. Add tomatillos, onion, garlic, poblanos and jalapeno garlic. Blend until smooth, scraping down sides if necessary.
In a skillet, heat the oil and add tomatillo puree and cook over moderate heat, stirring occasionally, until the sauce turns a deep green, about 10 minutes. To the blender ( it's ok if its not rinsed) ladle in 1 cup of broth from the chicken soup pot, set aside.
Pour the cooked Verde sauce into the chicken soup pot. Add the 3 cups of the hominy (reserving 1 cup) and bring to a gentle simmer over moderate heat.
Add the cilantro and their tender stems into the blender with the chicken stock, cover tightly with a kitchen towel and blend until smooth. Add the reserved 1 cup of hominy. Blend again until smooth. If you need more liquid to get the blender going, just ladle from the pot. Add this to the soup.
Taste the soup. Season with salt, pepper and cook on warm just until heated through -do not boil, or you will lose the lovely color. If soup lacks depth, add more salt and or a couple of chicken bouillon cubes ( or a couple teaspoons of chicken boullion paste or even a splash of soy sauce). The goal here is to get enough depth in the soup to balance out the tartness from the tomatillos and heat from the chilies.
Serve the Posole in bowls, along with sour cream and any or all of the sides, letting people add whatever toppings they want.
---
Notes
To make this VEGAN: Sub flavorful veggie broth for the chicken broth. Sub 3 cans black beans or pinto beans for the chicken. You could add other veggies here- sauteed bell pepper or zucchini. The challenge will be getting the broth flavorful enough to hold up to the heat.
If your soup lacks depth, add a couple of extra boullion cubes or teaspoons of this chicken or veggie broth boullion paste. It will help a lot!
Nutrition
Serving Size:

1 ½ cups

Calories:

291

Sugar:

5.6 g

Sodium:

837.3 mg

Fat:

7.1 g

Saturated Fat:

1.4 g

Carbohydrates:

27.6 g

Fiber:

4.3 g

Protein:

28 g

Cholesterol:

73.7 mg
Keywords: posole, posole recipe, pozole, chicken pozole verde, chicken pozole, chicken posole, posole verde, posole verde recipe, chicken posole recipe, green posole,