How to make Frankies! Flavorful Indian Burritos made with curry mashed potatoes, chickpeas, cauliflower, spinach, pickled onions and amazing Cilantro Mint Chutney! Video. 
Looking for more? Check out our 33+ Best Cauliflower Recipes and our 35+ Mouthwatering Indian Recipes to Make at Home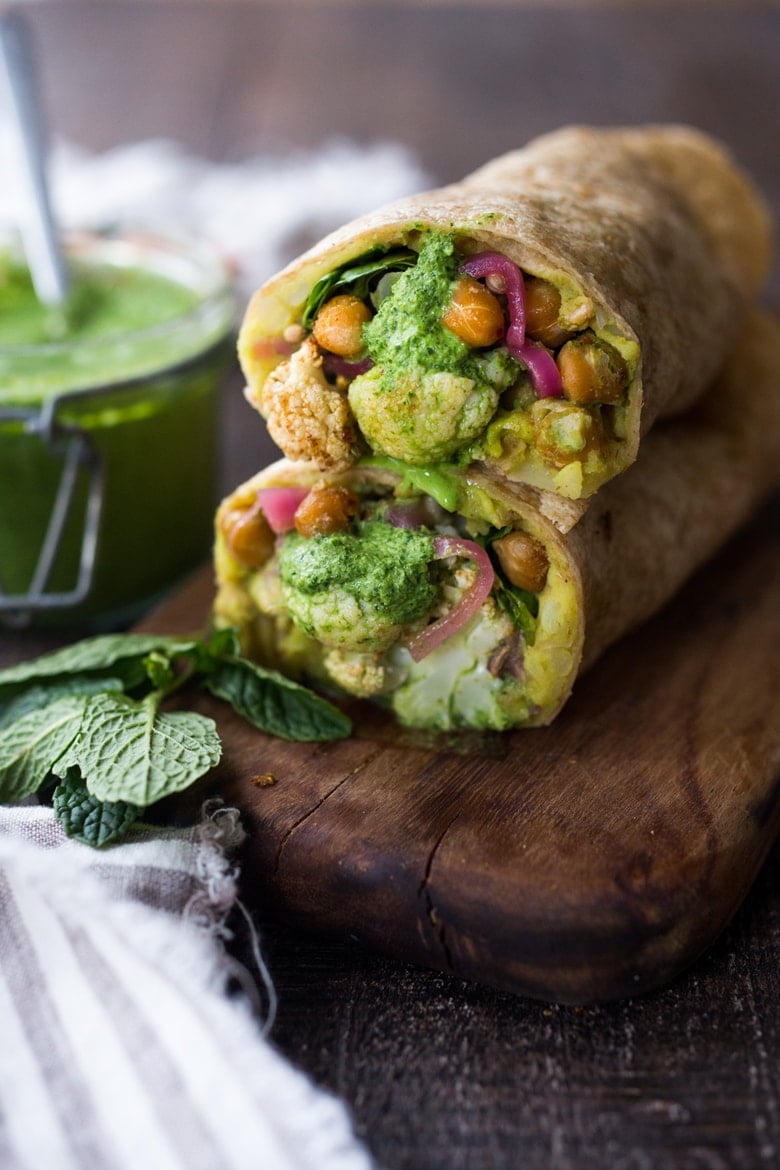 The sun shines not on us, but in us.  John Muir
What is a Frankie?
Frankies are India's flavorful street food, also known as the Mumbai Burrito, Bombay Burrito,  or roti wrap – this vegan version is filled with curry mashed potatoes, roasted Indian cauliflower and chickpeas, fresh spinach, Cilantro Mint Chutney and Pickled onions, all wrapped up in a warm tortilla.
Healthy and seriously bursting with flavor! Traditionally these would be wrapped in freshly made roti with a very thin layer of egg, but we've simplified things here a bit. 😉
How to Make Frankies!| 60-second video
---
Frankie Variations
In our catering business, we would often serve Frankies as mini tacos. Flavorful little Indian Tacos, always a huge hit!  If going grain-free or gluten-free, you could easily turn the whole thing into a "bowl", with the curry mashed potatoes (or basmati rice) as the flavorful base.
If you have meat-eaters in your household, add chicken, which you could roast alongside the cauliflower.
---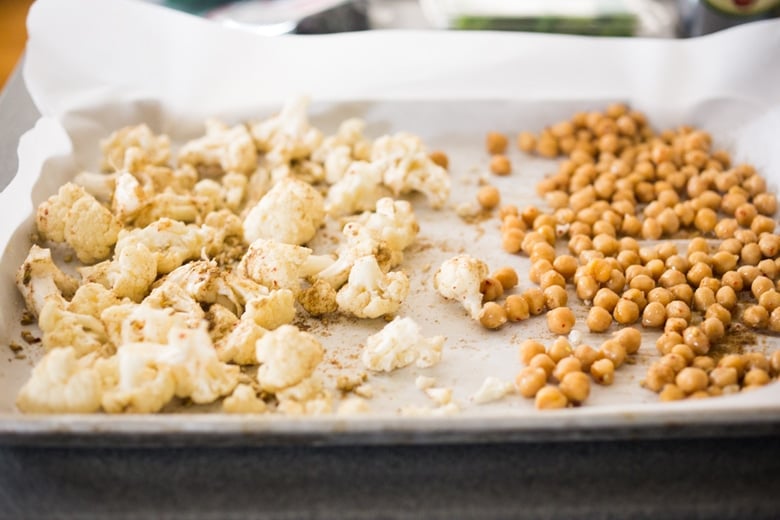 So, to be upfront, there are several components here. They all work together to create a beautiful balance of flavors, so pick a day when you have a little extra time. Read the recipe through, so you are clear on what you'll need and the steps. It's not hard and in the end, I promise it will be well worth it.
Components of an Indian Burrito:
Curry Mashed Potatoes (the "spread" that holds it together)
Roasted cauliflower- Chickpea mixture (the filling)
Cilantro Mint Chutney. ( THE FLAVOR) Don't even think about leaving this out.
large tortillas or wraps
Spinach or greens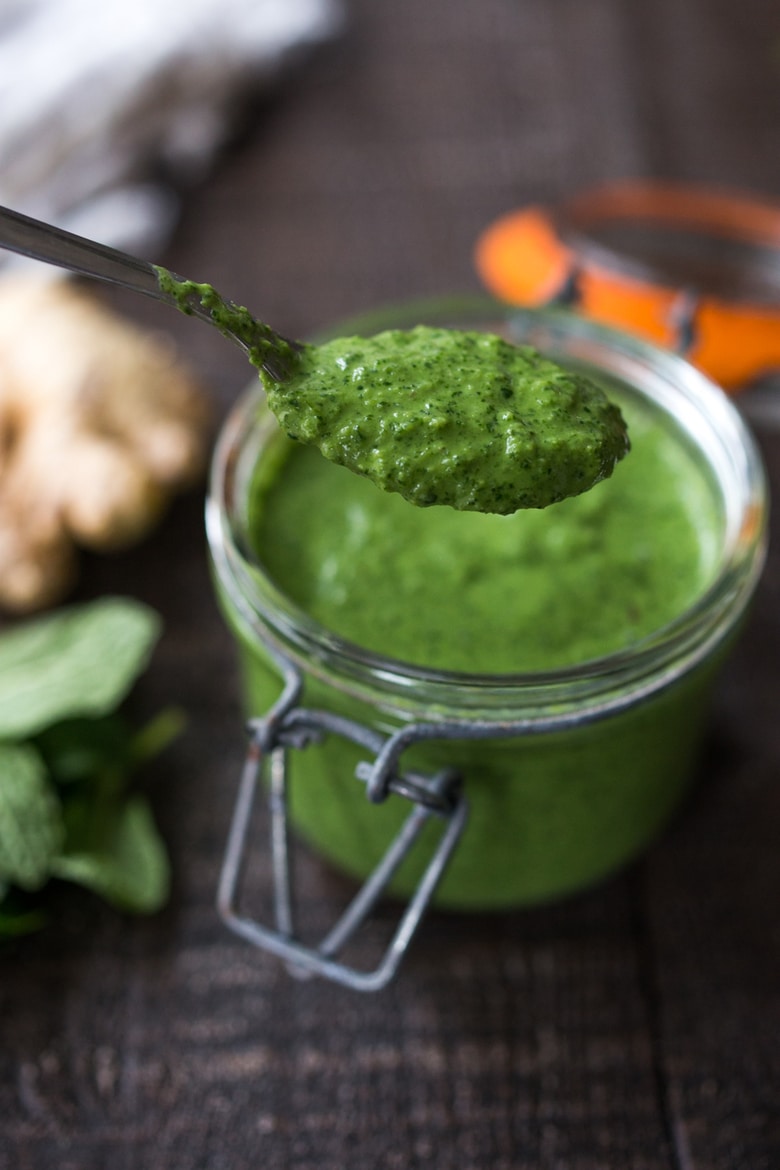 The Cilantro Mint Chutney is essential, so please don't skip this.  It adds so much flavor!!!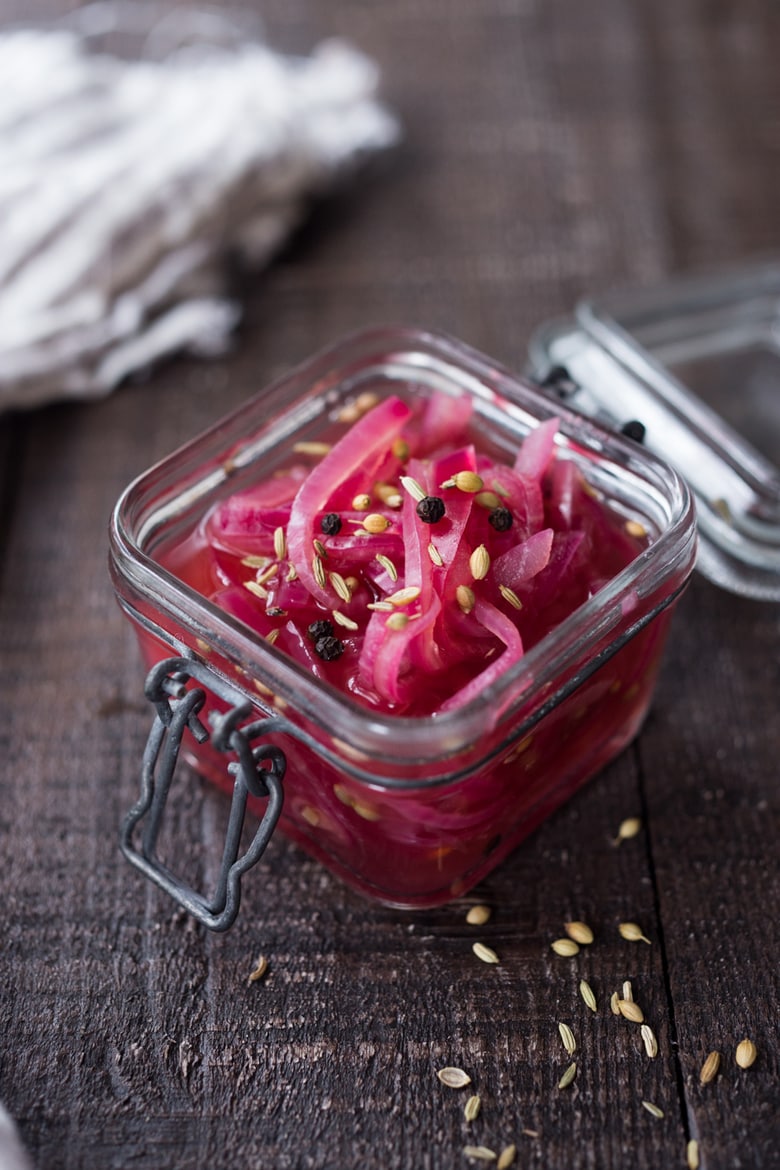 Here are the  Quick Pickled Onions – another 5 minutes!   I promise you'll find a million uses for any leftovers.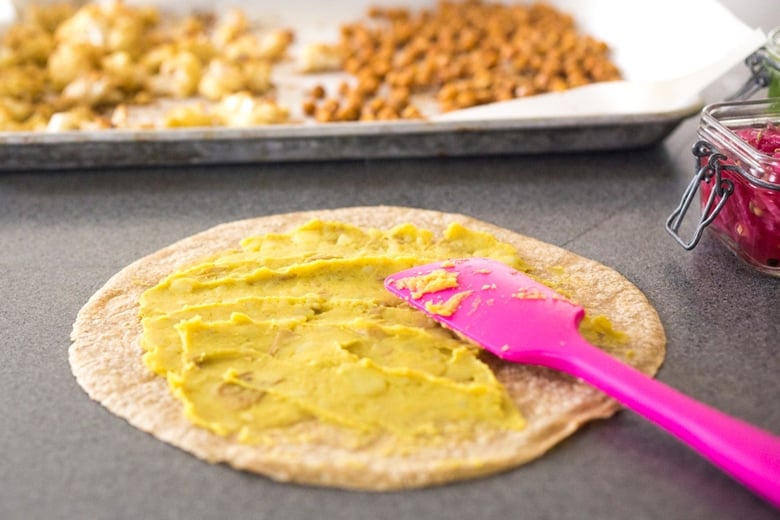 The curry mashed potatoes give the burrito a beautiful creamy richness and help keep everything together. I know they may sound strange at first, but trust me, they really work here.
Once the curry potatoes and roasted veggies are done… start layering, starting with a toasty warm tortilla. Feel free to use GF tortillas or wraps.
Generously spread the tortilla with the curry mashed potatoes.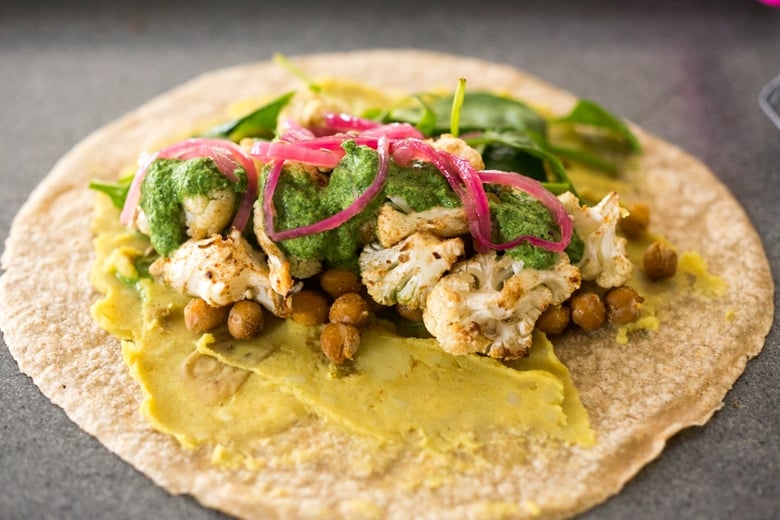 Then top the Curry Mashed Potatoes with the roasted Indian cauliflower, chickpeas, spinach, colantro chutney and pickled onions.
Wrap it up like a burrito, and serve warm.
Prepare to be delighted.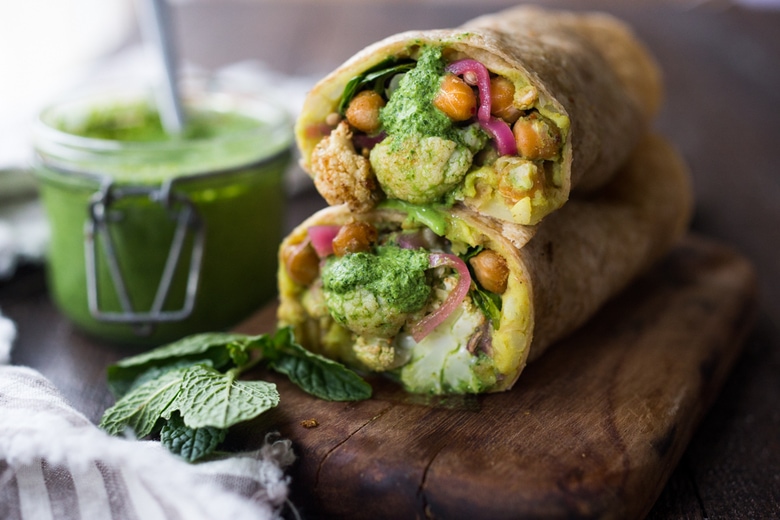 If you work efficiently several things can be "working" at the same time.
Also, both the Cilantro Mint Chutney and pickled onions can be made ahead.
So much flavor here friends!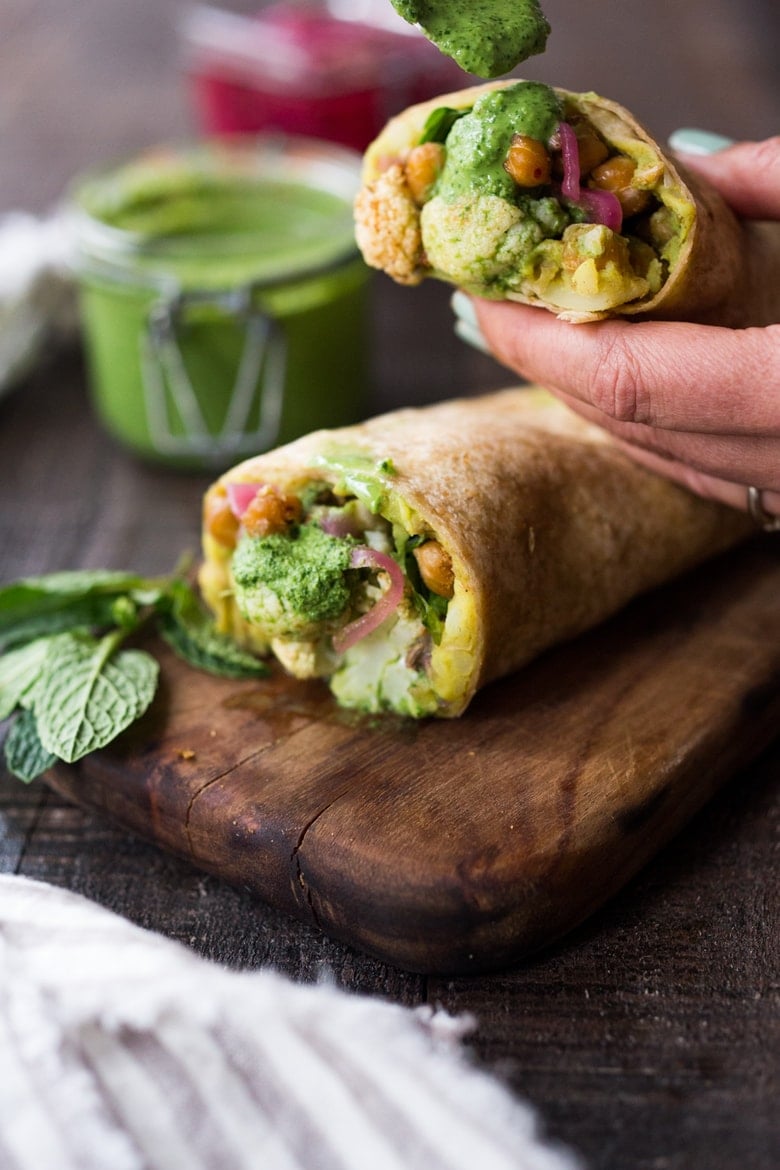 This is a meal unto itself, but if you feel like you must serve it with something, I would pick an Indian-inspired salad or side!
I'm so excited for you to try this delicious Frankie recipe! I know you will love it. Please rate and leave your comments/adaptions below.
Happy Week!
xoxo
More recipes you may like!
Print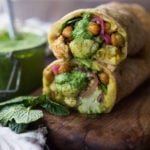 Frankie Recipe
Author:

Sylvia Fountaine

Prep Time:

40

Cook Time:

30

Total Time:

1 hour

Yield:

4

1

x

Category:

Vegan Main, vegetarian

Method:

Roasted

Cuisine:

Indian

Diet:

Vegetarian
---
Description
A delicious recipe for Frankies- India's street food, also called a Mumbai Burrito or Bombay Burritos. Filled with curried potatoes, roasted cauliflower and chickpeas, spinach, cilantro mint chutney and pickled onions. Vegan! GF adaptable. It requires a few components- but well worth it!
---
Curry Mashed Potatoes (The "Spread")
Roasted Cauliflower  & Chickpea (Filling):
1

head cauliflower- cut into small florets

1

can chickpeas, rinsed and drained well

1

–

2

tablespoons olive oil

1 1/2 teaspoons

kosher salt

1 tablespoon

coriander

1 tablespoon

cumin
generous pinch chili flakes

1 teaspoon

whole coriander seed (optional)
Burrito Fixin's: 
4

x extra-large, whole wheat tortillas – or feel free to use GF wraps or tortillas, or GF bowls using the mashed potatoes and extra spinach and the base.

2

handfuls baby spinach
Few tablespoons Cilantro Mint Chutney (imperative!!!)
Few tablespoons Quick Pickled Onions
---
Instructions
Preheat oven to 425F
START POTATOES: Cut potatoes and place them in a medium pot, covered with water and simmer until very tender, about 15-20 minutes.  At the same time…
ROAST VEGGIES: Cut the cauliflower into small florets and place them on a parchment-lined sheet pan ( to one side). Add the drained chickpeas to the other side. Drizzle both with olive oil. Sprinkle cauliflower and chickpeas with the spices and salt, tossing to coat well. Place in the oven and roast for 20-25 minutes tossing halfway through) or until cauliflower is tender.
SAUCE: Make the flavorful Cilantro Mint Chutney and quick pickled red onions and place both in jars (of course, you could make these both ahead). They take about 5-10 minutes each. Please don't leave out the mint chutney- it's imperative!!!
CURRIED POTATOES: Once the potatoes are very tender, drain but save about 1 cup of the hot water. Place the potatoes back in the pot and mash with some of the hot water ( start with ¼-½ cup ) salt, spices and ghee (or oil) and mash the potatoes to combine until smooth. You want a fairly loose, spreadable mash so add more hot water if necessary. Scrape down the sides. Stir well.  Taste. You want this to taste flavorful and slightly salty as the tortilla will mute some of the salt and flavor. Feel free to add more ghee or oil as you please for extra richness. Cover and keep warm.
When the roasted veggies are done, ASSEMBLE: Warm the tortillas either in the oven, over a gas flame or over a grill, until soft and pliable. Spread generously with the curried potatoes, then top with chickpeas, cauliflower making sure to get some of the whole spices that will have dropped to the bottom of the pan. Add a handful of spinach leaves, a few teaspoons of cilantro mint chutney and some pickled onions and roll up like a burrito. Keep warm in the oven until ready to serve, or serve immediately! You can also refrigerate and reheat for meals on the go.
Enjoy!  Rate and Leave a comment!!
---
Notes
Quick yellow curry spice (you will not need all) 
1

Tablespoon

 

ground coriander

1

Tablespoon

 

ground cumin

1

teaspoon

 

ground turmeric

1

tsp

ground ginger

1/2

tsp

dry mustard

1/4

 

tsp

ground white pepper ( or black) 

1/4

 

tsp

cayenne pepper 
Mashed Potatoes: If wanting to use real garlic and onion here, finely dice 1/2 an onion, saute in oil over medium heat until tender, add 1-2 cloves finely minced garlic. Saute until fragrant and golden. Stir into the mashed potatatoes.
Nutrition
Serving Size:

4 extra large wraps

Calories:

490

Sugar:

6.2 g

Sodium:

1573.1 mg

Fat:

15.6 g

Saturated Fat:

2.1 g

Carbohydrates:

77.1 g

Fiber:

11.7 g

Protein:

14.2 g

Cholesterol:

0 mg
Keywords: Indian Frankie Recipe, Frankies, how to make frankies, frankie recipe, frankie recipes, what is a frankie, indian burritos, vegan frankie, vegan frankies, indian street food recipes