Easy Enchilada Casserole ( AKA Enchilada Pie) with Sweet Potato, Corn and Black beans – and optional 5-minute Enchilada Sauce. A fast and healthy version of enchiladas made with layered tortillas instead of rolled- time-saving! Keep it vegetarian or add chicken!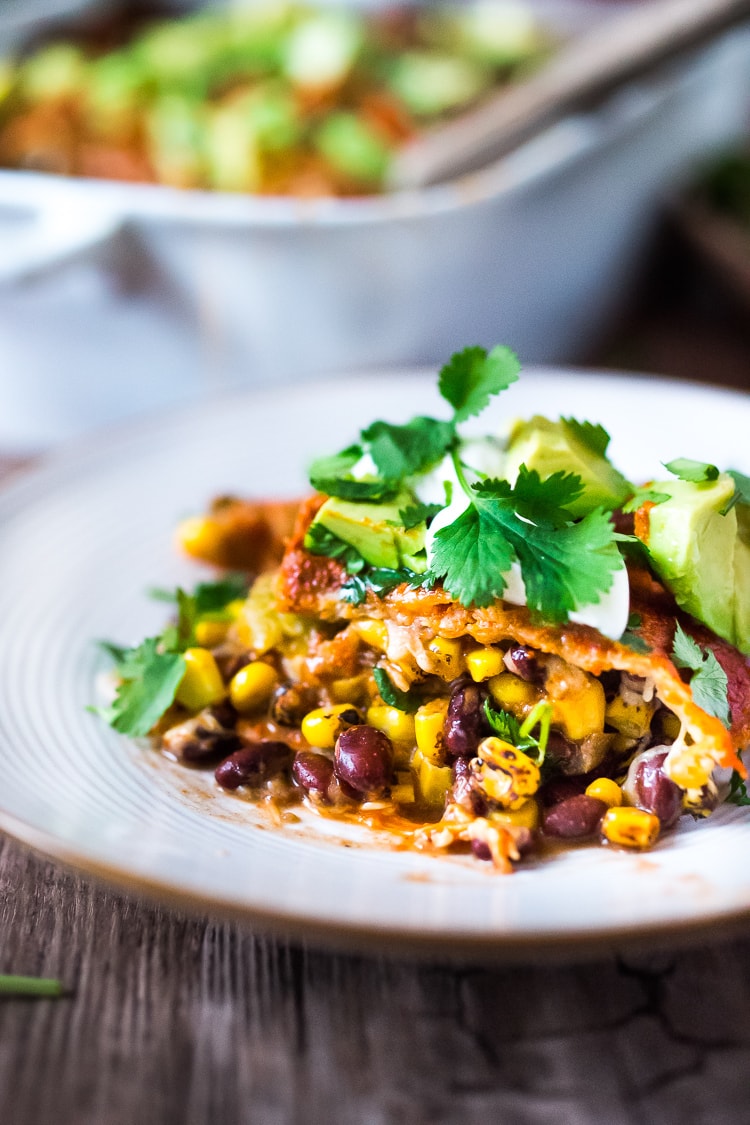 It is the soul itself that has brought us to this difficult place in order to enlarge us,
to ask more of us than we planned on giving.~James Hollis~
Here's a quick and easy dinner recipe, perfect for busy weeknights – Enchilada Casserole with Sweet Potatoes, Corn and Black beans and my 5 Minute Enchilada Sauce.
It can be kept vegetarian as you see it here, or for heartier appetites, add rotisserie chicken, or ground turkey or beef. The flavorful enchilada sauce is simple, yet delicious, and whips up in a blender. No cooking involved! When pressed for time, this is a hearty meal that can be assembled in 20-25 minutes, with the oven doing the rest of the work. Top it with cilantro, avocado and sour cream and dinner is ready!
Enchilada Casserole | 45-sec video
It has become my go-to meal when Brian has the guys over for band-night because I can pre-assemble it and when he's ready he just plops it in the hot oven for 30 minutes. And did I mention how tasty it is? It's SUPER tasty.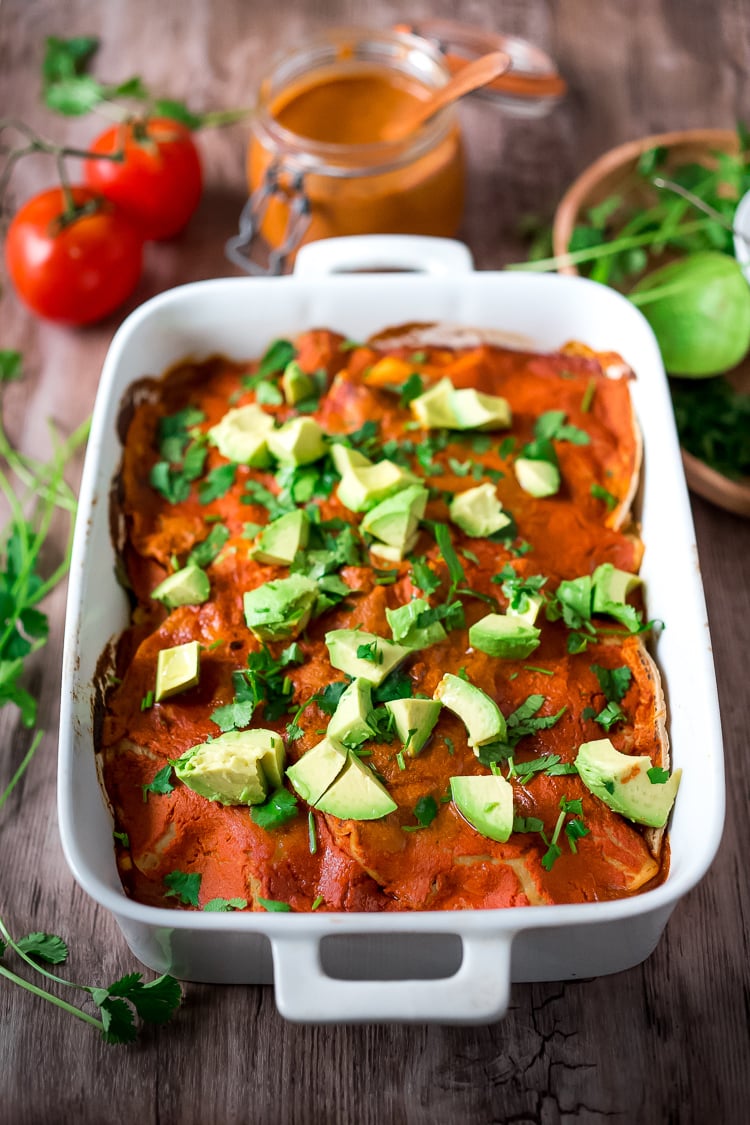 I just got back from a dreamy little getaway to a town in Mexico, called Sayulita, just South of Puerto Vallarta. It's amazing what a little sunshine and saltwater does for the soul. Not to mention the food. Somehow the warm vibrant flavors revive the palate, and I always come home feeling refreshed and inspired.
I traveled with my friend Mikki who I met 20 years ago in the Counseling Psychology Program at Gonzaga – and though she lives far, whenever we connect, it's just like old times.
She gave me a book, which, when I first read the title, made me want to throw across the room, because well, it's called Finding Meaning in the Second Half of Life by James Hollis and it's hard for me to get my head around the fact, that yes, I'm in the second half of life, because… when did that happen?! Ha!
But title aside, the book is a treasure – and it has been a while since I've been this moved. It just reaches right in and speaks the truth, about what we probably already know, but don't normally have the courage to face.
The writing is incredible, the author so candid and eloquent. If you are over 40 and are seeking depth, meaning … give yourself a gift. You will love it. There is a section on relationships that is particularly poignant.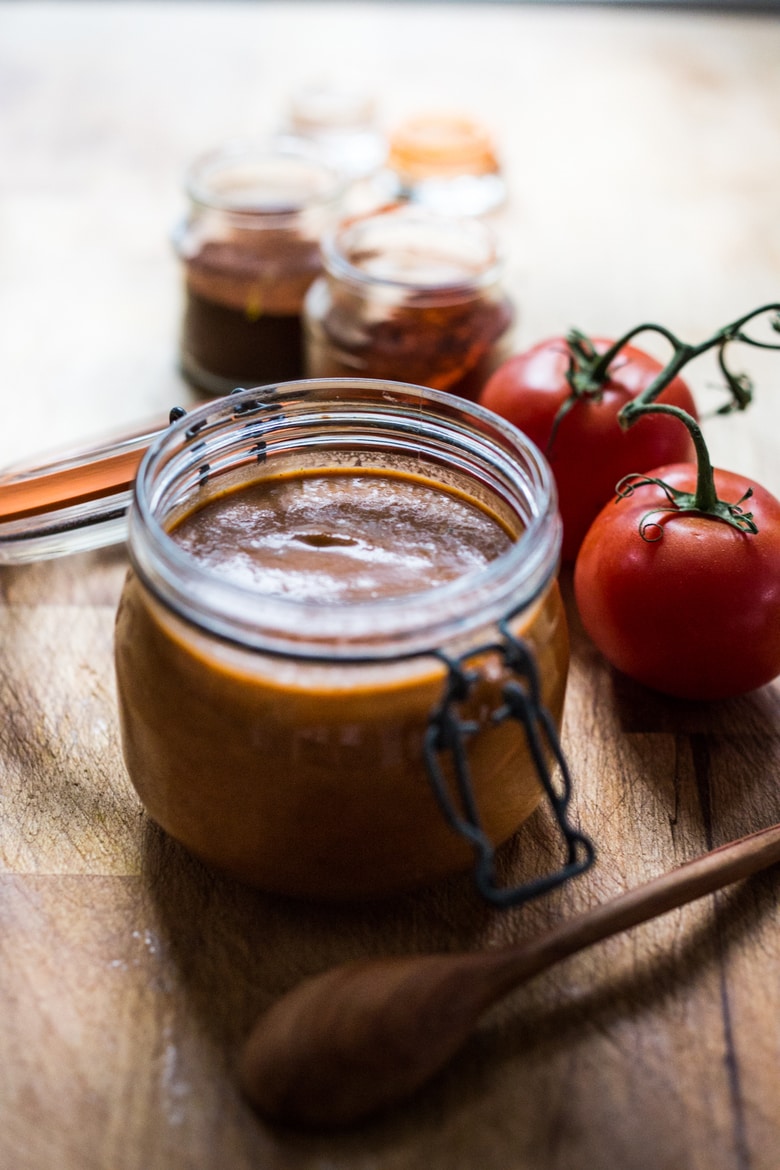 The recipe starts with making the 5 minute Enchilada Sauce- which of course you can buy, as well (I like Trader Joe's brand ) But this literally takes 5 minutes, so why not make it? Blend up the ingredients in a blender until smooth, and that's it, no cooking required. In winter I use canned tomatoes, but in summer, when fresh ripe tomatoes are available, I prefer those. This would also be something really great to can or freeze for winter if you are one of those lucky ones who can grow multitudes of tomatoes.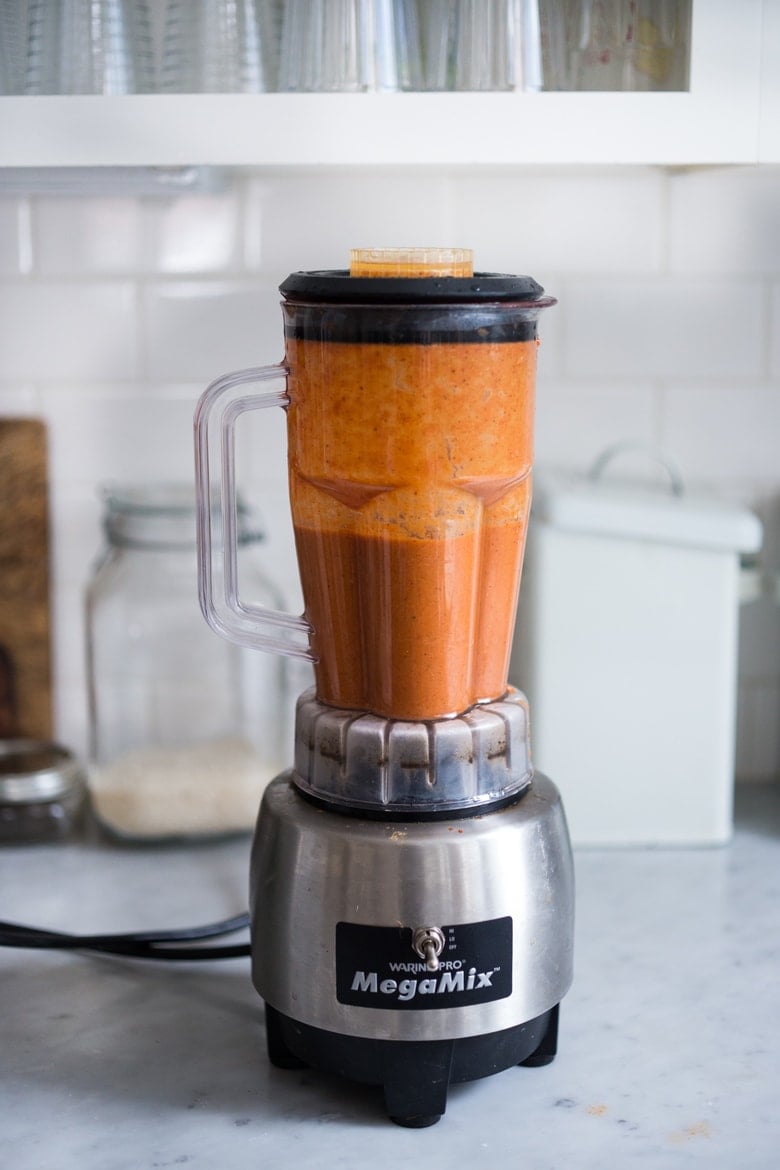 The recipe makes about 2 cups of Enchilada sauce.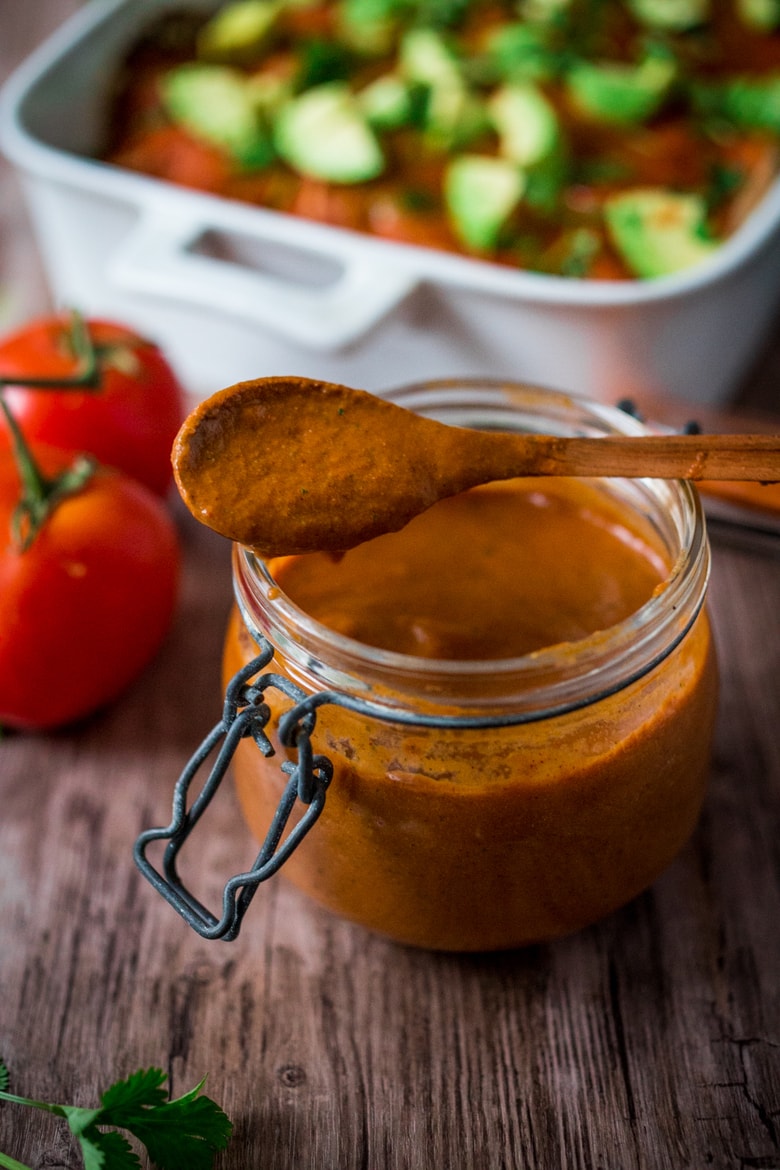 Then make the filling and assemble!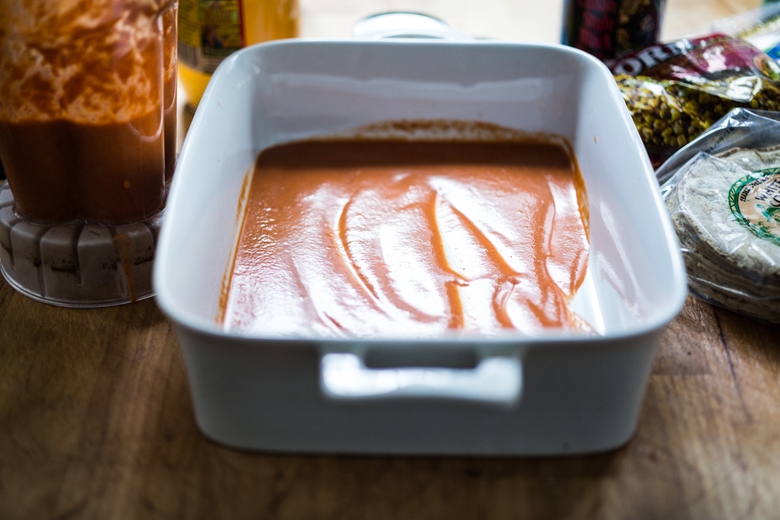 Then begin layering the ingredients, first with a little sauce to coat the bottom, then 4 corn tortillas.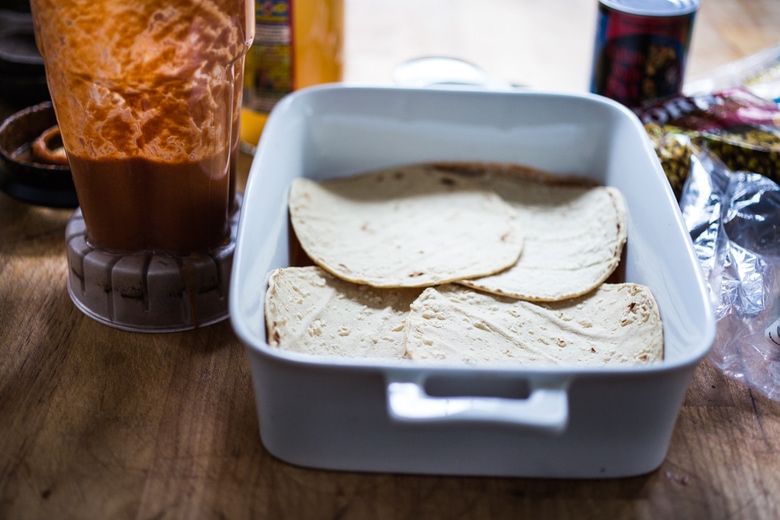 Lather with filling, cheese, sauce, more tortillas, and repeat, finishing with the remaining enchilada sauce. Cover and bake.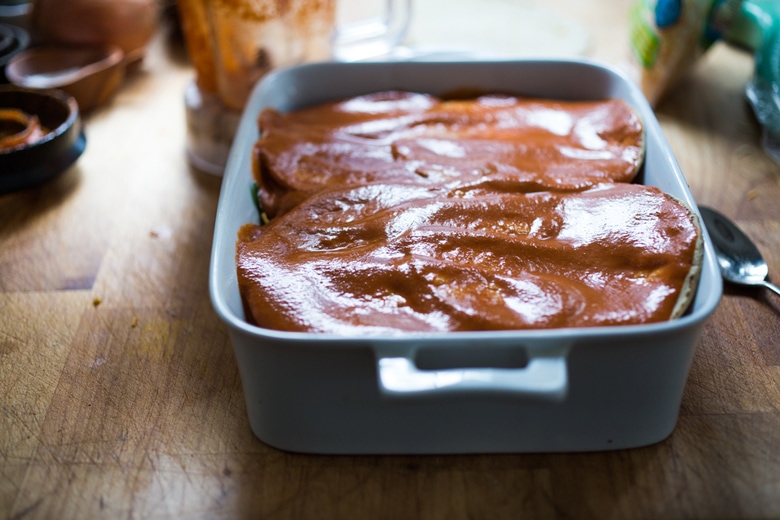 When its warmed through, uncover and bake for 10 more minutes. At this point you could add more cheese to the top to melt, but to keep it healthy and light, leave it off and garnish it well with fresh diced avocado, cilantro and sour cream.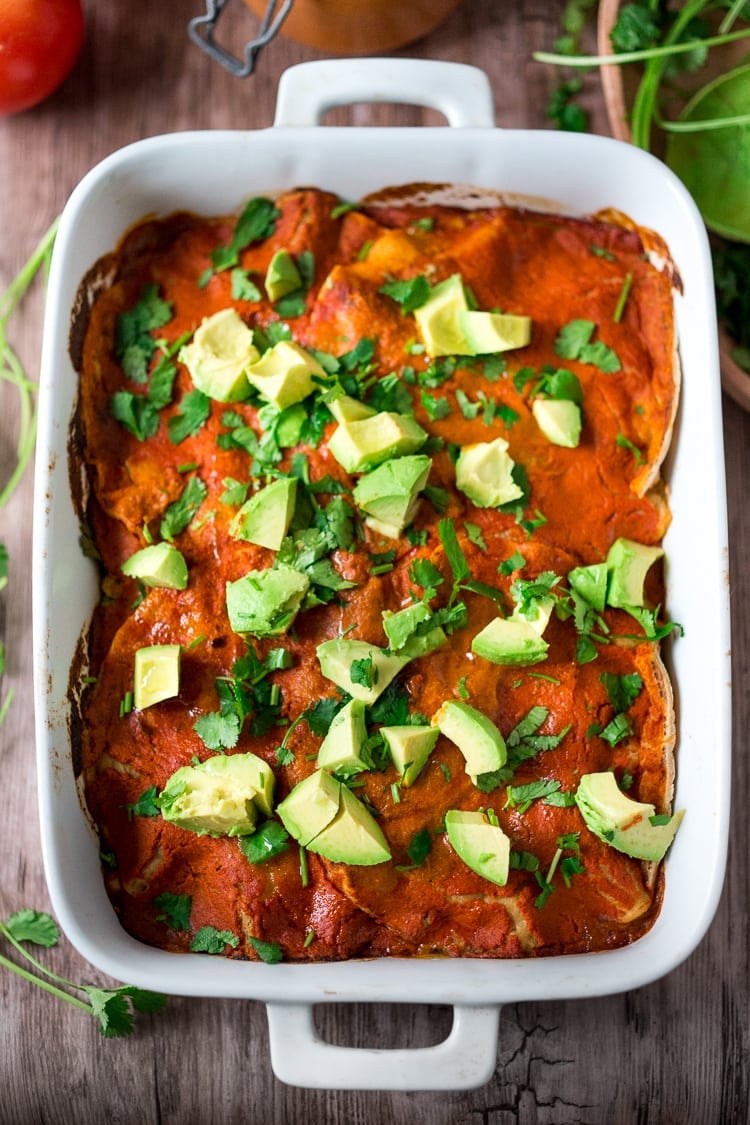 And there you have it …. fast and easy Enchilada Casserole! This could easily be made ahead, and refrigerated. Or bake it ahead for mid week meals.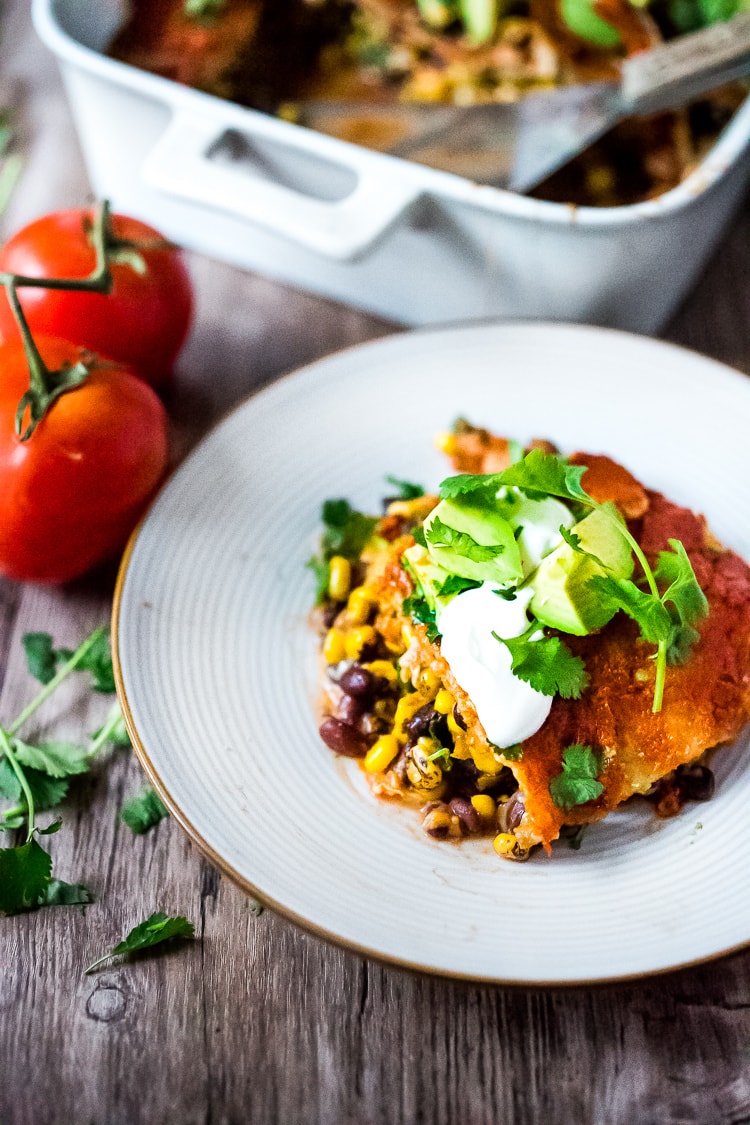 Hope you love this as much as we do!
Print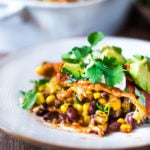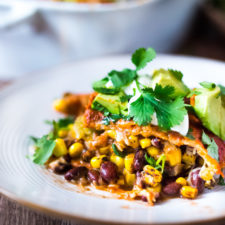 Vegetarian Enchilada Casserole
Prep Time:

15 mins

Cook Time:

40 mins

Total Time:

55 mins

Yield:

8

Category:

Main

Method:

Baked

Cuisine:

Vegetarian -with Meat Options
---
Description
A fast and easy recipe for Enchilada Casserole, with black beans, corn, sweet potatoes and a quick 5 Minute Enchilada Sauce. Comforting and healthy! Keep it vegetarian or add cooked chicken or ground turkey!
---
12 ounce

bottle of enchilada sauce (or make my

5

minute, no-cook enchilada sauce)

8

x 6 inch corn or flour tortillas

2

–

3

cups grated mexican style cheese

4 ounce

can green chilies, (optional)
Garnish: chopped cilantro, diced avocado, sour cream, hot sauce
5 minute Enchilada Sauce:
Casserole Filling:
2 tablespoons

olive oil

½

an onion, diced

4

cloves garlic, rough chopped

1

large yam or sweet potato, diced into ½ inch cubes (optional, or sub

1

large bell pepper, or zucchini)

12

–

16

ounce bag frozen corn (regular or fire roasted ) – or sub fresh corn.
 15 ounce can black beans ( like Trader Joe's Cuban Style Black Beans) Or substitute with 2 cups cooked chicken, browned seasoned ground turkey, or beef.

2 teaspoons

cumin

2 teaspoons

chili powder

1 teaspoon

kosher salt
---
Instructions
Preheat oven to 400 F
Make the Quick Enchilada Sauce: Place all ingredients in a blender and blend until smooth, set aside.
Make the filling: Saute onion, garlic and sweet potatoes in the olive oil over medium heat, until tender, about 10-12 minutes, covering ½ way through, allowing potatoes to steam and get tender. Add corn and black beans, cumin, chili powder and salt and saute until warmed through.
In a greased 9 x13 inch baking dish, spread out ½ cup of enchilada sauce, to lightly coat the bottom. Spread out 4 tortillas on top of the sauce.  Spread out ½ of the filling over the tortillas. Scatter half of the canned green chilies (if using), and 1 cup of the grated cheese.  Drizzle with a ½ cup enchilada sauce. Top with 4 more tortillas, add the remaining filling, green chilies, 1 cup cheese and top with 4 more tortillas. Lather the top with the remaining enchilada sauce and any additional cheese if you like a cheesy top.
Cover with foil and bake for 30 minutes. Uncover, and bake 10 more minutes. Garnish with diced avocado, cilantro and sour cream. The sour cream really adds a nice creaminess.
---
Notes
In winter, I love adding the diced sweet potato for extra richness, but in the warmer months I'll opt for  zucchini and/or bell pepper.  Feel free to load the filling up with seasonal veggies- tasting and adjusting salt and seasoning accordingly. Or add a protein like cooked ground meat or chicken.
Keywords: enchilada casserole, enchilada pie, mexican casserole, enchilada casserole recipe, tortilla pie,