This Eggplant Lasagna recipe is so cozy and warming! Made with layers of roasted eggplant, savory spinach filling and no-boil noodles.  Keto, GF and Vegan-adaptable! Video.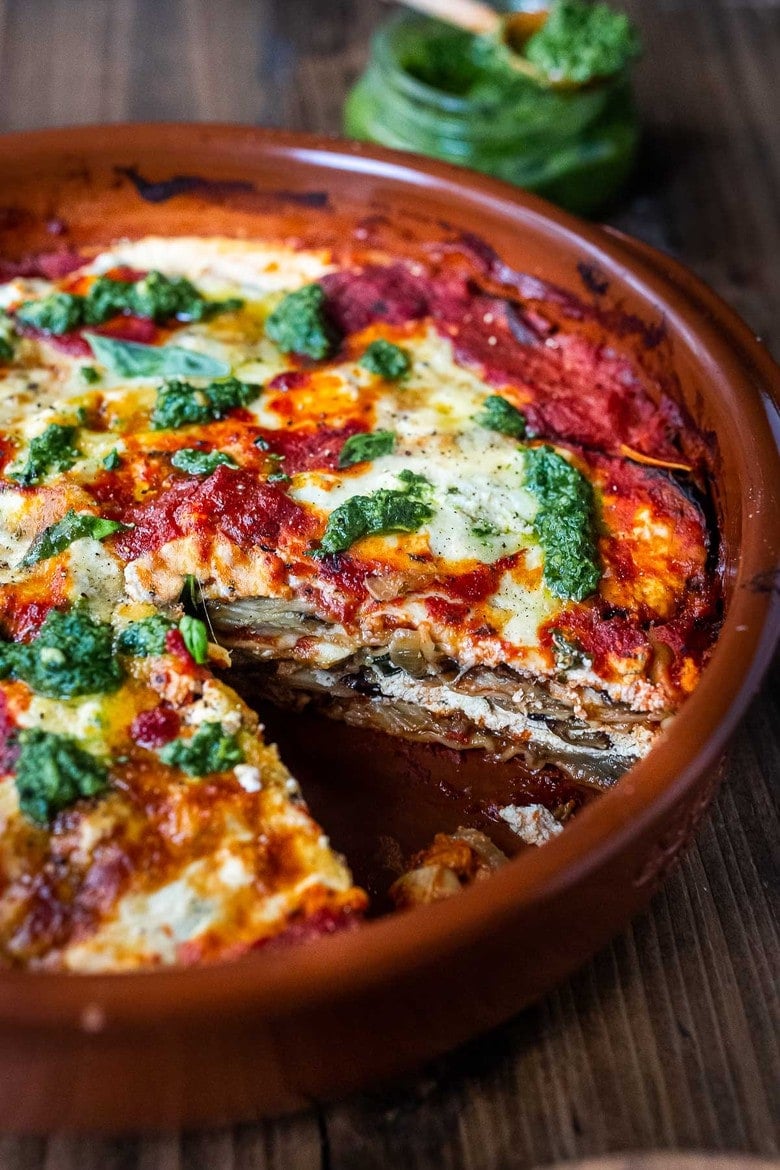 This delicious Eggplant Lasagna is so warm and comforting -it is one of those dishes you actually get kind of excited about the leftovers. I am actually eating the last piece as I type, and feeling a bit sad about it.
After making a big batch last Sunday- it has been nourishing me all week long. Vegetarian comfort food at its best! We have several lasagnas on the blog- our Spinach Basil Lasagna, our Vegan Lasagna and our ever-popular Butternut Squash Lasagna – all are super tasty. What I love about lasagna is you can make them in stages, or make them ahead, or freeze them for later!
What you'll love about this Recipe!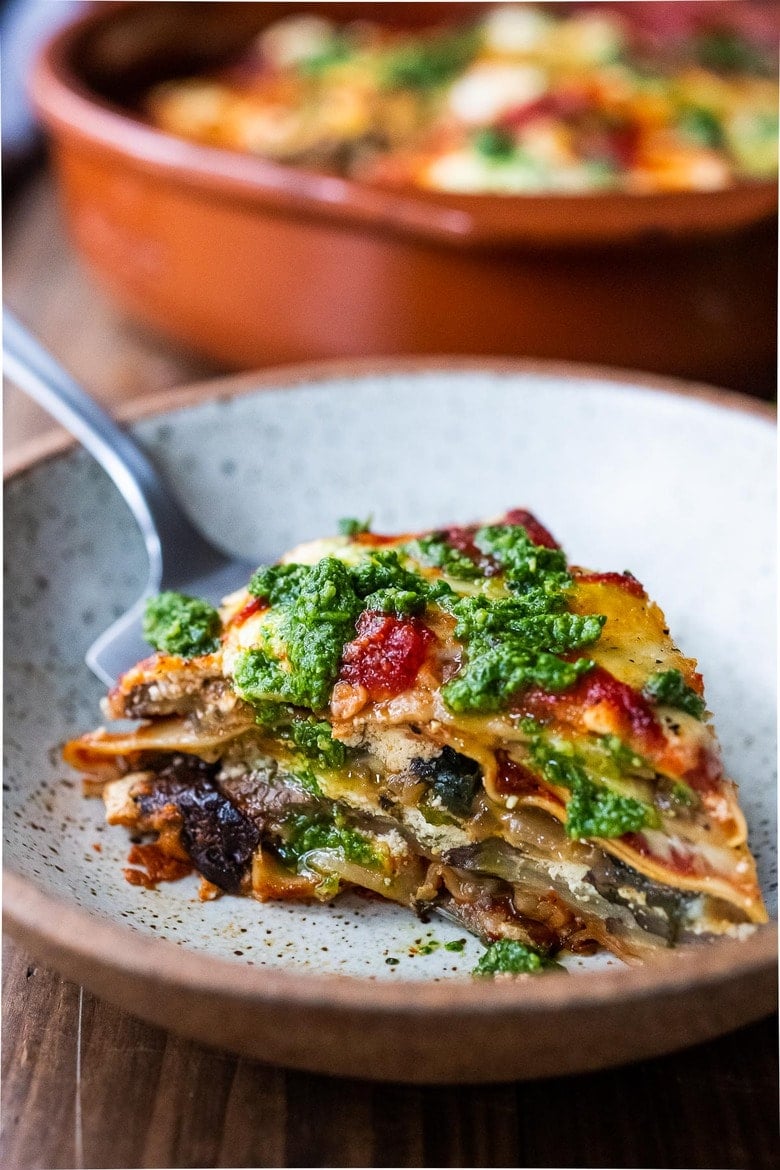 The thing that elevates this Eggplant Lasagna is the Arugula Pesto. Yes, of course, you can always use store-bought pesto or your own version of pesto would work fine too. But if you have an extra 5 minutes, make the Arugula Pesto, trust me, you need this in your life. 😉
Eggplant Lasagna Ingredients
Eggplant: The star of the recipe! Slices of eggplant get roasted in the oven until succulent and tender. Roasting eggplant will prevent excess moisture- never use raw eggplant in lasagna or it will be watery.
Marinara Sauce: The flavorful tomato sauce that forms the base of the lasagna. Make our Quick and Easy Marinara Sauce or use store-bought.
Mozzarella Cheese: Add a layer of creaminess and gooeyness. It melts beautifully and complements the other flavors in the dish.
Pecorino (or Parmesan Cheese): This hard, aged cheese is grated and sprinkled over the layers of the lasagna. It adds a nutty, salty taste, and a nice golden crust when baked.
Ricotta Cheese: Another cheese often used in lasagna, ricotta provides a creamy and slightly tangy flavor.
Herbs: Fresh basil or fresh parsley.
Optional – Arugula Pesto, for the top! Both for color and flavor .
How to Make Eggplant Lasagna
Step one: Prep the Eggplant & preheat the oven to 400F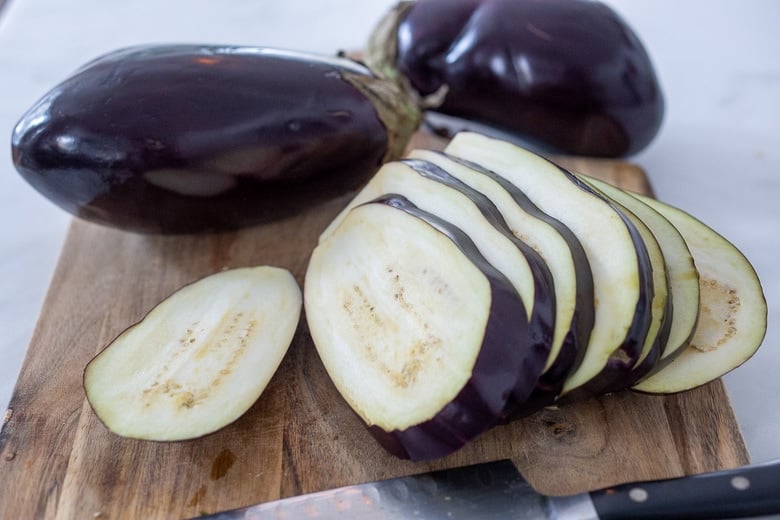 How to cut Eggplant for Lasagna:
Slice globe eggplant, lengthwise, into 1/2-inch thick slices. You can cut them into rounds, but then there are more to manage that way. Place onto 2 parchment-lined sheet pans.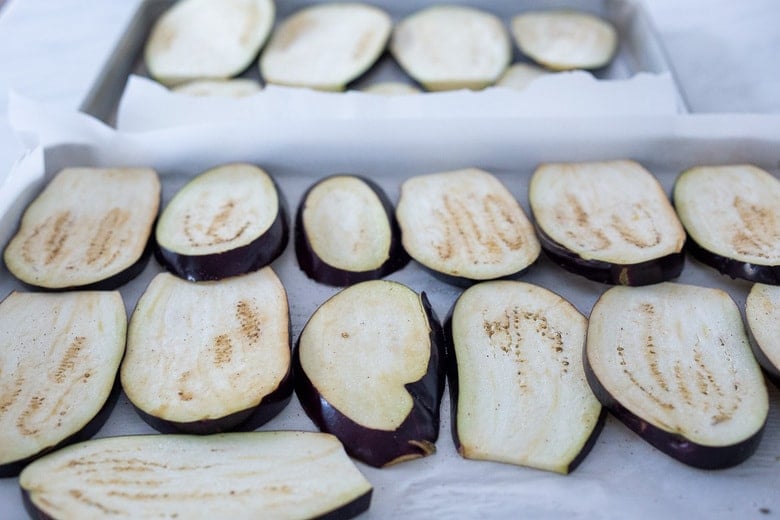 Salt the eggplant to release water and remove bitterness.
Sprinkle one side with 1/2 teaspoon salt, turn them over and sprinkle with another 1/2 teaspoon salt – sprinkling as evenly as possible.
Let this sit 15-20 minutes, allowing them to sweat, which removes bitterness, while the oven heats up.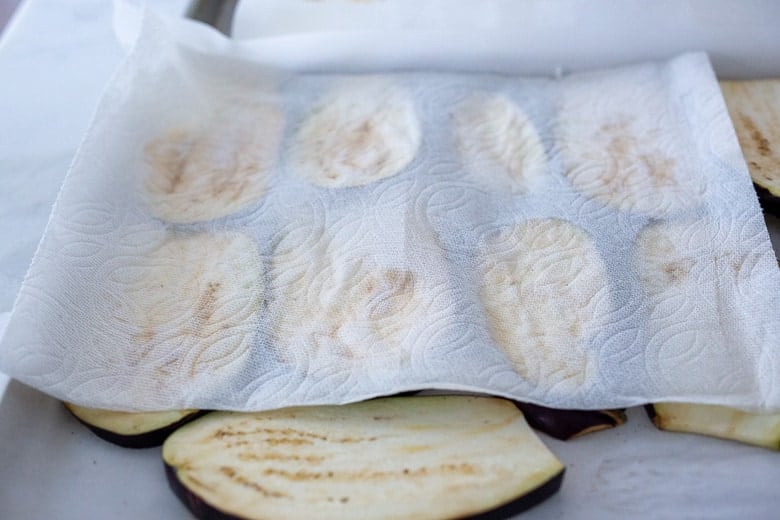 Blot the moisture that is released from the top side.
Brush or spray with olive oil. Spray olive oil is very handy here- or if you like butter or ghee, feel to free to melt and brush it on lightly.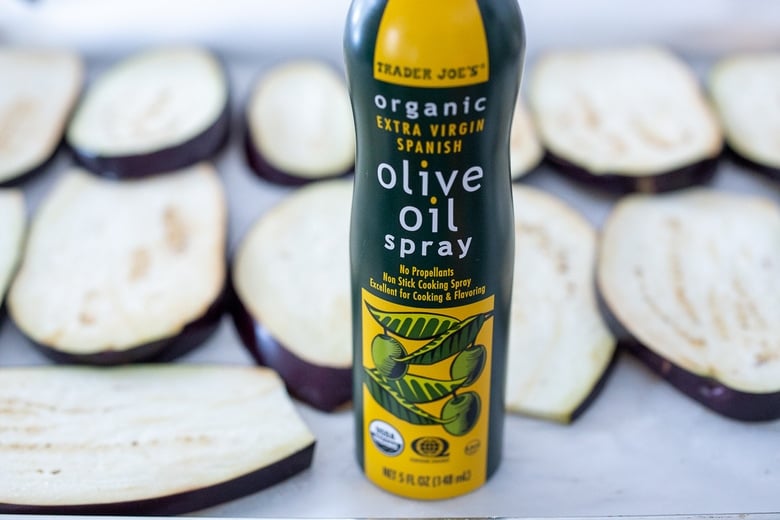 Then flip them over. Repeat: Blot and spray. Easy, right?? 🙂
Roast the Eggplant to prevent watery Lasagna!
Roasting the eggplant ahead prevents the lasagna from becoming watery. Place the eggplant in the middle of the 400 F oven until deeply golden 30-40 minutes.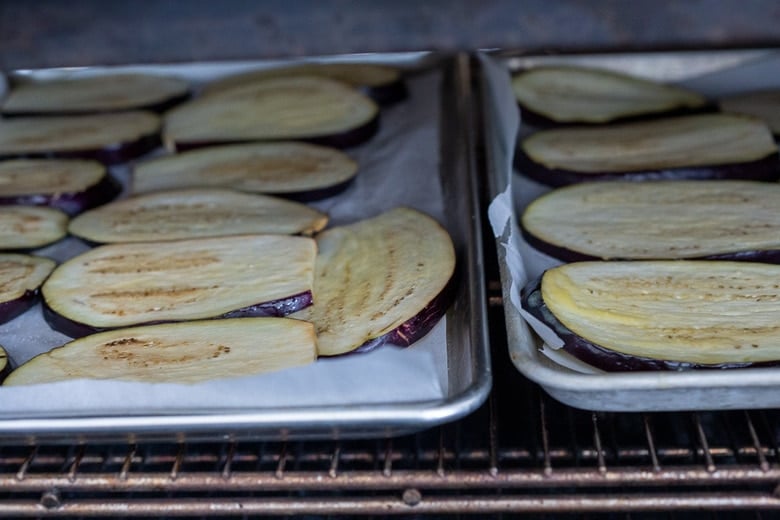 Roast until translucent and golden. So check them and be intentional here. Undercooked eggplant is never good.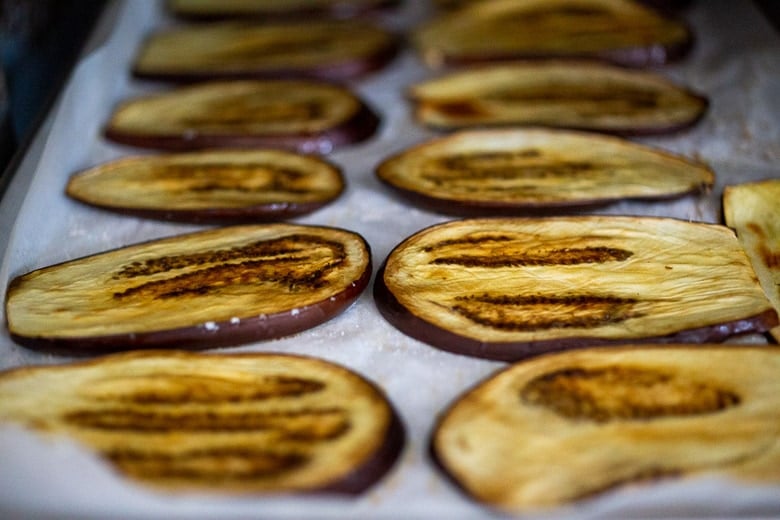 Step 2: Make the Filling. While the eggplant is roasting, make the filling. Saute one onion and 4-8 garlic cloves.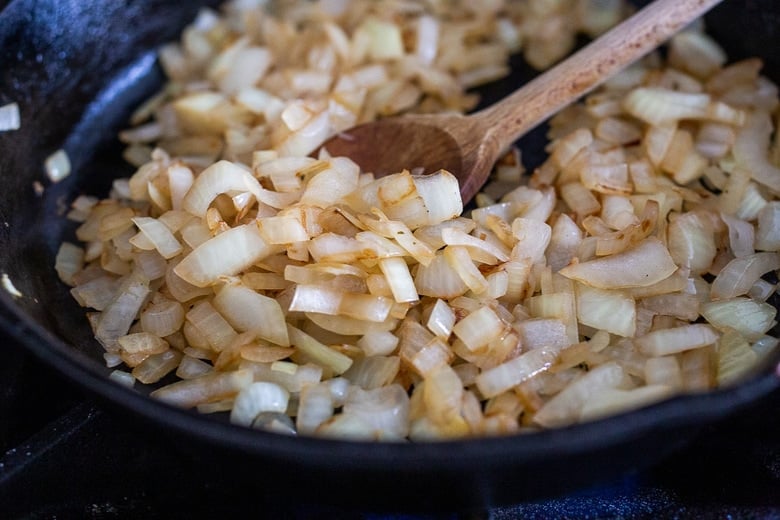 Add a heaping mount of fresh spinach.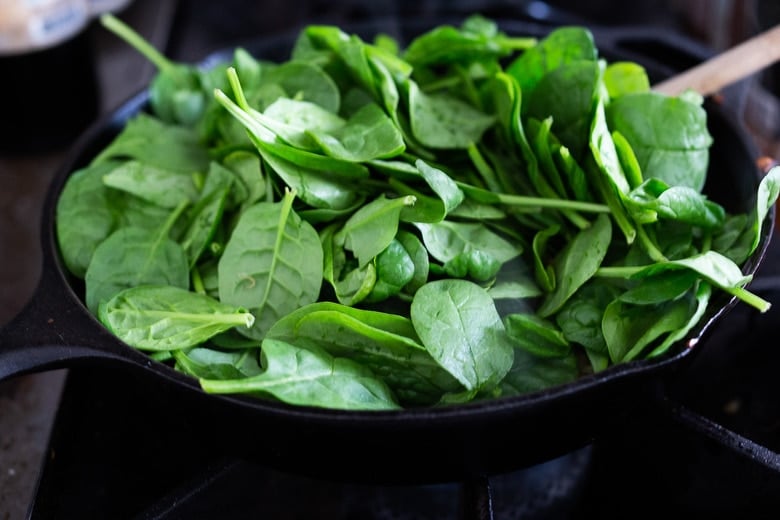 Wilt it and season with salt and pepper.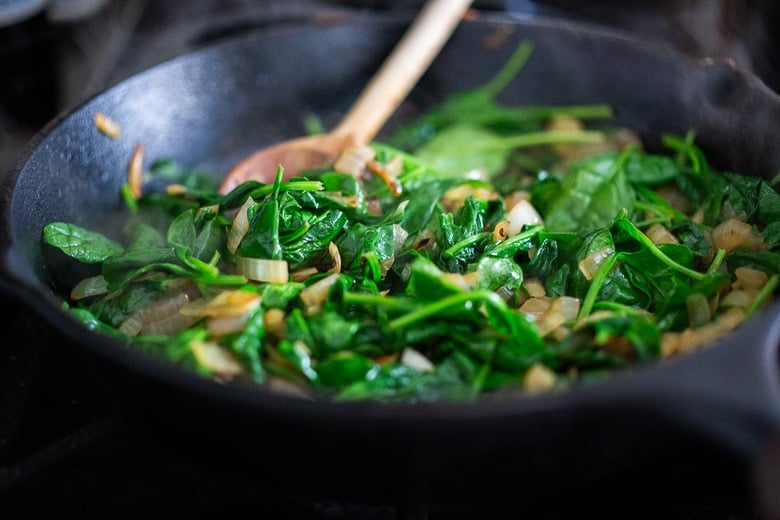 Step 3: Mix up the ricotta with basil, nutmeg, egg and salt and pepper.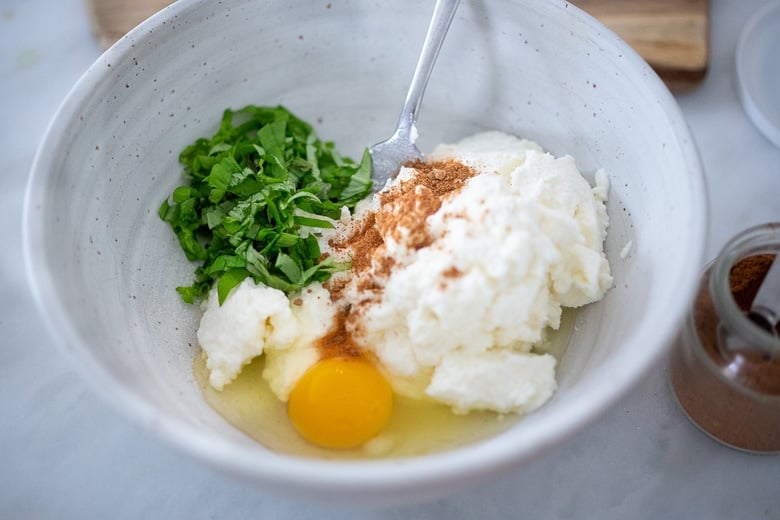 Even though I used whole milk ricotta here, it did not feel even remotely heavy – so I recommend using whole milk ricotta.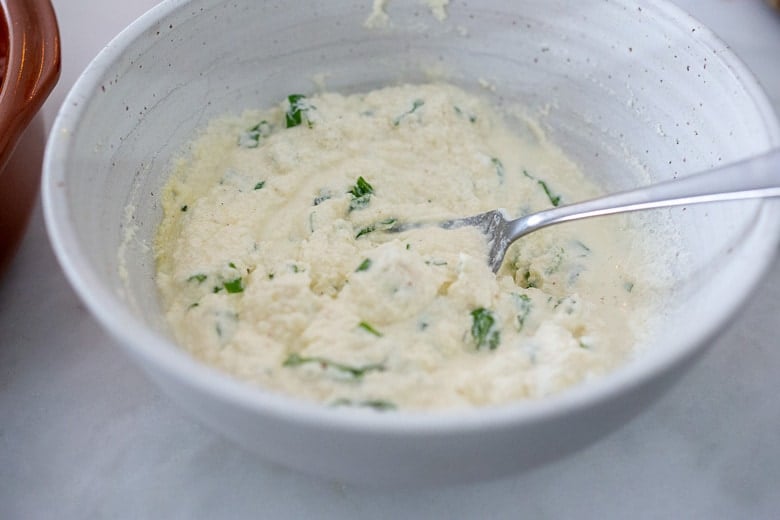 Step 4: Assemble the eggplant Lasagna. Here, I'm using a 25-ounce jar of store-bought marinara sauce. Trader Joe's Organic Marinara is flavorful as well and this brand or Organic "no-sugar-added" Marinara Sauce made with 100% olive oil and no weird seed oils.
NOTE: If using a no-sugar-added marinara sauce, it will need a little sweetness- I usually stir in 1-2 teaspoon of maple syrup to the jar, otherwise, the sauce can be too acidic.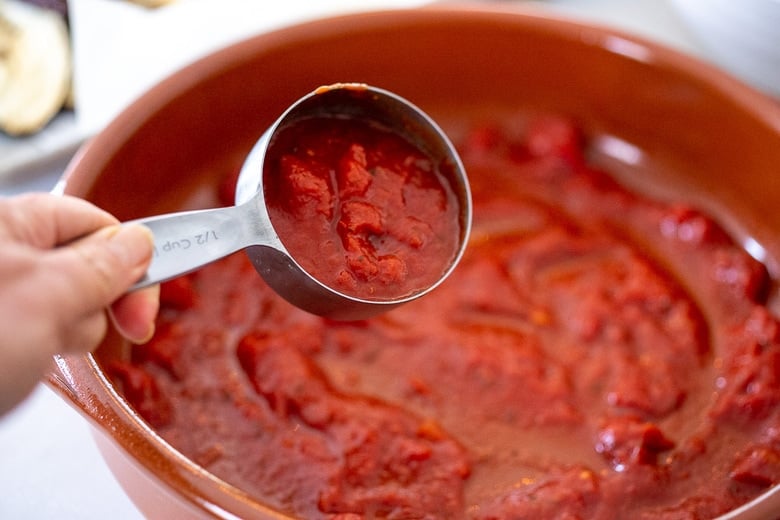 Spread 3/4 cup of marinara sauce on the bottom of a  greased baking dish. Use either a 13 x 9-inch baking dish or a 11 to 12-inch  round baking dish.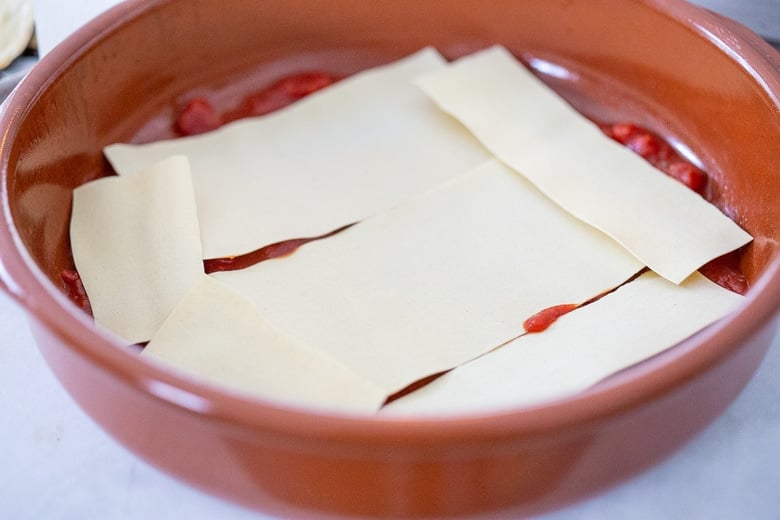 Add the lasagna noodles, add 3/4 cups more sauce, then overlap half of the eggplant.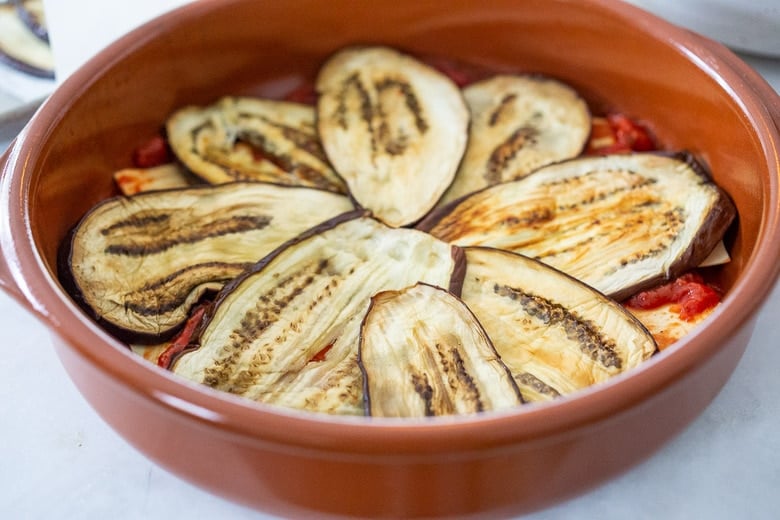 Top with 1/2 of the ricotta mixture.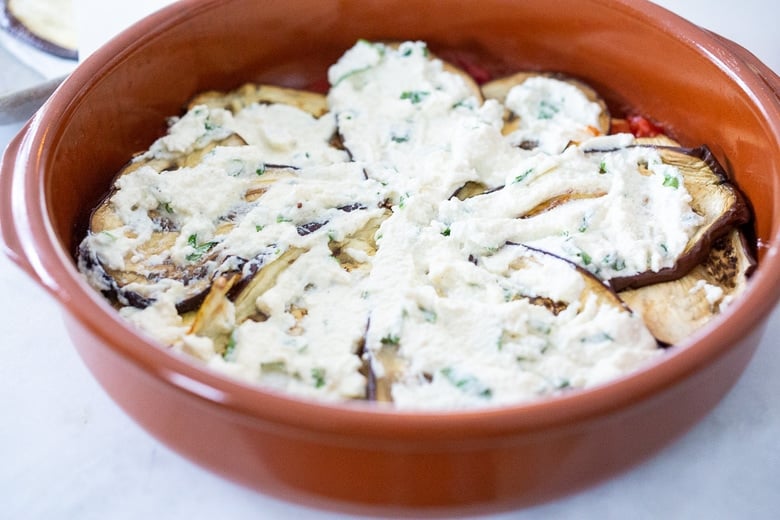 Add all the filling. It doesn't look like I added it all here but I went back and added the rest, and forgot to take a picture.
Please add all the filling. 🙂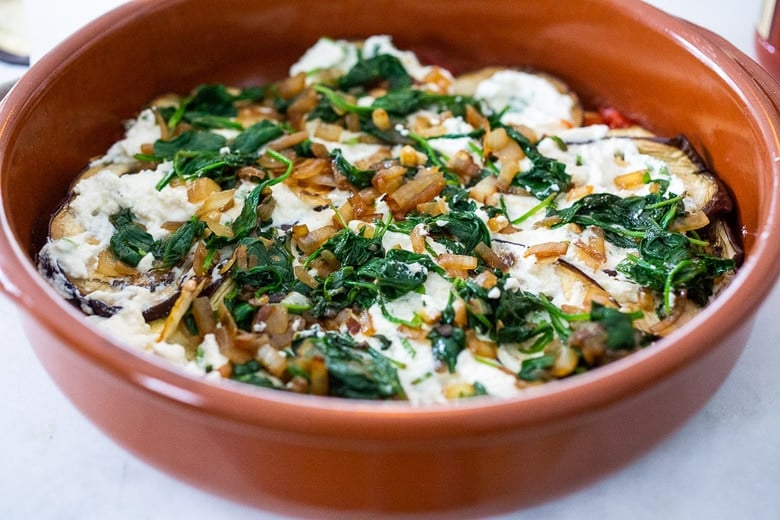 Sprinkle with 1/2 cup or 3/4 cup mozzarella and a few tablespoons of pecorino (or parmesan).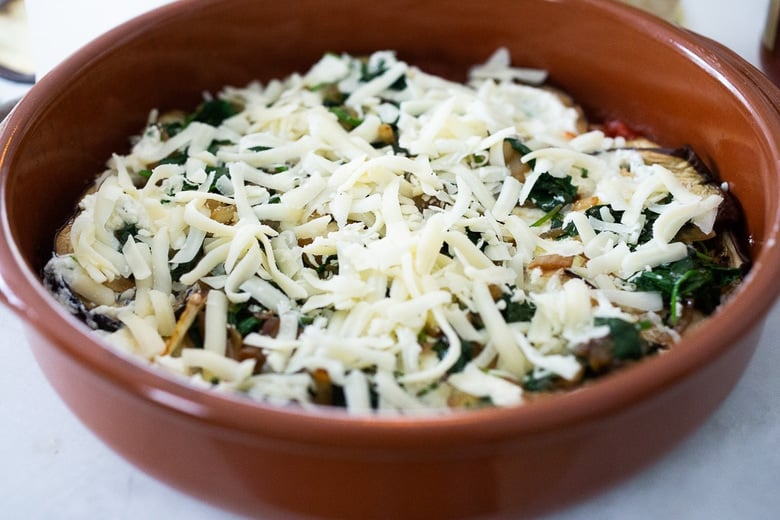 Add the second, final layer of no-boil lasagna noodles.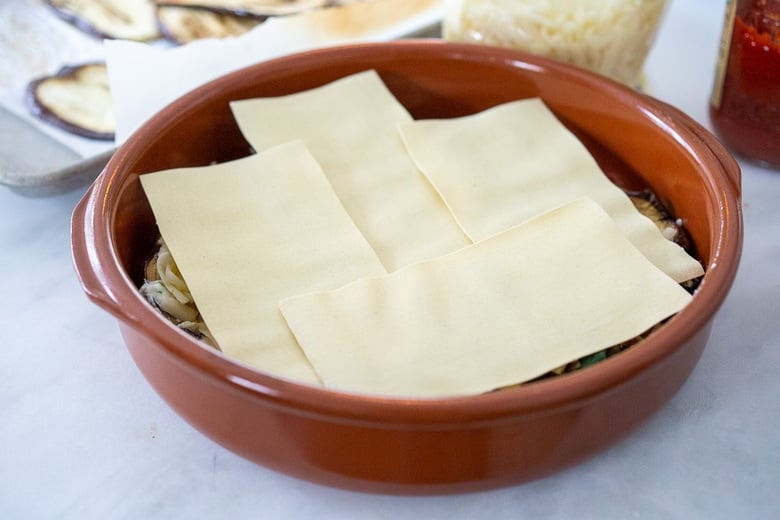 Cover with 3/4 cup marinara sauce.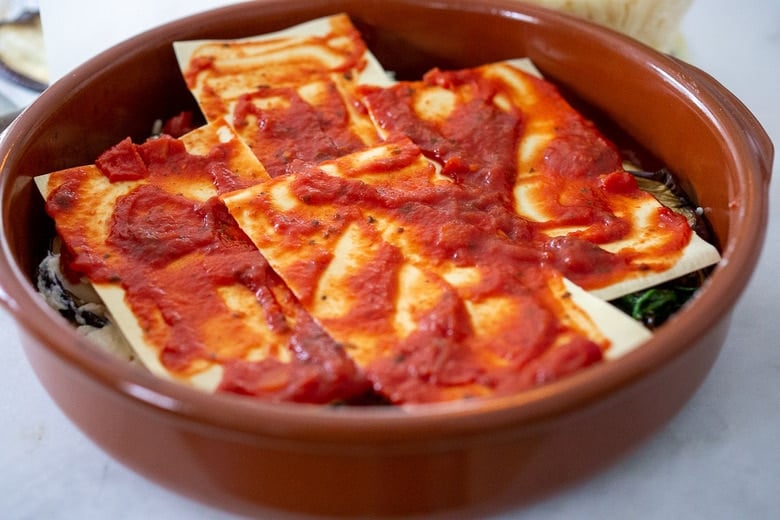 Add the remaining eggplant overlapping.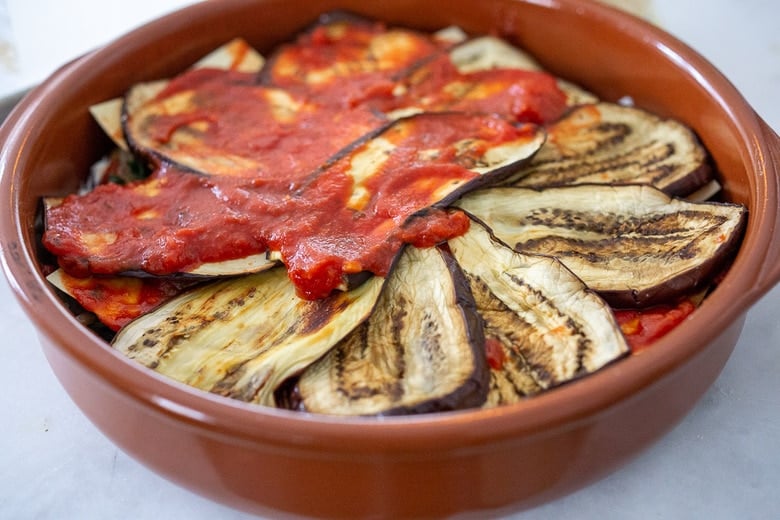 Top with the remaining marinara sauce.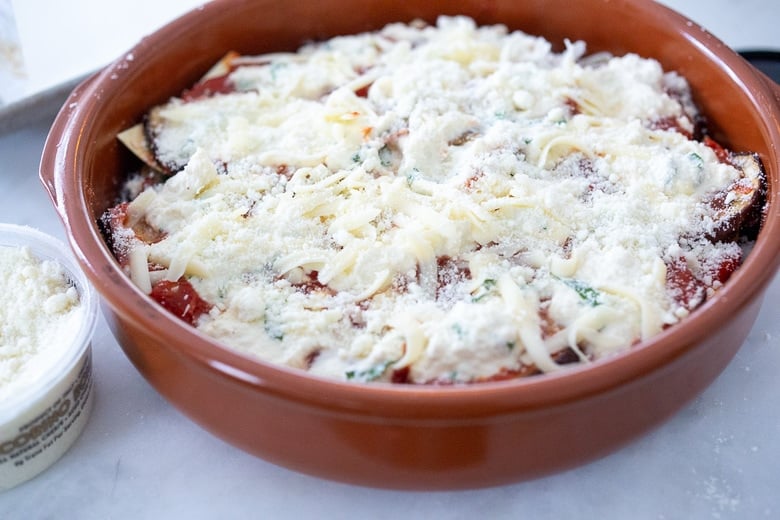 Add the remaining ricotta- yep it will be on the top this time. Sprinkle with Mozzarella and Pecorino.
This is what I'm using: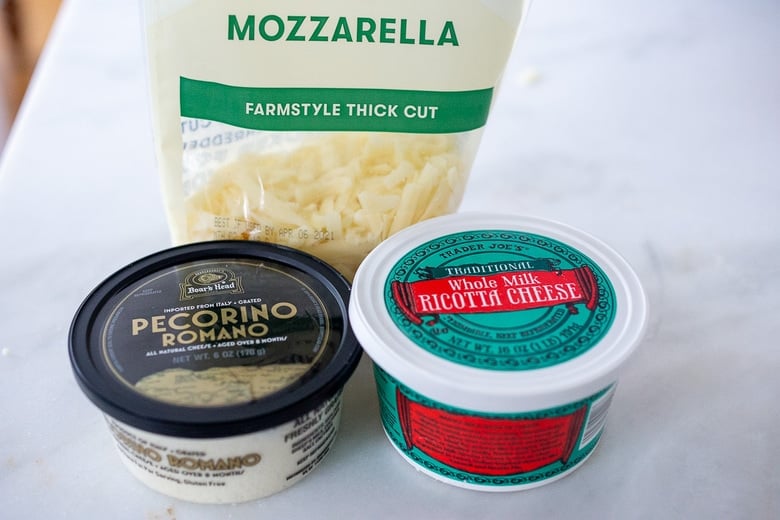 FYI: I do prefer saltier pecorino here versus tangier parmesan. Up to you.
Step 5: Bake the Eggplant Lasagna. Cover with parchment paper and foil (basically don't let the foil touch the lasagna) and bake covered, until bubbling, then uncover for the last 10-15  minutes until golden and bubbling.
Step 6: Make the Arugula Pesto.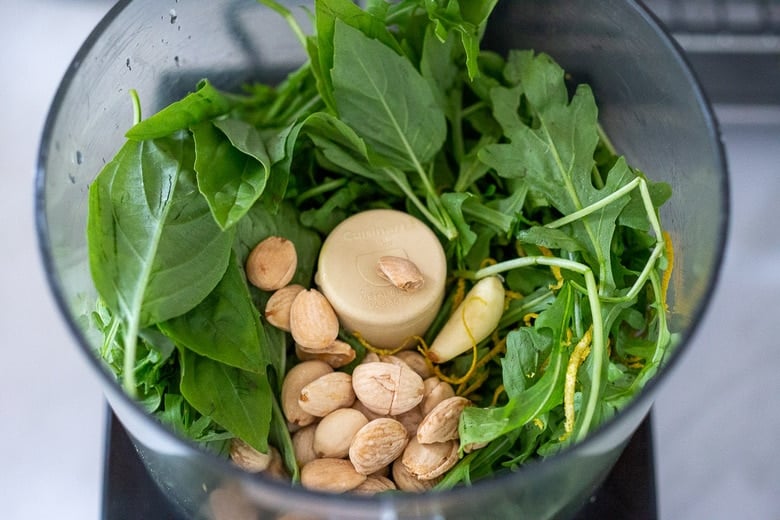 While the Eggplant Lasagna is baking, make the Arugula Almond Pesto. It only takes 5 minutes and it totally elevates.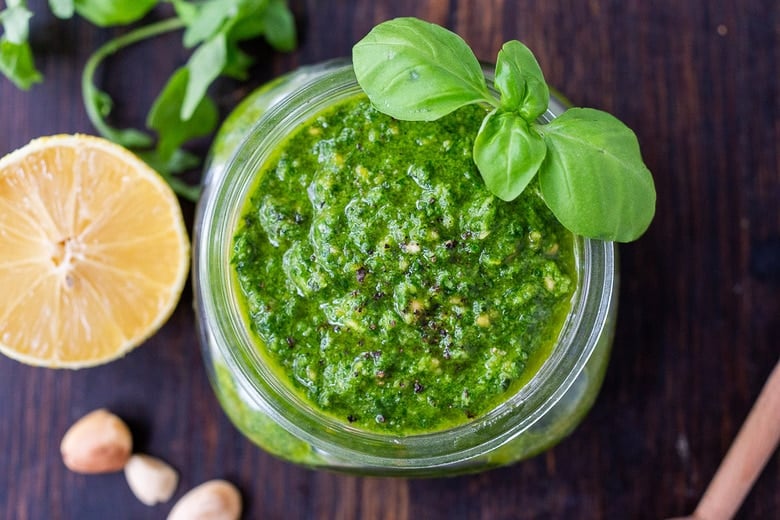 When it is done, it will be slightly puffed, golden and delicious smelling – and you'll feel especially proud of yourself.
Bask in it!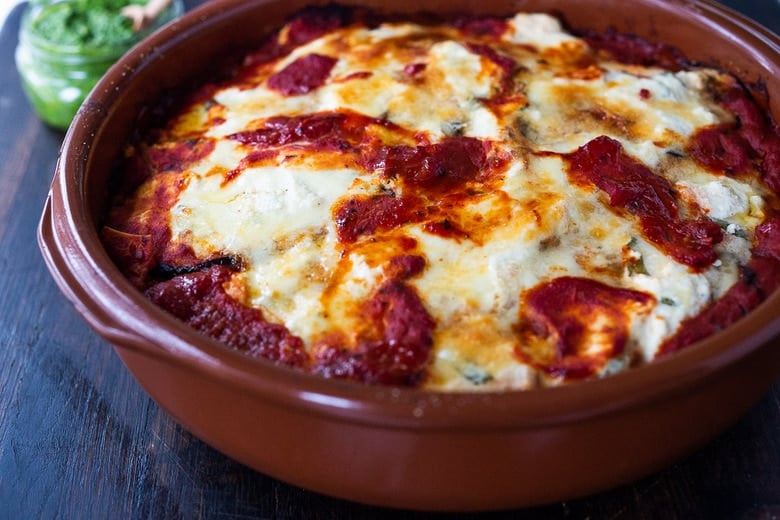 It brings me joy just thinking about it. Garnish with the arugula pesto or serve it on the side.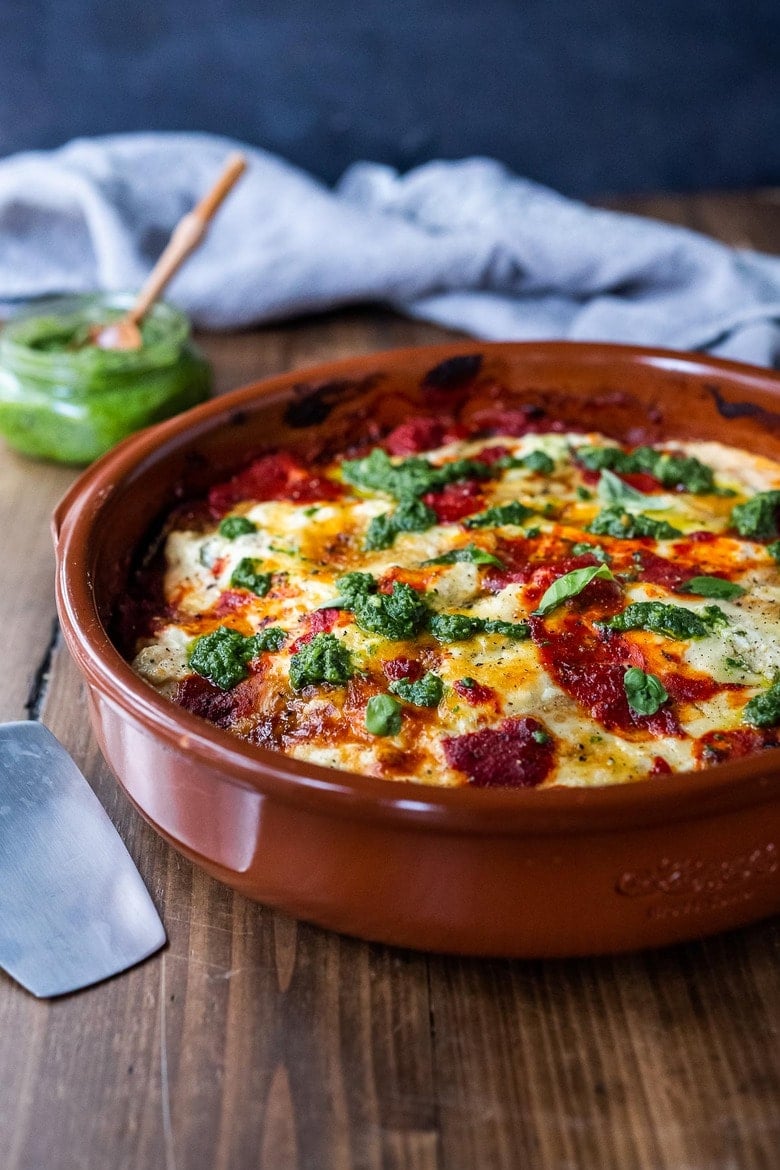 Because I can read your mind, let me answer some of your questions. 😉
Can I make the Eggplant Lasagna recipe without lasagna noodles to make it keto or low carb?
Can I make Lasagna Gluten-Free?
Can Eggplant lasagan be made ahead?
Can this be frozen?
Yes, freeze it in the unbaked in a casserole dish, or baked, in individual pieces. Thaw overnight, and reheat at 350F until internal temp reaches 145F.
Can this be made vegan?
Yes, again, probably! I haven't tried this- but what I would do is make the tofu ricotta recipe, leave out the egg but add the basil and nutmeg. Use meltable vegan cheese as a substitute. Again, if you try this, please let us all know how it turns out…very curious. 🙂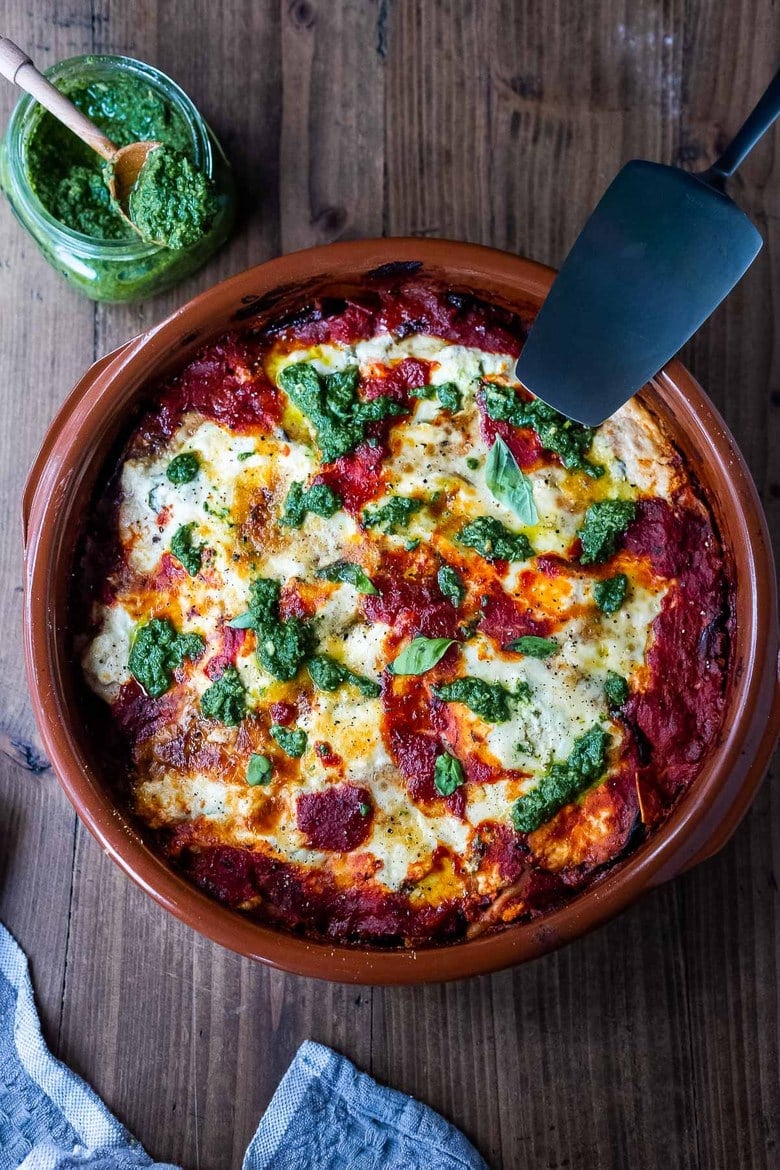 More recipes you will love!
I truly am excited for you to try this Eggplant Lasagna. It's a beautifully rewarding meal to make on a slower Sunday, and then you'll get to enjoy the leftovers during the workweek.
A beautiful, nourishing gift to yourself and your family.
xoxoxo
P.S. I used something similar to this 12- inch Clay Baking Dish if you are interested!
Eggplant Lasagna | 60-sec video
Print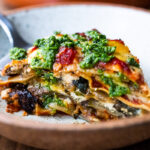 Eggplant Lasagna Recipe
Prep Time:

30 mins

Cook Time:

75 mins

Total Time:

1 hour 45 minutes

Yield:

8

1

x

Category:

main, vegetarian main

Method:

baked

Cuisine:

Italian

Diet:

Vegetarian
---
Description
Roasted Eggplant Lasagna made with no-boil lasagna noodles and topped with Arugula Pesto. A delicious, healthy vegetarian dinner recipe that is comforting and nourishing. Vegan and GF adaptable.
---
3

large eggplants (about

3

lbs)

1 teaspoon

salt

2 tablespoons

olive oil, spray olive oil or ghee
———-

1 tablespoon

olive oil

one

onion, diced

4

–

8

garlic cloves, rough chopped

6

ounces

baby spinach, about 2 extra-large handfuls
Salt and pepper to taste ( 1/4 teaspoon each)

1/4 teaspoon

red pepper flakes (optional)
——

16

-ounce tub of whole milk ricotta (or sub tofu ricotta)

1

large egg

1/4

cup

chopped basil

1/2 teaspoon

salt

1/4 teaspoon

nutmeg

1/4 teaspoon

pepper
——

24

-ounce jar marinara sauce, about

3 cups

8

no-boil lasagna noodles (or sub- gluten-free lasagna noodles) Feel free to use regular lasagna noodles that have been cooked to al dente.

1

–

1 1/2

cups

grated mozzarella (or meltable vegan cheese)

1/4

–

1/2

teaspoon chili flakes (optional)
One batch Arugula Almond Pesto
1

large garlic clove

1/4 cup

toasted almonds, pinenuts or smoked almonds

1/2 cup

packed basil leaves

1 cup

packed arugula

1 teaspoon

lemon zest

1 tablespoon

fresh lemon juice

1/3

–

1/2

cup light flavored olive oil (make sure oil is not bitter)

1/4

teaspoon cracked pepper
---
Instructions
Preheat oven to 400 F
Sweat and ROAST EGGPLANT: Slice eggplant into 1/2-inch thick slices and place on two parchment-lined sheet pans. Sprinkle half the salt over the top as evenly as possible. Turn each piece over and sprinkle the remaining salt. Let the eggplant sit (and sweat) 15-20 minutes while the oven gets hot. When the eggplants look damp, pat the top side down with paper towels. Brush or spray with olive oil. Flip them. Blot with paper towels, spray with olive oil. Roast in the middle of the oven for 30-40 minutes, checking at 25 minutes. Roast until golden and tender. Thinner slices will cook faster, thicker slower. Watch your eggplant!
SPINACH FILLING: While the eggplant roasts, make the filling. In a large skillet, saute the onion, over medium heat until. tender about 5-7 minutes. Add the garlic and saute until fragrant. Add the fresh spinach, lowering heat, gently wilting. Season with salt and pepper, chili flakes, turn heat off.
RICOTTA MIXTURE: In a medium bowl, whisk with a fork, the ricotta, egg, nutmeg, basil and salt. Set aside.
ASSEMBLE: Spray or brush a 9×13 baking dish (or 12-inch round baking dish) with olive oil. Place 3/4 cup marina sauce on the bottom, or enough to cover the bottom. Place 1/2 of the no-boil lasagna noodles over top. Spread another thin layer of marinara over the pasta or just enough to lightly coat. Add half the roasted eggplant, overlapping a little if need be. Dot with half of the ricotta mixture. Spoon all of the wilted spinach mixture over the top evenly. Sprinkle with 1/2- 3/4 cup mozzarella and 1/8 cup pecorino. Add 2nd layer of pasta sheets. Lightly cover with 3/4 cup marinara (you'll need one more layer of marinara for the top, so if it looks like you could run out, water this down a bit here.) Next add the remaining eggplant, overlapping if need be. Smother with the remaining marinara sauce and spoon the remaining ricotta in fluffy dollops over the top. Sprinkle with a few chili flakes,  1/2 cup mozzarella cheese and 1/8 pecorino.
BAKE: Cover with foil (if your lasagna comes to the top edge of the baking dish, cover with parchment first and then with foil) and bake in a 375 F oven for 45-50 minutes, uncover and bake 10-20 more minutes, until golden and bubbling.
While it is baking make the Arugula Pesto – place everything in food processor and pulse until combined, but not too smooth. Add more oil, to make it looser if you like, or less to make it thicker.
The lasagna is done when it is golden, bubbling and slightly puffed in the center.
Let it rest 5 minutes before serving, dot it with  Arugula pesto or serve it on the side.
---
Notes
Additions: Feel free to add ground meat or mushrooms to the onion mixture to "beef" it up. I find the eggplant is quite filling on its own, but up to you. Just make sure your filling is seasoned and flavorful if adding to it. 🙂
LOW CARB: YES you could leave out the lasagna sheets altogether and use the eggplant as the "pasta" here for a keto version. I would add one more eggplant. I like the structure the lasagna noodles bring, but it's good without too.
VEGAN: Sub Tofu Ricotta adding basil and nutmeg. Sub meltable vegan cheese.
If using a sugar-free marinara sauce– add 1-2 teaspoons maple syrup to the sauce- otherwise too acidic.
To reheat, let it come to room temp, cover, bake at 350F or 375F oven for 25-30 minutes. Or microwave.
Nutrition
Serving Size:

1/8th without pesto

Calories:

371

Sugar:

9.5 g

Sodium:

722.7 mg

Fat:

19.9 g

Saturated Fat:

9 g

Carbohydrates:

33 g

Fiber:

8.4 g

Protein:

16.8 g

Cholesterol:

70.7 mg
Keywords: Eggplant Lasagna, roasted Eggplant lasagna, keto eggplant lasagna, low carb eggplant lasagna, vegetarian lasagna, vegetarian lasagna recipe,