Healthy flavorful Chicken Carnitas can be made in an Instant Pot, slow-cooker,  on the stovetop, or baked in a dutch oven. With only 15 minutes of hands-on time, this is perfect for Sunday meal prep- to use in tacos, burrito bowls, salads, breakfast skillets, enchiladas or nachos during the busy work week! So easy and delicious!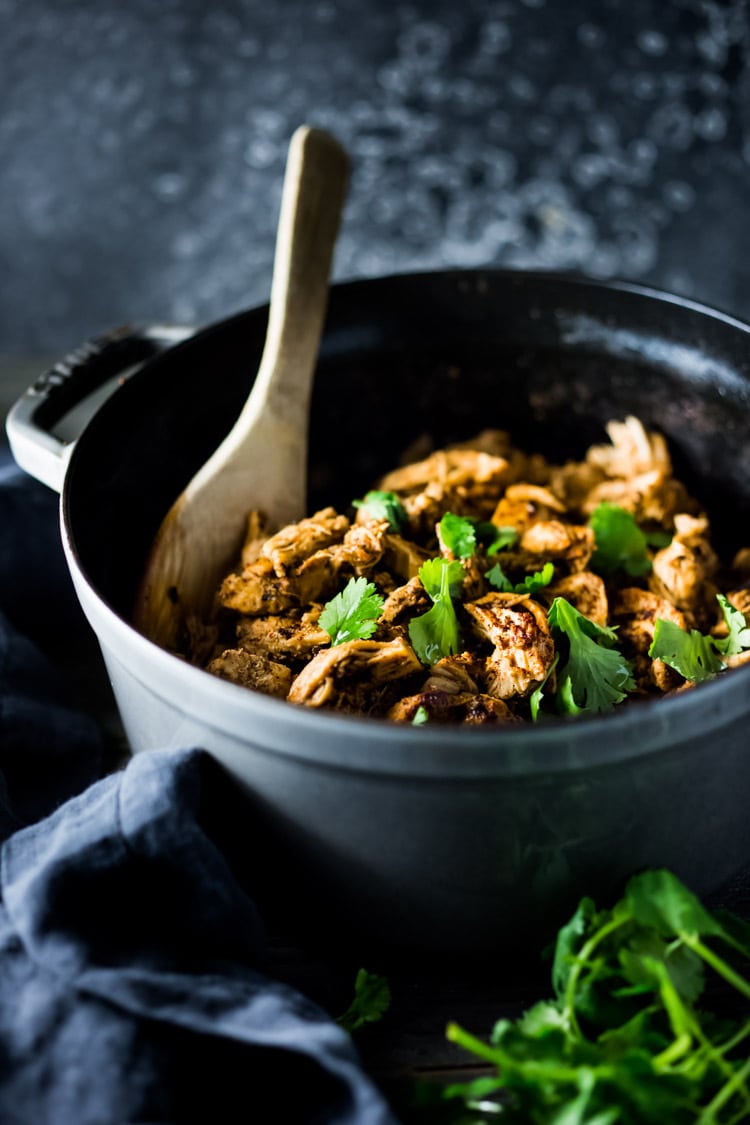 The world is full of magic things, patiently waiting for our senses to grow sharper. ~W.B. Yeats
This recipe for Chicken Carnitas can be made on the stovetop, in the oven, in an Instant Pot Pressure cooker,  or in a slow cooker- whichever you prefer.  If going the stovetop or oven route, use a heavy-lidded dutch oven.  What I love about this recipe is , it only takes about 15 minutes of hands-on time. Make a flavorful batch on Sunday and use it for several delicious meals during the workweek.
It's the meal that keeps on giving! Think tacos, burritos, quesadillas, nachos, enchiladas, healthy burrito bowls, or even breakfast hash. It has so many uses and it's soooooo good, but it's made with basic everyday ingredients- you won't tire of it,  I promise!
You could also freeze half and save for another week.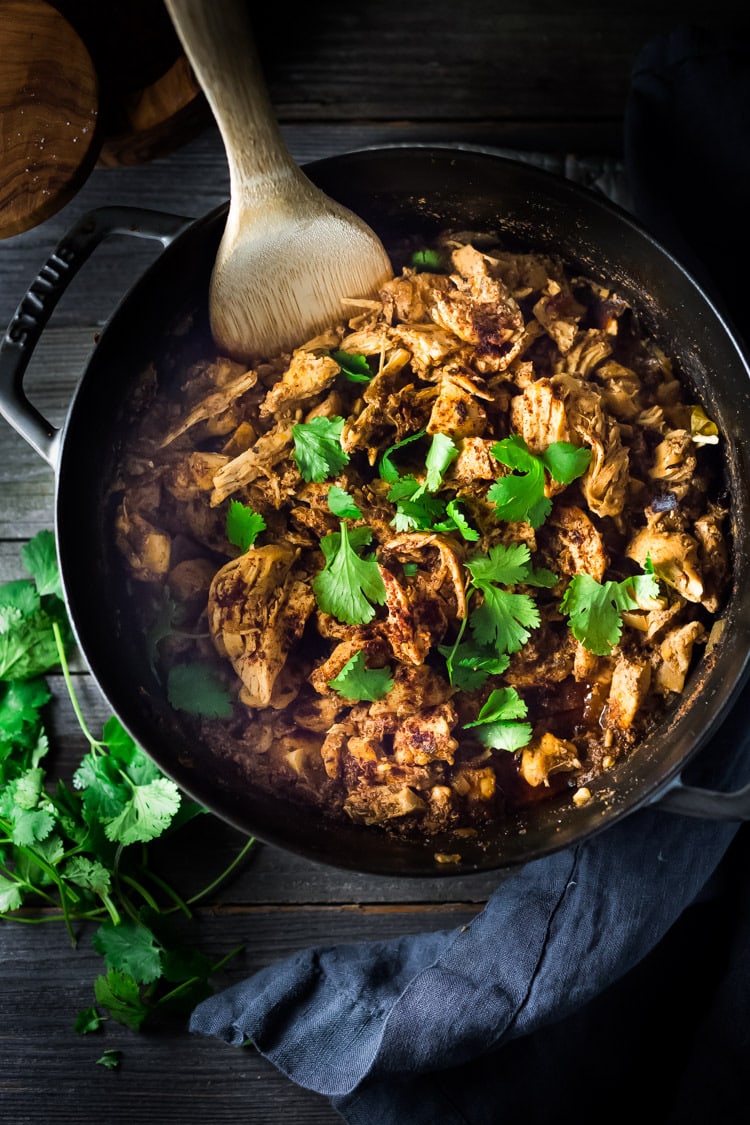 Chicken Carnitas Ingredients
Chicken  – use boneless, skinless chicken breast or chicken thighs (left whole)
Onion and Garlic –
Spices: cumin, coriander, chili powder, oregano, salt, chipotle powder ( or canned chipotle pepper)
Soy Sauce  – adds delcious savory depth, you can use GF Liquid aminos, or a bouillon cube.
Apple Cider Vinegar – adds a little brightness.
Green Chilies– canned, or fresh poblano, optional but tasty!
How to make Chicken Carnitas
Chicken carnitas can be made in several ways! Use your instant pot, simmer it on the stovetop, bake it in the oven, or use a slow cooker. Scroll down to the recipe card for specific instructions on each way!
How to serve Chicken Carnitas
1.) Make Chicken Carnitas Bowls!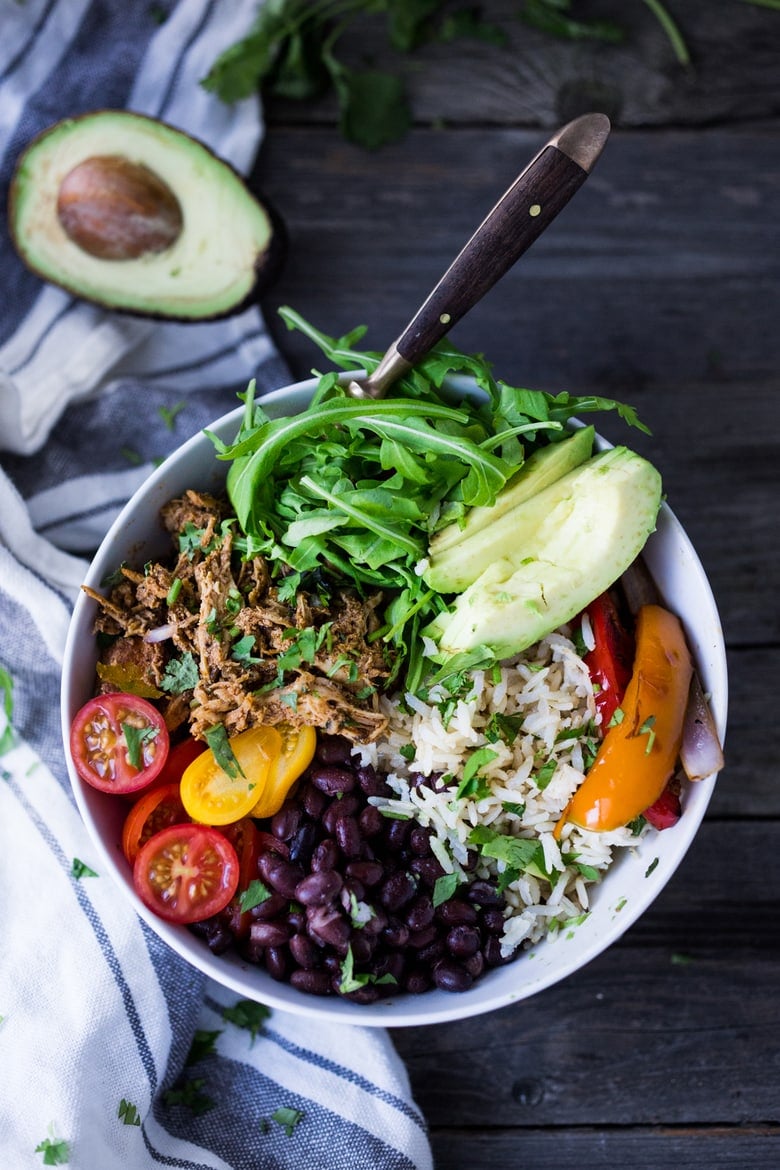 Serve with cilantro rice and  Mexican beans, top with fajita-style veggies, cilantro, avocado, and tomatoes and serve it with a sauce if you like. Our hot sauce, Poblano Pumpkin Seed Sauce, Chipotle Mayo  would all be tasty with this!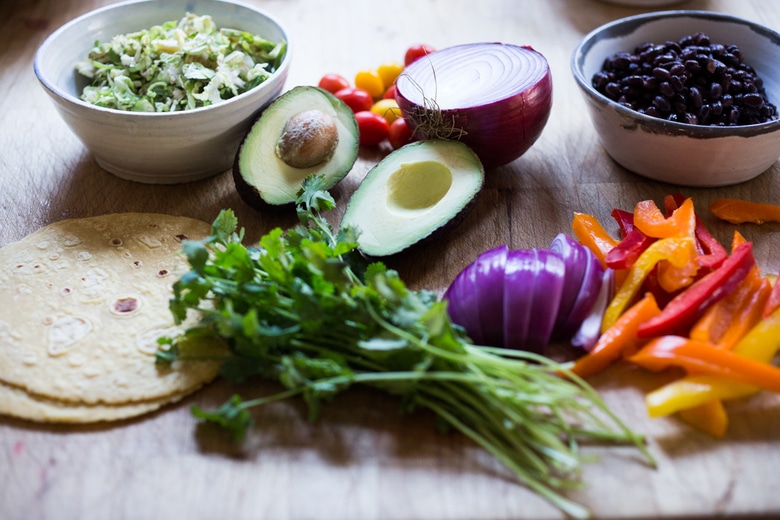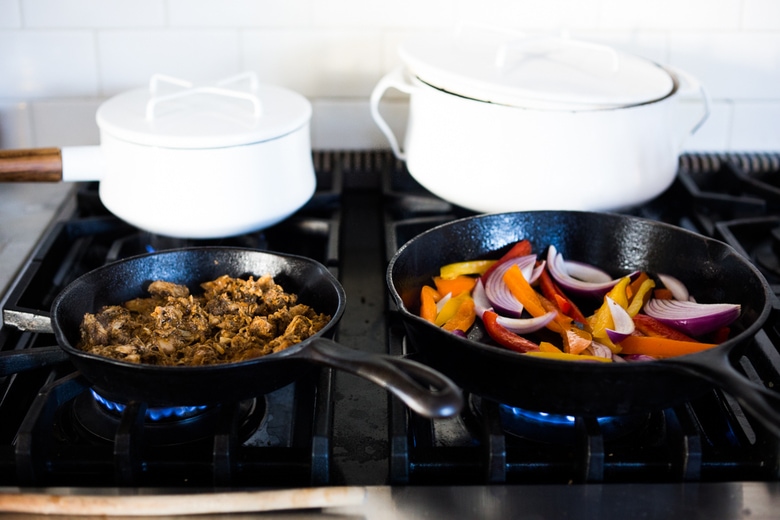 2.) Make Chicken Carnitas Tacos!
If you like crispy carnitas, sear the chicken carnitas in a little olive oil in a skillet, or broil on a sheet pan, until crisp.
Add your favorite taco fillings!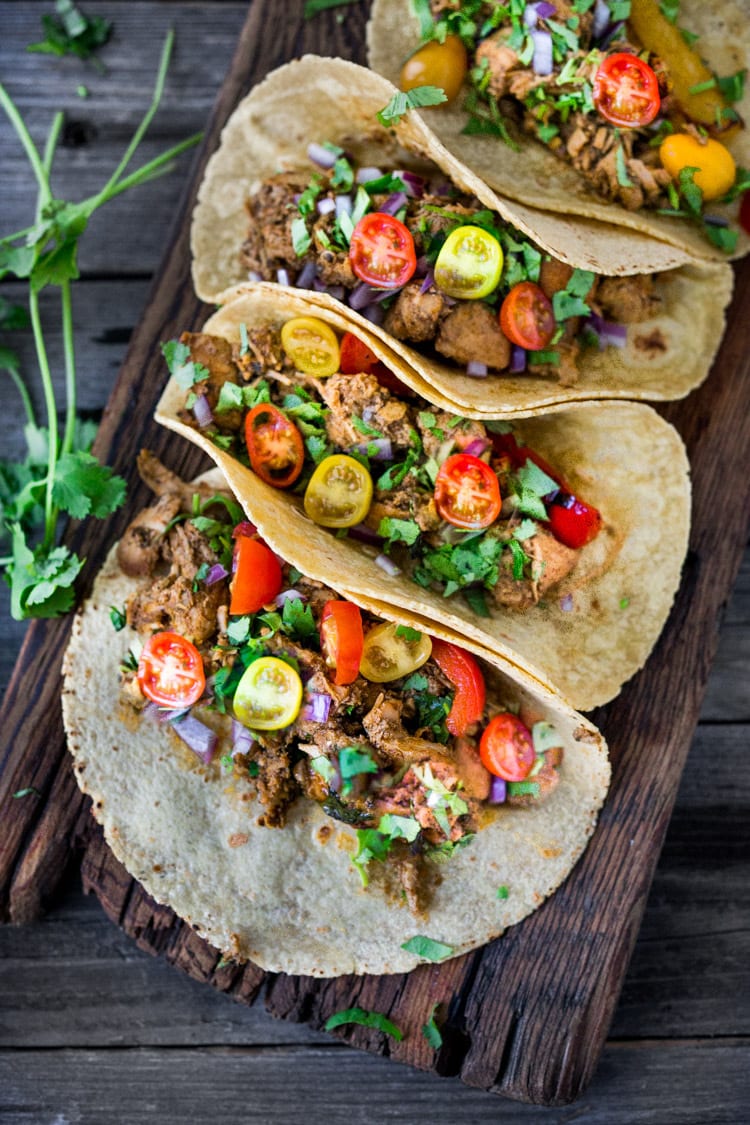 3. Make Chicken Carnitas Breakfast bowls
Serve it up for breakfast with roasted sweet potatoes and eggs for a quick and hearty chicken carnitas breakfast skillet. Delish!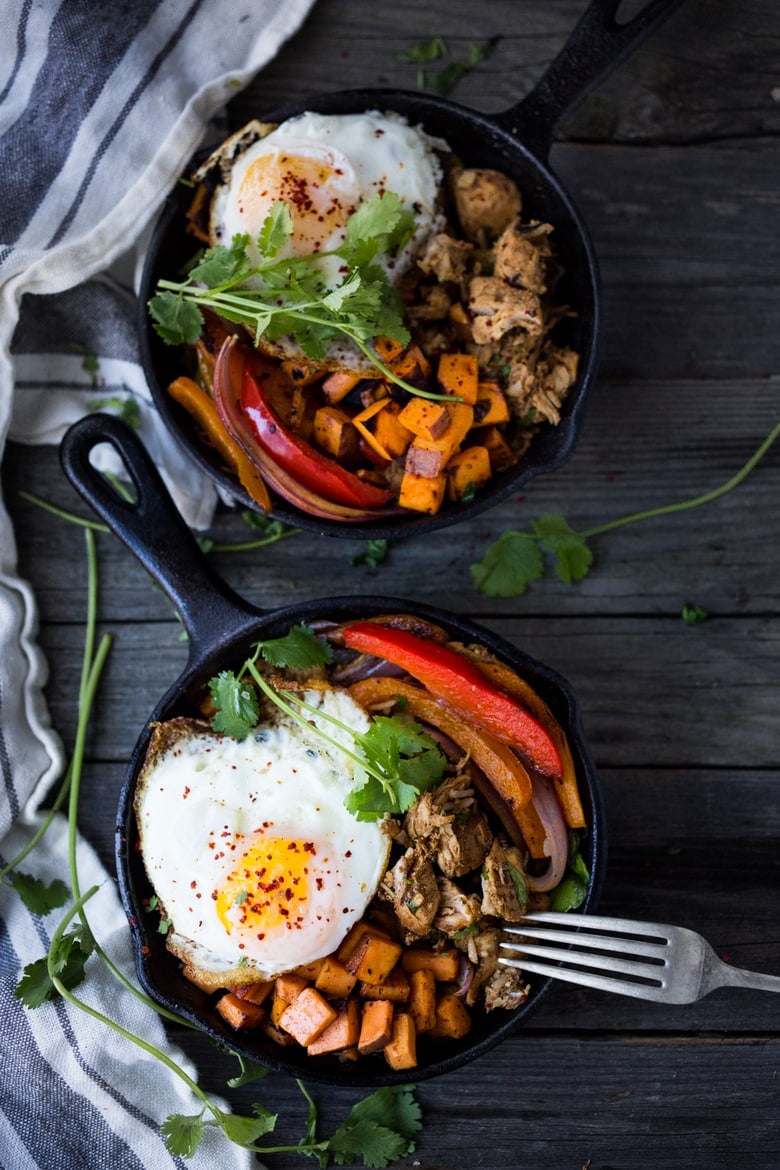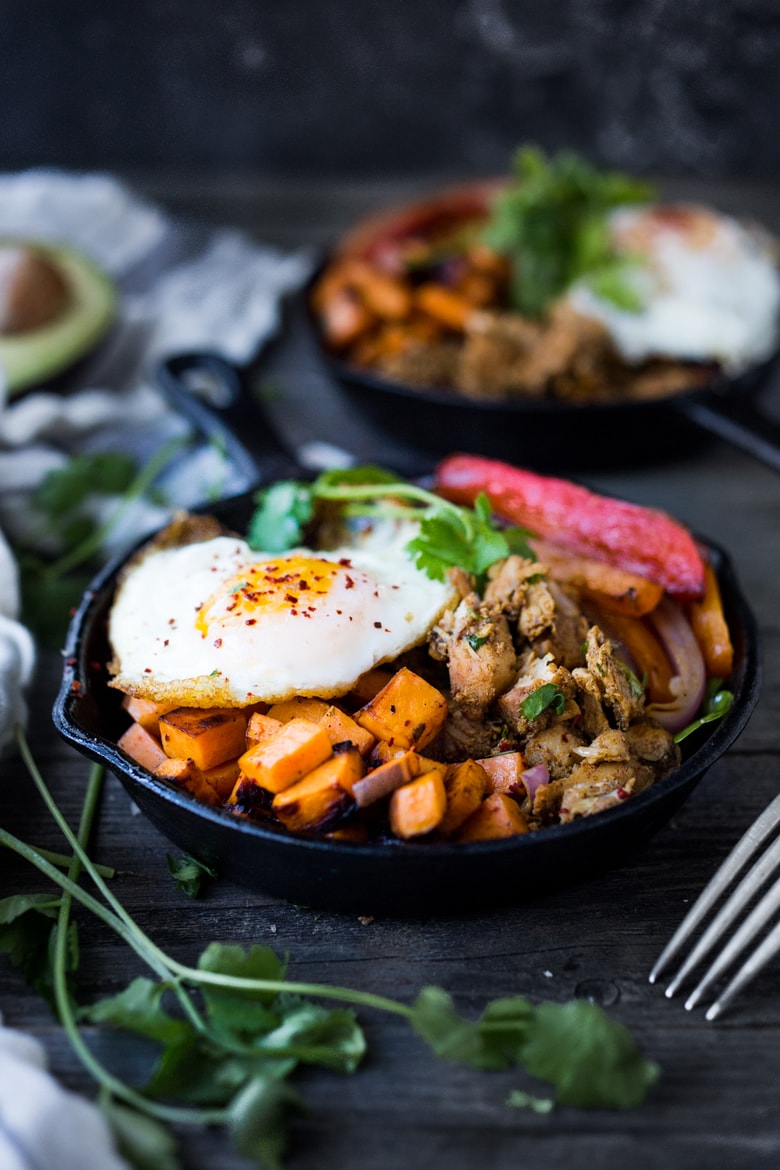 More ways to serve Chicken Carnitas!
Use it in enchiladas with melty cheese!
Stuff it into burritos!
Use in quesadillas.
Make tostadas with shredded lettuce.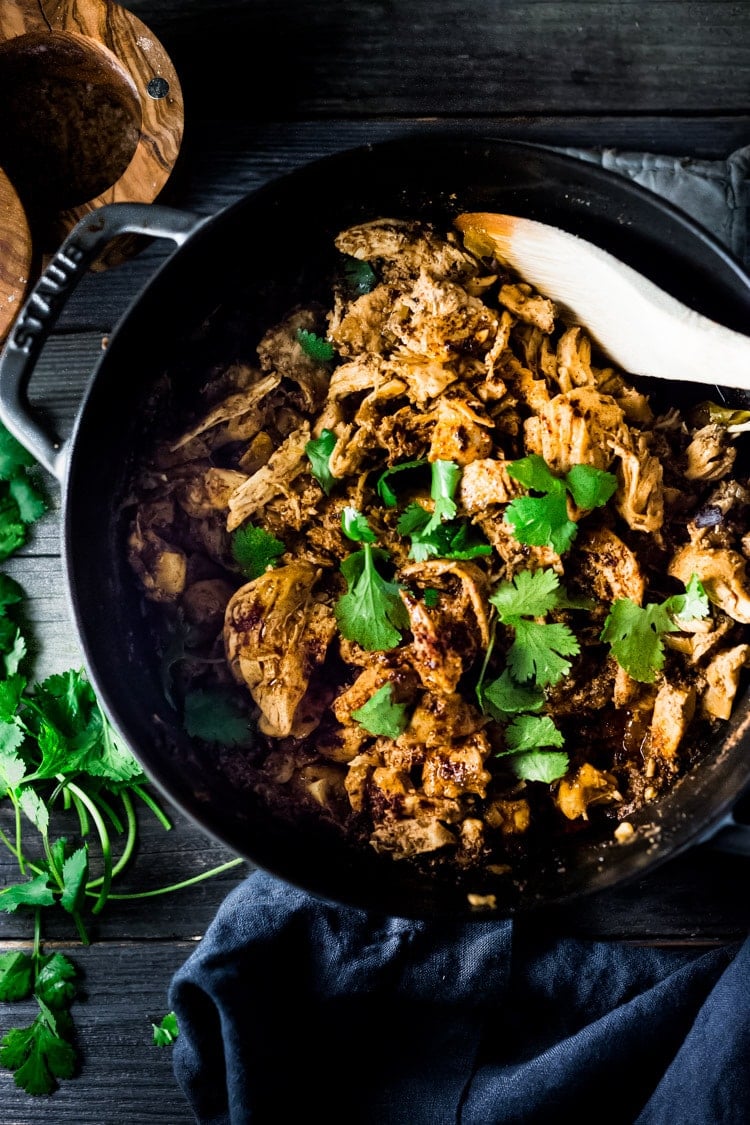 I know you'll find a million ways to use this during the busy week.
On the homefront: This dark morning is covered in a blanket of white. The sun hasn't risen, yet snow-covered roofs glow in the darkness. Dreams seem to hover like the mist, joining and entwining before flying back home to sleeping souls. We are more connected than we believe, and sometimes we remember this for a fleeting moment before our thoughts awaken and tell us what's what, and how things really are.  And like the mist, it dissolves… and the world becomes a solid "safe" place again.
The little boy across the street runs circles in the snow, throwing his hands up in the air, laughing, mouth open, inhaling snowflakes. Mind you, it's still dark. He's still so young, still tethered to that golden place where we all come from and end up going. That place of aliveness. There are those, most often on their way out of this world, so effervescent and full of light, who recognize it through their unveiled mind.  Look deeply into those love-filled eyes and see a glimmer of the magic beyond.
Let us know how you like thison in the comments below!
xoxo
Print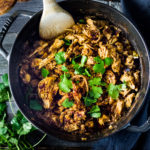 Chicken Carnitas Recipe (Instant Pot, Slow Cooker, Stovetop, Baked)
Prep Time:

15 mins

Cook Time:

55 mins

Total Time:

1 hour 10 mins

Yield:

1

2

1

x

Category:

Main, chicken, low carb, meal prep

Method:

Instant Pot

Cuisine:

mexican
---
Description
Healthy Chicken Carnitas- cook these in an Instant Pot, on the stove top, or bake in a Dutch Oven with only 15 minutes of hands on time! Great for meal prepping -make ahead on Sunday then turn these into tacos, quesadillas, breakfast skillets, burrito bowls or nachos during the workweek!
---
---
Instructions
If baking, preheat oven to 400F (See notes for instant pot and slow cooker)
Heat oil in a Dutch oven or heavy-bottomed pot over medium-high heat. Add onion, saute 2 minutes, stirring. Add garlic, turn heat to medium, saute 4-5 minutes until fragrant and golden and onions are tender. Add spices and salt, toasting for 1-2 minutes
Add water, soy and vinegar. Add oregano and optional green chilies. Stir.
Place chicken in the liquid. At this point, you could place it all in your instant pot or slow cooker (see notes)
Bring to a simmer. Cover and either simmer on the stove on med-low for 45 minutes or place in the hot oven.
 If cooking breasts, check at 35-40 minutes, they may be done depending on thickness and size. Thighs will need the whole 45 minutes, perhaps a little more, again, depending on size.
You'll know if the meat is done when it's 165-170F, or when it is tender and shreds easily with two forks. Shred the meat, then simmer gently on the stove until some of the liquid has evaporated, about 5 -10 more minutes.
Crisp it up! If you like crispy carnitas, simmer until all the liquid is gone, (or drain well) then pan sear in oil to crisp, or place on a sheet pan, spray with spray oil, and broil in the oven.
---
Notes
Instant Pot Instructions:  Set Instant Pot to Saute function, and add the oil. Add onion, saute 3 minutes, stirring. Add garlic, saute 1-2 minutes until fragrant. Add spices and salt, toasting for 1 minute. Add water, soy sauce and vinegar scraping up any browned bits ( to prevent burn error). Add oregano and optional green chilies. Place chicken in the liquid.Pressure Cook on High for 10 -12 minutes breasts- (shorter for small, longer for thick breasts)  (or 14 minutes for chicken thighs) letting the pressure release naturally. Turn the Instant Pot back on to the "Saute function" to allow some of liquid to reduce, while shredding the chicken with two forks.  Reducing the liquid (instead of draining it) really concentrates the flavor back into the meat and keeps it moist – so try to go this route if you have time. If using chicken breasts, allow the chicken a little time to "reabsorb" some of the juices letting it sit at "warm" for 15-30 minutes. Thighs do work best in the Instant pot- and tend to dry out less easily.
Slow Cooker Chicken Carnitas: Place all ingredients in a slow cooker and give a stir. Set the slow cooker to low setting for 7-8 hours or high setting  for 4-5 hours.
Nutrition
Serving Size:

4 ounces

Calories:

163

Sugar:

1.1 g

Sodium:

530 mg

Fat:

4.4 g

Saturated Fat:

0.8 g

Carbohydrates:

3.4 g

Fiber:

1 g

Protein:

26.1 g

Cholesterol:

82.7 mg
Keywords: chicken carnitas, best chicken carnitas, slow cooker chicken carnitas, chicken carnitas instant pot, chicken carnitas recipe, mexican chicken, chicken carnitas instant pot, instant pot chicken carnitas,