An authentic & insanely delicious recipe for Chicken Biryani with Cilantro Yogurt Sauce! If looking for a vegetarian option make this Vegetarian Chickpea Biryani!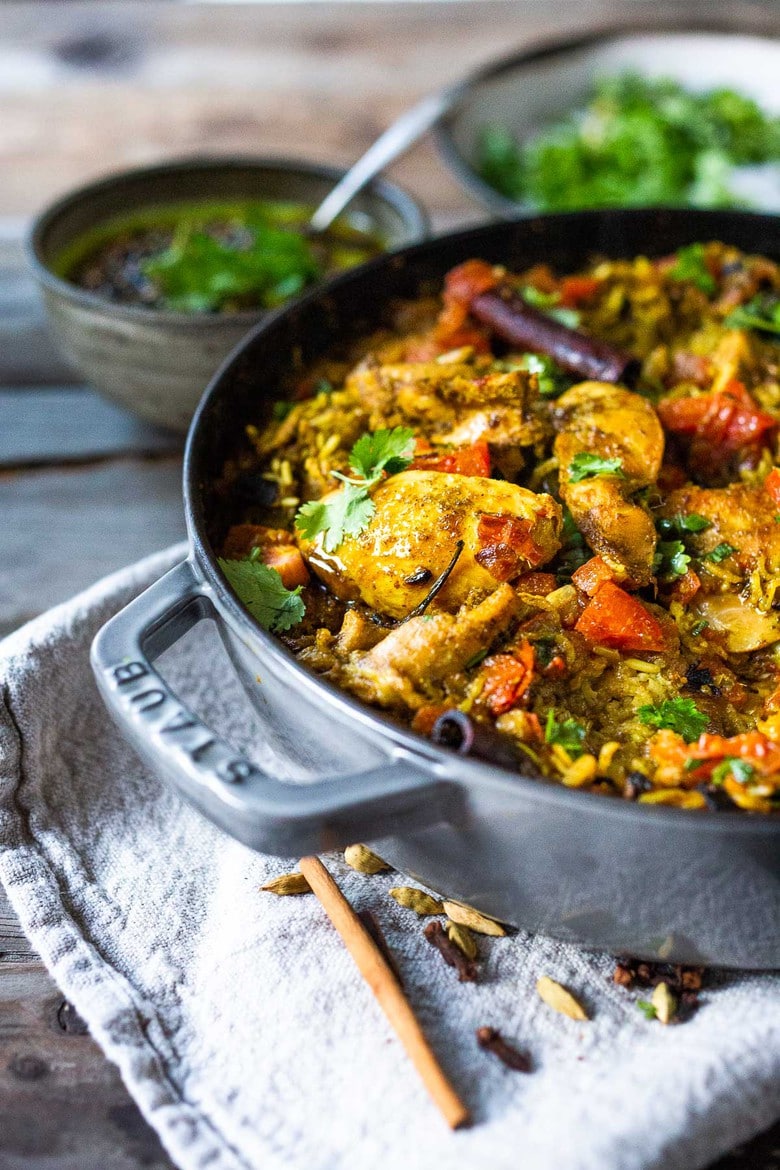 Let the beauty of what you love… be what you do. Rumi ~
I'd like to believe there are some of you who love to cook, purely for the sake of cooking itself. To whom the idea of spending an entire Sunday afternoon in the kitchen, would be the perfect way to relax and unwind.
If so, this is a recipe for you – Chicken Biryani with Cilantro Yogurt Sauce. This is the real deal – authentic and full of flavor. It's not a quick and easy weeknight meal, and yes, it has a long list of ingredients, but I assure you, it's worth your time and effort because in the end, it's truly incredible!
It was shared with me by my friend Neicy who grew up in India, and it's hands-down the best version I've ever had. If going meat-free, substitute chickpeas for the chicken for a tasty vegetarian alternative.
Recently, I spent a beautiful sunny afternoon in Neicy's kitchen as she and her daughter Elie walked me through a series of Indian recipes, step by step.
What I love about most about Neicy, besides her amazing spirituality and creativity is she's just a joy to be around. You know how there are some people that radiate so much happiness and positive energy, it makes you feel better, just being near them? This is Neicy. She has the best energy ever. To peek at her work visit her here.
Chicken Biryani starts with ghee and whole spices, and Neicy insists that these are crucial to its authentic flavor. I asked about substituting the ghee with coconut oil, and she said, one could, but it just wouldn't taste as good. So ghee it is!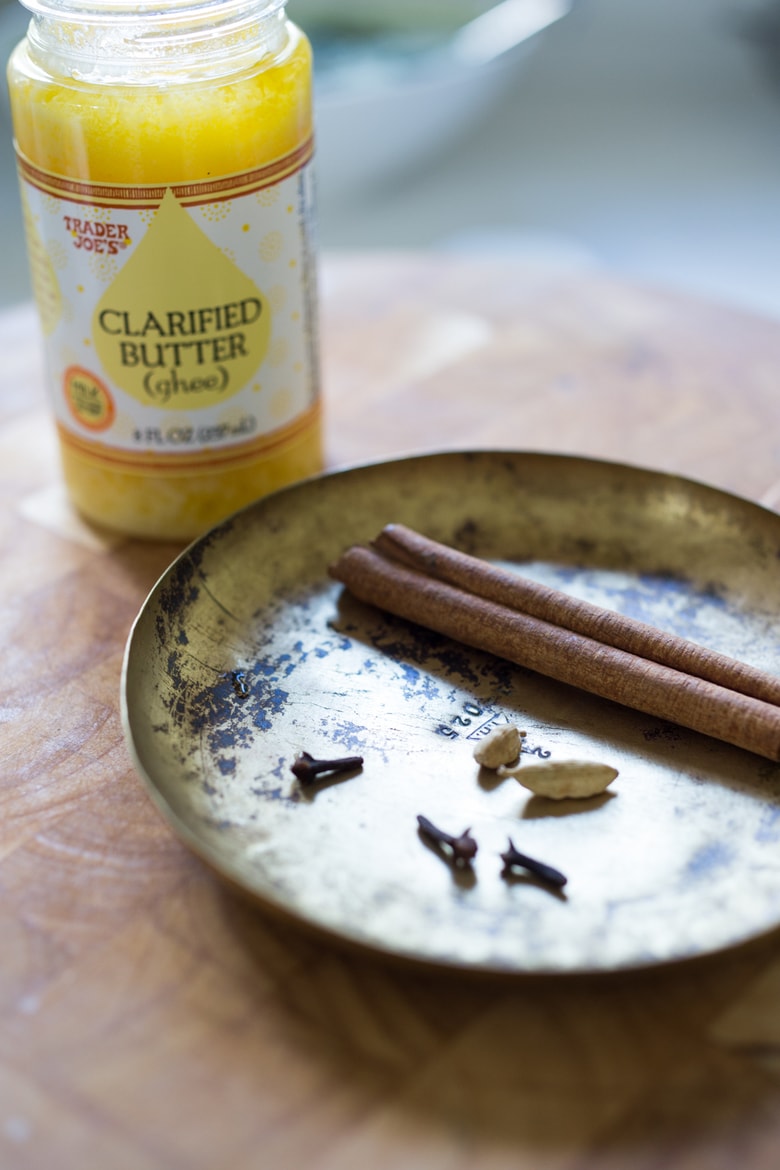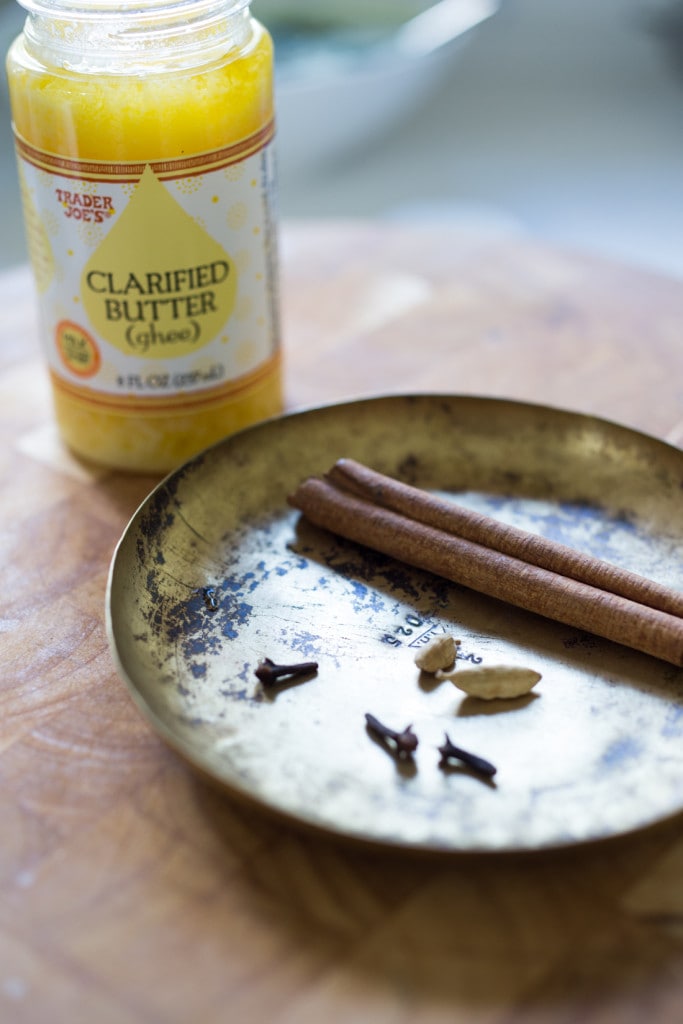 In a large dutch oven, over medium-high heat, melt the ghee then add the whole spices — cinnamon sticks, smashed cardamom pods and a few whole cloves. Then add the diced onion.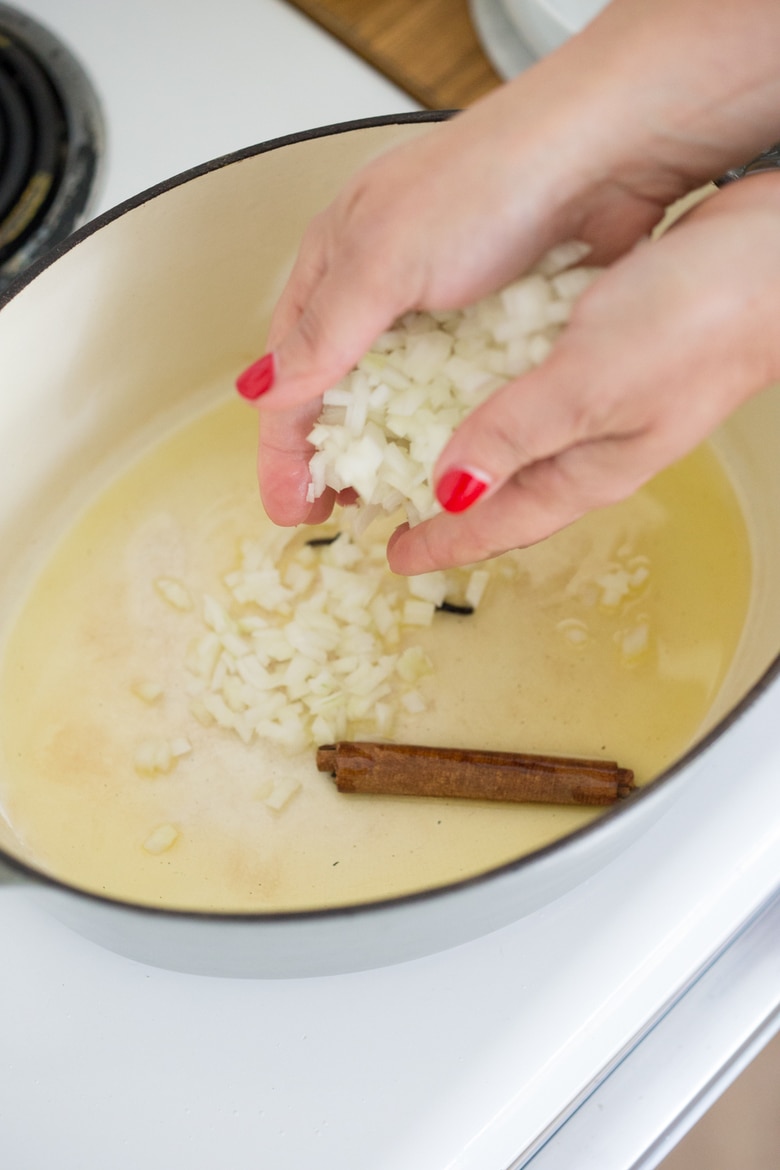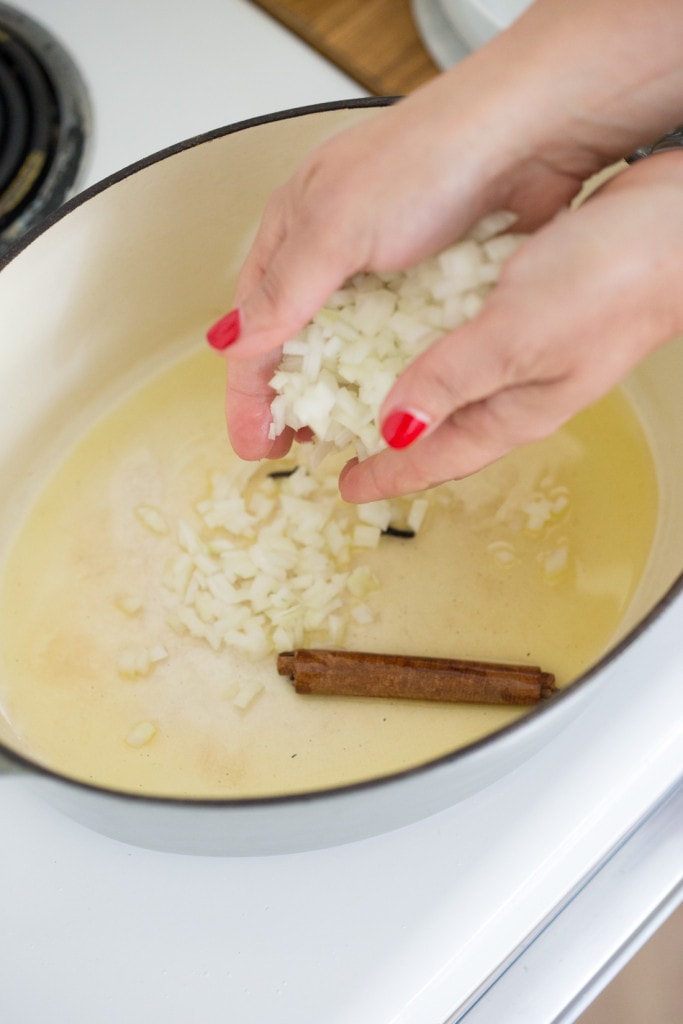 Elie, Neicy's daughter was there that day too and it was such a pleasure watching them cook together.
Sometimes I think my best memories of my own mom were the times we were in the kitchen together. This is also the perfect recipe to make with a friend or loved one, because it takes a while, allowing time to really be together and connect.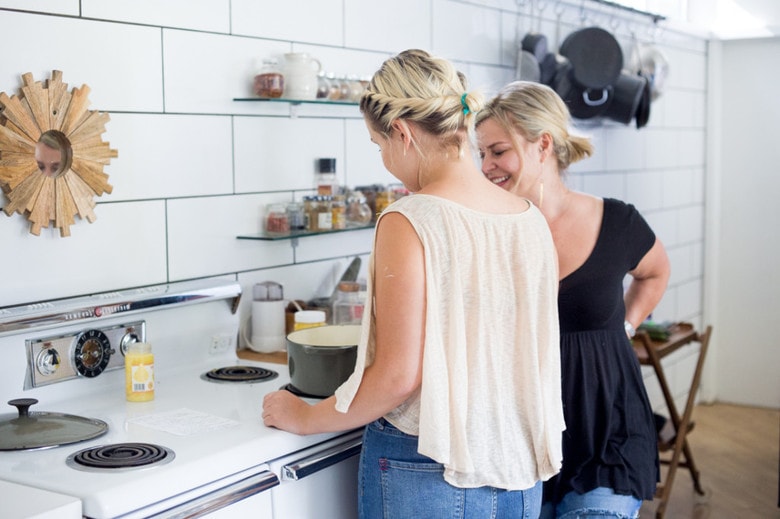 After the onion cooks down a bit, add the ground spices– cumin, coriander, turmeric and chili power.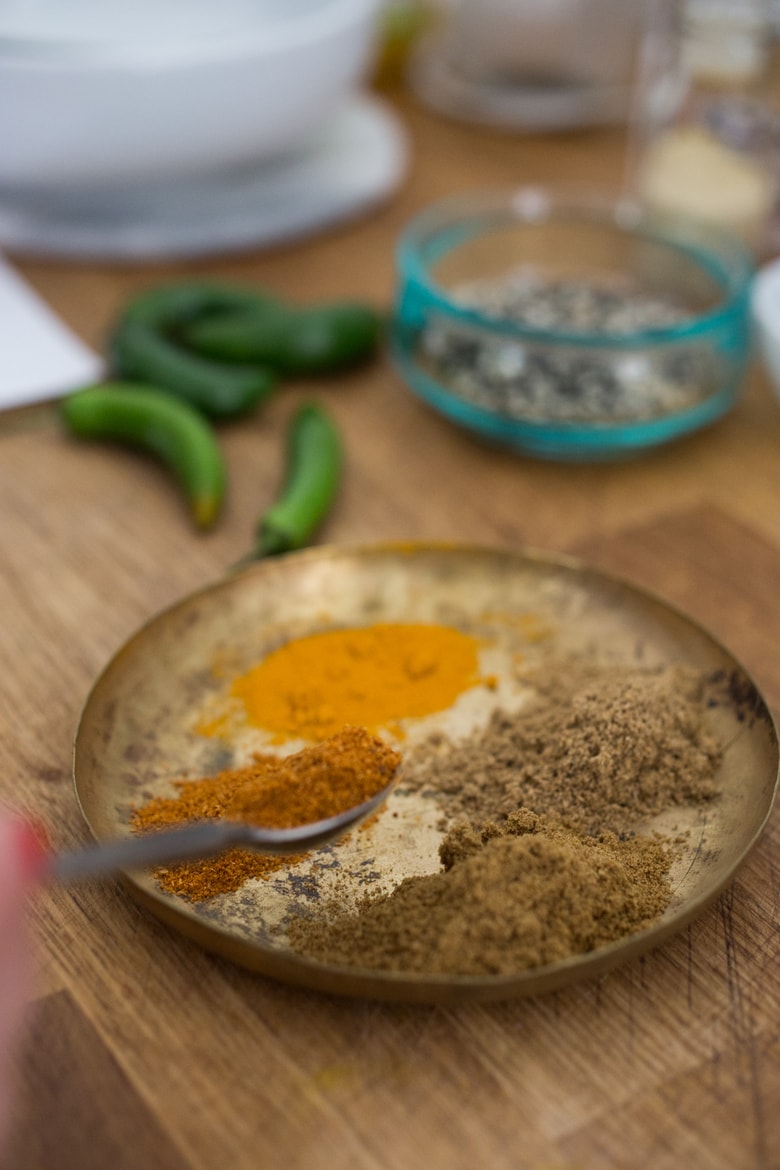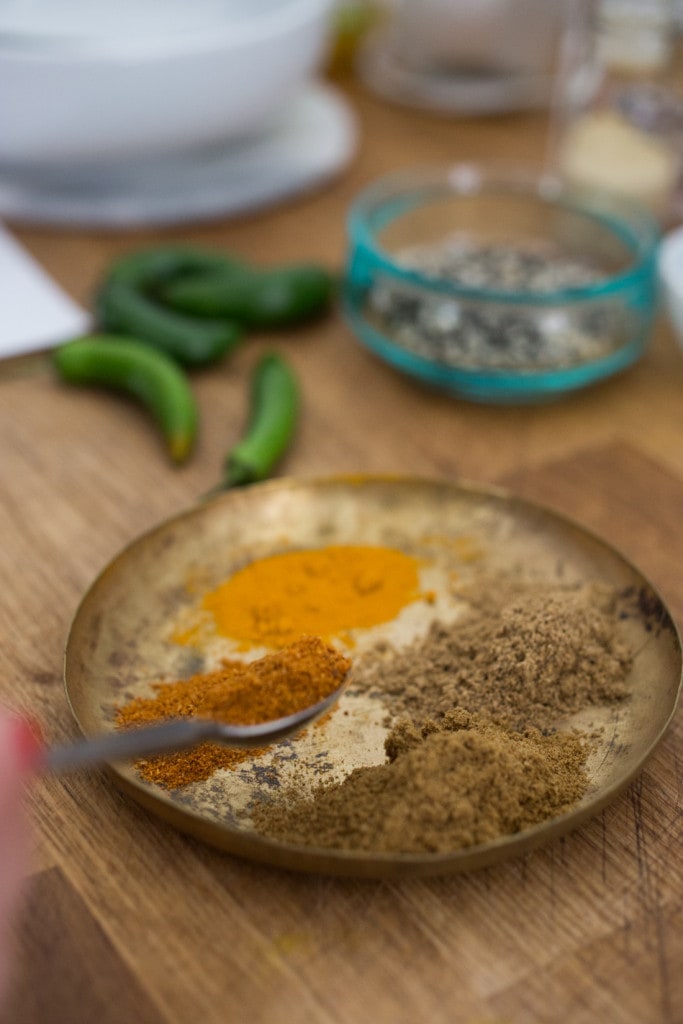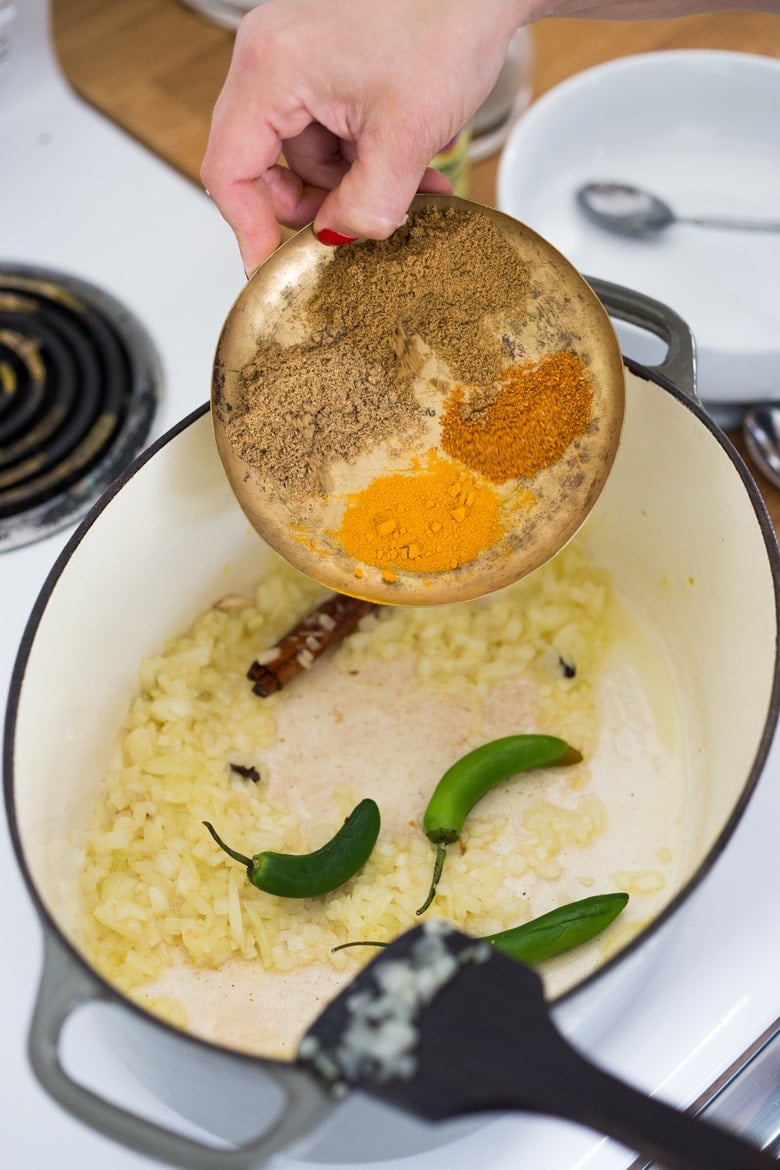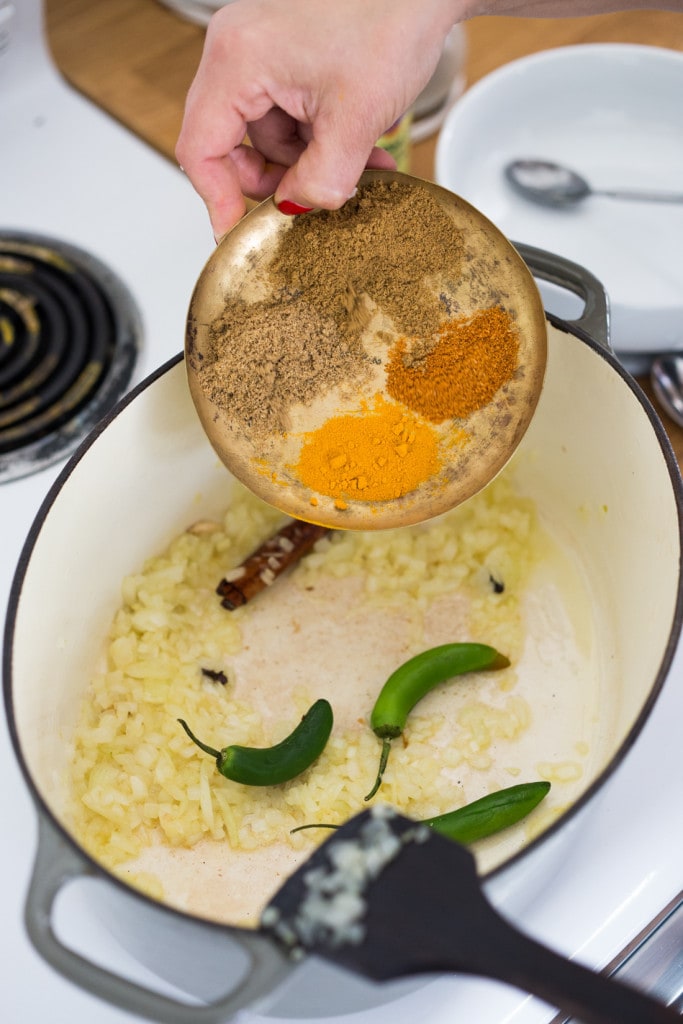 Add a few green chilies, that are just split down the side.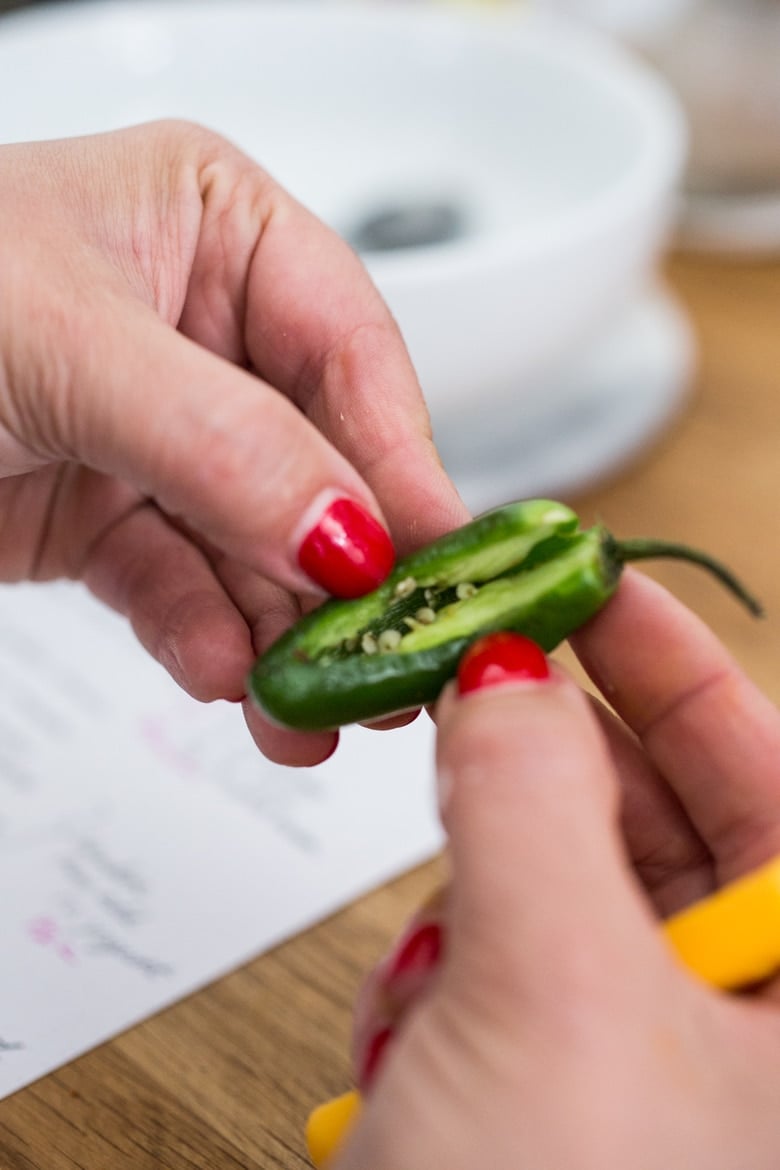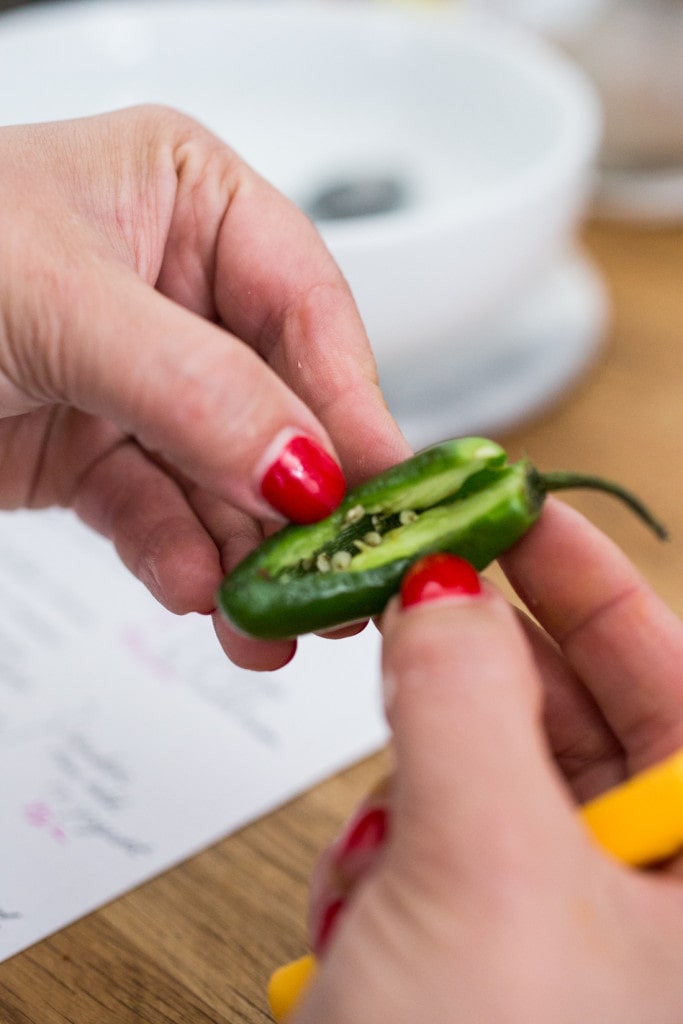 Lower heat and continue cooking until the onions caramelize and are golden brown.
In the meantime, blend fresh cilantro, mint, ginger, garlic and yogurt.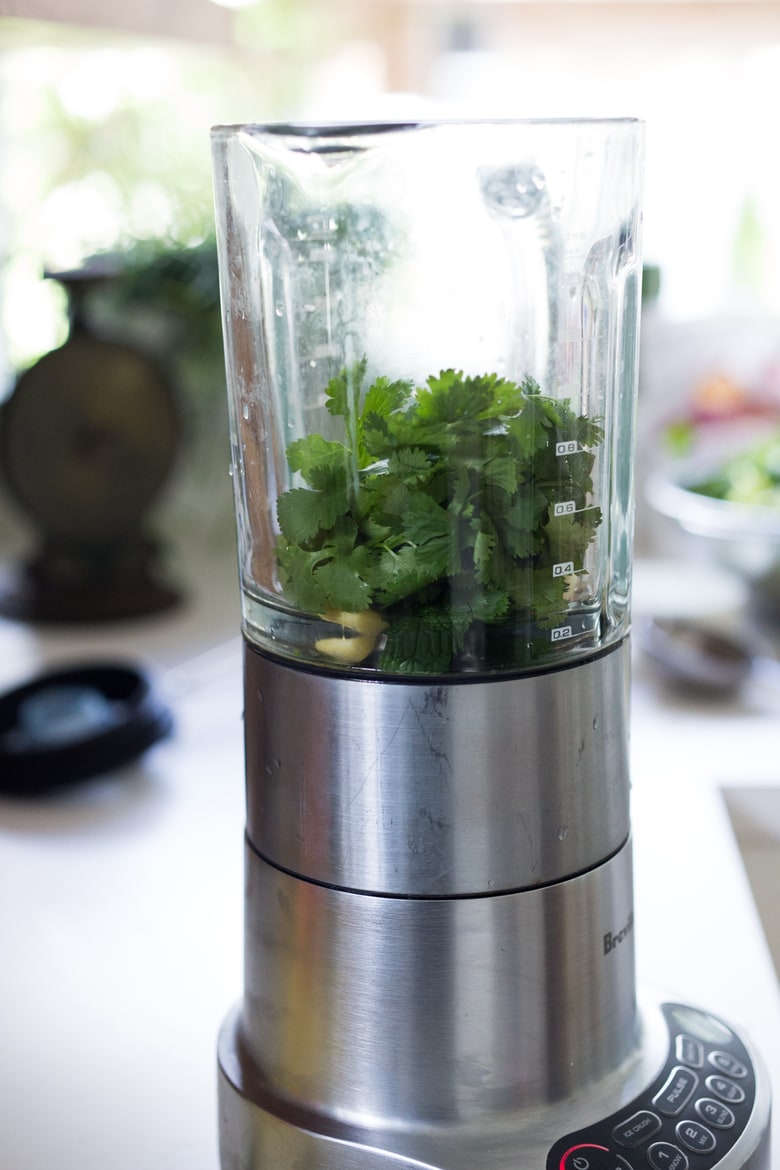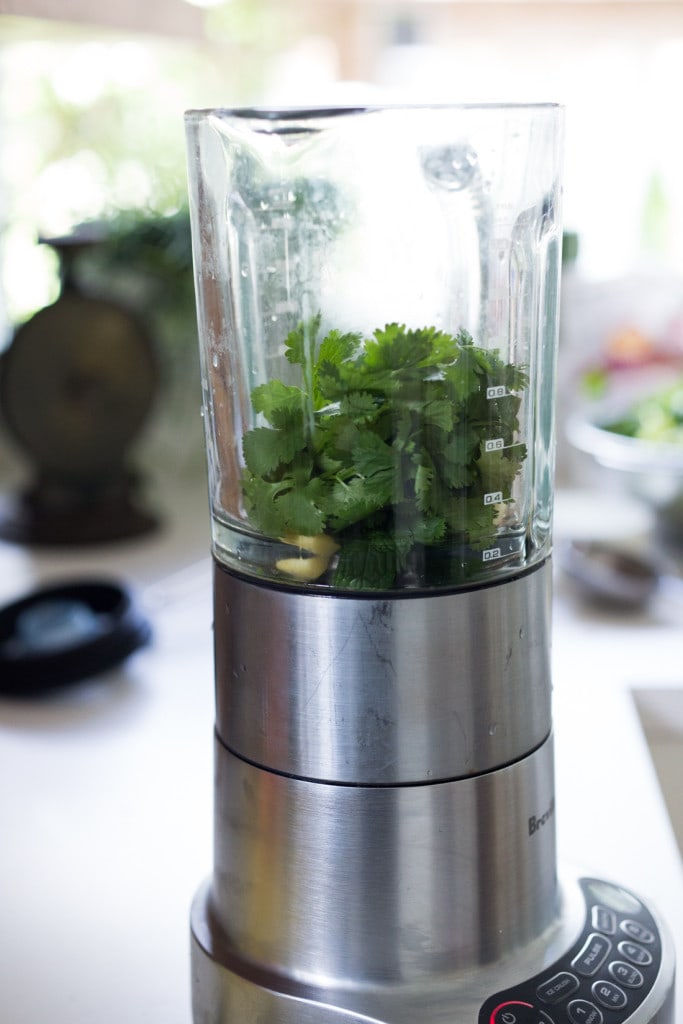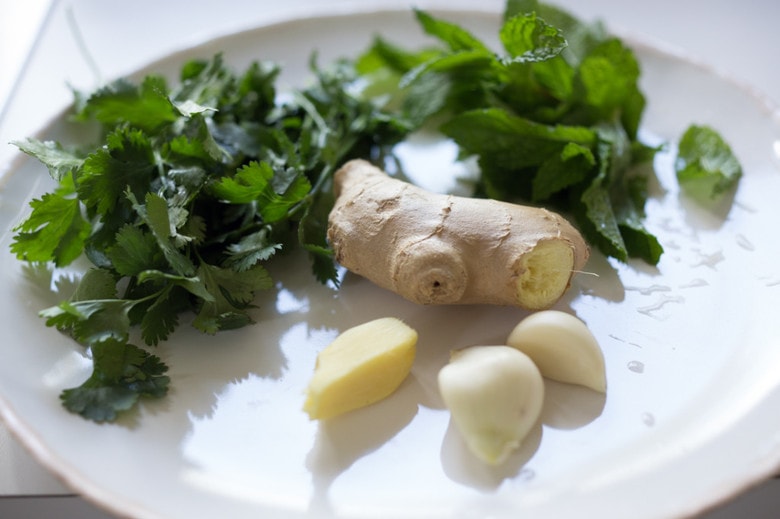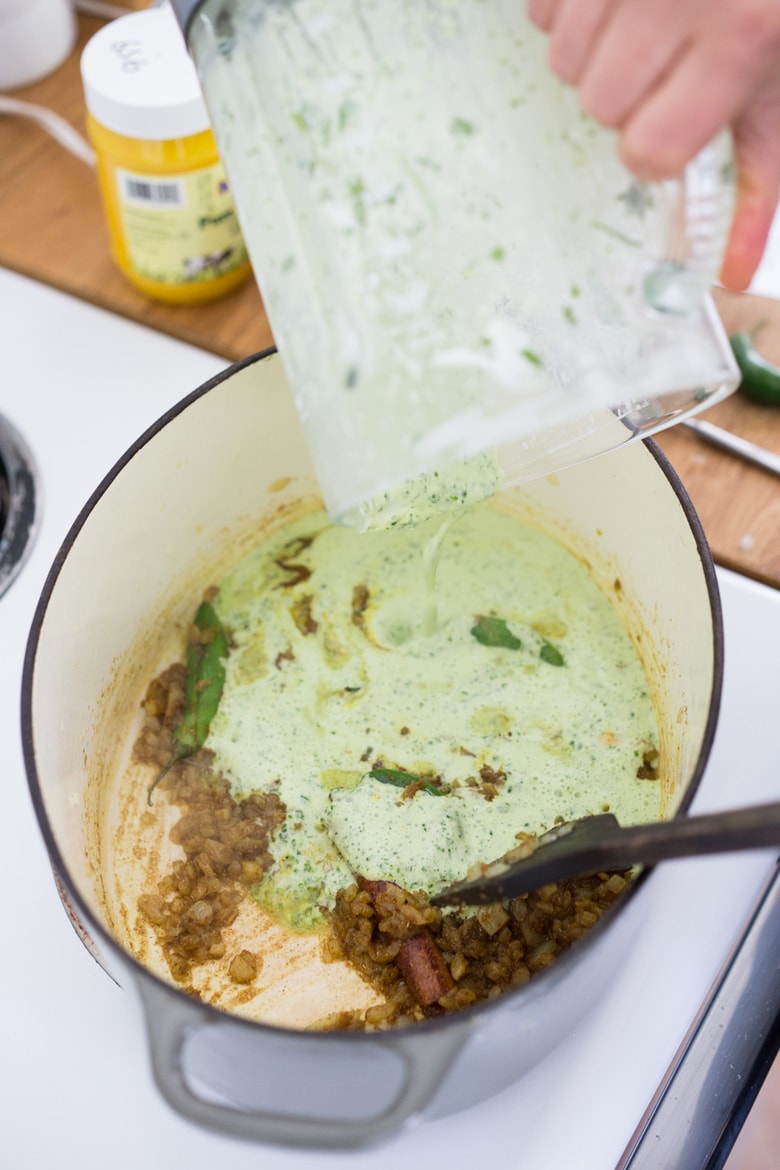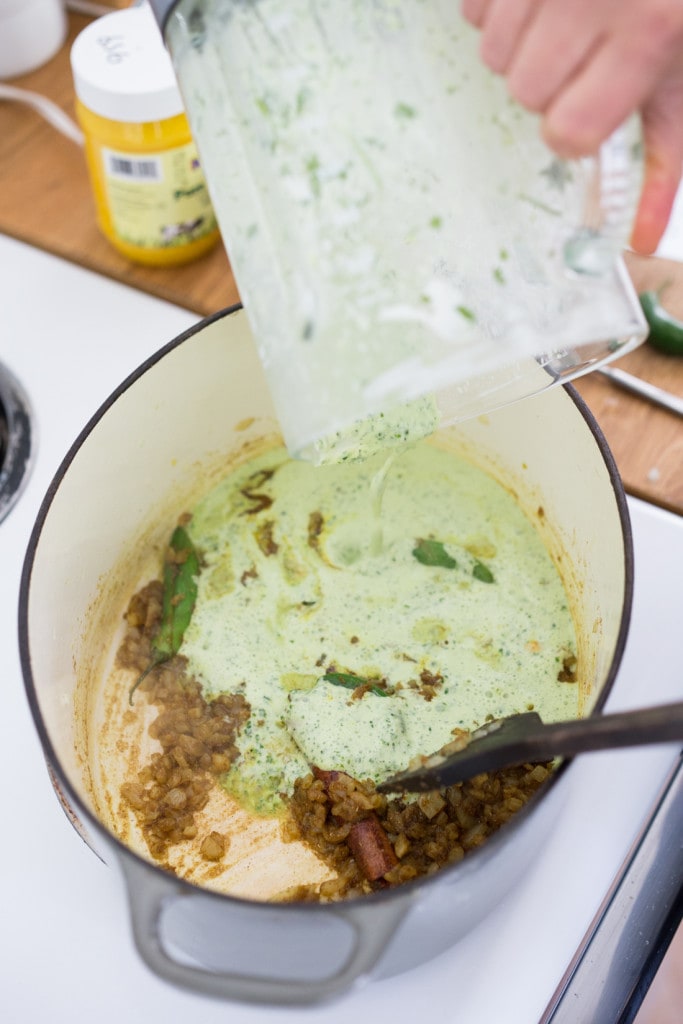 Once the onions are golden, add the blended yogurt herb mixture to the pot.
Then add the fresh tomatoes.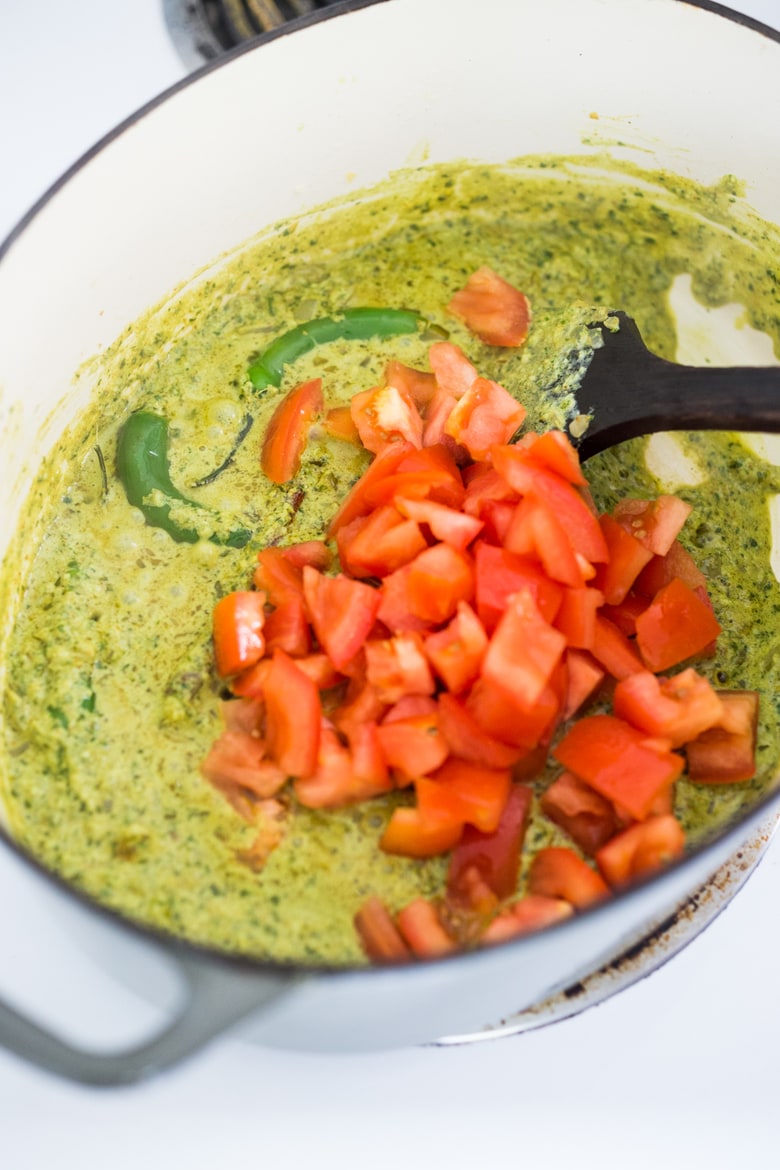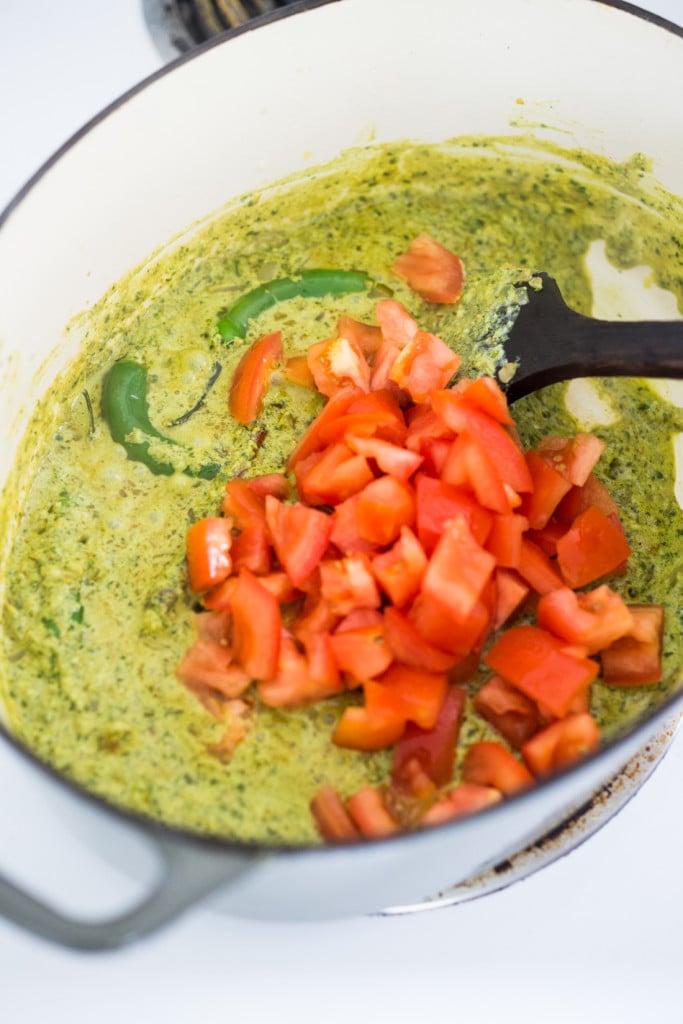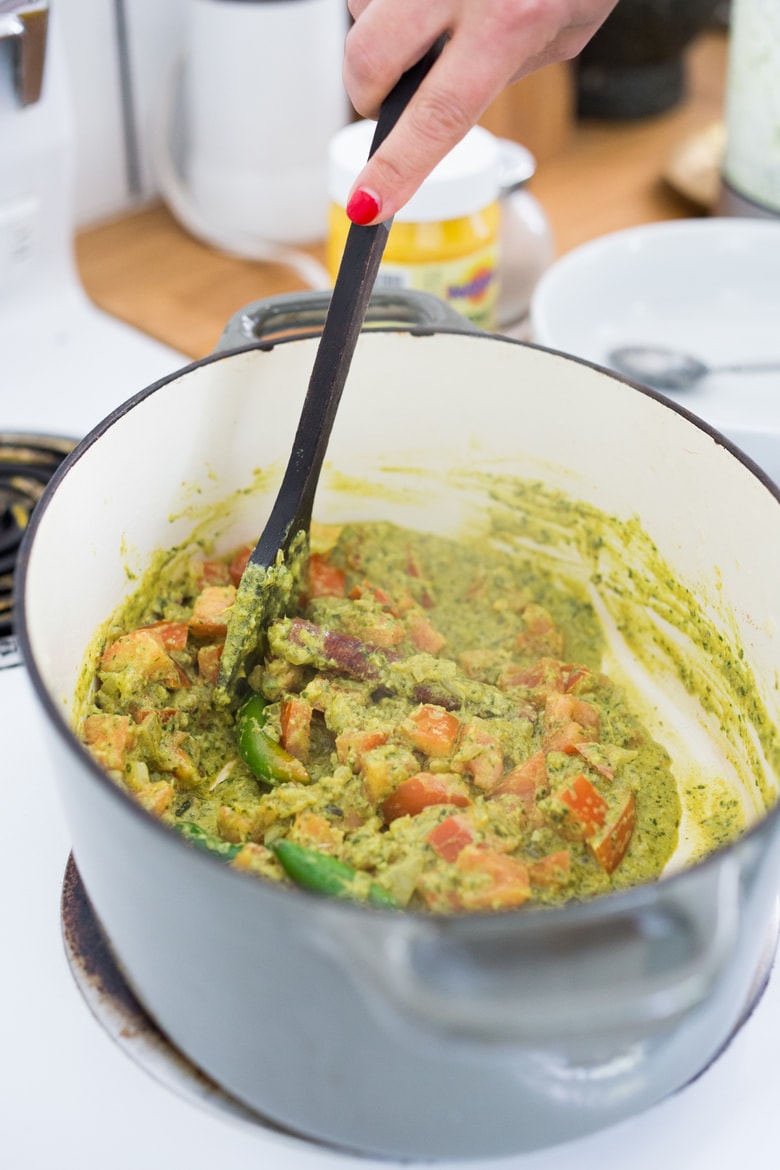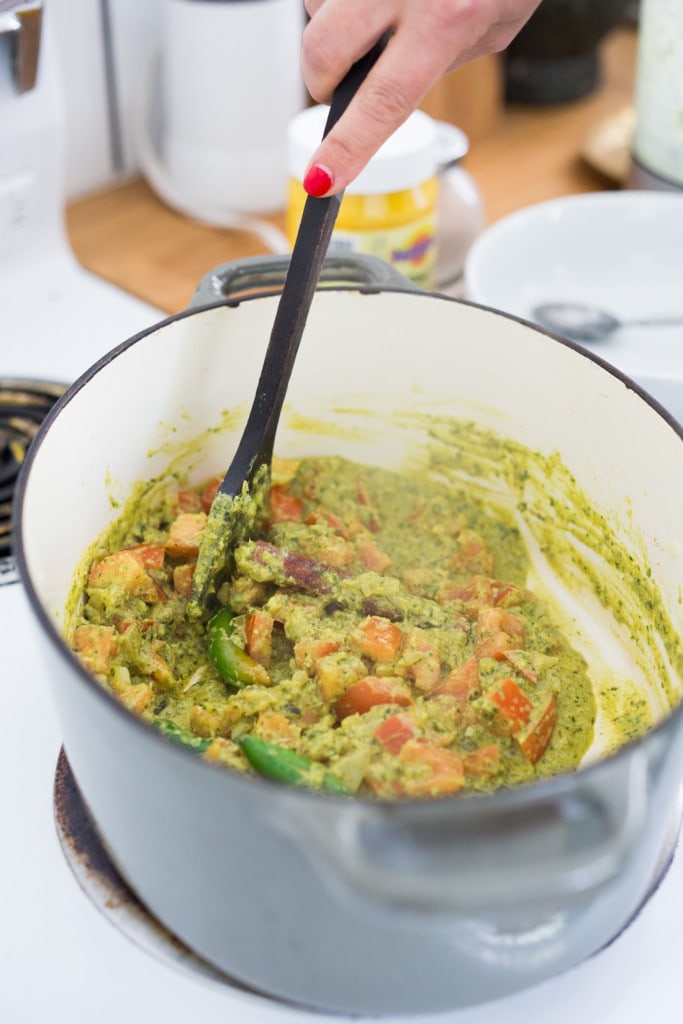 Simmer over medium heat until the tomatoes start to break down and the oil separates about 15-20 minutes.
Then it's time to add the chicken thighs. Use bone-in, skin-on for the most flavorful results, or boneless skinless works too. Chop into big pieces. Salt them. Don't use chicken breast for this recipe, it will get dry.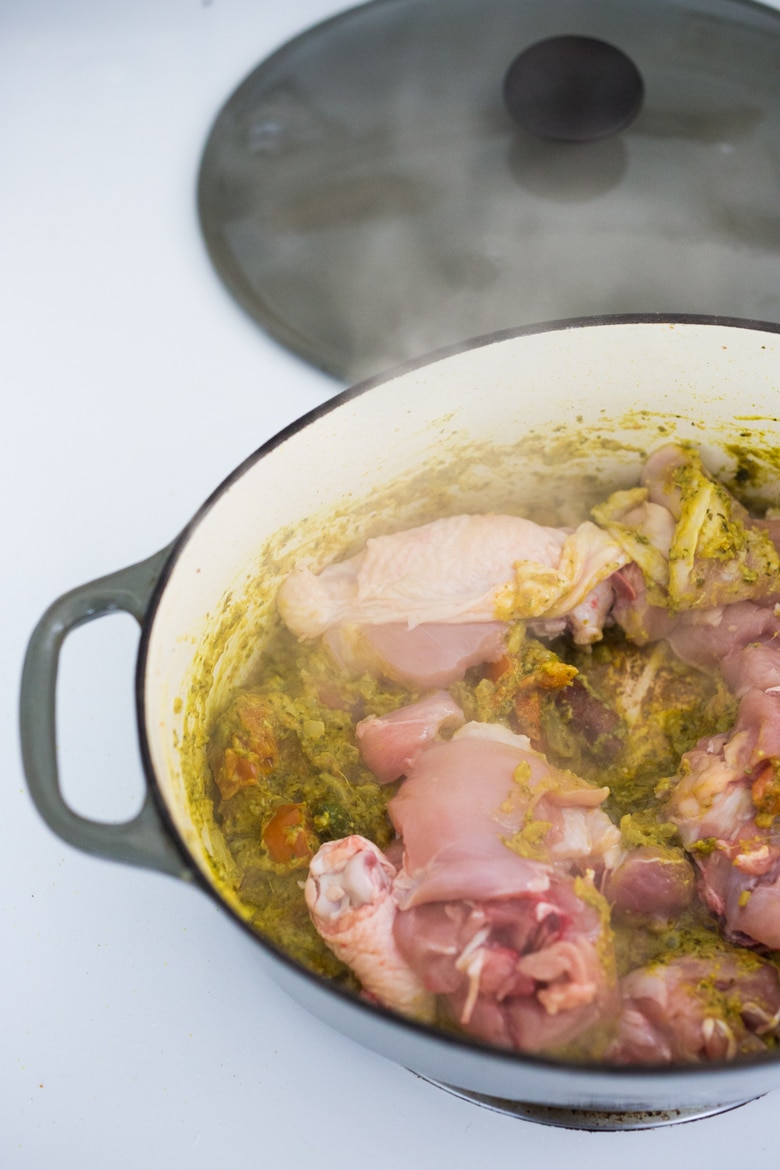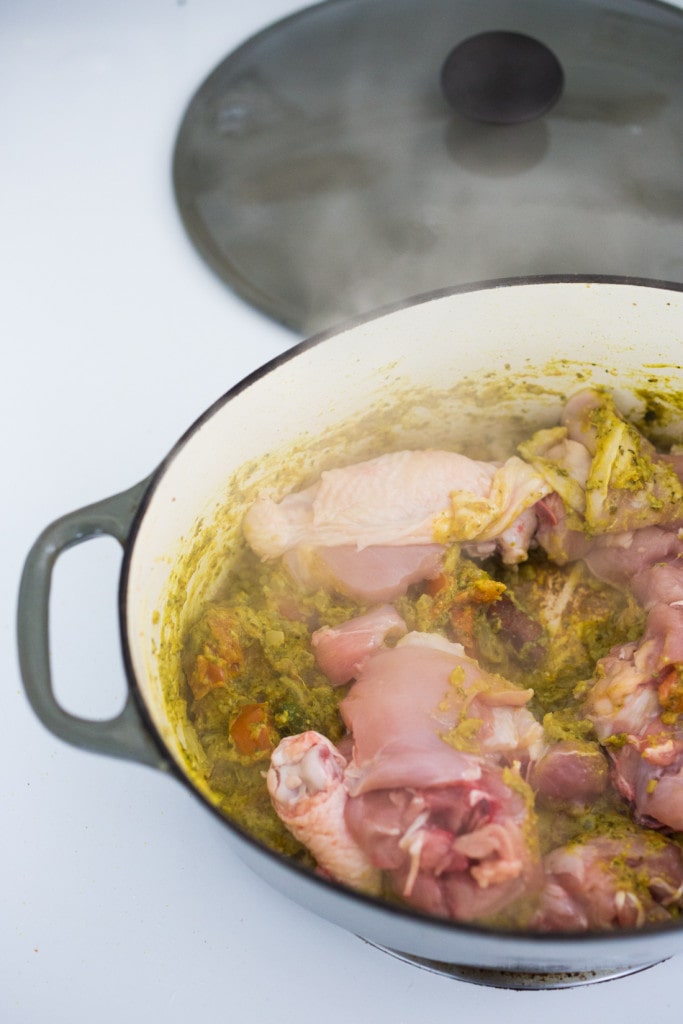 Continue cooking the chicken until it is tender, about 15 minutes.
Then add the washed rice and salt.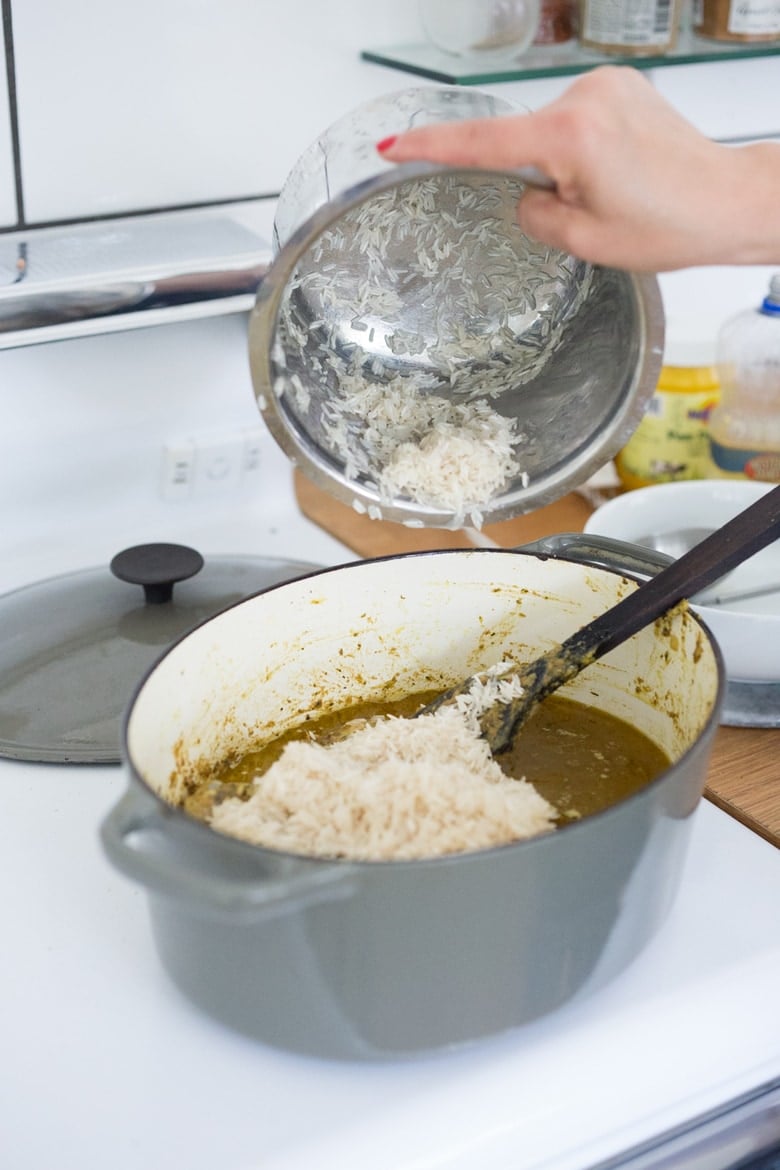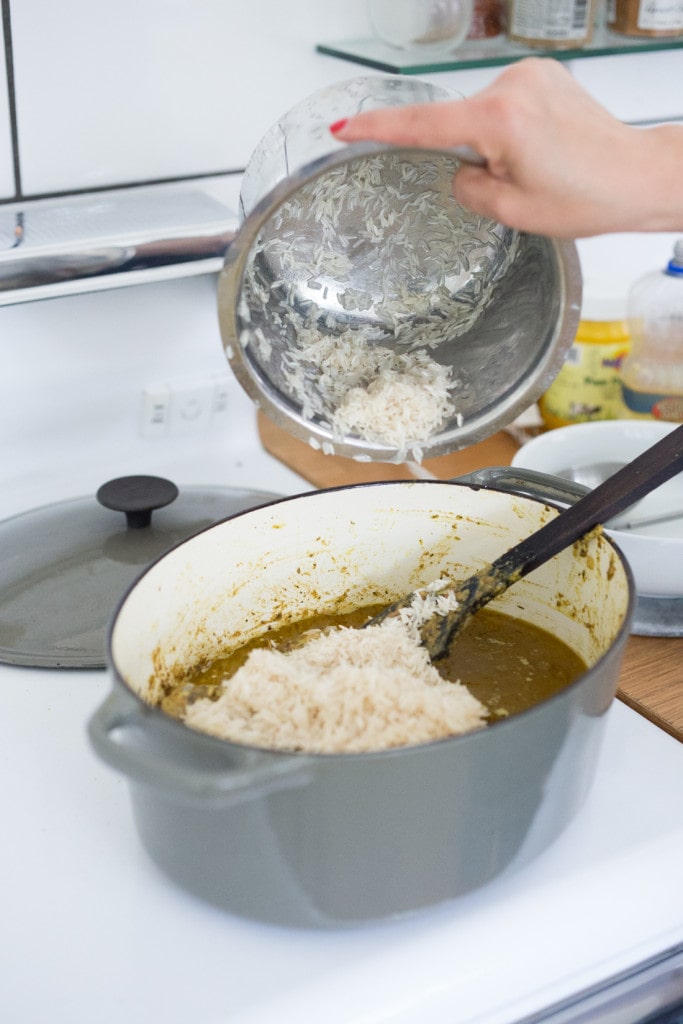 Add the water, and then let simmer uncovered until most of the water has evaporated. Be patient.
Once it looks like this picture below, only then, is it time to cover it and let it cook through.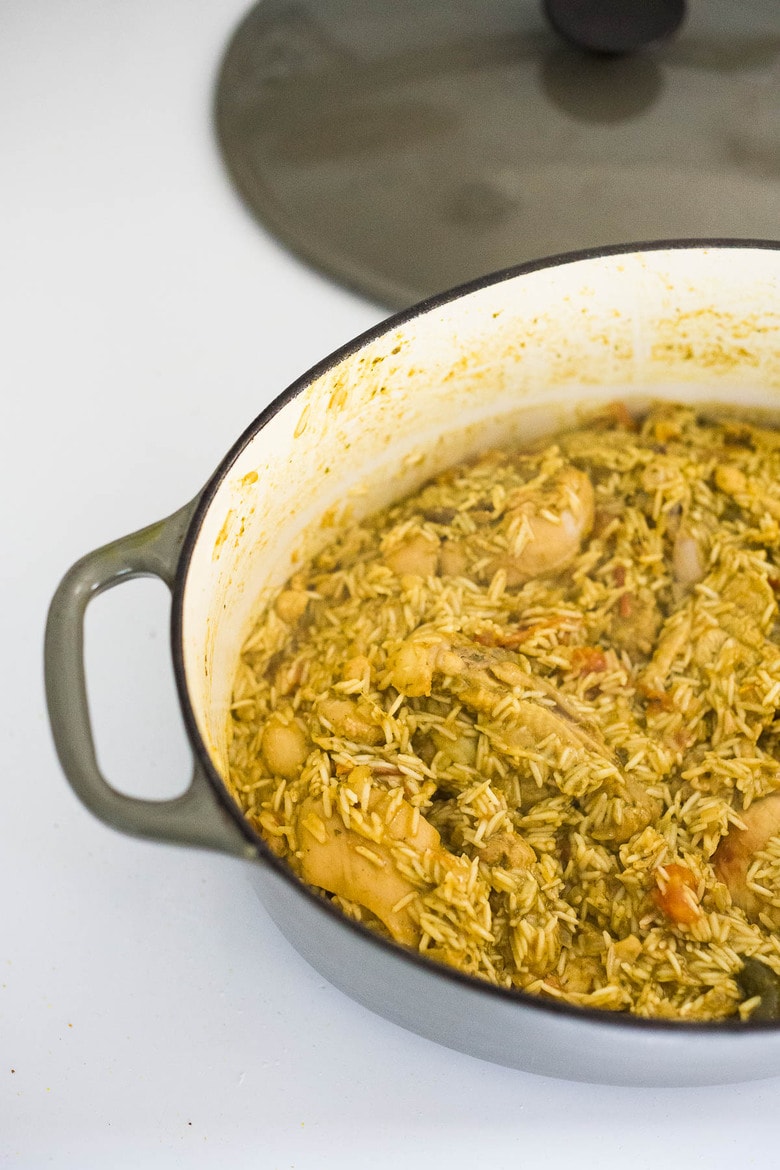 Add a few cashews and raisins.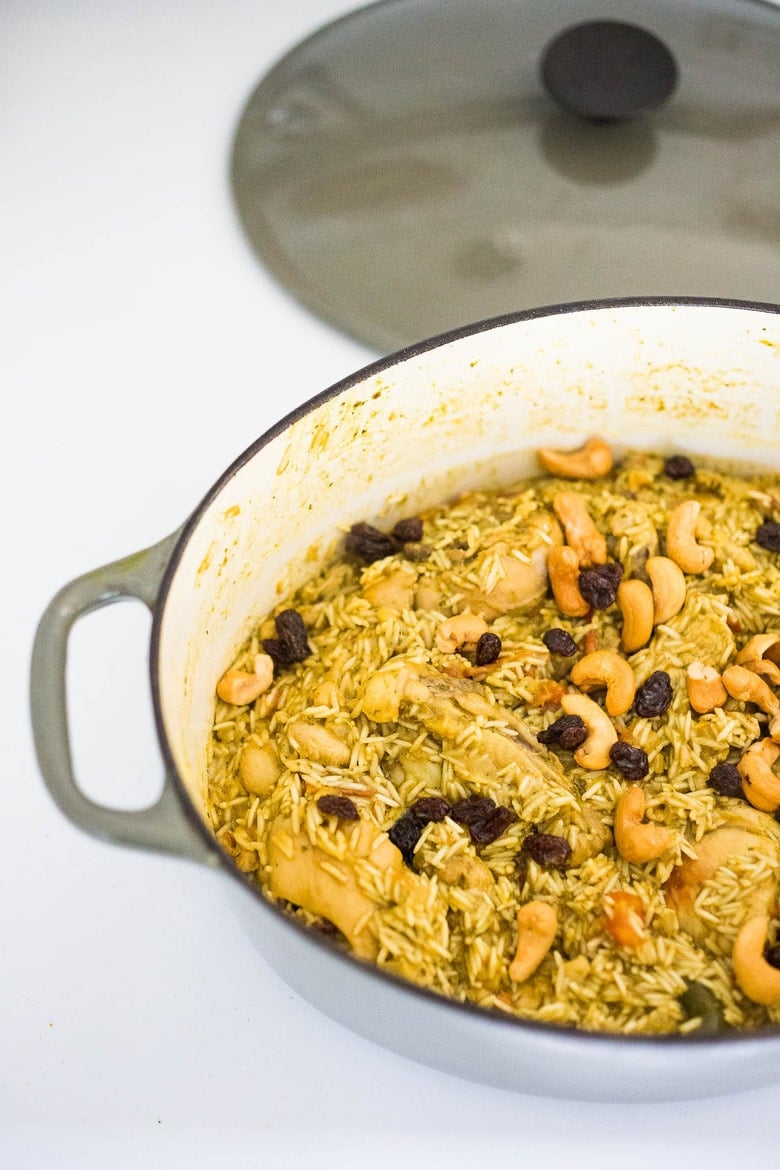 Dampen a kitchen towel or cloth, turn the stove off for just minute ( or remove from stove) and cover the dutch oven with the moist cloth.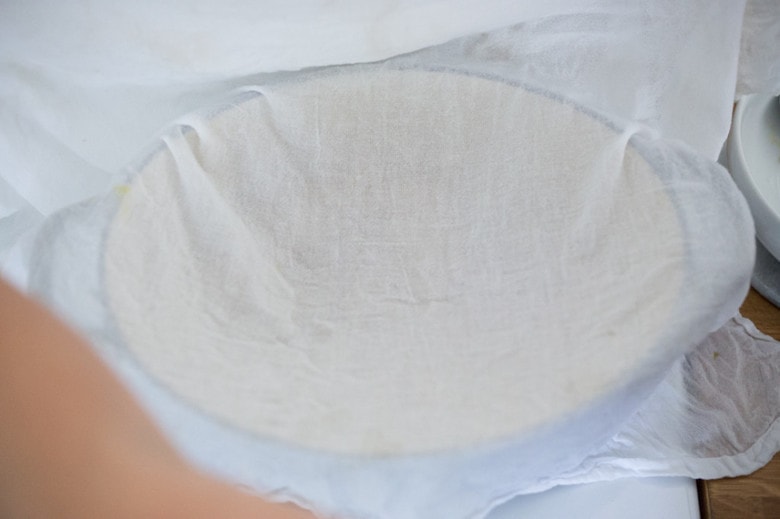 Place the lid on top.
Then pull up the corners of the towel and place on top of the lid.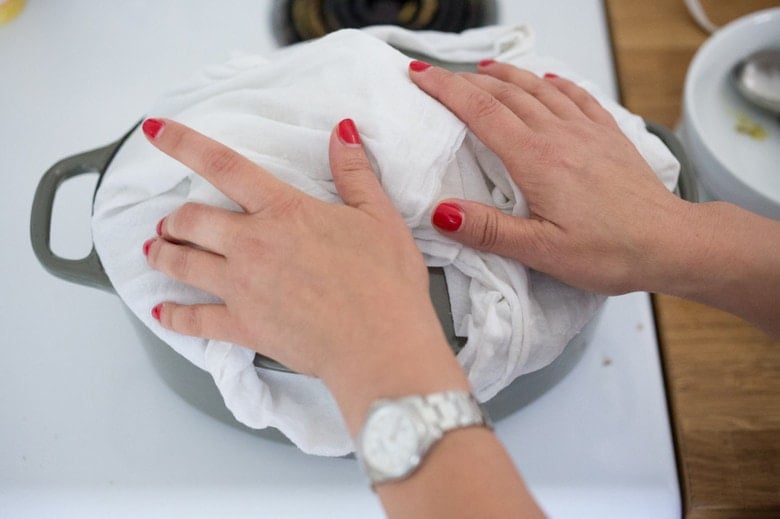 Then simmer on low, until the rice is cooked through, another 40 minutes to an hour.
While the Chicken Biryani is cooking …..make the flavorful Cilantro Coconut Yogurt sauce.
This sauce is also called Thenai Thair Pachadi, or Coconut Curd Salad, and I have to say, this recipe is exquisite.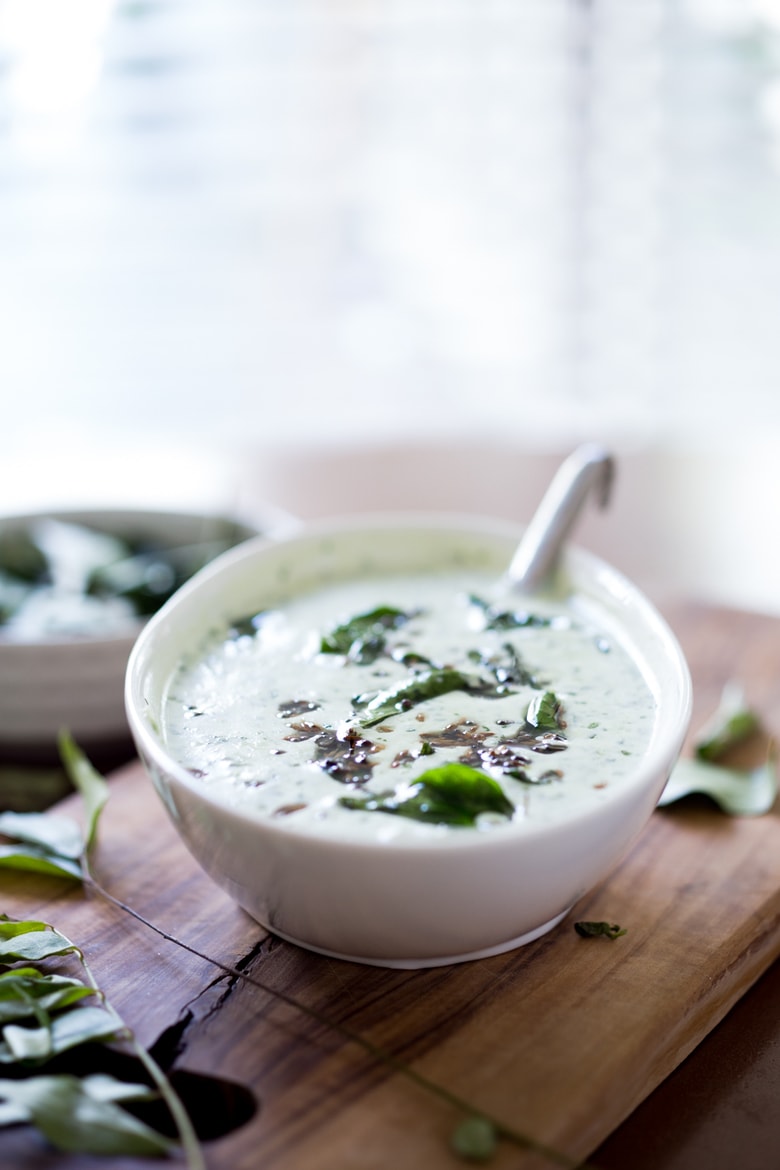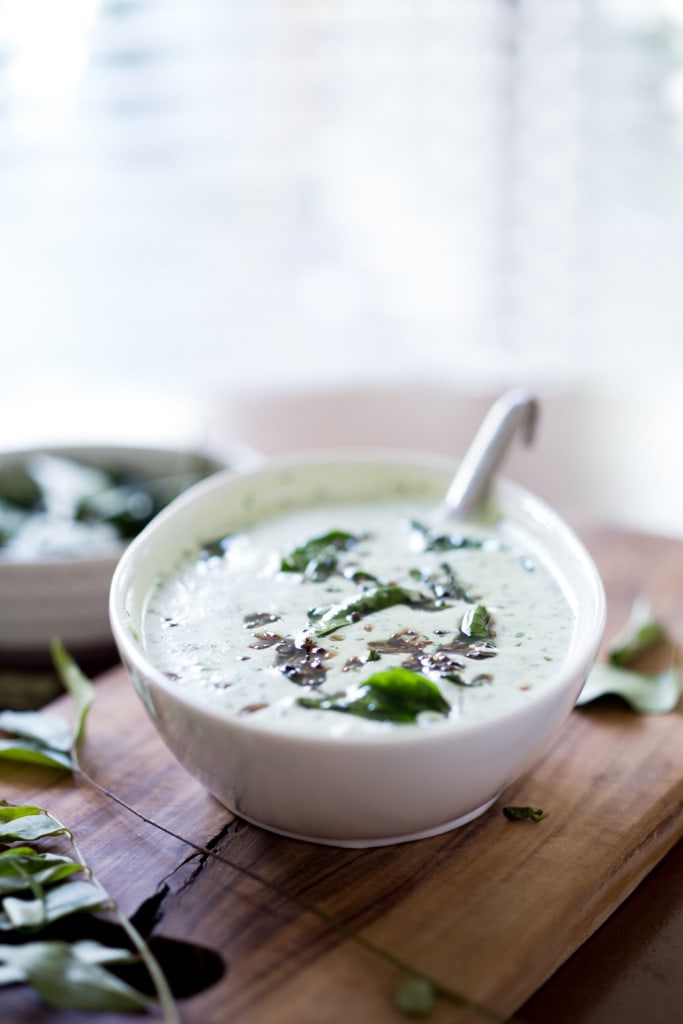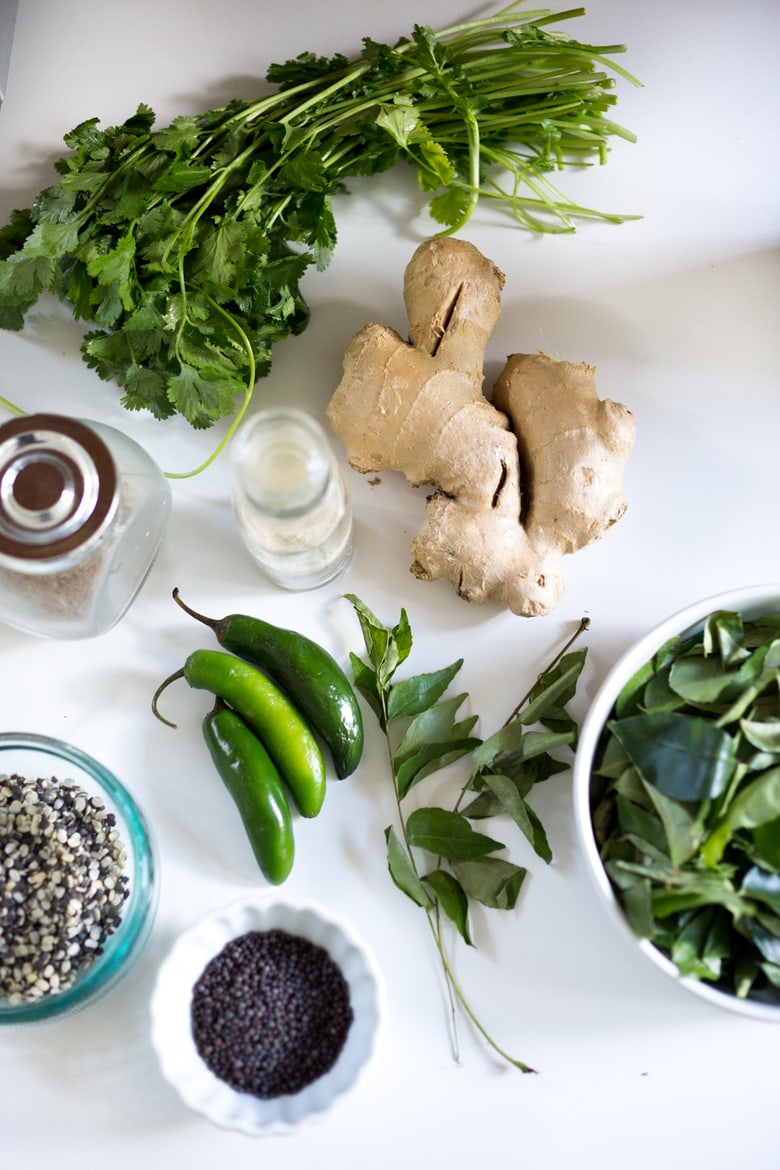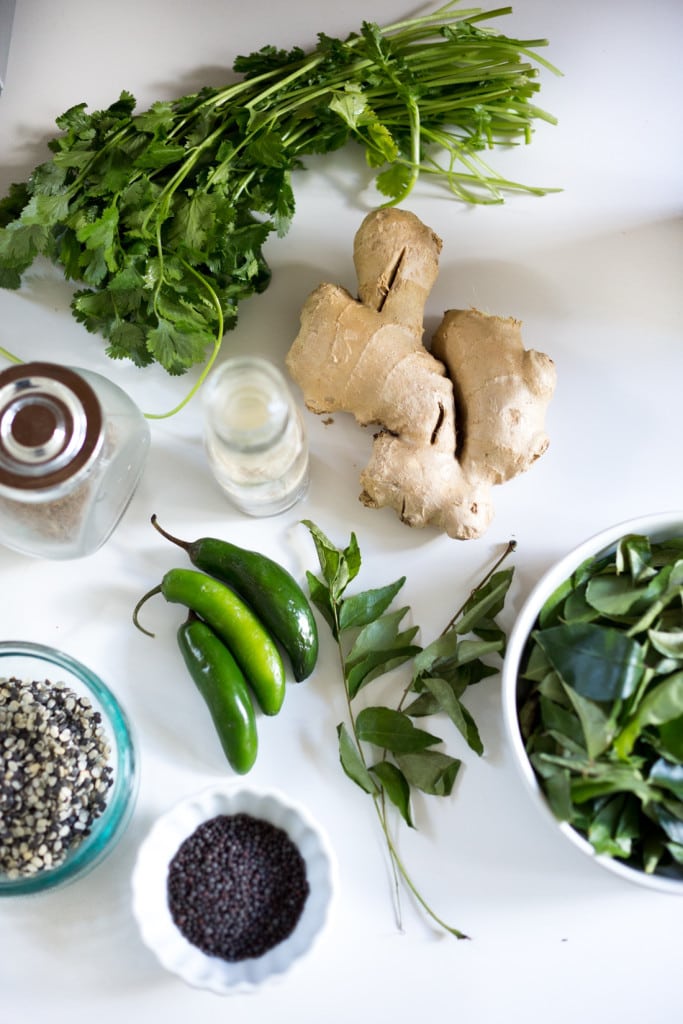 It's full-flavored and may introduce you to a few new ingredients like curry leaves, brown mustard seeds, asafoetida powder and black dal.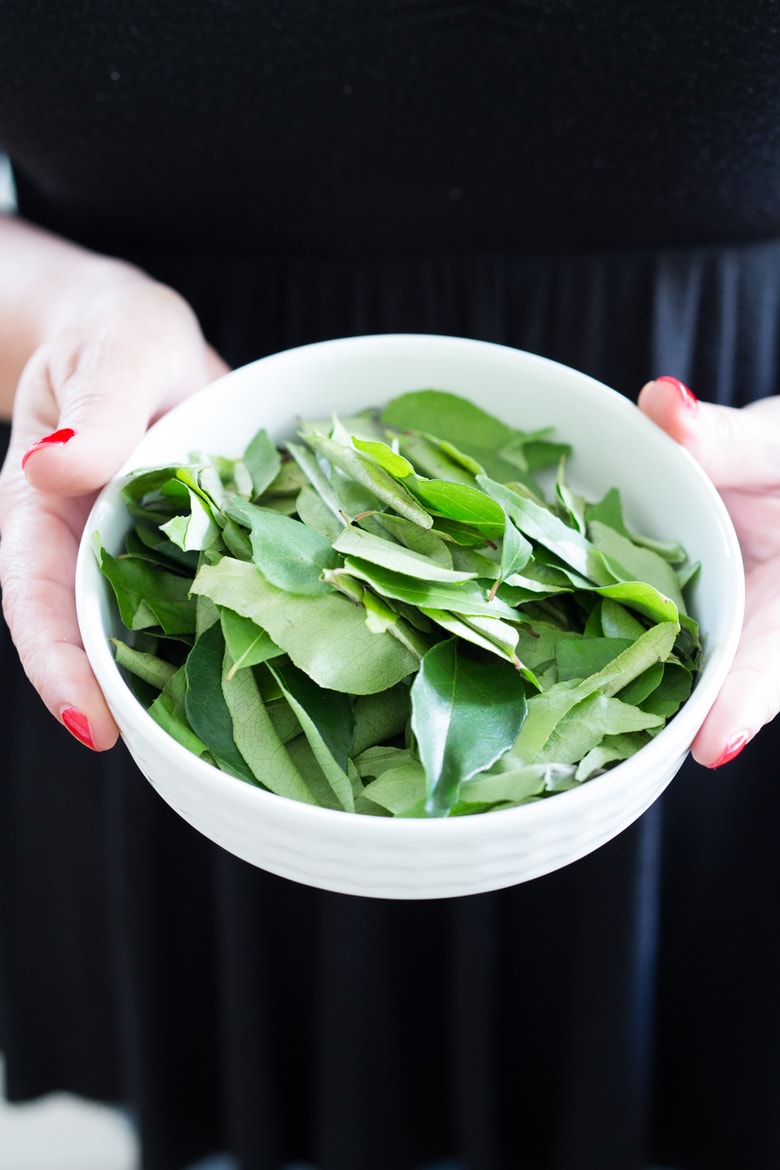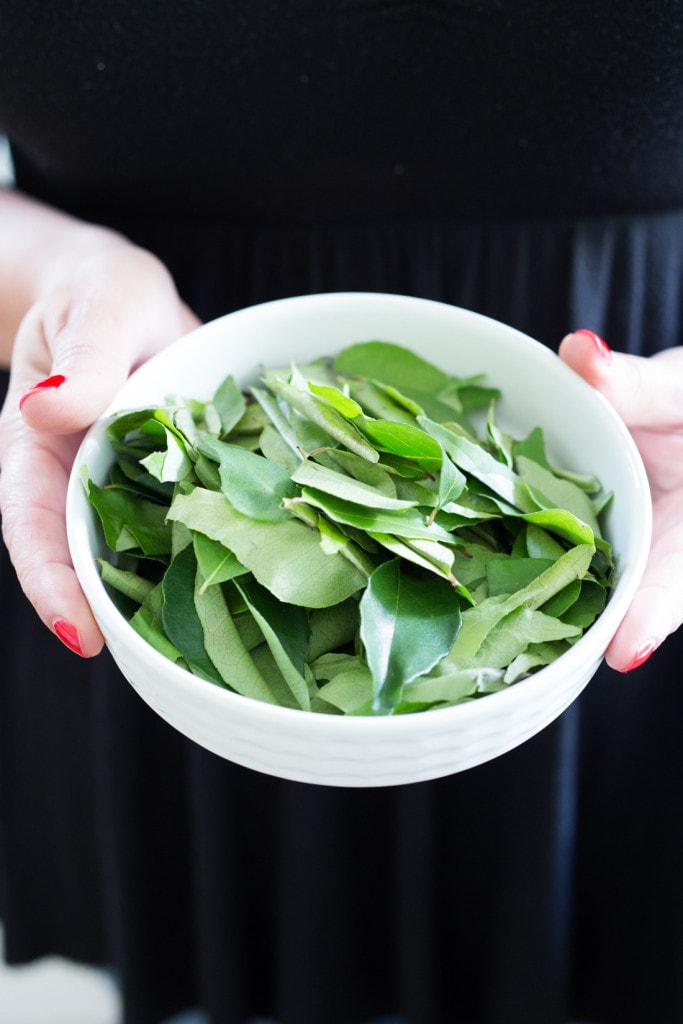 Curry leaves are available at many Asian markets, but if you can't find them, don't let it stop you from making this.
So to start, add cilantro, coconut, ginger and chilies to the blender, and blend with just enough water to help the blades get going.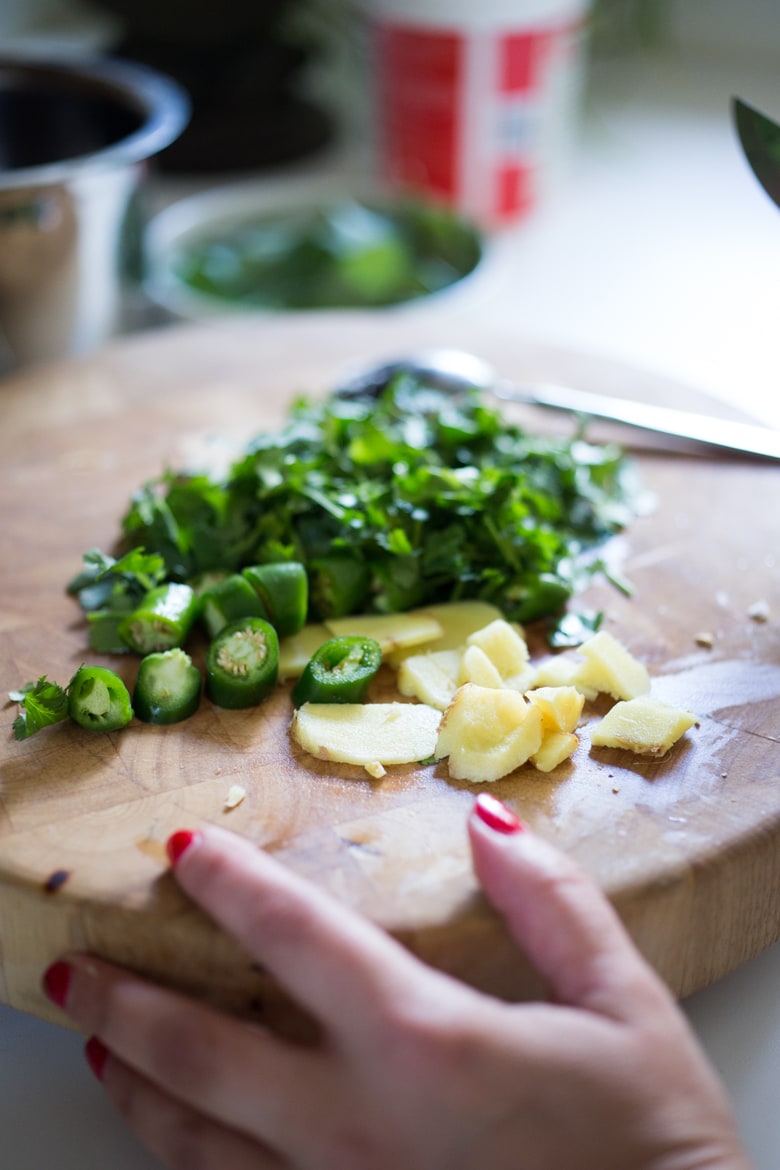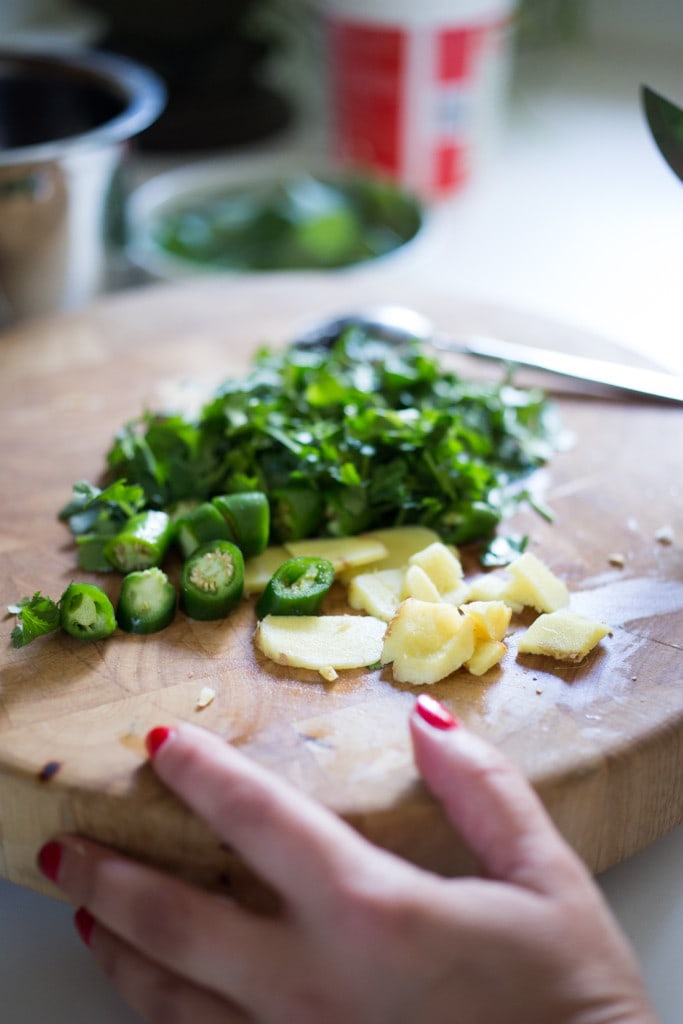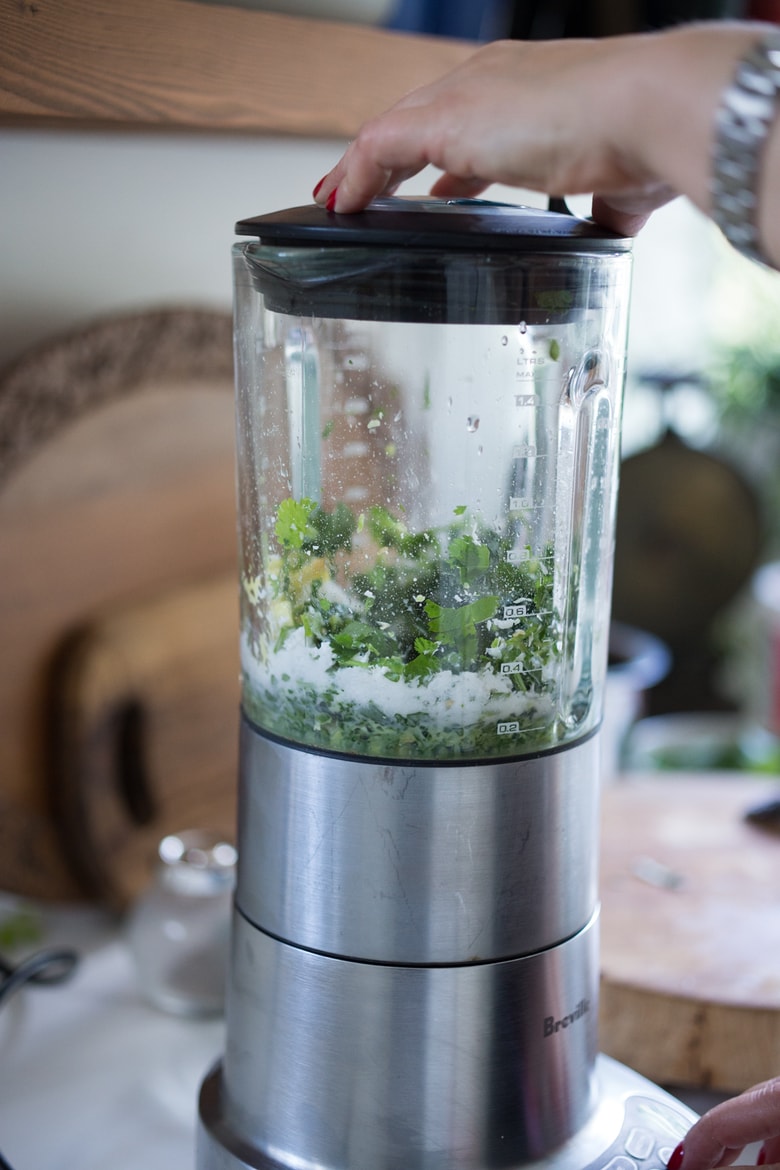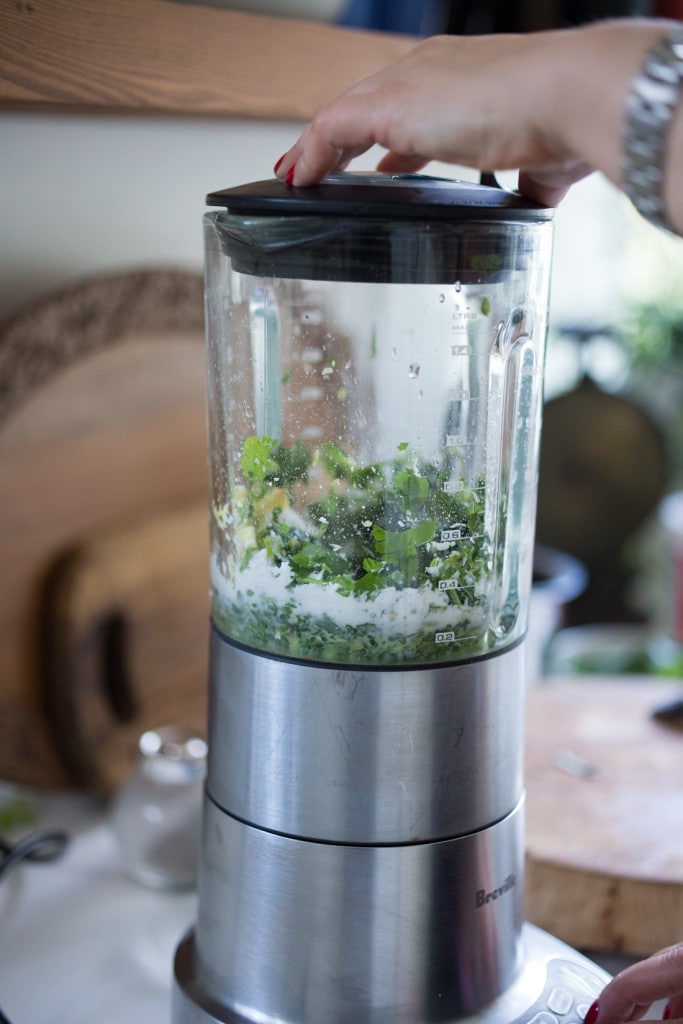 Neicy recommends buying fresh shredded coconut, that has been frozen, available at most Asian markets like here below.
But as an alternative, flaked, unsweetened coconut is OK, as well.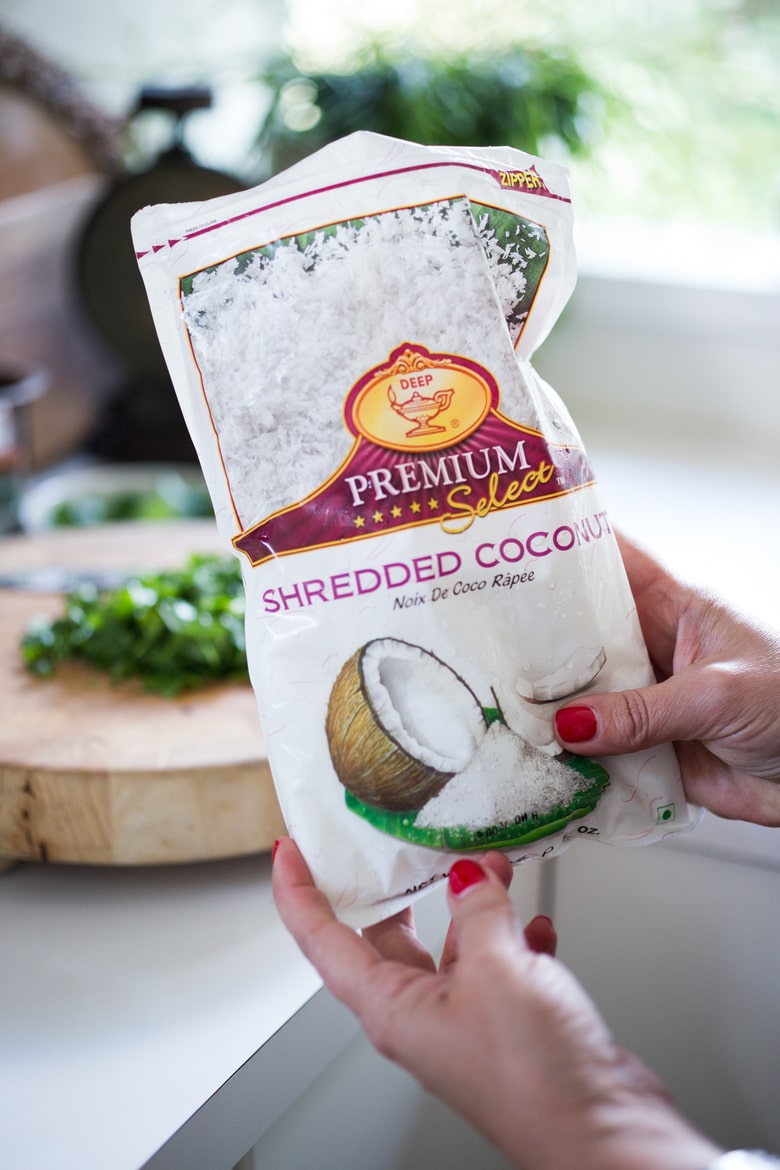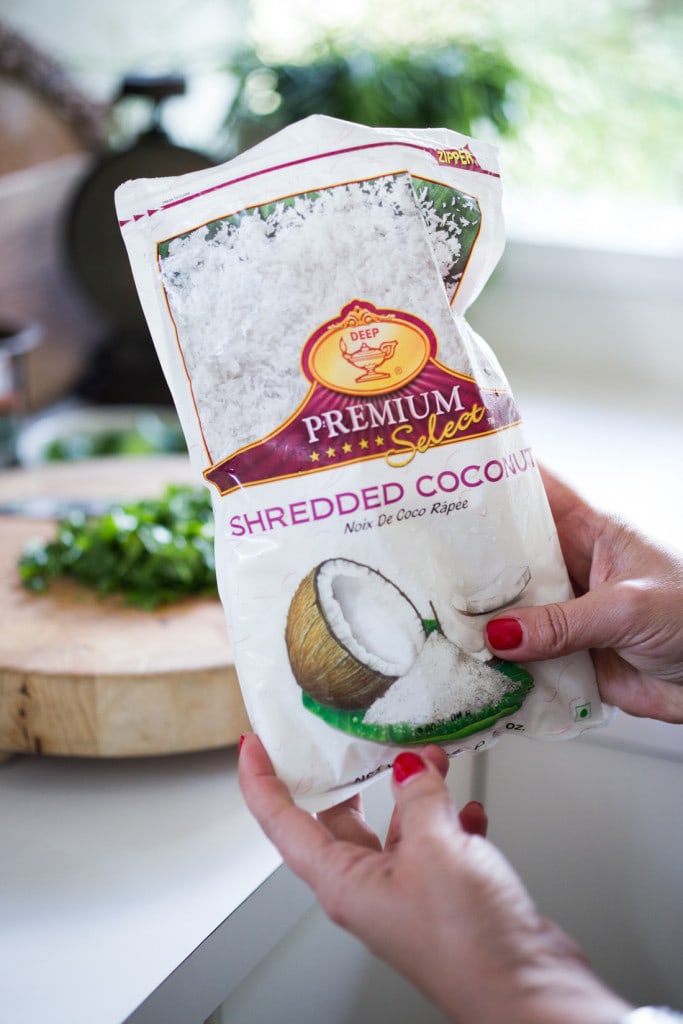 Then add yogurt and salt.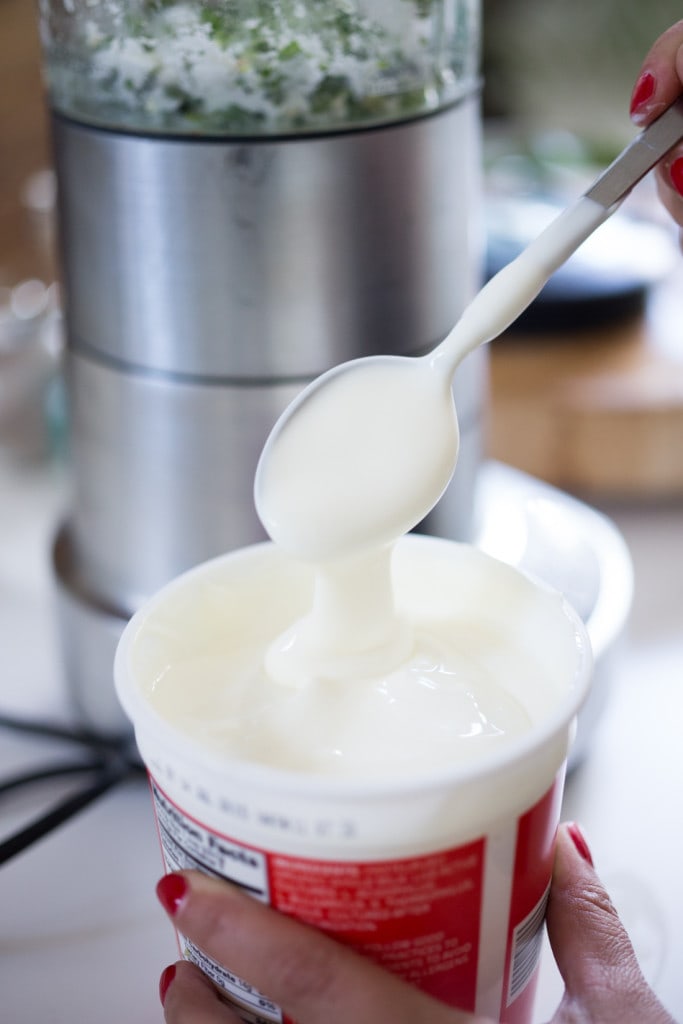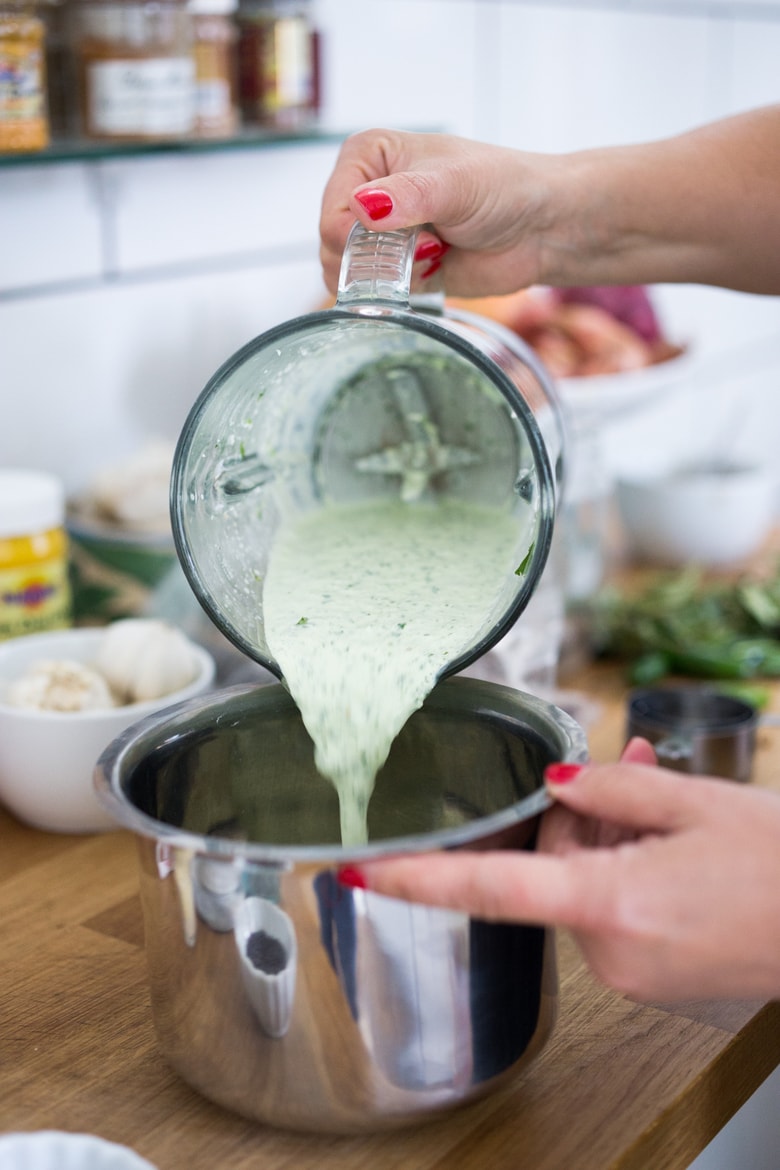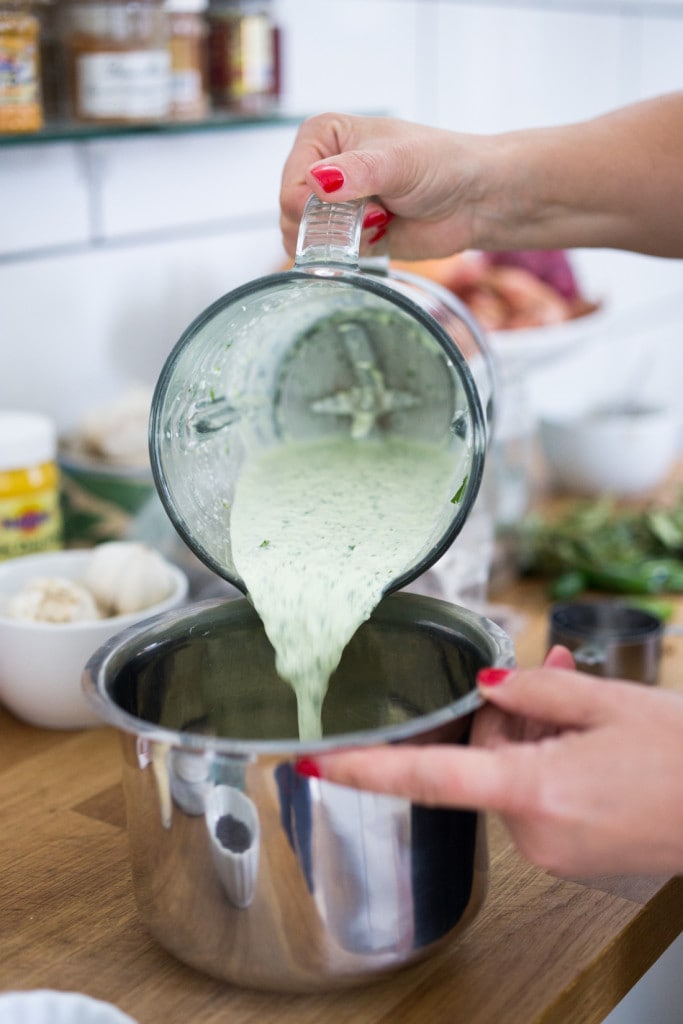 Blend it up and set aside in a serving bowl. Now, you could stop here, and it would be OK, but the finishing touch is what really elevates this — adding a "tempering oil" to the top.
In a small skillet, heat oil.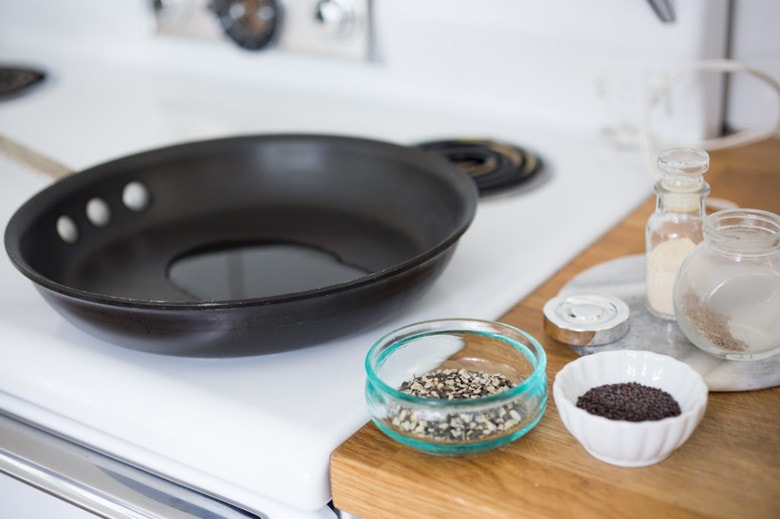 Then add black dal, brown mustard seeds, asafoetida powder and cumin seeds, and few fresh curry leaves.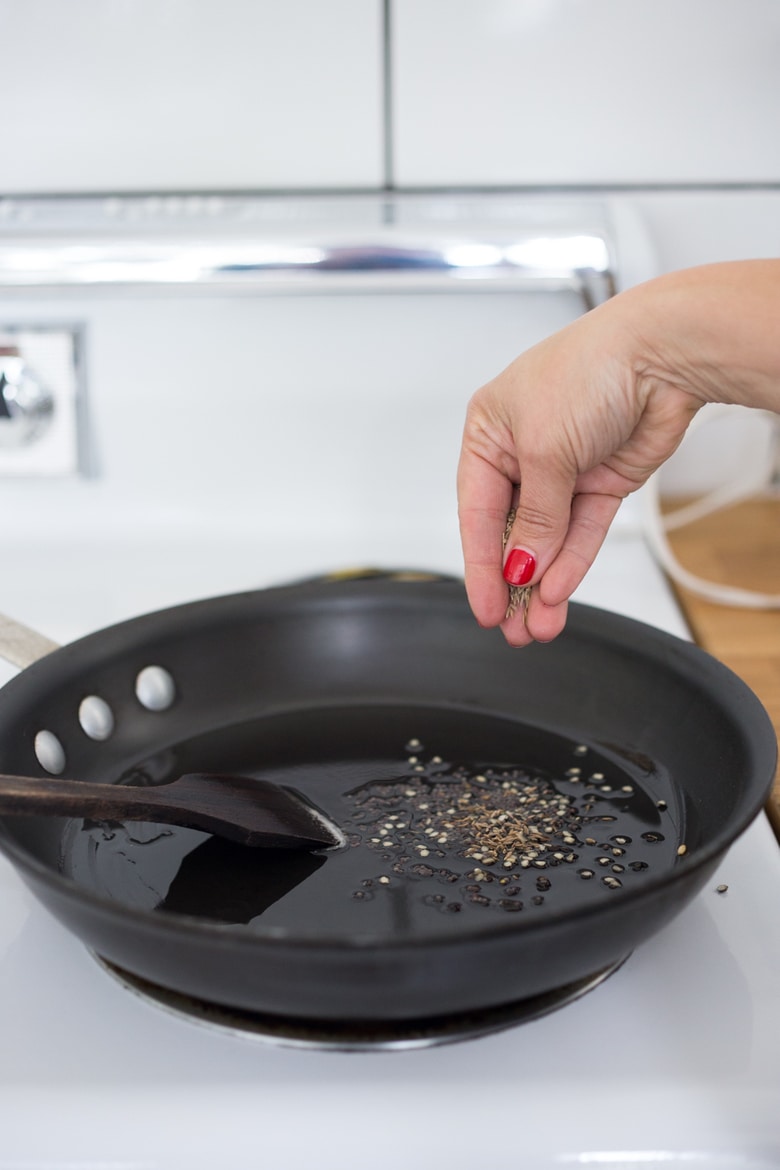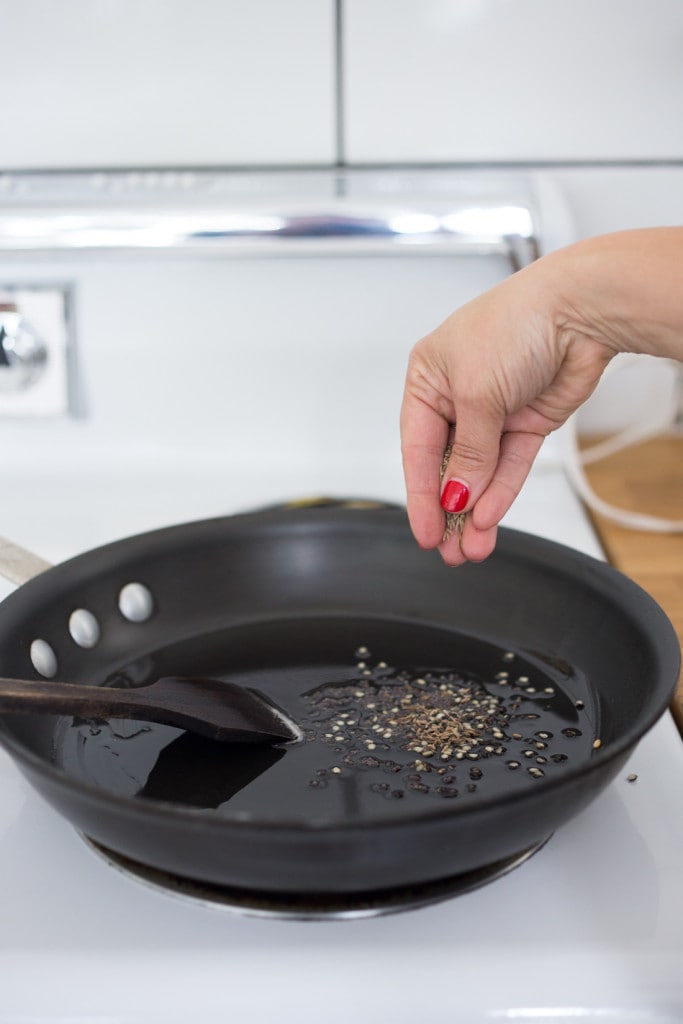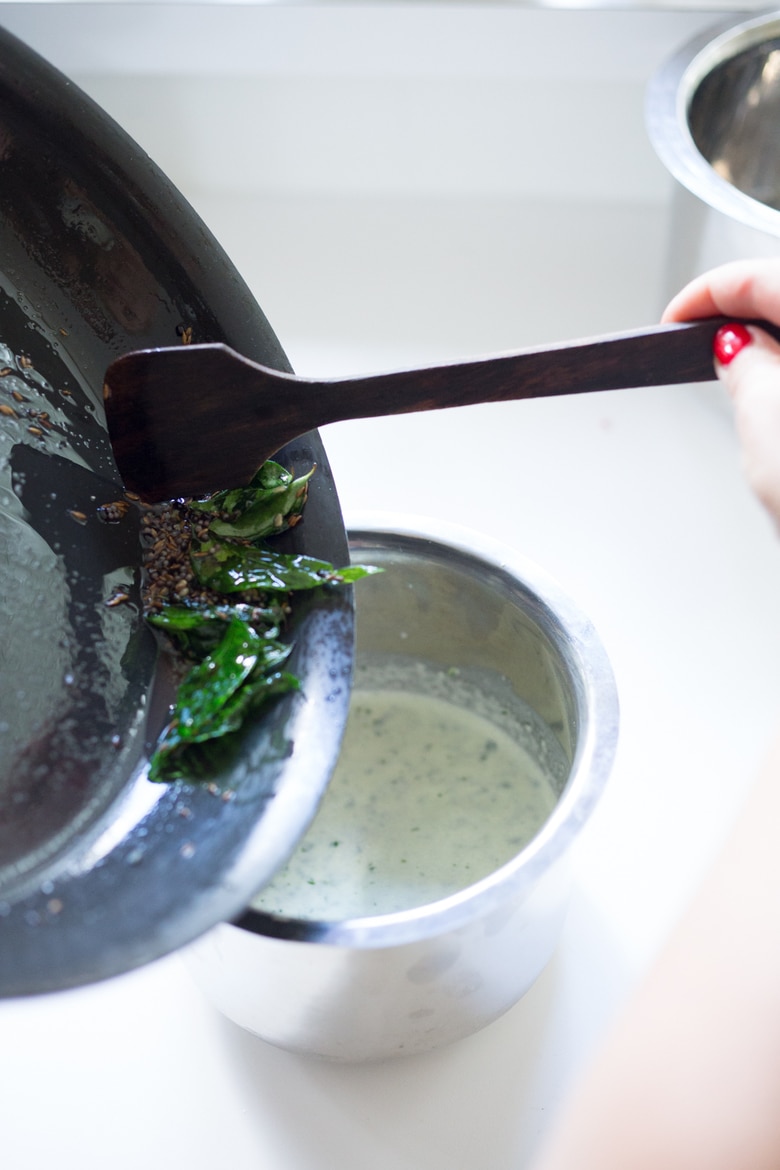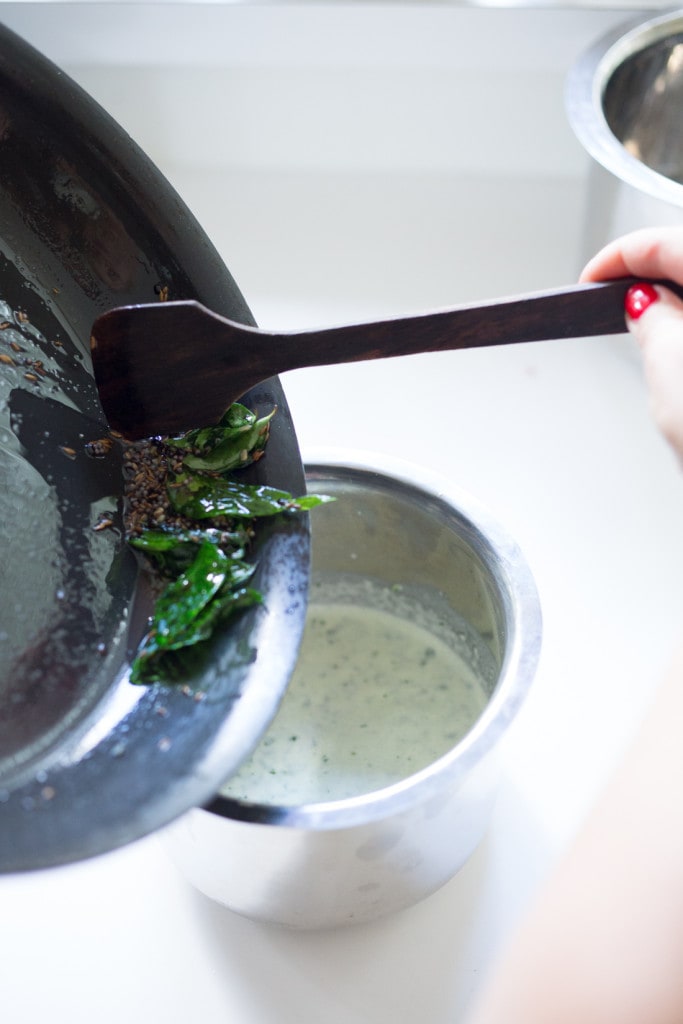 Then pour this flavorful oil right over the yogurt sauce.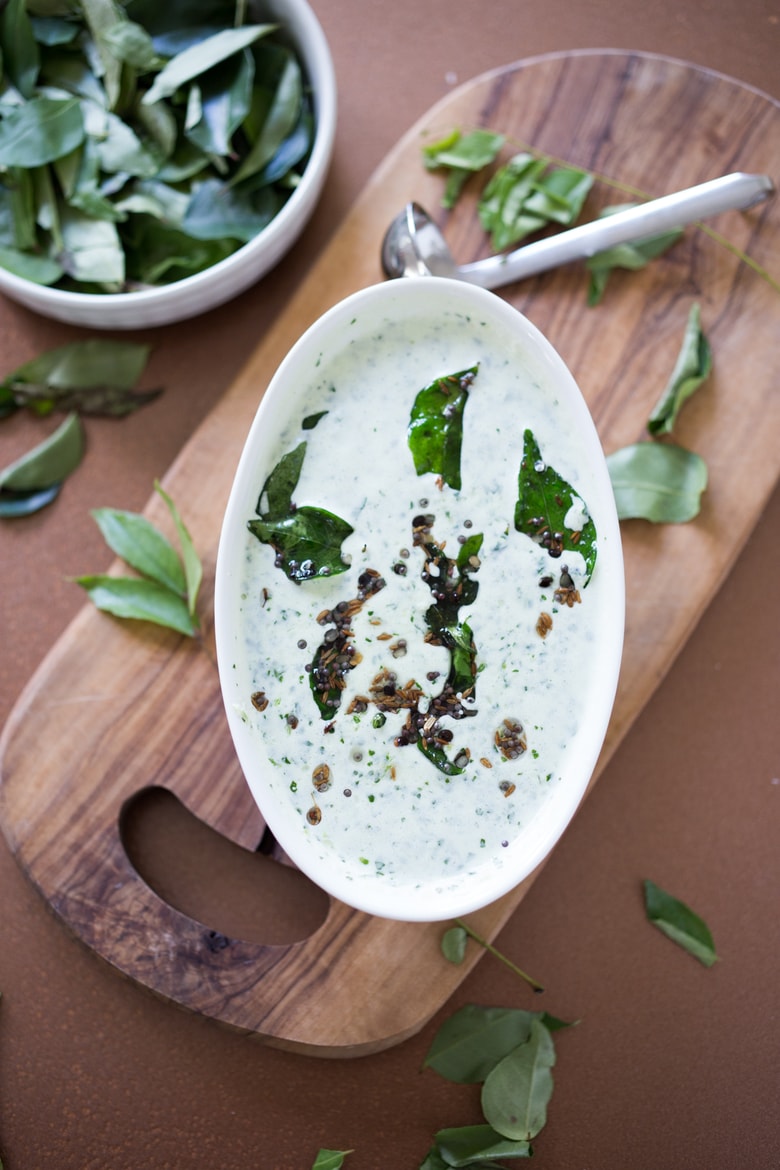 Look how pretty this sauce is!
Together with the Chicken Biryani, it's mouth-wateringly good.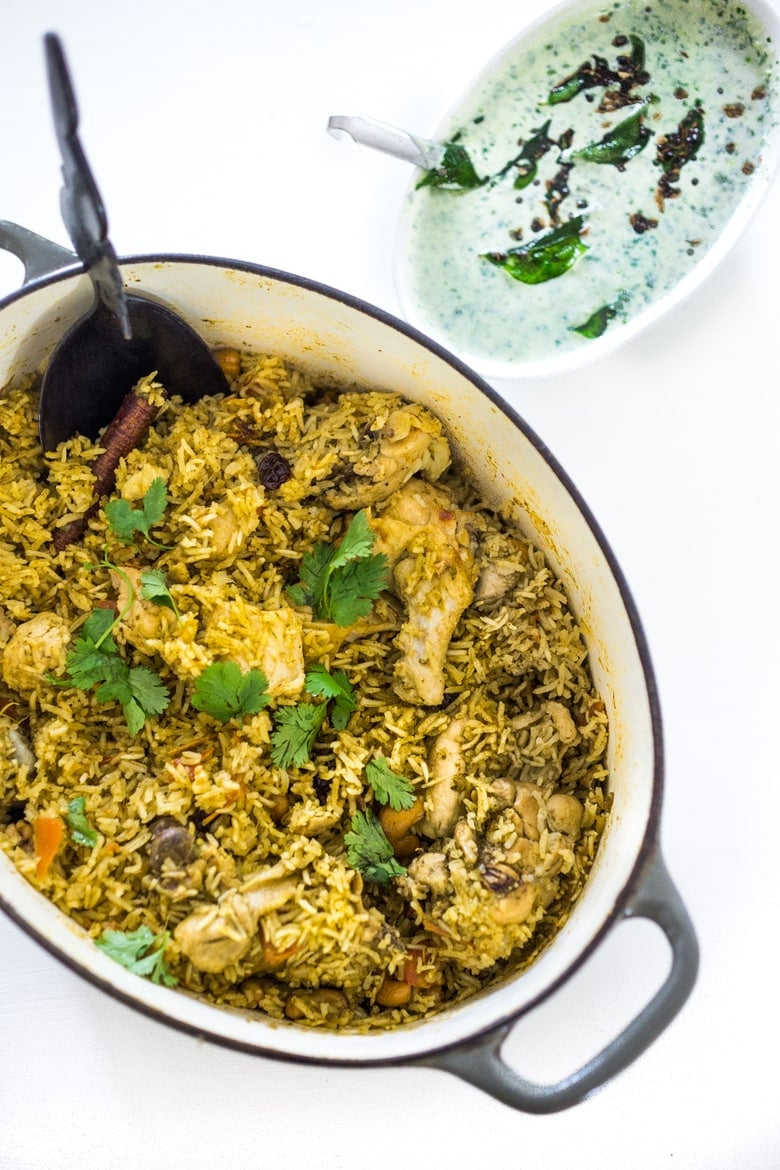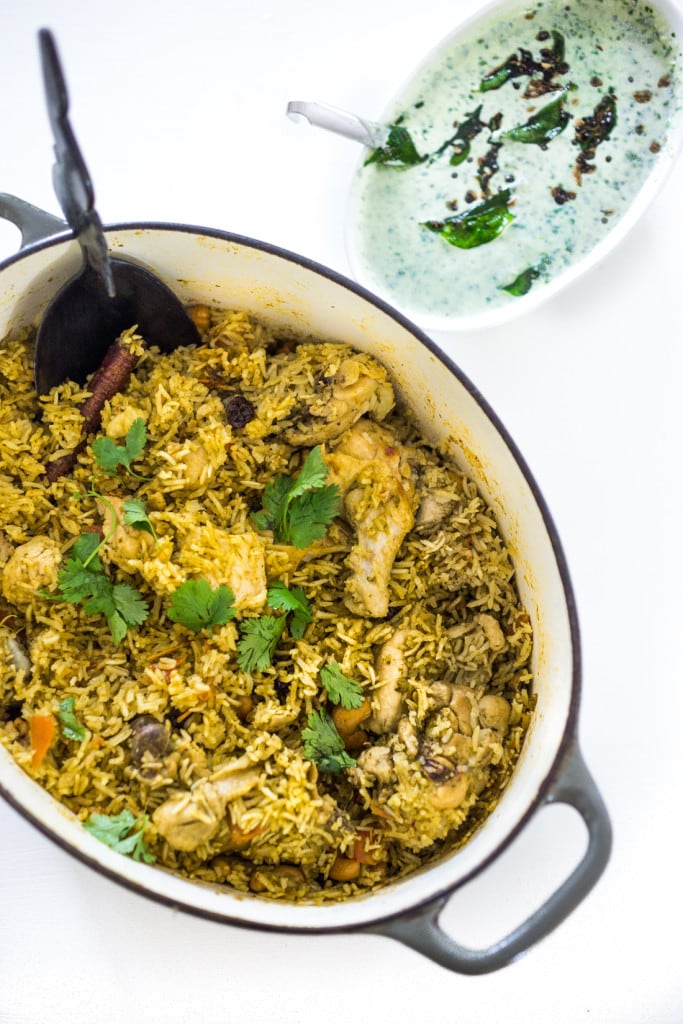 Here are some of the other dishes we made that day that will have to wait for another post.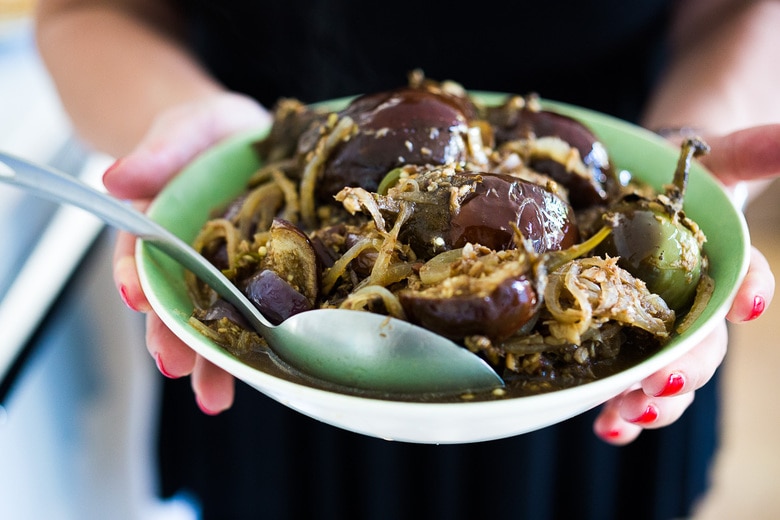 Melting and delicious slow-braised eggplant, called Ennai Kathirikai, from Southern India.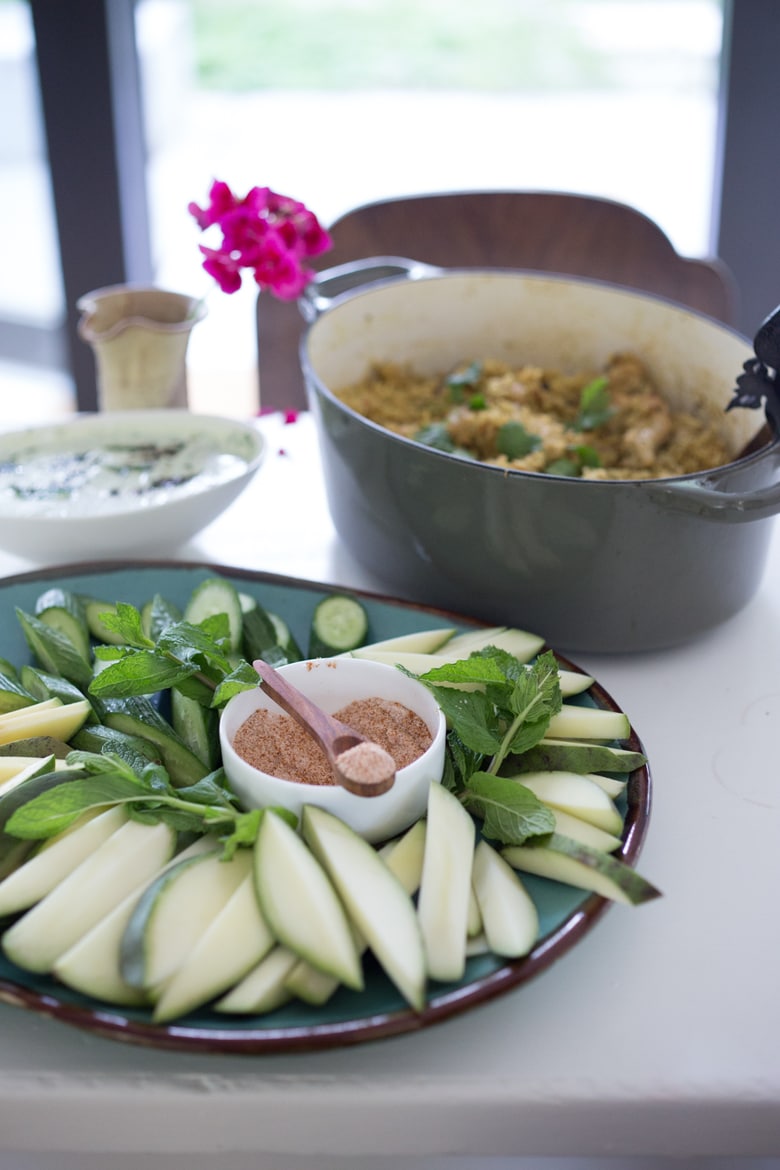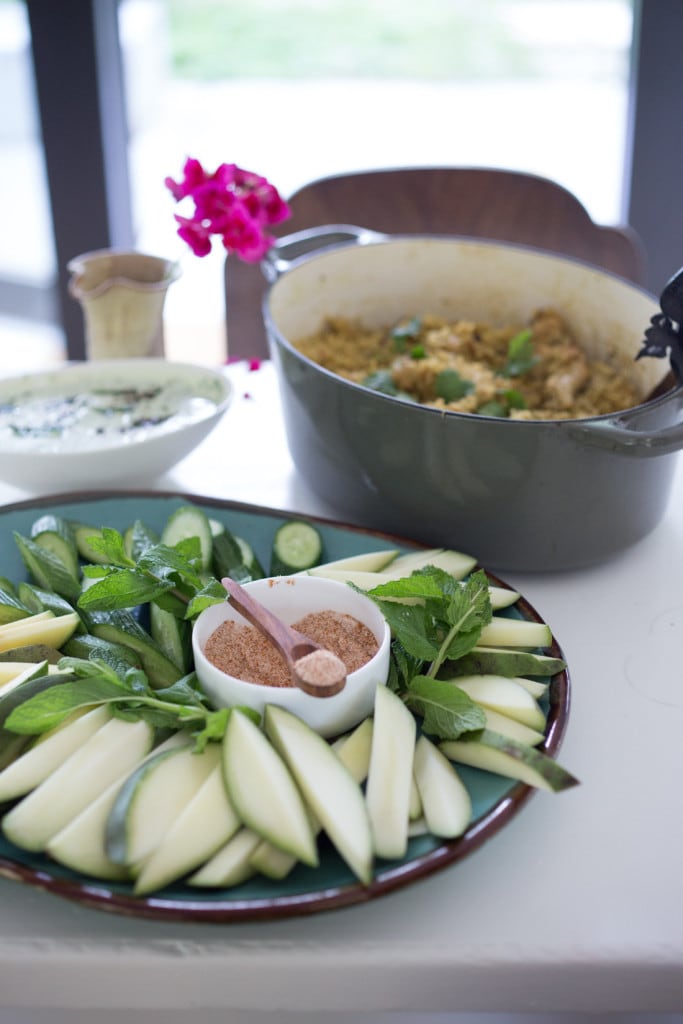 And this refreshing green papaya salad with cucumber, mint and chili salt.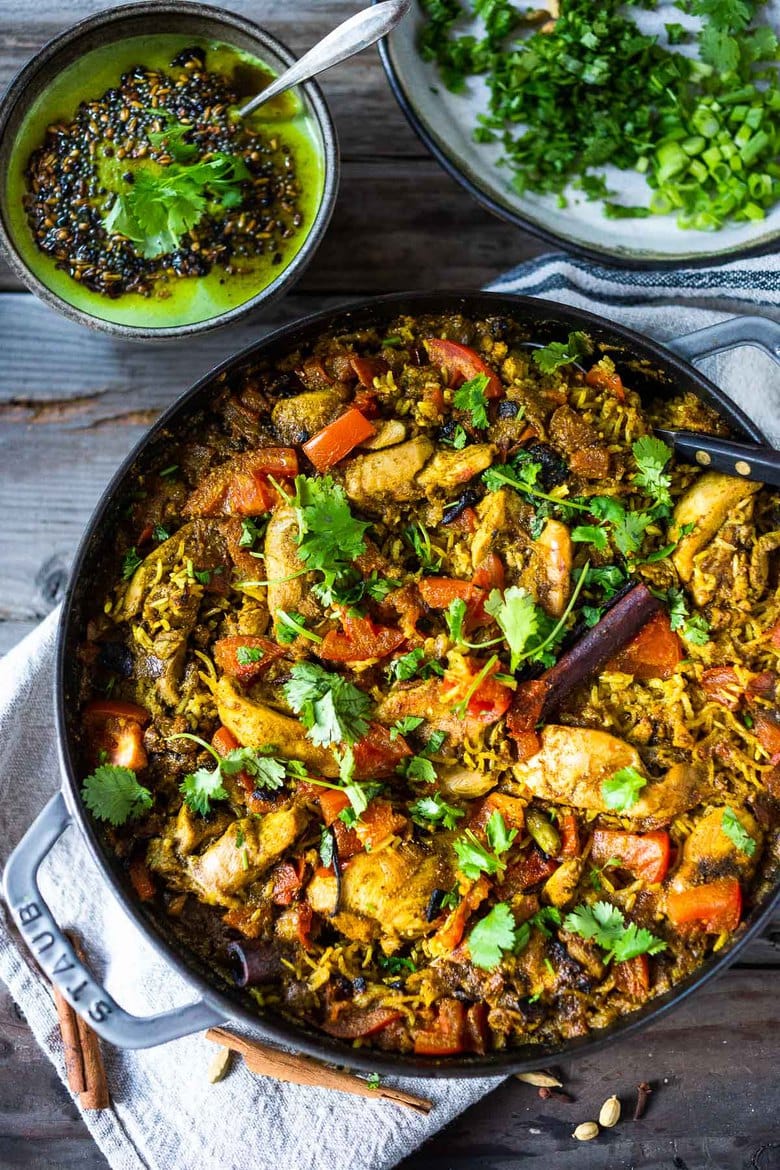 If you enjoy cooking in your spare time, I encourage you to try this Authentic Chicken Biryani. It's a special meal to save for a lazy weekend, and the leftovers get better and better.
Have a beautiful week, Enjoy the Chicken Biryani!
Print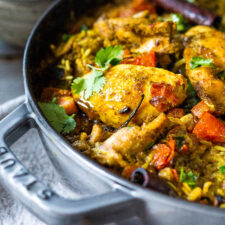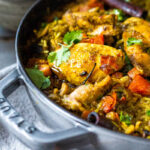 Chicken Biryani Recipe
Prep Time:

30 mins

Cook Time:

95 mins

Total Time:

2 hours 5 mins

Yield:

6

Category:

Main

Method:

stovetop

Cuisine:

Indian
---
Description
An authentic and delicious recipe for Indian Chicken Biryani and a flavorful Cilantro Yogurt Sauce. Perfect for a Sunday dinner. Go here for a vegetarian option! 
---
1/2 cup

ghee

4

smashed cardamom pods

1

extra large onion (

1

lb) diced
——

1 cup

yogurt (don't use low or no-fat)

1 cup

cilantro

1 cup

fresh mint

2

-inch piece of ginger, sliced

2

large garlic cloves
——-

1 Tablespoon

turmeric

2 Tablespoons

ground cumin

2 Tablespoons

ground coriander

1 teaspoon

chili powder

2 1/2 teaspoons

kosher salt
——–

3

–

4

sliced green chilis (split lengthwise)

1

lb diced tomatoes (

3

medium tomatoes)
——

¼ cup

oil

2

pounds chicken thigh meat (either boneless skinless, or bone-in, skin on) cut into pieces, salted. or substitute chickpeas, 3 cans rinsed and drained.

3 cups

washed Basmati rice

3 cups

chicken stock or water
——-

¼ cup

raisins

½ cup

cashews
—–
Garnish with fresh cilantro and Cilantro Coconut Yogurt Sauce:
———–
Cilantro Coconut Yogurt Sauce
1 cup

yogurt

¼ cup

flaked coconut or fresh grated coconut ( see above)

4

green chilis

1

bunch cilantro

1

inch ginger

½ teaspoon

salt
——-
Tempering oil for Cilantro Yogurt Sauce
1 ½ teaspoon

oil

1 ½ teaspoon

black gram dal

1 teaspoon

brown mustard seed

¼ teaspoon

cumin seeds

¼ teaspoon

chili flakes

¼ teaspoon

asafoetida powder
a few curry leaves
---
Instructions
In a large dutch oven (one that has a tight-fitting lid) melt ghee over medium-high heat. Add cinnamon, cloves, crushed cardamom pods and diced onion. Saute 2 minutes and turn heat down to medium, stirring occasionally.
Place yogurt, cilantro, mint, ginger and garlic into the blender and blend, adding a little bit of water to get blender going, if necessary. Set aside.
Add dry spices and salt to the pan with the onion- turmeric, cumin, coriander, chili powder and salt. Stir for a minute or two, then pour in the yogurt mixture from the blender. Add the tomatoes and the split chilies. Cook over medium-low heat about 10 -15 minutes, or until oil separates.
Cut and salt the chicken, and add it to the pot, and continuing cooking, stirring occasionally, about 15 minutes, until chicken begins to brown and becomes tender. Slowly stir in ¼ cup oil.
Add the washed Basmati rice and the water. Double-check you've added the salt.
Stir just a bit. Bring to a boil. Continue simmering over medium heat, uncovered until most of the water has evaporated. Be patient. Once it looks like the photo above its ready to cover.
Lower the heat to lowest setting.
Cover pot with a moist cloth, place the lid over top, bringing the corners of the cloth towards the lid handle ( to prevent a fire). Cook on the lowest heat 40 minutes -1 hour or until the rice is tender.
Make the Cilantro Coconut Yogurt Sauce: Place the yogurt, coconut, chilies, cilantro, ginger and salt in a blender and blend. Place in a bowl and make the finishing oil.
In a small skillet, heat the oil, and add the spices. When the mustard seeds begin popping, after 30 seconds or so, pour over the yogurt sauce.
The Chicken Biriyani is done when the rice is tender. Once tender, give a stir, and adjust the salt, adding more if necessary. Serve with the yogurt sauce on the side and fresh cilantro leaves.
Enjoy!
---
Keywords: chicken biryani, best chicken biryani, authentic chicken biryani
SaveSave
SaveSave